These keto peanut butter cookies are so easy to make, full of peanut butter flavor, and have just over 1.5 NET CARBs each! Plus, they're super soft and chewy, and have they have the perfect balance of sweetness to them too. Honestly, as far as low carb cookie recipes go, this keto peanut butter cookie recipe has got to be at the top of the list!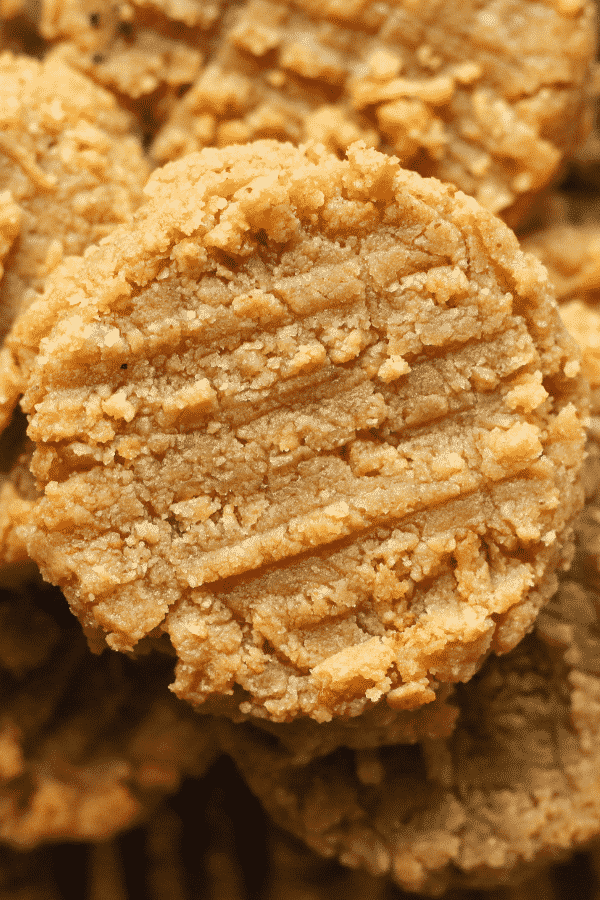 The Best Keto Peanut Butter Cookies
If you love peanut butter, you're going to be obsessed with this recipe. This may be a bold statement - but I truly believe it - these keto peanut butter cookies are the be low carb peanut butter cookies you can make.
How do I know?!
Well, I've made a few different peanut butter cookie recipes - well, maybe more than a few - and this recipe is head and shoulders better than the rest. Especially when you're craving peanut butter cookies.
Seriously, I can't get enough of these keto peanut butter cookies.
Why This Recipe Works
Quick and easy. All you have to do to make this recipe is mix all of the ingredients, bake the cookies, and they're ready to eat in 15 minutes.
The taste and texture. These cookies literally taste identical to a regular peanut butter cookie, and they have that classic soft and chewy texture.
Super low carb. Each cookie has under 2 net carbs, so you can eat as many as you want!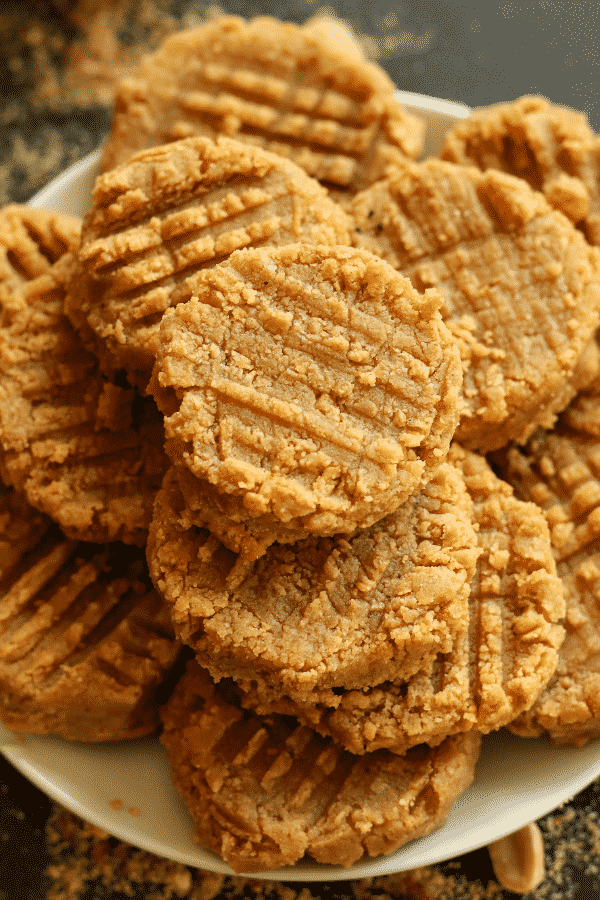 Ingredients
One of my favorite things about this keto cookie recipe is the fact that you don't need a lot of ingredients to make them.
In fact, you probably have everything in your kitchen to make these right now.
With that said, here's what you need to make these keto peanut butter cookies:
Just Less Than ⅔ Cups Natural Peanut butter

4 Egg Yolks

1 Teaspoon Vanilla Extract

½ Cup Confectioners Swerve

¼ Cup Almond Flour
By the way, if you have any leftover peanut butter you should totally use it to make this keto smoothie. It's a great low carb breakfast recipe, and it's super easy to whip up too.
Choosing The Right Sweetener To Use
Peanut butter cookie recipes are typically loaded with sugar. And using sugar is obviously not an option when you're making keto cookies. But, I've got a couple of recommendations to replace the sugar!
First off, let's talk about the sweetener I used in today's No Sugar Peanut Butter Cookie, and basically all of my other recipes too.
Swerve is my personal go-to sweetener for keto recipes. More specifically, I like to use the Confectioners (powdered) Swerve because it dissolves incredibly well, and it's so versatile.
But, the MAIN REASON I like to use Swerve is that it has 0 CALORIES & 0 NET CARBS! Also, I personally like the taste of it compared to other sweeteners too.
Having said that, Monk Fruit Sweetener can be another option for today's Keto Peanut Butter Cookie Recipe.
However, I wouldn't recommend using stevia. The reason is that stevia has a different sweetness profile compared to Monk Fruit and Swerve. If you use stevia the taste will be WAY OFF, and your keto cookies won't turn out good at all.
Oh, and for the peanut butter, make sure to use all natural peanut butter with no sugar added.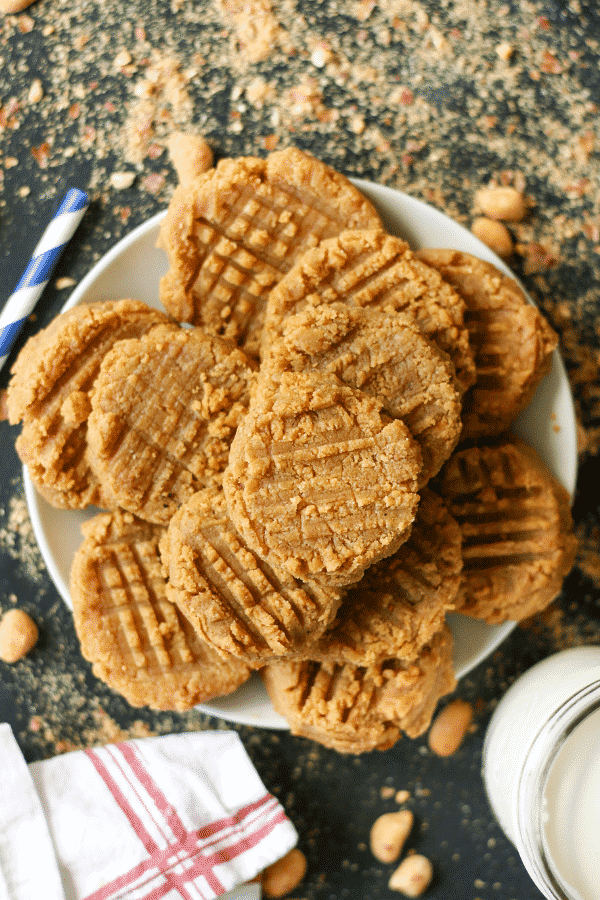 Choosing The Right Flour To Use
As you may have noticed, this is a flourless peanut butter cookie recipe so it's completely gluten-free!
Many cookie recipes rely on white or wheat flour as the base ingredient. However, those flours are loaded with carbs and aren't keto friendly at all.
Luckily, almond flour works as a FANTASTIC replacement for those flours. And almond flour is one of the best - if not the best - flours for keto!
So, there are a few different brands of almond flour out there. I like to use this blanched Almond Flour by Kirkland's. It's cheaper than most other almond flours out there, and it ONLY has 2 NET CARBS per serving! And that's actually the lowest amount of net carbs I've ever seen for almond flour.
How To Make Keto Peanut Butter Cookies
These Keto Peanut Butter Cookies are SO EASY TO MAKE. Even if you've never made peanut butter cookies before, this recipe will be a breeze and will turn out perfect!
So get out all of the ingredients and let's get to it!
Step 1: Making The Cookie Dough
First things first, preheat the oven to 350 degrees Fahrenheit.
So, to make these cookies, all you have to do is add all of the ingredients - the peanut butter, powdered erythritol, almond flour, vanilla extract, and egg yolks - and mix everything together until combined.
Then once you have a ball of cookie dough, line a baking sheet with parchment paper.
Now you can form the cookies! I use a tablespoon-sized cookie scoop like this one to form my cookies. If you use the same-sized scoop, you should end up with about 14 cookies.
Anyway, once you form a cookie, add it to the prepared sheet until it's filled.
Step 2: Baking The Cookies
Once you've added them to the baking sheet with parchment paper, it's time to give the low carb peanut butter cookies their classic cross-marked pattern. So, what you'll want to do is smush the tops with a fork, and then do the same thing in the opposite direction.
Now the keto peanut butter cookies are ready for the oven. And one of the best things about this low carb cookie recipe is how quick these cookies bake. 7 Minutes at 350 Degrees is all they need. Crazy, right?
However, when they're done baking, you'll want to let them cool down in the tray itself. This is because they are VERY soft when they come out of the oven, and these peanut butter cookies will set as they cool.
Having said that, once these creamy peanut butter keto cookies are set and firm up, they're simply incredible! And not only will they will your peanut butter craving, but they're sure to satisfy your sweet tooth.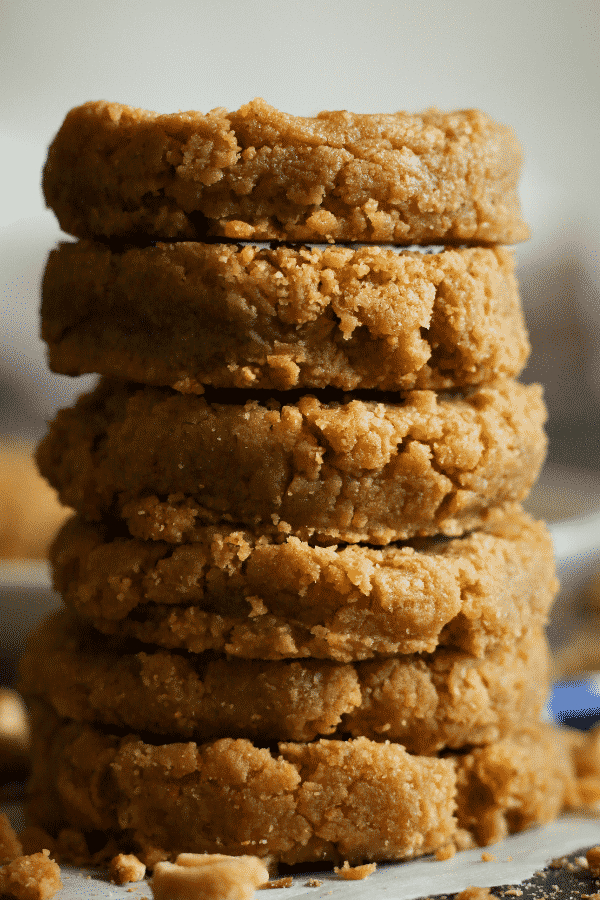 How To Store Keto Peanut Butter Cookies
In the fridge: Transfer the leftover cookies to an airtight container, and they'll stay good at room temperature for about 2 weeks but are best eaten within a week.
In the freezer: Store the cookies in a freezer bag or container for up to 2 months. And they're a delicious frozen treat, but if you want, you can let the cookies thaw at room temperature or in the fridge before enjoying them.
FAQS About This Keto Peanut Butter Cookies Recipe
Can I eat peanut butter on keto?
Yes, but it depends on the amount and type of peanut butter you eat. You'll want to pick a peanut butter that has no sugar and enjoy it in moderation.
Can I add chocolate chips?
Absolutely! You can add ⅓ cup of sugar free chocolate chips to make the ultimate keto peanut butter chocolate chip cookies.
Can I use almond butter?
Yes, if you don't want to use peanut butter, you can substitute it with almond butter or even sunflower seed butter or cashew butter.
More Keto Friendly Cookie Recipes
If you liked these keto peanut butter cookies, I have a ton of low carb and sugar free cookies on the blog I think you'll like too.
Give these a try next:
By the way, if you have some non-keto family members in the house - and want to treat them to some tasty cookies - I have a really great 3 ingredient peanut butter cookies recipe on here that'd be perfect for them.
Print
Keto Peanut Butter Cookies | Easy, Low Carb, Gluten Free
The BEST Keto Peanut Butter Cookie Recipe! These are low carb, no sugar, flourless peanut butter cookies for the keto diet. They're made with just almond flour, Swerve, and eggs, and are incredibly soft + chewy. Plus, these keto peanut butter cookies are so easy to make. From start-to-finish, they only take 15 minutes!
Author:
Prep Time:

8 Minutes

Cook Time:

7 Minutes

Total Time:

15 minutes

Yield:

14 Cookies

Category:

Desserts
Instructions
Pre-heat your oven to 350 Degrees
Separate 4 egg yolks from the whites
Add the yolks to a medium sized bowl
Now, measure out (preferably on a food scale for best results) and add the rest of the ingredients into that bowl
Mix everything with a spatula until a cookie dough forms in the bowl
Once it does, use a cookie scoop to form 14 tablespoon sized cookies, and add them to a baking sheet lined with parchment paper
Now take a fork and smush the tops of each cookie to form the classic cross-marked pattern peanut butter cookies have
Bake the cookies for 7 minutes
Let them cool completely in the tray itself
*NOTE: They'll be VERY soft almost pancake-like when they come out. Don't worry, when they cool down they'll firm up!
Store in an air-tight container for several days
Notes
In the video, it says to use ½ a cup (56g) of almond flour. This is incorrect, and you should use ¼ cup (28g) of it for the recipe. Sorry about the error.
The Macros DO NOT include the "carbs" from Swerve. Swerve has 0 calories, so it should be tracked as 0 carbs. The FDA makes food companies list "sugar alcohols" as carbs, but that doesn't mean they should be tracked as such. That's why it's ALWAYS important to look at the calories of sweeteners and determine the true carb count FROM THE CALORIES!
Nutrition
Serving Size:

1 Cookie

Calories:

117

Fat:

9

Carbohydrates:

3

Fiber:

1.25

Protein:

4
Keywords: Keto peanut butter cookies, keto peanut butter cookie recipe, low carb peanut butter cookie recipe, best keto cookie recipe, cookies for keto, easy keto cookie recipe, peanut butter cookies for keto, keto cookies,