The BEST Keto Banana Nut Muffins Recipe! These low carb muffins are incredibly easy to make and have no sugar added to them. They're light, chewy, cakey, and moist. Most of all, they're addicting!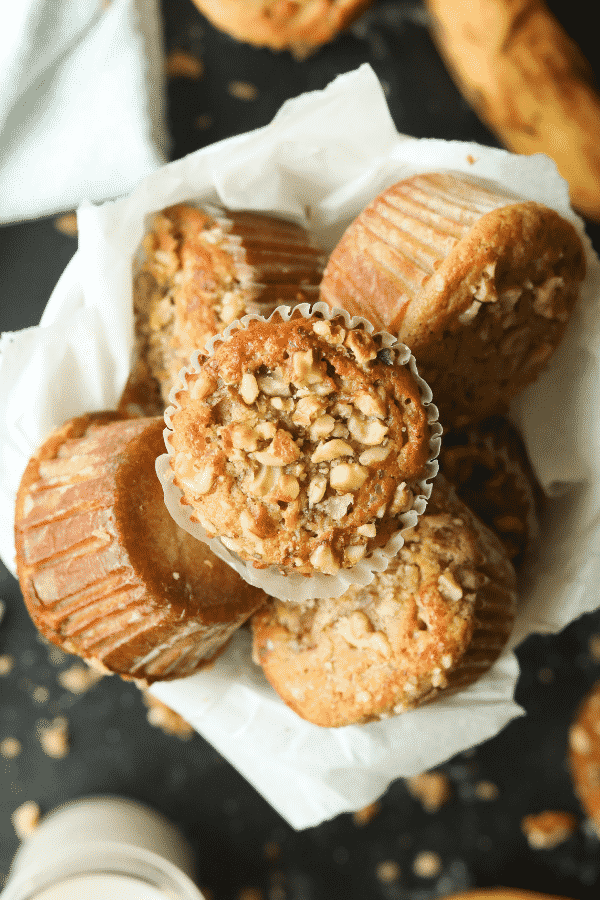 I already know what you're thinking, "Joe, how can we make keto banana nut muffins, when bananas aren't keto?"
And the answer is we won't be using real bananas to make these muffins.
So, you don't even have to worry about that!
Low Carb Banana Muffins Without Bananas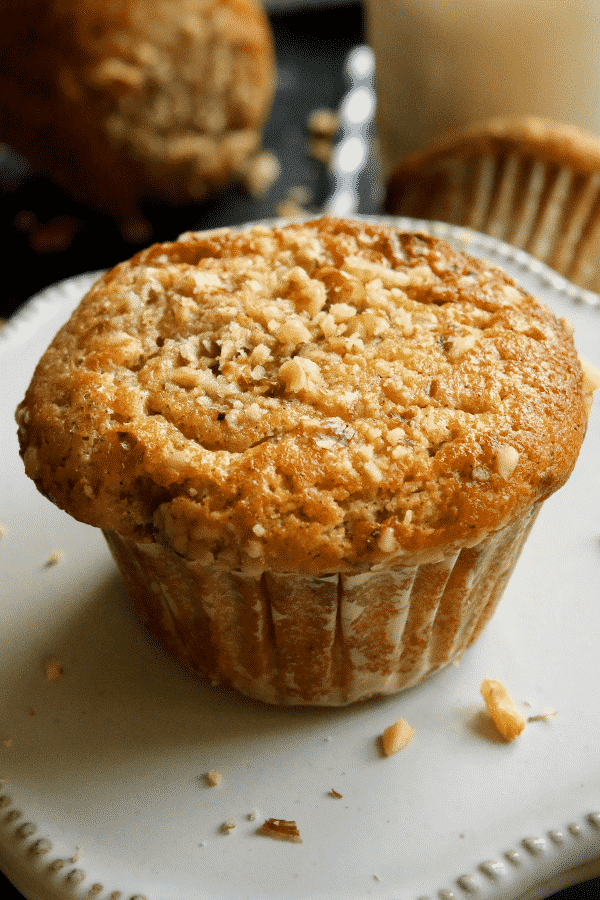 Bananas, of course, are not a low carb keto-friendly fruit.
They're loaded with sugar.
However, you don't actually have to use real bananas to make delicious banana muffins!
Fortunately, there's a magical keto-friendly ingredient called Banana Extract. And it can add a ton of banana flavor to whatever you're making.
I actually used it to make this keto banana bread a few months ago, and you'd never know it didn't have real bananas in it. In fact, my wife thought the same thing about these muffins when she tried them.
If you've never used extracts before they can be a low carb keto diet game changer. There are so many different flavors available, and a little bit goes a long way.
For instance, a half of a tablespoon of the banana extract has the flavoring power of roughly 4 real bananas. And you save SO MANY carbs using it!
How To Make Keto Banana Nut Muffins
Alright, so, let's talk about how to make these keto banana nut muffins!
This is a 2 bowl recipe. Basically, all that means is you'll be adding/mixing the wet ingredient into one bowl, and the dry ingredients into another. And eventually, you'll add the wet ingredients into the dry ones to form a batter.
As far as the wet ingredients go, these muffins use a lot of common low carb ketogenic ones. Ingredients like butter, eggs, full fat sour cream, and almond milk.
And there are only 6 dry ingredients for the recipe...almond flour, Swerve, walnuts, baking powder, cinnamon, and salt.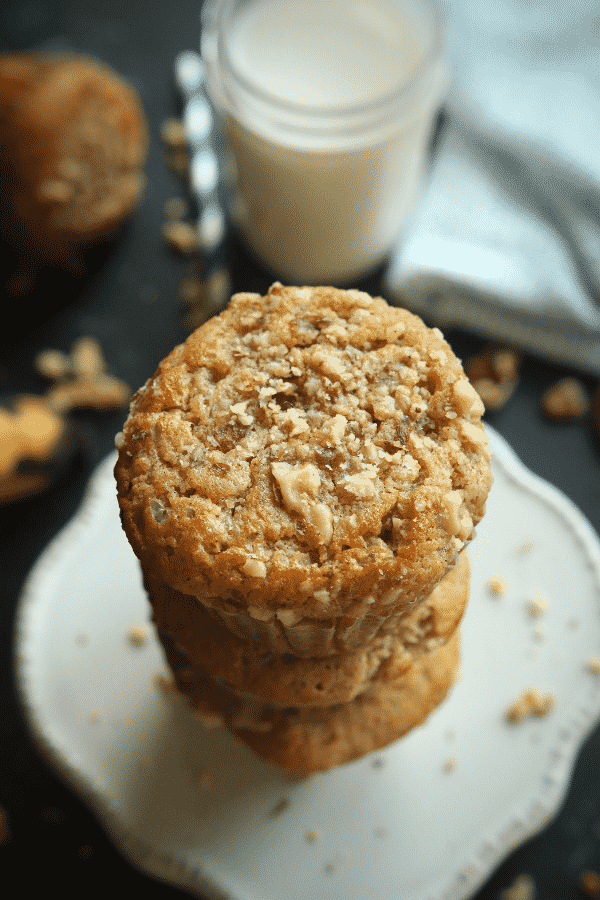 So, once everything gets mixed and then combined, a thick batter will form, and when it does you can add it to a muffin tray. By the way, the recipe will make 9 large muffins or 12 medium-sized ones.
After that, it's just a matter of topping each one with some crushed walnuts and then baking them for 25 to 30 minutes.
I like to let them cool down in the tray I baked them in. It allows the muffins to continue cooking as they cool. And then once they're at about room temperature, I'll serve them.
Just don't be surprised if you're guests/family can't get enough of these low carb keto banana nut muffins. My wife literally couldn't stop eating them. They have just this wonderfully light and chewy top, and the inside is moist and cakey.
Gah, they're so good.
No Sugar Keto Banana Muffins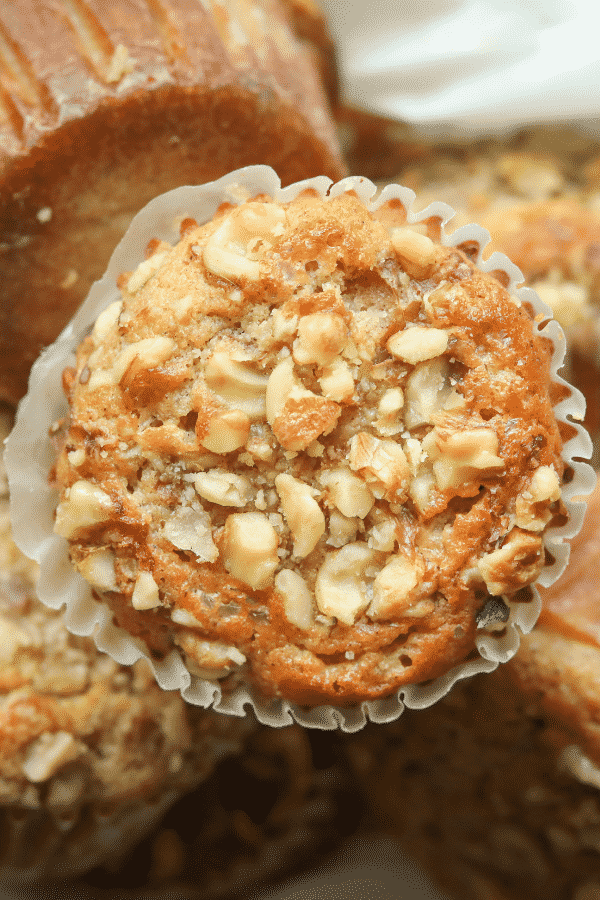 So, as you might already know, muffins are typically loaded with sugar.
And like I've already mentioned, these keto muffins have no sugar added to them. Instead, to sweeten up these muffins WITHOUT ADDING CARBS you'll want to use Swerve.
If you've never used Swerve before it's a sweetener that's almost as sweet as sugar.
However, Swerve has 0 calories, 0 net carbs, and 0 effect on blood sugar levels. And that makes it one of the most ideal sugar replacements for anyone following a low carb ketogenic diet.
Having said that, you could also use Monk Fruit or Allulose as a 1:1 substitute for the Swerve.
But, you should not - I REPEAT - should not use Stevia as a substitute. The reason for this is that Stevia is MUCH sweeter than Swerve, so it cannot be interchanged equally.
Flourless Low Carb Banana Nut Muffins
The main ingredient to most muffin recipes is flour. However, if you're doing the keto diet using flour isn't an option. So, instead of using white or wheat flour for these muffins, you'll want to almond flour.
The reason almond flour is so great for keto recipes is that it's incredibly low carb. Each 28-gram serving of it has just 2 grams net carbs. That's 10x less than "normal" flour.
It also has many of the same characteristics as "normal" flour, which makes it easy to bake with.
The same cannot be said for coconut flour.
And you should never, NEVER EVER, substitute almond flour for coconut flour in ANY recipe. They are NOT interchangeable.
Coconut flour soaks up liquid like a sponge, and almond flour doesn't. The quickest way to ruin a recipe is trying to swap one out for the other.
So, just keep that in mind when you're making this low carb muffin recipe, and other keto recipes too.
Print
Banana Nut Keto Muffins
An easy low carb keto banana nut muffins recipe that has no added sugar! These muffins are made from almond flour and just a few other ketogenic diet approved ingredients. You'd honestly never guess they were low carb, and they make a great on the go keto breakfast.
Author:
Prep Time:

15 Minutes

Cook Time:

25 Minutes

Total Time:

40 minutes

Yield:

12 Muffins

Category:

Breakfast

Method:

Keto
Instructions
Preheat your oven to 350 Degrees
Measure out the walnuts on a food scale, crush them into tiny pieces with a rolling pin, and set them aside for later
Now cut up the stick of butter into small pieces, add it to a dish, and microwave it until melted (around 30 seconds - 1 minute)
While the butter is melting, add the eggs into a large bowl and whisk them until the yolks combine into the whites
Once that's taken care of, add the butter and the rest of the liquid ingredients into the bowl
Whisk all of the ingredients until they're combined, and set them aside
In an even larger bowl add all of the dry ingredients (except the walnuts) and whisk them until combined
When they're combined, add the wet ingredients into the dry and fold them into one another until a thick batter forms
Now add ½ of the walnuts into the batter, and mix/fold again
At this point you can add paper liners to a 12 slotted muffin tray and coat the liners with baking spray
Add the batter to the slots - the recipe makes 9 large muffins, or 12 medium muffins so plan accordingly
Top each muffin with the left over walnuts, and bake for 25-30 minutes
Let the muffins cool in the tray you baked them in
Store in an air-tight container in the fridge for several days
Notes
The Macros DO NOT include the "carbs" from Swerve. Swerve has 0 calories, so it should be tracked as 0 carbs. The FDA makes food companies list "sugar alcohols" as carbs, but that doesn't mean they should be tracked as such. That's why it's ALWAYS important to look at the calories of sweeteners and determine the true carb count FROM THE CALORIES!
Nutrition
Serving Size:

1 muffin

Calories:

210

Fat:

19

Carbohydrates:

3.5

Fiber:

2

Protein:

5.5
Keywords: keto banana nut muffins, low carb banana nut muffins, how to make keto muffins, banana nut muffins keto, keto banana nut muffins recipe, banana muffins keto, keto banana muffin recipe