These peanut butter protein cookies are so soft & so chewy, and they're loaded with chocolate chips in each bite. And you'd never guess that each one of these cookies has 11 grams of protein with no sugar added them!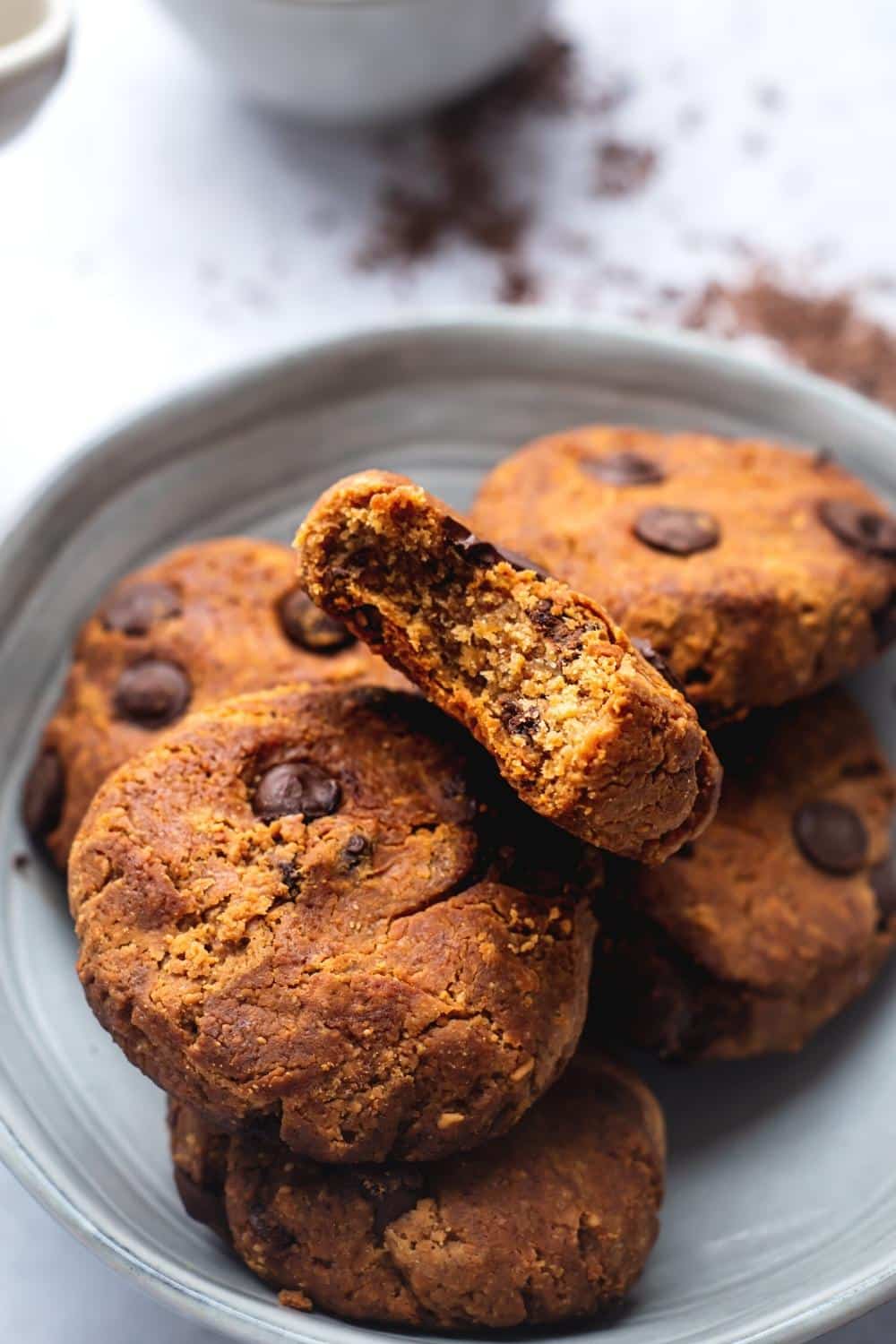 The Best Chocolate Chip Protein Cookies
Who doesn't love cookies? They're fun to share and bake together, but when you're trying to get in shape - or just be health-conscious - you may feel like you have to sacrifice.
Well, I'm here to tell you how to make a simple, easy, and delicious protein cookie recipe that is just as good as "regular" cookies.
Plus, they're so much cheaper to make than buying protein cookies from the store. Not to mention, this recipe uses just a handful of wholesome ingredients without all of the added junk that the store kind has.
But making these cookies healthy and high in protein doesn't mean we're going to have to sacrifice on the flavor. These protein cookies are perfectly sweet, have a creamy peanut butter flavor, and a hint of rich chocolate. And they are packed with chocolate chips and have incredible macros!
By the time you make your way through this easy and simple protein cookie recipe, you'll never want to go out of your way to buy pre-made cookies again.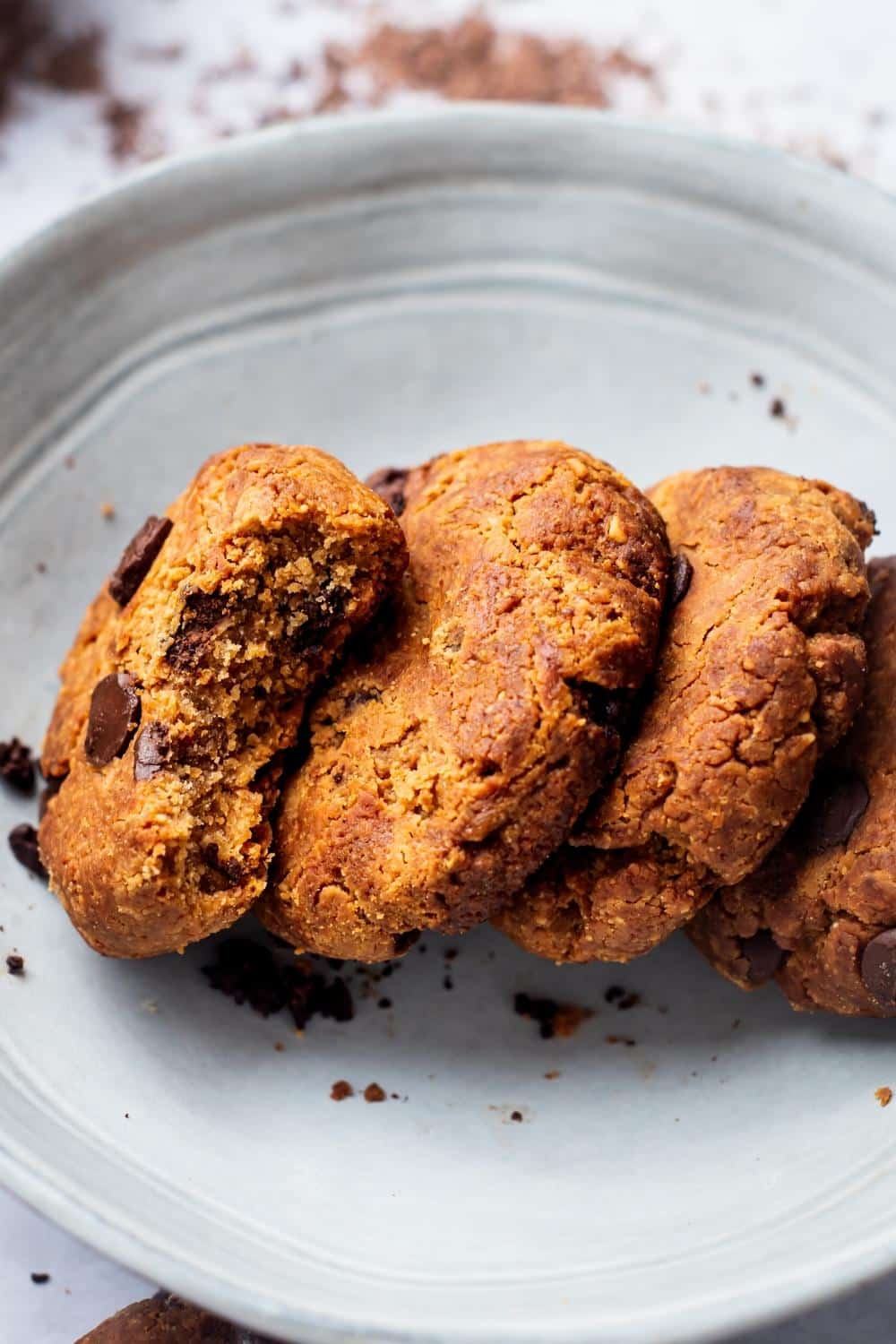 Ingredients
With only these 6 ingredients required, you'll be shocked by how delicious this recipe turns out!
And all of the ingredients required for these protein cookies are ridiculously simple and easy to find. In fact, you probably already have most of the ingredients in your pantry.
Here's everything you need to make these protein cookies:
1 Cup Peanut Butter

¼ Cup Brown Swerve

1 Egg

½ Cup Protein Powder

⅛ Cup Almond Milk

¼ Cup Chocolate Chips
See, how simple are those ingredients?
Also, if you have these ingredients, you can use some of them to make some of my other healthy cookie recipes - like these peanut butter chocolate chip cookies and these classic peanut butter cookies.
Oh, and if you've got some leftover chocolate protein powder, I highly recommend putting it to good use by making this protein mug cake recipe or these protein balls.

Diving Into The Ingredients
The best part about this protein cookies healthy recipe is that you can tweak it each time and the result is always insanely delicious cookies with fantastic macros.
Just keep in mind that the flavor of protein powder that you use will alter the flavor of the cookies. And you can use any of your favorite protein powders, like chocolate or vanilla, and they'll turn out great!
You could even use unflavored protein powder or even peanut butter protein powder if you want the cookies to have even more peanut butter flavor.
With that said, I used a casein and whey vanilla protein powder blend to make these cookies, but just whey protein works really great too!
By the way, you can also use a plant based protein powder as well instead of the whey protein powder. Then, to make the cookies completely vegan, just use a flax egg instead of a regular egg.
And if you don't like peanut butter - or are allergic - you can use sunflower seed butter, almond butter, or cashew butter to make the cookies! I've used almond butter a bunch of times, and they always turn out delicious.
Lastly, to keep these peanut butter chocolate protein cookies healthier, I like to use sugar free chocolate chips.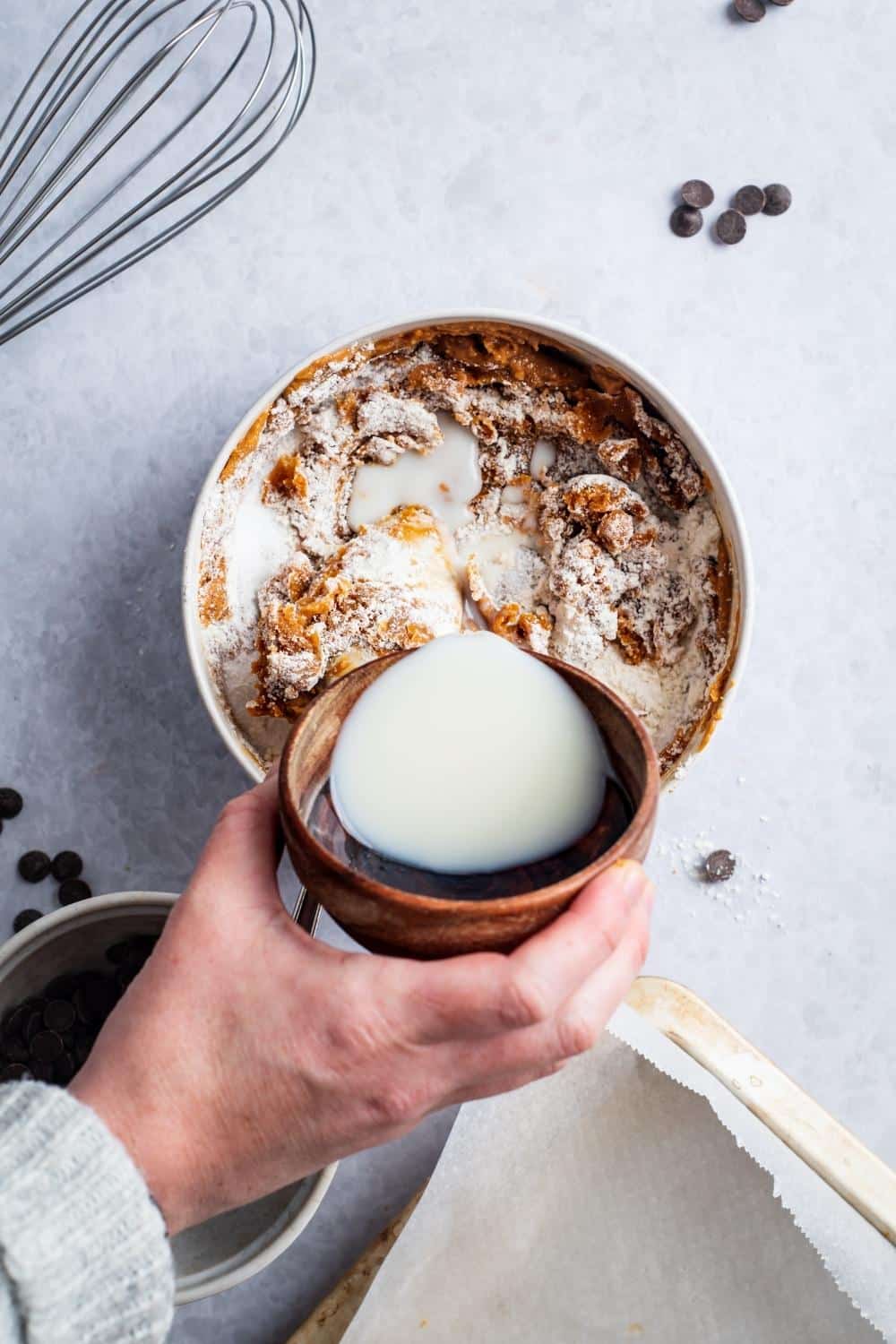 How to Make This Protein Cookie Recipe
In under 20 minutes, you can have 10 of the most decadent and satisfying protein cookies you've ever had! They're perfect for a pre or post workout snack, healthy breakfast, or dessert.
And the process of making them is oh-so-simple, so if you eat all of them within a day or two, making more will be a breeze!
Now, get out all of the ingredients, and let's make some high protein cookies!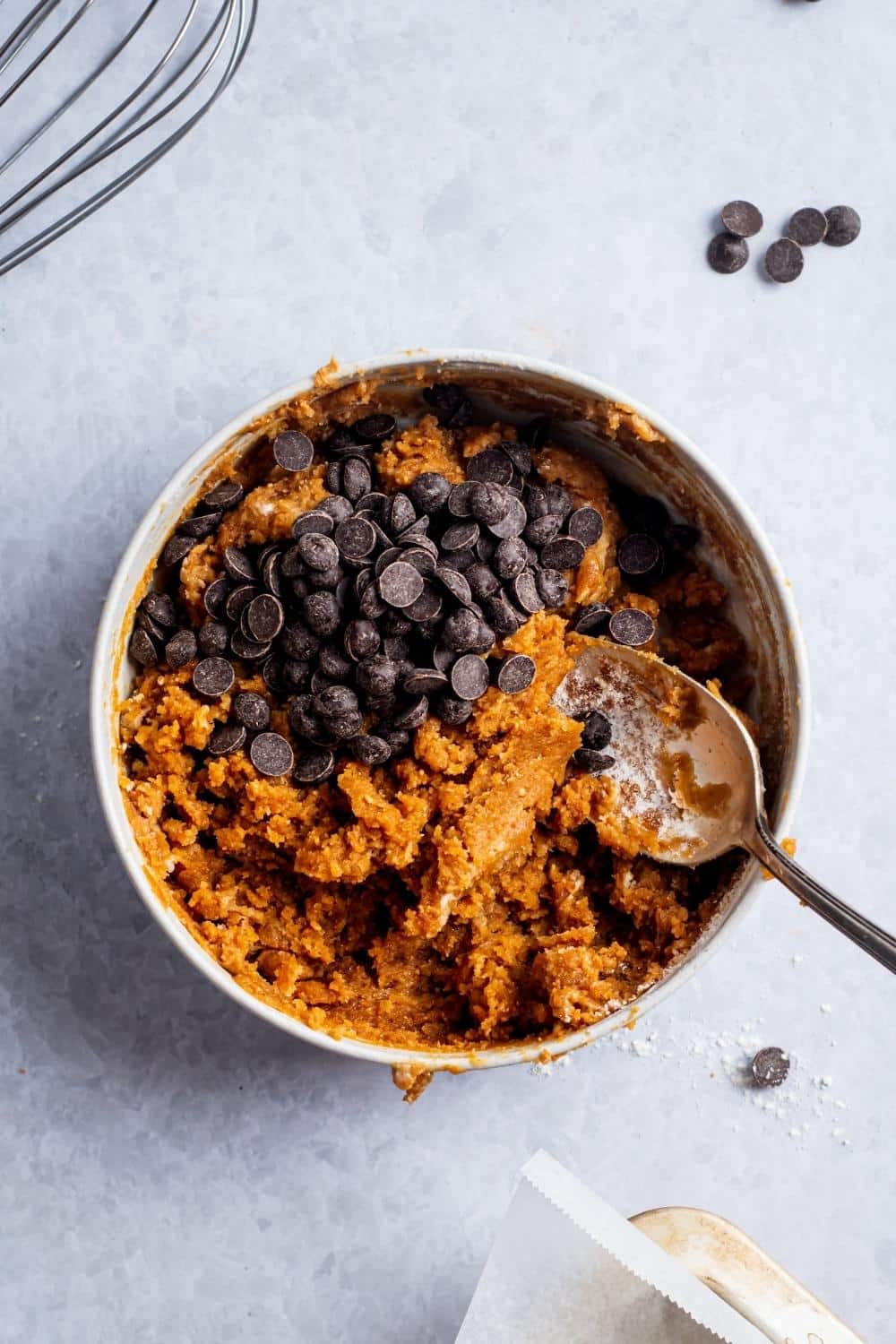 Step 1: Prep Work
First things first, like all good cookie recipes, preheat the oven to 350ºF (175°C).
Then, line a cookie sheet with parchment paper and set it aside for later.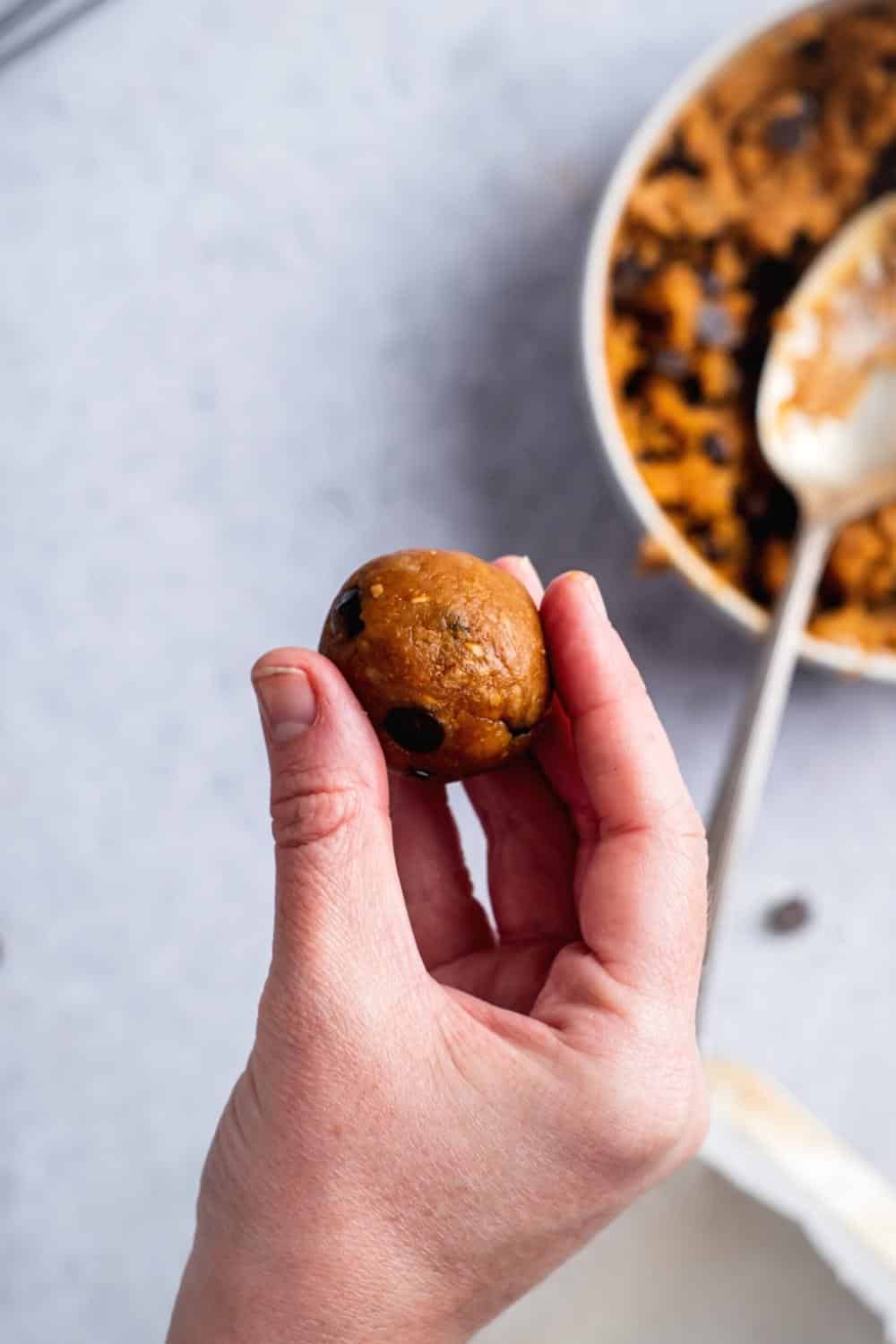 Step 2: Make The Cookie Dough
Now, add the peanut butter, Brown Swerve, whey protein powder, and egg to a large mixing bowl.
Give these ingredients a good mix until they combine. Next, start adding the milk a little at a time while mixing until you form a cookie dough.
Lastly, add the chocolate chips to the bowl - if you want to use them- and fold the chocolate chips into the cookie dough.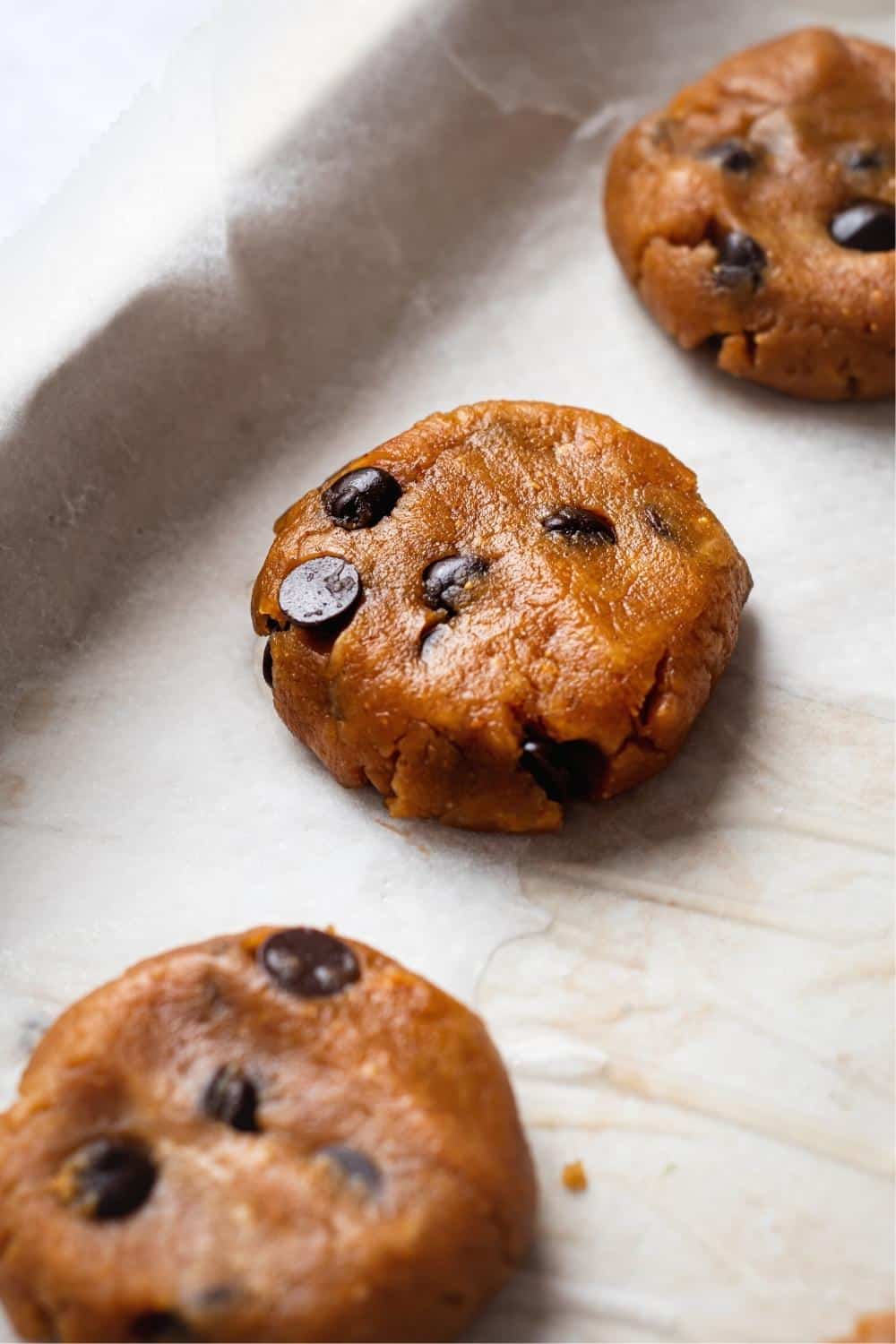 Step 3: Form The Cookies
So, now that you have a delicious cookie dough - this is the time to sneak in a bite - form about 8 to 10 dough balls and arrange them evenly on the prepared baking sheet.
Then, use two fingers and gently push down on the tops of each cookie to flatten them out. They will not spread while baking, so how much you flatten them will be their shape.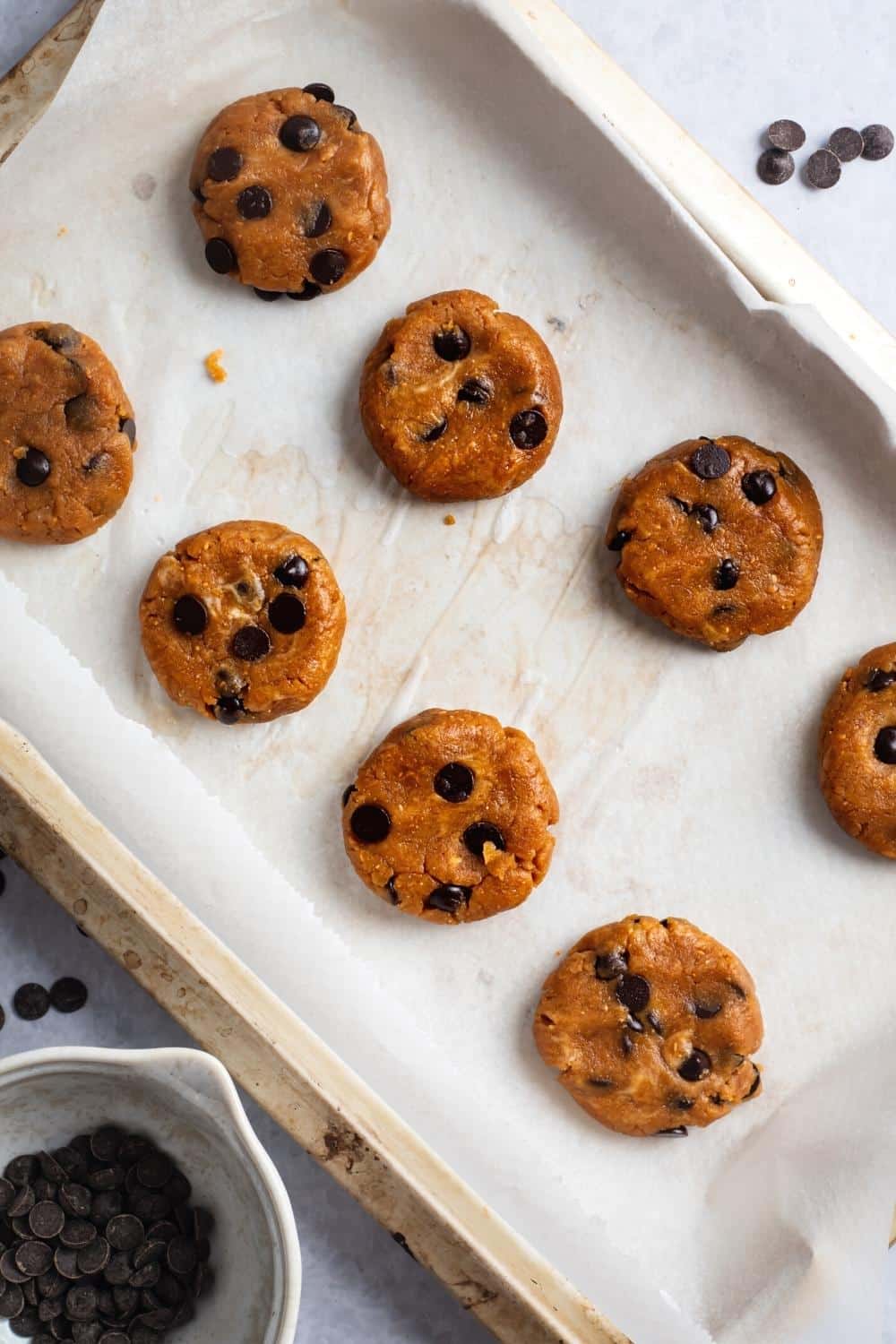 Step 4: Bake The Cookies
Now that the protein cookies are ready to go, bake them for about 8-12 minutes, depending on how you prefer your cookies.
Then, let these whey protein powder cookies cool on a wired rack - or eat one hot out of the oven - and enjoy!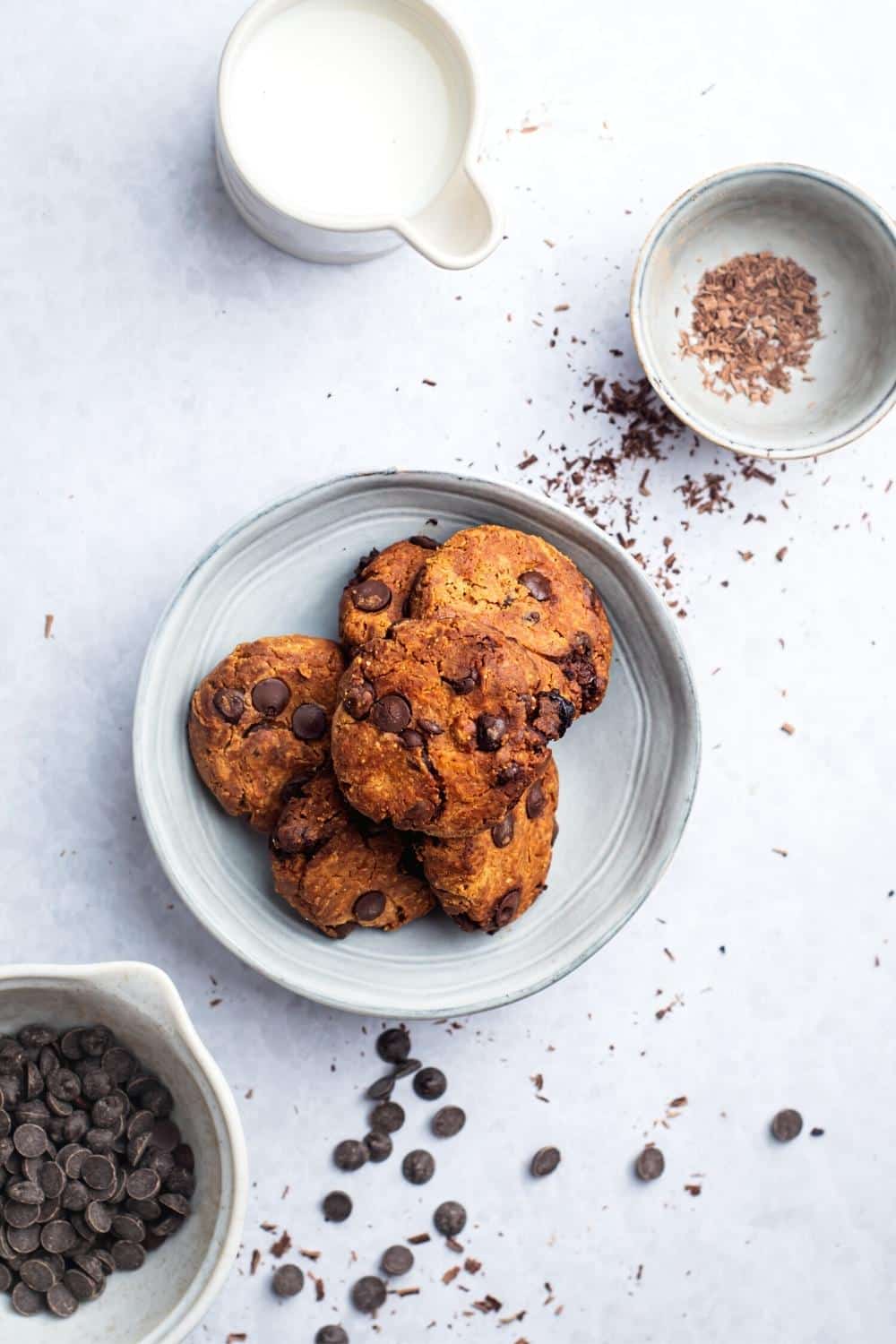 How To Store Protein Cookies
As I mentioned above, this protein cookie recipe will make about 10 cookies. So, if you want enough to last you the week, you'll definitely want to double or triple the batch!
With that said, I usually make a triple batch of these chocolate chip protein cookies and store the extras in the freezer so I always have some on hand.
And you really can't make too many of these protein cookies since they store so well. They'll keep for about 5 days stored in an airtight container at room temperature.
Then, if you want to keep them for longer, store in a freezer safe bag or airtight container and freeze them for up to 9 months.
Oh, and who doesn't love a warm cookie? While you don't have to heat them before eating, I always love that fresh out of the oven experience, so stick the cookie in the microwave for about 10 seconds before diving in!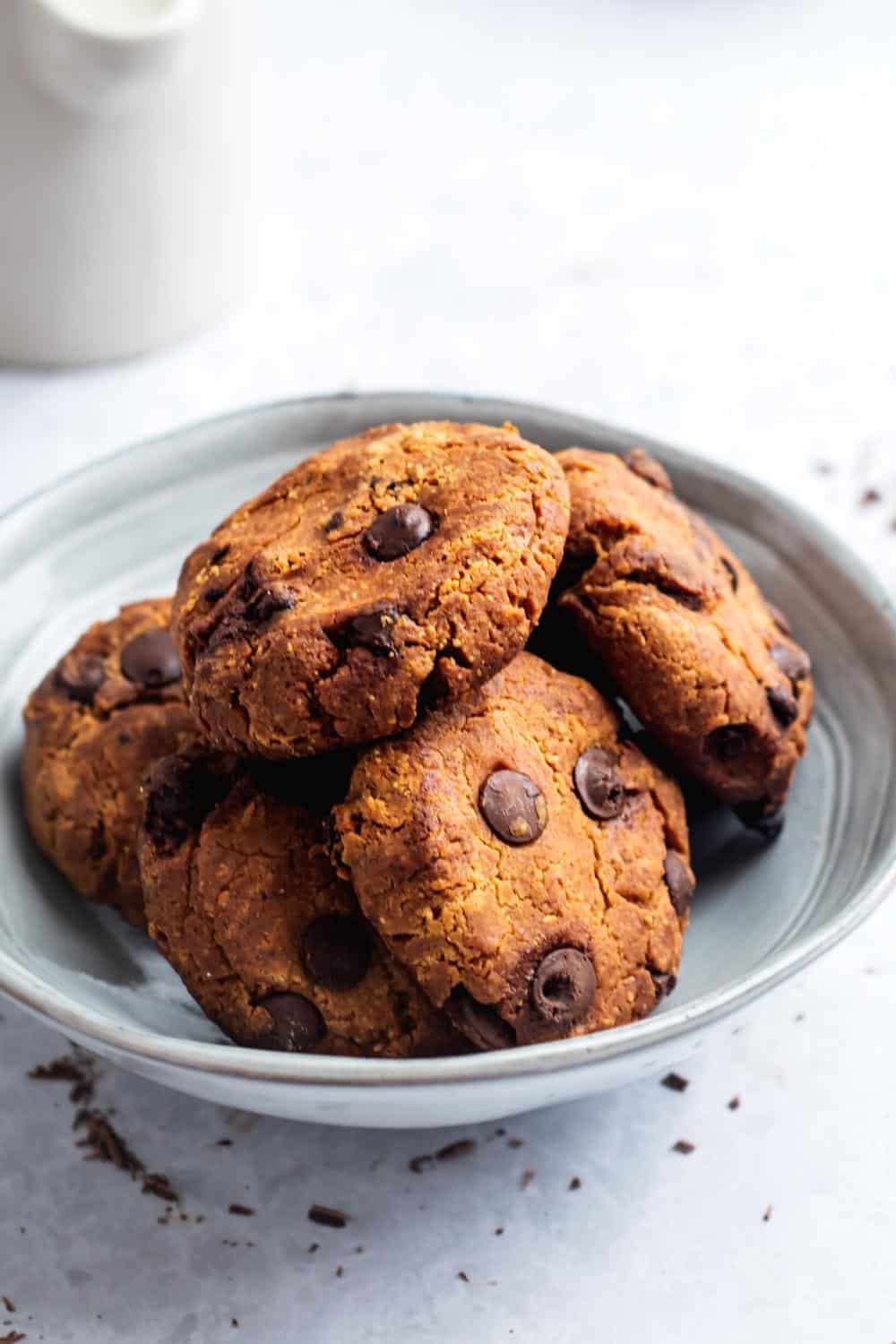 Wrapping It Up
Well, that is how to make protein cookies that are so soft, chewy, and melt in your mouth delicious. The peanut butter chocolate flavor in these cookies is unmatched, and you seriously won't believe that each one has over 10 grams of protein!
These chocolate chip protein cookies are the perfect protein bar alternative, and they can be enjoyed at any time. Whether it's for a quick breakfast, post workout snack, or after dinner treat, they're sure to leave you satisfied.
Anyway, if you gave this recipe a try leave a comment below and let me know how it went. Your feedback is always appreciated.
And for more recipes, make sure to check out my Youtube channel!
By the way, if you're ever in a pinch and want to grab a protein bar from the store, check out my list of the best protein bars for weight loss.
More Protein Powder Recipes
If you're looking for some more protein packed recipes, just like these peanut butter chocolate chip cookies, I have a ton on the blog that you can try next!
Here are some reader favorites:
Print
Peanut Butter Protein Cookies Recipe
These peanut butter protein cookies are so soft, chewy, and loaded with chocolate chips in each bite. You'd never guess that these cookies have 11 grams of protein each with no sugar added!
Author:
Prep Time:

5 minutes

Cook Time:

10 minutes

Total Time:

15 minutes

Yield:

10 cookies

Category:

Dessert

Method:

Mixing

Cuisine:

Protein
Instructions
Preheat the oven to 350ºF.

Line a baking sheet with parchment paper.

Combine all ingredients in a bowl except for the milk. Start adding the milk progressively until you reach a cookie dough consistency.

Add the chocolate chips to the bowl and fold them into the dough,

Form 8-10 balls and arrange them in the baking tray. Flatten them using 2 fingers (they don't spread much).

Bake for 10-12 minutes.

Let them cool on a wired rack and serve.
Nutrition
Serving Size:

1 cookie

Calories:

183

Fat:

13.7

Carbohydrates:

6.8

Fiber:

1.8

Protein:

11.2
Keywords: protein cookies, protein cookies recipe, peanut butter protein cookies, protein cookie, protein cookie recipe, protein cookies recipe, protein cookies peanut butter, protein cookies recipe with protein powder, protein cookies recipe healthy, protein cookie recipe chocolate chips, chocolate chip protein cookie, protein cookie recipe whey,