Nuts are a healthy and satisfying snack that can help you achieve your weight loss goals. The key is to know which nuts are the best for losing weight and how much you should eat. Let this list of the top 10 healthiest nuts to eat for weight loss be your guide!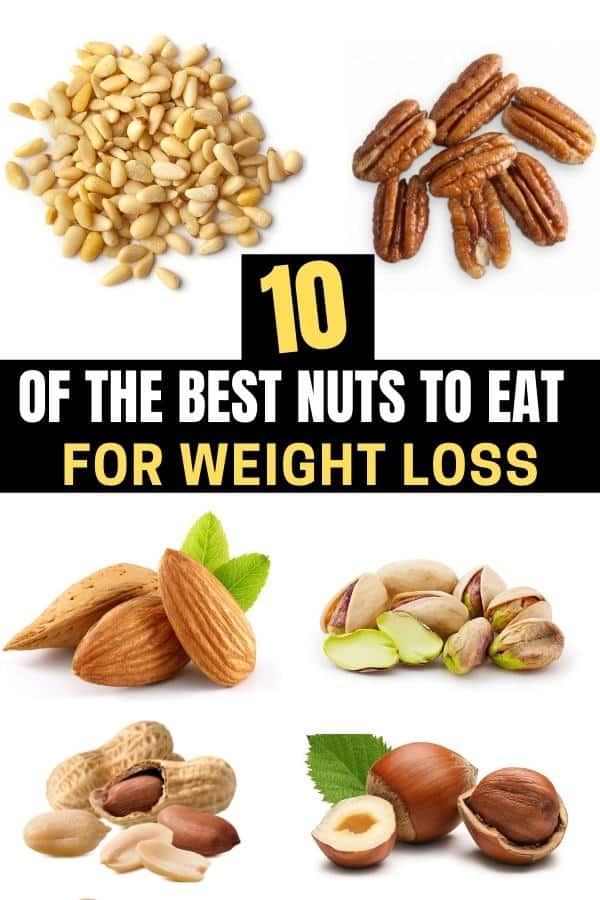 The Ultimate Guide to Nuts for Weight Loss
A lot of people are hesitant to include nuts in their diet when trying to lose weight because nuts are pretty high in calories and could contribute to weight gain if eaten in excess.
That said, when eaten in the right amounts, nuts can actually be really beneficial for weight loss. They're a fantastic source of healthy fats, fiber, protein, and essential nutrients that your body needs to boost your metabolism, keep you full, and lose weight.
I love bringing a small bag of mixed nuts with me on the go for a snack that I know will leave me satisfied for a few hours. It's truly one of my favorite healthy foods.
With all that said, let's dive into this list of the best nuts for weight loss!
The Best Nuts For Weight Loss
1. Cashew Nuts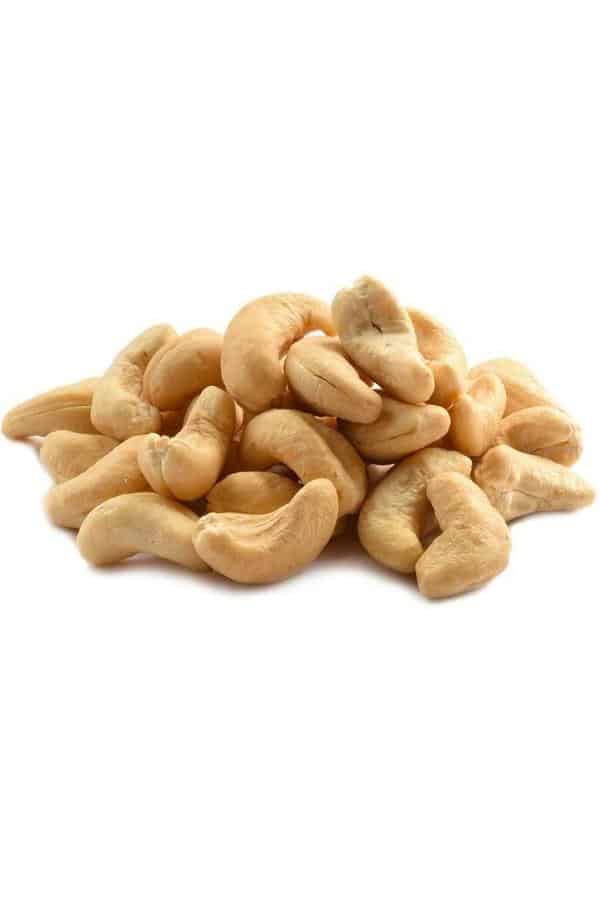 Serving Size 1.5 oz (42g): 27

Calories: 232.5

Fat: 18g

Carbs: 13.5g

Fiber: 1.5g

Protein: 7.5g
Cashews are some of the lowest-calorie nuts you can find anywhere, making them one of the best nuts to eat for weight loss.
On top of that, they're also high in magnesium, an essential nutrient for the body's energy production and muscle function.
This makes cashews an excellent nut to eat for boosting your workout and promoting better weight loss results.
You can enjoy a 1.5 oz serving - 27 cashews - or a couple of tablespoons of sugar free natural cashew butter for the same health benefits and it'll run you about 200 calories.
Also, blending cashews or cashew butter into your pasta sauce or salad dressing is also a healthier way to add creaminess without packing on the empty calories.
You can get a 33 oz. jar of cashews here.
2. Pistachio Nuts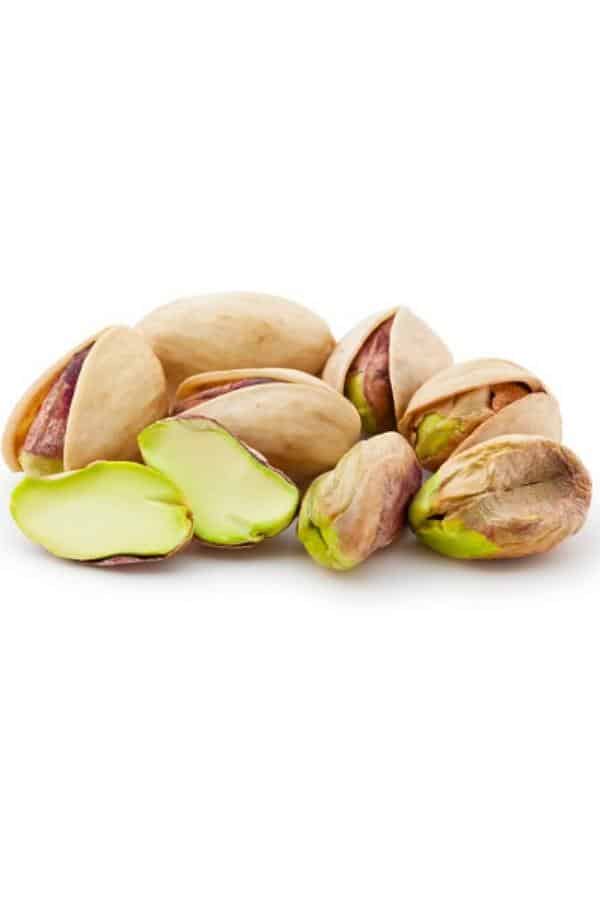 Serving Size 1.5 oz (42g): 67

Calories: 238.5

Fat: 19.5g

Carbs: 12g

Fiber: 4.5g

Protein: 9g
Pistachios are a great snack for weight loss because they keep you full and help you eat less throughout the day.
Also, they're lower in calories, higher in fiber, and higher in protein compared to other nuts.
A recent study even suggests that the fat in pistachios might not be completely absorbed by the body, which means fewer total calories!
Also, a 1.5 oz serving of pistachios happens to be one of the most generous servings of nuts on this list at around 67 pistachios - or almost a whole cup.
Getting them shell-on has added benefits, too. De-shelling them isn't just fun, but it also promotes mindful eating and slows your rate of snacking.
Pick up a 48 oz. bag of pistachios here.
3. Peanuts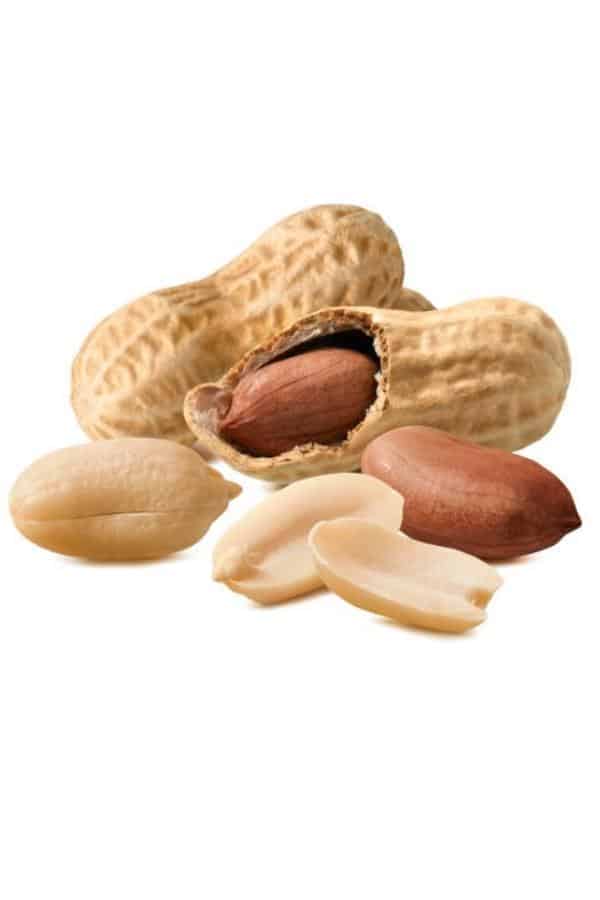 Serving Size 1.5 oz (42g): 42, shelled not whole

Calories: 243

Fat: 20.25g

Carbs: 9g

Fiber: 3.75g

Protein: 10.5g
This may come as a surprise, but eating peanuts can actually be beneficial for a healthy weight loss diet.
They're low in calories compared to other nuts and have a good amount of fiber per serving, making them a really satisfying snack that can keep you fuller longer.
Also, a 1.5-ounce serving equals 42 peanuts, so you won't feel like you're limiting yourself in any way when snacking on these healthy nuts.
You can also indulge in a couple of tablespoons of peanut butter if you're craving it. Two tablespoons of natural peanut butter have around the same nutritional value as a 1.5 oz serving of peanuts. But of course, you'll want to look for the kind that contains only peanuts and salt with no added sugar.
Also, if you do pick up some peanut butter you can make this protein cookie recipe with it. It's a great recipe for weight loss since not only will the protein in the cookies help you feel satiated, but it will also help you burn more calories too - since it has a high thermic effect.
Anyway, you can find a 35 oz. jar of unshelled peanuts here.
4. Almonds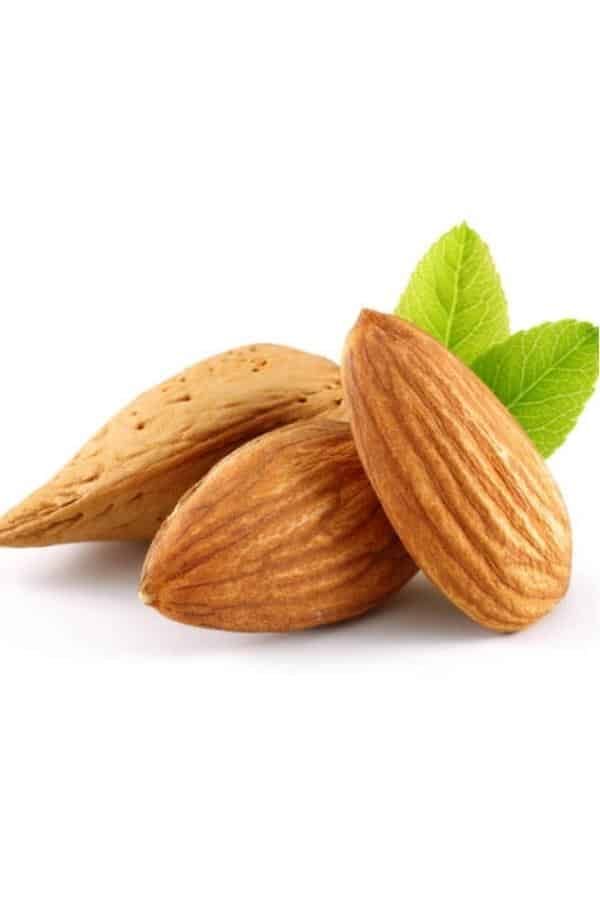 Serving Size 1.5 oz (42g): 36

Calories: 255

Fat: 22.5g

Carbs: 9g

Fiber: 4.5g

Protein: 9g
Almonds are one of the most popular choices when it comes to eating nuts, whether on their own, as nut butter, or as plant milk. And you can find them practically everywhere!
So you might be wondering, are almonds good for weight loss? And the answer is yes!
Almonds are low in calories, high in fiber, and rich in healthy fats, so they can keep you satisfied and feeling full for longer periods of time.
But one of the best ways almonds contribute to weight loss is by reducing belly fat. This study found that a daily intake of 1.5 oz serving, or around 30-35 almonds, lowered bad cholesterol in the body and reduced excess belly fat.
All told, you'll definitely want to add almonds to your regular diet to boost weight loss and burn pesky belly fat.
Here is a 40 oz. bag of highly salted almonds.
5. Hazelnuts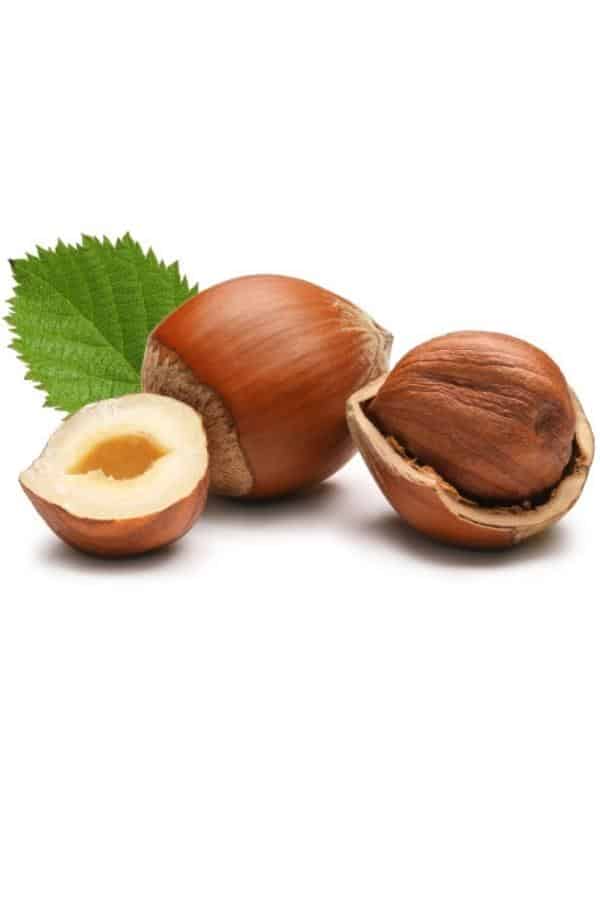 Serving Size 1.5 oz (42g): 32

Calories: 267

Fat: 25.5g

Carbs: 7.5g

Fiber: 4.5g

Protein: 6g
Hazelnuts are high in fiber and protein, and most of their calories come from healthy fats. And as you may already know, healthy unsaturated fats are great for keeping you fuller longer and preventing you from overeating.
Also a 1.5 oz serving of hazelnuts, or 32 hazelnuts, meets your full daily requirement of manganese, which is essential for thyroid health and hormone balance.
This is especially important for women since thyroid problems contribute to weight gain and women are 10 times more at risk for these issues compared to men.
Besides eating hazelnuts, you can also get their benefits by drinking hazelnut milk, or my personal favorite, making - and eating - my sugar free Nutella spread with them for one of my favorite healthy foods.
Here is a two-pack of 26 oz. bags of hazelnuts. Trust me, you'll want to stock up so you can make the homemade Nutella.
6. Walnuts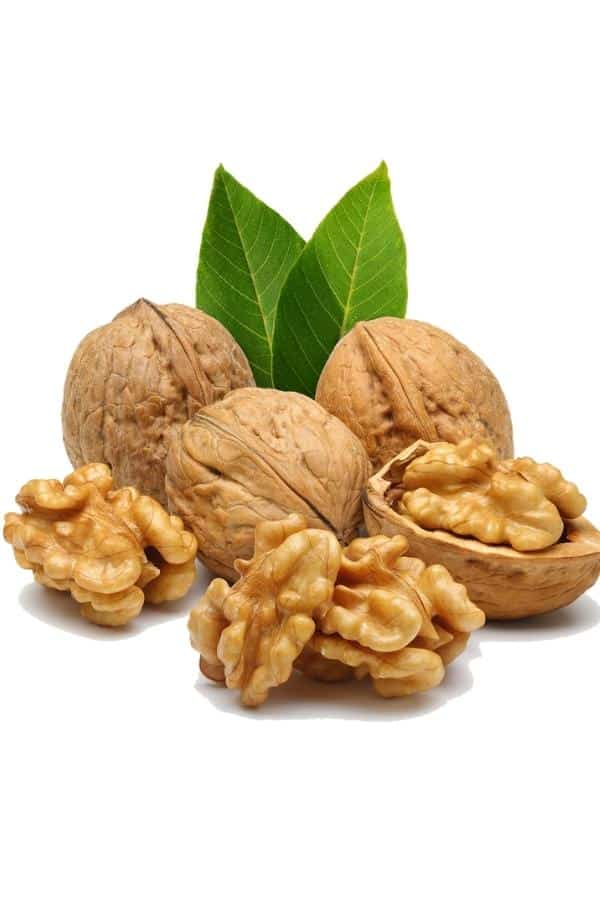 Serving Size 1.5 oz (42g): 22 halves

Calories: 277.5

Fat: 27.75g

Carbs: 6g

Fiber: 3g

Protein: 6g
Walnuts help you lose weight in a lot of different ways. They're packed with healthy omega-3s plus a good amount of protein and fiber to keep you full longer.
But another fantastic benefit of walnuts is that they might actually help you binge less.
A recent study showed that drinking a walnut smoothie every day helped improve the brain's appetite and impulse control, preventing overeating and cravings for sugary snacks and junk food.
Eating a serving of 22 walnut halves per day or two tablespoons of natural walnut butter is a great way to incorporate this appetite-curbing nut into your diet for a healthy body weight.
You can get a 32 oz. bag of walnuts here.
7. Brazil Nuts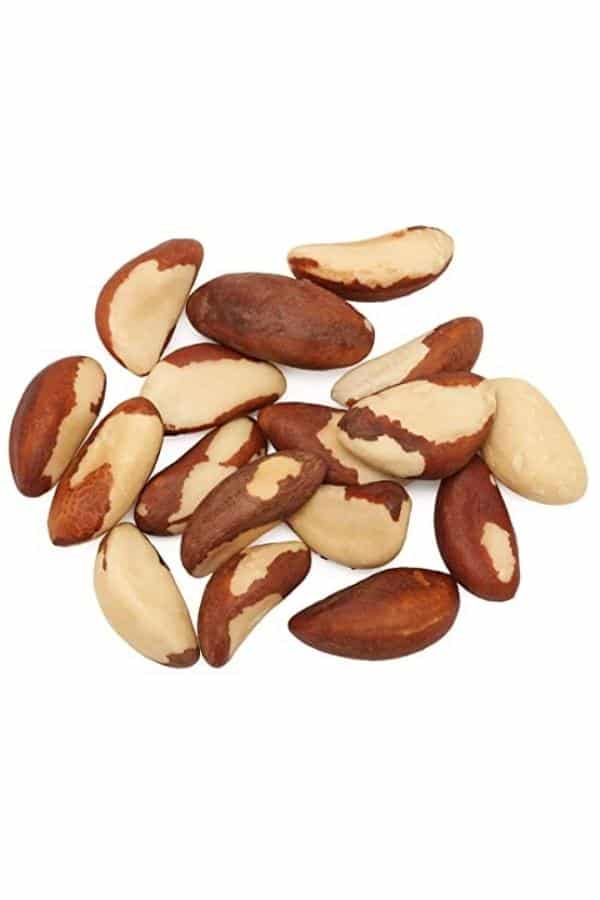 Serving Size 1.5 oz (42g): 12 nuts

Calories: 280.5

Fat: 28.5g

Carbs: 4.5g

Fiber: 3g

Protein: 6g
In addition to being low calorie, brazil nuts are also incredibly low in net carbs at just 1.5 net carbs per serving. They're also rich in minerals like selenium, copper, and magnesium.
Selenium helps your body produce thyroid hormones that help regulate metabolism, copper is an essential mineral for fat burning, and magnesium regulates healthy metabolism.
Keep in mind that you will want to limit your intake of brazil nuts if you are already supplementing with selenium.
Pick up a 32 oz. bag of raw brazil nuts here.
8. Pine Nuts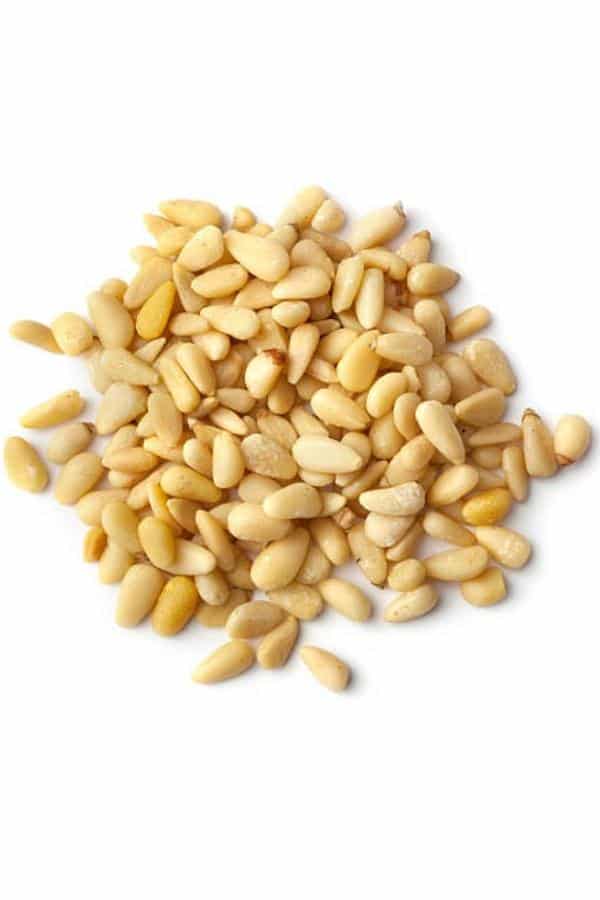 Serving Size 1.5 oz (42g): 250

Calories: 286.5

Fat: 28.5g

Carbs: 5.55g

Fiber: 1.5g

Protein: 5.85g
Pine nuts aid in weight loss by helping your body release appetite-suppressing hormones. The unsaturated fats in the pine nuts stimulate high production of the appetite-suppressing hormone cholecystokinin, preventing overeating and promoting weight loss.
They're also rich in several essential nutrients, such as phosphorus and zinc, which are necessary for a healthy metabolism.
And of course, a good metabolism is key to burning calories and losing weight.
Pine nuts are a delicious addition to any salad, soup, or pasta sauce. You can use them to add creaminess and nuttiness when blended or to bring some crunch when you add them whole or chopped.
Use them to make some pesto to put on this low carb pasta!
Here is an 8 oz. bag of pine nuts.
9. Pecans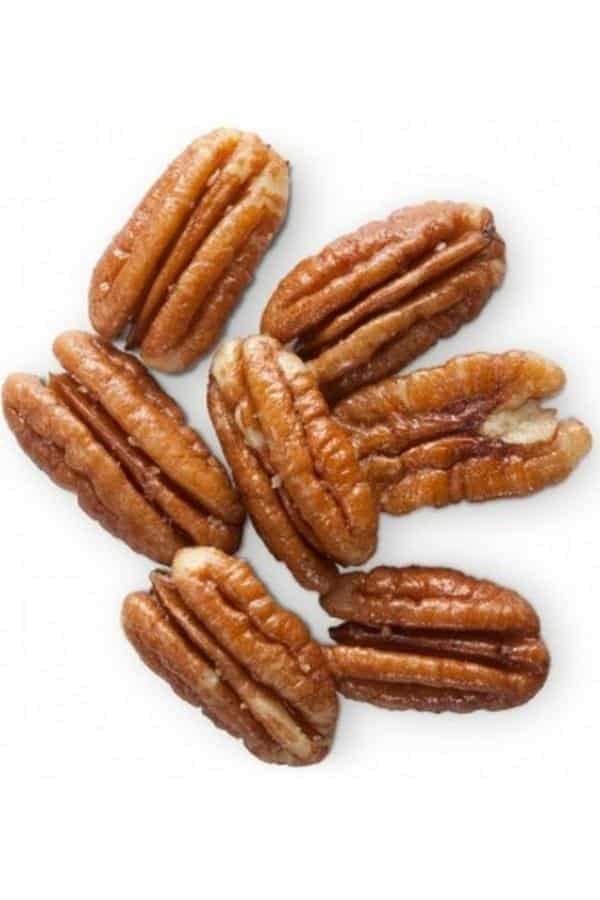 Serving Size 1.5 oz (42g): 22

Calories: 301.5

Fat: 31.5g

Carbs: 6g

Fiber: 4.5g

Protein: 4.5g
Although pecans are relatively high in calories, they're packed with healthy fats, which can actually help you lose weight as long as you monitor your intake.
Pecans are also rich in copper, an essential nutrient that can help your body burn fat faster and promote weight loss.
A 1.5-ounce serving, or 22 pecans, contains more than half your daily recommended intake of copper.
In addition to all that, pecans also have one of the lowest net carbs per serving out of any nut at just 1.5 net carbs per 1.5 ounces. I also featured them in my best nuts and seeds for keto list, which you should check out next!
You can enjoy whole roasted pecans in salads or as a snack. And you can use them to make my sugar free candied pecans for a sweet treat.
Here is a 16 oz. bag of pecans.
10. Macadamia Nuts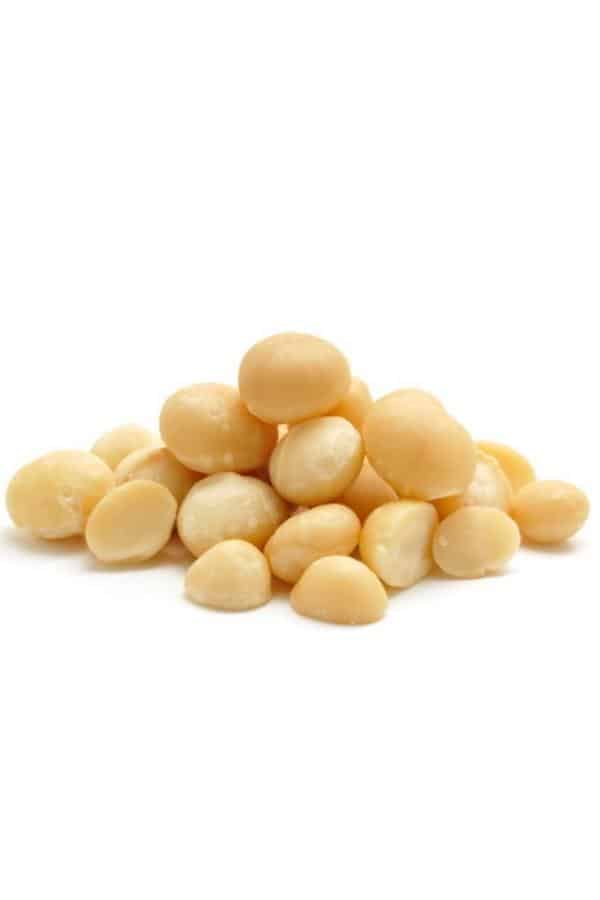 Serving Size 1.5 oz (42g): 18

Calories: 306

Fat: 32.25g

Carbs: 6g

Fiber: 3.75g

Protein: 3g
Macadamia nuts are a healthy weight loss alternative when you're craving something sweet and buttery.
They have a naturally buttery taste and texture thanks to the high amounts of heart-healthy monounsaturated fats. Plus, they're high in fiber and can keep you full for long periods of time.
You can snack on salted roasted macadamia nuts or try it in other forms. Two tablespoons of unsweetened macadamia nut butter have around the same nutritional value as a handful of macadamia nuts. And just between you and me, I think it's one of the most delicious nut butters you can have!
Also, if you love plant milk, you'll also definitely want to try macadamia nut milk. The natural richness of macadamia nuts makes it one of the creamiest and silkiest plant milks ever.
Here is an 8 oz. bag of macadamia nuts with Hawaiian sea salt.
Wrapping It Up
And that's my list of the best nuts for weight loss!
Although nuts are considered a high-calorie food, they can still play an active role in your weight loss journey as long you practice portion control with them.
They're packed with healthy fat, plant protein, and fiber, as well as healthy nutrients that'll promote healthy body weight and support your weight loss goals. As I just mentioned, it's all about portioning your intake so you can maximize the health benefits of these nuts and avoid weight gain.
Anyway, I hope you found this list of the healthiest nuts that you can incorporate into a healthy diet.
If you did, leave a comment below and let me know what your favorite nuts from the list are!
More Weight Loss Guides
If you liked this list, I have some more lists that are sure to help you on your weight loss journey!
Check out all of these next:
Oh, if you're looking for healthy and delicious recipes, be sure to follow my YouTube, Instagram, and TikTok pages. I post new ones on them all of the time.