The BEST Keto nuts and seeds you can eat are the ones with the lowest amount of carbs. However, not all nuts and seeds are created equal when it comes to their carb counts. So, today I'll be breaking down the best nuts for keto that you can snack on, and a few you might want to avoid!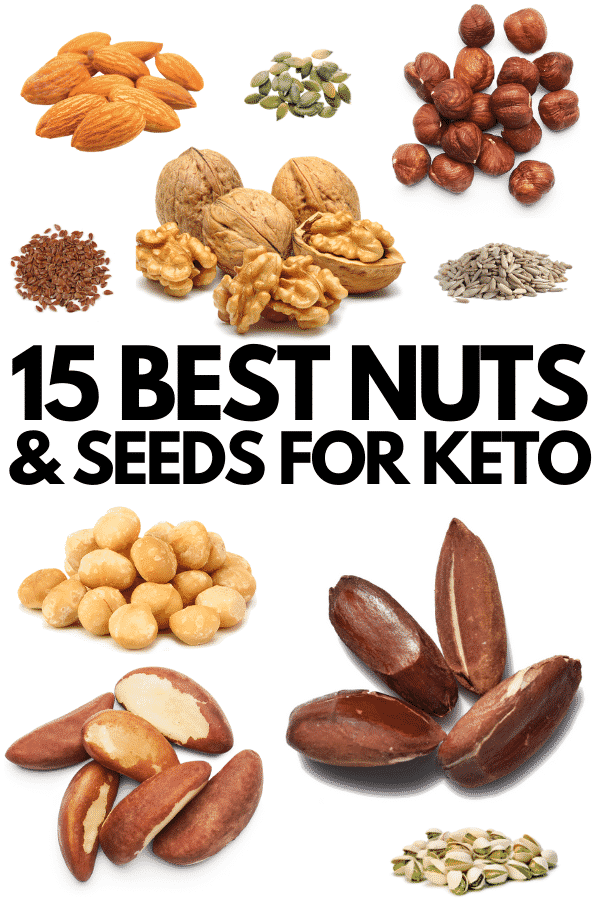 The Best Keto Nuts & Seeds
Nuts and seeds are a nutritious and delicious addition to the keto diet!
They're loaded with healthy fats and make a great snack or ingredient in keto desserts - I have a ton of delicious keto friendly recipes featuring nuts and seeds.
But did you know that they aren't all low carb?
So I've compiled a list of the best low carb nuts and seeds that are delicious and keto friendly - alongside some surprisingly high carb ones that you may want to eat in moderation.

1. Pili Nuts
Though you may not have heard of them, pili nuts are actually one of the most low carb and nutritious nuts out there with only 1 net carbs per serving.
Something to love about pili nuts is that they have a light and buttery flavor similar to higher carb nuts like cashews, making this superfood a guilt-free and protein-packed keto substitute.
Try them roasted, blend them into nut butter, or incorporate them in your favorite keto desserts!
2.

Pecans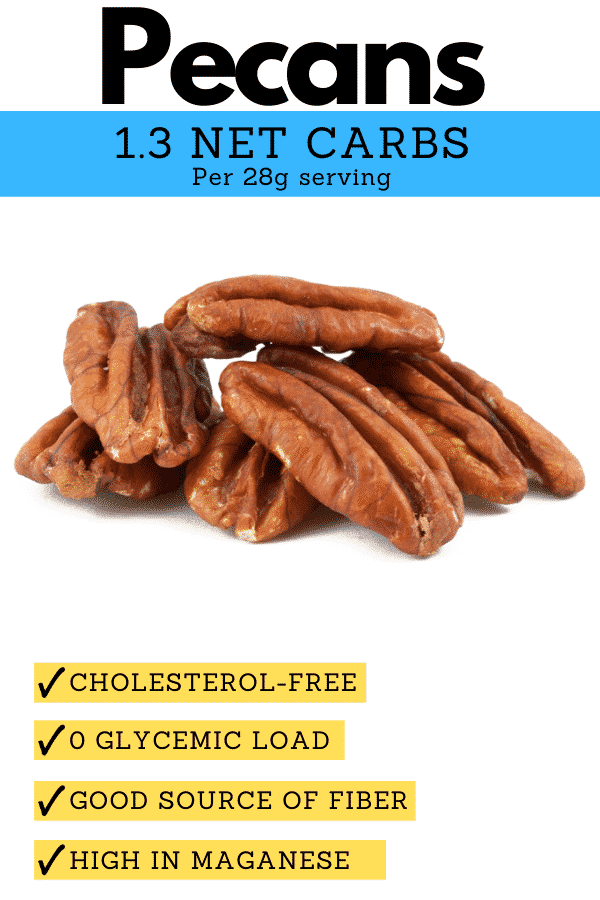 Most people know this delicious nut as the star of the beloved dessert, pecan pie. Oh, and if you like pecan pie, you have to try my 5 Minute Keto Pecan Pie!
But did you know that pecans are also incredibly low in carbs with only 1.3 net carbs and a great addition to any keto diet?
Also, besides being low carb, pecans also have the highest amount of antioxidants compared to other tree nuts.
You can use pecans in to make my Keto Pralines, Keto Candied Pecans, and Keto Butter Pecan Ice Cream.
3. Macadamia Nuts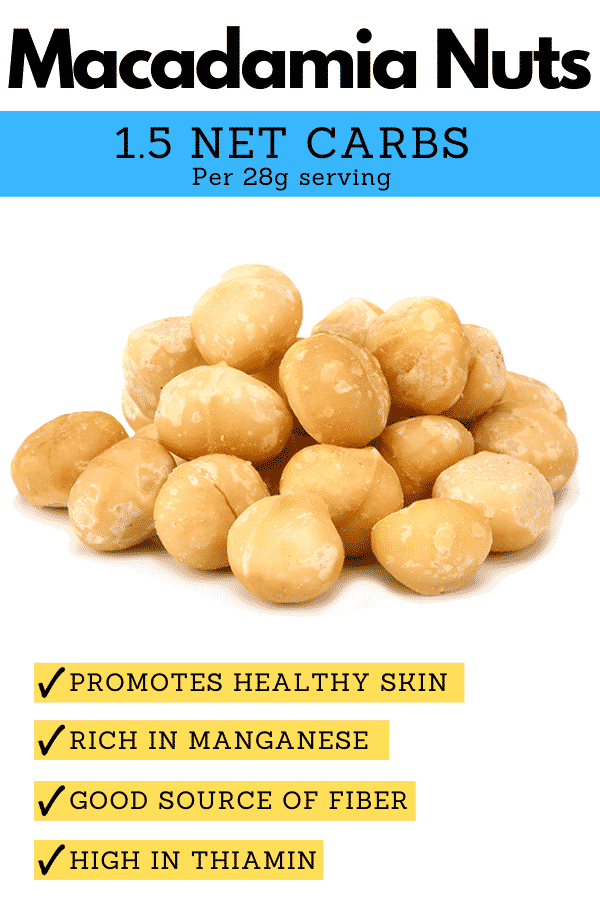 Rich, buttery, creamy macadamia nuts covered in chocolate are a favorite souvenir from Hawaii.
But even without the chocolate, these nuts are delicious and they have only 1.5 net carbs per serving!
If you love the decadent taste of the macadamia nut, you'll be happy to know that they're also one of the best low carb keto nuts you can eat.
Pro-tip, coat these in a tiny bit of baking spray and add a little garlic salt and onion powder to them. They'll literally taste like a low carb Cool Ranch Dorito.
4. Hazelnuts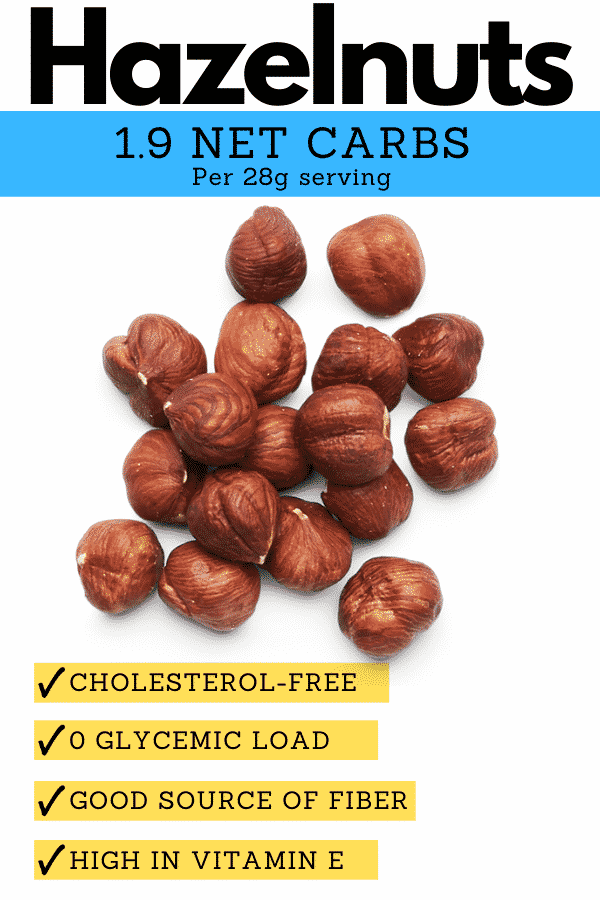 You might recognize the sweet taste of hazelnuts from the popular spread, Nutella.
They're extremely low carb and are a great option for keto. I mean, each 28-gram serving has less than 2 net carbs!
And since hazelnuts and chocolate are so absolutely amazing together, try pairing them with these super-rich keto brownie bites or these chocolate keto nut clusters.
5. Walnuts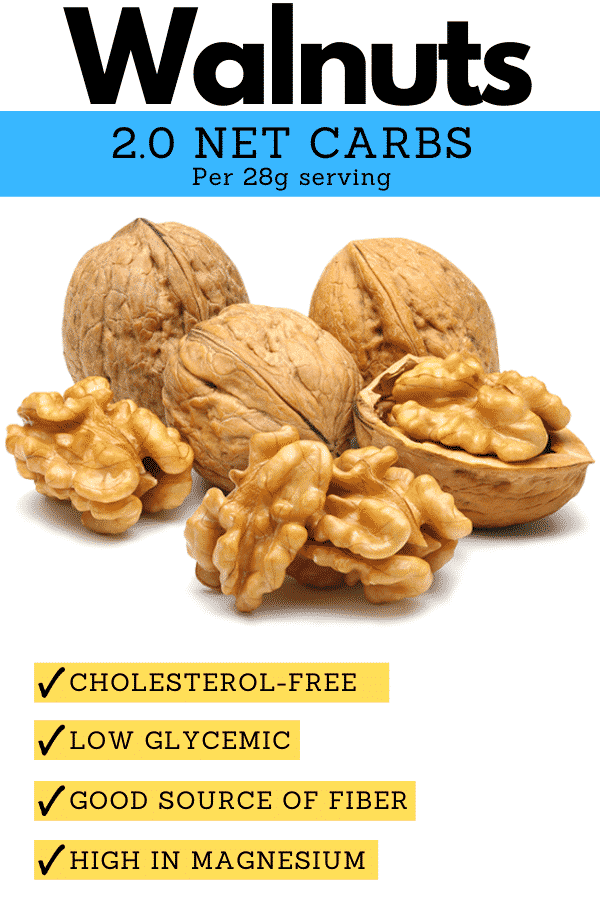 One of my favorite ways to use walnuts is in my Keto Banana Nut Muffins! And I also love adding them to my Keto Banana Bread.
These low carb nuts have 2 net carbs per serving and are full of healthy omega-3 fats, and those fats are good for your brain, eyes, and heart.
Walnuts are also high in magnesium, so they're good for your bones too.
By the way, if almond flour isn't "your thing" try using walnut flour in its place.
You can substitute them for one another on a 1:1 basis in most recipes.
6. Flax seeds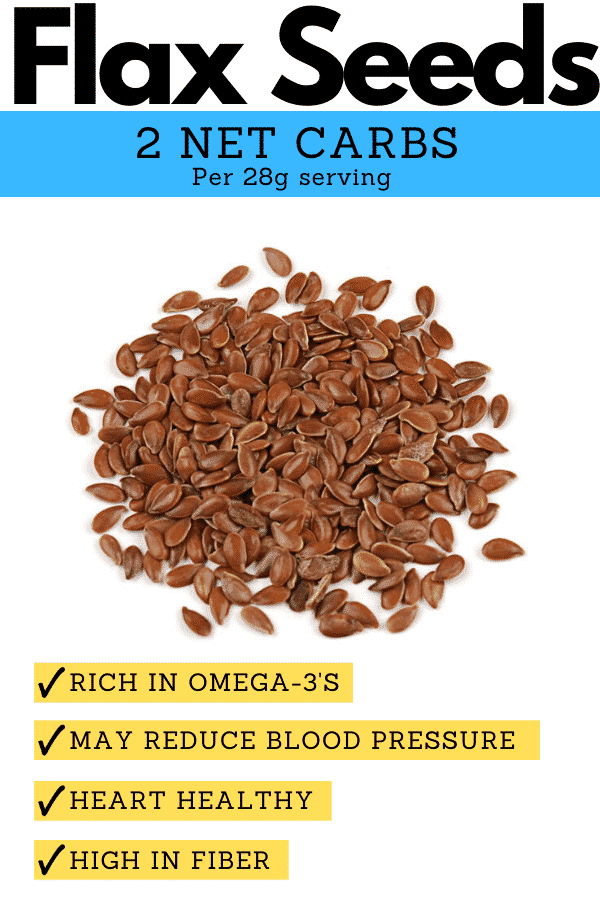 Flax seeds are not only great for keto, but they're also great for your gut health! Mostly since they're LOADED with fiber and only have 2 net carbs per serving!
And since they're so high in fiber, they can help keep you regular too.
That said, to get the full benefits of these seeds you'll want to make sure you eat the "ground up".
Otherwise, your body won't be able to utilize all of the nutrients from them!
Pro-tip, replace a ½ tablespoon of almond flour with a ½ tablespoon of ground flax seeds, for an added boost of nutrition in any keto recipe.
7. Chia Seeds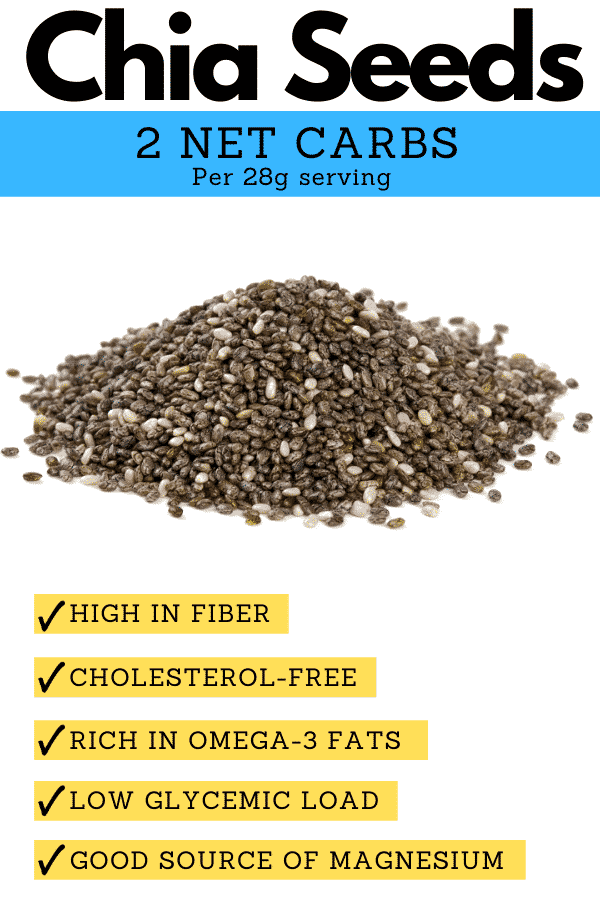 Chia seeds make a fantastic addition to any low carb keto recipe. They have excellent texture and make a great thickener for many keto snacks and desserts.
They also are also packed full of fiber, nutrients, and minerals. And since they have so much fiber, they're great for your gut health just like flax seeds are.
Personally, I love using these chia seeds to make low carb jam with since they only have 2 net carbs per serving!
8. Almonds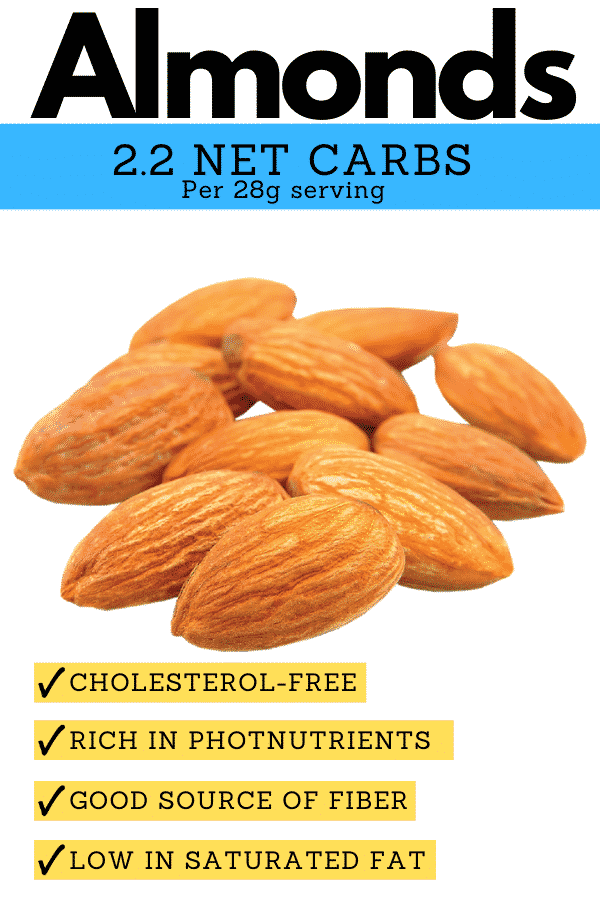 I use almond milk and almond flour a lot in my keto recipes like to make this Keto Pound Cake.
They're a great low carb option with just 2.2 net carbs per serving and make keto recipes taste fantastic! My top recipe on the blog with almonds is this Keto Almond Cake.
A handful - or two - of almonds also makes an amazing on-the-go keto snack idea.
Plain almonds are always good, but Legendary Foods makes some AMAZING keto-friendly Pizza Flavored Almonds and Ranch Flavored Almonds.
So check those out, if you haven't yet.
9. Peanuts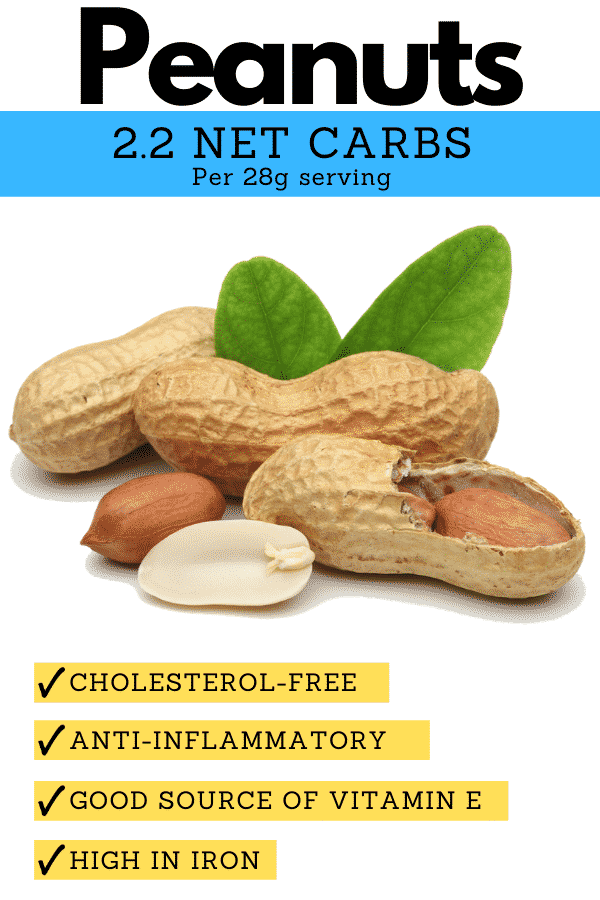 If you've been following my recipes for a while, you know that peanut butter is one of my absolute favorite recipe ingredients.
It's low carb, delicious, and goes so well in cookies, with chocolate, and even as a mousse!
Plus, peanuts also have anti-inflammatory properties, they're loaded with vitamin E, and have just 2.2 net carbs per serving!
There's a ton of amazing keto recipes that incorporate peanuts and peanut butter on the blog like these Keto Nut Clusters and this Keto Peanut Butter Ice Cream.
10. Poppy Seeds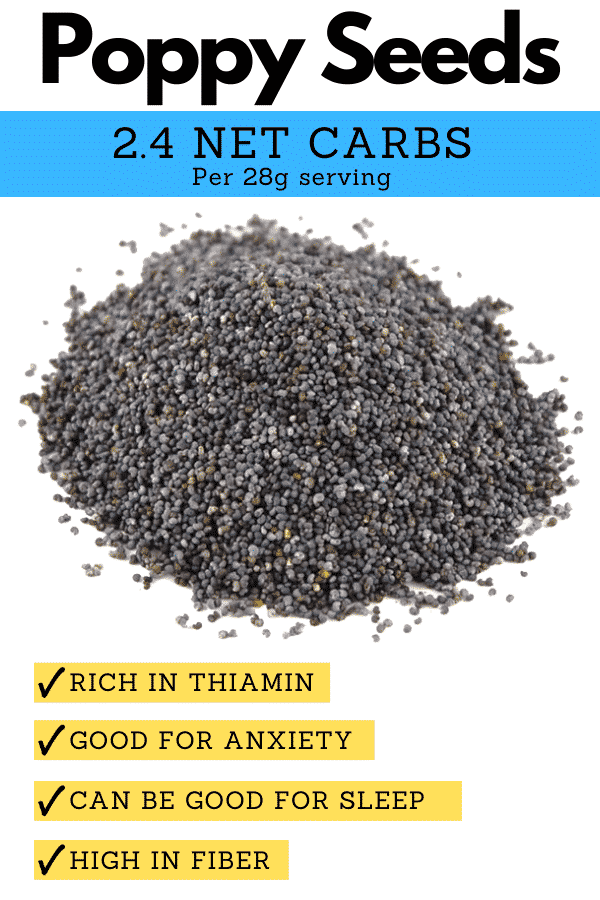 You probably already know poppy seeds as the deliciously crunchy seeds found in bagels and muffins.
Another reason to eat more poppy seeds? They're nutritious, have 2.4 net carbs per serving, and keto-friendly!
They're also high in fiber and good for sleep and anxiety.
Personally, my favorite way to incorporate these seeds into my day is by topping my Keto Bagels with them, and I also use them to make my Keto Lemon Poppyseed Mug Cake.
So give that a shot, if you're trying to sneak some poppy seeds into your day!
11. Pine Nuts
Pine nuts may not get as much attention as other tree nuts, but these low carb nuts are actually a great keto option!
These keto-friendly nuts are a great, low carb addition to salads. Try it with this avocado chicken salad, one of my favorites during the summer!
Also, there are many health benefits to pine nuts along with having just 2.7 net carbs per serving.
They're rich in vitamin k, a good source of fiber, and heart-healthy too!
12. Pumpkin Seeds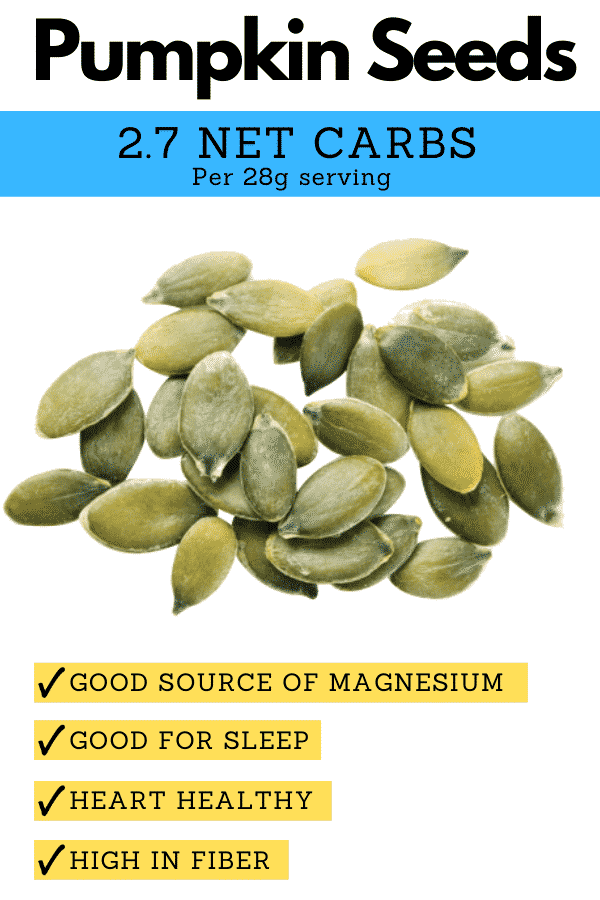 Pumpkin seeds also have 2.7 net carbs and there are so many fantastic ways to eat pumpkin seeds.
You can have them roasted, mixed with other low carb nuts and seeds, or added to all sorts of keto recipes like my Keto Pumpkin Bread.
At just 2.8 grams of net carbs per serving, these deliciously crunchy seeds would be a great addition to your keto diet!
Plus, they're rich in fiber, and heart-healthy too!
13. Brazil Nuts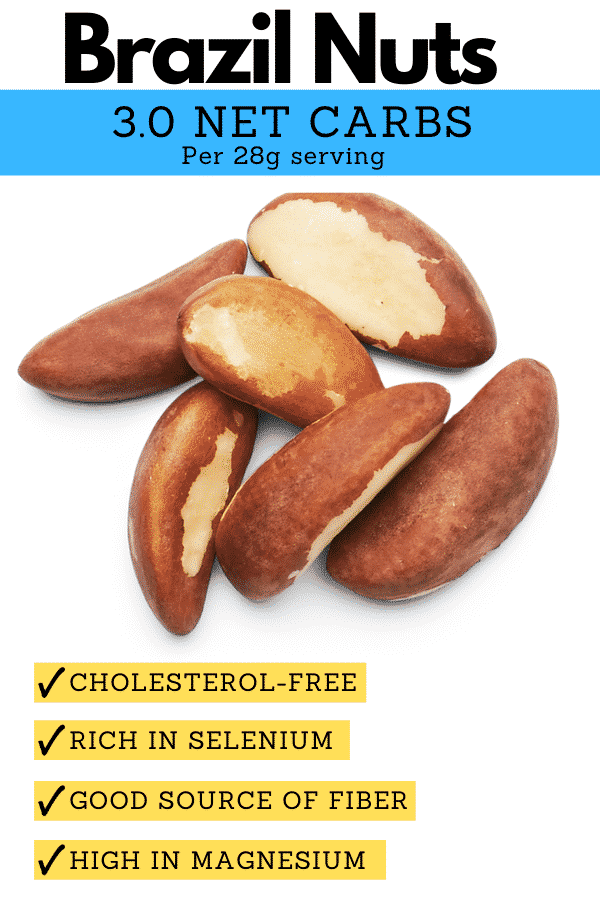 Brazil nuts are a versatile, low carb nut that can be eaten raw, roasted, or ground. Brazil nuts are little higher in carbs with 3 net carbs per serving, so you'll have to pay more attention to how many you eat.
They're rich in selenium so these nuts are great for your heart, immune system, and thyroid.
Brazil nuts are also anti-inflammatory too!
14. Sesame Seeds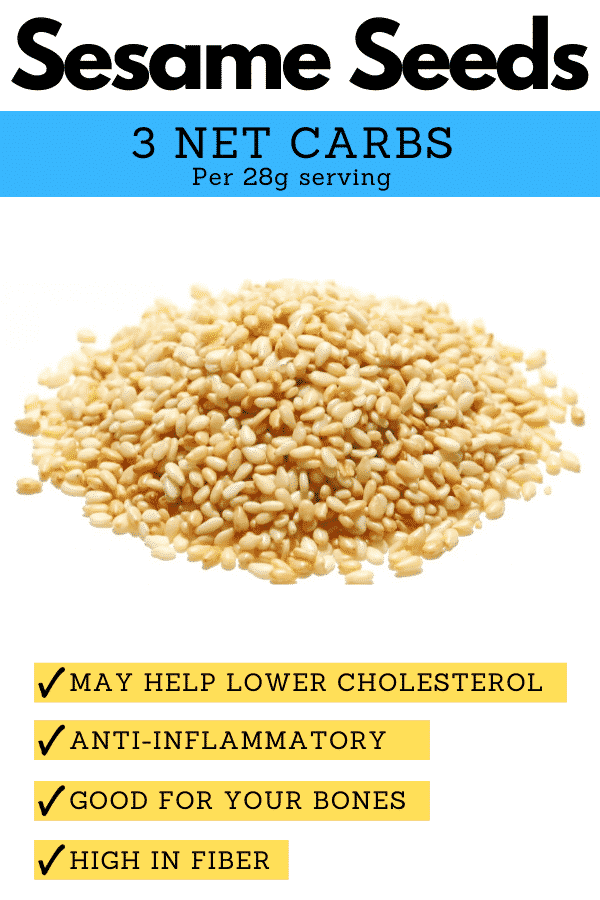 Sesame seeds also have 3 net carbs and they have such a unique and delicious flavor.
Sesame oil, especially this one, plays an irreplaceable role in some of my favorite savory keto recipes.
Also, sesame seeds are full of fiber, good for your bones, and they have anti-inflammatory properties too.
Plus, they're good for digestion too.
So don't hesitate to incorporate these low carb seeds into your keto diet!
15. Sunflower seeds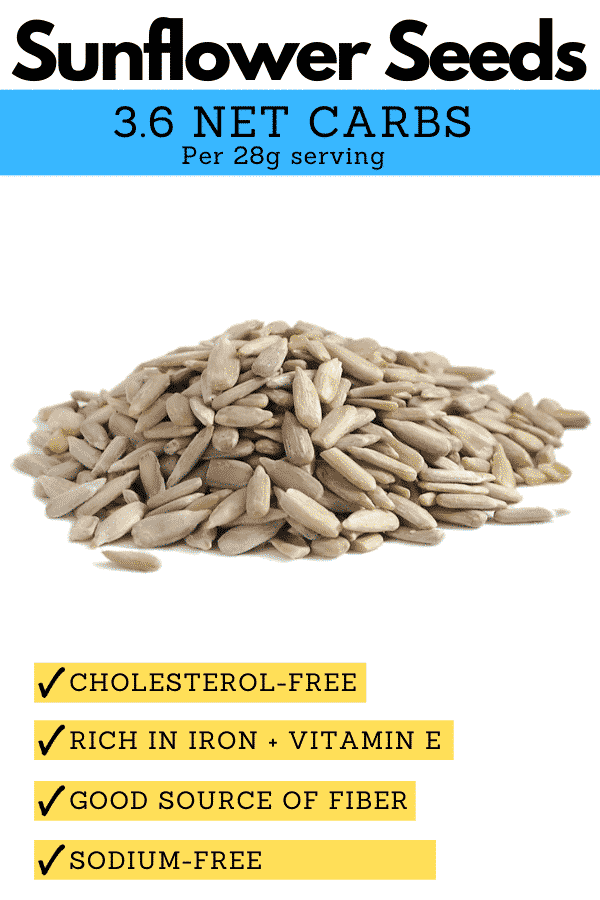 Sunflower seeds are the highest in carbs on the list with 3.6 net carbs per serving. They have a great nutty flavor and crunchy texture that makes them excellent for adding to keto baked goods.
They're also an amazing low carb keto snack idea if you get them in the shells because they take so long to eat.
Plus, they're a good source of fiber, they're rich in iron, and vitamin E.
Also, a lot of people don't know you can substitute sunflower seed flour for almond flour on a 1:1 basis in most keto recipes.
Worst Nuts For Keto
1. Pistachios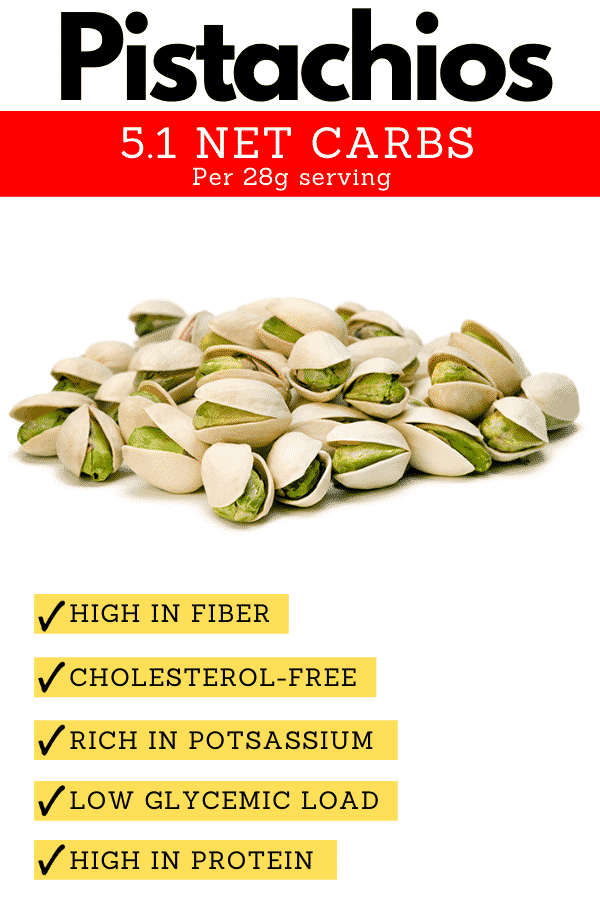 If you're on keto and love pistachios, you don't have to worry about avoiding them completely.
But, pistachios are definitely a nut you'll want to eat in moderation.
If you do eat pistachios, I suggest eating them in the shell since it will take longer to eat them. Or, pair them with other low carb keto nuts like these bags of Archers Farms Raw Mixed Nuts do.
That said, they are higher in carbs than many of the more keto-friendly nuts out there, so keep an eye on your daily carb intake limit if you indulge in them.
2. Cashews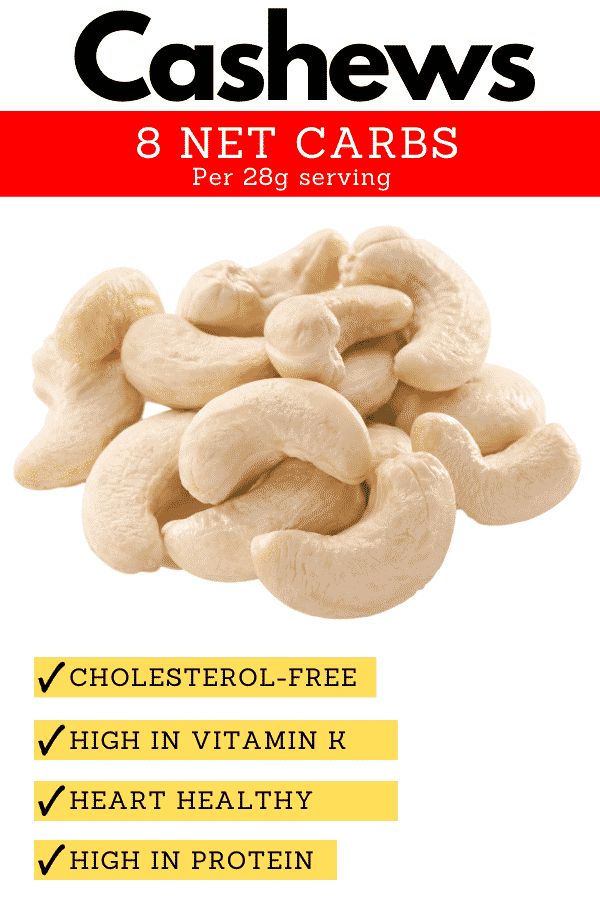 At 8 net carbs per serving, just a few handfuls of cashews can already fill your carb limit.
So, you may want to think about avoiding cashews completely.
If you find a recipe calling for cashew, there are lots of great substitutes on the list above like pili nuts, pine nuts, and walnuts!
3. Chestnuts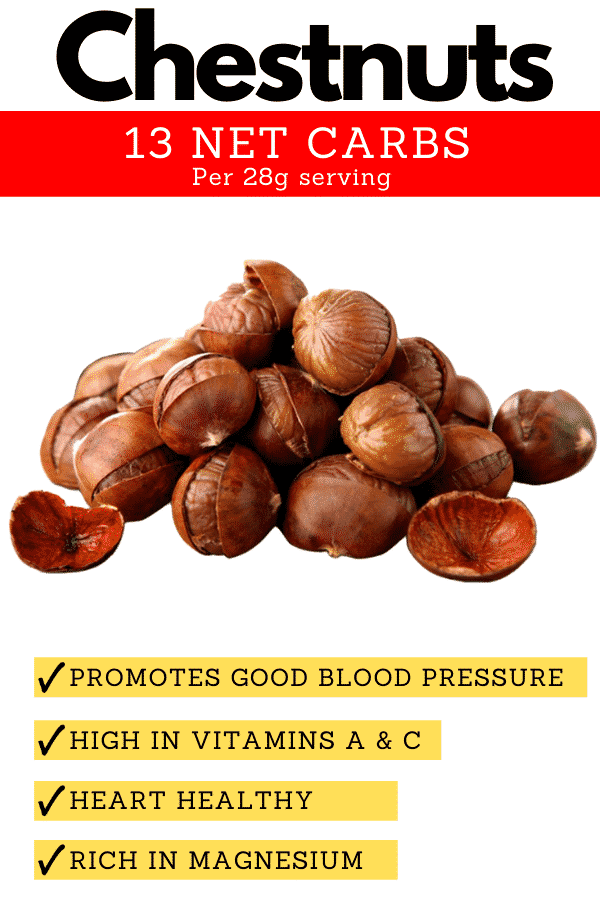 Unlike some of the other nuts on this list, chestnuts are definitely a nut you'll want to avoid.
Just one serving of roasted chestnuts has 13 grams of net carbs!
And that carb count really makes them off-limits if you're doing the keto diet.
So my advice is to just avoid these altogether.
WRAPPING IT ALL UP
And that is all of the best keto nuts, and seeds that you can eat while keeping it low carb!
Having some of these keto nuts is a great snack idea and you can use them in a variety of recipes, like to make my Keto Granola.
Anyway, I hope you find this list of keto nuts helpful! Make sure to leave a comment below and let me know what your favorite keto nuts from the list are.
MORE KETO LISTS
If you found this list helpful, I have a ton of other keto lists on the blog that I think you'll find helpful too.
Check these out: