This crustless pot chicken pie is loaded with hearty veggies and tender shredded chicken simmered in a luscious savory cream sauce. It's made in one pot with simple ingredients and is a quick, easy, and satisfying comfort food meal you can make for dinner tonight!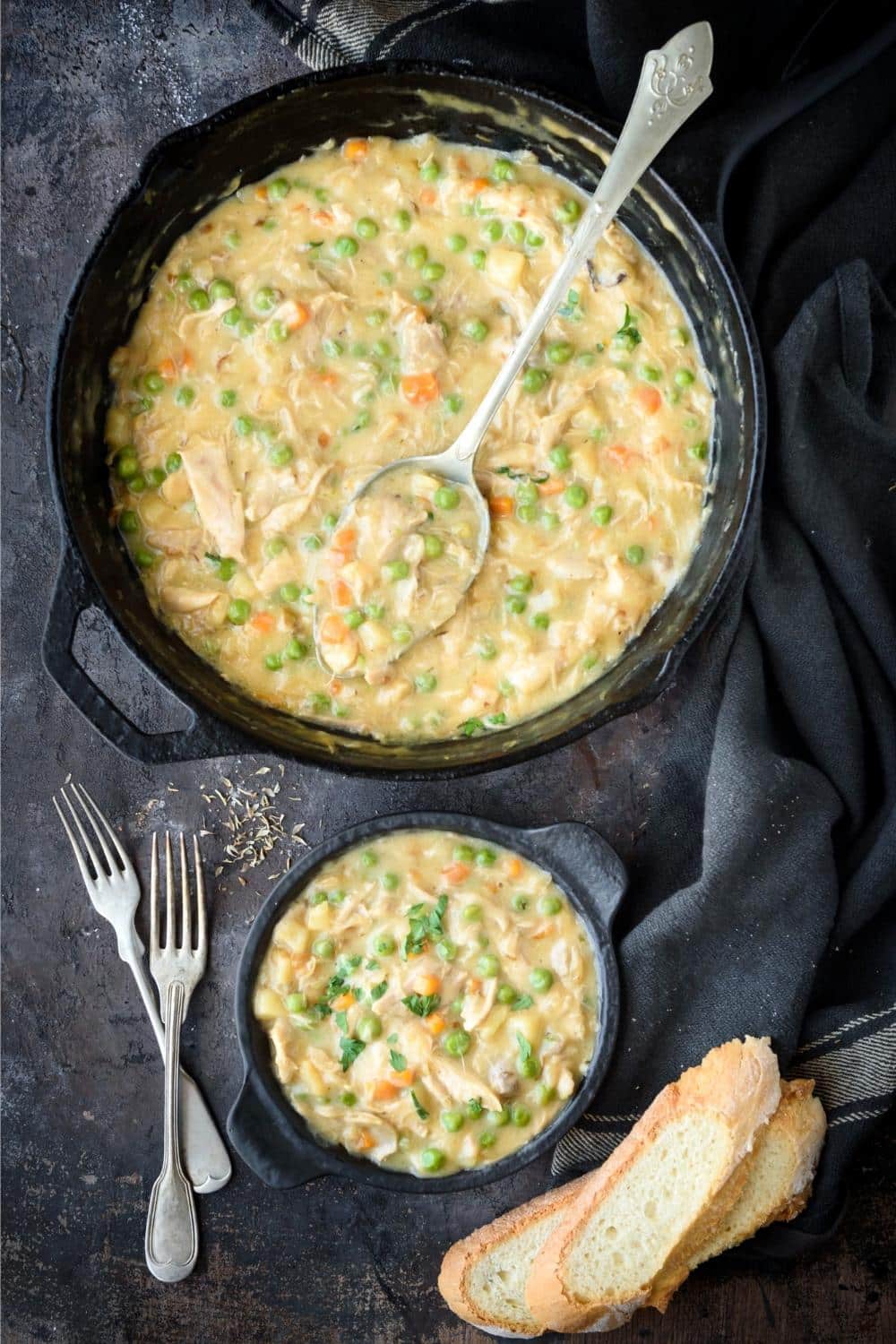 My Take On Crustless Chicken Pot Pie
This crustless chicken pot pie is so simple yet makes for an incredibly filling and comforting meal. Between the juicy shredded chicken, tender vegetables, and the rich sauce, this creamy soup-like meal is guaranteed to warm you up from the inside out.
I find myself making it a ton around these months when the weather starts to get chilly. Though, I would happily eat this any season of the year!
Of course, it also helps that this recipe is so quick and effortless to make. It's ready in about half an hour, so you don't have to wait long to dive into this deliciousness. If I'm making this healthy chicken pot pie soup for a family dinner, I'll serve it with a side of mashed potatoes or cauliflower mashed potatoes and these keto cheddar bay biscuits. If you want to make an even heartier version of this recipe, check out my chicken and biscuits casserole.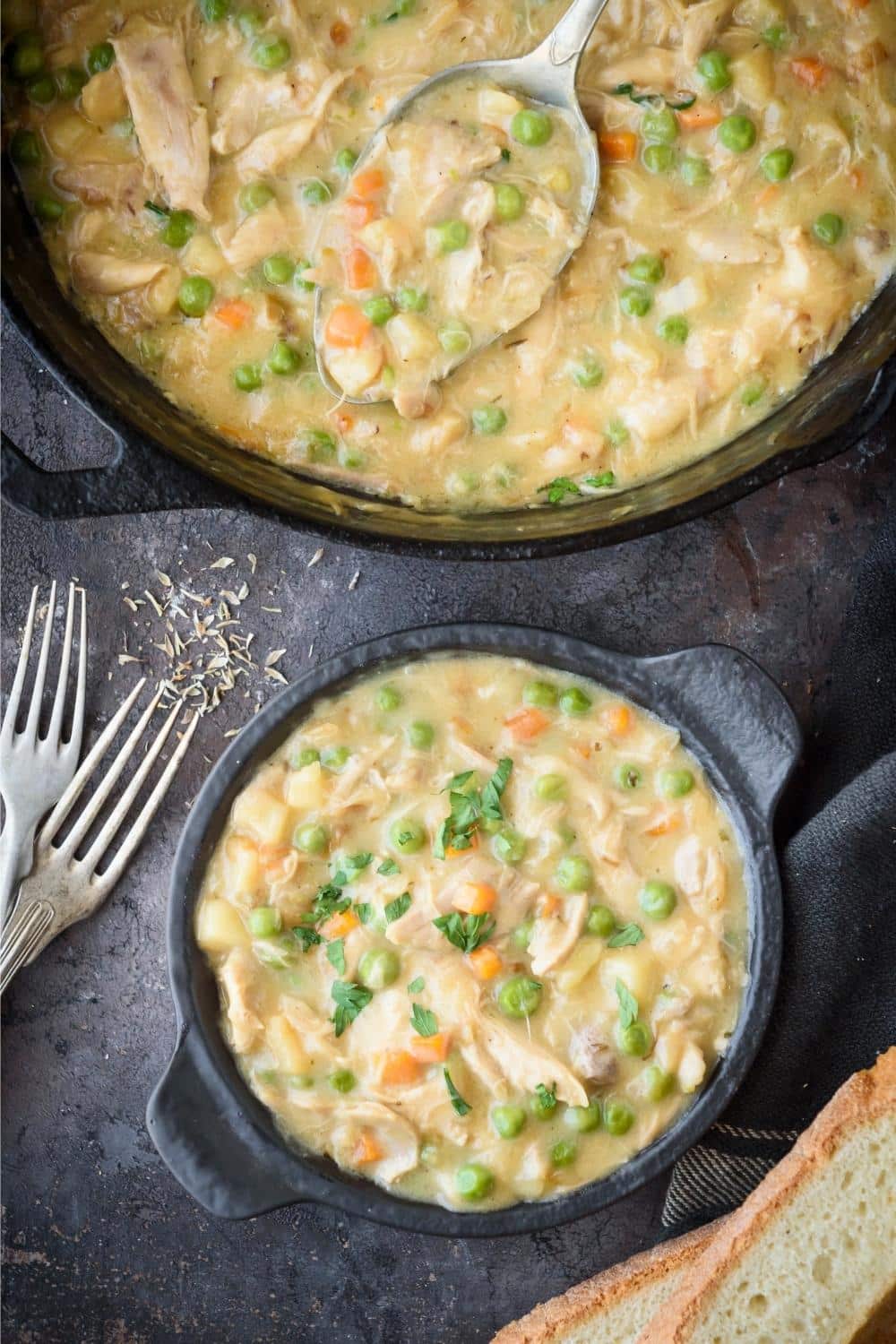 Why You'll Love This Recipe
It's healthy. Made with simple, wholesome ingredients and packed with nutritious vegetables and lean protein, this is a healthy dinner option that's both filling and nourishing.
Makes great leftovers. You never have to worry about wasted leftovers with this recipe. This creamy meal tastes even better the next day when all the flavors have had the chance to meld together.
Made in one pot. This recipe all comes together in just one pot on the stove, making it great for a big family meal with minimal clean-up. It's my kind of recipe now that I have two little ones at home!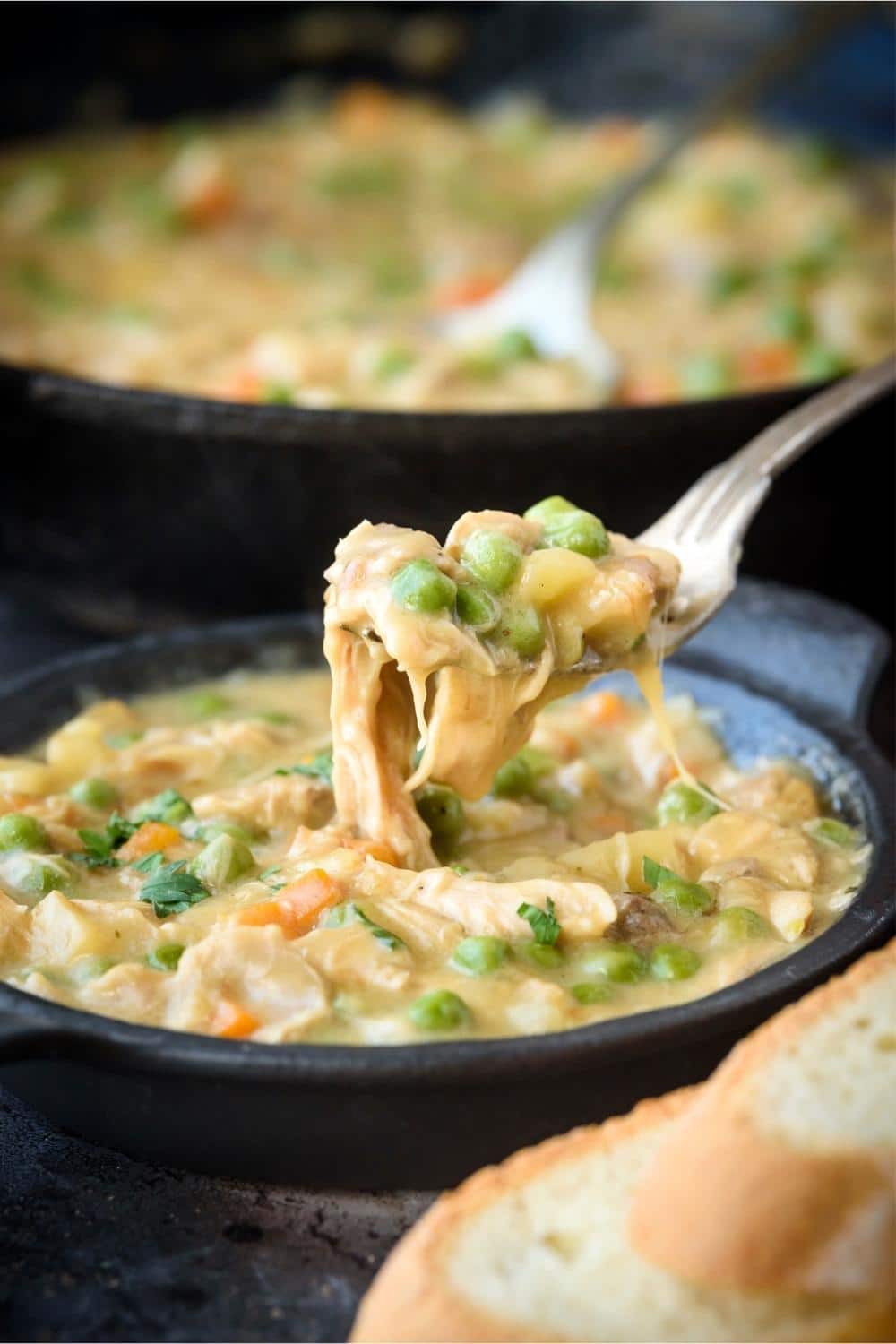 Ingredients
Shredded chicken - you can use pre-cooked rotisserie chicken or make my easy Instant Pot shredded chicken.
Potatoes, carrots, and onions - you'll need one of each, diced small for the filling.
Frozen peas - added at the last minute so they retain their tender texture and vibrant green color.
Olive oil - keeps the butter from burning and brings more flavor out of the veggies while sauteeing.
Butter - brings a lovely richness and buttery taste.
Flour - to thicken up the sauce.
Chicken broth - if you're using salted chicken broth, taste test the soup before seasoning with more salt.
Heavy cream - transforms this recipe from brothy chicken soup to a rich and creamy chicken pot pie filling.
Garlic - added at the end for a more pronounced savory, garlicky note
Salt and pepper - to bring out all the flavors.
Dried thyme - adds a touch of earthy, herby flavor.
Fresh parsley - for garnish and to add a touch of freshness to the dish.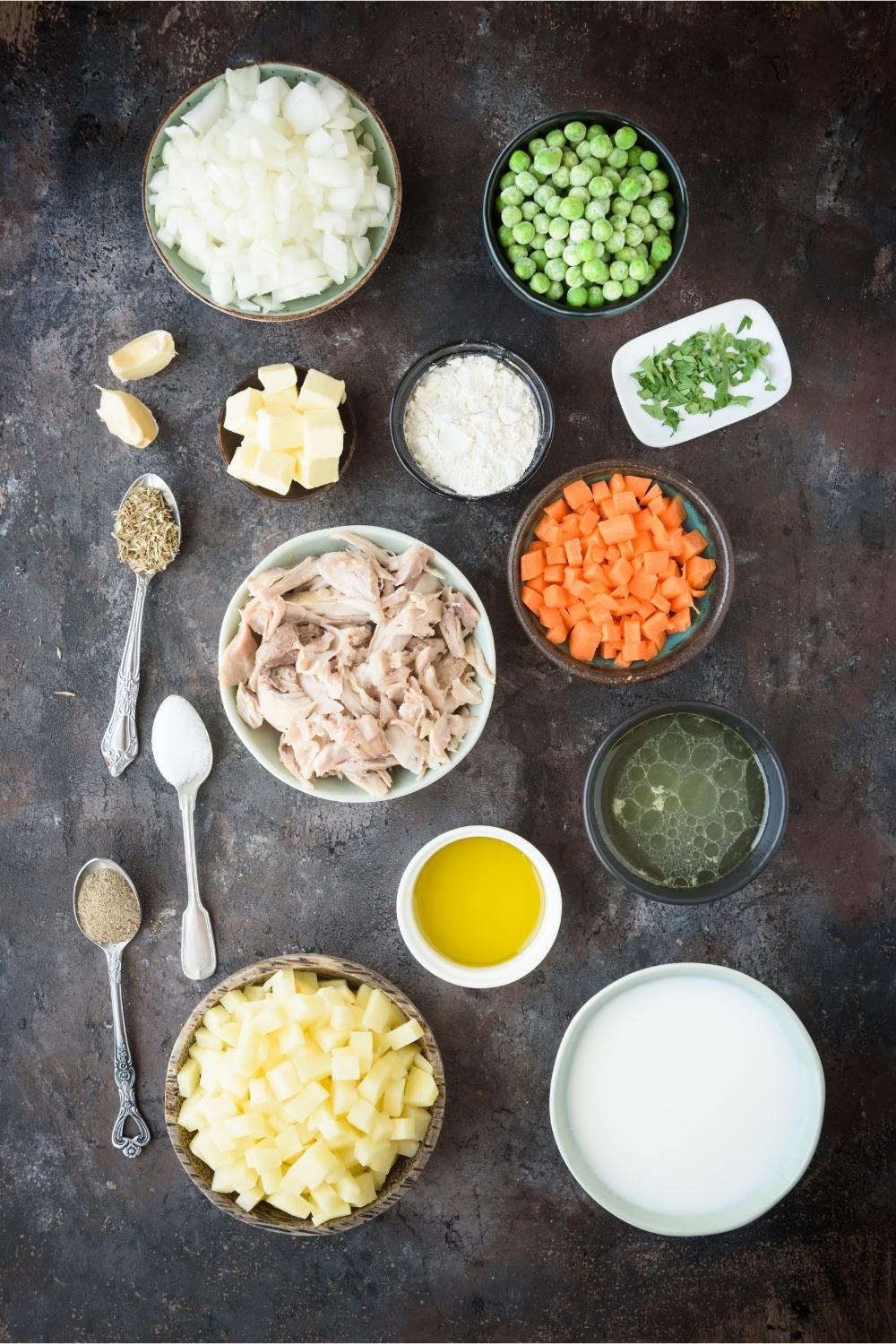 How To Make Crustless Chicken Pot Pie
1. Cook the vegetables: Bring a large skillet to medium heat on the stove and heat the olive oil and butter until melted. Add the diced potatoes, carrots, and onion, and saute them for 10 minutes. Sprinkle the two tablespoons of flour into the skillet and continue to saute the veggies for another minute.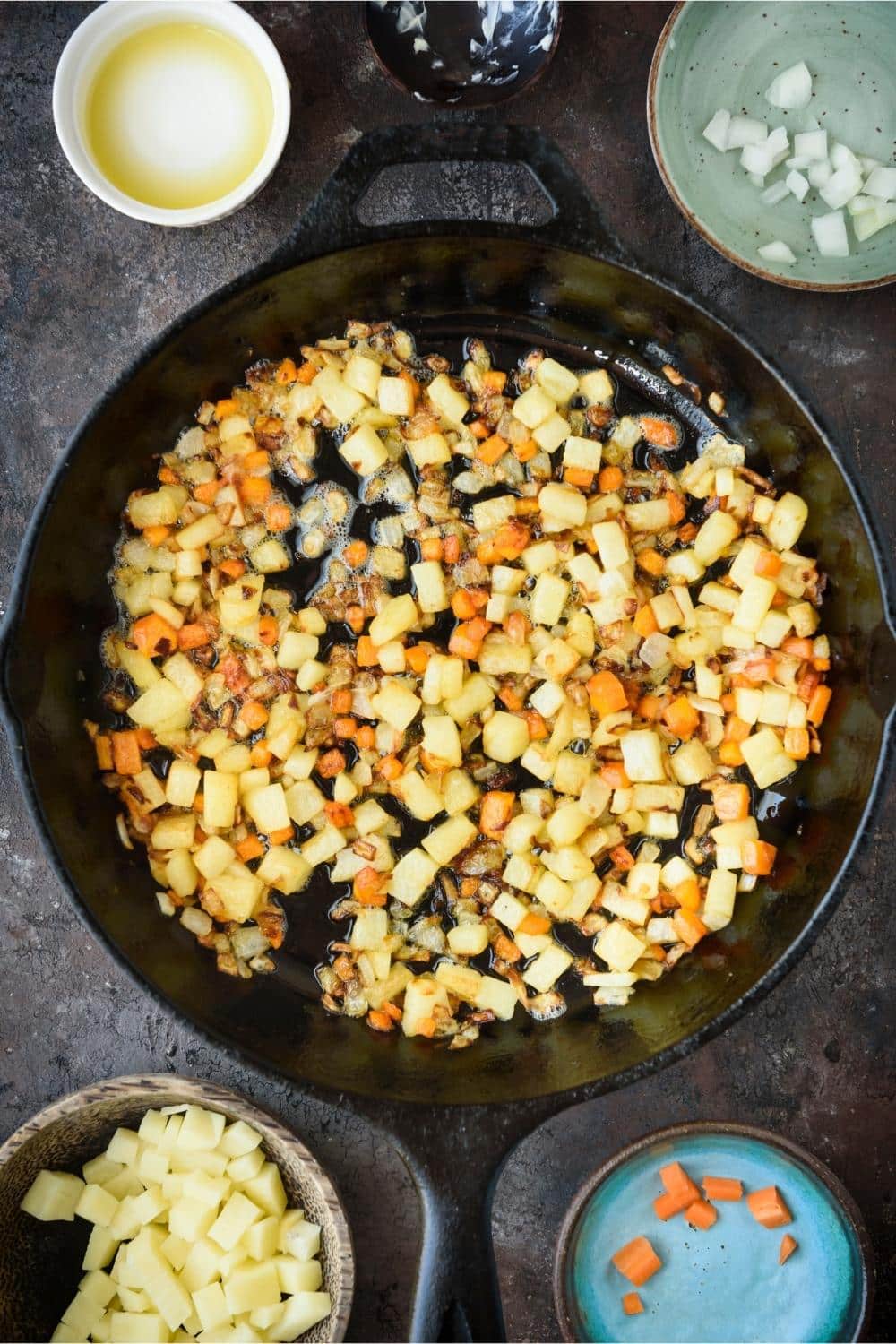 2. Make it creamy: Pour in the chicken broth, using it to deglaze any browned bits stuck to the bottom of the pan. Follow that up with the heavy cream, then cook for 5 minutes, stirring continuously until the soup has thickened nicely and become smooth and creamy.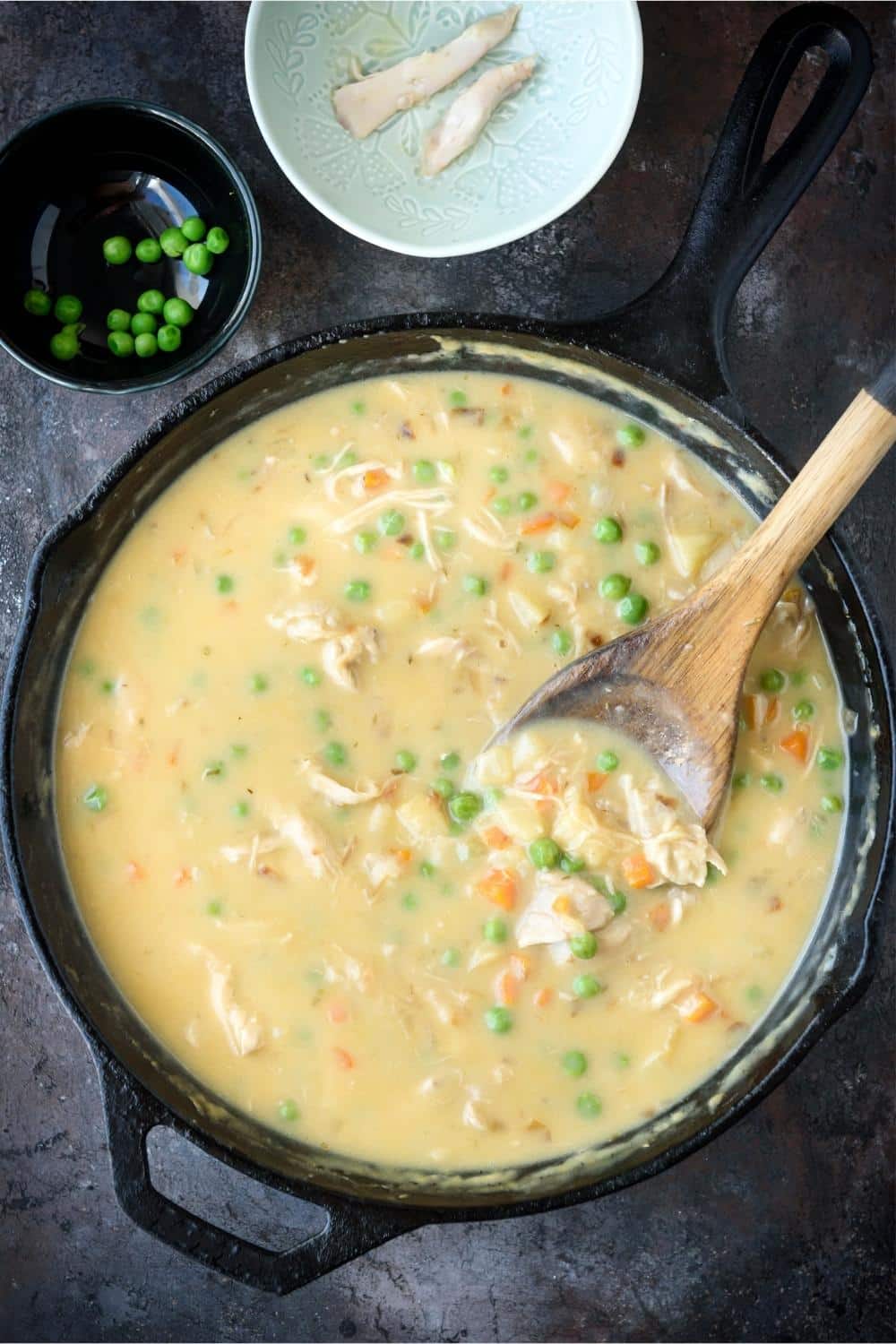 3. Add the chicken: Add in the shredded chicken and peas, then bring the burner down to low heat and simmer for 10 minutes.
4. Season and garnish: Stir in the thyme, salt, and pepper, then taste test and add more seasoning as needed. Mix in the minced garlic, followed by fresh chopped parsley. Serve warm and enjoy!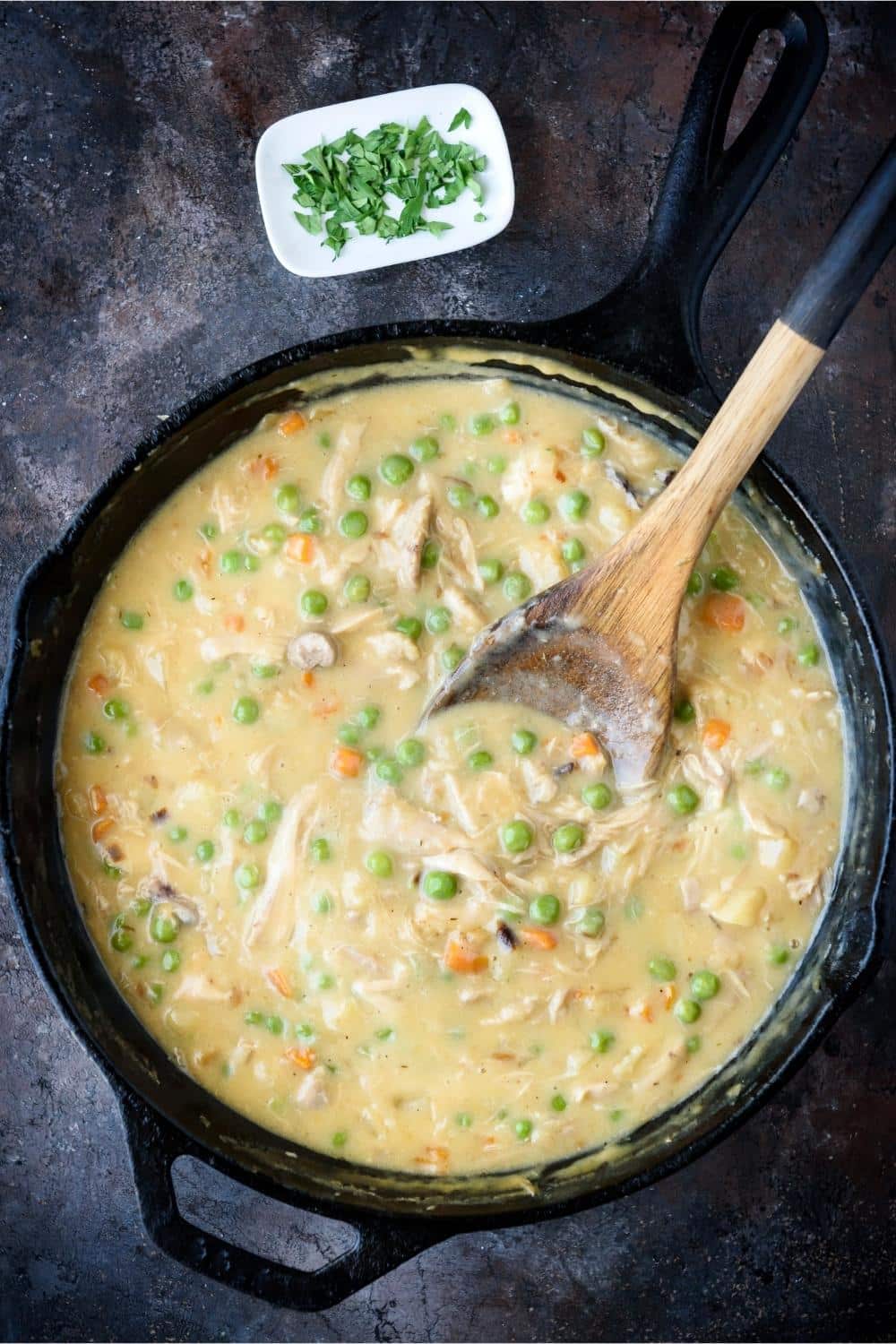 My Pro Tips To Make the Best Recipe
Use two cups of cream of chicken soup instead of the heavy cream and broth for a slightly different flavor.

Add some of your favorite cooked pasta or rice in the last two minutes of cooking for a heartier dish.

For a cheesy twist, stir in some shredded cheese after the chicken and peas. Cheddar, swiss, and gruyère are some great melting cheeses to try.

This recipe is great for sneaking more veggies into your diet, so go ahead and add any fresh vegetables or frozen mixed vegetables you have on hand.

If you want to bake the filling into a pie crust, I highly recommend my almond flour pie crust recipe. Par-bake it with some pie weights or baking beans for about 10 minutes, then pour in the filling, add a top crust, and bake until crisp and golden.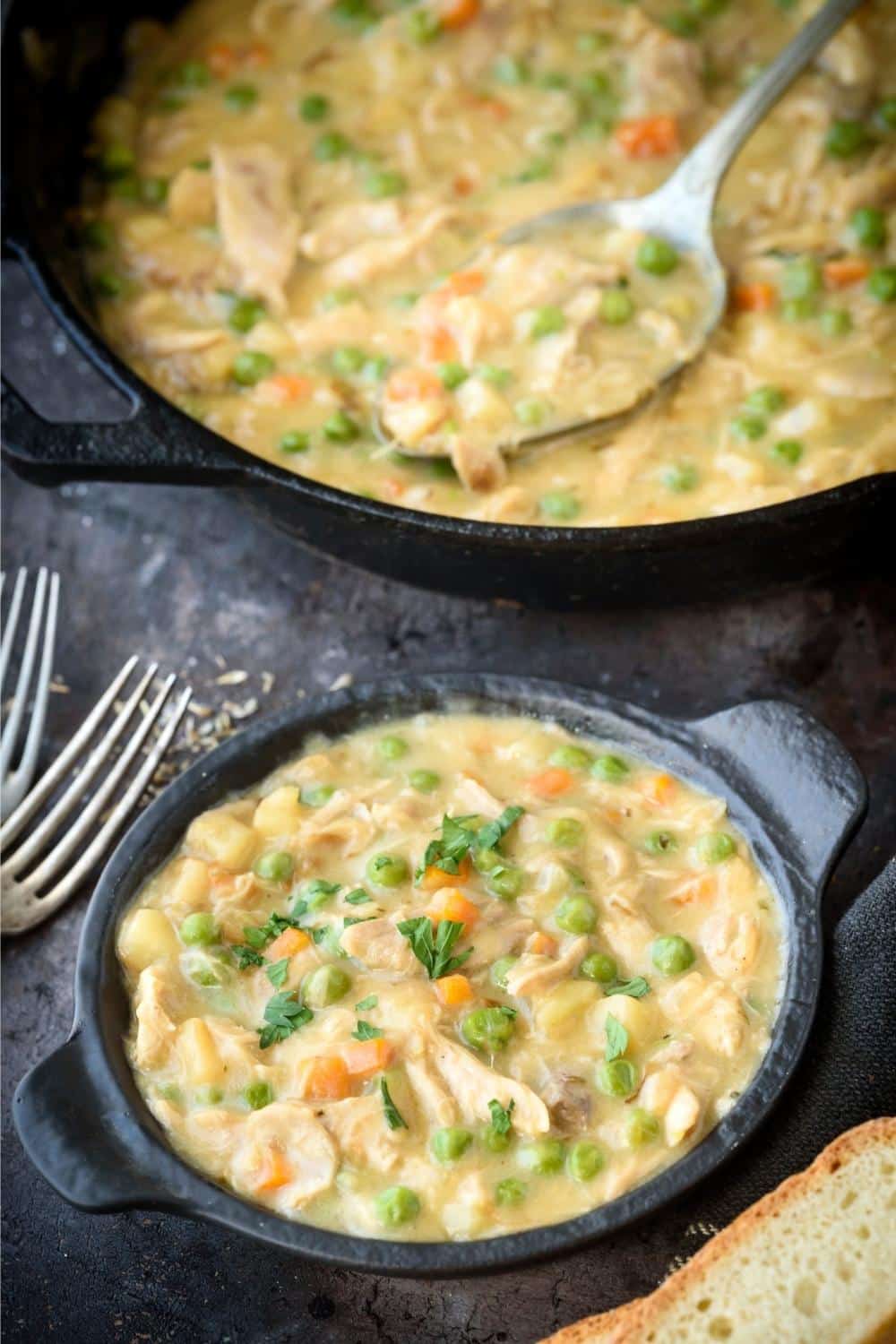 How I Recommend Storing and Reheating Leftovers
In the fridge: I love making a double batch of this recipe to have leftovers for the week. I'll just store the leftovers in an airtight container and refrigerate them for up to 4 days.
In the freezer: If you want to keep everything for longer, transfer the cooled leftovers to a freezer-safe bag or container and freeze for up to 4 months.
Reheating: I like to put the leftovers in a saucepan and heat them over medium heat, stirring frequently for a few minutes until it's warm. You can also microwave individual servings in 30-second increments until warm. I personally don't like the texture it gives the chicken.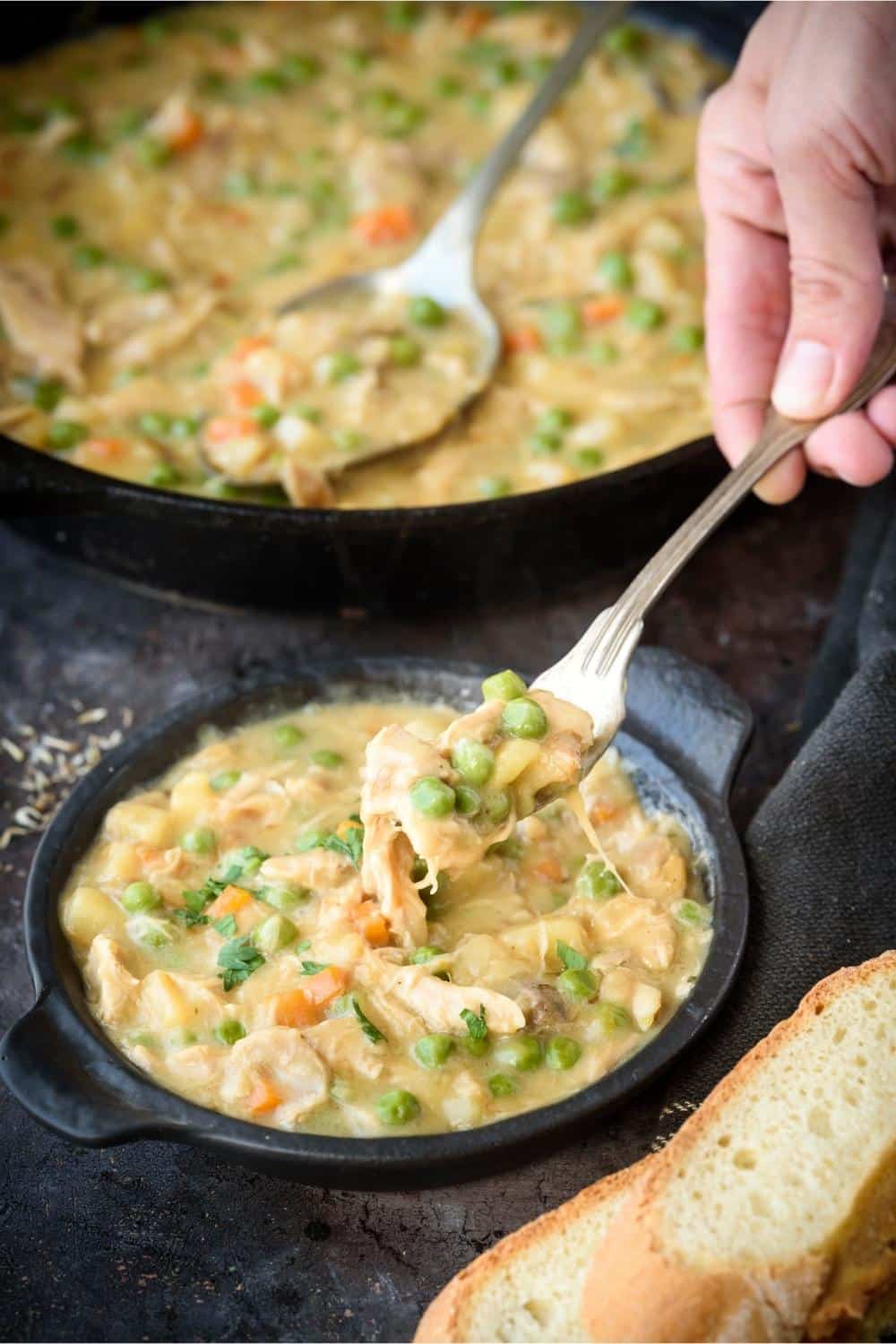 More Recipes To Try Next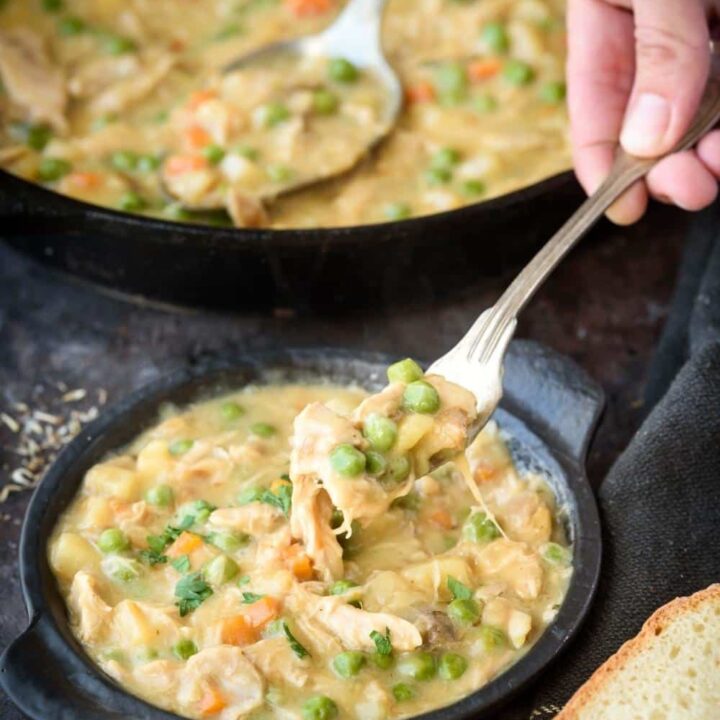 Crustless Chicken Pot Pie
This crustless pot chicken pie is loaded with hearty veggies and tender shredded chicken simmered in a luscious savory cream sauce. It's made in one pot with simple ingredients and is a quick, easy, and satisfying comfort food meal you can make for dinner tonight!
Ingredients
3 cups chicken, shredded 
1 potato, diced
1 carrot, diced
1 onion, diced
1 cup peas, frozen
1 Tablespoon olive oil
2 Tablespoons butter
2 Tablespoons flour
2 cups chicken broth
⅔ cup heavy cream
2 garlic cloves
1 teaspoon salt
½ teaspoon black pepper
1 teaspoon thyme
1 Tablespoon fresh chopped parsley
Instructions
Heat the olive oil and butter over medium heat in a large skillet. Add onions, carrot, and potato and cook for 10 minutes, stirring occasionally.

Mix the flour into the vegetables, and cook for 1 minute while stirring the veggies.

Next, add the chicken broth while stirring and scraping to loosen the browned bits from the bottom of the pan. Pour the heavy cream, and cook for 5 minutes, stirring frequently until the sauce has thickened and become creamy.

Stir in the chicken and peas, and cook for 10 minutes on low heat.

Season with salt, pepper and thyme. Add minced garlic. Stir in the parsley.

Serve warm with slices of bread.
Nutrition Information:
Serving Size:

1 cup
Amount Per Serving:
Calories:

20.8
Total Fat:

20.8g
Saturated Fat:

9.9g
Trans Fat:

0g
Unsaturated Fat:

0g
Cholesterol:

124mg
Sodium:

1095mg
Carbohydrates:

21.6g
Fiber:

4.1g
Sugar:

4.7g
Protein:

37.2g