This hearty cowboy soup recipe is the ultimate one-pot comfort food meal! Loaded with nutritious veggies, tender beans, and meaty ground beef simmered in a rich and flavorful tomato broth, it's packed with flavor and goodness in every spoonful.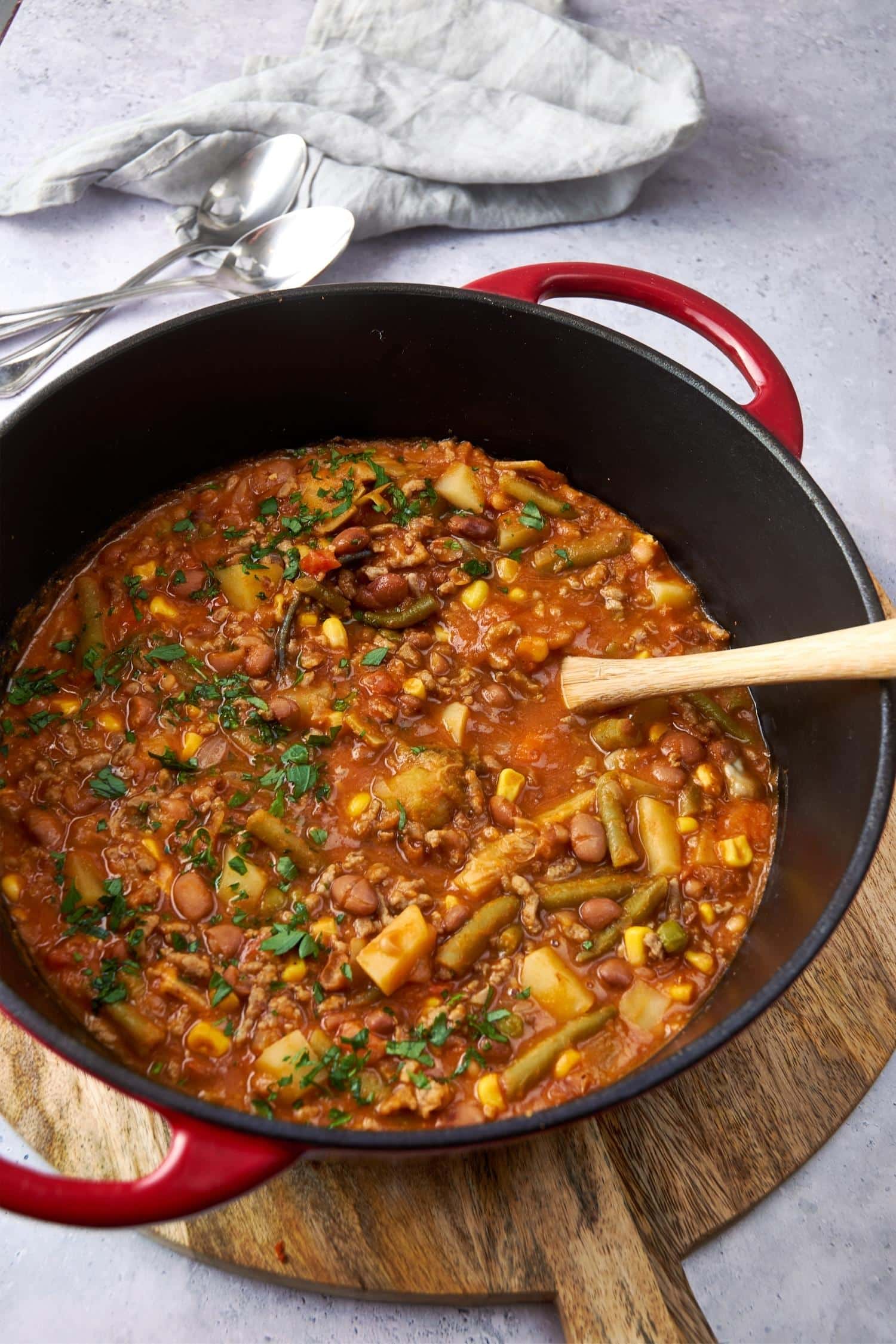 My Take On Cowboy Soup
Whether it's a cool fall evening, a cold winter day, or you're feeling under the weather, I think we can all agree that there's nothing more comforting than a nice big bowl of soup.
And when I'm looking for something a little more nourishing, I always find myself craving this veggie-filled cowboy hamburger soup. It's warm, satisfying, and packed with healthy veggies, beans, and meat. Perfect for filling family dinners or entertaining guests!
I love serving it with these keto cheddar bay biscuits to dip into the flavorful broth. So you might want to make that recipe too!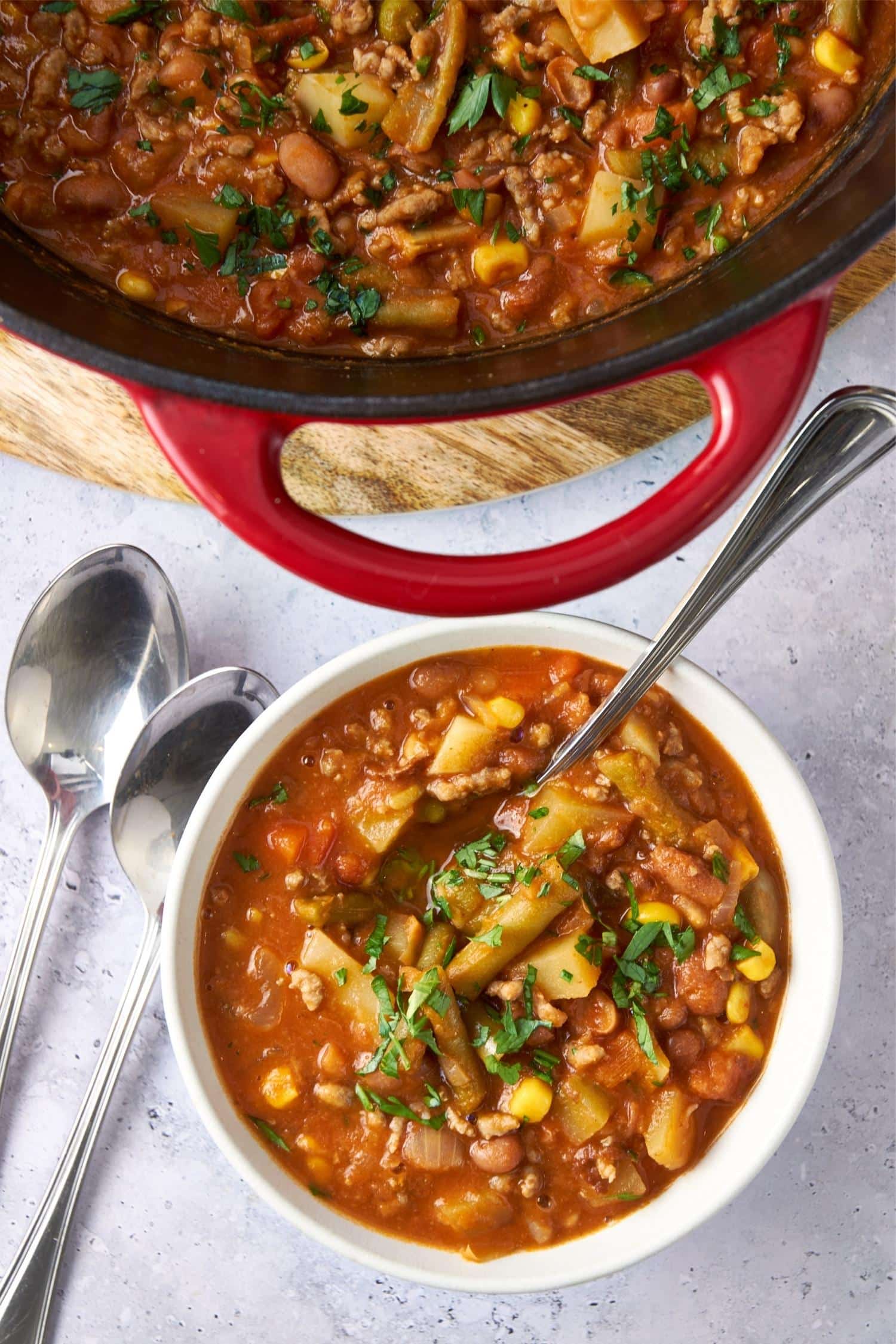 Why You'll Love This Recipe
It's healthy. Filled with nourishing veggies and lean protein from beef and beans, it's a cozy recipe that's packed with goodness in each spoonful.
Simple ingredients. This wholesome and satisfying soup is put together with frozen and canned vegetables, pantry staples, and other common ingredients.
Easily customizable. There's plenty of room to customize this recipe to suit your tastes. Add some sliced sausages or flavorful chorizo, switch up the kind of beans you use, or double up on the spice with green chilies or hot sauce.
Makes great leftovers. Don't be afraid to make a bigger batch of this recipe for dinner or lunch the next day. The leftovers taste just as good, maybe even better!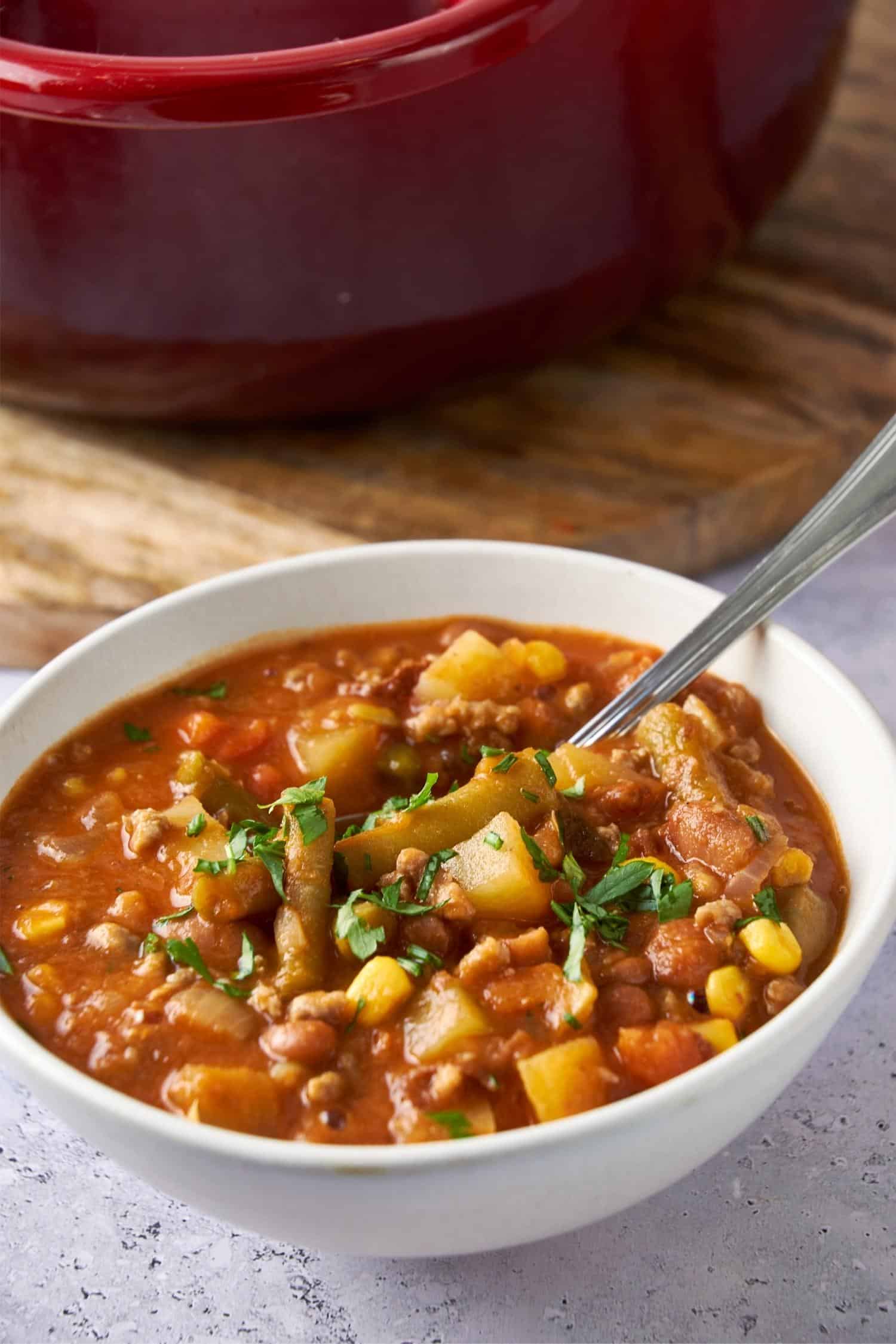 Ingredients
Ground beef - I use lean ground beef for less fat in the final dish.
Onions and garlic - build a flavorful base for the cowboy soup.
Chili powder - adds some nice heat.
Cumin - brings warming, savory notes that complement the beef and soup broth perfectly.
Salt & pepper - make all those delicious flavors pop.
Ranch-style beans - also called seasoned chili beans, they're basically pinto beans cooked in a savory tomato-based sauce. You can make them from scratch, but I usually use canned ones for more convenience.
Pinto beans - you can use canned pinto beans or simmer dried beans in seasoned water for a few hours.
Frozen mixed vegetables - the mix I used had brussels sprouts, green beans, peas, and carrots, but feel free to use any frozen veggies you like. Fresh vegetables would be great here too.
Whole kernel corn - adds a nice bite and subtle sweet undertone.
Diced tomatoes - make the soup tangy and brothy.
Russet potatoes - their starchiness helps thicken the soup as they cook, and they absorb so much flavor. Use them peeled or unpeeled, depending on your preference.
Beef broth - doubles down on the beefy flavor and makes the soup richer and more substantial.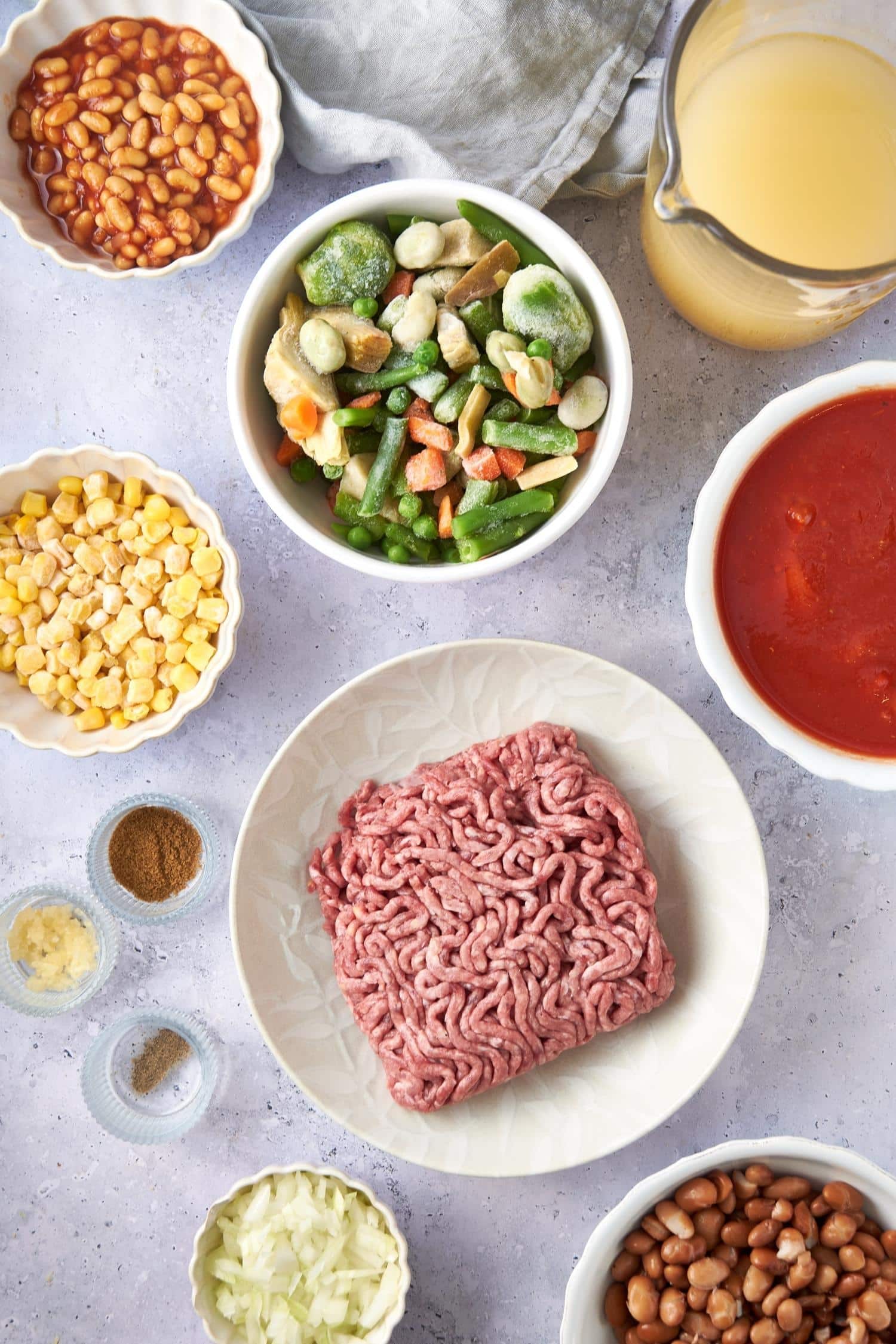 How To Make Cowboy Soup
1. Cook the beef. Put a large pot or Dutch oven over medium heat on the stove and add the ground beef. Cook the beef, breaking it apart, until it's browned. Then drain the excess grease from the pot.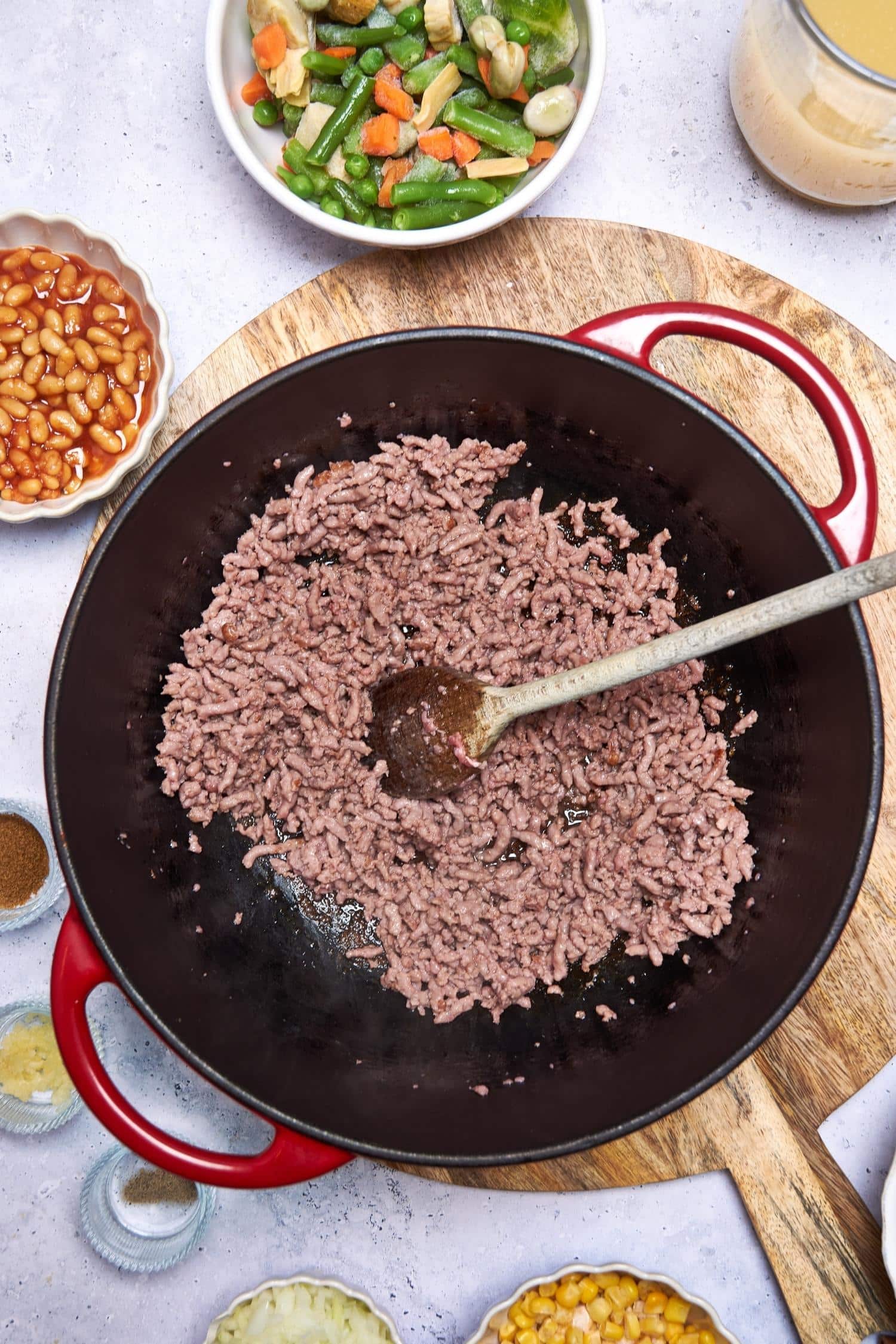 2. Add the vegetables. Add the onions, garlic, and all of the spices to the pot and saute for 5 minutes or until the onions have softened. Follow that up with the ranch beans, pinto beans, corn, mixed veggies, and diced tomatoes. Stir to combine everything, then add the potatoes and pour in the beef broth.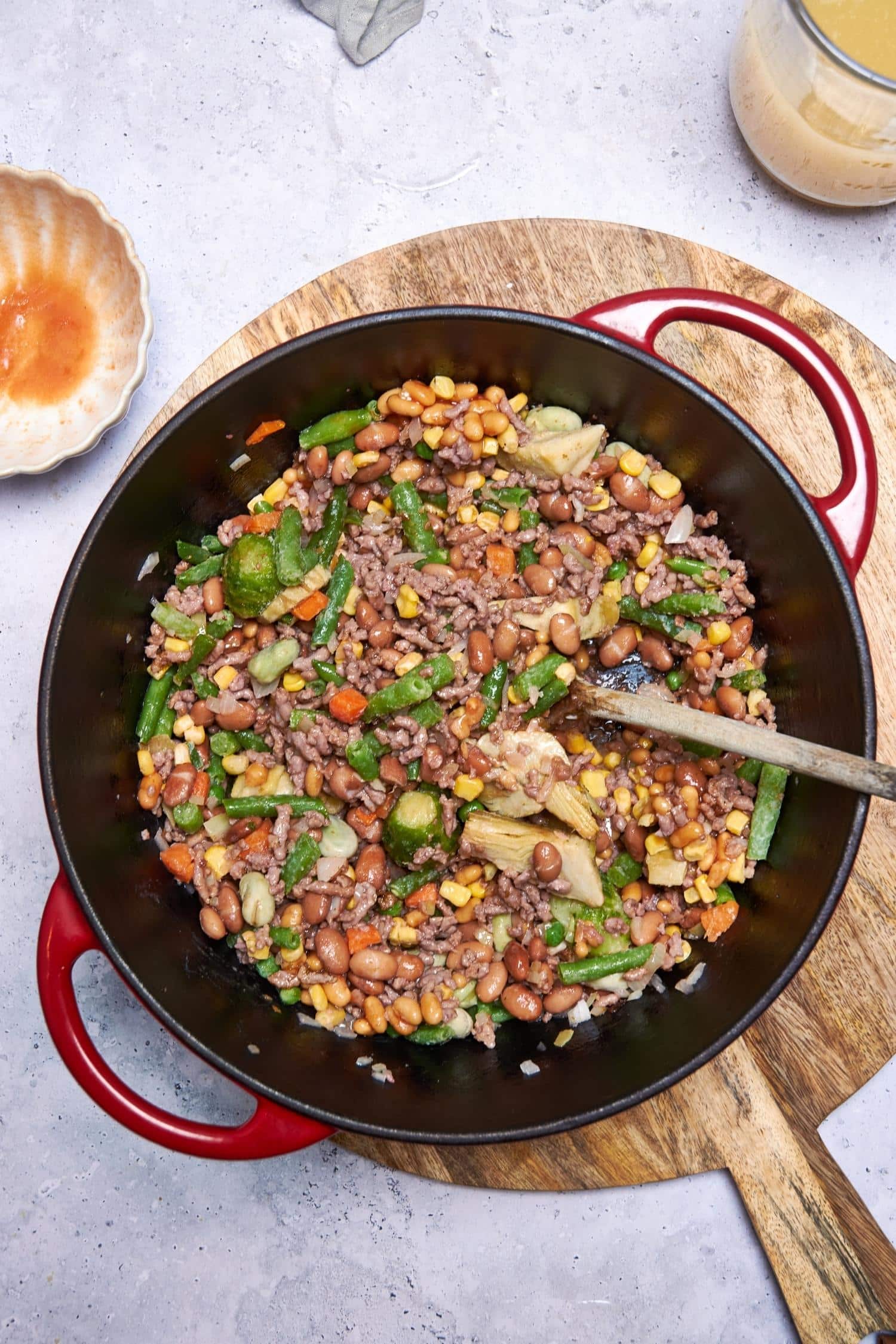 3. Simmer the soup. Bring the soup to a boil, then reduce the heat to a simmer. Let the soup simmer uncovered for 20 minutes or until the potatoes have reached your desired tenderness. I like to cook the soup until the potatoes are super fork-tender.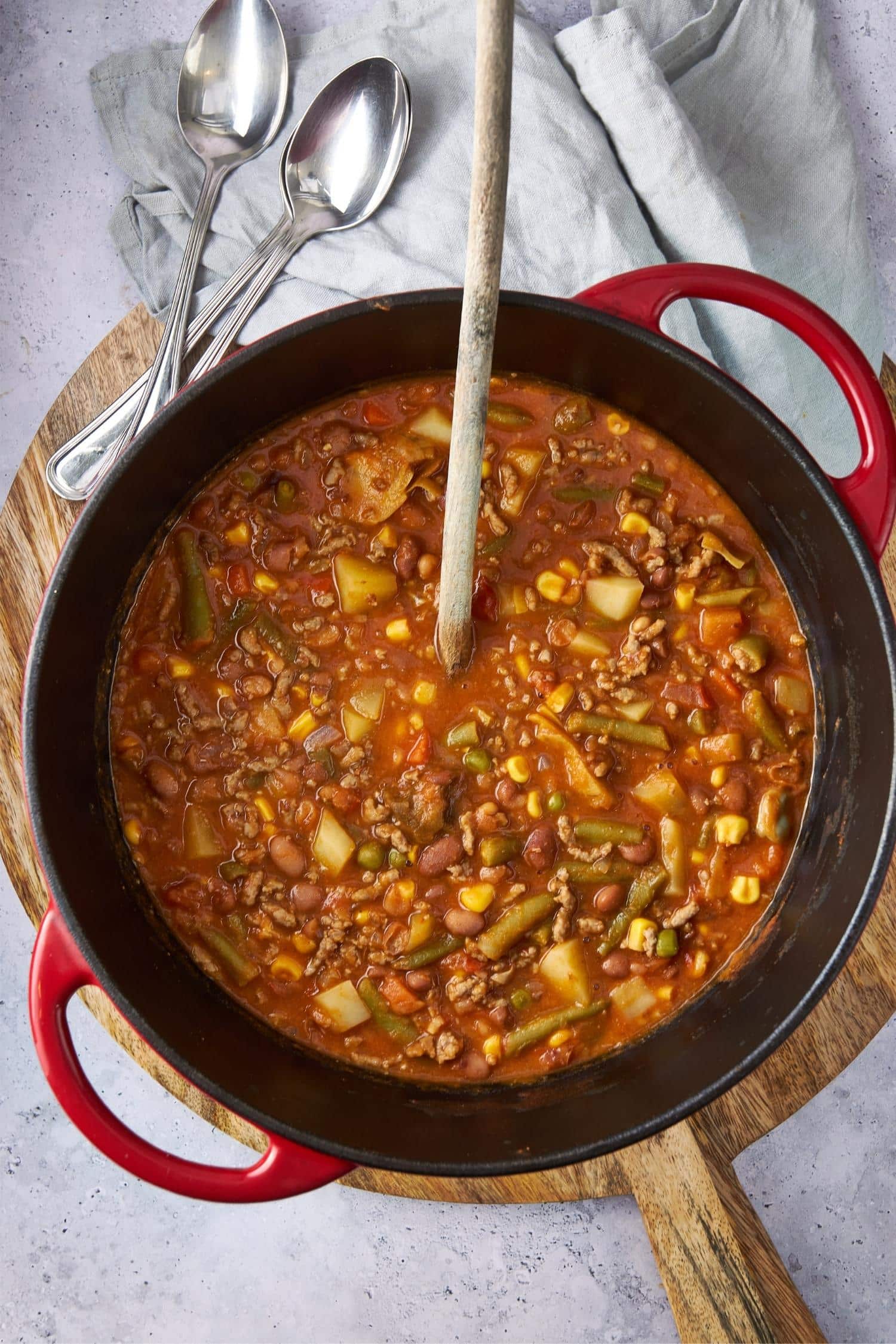 4. Serve. Taste and adjust the seasoning as needed, then remove the soup from the heat and garnish it with fresh chopped parsley. Serve hot and enjoy!
What can I serve with this soup?
This hearty soup is a full meal on its own! But if you want to go the extra mile, you can serve your cowboy soup with some cornbread, Texas toast, biscuits, or some sliced crusty bread. Or, if you want something lighter, serve it with this coleslaw or a salad.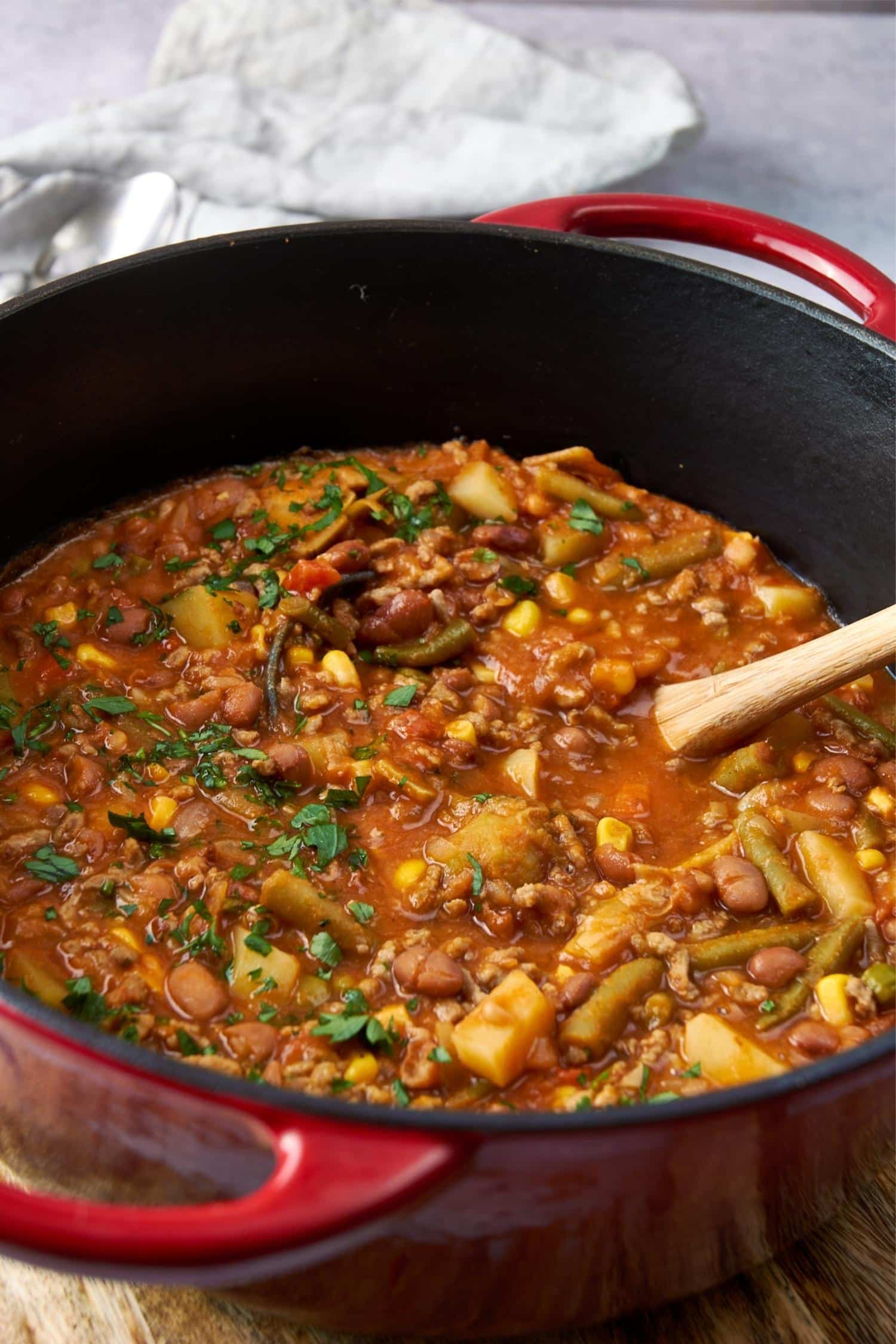 My Pro Tips to Make the Best Recipe
Don't drain the ranch beans before adding them to the soup. The broth is loaded with tons of flavor and spices that add a lot to the final taste of the dish.

For a cheesy element, sprinkle some shredded cheese right before it's done cooking, then cover the pot and let it melt.

For a restaurant-style presentation, garnish the soup with a dollop of sour cream, some sliced avocado, or shredded cheese.

Make a double batch of this recipe. As I mentioned earlier, the soup is so good leftover!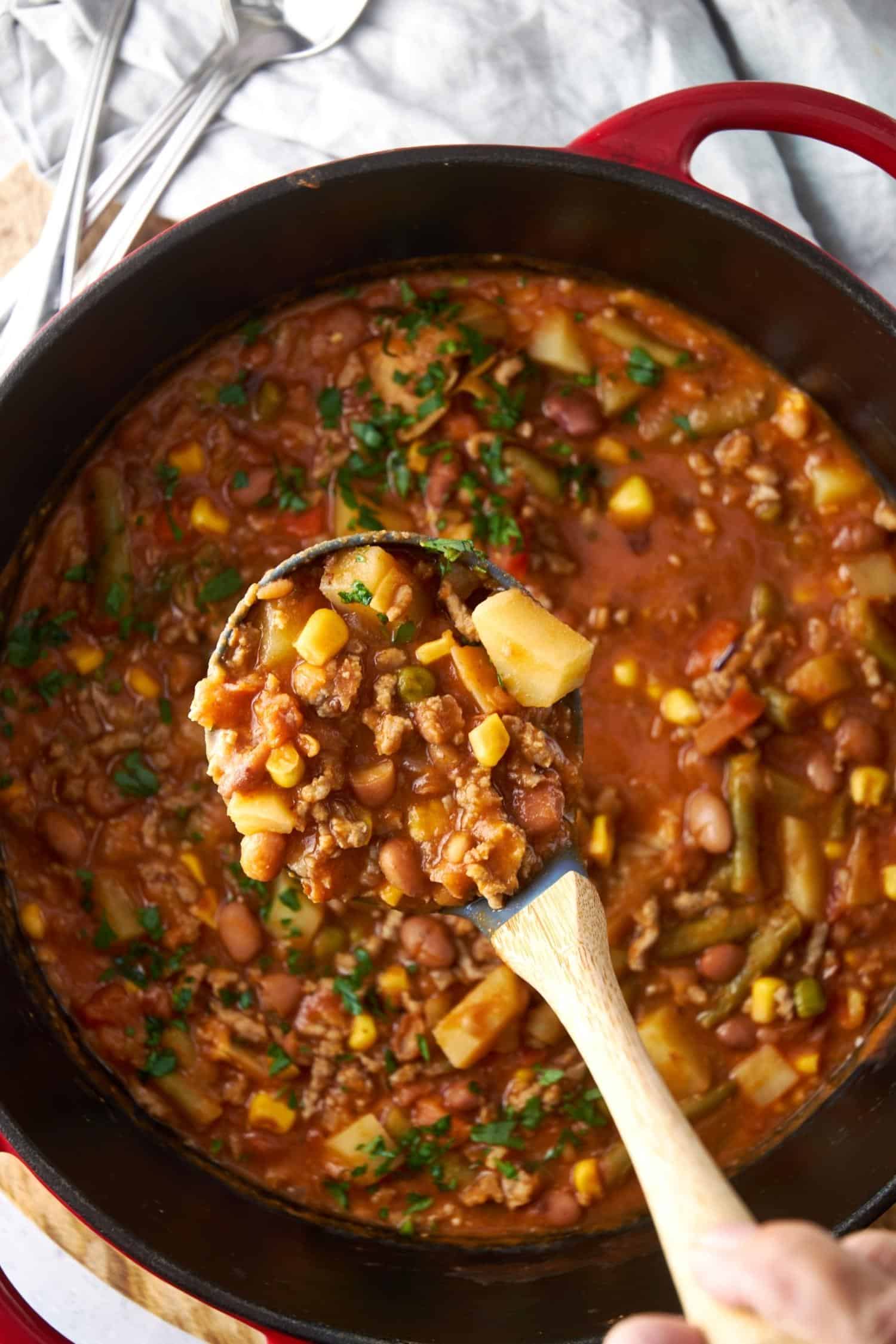 How I Recommend Storing and Reheating Leftovers
In the fridge: Transfer any leftovers to an airtight container and keep it in the fridge for up to 4 days.
In the freezer: Transfer the cooled soup into a freezer-safe airtight container and store it in the freezer for up to 3 months.
Reheating: I like to put the soup back in a pot on the stove over medium-low heat, stirring occasionally, for about 5 minutes. You can also microwave the soup in 30-second increments until it's warmed through.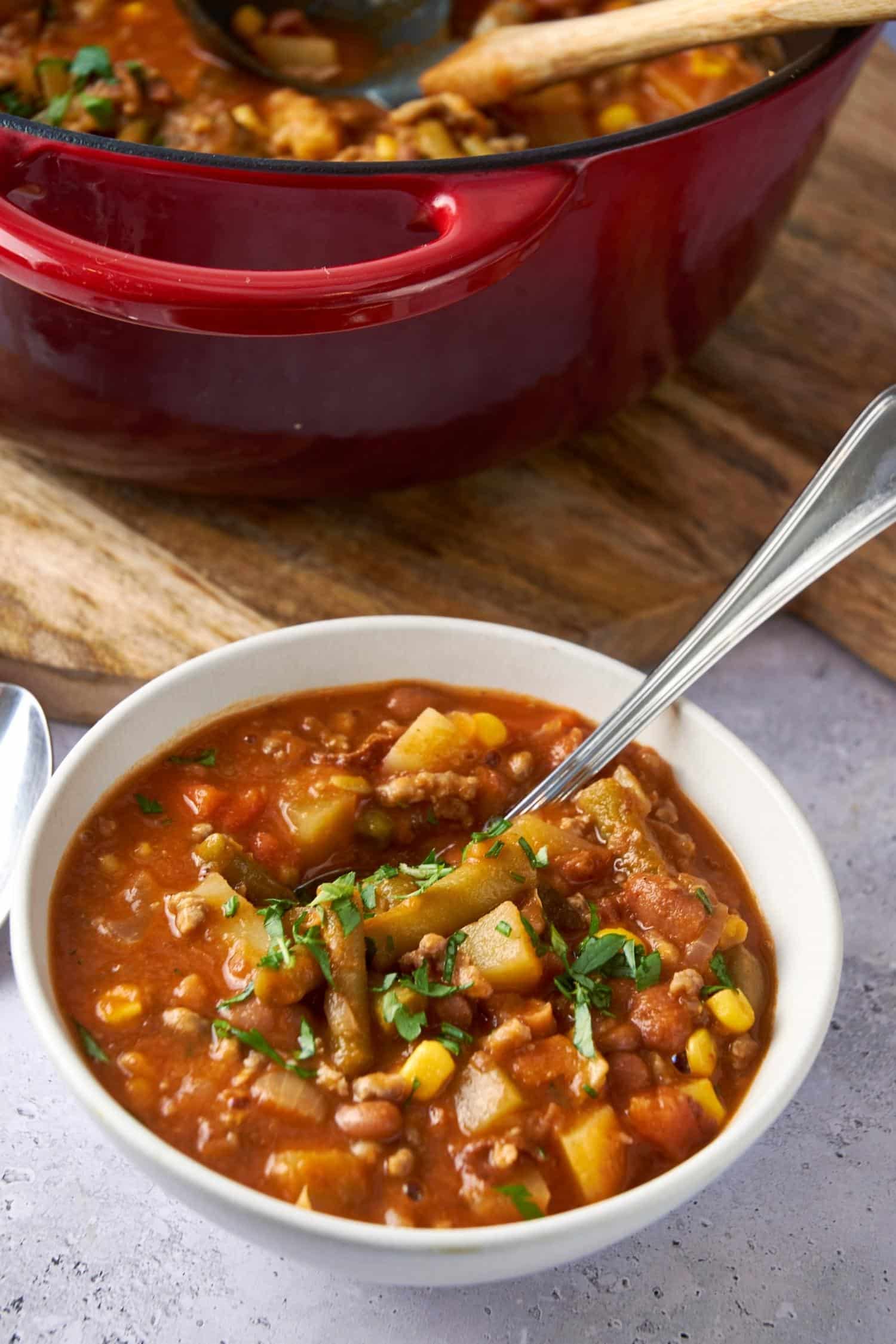 More Recipes To Try Next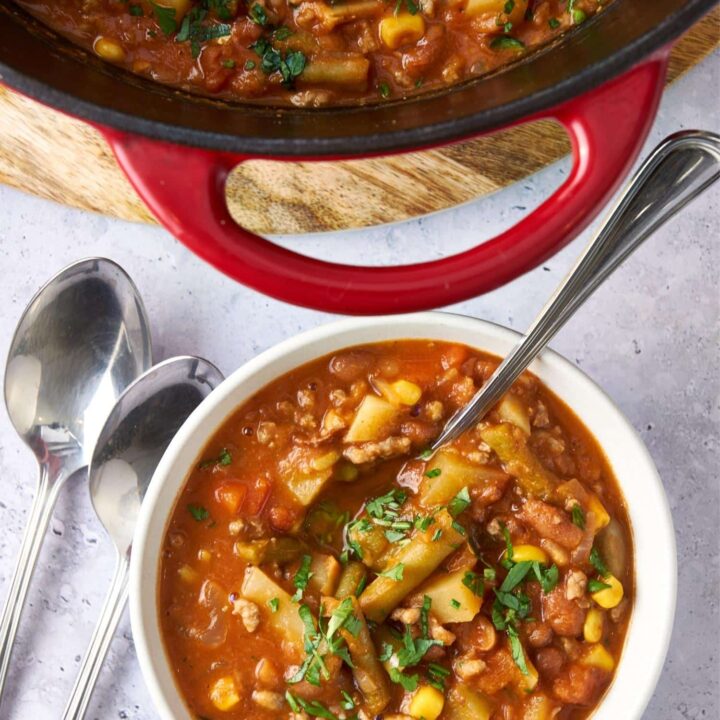 Cowboy Soup
This hearty cowboy soup recipe is the ultimate one-pot comfort food meal! Loaded with nutritious veggies, tender beans, and meaty ground beef simmered in a rich and flavorful tomato broth, it's packed with flavor and goodness in every spoonful.
Ingredients
1lb. ground beef
2 cup onion, chopped
2 cloves garlic, minced
2 tsp. chili powder
2 tsp. cumin
Salt & pepper to taste
1 ½ cups ranch beans
1 ½ cups pinto beans, drained
3 cups frozen mixed vegetables
1 cup whole kernel corn, drained
2 cups can diced tomatoes 
2 cups russet potatoes, peeled, diced
4 cups beef broth
Instructions
In a large pot or Dutch oven over medium high heat, brown the ground beef. Drain excess grease.

Add the chopped onion, garlic, and spices. Stir to combine and cook for 5 minutes to start to make the onion tender.

Add the beans, corn, mixed vegetables, and diced tomatoes. Stir to mix.

Add beef broth and potatoes.

Bring to a boil, then reduce to a simmer.

Simmer for 20 minutes or until potatoes are cooked to the desired tenderness.

Remove from heat and serve with fresh parsley.
Notes
Store leftovers in an airtight container in the fridge for 4 days or freezer for 3 months. Reheat in a pot over low-medium heat, stirring for a few minutes till warm.
Nutrition Information:
Serving Size:

1
Amount Per Serving:
Calories:

553
Total Fat:

8.5g
Saturated Fat:

2.8g
Trans Fat:

0g
Unsaturated Fat:

0g
Cholesterol:

68mg
Sodium:

1061mg
Carbohydrates:

73.4g
Fiber:

18.3g
Sugar:

10.4g
Protein:

45.1g