Easy, soft and chewy, Pumpkin Spice Keto Cookies! In fact, this pumpkin spice keto cookie recipe is so easy, it's made in just 1 minute. And the best part is these cookies are healthy too. They're sugar free, gluten free, and just oh so delicious.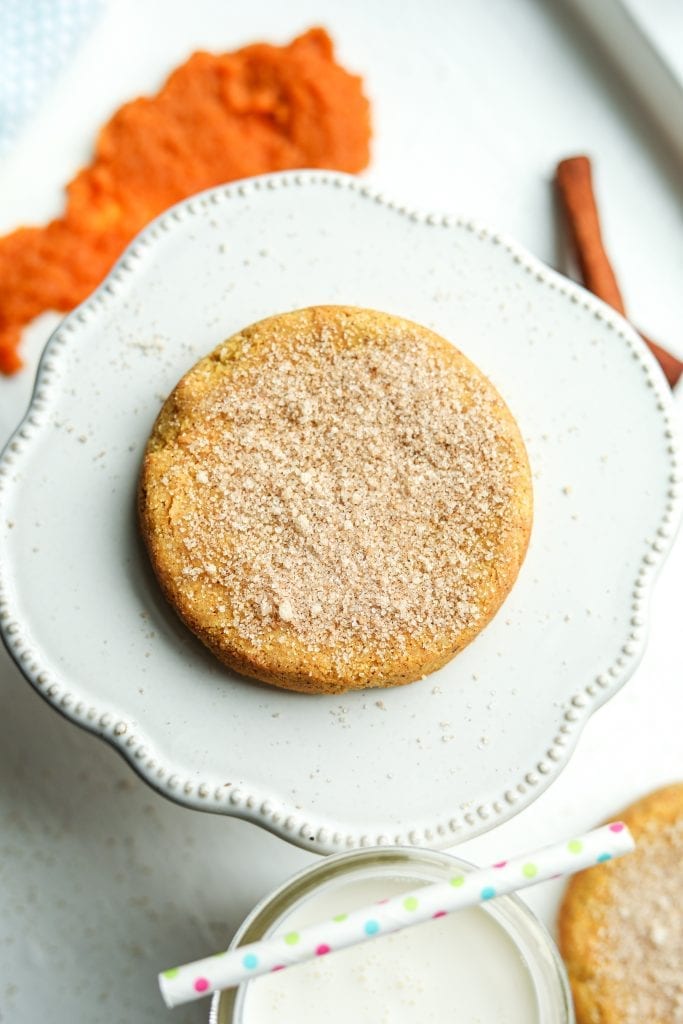 Ok, so, Fall is officially here, and so is the season of pumpkin spice everything!
And since I've already showed you how to make Chocolate Chip Keto Cookies in a minute - and like I said, it's Fall - it only seems right to show you how to make pumpkin spice cookies next.
How To Make Pumpkin Spice Keto Cookies
Now, one of the most popular pumpkin spice cookie recipes is a 2 ingredient cake mix cookie. And that recipe is ingenious for how easy it is to make. But, it's not low carb at all.
So I challenged myself to come up with a keto approved homemade pumpkin spice cookie recipe that rivals that cake mix version in both easiness and tastiness.
But, unlike that recipe, I wanted to come up with one that was made from scratch too!
Well, this delicious 1 Minute Low Carb Pumpkin Spice Cookie recipe is what I came up with.
By the way, check out the video above for step-by-step instructions on how to make these keto cookies.
The Ingredients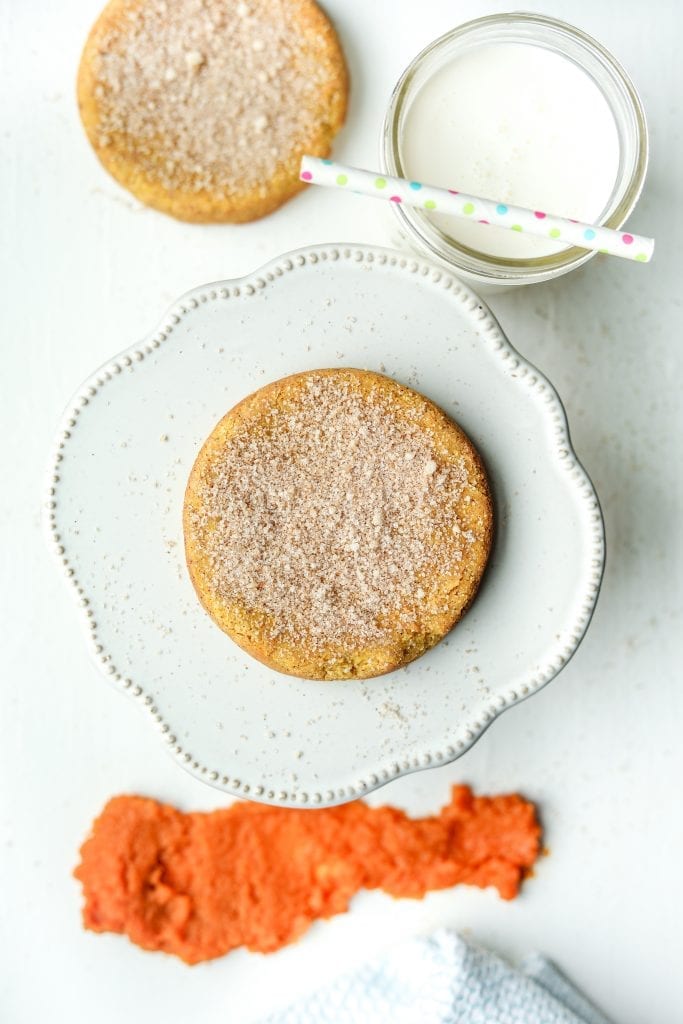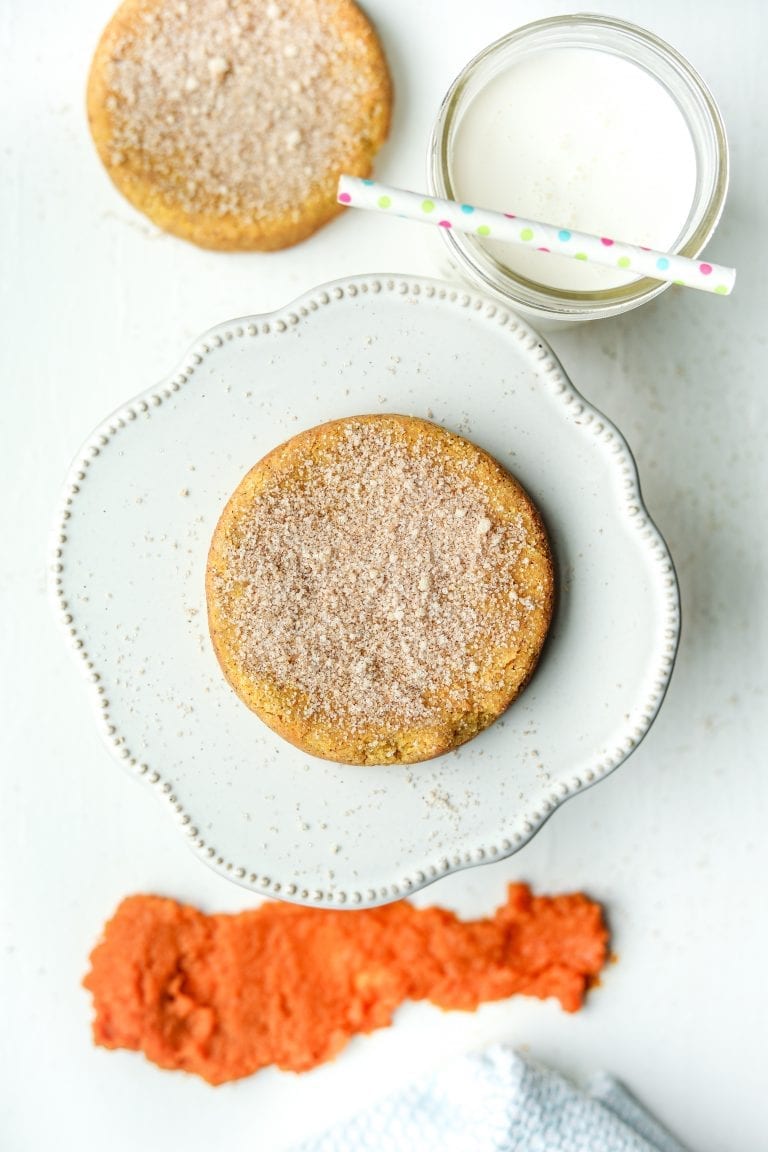 Today's cookie recipe uses a lot of common low carb keto ingredients.
The two main dry ingredients are Almond Flour and Swerve. And then obviously you'll need some spices too. Spices like cinnamon, nutmeg, ginger, and allspice. But, you can always "cheat" and just use pumpkin pie spice too.
As far as the wet ingredients go, you'll only need three. You'll need an egg yolk, pure pumpkin puree, and a tiny bit of keto maple syrup.
Gluten Free Pumpkin Spice Cookies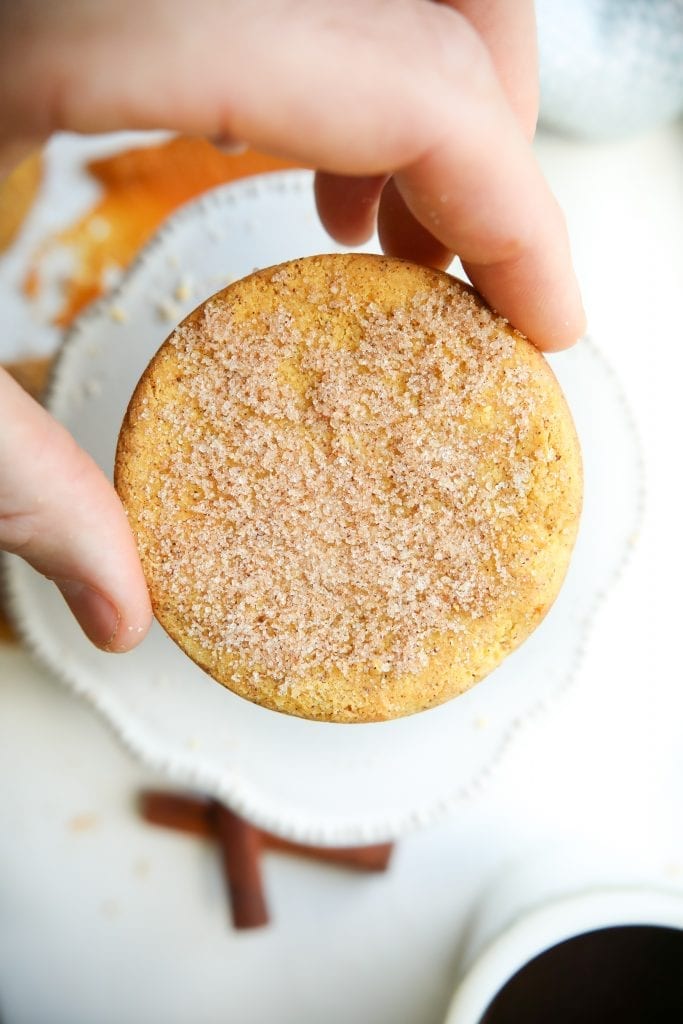 As I'm sure you know standard cookies are made with white or wheat flour. And, obviously, they're not gluten free because of that.
But those flours are not only filled with gluten, they're filled with carbs too. Which means they're definitely not a low carb keto friendly option for cookies.
Almond flour, however, is a great low carb flour alternative, and it's gluten free too.
It's also the main ingredient of today's keto pumpkin spice cookie recipe.
By the way, do not try to replace the almond flour with coconut flour.
Even-though coconut flour is gluten free - and keto friendly - it's also extremely absorbent like a sponge. And almond flour is not.
So it's NEVER a good idea to substitute them for one another.
Subsituting the almond flour in these pumpkin spice cookies
If you'd like to substitute the almond flour with something else try using sunflower seed flour.
Sunflower seed flour is keto approved, gluten free, and it CAN BE SUBSTITUTED ON A 1:1 BASIS for almond flour.
Sugar Free Pumpkin Spice Keto Cookies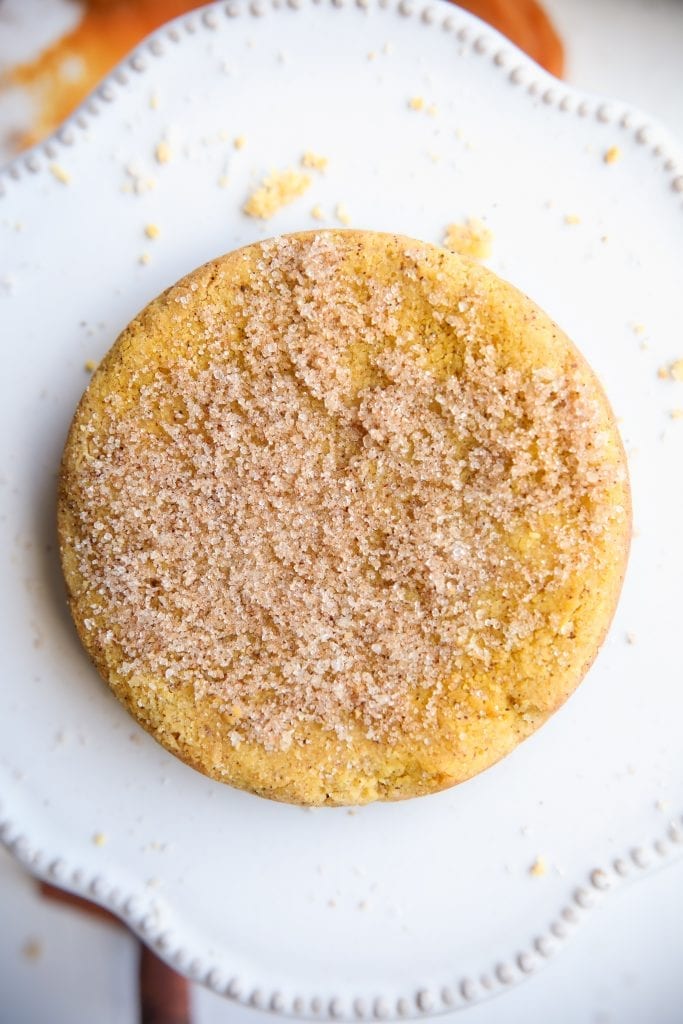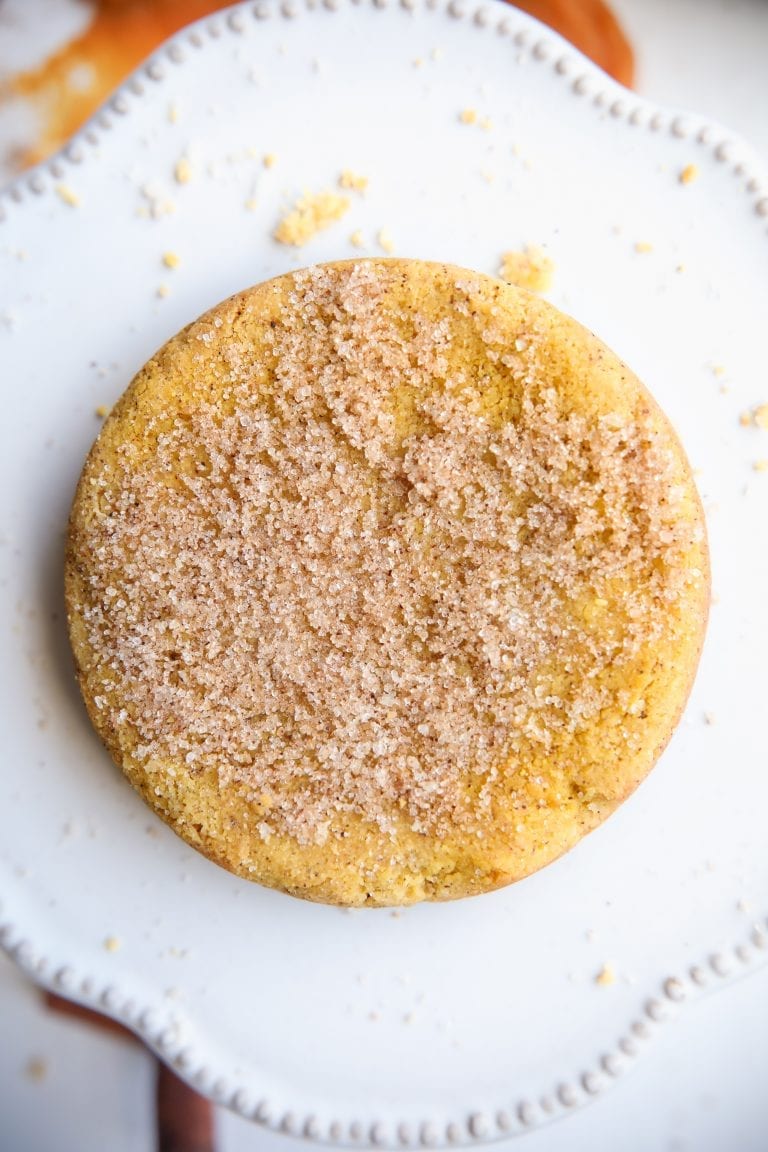 Like I said earlier, these are sugar free pumpkin spice cookies.
Instead of sugar, you'll want to sweeten these low carb keto cookies with Confectioners Swerve. If you don't know what Swerve is, it's a natural sugar substitute that's totally keto friendly.
Swerve has 0 net carbs, 0 calories, and no effect on blood glucose levels. Which makes it an ideal sugar replacement for anyone following a low carb diet.
However, you can also use Allulose, Lankanto Monk Fruit, or a generic confectioners erythritol to sweeten up the cookies in a sugar free way as well.
All of these aforementioned sugar free options can be substituted on a 1 to 1 basis for one another.
That said, DO NOT substitute the Swerve with Stevia. The reason stevia can't be used is because it's MUCH sweeter than all of the sugar free alternatives that I recommended.
It's 600 times sweeter than sugar, whereas the other sugar free substitutes are .7 times as sweet as sugar.
In short, your pumpkin spice keto cookies will be WAY TO SWEET if you use it.
How To Make a Sugar Free Cinnamon "Sugar" Topping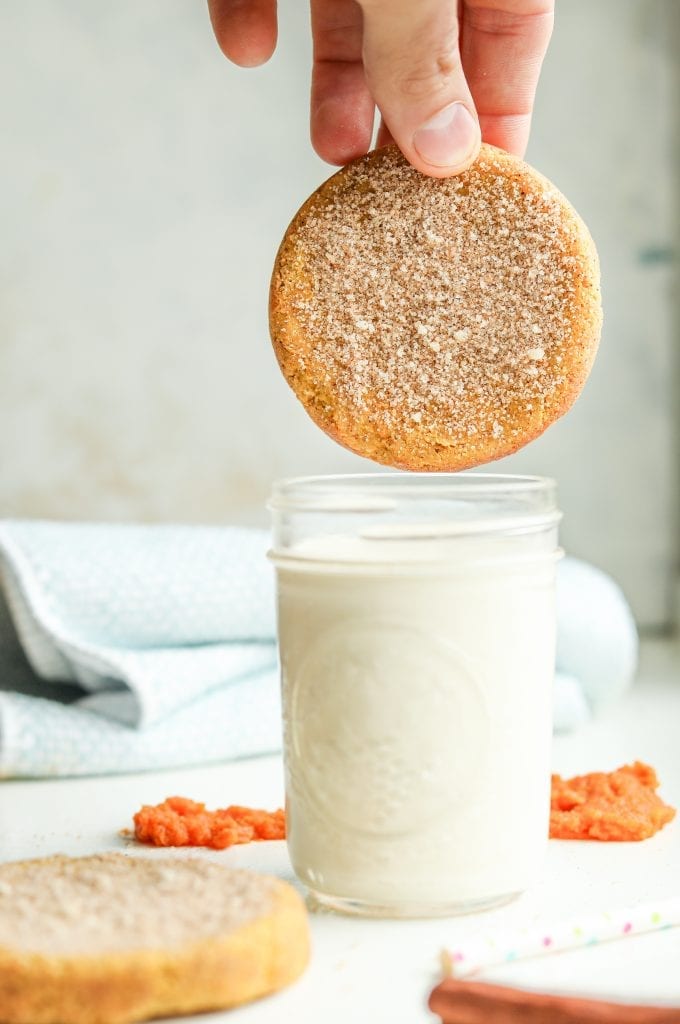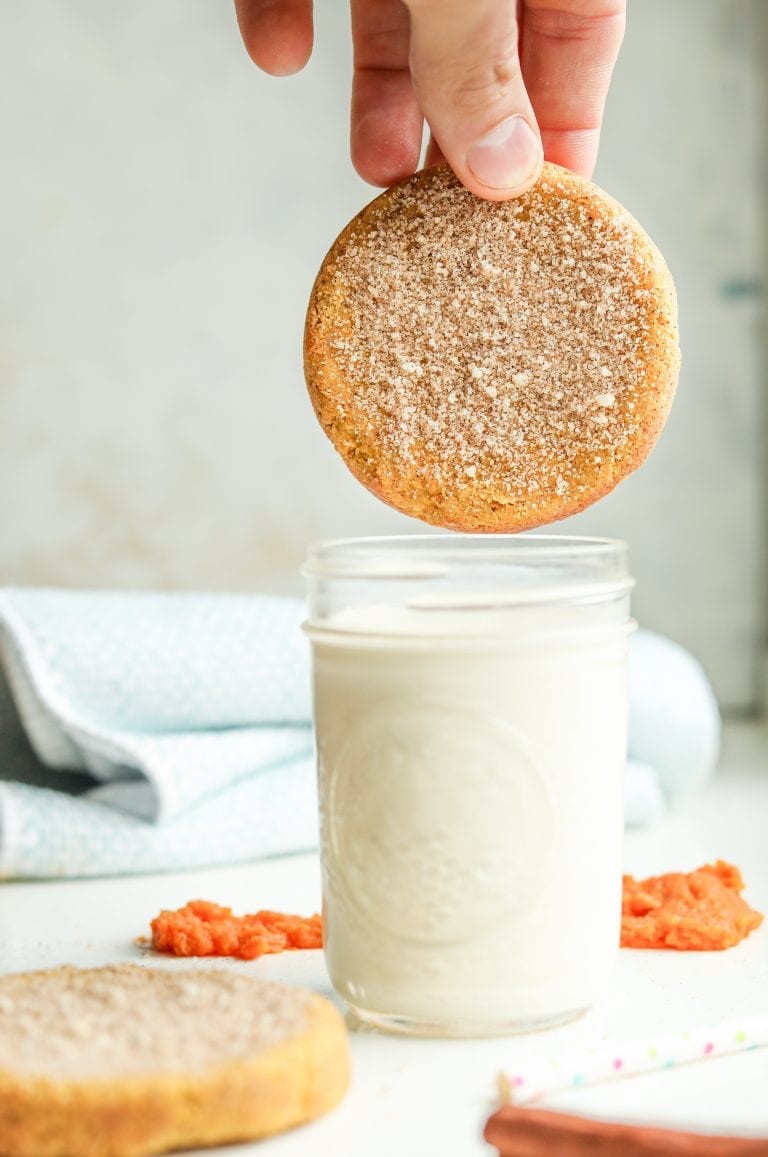 You may have noticed that these cookies have a cinnamon "sugar" topping to them. And this topping - just like the cookies - is completely sugar free.
Instead of Confectioners Swerve though you'll want to use Granulated Swerve. Or, you can use the granulated versions of any of those other sugar free alternatives I listed above.
Confectioners Swerve etc. works great to mix things into because it dissolves so well, but it's not the right form of "sugar" for a topping like this.
Sugar Free Chocolate chips
If you want to skip the cinnamon "sugar" topping and add a taste of chocolate to your cookies these sugar free Chocolate Chips By Lily's are a great way to do it.
They also have 0 NET CARBS a serving. So they're completely guilt-free!
The Process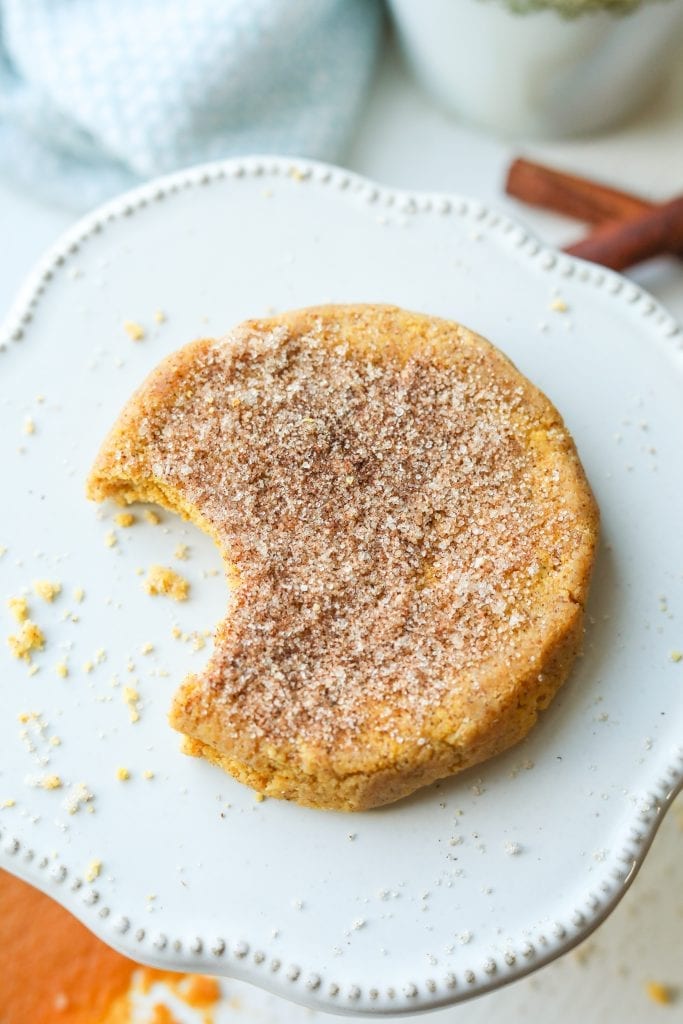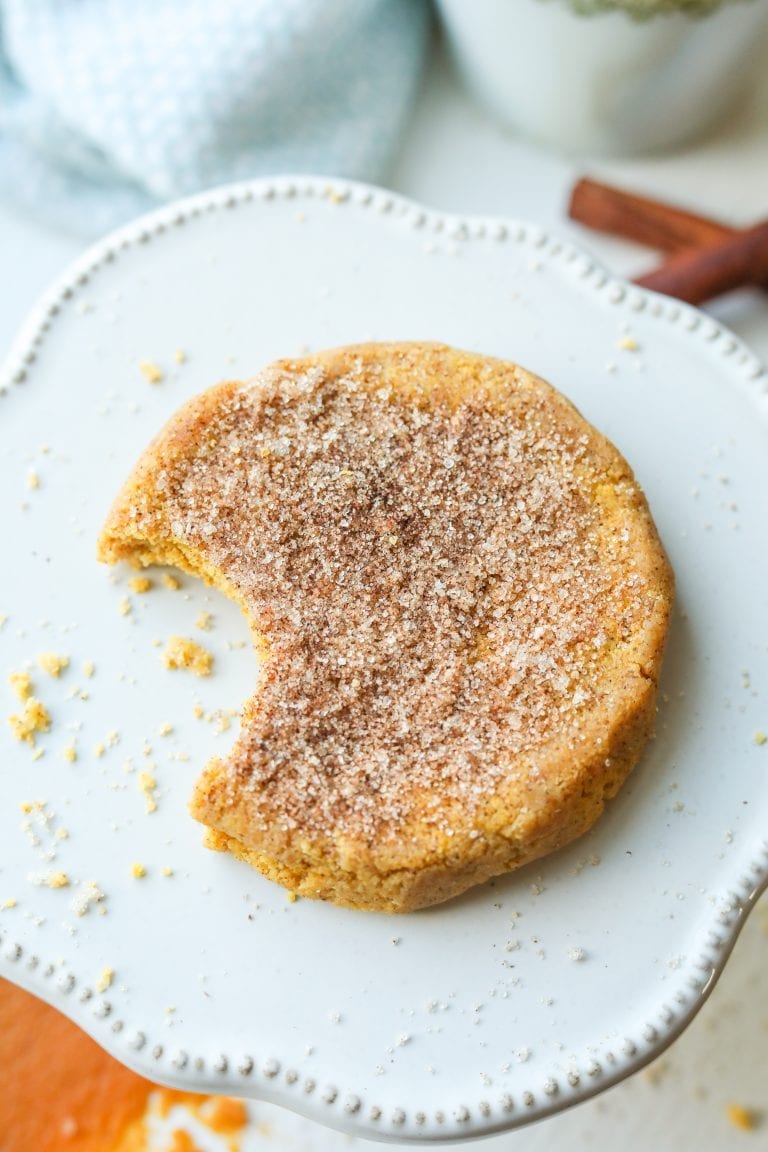 Ok, so, let's talk about how to make these keto pumpkin spice cookies.
The first thing you'll want to do is add the liquid ingredients to a medium sized bowl. As always, for best results, I highly recommend using a food scale to weigh the ingredients while your adding them.
Once you've done that, you'll want to use a small spatula and mix those together until they're combined.
Now you can add all of the dry ingredients into the bowl, and mix again until a crumbly dough forms in the bowl. When it does, you'll want to use your hands to form a large ball of pumpkin spice cookie dough.
Now you're all set to start forming your cookies out of the dough.
So to do this, you'll want to coat a small dish with baking spray, and add half of the cookie dough to it. Now use your hands/fingers to press the dough down onto the plate, and form the shape of a cookie out of it.
The dough will not flatten as it cooks, so make sure to shape the raw cookie dough into what you want your cookie to look like.
And then you'll just want to repeat this same process with the other half of your dough.
Making these low carb Pumpkin Cookies in the microwave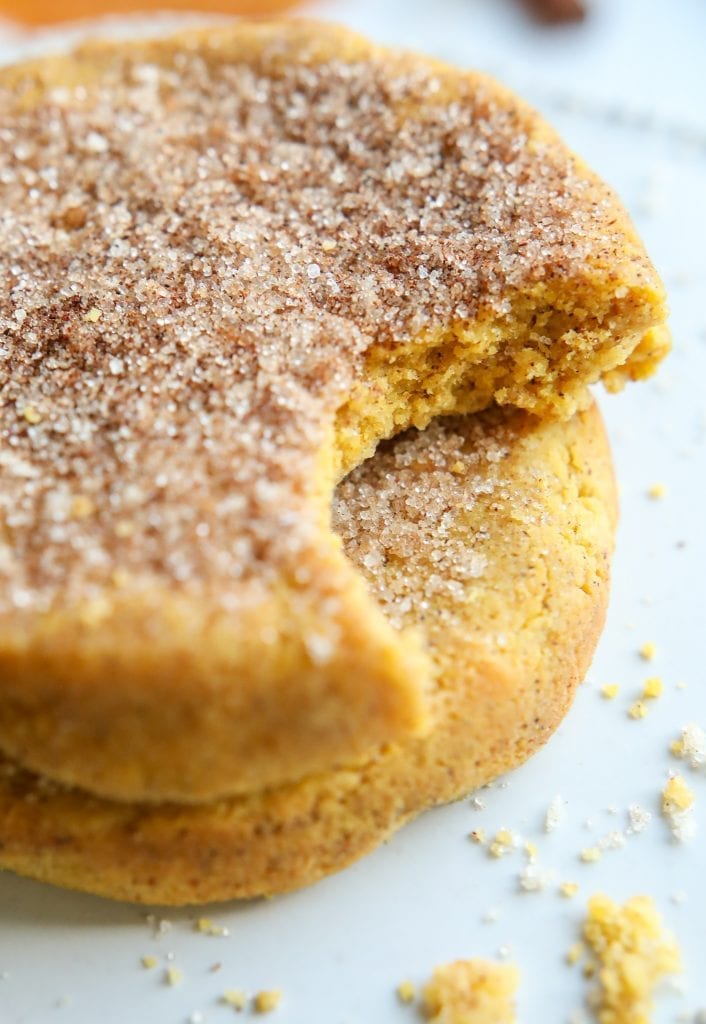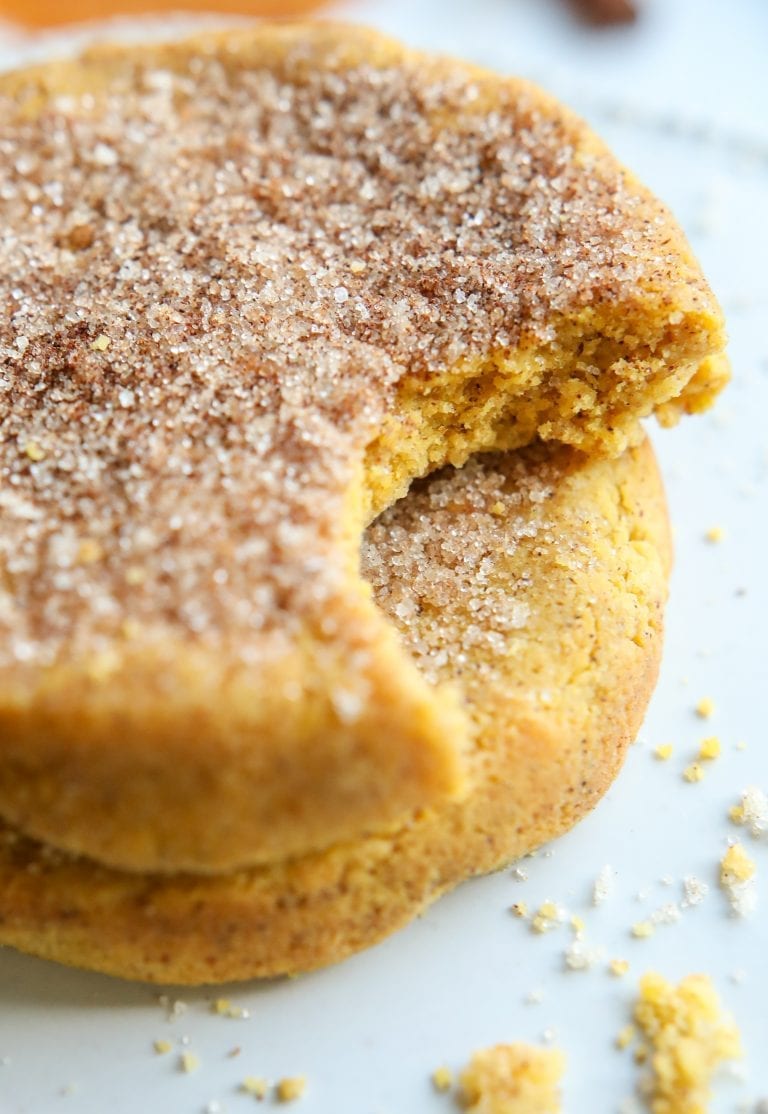 Now all you have to do is bake the cookie!
And there are two ways you can bake them. You can use a microwave, or you can use an oven.
The quick and easy version is baking the cookies in the microwave. This is how to make Keto Pumpkin Spice Cookies in a minute.
That said, making cookies in the microwave can be a delicate process. But I've got some pro-tips for you…
Number one, my microwave is 1100 Watts and 50 seconds is the perfect cook-time, split up into 25-second intervals.
However, all microwaves have different Wattages, so keep that in mind when
you're making your cookies and adjust accordingly.
Number two, the best way to get the cookies to cook evenly is off-setting the plate and cooking them in two intervals. So, place your Low Carb Pumpkin Cookie on the left side of the microwave for the first interval, and then shift it over to the right side for the second cooking interval.
Number three, always, ALWAYS, err on the side of slightly undercooking your cookies. These pumpkin cookies will continue to cook as they cool down. So when they come out of the microwave they should feel soft, and fluffy almost like a pancake. They should not, I REPEAT, should not feel "hard".
Number four, let your keto cookies cool down before eating them. The cookies will set as they cool.
Once they cool down they're soft, chewy, a tiny bit spicy, and just absolutely delicious.
If you want to eat a warm cookie, I highly recommend going with the oven version of these cookies. Checkout those instructions below.
Making These Keto Cookies In The Oven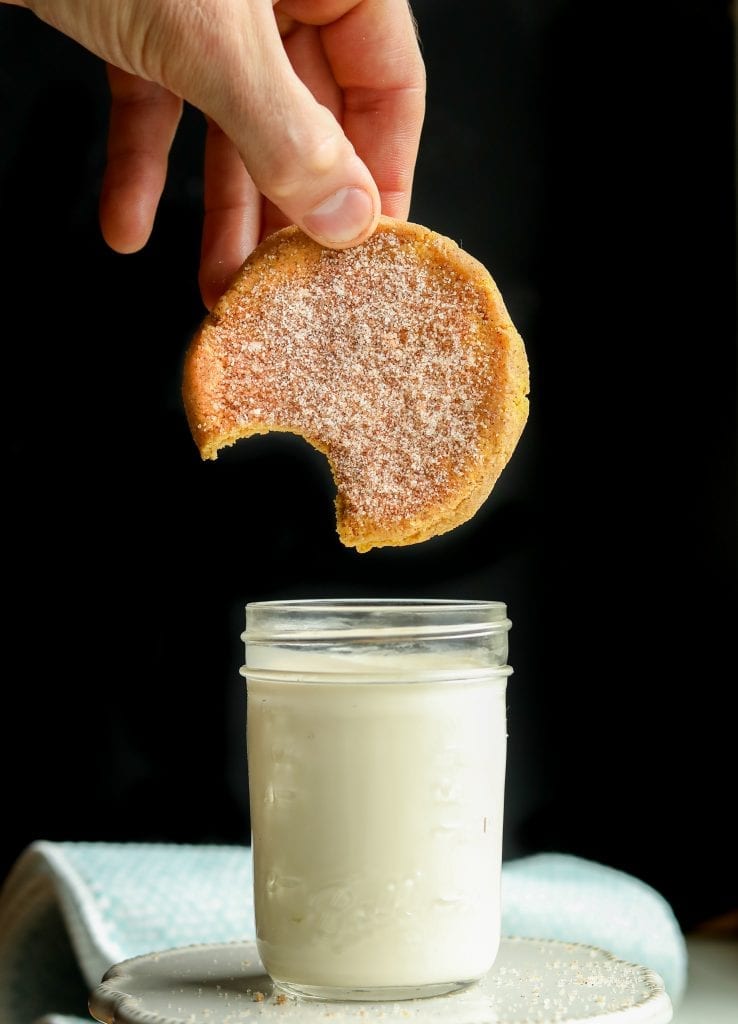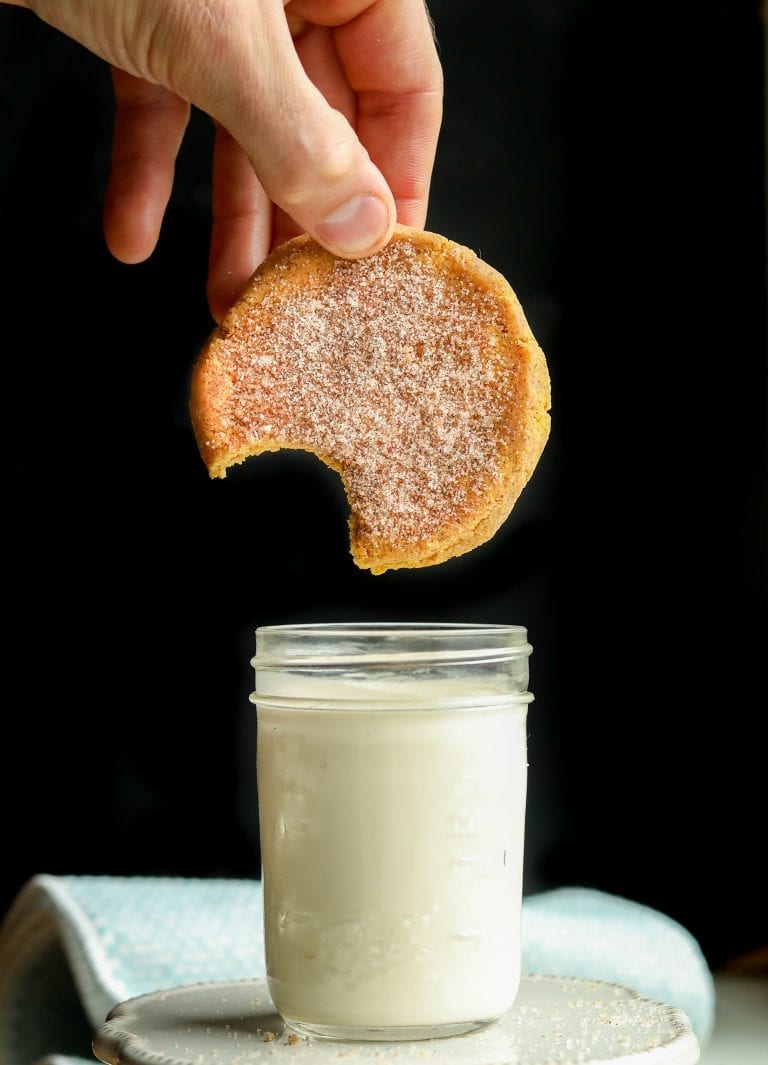 Obviously, this isn't as quick as the one-minute method, but it is just as delicious.
Now, I've tried baking these cookies on both a baking sheet and in a ramekin. And, for whatever reason, they definitely cooked more evenly in the ramekin.
However, no matter what option you choose, you'll want to bake these Pumpkin Spice Keto Cookies at 325 Degrees for around 12-15 minutes. And once again, for the best texture, you'll want to let these cookies cool down before eating them.
That said, you definitely can eat these Pumpkin Spice Cookies warm.
I just think they're best cooled for at least 5-10 minutes.
And, honestly, I think they're even better the next day or two after making them.
For whatever reason, the more time you give them to set the better than are.
How To Store These Keto Pumpkin Spice Cookies
No matter how you cook these pumpkin spice keto cookies they store incredibly well. Just add them to a plate, and seal it with saran wrap. Or add them to a sealable Tupperware container, and keep them sealed on the countertop.
Anyways, I hope you - and your family - enjoy this quick and easy keto pumpkin spice cookie recipe.
I think they rival the ever popular 2 ingredient cake mix cookies.
Especially considering they have WAY LESS carbs!
Other keto Cookie Recipes
By the way, this keto pumpkin bread recipe is a great way to use some of your leftover pumpkin puree if you end up with some.
Print
Pumpkin Spice Keto Cookies | The BEST, Easy, Low Carb Pumpkin Cookie Recipe
Easy, soft and chewy, Pumpkin Spice Keto Cookies! In fact, this pumpkin spice keto cookie recipe is so easy, it's made in just 1 minute. And the best part is these cookies are healthy too. They're sugar free, gluten free, and just oh so delicious.
Author:
Prep Time:

4

Cook Time:

1

Total Time:

5 minutes

Yield:

2 Cookies

Category:

Dessert

Cuisine:

Keto
Instructions
Add all of the ingredients to a medium sized bowl.
Mix until a crumbly consistency forms.
Once it does, use your hands to make a ball of dough out of the crumbles.
Now split the dough up into 2 smaller balls, and set aside.
Coat a plate with baking spray, and add one of the balls of dough to it.
Form the shape of a cookie out of the dough.
Once you have done that, microwave the cookie in 2 intervals.
Off-set the cookie on the left side of your microwave for the first one, and the off-set it on the right side for the second one.
*Note: My Microwave is 1100 Watts and 20 second intervals work PERFECTLY. Your COOK TIME WILL VARY depending on the power of your microwave.
Once cooked let the cookie rest and cool for 10ish minutes.
It NEEDS TIME to set.
Repeat this process with the second ball of dough.
Baking the cookie in the oven:
Preheat your oven to 325 Degrees F.
Follow all of the same steps as above, except for this method coat two ramekins with baking spray, and add the cookies to the ramekins.
Bake the cookies for around 12-15 minutes....until the edges ever so slightly turn golden.
And again let the cookies cool for atleast 10 minutes.
Notes
¼ teaspoon Vanilla extract can be substituted for the Keto Maple Syrup
A heaping ¼ teaspoon Pumpkin Pie Spice can be substituted for all of the spices
Do not count the "carbs" from the confectioners swerve towards net carbs....it has 0 calories and should be tracked as 0 carbs!
Nutrition
Serving Size:

1 Cookie

Calories:

260

Sugar:

0

Fat:

21

Carbohydrates:

7

Fiber:

4

Protein:

9
Keywords: keto pumpkin spice cookie recipe, pumpkin spice keto cookies, how to make pumpkin keto cookies, low carb pumpkin spice cookies, low carb pumpkin spice cookie recipe, how to make keto cookies, best keto cookies, easy keto cookie recipe