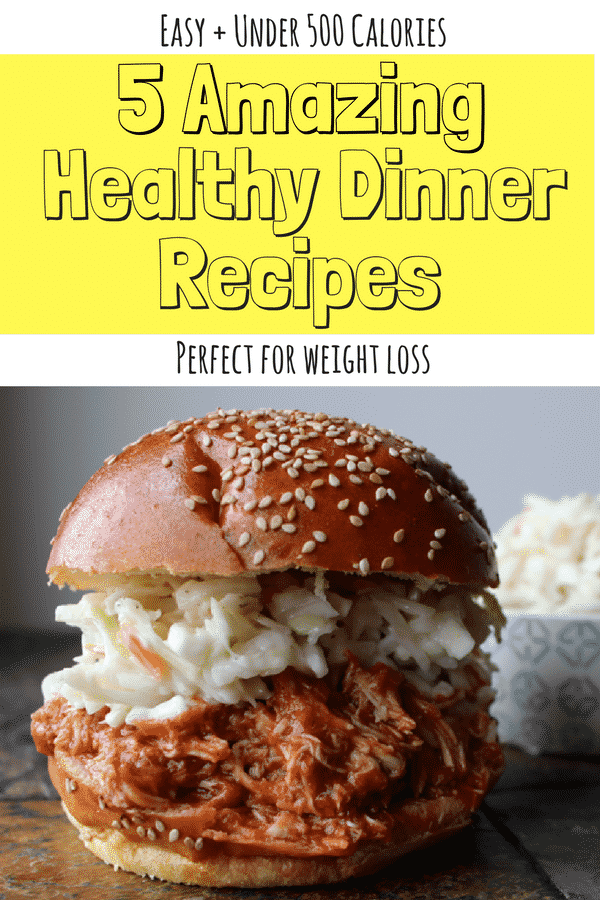 These are 5 of my favorite easy and healthy dinner recipes! And who couldn't use more healthy dinner ideas (especially when dieting) - Am I right?! Nobody wants their diet to be filled with plain chicken breasts, plain sweet potatoes, and ugh, plain green beans. So take dinner to a whole new level with these 5 recipes that are perfect for weight loss, and under 500 calories!
1. Crockpot BBQ Pulled Chicken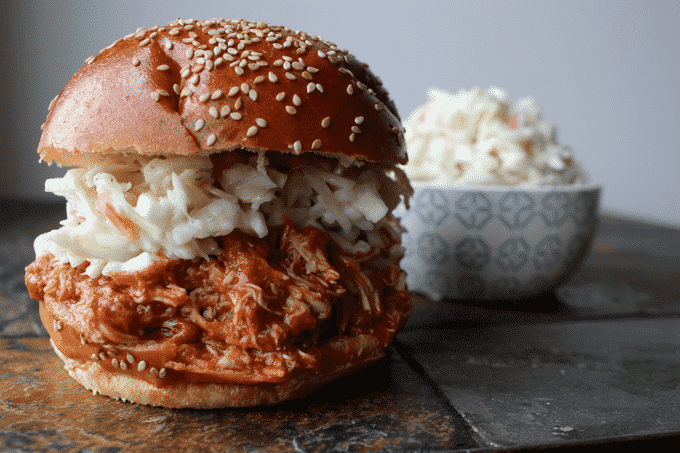 We're kicking off this list with a bang - a BBQ bang that is. Can you believe a crockpot recipe looks this good?! Well, it's true, and the craziest thing of all is that each serving has less than 130 calories.
Say what?!
Plus, this Crockpot BBQ Chicken Recipe takes very little time to make - the hardest part is shredding the chicken (insert the crying emoji here). And checkout this crockpot if you don't have one, or need a new one, it's is all the rage on Amazon - and you don't want to miss out on this awesome recipe.
2. Healthy Fried Rice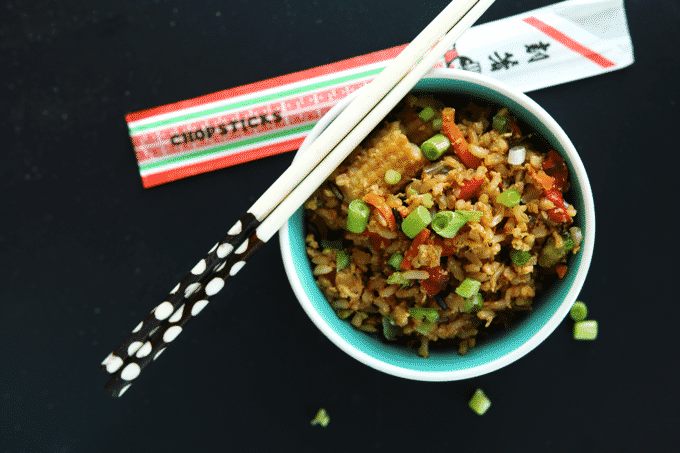 Healthy dinner recipe number 2 is none other than Fried Rice! Whenever we order Chinese Food, ordering fried rice is a must, but it's not the healthiest dish. Thankfully there's an easy way to health-ify it. And when I say health-ify I mean it - each heaping cup of fried rice has less than 2g of fat and only 135 calories. Get the full recipe here!
3. Low Calorie Baked Ziti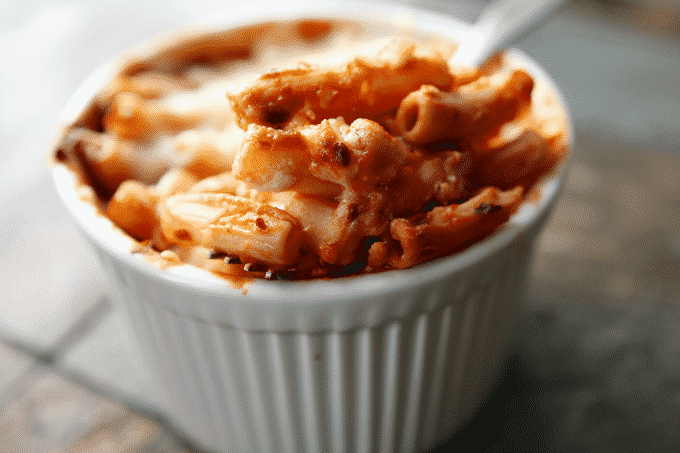 This isn't your local pizza shops baked ziti my friends. No,no,no,no - this recipe is way better! And that's because this healthy baked ziti is just simply way better for you! The recipe uses Banza's Pasta which is jam packed with protein and fiber. So not only will each serving keep you full, it will help you build muscle too. Get the full recipe here!
4. Southwestern Chicken Avocado Salad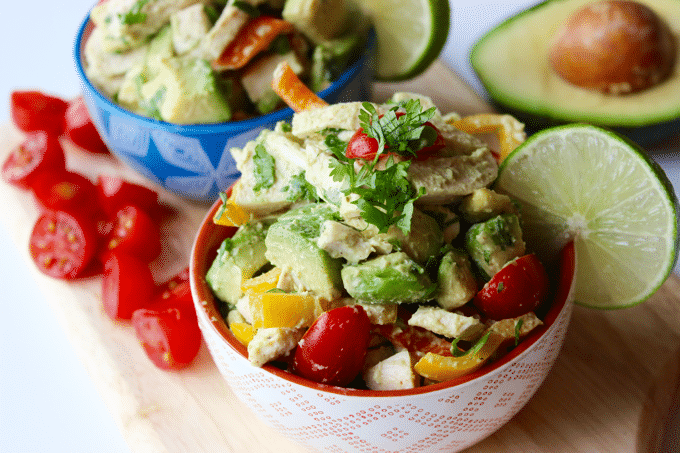 Coming in at number 4 on the list is this this Southwestern Chicken Avocado salad. Salads don't have to be boring, and this one isn't that's for sure. Avocados are high in potassium (surprisingly they contain more than bananas), and are also packed with monounsaturated fats? Monounsaturated fats are the heart healthy kinds, and the oleic acid found in avocados have been shown to decrease inflammation too.
If those weren't reasons enough to make this salad, it's calorie count might be. Every bowl of this Southwestern Chicken Salad has only 158 calories. Get the full recipe here!
5. 30 Minute One Pot Turkey Chili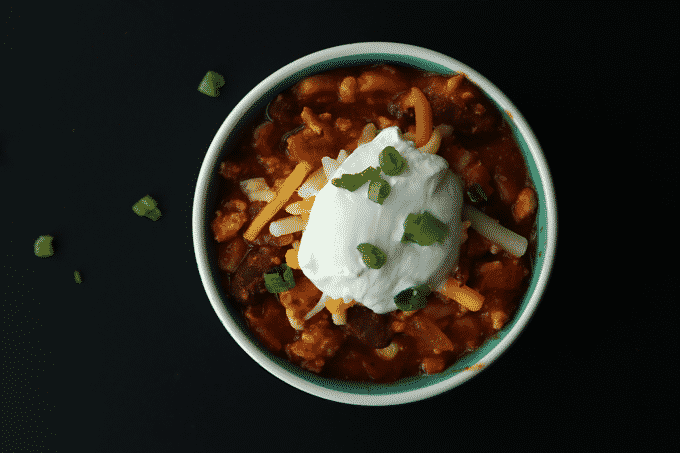 Finally, the last healthy dinner recipe to make the list is this One Pot Turkey Chili. This recipe is just about as easy as any crockpot chili you've ever made, but it's ready in 30 minutes! And this recipe is really as easy as it sounds - all you have to do is add the ingredients into your pot, and cook.
Personally, what I love about this recipe is that it's packed with over 30g of muscle building - hunger suppressing - protein. Plus, each bowl of chili has less than 350 calories per bowl! Be sure to get the full recipe here.
---
Do you need help losing weight, but don't know where to begin?
My e-book Macros Made Easy can help!
The book is a detailed weight loss guide that shows you step-by-step how to build a weight loss plan specifically for you.
One of the most frustrating things about dieting is hitting weight loss plateaus. That's why Macros Made Easy also comes along with a spreadsheet to hold you accountable, and track your progress. The spreadsheet will also alert you when you need to make adjustments to your diet so you can continue losing weight, and avoid those annoying plateaus.
I started tracking my macronutrients (protein, carbohydrate, and fat intake) over 6 years ago - and I've lost over 70lbs because of it! Not only have I lost the weight, I've kept it off too. Plus, I didn't eliminate any foods from my diet to do it- and neither will you!
If you're ready to start your weight loss journey today, you can pick-up a downloadable copy of Macros Made Easy here!