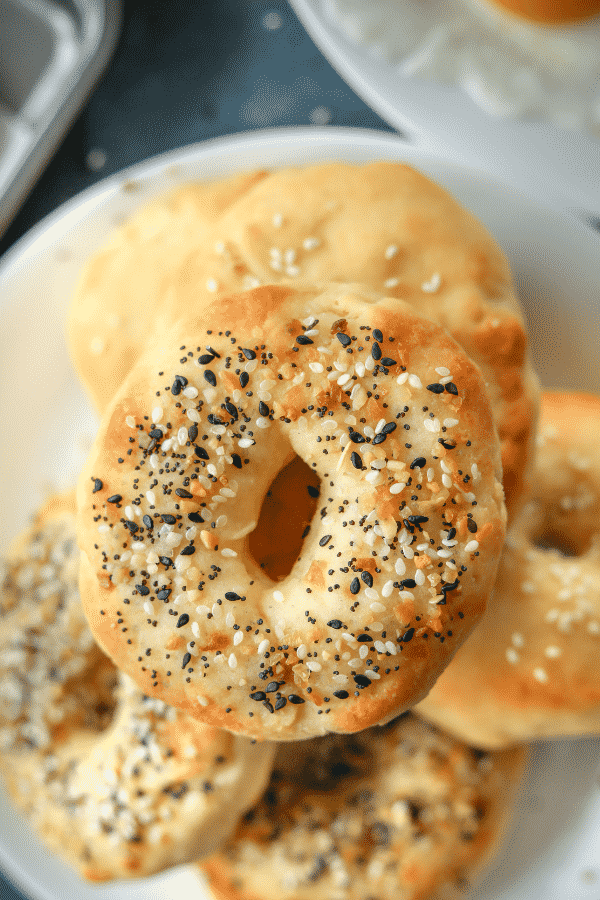 The BEST Keto Bagels!
This low carb Keto Bagel Recipe will have you forgetting all about "normal" high carb bagels!
That's because everything about these keto bagels is on point.
From the outside chewy crust, to the light & airy inside, these bagels have it all.
Well, they have everything you'd want from a bagel except all the carbs.
Oh, and making "Everything" keto bagels is a snap! All you need is some Trader Joe's Everything Bagel seasoning, and you're in business.
How To Make Keto Bagels (Video)
Now, I know there are a lot of keto bagel recipes floating around the internet, but in my completely biased opinion, these are the best.
Most - if not all - keto bagel recipes use fathead dough as the base of the bagel. And today's bagels are made with fathead dough just like those recipes.
However, these keto bagels are made with a modified fathead dough recipe. And that's really the secret to these bagels being the best.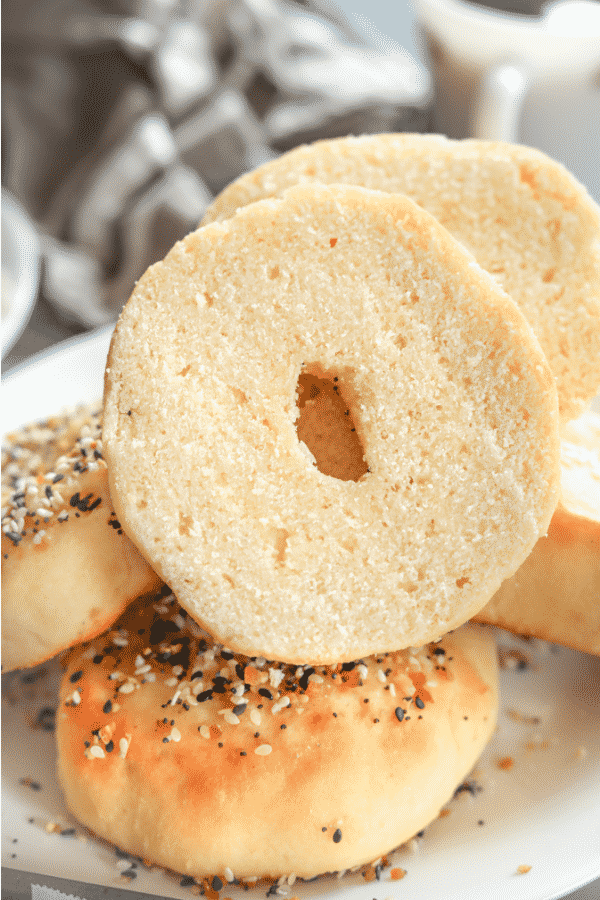 In my opinion, normal fathead dough is just too sticky for keto bagels.
It might work ok for keto pizza - although I prefer this recipe - but it's really not ideal for a bagel.
So, that's why I made some adjustments to the "standard" fathead dough recipe. To make it more bagel friendly!
What You'll Need To Make These Keto Bagels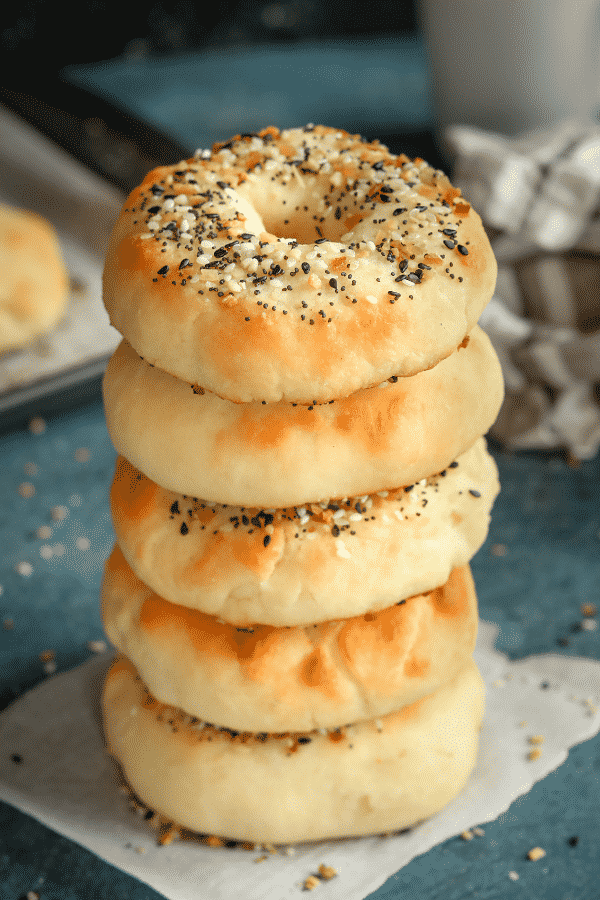 First off, lets talk about the dry ingredients you'll need for these keto bagels.
The two main dry ingredients are Blanched Almond Flour, and Unflavored Whey Protein Powder.
Now, I personally like to use Kirkland's Blanched Almond Flour. It's cheaper than most - if not all other brands - and it's lower in carbs! Each 28g serving only has 2 NET CARBS, and that's the lowest you'll find.
As far as the Unflavored Whey Protein Powder, I recommend - and use - is Isopure's.
So, protein powder isn't a typical ingredient to fathead dough, but I like to use it for a few reasons.
It has 0 carbs

It's lower in calories than almond flour

And using it adds volume to the keto bagels
If you do decide to replace it, do so with more almond flour. You'll most likely need around 1.5x the amount of almond flour to replace the protein powder.
So, to replace the 45g of unflavored whey protein, you'll need around 70g of blanched almond flour.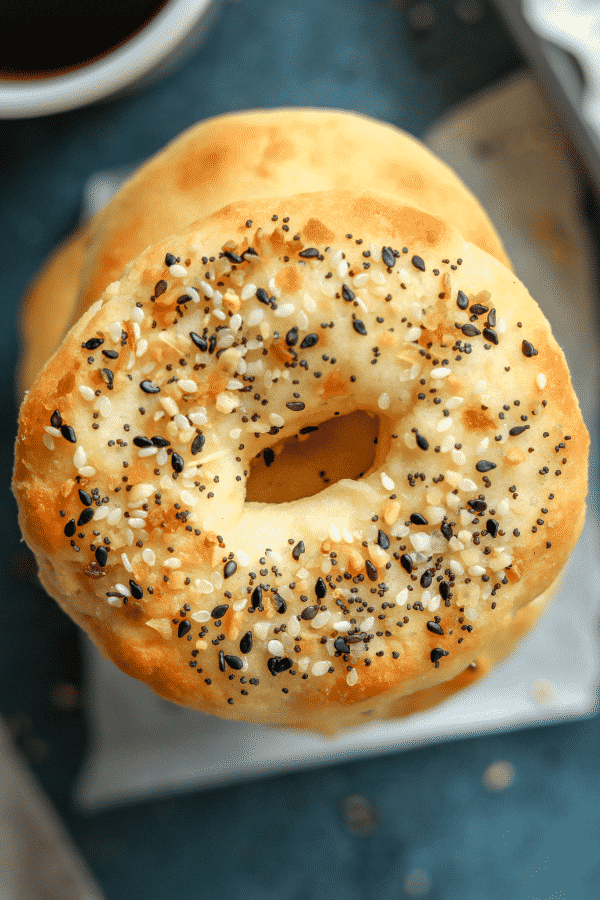 Another ingredient that you'll want to use for your keto bagels is xanthan gum.
Adding xanthan gum is important for a couple of reasons.
It will help your dough come together easier when you mix it.

And, it will also provide that chewy consistency to your keto bagels, just like normal bagels have.
So, definitely don't skip the xanthan gum.
Because it really makes a difference in getting your keto bagels on point!
Print
Keto Bagels | The BEST Low Carb Fathead Bagel Recipe
Keto Bagels! This is the BEST low carb Fathead keto bagel recipe. The crust is perfectly chewy, and the inside is light + airy. It's hard to believe this bagel is keto friendly, and that each one ONLY HAS 3.5g NET CARBS.
Author:
Prep Time:

15 minutes

Cook Time:

15 minutes

Total Time:

30 minutes

Yield:

6

Bagels

1

x
Category:

Breakfast
Instructions
*FOR BEST RESULTS: I highly recommend weighing out ALL of the ingredients on a food scale to the gram!
Add all of the dry ingredients into a large bowl
Mix until combined
Once combined set that bowl aside and take out another large bowl
Add the mozzarella cheese and the cream cheese to this bowl
Microwave the cheese blend for 30-45 seconds at a time
Mix & combine the cheese with a spatula in between microwaving
Repeat this process 3 times...check the video for the consistency you want the cheese to have
Now add 1 beaten egg into the dry ingredients from earlier, and then add the cheese mixture
Make sure the cheese is still hot when you add it...THIS IS VERY IMPORTANT
Mix the ingredients with a spatula until they just start to combine
Once they just start to combine use your hands to form a ball of dough
Knead the dough with your hands, and then add a tiny bit of almond flour to your work-surface to continue kneading the dough
Once the ball of fathead dough forms, split it up into 6 smaller balls of dough
Now take your finger and press it into the middle of the small ball of fathead dough to form a hole
At this point you'll want to shape the dough into that of a bagel
Once you've shaped all 6 balls of fathead dough into bagels, add them to a baking sheet lined with parchment paper
If making "Everything" bagels coat the tops of each bagel with baking spray, and add the Trader Joe's Everything Bagel Seasoning
Now bake them at 400 Degrees for around 15 minutes, or until the tops are golden brown
Remove them from the oven and let them cool down in the tray
Once cool, store them in an airtight container in the fridge
Nutrition
Serving Size:

1 Bagel

Calories:

370

Fat:

26

Carbohydrates:

7

Fiber:

3.5

Protein:

26
Keywords: Keto bagel, Keto bagels, Fathead bagel, Fathead Dough, Keto Bagel recipe, Fathead bagels