This Keto French Toast Recipe is made from scratch in literally less than 10 minutes! And this quick and easy low carb French Toast has just 3 net carbs per serving. So, if you've been craving this classic breakfast idea, but not all the carbs and sugar that typically comes with making it, you'll love this recipe.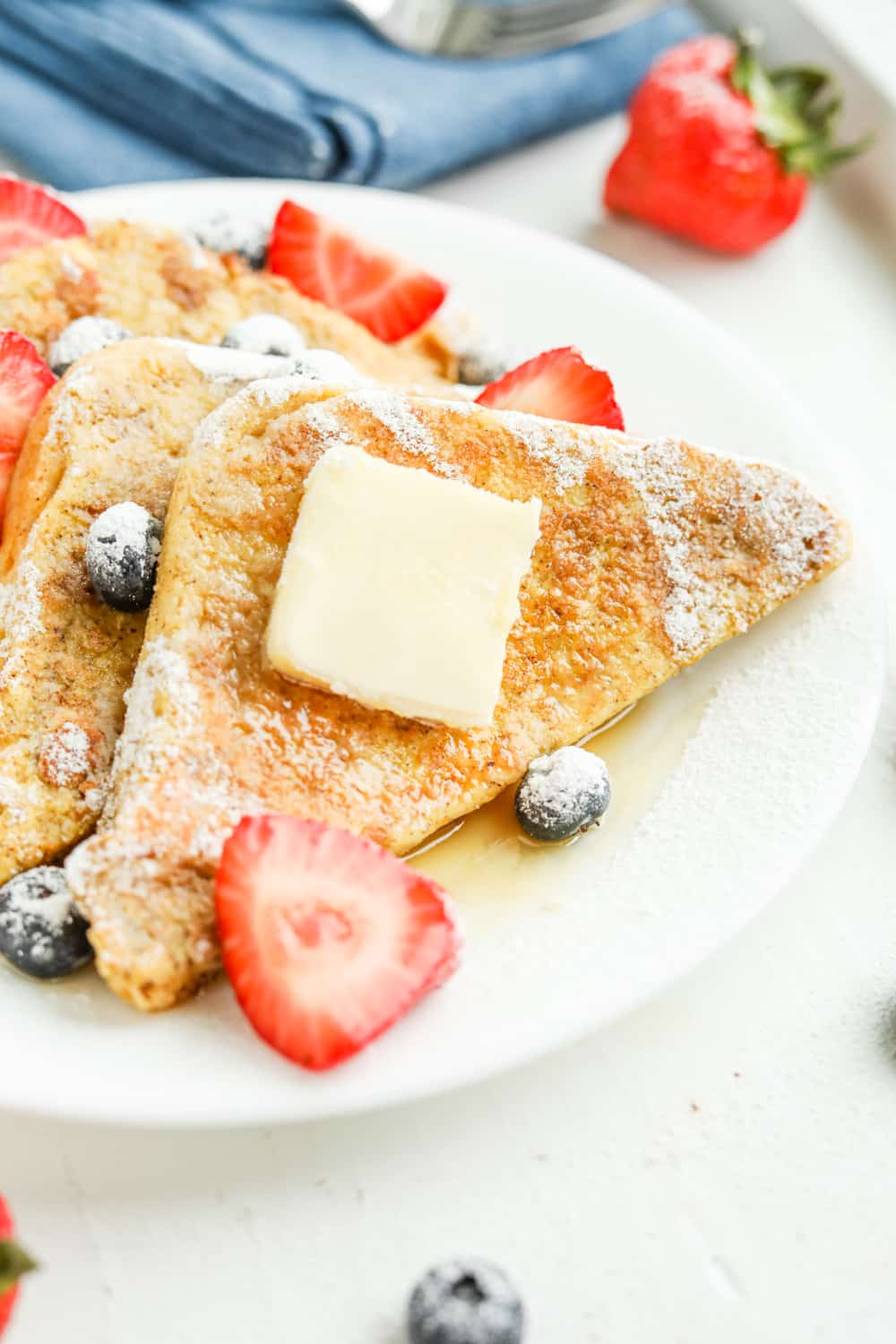 The Best Keto French Toast
As far as sweet breakfast ideas go, French Toast is at the top of my list.
Mostly since I grew up eating A LOT of French Toast for breakfast when I was a kid.
See, my mom made the BEST French Toast, and I'm pretty sure I had her make it for me every day for like 2 years straight.
Does anyone else's mom make the best everything?
Anyways, the problem with French toast is that it's loaded with carbs and sugar – even mom's - and it's something you obviously don't want if you're following a low carb keto diet.
So, I made this super quick, low carb, and sugar-free version that gives you everything you want in a perfect French toast. Everything except the carbs of course.
Seriously, in 10 minutes, you get deliciously fluffy keto French Toast.
The bread has a perfectly toasted outside, and every bite is filled with sweet maple flavor.
Are you just about drooling yet?
Let's jump into the recipe!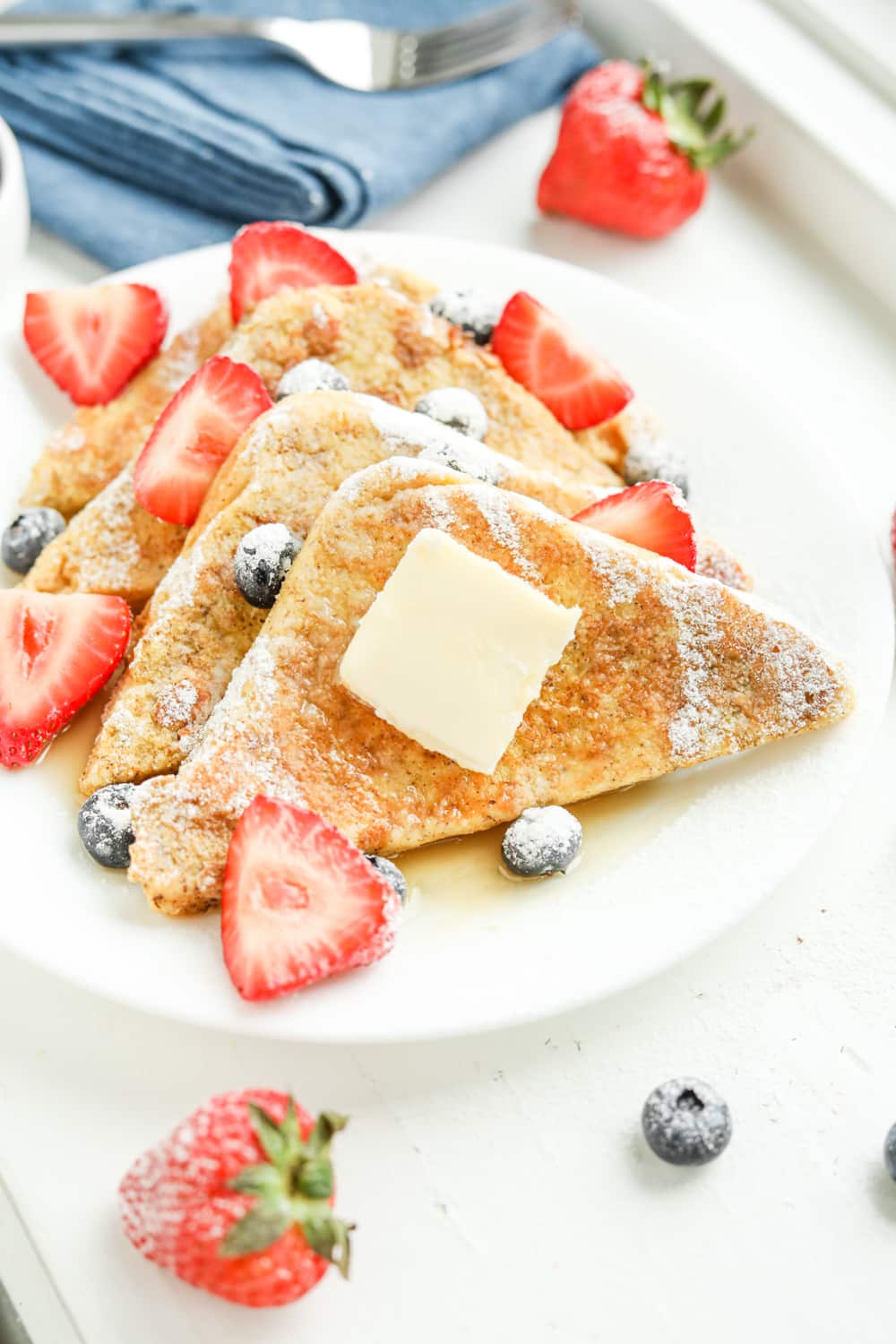 Making the Keto Bread
I have a ton of keto bread recipes on the blog that can satisfy your low-carb bread needs!
You can try my easy two-minute keto bread, deliciously soft and airy keto white bread, or even this flavorful yeast bread!
But for this recipe, I made a keto bread that's got just the right amounts of sweetness & fluffiness that you want in a fantastic keto French toast.
It's actually kind of a spin-off of that two-minute bread I just mentioned...just made a bit sweeter.
So, just like that bread recipe, the bread to make this Keto French Toast practically takes no time to make as well! And the result is an absolutely delicious Keto French Toast that tastes just like regular French toast.
Seriously, you and everyone who tries this Keto French Toast recipe would never know it only has 3 NET CARBS per serving!
Now, let's talk about the ingredients!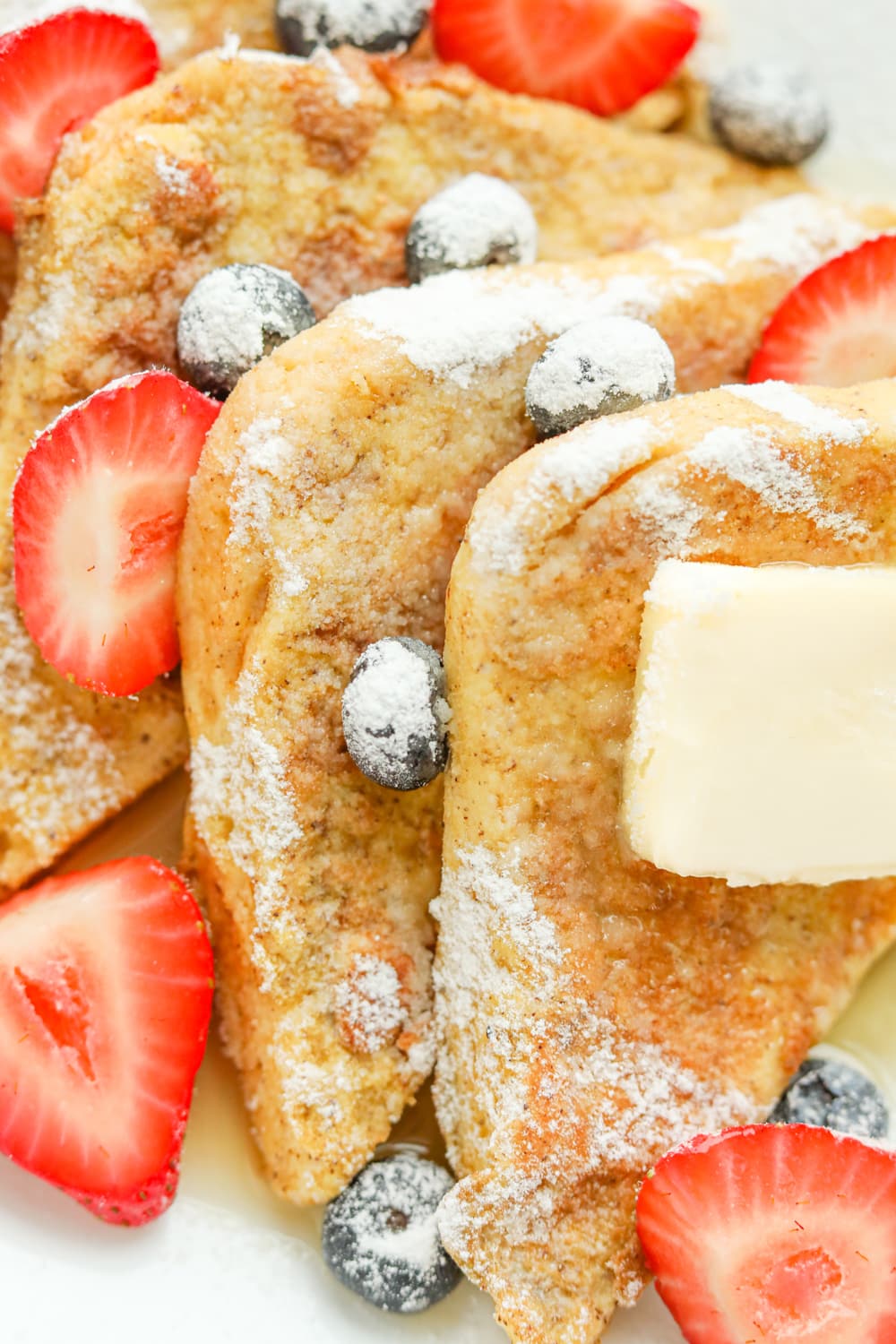 Keto Bread Ingredients
The ingredients that you'll need to make this keto friendly French toast are actually super simple ones. And if you've made some of my other keto recipes, you probably have everything in your kitchen.
Here are the ingredients you'll need to make the low carb bread:
By the way, a lot of these ingredients are also in my light and airy keto bagels. So if you're looking for another keto breakfast idea give those a shot too. Also, if you don't have any protein powder, you can still make this French toast using this 90 second keto bread recipe.
That said, it's important to use the ingredients mentioned above to make the bread for this French Toast recipe.
That is of course if you want the best results.
A lot of keto recipes need to be made exactly how there presented for them to turn out properly, and this Keto French Toast is one of those recipes.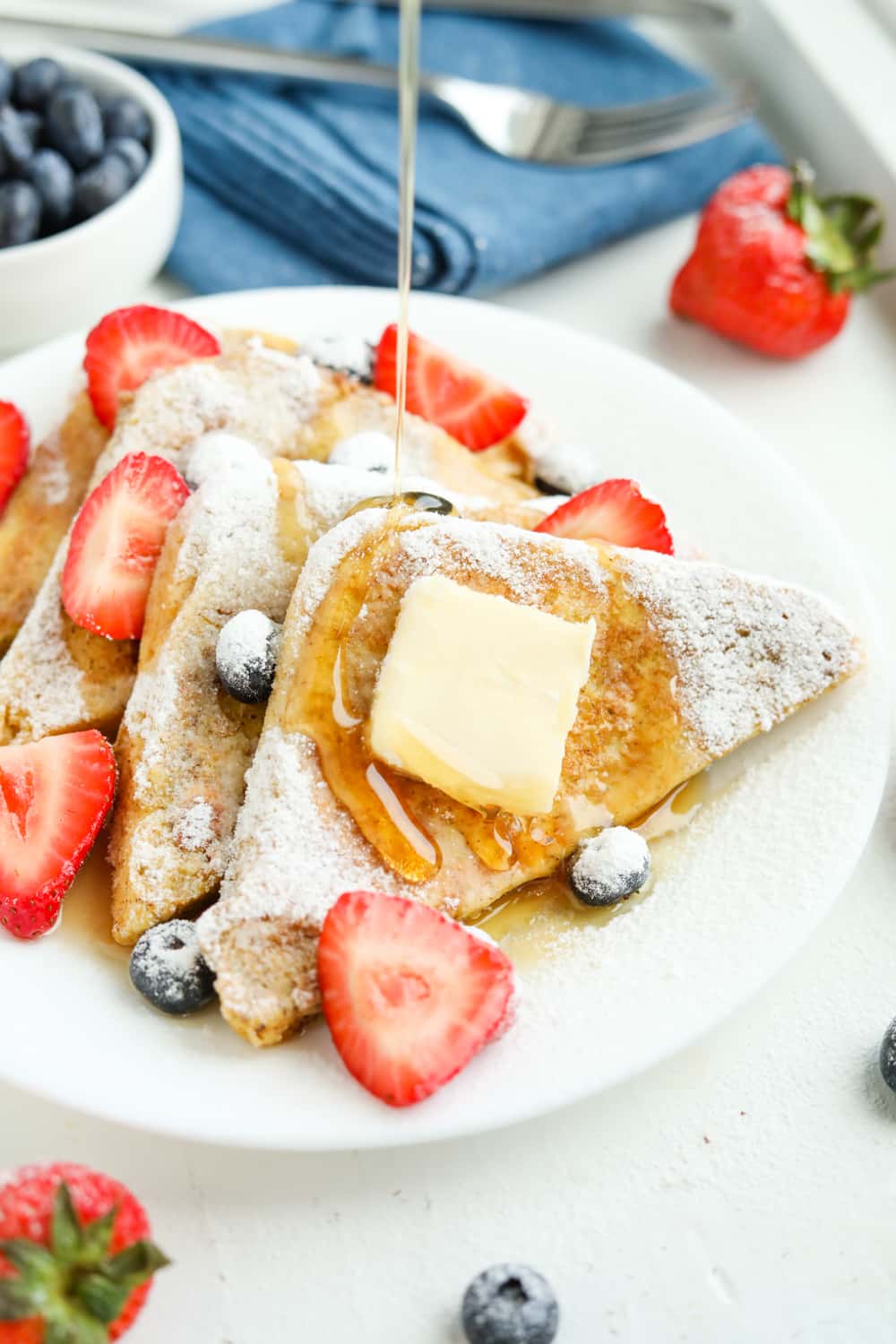 Substituting Ingredients
Now, I know not everyone will be able to use the exact ingredients to make this Keto French Toast.
So, I'll give you a few substitutions that won't change your results.
First, while I prefer to use Confectioners Swerve to sweeten up the bread, Lakanto's Monk Fruit sweetener will work just as well.
Both Confectioners Swerve and Lakanto's Monk Fruit are as sweet as sugar - except they don't have the carbs.
Now, if you're in Europe and you can't find either of the options I mentioned above, you'll probably be able to find Sukrin. Just make sure you use the version that is 1:1 as sweet as sugar.
That said, a lot of people try using stevia in place of the options I mentioned above, and this is A TERRIBLE IDEA. The reason you don't want to use stevia is that it's WAY SWEETER than those options.
Stevia in it's purest form is almost 300 times sweeter than sugar, so you obviously can not replace it for something that is as sweet as sugar....like the options I gave you.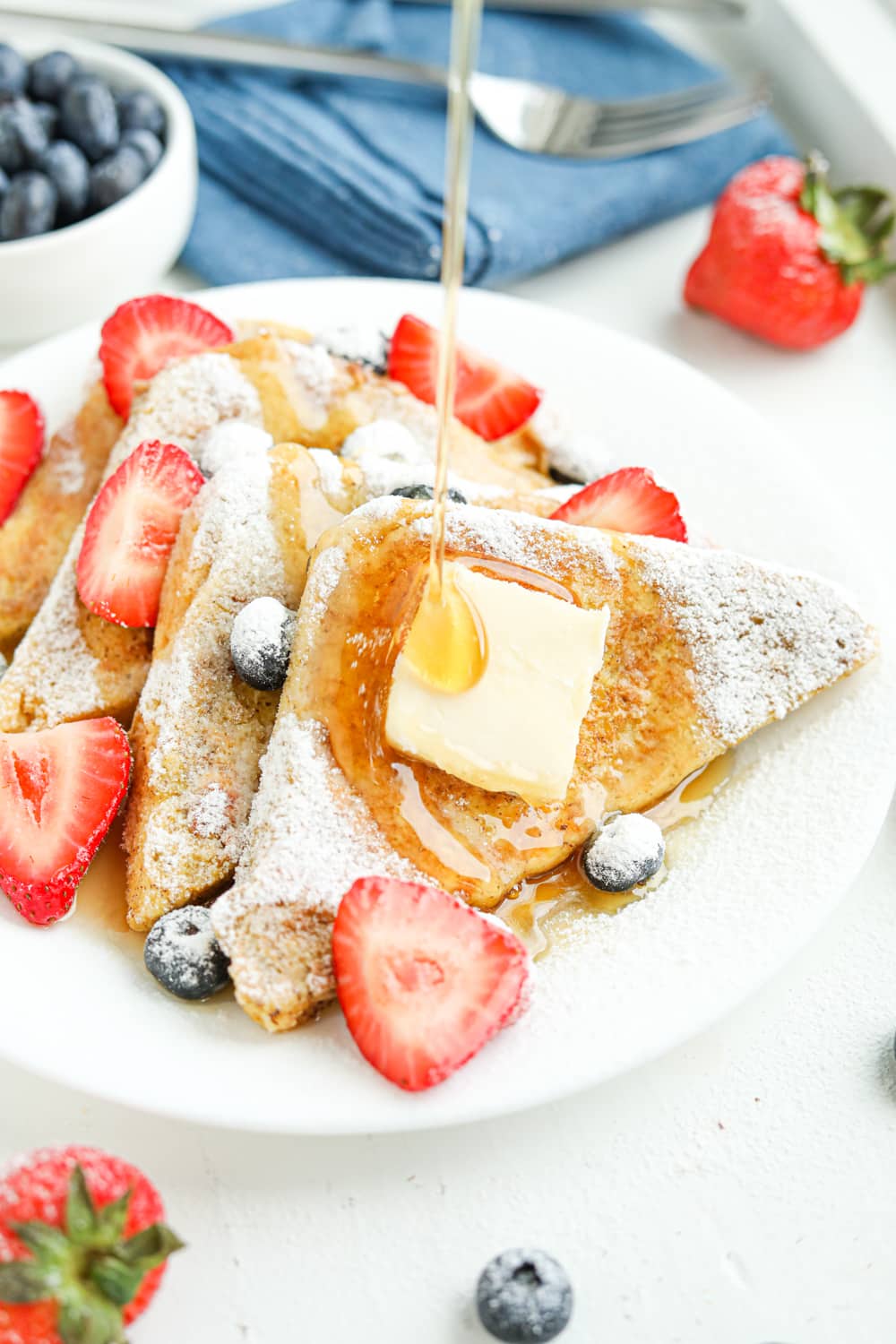 Also, another highlight of this recipe is the combination of almond flour and unflavored whey protein.
They're both extremely low carb – especially if you use this almond flour and this unflavored whey protein powder – and are essential in achieving that fluffy and dense texture that makes this Keto French Toast so great!
They're also BOTH IMPERATIVE to making this bread, and one should not be substituted for the other.
The only substitution for almond flour is sunflower seed flour and walnut flour.
DO NOT try to substitute the almond flour with coconut flour. They are not equally substitutable since coconut flour is FAR MORE ABSORBENT than almond flour.
If you use coconut flour your bread will turn out dry and crumbly...if it turns out at all.
So keep all of these things in mind when making the bread for your Keto French Toast.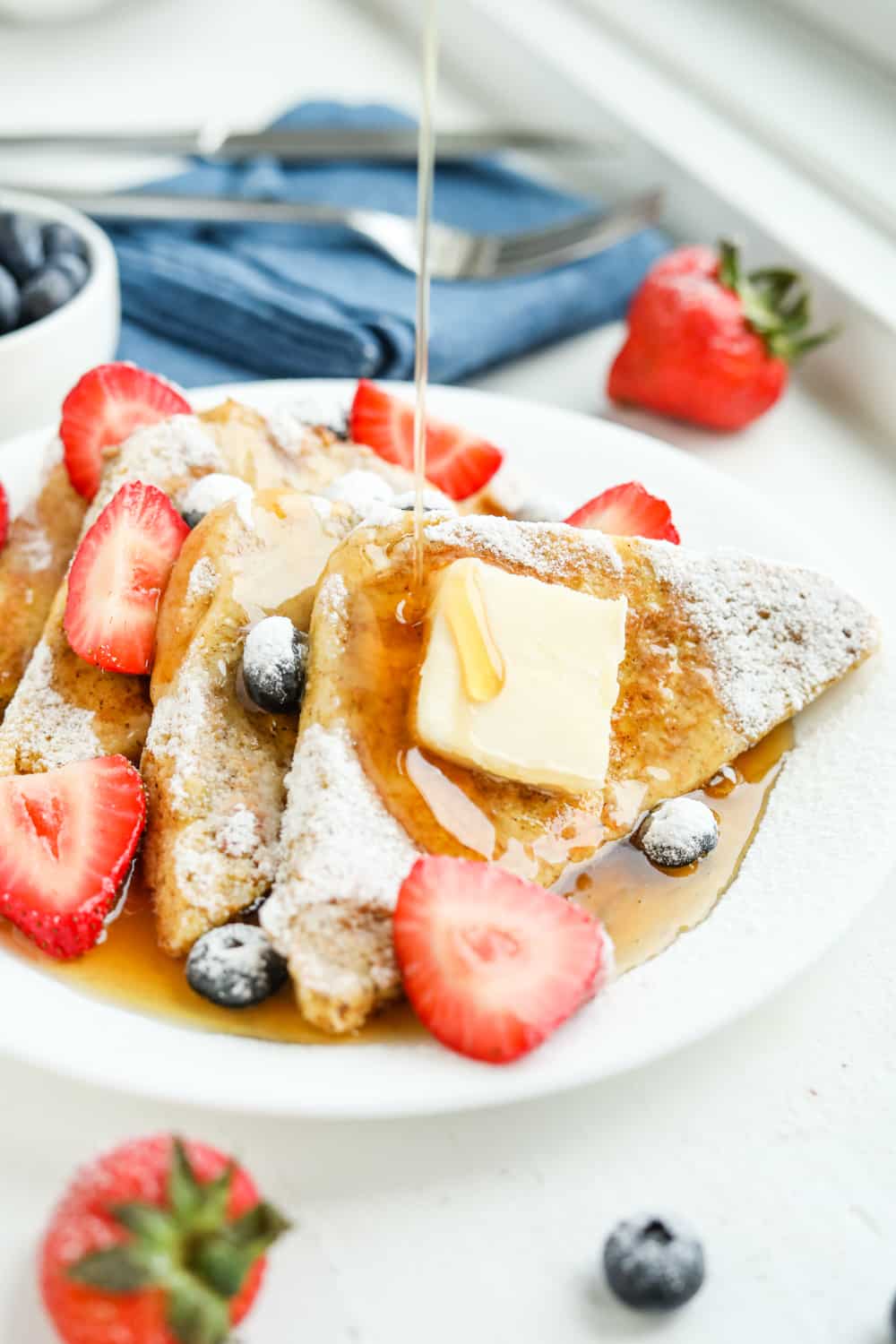 Making the Low Carb Egg Dip
The keto French toast egg dip is simple and easy to make.
All you have to do is mix...
A large egg (or two medium-sized eggs)

With half a tablespoon of unsweetened vanilla almond milk

As well as half a tablespoon of sugar free maple syrup

A teaspoon of pure vanilla extract

And a pinch of cinnamon
Of course, French toast egg dip isn't usually made with maple syrup, but I like to sweeten my dip up. It's sort of my "secret ingredient" for making incredible Keto French Toast. So don't skip it!
That said, I like sweetening my dip up without adding any carbs.
So to do that, I like to use this keto maple syrup. Not only is it carb-free, but it's also calorie-free.
And I use it a lot!
I use it to make my 1-minute keto pancakes, keto chaffles (cheese waffles!), low carb pumpkin spice cookies, and many other recipes.
So, if you pick it up, you'll have plenty of other recipes to use it on too.
By the way, if you're looking for a sugar free maple syrup, I have a sugar free maple syrup recipe that is ideal to use with this keto French toast recipe.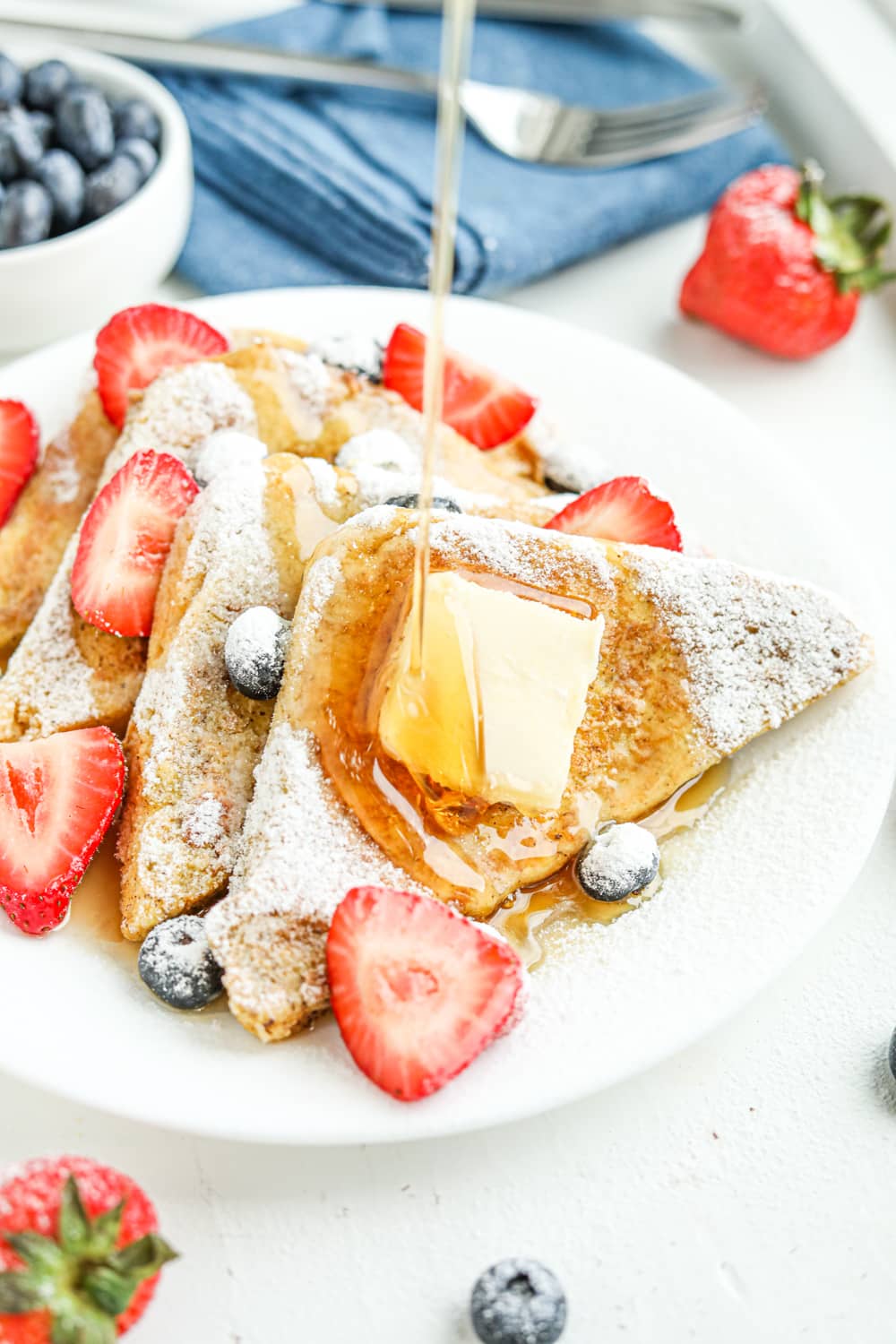 Cooking Your Keto French Toast
Now, this is where the real magic happens.
Once your bread has cooled and your egg dip is ready, use a thin bread knife to cut the bread in half (the bread can be pretty delicate at this stage) and a larger knife to cut it in quarters.
Coat your pan with baking spray and gently fry the French toast over medium heat.
It should just take a minute or two on each side.
That said, this Keto French Toast cooks quickly, so you can easily flip it more than once if you want a more toasted outside.
However, you can't fix it if it overcooks – so you'll want to keep a close eye on it!
Anyways, once it's done cooking serve it with a side of fresh fruit – I like strawberries and blueberries – more of that keto maple syrup, and a sprinkling of Confectioners Swerve. Or you could even top it off with some keto whipped cream and keto caramel sauce!
Nutritional Info and Macros
This keto french toast recipe is excellent to split with a friend or spouse because it's pretty filling!
Or, you can save half of the batch for later.
That said, the recipe makes 4 pretty darn good French toast slices, and each serving - two slices - has only 3g net carbs.
However, the full nutritional & macro breakdown per serving on this low carb French Toast is as follows...
350 Calories
25g Fat
7.5g Carbs
4.5g Fiber
3 NET CARBS
22g Protein
Not too shabby for French Toast, eh?!
Anyways, I suggest serving it with a side of bulletproof coffee, some keto dalgona coffee, or some iced cold almond milk!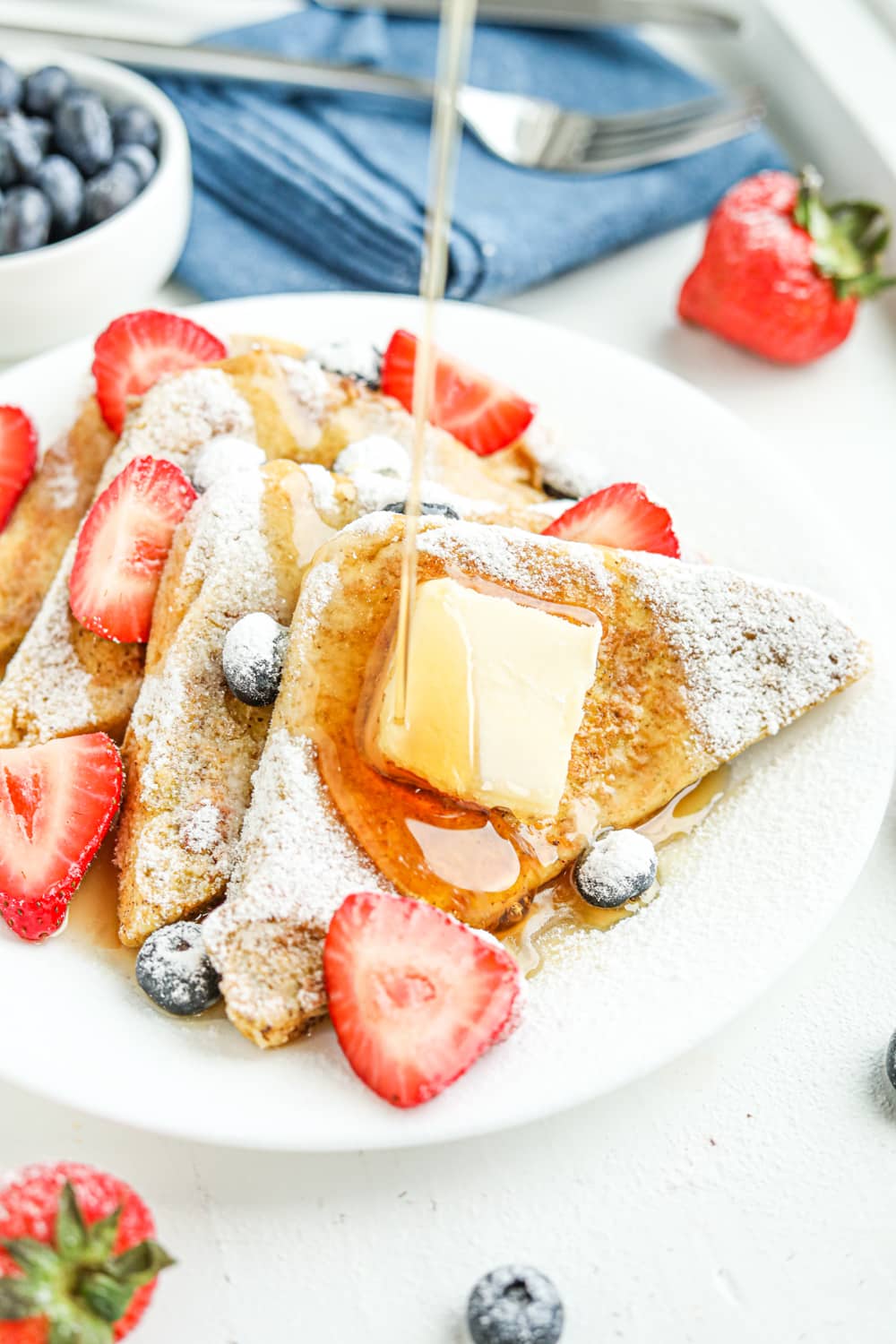 Other Keto Breakfast Recipes To Try
If you liked this keto french toast recipe, I have a bunch more keto breakfast recipes on the blog I think you'll like just as much!
Some other delicious low carb breakfast recipes you can try are these keto pancakes (not to be confused with these super fluffy 1-minute pancakes), these peanut butter donuts, this breakfast casserole, or even this 5-Minute Cinnamon Roll!
And, if you still want more low carb dessert recipes, there are over 125 in my keto cookbook!
Most of the recipes are just as quick & easy as this one and use a lot of the same ingredients too.
So that was how to make Keto French toast from scratch in 10 minutes!
I hope you enjoyed the recipe, and don't forget to leave a comment below if you tried it.
Oh, and don't forget you can also catch the video recipe on my Youtube channel!
Print
Keto French Toast | Easy Low Carb French Toast FROM SCRATCH In 10 Minutes
This Keto French Toast Recipe is made from scratch in literally less than 10 minutes! And this quick and easy low carb French Toast has just 3 net carbs per serving. So, if you've been craving this classic breakfast idea, but not all the carbs and sugar that typically comes with making it, you'll love this recipe.
Author:
Prep Time:

5 Minutes

Cook Time:

5 Minutes

Total Time:

10 minutes

Yield:

4 Slices

Category:

Breakfast

Method:

Stove-Top

Cuisine:

Keto Low Carb
Instructions
Add all of the dry ingredients to a large measuring cup and whisk until combined.

Pour in the water, and stir until a thick batter forms.

Once it does, coat a square

glass sandwich dish

with baking spray, and evenly pour/spread the batter in the dish - using a wet spatula will help you spread it out, as the batter can be quite sticky.

Microwave in three-four one minute intervals….microwave the bread, check on it, microwave the bread again, check on it etc.

Once the top of the bread is firm to the touch set it aside and let it cool down.

While the bread is cooling, start preparing the egg dip.

In a shallow dish, add and mix all of the egg dip ingredients.

Once they're combined, remove the bread from the dish, and use a THIN BREAD KNIFE to cut it in half.

Then, use a larger knife to cut it in quarters.

Now, coat a large skillet with baking spray, and set it over medium heat on the stove.

Dip the bread into the egg dip until well coated, and then transfer it to the heated skillet.

I recommend cooking 2 pieces at a time.

Flip the toast occasionally, and cook until the egg is totally cooked through.

Repeat until all of the toast has been cooked

Serve with fresh fruit, and top with

keto maple syrup

as well as

confectioners swerve

.
Nutrition
Serving Size:

2 Slices

Calories:

350

Fat:

25

Carbohydrates:

7.5

Fiber:

4.5

Protein:

22
Keywords: Keto French Toast, French Toast Keto, Keto French Toast Recipe, French Toast Keto Recipe, Low carb french toast, french toast low carb, how to make keto french toast, how to make low carb french toast