Thick and fluffy almond flour keto pancakes made in 1 minute! As far as quick and easy keto breakfast recipes go it doesn't get much better than these pancakes, or should I say pancake? More on that down below!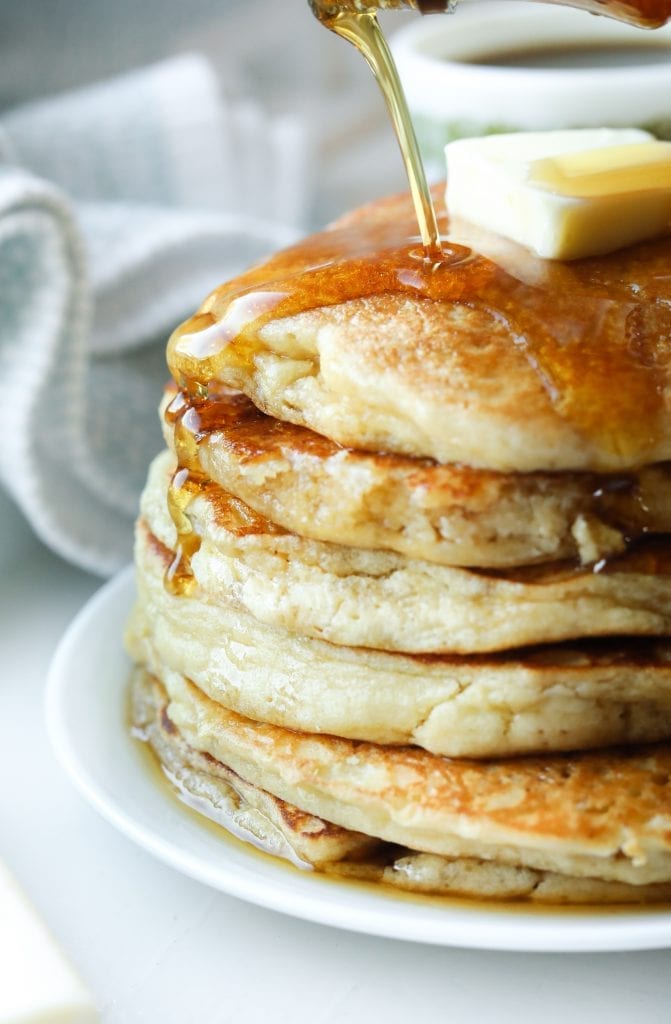 The Best Keto Pancakes Recipe
You might remember that I've already shown you how to make a couple of keto pancake recipes - like these cream cheese coconut flour ones, and these almond flour ones - but none have been as easy as these.
That said, there's a couple of ways you can make them.
The fastest way is to use a microwave and make one giant thick and fluffy pancake.
And it actually takes less than a minute to cook the pancake like this. So, for the mornings your super busy and don't have time to make a legit keto breakfast, this is the option you'll want to go with.
However, you can also cook these pancakes on your stove-top too!
And let me tell you, they are SO GOOD when you make them this way. Also, the recipe makes 2 medium-sized pancakes if you make them this way.
By the way, just like the one minute option, the pancakes turn out incredibly light and fluffy when cooked in a pan too!
In my opinion, it's definitely worth the extra 10-15 minutes, and extra clean up to cook them like this.
But, if you're in a rush, the aforementioned one-minute pancake recipe is truly one of the best quick and easy keto breakfast ideas out there.
That said, let me show you how to make these low carb pancakes!
Oh, and any way you make this sugar free and gluten free pancakes recipe, they have just 2 NET CARBS per serving!
Ingredients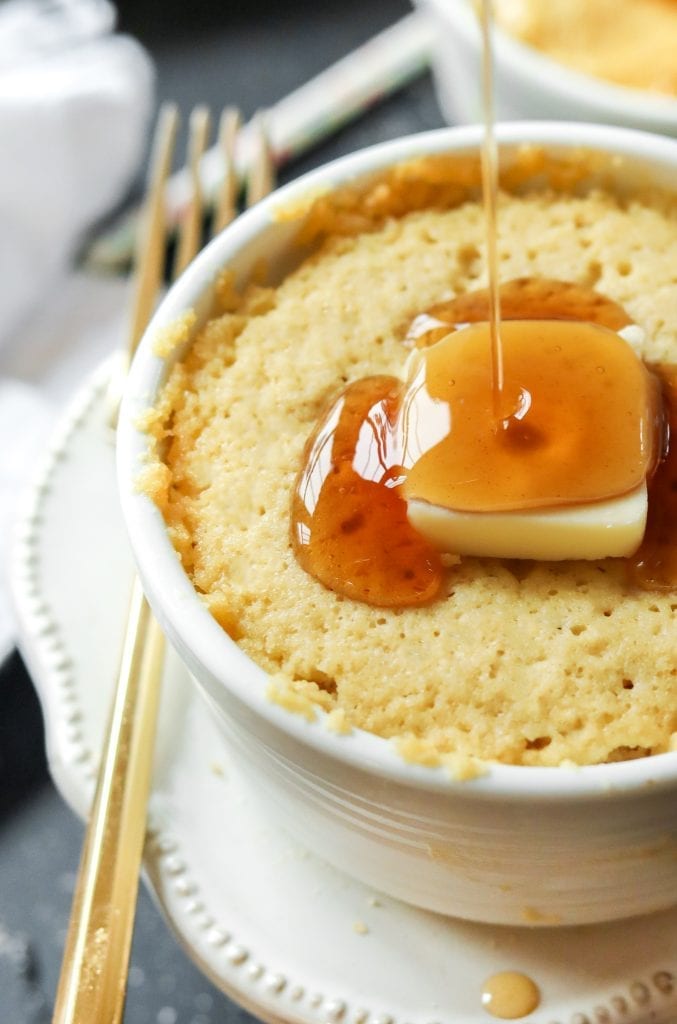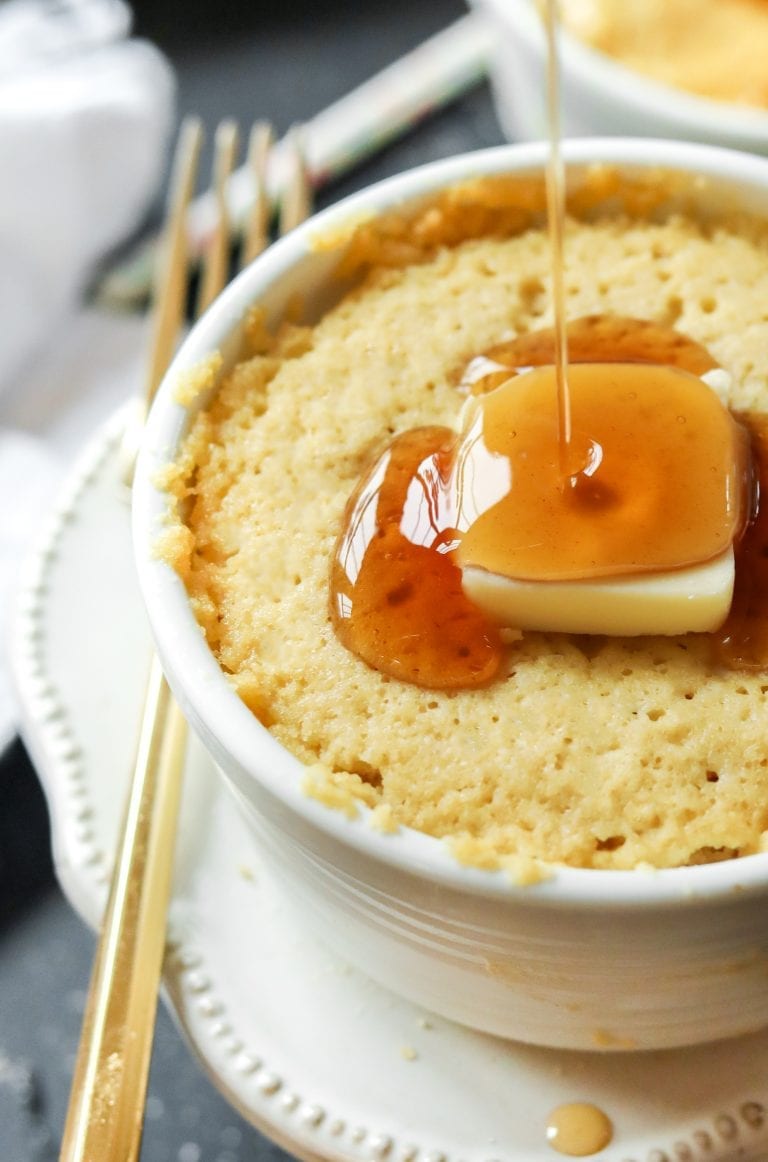 There is a very short ingredient list for this pancakes recipe.
All you'll need is almond flour, an egg, butter, vanilla extract, sugar free maple syrup, and baking powder to make this pancake recipe.
Those are some pretty standard keto ingredients. So I'm sure you've got most of them - if not all of them - in your kitchen already.
And, you might have noticed, that ingredient list for these low carb pancakes is completely flourless, and sugar free too!
Who doesn't dig that?!
Substituting The Almond Flour
Now, as we've talked about, these are gluten free almond flour keto pancakes. As such, they're best made with almond flour.
But, I know some people have nut allergy's, and need an alternative.
That said, do not, DO NOT use coconut flour as a substitute.
Coconut flour is HIGHLY ABSORBENT, and almond flour is not.
The BEST substitute to use Sunflower Seed Flour! You can typically replace it with almond flour on a 1:1 basis in a recipe.
So, give that a shot if you don't want to use almond flour.
How To Make Keto Pancakes
Simple is an understatement when it comes to this recipe.
To make these fluffy low carb pancakes all you'll need to do is add the ingredients to a bowl, whisk, and cook!
Then drizzle the pancakes with sugar free maple syrup. It's literally that easy.
By the way, "1 Minute" just refers to the cook-time on these pancakes. That said, from start-to-finish, you're still looking at less than 5 minutes to make this recipe.
1 Minute Microwave Version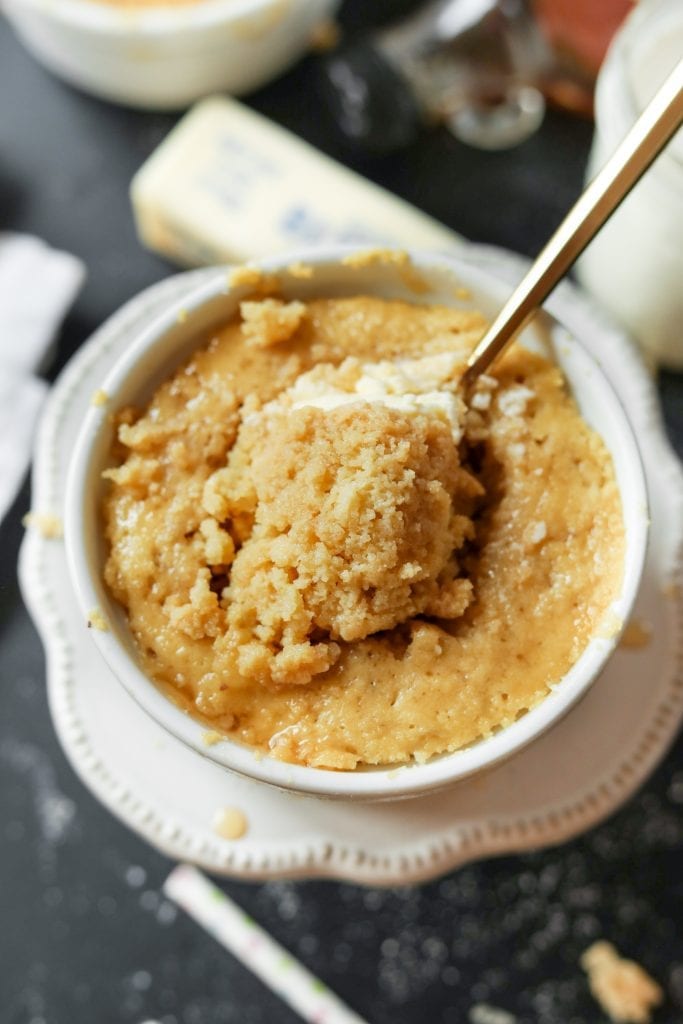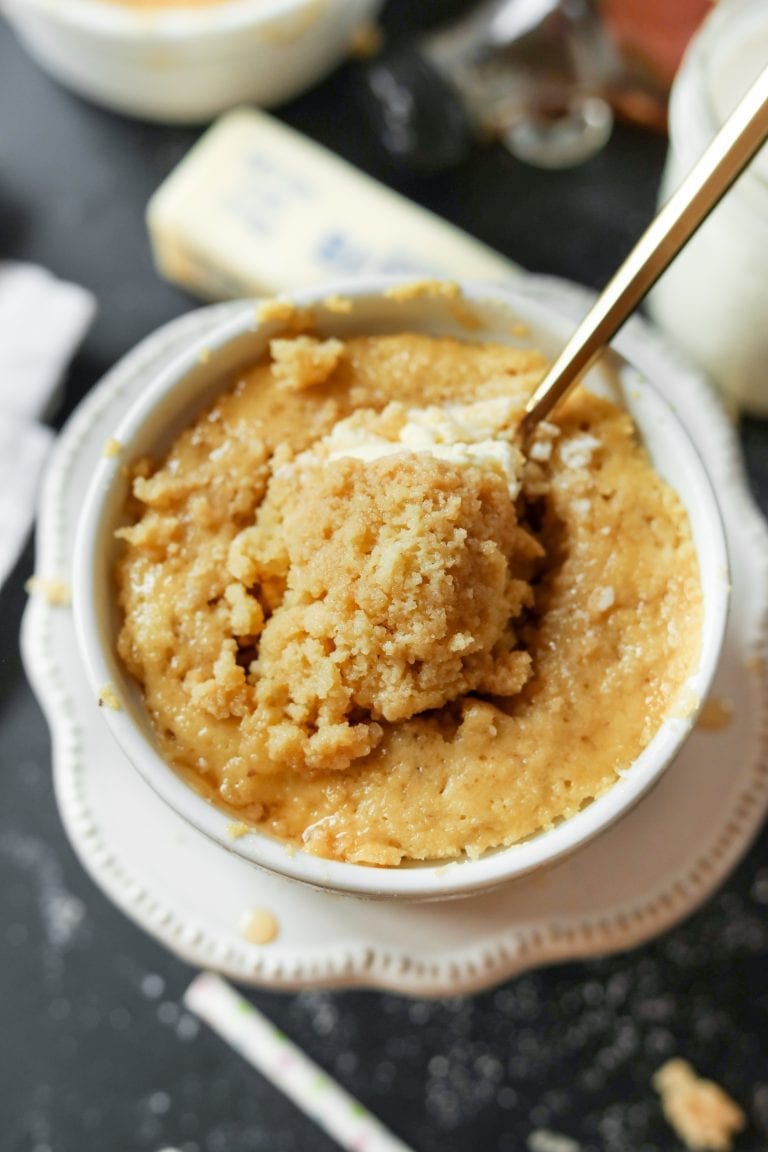 Now, as I said before, making these almond flour keto pancakes is incredibly simple and easy.
The first thing you'll want to do is add all of the wet ingredients to a small bowl/measuring cup. I like to use a measuring cup because that way it's easier to pour the batter later.
Once you've got the wet ingredients added, use a whisk to mix and combine them.
So, when the egg yolk dissolves into the other ingredients that's when you'll want to add the almond flour and baking powder.
At this point you've added all of the ingredients to the bowl, so just use a small spatula and combine the wet and dry ingredients together until a thick batter forms.
Now you'll want to coat an 8-ounce ramekin - or bigger - with baking spray, and add the batter to the ramekin.
The last thing to do is to cook the pancakes. And the "1 Minute" version gets cooked in the microwave.
In my 1100 Watt microwave the pancake perfectly in 45 seconds.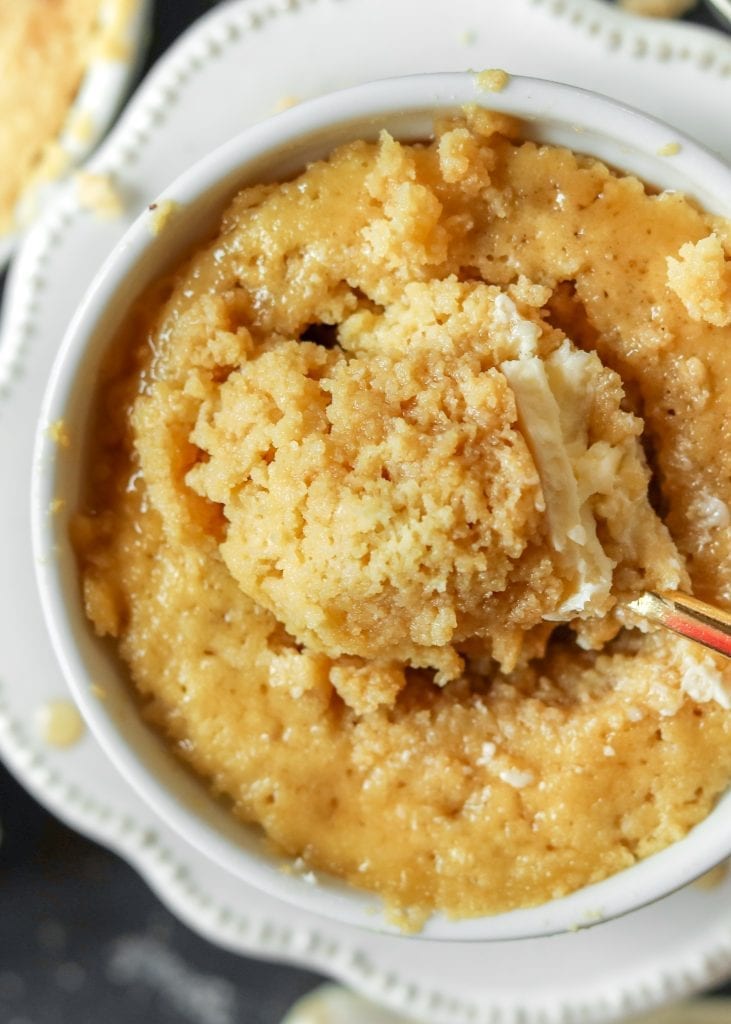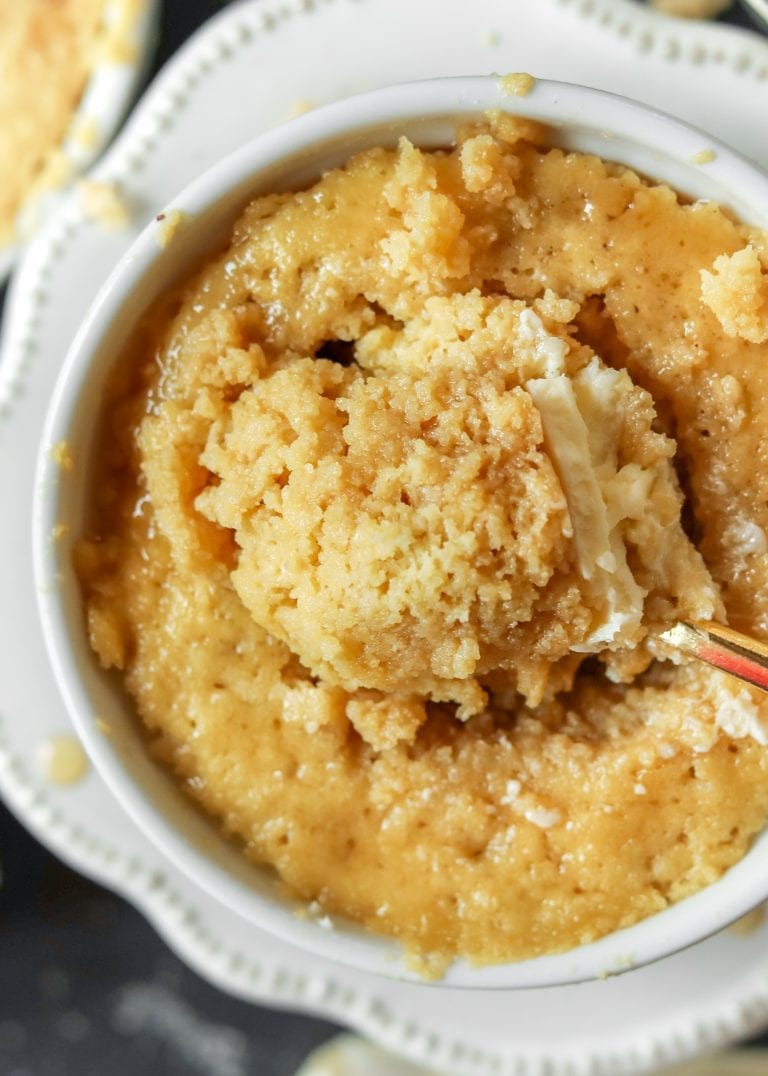 However, all microwaves have different Wattages and power levels. So your cook-time will most likely be different than mine.
And as with ANY mug recipe, my BIGGEST PRO TIP is to SLIGHTLY UNDERCOOK YOUR pancake, and add 5-10 seconds as needed.
You'll know the pancake is cooked perfectly when JUST THE CENTER of it looks slightly "wet". When JUST THE CENTER looks this way, the pancake is done.
Now just let it cool down in the ramekin.
As it cools, it will keep cooking, and it will turn out incredibly thick and fluffy!
Traditional Pancakes On The Stovetop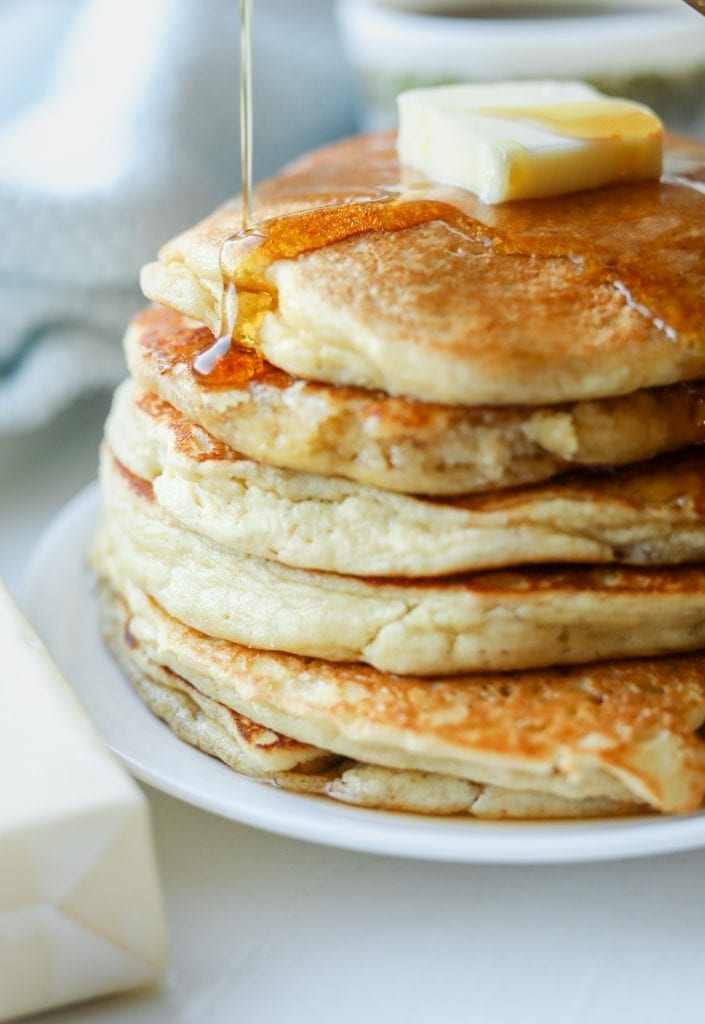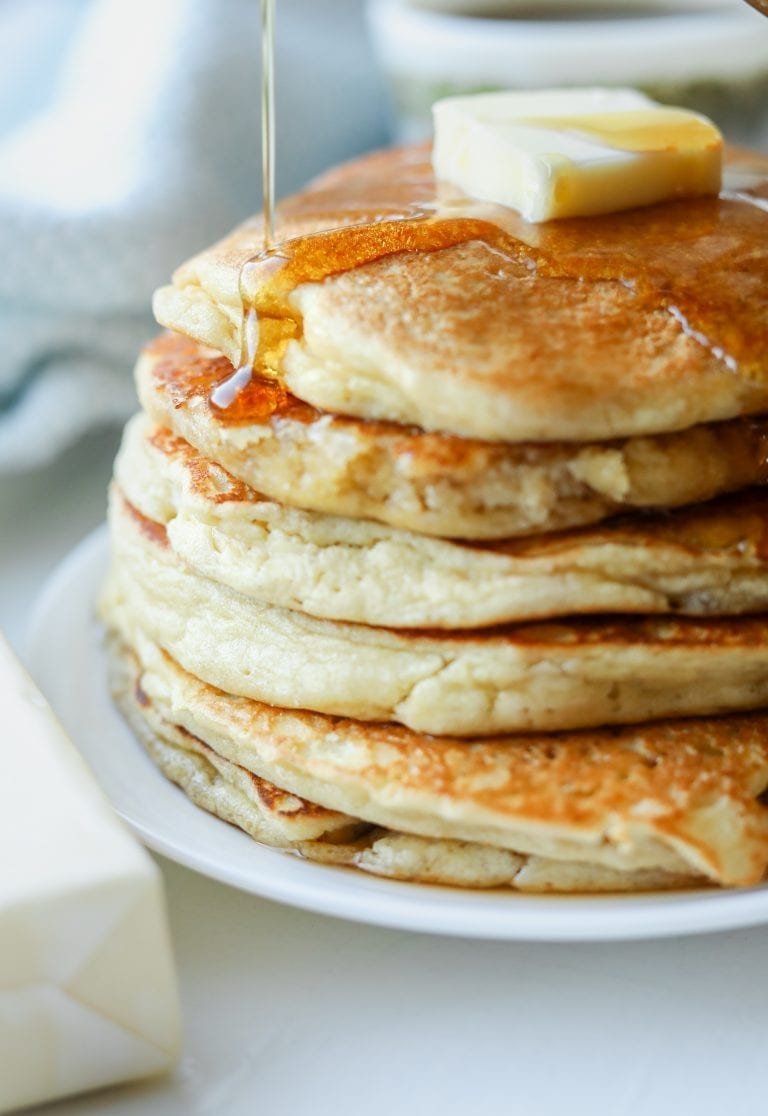 As I mentioned, these low carb pancakes can be cooked in a pan on your stovetop too.
And, honestly, this might be the best almond flour pancake recipe I've ever made. Mainly because of how thick and fluffy they turn out.
Like, I'm talking ridiculously light and fluffy.
And, that thick and fluffy deliciousness really shines through when you cook these low carb pancakes on the stovetop.
So let's talk about making them on there!
First, get out a pan, add it to your stovetop and turn the heat up to medium. Now you'll want to coat a pan with baking spray/butter and get it hot. Once your oil/butter is hot, you'll want to add some of the pancake batter to the pan.
Now, how much batter you use depends on how many pancakes you want to make. But just so you know the recipe will make 2 medium-sized pancakes or 3 smaller sized ones.
So just keep that in mind.
Cooking Instructions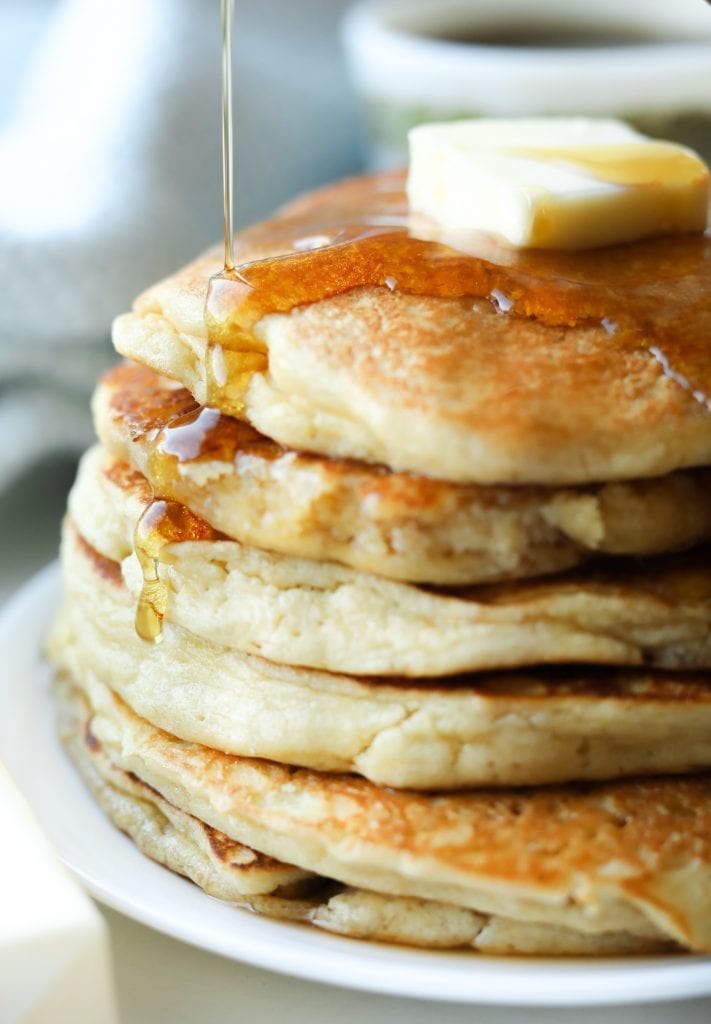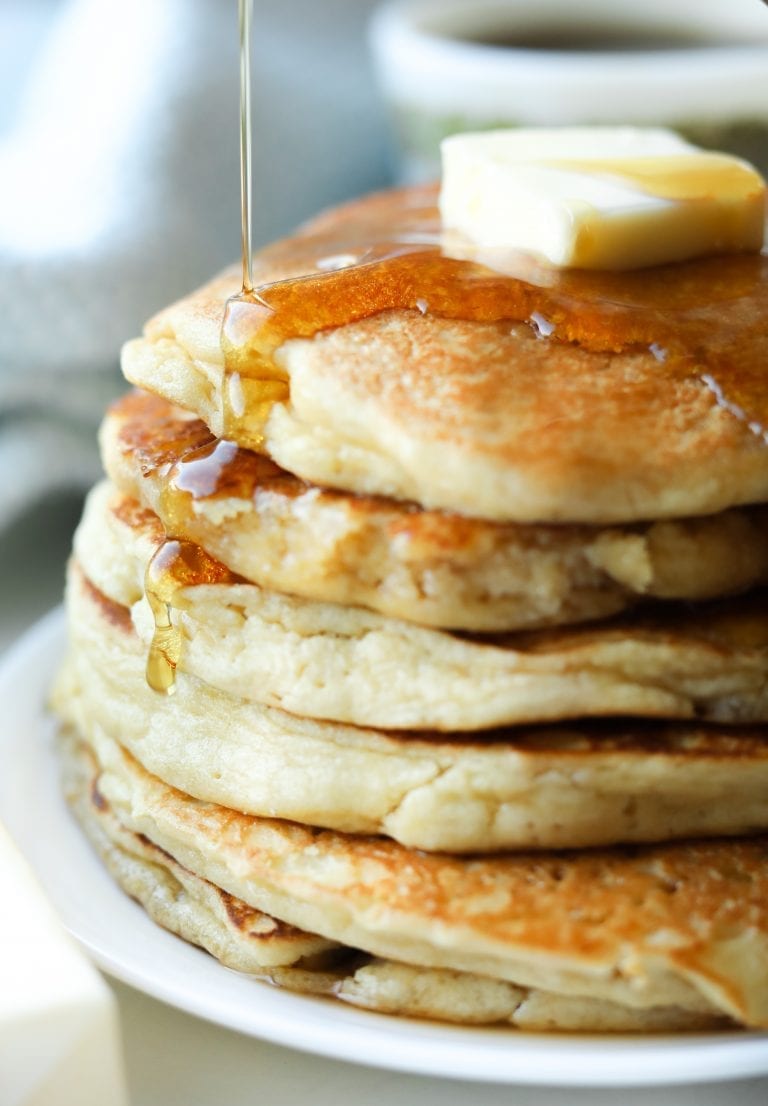 How long you cook your almond flour pancakes for, will inevitably depend on how thick you make them.
However, there are a couple of indicators that they're ready to be flipped.
First, you'll start to see some bubbles forming on the pancakes. And then you'll also start to notice the "outside ring" of the pancake turning a lighter color than the middle.
Once that happens, it's a good indicator that your keto pancake is ready to be flipped. So, give it a flip, and then cook the other side for just a minute or two.
You should be able to press down on the pancake with your finger and feel some "give" back from it.
It shouldn't feel squishy, or wet.
Having said that, when your pancake is firm to the touch, you can remove it from the heat, add it to a plate, and smoother it in some of my homemade sugar free maple syrup. Or, try adding some of this keto caramel sauce to 'em.
And these pancakes have just 2 NET CARBS, so you can make another batch if you're still hungry!
FAQS ABOUT THIS KETO PANCAKE RECIPE
What are keto pancakes made of?
This keto pancake recipe is made with only 6 simple, staple keto baking ingredients. The ingredients are almond flour, an egg, butter, vanilla extract, maple syrup, and baking powder. Keto pancakes can also be made with a few different ingredients, such as cream cheese. Cream cheese is one of the main ingredients, along with almond flour and coconut flour in my keto cream cheese pancakes recipe.
How many carbs are in a keto pancake?
These low carb keto pancakes only have 2 NET CARBS each! They are some of the lowest carb pancakes that you'll find. I have a keto banana pancakes recipe that also has only 2 net carbs per pancake. And if you want a keto pancake recipe that is even lower in carbs - 1 net carb per pancake - check out this almond flour pancake recipe.
What can I substitute for flour in a keto recipe?
The best substitute for flour in a keto recipe is almond flour. That is what I used in place of flour in this low carb pancake recipe and in almost all of my keto recipes. Almond flour is a one-for-one substitute with regular flour and works really well in recipes. Two other keto friendly flours that are equal substitutes with regular flour are walnut flour and sunflower seed flour. And as I mentioned earlier, although coconut flour is great for the keto diet, it is not an equal substitute with all-purpose flour.
Wrapping It All Up
That is how to make keto pancakes with the most delicious taste and the best texture. These fluffy low carb pancakes are perfectly thick, soft, and cook to perfection on the stovetop or in the microwave!
They truly are perfect for the keto diet and will start your day in the best way. I especially enjoy eating them with one of these low carb low calorie Dunkin Donuts drinks.
With that said, these pancakes also make a pretty tasty dinner as well! I know this may sound weird to some people, but sometimes breakfast foods make for the best dinners. Atleast I think they do.
Well, I hope you like my best keto pancake recipe. If you give it a try, leave a comment below and let me know your thoughts. And for more recipes, make sure to check out my Youtube channel.
MORE KETO BREAKFAST RECIPES
If you enjoyed today's quick and easy pancakes recipe you might enjoy some of these other low carb breakfast recipes:
By the way, these keto yogurts all make a great low carb breakfast option too!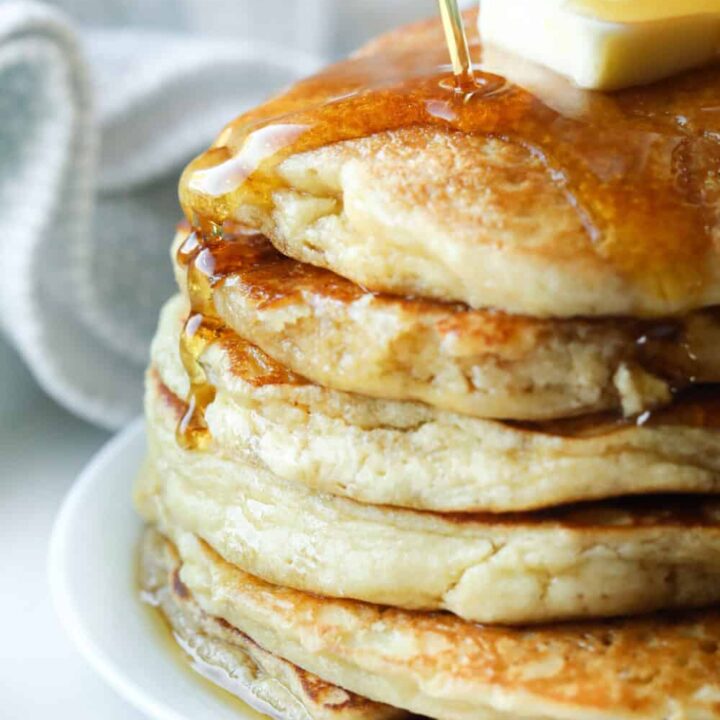 Keto Pancakes MADE IN 1 MINUTE | THE BEST Low Carb, Fluffy, and EASY Almond Flour Keto Pancake Recipe
The BEST low carb keto pancakes. This recipe makes thick and fluffy almond flour keto pancakes in 1 minute! As far as quick and easy keto breakfast recipes go it doesn't get much better than these pancakes, or should I say pancake? ... That just depends on how many you make! 
Instructions
Add all of the liquid ingredients into a medium sized bowl or large measuring cup (for easier pouring), and mix until combined.
Now, add all of the dry ingredients into the same bowl, and mix those until combined with the wet ingredients.
Once combined cook the pancake/s...
1 Minute Version:
Coat 8 Ounce ramekin - or bigger - with baking spray, add the batter to the ramekin, and microwave.
Microwave times will vary!! In my 1100 Watt microwave, 45 seconds is the perfect cook-time.
However, I highly, HIGHLY recommend, erring on the side of less cooktime and slightly underdone, than overdone.
YOU CAN ALWAYS ADD COOK-TIME!
The middle should be slightly "wet" and look a little underdone when it comes out of the microwave. Don't worry, it will continue to cook once it's out of there.
Add butter, keto maple syrup, and enjoy!!
Cooking these pancakes on the stovetop:
Turn the stove up to medium heat, coat a pan with baking spray (or butter) and heat the butter/oil.
Once the oil/butter is heated add ½ to ⅓ of the batter to the middle of the pan and cook until bubbles start to form, and the outside ring of the pancake turns a "lighter" color. This will take a 3ish minutes to happen.
*Note: This pancake makes 2 medium sized pancakes, and 3 small sized ones.
Now, give your pancakes a flip, and cook for another 1-2 minutes. Just until you can press down on it, and you can feel some "give" to it...and it doesn't feel wet.
Notes
Nutritional info is for 2 pancakes. Since the "mug version" of the recipe makes such a large amount of pancake, and the stove top version makes 2+ normal sized ones....It's listed for 2 pancakes. 
2 Net Carbs Each!
5g Carbs - 3g Fiber = 2 Net Carbs
Nutrition Information:
Serving Size:

1 Pancake Stovetop, ½ mug Cake
Amount Per Serving:
Calories:

242
Total Fat:

20g
Saturated Fat:

0g
Trans Fat:

0g
Unsaturated Fat:

0g
Cholesterol:

0mg
Sodium:

0mg
Carbohydrates:

5g
Fiber:

3g
Sugar:

0g
Protein:

9g