These keto crepes are so light, thin, and delicate with a sweet and buttery flavor. They are so much like classic French crepes that won't believe each one only has 2 NET CARBS. And all you need to make this low-carb crepes recipe is just 4 ingredients, and about 10 minutes!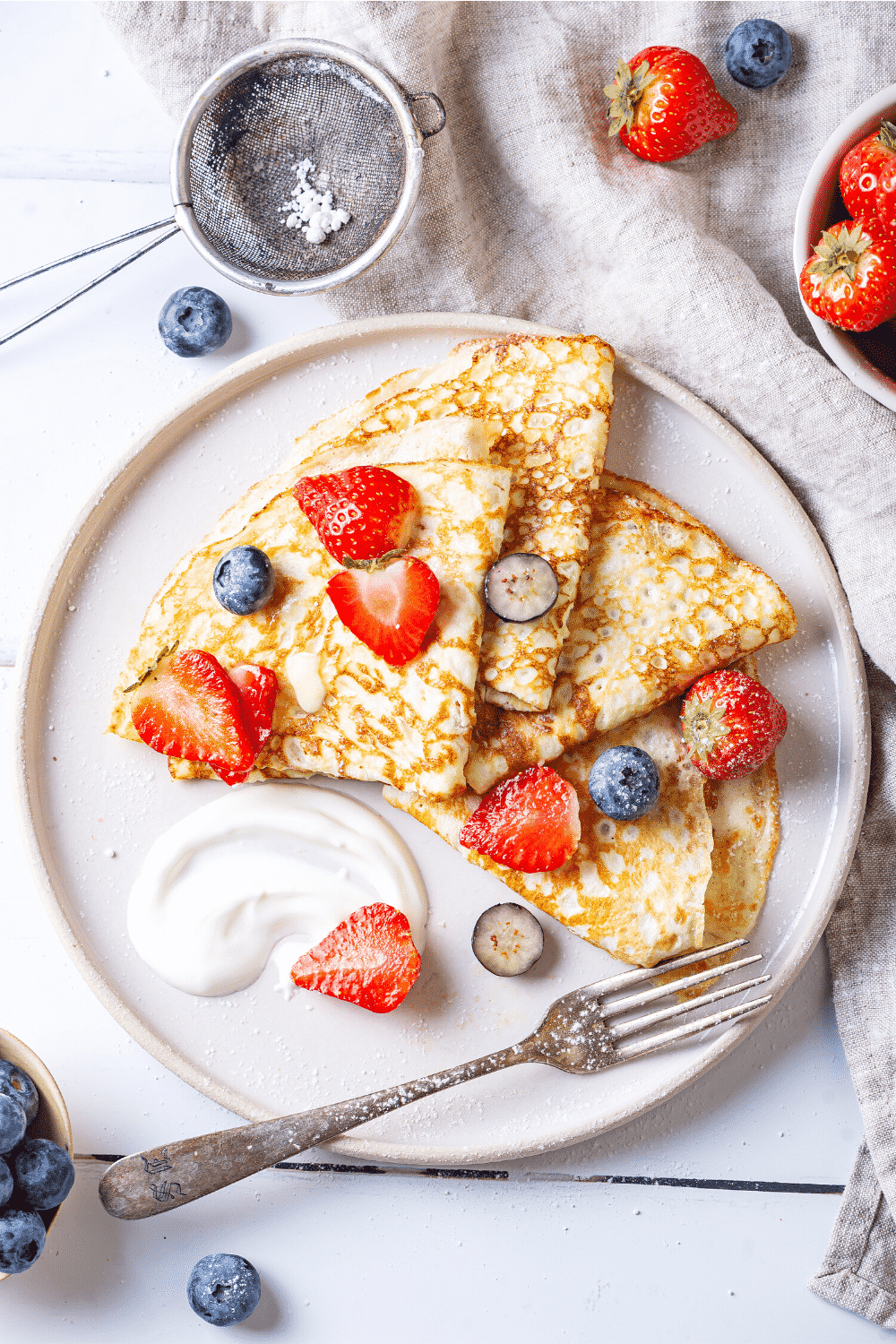 THE BEST KETO CREPES
Quick and tasty keto breakfast recipes don't get much better than these easy keto crepes. And if you've never made crepes before, you're going to love how simple this recipe is to make and how delicious they are.
Honestly, there isn't a better recipe that is just as delicious for breakfast as for dessert as these crepes.
These are like a light, thin pancake with a wonderfully airy and fluffy texture. And these keto crepes are made without flour, so they hold together really well, instead of being dry and crumbly!
Plus, you can transform these versatile keto crepes into a savory or sweet treat, and I have a ton of savory and sweet combinations we'll go over later on!
And since you only need 4 common ingredients to make these keto crepes, you'll probably always have what you need ready to go!
INGREDIENTS
As I just mentioned, we will be using super common ingredients to make these low carb crepes. And these ingredients come together to create little soft and golden paper-thin perfection.
Here's what you'll need for the keto crepes:
1 cup cream cheese
5 eggs
1 tablespoon macadamia nut oil
Pinch of salt
1 teaspoon Confectioners Swerve
An ingredient list doesn't get more simple than this!
And be sure to pick up extra cream cheese because you can make these keto coconut flour cream cheese pancakes next for breakfast, or this no bake keto cheesecake recipe for dessert.
By the way, if you have any leftover eggs you can use them to make these keto friendly egg bites.
Oh, and another sweetener you can use in place of the Confectioners Swerve is Lakanto's Powdered Sweetener. Both will work just as well to give these crepes a delightful touch of sweetness without adding any carbs or sugar!
Also, a couple of things that go really well on these crepes is this homemade 0 carb keto pancake syrup & this 0 carb keto caramel sauce.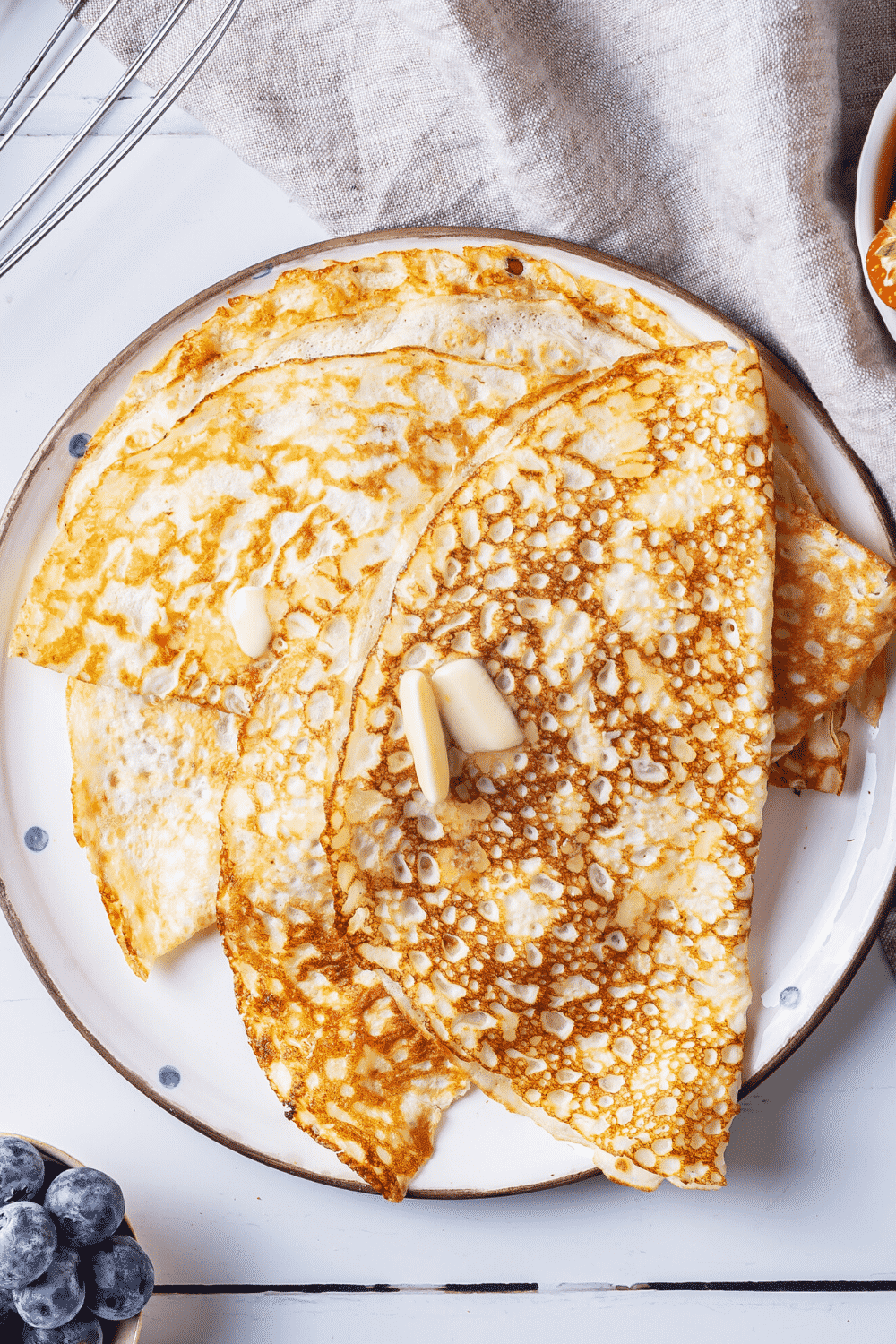 HOW TO MAKE CREPES KETO
These crepes might be one of the easiest low carb recipes you can make. You can have them on the table in no time - they seriously take just minutes to make, and the result is incredible.
So let's not waste any more time and get into the recipe!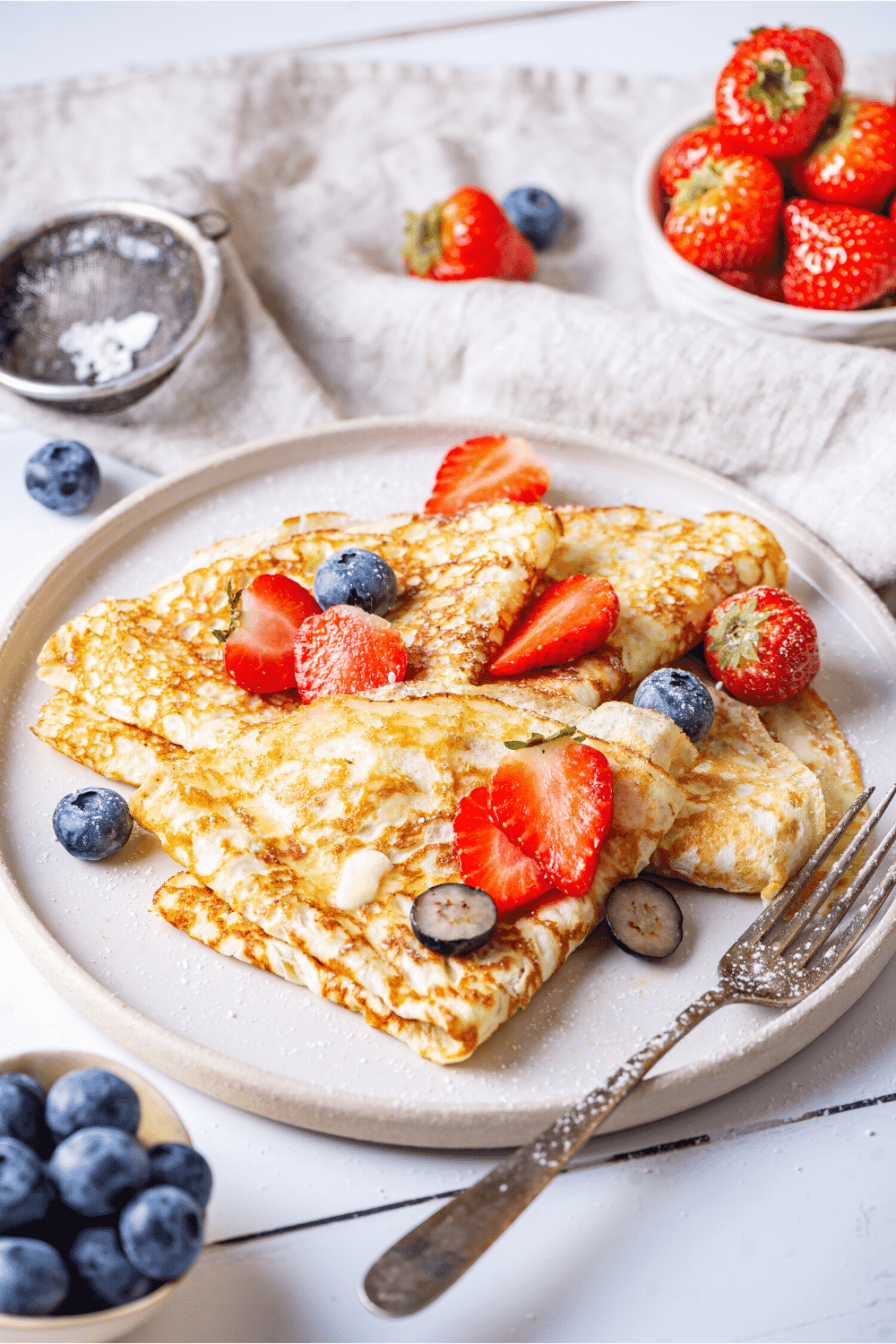 STEP 1: COMBINING THE INGREDIENTS
First, put all of your ingredients into a large mixing bowl, and using either a hand mixer or whisk, combine the softened cream cheese, eggs, macadamia nut oil, salt, and sweetener until you have a smooth batter.
And instead of mixing your ingredients in a bowl, you could also add them to a blender and blend until a smooth batter forms.
STEP 2: COOKING YOUR CREPES
Once you have a batter, heat a medium nonstick pan over medium heat and grease it with butter or refined coconut oil. And make sure you turn your heat to a little below medium - any temperature over medium will be too hot.
Then spoon about ⅓ cup of batter into your heated pan, swirling the batter evenly across the pan.
PRO TIP: To swirl the batter, tilt the pan in every direction as you are dropping the batter in the middle of the pan. Swirl it about 2-3 times until the crepe batter spreads across the pan evenly. By the way, this video is a great cooking guide on crepe making.
Once the batter covers the pan, cook your crepe for about 1 minute until it is golden and the batter is dry around the edges. Then flip it and cook the other side for about 1 minute.
Repeat the batter pouring and cooking process for the rest of your almond flour keto crepes, and enjoy!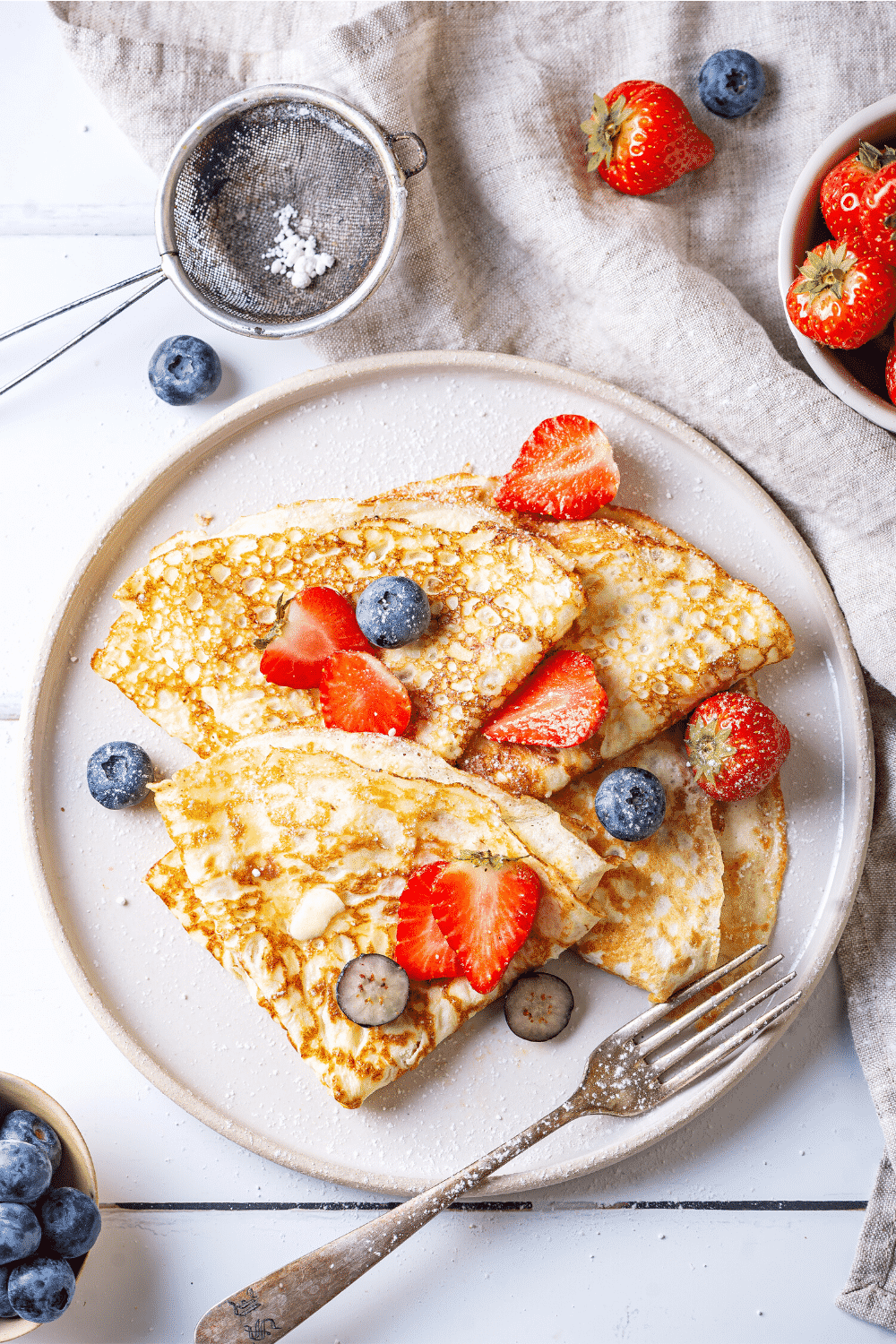 KETO CREPE FILLING IDEAS
My favorite part about this keto crepes recipe is how versatile they are. You can seriously eat them with so many toppings, use sweet or savory fillings, and it completely changes the flavor of the crepe!
Here are some of my favorite sweet crepe combinations:
Butter and syrup

Nut butter, cinnamon, and syrup

Melted chocolate and whipped cream
Fresh fruit and confectioners swerve
Cream cheese and sugar-free jam
And here are some of my favorite savory combos:
Cheese and avocado

Cheese and ham, bacon, or sausage

Cheese, avocado, and ham bacon or sausage

Avocado, bell peppers, and broccoli
There is just so many sweet and savory combination that you can create! And all of them will make the most delicious keto crepes in the world.
When I make them, I usually find myself having a savory combo for breakfast and then making a sweet combo for dessert later that night!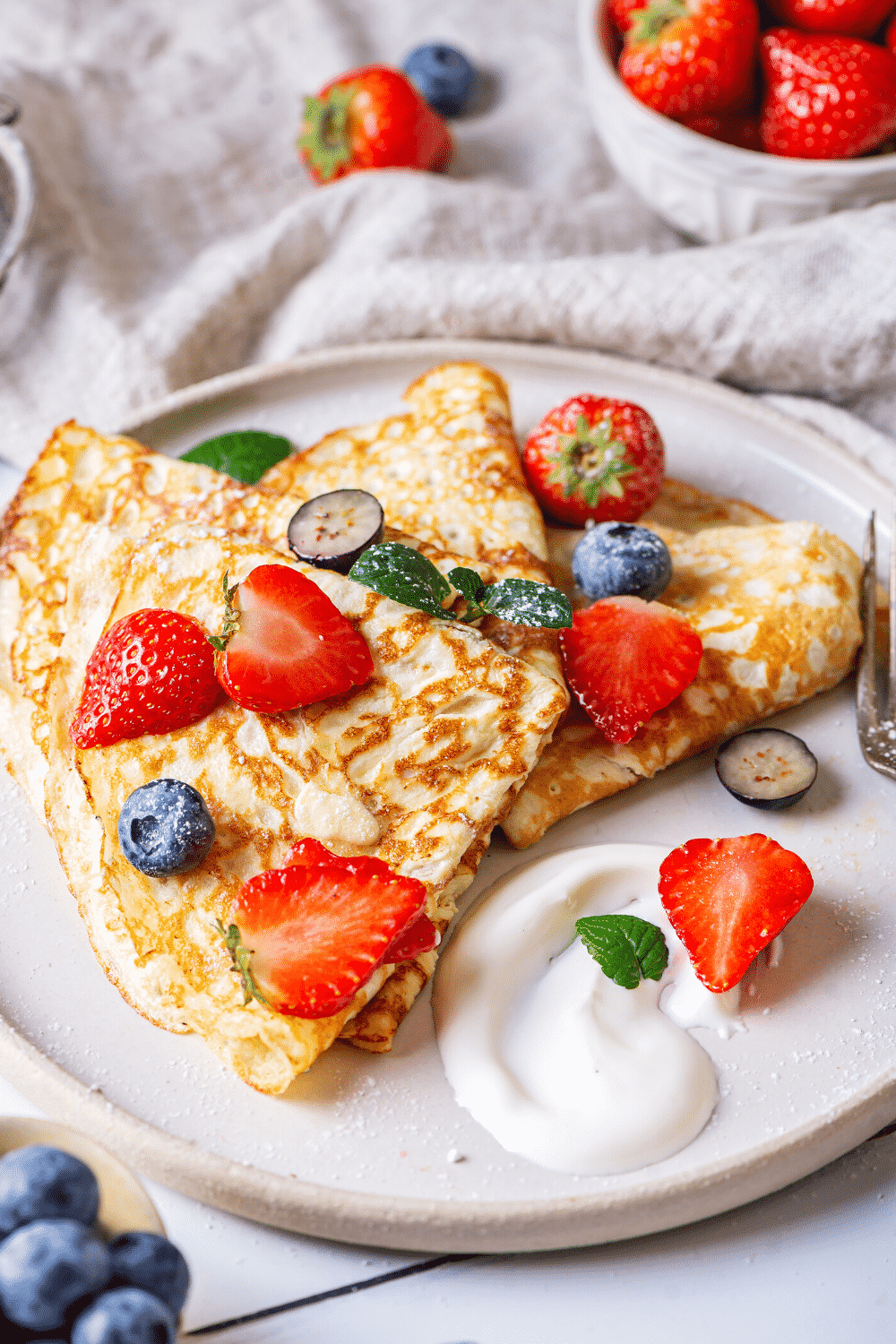 STORING YOUR CREPES
So, this recipe will make about 4 keto crepes, depending on how much batter you pour. And if you don't eat all of them that day, they make for an excellent breakfast throughout the week!
You can store your leftovers in an airtight container in the refrigerator for up to 5 days. Then for the hot off the pan experience, you can simply pop them in the microwave for a few seconds.
If you still have some almond flour keto crepes leftover or want to make a big batch of them, you can also freeze your crepes for up to 3 months. Just wrap the crepes in parchment paper and place them in a zip-loc bag or airtight container.
Then, to reheat your frozen crepes, let them thaw fully in the fridge and microwave for about 20 seconds until warm.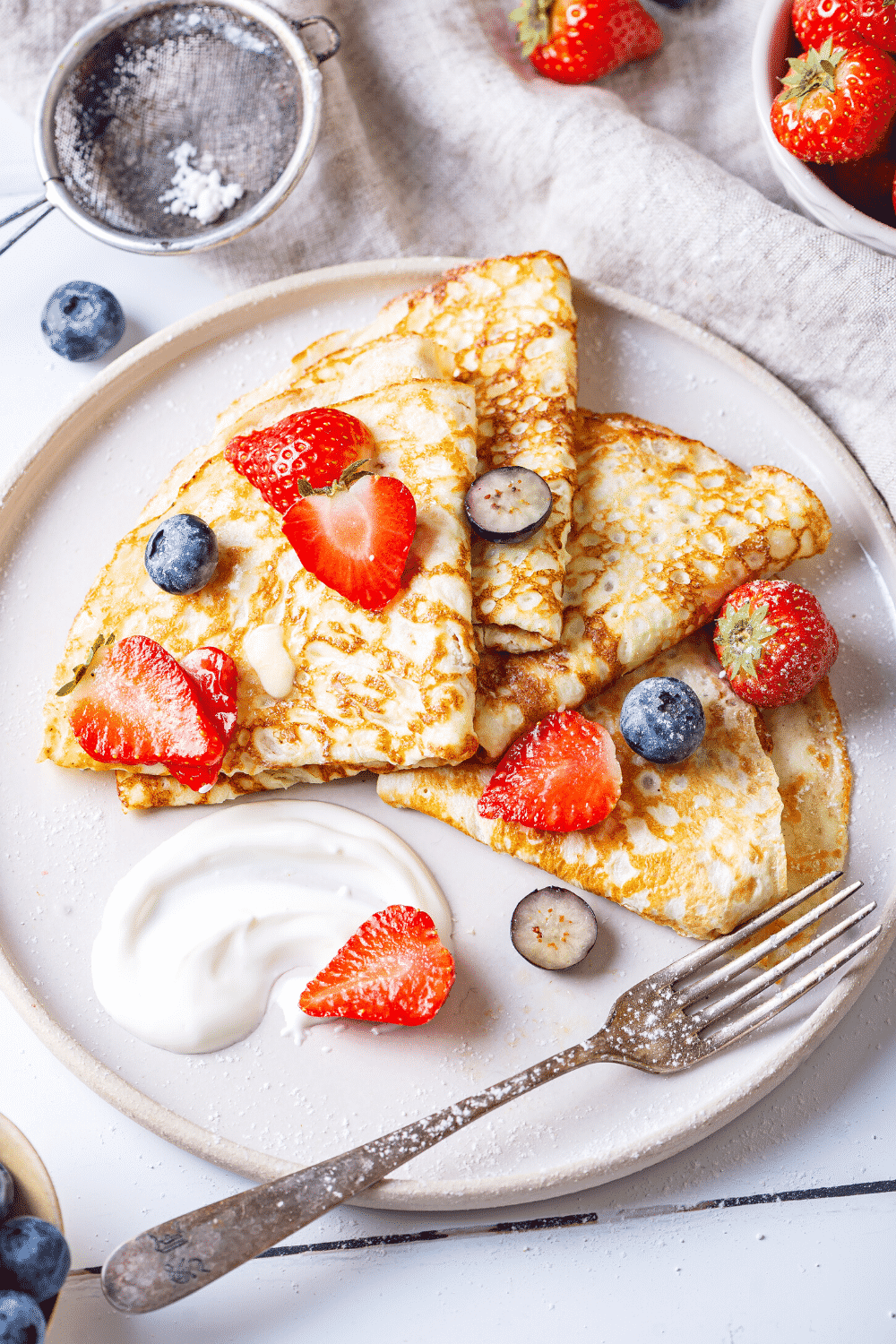 NUTRITIONAL INFORMATION
Each serving of these keto crepes has just 2 NET CARBS! And something else I love about these crepes is they are pretty high in protein.
Here is the full nutritional breakdown for 1 keto crepe:
264 Calories

22.5g Fat

2g Carbs

0g Fiber

2 NET CARBS

11.5g Protein
If you're looking for a quick and easy keto breakfast, you just can't beat these macros and how delicious these keto crepes are.
And they are kid-approved, so you can make them together on the weekends with your family, and everyone will love them!
Well, I hope you enjoy this keto crepes recipe as much as I do. If you make them, leave a comment below and let me know what you think!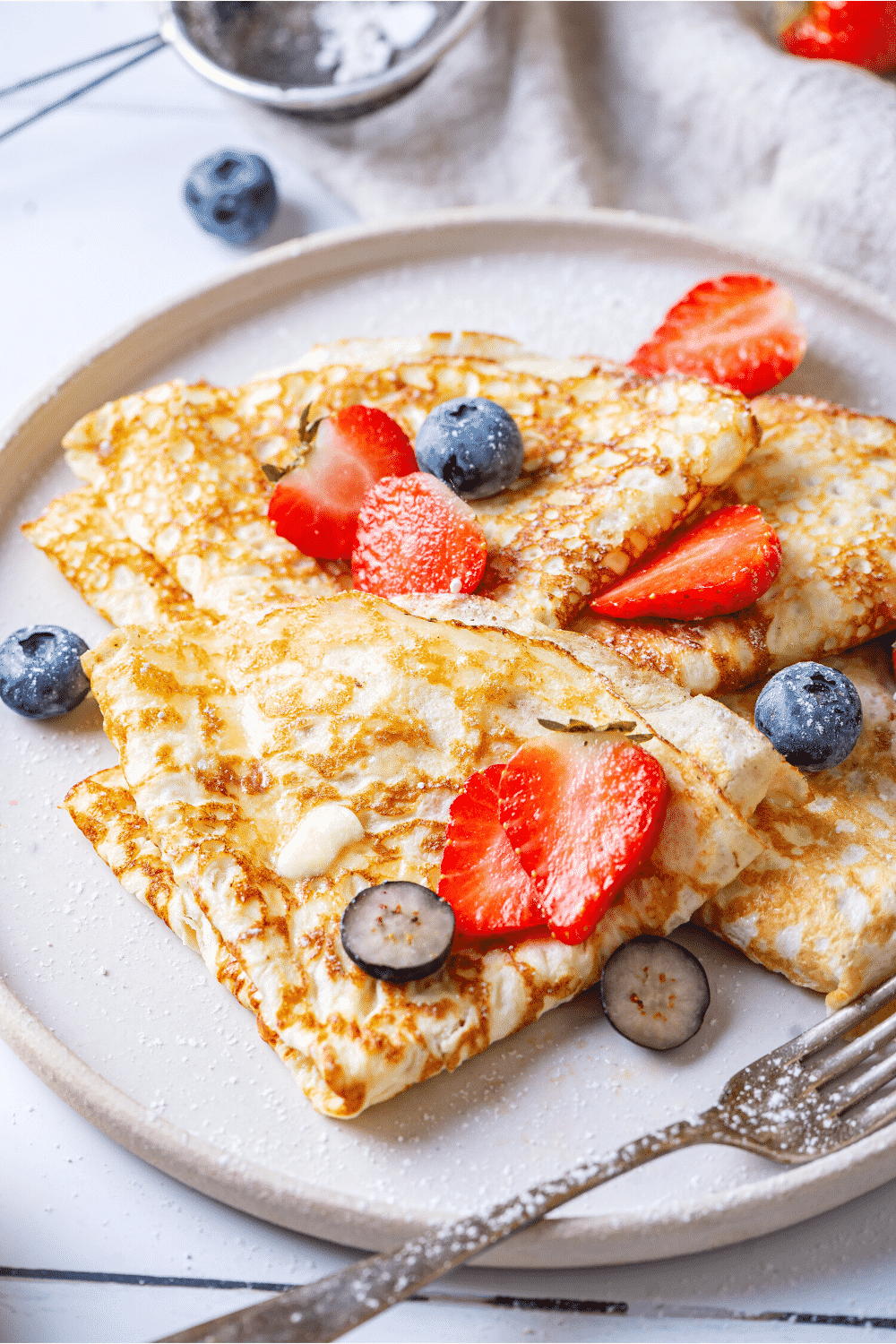 KETO BREAKFAST RECIPES TO TRY NEXT
If you liked these crepes, I have a ton of other keto recipes on the blog that makes the perfect breakfast!
Give one of these a try next:
By the way, these crepes go great with any one of these low calorie drinks from Dunkin Donuts. Most of them are low carb as well!