This Keto Cream Of Mushroom Soup Recipe is so rich and so creamy, and it's jam-packed with umami! Seriously, this hearty, earthy soup is one of the best creamy keto soup recipes you can make. Not to mention, you'll never believe every cup has just about 4 NET CARBS, and it takes only minutes to make!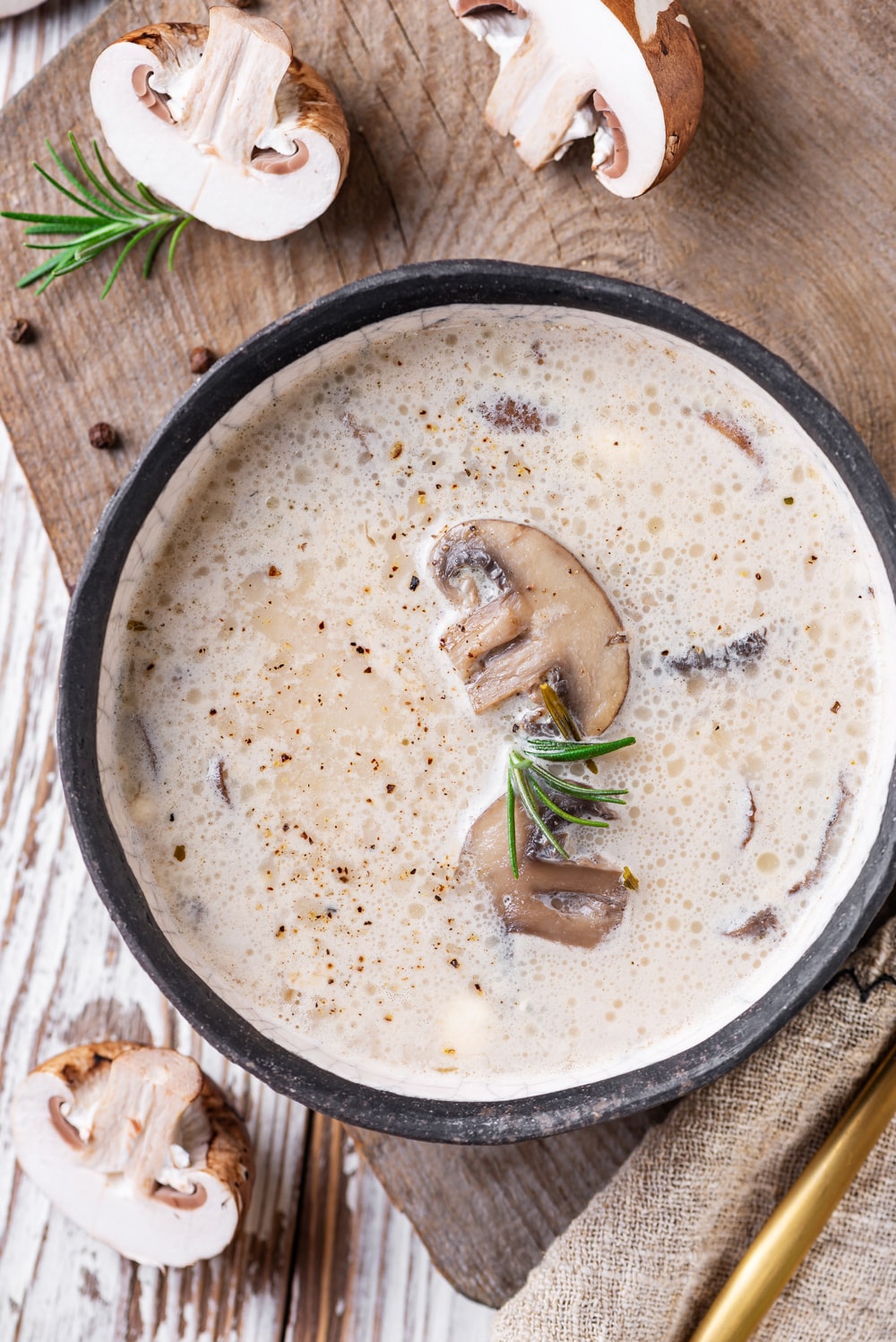 The Best Keto Cream Of Mushroom Soup
The cold weather of Fall has finally made its way to Buffalo. And that means soup season is here too!
So, today, I'm sharing one of my absolute favorite creamy keto soup recipes with you - Keto Mushroom Soup!
This soup is so deliciously creamy, and it's full of tender pieces of mushroom.
The broth has bold notes of garlic, onion, and herbs that perfectly complement the more earthy mushroom flavors. And the ingredients are easy to find ones that you probably already have at home!
What's not to love about that?
That said, let's jump into the recipe, and I'll show you how to make the best keto creamy mushroom soup!
Ingredients You'll Need To Make This Keto Soup
Ok, so, this dish focuses heavily on umami - the Japanese term for savory.
And, let me tell you, there's a lot of savory goodness in this keto soup.
That said, you won't need a ton of out-of-the-ordinary ingredients to give this soup all that umami deliciousness.
All you need is a few simple low carb keto friendly ingredients like:
Sliced button mushrooms

A small onion

Cream cheese

Butter

A fresh sprig of rosemary

Porcini mushroom powder (optional, but recommended)

Salt
See, nothing too crazy.
The only unusual ingredient is porcini powder & that's optional.
Now, let's talk a bit more about mushrooms since they're are the star of this show...or should I say soup?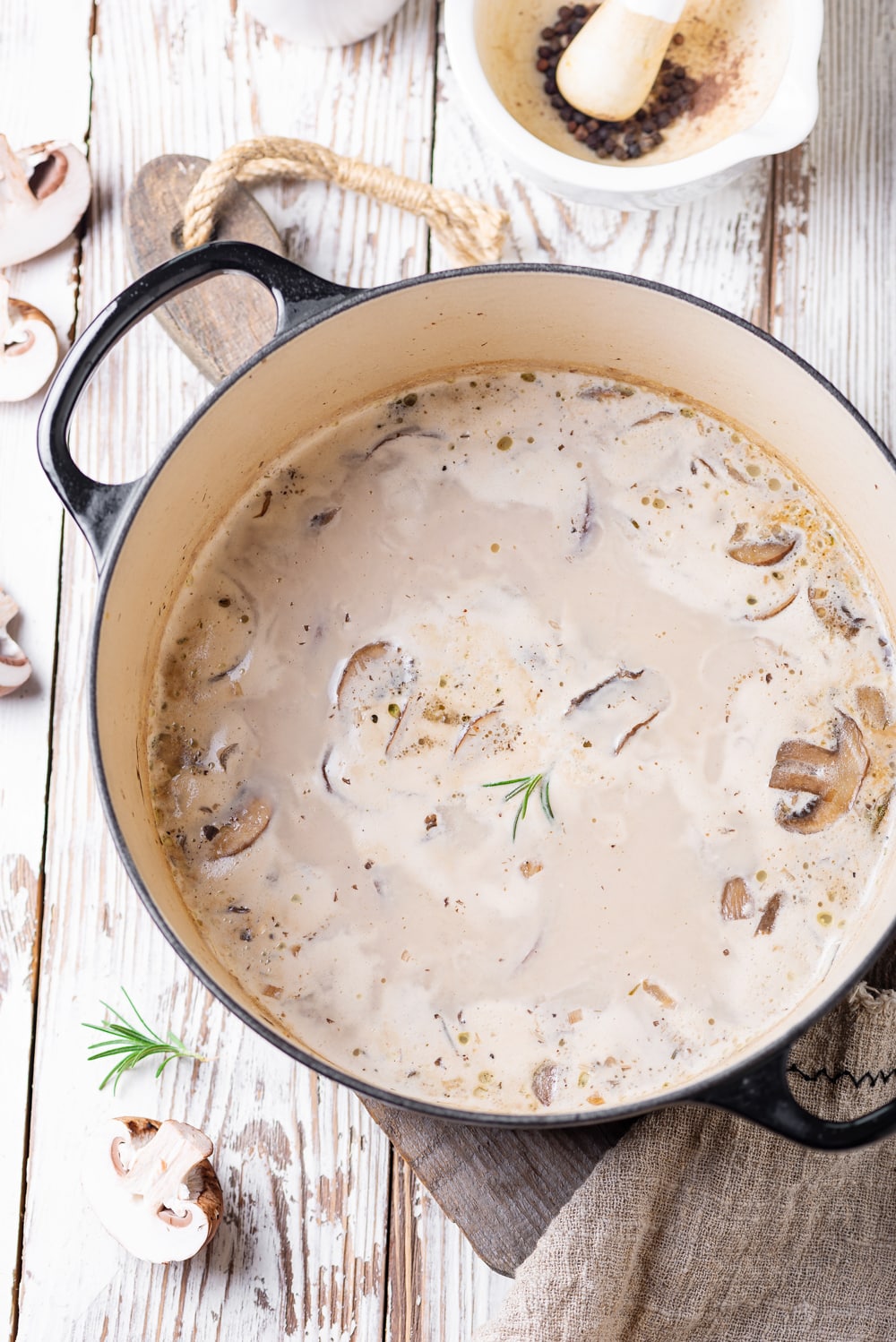 Are Mushrooms Keto?
If you're new to the keto diet, you may be wondering, "Are mushrooms keto"? And the answer is, of course, yes!
Mushrooms are probably one of the best keto-friendly foods, to be honest. And there are three reasons I say that.
First, mushrooms are very low in carbs and calories. Every cup of mushrooms has just about 1.5 grams of net carbs and only 16 calories.
Second, mushrooms are a "bulk" vegetable (technically, they are not a vegetable, but a fungus), meaning that they can make you feel full. Mushrooms are jam-packed with fiber - and water - which will fill you up and curb your appetite.
Third, mushrooms are full of potassium. And eating foods high in electrolytes are a must if you're doing the keto diet since your body flushes out so much water - and this is especially true when you start the diet.
So, there you have it. There's a lot to love about mushrooms if you're doing a low carb diet like keto!
Mushrooms To Use For This Soup
So, as I mentioned above, I used sliced white button mushrooms for my keto cream of mushroom soup.
But, you can use a few other varieties of mushrooms and end up with results that are just as delicious as mine. That said, I recommend using either brown button mushrooms, cremini mushrooms, or even mini-portabellos as substitutes.
All of these options will add the flavor and richness you're looking for in a soup like this.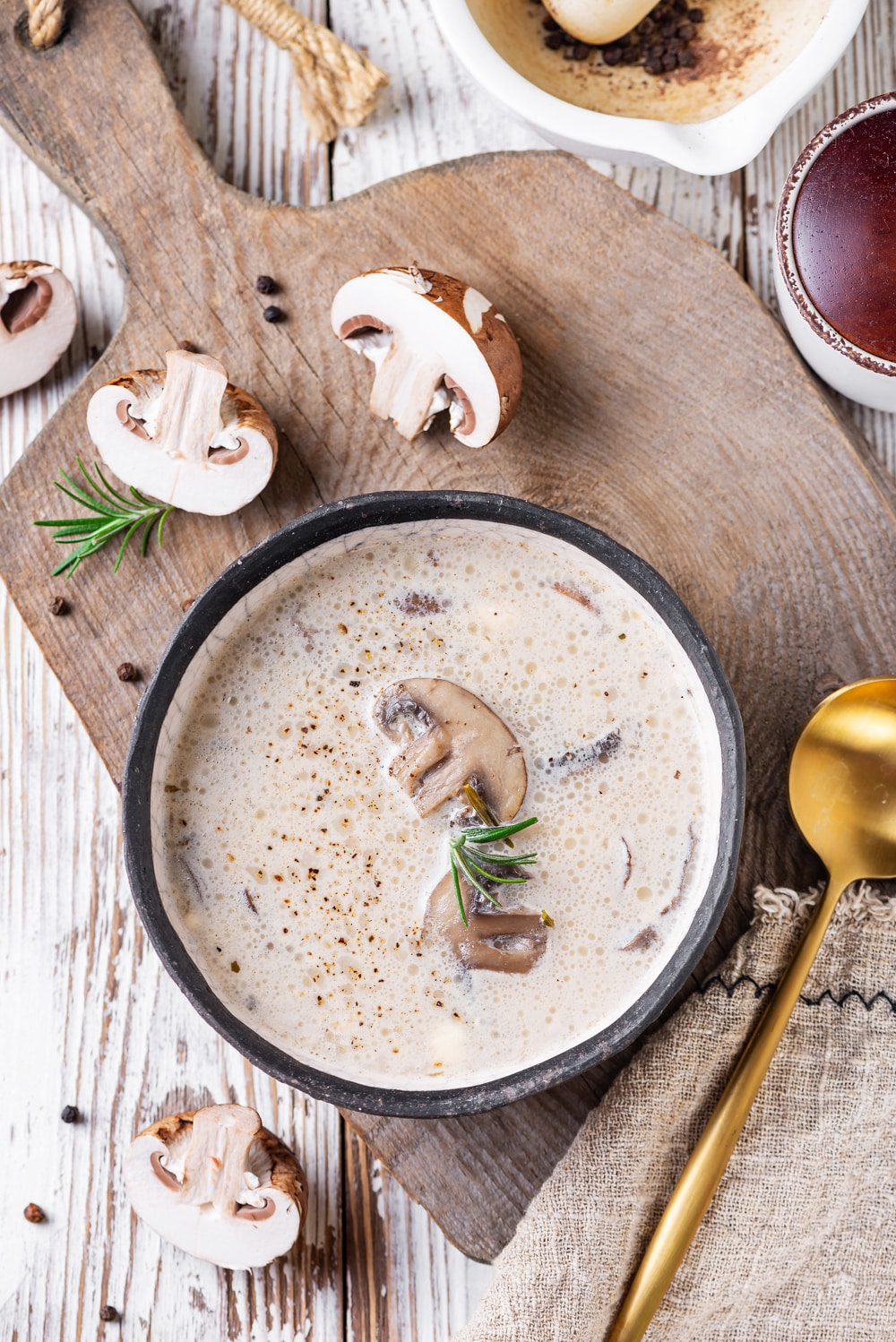 How to Make Keto Mushroom Soup
Ok, so, this keto mushroom soup is an effortless dish that takes little time to make.
Seriously, if you have a large pot, a stove, and some basic low carb ingredients, you can make this soup.
Sounds pretty easy-peasy, right?!
That said, let's get into the step-by-step instructions on how to make this keto cream of mushroom soup!
Prepping and Sautéing
First things first, we're going to heat the butter in a saucepan over medium-high heat.
Then, when the pan is evenly heated, we can add the onion and rosemary to create a flavor base. Now, when those ingredients have been added, we'll let them simmer for 2 minutes - until the mushroom is slightly browned.
Next, we'll slice up the mushrooms into segments about 1" inch across. Then, we can add these mushrooms to the pan and saute until tender. And make sure that you do not cut the mushrooms too thinly for this part, or else they will lose their bulky texture when cooked.
Adding The Broth & Seasonings
Now, once the mushrooms are tender, we can add the chicken broth, seasonings (salt, pepper, etc.), and the porcini mushroom powder - if you chose to include it.
Adding porcini mushroom powder is optional, but it will increase the final dish's savory flavor and umami goodness.
Anyway, after adding the other ingredients to the saucepan, we can bring the mixture to a boil and then reduce it to a simmer. Then, when that's simmering, we can cover the saucepan with a lid and let cook for about 5 to 7 minutes - stirring occasionally.
Also, make sure not to boil the mushrooms for too long at this point, or else they will lose their firmness and become mushy.
Adding The Cream Cheese
Ok, so after letting the saucepan simmer, we'll add in the cream cheese and stir until it dissolves. Then when it does, give your concoction a taste and add any more seasoning if need be.
By the way, if you want your broth to be extra thick, add in a bit more cream cheese or another kind of soft cheese of your choosing.
And that's pretty much it!
All in all, making this keto cream of mushroom soup takes only about 10-15 minutes.
I'd say that's pretty darn quick for making soup from scratch.
Serving and Storing This Keto Soup
So, this particular recipe makes about four servings.
And the best part about a recipe like this is how easy it is to store.
You can just put the whole pot of soup in the fridge, or you can pour the soup into Tupperware containers and portion it out for later. Either way, this keto mushroom soup will stay good for 4 to 5 days in the fridge or 3 months in the freezer.
That said, I think as far as keto soup recipes go, this creamy mushroom soup has got to be one of the best soups for meal prep. Literally, a simple 10-15 minute cook job can set you up with lunch for the rest of the week.
And I'm a big fan of that!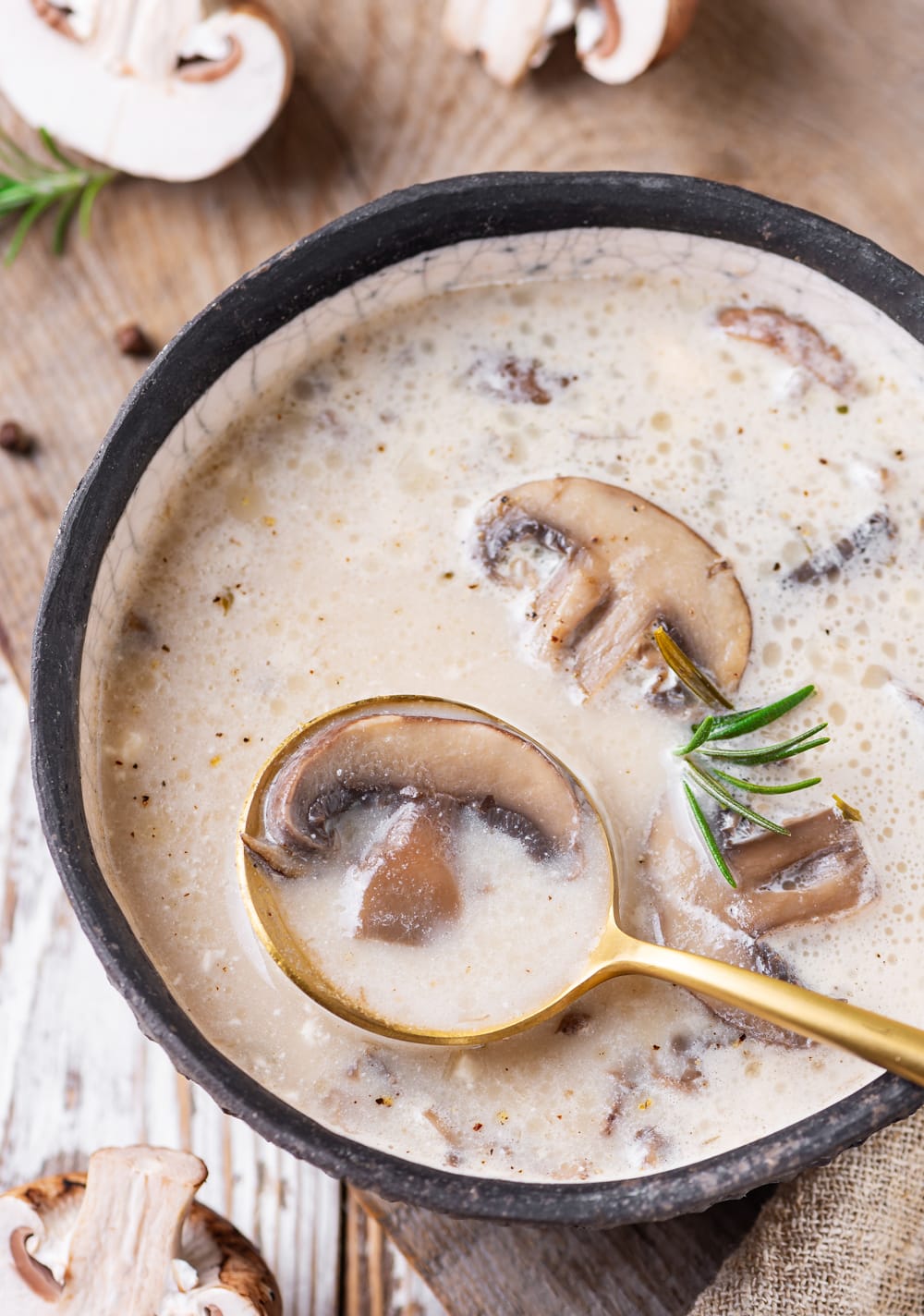 Nutritional Info On This Soup For Keto
Ok, so as I already mentioned, this recipe makes around 4 cups of soup.
And every cup of mushroom soup contains:
280 Calories

21 Grams of fat

5.5 Grams of carbohydrates

1 Gram of fiber

4.5 Grams NET CARBS

& 10g of protein
As you can see, those are some pretty ideal macronutrients for the keto diet.
There's twice as much fat in this soup as there is protein, and every cup of it has less than 5 net carbs as well!
Other Keto Soup Recipes To Try
Ok, so you made today's keto cream of mushroom soup - and you loved - but you're looking for some other keto soup recipes to try.
Well, luckily, I've got some other tasty soup recipes for keto up on the blog as well.
Some of my favorites are:
Anyway, I hope you enjoy this cream of mushroom soup!
If you try it, let me know how you like it in the comments.
Print
Keto Cream Of Mushroom Soup | One of THE BEST Soup Recipes For Keto
This Keto Cream Of Mushroom Soup Recipe is so rich and so creamy, and it's jam-packed with umami! Seriously, this hearty, earthy soup is one of the best creamy keto soup recipes you can make. Not to mention, you'll never believe every cup has just about 4 NET CARBS, and it takes only minutes to make!
Author:
Prep Time:

5 Minutes

Cook Time:

10 Minutes

Total Time:

15 minutes

Yield:

4 Cups

1

x
Category:

Soup

Method:

Stovetop Cooking

Cuisine:

Keto & Low Carb
3 Cups (720mL) Chicken Broth
8 Oz (224g) Full-Fat Cream Cheese
½ Lb (225g) Button Mushrooms, Sliced
A Small Onion (70g), Chopped
1 Sprig Fresh Rosemary
A tablespoon (14g) Butter
1 Tsp Porcini Mushroom Powder (optional)
½ Tsp Salt
Instructions
In a large saucepan, melt the butter over medium heat. Sauté the onion with rosemary for 1-2 minutes until fragrant.

Add in the sliced mushrooms and sauté until tender.

Stir in the broth and seasonings...add the porcini powder - if using - at this point as well.

Bring to a boil. Then reduce the heat to low and simmer for 5 minutes.

Add the cream cheese. Continue stirring until it dissolves into the soup.

 Serve hot!

Store 4-5 days in the fridge. Or up to 3 Months in the freezer.
Notes
8.5g Carbs - 4g Fiber = 4.5g NET CARBS per cup.
Nutrition
Serving Size:

1 Cup

Calories:

280

Fat:

21

Carbohydrates:

8.5

Fiber:

4

Protein:

10
Keywords: keto cream of mushroom soup, keto soup, keto mushroom soup, keto soup recipe, easy keto soups, mushroom soup keto, low carb mushroom soup, mushroom soup low carb, best keto soup recipes, keto soup recipes, cream of mushroom soup keto, how to make keto mushroom soup, keto mushroom soup recipe, keto cream of mushroom soup recipe