This keto tomato soup recipe is so rich and creamy, and it's just absolutely jam-packed with tomato flavor! In fact, my friends and family can't even tell it's a low carb keto friendly tomato soup when I make it for them. And, honestly, I'm all about making this recipe, since each cup has just over 3 NET CARBS! That said, if you're looking for one of the best keto soup recipes out there, you've found it.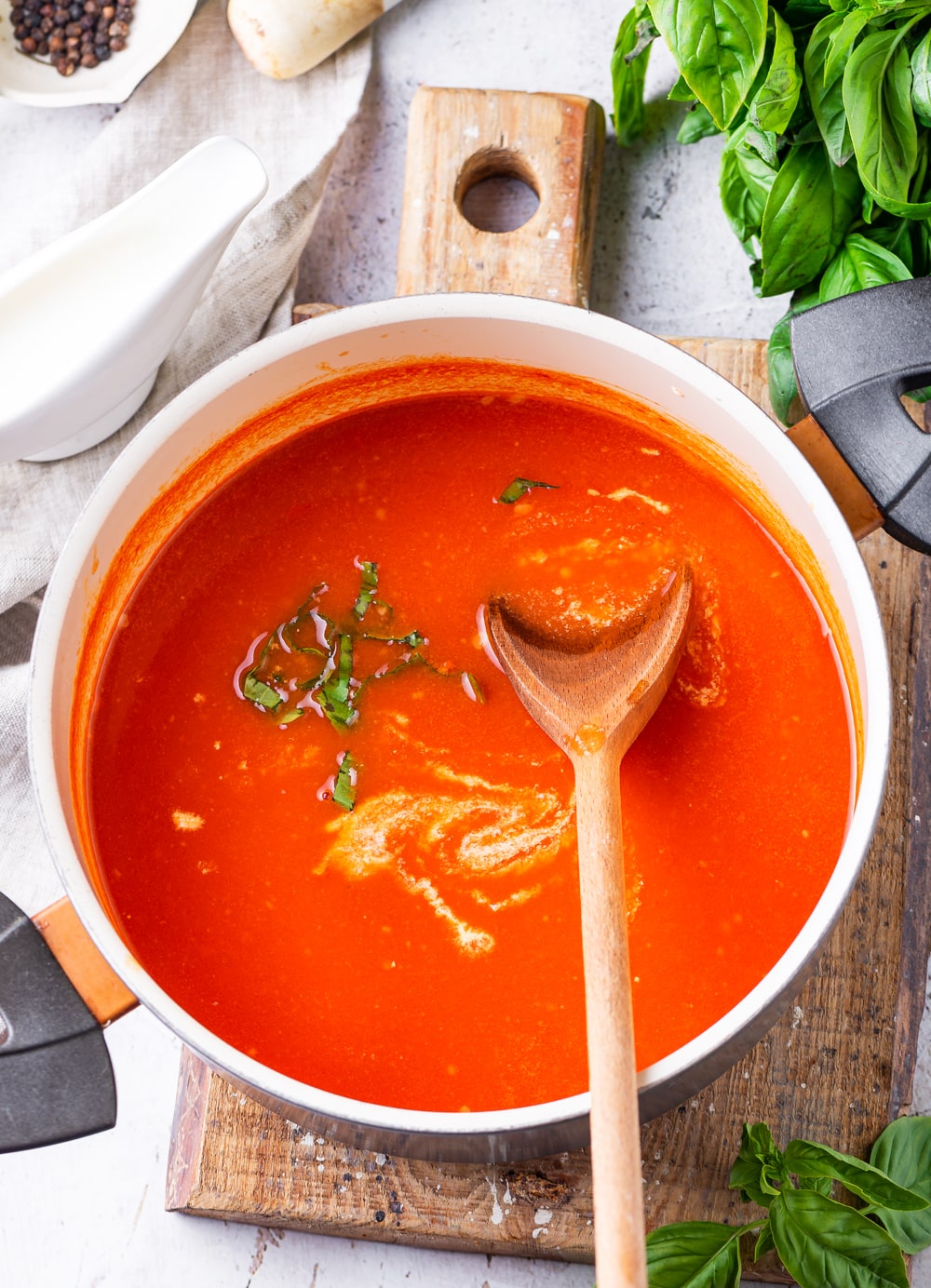 The BEST Keto Tomato Soup
When it's cold outside, you can bet this homemade keto tomato soup is a staple in my household.
Now, some of you may be wondering, "Joe, are tomatoes keto"?
And the answer is yes. Tomatoes - in small quantities - are generally considered a good keto food. Tomatoes are a fruit (yes, tomatoes are technically a fruit, not a vegetable) relatively low in carbs and sugars.
However, premade tomato broths often contain added sugars. And sugar is metabolized as a carbohydrate, which means that many processed tomato products are off the table for keto.
That is why this creamy keto tomato soup recipe involves creating your own broth with raw tomatoes. Using raw tomatoes allows you to avoid processed tomato broths' added sugars and gives it a more homemade feel.
Also, freshly made tomato broth is more flavorful, with a little more chunkiness and heartiness than the kind you can buy in the store. And, I don't know about you, but I really dig the fact that you can taste the freshness of this soup in every gulp, slurp, and spoonful!
And, by the way, if you love soup you might enjoy this keto broccoli cheddar soup, this low carb chili, or this keto ramen.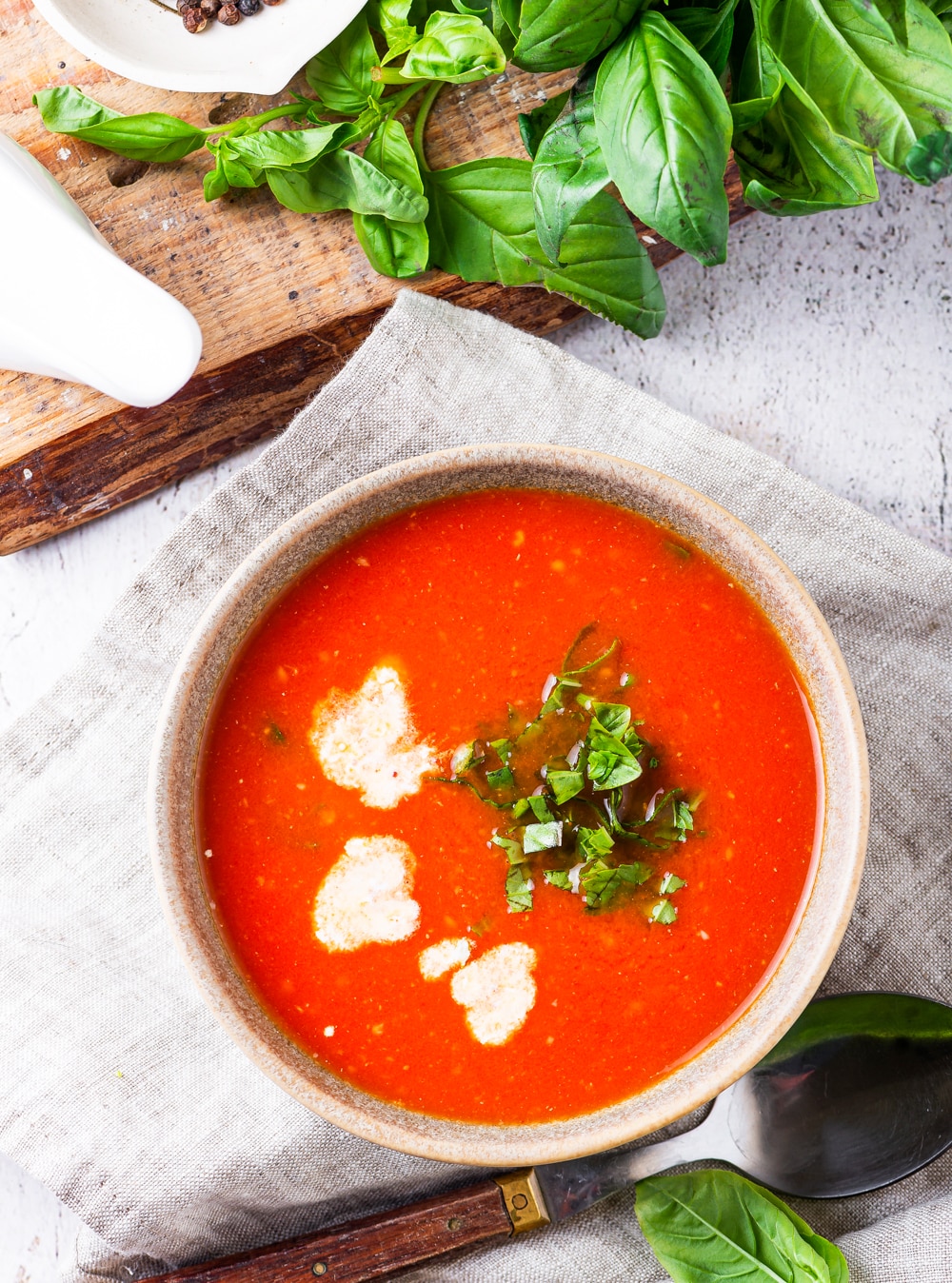 Ingredients
This creamy keto tomato soup is very easy to make and has relatively few ingredients. Here is what you will need:
Fresh tomatoes (preferably Roma tomatoes)

Olive oil

Fresh garlic cloves

Chicken broth

Herbs de Provence

Salt & pepper for tassel

Heavy cream and basil (optional)
A quick note on tomatoes: There are a ton of different kinds of tomatoes. Technically, you can make tomato broth with any type of tomato. However, Roma tomatoes are usually the favored option because they have a paste-like texture and have relatively few seeds.
By the way, the heavy cream is also an optional ingredient you can use to thicken up the soup when serving it later.
Also, a quick note on "herbs de Provence." Herbs de Provence is basically a fancy name for a mixture of herbs and spices, which normally includes thyme, basil, rosemary, oregano, and bay leaf. So, you can just use these individual ingredients to taste if you do not have a bottle of herbs de Provence.
Ways to change this keto tomato soup
Now, if you're looking to give this keto tomato soup recipe a bit more pizzaz, here are a few things you could add to it:
If you have some cheese, consider grating a bit and garnishing your soup. Cheese and tomato are the perfect combinations, and some cheese can add beneficial fats.
If you want to add a slight spicy kick, you can add a small amount of red curry paste. Careful not to overdo it though, as Thai curry pastes typically have a small number of carbs.
Bell peppers and onions make excellent additions to a tomato soup base.
If your soup is still not creamy enough in the end, you can add a bit of butter or coconut milk. Both ingredients are good sources of fats and give a creamy texture to the soup.
Lastly, I love pairing this keto soup with a chaffle BLT sandwich, or even just with some toasted keto bread.
There are few things better than some crunchy bacon in a sandwich and a hot bowl of tomato soup on a cold winters day!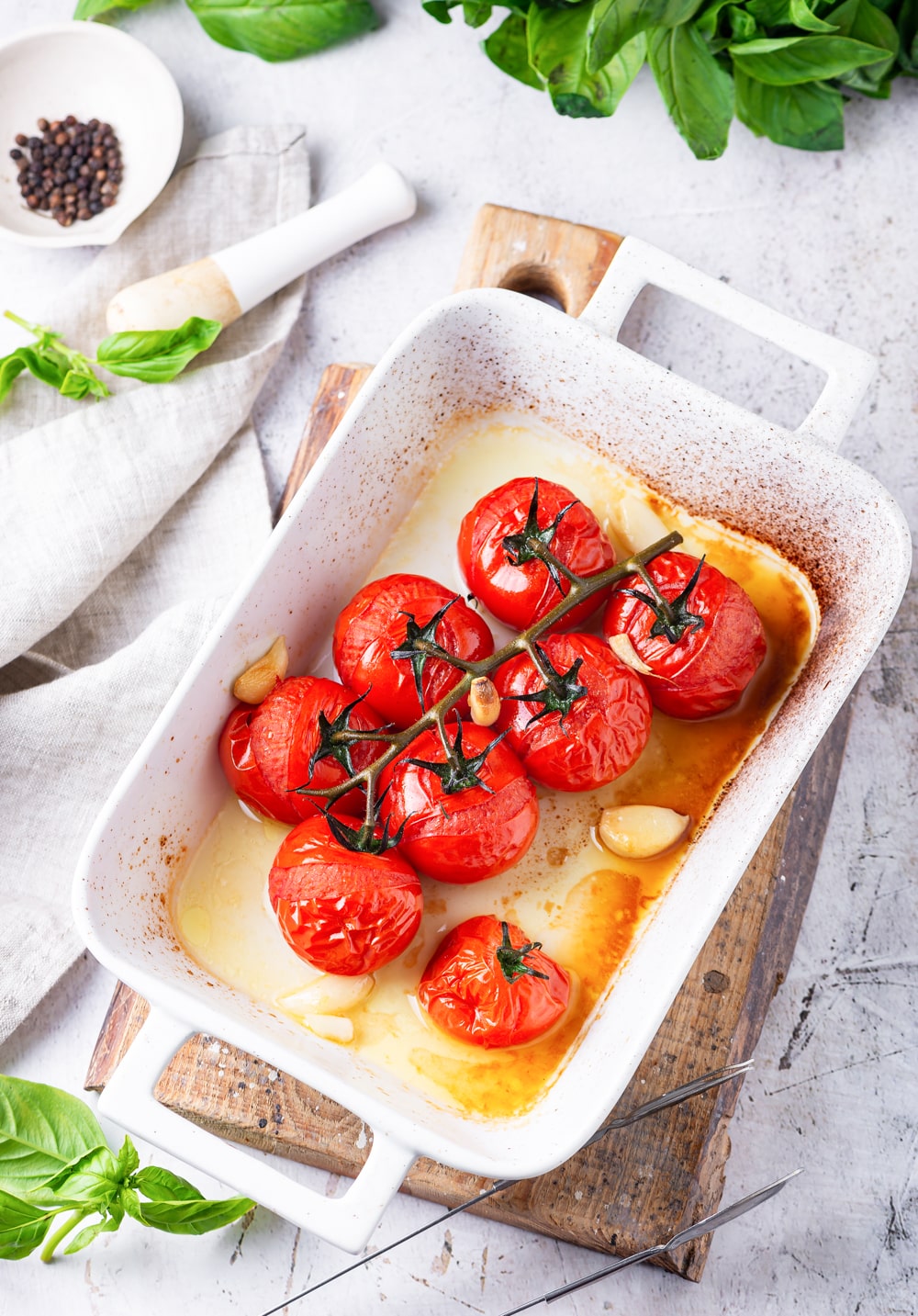 How to Make Keto Tomato Soup
So, tomato soup is a very popular dish because it's not only delicious, but it's easy to make.
Of course, if you're making it from a can, it's as easy as dumping the soup in a pot and heating it up on the stove.
However, making homemade tomato soup can be almost just that easy, and it's WAY HEALTHIER! All it takes is 6 - maybe 7 - ingredients, a few simple steps, and boom, you've got yourself - or your kids - some bangin' tomato soup made from scratch.
Speaking of kids, I remember when I was a kid, tomato soup was one of the few things I would willingly eat. So, if you've got picky eaters at home, this keto tomato soup recipe can be a great low carb meal for them too.
And, by the way, what good is tomato soup without grilled cheese? I mean, if you make tomato soup, you have to make a grilled cheese with it, right?
Well, luckily, there's an incredible keto friendly grilled cheese recipe on my youtube channel too. So definitely check that out if you like some crunchy cheesy goodness to go along with your soup.
This creamy keto tomato soup and grilled cheese are classic dishes that are tasty no matter what age you are. Am I right?!
Step 1: Prepping The Tomatoes
First things first, preheat the oven to 400°F. Then take the tomatoes and garlic, place them on a baking dish, and drizzle them with olive oil.
Now, bake for approximately 25 minutes until both tomatoes and garlic brown.
Step 2: Blending The Tomatoes
Next, take the tomatoes and remove the peels. They should be softened up from the oven so that the skins should slide off relatively easily.
Take the garlic and tomatoes, put them into a blender, and puree them. Blend the two until the mixture is smooth but not completely liquid.
Step 3: Cooking The Tomatoes
After that, empty the tomato base from the blender into a pot. Then add the chicken broth, herbs de Provence, and season as you see fit.
Next, turn on the boiler and bring the mixture to a boil, stirring occasionally.
If the soup is still too thick, you can slowly add a bit of water/cream until it reaches the desired consistency. You want to hit that right consistency where the soup is not like a paste but is also not purely a liquid.
Once the pot is brought to a boil, reduce to a simmer for about 3 minutes. Then, turn the pot off and let sit for a minute or two before serving with cream.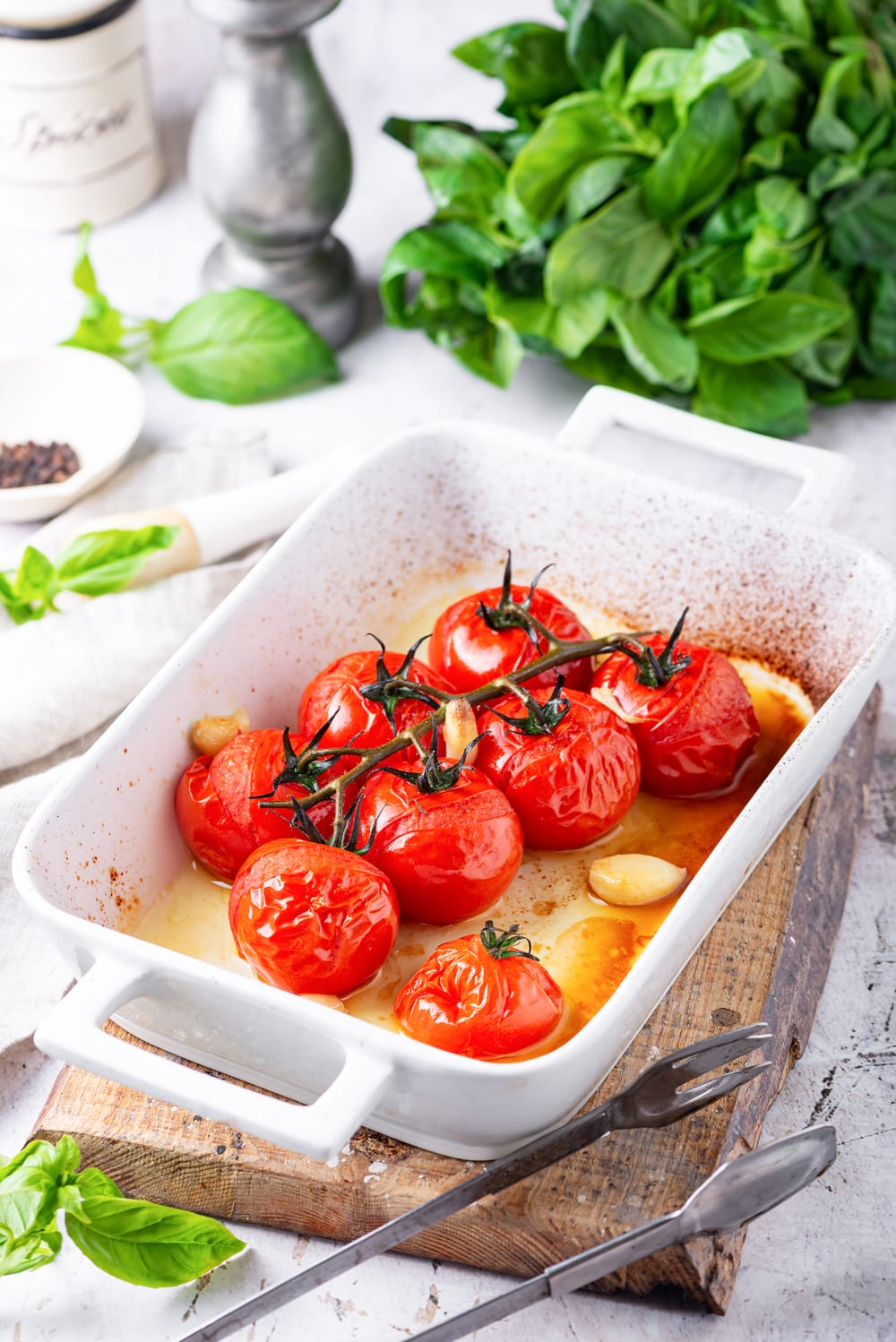 How To Make Keto Tomato Soup Without a Blender
So, creating the tomato base part of the recipe calls for a blender. But what if you don't have one? Worry not; you can still make a perfectly suitable tomato base without a blender.
There are a couple of ways you can make the base.
Use a Potato Masher
One method is that you can use a potato masher. When you take the veggies out of the oven, remove the skins and mash the softened tomatoes with the masher.
Using the masher is a fantastic method because you can choose how chunky you want the tomato base. Adding a bit of water makes it a bit easier to mash up the tomatoes.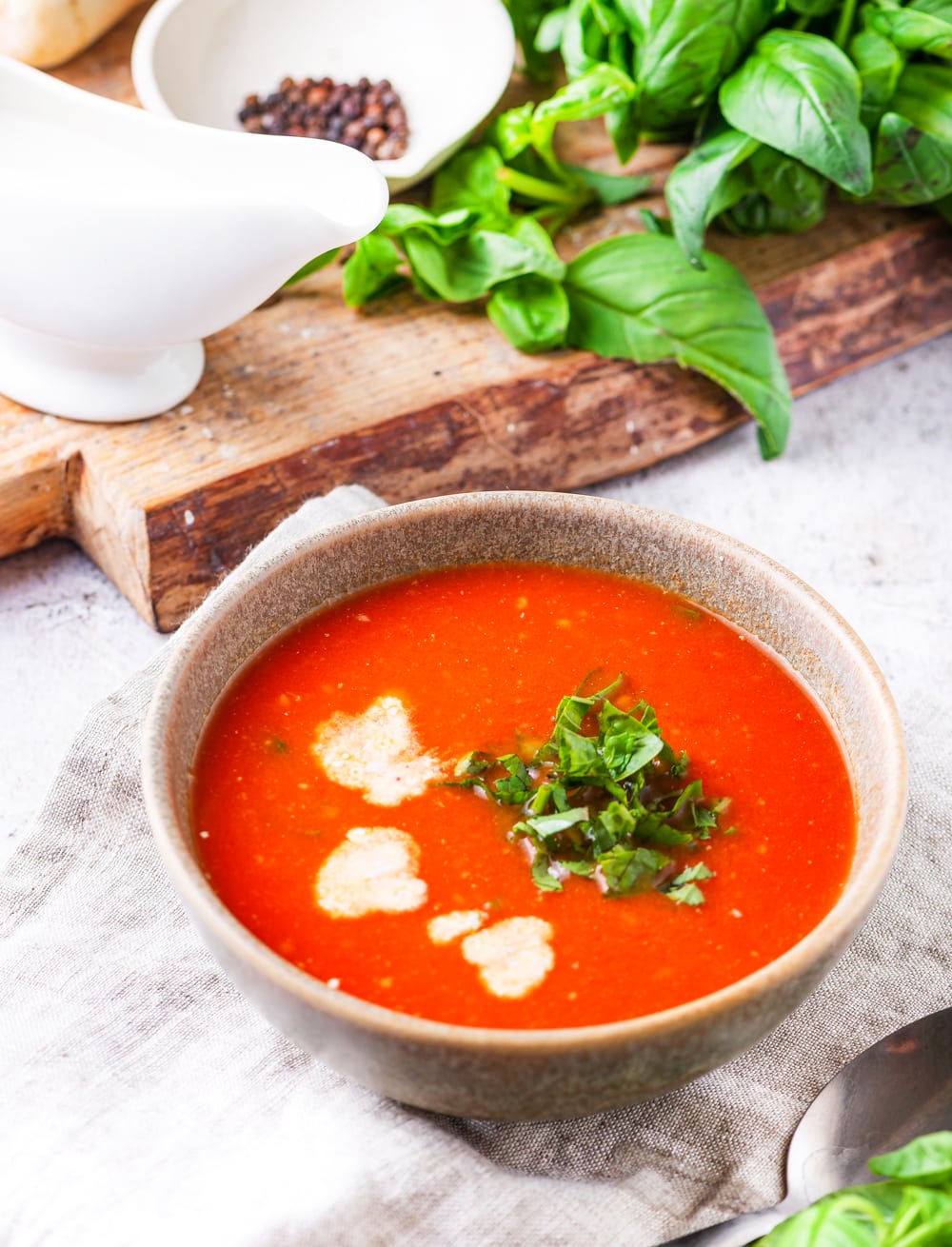 Mince the tomatoes super fine
Alternatively, you can mince the tomatoes finely with a knife, and heat the small tomato bits into a reduction.
This method will give you a more chunky soup base.
Again, you can add water/cream to the mixture to get the right consistency.
Use Canned tomatoes and pre-minced garlic
Lastly, you can use canned whole tomatoes and pre-minced garlic to make this keto tomato soup recipe.
Having said that, using these prepared ingredients is probably the easiest way to make this keto tomato soup, but I think it's a little less flavorful.
However, if you're short on time and want to throw together a low carb tomato soup quickly, this option is the best choice. By the way, if you choose this option, you'll still probably need to mash the tomatoes down with a potato masher to get the perfect soup consistency.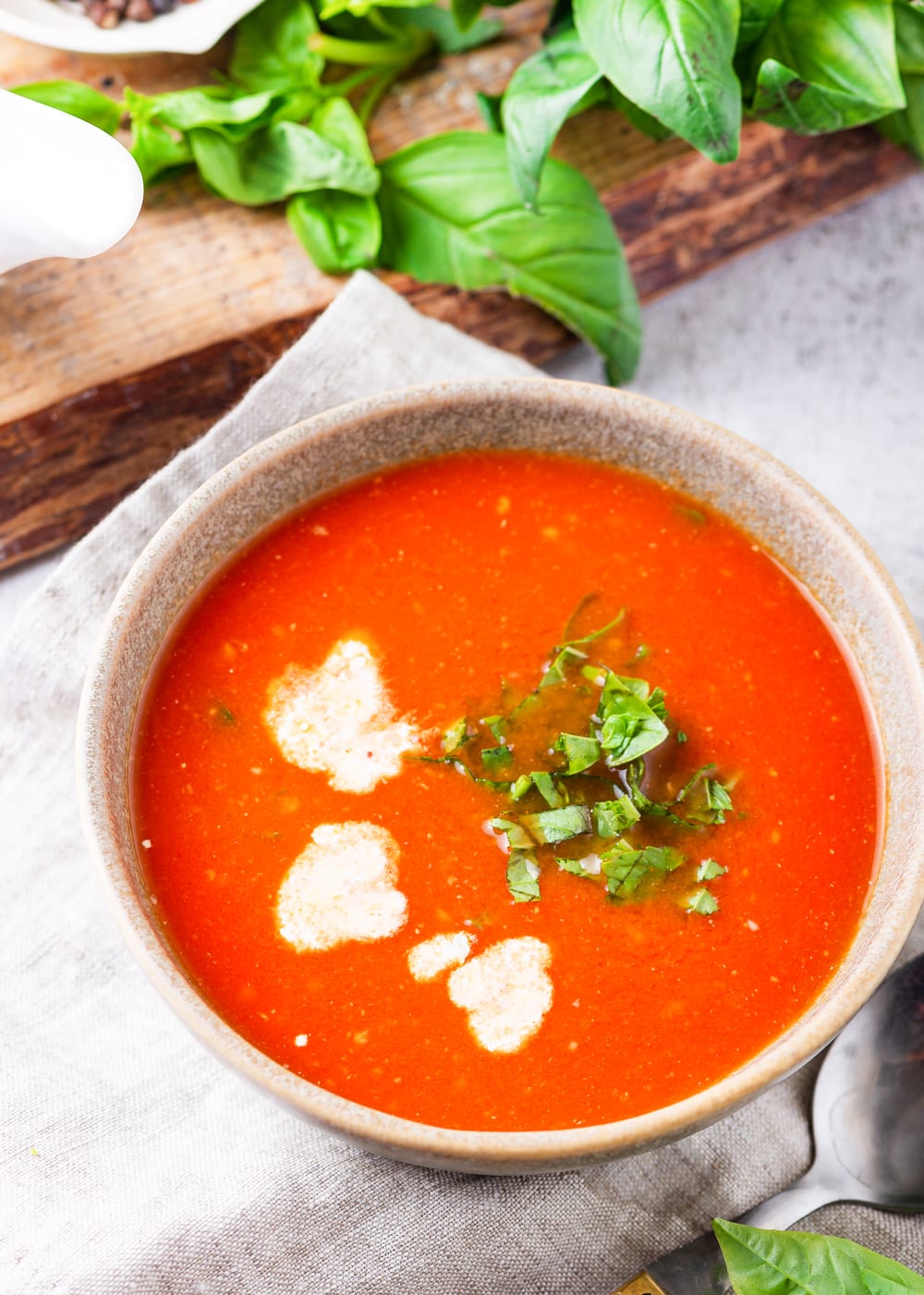 How to store & reheat keto tomato soup
This recipe for keto tomato soup will make 4 large servings. So if you have any leftover low carb tomato soup, you can store it in an airtight container in the fridge for about 3-4 days.
And if you want to keep it for even longer, you can freeze the tomato soup for about 4-6 months!
Then to reheat the soup, either put it in a pot over medium heat for a few minutes or microwave in 20-second increments until warm.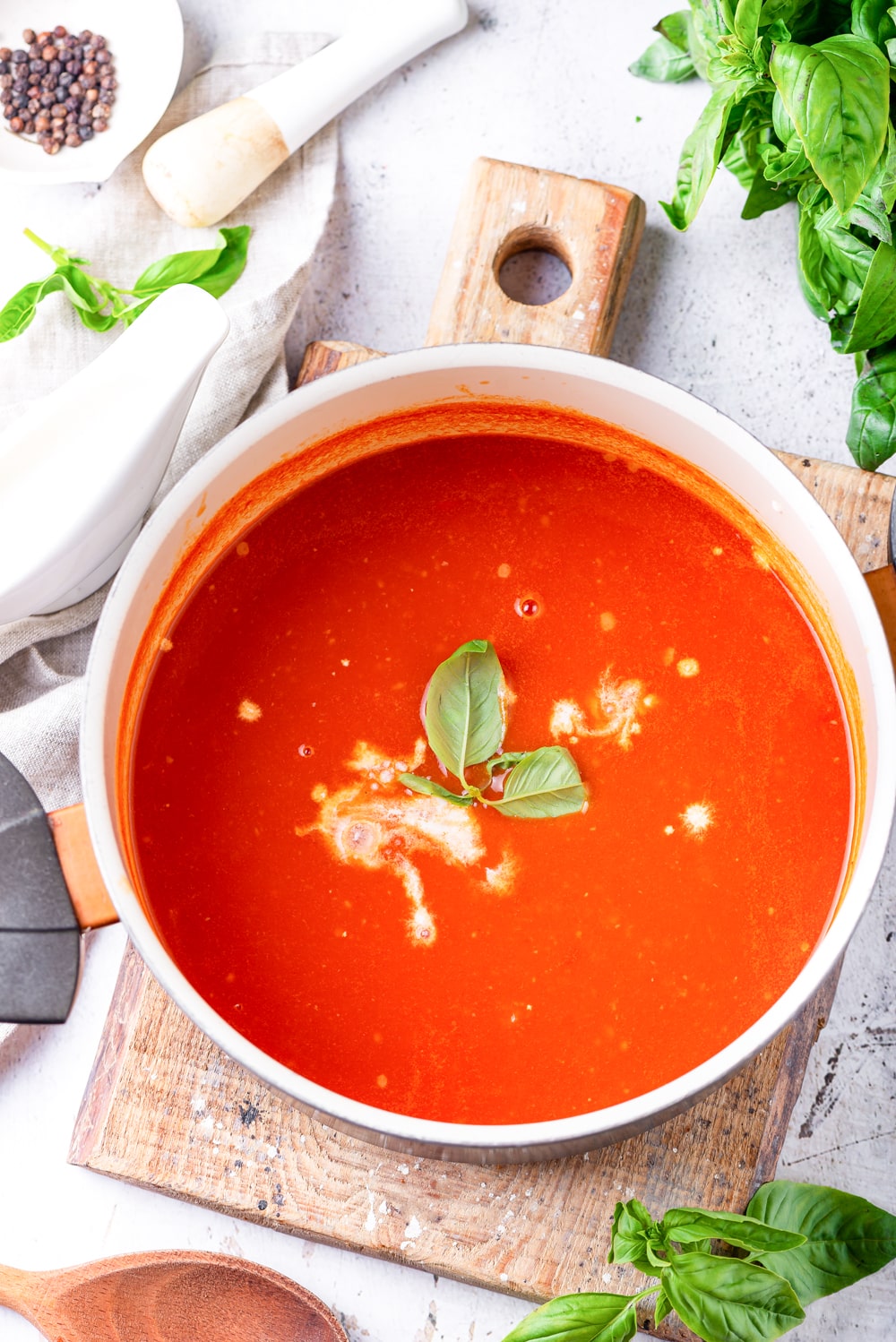 Wrapping It UP
That is how to make low carb tomato soup! It doesn't get much more comforting and delicious than a big bowl for this creamy keto tomato soup.
It's crazy that each cup has about 3 net carbs., but it tastes just like Cambell's tomato soup.
Everyone always loves it, even if they don't follow a low carb diet! Seriously, even kids think this low carb soup is delicious!
So if you have this low carb tomato soup a try, leave a comment below and let me know your thoughts!
Print
Keto Tomato Soup | One Of THE BEST Keto Soup Recipes You Can Make
This keto tomato soup recipe is so rich and creamy, and it's just absolutely jam-packed with tomato flavor! In fact, my friends and family can't even tell it's a low carb keto friendly tomato soup when I make it for them. And, honestly, I'm all about making this recipe, since each cup has just over 3 NET CARBS! That said, if you're looking for one of the best keto soup recipes out there, you've found it.
Author:
Prep Time:

25

Cook Time:

10

Total Time:

35 minutes

Yield:

4 Cups

Category:

Soups

Method:

Stovetop Cooking

Cuisine:

Keto & Low Carb
Instructions
1. Preheat your oven to 400℉ (204℃).
2. Place tomatoes and garlic cloves on a baking sheet. Drizzle with olive oil. Roast in the oven for 25 minutes...alternatively you can use canned tomatoes and pre-minced garlic as listed above.
3. If you used fresh tomatoes, discard the skins. Use a spatula to transfer the roasted tomatoes, garlic, and oil into a blender or food processor. Purée until smooth.
4. Pour the purée, broth, and seasonings into a small stockpot. Stir well. Bring to everything to a boil. Simmer for a bit longer if you prefer a thicker consistency.
5. Serve hot!
Nutrition
Serving Size:

1 Cup

Calories:

140

Fat:

11

Carbohydrates:

5

Fiber:

1.5

Protein:

4
Keywords: keto tomato soup, tomato soup keto, keto soup recipes, soup keto, soup recipes keto, low carb tomato soup, tomato soup low carb, easy keto soup, how to make keto tomato soup, how to make tomato soup keto, healthy tomato soup, tomato soup recipe