Creamy and flavorful, this easy keto broccoli cheese soup is a fantastic option for dinner or lunch. It's a low carb, low effort, creamy soup recipe that you'll want to make over and over again!
The Best Keto Broccoli Cheese Soup
The best part about this low carb broccoli cheese soup is how easy it is to make.
With some broccoli, a few pantry staples, and a little time, you can have an amazingly rich and creamy broccoli cheese soup ready for dinner or lunch.
At only 4.5g net carbs per cup, you'll surely want to try this keto recipe!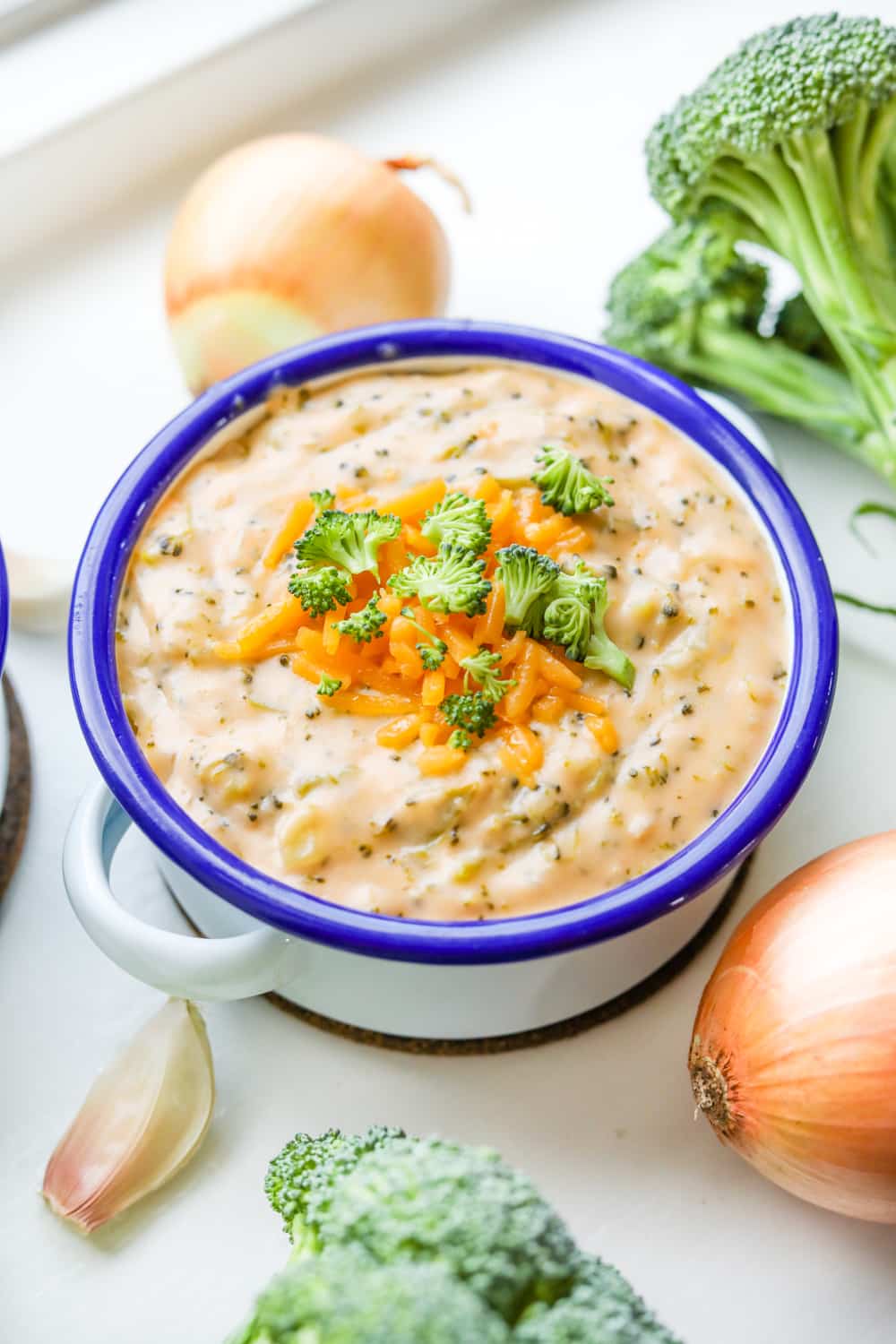 This healthy broccoli cheese soup makes a great weeknight dinner or an excellent addition to your meal prep routine because of how incredibly simple and easy it is to make.
It's creamy, rich, and incredibly satisfying.
The freshness of the broccoli and the velvety texture of the cheddar cheese come together to make a wonderful keto soup that you can enjoy any time of the year!
It's been pretty chilly here in Buffalo, New York so this keto broccoli cheddar soup has been a favorite companion of mine during the frigid winter nights.
You'll find that this traditional broccoli cheese soup made low carb will also satisfy you endlessly during the fall months.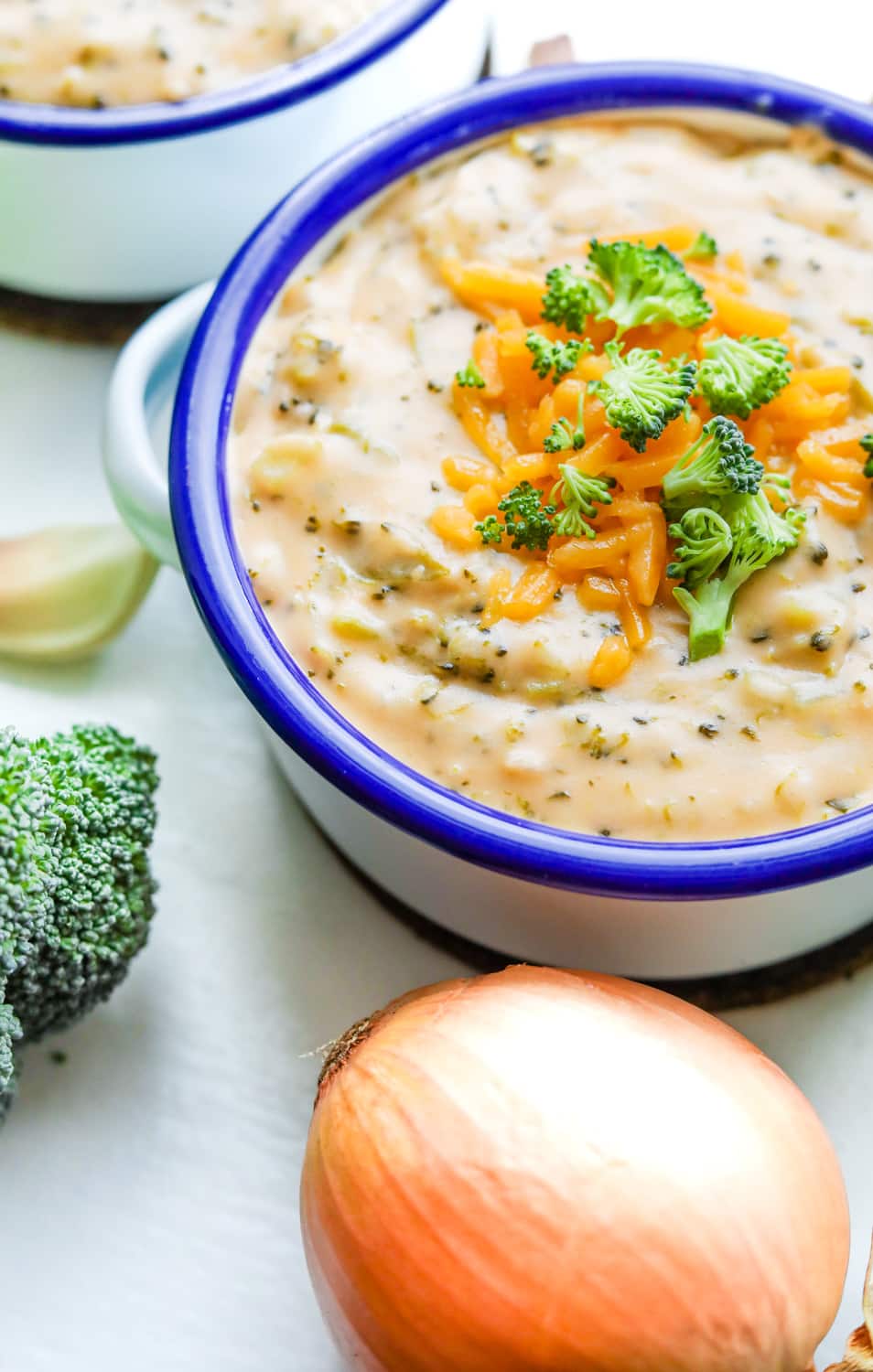 Ingredients
This keto broccoli cheddar soup is made with super simple ingredients! In fact, you probably have a lot of them on hand already.
Check out what you need:
4 tablespoon salted butter

2oz full fat cream cheese

1 & ¼ cups shredded cheddar cheese

1 small onion

A large clove of garlic

1 small head of broccoli

2 cups

chicken bone broth

⅓ cup heavy cream

*Optional* ¼ tsp.

xanthan gum
Not only is this soup low carb, but the nutrient-dense broccoli provides vitamin C, iron, and folate, among other great health benefits. And you can use fresh broccoli or frozen broccoli florets to make it. That's why this is the best broccoli cheddar soup!
And if you love broccoli, you have to make this keto chicken stir fry next.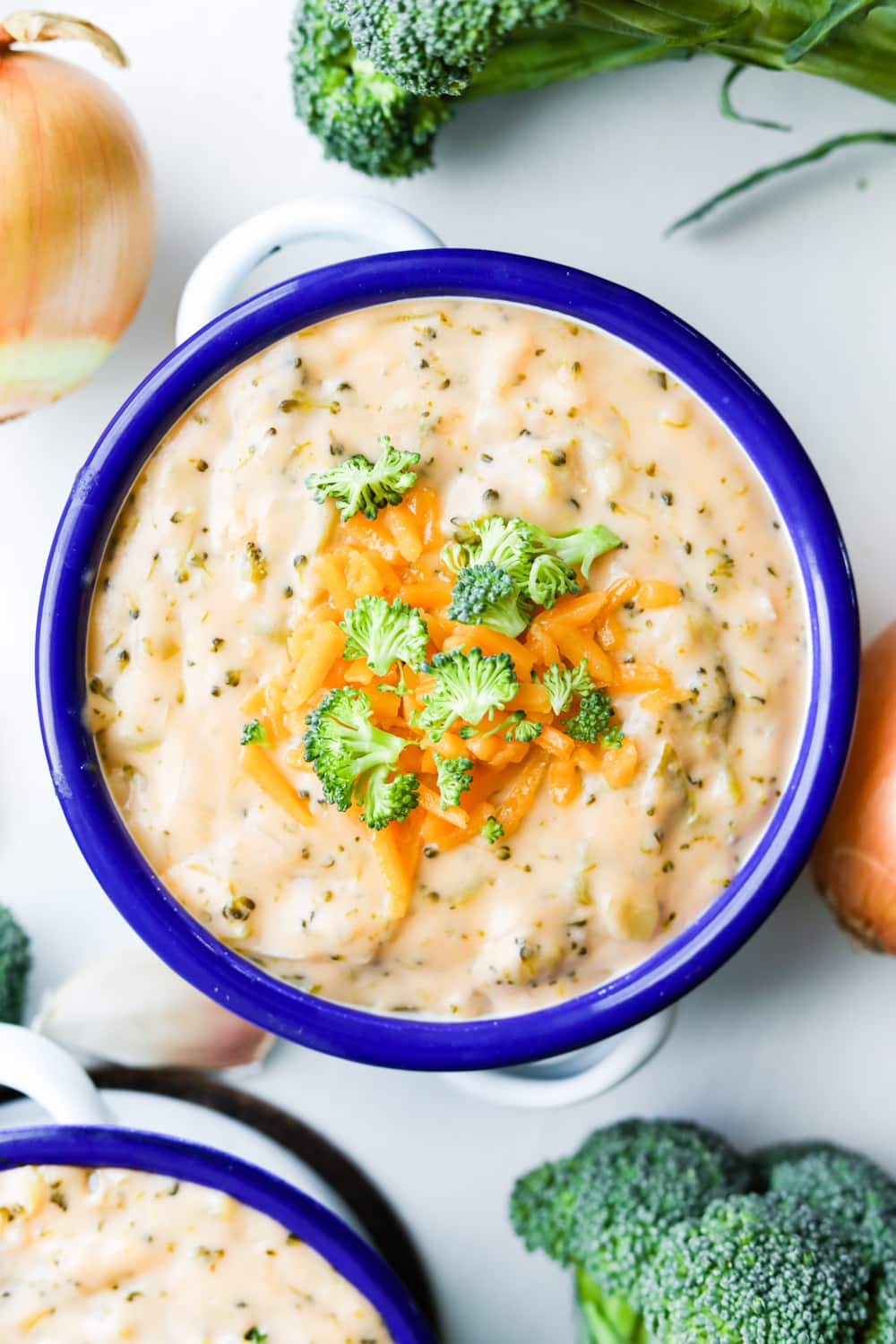 How To Make Keto Broccoli Cheddar Soup
Just like my keto chili recipe, this is extremely easy to make, and the clean-up is minimal.
Just one pot and a few ingredients will help you create a keto broccoli soup that you'll be thinking about for days.
You can even use a trusty Crockpot or Instant Pot to make this keto recipe even easier, and for a thicker soup!
With affordable ingredients, an amazingly creamy and cheesy finish, and the easiest cooking process, you'd be crazy not to try this delicious keto broccoli cheddar soup! 
How to Make Keto Broccoli Cheese Soup on the Stovetop
This recipe for keto broccoli and cheese soup is one of the best and easiest ways I've done it.
The process is super simple. The whole thing takes about 30 minutes and yields an incredibly velvety, rich, and creamy soup.
Sautéing the onions and garlic before adding the rest of the ingredients is the key to creating the best flavor for this low carb soup.
For this keto recipe, we use salted butter to add an amazingly buttery finish that compliments the broccoli and aromatics so well.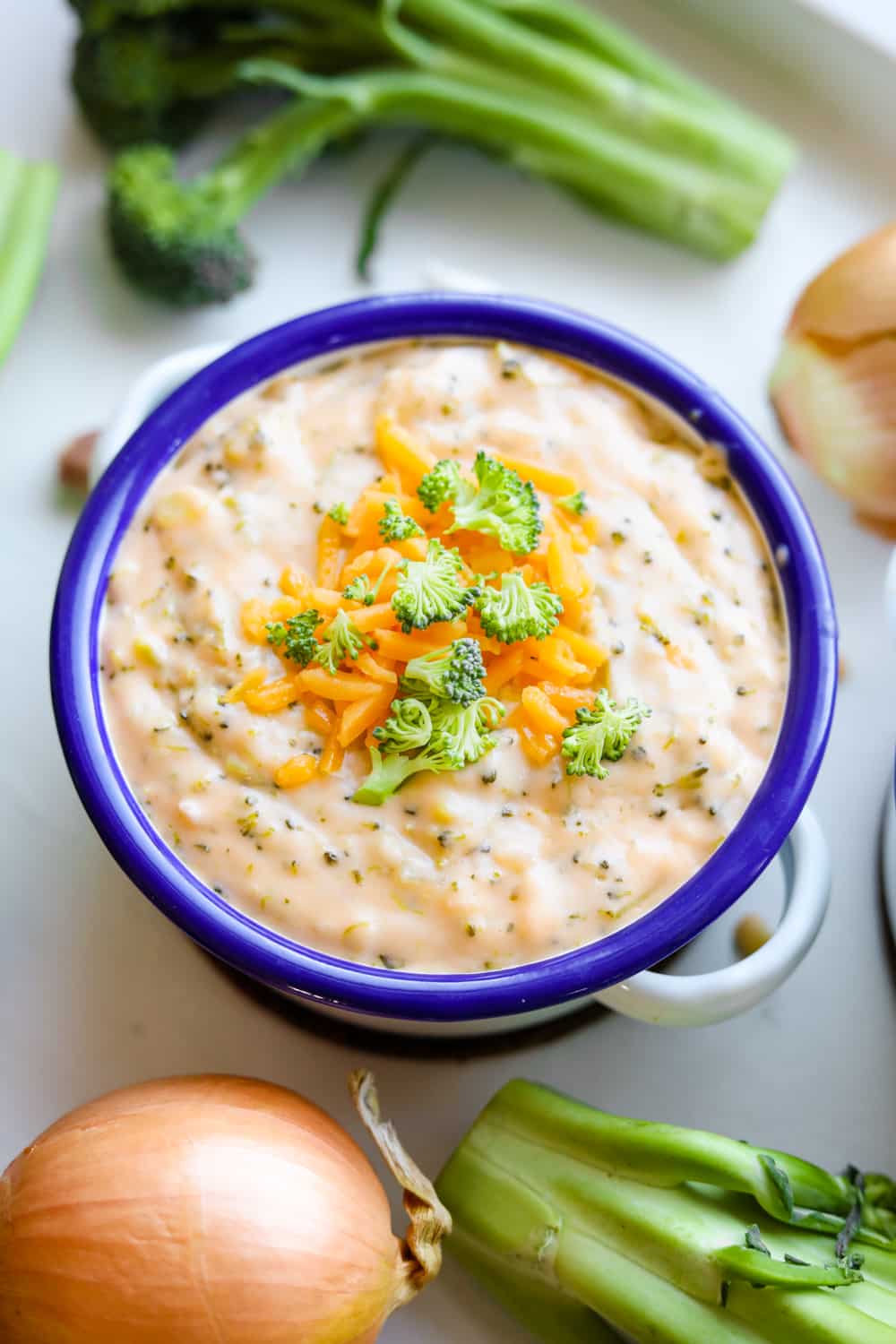 Then the rest of the process is just tossing in broccoli, hearty and healthy chicken bone broth, and some delicious dairy elements.
Next, bring it all to a boil, and then to complete this gorgeous keto broccoli cheese soup just let it simmer.
And for an even thicker more indulgent finish, just add a little bit of xanthan gum.
How to Make Keto Broccoli Cheese Soup in the Crockpot
The Crockpot process for this low carb keto recipe isn't too different from the stovetop.
As previously mentioned, sautéing the aromatics in salted butter is the key to getting that dynamic flavor that makes this soup so fantastic.
You'll want to do that before adding the rest of the ingredients.
Then it's just a matter of throwing those into the Crockpot with everything else and setting it to cook for 3-4 hours on high or 6-8 hours on low.
This is an excellent option for a weeknight dinner or meal prep because you can just leave it and come back to a pot of warm and creamy keto broccoli cheese soup in a few hours!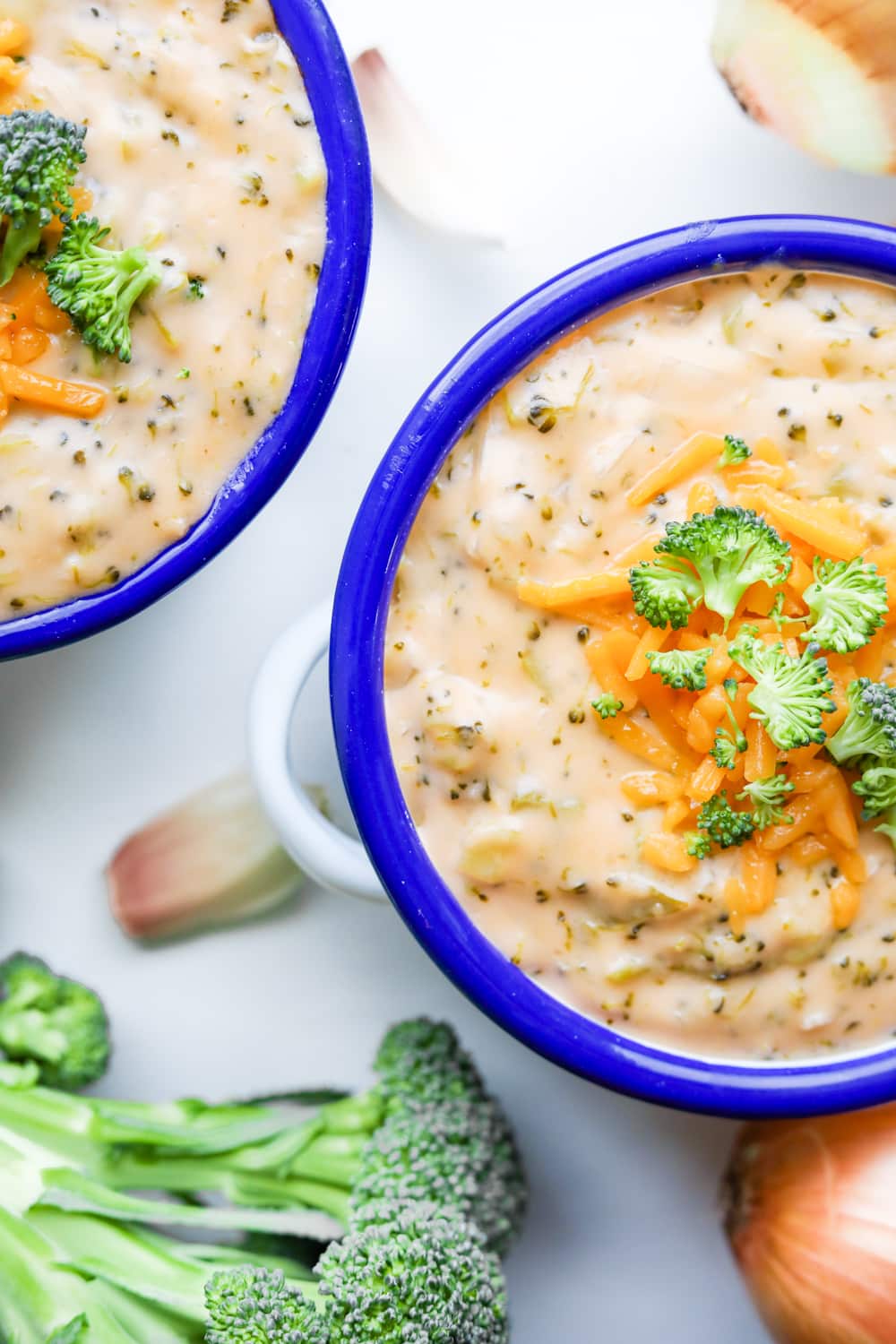 How to Make Keto Broccoli Cheese Soup in the Instant Pot
For another convenient option, this low carb soup can also be made in the Instant Pot.
Simply use the sauté option to cook the garlic and onions then follow the same process as the stovetop version.
To finish the soup, close the lid and use the "soup" setting on the Instant Pot.
In 20-40 minutes, you'll have deliciously thick and creamy keto broccoli and cheese soup that is low carb and filling!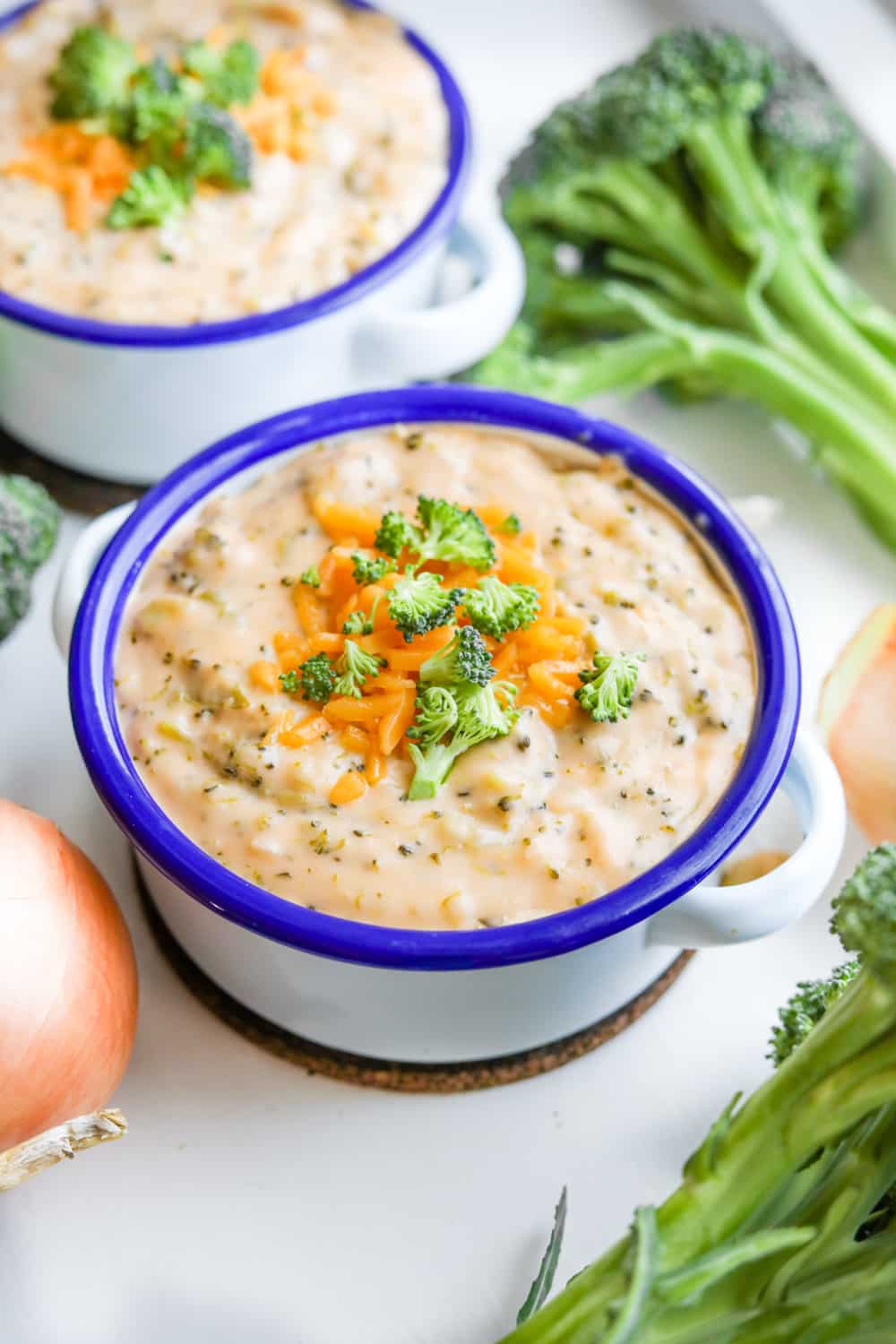 Wrapping it all up
That is how to make the best keto soup recipe ever!
This recipe isn't just great for the keto diet; try serving this to your family and friends and watch them fill their bowls over and over with this amazing low carb soup.
If you gave it a try, leave a comment below and let me know your thoughts.
Other Low Carb Keto Dinner Ideas
If you liked today's Keto Broccoli Cheddar Soup Recipe, check out these other savory keto options!
Print
Easy Keto Broccoli Cheese Soup Recipe | Low Carb & FULL of Cheddar Cheese Deliciousness
The BEST Low Carb Keto Broccoli Cheese Soup Recipe you'll ever make! Not only is it easy to make, but you can make it in a pot on your stove, in your crockpot, or in your instant pot! And, no matter which way you make it, this keto broccoli cheddar soup ends up so rich and creamy, you - or your guests - will never believe it's low carb!
Author:
Prep Time:

5

Cook Time:

25

Total Time:

30 minutes

Yield:

4 Cups

1

x
Category:

Dinner

Cuisine:

Keto
4 tbsp (56g) salted butter
2oz (56g) full fat cream cheese
1 & ¼ cups (140g) shredded cheddar cheese
1 small onion (70g)
A large clove of garlic
1 small head of broccoli (200g)
2 cups (475mL) chicken bone broth
⅓ cup (80mL) heavy cream
*Optional* ¼ tsp. xanthan gum
Instructions
Dice the small onion and mince the garlic cloves. Place both in a small bowl and set aside.
Cut the broccoli into florets and mince into tiny pieces. Place in a medium-sized bowl and set aside.
Place a large pot on the stove and turn it up to medium-high heat.
Add the salted butter. Once it's melted enough to coat the bottom of the pan, add the prepared onions and garlic.
Use a spatula to gently sauté until the onions are translucent and the garlic is fragrant.
Pour in the 2 cups of chicken bone broth followed by the minced broccoli.
Stir to distribute all the ingredients well then bring the heat up to high.
Once the soup is boiling and the broccoli is soft, add the cream cheese and heavy cream. Mix it well to dissolve the cream cheese and incorporate the cream.
Bring the broth back up to a boil and add the shredded cheddar cheese. Mix all the cheese into the soup until it melts.
Turn the heat down to low and simmer until the soup thickens as desired.
For a really thick soup, incorporate ¼ tsp. of xanthan gum.
Notes
The soup can thicken up after the first day when stored in the fridge. You can use some added almond milk - or heavy cream - to thin it out if reheating the next day/s.
Also, to reduce the calories, cook the onions and garlic in a non-stick pan using baking spray...instead of butter. And then add them to your pot when they're soft and fragrant.
This will save you over 400 calories.
Nutrition
Serving Size:

1 Cup

Calories:

275

Fat:

23

Carbohydrates:

6

Fiber:

1.5

Protein:

12
Keywords: Keto broccoli cheese soup, how to make keto broccoli cheese soup, keto broccoli cheddar soup, keto broccoli and cheese soup, easy keto soup recipes, low carb broccoli cheese soup, broccoli cheese soup keto, keto broccoli cheddar soup, keto cheddar broccoli soup