Dalgona Coffee - or whipped coffee - as it's sometimes called, is taking the internet by storm. In fact, soon it'll just be called Tik Tok coffee since EVERYONE on the app is making it. However, the drink is loaded with sugar, so today I'm showing you how to make Keto dalgona coffee! This is my go-to recipe, and it has no sugar!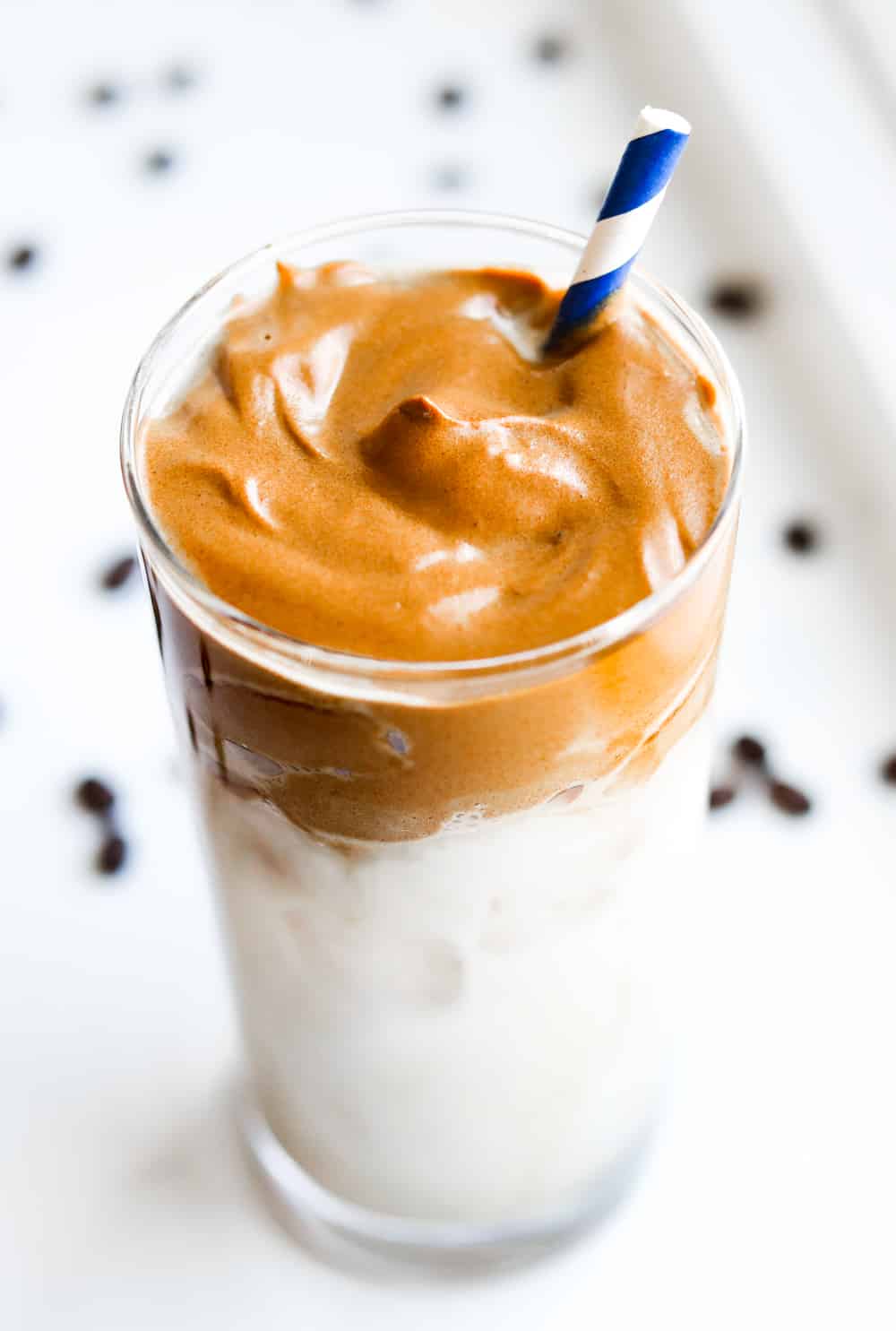 Keto Dalgona Coffee
Dalgona coffee is a thick, rich, and bold coffee that's usually mixed with milk and ice.
It's also very sweet.
Dalgona means "Wow it's sweet" in Korean - and, South Korea, is where it comes from!
So, typically this coffee is made with equal parts of hot water, instant coffee, and sugar. Usually, you'd add 2 tbsps of each.
However, for this keto dalgona coffee we'll be replacing the sugar with 0 carb Swerve, and also upping the amount of it a bit too.
So for this recipe, we're going to use...
By the way, if you're looking for another delicious keto coffee drink, you have to try this keto frappuccino next!
How To Make Dalgona Coffee For Keto
We'll want to add those ingredients to a medium-sized bowl, and then use a whisk to beat them into a whipped mousse consistency. And it will take a few minutes of whipping to get it to that consistency. So, be patient.
Alternatively, you could use a hand mixer to whip the coffee.
But, we're all stuck inside right now - #shelterinplace - the gyms are closed, and you could probably use the exercise! Right?! Right.
Anyways, once that's whipped nicely, just add some ice to a glass, and then fill it about ¾ of the way full of the milk-of-your-choice. For me, that's unsweetened almond milk.
Then we're going to scoop our whipped coffee on top of our iced milk and take a photo of our beautiful keto dalgona coffee. However, we are NOT going to drink it like this.
The best way to enjoy this coffee is by mixing all of that whipped coffee deliciousness into the milk and ice.
A lot of times, just a little bit of that thick dalgona coffee mixture will still stay at the top of your glass and gives every sip an amazing amount of flavor.
Also, I should mention, the recipe definitely makes enough for 2 cups of coffee.
So, a lot of days I just cut the recipe in half, and just make one cup.
However, if you really need a caffeine boost, pouring all of the mousse in just one cup of milk will definitely do the trick.
And that's pretty much it!
That's how to make no sugar keto dalgona coffee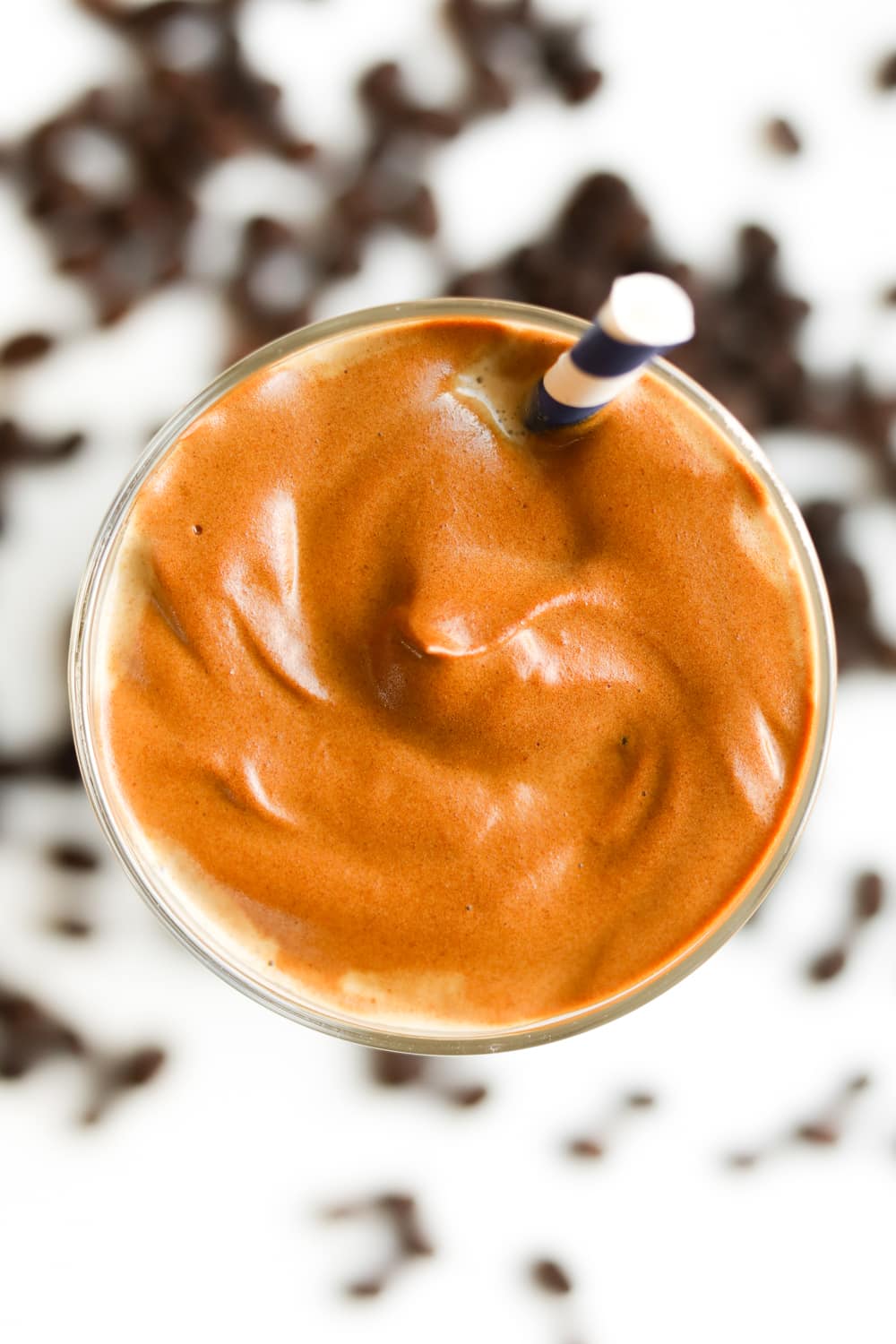 Can I use normal coffee grounds Or Hot Coffee?
Unfortunately, you can't.
Instant coffee has a special property about it to actually make dalgona coffee "whipped coffee".
If you try to use normal coffee grounds, or just hot coffee, you will not end up with a whipped consistency for the coffee.
As I mentioned before, I recommend using Confectioners Swerve to replace the sugar in the coffee.
However, I've seen others have success with Granulated Swerve, and granulated monk fruit as well.
That said, I don't recommend using Stevia, or other sweeteners, because usually, they're MUCH SWEETER than the ones I just mentioned. Also, a lot of times these sweeteners are mostly fillers - like maltodextrin - and then just a tiny bit of stevia is added to them.
By the way, these fillers are really just sugar disguised with another name.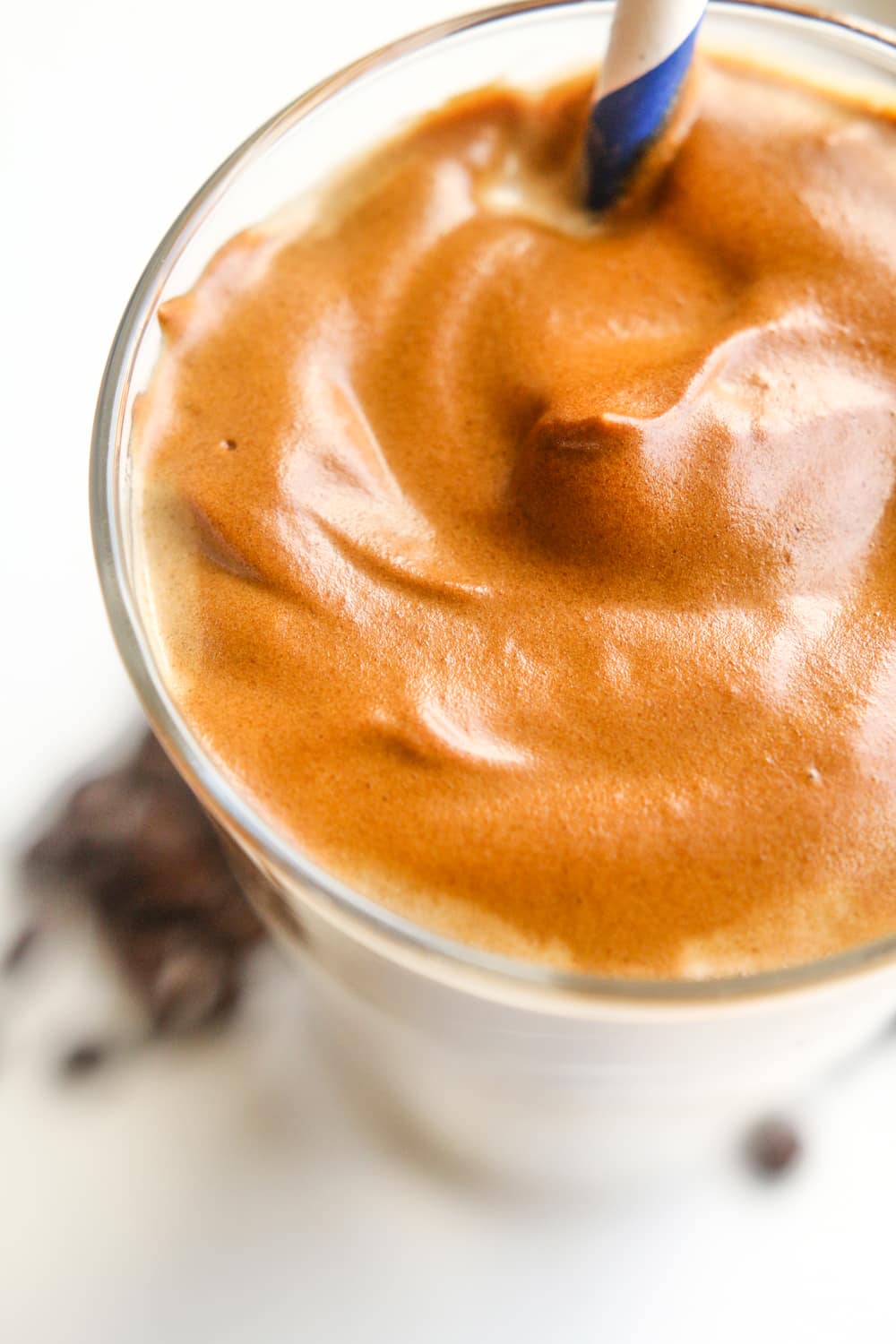 Keto Recipes To Enjoy This Dalgona Coffee With
I like to make this keto dalgona coffee first thing in the morning for breakfast.
It's absolutely jam-packed with caffeine and gives me a nice boost of energy to start my day with.
That said, I think these keto breakfast recipes pair really nicely with a glass of this coffee...
Print
Keto Dalgona Coffee | The BEST, Easy To Make, No Sugar Dalgona Coffee Recipe
A Dalgona Coffee Recipe that has no sugar, and is totally keto friendly. Some people call it whipped coffee, some people call it Tic Tok coffee, but everyone calls it delicious. And this keto delgona coffee has all the deliciousness, and all the sweetness of regular dalgona coffee, but not all the carbs!
Author:
Prep Time:

5 Minutes

Total Time:

5 minutes

Yield:

2 Cups

Category:

Drinks

Cuisine:

Keto
Instructions
Add the water, instant coffee, and Swerve to a medium sized bowl.
Whisk until a thick mousse consistency starts to form.
Once it does, add the milk and ice to 2 glasses, and top each one with the coffee mousse.
Mix the mousse into the milk and ice.
Drink immediately.
Notes
The recipe makes 2 glasses of dalgona coffee. If you'd like to make just 1 split the recipe in half.
Nutrition
Serving Size:

1 Cup

Calories:

30

Fat:

2

Carbohydrates:

2

Fiber:

1

Protein:

1
Keywords: dalgona coffee, keto dalgona coffee, low carb dalgona coffee, keto whipped coffee, no sugar dalgona coffee, dalgona coffee keto