This Keto Zuppa Toscana Soup Recipe is a copycat version of Olive Garden's. It's creamy, savory, and just filled with wholesome goodness. Not to mention, each serving of this Keto Zuppa Toscana Soup has only 4g NET CARBS! Plus, the whole recipe can be made in just one pot for easy cooking and clean up!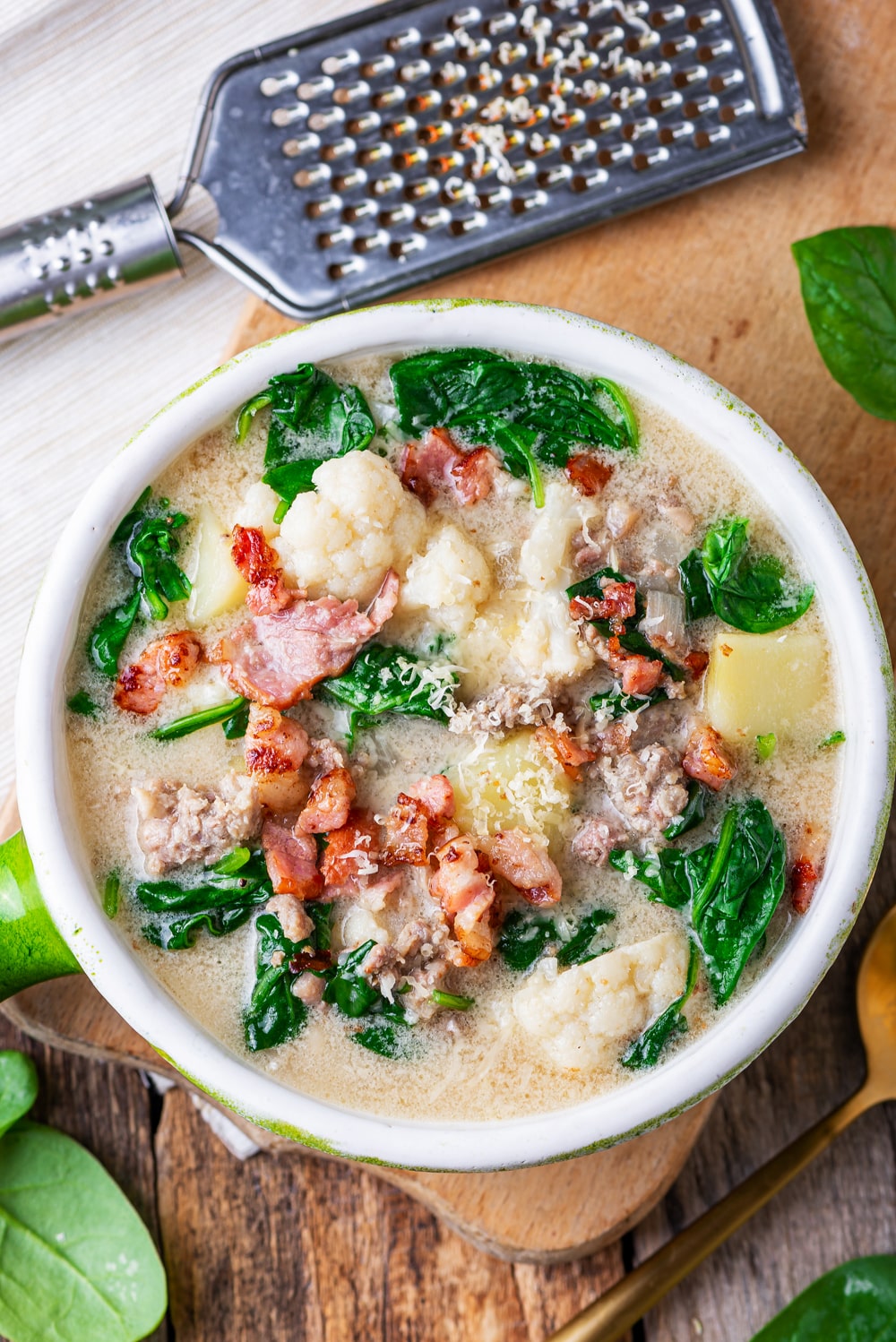 The Best Keto Zuppa Toscana
Honestly, this Zuppa Toscana soup recipe is one of the best low carb keto soup recipes you can make! It's quick, easy, and low carb.
And what better time than now to make soup?!
The winter is now in full effect here in Buffalo, and it's freezing! So that only means one thing, soup season is officially here!
Well, that actually might be an understatement; not only is soup season here...it's in full effect too!
That said, you know I HAD to make Olive Garden's Zuppa Tosca Soup Keto friendly. I mean, it's basically their most famous soup, so why not?!
By the way, if this recipe has got you thinking about pasta, I've got an amazingly tasty low carb pasta recipe on the blog you might want to check out next.
Also, what I love about this recipe is that it's a one pot recipe – which means you can get everything done in just one small stockpot and save yourself a ton of time on clean up!
By the way, this recipe makes six servings, which makes it a perfect recipe for your next meal prep or big dinner! Yep, even your non-keto friends and family are going to dig this soup.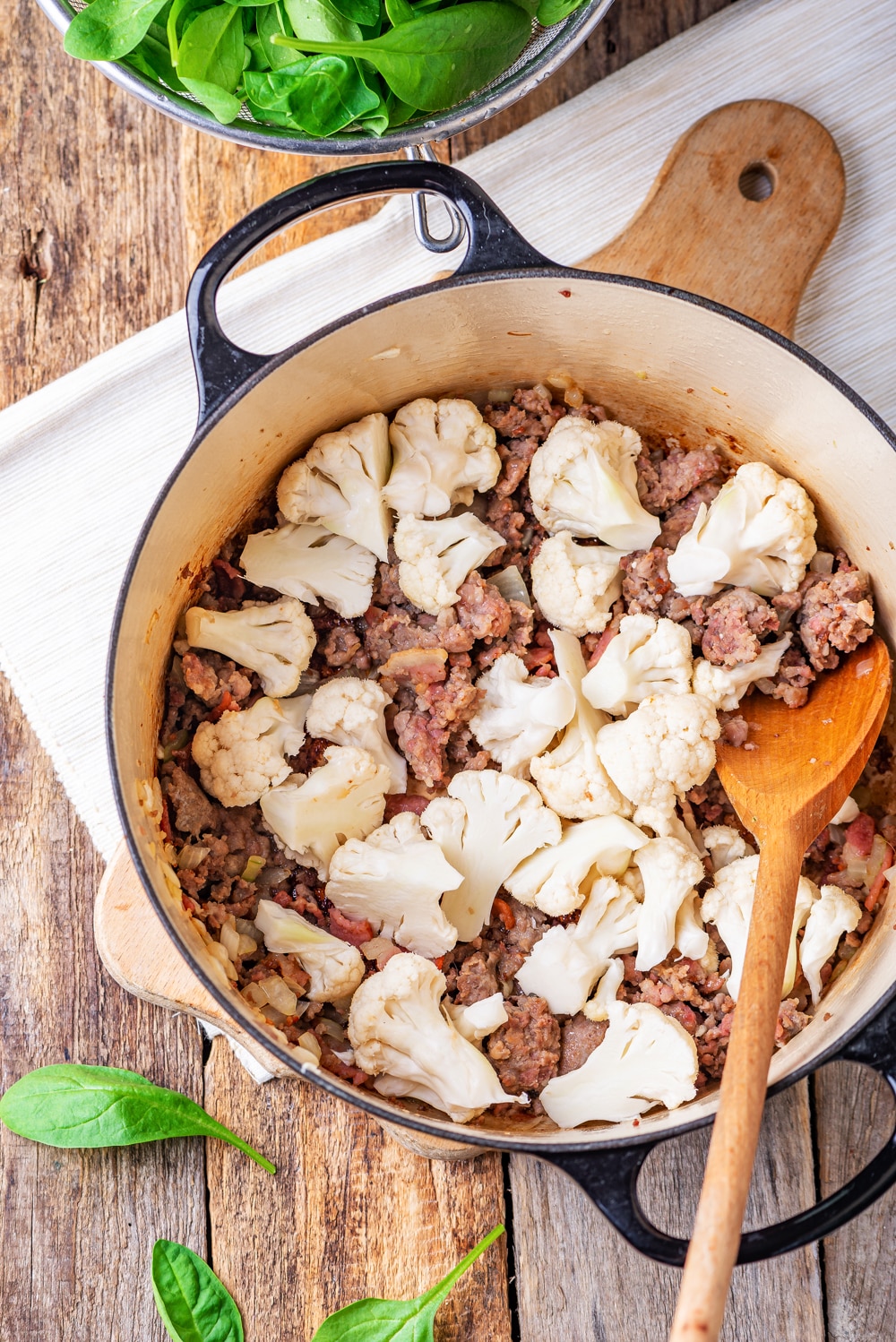 Zuppa Toscana Ingredients
So to make this classic Olive Garden soup keto, we'll be doing a couple of healthy, low carb swaps.
Mainly, we'll be using cauliflower and kohlrabi instead of potatoes. These are totally keto-friendly – not to mention super good for you – options that add the same heartiness to the soup as potatoes do, but without packing the carbs.
Having said that, if you haven't heard of kohlrabi before, it's a cruciferous vegetable that's kind of like a cross between a cabbage and a turnip. And it's got a great texture that's perfect for chopping up and adding to soups, and you can pretty much treat it like any other tuber.
Honestly, it's one of the best keto substitutes for potatoes in stews and soups, so I highly recommend trying it out!
However, on the off-chance you can't find it in the grocery store, you can always use turnips, rutabagas, or chayote in its place.
That said, here's everything else that you'll need to make the soup:
½ pounds of Italian sausage, casing removed

Half a medium onion, chopped

2 garlic cloves, minced

1 cup cauliflower florets

1 cup kohlrabi, cubed

4 cups chicken broth

½ cup of heavy cream

3 cups of spinach or kale, chopped

Salt and pepper, to taste

6 bacon slices, for flavor and as a garnish
Optional Ingredients for Garnishing the Soup:
Grated parmesan

Crushed red pepper
Now, the bacon is a definite must-have for this recipe since we'll be rendering that fabulous fat to flavor the base of the soup.
That said, you can skip the grated parmesan and crushed red pepper if you don't have them on hand.
However, if you really want the full Zuppa Toscana experience, I highly recommend adding them!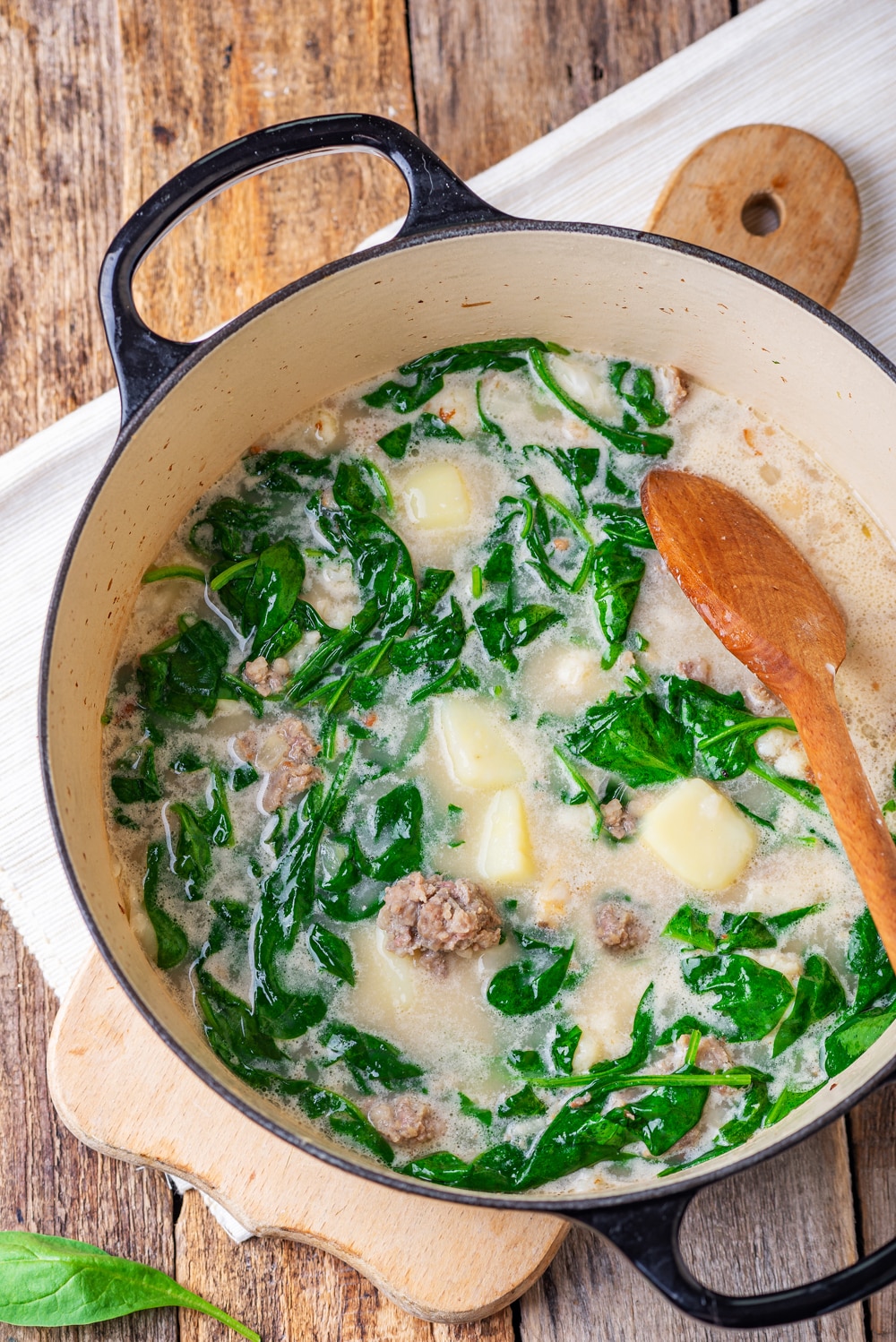 How to Make One Pot Keto Zuppa Toscana
Now that you're all caught up on the ingredients let's get into the steps!
To start, make sure you've prepped all your ingredients. Mince your garlic, chop your onion and leafy greens, cube your kohlrabi, and cut your cauliflower into florets.
You'll then want to remove the casing of your Italian sausage, add it to a medium-sized bowl, and crumble it with your hands.
And that about does it for the prep work.
So, now let's talk about how to cook this keto soup!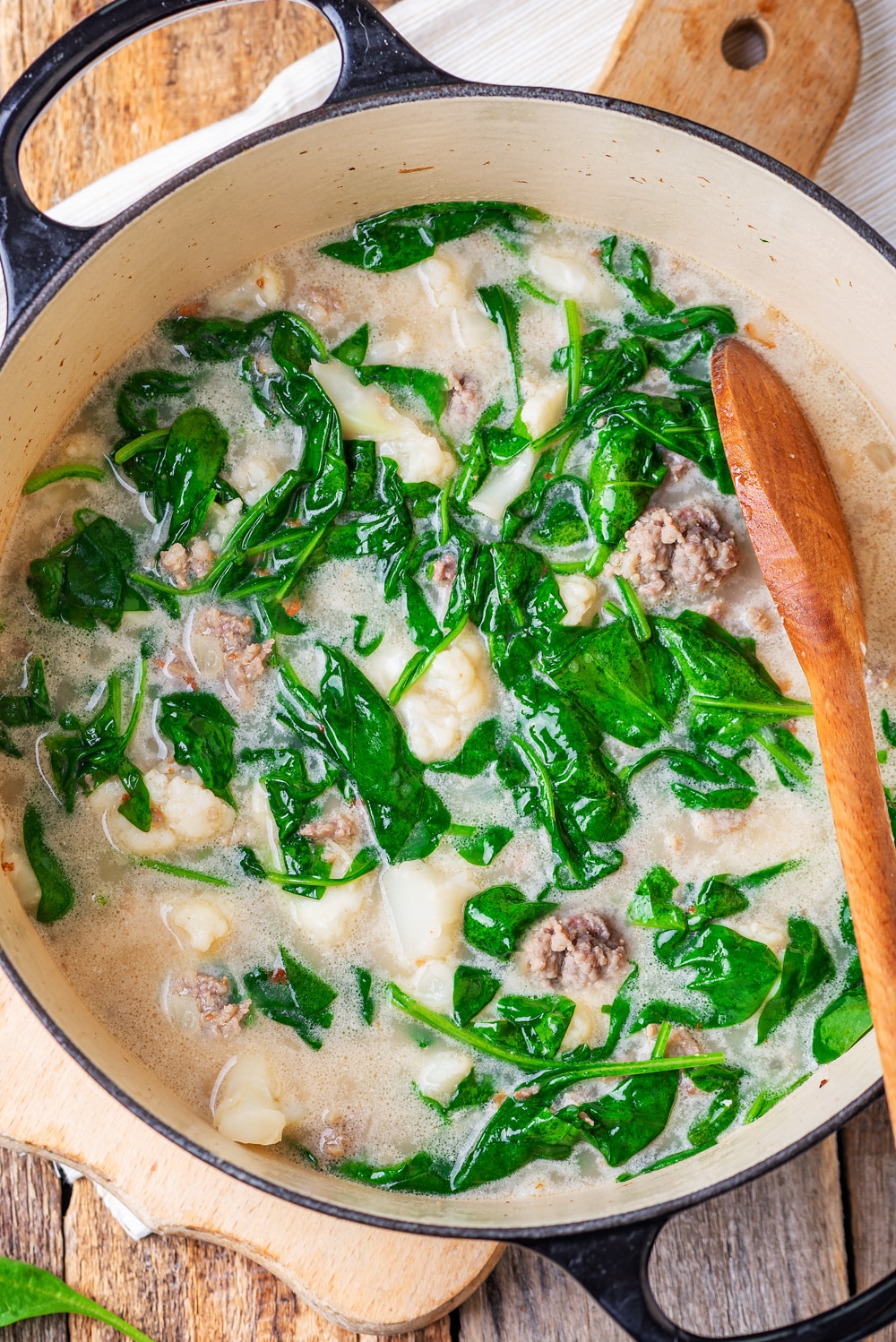 Step 1: Sautéing the Aromatics & Cooking The Sausage
First, cook the bacon in a small stockpot over medium-high heat.
Then, once the bacon slices are nice and crispy, take them out and place them on a paper-towel-lined plate to soak up the excess fat.
Now, once the bacon has cooled down, you can use a knife to chop them into crumbles. Then you can add them to a small dish and set them aside to garnish the soup with later.
Next, sauté your onion and garlic in the rendered fat from the bacon until fragrant. Then once they become fragrant & aromatic, you can add in your crumbled Italian sausage.
Now you'll want to use your spatula to break the sausage up into smaller pieces, and let them brown.
And remember to stir everything occasionally to prevent these ingredients from burning.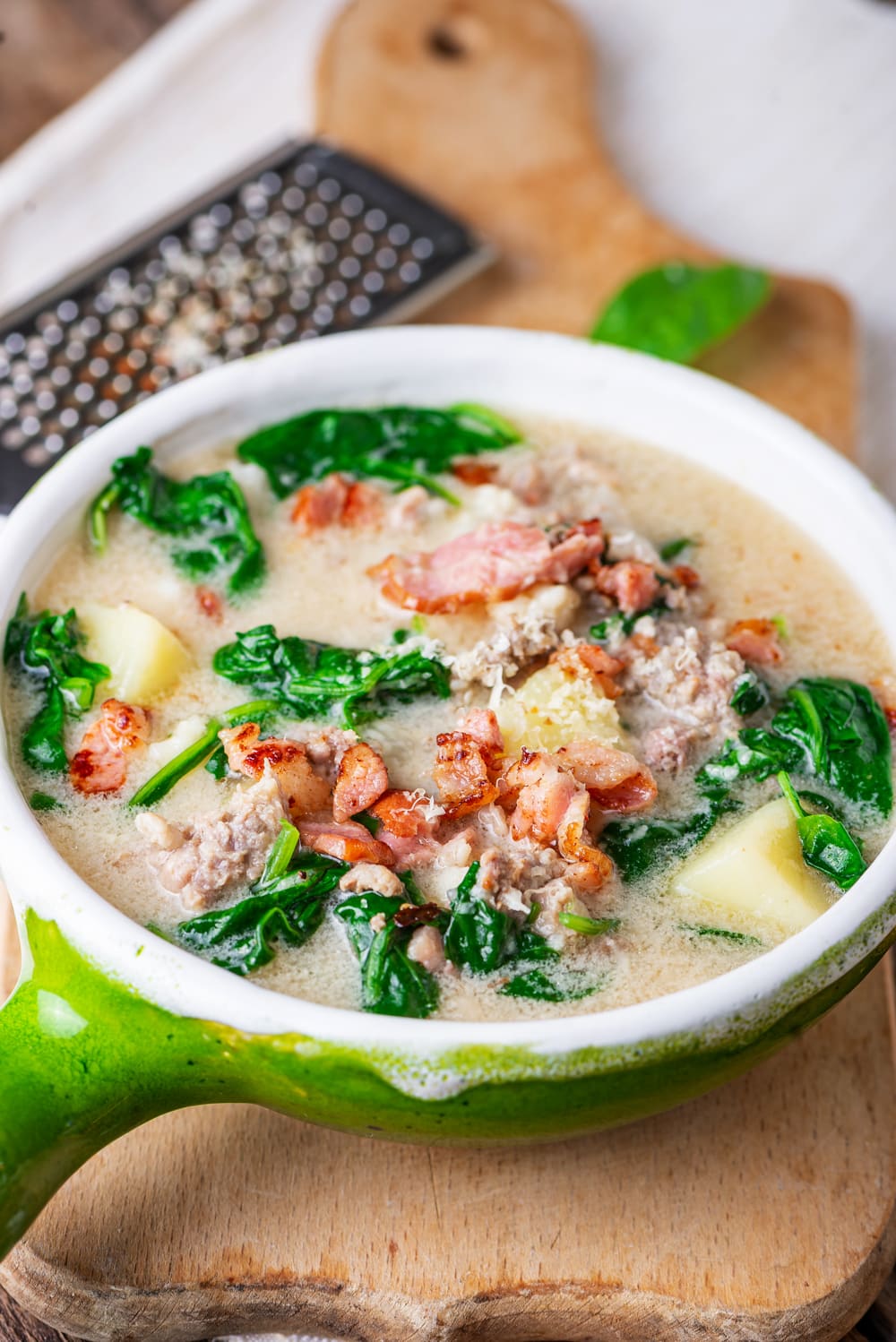 Step 2: Adding Everything Else
Now that the soup's aromatic base is ready, we can toss in the rest of the soup ingredients!
Stir in your kohlrabi, cauliflower, and broth.
The broth will dislodge any browned bits that are stuck to the bottom of your pot, so you don't have to worry too much about that. This is also known as deglazing your pan/pot.
So, now you can cover the pot and let it simmer on low - occasionally stirring it - for about 10-15 minutes, or until your veggies are tender. And you'll know the vegetables are tender if you can easily poke them with a fork.
Next, stir in the heavy cream and your chopped leafy greens. Then, let that simmer until the greens have wilted.
Finally, add in your salt and pepper.
Of course, the soup should already have some saltiness from the sausage and maybe even the broth, so make sure to taste it as you season, so it doesn't come out too salty.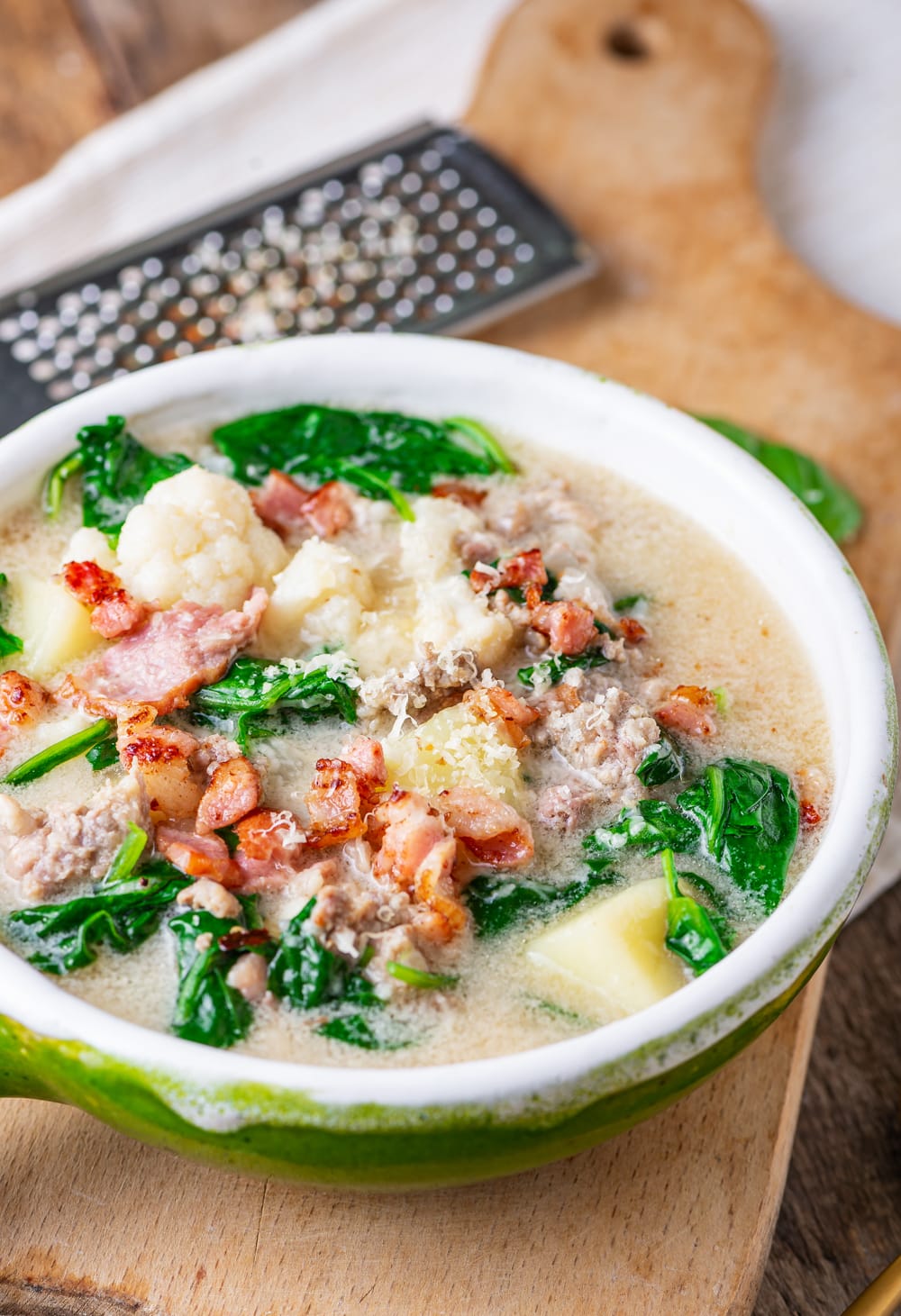 Step 3: Serving The Soup
Finally, transfer the soup to a bowl, and garnish it with some grated parmesan for extra cheesy goodness, some crushed red pepper for a little heat, and some crispy bacon bits for a little extra crunch, flavor, and saltiness.
And there you have it!
Six serving's worth of creamy, savory, and hearty keto Zuppa Toscana soup in under 30 minutes – all cooked in one pot.
It doesn't get any better than that!
How to Store and Reheat Leftover Zuppa Toscana
Ok, so as far as storing this keto soup goes, you have a couple of options.
You can portion it out in separate airtight containers to keep in the fridge. And storing it like this should last you about 4 days.
Or, if you want to stretch the recipe even further, you can pour your Zuppa Toscana soup into freezer-safe containers, and keep it in the freezer. That said, if you store your keto soup this way, the soup can last up to a few months!
You can even go ahead and double or triple the recipe for freezing.
Keto Zuppa Toscana available year-round?
Yes, please!
By the way, the best way to reheat your low carb zuppa toscana is in a saucepan over low heat.
If your soup is looking a little thin, you can stir in a little more heavy cream to get it back to the right consistency.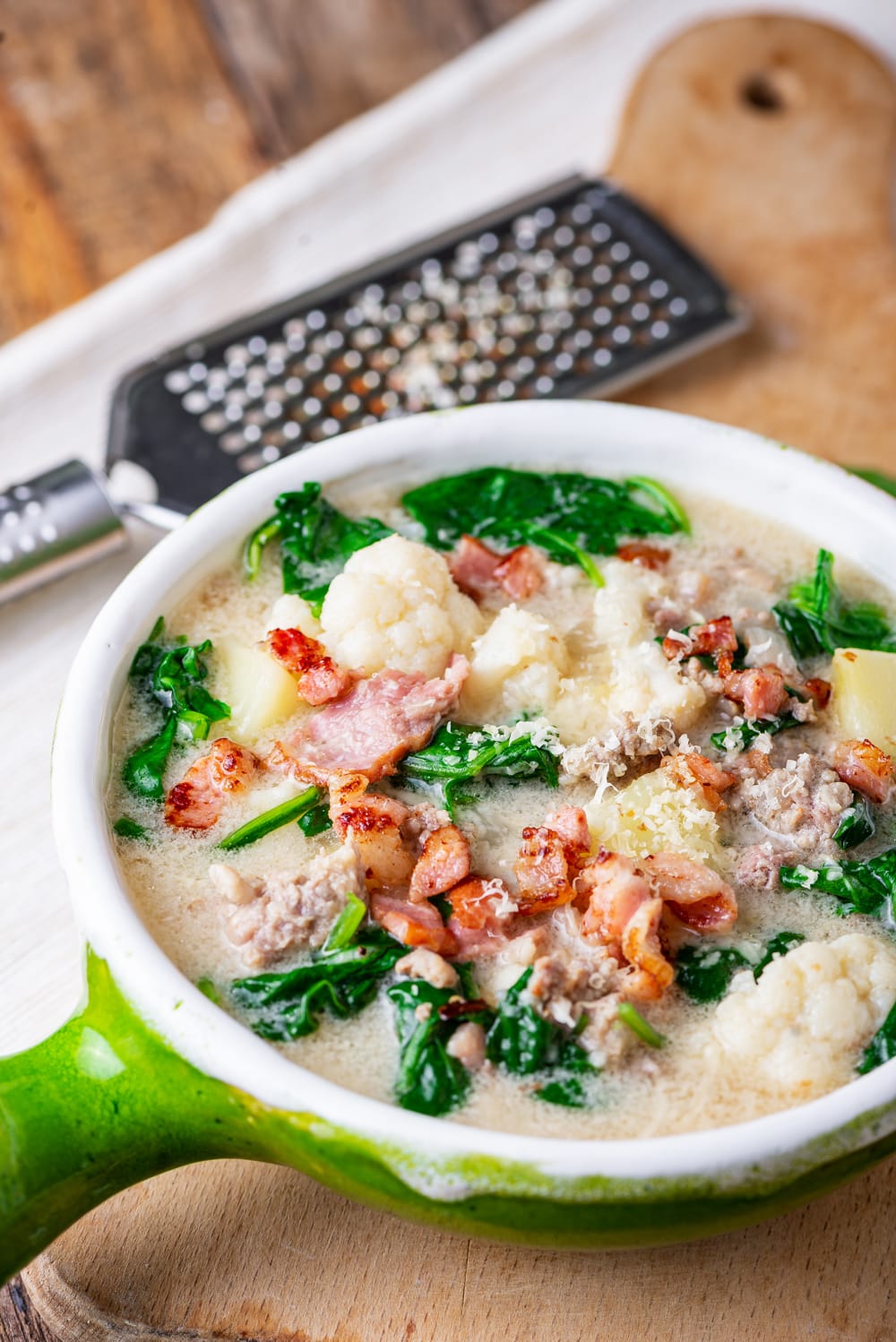 More Keto Soup Recipes
As I'm sure you know, I have PLENTY of keto soup recipes already on the blog.
Here are some of my other favorites:
I hope you give these a shot after you try the zuppa toscana.

And, if you do make this zuppa toscana soup, let me know what you think about it in the comments!
Oh, also, if you're in the mood for a salad to go along with the soup, give this keto cobb salad a go.
Print
Keto Zuppa Toscana | One of The Best Keto Soup Recipes You Can Make
This Keto Zuppa Toscana Soup Recipe is a copycat version of Olive Garden's. It's creamy, savory, and just filled with wholesome goodness. Not to mention, each serving of this Keto Zuppa Toscana Soup has only 4g NET CARBS! Plus, the whole recipe can be made in just one pot for easy cooking and clean up!
Author:
Prep Time:

15

Cook Time:

30

Total Time:

45 minutes

Yield:

6 Cups

Category:

Soups

Method:

Stovetop

Cuisine:

Keto & Low Carb
½

Lb (226g) Italian Sausage, Casing Removed

½

Medium Onion (135g), Chopped

2

Garlic Cloves (10g), Minced

1 Cup

(175g) Cauliflower Florets

1 Cup

(135g) Kohlrabi, Cubed (or

use turnips, rutabagas, or chayote in its place)

4 Cups

(960mL) Chicken Broth

½ Cup

(120mL) Heavy Cream

3 Cups

(90g) Spinach or Kale, Chopped

Salt, To Taste

Black Pepper, To Taste

6

Bacon (90g) Slices, as garnish

Grated Parmesan, as garnish

Crushed Red Pepper, as garnish
Instructions
In a small stockpot over medium-high heat, cook the

bacon until crispy.

Remove the slices and place them on a paper towel-lined plate.

Crumble when cooled, & set aside.

In the same pot over medium-high heat, sauté the garlic and onion in the bacon grease until fragrant.

Add in the sausage and brown - stirring occasionally.

Stir in the kohlrabi, cauliflower, and broth.

Cover and simmer on low - stirring occasionally, for 10-15 minutes or




until the veggies are tender.

Stir in the heavy cream and greens.

Simmer until the greens wilt.

Season with salt and pepper to taste.

Serve topped with grated parmesan, crushed red pepper




and bacon bits.
Notes
***NOTE: The scale up function only scales up the cups and not the gram measurements. If using grams you MUST SCALE THEM UP YOURSELF.
Nutrition
Serving Size:

1 Cup

Calories:

215

Fat:

14

Carbohydrates:

7

Fiber:

3

Protein:

10.5
Keywords: Keto zuppa toscana, keto zuppa toscana soup, zuppa toscana keto, keto zuppa toscana soup recipe, keto soup recipes, how to make keto zuppa toscana, low carb zuppa toscana, easy keto soup recipes, olive garden zuppa toscana soup, zuppa toscana olive garden soup recipe