This low calorie candy list has it all! Whether you're shopping for the little ones or looking for healthy treats to curb your own sweet tooth, you'll find something on this list. From the best low calorie chocolate bars, gummies, hard candy, and chews, there's a tasty and healthy alternative here for all your favorite sweets!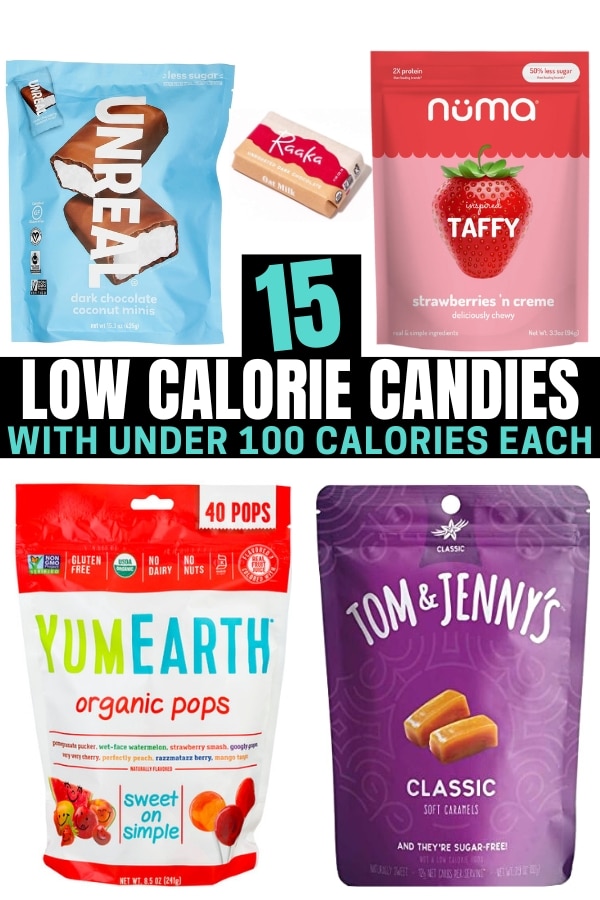 The Best Low Calorie Candies
When it comes to eating a low calorie diet, candy is probably the first thing off your list. A full-size candy bar can have as much as 280 calories, and even smaller candies like jelly beans can go over 110 calories for a serving!
Well, the good news is you don't have to resist your candy cravings to maintain your healthy lifestyle. There are plenty of great alternatives out there that are just as sweet and yummy without the high-calorie count, high fructose corn syrup, or junk ingredients.
The healthy candy in this low calorie shopping guide have just 100 calories or less, with most of them having under 90, and they've got pretty generous portion sizes, too! So, let's not waste another second and jump right in.
Low Calorie Candy Options
1. Dr. John's Healthy Sweets Fresh Fruit Hard Candy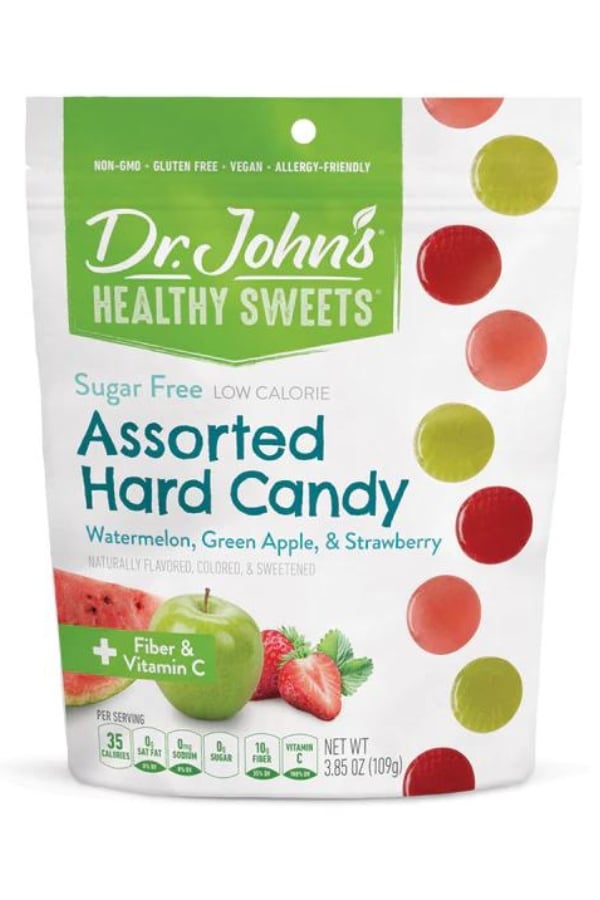 Nutritional info for 4 pieces (18g):
35 Calories
0g Fat
18g Carbs
0g Sugar
10g Fiber
0g Protein
This sugar-free hard candy is the perfect alternative to hard candies filled with sugar or high fructose corn syrup. They're sweetened with natural sugar alcohols, natural flavors, and fruit and vegetable juices, and they come with a good amount of added fiber too. You can also get them in lollipop versions with similarly low calorie counts and great ingredients. Grab a bag and try them here.
2. Raaka Unroasted Dark Chocolate Minis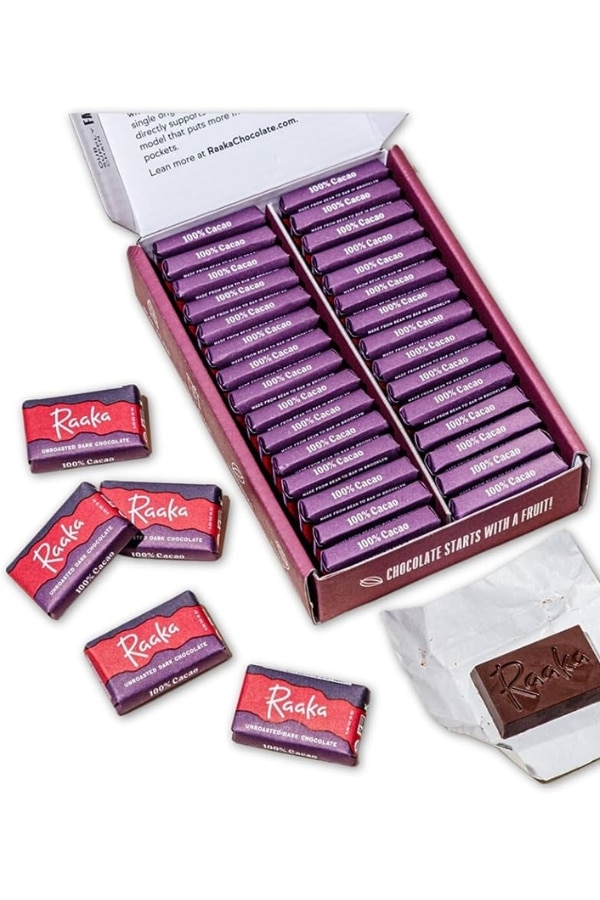 Nutritional info for 1 mini bar (8g):
38 Calories
4g Fat
1g Carbs
1g Sugar
2g Fiber
g Protein
These mini chocolate bars are bite-sized pieces of heaven for any chocolate lover! They're made with unroasted dark chocolate, which preserves the rich dark chocolate flavor without the intense bitterness.
They come in a variety of flavors ranging from ultra-dark 100% cacao to sweeter 58% oat milk chocolate. The best thing about these Raaka chocolates is you can get them in big bars or minis, perfect for any chocolate craving. Choose from a variety of flavors here.
3. Kiss My Keto Gummies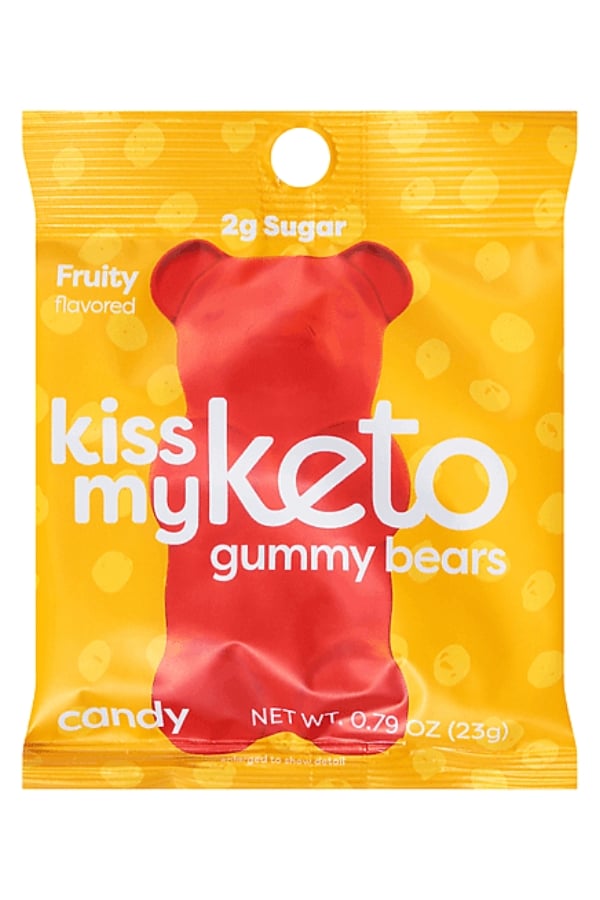 Nutritional Info for 1 bag (23g):
40 Calories
0g Fat
15g Carbs
2g Sugar, 3g Sugar Alcohol
12g Fiber
1g Protein
Whether you're craving gummy bears, cola bottle gummies, peach rings, or even Swedish fish, Kiss My Keto has them all! What's great about these low-calorie gummy candies is that they're also naturally flavored, low carb, and have additional benefits from MCT oil and added fiber.
Plus, there are a ton of different flavors and shapes to choose from, so there's something here for everyone. You can grab the low calorie gummy bears here.
4. YumEarth Organic Pops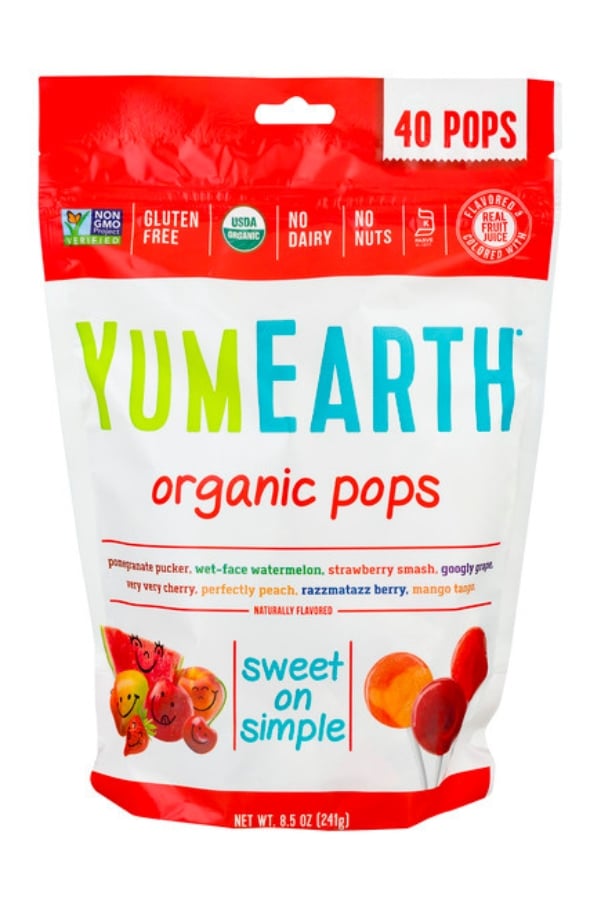 Nutritional Info for 2 pops (12.4g) :
45 Calories
0g Fat
11g Carbs
8g Sugar
0g Fiber
0g Protein
These organic pops from YumEarth are great for stashing in your pantry or for giving out on Halloween. Made with simple ingredients and real fruit juice, they're available in a wide variety of tart and sweet fruity flavors like strawberry, grape, and mango.
Another thing to love about these lollipops is that they're totally allergen-friendly, so everyone can enjoy them. Pick up a bag here.
5. ChocZero Smallows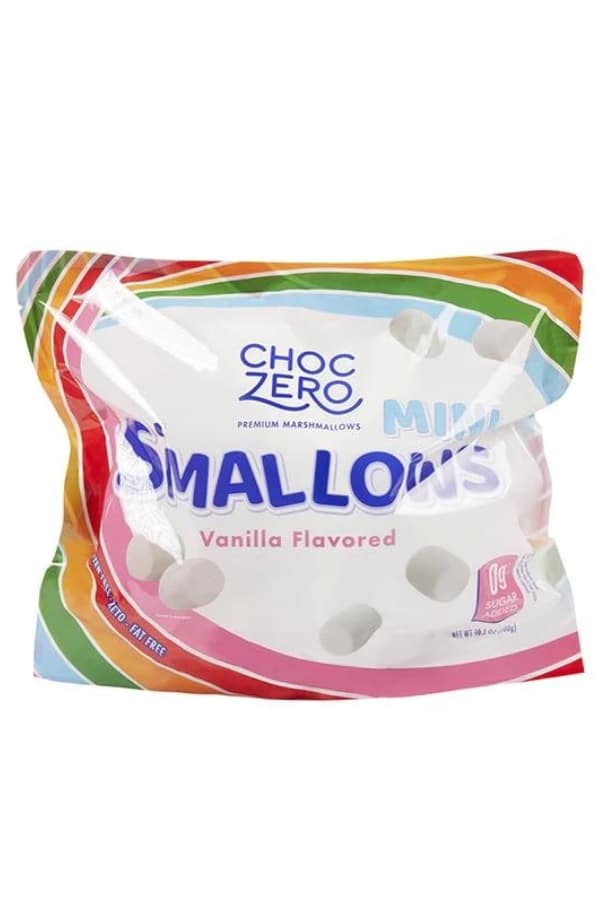 Nutritional Info for 30g:
50 Calories
0g Fat
21g Carbs
0g Sugar
20g Fiber
1g Protein
Level up your smores and hot chocolate with these low carb marshmallows from ChocZero. They're sugar-free and keto-friendly, sweetened with a special monkfruit blend, and made with prebiotic fiber for added gut benefits.
In addition to tasting just like regular sugar marshmallows, they're also great for roasting in the oven or on the campfire and will soften into golden brown, gooey bliss. You can get the regular sized marshmallows here.
6. Tom & Jenny's Classic Soft Caramels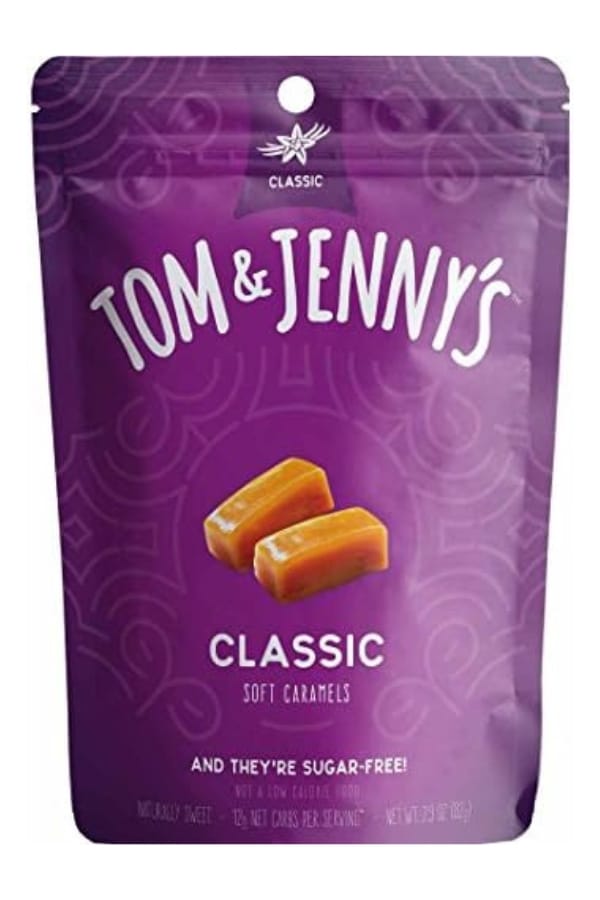 Nutritional Info for 5 pieces (30):
60 Calories
3.5g Fat
14g Carbs
0g Sugar
0g Fiber
0g Protein
If you love snacking on soft and chewy caramels but aren't a fan of all the sugar that's in them, these sugar-free toffee candies are exactly what you need. The team behind them includes a dentist and a James Beard-awarded pastry chef, so you know you're getting the best of the best when it comes to deliciousness, all while protecting your sweet tooth! They come in classic sea salt, chocolate, coffee, ginger, and spiced rum varieties.
7. Better Sour Gummies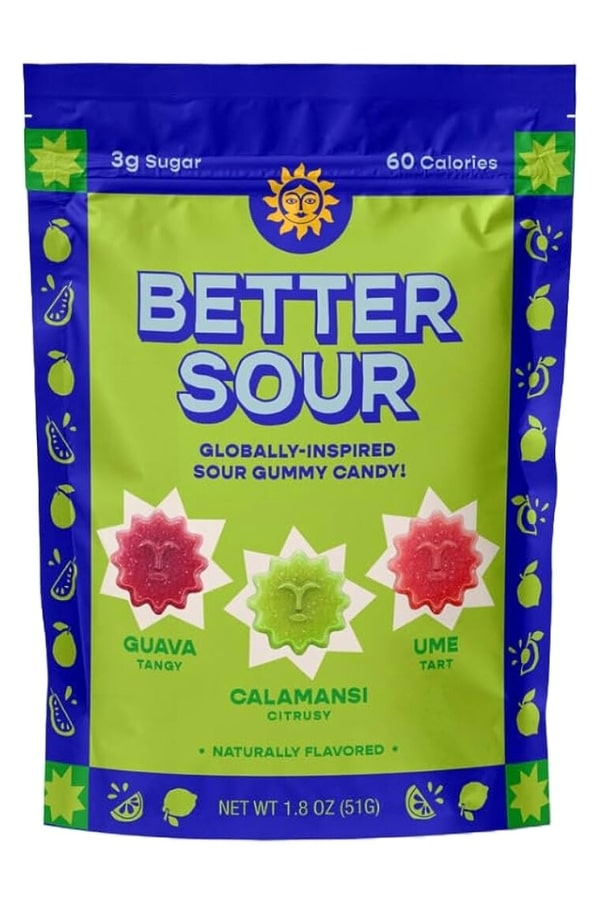 Nutritional Info for 1 bag (51g):
60 Calories
0g Fat
31g Carbs
3g Sugar
13g Fiber
0g Protein
These plant-based sweet and sour gummies are a must-have treat for anyone who grew up loving Sour Patch Kids. These mouthwatering candies come in refreshing flavors you won't see anywhere else, like guava, calamansi, apricot, pomegranate, plum, and ume, but deliver on that familiar tart and sweet combo that makes sour candies so good.
A whole bag comes out to just 60 calories, so you don't have to worry if you accidentally finish the whole thing! Try these low calorie gummies here.
8. Unreal Dark Chocolate Coconut Bars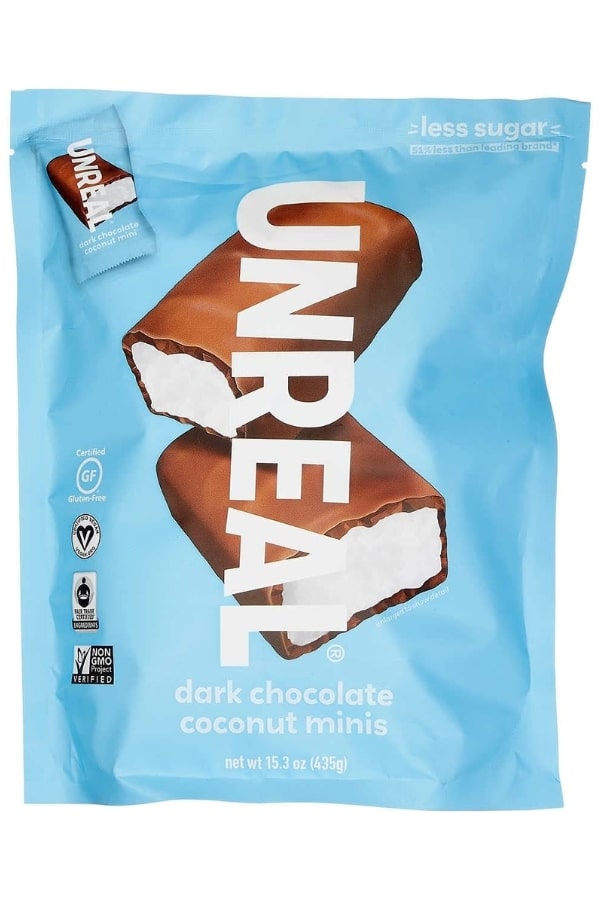 Nutritional Info for 1 bar (15g):
70 Calories
5g Fat
8g Carbs
3g Sugar
1g Fiber
<1g Protein
These chocolate coconut minis are the ultimate on-the-go snack for sugary cravings. It's one of the healthiest candy bar options out there, made with a dark chocolate coating wrapped around a light and chewy coconut filling. They're so delicious and are sweetened naturally with cassava syrup and just a touch of cane sugar. Try this chocolate treat here.
9. Highkey Chocolate Candies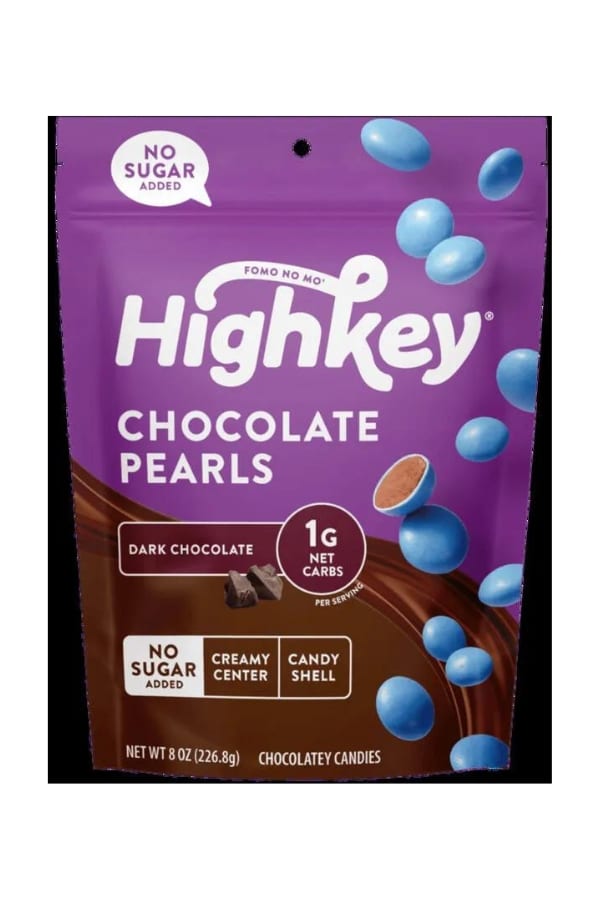 Nutritional Info for 33 pieces (30g):
70 Calories
6g Fat
22g Carbs
0g Sugar
9g Fiber
1g Protein
Keto-friendly, made without artificial flavors or dyes, and boosted with added fiber for a lower carb count, these crispy candy-coated dark chocolate drops are a healthy and tasty dupe for M&Ms. They're great for snacking on their own, tossed into trail mix, or as a topping for low calorie ice cream.
10. Unreal Dark Chocolate Peanut Butter Cups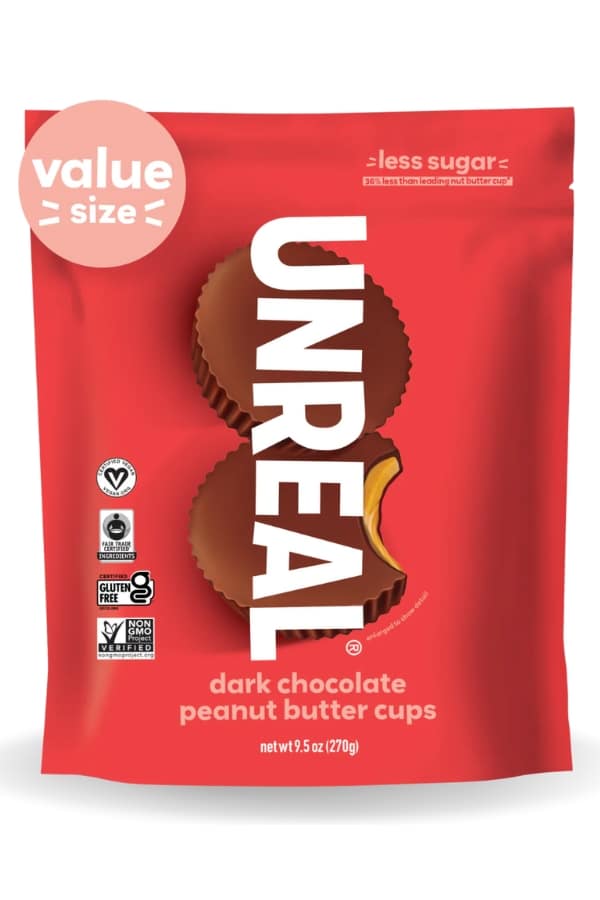 Nutritional Info for 1 cup (15g):
80 Calories
6g Fat
8g Carbs
5g Sugar
1g Fiber
1g Protein
Another banger from Unreal, these are reminiscent of the famous Reese's peanut butter cups but with simple organic ingredients, no artificial sweeteners, and less sugar per serving. Each individually wrapped peanut butter cup has a fraction of the calories compared to the regular kind and is packed with so much nutty, chocolatey goodness without being overly sweet.
You can get the original flavor here. They also come in almond butter cups that are every bit as delicious with great ingredients, so you'll want to give those a try too.
11. Russel Stover Sugar Free Fruit Chews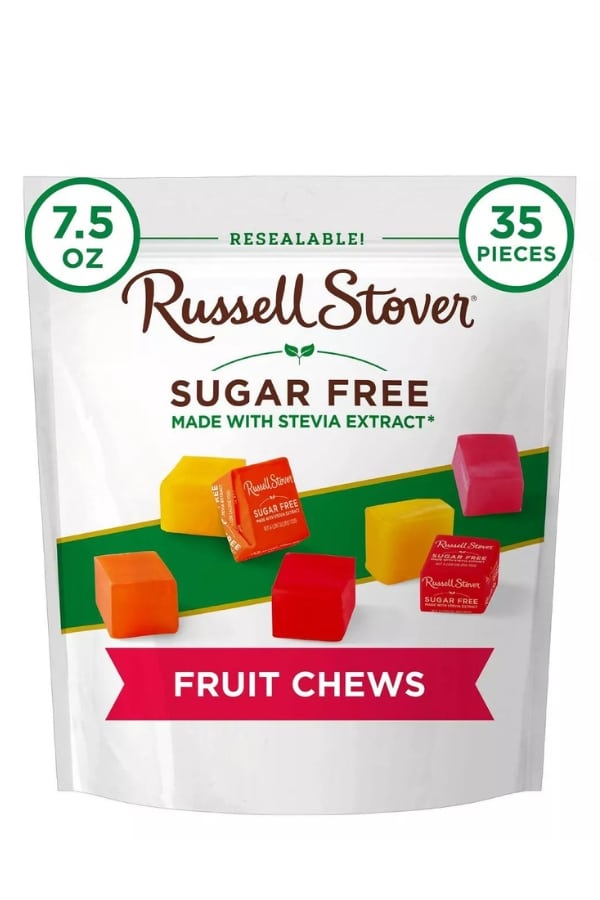 Nutritional Info for 5 pieces:
80 Calories
2.5g Fat
26g Carbs
0g Sugar
0g Fiber
0g Protein
If you like Starburst, you'll love these sugar free fruit chews! They have the same fruity flavor and chewy texture as Starburst but with no sugar! And the best part is there are 5 fruit chews per serving, so you could even have a few servings while still keeping this delicious fruit candy snack low calorie. Grab some bags of the assorted flavors here.
12. Oomph Mini Chews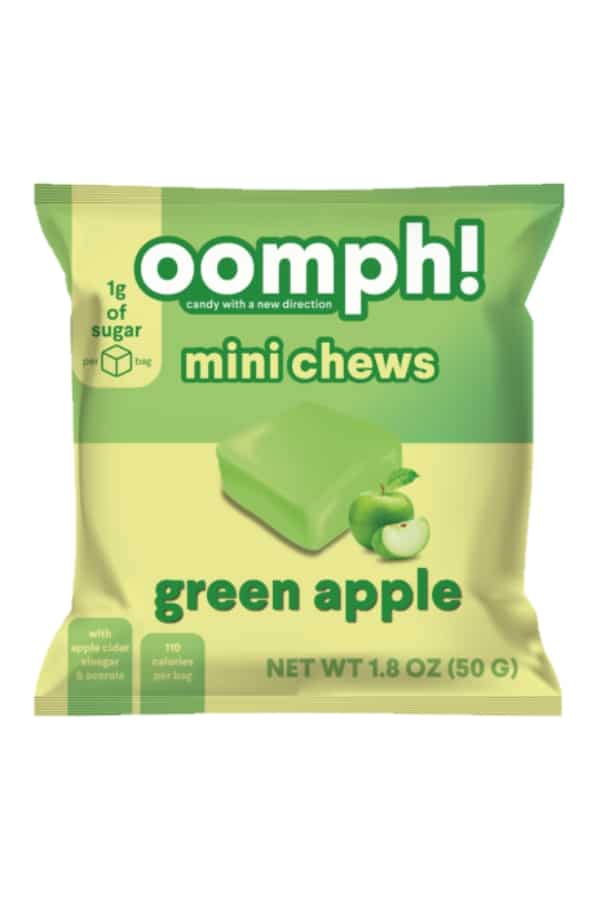 Nutritional Info for 1 bag (50g):
90 Calories
5g Fat
38g Carbs
1g Sugar
22g Fiber
0g Protein
These fruit chews are like a cross between chewy toffee and fruity candy in the best way possible. They're soft and perfectly sweetened with apple cider vinegar and vitamin C-packed acerola cherry for added health benefits. A whole bag of these mini chews has only 90 calories or about 9 calories per piece. They come in green apple, lemon, and passion fruit, as well as dark chocolate chews with a touch of functional lion's mane mushroom. You can try all three flavors here.
13. Smart Sweets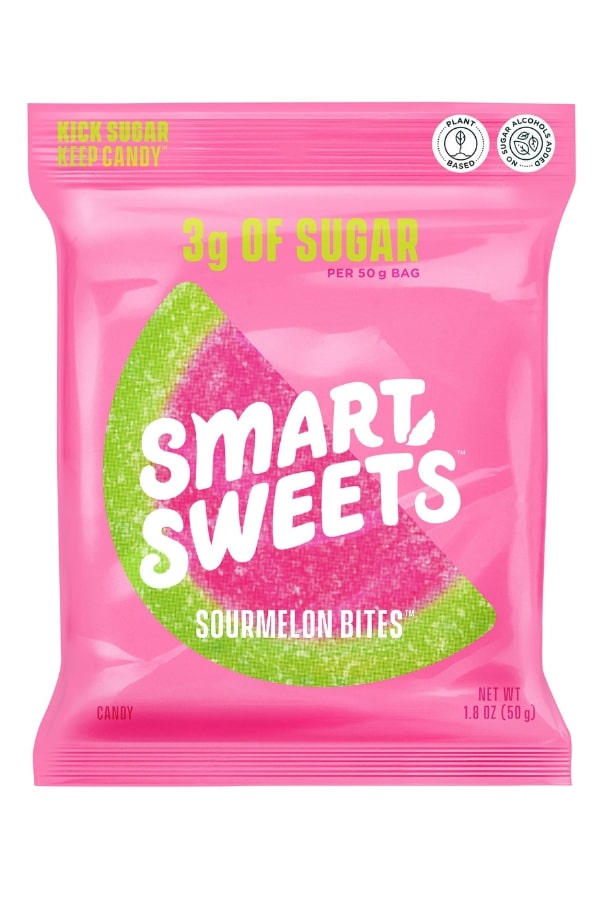 Nutritional Info for 1 bag (50g):
100 Calories
0g Fat
42g Carbs
3g Sugar
13g Fiber
0g Protein
Adding to our list of fantastic low calorie gummies, another great option is these ones from Smart Sweets. These come in all the best gummy flavors and shapes and are made with simple ingredients. Plus, they're sweetened with naturally occurring allulose, which is perfect if you want something with no pure sugar and no sugar alcohols. Grab a variety pack of all seven flavors here.
14. Numa Taffy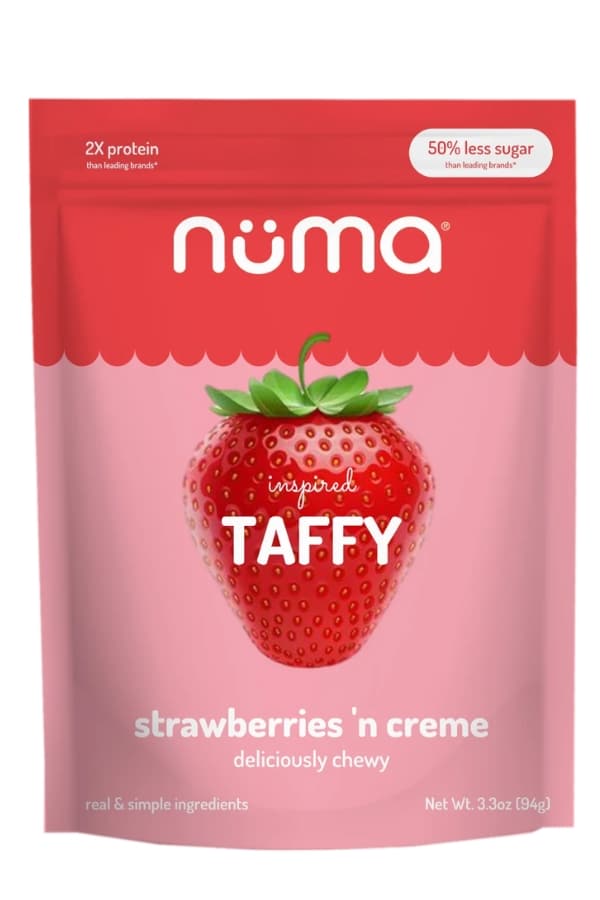 Nutritional Info for 3 pieces (28g):
100 Calories
2g Fat
19g Carbs
8g Sugar
4g Fiber
2g Protein
Chewy, creamy, and full of flavor, these nougat taffies are everything. These individually wrapped minis have about half the sugar compared to regular taffies and will have you feeling so much better thanks to the wholesome ingredients. You can get them in vanilla, strawberries and cream, banana cream, coffee, and a dairy-free creamy coconut option here.
15. Little Secrets Salted Caramel Nougat Bars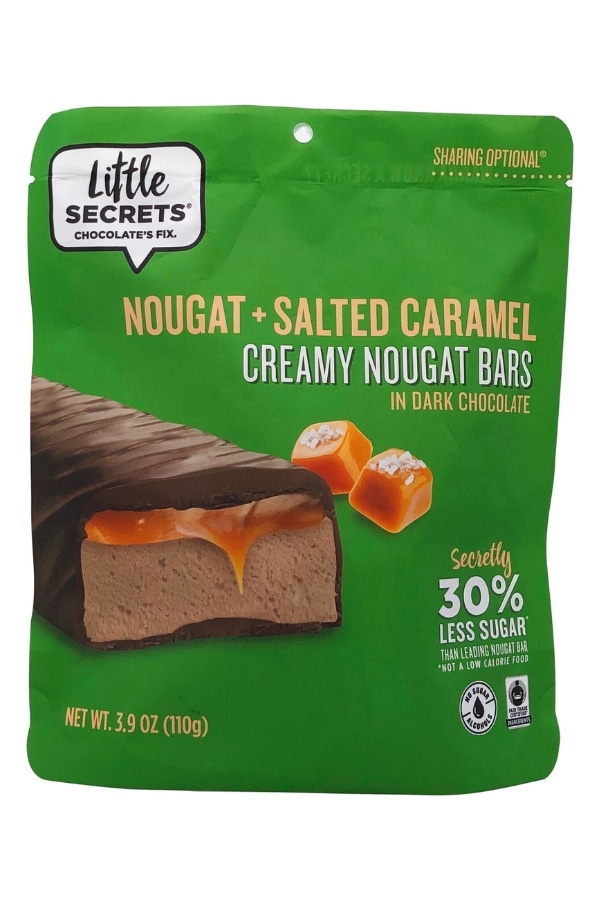 Nutritional Info for 1 bar (22g):
100 Calories
5g Fat
12g Carbs
9g Sugar
2g Fiber
1g Protein
These chocolatey caramel nougat bars are as delicious as it gets. With a layer of milky nougat topped with salted caramel and fully coated with rich dark chocolate, you won't find a more indulgent treat for your sweet tooth. The best part is each of these fun-sized snack bars has just 100 calories, though you might not believe it because of how incredibly good these are! Grab a big pack of six bags here.
More Low Calorie Lists