This keto chocolate cake is so rich, moist, and deeply chocolatey. It's ideal for birthday parties, family get-togethers, or just an indulgent weeknight dessert. And the best part is each slice of this keto chocolate cake has under 2 NET CARBS!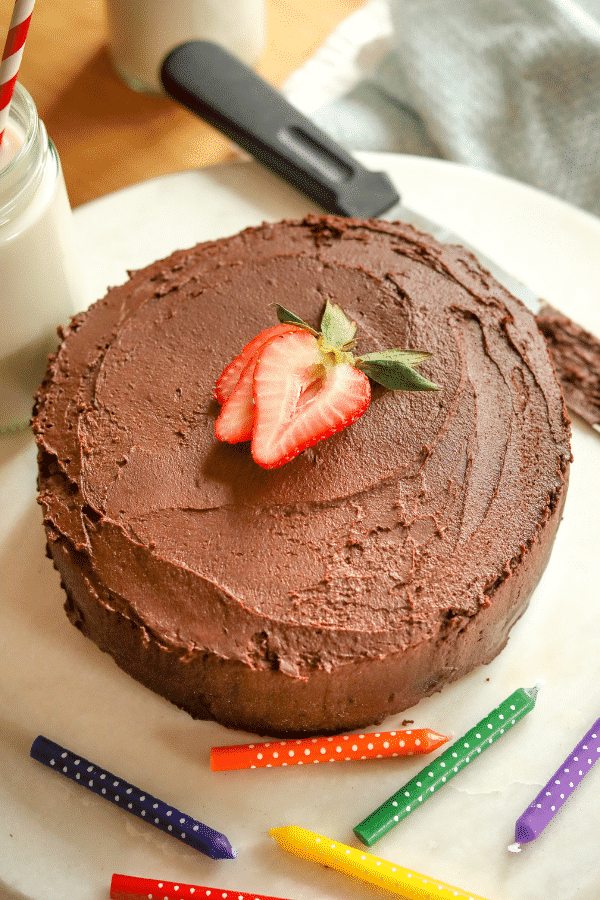 The BEST Keto Chocolate Cake
A Keto Chocolate Cake recipe simply doesn't get better than this one!
And you know I love a good keto cake recipe.
I mean I've made a TON of low carb keto mug cakes, like this no flour chocolate mug cake, Oreo mug cake, and cinnamon roll mug cake. But this recipe literally "takes the cake."
Seriously though, this keto chocolate cake is rich, decadent, and incredibly moist. Not to mention, it's easy to make too!
But, in my mind, what makes this THE BEST Keto Chocolate Cake Recipe is the fact that each slice only has 1.5g NET CARBS.
With that being said, the sugar free chocolate butter cream frosting is optional. But, if you decide to add it, each slice still will only have 2.5g NET CARBS! You seriously won't find a better keto birthday cake than this.
Now, this chocolate keto cake recipe is one that everyone will love, making it perfect for parties. And I guarantee that no one will be able to guess that this is a keto chocolate cake!
Ingredients
So, to make this keto chocolate cake, you'll need just a few simple and common keto baking ingredients. And I can almost guarantee you have everything you need on hand already!
Here's what you need to make this keto chocolate cake:
1 ¾ Cup Blanched Almond Flour

⅓ Cup Unsweetened Cocoa Powder

⅔ Cup Confectioners Swerve

¾ Tsp Baking Soda

¾ Tsp Baking Powder

Pinch of Salt

3 Eggs (room temperature)

2 ½ Tbsps Melted Coconut Oil

Heaping ¼ Cup Unsweetened Vanilla Almond Milk

1 Tsp Vanilla Extract
And for the optional buttercream frosting:
2 Sticks Butter (room temperature)
Just less than 1 Cup Confectioners Swerve
1 Cup Unsweetened Cocoa Powder
½ Cup Vanilla Unsweetened Almond Milk
Now, I know the ingredient list may look long at first, but I promise they're all ingredients you've probably used before. Especially if you've made some of my other keto cake recipes like this yogurt keto chocolate cake.
How To Make Keto Cake (Video)
So, like I said, this sugar free chocolate cake is an unbelievably easy keto recipe.
All you have to do is add all of the ingredients to a large bowl, mix everything up, and then bake it for 20-25 minutes. And if you can believe this, making the Keto Chocolate Buttercream Frosting to top the cake with is even easier!
Now, typically you'd use a standard cake pan to make a cake. But I actually recommend using a 7" springform pan to make this keto chocolate cake.
The springform pan is higher than you're average cake pan, and this keto cake rises quite a bit. So, it's important to have that extra room in the pan.
By the way, a good indicator that the cake is done, is when it separates itself from the edge of the pan.
Tips On How To Make Keto Chocolate Cake As Low Carb As Possible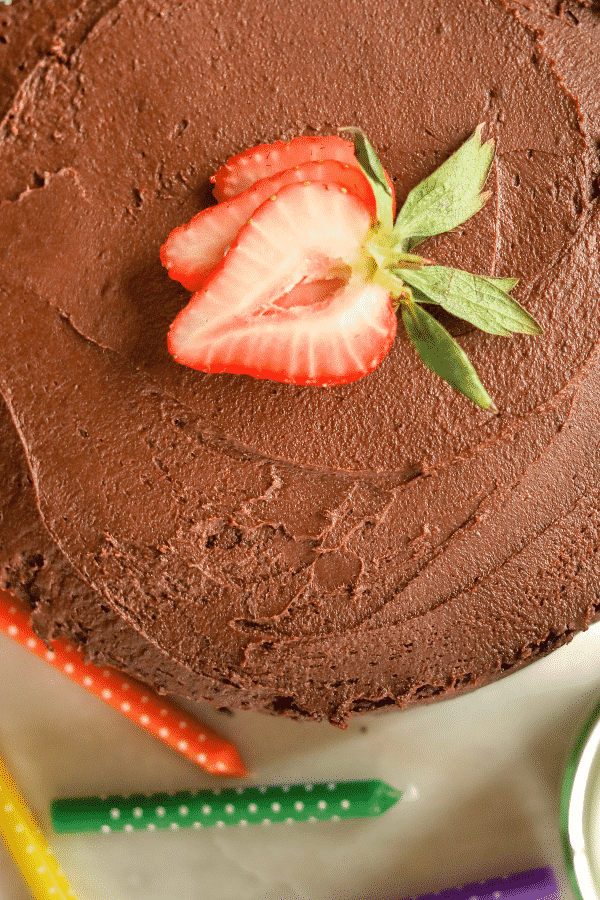 Chocolate cake isn't something that is usually sugar free, low carb, or even keto friendly for that matter.
I mean, cake is basically all sugar...and maybe some fat too.
Replacing The Sugar
With that being said, in order to make a sugar free chocolate cake you'll need to use some alternative ingredients.
And all that means is that you'll be using low carb ingredients to replace the higher carb ones to make this a low carb chocolate cake.
So, all that means you'll be swapping out "regular" flour for blanched almond flour, and sugar forConfectioners Swerve.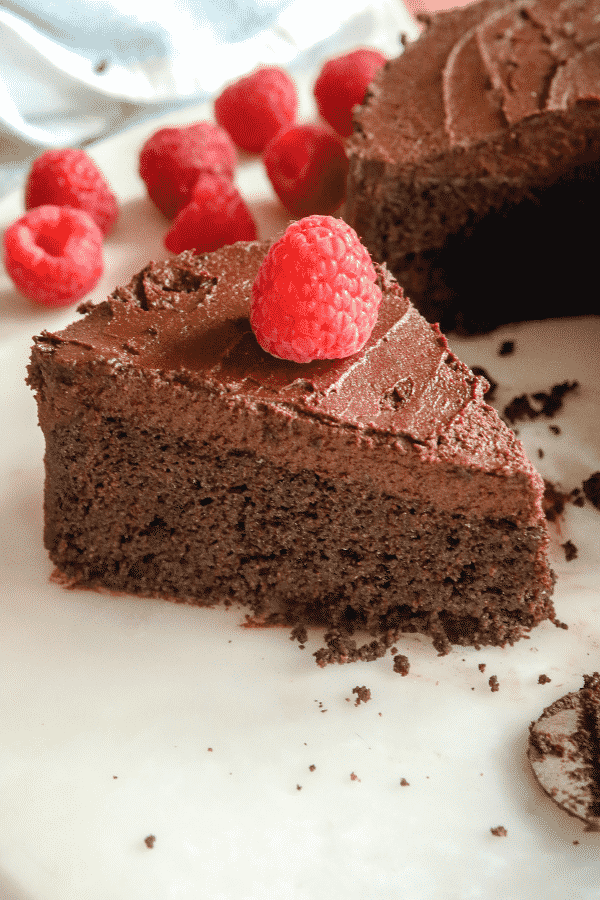 If you've never heard of Swerve, it's basically a sugar replacement that has 0 NET CARBS and 0 CALORIES.
That makes it an ideal sugar free substitute for people following a low carb diet like keto. And especially important to make this a sugar free chocolate cake.
It's also important to mention that Swerve is as sweet as sugar.
Other sugar free substitutes are often sweeter than sugar.
For instance, stevia in it's purest form is 300 times sweeter than sugar. So, it's not an ideal replacement for Swerve.
Also, many companies mix stevia with maltodextrin or dextrose - both of which are sugar - and brand it as having 0 calories.
However, what they're really doing is using the FDA's loose guidelines for serving-sizes to make it appear this way.
Most of the time you'll see on these packages a serving size is LESS THAN 1g. And pretty much anything under 1 gram has 0 calories.
These "stevias" are definitely NOT keto-friendly. So, don't fall for this sneaky marketing tactic.
Also worth mentioning is that erythritol in it's purest form is only 70% as sweet as sugar.
Many people think Swerve is pure erythritol, but it isn't. And if you use pure erythritol to make this cake it won't be sweet enough.
Having said all of that, I STRONGLY encourage you to just use Confectioners Swerve to make this Keto Chocolate Cake.
It's the only way I can guarantee you'll have delicious results making it.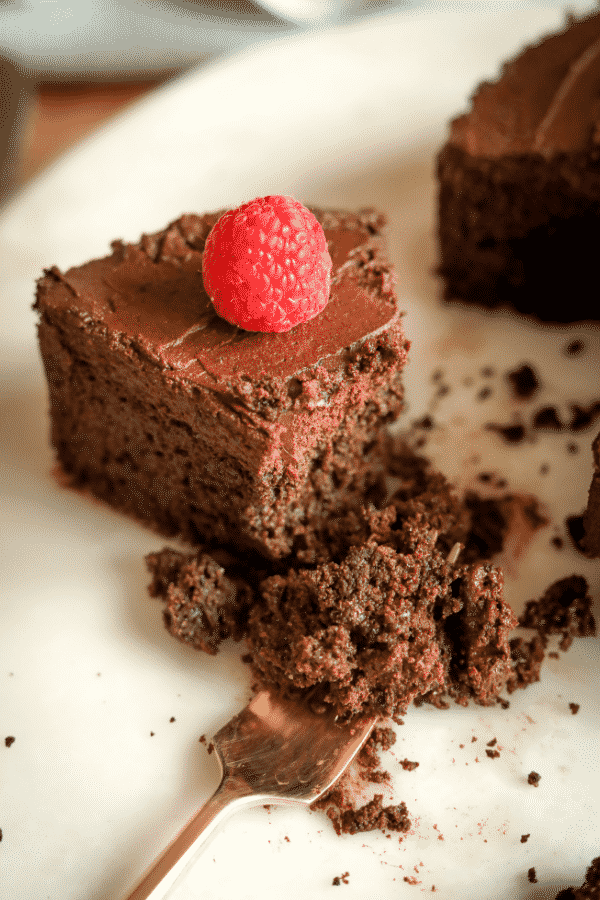 Replacing The Flour
As I mentioned briefly earlier, you'll also want to skip normal white or wheat flour when making this low carb chocolate cake.
Instead, you'll want to use blanched almond flour.
And if you need to pick up Blanched Almond Flour, my favorite is the Blue Diamon almond flour, but any works great to make the best keto chocolate cake ever!
I not only use it in today's recipe, but I use it in a ton of other low carb recipes like to make these keto chocolate chip cookies and keto lemon bars.
Oh, and make sure that you DO NOT substitute the almond flour for coconut flour to make the cake batter.
Coconut flour is highly absorbant and will dry the cake out, ruining the taste and texture. If you want to the best keto chocolate cake, stick to almond flour or you can equally substitute it out with sunflower seed flour or walnut flour.
More Keto Cake Recipes
If you liked this low carb chocolate cake, I have a ton of other keto cake recipes on the blog that I think you'll like just as much!
Give one of these a try next:
Keto Chocolate Cake | The BEST Easy Low Carb Cake Recipe For Keto
Keto Chocolate Cake! One of the BEST - if not THE BEST - easy low carb chocolate cake recipes you'll ever make. This keto cake is so rich, so decadent, and SO MOIST, you won't even believe it's keto. Plus, each slice of this keto cake has just 1.5g NET CARBS.
Author:
Prep Time:

10

Cook Time:

20

Total Time:

30 minutes

Yield:

16 Slices

Category:

Dessert
Instructions
Preheat your oven to 350 Degrees.
Takeout the eggs and butter, and start bringing them up to room temperature.
Now, start adding all of the dry ingredients for the keto chocolate cake to a large bowl.
NOTE: I highly recommend weighing the ingredients out to the gram on a food scale for best results!
Mix and combine the dry ingredients, and then add the wet ingredients.
Fold the wet ingredients into the dry ingredients until a thick cake batter forms.
Once it does, coat a 7" springform pan with baking spray and add the cake batter to the pan.
Once you've added the batter, spread it out evenly in the pan, and then bake it in the oven for 20-25 minutes.
The cake will be done when the edges of the cake just start to pull away from the pan itself.
While the cake is baking, make the frosting...if you're making the frosting.
So, in a large bowl add the butter and then cream it with a hand mixer.
Once the butter is creamed, add all of the other ingredients into the bowl, and then fold them into one another until a thick frosting forms.
Now, when the cake is done baking let it cool down in the pan itself.
Once it's cool, remover the outer ring of the springform pan, and then transfer the cake to a plate/cake stand flipping it upside down in the process.
Now, add the frosting, and use a frosting spatula to evenly distribute it around the keto cake.
Once the frosting is applied, the cake is done!
Enjoy
Notes
*NOTE: Macros don't account for the Confectioners Swerve, it has ZERO CALORIES and 0 NET CARBS. The macros also do not include the Keto Chocolate Buttercream Frosting as it is optional.
Remember to subtract the fiber from the carbs to get NET CARBS per slice....
3.5g Carbs - 2g Fiber = 1.5g NET CARBS
Nutrition
Serving Size:

1 Slice

Calories:

105

Fat:

9

Carbohydrates:

3.5

Fiber:

2

Protein:

4
Keywords: Keto Cake, Keto Chocolate Cake, Cake Keto, low carb cake, keto cake recipes, low carb cake recipes, how to make keto cake, how to make low carb cake, easy keto cake, best keto cake