If you're looking for the best low calorie fruit options out there, then you've come to the right place. This list is compiled of 20 different fruits that have less than 70 calories per serving. Some of the fruits on this list even are as low 30 calories per serving. So, if you're looking for a snack without all the empty calories, give one of these fruits a shot!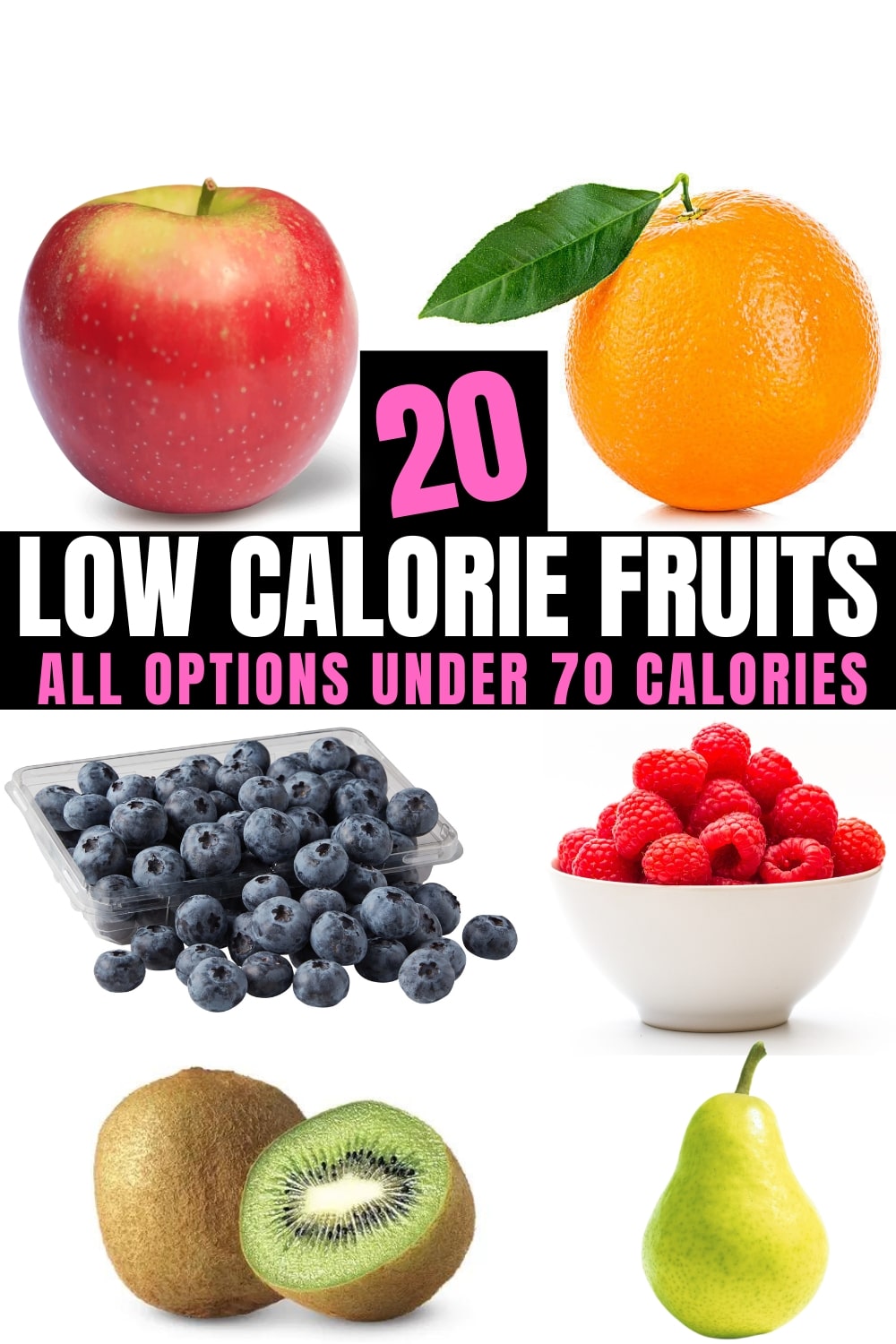 The Best Low Calorie Fruit
Fresh fruit is always a fantastic choice when you're in the mood for a low calorie treat. In addition to helping you lose weight, fruits are also packed with health benefits such as dietary fiber, essential vitamins, and minerals that'll keep you looking and feeling your best.
That said, while fruits are generally lower in calories than processed snacks and desserts, some fruits are lower in calories than others and are a better pick for helping you achieve your weight loss goals. So, in this list, I'll be going over the 20 best low calorie fruits you can eat, all below 70 calories for 100 grams.
Now, let's not waste another second and dive right into the list!
The Lowest Calorie Fruits to Eat
1. Watermelon
Calories per 100 grams: 30
Besides being one of the lowest calorie fruits you can eat, watermelon also happens to be one of the most hydrating since it's made up of more than 90% water.
It's also rich in heart-healthy lycopene and is a good source of citrulline, an amino acid that may improve your blood flow, exercise performance, and muscle soreness after a workout.
However, with all of that said, it's worth noting that watermelon is a high-glycemic fruit, so you'll want to limit your intake if you're trying to control your blood sugar.
2. Strawberries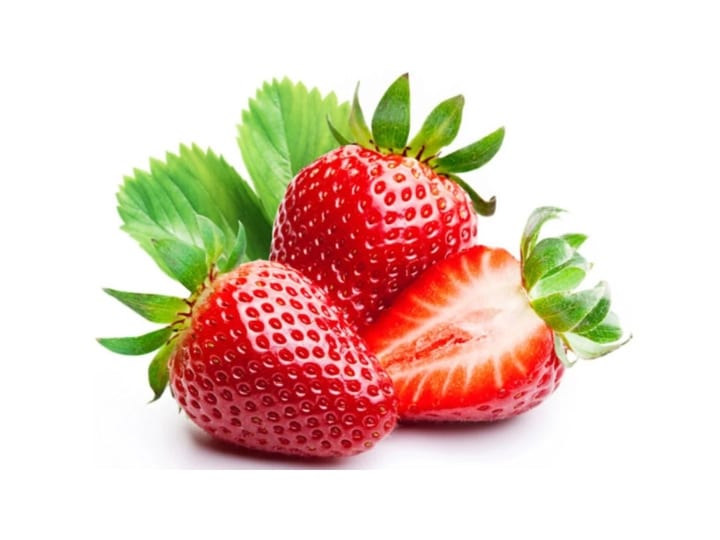 Calories per 100 grams: 32
This sweet and juicy low calorie berry is one of the most popular toppings for yogurt, oatmeal, and granola. They are also an excellent source of vitamin C. In fact, strawberries even have a higher concentration of vitamin C than oranges.
Also, they've been shown to help maintain a healthy metabolism, regulate blood sugar, and maintain heart health.
3. Grapefruit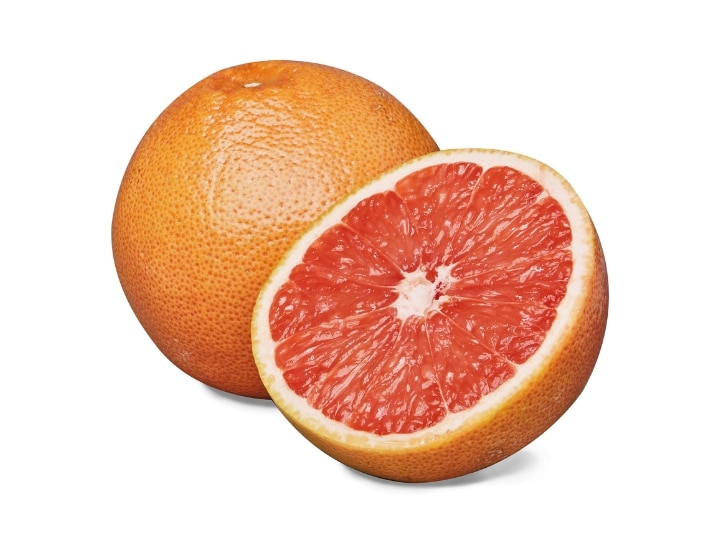 Calories per 100 grams: 32
This large citrus fruit is a great low calorie addition to any breakfast and also makes a tasty midday snack. Half a grapefruit is enough to fill you up between meals and contains only 50 grams of calories.
Grapefruits are also very low on the glycemic index, meaning they're excellent for controlling blood sugar.
4. Cantaloupe
Calories per 100 grams: 34
Cantaloupe has a high water content just like watermelon, and it has almost as much vitamin C per serving as oranges. In addition, it also has a ton of beta-carotene which is beneficial for eye health.
5. Honeydew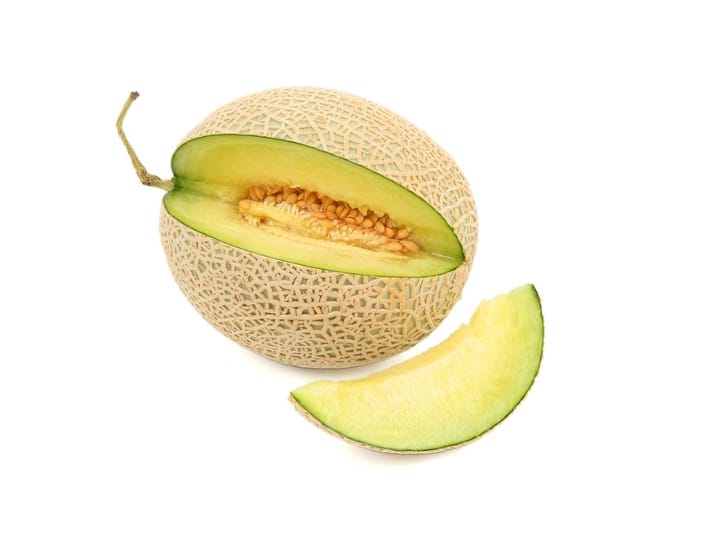 Calories per 100 grams: 36
Sweet and juicy honeydew is another delicious low calorie melon that's worth adding to your diet.
Just like watermelons and cantaloupes, honeydew melons are mostly water and are packed with electrolytes. Making a quick honeydew smoothie is a better and healthier way to keep hydrated after your workout instead of the usual sugary store-bought electrolyte drinks.
6. Peaches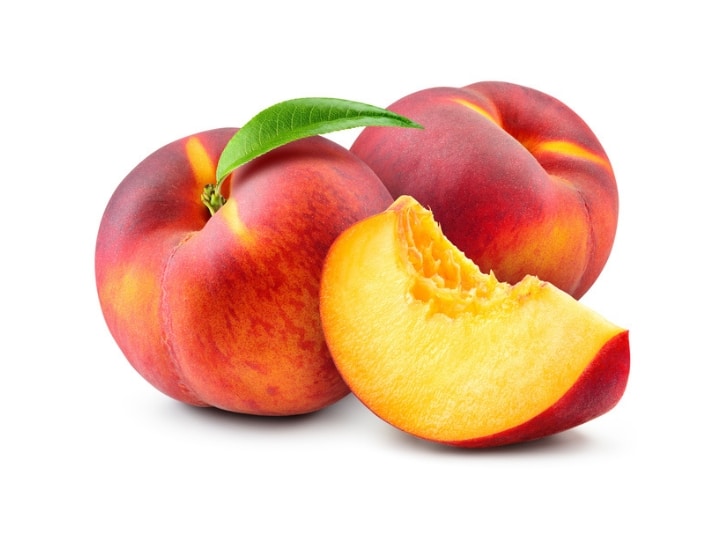 Calories per 100 grams: 39
Peaches are just as delicious eaten fresh off the tree as they are grilled and added to a summer salad. One of my favorite things to do with them is to air fry them and then top them with some low calorie vanilla ice cream. If you've never tried that before, I can't recommend it enough.
7. Papaya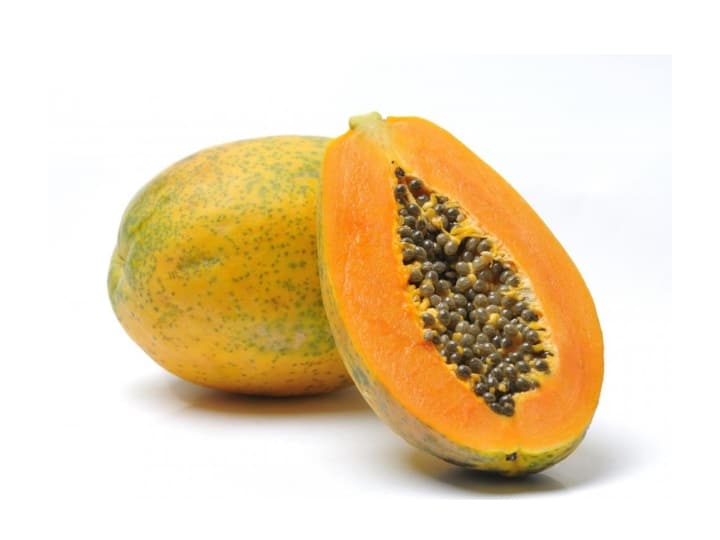 Calories per 100 grams: 43
In addition to being low in calories, this tropical fruit is also a superfood packed with vitamin C, beta-carotene, and vitamin E.
Papaya also makes a great after-meal snack since it's rich in papain, an enzyme that aids in digestion and helps break down protein.
8. Blackberries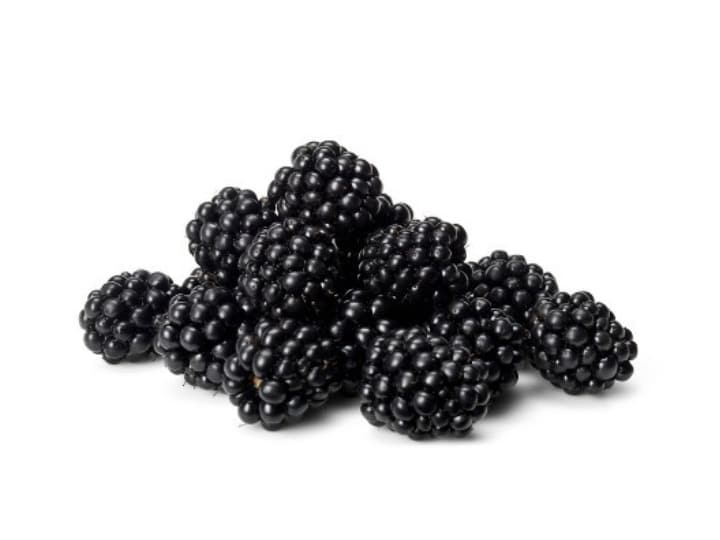 Calories per 100 grams: 43
Just like strawberries, blackberries are a nutritious low calorie fruit perfect for boosting your breakfast spread.
Blackberries are higher in dietary fiber than other berries, with more than double the fiber per serving than both strawberries and blueberries. So, they're great for keeping you full without adding extra calories.
9. Plums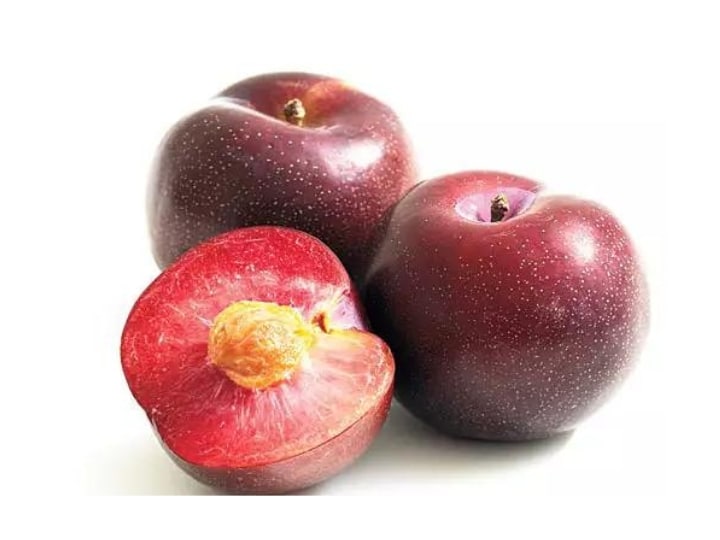 Calories per 100 grams: 46
Plums are another good source of vitamin C and are rich in polyphenols, an antioxidant that promotes heart and bone health.
They can also help regulate blood sugar and can ease constipation thanks to a high amount of sorbitol, a natural sugar alcohol, and laxative.
10. Oranges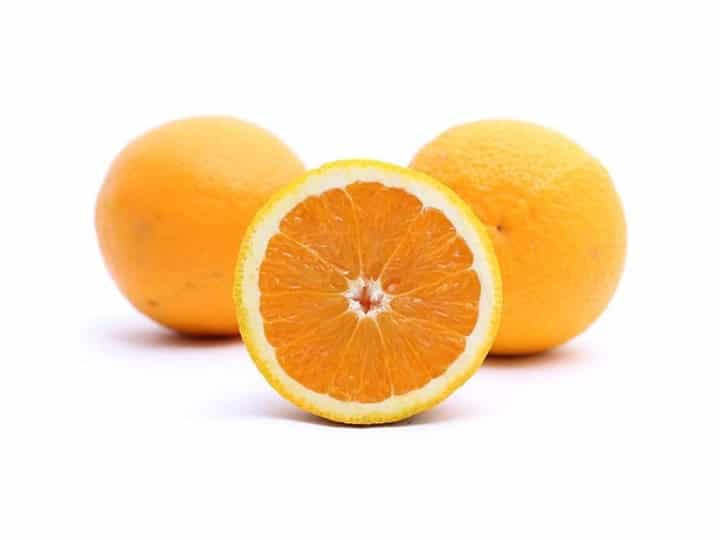 Calories per 100 grams: 47
Oranges are definitely one of the most widely available and popular fruits, and for a good reason. These antioxidant-rich fruits are packed with anti-inflammatory flavonoids, immune system-boosting carotenoids, and of course, lots of vitamin C.
They're also one of the most satiating fruits you can eat. That means they'll keep you full for longer after you eat them more than most other fruits. Also, for this reason - and because oranges are so low in calories - they made it onto my list of the best low calorie foods you can eat!
11. Apricots
Calories per 100 grams: 48
Fresh apricots are a great low calorie snack if you have a big sweet tooth. They're deliciously sweet yet still low in calories and have a low glycemic index score. So, they can satisfy all your sugary cravings without spiking your blood sugar and calorie count.
12. Cherries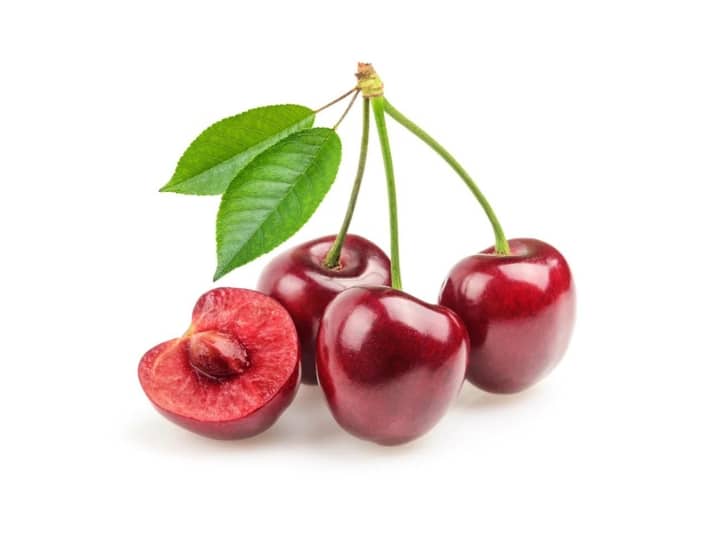 Calories per 100 grams: 50
Cherries are another fantastic low calorie fruit option for anyone with a sweet tooth. They also have a low glycemic index score, so if you're trying to keep your blood sugar in check, they're a great fruit option to go with and do that.
You can enjoy them fresh or frozen, and they're great for topping yogurt bowls or blending into smoothies.
13. Pineapple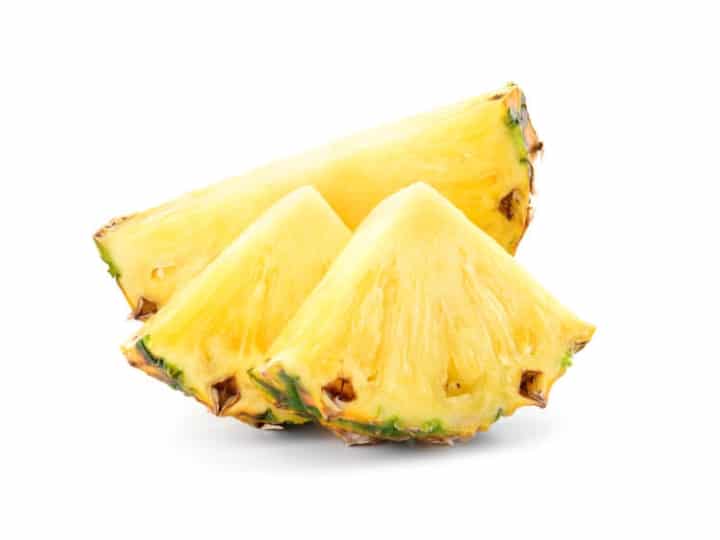 Calories per 100 grams: 50
This juicy tropical fruit is one of the highest sources of manganese on this list. Manganese is beneficial for bone health and blood sugar regulation and is important in helping your body metabolize the nutrients it receives.
Additionally, pineapple is a great source of vitamin C and is one of the only sources of bromelain, an enzyme that helps enhance muscle recovery and reduce muscle soreness.
14. Raspberries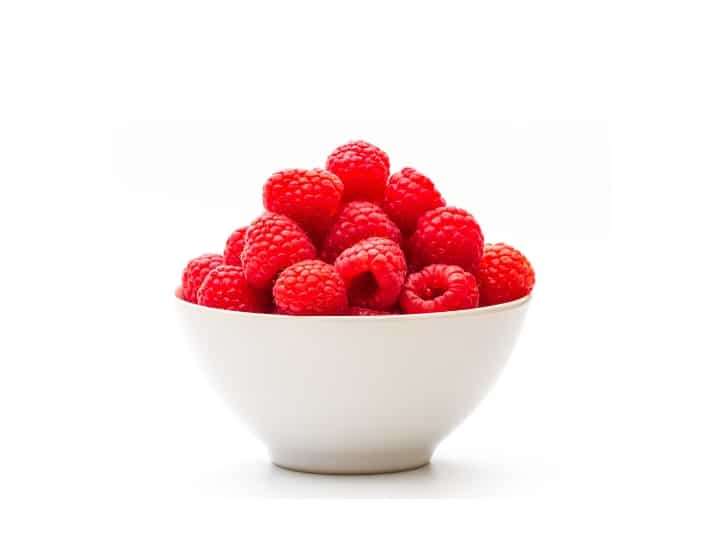 Calories per 100 grams: 52
Raspberries are a great healthy addition to any yogurt parfait, oatmeal, or smoothie bowl, especially because each raspberry only has about 1 calorie.
Just like the other berries on this list, raspberries are full of vitamin C, manganese, and other beneficial antioxidants. Oh, and for what it's worth, they're also higher in fiber than blueberries and strawberries.
15. Apples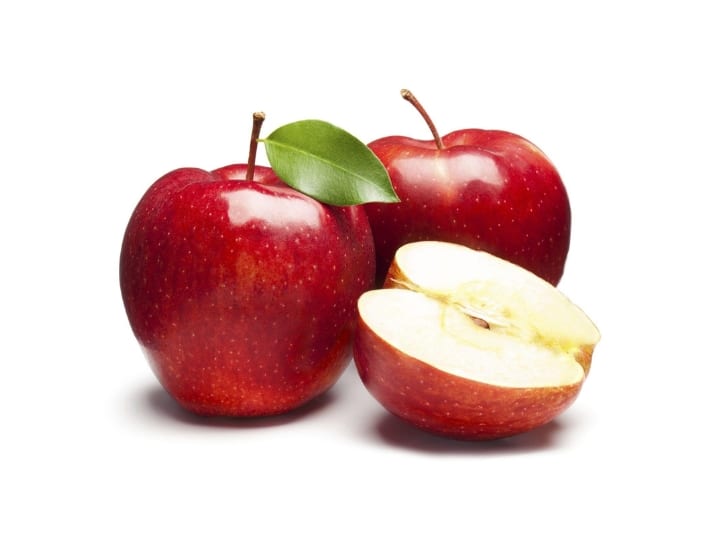 Calories per 100 grams: 52
Apples taste great on their own, but they're also a super tasty addition to oatmeal, yogurt, and smoothie bowls - just make sure to avoid the core!
They're also really good for you - apples are rich in antioxidants and high in fiber. Studies have even shown that the polyphenols found in apples can help prevent several different health problems - such as heart disease, cancer, diabetes, and some neurodegenerative diseases as well.
Apples are also high in fiber and will help keep you full and satiated after breakfast or between meals.
16. Pears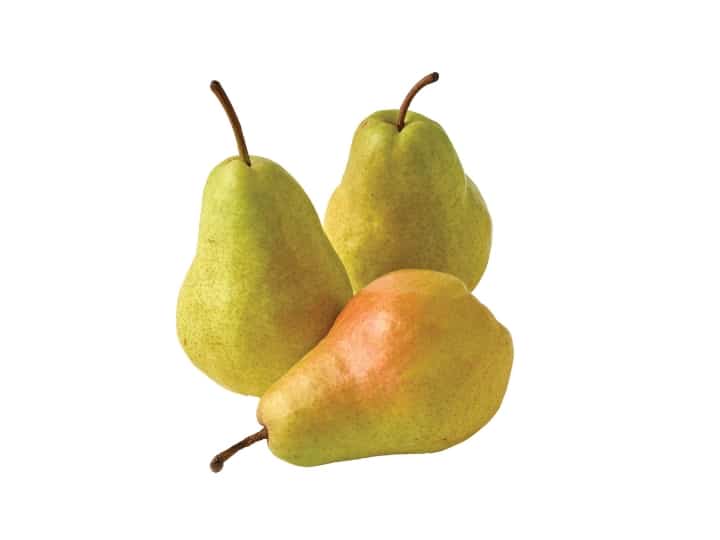 Calories per 100 grams: 57
Just like apples, pears are a satisfyingly crunchy and juicy fruit that makes a great weight loss snack. Pears are also great for maintaining digestive health and regular bowel movements, thanks to their high levels of pectin.
17. Blueberries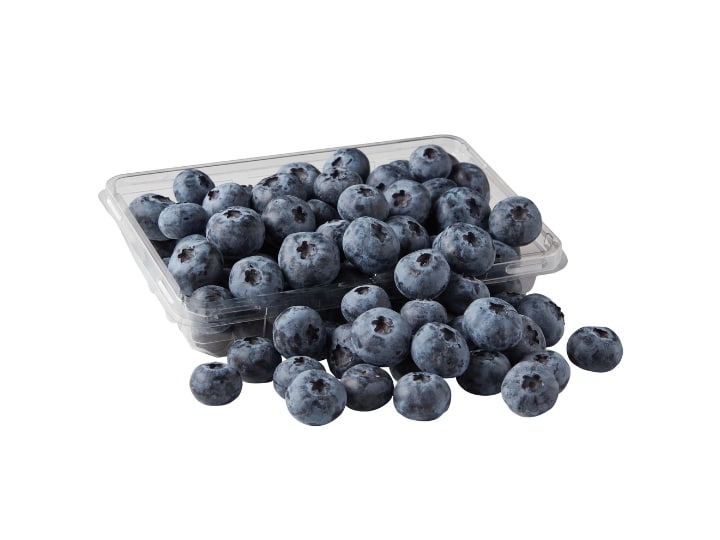 Calories per 100 grams: 57
Though slightly higher in calories than the other berries on this list, blueberries are still a wonderful low calorie fruit with a lot to offer.
Blueberries are one of the richest sources of antioxidants, and they're also high in vitamin K - a nutrient that can support weight loss, particularly abdominal and visceral fat.
18. Dragon fruit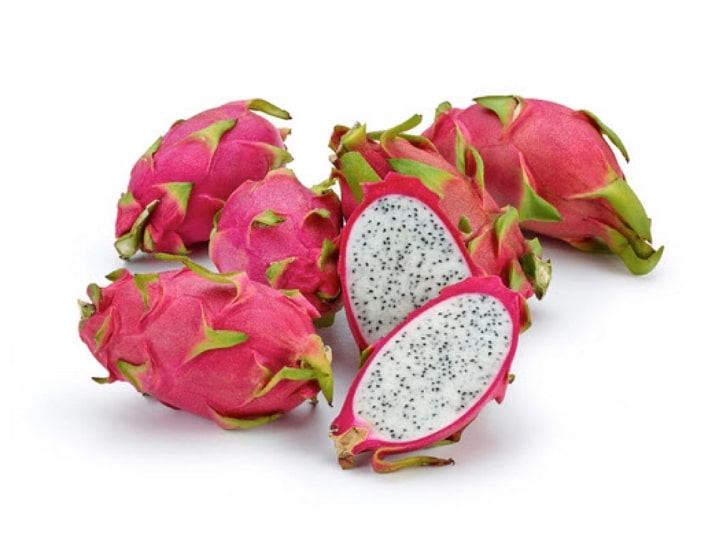 Calories per 100 grams: 60
You may know this fruit by its other name, pitaya. This tropical fruit is packed with tons of antioxidants, and it's absolutely delicious. It's slightly sweet and slightly tart, and it goes great in both salads and smoothies.
Plus, at just 60 calories per 100-gram serving, it's one of the best low-calorie fruit options out there.
19. Kiwi
Calories per 100 grams: 61
Kiwi fruit is super high in vitamin C and vitamin K, as well as other beneficial antioxidants. What really makes this low calorie fruit shine though is its high levels of tryptophan, the precursor to serotonin.
Serotonin is an essential hormone that has a broad range of functions, from helping regulate appetite to boosting memory and, of course, lifting mood.
20. Grapes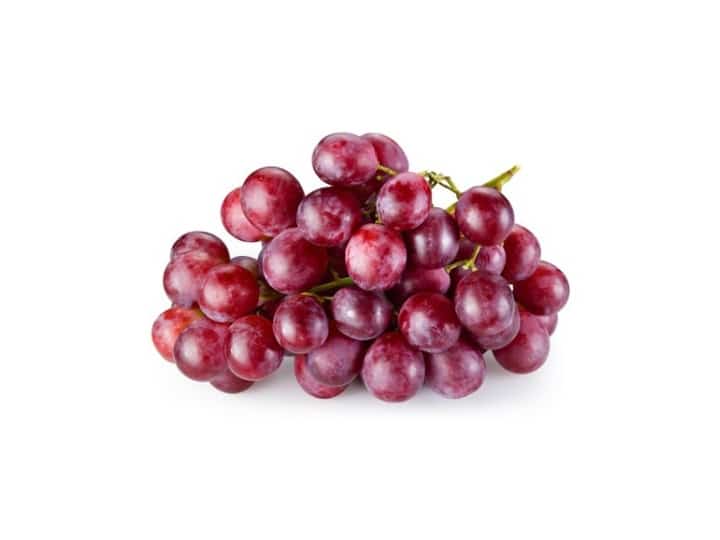 Calories per 100 grams: 67
Grapes are another excellent snack for maintaining your calorie intake since every 100g serving clocks in at just 67 calories.
Also, grapes are just super good for you. They contain resveratrol, a beneficial compound that can protect you from diseases like diabetes, cancer, and Alzheimer's disease.
Oh, and for what it's worth, I highly recommend freezing your grapes sometime and snacking on them like that. Frozen grapes have a texture that's almost like an ice pop, and they make a sweet and refreshing treat in hot weather.
Wrapping It Up
Well, those are 20 of the best low calorie fruits you can eat!
They're also some of the healthiest fruit options out there as well.
Anyway, with that said, I hope this list was helpful for you. Let me know what your favorite fruit is in the comments below.
More Low Calorie Lists
If you liked this low calorie fruit list then I've got a feeling you'll enjoy some of the other low calorie lists I've put together as well.
Check these out:
Oh, and for easy and tasty low calorie recipes, be sure to visit my Instagram, TikTok, and Youtube channel! I post new ones on them all of the time.