This baked catfish is fresh, flavorful, and cooks to perfection every time. It makes for a terrific busy weeknight dinner that's so delicious and so easy to make!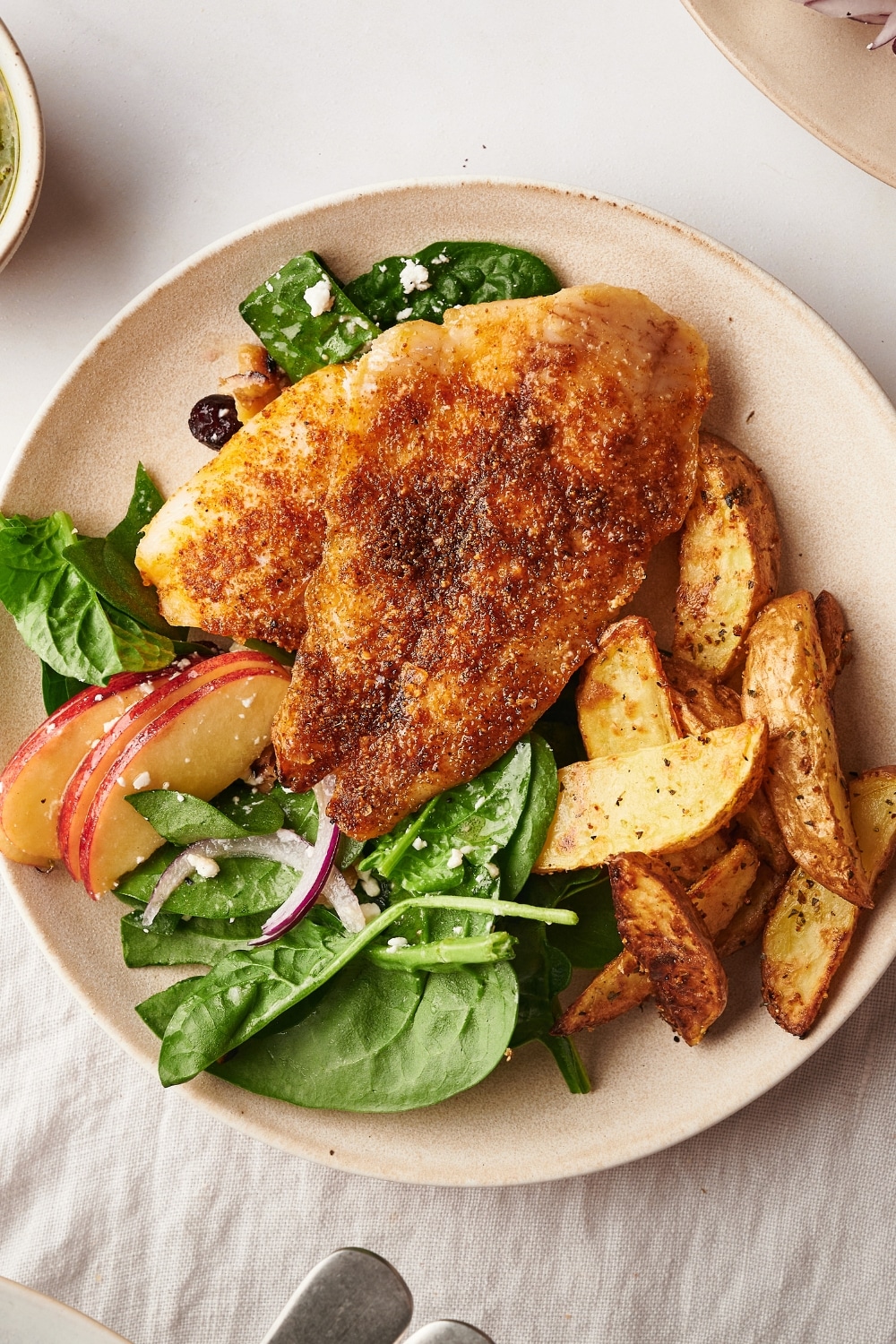 My Take On Baked Catfish
Catfish isn't the most common fish, but when it's cooked right, I think it's one of the best. It's easy to see why it's such a staple in the South, and I know I'm biased, but I think this is the best way to cook it!
The thing that makes this recipe so darn good is the oil and seasoning blend that coats the top of the fish. When it's baked, the catfish gets extra tender and flaky, and all of that flavor soaks right in. It's so good everyone who tries it won't believe it didn't come from a restaurant!
This has been one of my go-to baked fish recipes lately, and I love making it for hectic weeknight dinners since it comes together so quickly. While it's baking, I usually whip up these keto cheddar bay biscuits to round out the whole meal.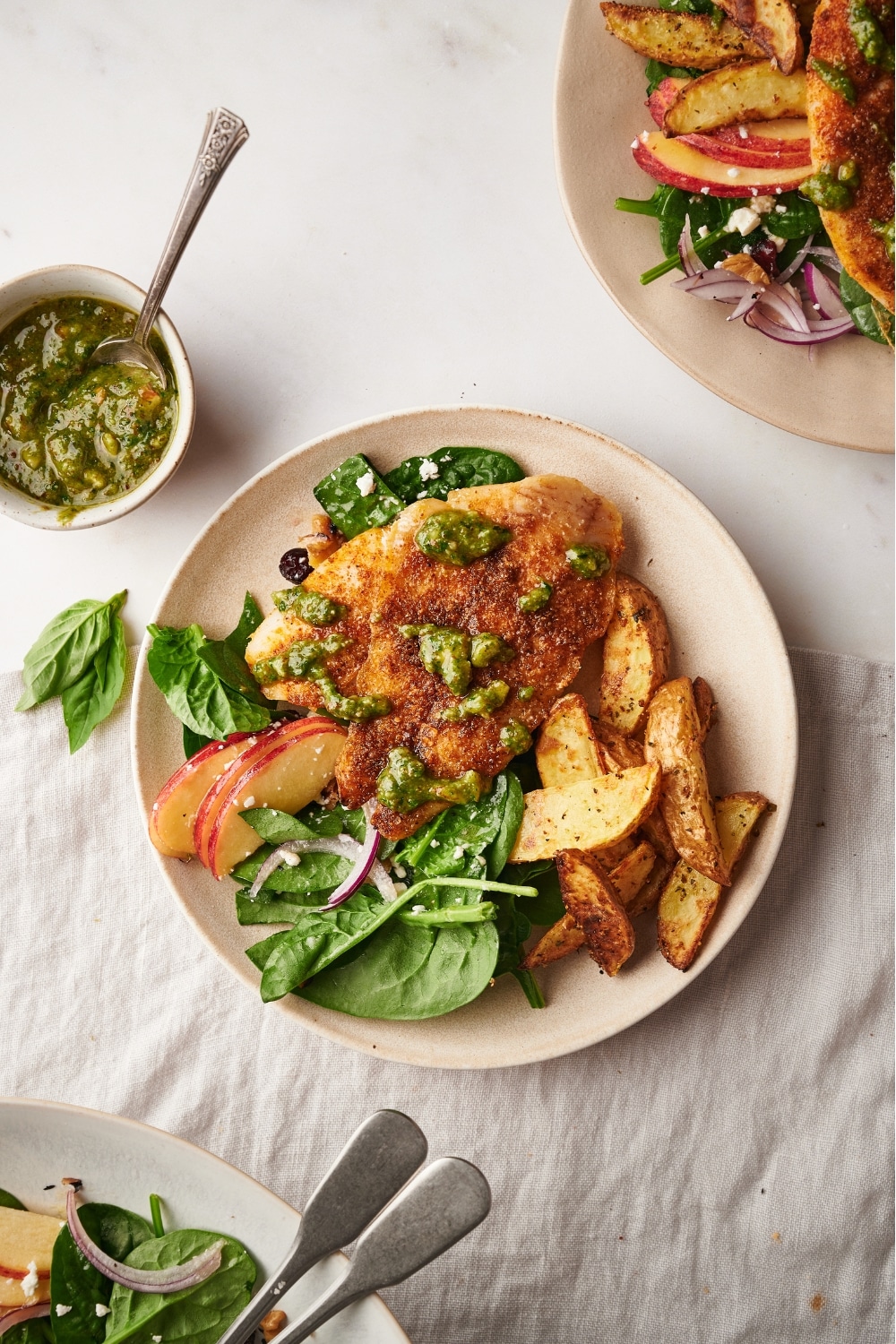 Why You'll Love This
Recipe
It's so healthy. Catfish is loaded with healthy omega-3s and protein while being low in calories and fat. The baking method makes it even healthier, and I think more delicious than deep fried catfish!
Easy to make. Even if you've never cooked fresh catfish before, I promise it's shockingly simple with this recipe. All you have to do is coat the fillets in butter, then the seasoning blend, then let them bake in the oven.
5-minut prep time. This recipe can be made with minimal hands-on work. I love a recipe where you don't have to do any extensive steps, and this one fits the bill.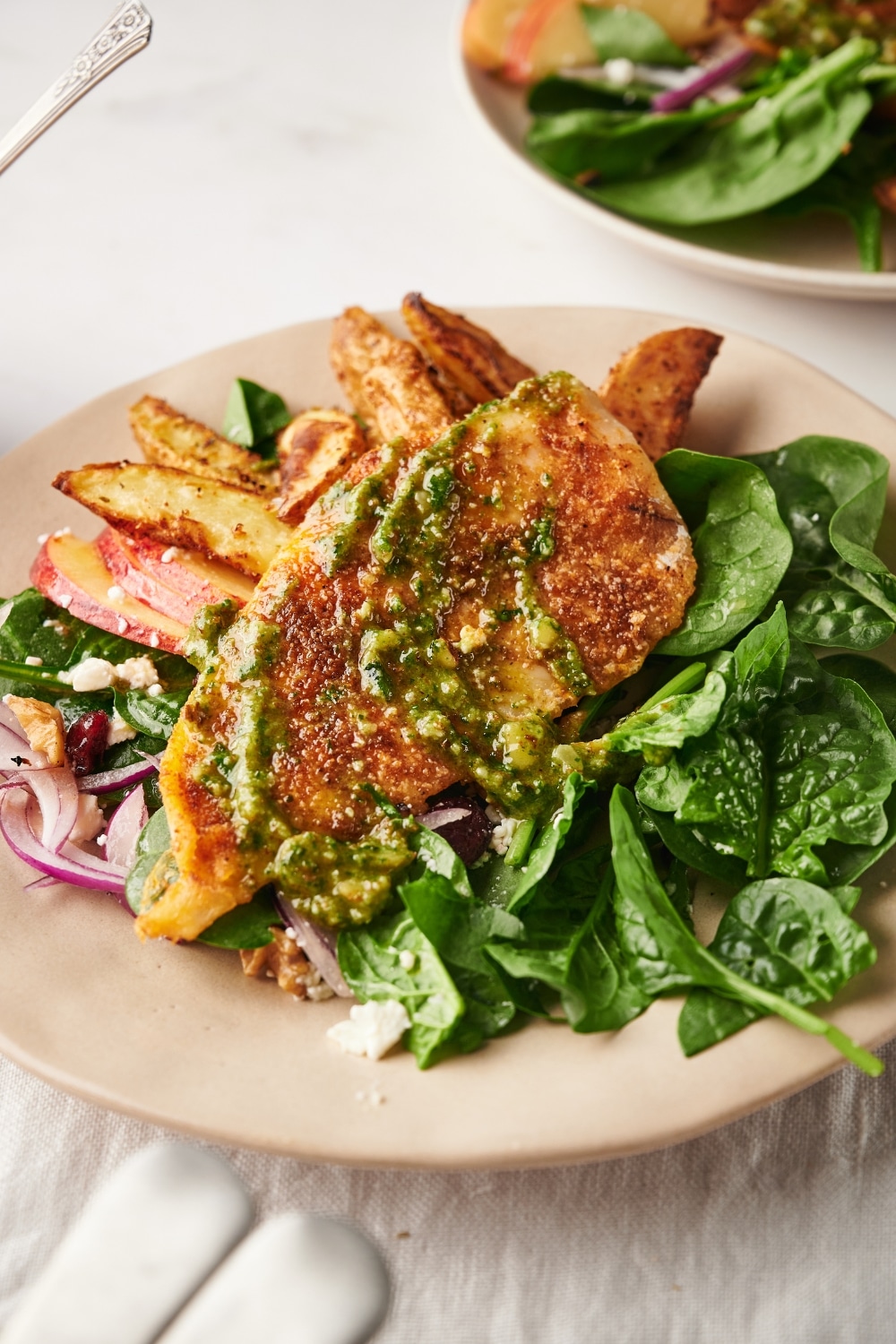 Ingredients
Catfish fillets- I like to pick up fresh ones the day I'm making this recipe.
Olive oil- to coat the fish.
Old Bay seasoning- a staple seasoning that I think tastes amazing on all seafood.
Garlic powder- for extra savoriness.

Cumin powder and

paprika powder- for added spice.
Oregano- to balance out the spices with a fresh herb flavor.

Salt and pepper

Pesto- I love serving it on top of the fish.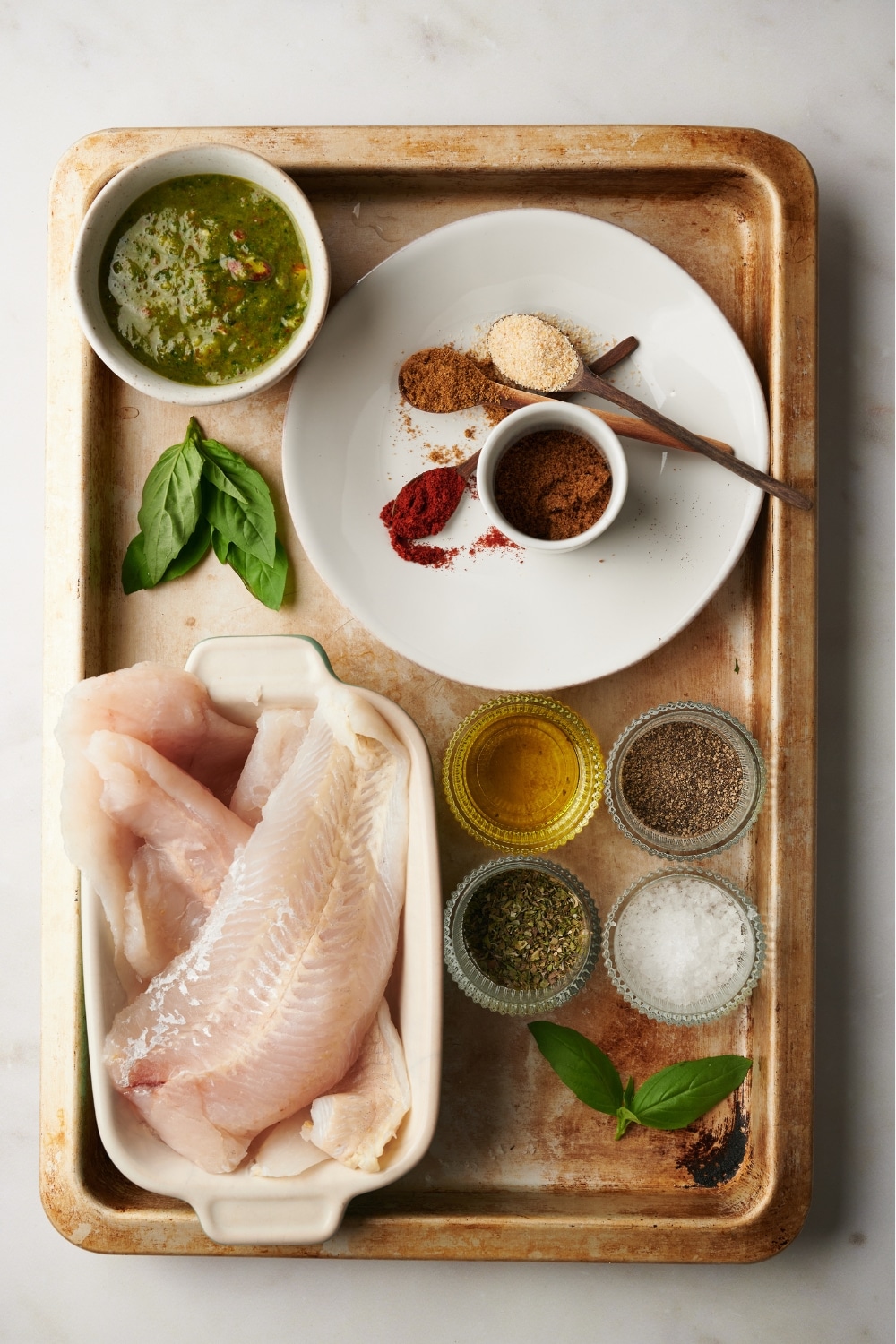 How To Make Baked Catfish
1. Prep work: Preheat the oven to 400°F (180°C) and line a baking sheet with parchment paper or grease a baking dish. Mix all of the spices in a bowl and set it aside.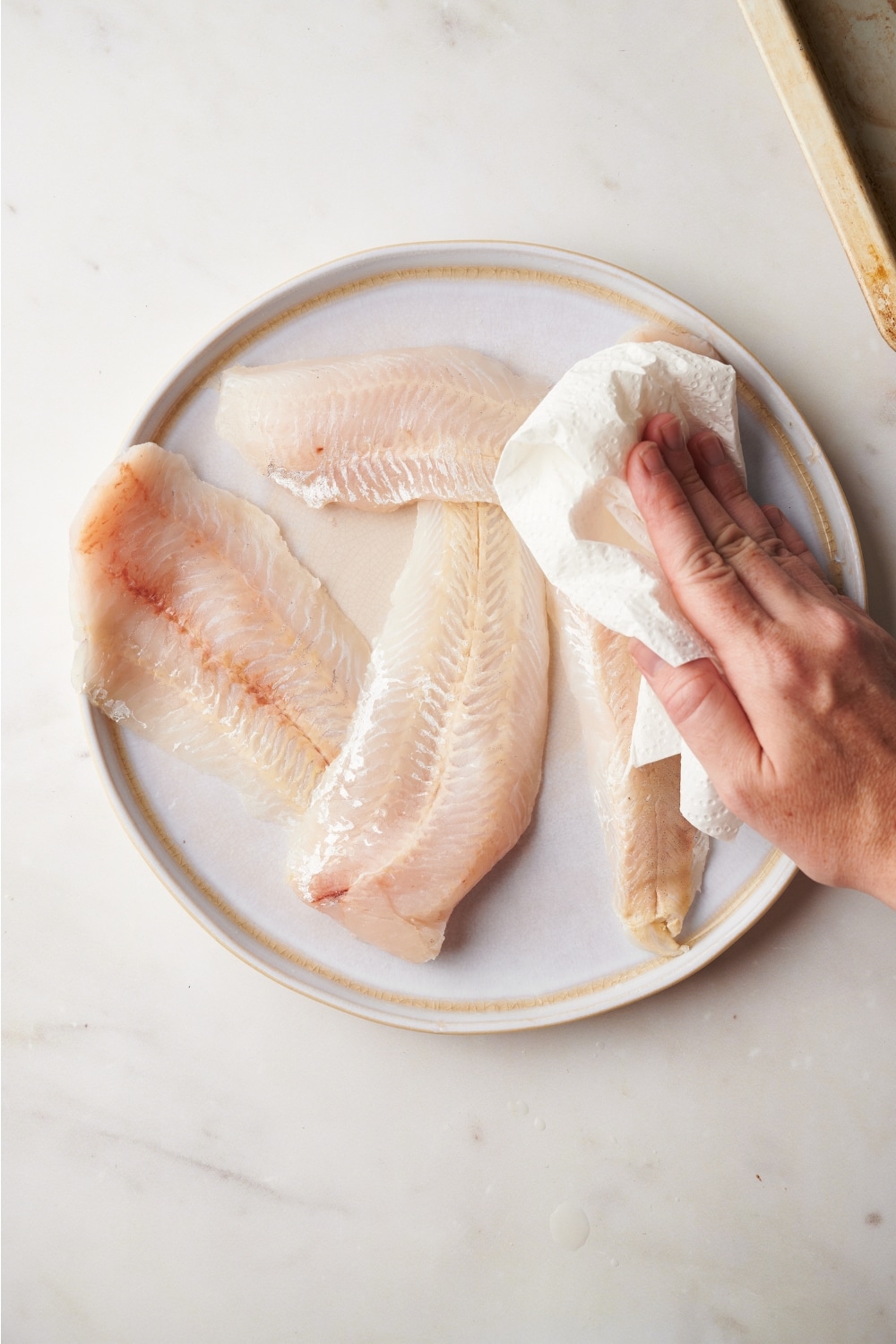 2. Season: Pat the fillets dry with paper towels. A pro tip is to use a few fresh paper towels so the fish gets completely dry. Transfer the fillets to the prepared baking sheet and brush them with olive oil. Top each fillet evenly with the spice blend. Use your hands to make sure the spices are completely covering the fillets.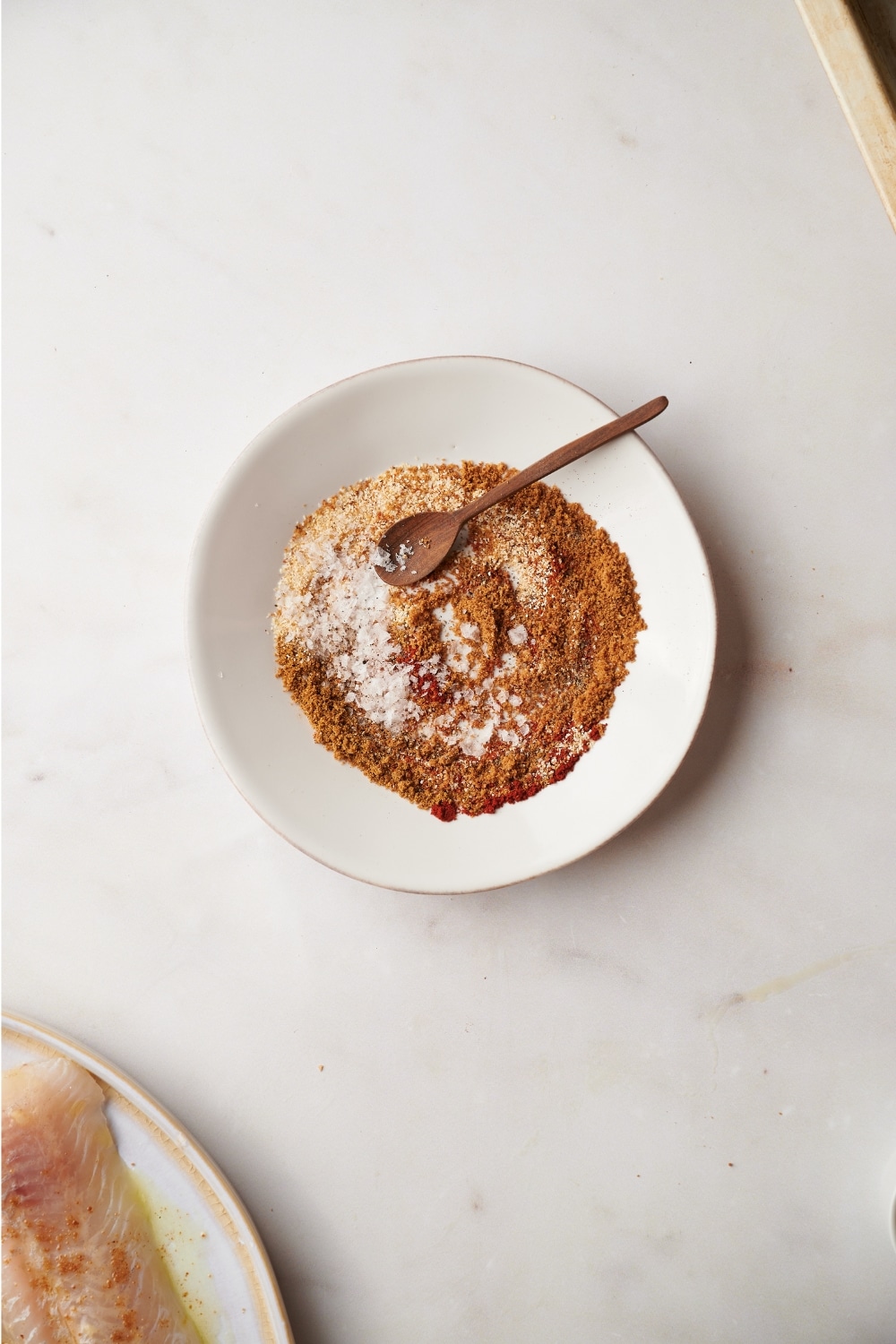 3. Bake and serve: Bake the catfish for 12-14 minutes or until the fish flakes easily with a fork. Remove the baked catfish from the oven and serve it warm with pesto on the side. Enjoy!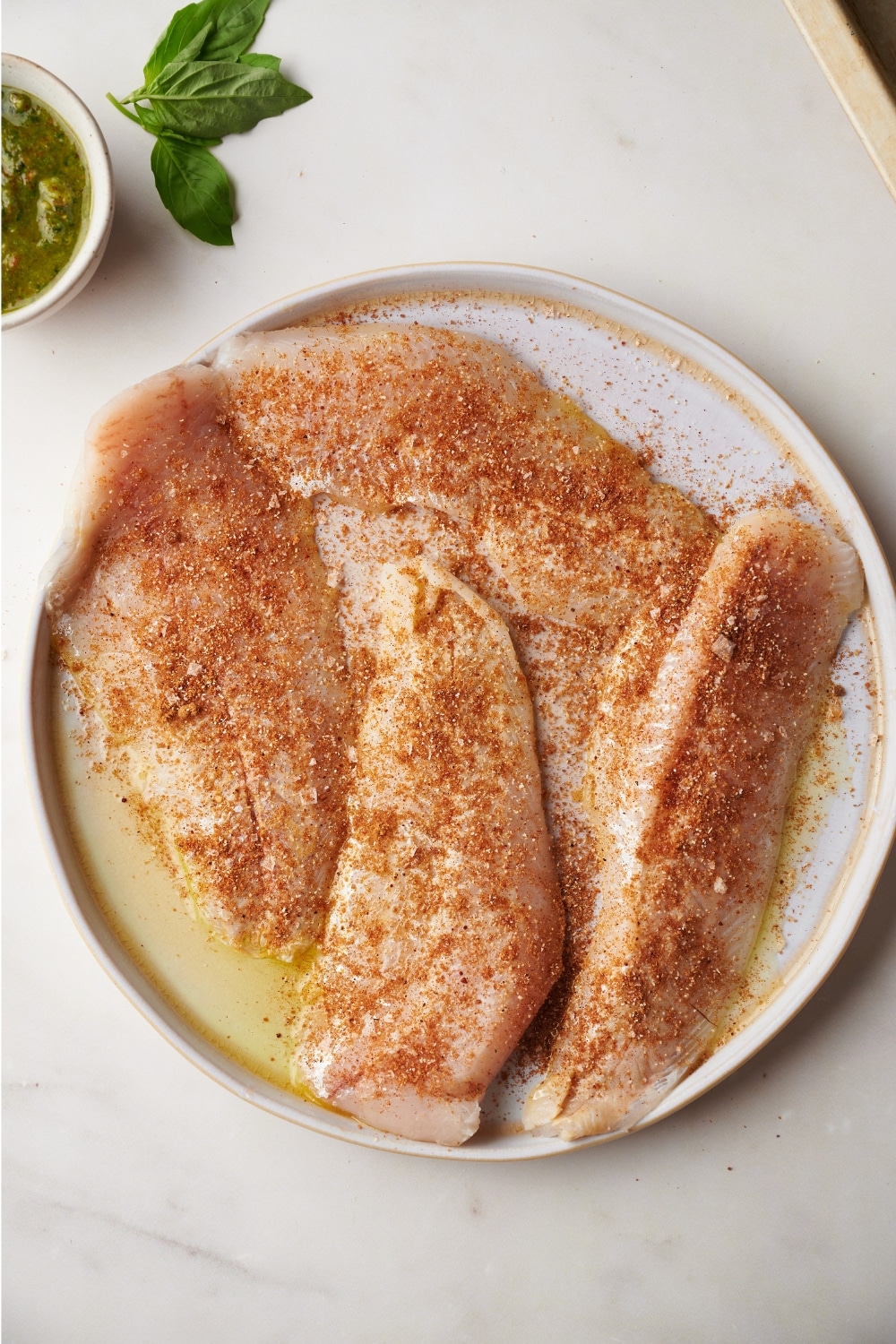 What can I serve with this recipe?
The fish is delicious with some roasted potatoes or cauliflower mashed potatoes and a side salad or this broccoli cauliflower salad for a complete meal. I've also served it on top of this cauliflower rice, and the combo was terrific.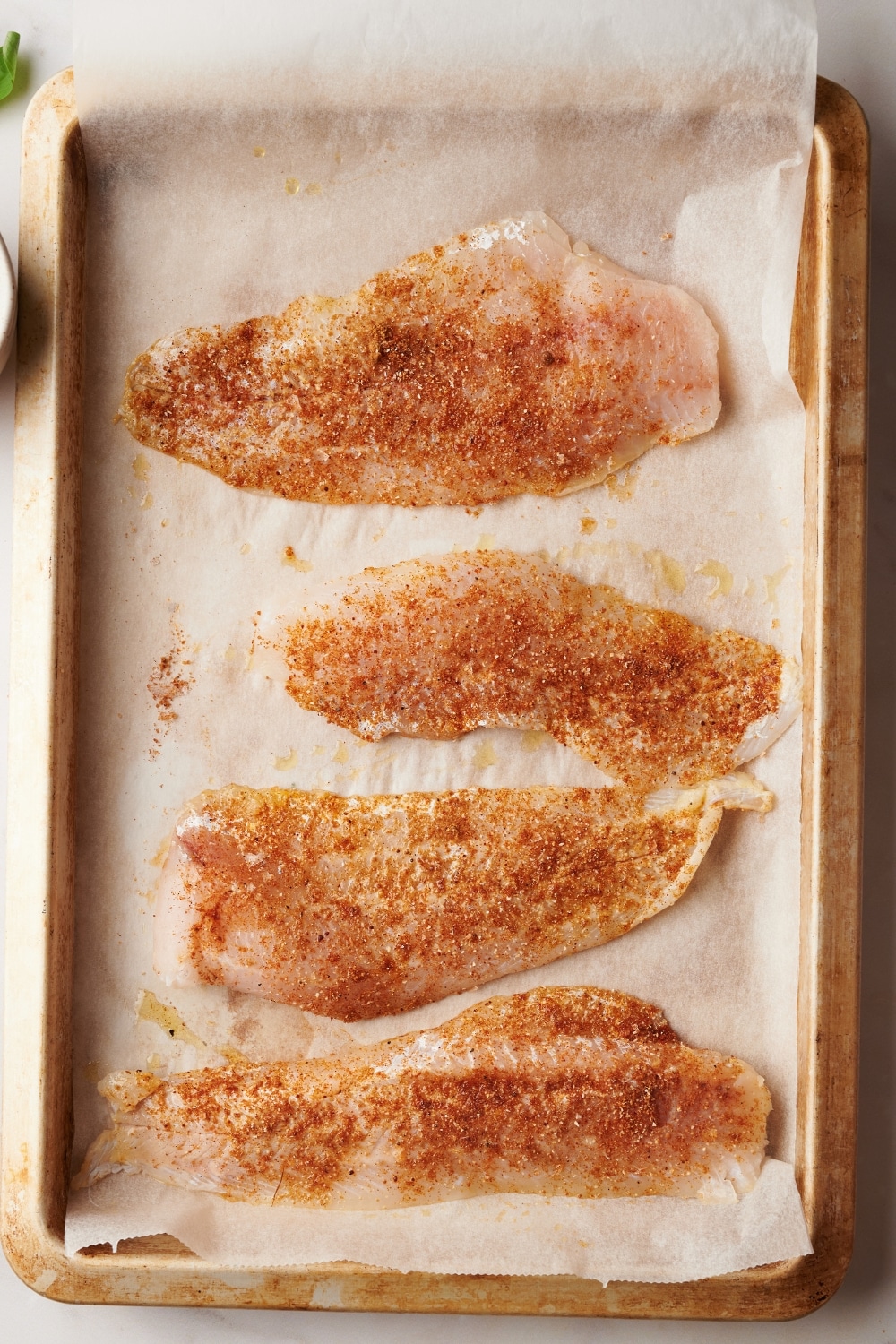 How I Recommend Storing and Reheating Leftovers
In the fridge: Transfer leftover baked catfish into an airtight container and store in the fridge for up to 3-4 days.
In the freezer: Allow leftover baked catfish to cool completely, then transfer it to a freezer-safe container and freeze for up to 3 months.
Reheating: I just transfer the leftover baked fish to a baking sheet lined with parchment paper and bake it at 275°F for 10-15 minutes or until it's fully reheated. You'll want to let the frozen leftovers thaw overnight in the fridge before reheating.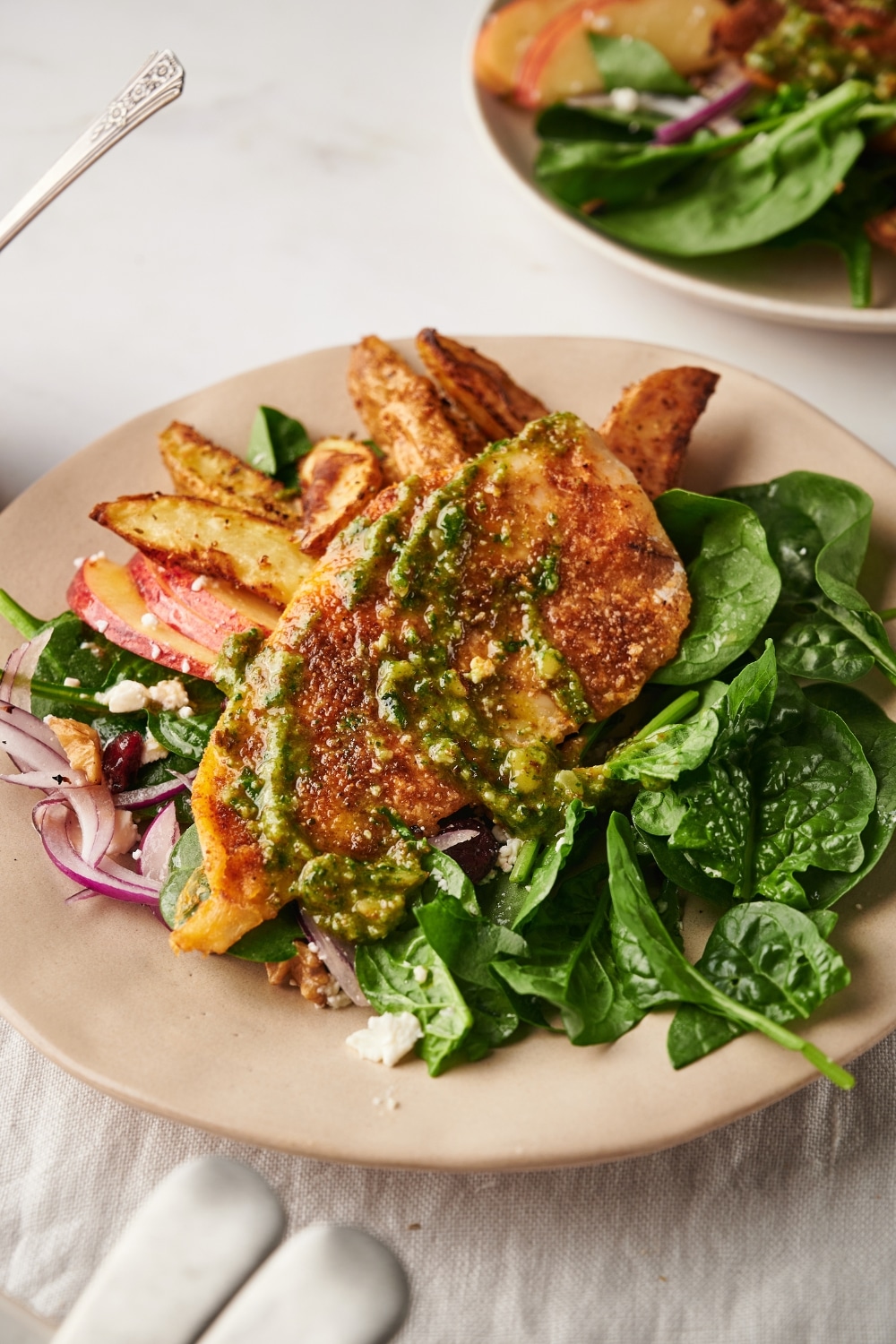 More Seafood Recipes To Try Next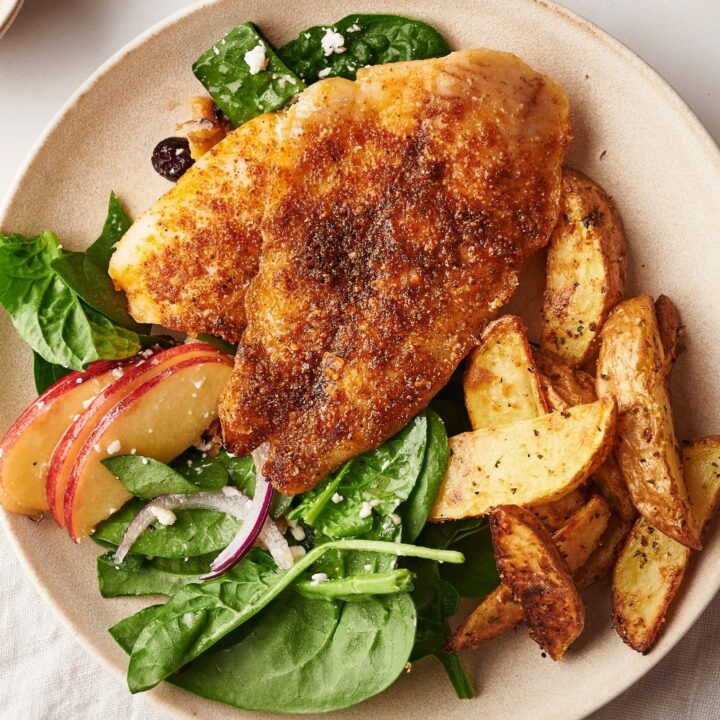 Baked Catfish
This baked catfish is fresh, flavorful, and cooks to perfection every time. It makes for a terrific busy weeknight dinner that's so delicious and so easy to make!
Ingredients
4 catfish fillets
2 tbsp. olive oil
2 tbsp. Old Bay seasoning
1 tsp. garlic powder
1 tsp. cumin powder
1 tsp. paprika powder
1 tsp. oregano
Salt and pepper
Pesto to serve
Instructions
Preheat the oven to 350°F (180ºC).

Pat the catfish filets with paper towels until very dry. Brush with the olive oil.

Mix all the spices in a bowl.

Place the filets on a baking sheet or oven tray and top with the spices.

Bake for 12-14 minutes.

Serve warm with pesto.
Nutrition Information:
Serving Size:

1 fillet
Amount Per Serving:
Calories:

282
Total Fat:

19.3g
Saturated Fat:

3.3g
Trans Fat:

0g
Unsaturated Fat:

0g
Cholesterol:

75mg
Sodium:

1046mg
Carbohydrates:

1g
Fiber:

0.3g
Sugar:

0.2g
Protein:

25.1g