This cauliflower rice is incredibly easy to make and takes under 10 minutes! And this keto rice is so versatile and goes with pretty much everything. It will quickly become your new favorite side for any meal.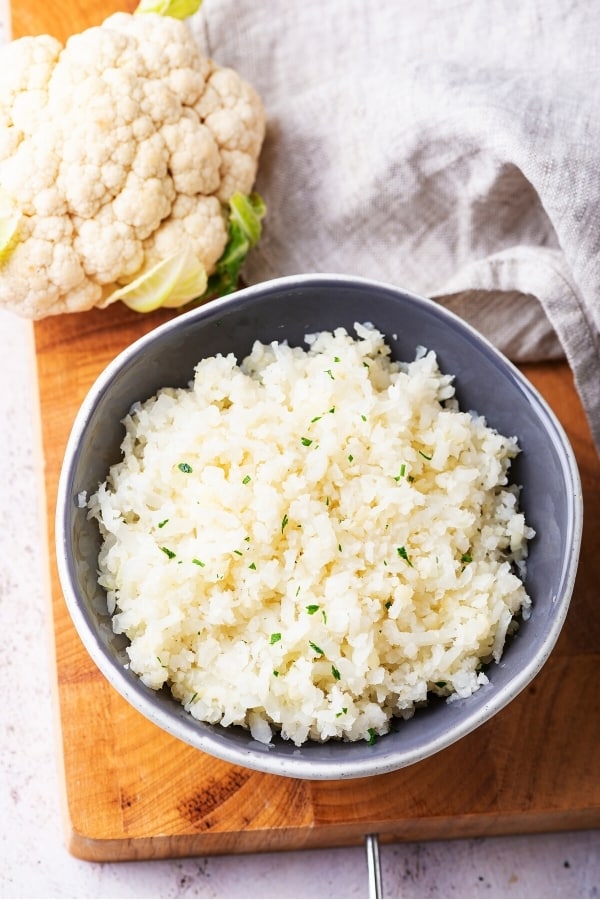 THE BEST KETO CAULIFLOWER RICE
This keto cauliflower rice is a recipe that you have to have in your cooking repertoire.
Whenever I have a main dish and feel like I need a little something else to go with it, this cauliflower rice is always the answer.
It is super quick and easy to make, and the neutral flavor allows it to complement any low carb dish.
And I like to add it to the recipe I'm making or just eat it on the side! My favorite thing to pair it with is a stir fry with soy sauce, particularly this keto chicken stir fry. And I'll go over a few of my favorite side dish recipes to eat it with a little later.
Also, another plus about this cauliflower rice recipe is that you literally need two ingredients to make it, and it comes out perfect every time! This is seriously one of the best keto cauliflower rice recipes.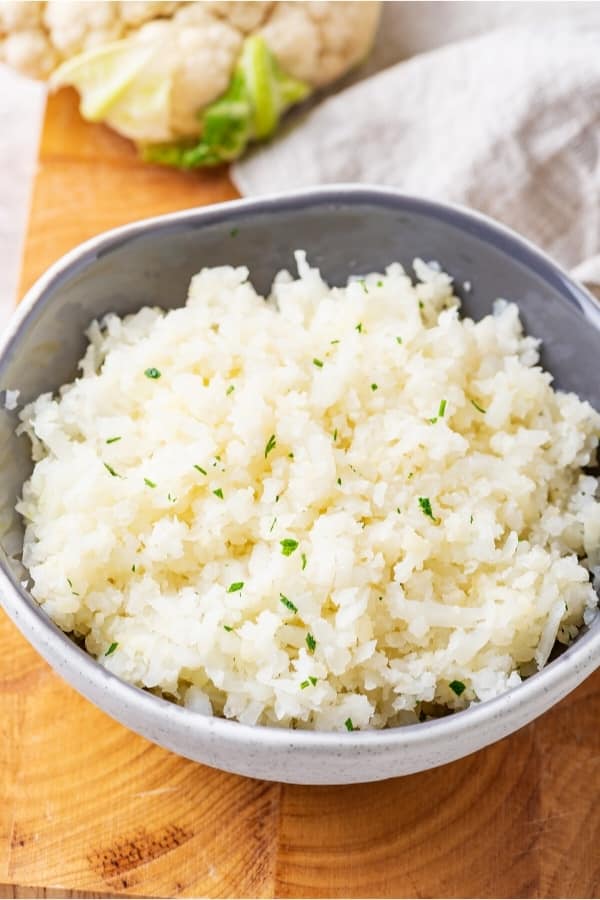 INGREDIENTS
So, as I just mentioned, you'll need just two main ingredients to make this cauliflower rice. And they're so simple, you might even have them already!
Check out what you'll need to make this side dish:
1 large head of cauliflower
1 tablespoon olive oil
Pinch of salt (optional)
Chopped parsley (optional)
If you don't have cauliflower at home currently, I highly suggest picking up a few heads the next time you're at the store.
Not only can you make cauliflower rice with it, but you can make these cauliflower mashed potatoes too!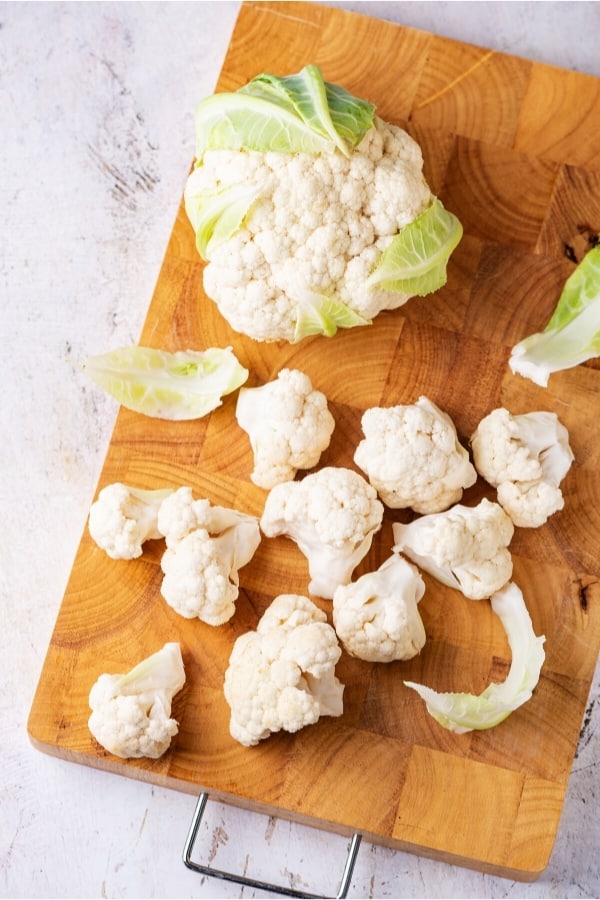 HOW TO MAKE CAULIFLOWER RICE
As I already mentioned, making this low carb cauliflower rice so easy and takes minutes!
All you have to do is turn the cauliflower florets into rice, and then sautè for a few minutes.
Seriously, that's all it takes to make it, so you don't even have to plan ahead and can just whip it up on the fly.
Now let's make this healthy, versatile, and delicious side dish!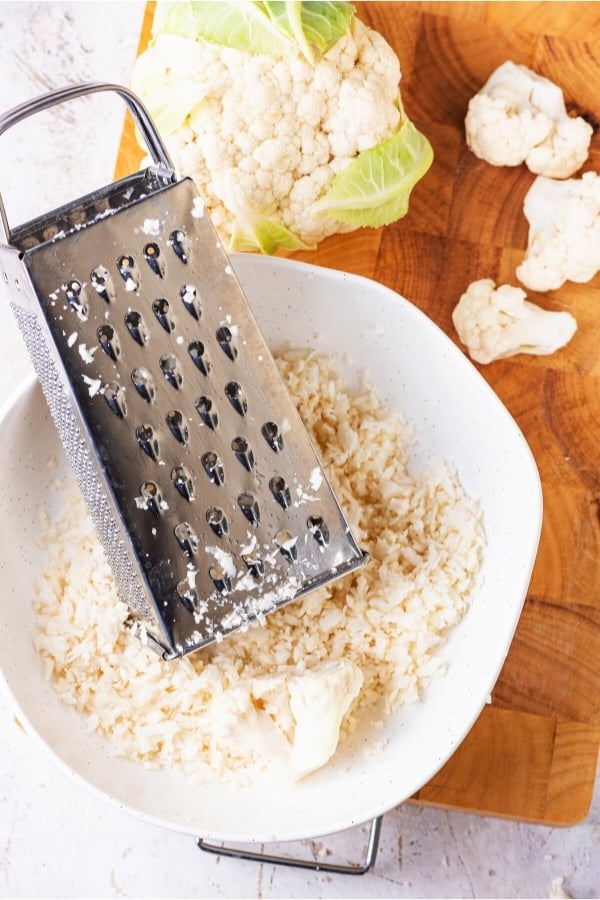 STEP 1: PREP WORK



So, the first thing you will do is wash your head of cauliflower, dry it, and then separate it into florets.
If you are using a box grater, you can cut the cauliflower into larger florets. And if you are using a food processor, cut your fresh cauliflower into smaller pieces.
Then either grate your raw cauliflower florets with a box grater using the medium-sized holes.
Or you can put your cauliflower florets in a food processor and, using the grater attachment, blend it up until the florets turn into a rice consistency.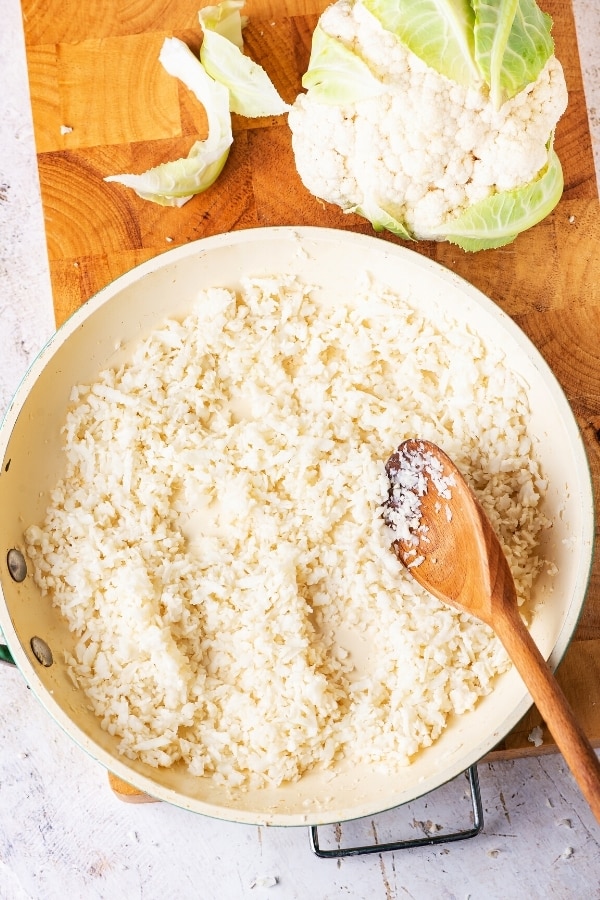 STEP 2: COOKING THE CAULIFLOWER
Now that your cauliflower is riced take out a skillet and put it over medium heat.
Pour your olive oil into the skillet and move it around so the oil coats the surface. Then add your cauliflower rice to the skillet and saute for about 4-5 minutes. And make sure to cover your skillet with a lid when cooking cauliflower rice to make it a little more tender.
Then to finish up, add some salt and chopped parsley, some green onions, or other fresh herbs to your cauli rice, put it on your plate with any other healthy recipes, and dig in!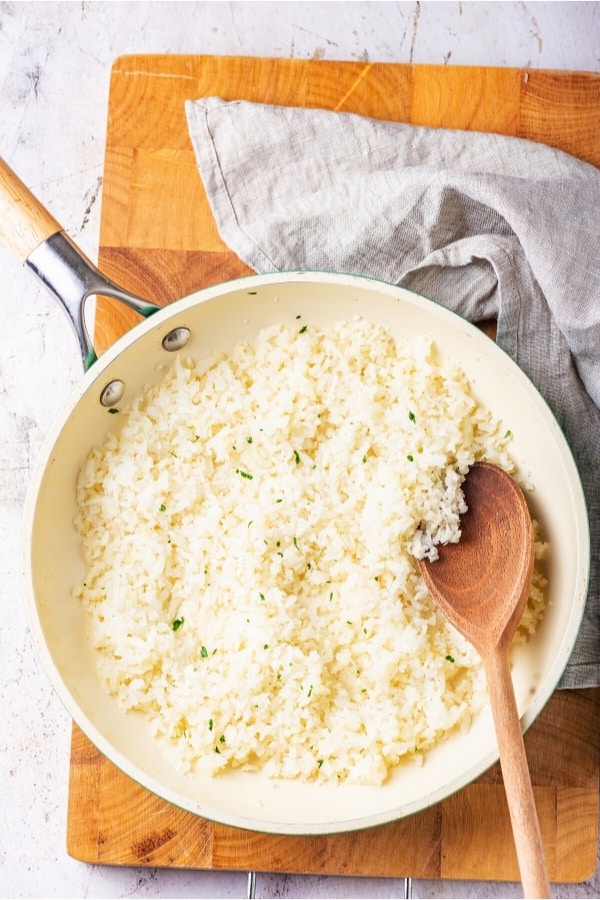 WHAT TO EAT THIS CAULIFLOWER RICE WITH
Now, you can eat your own cauliflower rice by itself, but it is so much better if you pair it with another delicious keto recipe.
But here are some of my other favorite low carb ones to eat it with:
I probably forgot a few low carb recipes it pairs perfectly with, but you get the point, there are endless ways to enjoy this fresh riced cauliflower.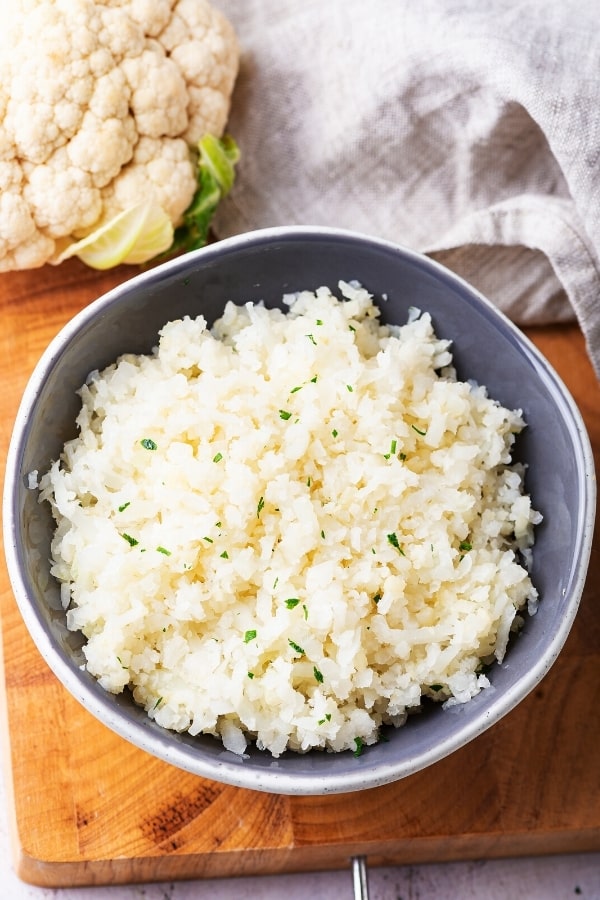 STORING YOUR CAULIFLOWER RICE
The best part about this recipe is can make as much rice that you want at one time. So grab a couple of cauliflower heads from the store, and you'll be set for the entire week and beyond!
You can store your leftover cauliflower rice in an airtight container in the fridge for up to 4 days.
And what's even better is you can store your uncooked cauliflower rice in the freezer for up to 1 month! I love having frozen cauliflower rice on hand for whenever I need a healthy low carb side with dinner.
All you have to do to store it is make the riced cauliflower and then put it in an airtight container in the freezer.
How To Reheat Cauliflower Rice
Reheating cook rice cauliflower could not be any easier!
One way to reheat it is to just put it in the microwave in 20-second increments until warm.
And another way is to toss it in a skillet for 5-8 minutes until warm.
If you're starting with frozen cauliflower rice, you'll just want to add a little more reheating time.
NUTRITIONAL INFORMATION
If you use one large head of cauliflower, you'll get about ten ½ cup servings out of it. And each serving will have 2.4 NET CARBS!
As for the rest of the nutritional information, 1 serving has:
21 Calories

0g Fat

4.5g Carbs

2.1g Fiber

2.4 NET CARBS

1.7g Protein
Wrapping It All Up
That is how to make cauliflower rice! This low carb recipe will totally change your lunches and dinners for the better.
Making cauliflower rice has never been easier! It only takes a few minutes and is probably the most versatile recipe that exists.
And it makes for a great healthy side that the entire family will be able to eat, and they'll love it too.
I hope you find as many uses for this easy cauliflower rice recipe as I have.
Make sure to leave a comment below and let me know your favorite thing to eat it with!
More Recipes
If you're looking for more delicious low carb keto recipes, I have a ton on the blog I think you'll like!
Give one of these a try next:
Print
Keto Cauliflower Rice | Quick and Easy Cauliflower Rice
This cauliflower rice is incredibly easy to make and takes under 10 minutes! And this keto rice is so versatile and goes with pretty much everything. It will quickly become your new favorite side for any meal. 
Author:
Prep Time:

5 minutes

Cook Time:

4 minutes

Total Time:

9 minutes

Yield:

10 servings

Category:

Side Dish

Method:

Stovetop

Cuisine:

Keto Low Carb
1 large head of cauliflower
1 tbsp olive oil
Pinch of salt (optional)
Chopped parsley (optional)
Instructions
First, wash and dry cauliflower, then separate into florets (larger florets if using a box grater, smaller florets if using a food processor).

Either grate florets on medium-sized holes using box grater or put florets into food processor and blend until riced. 

Put a skillet over medium heat and cover the surface with olive oil. Add cauliflower rice to skillet and cover, saute for about 4-5 minutes.

Add salt and chopped parsley then serve. 
Notes
The scale up function does not change the gram measurements.
Nutrition
Serving Size:

1 serving

Calories:

21 calories

Fat:

0

Carbohydrates:

4.5

Fiber:

2.1

Protein:

1.7
Keywords: cauliflower rice, keto cauliflower rice, how to make cauliflower rice, how to make keto cauliflower rice, cauliflower rice recipe, keto cauliflower rice recipe, riced cauliflower, keto riced cauliflower, low carb rice, low carb cauliflower rice, low carb cauliflower rice recipe, keto rice, keto cauliflower recipes, cauliflower rice keto, keto cauliflower rice recipe ideas, cauliflower rice recipes keto,