This blackened salmon recipe is the ultimate quick and easy dinner. It combines perfectly moist and flaky salmon with bold spices to create an unforgettable seafood experience. Best of all though, this healthy salmon recipe is ready in 20 minutes or less!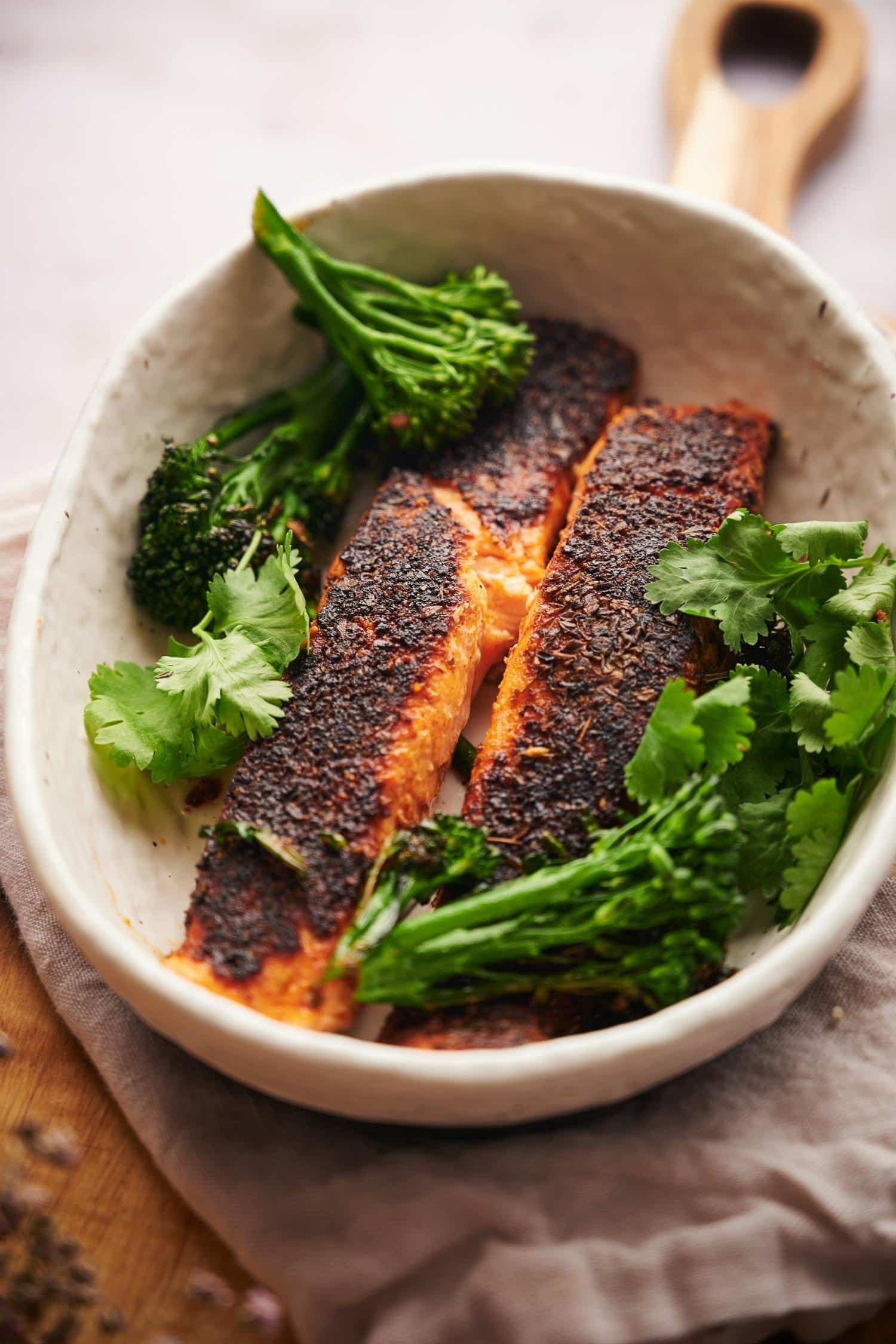 The Best Blackened Salmon Recipe
If you're craving something with rich, restaurant-quality flavor that requires minimal effort and easy-to-find ingredients, this blackened salmon recipe is exactly what you need!
These blackened salmon fillets are savory and smoky, and the crispy crust on them packs an incredible amount of flavor into each and every bite.
Honestly, they taste so good you'd never believe this mouthwatering dinner takes just 20 minutes or less to make on the stovetop or oven. And, let me tell you, the salmon comes out perfectly tender and flakey every time when you make it this way.
Also, because there's so much flavor packed into this healthy salmon recipe, it can breathe life into the simplest dinners. Basics like steamed veggies, roasted veggies, and white rice all pair fantastically with it. And it also works great as the main protein in a grain bowl, salad, or taco.
It's a simple, delicious, and wonderfully versatile protein. Kind of like these oven baked chicken thighs and this chorizo recipe!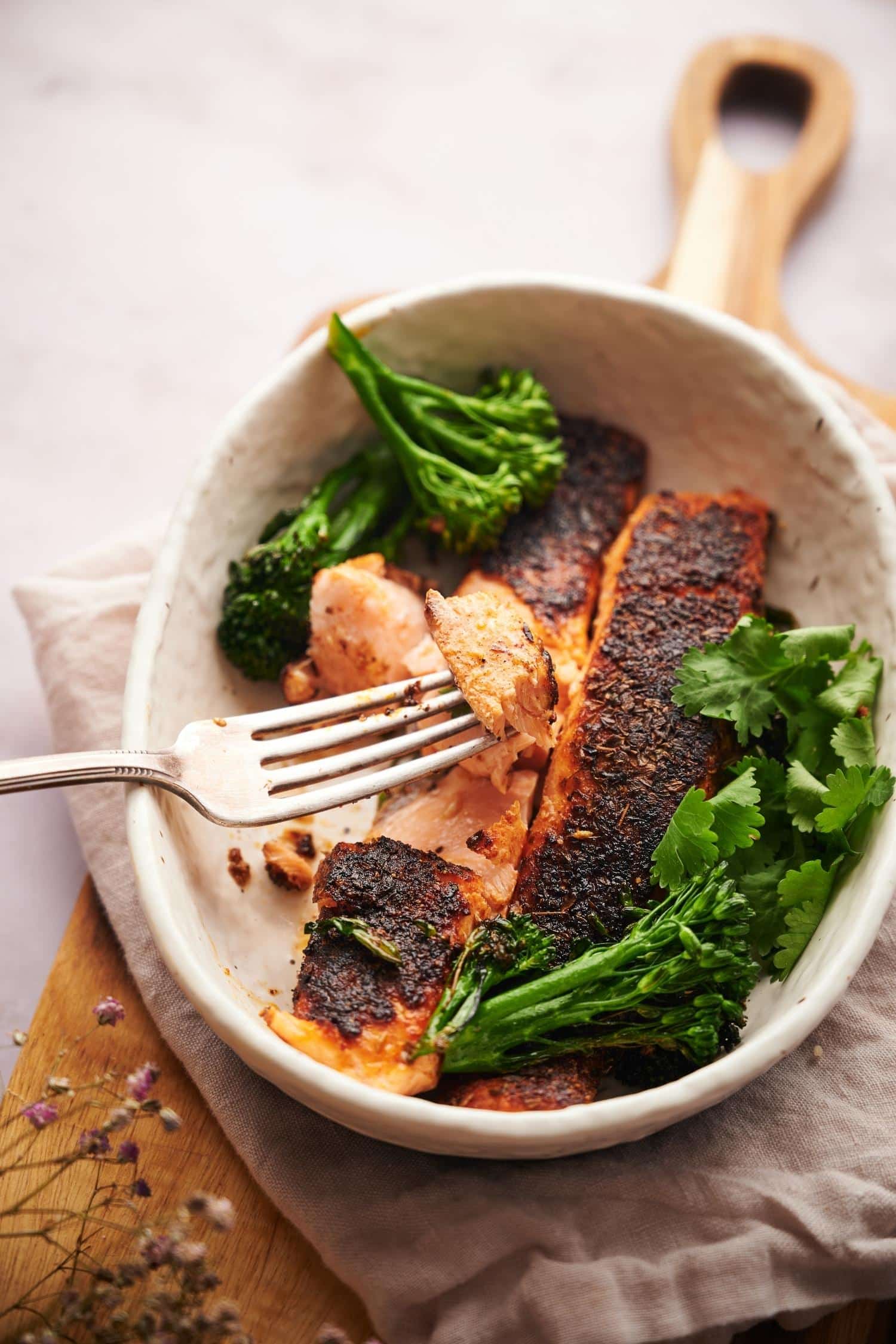 Ingredients
All you need for this blackened salmon recipe is a couple of salmon fillets and some spice cabinet staples.
Anyway, here are all the ingredients for this blackened salmon:
2 Salmon filets
1 tsp. Paprika
1 tsp. Garlic Powder
1 tsp. Cumin
1 tsp. Pepper
1 tsp. Oregano
1 tsp. Salt
Olive Oil Spray
Fresh cilantro to serve
Now, the blackening spice has a bit of heat from the black pepper and paprika, but you can always increase or decrease the amount based on how much spice you want. Also, if you want it even spicier, feel free to add some cayenne pepper into the mix!
As for the olive oil spray, if you don't have any, you can use a pastry brush to spread olive oil on the salmon fillets instead.
By the way, if you like this blackened salmon recipe, you've got to try my blackened chicken or these thin pork chops next. They're just as quick and easy as this recipe, and they use a lot of the same spices as this one.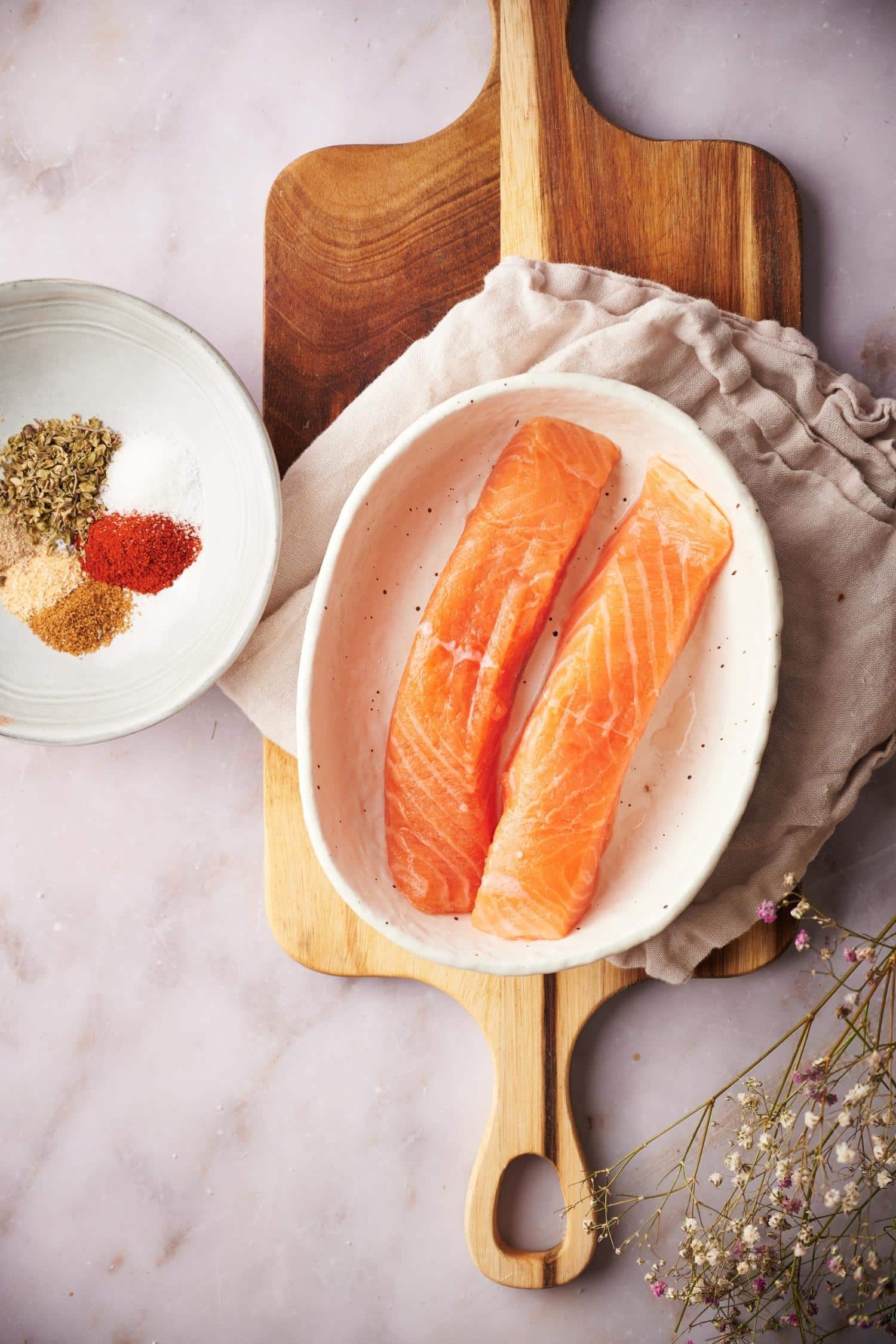 How to Make Blackened Salmon
As I mentioned, this blackened salmon is incredibly quick and easy to make. In fact, it'll only take about 15 minutes of active cooking time, and a few minutes of prep work. And, as far as steps go, just 3 simple steps are all you need to follow to make it.
Also, just so you know ahead of time, this recipe makes enough for 2, but can easily be doubled or tripled for a bigger group. A large cast iron skillet will be able to cook about 4 fillets at once, and you can easily cook a second batch if you're making more.
Oh, and I included instructions on how to make oven blackened salmon, too.
With all that said, let's dive into the details!
Step 1: Season the Salmon Fillets
First, combine all the spices - and salt - in a small bowl to make your seasoning blend.
Then, pat the salmon fillets dry with paper towels and spray - or brush - them with olive oil.
After that, coat the salmon fillets with the blackening seasoning.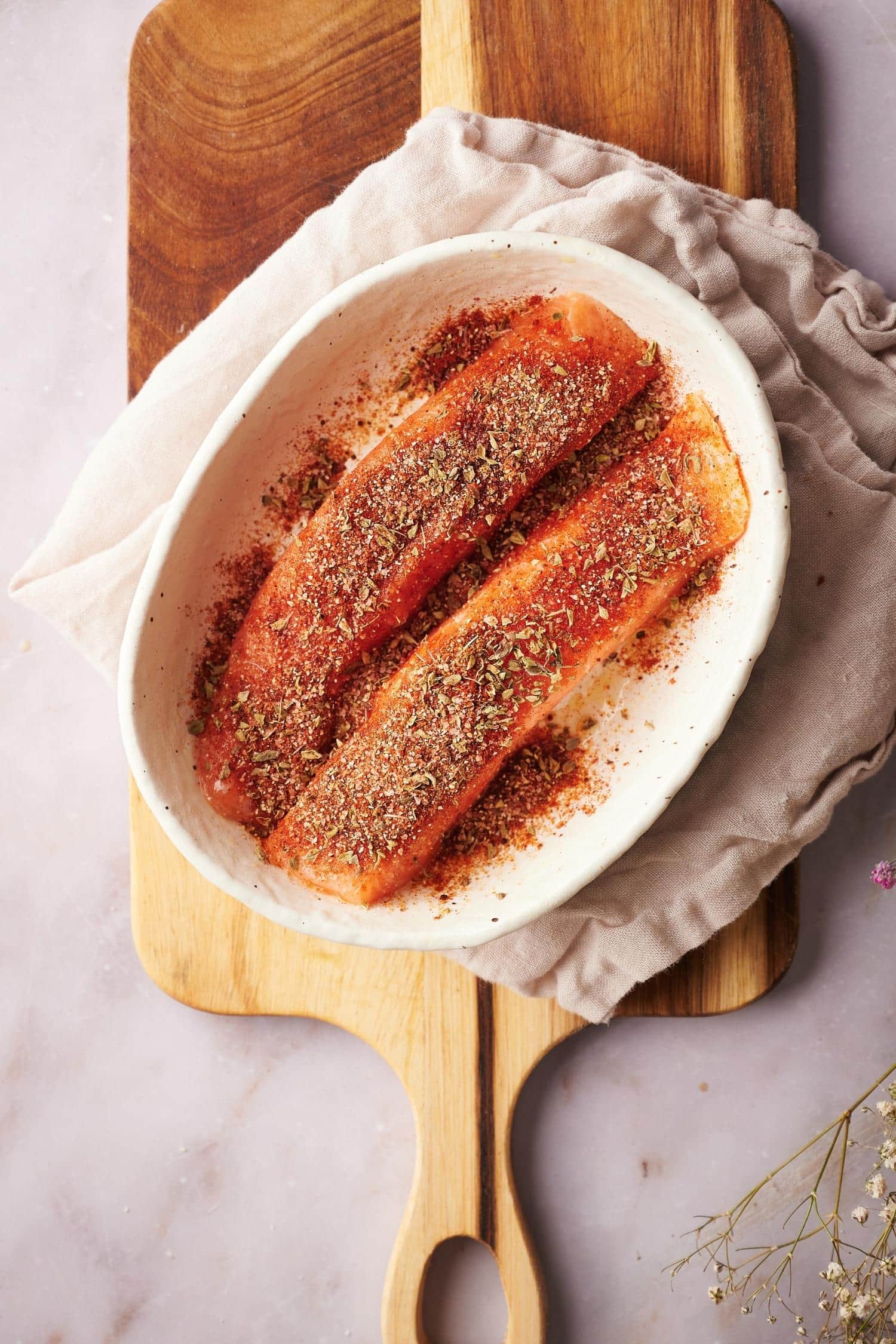 Step 2: Cook Salmon Fillets
Next, heat a non-stick skillet - or cast iron skillet - on the stovetop over medium-high heat and add a little oil to it.
Then, once the pan is hot enough, place the salmon fillets in the hot skillet and cook until both sides are blackened.
This should take about 5 minutes on each side. With that said though, a meat thermometer will be your best tool for figuring out when the same is done - look for an internal temp of around 135°F for best results.
Finally, garnish your blackened salmon fillets with fresh cilantro and serve immediately with your choice of sides. Enjoy!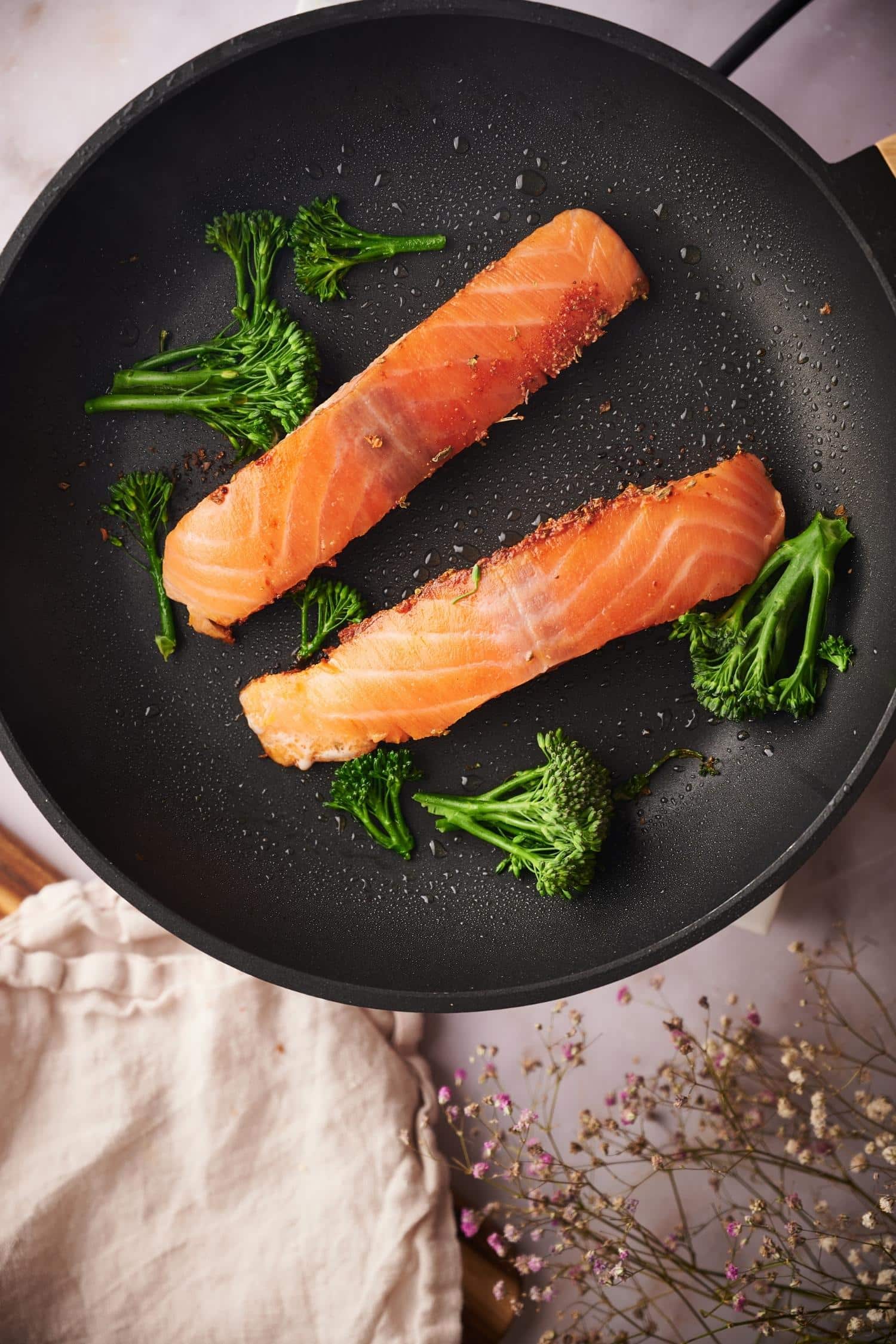 Step 2A: Oven Blackened Salmon
If you want to make this blackened salmon in the oven instead, follow the same steps for preparing the salmon fillets as I laid out above.
Then, place the salmon on a baking sheet and bake in a preheated oven set to 400°F (200°C) for 15-20 minutes.
Take the salmon out of the oven when it's almost cooked through, or at 135°F, and let it rest for 5-10 minutes. The residual heat will cook the salmon completely through while keeping it moist.

What to Serve with Blackened Salmon
Because this blackened salmon is so easy to make, you'll have plenty of time to prepare a simple side dish to go along with it.
Here are some of my favorite easy recipes to pair with this blackened salmon:

How to Store Blackened Salmon
As I mentioned, this recipe for blackened salmon will make two salmon fillets or two servings.
If you have any leftovers, you can them in an airtight container in the fridge for 3-4 days.
However, if you want to store them for even longer you totally can do that in the freezer. Just transfer the fillets to a freezer-safe container - or bag - with any extra air squeezed out. They'll keep in the freezer for up to 4 months if you store them like this.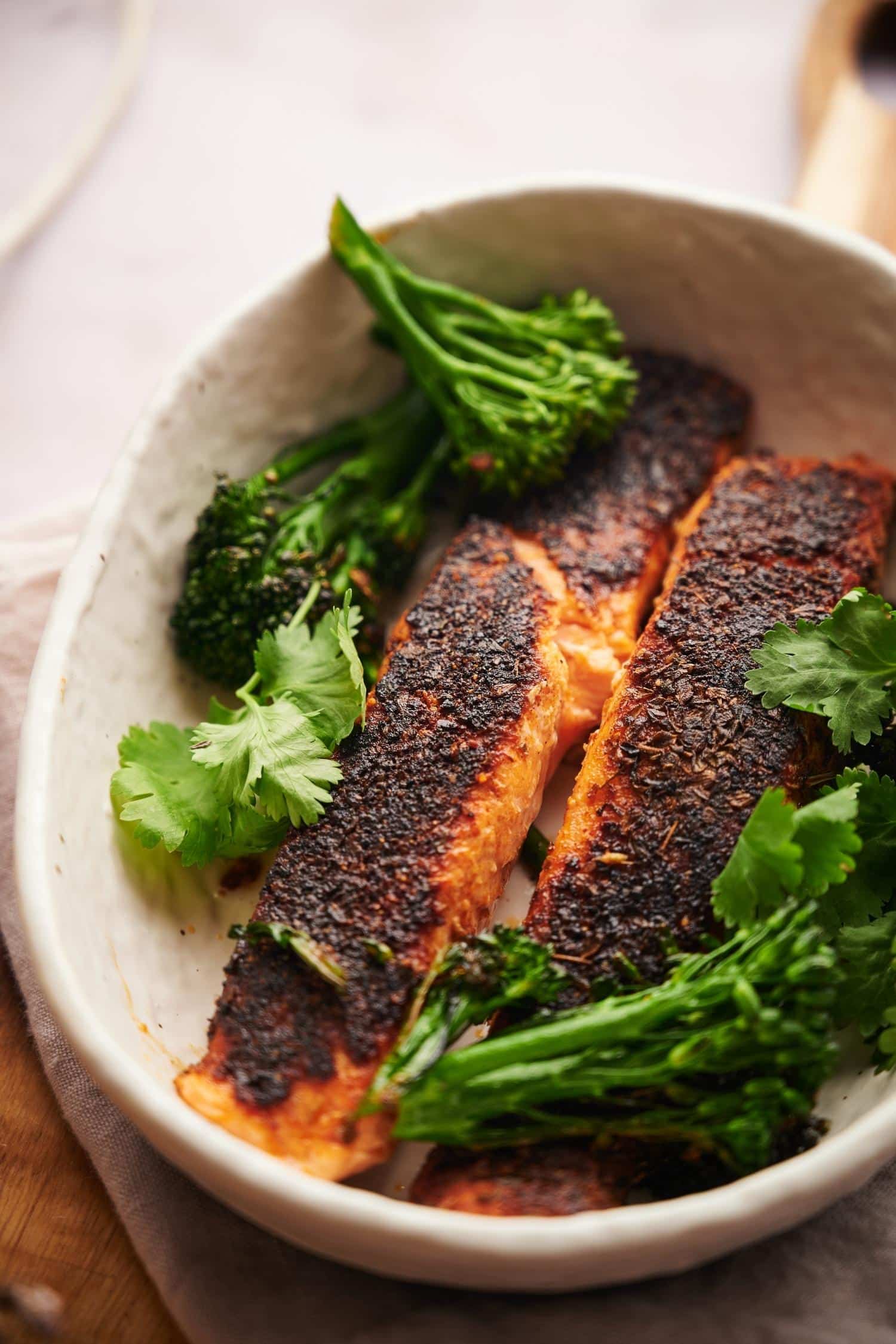 Reheating Blackened Salmon
When it comes to reheating your cooked blackened salmon fillets, you'll want to stick to low and slow cooking. This will avoid overcooking the blackening seasoning which will result in it burning.
You can choose to reheat your blackened salmon fillets on a skillet over low heat for a few minutes with a bit of oil or in the oven at 350°F (175°C) for 5-10 minutes. And, if your salmon is looking a bit dry, you can add a splash of water as it's cooking to bring moisture back into the dish.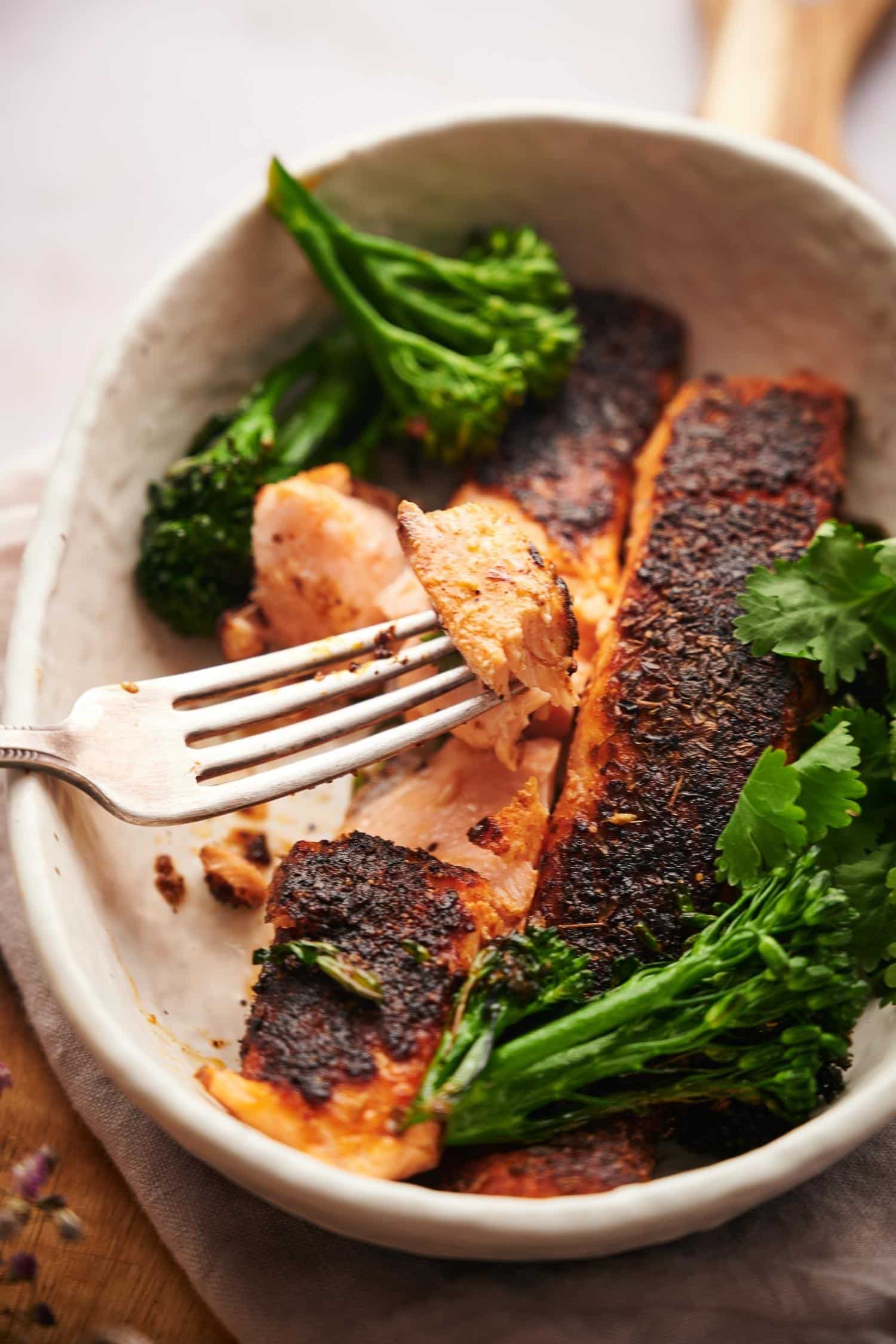 Wrapping It All Up
Well, that's how to cook blackened salmon!
This quick, easy, and flavorful salmon recipe is the perfect last-minute dinner. It takes practically no time at all, it uses simple pantry staple ingredients, and it's packed with a ton of bold flavor. What more could you ask for?
Honestly, this seared salmon tastes just as good - if not better - than what you can get in a restaurant!
Anyway, I hope you enjoy this blackened salmon recipe as much as I/we do. If you make it, be sure to leave a comment below and let me know how it went. I'd love to know your thoughts!
More Easy Dinner Recipes
Now, if you like this blackened salmon recipe, I'm positive you'll enjoy these other delicious recipes from the blog too!
Give one of these easy recipes a try next:
And for more easy recipes, make sure to check out our YouTube, Instagram, and TikTok. We post new ones on them every day.
Print
The BEST Blackened Salmon Recipe | Pan Seared In Just 10 Min.
This blackened salmon recipe is the ultimate quick and easy dinner. It combines perfectly moist and flaky salmon with bold spices to create an unforgettable seafood experience. Best of all though, this healthy salmon recipe is ready in 20 minutes or less!
Author:
Prep Time:

3 minutes

Cook Time:

10 minutes

Total Time:

13 minutes

Yield:

2 servings

Category:

Dinner

Method:

Stovetop

Cuisine:

Salmon
2 Salmon filets
1 tsp. Paprika
1 tsp. Garlic Powder
1 tsp. Cumin
1 tsp. Pepper
1 tsp. Oregano
1 tsp. Salt
Olive Oil Spray
Fresh cilantro to serve
Instructions
Mix all the spice ingredients in a bowl.

Brush the salmon filets with olive oil and cover them with the spices rub.

Heat a non-stick skillet to medium-high heat and place the salmon fillets in it.

Cook the salmon on both sides until blackened (around 5-6 minutes per side).

Serve hot with cilantro on top.
Nutrition
Serving Size:

1 serving

Calories:

280

Fat:

15

Carbohydrates:

1

Protein:

36
Keywords: blackened salmon, blackened salmon recipe, how to make blackened salmon, blackened salmon recipe cast iron, blackened salmon recipe keto, blackened salmon recipe healthy, best blackened salmon recipe, easy blackened salmon recipe, blackened salmon recipe easy