This keto naan bread is easily the best low carb flatbread recipe you'll make! It's super soft, light, chewy, and oh so delicious. And this keto naan is basically a keto friendly chapati or roti, just without all of the carbs! In fact, each one of these keto naan breads has just 4 NET CARBS, and it's completely gluten free too.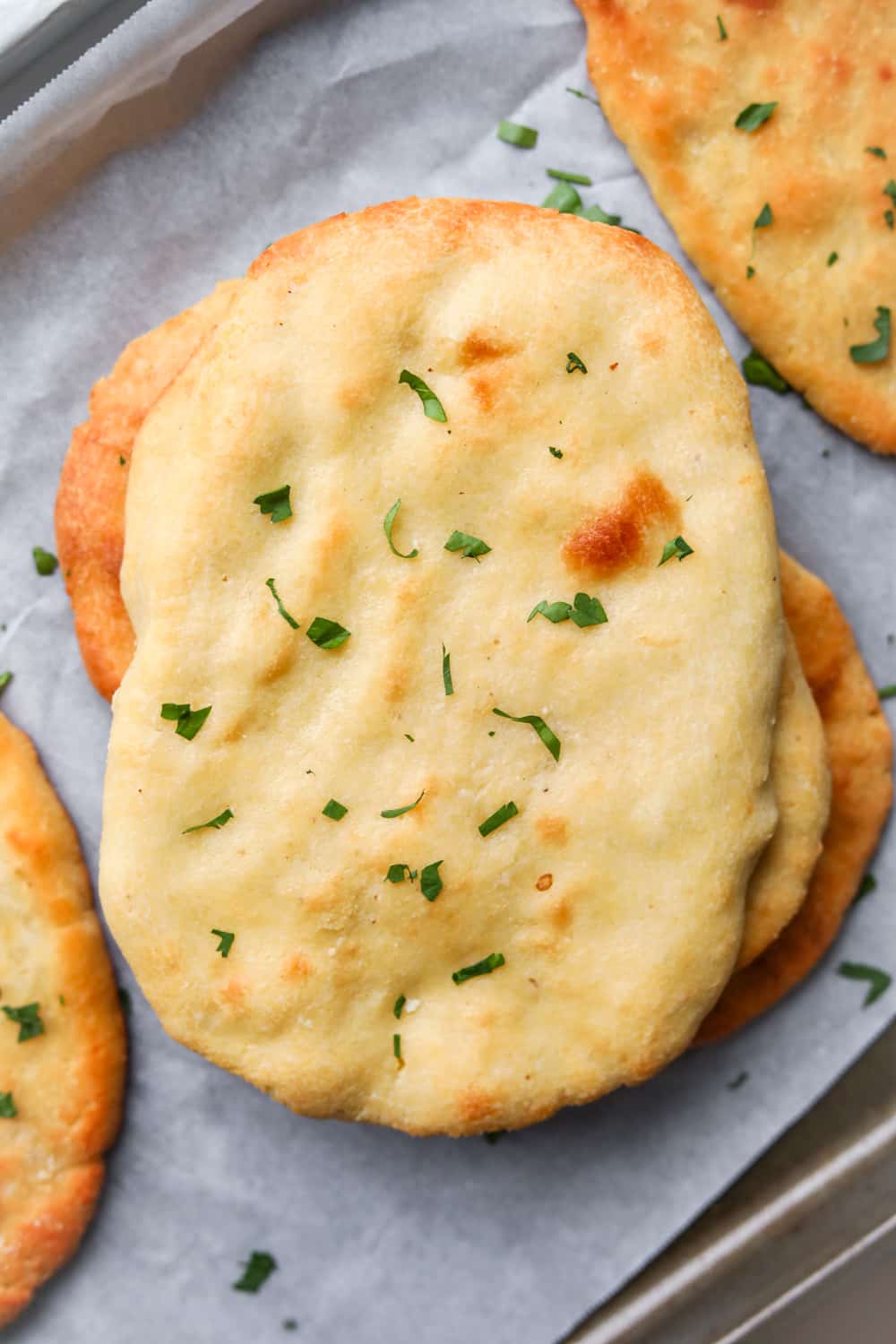 THE BEST KETO NAAN BREAD
I don't know about you, but I love a good keto flatbread. And this low carb naan takes flatbread to the next level.
It's filling, satisfying to eat, and super versatile.
You can dip it into things like keto buffalo chicken dip, turn it into a keto pizza, or even eat it on its own. Seriously, the possibilities with this keto naan are truly ENDLESS.
And I think it's safe to say that this will quickly become one of your favorite keto bread recipes - it's just too good not to! 
I mean, this keto naan bread...it's perfectly chewy, incredibly flavorful, and best of all, one whole piece has just 4 NET CARBS!
Plus, it's so easy to make – almost too easy! All you really need to make them is some basic kitchen tools, a microwave, and an oven.
Not to mention, it's made with super simple keto friendly ingredients that are easy to find anywhere.
In fact, you might even have all of them in your kitchen already.
Speaking of ingredients, let's dive in and see what we need for this recipe!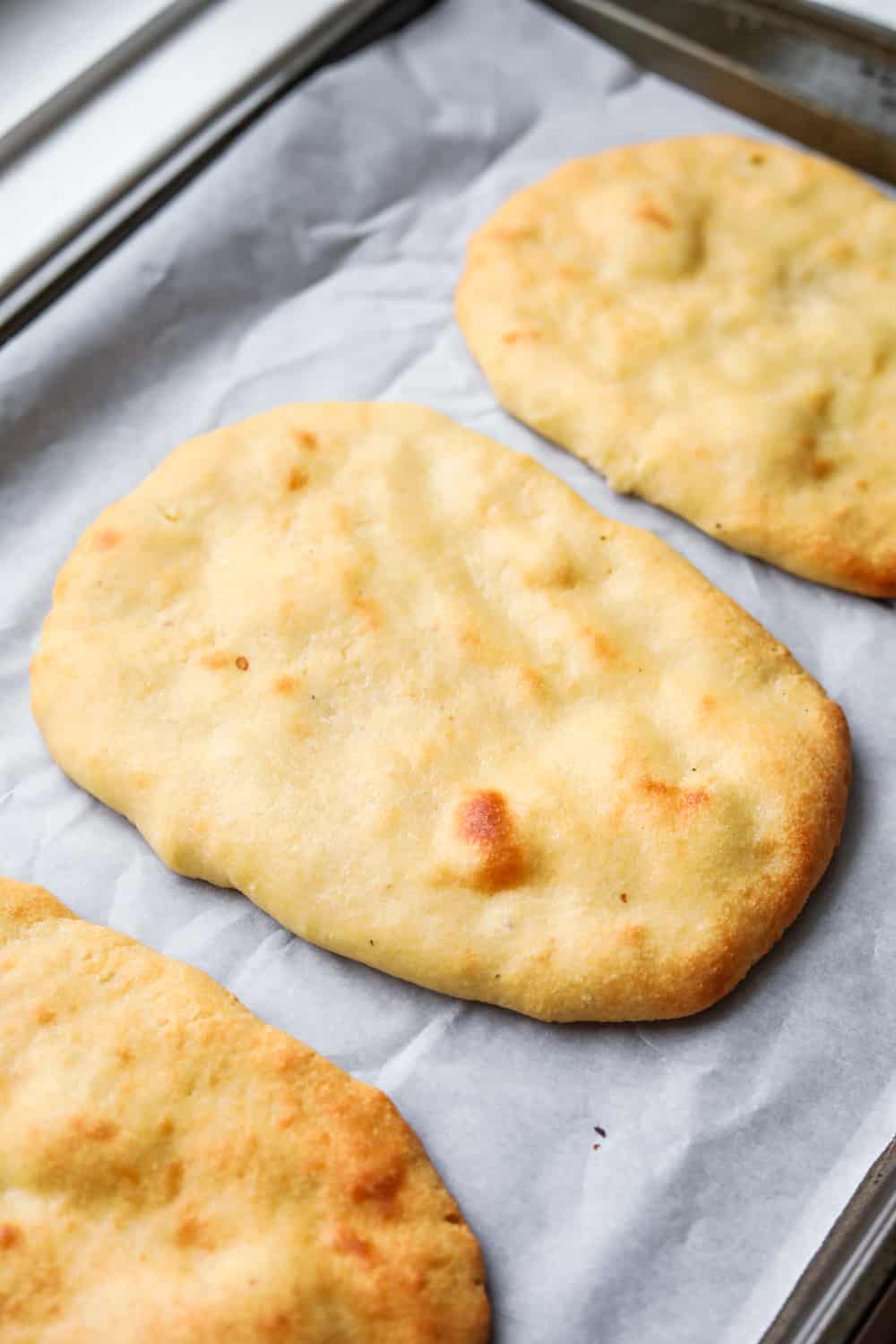 INGREDIENTS FOR KETO NAAN BREAD
Ok, so, as I just mentioned, we'll be making this quick and tasty keto naan bread with only a handful of simple ingredients. 
And here's what we'll need:
One of the great things about this keto flatbread recipe is that it requires no yeast. As you may know, yeast is a pretty tricky ingredient to work with, so instead, we'll be using protein powder to give it the same chewy, bread-like consistency while keeping the carb count low.
That said, if you don't have any unflavored protein powder - or don't want to use it - you can also substitute it with a heaping quarter cup of almond flour. 
And while we're talking about substitutes, you can replace the full-fat sour cream with an equal amount of full-fat yogurt if that's what you prefer. It'll yield the same soft and tangy results for your naan bread.
Also, by the way, I actually use a lot of these same ingredients in my keto bagel recipe, my 10 minute keto pizza recipe, and this 90 second keto bread.
So, if you have some ingredients left over after making your keto flatbread, you should definitely consider whipping up those bagels, or the pizza.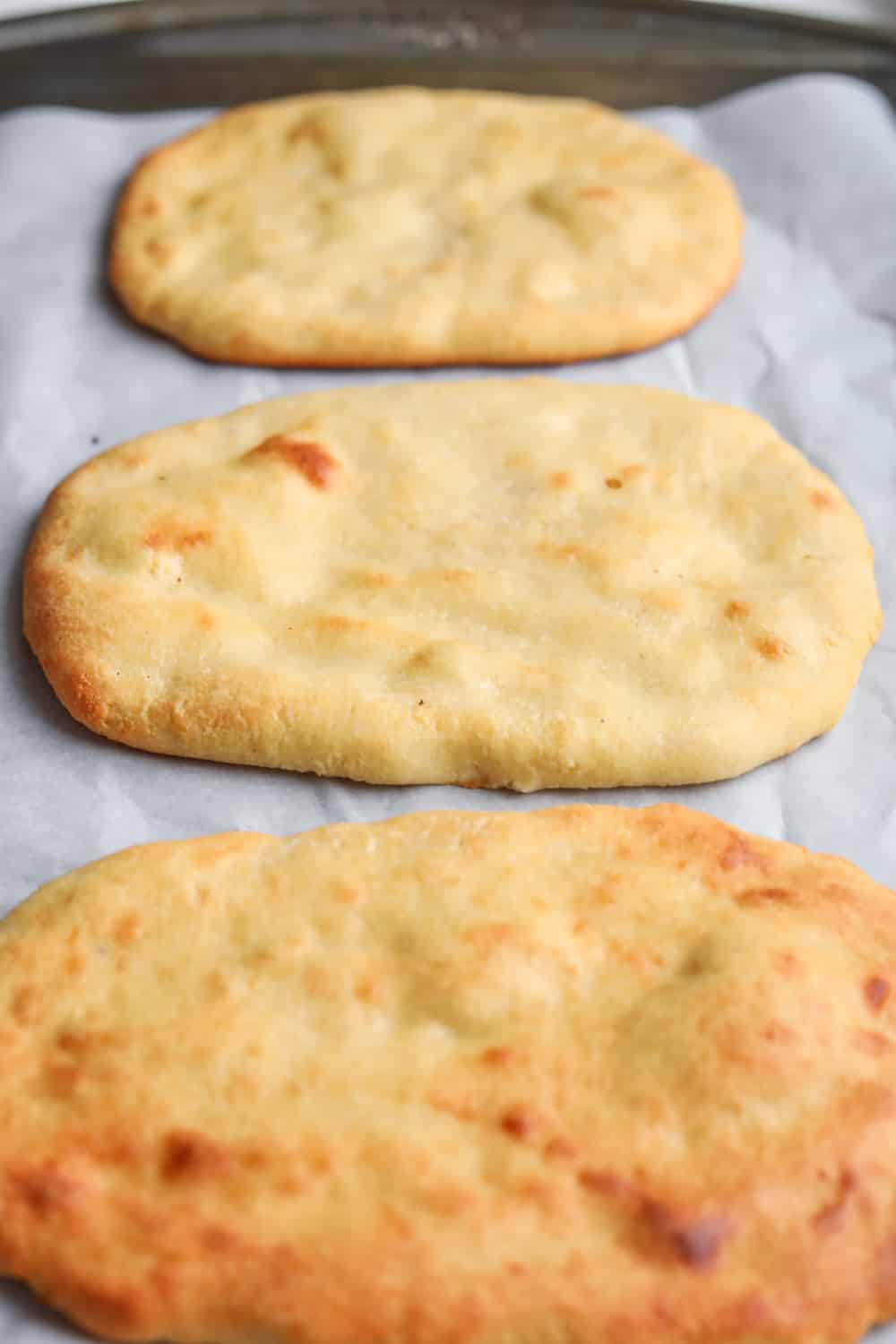 GRATE YOUR OWN CHEESE
Now, let's talk about cheese for a minute.
I've mentioned this several times on the blog before, but I'll say it again, when you are using shredded cheese, I recommend shredding your own. 
The pre-shredded cheeses typically have added starches in them to help avoid the cheese from sticking together.
These added starches are carbs, so you'll want to shred your own cheese - if you can - to keep this naan as low carb as possible. 
Not to mention, shredding the cheese yourself is super easy to do if you have a cheese grater, and it will actually make your naan bread taste better!
Now, since mozzarella cheese is pretty soft, you'll want to freeze it for about 15 minutes to let it harden, then you can grate it as usual.
So, just keep that in mind for this recipe and others.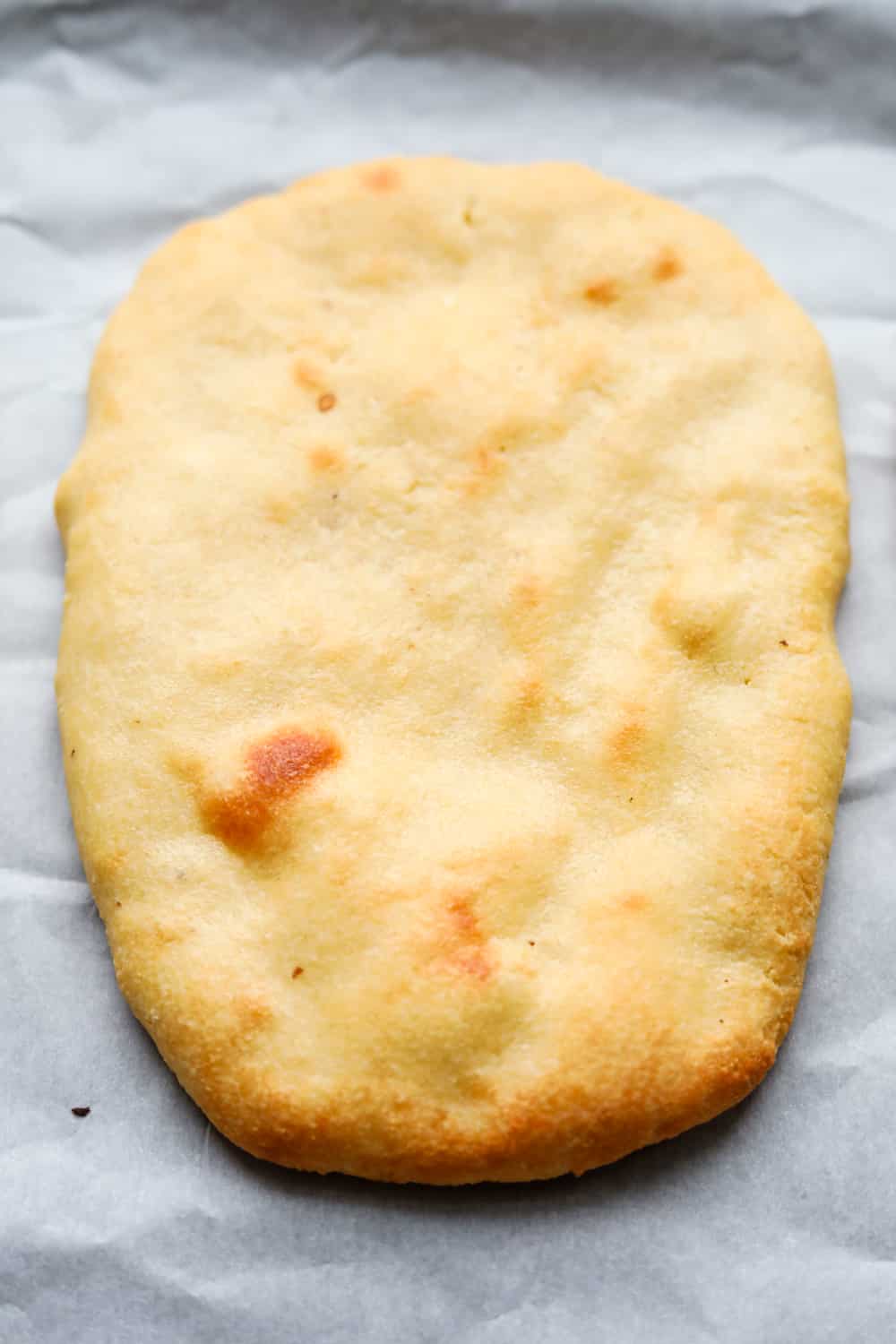 KETO FRIENDLY FLOURS TO USE & AVOID
As I'm sure you're aware, naan bread is oh so tasty, but it's also super high in both carbs and gluten.
So, for this keto friendly recipe, we'll be using almond flour - instead of white flour - to make every bite as delicious as traditional naan bread, while keeping it low carb and gluten-free.
That said, I used this blanched almond flour from Blue Diamond to make my naan bread keto friendly. It has the lowest carb count I've found in any keto-friendly flours, and it's reasonably priced too. 
That being said, two other keto flours that will work as substitutes for almond flour are sunflower seed flour and walnut flour. And you can easily substitute them for the almond flour at a 1:1 ratio.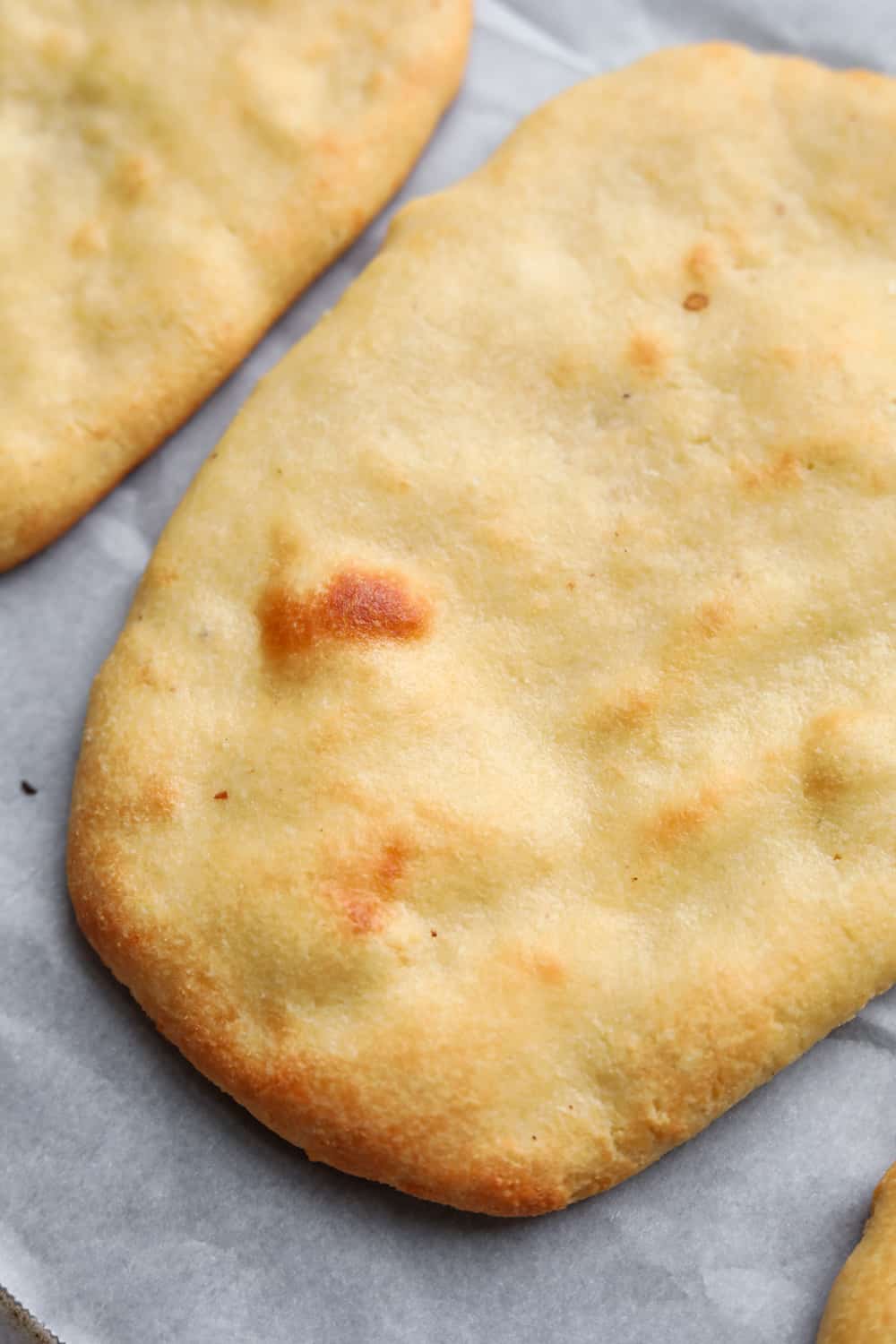 Avoid Using Coconut Flour
Make sure you do not try to substitute almond flour with coconut flour.
It will NOT work for this recipe- and most recipes that use almond flour, for that matter.
Coconut flour is extremely absorbent and it will turn your dough into a dry and crumbly mess - taking away from the soft and chewy texture that this keto naan bread would otherwise have.
So for best results, use almond flour, sunflower seed, or walnut flour to make this recipe.
HOW TO MAKE KETO NAAN BREAD
Now that you're all caught up on the ingredients, let's get into the recipe making process!
The whole recipe can be condensed into three basic steps: making the naan dough, shaping the dough into flatbreads, and baking them.
So without further ado, let's dive into the details!
STEP 1: MAKING THE DOUGH
The first thing you will want to do is preheat your oven to 375° F (190° C).
Then, using a whisk, combine all your dry ingredients - almond flour, protein powder, baking powder, and salt - in a bowl. And make sure to only use one and a half cups of almond flour for this step and set aside a quarter cup for later on.
By the way, I recommend using a food scale when you make this recipe to ensure consistent results. Pretty much any food scale will get the job done, but if you're interested in the food scale I use in my YouTube videos, it's the Dymo Digital Scale. 
Anyway, once the dry ingredients are prepped, you can set them aside, and start working on the rest of the ingredients.
So, to do that, you'll want to add your shredded mozzarella and sour cream (or yogurt) to a microwave-safe bowl. Then, pop that in the microwave and heat in 30-second increments until the cheese has completely melted.
Melting it in pulses like this helps prevent the ingredients from over-melting, and hardening.
That said, once the cheeses have melted together - and you've mixed them until they've combined with one another - you'll want to add them into the dry ingredients, and combine everything while the cheese is still warm. 
Then, you'll want to mix in your whisked egg, and continue to combine everything until you've got a sticky ball of dough. So, once you've got that happening in there, you'll want to add the remaining heaping ¼ cup of almond flour that you set aside earlier and mix that into your dough to reduce its stickiness. 
Now, to finish up this step, you'll want to let the dough rest for 15-20 minutes before forming it into your naans.
STEP 2: SHAPING THE NAAN
Ok, so after your dough has rested, it's ready to be shaped!
That said, the first thing you'll want to do is divide your dough into thirds, and then use your hands to form them into round, oval shaped pieces.
By the way, the dough can sometime still be a little sticky at this point. So, if it is, you'll want to wet your hands with some water to help prevent the dough from clinging to your fingers as you work with it.
STEP 3: BAKING THE NAAN BREAD
Now, once you have your three pieces of keto naan bread shaped on a baking sheet lined with parchment paper, you'll want to bake them the oven for arounf 7 to 8 minutes.
That said, when the top of the naan's are just starting to turn golden brown, you'll want to switch your oven over to broil, and cook them for an additional 1-2 minutes.
Then, you'll want to take your naan's out of the oven, let them cool to room temperature, and enjoy!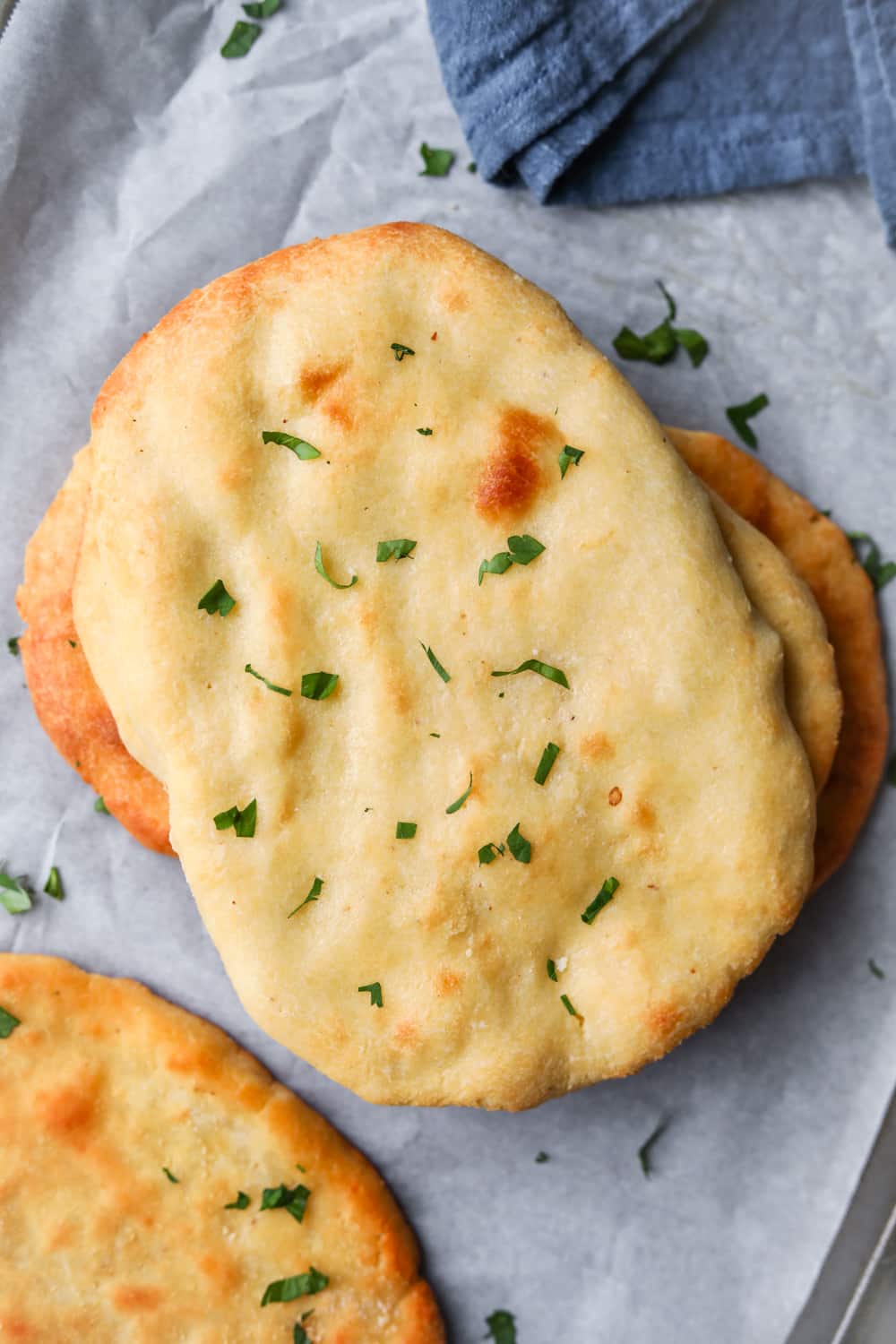 What to pair with this keto naan bread
So, you just finished baking your three pieces of keto naan bread, now you want to know what to do with them, right?
Well, of course you'll be eating them, but there are a few delicious ways to do this. 
If you want to break your naan bread into pieces and dip it in something, I recommend trying out my keto creamed spinach recipe or spinach and artichoke dip. Both are packed with rich and tangy flavors that would pair perfectly with your warm and toasty keto naan bread. And they're also a breeze to make- in fact, you could prepare them when the naan bread is baking. 
Another tasty option is using the naan bread as pizza dough. You can jazz it up with anything on top and turn it into a keto flatbread pizza. 
And, of course, if you want a cheesy snack, you can dip this naan bread into my homemade keto cheese sauce.
Anyway, whichever way you decided to eat it, I guarantee it will be delicioso!
Even if you decide to just eat it by itself!
STORING YOUR KETO NAAN BREAD
An aspect of this recipe that I love is it makes three pieces of naan bread - so you can eat it three days in a row. 
That said, for proper storage, wrap each piece in cling wrap or foil, and place them in an airtight container. 
You can then store your leftover pieces in the refrigerator for up to 1 week. And if you want to keep your keto naan bread for longer, you can freeze it for as long as 3 months. 
No matter which way you store the naan bread, all you have to do to reheat it is pop the pieces in the oven and bake at 375° F (190° C) until thoroughly warmed.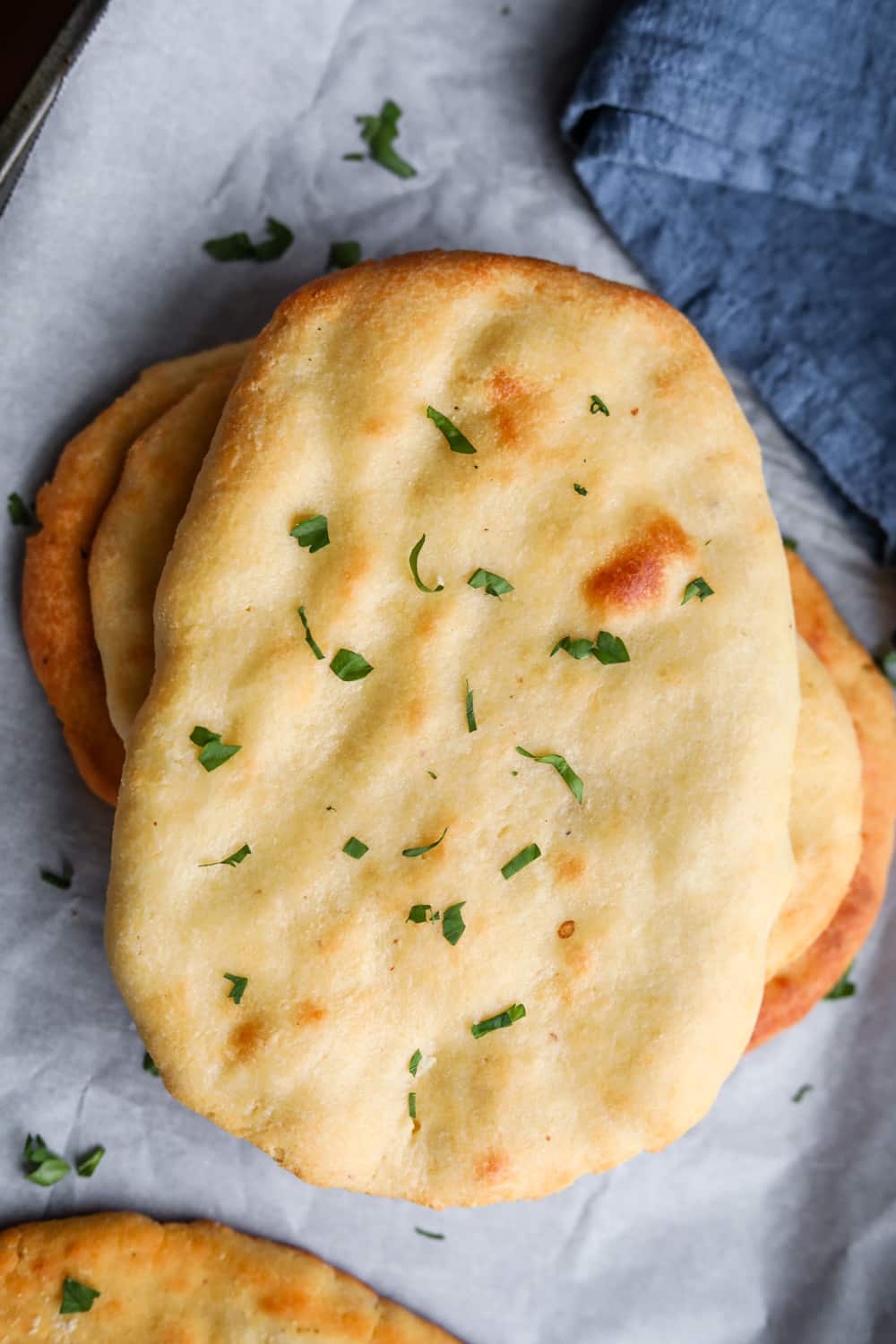 NUTRITIONAL INFORMATION
So for this recipe, we were able to take the carb count all the way down to just 4 NET CARBS per naan.
But here's how the rest of the nutritional info looks:
530 Calories

41g Fat

4 NET CARBS

28g Protein
As you can see, not only is this naan bread recipe low in carbs, but it's also high in fat and moderate in protein. And that means these macros are absolutley perfect for the keto diet.  
Anyway, I hope you like this keto naan bread recipe as much as I do. 
As always, if you end up making this recipe, leave a comment below to let me know what you think!
Oh, and take a picture of the naan bread and tag me on Instagram. I'd love to see how it turns out! 
Print
Keto Naan Bread | The Best Keto Flatbread
This keto naan bread is one of the best recipes you can make when you're craving low carb flatbread. Whether you call it keto chapati, keto paratha, or keto roti, each piece is a cloud on a plate - it is super soft, light, chewy, and oh so delicious. Not to mention it is a gluten-free flatbread and each one has just 4 NET CARBS!
Author:
Prep Time:

30 minutes

Cook Time:

10 minutes

Total Time:

40 minutes

Yield:

3 Naan Breads

Category:

Bread

Method:

Oven

Cuisine:

Keto Low carb
Instructions
Preheat your oven to 375° F (190° C).

Add your almond flour (1 ½ cups), protein powder, baking powder, and salt to a bowl and whisk until well-combined, then set aside.

Add the shredded mozzarella and sour cream to a microwave-safe bowl. Microwave them on and off in 30 second increments until the cheese has melted and combined.

Mix the melted cheese and sour cream together, then add the mixture to your dry ingredients while it's still warm.

Start combining the warm cheese with the dry ingredients. Then, add 1 whisked egg into the mix and continue combining until you get a sticky dough.

Sprinkle the rest of your almond flour (¼ cup) over the dough to reduce its stickiness and form the dough into a ball.

Let the dough rest for 15-20 minutes.

Once the dough has rested, divide into thirds and shape each portion into a round and flat naan bread. Add water to your fingers to prevent the dough from sticking.

Place the shaped naan bread dough onto a baking sheet lined with parchment paper.

Bake for 7-8 minutes, then broil for 1-2 minutes or until the top develops a golden brown color.

Take the naan bread out of the oven, let them cool to room temperature, then enjoy!
Notes
The scale up function does not change the gram measurements.
Nutrition
Serving Size:

1 Naan

Calories:

530

Fat:

41

Carbohydrates:

6

Fiber:

2

Protein:

28
Keywords: keto naan, keto naan bread, gluten free naan, keto flatbread, low carb flatbread, low carb naan, how to make low carb flatbread, low carb naan recipe, gluten free naan bread, gluten free flatbread, how to make keto naan bread, keto naan bread recipe, low carb flatbread recipe, keto chapati, keto paratha, keto roti, keto naan recipe, keto naan bread recipe, naan bread keto, flatbread keto, naan bread low carb