Add some healthy fiber to your day with these high fiber bread options! From classic white bread and whole wheat bread to gluten-free breads and even wraps and hamburger buns, these are all the high fiber breads worth adding to your grocery list.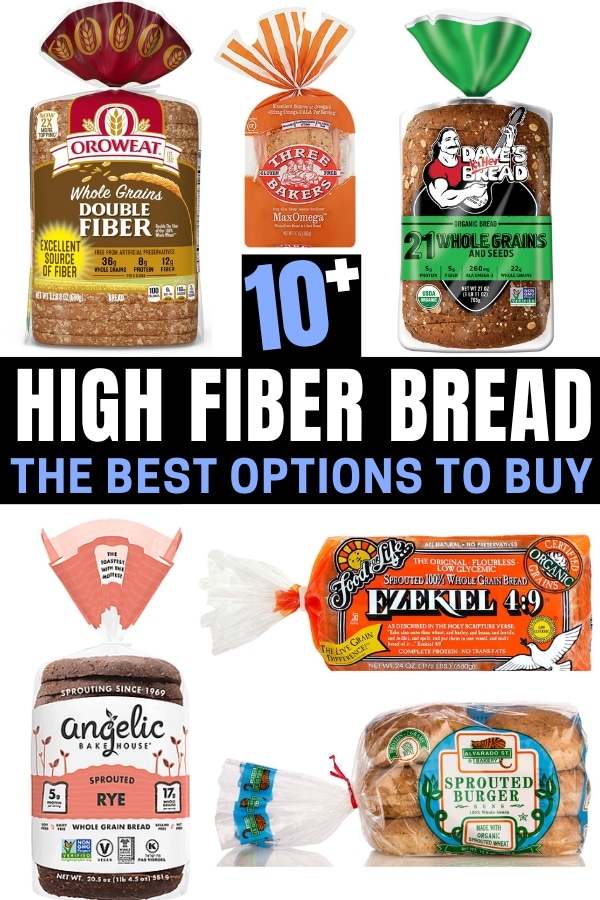 Highest Fiber Bread Options To Buy
Swapping from regular bread to high fiber bread is a quick, easy, and healthy upgrade to any meal. Eating more fiber can have a noticeable effect on your overall health, including maintaining your blood sugar, promoting good gut health, and keeping you feeling fuller and more satisfied after eating.
So if you're looking to make the switch, look no further than this list of all the best high fiber bread options to pick up from the bread aisle!
My Favorite High Fiber Breads
1. Hero Classic White Bread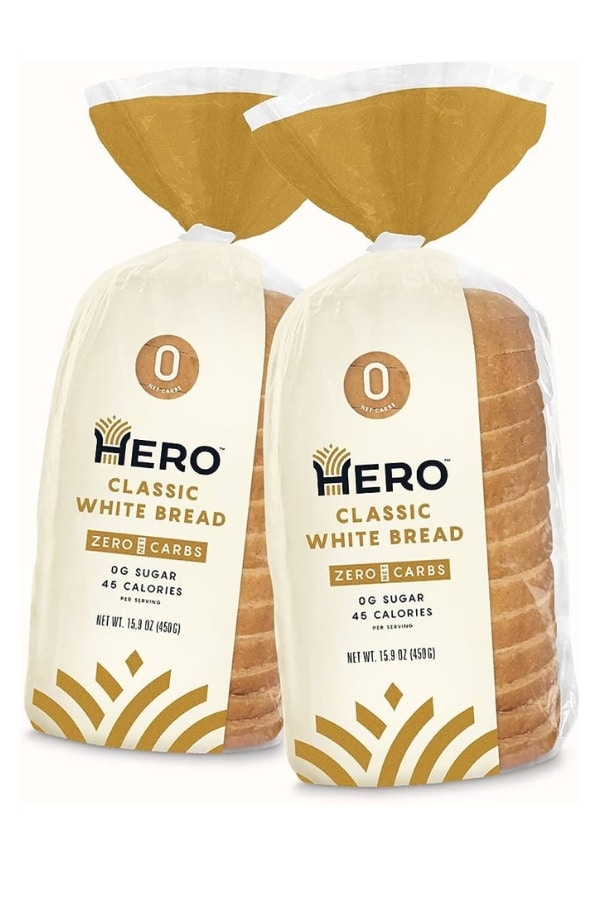 Nutritional Info for 1 slice (30g):
45 Calories
2g Fat
11g Carbs
0g Sugar
11g Fiber
5g Protein
This Hero classic white bread reminds me of the classic white bread I'd eat as a kid. It tastes and feels similar to regular bread but is made with wheat starch and protein rather than wheat flour, cutting down on calories and carbs and upping the fiber content. In fact, it may just be the highest fiber bread out there, with about 5 times as much fiber per slice compared to regular white bread!
2. Storye Classic Rye Bread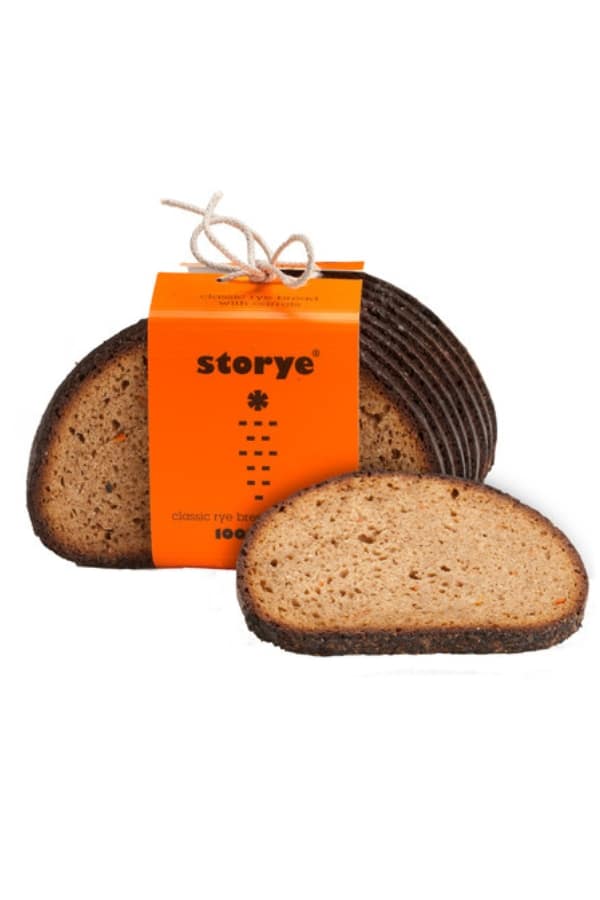 Nutritional Info for 1 slice (50g):
117 Calories
1g Fat
23g Carbs
5g Sugar
7g Fiber
4g Protein
Classic rye bread is a labor of love, and Storye doesn't cut corners when it comes to making this traditional favorite. Their rye breads are made with just a handful of simple ingredients, fermented, then double baked for a golden crisp outside and flavorful hearty inside. The result is ultra tasty bread that'll elevate any meal, packed with nutrients and high in fiber.
If you're a big fan of rye bread, they also make fine rye bread, classic rye with carrots, and fine rye with fruit and nuts that are well worth trying out.
3. Three Bakers MaxOmega Bread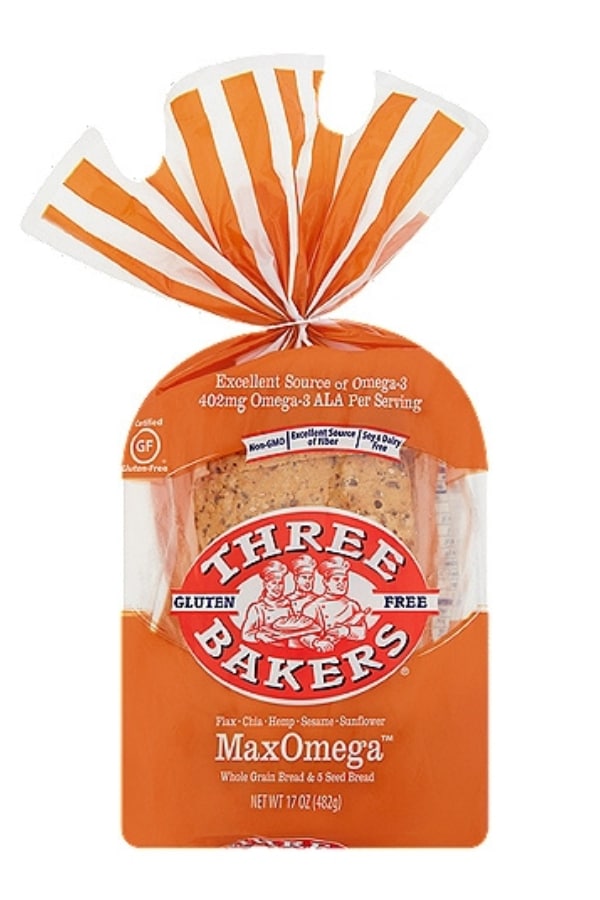 Nutritional Info for 2 slices (69g):
210 Calories
5g Fat
38g Carbs
4g Sugar
6g Fiber
3g Protein
MaxOmega bread gets its name from the omega 3-packed seeds that give this high fiber bread a boost of healthy fats. This naturally gluten free bread is made with whole grain brown rice flour and packed with a combination of flax seeds, chia seeds, hemp, sesame, and sunflower seeds.
It's great for everything from sandwiches to toast and grilled cheese and is even delicious untoasted thanks to the natural crunch and nuttiness of the 5 seed blend. For more high fiber bread options, check out their rye style bread and gluten-free 7 ancient grains bread too.
4. Dave's Killer Bread 21 Whole Grains and Seeds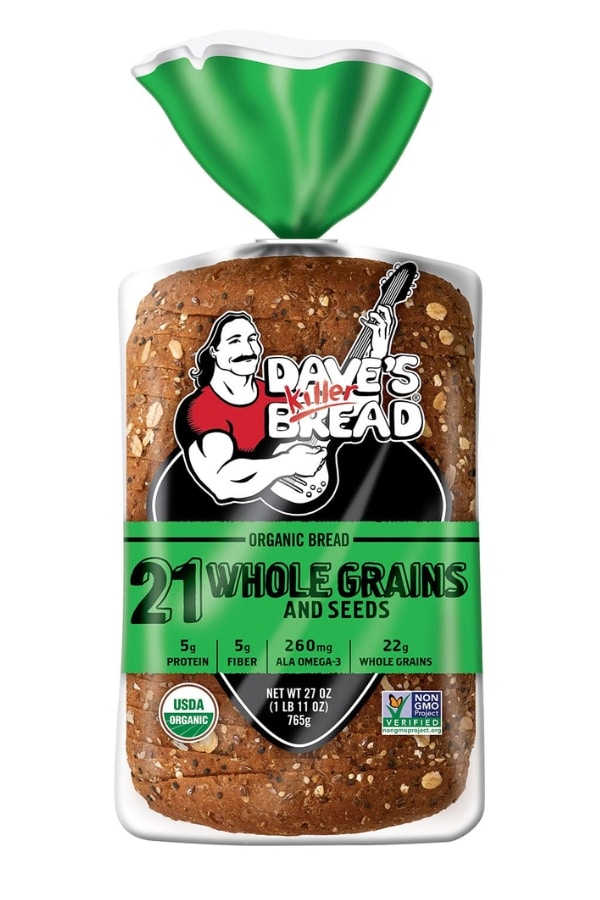 Nutritional Info for 1 slice (45g):
110 Calories
1.5g Fat
22g Carbs
5g Sugar
5g Fiber
5g Protein
This best-selling sandwich bread is packed to the brim with nutritious seeds and whole grains and is a great source of fiber, omega-3, and plant protein. In addition to being nutrient-dense, I think this bread tastes great too. The inside is tender and slightly sweet, with a toasted outer crust studded with crunchy, flavorful seeds.
5. Sigdal Bakeri Gluten Free Everything Norweigan Crispbread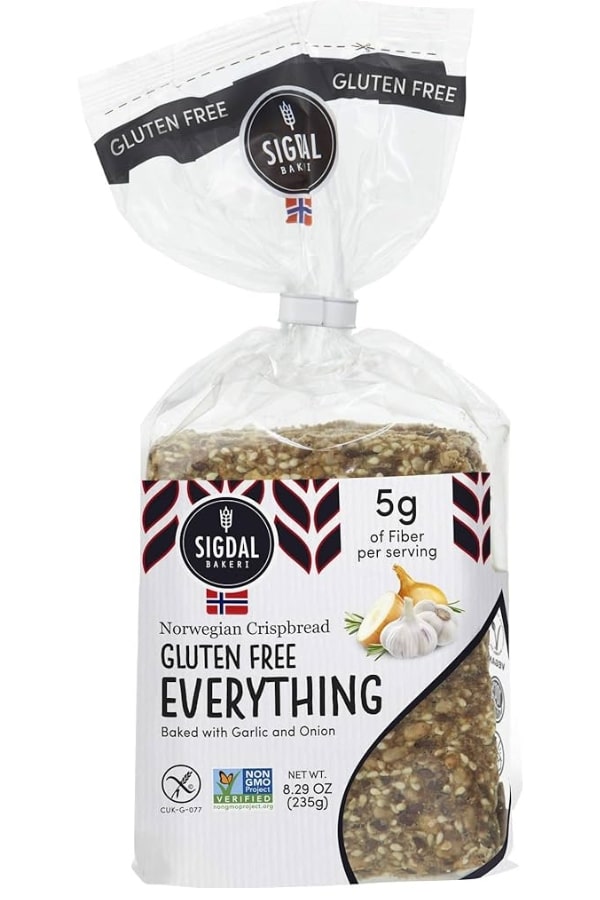 Nutritional Info for 1 cracker (24g):
130 Calories
9g Fat
10g Carbs
0g Sugar
5g Fiber
4g Protein
These flavorful crispbreads are a crunchy, cracker-thin substitute for sandwich bread and toast. I like to top it with some lox and cream cheese for a quick lunch or midday snack and a natural boost of fiber. This gluten-free version is made extra savory with garlic and onion. They also offer different gluten-free or traditional crispbreads made with oats, seeds, rye, quinoa, and more.
6. Maria and Ricardo's Almond Flour Keto Tortillas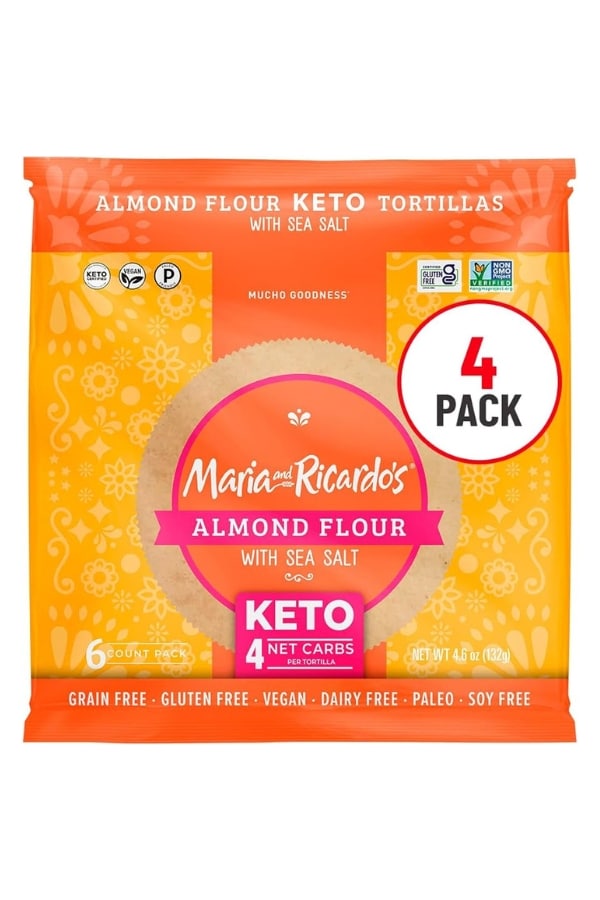 Nutritional Info for 2 tortillas (44g):
160 Calories
11g Fat
13g Carbs
1g Sugar
5g Fiber
5g Protein
This fiber-packed almond flour tortillas are my go-to for making quick wraps, roll-ups, or quesadillas. Made with almond flour, starches, and psyllium husk for a healthy dose of soluble fiber, it's a gluten-free, low carb, and low sugar upgrade to your usual flatbreads. What's great about these high-fiber wraps is that they don't fall apart when rolled or folded - a small perk that makes a world of difference when preparing lunch!
7. Orowheat Double Fiber Bread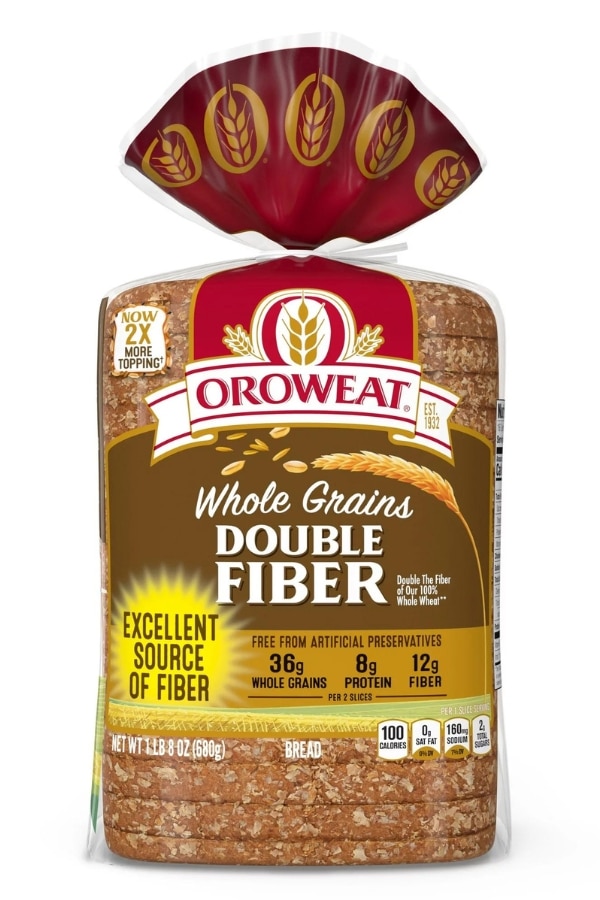 Nutritional Info for 1 slice (38g):
80 Calories
1.5g Fat
19g Carbs
2g Sugar
4g Fiber
4g Protein
As the name suggests, this Orowheat bread has about twice the amount of fiber you can expect from your typical whole wheat bread but with the same fluffiness and nutty taste. What I think sets this high-fiber bread apart from similar options on the store shelves is that it's made without a lot of the unnecessary additives and extenders pumped into other breads, making a truly tasty and healthy whole wheat bread that tastes right out of a bakery.
8. Alvarado St. Bakery Sprouted Burger Buns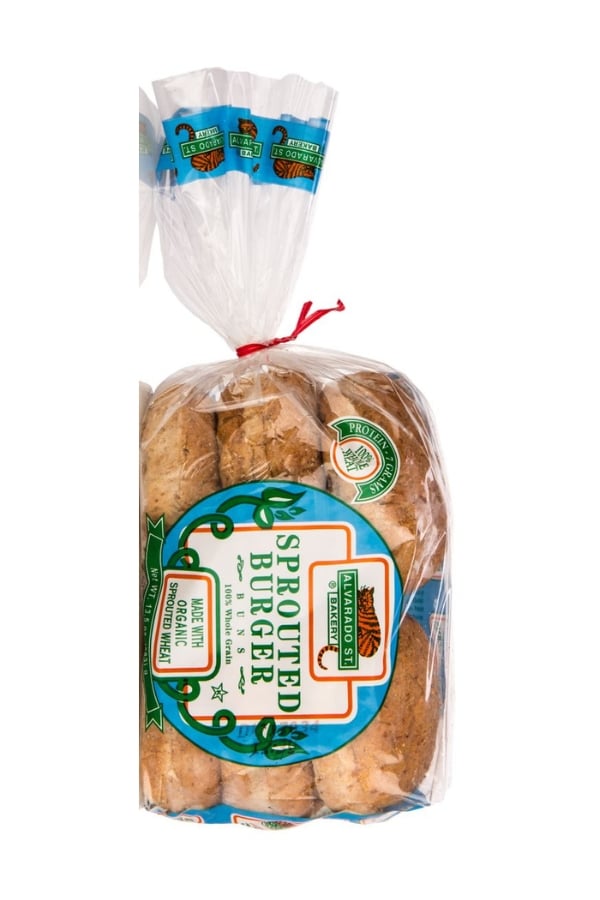 Nutritional Info for 1 bun (64g):
160 Calories
1g Fat
30g Carbs
3g Sugar
4g Fiber
8g Protein
These sprouted whole grain bread buns from Alvardo St. Bakery are what I use when I want to have a burger or grilled chicken sandwich. I always make this baked chicken breast for the sandwich.
Anyway, this bread is made with simple organic ingredients and sprouted wheat berries for easier digestion and better health benefits. And, of course, they're totally delicious to boot. These sprouted wheat buns have a pillowy sandwich bread texture with a touch of nutty chew from whole wheat that makes them so addictive. In addition to burger buns, they also make sprouted grain hot dog buns, bagels, tortillas, and sandwich breads, so you'll have plenty of choices for all your high fiber bread needs.
9. Food For Life Ezekiel Sprouted Grain Bread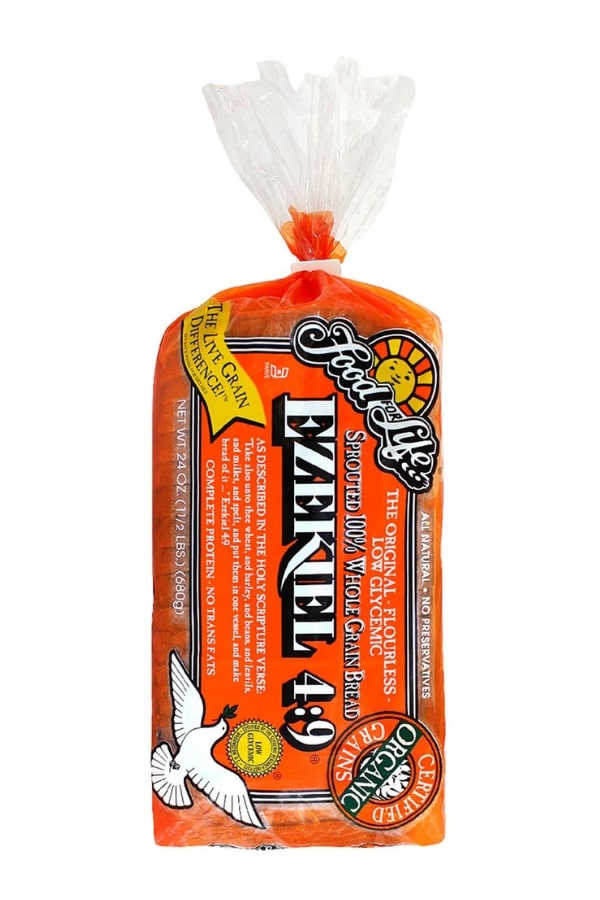 Nutritional Info for 1 slice (34g):
80 Calories
0.5g Fat
15g Carbs
0g Sugar
3g Fiber
5g Protein
Ezekiel bread has become a favorite pantry staple for many thanks to its nutrient-dense ingredients list, featuring a variety of organic sprouted grains and legumes that form a complete protein profile, and its overall delicious taste. And, of course, it's a great high fiber bread option too! This Ezekiel bread also comes in a low sodium option if you're avoiding salt, as well as other options like cinnamon raisin, sesame, and flax.
10. 365 by Whole Foods Whole Wheat Sandwich Bread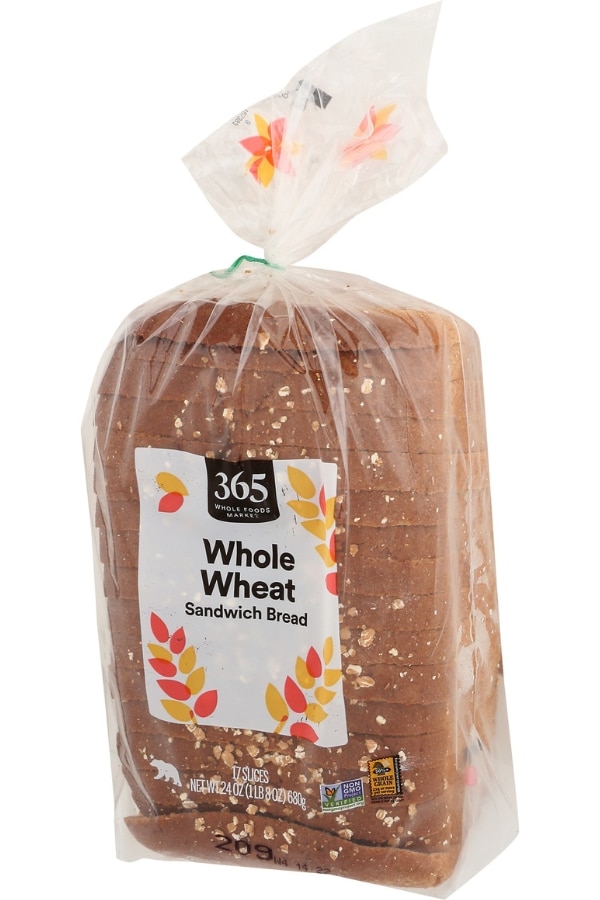 Nutritional Info for 1 slice (43g):
100 Calories
1.5g Fat
19g Carbs
2g Sugar
3g Fiber
5g Protein
If you're looking for a traditional and reliable sliced sandwich bread to stock in your pantry, this is the one to beat. This whole grain bread is as classic as it gets, made with whole wheat flour and simple ingredients for a fresh toasted flavor and pillowy texture with delicate chewiness. A slice of this whole wheat bread packs 3 grams of fiber or 6 grams for a sandwich, making it a better option than your typical white bread.
11. Angelic Bakehouse Sprouted Rye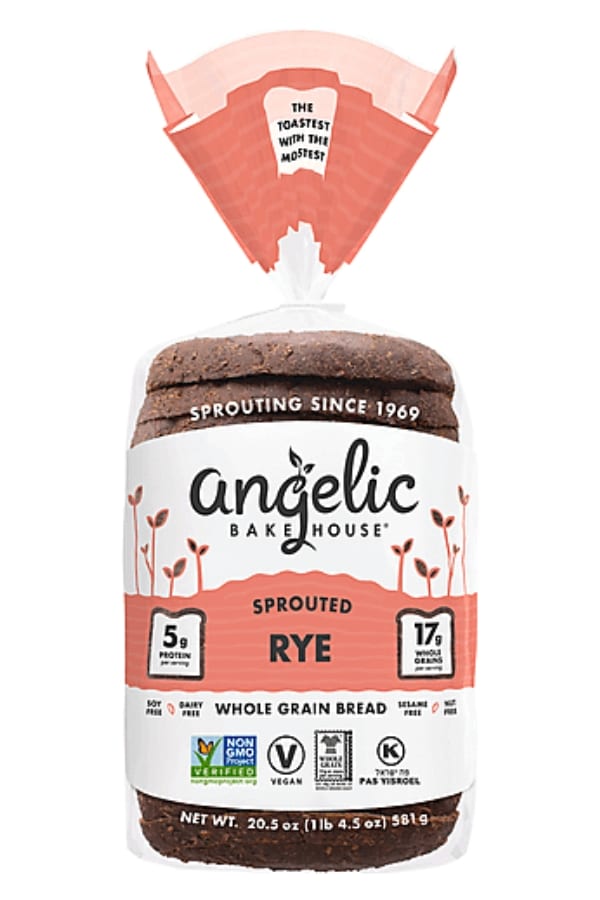 Nutritional Info for 1 slice (36g):
90 Calories
1g Fat
18g Carbs
2g Sugar
3g Fiber
5g Protein
Classic rye bread is naturally nutritious and high in fiber, and this sprouted grains version from Angelic Bakehouse takes all that goodness and makes it even better. This sprouted rye bread is made with 6 kinds of sprouted grains, including rye berries, barley, quinoa, and amaranth, for added health benefits, better nutrient absorption, and a more complex flavor. Made with just a touch of molasses, brown sugar, and caraway seeds, it's an instant fiber and flavor upgrade to any sweet or savory sandwich.
12. Finn Crisp Crisp Bread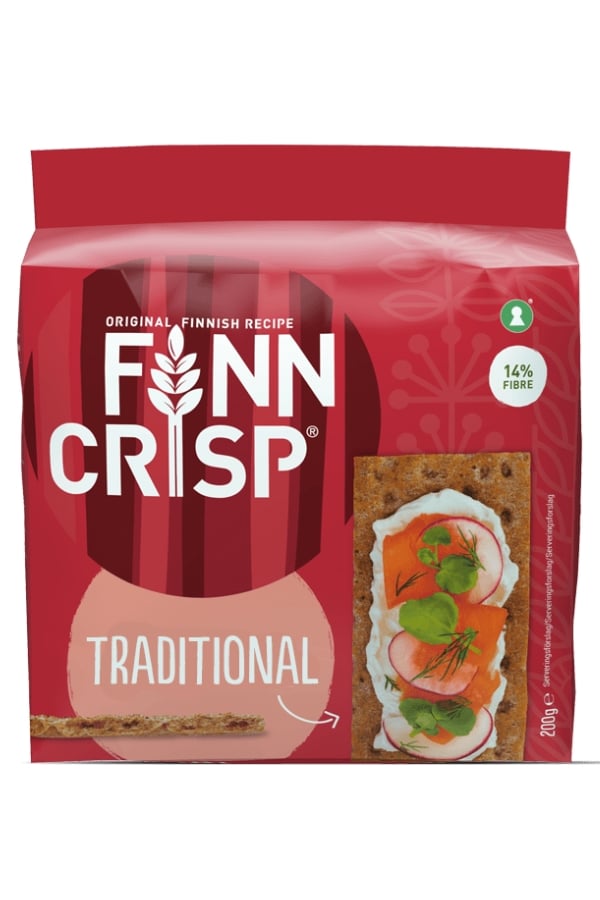 Nutritional Info for ⅙ piece (16g):
50 Calories
0g Fat
10g Carbs
0g Sugar
3g Fiber
2g Protein
Nordic crispbread is known for its incredible crunchiness and rich toasted grain flavor, and this traditional rye crispbread from Finn Crisp delivers on both fronts. It's amazing paired with soups or salads, broken up into croutons, or enjoyed as a lighter, crispier alternative to sandwich bread and toast that still manages to be filling and satisfying. Plus, it's made with just 4 simple ingredients and is sugar free, fat free, and low in calories and carbs too!
More Healthy Lists To Check Out