These high fiber nuts and seeds are a great addition to any diet for an instant boost of fiber. With as much as 10 grams of fiber per serving, each option packs a delicious and nutritious punch!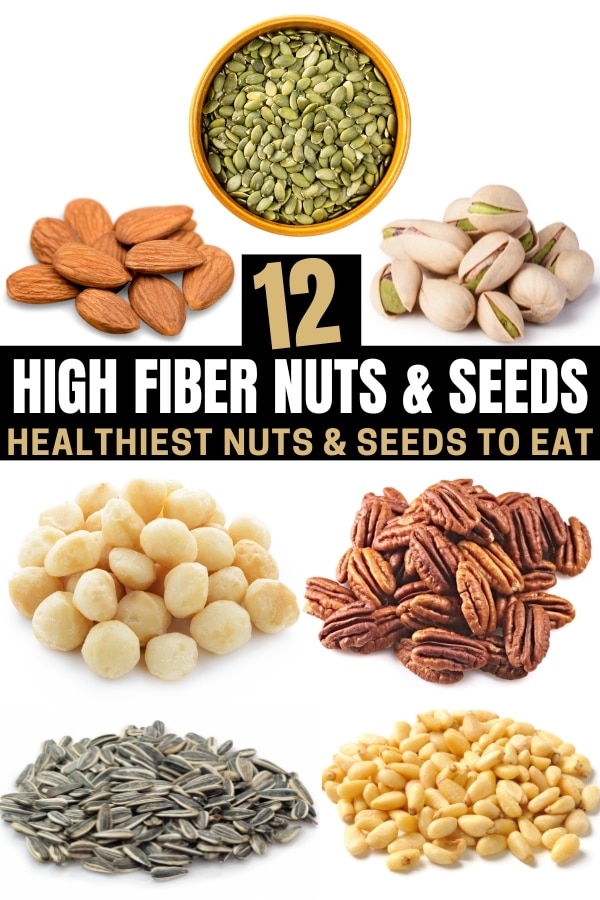 The Best Fiber Rich Nuts and Seeds
There are a ton of great reasons to add nuts and seeds to your diet. In addition to being a great source of fiber, nuts and seeds are also packed with essential nutrients and come with plenty of health benefits.
Plus, they taste great and are incredibly easy to incorporate into your daily meals. I love to sprinkle them over salads, blend them into smoothies, eat them as a snack, or enjoy them as a spreadable seed or nut butter!
So, if you want to maximize your daily fiber intake, here are all the best high fiber nuts and seeds you can eat.
Top Nuts and Seeds High in Fiber
1. Chia Seeds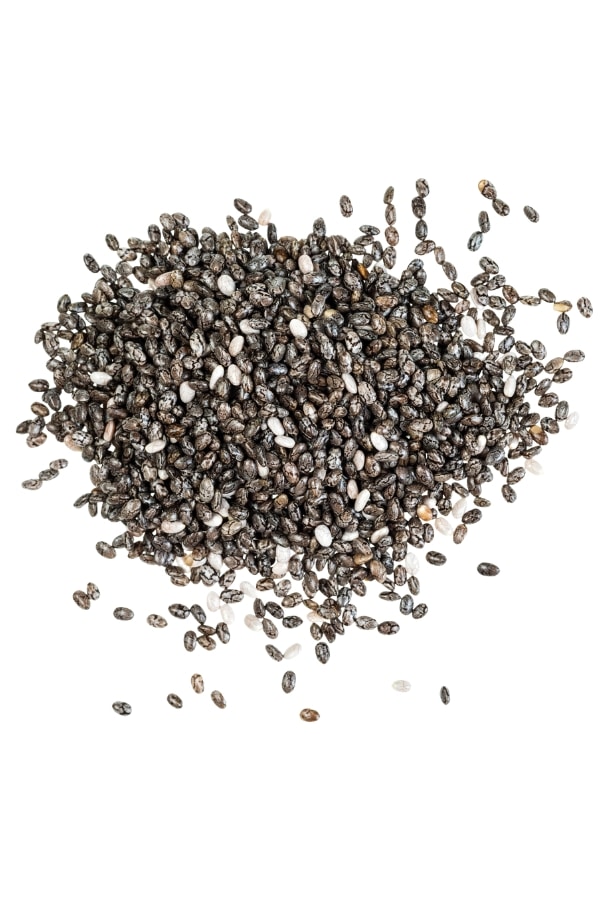 Nutritional Info for 1 oz. (28g):
138 Calories
9g Fat
12g Carbs
10g Fiber
4.7g Protein
Chia seeds are by far the best source of fiber out of any nuts or seeds, with an impressive 10g of dietary fiber per serving. Just 3-4 tablespoons of chia seeds have enough fiber to make up half of your daily recommended intake! Mix a few tablespoons of chia seeds into a protein shake, smoothie bowl, or oatmeal for an instant boost of fiber. You can also make a delicious chia seed pudding!
2. Flax Seeds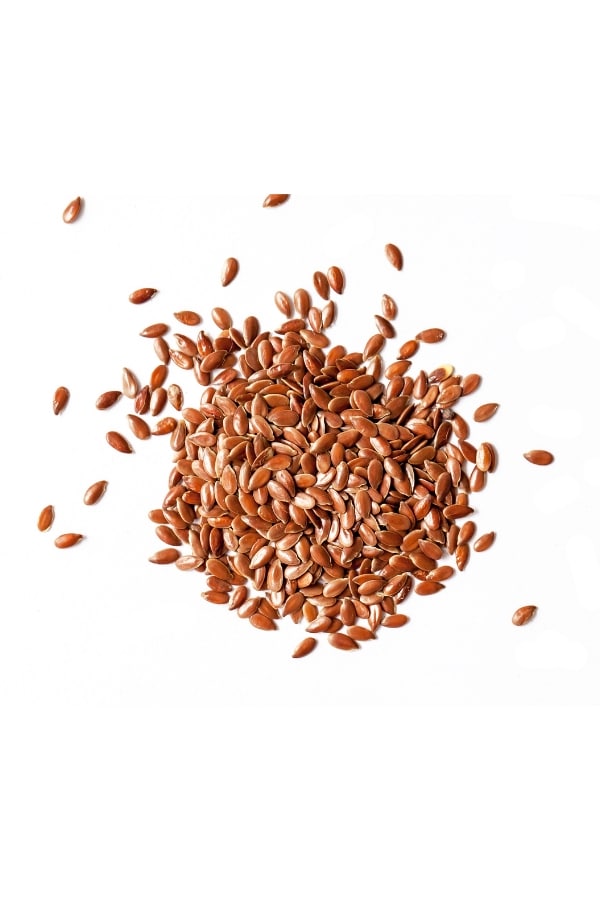 Nutritional Info for 2 tbsp. (20g):
110 Calories
8.6g Fat
6g Carbs
5.6g Fiber
3.8g Protein
Flax seeds are sometimes confused with hemp seeds, but while both are full of health benefits, flax seeds are a much better source of fiber, with more than three times the amount. These mild and nutty seeds are great for mixing into cold and hot cereal, adding to baked goods, or even stirring into salad dressings and sandwich spreads. Just a couple of tablespoons pack a quarter of your daily recommended dose, with a healthy balance of both insoluble fiber and soluble fiber.
3. Pumpkin Seeds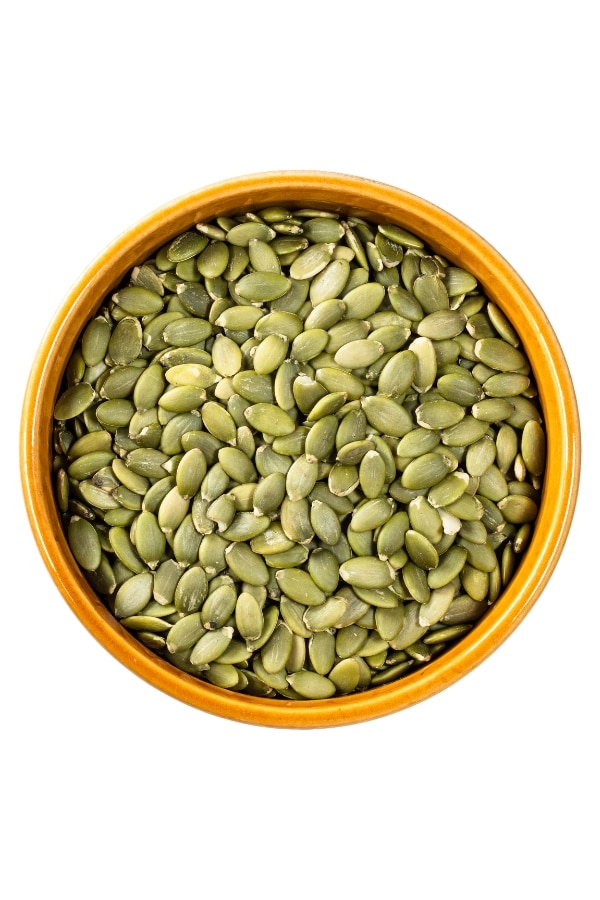 Nutritional Info for 1 oz. (28g):
126 Calories
5g Fat
15g Carbs
5g Fiber
5g Protein
The next time you carve a pumpkin or cook squash, be sure to save the seeds inside for roasting. A quarter cup of these tasty seeds provides 5 grams of dietary fiber. There is an endless variety of ways to add them to both sweet and savory meals, including tossing them in a salad or grain bowl, adding them to your favorite trail mix, or making seed-crusted chicken and fish. And if you prefer your pumpkin seeds without the crunchy shells, you can also try pepitas, which are a hullless variety.
4. Sesame Seeds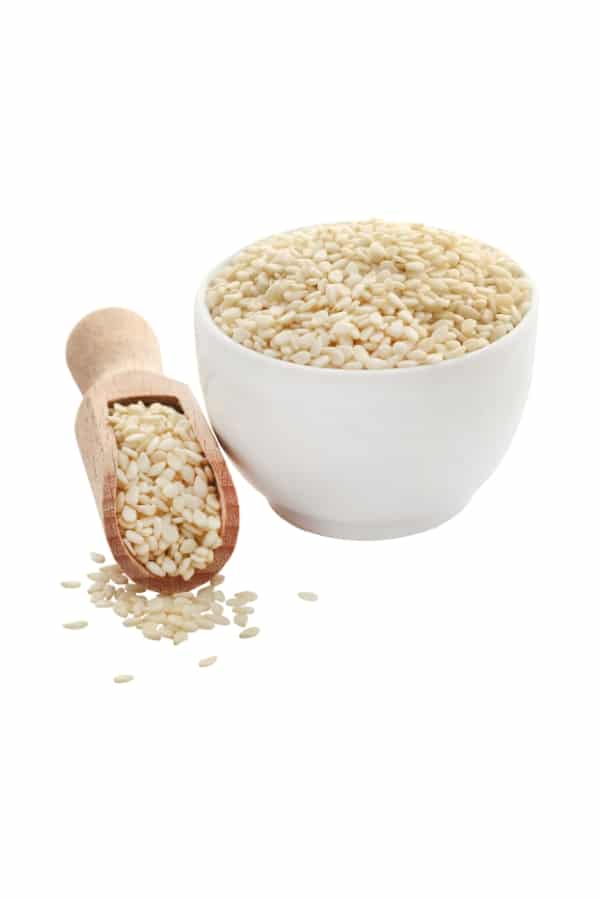 Nutritional Info for 1 oz. (28g):
160 Calories
13.6g Fat
7.3g Carbs
4g Fiber
4.8g Protein
Sesame seeds are a great way to add fiber as well as flavor and crunch to any meal. Their signature savory-nutty flavor profile is a favorite in many Asian cuisines, and they can be sprinkled over a shrimp stir fry, noodle bowls, and rice. Both black and white sesame seeds are great sources of fiber, though black sesame seeds have more nutrients thanks to their outer hull.
5. Sunflower Seeds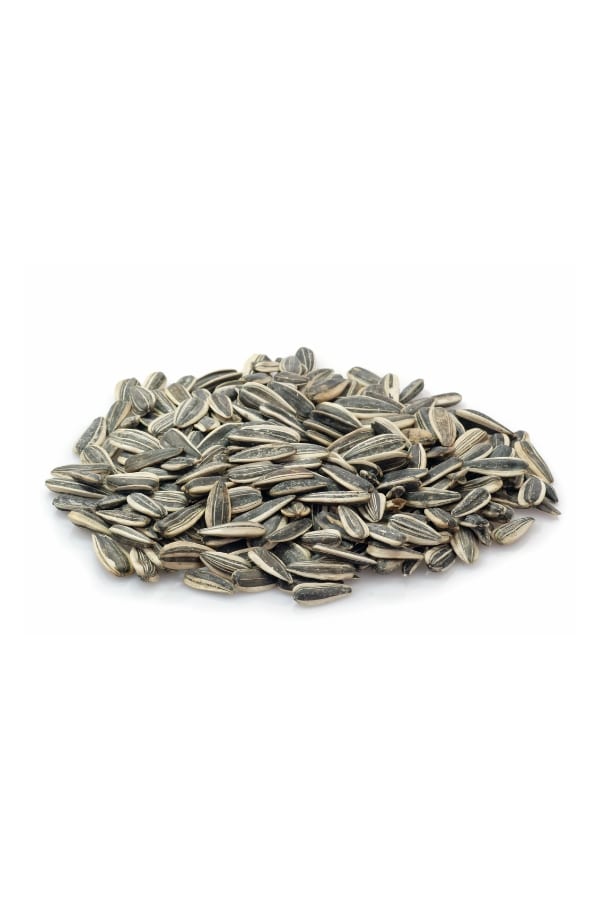 Nutritional Info for 1 oz. (28g):
165 Calories
14g Fat
6.8g Carbs
3.2g Fiber
5.5g Protein
This fiber-rich seed is a fantastic source of vitamin E, with over a third of the recommended intake in just one ounce! I love eating sunflower seeds out of the bag, and I also really like sunflower seed butter. When eating sunflower seeds, you'll want to avoid eating the shells, though, since they can't be digested by the body.
6. Hazelnuts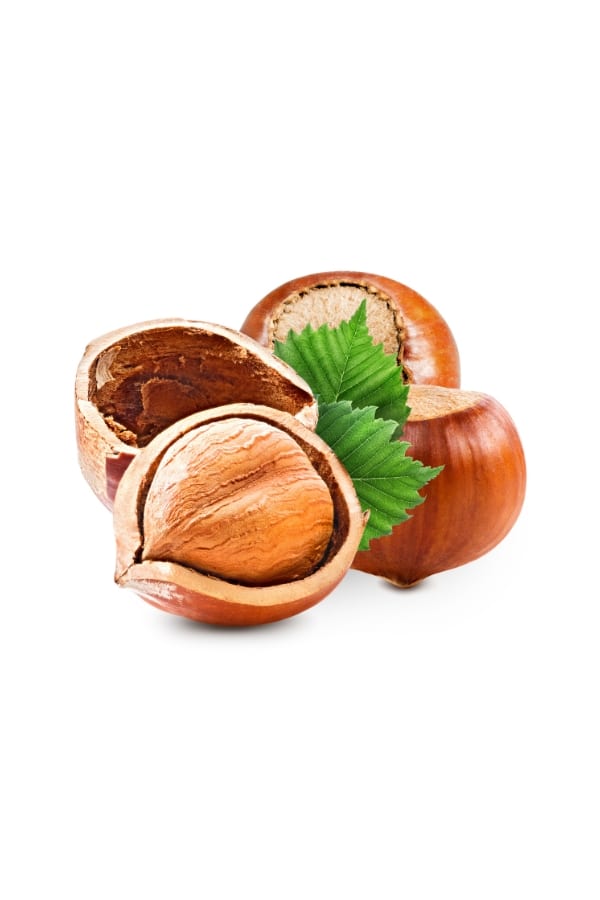 Nutritional Info for 1 oz. (28g):
178 Calories
17g Fat
4.7g Carbs
2.7g Fiber
4.2g Protein
Hazelnuts are famous for their rich and mildly sweet flavor and also happen to be one of the highest fiber nuts you can eat! So you should have no problem adding this tasty treat to your diet. Hazelnut butter makes a delicious spread and filling for baked goods, especially when mixed with chocolate. However, you'll want to steer clear of high-sugar options and try homemade or low-sugar ones for the most health benefits - like my keto Nutella!
7. Almonds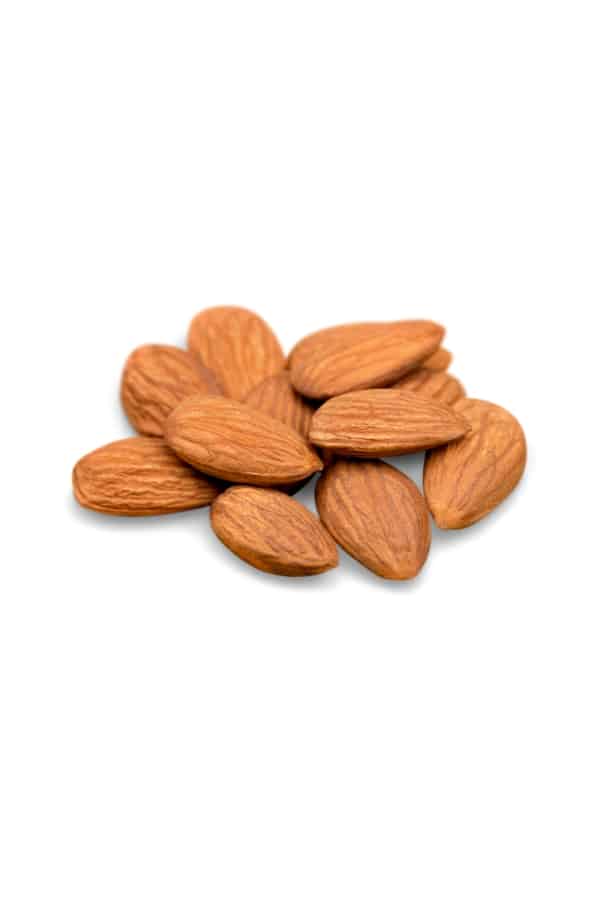 Nutritional Info for 1 oz. (28g), roasted:
170 Calories
15g Fat
6g Carbs
3g Fiber
6g Protein
Almonds are arguably one of the most popular nuts and conveniently one of the highest in fiber too. To get the most out of your almonds, opt for whole almond nuts or almond butter with no added sugar. I like seasoned almonds for snacking and sliced almonds for adding to baked goods like this keto almond cake and for putting on top of salads.
8. Pistachios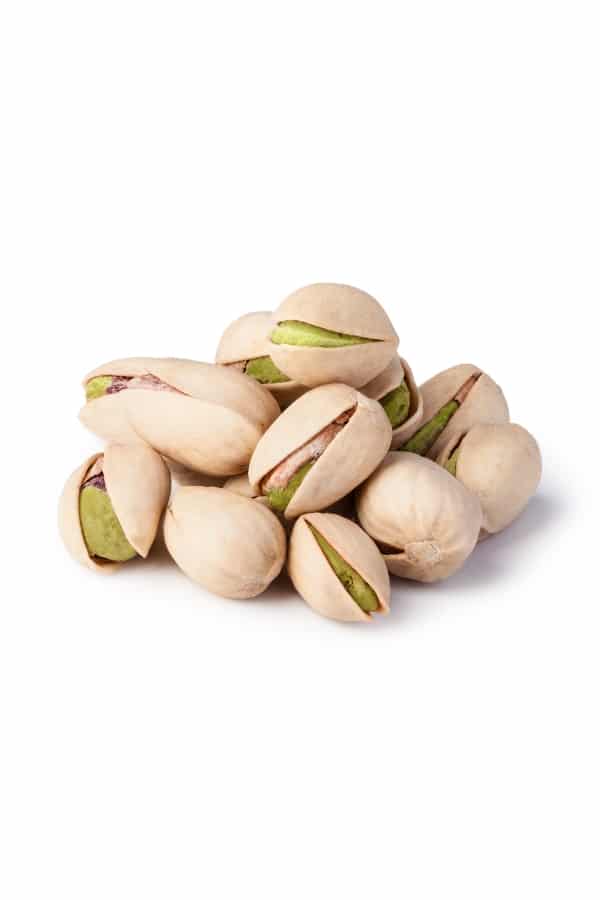 Nutritional Info for 1 oz. (28g):
159 Calories
13g Fat
8g Carbs
3g Fiber
6g Protein
Pistachio's green color with hints of purple isn't just beautiful to look at; the pigments give these high fiber nuts more antioxidant properties than most other tree nuts. They're also the highest in lutein and zeaxanthin, antioxidants that contribute to healthy eyesight, as well as being the nut with the lowest fat content on this list. So there's plenty to love about these vibrant nuts!
9. Pecans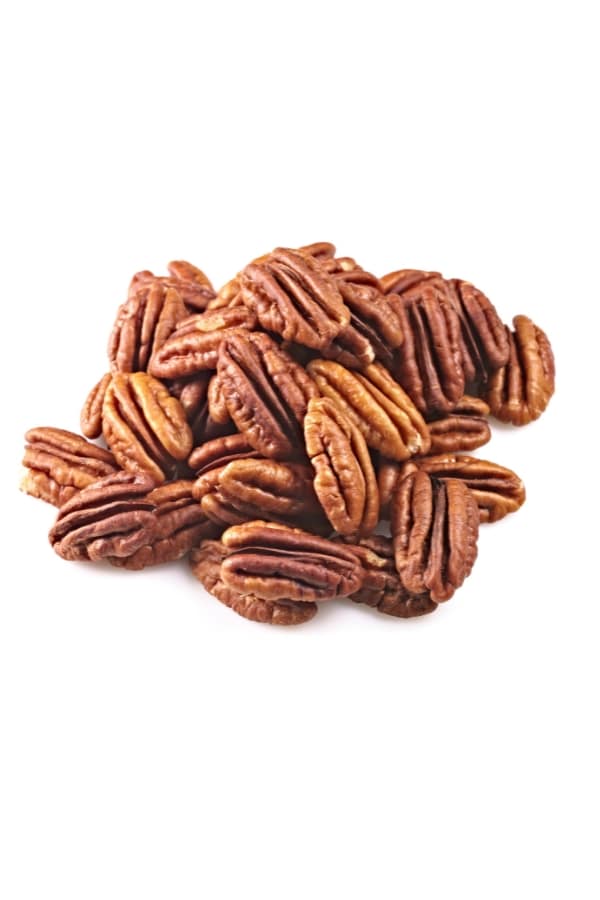 Nutritional Info for 1 oz. (28g):
201 Calories
21g Fat
4g Carbs
3g Fiber
3g Protein
If you want to add some healthy fat to your day in addition the fiber, pecans are one of the best nuts to reach for and are packed with healthy monounsaturated fats. A favorite in the South, pecans are a sweet and buttery tree nut that can be eaten raw or roasted and used in anything from pies to granola to salads. I love making these keto candied pecans and mini keto pecan pie.
10. Pine Nuts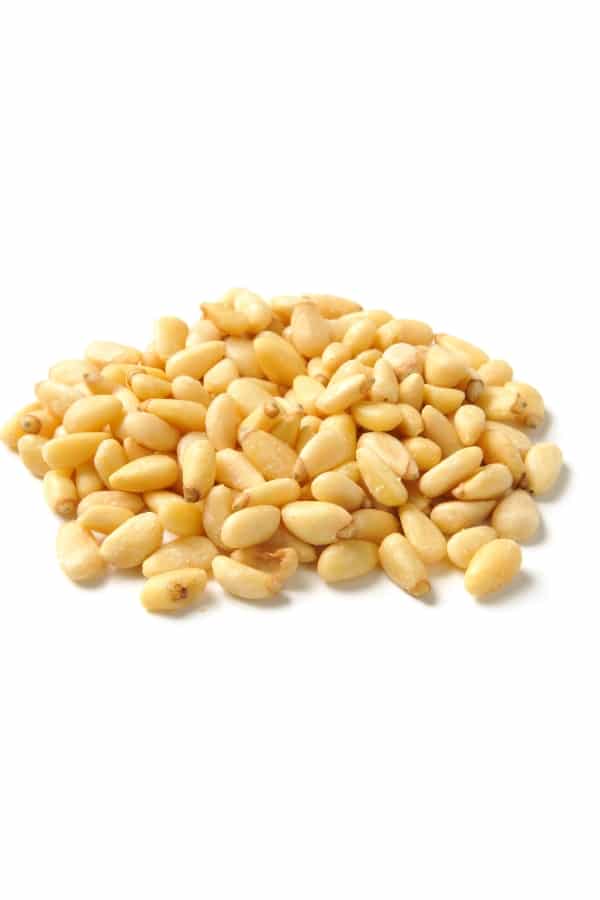 Nutritional Info for 1 oz. (28g), dried:
179 Calories
17.3g Fat
5.5g Carbs
3g Fiber
3.3g Protein
Though not as widely available as the other nuts and seeds on this list, pine nuts are surprisingly easy to add to your regular meal rotation. Pesto sauce made with pine nuts is a tasty way to sneak more pine nuts into your meals. They're also great blended into hummus, so next time you want a snack, go for a hummus with pine nuts and some healthy tortilla chips.
11. Macadamia Nuts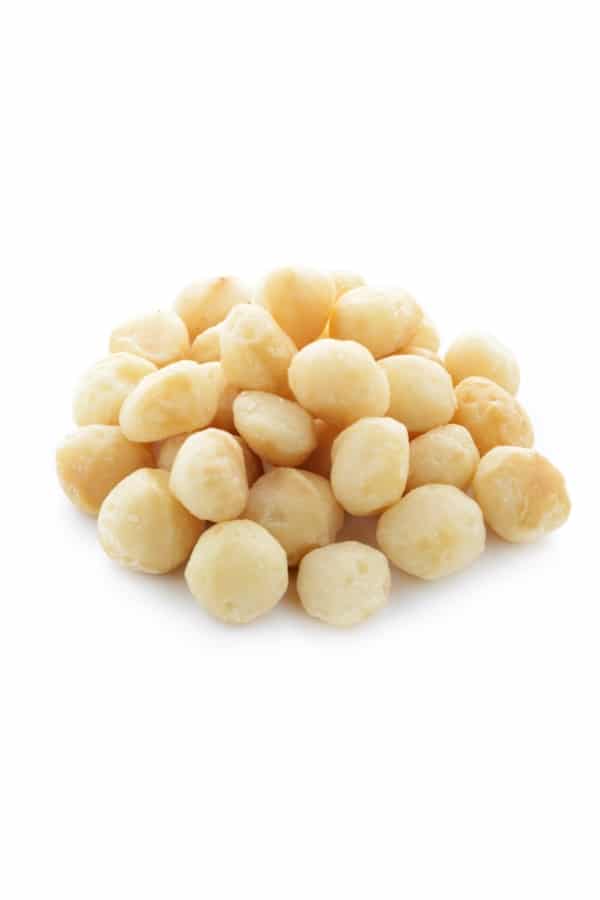 Nutritional Info for 1 oz. (28g):
204 Calories
21.5g Fat
4g Carbs
2.5g Fiber
2g Protein
Macadamia nuts are the best source of heart-healthy fats on this high fiber list. They are higher in calories, though, so you may want to limit your intake as they can add up quickly. I like to just snack on a few macadamia nuts on their own, but they're also great added to cookies or incorporated in savory recipes.
12. Walnuts
Nutritional Info for 1 oz. (28g):
185 Calories
18.5g Fat
4g Carbs
2g Fiber
4g Protein
Walnuts also have the highest amount of omega-3 fatty acids out of any nuts and have been proven to support brain, heart, and gut health. I like just eating walnuts by the handful, but they're also delicious mixed in with a low sugar granola and low sugar yogurt.
More Healthy Lists To Check Out