If you're looking for the best healthy snacks for when you're on the go you've come to the right place. Every option on this list is guaranteed to keep your energy levels up and your hunger levels low and they're all super convenient options too. In fact, most of these healthy on the go snack ideas require no refrigeration at all - so you can bring them with you anywhere!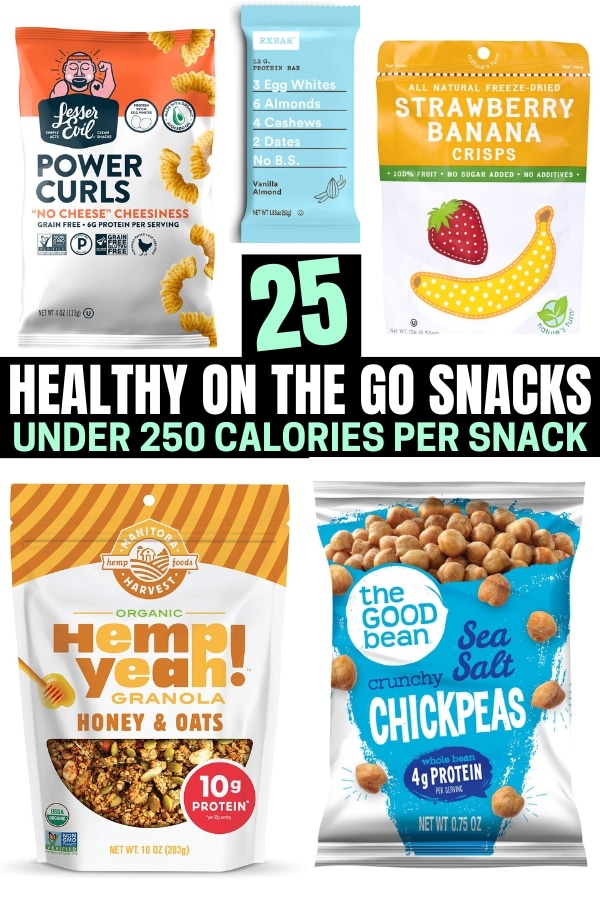 The Best Healthy Snacks On The Go
Snacking is a great way to fill you up between meals and keep you going all day long. However, most of the on the go snacks you can buy today tend to be packed with empty calories, sugars, and unhealthy additives. Not to mention, the majority of the time, they either leave you feeling hungry or sluggish.
So, with that in mind, I put together this guide of all the healthiest snacks you can bring/eat anywhere. Whether you're craving something sweet, savory, or crunchy, you'll find an option here for you.
Oh, and best of all most of the options have less than 150 calories a serving!
Healthy Snack Ideas
1. Freeze-Dried Fruit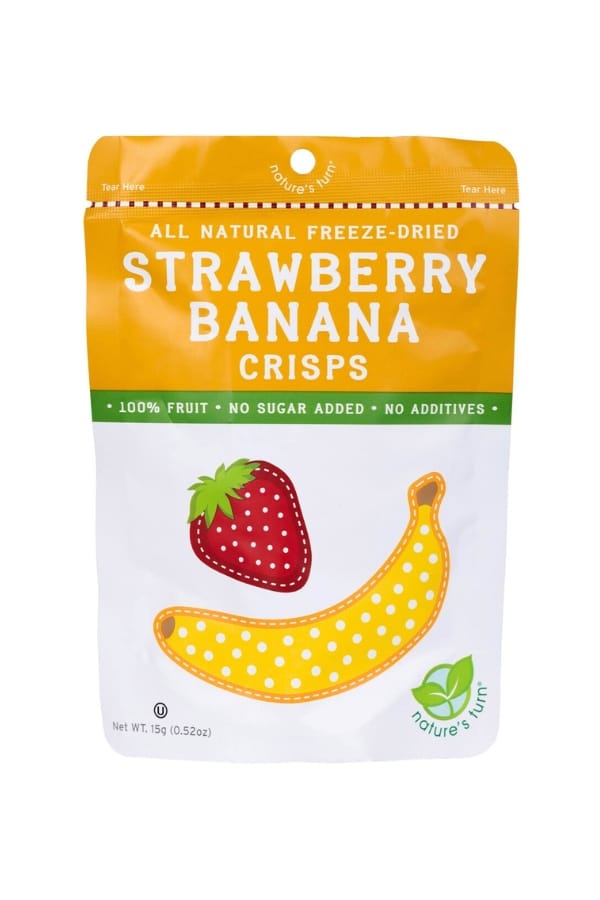 Nutritional info for 1 package (15g) of Nature's Turn Freeze Dried Strawberry and Banana:
50 Calories
0g Fat
12g Carbs
1g Protein
Freeze-dried fruit is fantastic for healthy snacking on the go. Freeze drying retains most of the nutrients and flavor from the fresh fruits and gives them a wonderfully airy, crunchy texture. You can find a freeze-dried version of most fruits, and they're delicious on their own or as a topping for yogurt and smoothie bowls.
Grab a variety pack of freeze dried fruit here.
2. Greek Yogurt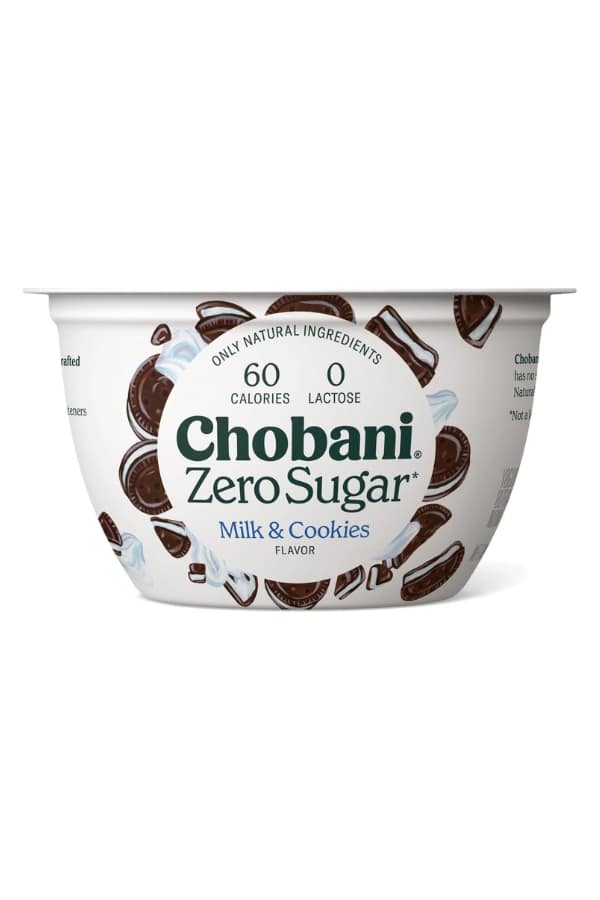 Nutritional info for 1 container (5.3oz) of Chobani Zero Sugar Milk & Cookies:
60 Calories
0g Fat
5g Carbs
11g Protein
Greek yogurt makes a great quick and easy snack, and it's also an excellent source of protein.
One of the best things about Greek yogurt is that you can find it in a ton of different flavors. So, no matter what kind of taste buds you have there's a good chance you'll find an option they'll love.
By the way, if you're looking for some awesome Greek yogurt options to go with check out one of these guides I've put together:
3. Fresh Fruit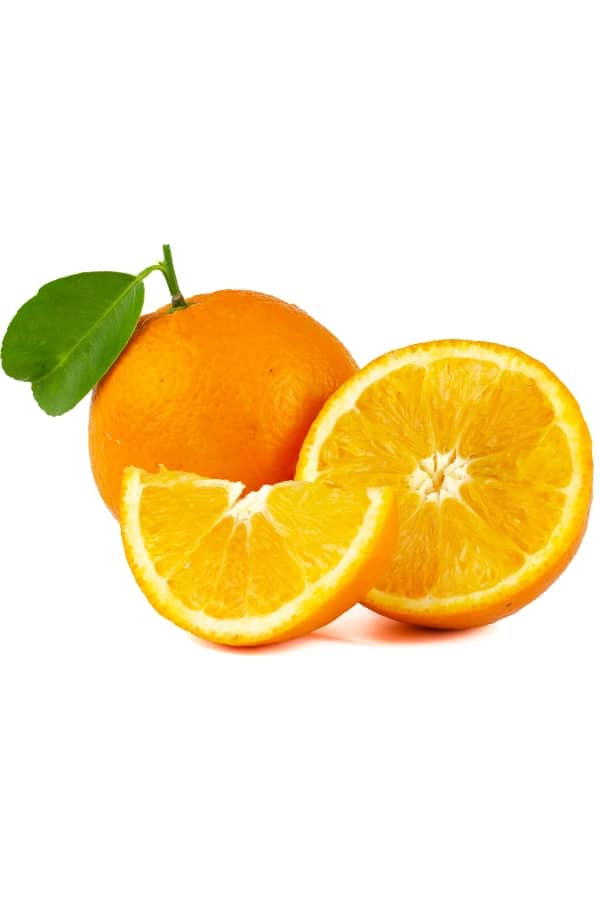 Nutritional info for 1 orange (131g):
62 Calories
0.2g Fat
15g Carbs
1.2g Protein
Fresh fruits are packed with nutritional benefits, fiber, and antioxidants and are an excellent addition to any healthy diet. You can snack on fruit alone or pair it with things like peanut butter or cottage cheese for a more filling snack.
4. No Bake Energy Bites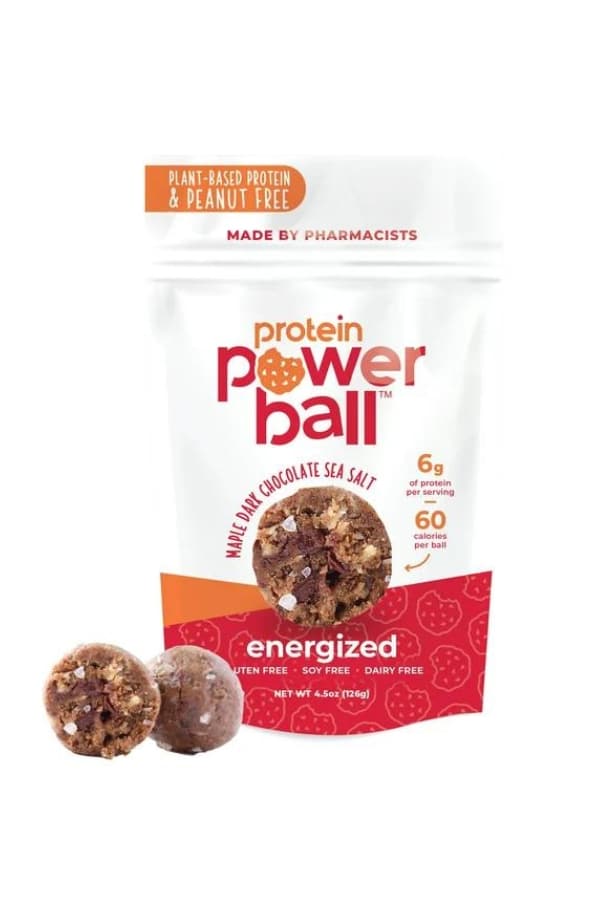 Nutritional Info for 1 ball:
60 Calories
3g Fat
5g Carbs
3g Protein
If you haven't heard of no-bake energy bites before, they're basically a combination of nut butter, grains, and other add-ins rolled into a satisfying bite-sized ball. They're great for a midday energy boost and pack a good amount of fats, protein, and nutrients to keep you full and energized throughout the day.
If you're looking for a homemade protein ball recipe you're in luck because I've got one! It's made with just a few simple ingredients and takes basically no time to whip up.
5. Cheese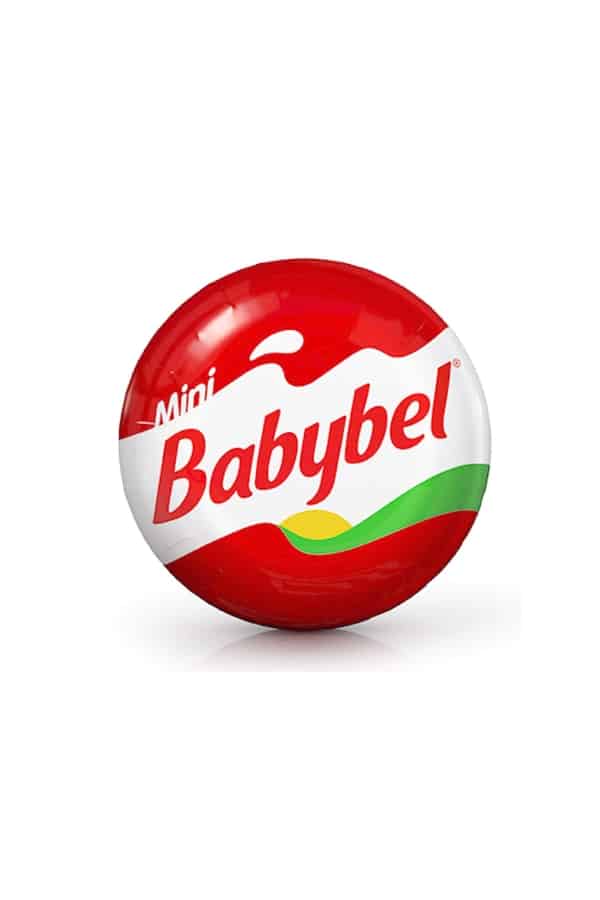 Nutritional info for 1 piece of Babybel Cheese (20g):
70 Calories
5g Fat
0g Carbs
4g Protein
A serving of cheese on its own is a surprisingly healthy and filling snack. It's also a great source of protein.
The next time you're in a rush, grab a piece of babybel cheese, a slice of cheddar, or a mozzarella string cheese stick for a quick and simple way to get in some extra protein. Or, if you have another minute, pair it with a handful of baby carrots or cherry tomatoes and make an even bigger snack!
6. Kiss My Keto Gummies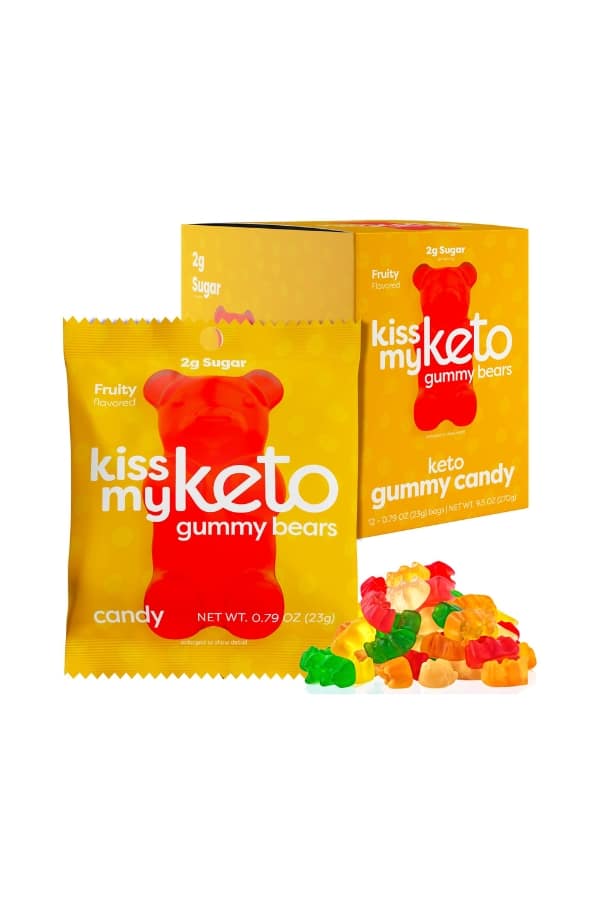 Nutritional info for 1 bag (50g) Kiss My Keto Gummy Bears:
70 Calories
0g Fat
38g Carbs

18g Net Carbs

0g Protein
Most gummy snacks are filled with added sugars and empty calories that contribute nothing to a healthy diet and won't keep you full. Luckily, there are tons of great low-sugar options - my favorite being these Kiss My Keto gummies - that'll let you satisfy your craving without piling on the sugar, carbs, and calories.
The Kiss My Keto gummies are made with natural fruit flavors and colors, are keto and vegan-friendly, and even contain MCT oil for added health benefits.
You can try them here.
7. Jerky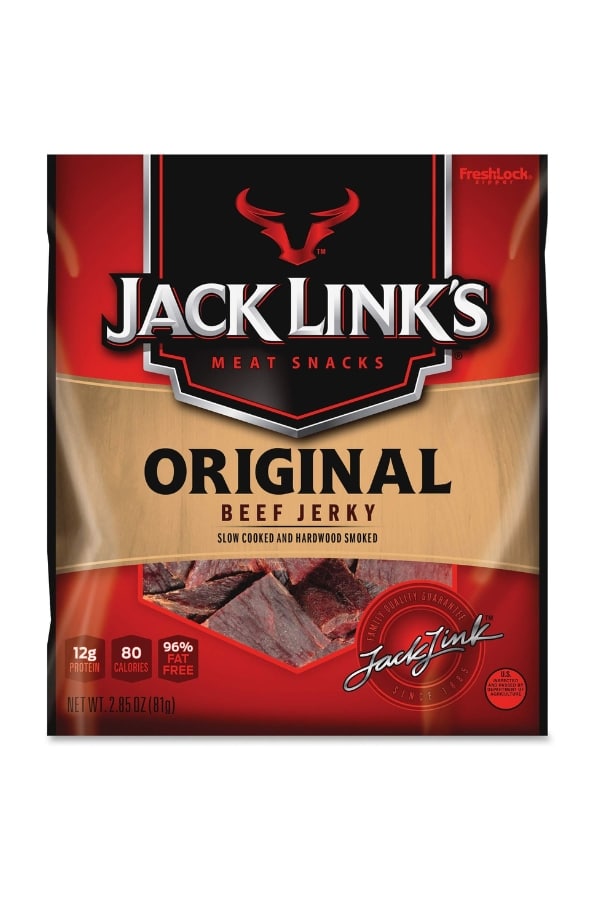 Nutritional info for 1 oz (28g ) of Jack Link's Original Beef jerky:
80 Calories
1.5g Fat
6g Carbs
10g Protein
Jerky is made from lean meat that's been sliced and dried and it makes a chewy, savory snack that's packed with protein. I recommend looking for jerky options that have less added sugar and unnecessary preservatives.
Also, for what it's worth, you may want to give biltong a shot if you like jerky. It's similar to jerky but typically has a lowe fat content and less ingredients than jerky does.
8. Veggies and Hummus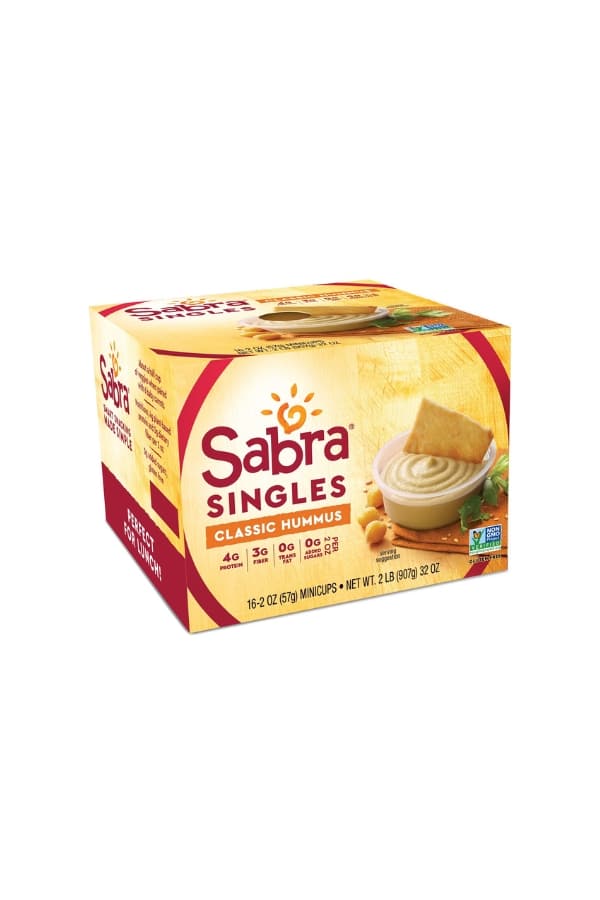 Nutritional info for 1 serving (200g):
89 Calories
2.7g Fat
14g Carbs
4.3g Protein
Hummus is an amazing pairing for veggies, both in terms of flavor and nutrient content. It brings both protein and fat to the mix, which, when combined with the fiber and micronutrient content of the veggies makes an incredibly filling and nutritious on the go snack.
For what it's worth, my go to veggies to pair with hummus are baby carrots, celery sticks, sliced bell peppers, raw cauliflower, and raw broccoli.
9. Celery With Peanut Butter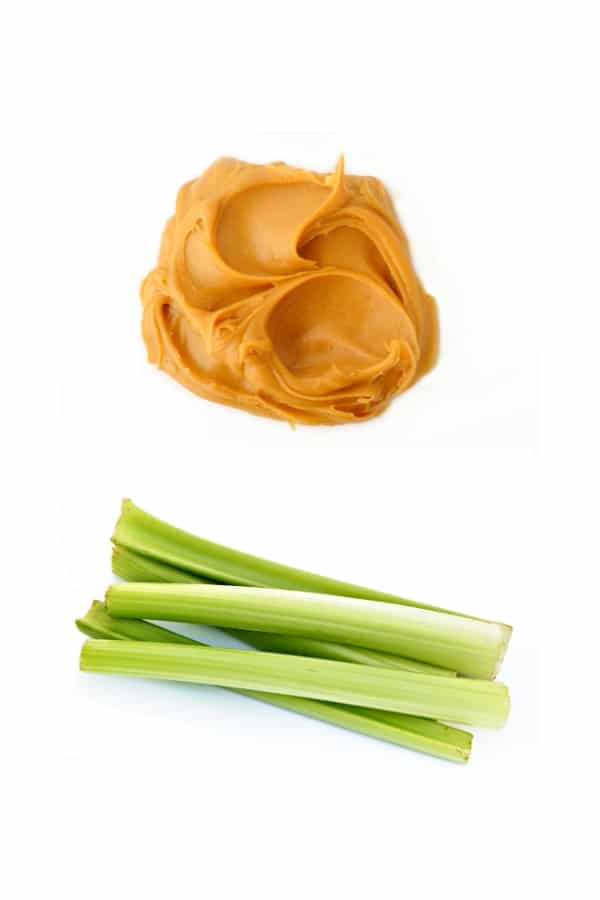 Nutritional info for small celery stick with 16g peanut butter:
96 Calories
8g Fat
4g Carbs
4g Protein
Raw celery sticks covered with peanut butter is a simple yet satisfying snack that's easy to make and great for a quick energy boost. It's also a great healthy on the go snack for kids too.
10. Lundberg Organic Thin Stackers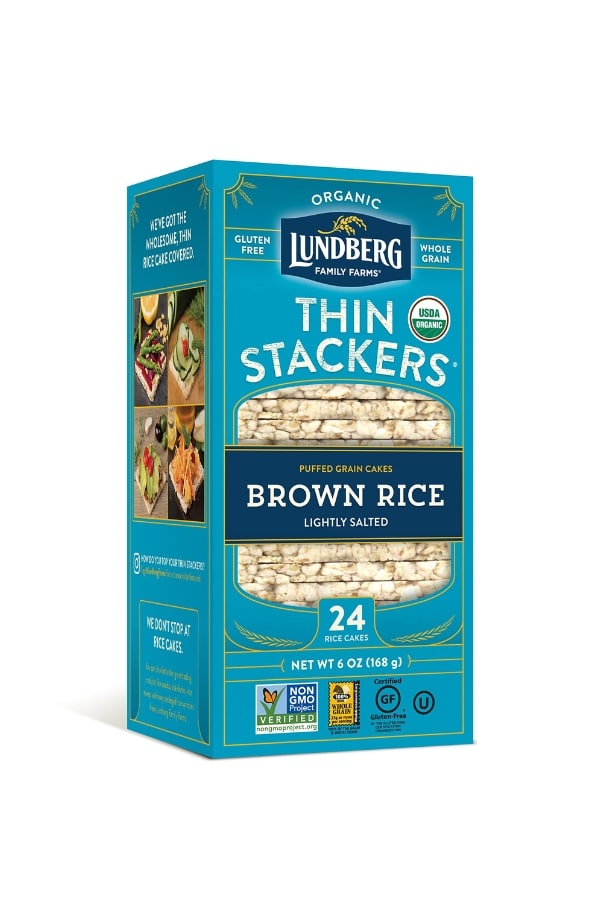 Nutritional info for 4 cakes (28g):
100 Calories
1g Fat
23g Carbs
2g Protein
Rice cakes are great on their own as a snack but they're even better when topped with healthy sweet or savory add-ons. You can eat them with cheese, avocados, nut butter, hummus, or even tuna.
Lundberg Organic Thin Stackers are a particularly great rice cake pick, especially if you're looking for smaller portion sizes. They come in different whole-grain varieties with plain and flavored options, and most of them are totally gluten-free.
You can grab a box here.
11. Roasted Chickpeas
Nutritional info for ¼ cup (28g) of Good Bean Crunchy Chickpeas:
120 Calories
3g Fat
18g Carbs
6g Protein
Chickpeas are one of the healthiest legumes out there and they're also an excellent source of fiber and plant-based protein. Roasting them brings out their nutty flavor even more and makes for a wonderfully crunchy snack too.
You can buy roasted chickpeas premade or make them yourself in an oven or air fryer. All you have to do is drain some soaked chickpeas, toss them with some olive oil and salt, and roast them on a sheet pan until crispy. Love and Lemons has a really tasty recipe for them - we probably make it atleast once a month at our house.
By the way, for some added protein and a delicious cheesy flavor, you can sprinkle some nutritional yeast flakes on 'em. My wife is especially a fan of doing that.
12. Granola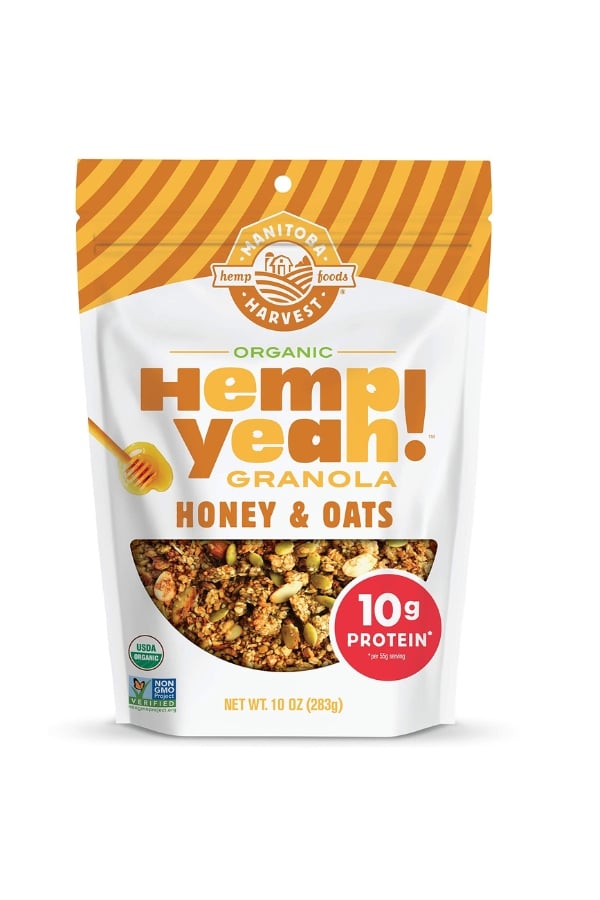 Nutritional info for ¾ cup (55g) of Hemp Yeah Granola:
250 Calories
11g Fat
29g Carbs
10g Protein
Granola is made from toasted rolled oats mixed with added nuts, seeds, or grains and sweetened with ingredients like honey, sugar, or maple syrup. It's crunchy, filling, and generally good for you, as long as it isn't made with too much added sugar.
I think it shines as a healthy on the go hiking snack - atleast that's typically when I snack on it - but really anytime you need some easily digestible to power you through some physical activity it shines.
For what it's worth, you can pick up a pack of the honey and oats Hemp Yeah Granola here.
13. Edamame Beans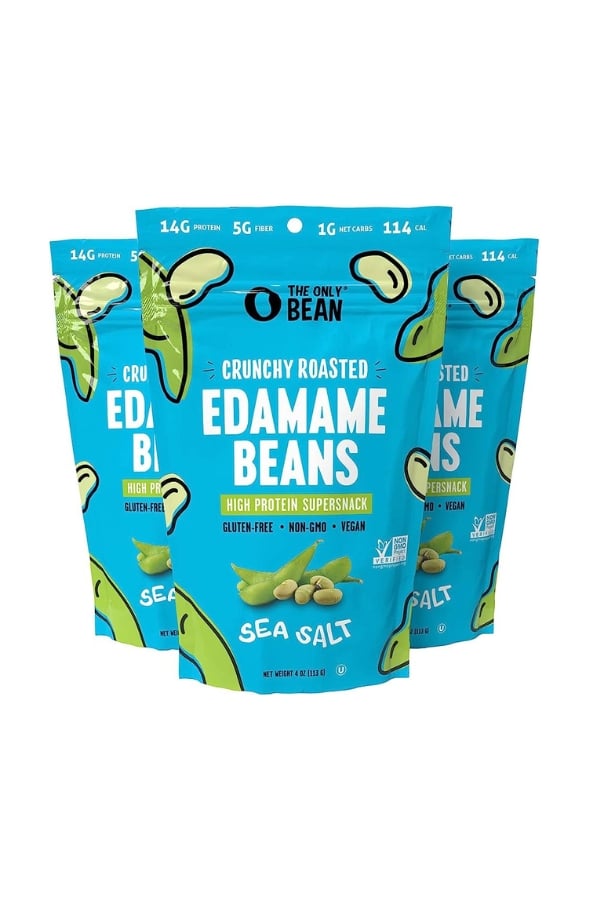 Nutritional info for 100g cooked edamame beans:
122 Calories
5g Fat
10g Carbs
11g Protein
Edamame beans have the highest protein content of any bean and make a delicious and satisfying protein-rich snack when boiled, steamed, or roasted.
While I love how much protein edamame has, I also just love the taste of it. It has a mild nutty flavor sort of similar to peas, but a bit more pungent and earthy. It also has a delicate buttery smooth texture that becomes crunchy when the beans are dry roasted - which is my favorite way to eat it, especially as an on the go snack.
14. Protein Shakes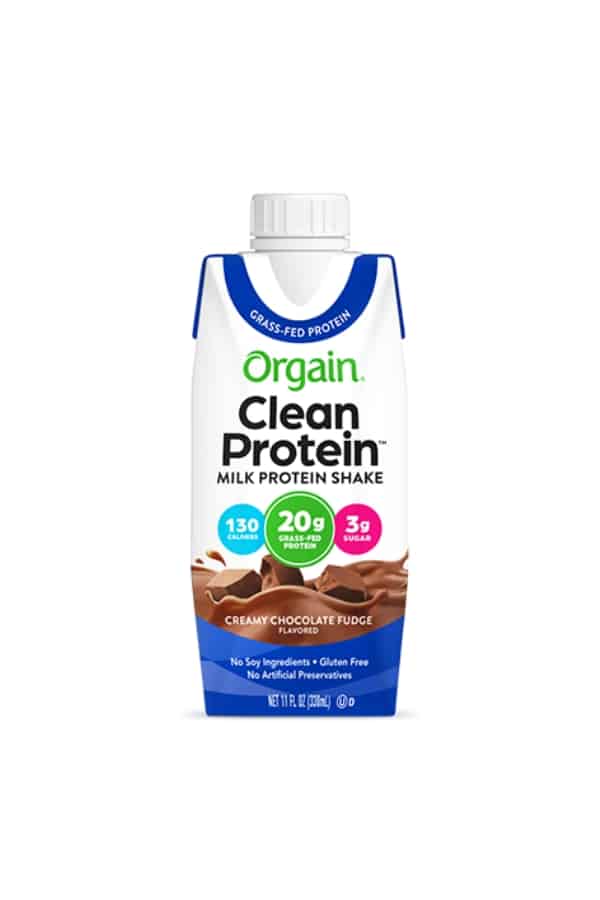 Nutritional info for 1 carton (11 fl oz.) of Orgain Clean Protein Shake:
130 Calories
2g Fat
9g Carbs
20g Protein
A great way to instantly add a huge boost of protein to your day is by adding a protein shake to it.
Plus, these day's you don't have to go to a special store to get one, pretty much every grocery/convenience store has ready-to-drink milk-based &/or plant-based protein shake options on the shelves. Some even have ingredients like collagen or greens added to them for even more health benefits.
Anyway, if you're looking for a healthy high protein on the go snack option, look no further than a RTD protein shake!
With that said, if you want to make your own protein shake, I can't recommend my Oreo protein shake enough. Literally everyone who's tried it has loved it.
15. Lesser Evil Power Curls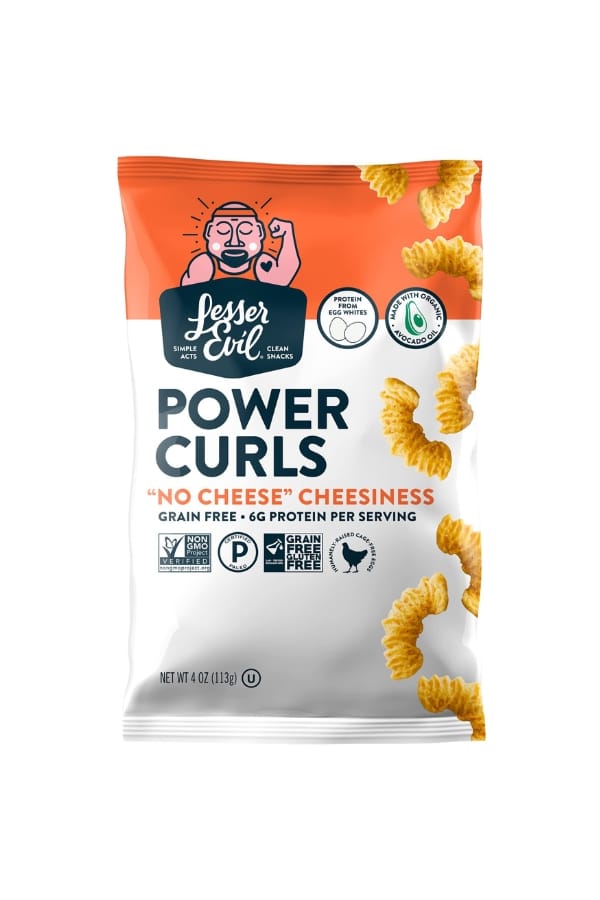 Nutritional info for 14 (28g) Power Curls:
130 Calories
6g Fat
13g Carbs
6g Protein
Healthy chips like the Lesser Evil Power Curls - or any one of these 20 low calorie chip options - are a fantastic alternative to snacking on junk food. These Power Curls, for instance, are minimally processed, grain-free, and made with organic ingredients.
Plus, they pack almost 25 grams of protein per bag, making them so much more satisfying and better for you than a bag of potato chips.
You can grab a 3-pack here.
16. Trail Mix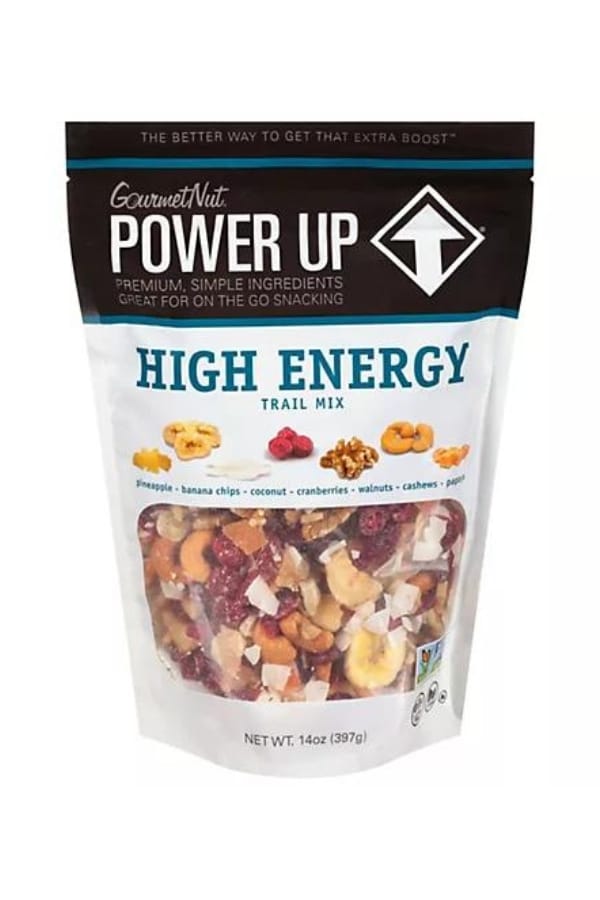 Nutritional info for ¼ cup (30g) of Power Up Trail Mix:
140 Calories
8g Fat
16g Carbs
3g Protein
The combination of dried fruits, nuts, and seeds in trail mix is a great formula for a nutritious and energizing on the go snack.
Just keep in mind that most trail mixes are high in calories, so keep portion control in mind when you're snacking on it.
17. Quest Protein Chips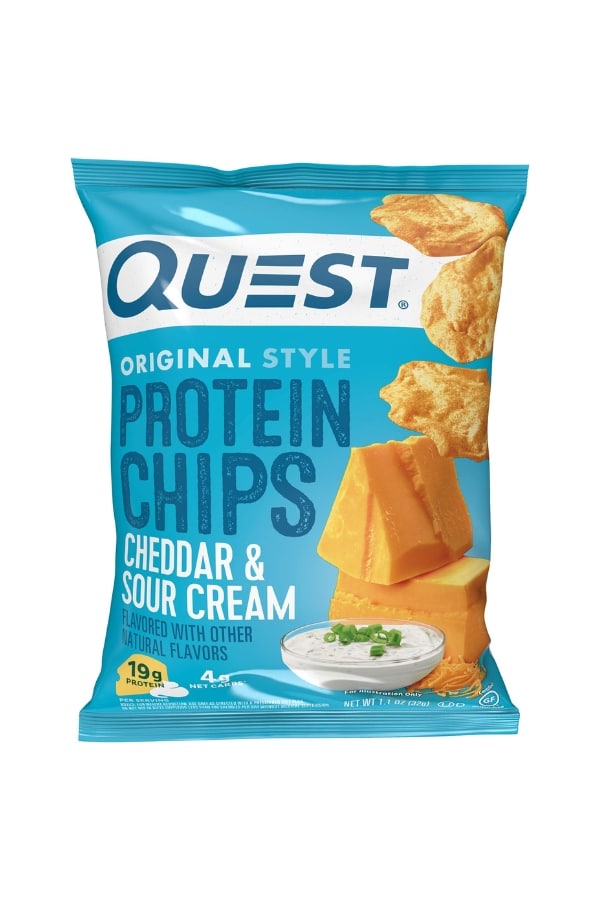 Nutritional info for 1 bag (32g):
150 Calories
6g Fat
5g Carbs
18g Protein
Quest protein chips are a popular healthy alternative to regular tortilla chips. They're baked instead of fried and provide 18 grams of protein per bag - almost as much as a protein shake. Also, they come in tons of flavors that can answer any tortilla chip craving, like nacho cheese, chili lime, and ranch!
You can pick up a variety pack of the chips here.
18. Nut Butter-Filled Pretzels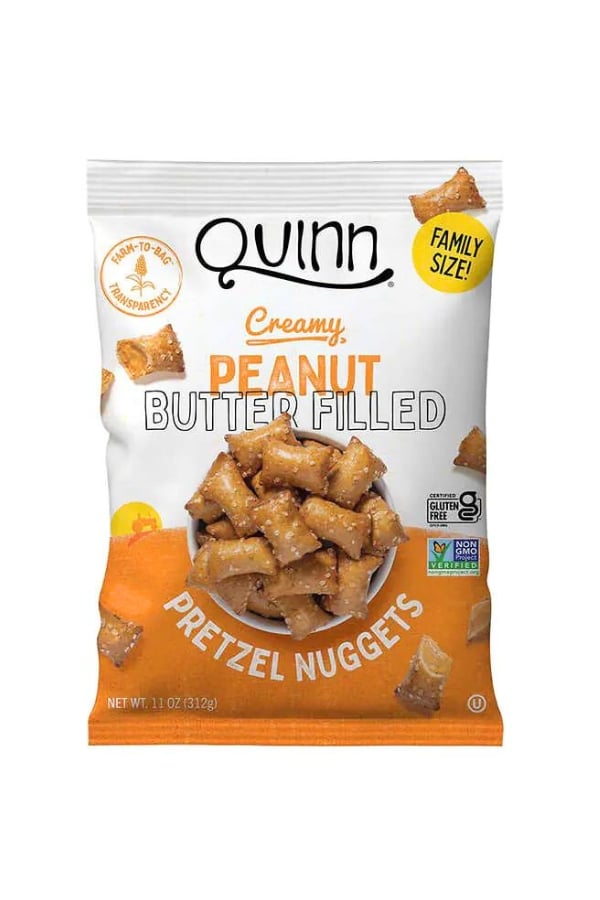 Nutritional info for 8 pieces (29g) of Quinn Peanut Butter Filled Pretzel Nuggets:
140 Calories
8g Fat
16g Carbs
3g Protein
If you're a fan of pretzels, you can make them an even better snack by having these peanut butter filled ones. Of course, you can just dip regular pretzels in peanut butter, but these pre-stuffed ones are so much more convenient.
You can pick up an 8-bag pack here.
19. Dry cereal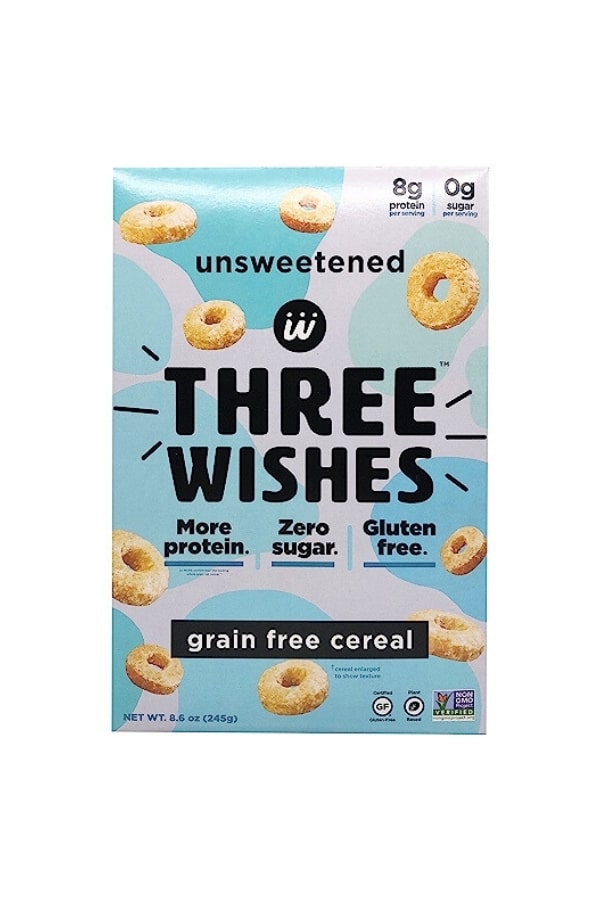 Nutritional info for 1 cup Unsweetened Three Wishes Cereal:
120 Calories
2g Fat
17g Carbs
8g Protein
A serving of dry cereal can make a tasty and satiating snack, especially when paired with Greek yogurt and fruit. However, most dry cereal brands are packed with sugar, so you'll want to choose one that has little to no added sugars - like the Unsweetened Three Wishes Cereal seen above.
Speaking of Three Wishes, you can pick up a variety pack of the cereal here.
20. Hard-boiled eggs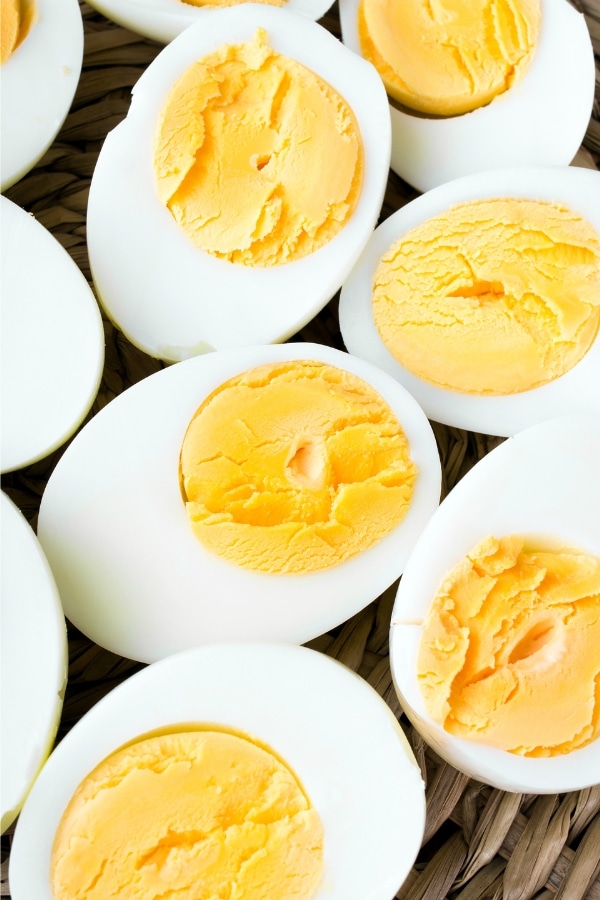 Nutritional info for 2 medium hard-boiled eggs (about 100g):
154 Calories
10.6g Fat
1.2g Carbs
12.6g Protein
Hard-boiled eggs make a super quick grab-and-go snack option that's packed with protein and nutrients.
Pro-tip: While a plain hard-boiled egg with a pinch of salt is quite tasty, it's even better with some everything bagel seasoning.
21. Overnight Oats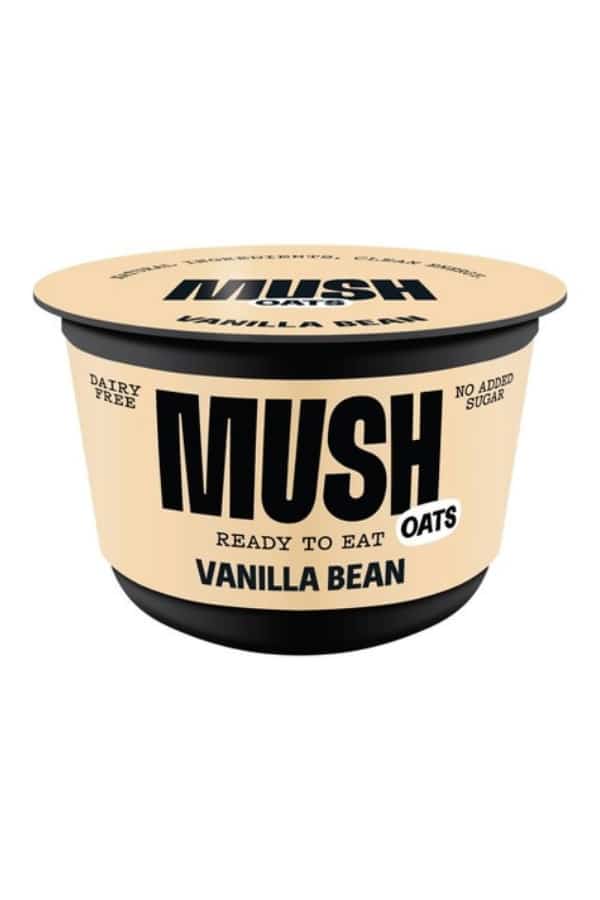 Nutritional info for 1 serving of Vanilla Mush:
210 Calories
6g Fat
33g Carbs
6g Protein
Overnight oats are a no-cook oatmeal made by soaking oats in milk - or water - in the fridge for hours, typically overnight.
They can be made with tasty and healthy mix-ins like yogurt, chia seeds, cocoa powder, etc. so there's plenty of room to customize them to your liking. Plus, they're so, so easy to make. Literally, all you have to do is add all of the ingredients to a container, give 'em a mix, and then pop 'em in the fridge. Then, a few hours later you're all set and ready to mangia.
So, if you're looking for a quick and easy to make on the go homemade snack idea overnight oats are just that.
By the way, I have an awesome high protein overnight oats recipe on the blog that's totally worth checking out. I can't tell you how many people have told me they love, love, love it.
22. Turkey Roll-Ups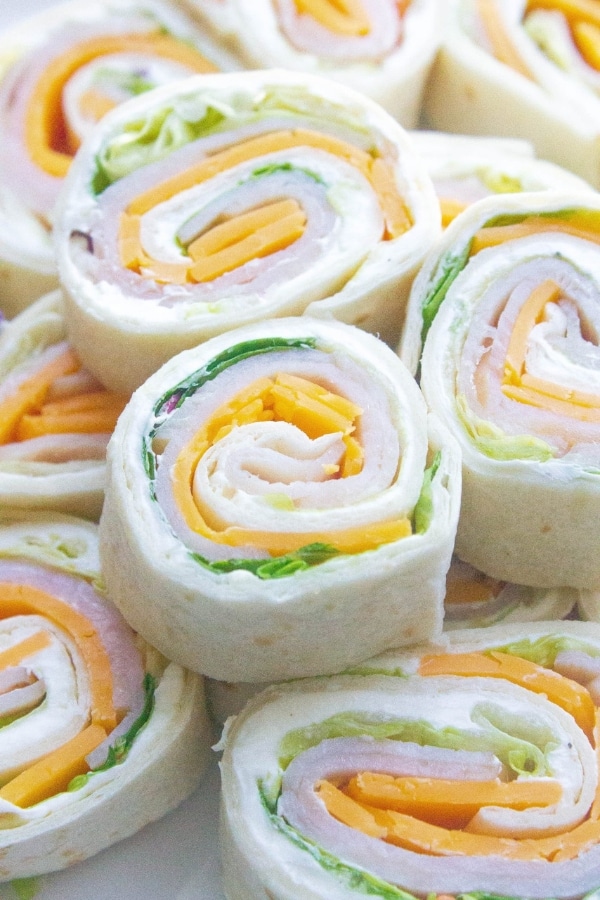 Nutritional info for 4 pieces:
165 Calories
13g Fat
4g Carbs
9g Protein
If you haven't heard of turkey roll-ups before, they're basically made by rolling up a tortilla wrap layered with deli turkey, cheese, and greens like spinach or lettuce. Then, they're sliced into smaller pieces, making a convenient, healthy, and filling snack.
23. Nuts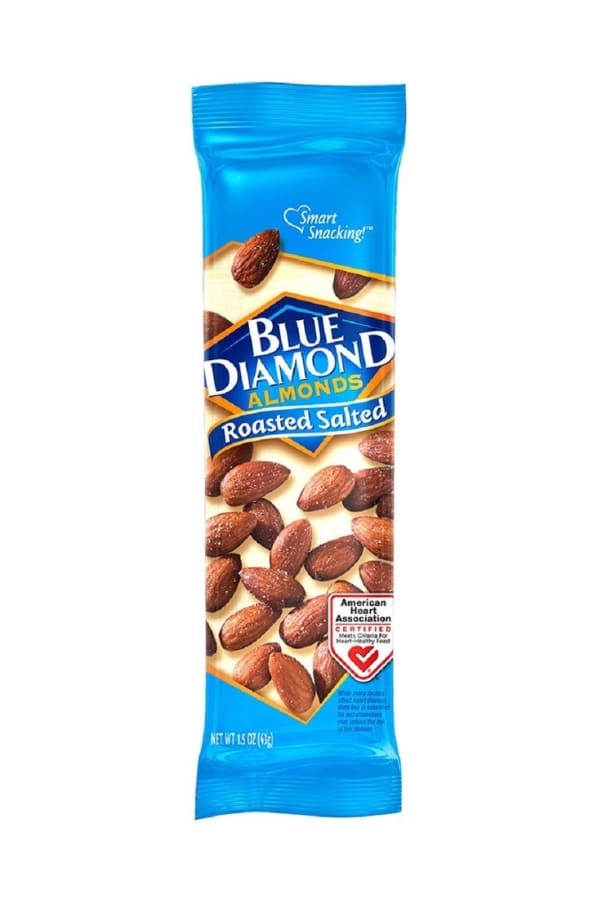 Nutritional info for 1 oz (28.4g) of Almonds:
165 Calories
14g Fat
6g Carbs
6g Protein
A handful of nuts makes a really satisfying quick snack when you're in a rush. Roasted and raw nuts both have a lot of health benefits, such as healthy fats, fiber, and antioxidants. Plus, you've got to love the fact that there are plenty of delicious seasoned nut options for both sweet and savory cravings.
With that said, you can grab a pack of 100 calorie almond packs here.
24. Protein Bars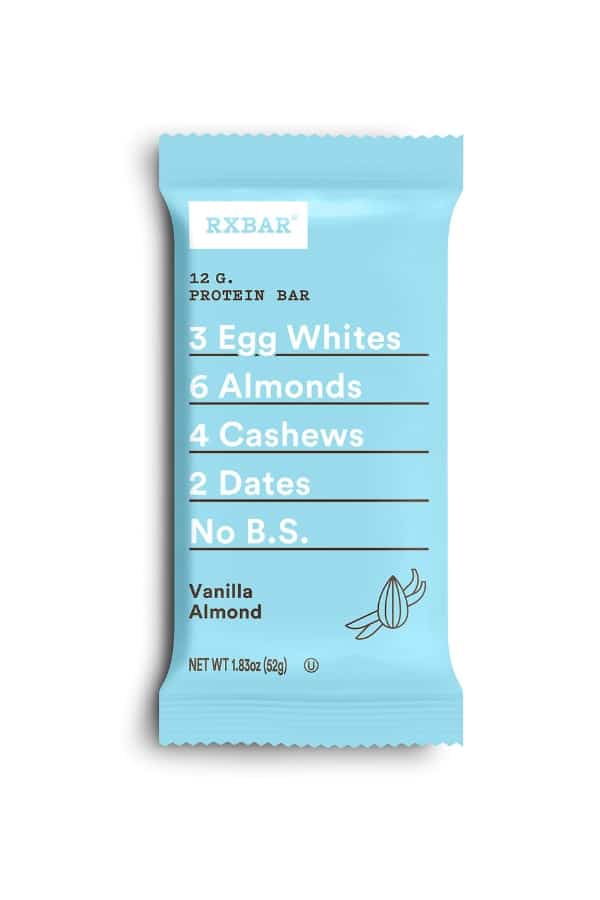 Nutritional info for 1 bar (52g) of RXBar Vanilla Almond:
190 Calories
6g Fat
25g Carbs
12g Protein
Like protein shakes, protein bars are a quick and tasty on the go snack option to get more protein into your day. It's worth mentioning that some protein bars can have as much as 30 grams of protein per serving! So don't sleep on grabbing one if you're trying to sneak more protein into your day.
For the healthiest choice, look for protein bars with minimal ingredients and less added sugars - a la RX bars.
Speaking of RX bars, you can grab a box of vanilla almond ones here.
25. Nut Butter Packs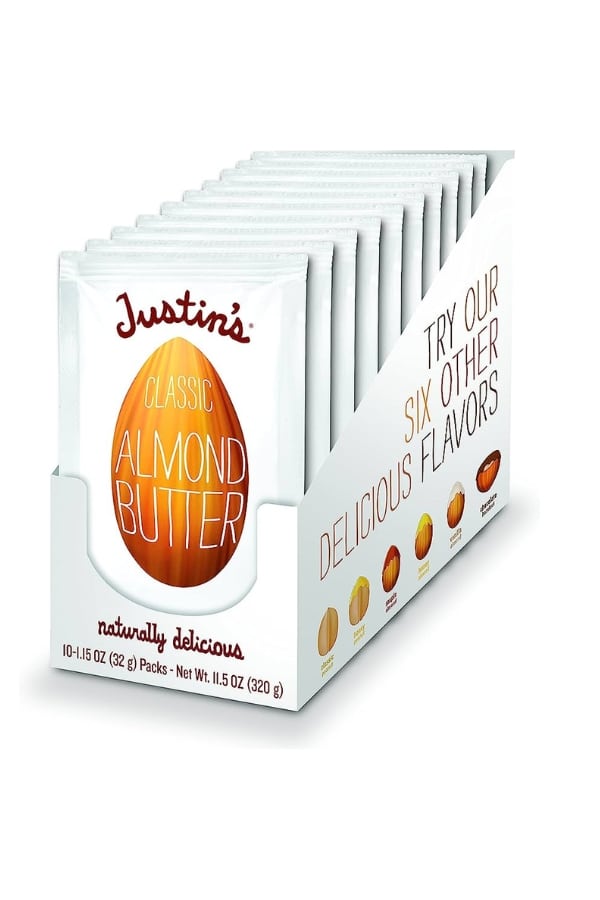 Nutritional info for 1 pack (32g) of Justin's Classic Almond Butter:
220 Calories
19g Fat
5g Carbs
6g Protein
Another way to enjoy the benefits of nuts in a snack is with nut butter packs. These individual pouches are convenient to stash in your lunch box or snack drawer. They can be eaten on their own or drizzled over fruits, veggies, or crackers.
You can grab a variety pack of peanut and almond butter flavors here.
More Healthy Lists