These healthy freezer meals are just as nutritious as they are delicious! There are a ton of low calorie options to choose from, and all of them are made with wholesome ingredients. From grain bowls and pastas to burritos and pizza list has all the best frozen meals you can buy from the grocery store.
The Best Healthy Frozen Meals
Freezer meals are a tasty and convenient option that's a lifesaver when you don't have the time or energy to cook, but they've got a pretty bad reputation. Most frozen meals tend to be filled with low-quality ingredients, fillers, and preservatives that just aren't conducive to a healthy diet.
Thankfully though, frozen meals have come a long way since the TV dinners of the 80s! These days, there are tons of great options for healthy frozen meals you can feel good about serving yourself and your family.
But not all frozen meals are made equal, so I've rounded up all the best healthy frozen dinners that I think are worth stocking up on. Oh, and they all happen to have less than 400 calories per meal!
There's something for everyone on this list, so without further ado, let's get right into it!
Healthy Frozen Dinners
1. Tattooed Chef Gochujang Chow Mien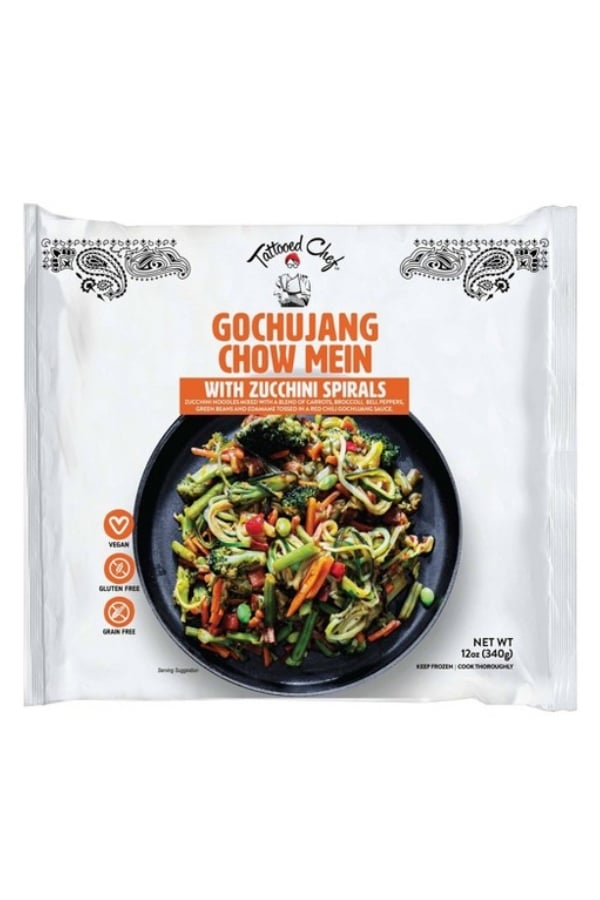 Nutritional Info for 4 oz (110g):
90 Calories
1.5g Fat
15g Carbs
7g Sugar
6g Fiber
6g Protein
This veggie-packed Korean noodle bowl is filled with carrots, broccoli, bell peppers, green beans, and edamame. It's made even healthier with zucchini spirals instead of regular wheat flour noodles. They're tossed in the most mouthwatering sweet and spicy gochujang sauce that clings to every noodle and vegetable. It's already pretty filling on its own, but you can also add on some protein, like cooked shrimp, tofu, or these sauteed chicken breasts.
2. Kevin's Natural Foods Korean BBQ-Style Chicken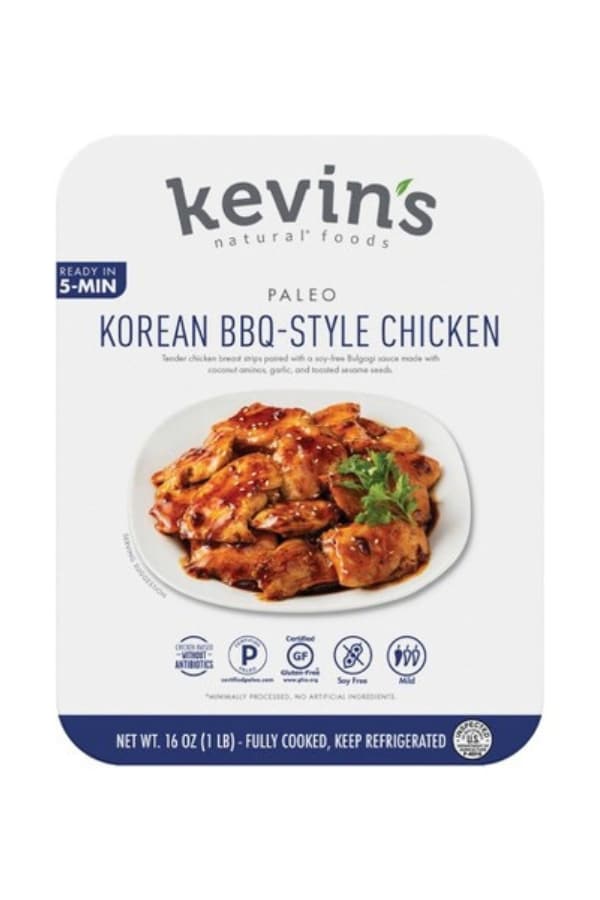 Nutritional Info for 5 oz. (140g):
150 Calories
4g Fat
5g Carbs
3g Sugar
0g Fiber
23g Protein
This saucy chicken entree is made with high-quality chicken breast that's been cooked sous vide for the most tender, juicy, and flavorful meat. It's coated in an umami-packed BBQ sweet and sour sauce with a mildly spicy kick that's beyond addicting. What's great about it is that it's made with monkfruit extract, which is perfect if you're looking to cut back on sugar.
Make it a complete meal with a side of brown rice or noodles, plus some steamed vegetables, and you've got yourself a quick and delicious dinner that'll rival any takeout option!
3. Healthy Choice Spicy Beef Teriyaki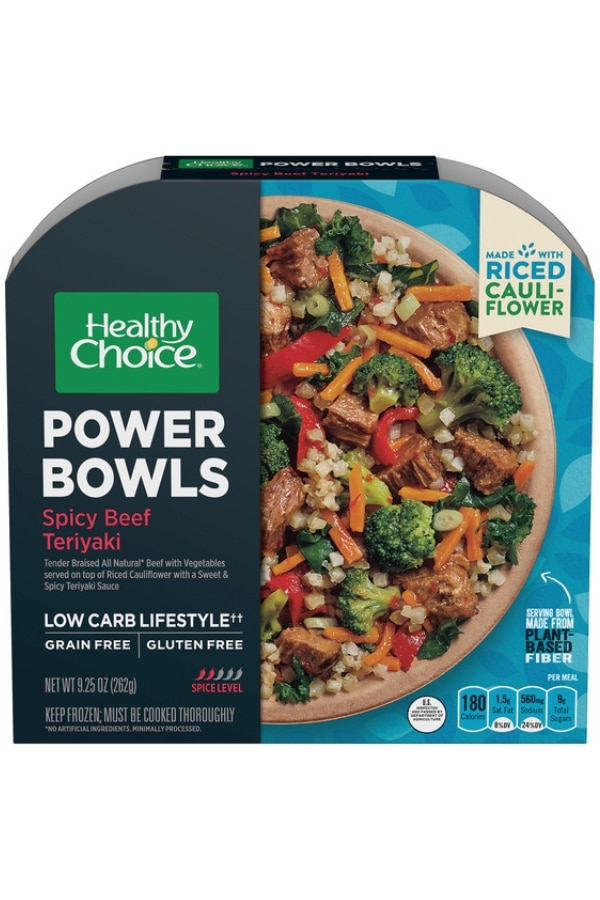 Nutritional Info for 1 meal (262g):
170 Calories
4g Fat
19g Carbs
11g Sugar
5g Fiber
14g Protein
Another great healthy alternative to takeout is this savory meal from Healthy Choice, made with braised teriyaki beef served over riced cauliflower. It has more fiber and fewer carbs than meals with white rice and is also packed with vegetables in every bite, including carrots, broccoli, bell peppers, chard, kale, spinach, and scallions.
4. Kevin's Natural Foods Thai Style Coconut Chicken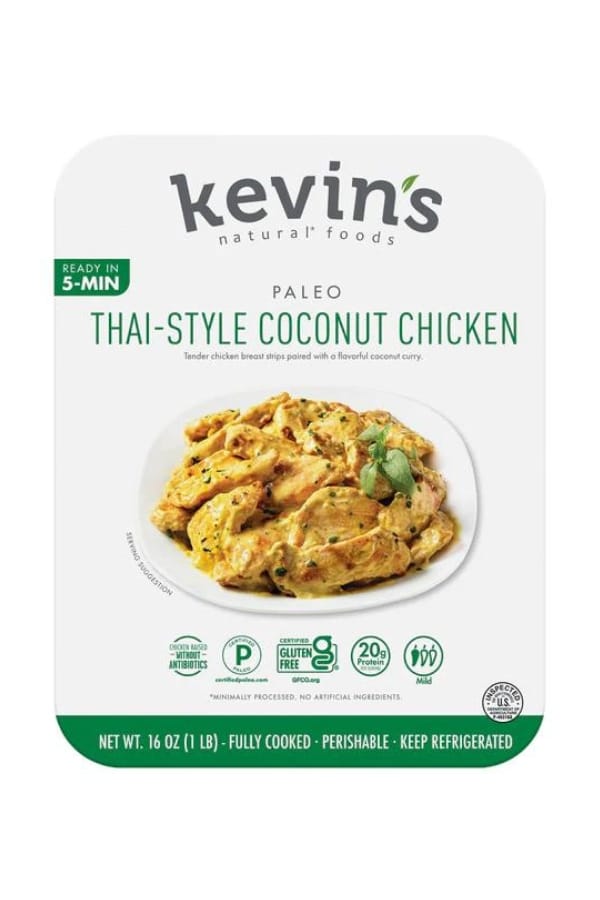 Nutritional Info for 5 oz. (140g):
190 Calories
8g Fat
5g Carbs
3g Sugar
0g Fiber
23g Protein
Just like their Korean BBQ chicken, this Thai-style coconut chicken from Kevin's Natural Foods is paleo, gluten-free, and low-sugar, all while being absolutely delicious. It's made with hearty bites of sous vide chicken breast in a rich and herbaceous coconut curry sauce. Toss some frozen veggies into the mix while reheating, and serve it over rice to soak up all the extra sauce.
5. Perdue Chicken Plus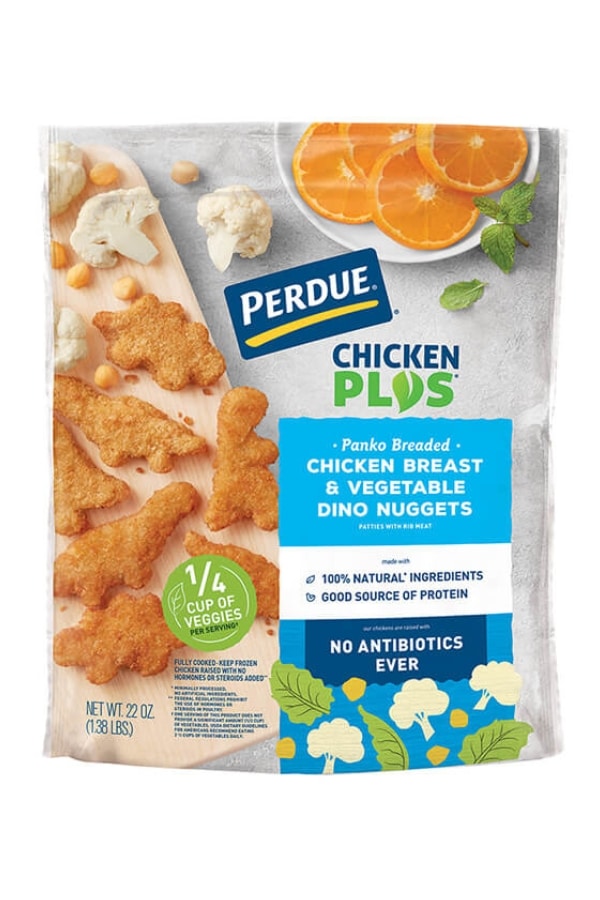 Nutritional Info for 5 pieces (92g):
220 Calories
11g Fat
20g Carbs
3g Sugar
3g Fiber
10g Protein
These healthier dinosaur-shaped nuggets are a hit with both kids and adults! They're crispy panko-breaded chicken nuggets, made with rib meat for more juiciness and added vegetables for more fiber and plant-based protein. Paired with a tasty dipping sauce and some steamed vegetables, it makes for a quick and healthy dinner that even picky eaters will love.
6. Caesar's Kitchen Lemon Chicken Picatta with Riced Cauliflower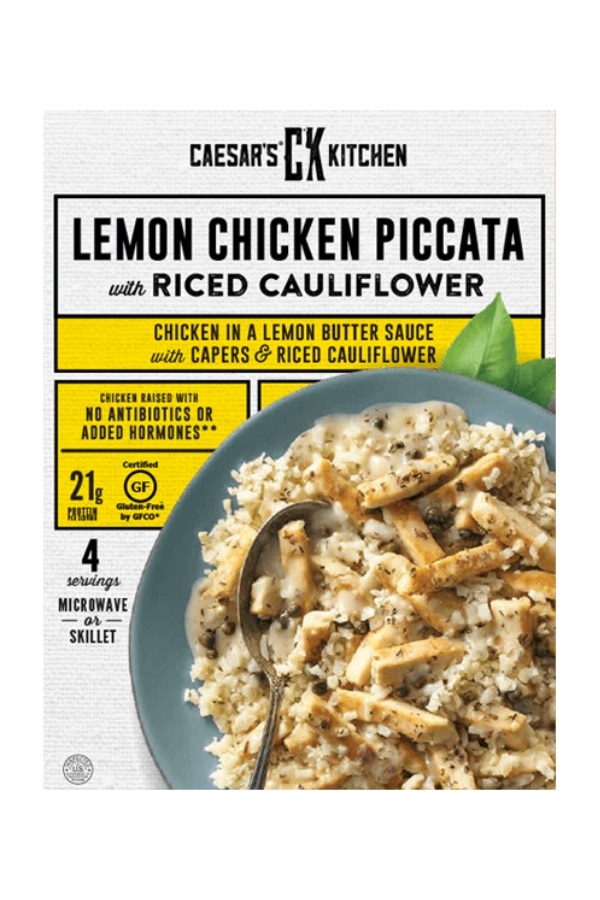 Nutritional Info for ½ entree tray + ½ rice tray (283g):
230 Calories
10g Fat
11g Carbs
2g Sugar
3g Fiber
21g Protein
If you didn't think frozen foods could be fancy, think again! This lemon chicken piccata from Caesar's Kitchen features strips of juicy chicken in creamy lemon butter and white wine sauce, topped with capers and served over a bed of cauliflower rice. It's a filling, low carb frozen dinner that tastes just as good as what you could get at a restaurant!
7. Urban Pie Roasted Vegetable & Goat Cheese Pizza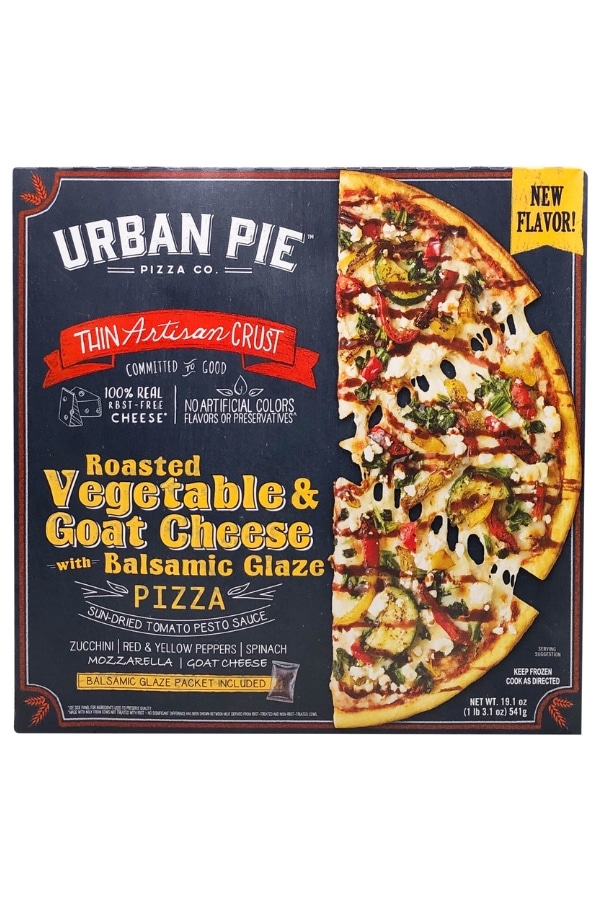 Nutritional Info for ¼ pizza (135g):
270 Calories
14g Fat
28g Carbs
4g Sugar
2g Fiber
10g Protein
This healthy frozen pizza is a must-have the next time you're craving pizza for dinner. Every bite is flavor on top of flavor. A sun-dried tomato pesto sauce on a crispy thin crust with goat cheese and mozzarella, topped with roasted zucchini, bell peppers, and spinach, then finished with an optional drizzle of balsamic glaze. This vegetarian pizza is one even meat eaters could get behind!
8. Whole Foods Market Alla Sorrentina Gnocchi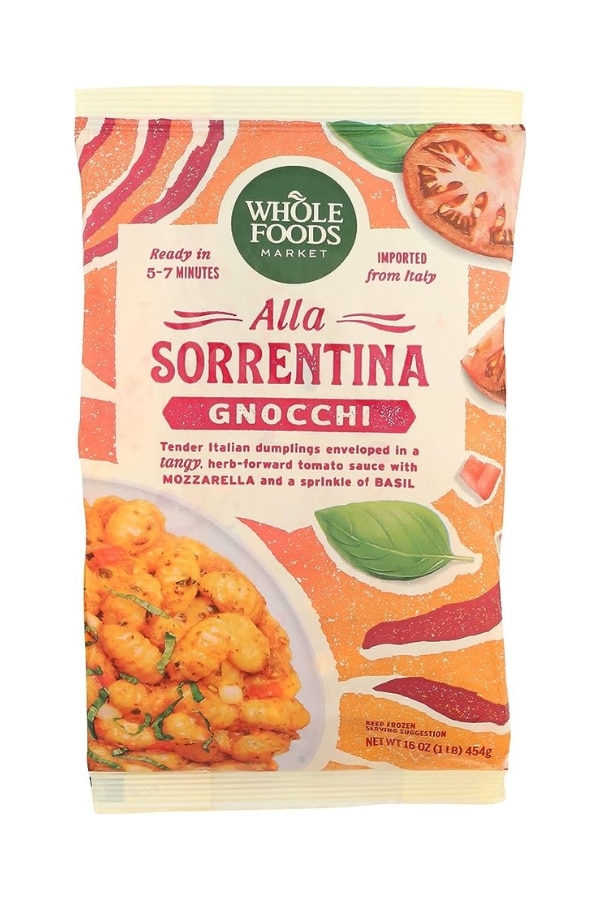 Nutritional Info for 1 cup (151g):
280 Calories
13g Fat
35g Carbs
11g Sugar
3g Fiber
6g Protein
This bistro-quality frozen pasta has pillowy wheat and potato gnocchi covered in a garlicky mozzarella tomato sauce, all made with simple, wholesome ingredients. It's an amazing speedy dinner on its own, but you can also top it with some cooked chicken breast and roasted frozen broccoli for a more balanced meal. Plus, if you're trying to cut down on calories, you can bring each serving down to just 200 calories by preparing it without adding oil.
9. Sweet Earth Protein Lover's Breakfast Bowl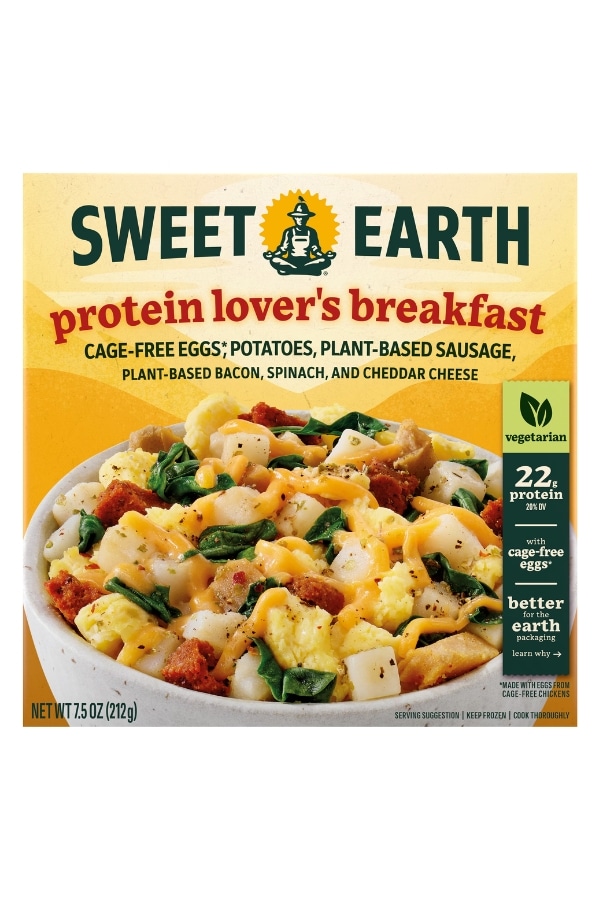 Nutritional Info for 1 package:
280 Calories
12g Fat
22g Carbs
2g Sugar
3g Fiber
22g Protein
Who says you can't have breakfast for dinner? Skip waiting in line at the drive-thru and heat up this healthy frozen meal instead. This healthy frozen meal is a hearty vegetarian breakfast bowl from Sweet Earth that has everything you could want. Cheesy spinach scrambled eggs with plant-based sausage and bacon bits over tender potatoes, it's perfect! It's also one of the highest protein vegetarian meals you could have, with an impressive 22 grams of protein per serving.
10. Saffron Road Chicken Tikka Masala
Nutritional Info for 10 oz. package:
300 Calories
9g Fat
39g Carbs
5g Sugar
1g Fiber
17g Protein
If you're a fan of Indian food, don't miss out on this incredible healthy low calorie frozen dinner from Saffron Road. It's got juicy pieces of roasted chicken simmered in tandoori spiced curry sauce and comes with fluffy basmati rice already included. Add a side of your favorite veggies to make this meal even more filling.
11. Frontera Chicken Verde Burrito Bowl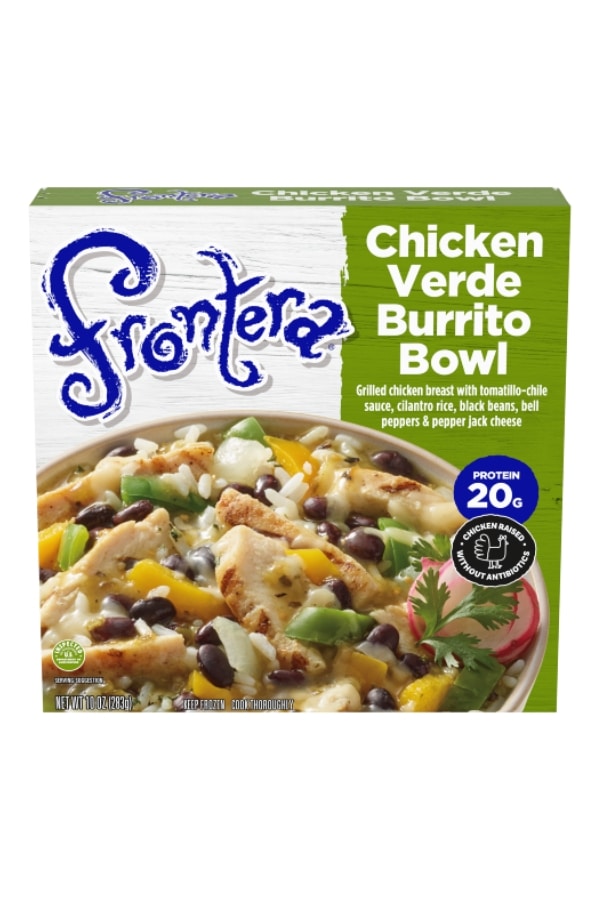 Nutritional Info for 1 bowl (283g):
300 Calories
8g Fat
36g Carbs
5g Sugar
5g Fiber
20g Protein
This protein-packed frozen burrito bowl is loaded with chicken breast, cilantro rice, black beans, and bell peppers, topped with a tangy and spicy tomatillo-chile sauce and melty pepper jack cheese. It's quick, tasty, and will keep you full for hours!
12. Saffron Road Lemongrass Basil Chicken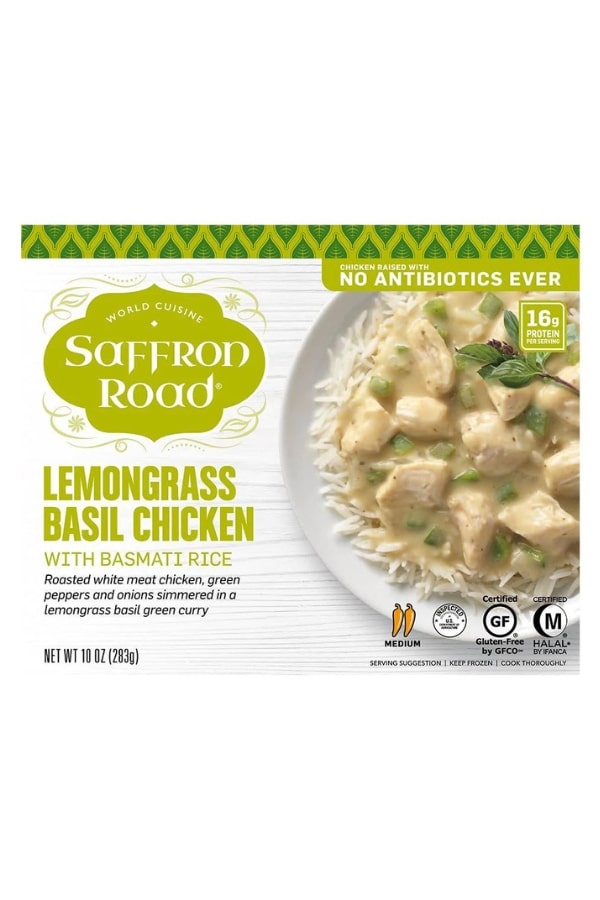 Nutritional Info for 10 oz. package:
310 Calories
8g Fat
43g Carbs
7g Sugar
1g Fiber
16g Protein
Another satisfying and healthy frozen meal from Saffron Road is their lemongrass basil chicken with basmati rice. Bites of roasted chicken, green peppers, and onions are simmered in the most fragrant and creamy green curry that packs a good amount of heat. Bulk it up with some cooked eggplant, cauliflower, baby carrots, or zucchini for more nutritional value.
13. Rao's Made From Home Meat Lasagna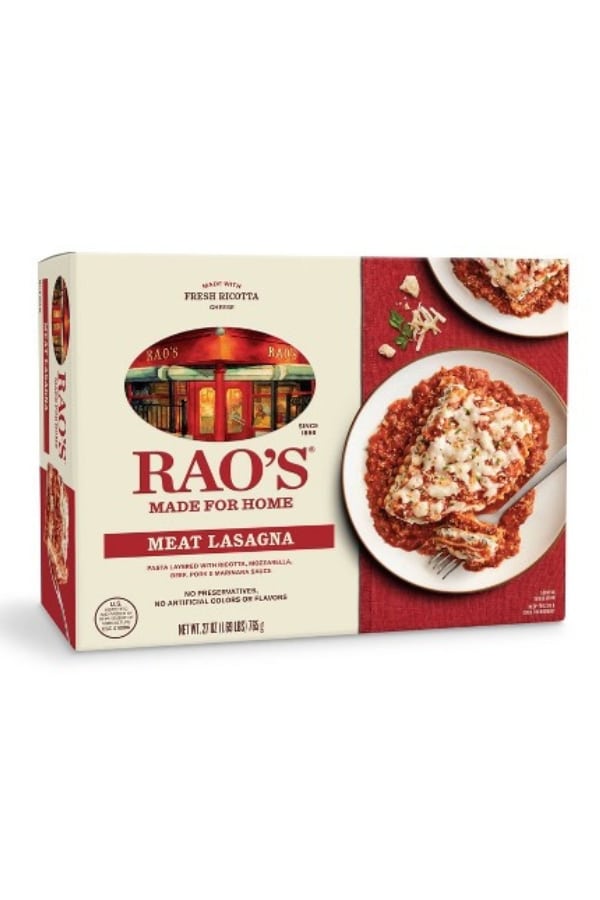 Nutritional Info for 1 cup (227g):
310 Calories
14g Fat
28g Carbs
6g Sugar
3g Fiber
19g Protein
If you're a fan of Rao's marinara sauce, then you'll love their frozen lasagna. It tastes just like an authentic homemade lasagna and is made with simple, wholesome ingredients and no preservatives or fillers. Just meaty beef and tomato sauce layered with tender pasta sheets plus ricotta, mozzarella, and romano cheese. Add a side of roasted broccoli or asparagus to balance out this decadent dinner.
14. Tattooed Chef Buddha Bowl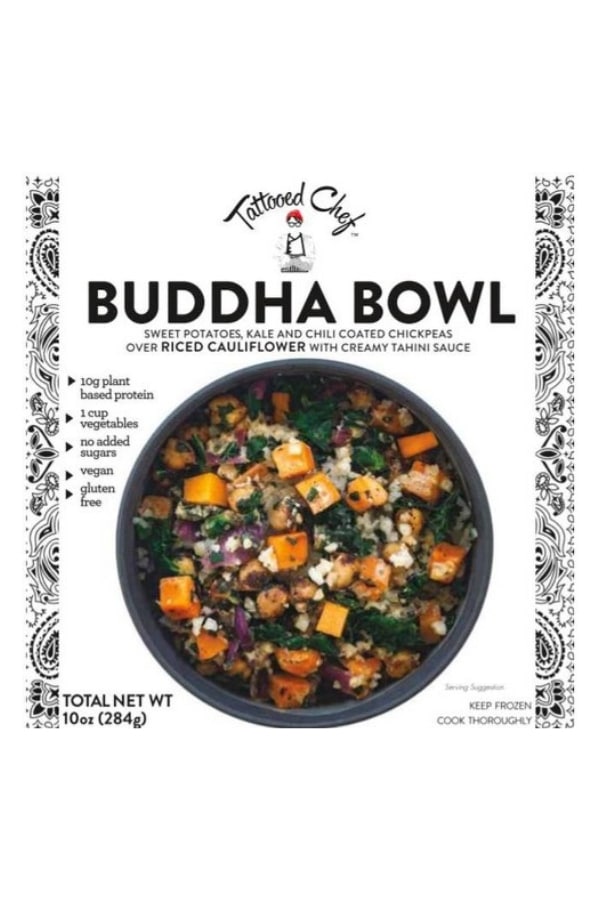 Nutritional Info for 1 bowl (284g):
320 Calories
19g Fat
33g Carbs
6g Sugar
9g Fiber
10g Protein
This vegan and gluten-free Buddha bowl is as filling as it gets, With a base of riced cauliflower topped with sweet potatoes, spicy marinated chickpeas, kale, and red onions, all drizzled with nutty and creamy tahini sauce!
15. Sweet Earth The Peruvian Burrito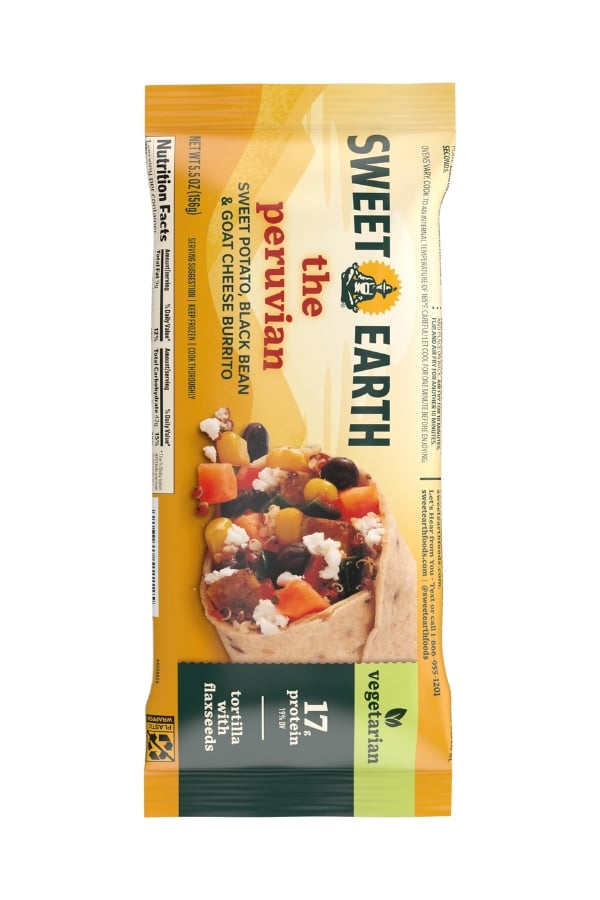 Nutritional Info for 1 package (156g):
320 Calories
9g Fat
42g Carbs
5g Sugar
8g Fiber
17g Protein
If you're looking for a frozen meal you can enjoy on the go, this vegetarian burrito is just what you're looking for. This flaxseed tortilla wrap is filled with seitan, sweet corn, quinoa, sweet potatoes, black beans, and goat cheese drizzled in a sweet, tangy Peruvian-inspired sauce. All that goodness brings a nice balance of protein and fiber to keep you feeling full and energized until your next meal.
16. Urban Pie Uncured Pepperoni & Sliced Chicken Sausage Pizza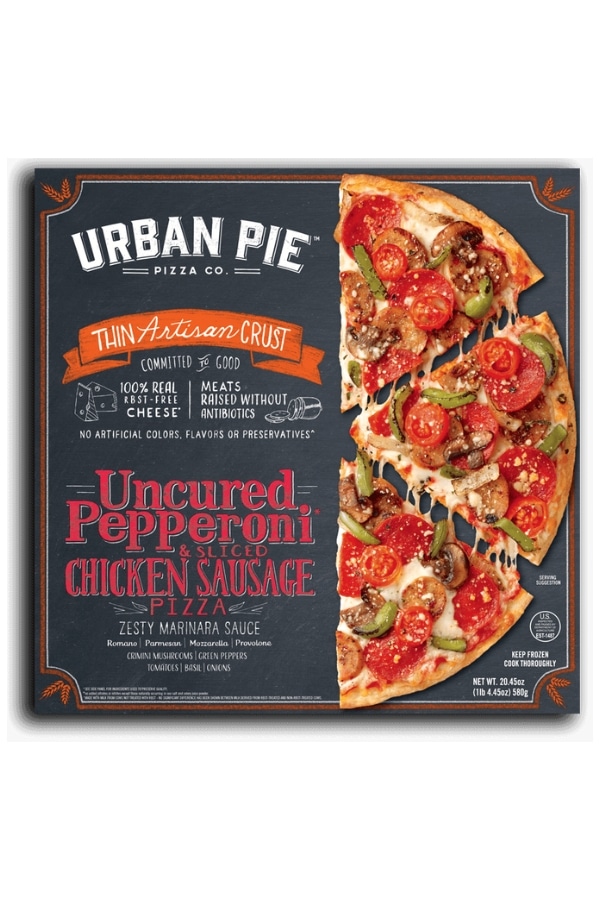 Nutritional Info for ¼ pizza (139g):
330 Calories
18g Fat
27g Carbs
3g Sugar
2g Fiber
15g Protein
This Urban Pie frozen pizza takes the classic pepperoni and cheese combo and makes it even better with healthier ingredients and added veggies. It's made with uncured pepperoni and chicken sausage paired with peppers, onions, mushrooms, and basil over a 4-cheese thin-crust pizza with marinara sauce. Whip up these baked chicken wings, and you've got a meal everyone will love!
17. Healthy Choice Green Goddess Bowl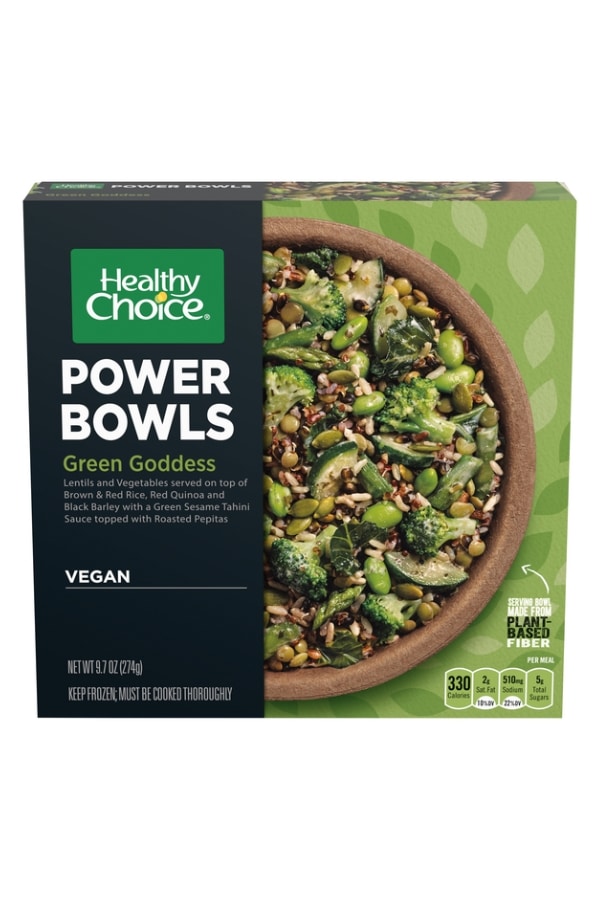 Nutritional Info for 1 meal (274g):
330 Calories
12g Fat
37g Carbs
5g Sugar
12g Fiber
18g Protein
This Healthy Choice power bowl is bursting with nutritious veggies and whole grains. The base is made of barley, red quinoa, and two kinds of rice, topped with lentils, pepitas, broccoli, edamame, asparagus, zucchini, chard, and kale, then finished with creamy tahini sauce. This bowl has it all! It's a good source of both protein and fiber, with enough of both to keep you satisfied.
18. Amy's Black Bean Tamale Verde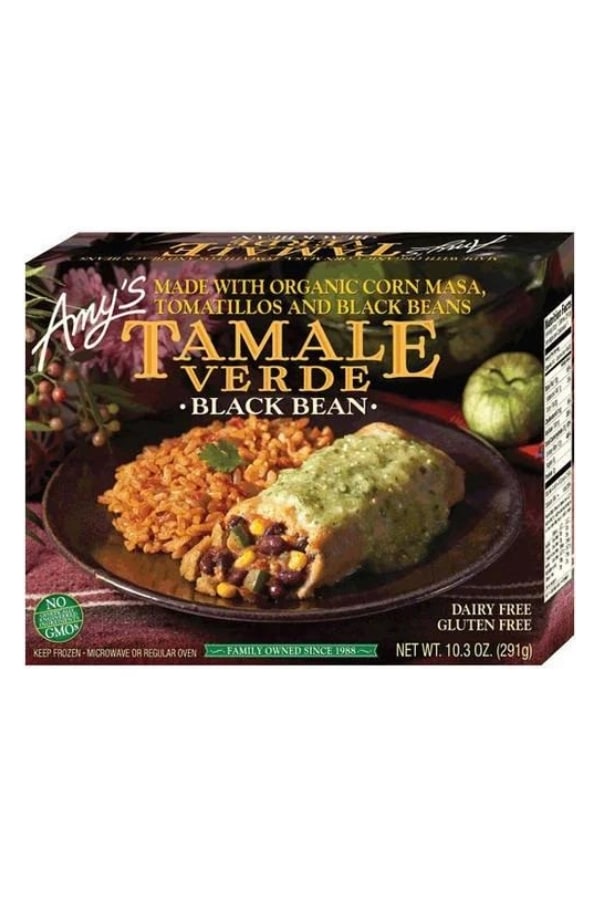 Nutritional Info for 1 tray (292g):
350 Calories
10g Fat
57g Carbs
8g Sugar
7g Fiber
8g Protein
This organic plant-based tamale is made with tender corn masa stuffed with black beans and veggies, topped with bright and tangy tomatillo salsa, and served with Spanish rice made with brown rice. It hits all the right spots when you're craving Mexican food and is made with ingredients you can feel good about.
19. Good Food Made Simple Buffalo-Style Chicken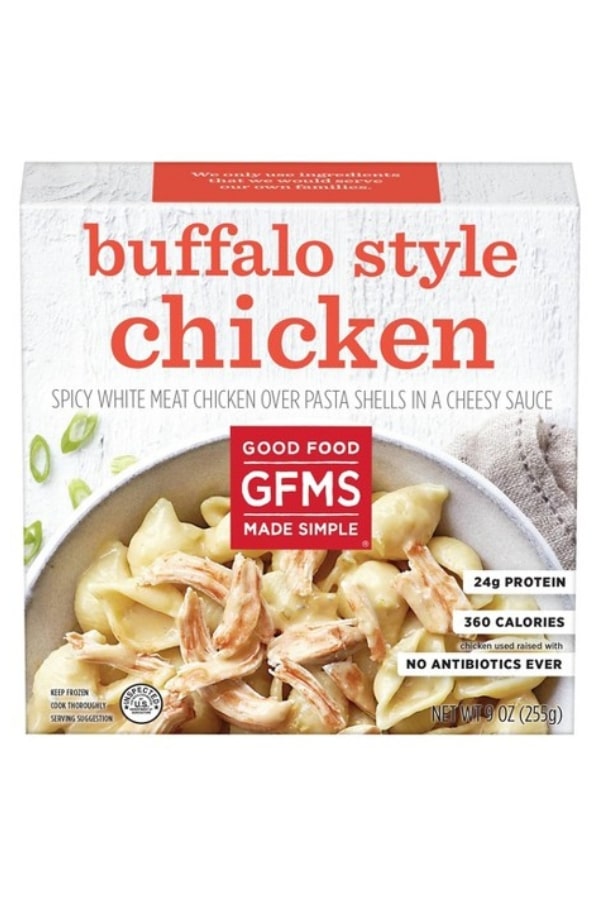 Nutritional Info for 1 bowl (255g):
360 Calories
12g Fat
40g Carbs
5g Sugar
2g Fiber
24g Protein
If you want to get the most protein out of your meal, this buffalo mac and cheese needs to be on your next grocery list. With 24 grams of protein, it's the top high protein frozen dinner on this list and is made with high-quality chicken and organic ingredients. Of course, it's totally delicious, featuring al dente pasta shells and shredded chicken with tangy buffalo sauce, cheddar cheese, and blue cheese crumbles.
20. Amy's Vegetable Lasagna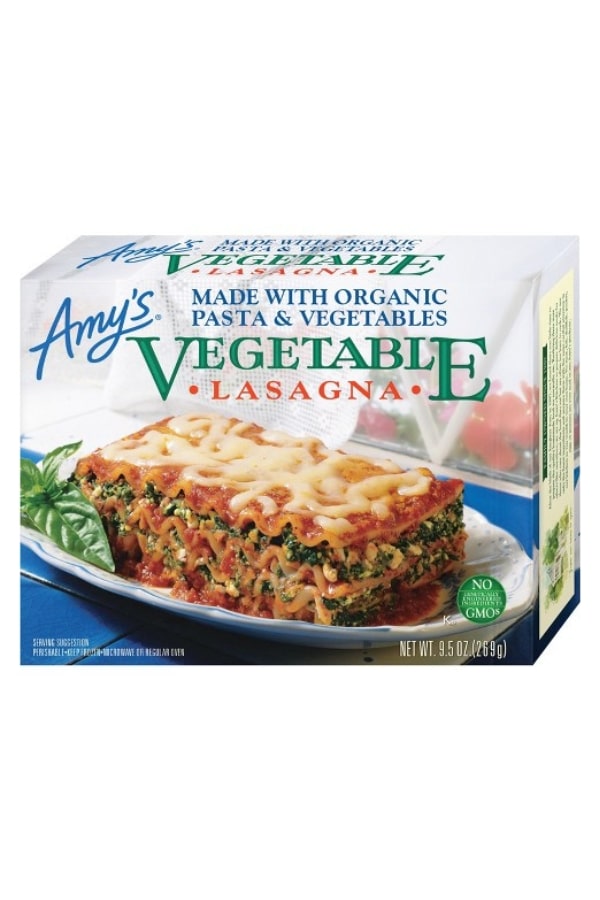 Nutritional Info for lasagna (269g):
370 Calories
14g Fat
45g Carbs
8g Sugar
4g Fiber
17g Protein
This organic vegetable lasagna is so good you won't miss the meat. Pasta, tomato sauce, ricotta, mozzarella, and parmesan are layered with tender spinach, zucchini, and carrots for a truly tasty frozen dinner that's almost as yummy as homemade!
More Healthy Lists