these high fiber low sugar cereal options help me start off my day on the right foot. These delicious breakfast cereals have less than 10 grams of sugar per serving, with as much as 23 grams of fiber, perfect for keeping you full and satisfied all morning!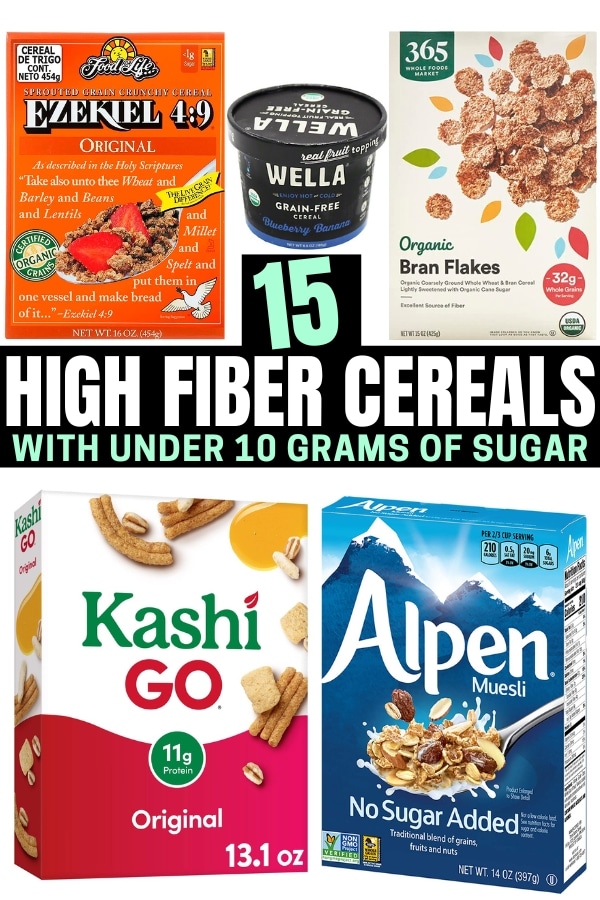 The Best High Fiber Low Sugar Cereals
I love having cereal as a quick and convenient breakfast option. Whether I eat it with milk, over yogurt, or on its own, cereal is always one of my go-to's.
When I'm eating cereal, I always pick one of these high fiber cereal options. They're a great way for me to get some healthy fiber into my diet, and I love that all of them are low in sugar too.
Not only are they packed with gut-loving fiber and low in sugar, but they're made with simple natural ingredients. Plus, a ton of these happen to be a good source of protein, too, giving you the complete package. And if you know me, you know I love food that's high in protein.
Anyway, from organic cereals to gluten-free cereals and classic cereals you can find in any grocery store, you're sure to find the best high fiber, low sugar cereal for your lifestyle on this list!
My Favorite High Fiber Cereals
1. Poop Like a Champion Ultra Fiber Cereal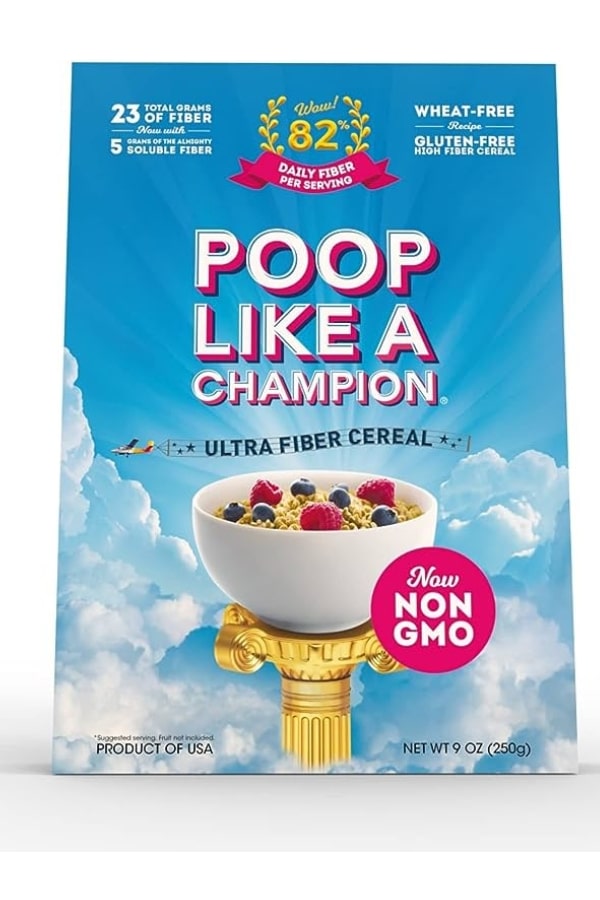 Nutritional Info for ½ Cup (40g):
95 Calories
0.4g Fat
31g Carbs
2g Sugar
23g Fiber
3g Protein
With a name like Poop Like A Champion, it's no surprise this is the highest fiber cereal on this list. It comes at an incredible 23 grams of fiber per serving, or over 80% of the daily recommended intake, with just 2 grams of sugar and less than 100 calories.
Gluten-free and made with clean ingredients, this crunchy cereal has two kinds of high-quality fiber for aiding in smooth digestion and promoting good gut health. It's definitely my favorite option on the list since it's delicious too!
2. Nature's Path Organic Smart Bran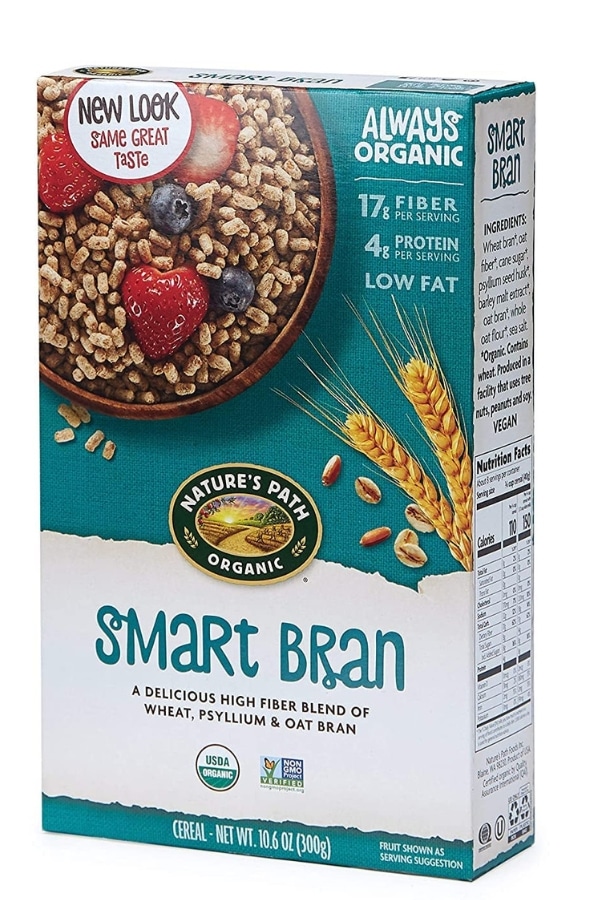 Nutritional Info for ¾ Cup (40g):
110 Calories
1g Fat
32g Carbs
8g Sugar
17g Fiber
4g Protein
An upgrade to your typical bran cereal, these wheat and oat bran flakes have a light and crunchy texture like rice crispies and a touch of sweetness from organic cane sugar. They're boosted with fiber from oats and psyllium seed husk, giving them a nutty flavor that I think is so delicious with milk, yogurt, and cottage cheese.
3. Kashi Go Cereal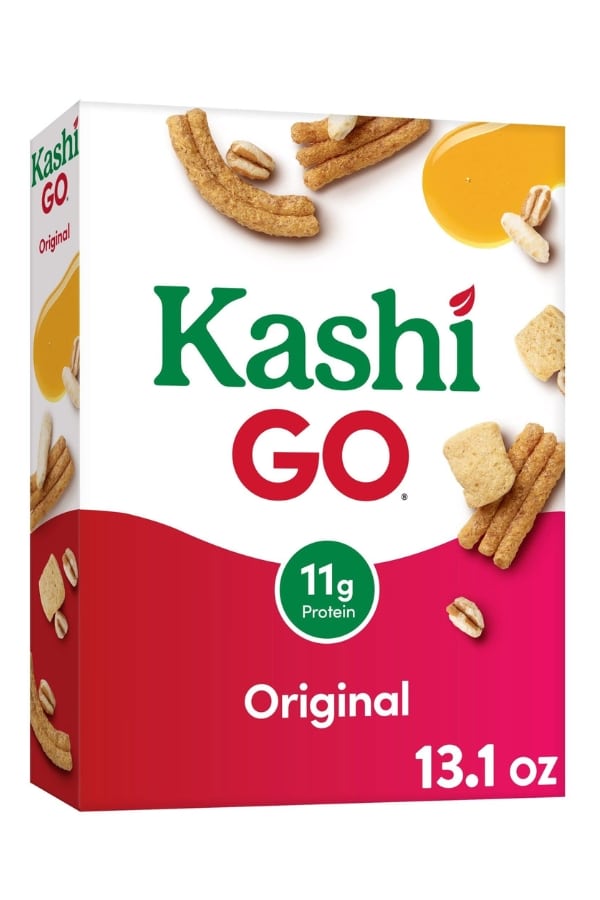 Nutritional Info for 1 ¼ Cup (58g):
180 Calories
1.5g Fat
41g Carbs
8g Sugar
13g Fiber
11g Protein
Kashi's cereals are a fantastic source of fiber, and their Kashi Go cereals take it to the next level by adding plant protein for a more filling meal. These cereal clusters are deliciously crunchy and perfectly sweetened, making them a totally satisfying breakfast option that has me jumping out of bed.
The Kashi and Kashi Go cereals are available in a variety of flavors ranging from 6 to 13 grams of fiber, including options to satisfy your shredded wheat, honey nut cheerios, and cornflake cravings.
4. Uncle Sam Original Wheat Berry Flakes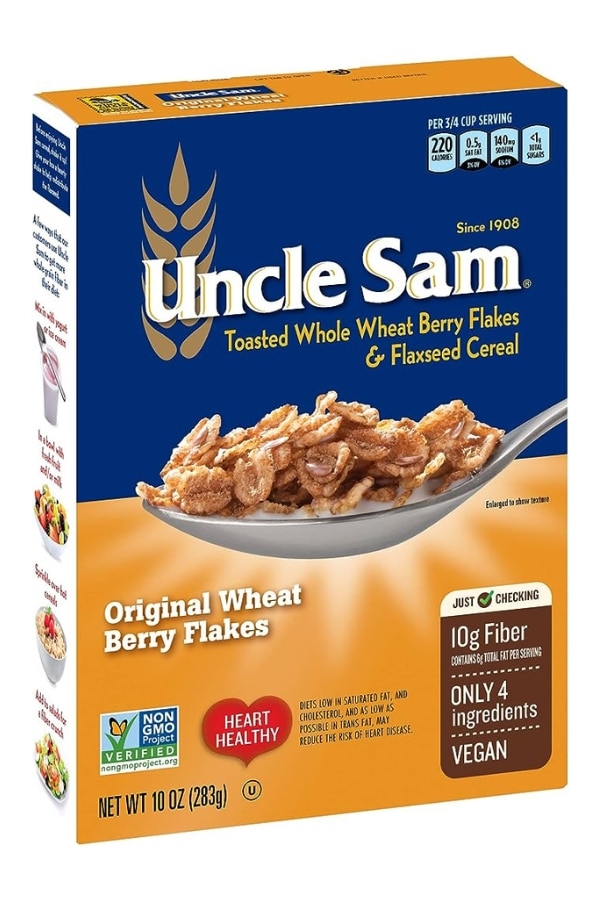 Nutritional Info for ¾ Cup (60g):
220 Calories
6g Fat
43g Carbs
<1g Sugar
10g Fiber
8g Protein
Uncle Sam wheat berry flakes have been around since the 1900s and are old-fashioned in the best way possible. These crunchy flakes are made with just 4 ingredients - whole grain wheat, flax seed, barley malt, and salt - and are naturally packed with fiber and plant protein. With a mild nutty flavor profile, they're a great blank canvas for any breakfast spread. I love using them to make a smoothie bowl with my Wendy's frosty protein shake.
5. Cascadian Farm Organic Hearty Morning Fiber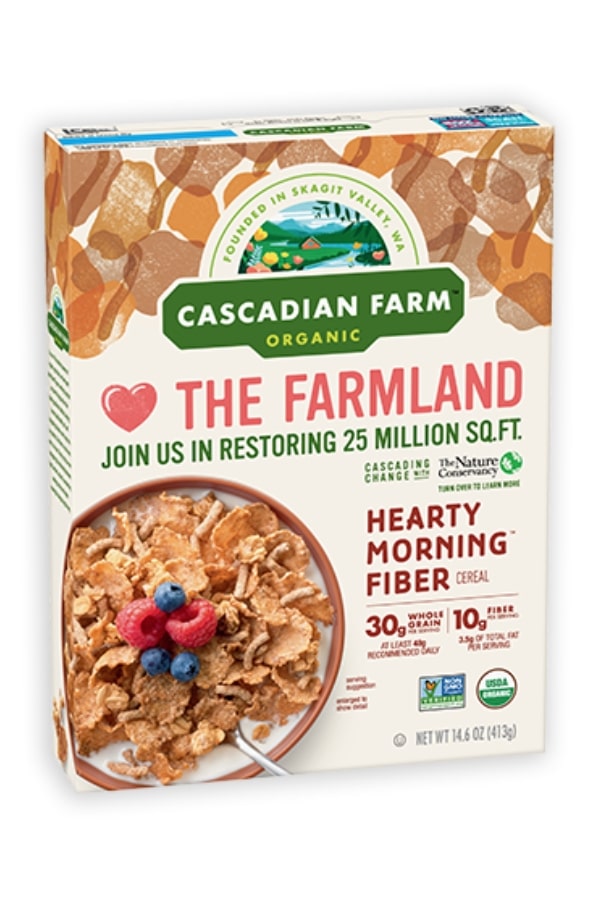 Nutritional Info for 1 Cup (64g):
220 Calories
3.5g Fat
51g Carbs
10g Sugar
10g Fiber
6g Protein
As its name suggests, this hearty morning fiber cereal gives you a nice boost of fiber to start your day, with over a third of your daily recommended intake of fiber per serving! It's a sweet and satisfying combination of texture and crunch, with crispy wheat flakes, light and airy bran sticks, and crunchy granola clusters in every bite.
6. Catalina Crunch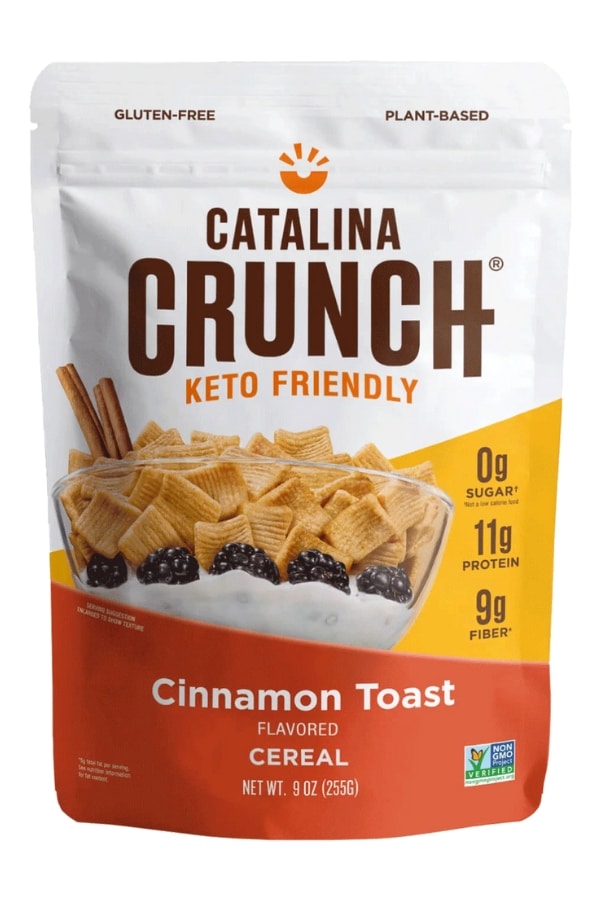 Nutritional Info for ½ Cup (36g):
110 Calories
5g Fat
14g Carbs
0g Sugar
9g Fiber
11g Protein
I love this Catalina Crunch since it's sweet but has zero sugar! It's sweetened with natural stevia and monk fruit extract for a rich flavor with zero sugar. Combined with a good amount of fiber and pea protein, it's a surefire way to get you up and running in the morning.
I have a good feeling it will be your next favorite thing to eat for breakfast. It comes in a huge variety of flavors to try, too, including cinnamon toast, honey graham, dark chocolate, and fruity.
7. Wella Grain-Free Cereal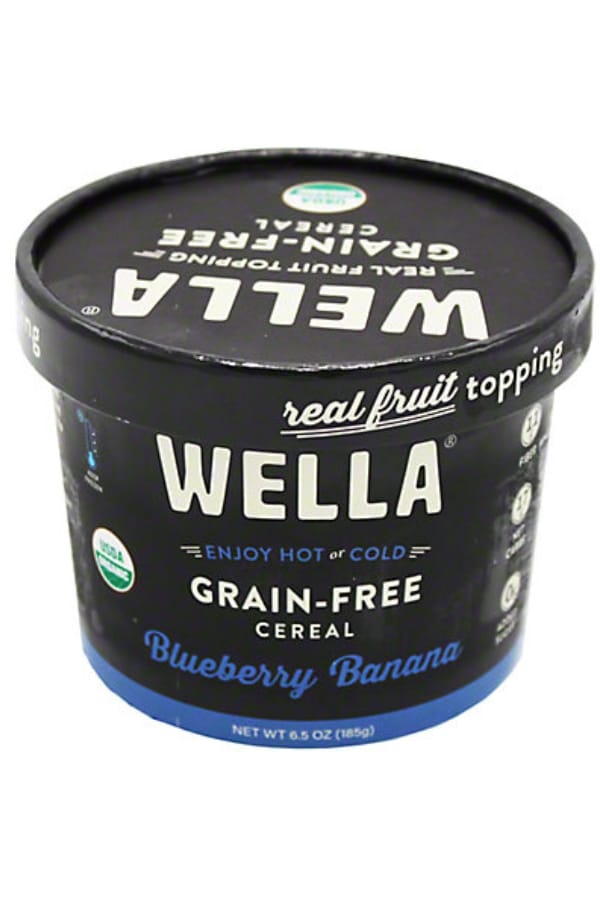 Nutritional Info for 1.6 oz (45g):
240 Calories
18g Fat
17g Carbs
5g Sugar
9g Fiber
7g Protein
Made with a high-powered combination of nuts and seeds and naturally sweetened with dates, this gluten-free and grain-free warm cereal is a great alternative to oatmeal with about twice the fiber, twice the protein, and half the sugar per serving. You can prepare it instantly with hot water or make it overnight in the fridge for a truly convenient and versatile breakfast treat.
8. 365 by Whole Foods Market Wheat Squares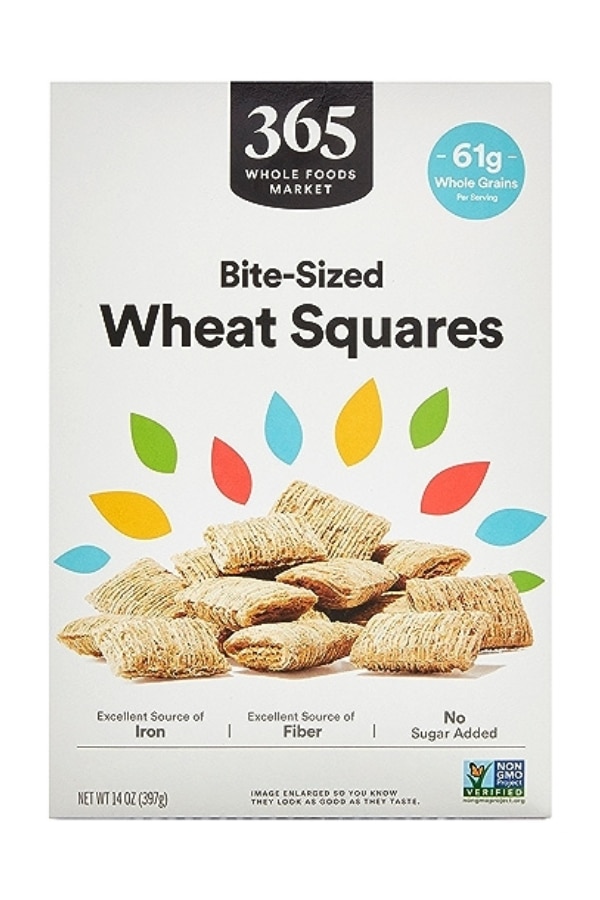 Nutritional Info for 1 ¼ Cup (61g):
230 Calories
0.5g Fat
48g Carbs
1g Sugar
8g Fiber
7g Protein
These shredded wheat squares are nostalgic since I loved eating mini shredded wheat as a kid. The ingredient list for this healthier cereal keeps it as simple as possible, with primarily whole wheat and no added sugars or flavors, giving you plenty of room to enjoy them however you like.
9. General Mills Wheat Chex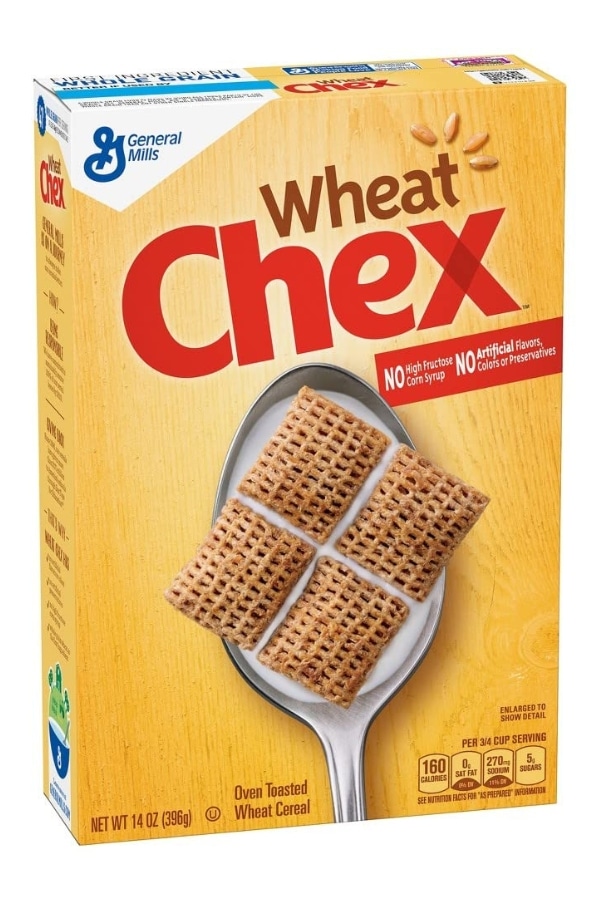 Nutritional Info for 1 Cup (59g):
210 Calories
1g Fat
51g Carbs
6g Sugar
8g Fiber
6g Protein
Wheat Chex is the ultimate versatile cereal. You can use it on anything from your morning breakfast bowl to your party mix or trail mix for a healthy dose of daily fiber. They're made with just a handful of simple ingredients and are also available in a variety of naturally flavored options if you want to add some sweetness to your day.
10. 365 by Whole Foods Organic Bran Flakes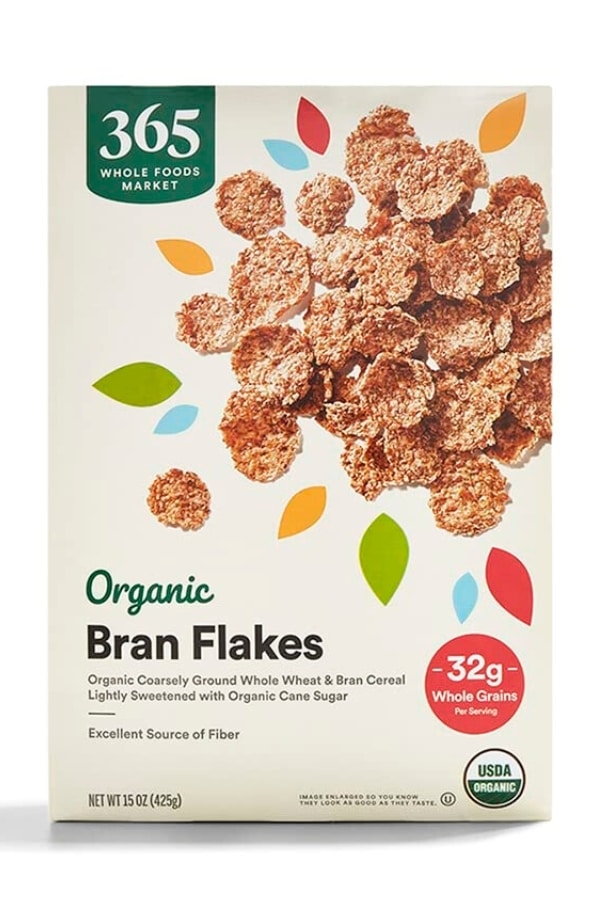 Nutritional Info for 1 Cup (40g):
130 Calories
1g Fat
32g Carbs
3g Sugar
7g Fiber
5g Protein
A lot of bran flake cereals are loaded with added sugar for flavor, but this organic option from Whole Foods Market has a fraction of the sugar content with the same delicious crunch, high fiber content, and satisfying balanced sweetness. This tasty breakfast option is made simple with just whole grain wheat, wheat bran, and a touch of cane sugar, barley malt extract, and salt.
11. Post Grape Nuts
Nutritional Info for ½ Cup (58g):
210 Calories
1g Fat
47g Carbs
5g Sugar
7g Fiber
6g Protein
I wrote this cereal off for a while, but now it's in my regular cereal rotation. Grape nuts are one of the OG healthy breakfast cereals and have maintained their well-deserved status throughout the years. In addition to the fiber and protein, these crunchy wheat and barley puffs are made with added vitamins and minerals for a boost of nutrients to your day. You can enjoy these both cold and crunchy or warmed up in milk for an ultra-comforting hot cereal bowl.
12. Nature's Path Organic Flax Plus Multibran Flakes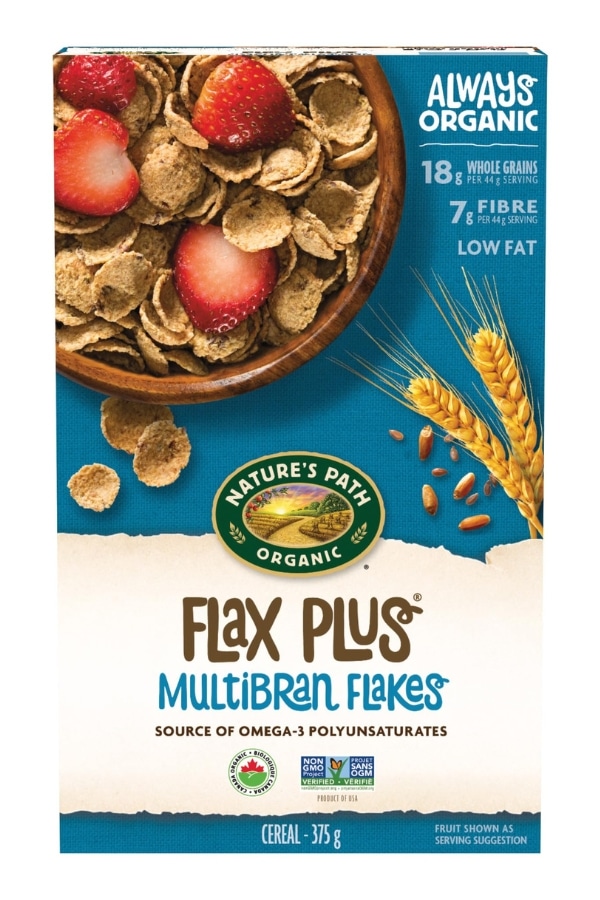 Nutritional Info for 1 ¼ Cup (61g):
150 Calories
2g Fat
31g Carbs
5g Sugar
7g Fiber
5g Protein
Another great option from Nature's Path Organic, this cornflake-style cereal combines whole wheat, wheat bran, flax seeds, and oat bran for a hearty cereal packed with flavor, crunch, and fiber. Their multibran flakes strike the best balance between high fiber and low sugar, but their other flax plus options like raisin bran and maple pecan crunch don't lag far behind with 5 to 9 grams of fiber and less than 10 grams of added sugar.
13. Alpen Muesli No Sugar Added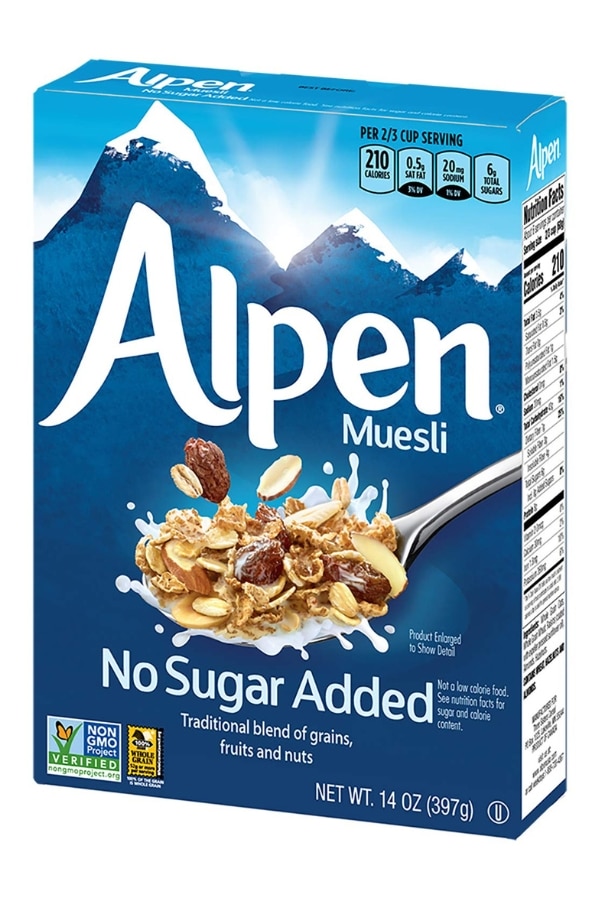 Nutritional Info for ⅔ Cup (60g):
210 Calories
3.5g Fat
43g Carbs
6g Sugar
7g Fiber
8g Protein
This traditional muesli cereal is anything but boring. Made with wheat flakes, whole grain oats, roasted hazelnuts and almonds, sweet raisins, and a touch of milk powder for creamy flavor, it's delicious hot, cold, and even mixed into baked goods. Their original Alpen muesli is already pretty low in sugar, but you can also opt for their no sugar version, which lets you add sweetness as desired.
14. Food for Life Ezekiel Sprouted Grain Crunchy Cereal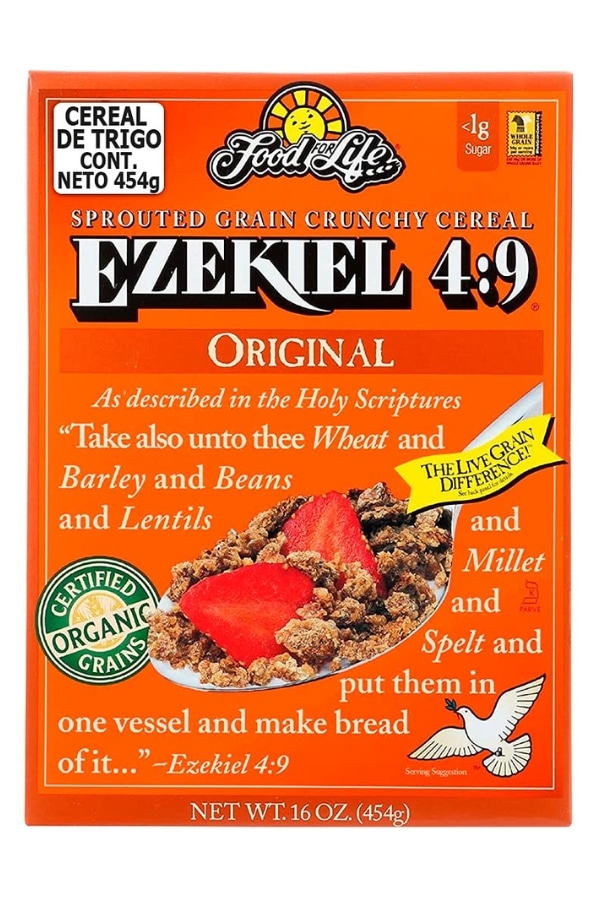 Nutritional Info for ½ Cup (57g):
190 Calories
1g Fat
40g Carbs
0g Sugar
6g Fiber
8g Protein
Sprouted grains are a healthier alternative to traditional dry grains as they're easier to digest, have more bioavailable nutrients, and even have more flavor. And there's no better way to take advantage of the goodness of sprouted grains than with this crunchy Ezekiel cereal. It's made with 7 kinds of organic sprouted grains and legumes for a wholesome and tasty breakfast option that's naturally rich in fiber and protein.
15. Seven Sundays Cereal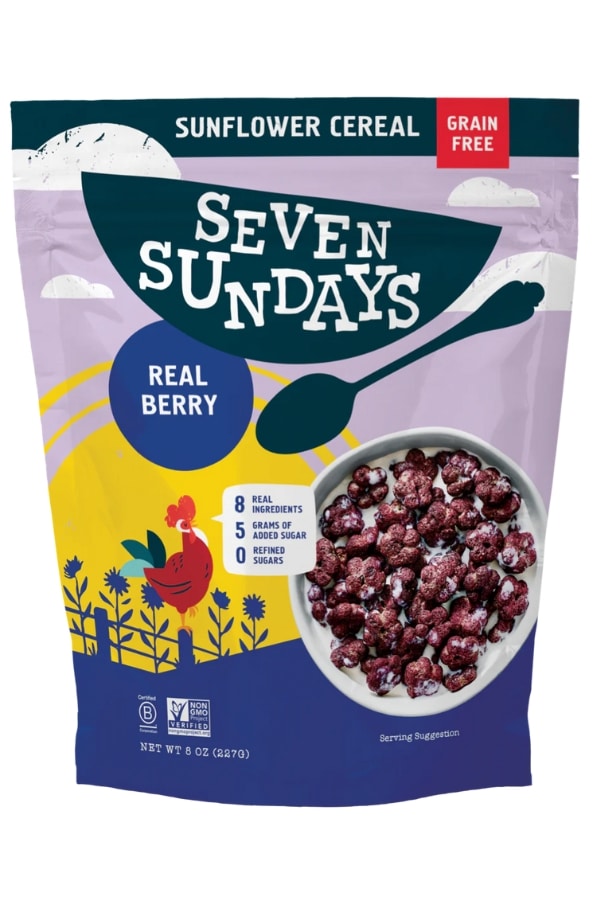 Nutritional Info for ½ Cup (60g):
240 Calories
6g Fat
39g Carbs
7g Sugar
6g Fiber
8g Protein
This gluten-free muesli is a tasty and colorful start to your day, made with a base of gluten-free oats and sorghum flakes packed with added texture and flavor from a mix of seeds, nuts, and dried fruit. It comes in four flavor options, including blueberry chia buckwheat, dark chocolate almond, almond date currant, and apple cinnamon almond, all with a hearty 6 grams of fiber per serving.
More Healthy Lists