When it comes to keto options, Aldi has some great quality items at seriously unbeatable prices! So, I compiled a keto grocery list of the absolute BEST low carb Aldi finds. And on my shopping list, you'll find everything from meats, to cheese, to seafood; there are even snacks and the famous Keto Aldi Bread!
On The Go Keto Snacks at Aldi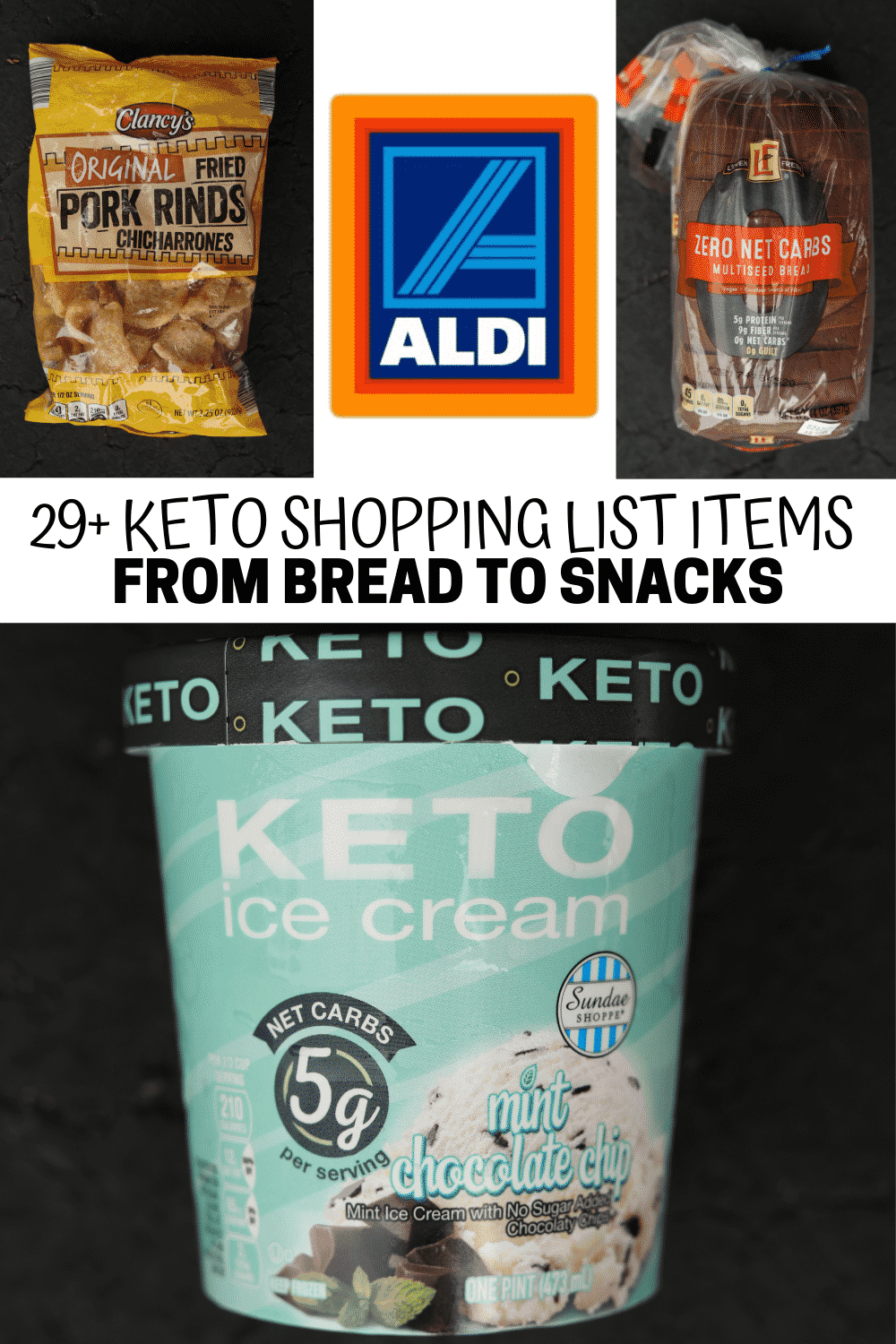 Whether you're looking to snack on something crunchy, smoky, or salty, this list has you covered.
The best part? All of these have less than 1 net carb and cost under $5!
1. Simms Beef Biltong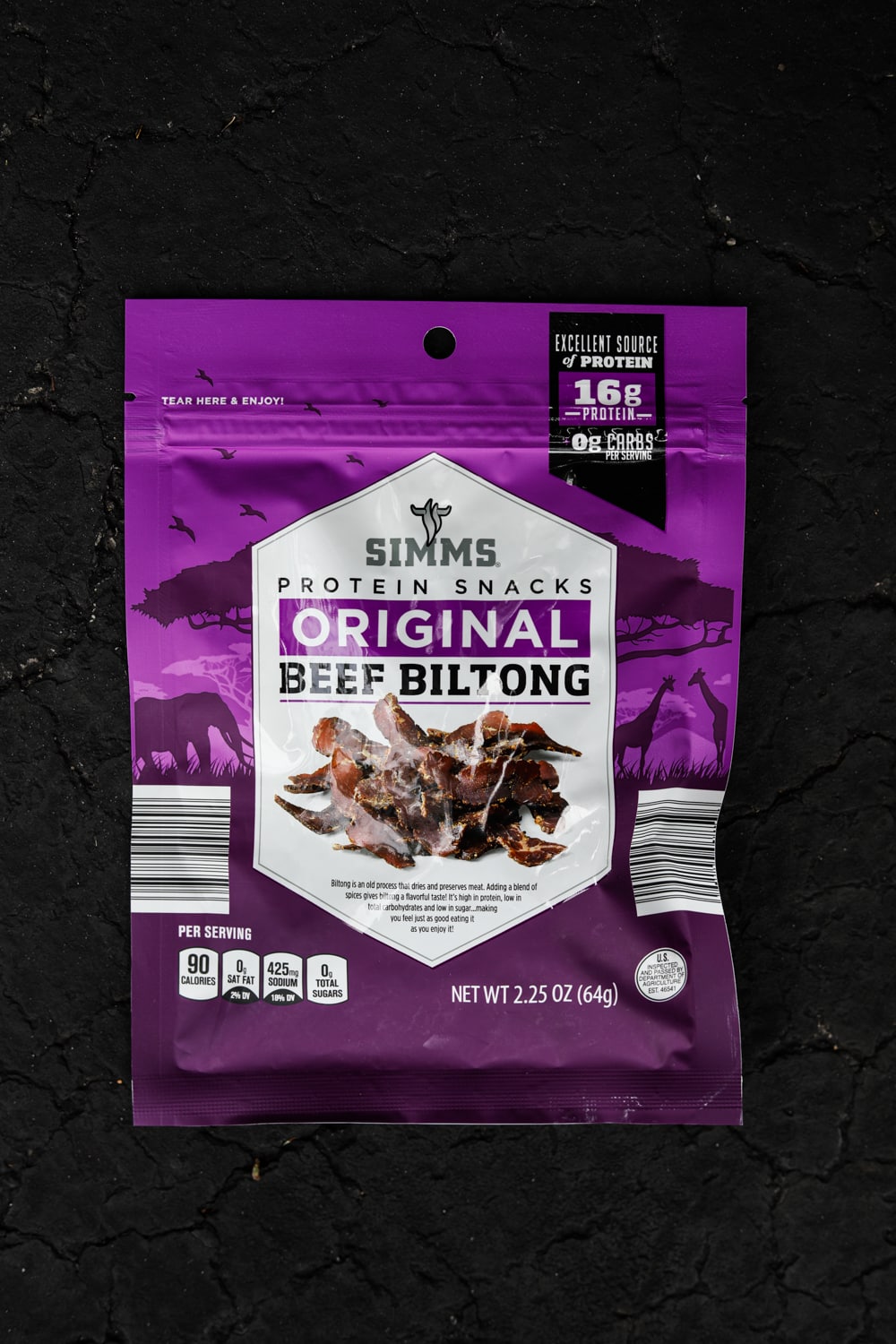 Now, I love beef jerky, but it's honestly pretty hard to find a good keto-friendly version since many of them have junk ingredients and a ton of sugar.
So one keto snack I've been getting into is biltong.
It's meaty, salty, and keto-friendly. Plus, these have no sugar added, which I love.
This one from Aldi comes in teriyaki and original flavors, both at a great price.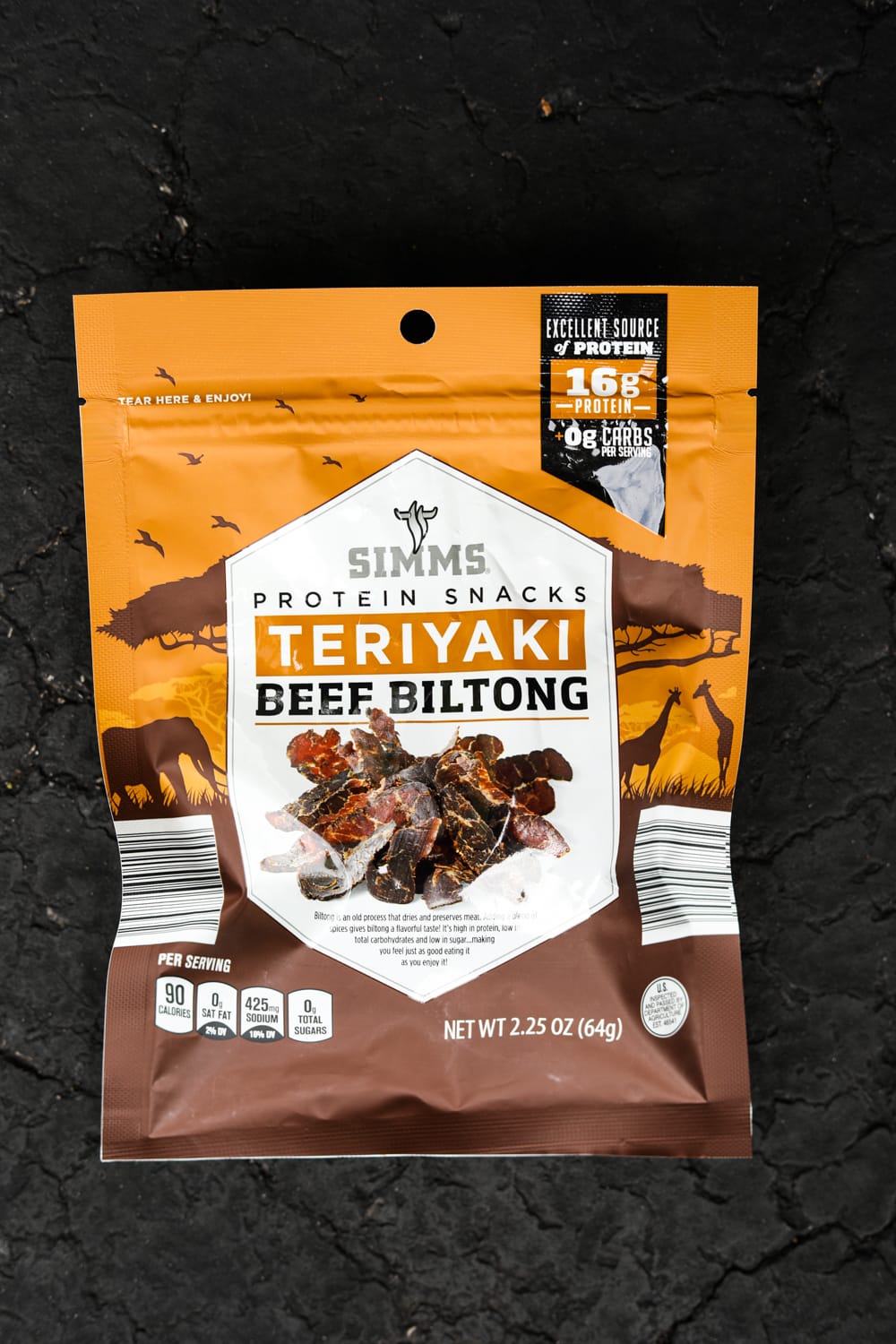 For just $3.99 per package, this is a lot cheaper than most biltong – which typically costs between $6-8 per pouch.
Oh, and by the way, each package has just 1g net carbs for the whole thing! Definitely check these out the next time you need to get your jerky fix.
2. Clancy's Pork Rinds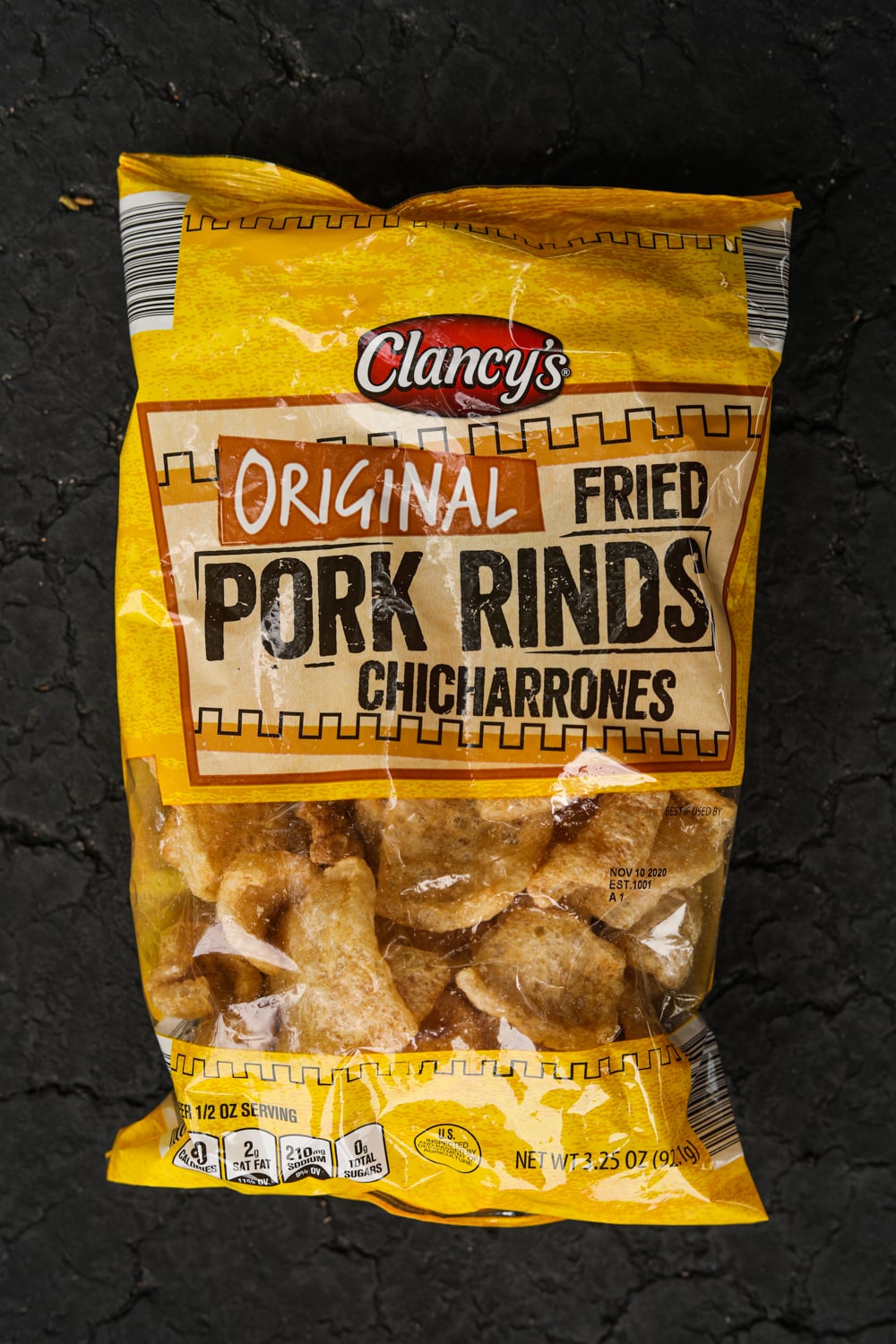 If you love snacking on potato chips, then pork rinds are a must-have keto hack for your shopping list.
This 3.25oz (100g) bag of Clancy's Pork Rinds is a fantastic deal at literally less than a dollar. Seriously, the whole package goes for just $0.95!
On their own, these pork rinds are crunchy, salty, buttery – delicious. They also make an out of this world replacement for chips to dip in guacamole or salsa.
Oh, and, of course, the whole bag has 0 carbs. Can't get any better than that, right?!
3. Simms Turkey Sausage Snack Sticks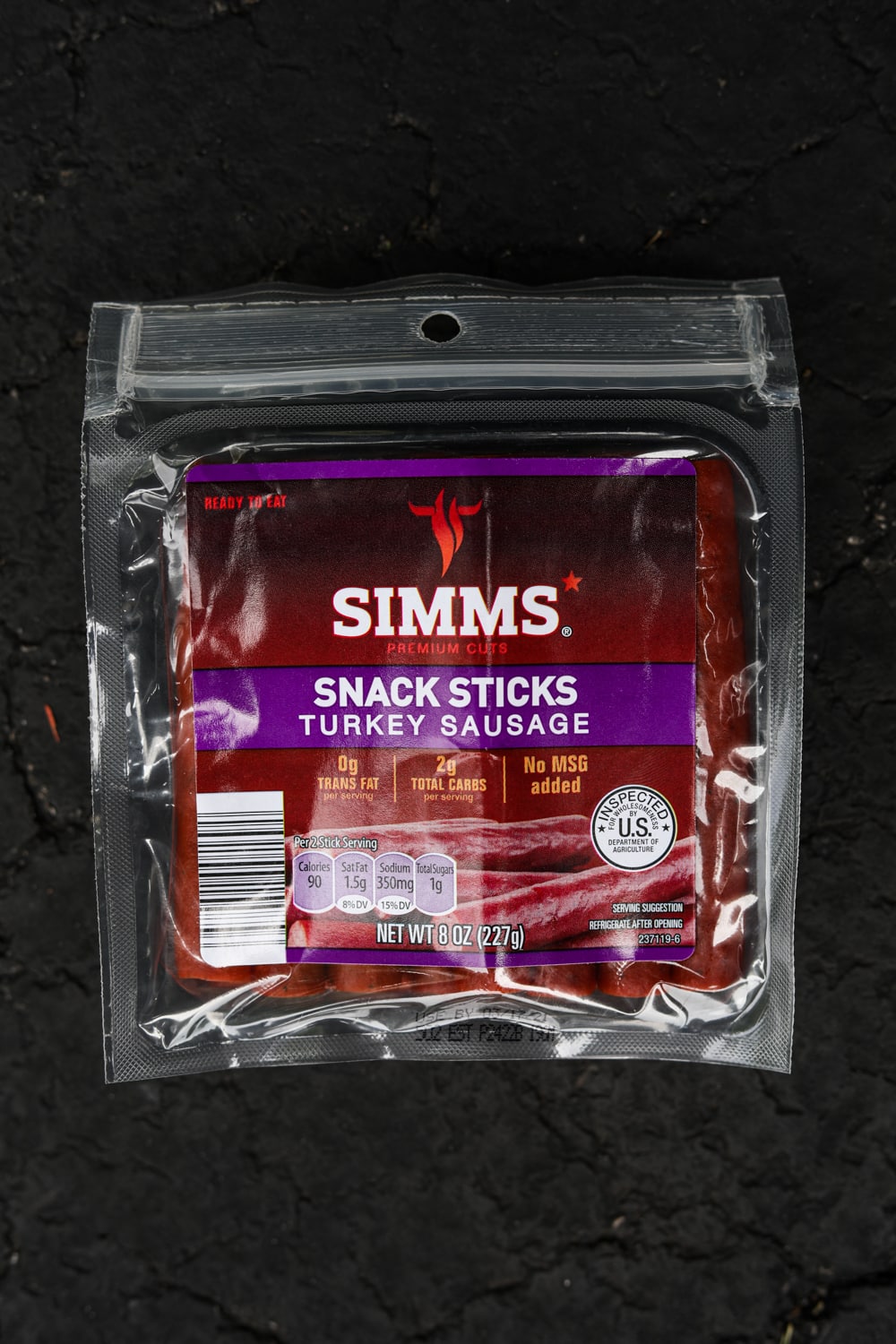 So for another jerky-esque keto snack idea from Aldi, I recommend these Simms Turkey Sausage Snack Sticks.
A 14-pack of them goes for just $3.29, so you're getting a pretty good amount of snacking for not a lot of money!
Now each stick has just 1 net carb. But full disclosure, these do have a tiny bit of sugar added.
That being said, it's not enough to keep you out of ketosis or kick you out of it – you'd have to eat at least 2 entire packs of these before they can have any impact on your ketones.
So if you're a big fan of turkey sausage, go ahead and give these a try.
4. Simms Smoked Snack Sticks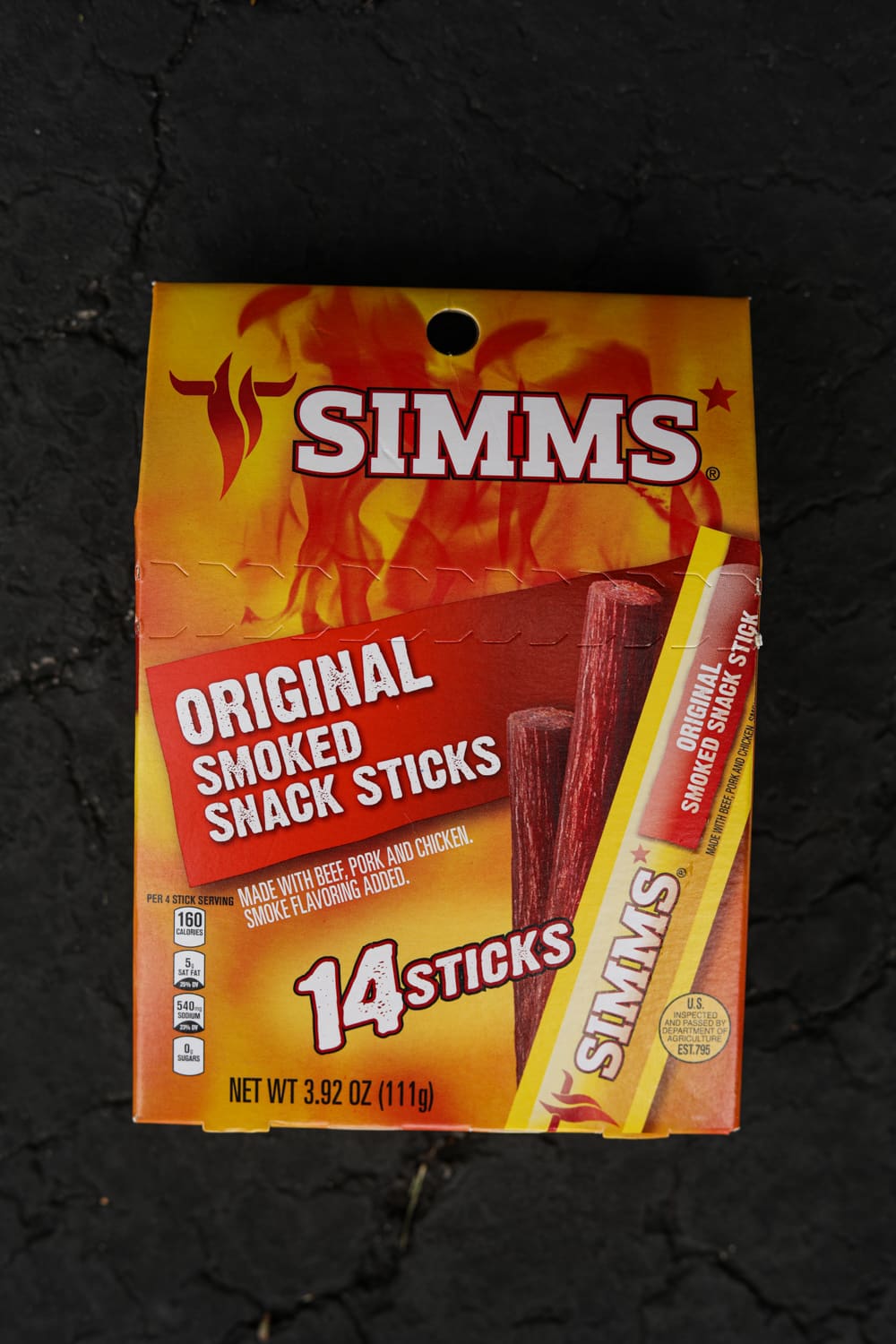 Speaking of snack sticks, these are basically Aldi's version of a Slim Jim.
They're a bit cheaper than the turkey snack sticks at just $2.39 for a pack of 14.
Once again, these have a little bit of added sugar. However, it's not enough to affect your ketones as long as you're keeping track of your carbs.
The sticks are pretty small and have just 0.5 net carbs each. And a single serving is 4 sticks or 2 net carbs.
If you're following a stricter approach to keto - like "clean keto" - these might not be for you. But if you're a little more flexible, don't be afraid to give these a shot!
Keto Cheese at Aldi
Cheese has got to be an absolute staple of the keto diet, am I right?! I picked up the best keto cheeses in Aldi in any form you can think of – snacking cheese, cheese crisps, cheese dip. And best of all, every one of these has just 1 net carb or less!
5. Savorits Jalapeno Parmesan Crisps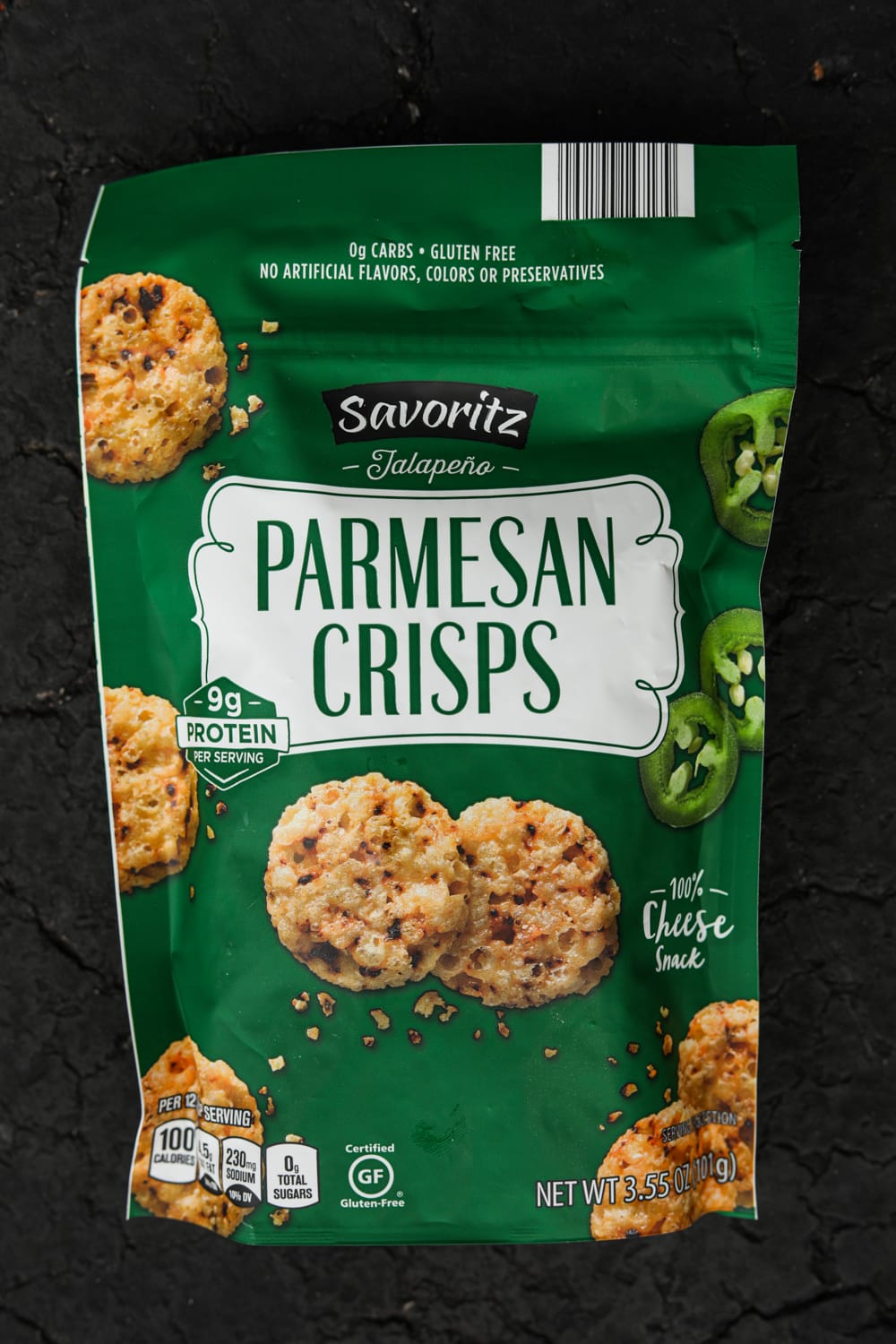 I love jalapeno, I love parmesan cheese, and I LOVE crunchy things – so I just had to try Aldi's version of cheese crisps.
These are super cheesy, salty, and crunchy, so if that's what you're craving, these will hit the spot!
I do have to say there's not a lot of jalapeno fieriness going on here. So, if you're in the mood for just a little bit of spice, these will be right up your alley.
The 3.5oz bag has 0 net carbs and costs $4.99.
6. Simply Nature Colby Jack Cheese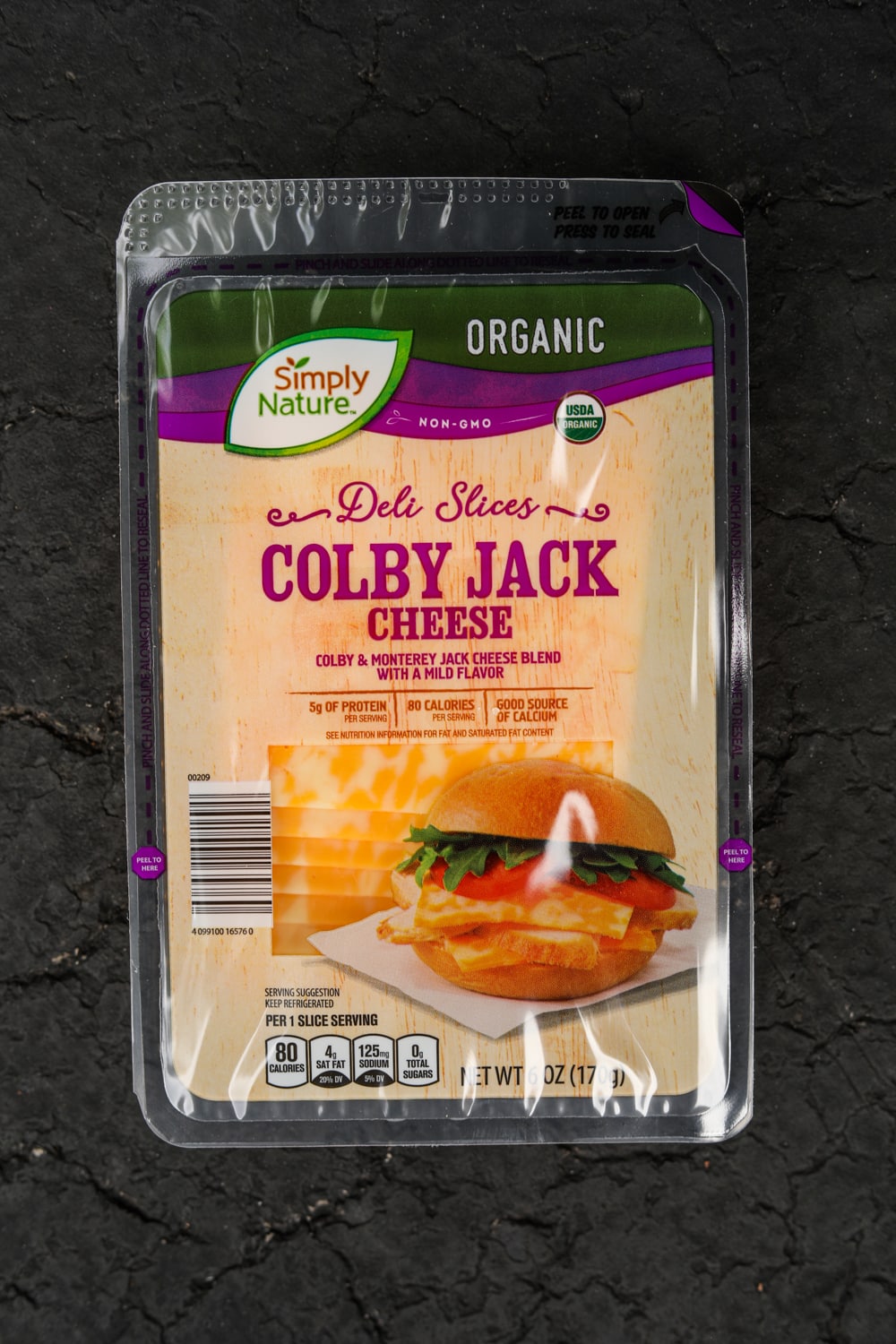 This 6 oz. (8 slices) pack of Colby Jack cheese was the only pre-sliced cheese I found at Aldi that has 0 net carbs per slice.
Like I've said, these would go great in a keto sandwich! You can also use them to make your own keto cheese chips.
And by the way, the pack goes for just $2.25.
7. Pueblo Lindo Queso Fresco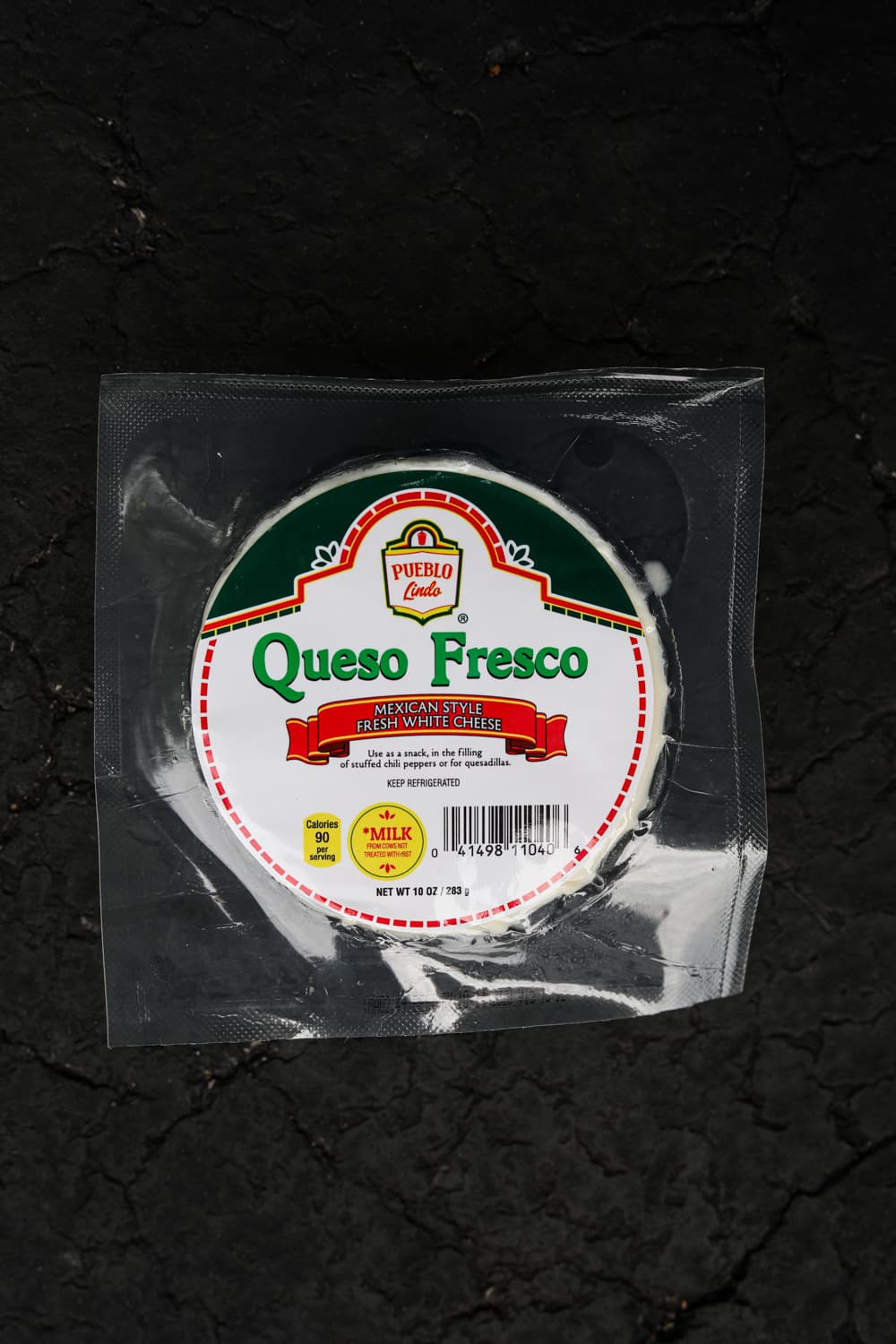 If you're a fan of the Mexican-inspired keto recipes I've been putting out lately, you'll want to pick this up the next time you go to Aldi!
This cheese is salty and tangy – and it's just asking to be crumbled on top of some keto nachos.
As far as the price goes, a 10 oz. circle costs $2.45. And 1 serving (28g) has only 1 net carb.
8. Jalapeno Havarti Cheese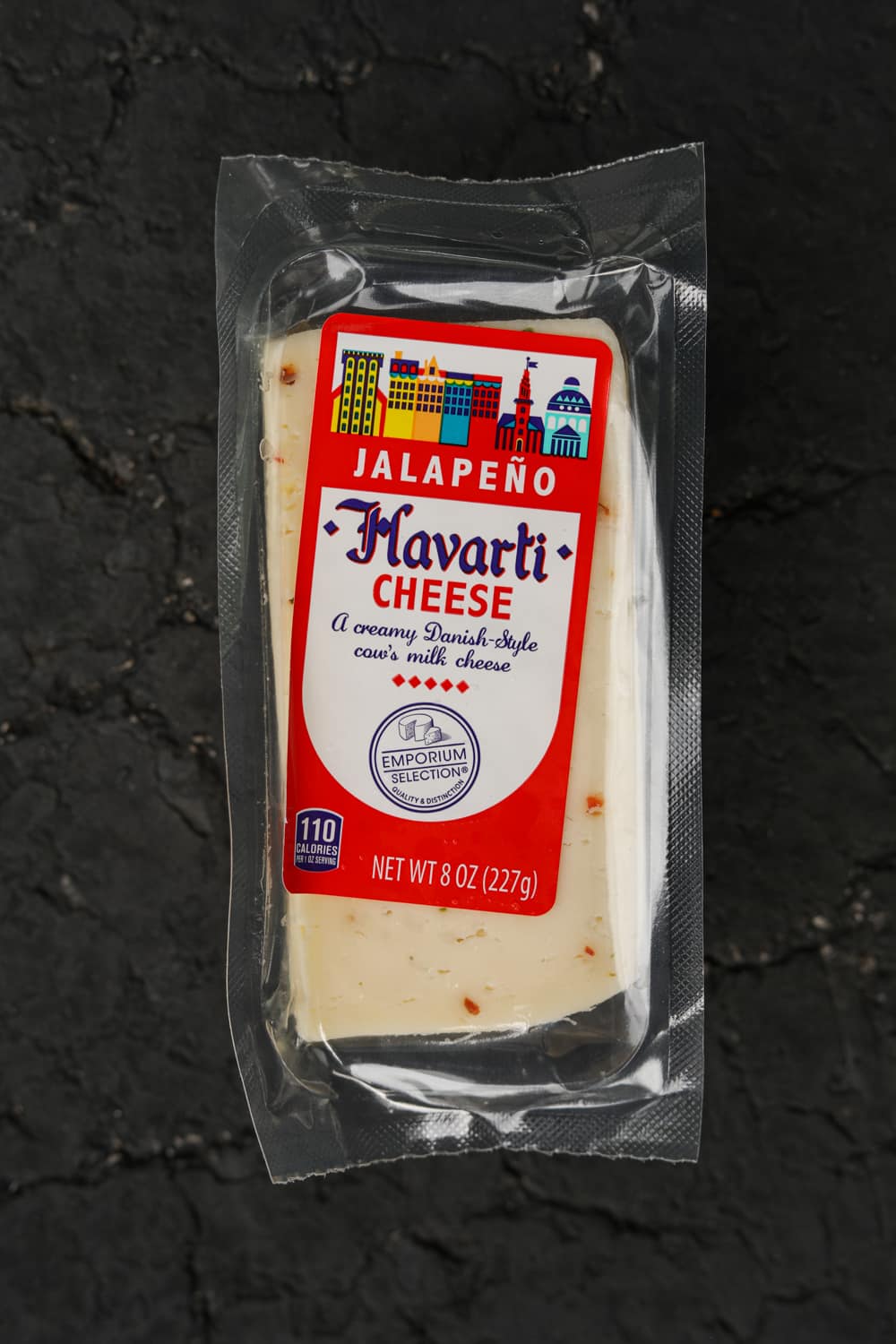 Now, if you're like me and you love spicy cheese, I can't recommend this cheese enough. SO SO GOOD.
An 8 oz. package costs $2.99 and has 0 net carbs.
Delicious spicy cheese and no carbs? You really can't beat that!
9. Pepper Jack Cheese Snacking Cheese Sticks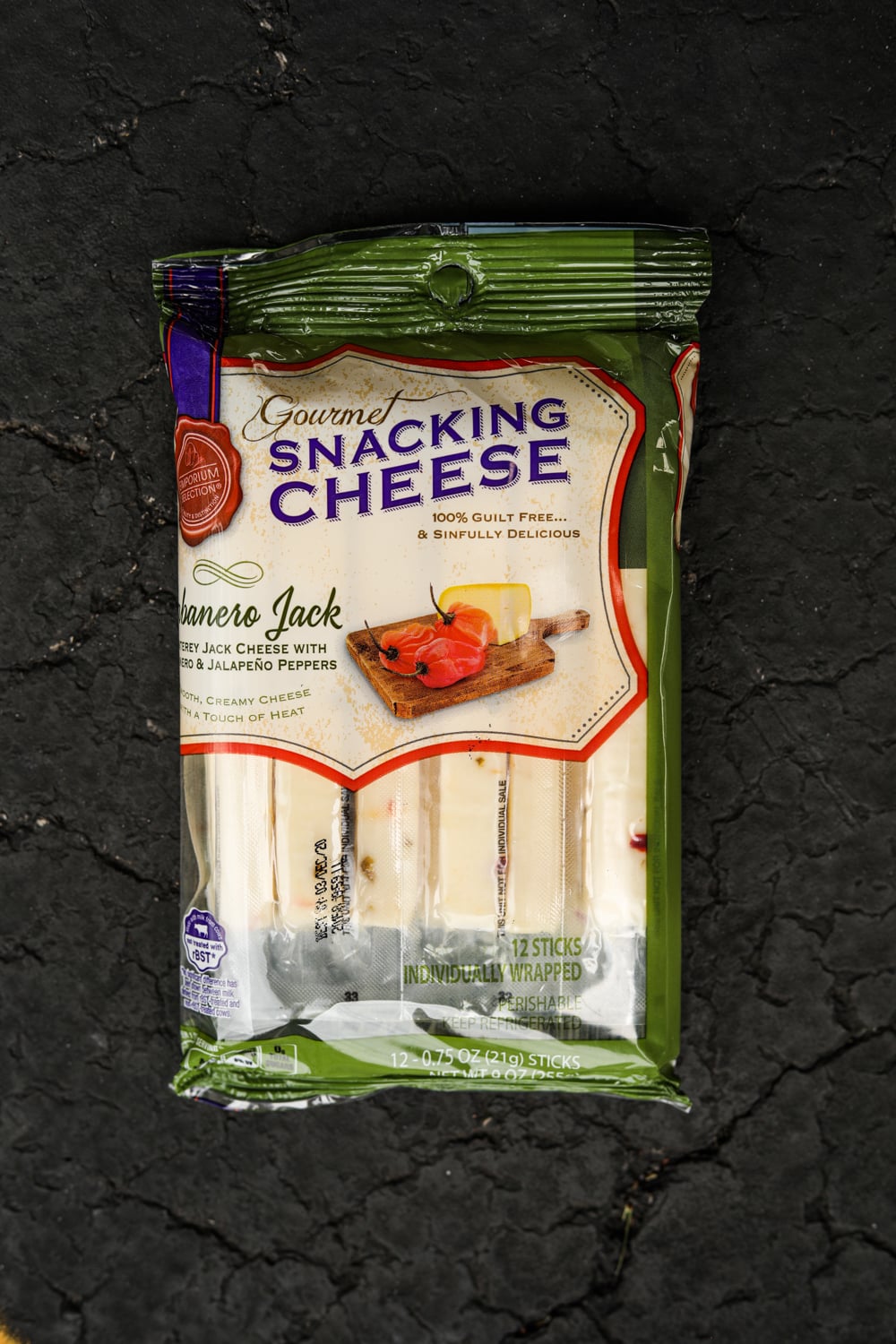 Speaking of zero carb spicy cheeses, I also found this 12 pack of pepper jack snacking cheese for $3.35.
Most cheese sticks usually have at least 1g net carbs per stick, so at 0 net carbs, this is another keto snack idea that can't be beat!
As always, spicy + cheesy + low carb = best keto snack idea.
Am I right?!
10. Buffalo Style Chicken Dip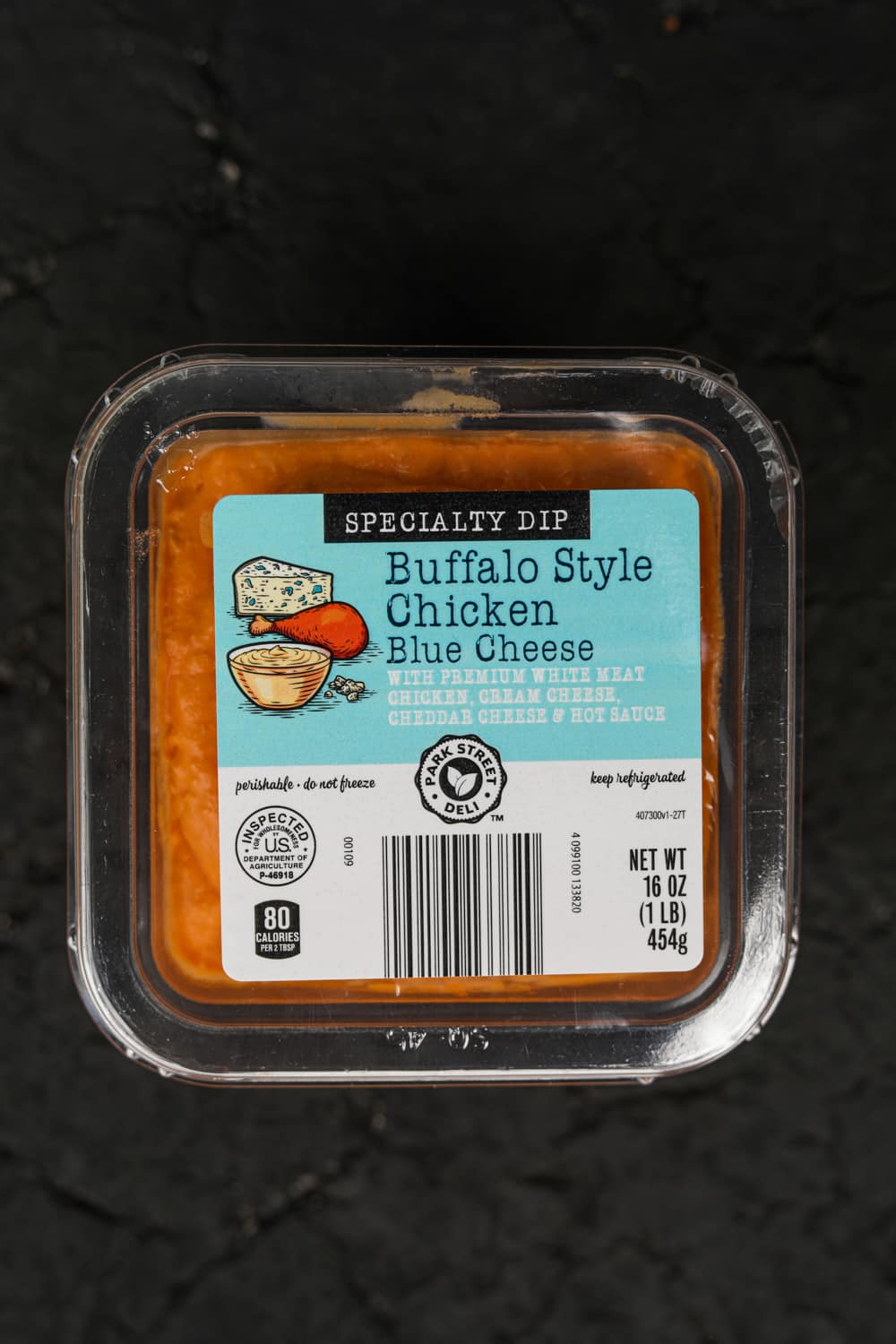 I looked through the WHOLE dip selection at Aldi and can say that this buffalo cheese dip is the absolute best.
This dip has the lowest carb count at just 1g of carbs per a 2 tablespoon serving!
My advice is to pair it with pork rinds for a world of pure cheesy and crunchy deliciousness.
And you can get an entire 1 lb. tub of dip for just $3.29 at Aldi.
11. Babybel Cheese Wheels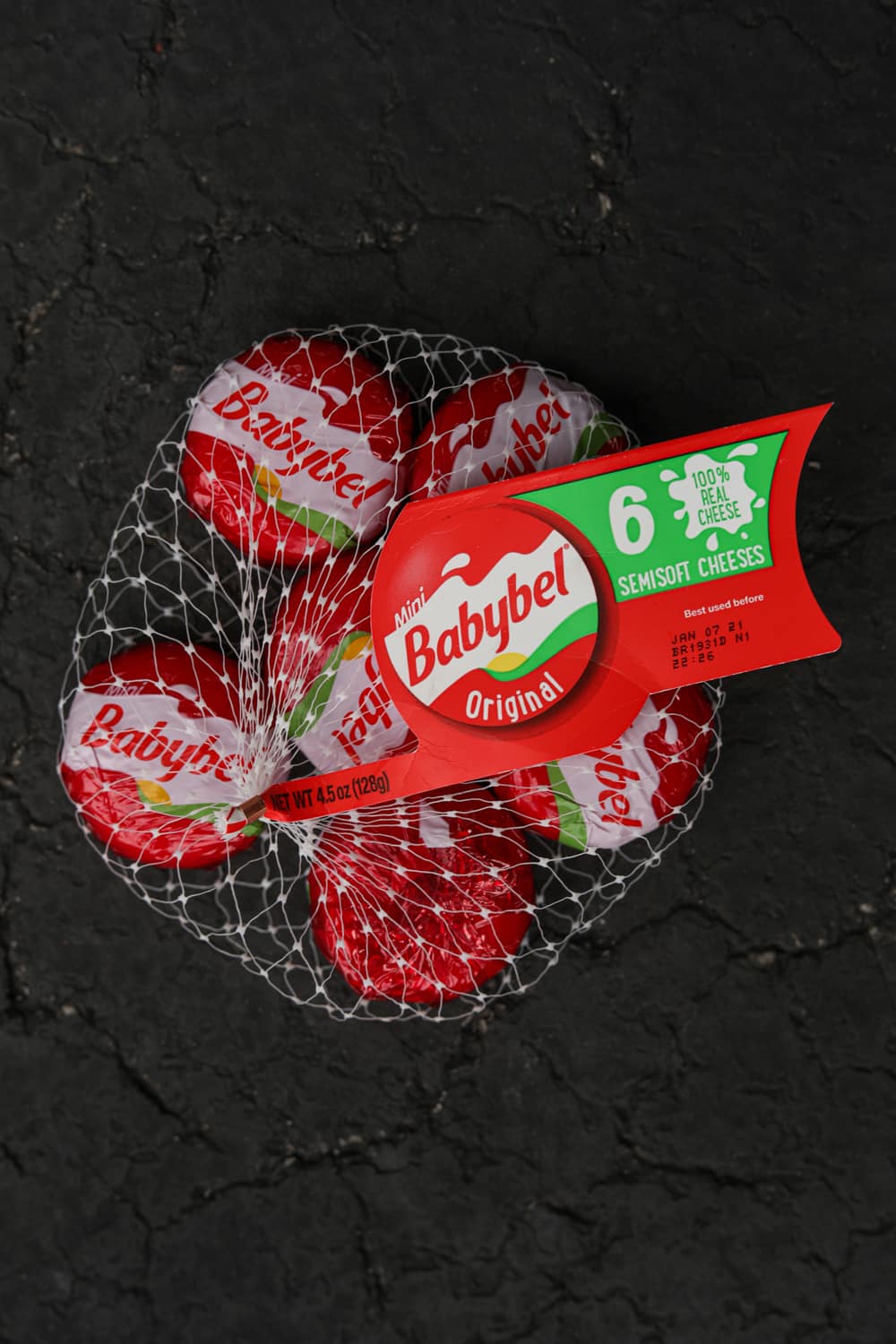 You've probably heard me talk about these many times before, like in my keto at Starbucks haul.
And that's because there's a lot to love about them! You can bring them to school or work, just throw them in your lunchbox or backpack, and you're good to go.
Plus, each cheese wheel has 0 net carbs. Overall, an excellent keto snack.
A pack of 6 at Aldi goes for $2.97.
Keto Meats at Aldi
There are so many delicious possibilities when it comes to deli meats. You can add them to a sandwich, make a nice cheese plate, or just snack on them on-the-go.
However, many of them have a ton of carbs from added sugar, so I scoured Aldi for the best deli meats with the lowest amount of carbs – each one of these has 2 net carbs or less per serving!.
And as a bonus, these all cost less than $5!
12. Appleton Farms Prosciutto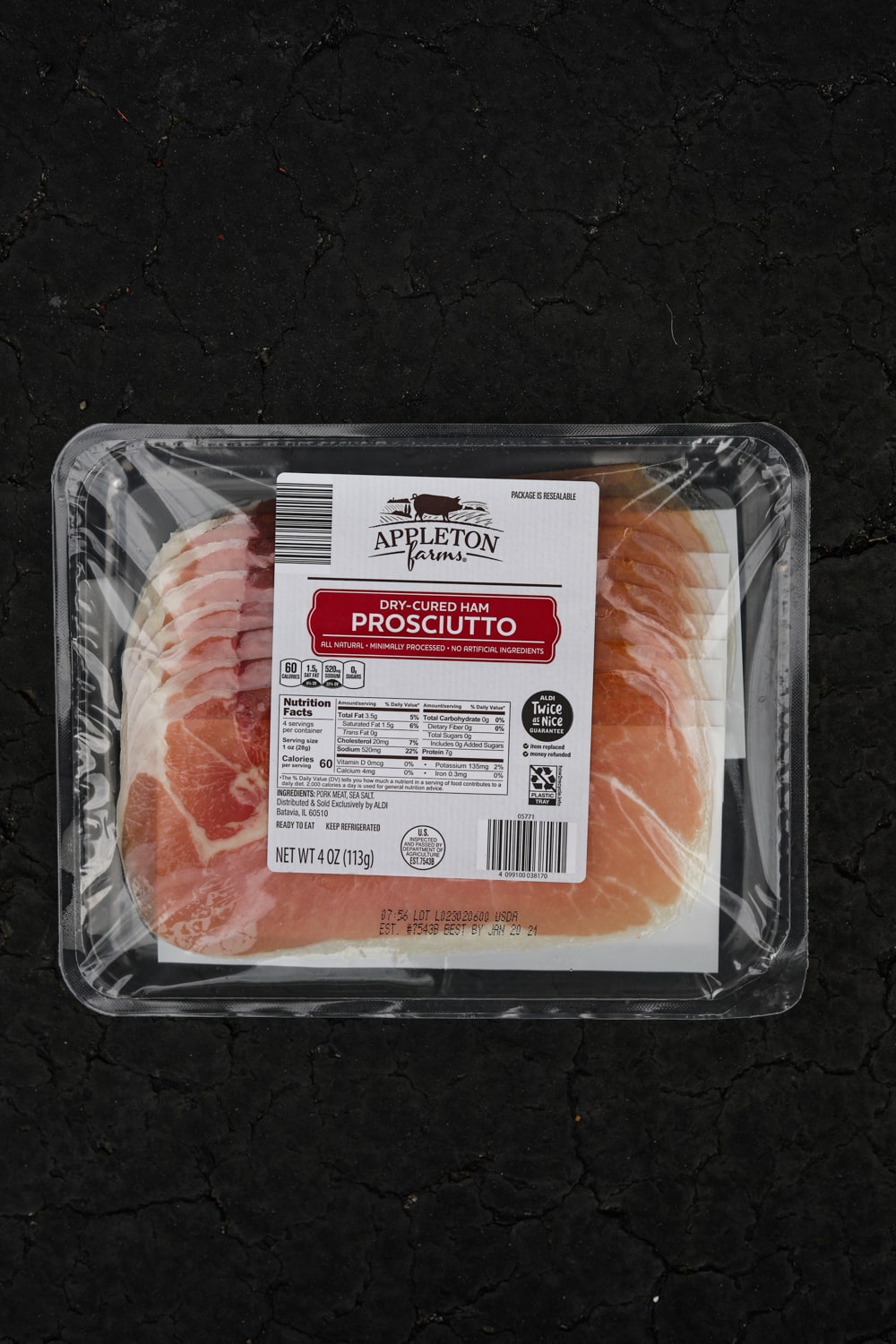 My lovely wife, Alyssa, is really into cured meats. If you're the same way, then you'll want to check out this 4 oz. (113g) pack of prosciutto from Aldi.
The ingredients are literally just pork meat and sea salt, so no junk ingredients here. And, like with all prosciutto, you're looking at 0 net carbs.
Throw these into a keto sandwich with some cheese and lettuce for a quick keto lunch idea!
It also comes at a pretty good price, and a pack costs just $2.69.
13. Aldi Deli Slices: Black Forest Ham & Turkey Breast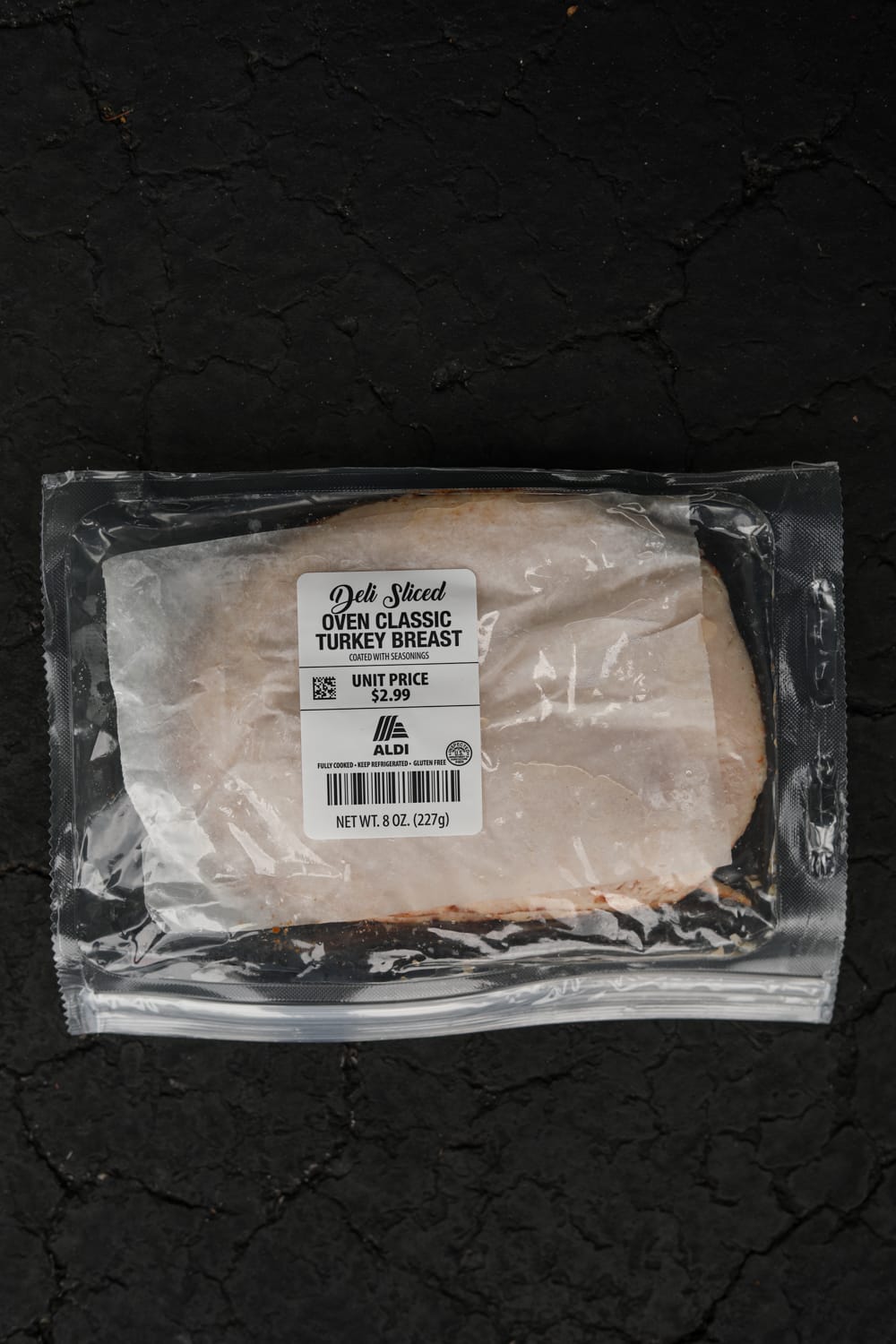 So I went through literally ALL of the Aldi brand sliced deli meat, and these two have the lowest amount of carbs you can find in their selection!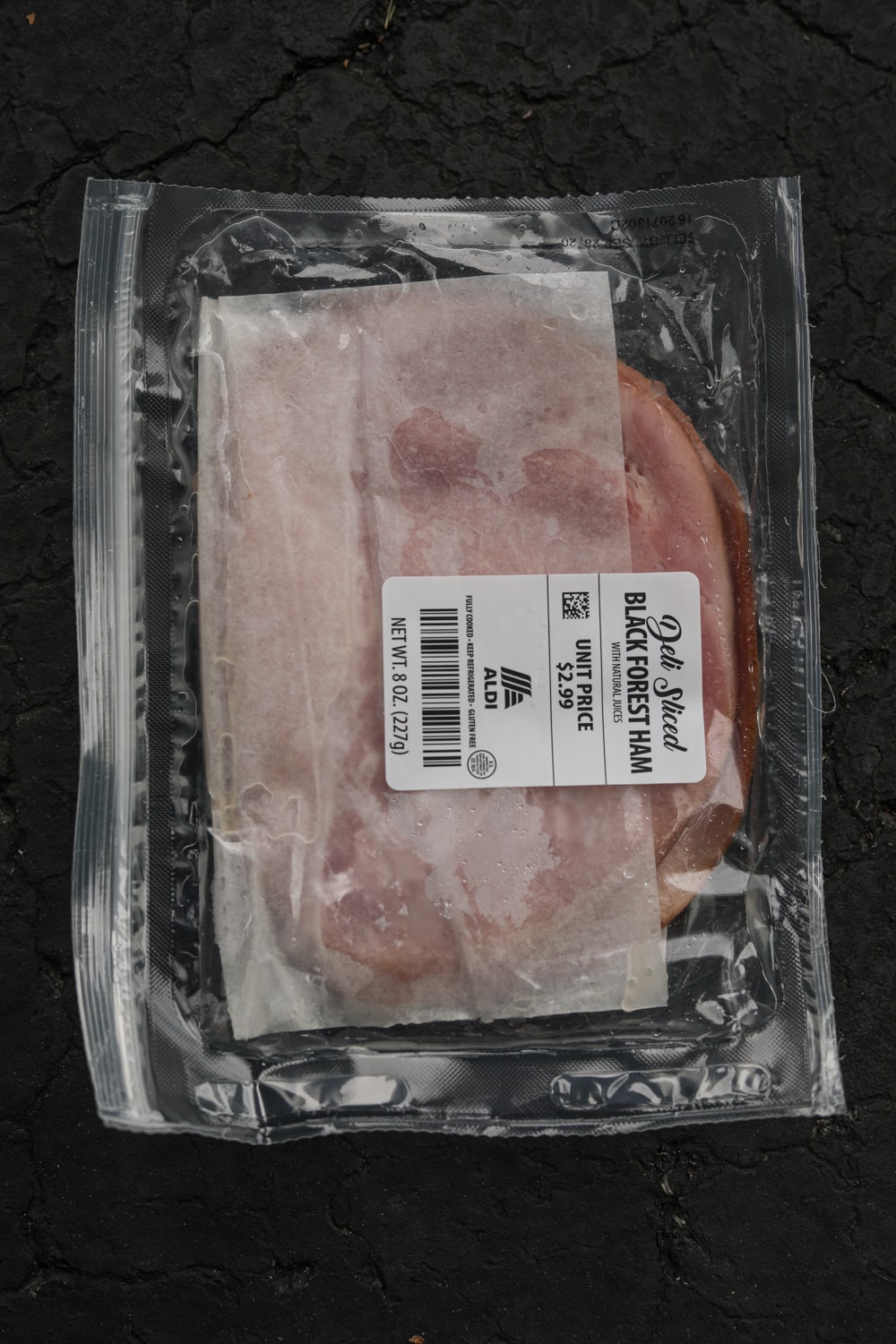 These cost $2.99 for an 8 oz. pack and a 56g serving (about 2 slices) has just 2 net carbs.
14. Appleton Gourmet Deli Selection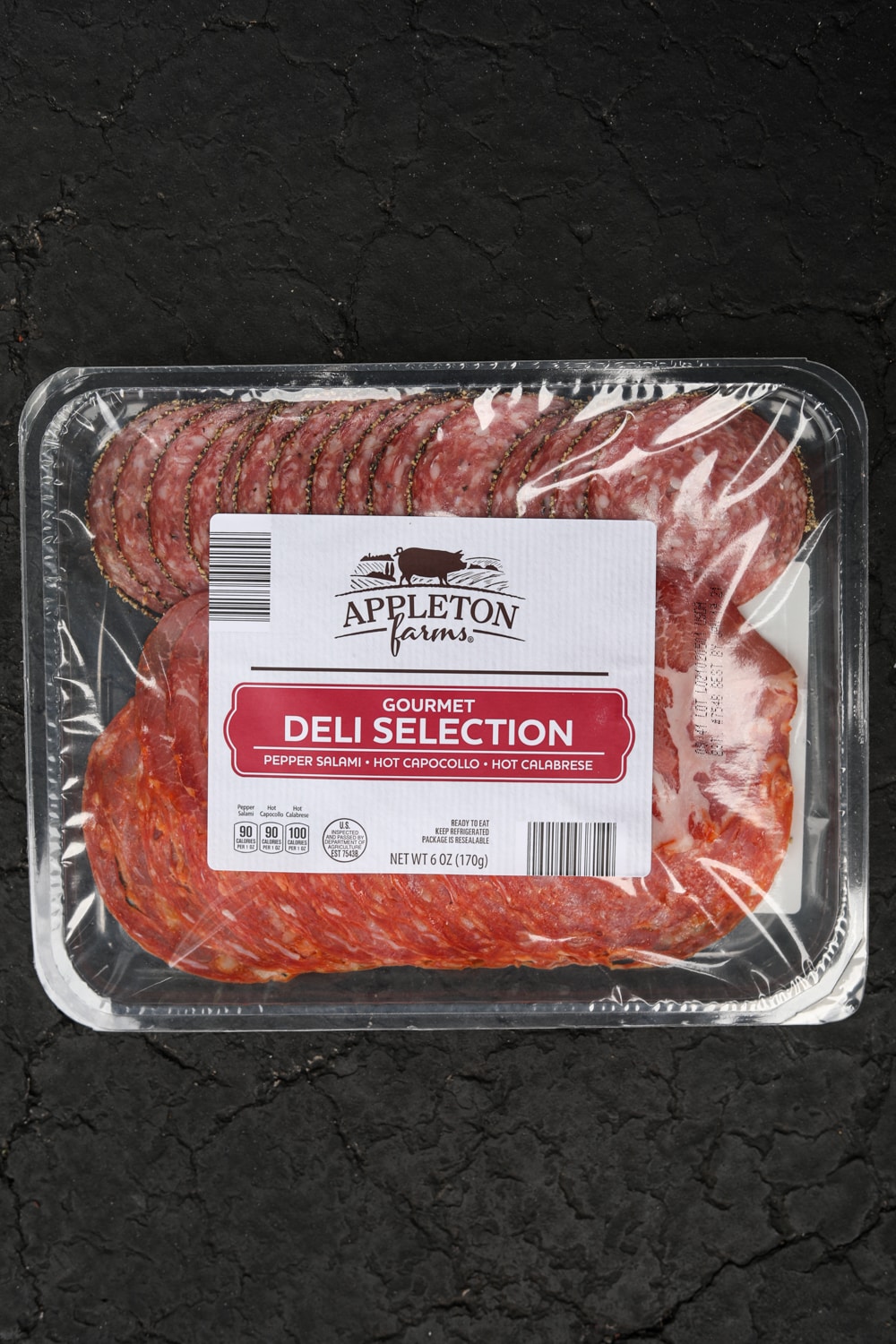 This assorted tray of deli meats costs $4.49 and has Hot Calabrese, Hot Capocollo, and Pepper Salami.
And the whole tray has just 2 net carbs!
There's a little added sugar. But once again, it's not enough to kick you out of ketosis.
That being said, if you're avoiding all added sugar in your keto diet, you'll probably want to go with the prosciutto instead.
15. Simply Organic Chicken Sausages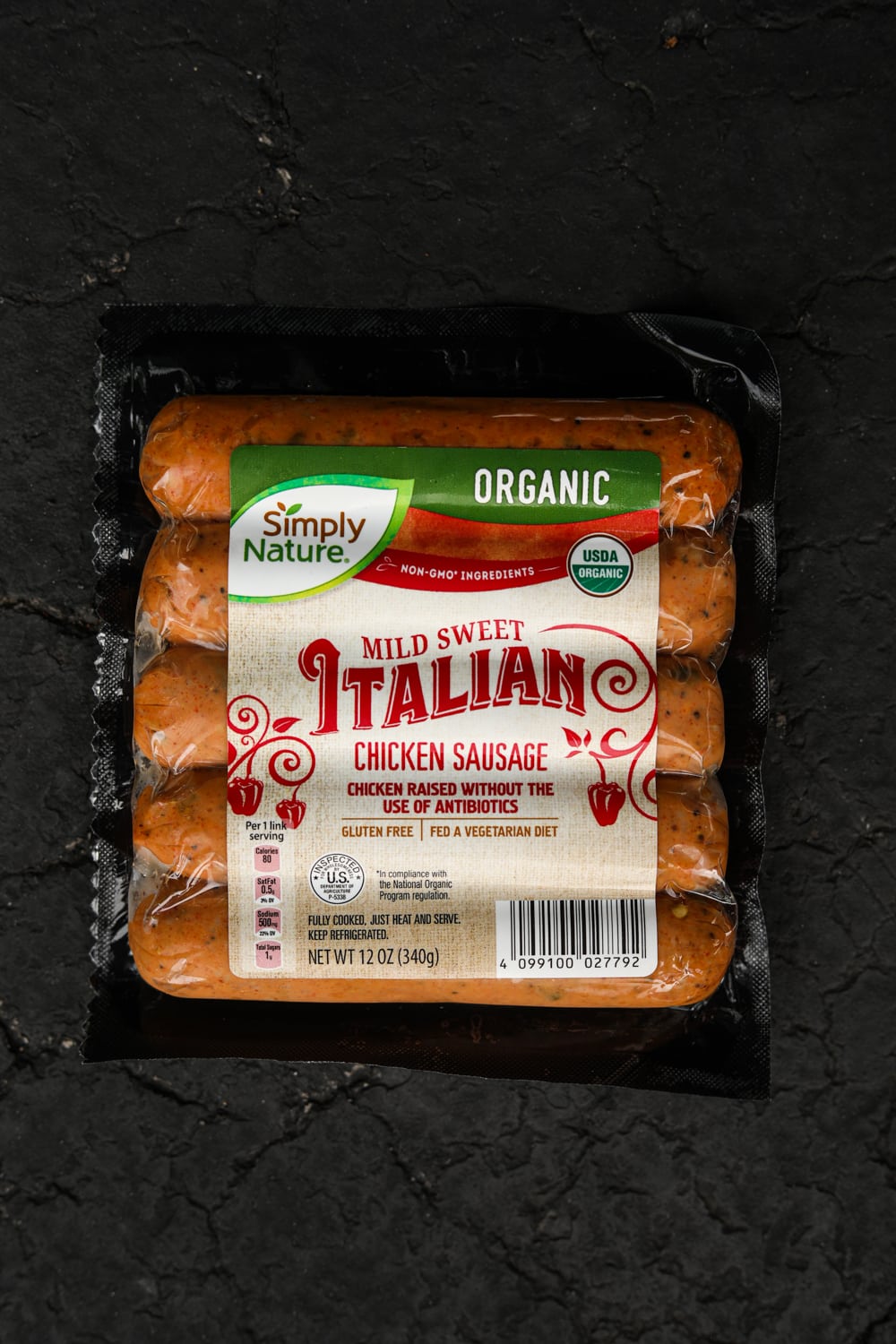 I also picked up the Mild Sweet Italian and Spinach with Spring Greens and Garlic flavors of these organic chicken sausage links.
I love these because they don't have any added sugar, unlike many other sausage link options on the market.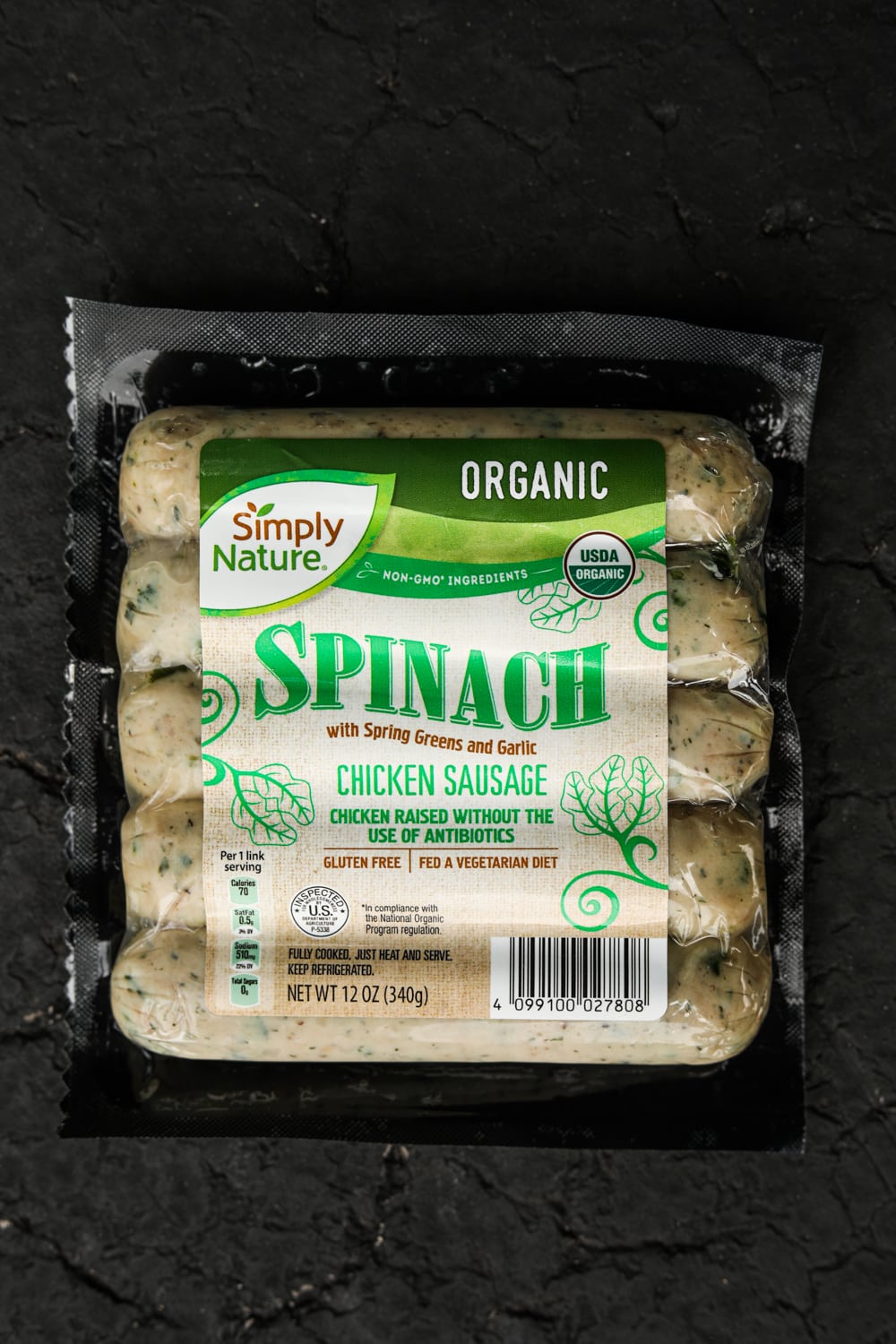 That said, as far as carb count goes, you're looking at just 1 net carb per sausage link for both flavors!
And each ¾ lbs. pack has 5 chicken sausages and costs $4.89.
16. Never Any! Original Flavor Chicken Breakfast Sausage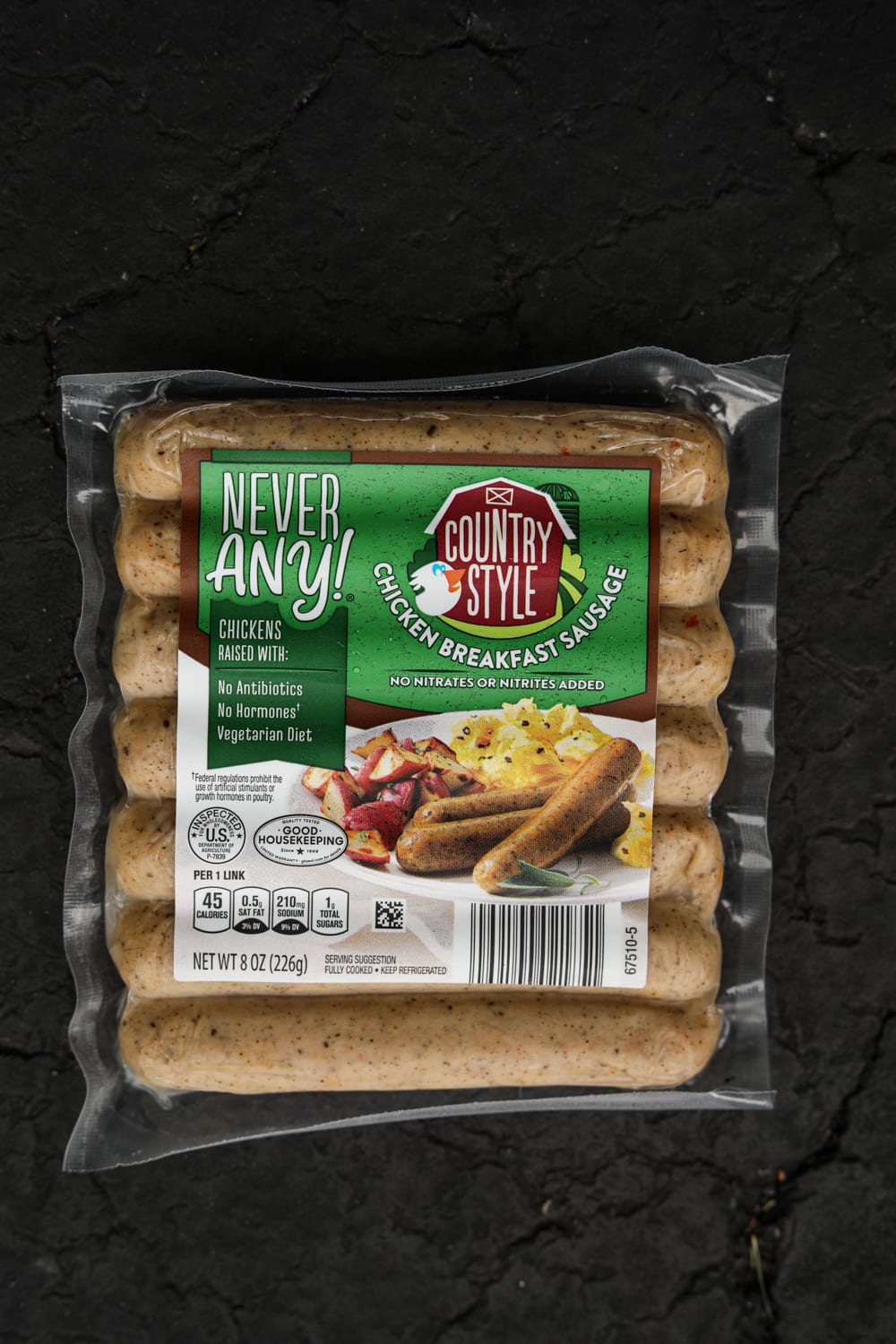 This 8 oz. (226g) 7-pack of sausages is a steal at just $2.99! You're looking at maybe a week's worth of keto friendly breakfast sausages.
Pair these with some homemade keto pancakes plus a drizzle of keto maple syrup, and you've got yourself a pretty fantastic low carb breakfast.
Oh, and each link of this sausage has just 1 net carb!
17. Simple Nature Uncured Beef Hotdogs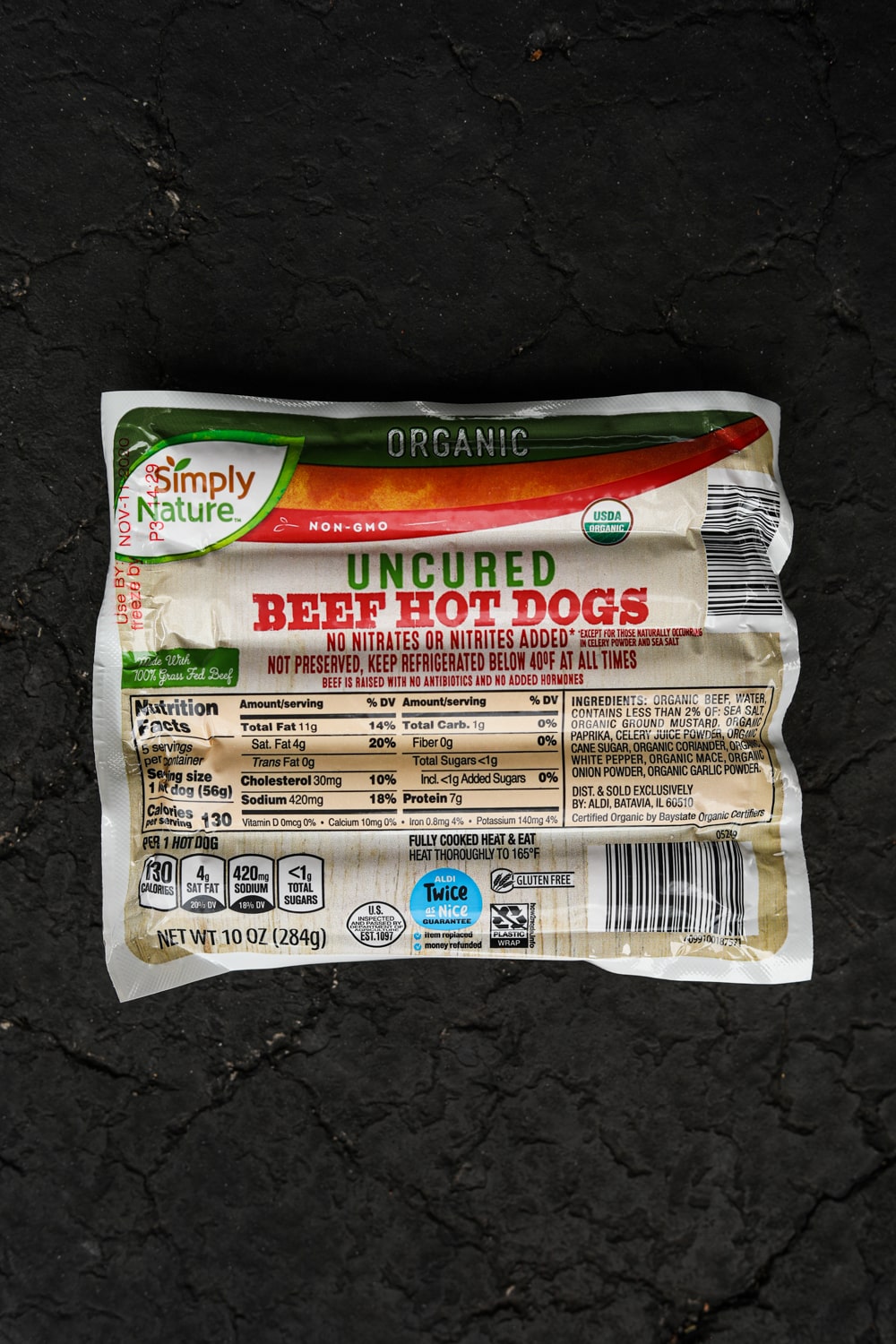 As far as hot dog selections go in Aldi, these are the best ones for keto.
A pack of 5 goes for just $4.15, and each hotdog has just 1 net carb.
You can throw these on the grill for a perfect keto outdoor barbeque!
18. Thomas Farms Grass-Fed Strip Steaks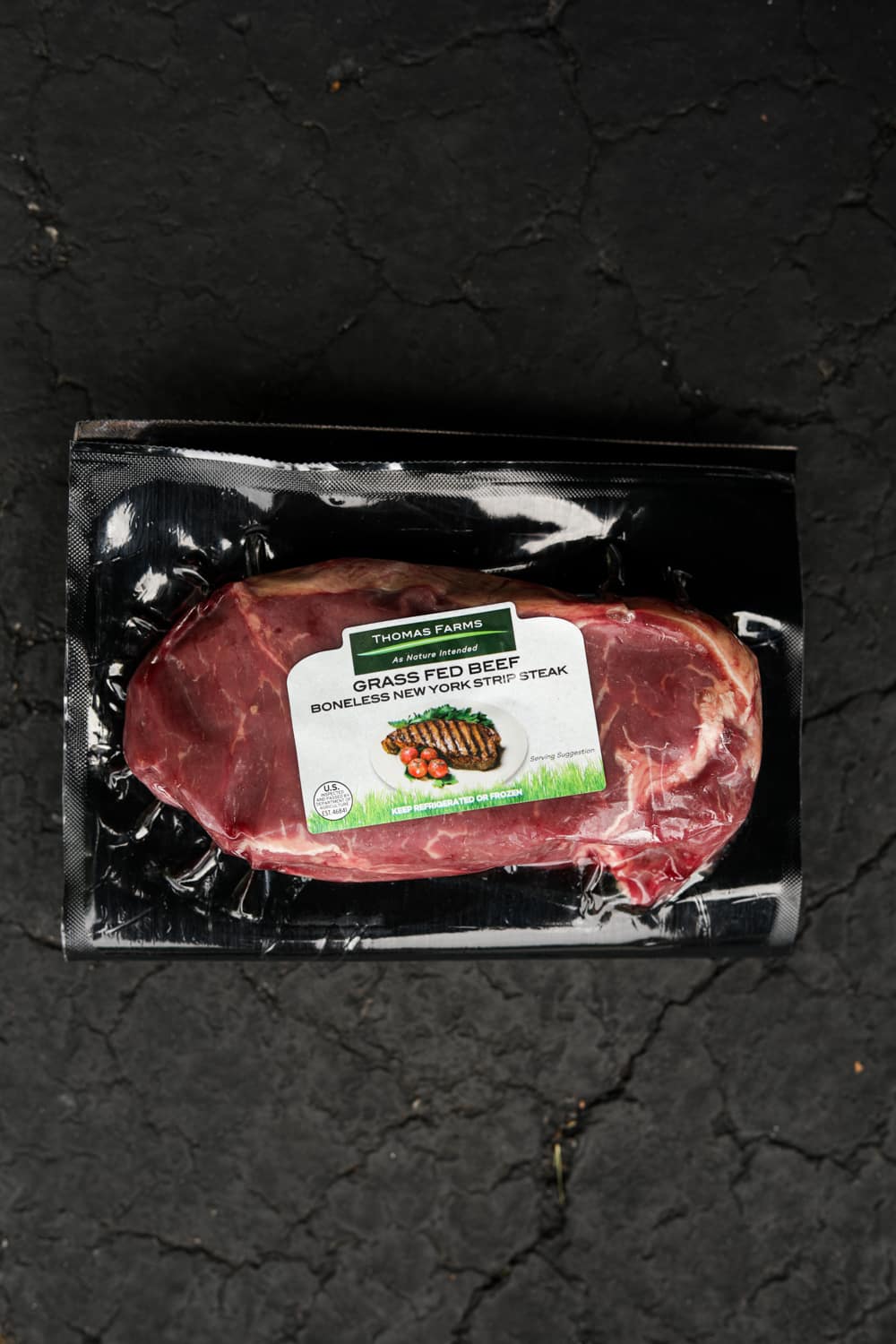 While doing this haul, I also spotted these 0 net carb steaks that were selling for just $9.99 per 1 lb!
Honestly, that's a pretty awesome deal for grass-fed strip steaks, so of course, I had to pick these up.
Also, these ones looked the best out of all the steaks they had available. Overall, a pretty great find!
And that's it for my Aldi haul! I think I've found the best of the best keto finds at Aldi.
Keto Seafood Options at Aldi
If you want to bump up your keto shopping list's nutritional value, these keto-friendly seafood options at Aldi are an excellent way to do it!
Honestly, Aldi has some of the best value seafood options I've found anywhere, so you'll want to check these out if you love eating fish.
Not to mention, they're all 0 net carbs!
19. Fremont Jumbo Shrimp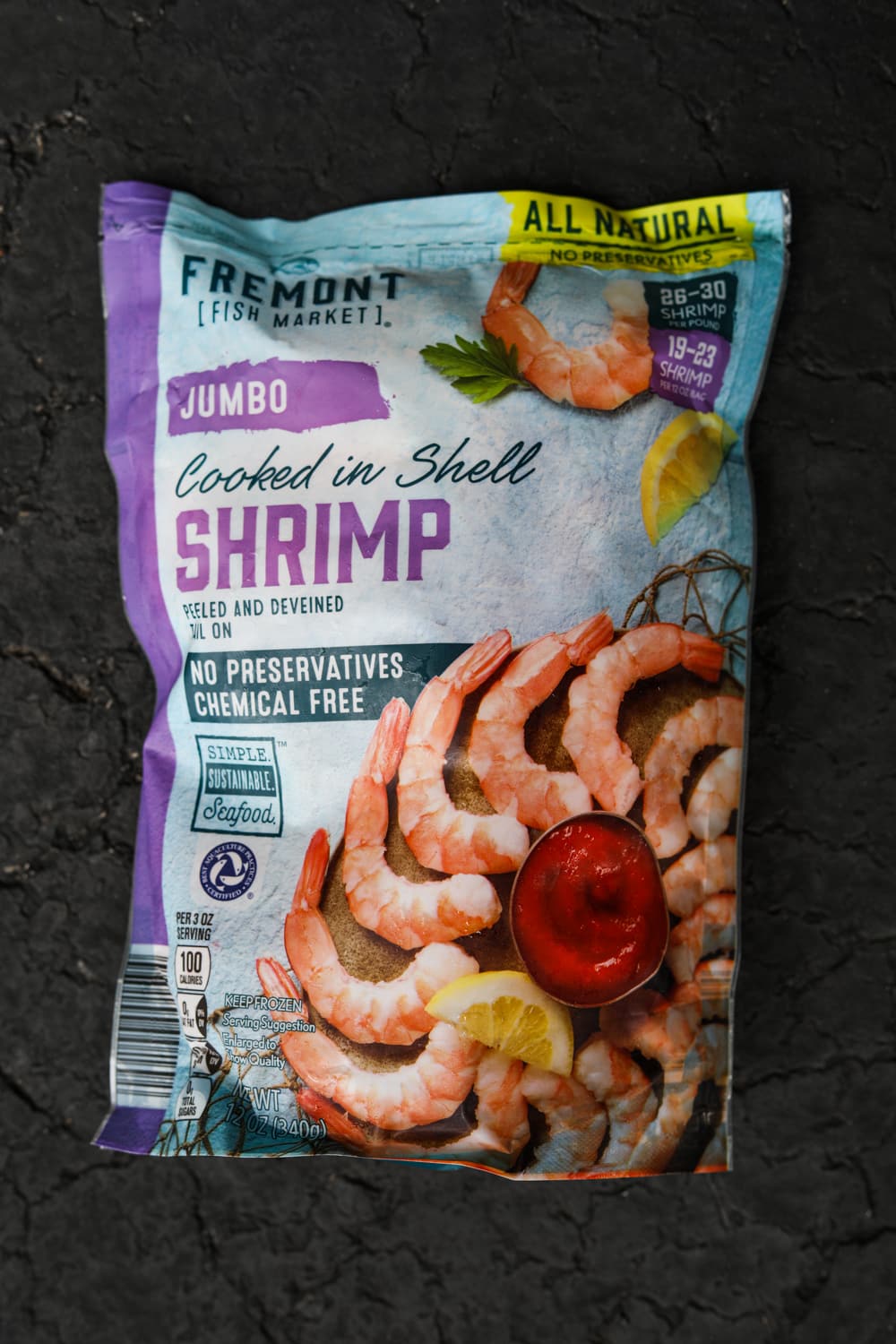 So this is more of an ingredient option than a snack idea, but I have to talk about this ¾ lbs. package of jumbo shrimp from Aldi.
First off, the whole thing is just $6.99. And that's an insanely low price for nearly a pound of shrimp!
Also, there's a lot you can make with these.
You can make keto shrimp cocktail or a killer low carb shrimp scampi – with just some zoodles, garlic, butter, and of course, our super jumbo shrimp.
And like most seafood, this entire bag has 0 net carbs.
Overall, this is a pretty great deal.
I highly recommend giving it a shot!
20. Ahi Tuna Steaks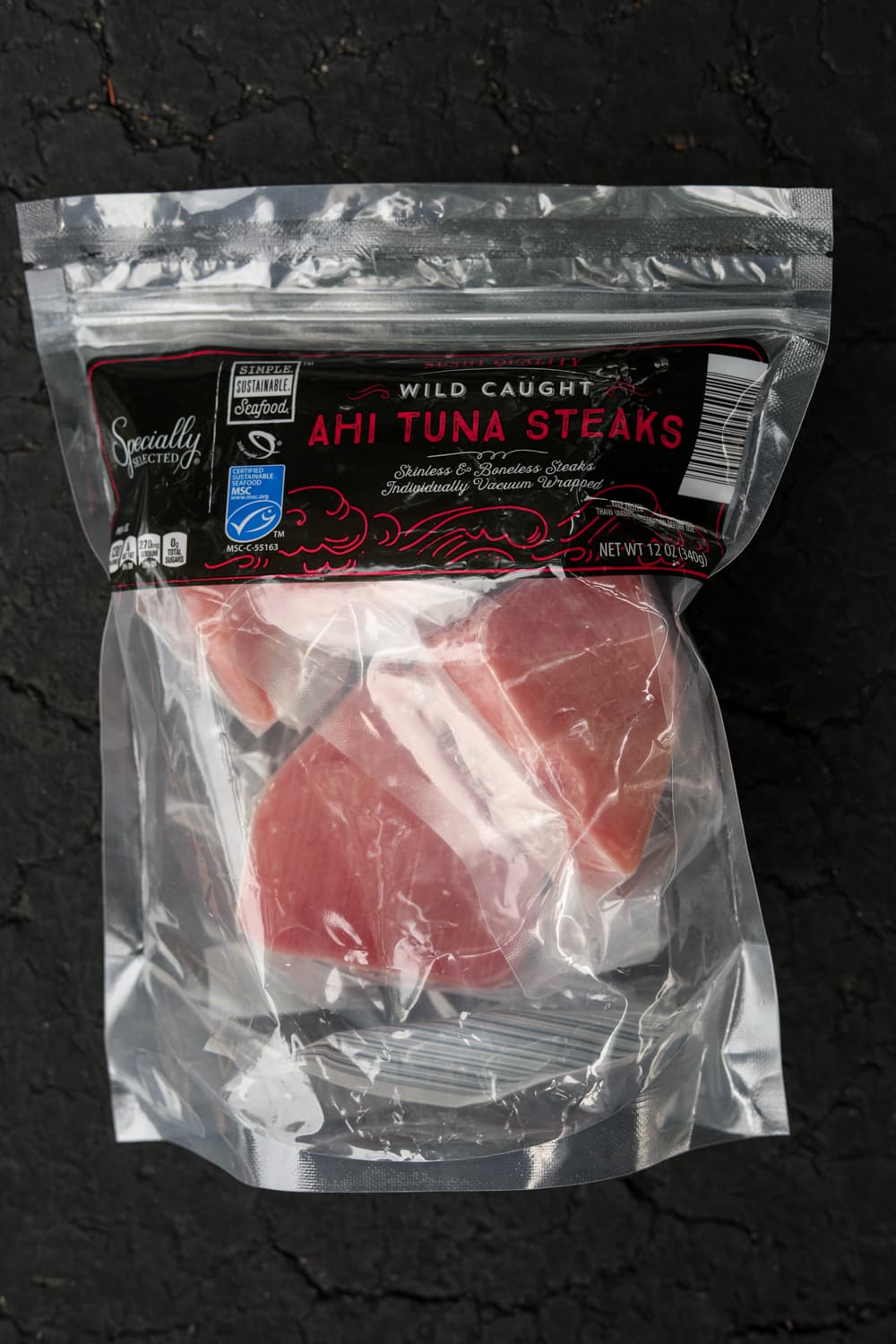 Another excellent seafood deal I found at Aldi was this ¾ lbs. pack of Ahi Tuna steaks. It costs just $4.35! Honestly, this has got to be the cheapest Ahi Tuna I've ever seen, anywhere.
Of course, the tuna steaks have 0 net carbs, and their quality is excellent for the price. You can make keto tuna tartare to go with your homemade keto tortilla chips (definitely check that recipe out!).
Or, you can make a keto tuna poke bowl – dice the tuna steaks and throw them on some cauliflower rice with some avocado, sliced cucumber, radishes, sesame seed oil, sesame seeds, and a drizzle of soy sauce. Mmmmm.
So if that sounds like something you'd be into, look for these super affordable Ahi Tuna steaks the next time you're at Aldi! There's seriously so much you can do with them.
21. Fremont Frozen Haddock Fillets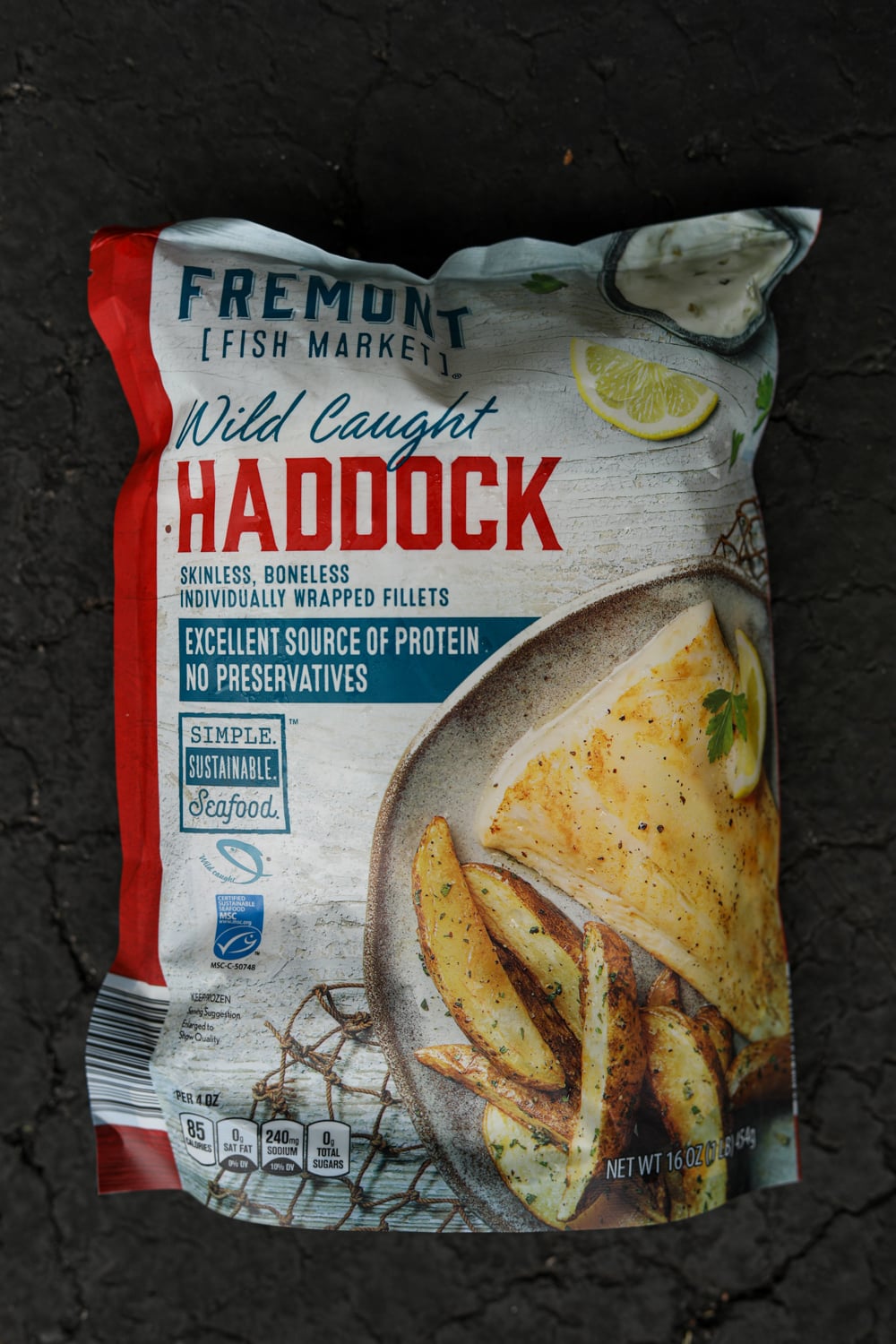 This pack of 0 net carb haddock fillets is just begging to be turned into keto fish sticks!
Pair them with some keto tartar or keto cocktail sauce, and you've got yourself a pretty solid keto lunch or dinner idea.
You can find this 16 oz. (1 lb.) bag of fillets at the frozen seafood section of Aldi for $6.15.
22. Northern Catch Sardines in Sunflower Oil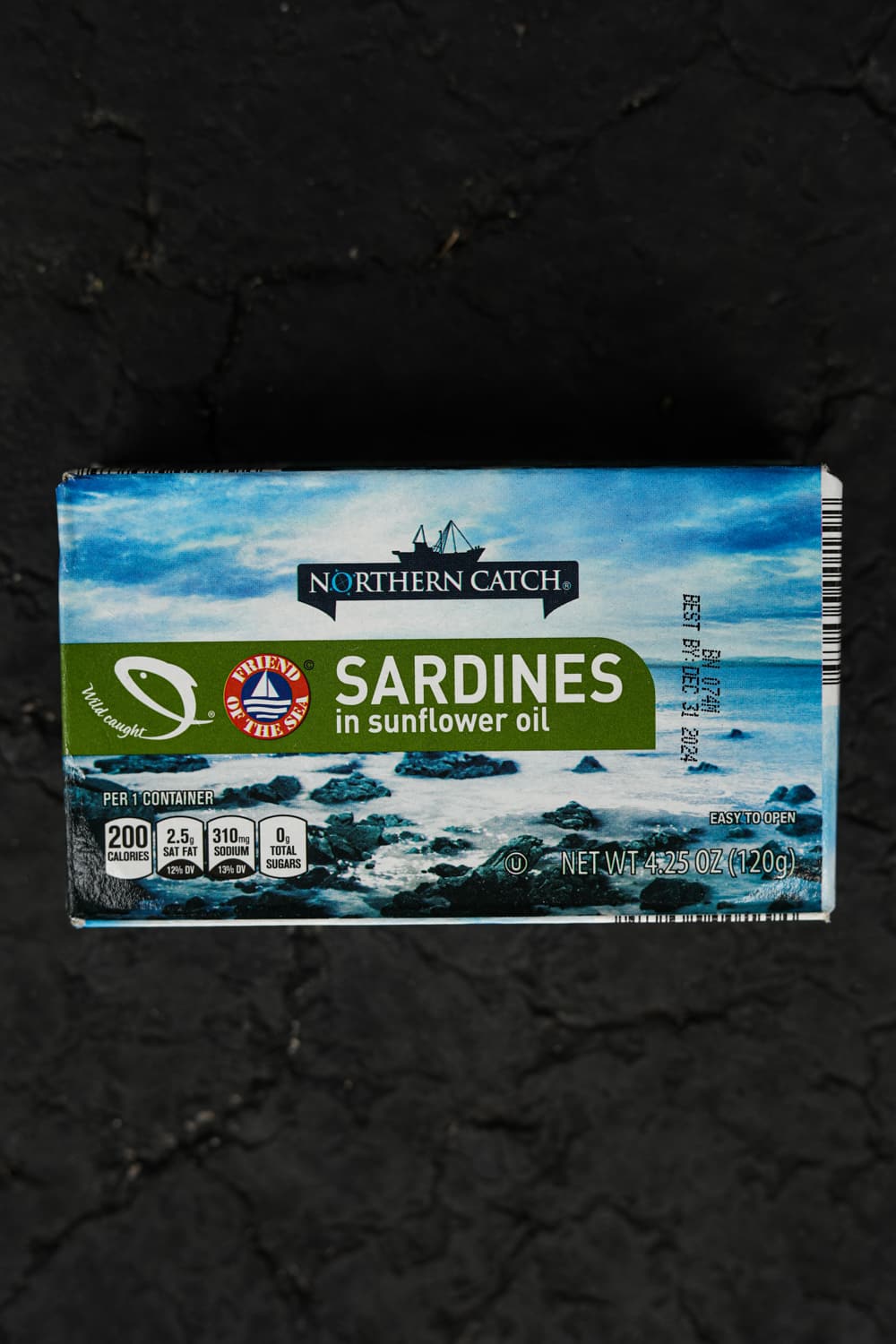 If you're looking to balance your macros then you'll definitely want to add these sardines to your keto shopping list! They're filled with protein and healthy fats.
For a quick snack, you can eat them right out of the package. Or if you're feeling fancy, you can have them on keto toast!
This 4 oz. container costs just $0.85. And of course, the whole thing has 0 net carbs.
23. Fresh Never Frozen Salmon Fillets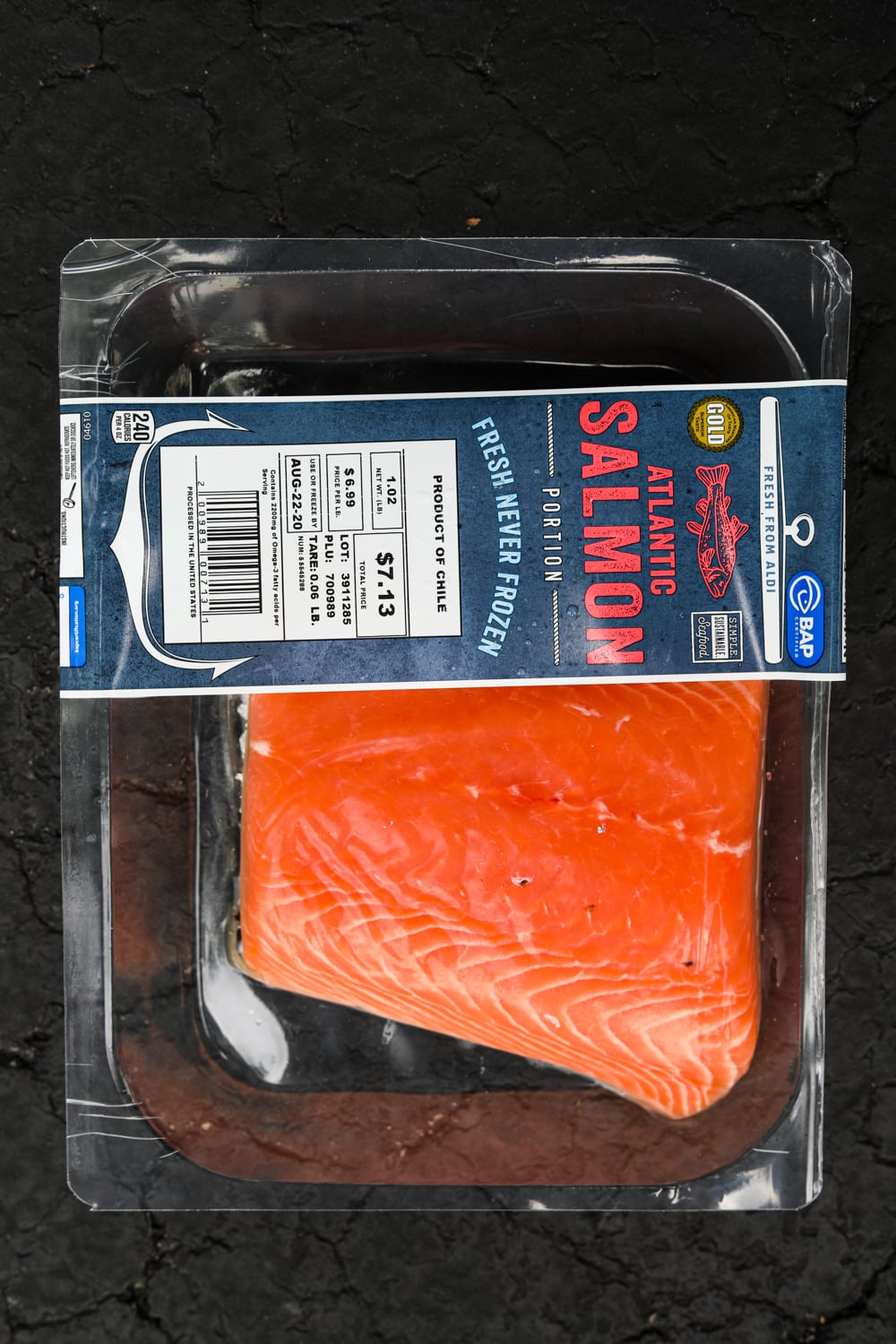 Personally, I like to get 1-2 servings of salmon in per week because they're just packed with healthy fats.
Those Omega 3's are good for your hair, skin, eyes, nails – it's a total nutritional powerhouse!
This $6.99 1 lb. pack of 0 net carb salmon fillets is a great deal for the quality and always finds its way into my keto shopping list.
Keto Olive Options at Aldi
You probably know by now how much I LOVE olives for keto. So of course, I had to dedicate a section of my keto Aldi haul to this awesome low carb snack.
If you haven't tried incorporating olives in your keto diet, I highly recommend giving these a try – you won't regret it!
24. Pearls Olives to Go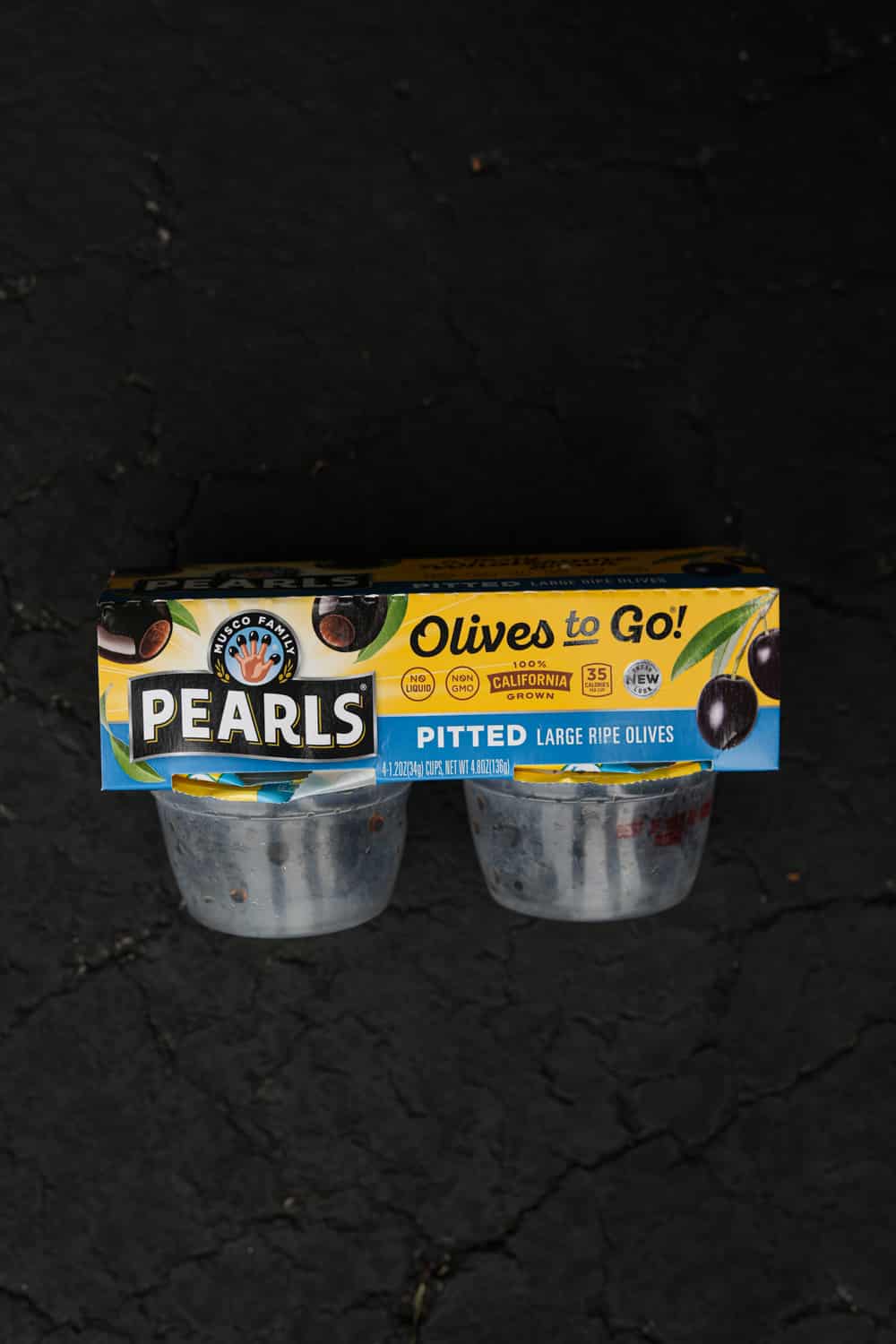 Now if you've seen my Keto at Walmart haul, then you probably know how much I love pre-portioned olive packs.
These on-the-go olive cups are an excellent way to add some fat to your day – you can just toss them in your bookbag or lunchbox.
This 4-pack of olive cups costs just $3.29 and each cup has 2.25g net carbs.
25. Giant Green Olives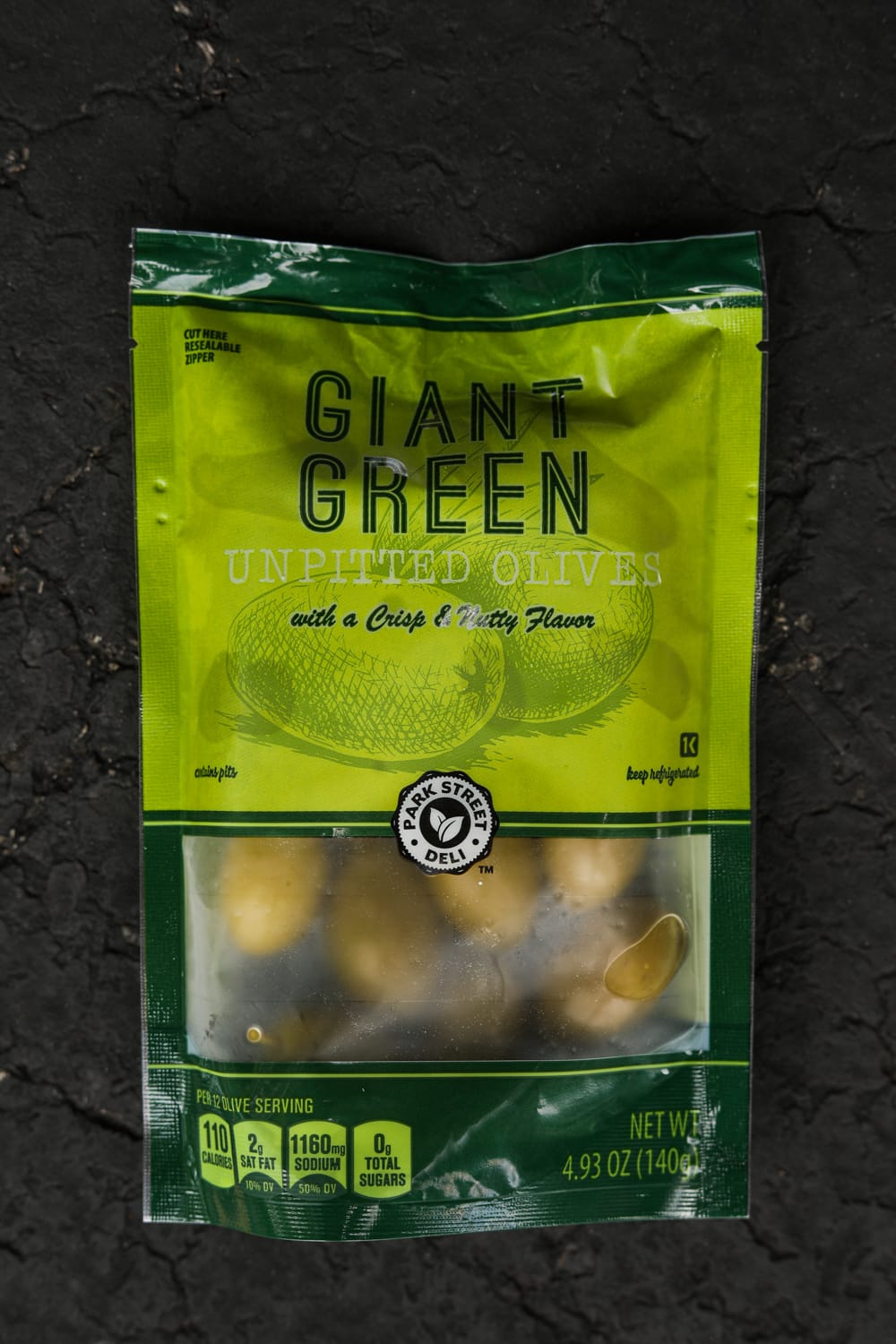 As far as olives go, these have got to be one of my absolute favorites!
These are found in the refrigeration section by the hummus, and they go for $2.99 a package.
Honestly, these are so flavorful and packed with healthy fats – a must-have for balancing out your keto macros.
I will say though, I think the nutritional information on the package is a little screwed up. It says 0 carbs but 3g of fiber – I think what it should say is 6 carbs and 3g of fiber for 3 net carbs per package.
Other than that, I highly recommend these for your keto shopping list.
Keto Dairy and Plant Milk at Aldi
It can be pretty hard to find really great low carb dairy options. Luckily, I picked up the best keto options they carry at Aldi – keto ice cream, keto almond milk, and the best keto butter. All at can't-be-beat prices!
26. Keto Ice Cream: Mint Chocolate Chip Flavor
Like I've talked about before, good quality keto desserts are pretty hard to come by, so this specialty keto ice cream is quite a good deal at just $3.99 per pint!
That being said, self-control is absolutely key when it comes to this keto snack idea since it's not portion-controlled. The whole pint comes out to 15g net carbs for 3 servings – so 5g net carbs per serving.
And if you're anything like me, it's going to take a pretty massive amount of willpower to keep from eating the whole thing – which is not very keto-friendly.
But if self-control is your superpower, this keto ice cream might just become your new favorite!
27. Countryside Creamery Pure Irish Butter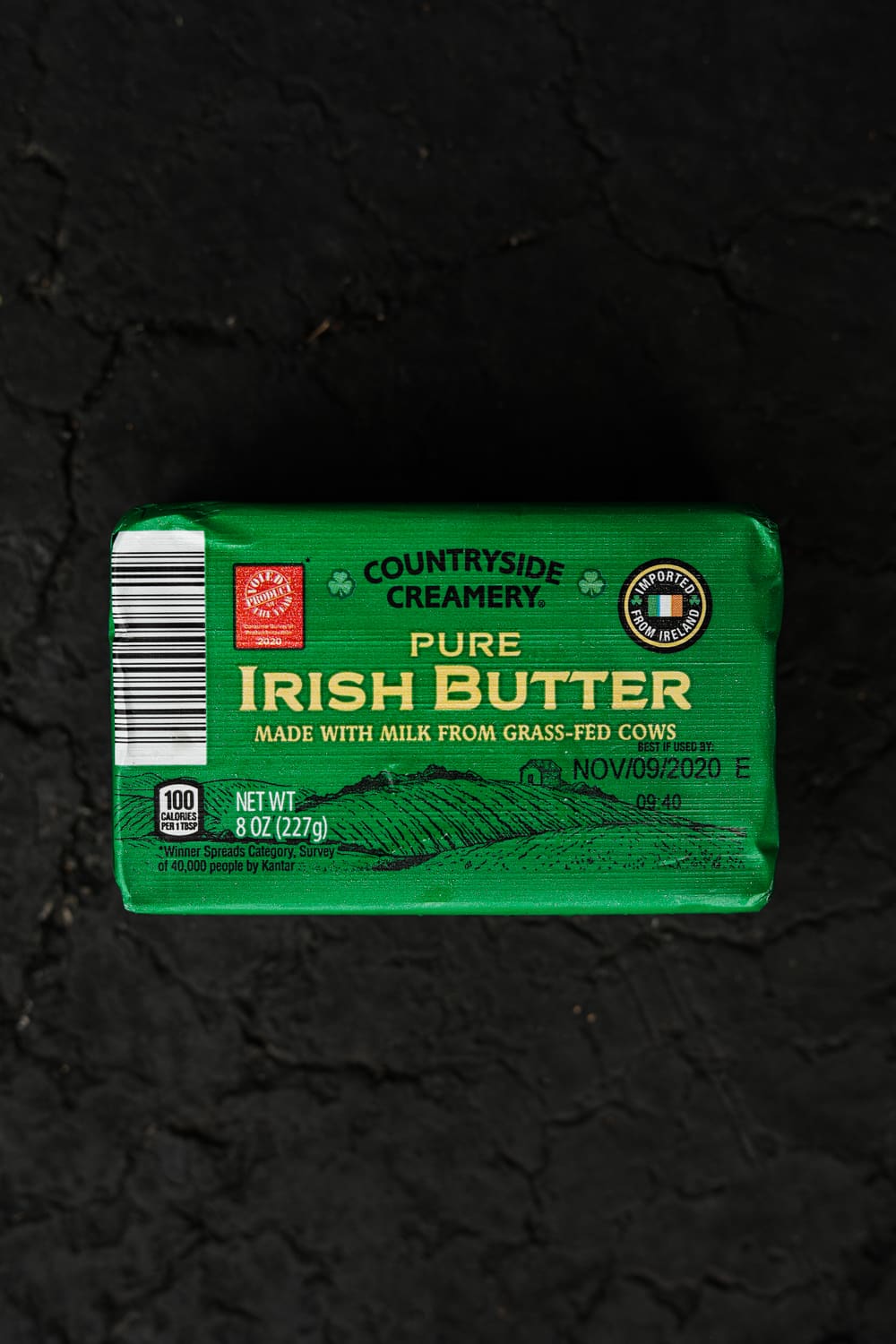 So this is Aldi's version of the classic Kerrygold butter. And it is just so darn fantastic!
What makes this so much better than standard butter is that this – and the Kerrygold one – has a much higher butterfat content. That equals more creaminess, more flavor, and more deliciousness than regular Americanized butter.
I use a bit of butter in most of my keto dessert recipes, so this is another must-have for your keto shopping list, in my opinion.
An 8 oz. (230g) bar goes for $2.29.
28. Friendly Farms Almond Milk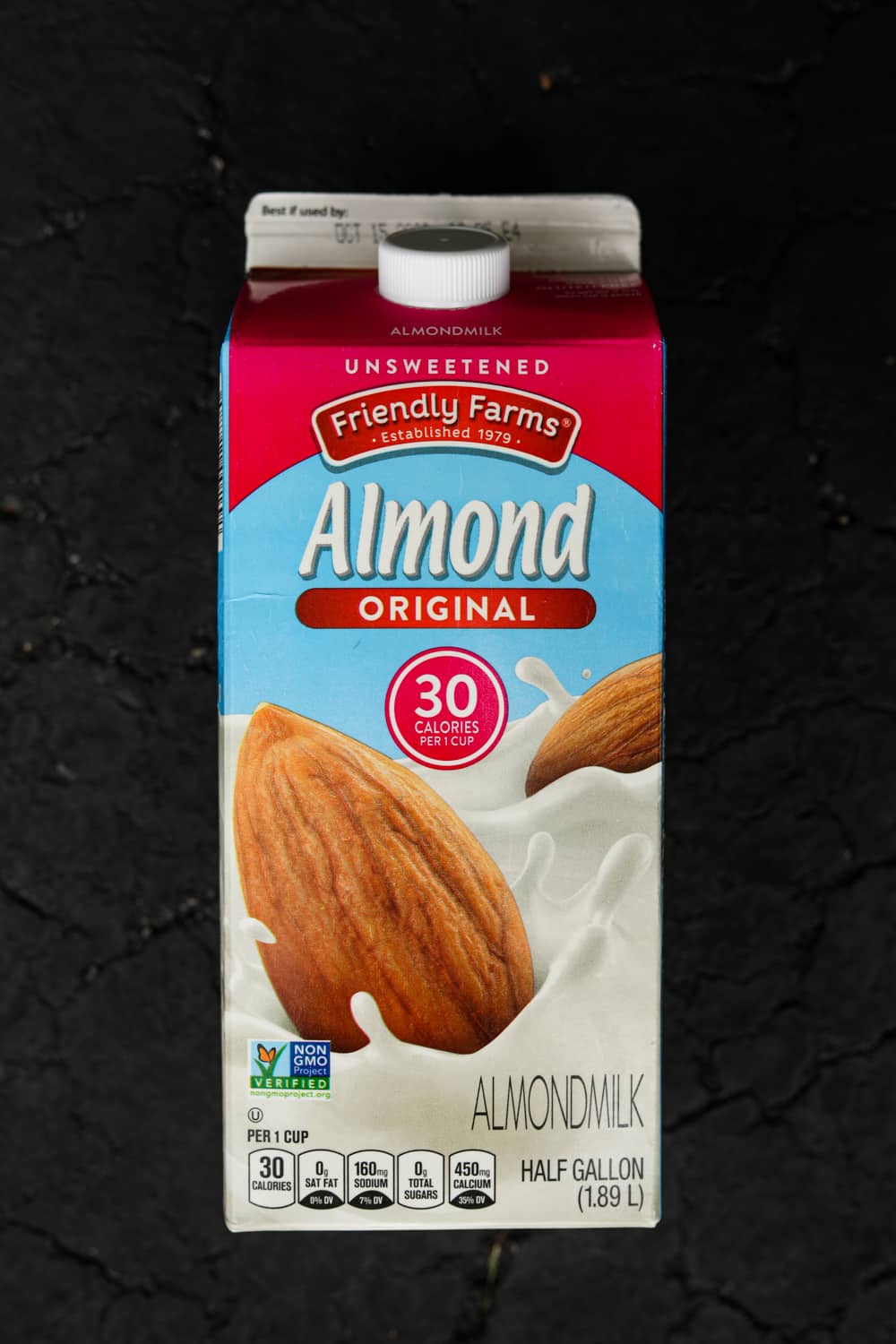 Now I drink a lot of almond milk, and I have to say, this has got to be one of the BEST deals on almond milk I've seen anywhere.
It costs $1.79 per half a gallon and has 1g of carbs per cup.
I picked up the unsweetened original, but another favorite of mine is their unsweetened vanilla version. It's got such a rich vanilla flavor, and it's honestly so hard to believe it's unsweetened!
Aldi Keto Bread
There are also a couple of keto bread options at Aldi.
That said, finding the Aldi Keto Bread can be a challenge - because it's SO POPULAR - so if you see it, buy it!
29. L'oven Fresh Zero Net Carb Bread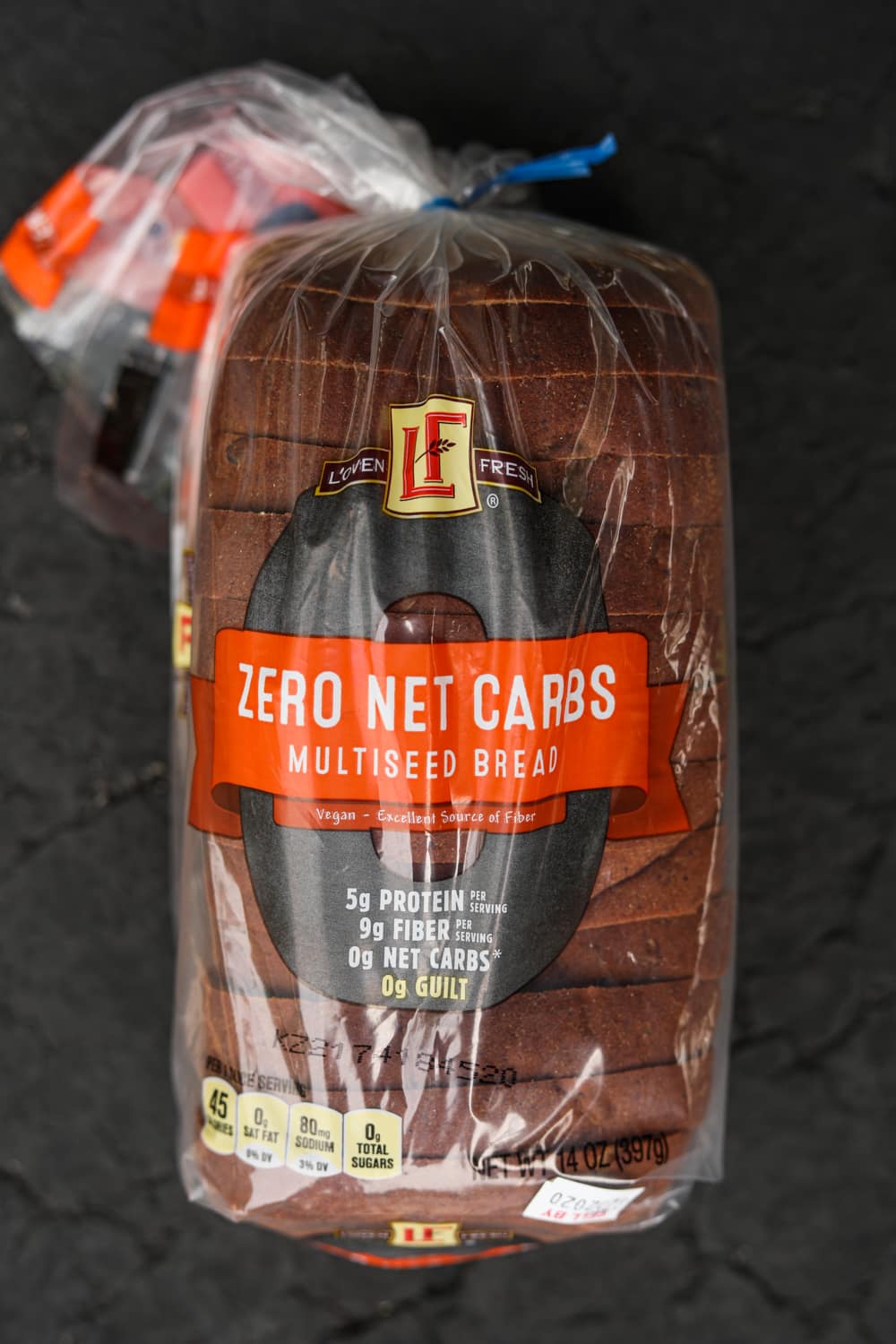 As the name suggests, this bread has 0 net carbs.
When you check out the packaging, you'll see it has 9g of carbs and 9g of fiber, which, of course, equals 0 net carbs.
You can get these in multi-seed and wheat flavors at $3.99 per loaf, which is a pretty fantastic price.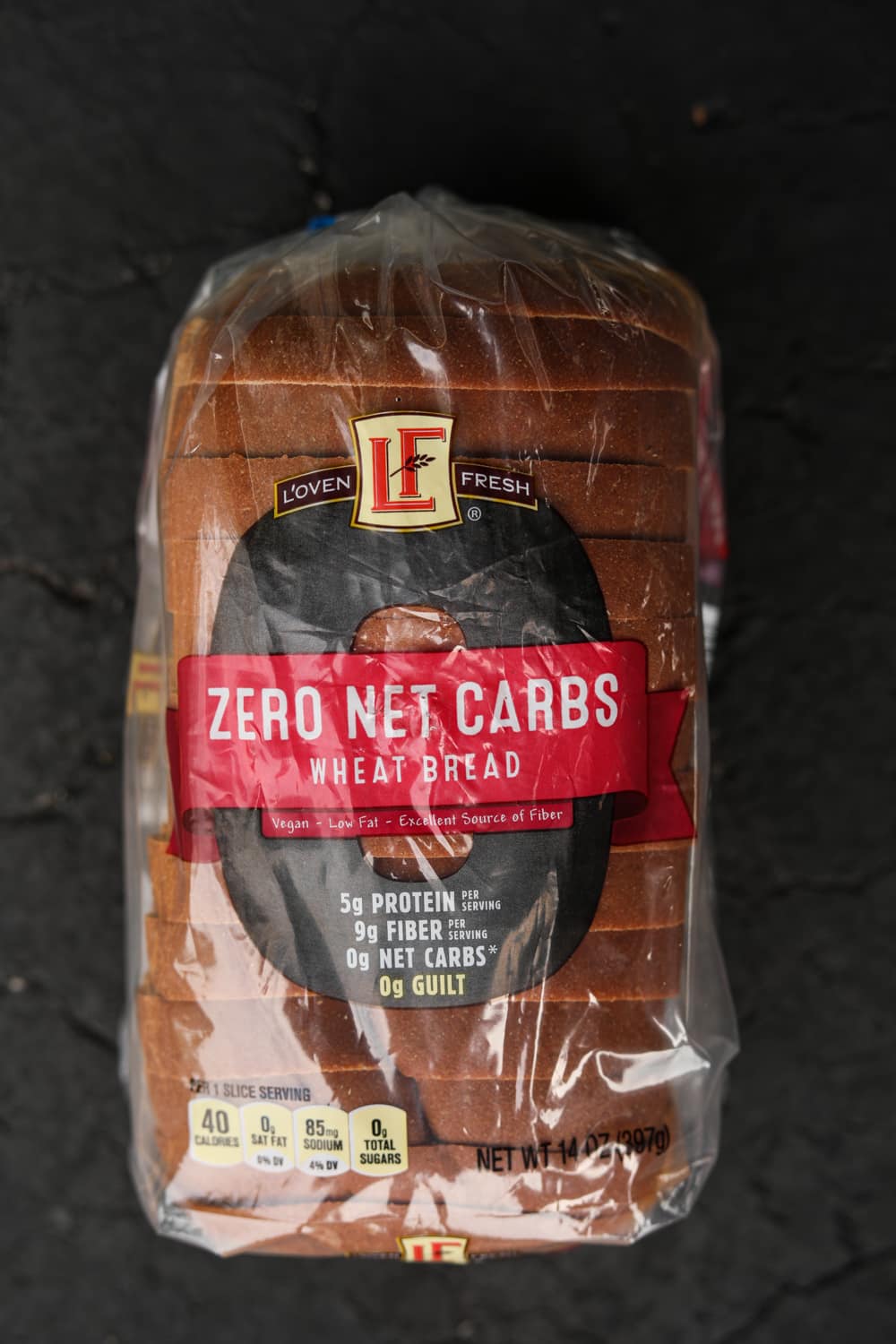 Most keto loaves of bread you'll find cost about $9-10 per loaf, so props to Aldi for bringing a super affordable keto bread option.
Now, if you're going for the whole foods approach to keto, this probably isn't for you.
But if your version of the keto diet is a little more flexible, there's a TON you could do with this zero carb bread – keto peanut butter and jelly sandwiches, keto French toast, keto BLTs, the list goes on and on.
So if that sounds good to you, definitely pick this up the next time you go to Aldi!
Keto Hamburger "Bun" Substitute
Aldi also sells one of my favorite low carb substitutes for hamburger buns and that is portobello mushroom caps.
30. Giorgio Portobello Mushrooms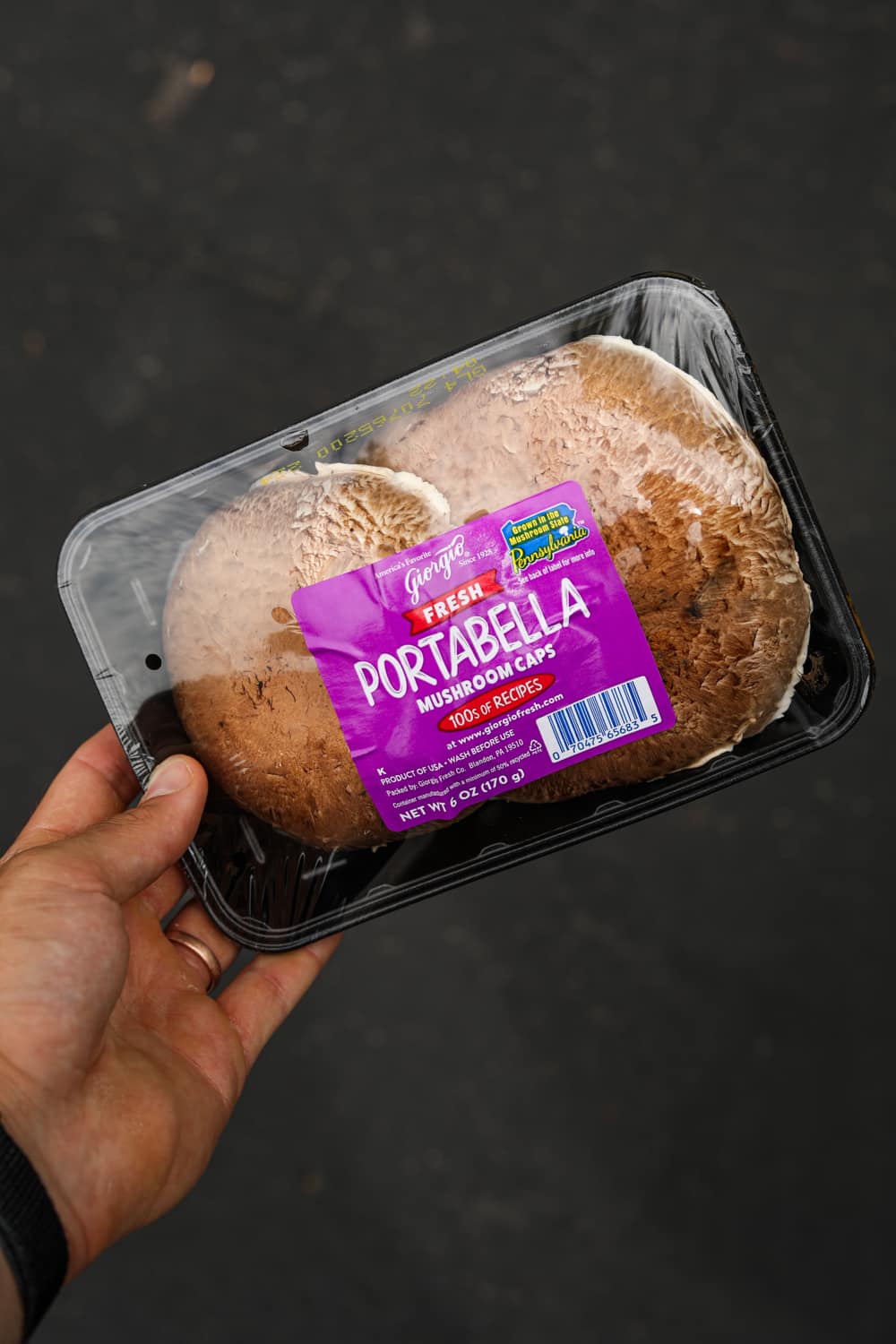 So a 2-pack of mushrooms might seem like a strange thing to add to your keto shopping list but hear me out.
These make a terrific keto burger bun option! Just remove the stem and put the burger between the caps. The mushrooms themselves are surprisingly starchy in taste/texture, which gives them a great bread-ish quality.
Plus, they have a subtle, almost meaty kind of flavor that adds to the dish's savoriness.
You can even throw on some cheese to make a keto mushroom burger melt!
Sounds pretty good, right?!
These 0 net carb ones from Aldi cost just $1.99 for a pack of two burger bun sized mushrooms.
More Keto Grocery Hauls
So those are all of the best low carb Aldi finds I have for you.
I hope this post has given you some new ideas to add to your keto shopping list!
If it did, I've done several other keto grocery hauls you might enjoy.
Such as:
The Best Keto Snacks at Walmart
Keto At Whole Foods
The Best Keto Snacks At Target
Keto At CVS
If you've tried any of these, leave a comment and tell me what you think! And if I missed any of your favorites, as always, let me know in the comments – I'd love to hear from you!