If you've been struggling to find keto snacks at Walmart, this list is for you! I scoured the aisles of Walmart for the absolute BEST low carb snacks that are perfect for the keto diet. Whether you're in the mood for something salty or sweet, crunchy or chewy, cheap, or indulgent, there are some pretty delicious and convenient snack options in this Walmart shopping list. Oh, and each serving of ANY snack on this list is less than 5 net carbs!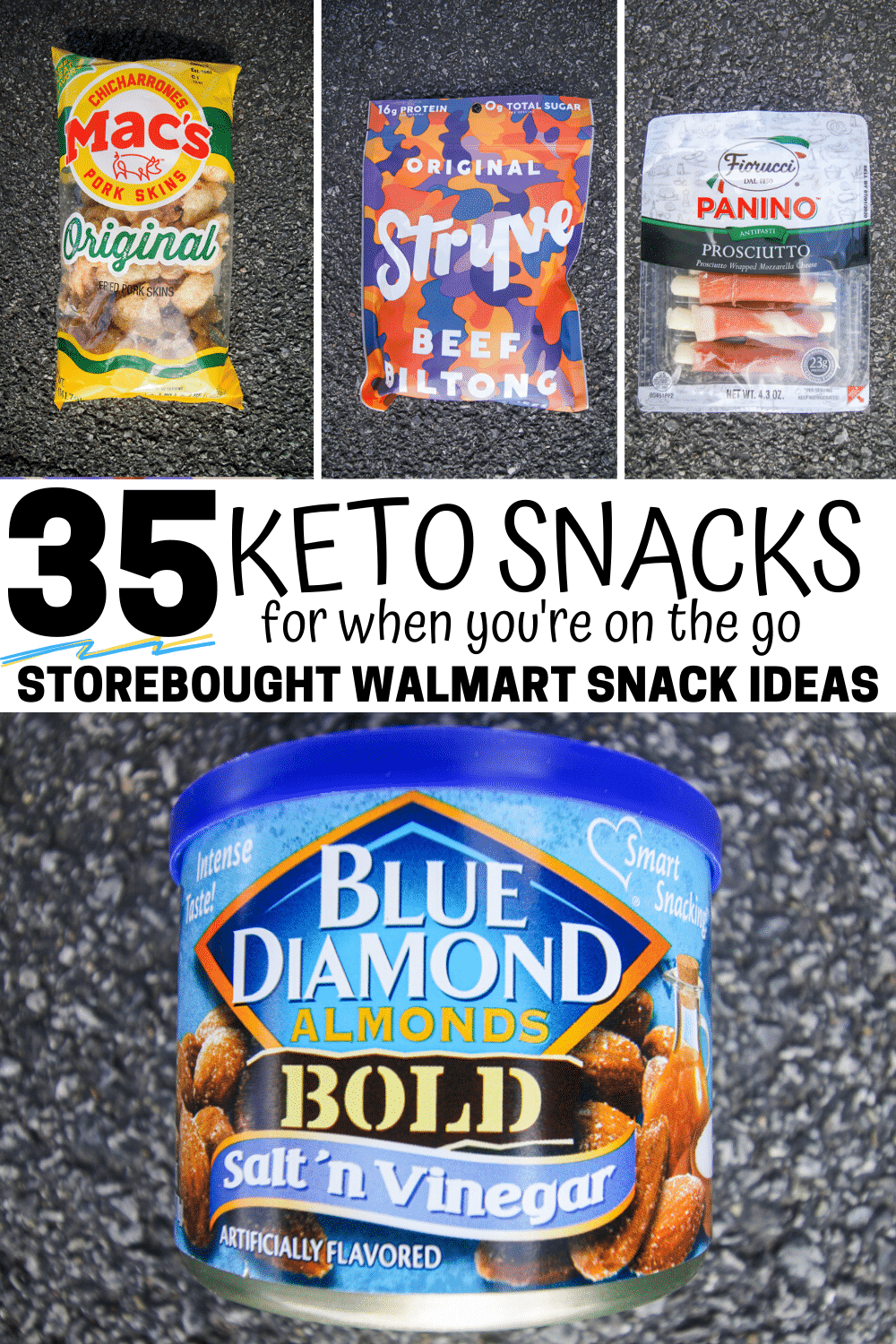 Meaty Keto Snack Ideas at Walmart
Jerky is a totally delicious & convenient snack option that's excellent for keto! It's packed with meaty flavor and protein with little to no carbs. Plus, it's fantastic for when you're craving something savory.
But of course, all jerkies aren't equal.
Some have unnecessary sugars, carbs, and calories that you just don't want.
So I picked out some of the best low carb jerky and other meaty snack options that you can find at the jerky section of Walmart!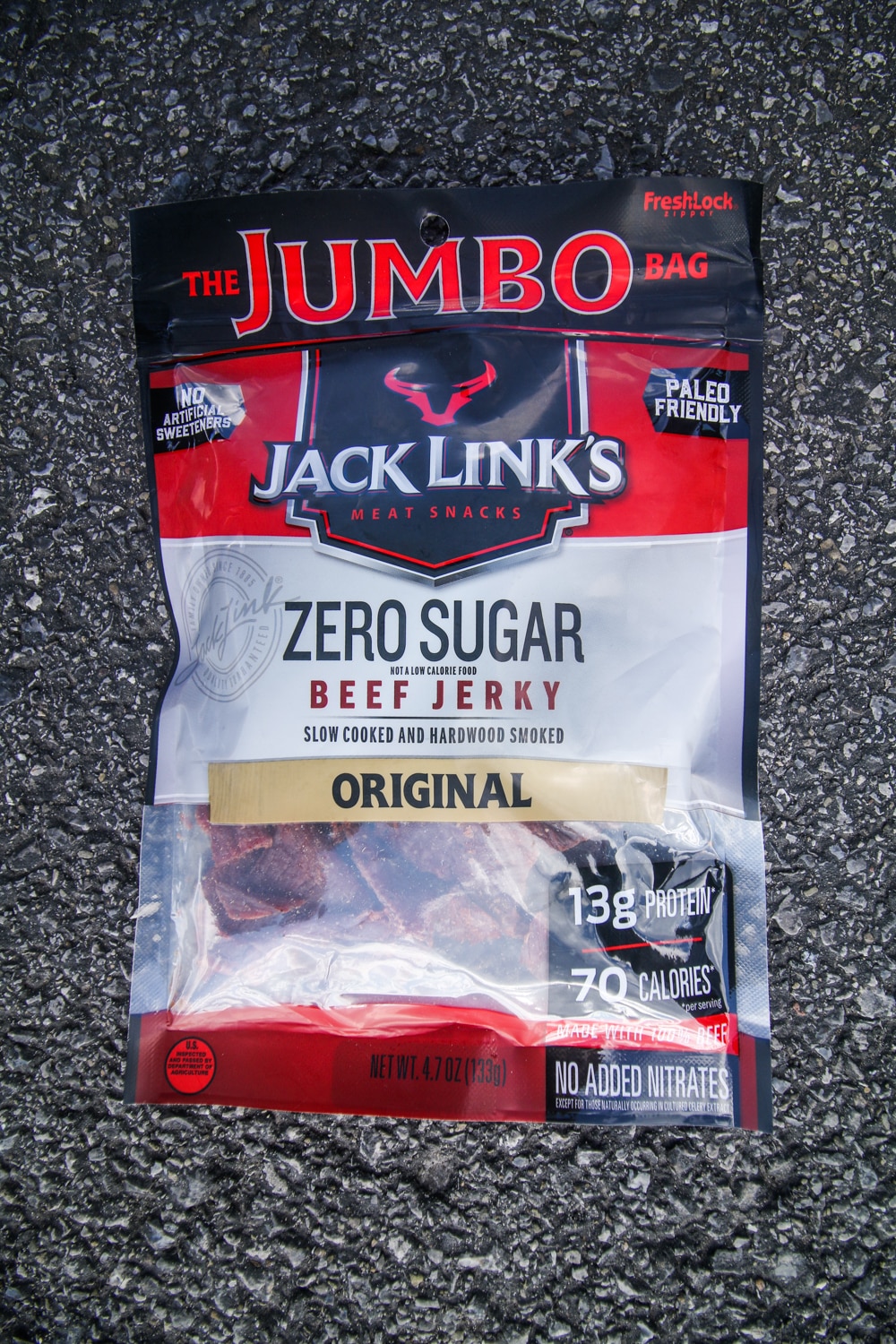 This beef jerky has everything you want in a good beef jerky without the added sugar and unwanted carbs. It's tender, smoky, salty, and has the perfect amount of pepper!
Honestly, even someone who isn't on the keto diet will love these – maybe even more than sugary jerky.
A 5 oz. pack costs $7.98, and since this has absolutely no sugar, each serving has 0 net carbs!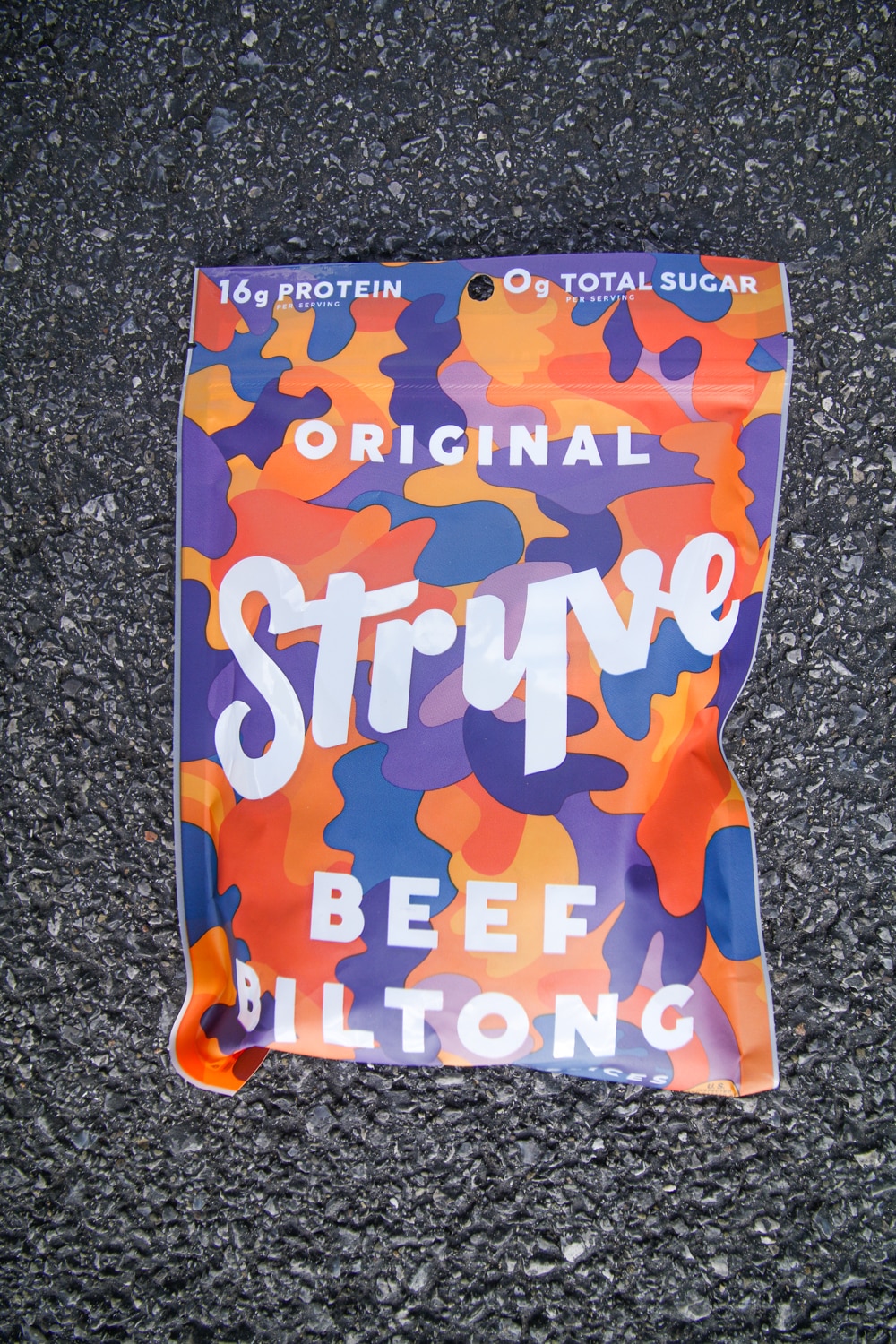 What's biltong, you ask?
It's pretty similar to jerky, but the main difference is that it's air-dried, while jerky is cooked on a rack.
The flavor is just as beefy and delicious but usually subtler, and it's typically lower in carbs than beef jerky. I highly recommend trying it!
However, biltong is also a little higher in protein, so you'll want to balance it out with a snack that's high in fat such as cheese or nuts (I have some great suggestions later in the list) to even out your protein to fat ratios.
Each serving of this deliciously meaty snack has 0 carbs and just 90 calories - this actually made my list of the best low calorie snacks as well.
The whole pack is $10.98 for 8 oz. so it's a little pricey, but you do get a nice amount of biltong for your buck!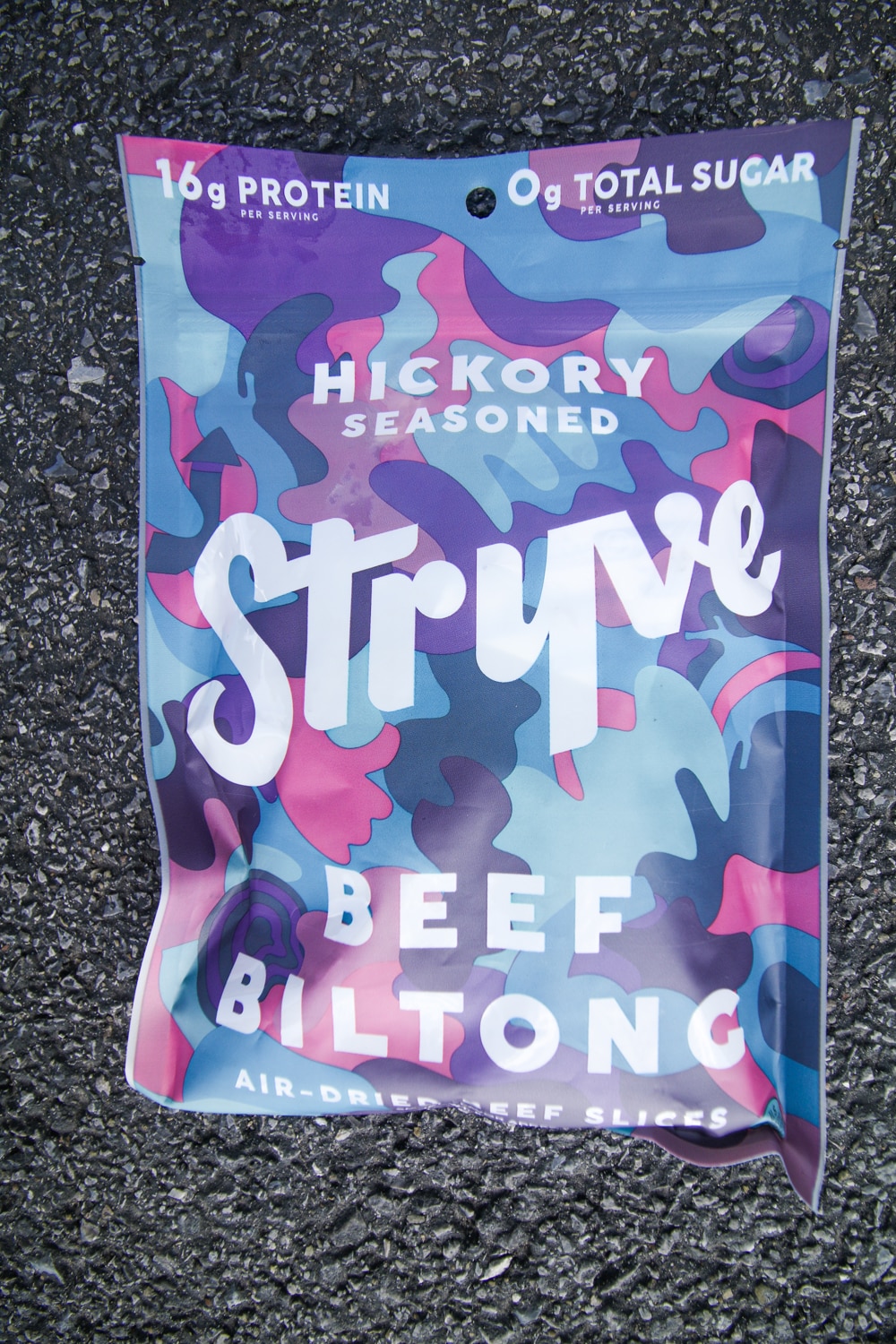 The Stryve Beef Biltong also comes in a more jerky-esque flavor!
Honestly, I dig the subtle and lighter taste of the original one more, but if you're into bold, smoky, and salty flavors, you should absolutely give this one a shot.
By the way, just like the original, this has 0 net carbs and 90 calories per serving.
And, each bag is $10.98 per 8 oz. bag.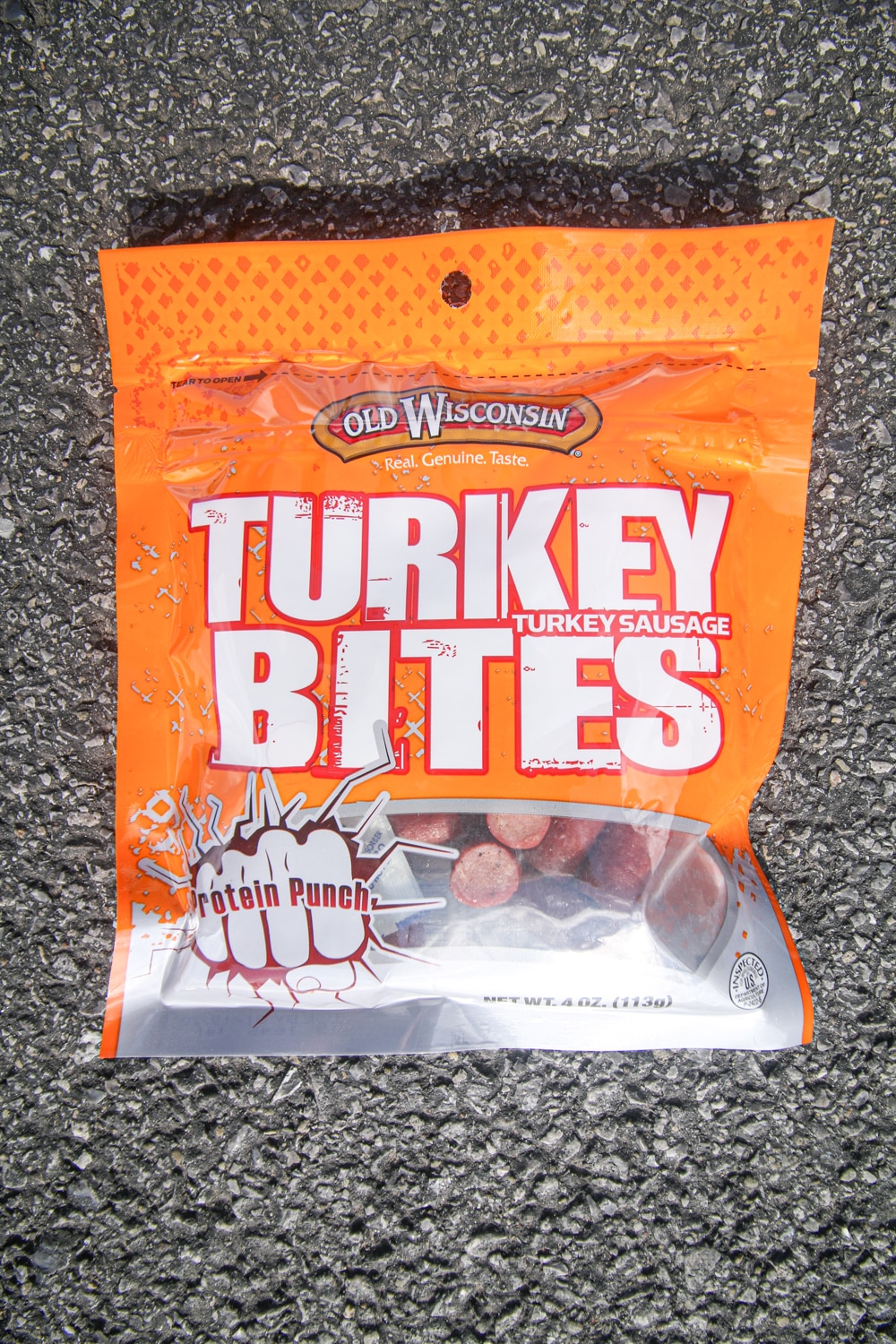 So, if you aren't in the mood for beef, these super low carb turkey bites are another protein-packed option for a keto snack!
You can find this 4 oz. bag of turkey bites in the jerky section of Walmart. That said, it costs $2.94, and six pieces of these bites have only 1 net carb and 80 calories!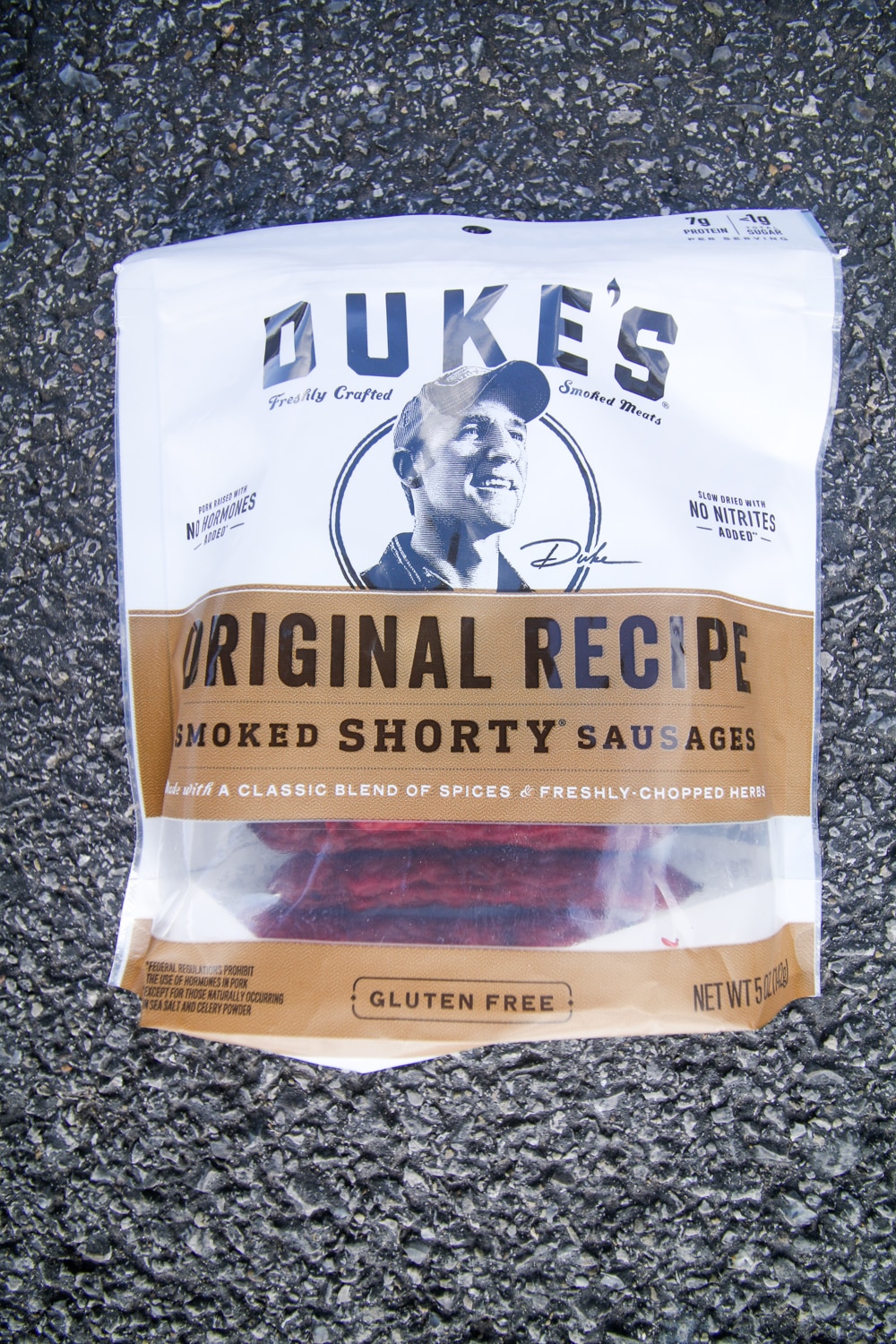 If you love smoked sausage, you'll want to try the Duke's Smoked Shorty Sausages. They have an awesome flavor profile! They're meaty, spicy, buttery – just so tasty.
A 5 oz. bag is $4.48, and two of these smoked sausages make less than 1g of carbs – or just around half a carb per serving!
Plus, it's got great macros.
Two thumbs way up!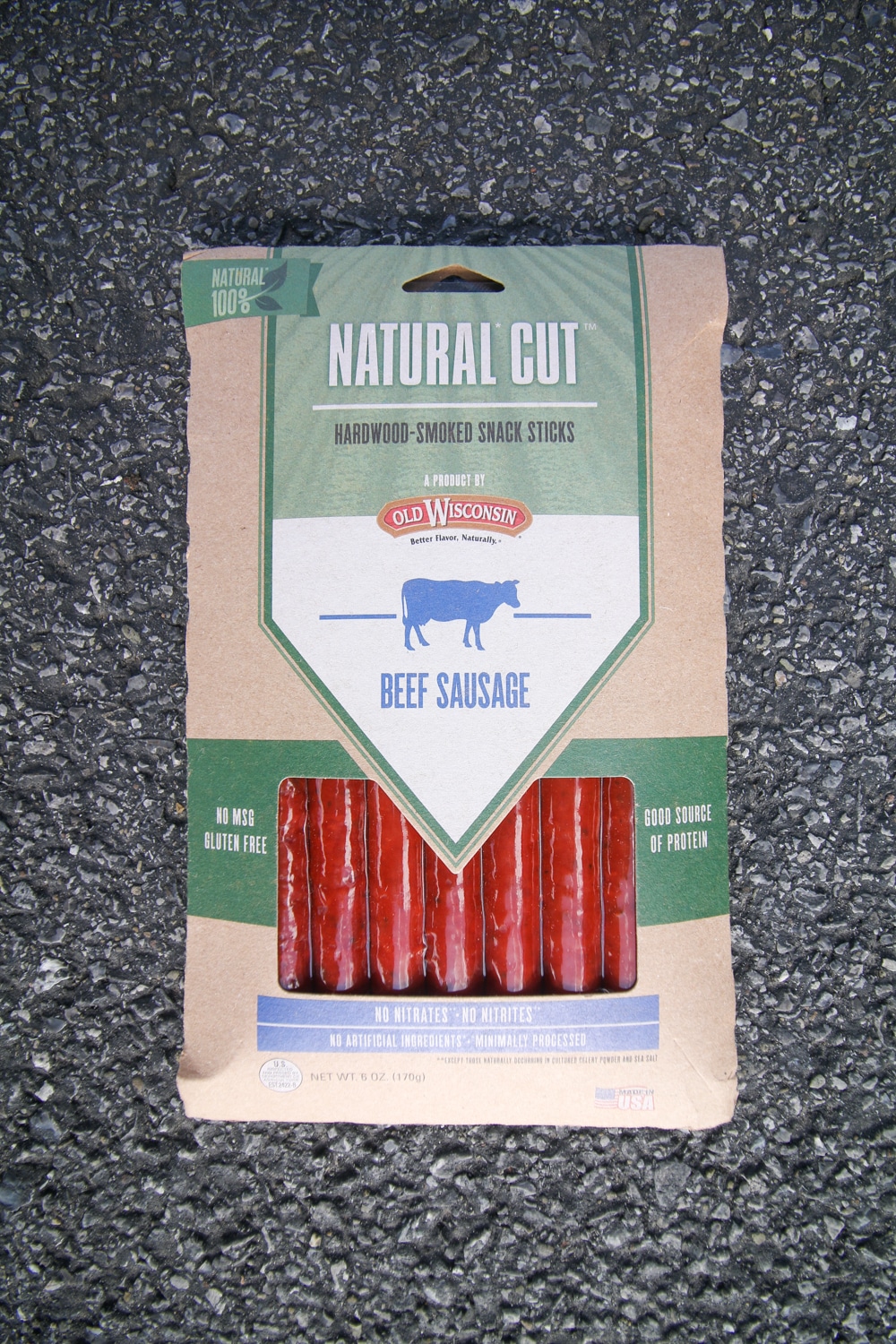 Another great keto option from Old Wisconsin is these beef sticks.
If you're super health-conscious, you'll also love the fact that these are totally free of nitrates, and artificial ingredients!
Each $4.52 pack has 7 beef sticks, and each beef stick has just 1 carb.
If you're looking for a keto snack option for when you're on the go, these beef sticks are about as good as it gets.
Plus, they travel great too!
Keto Pickled Snacks at Walmart
Pickled snacks are fantastic for introducing some bright, juicy, and tangy flavors to your low carb snack options. They also make a great side or addition to any other keto meals you have in your lunchbox!
As a bonus, they can be super healthy too.
Win-win!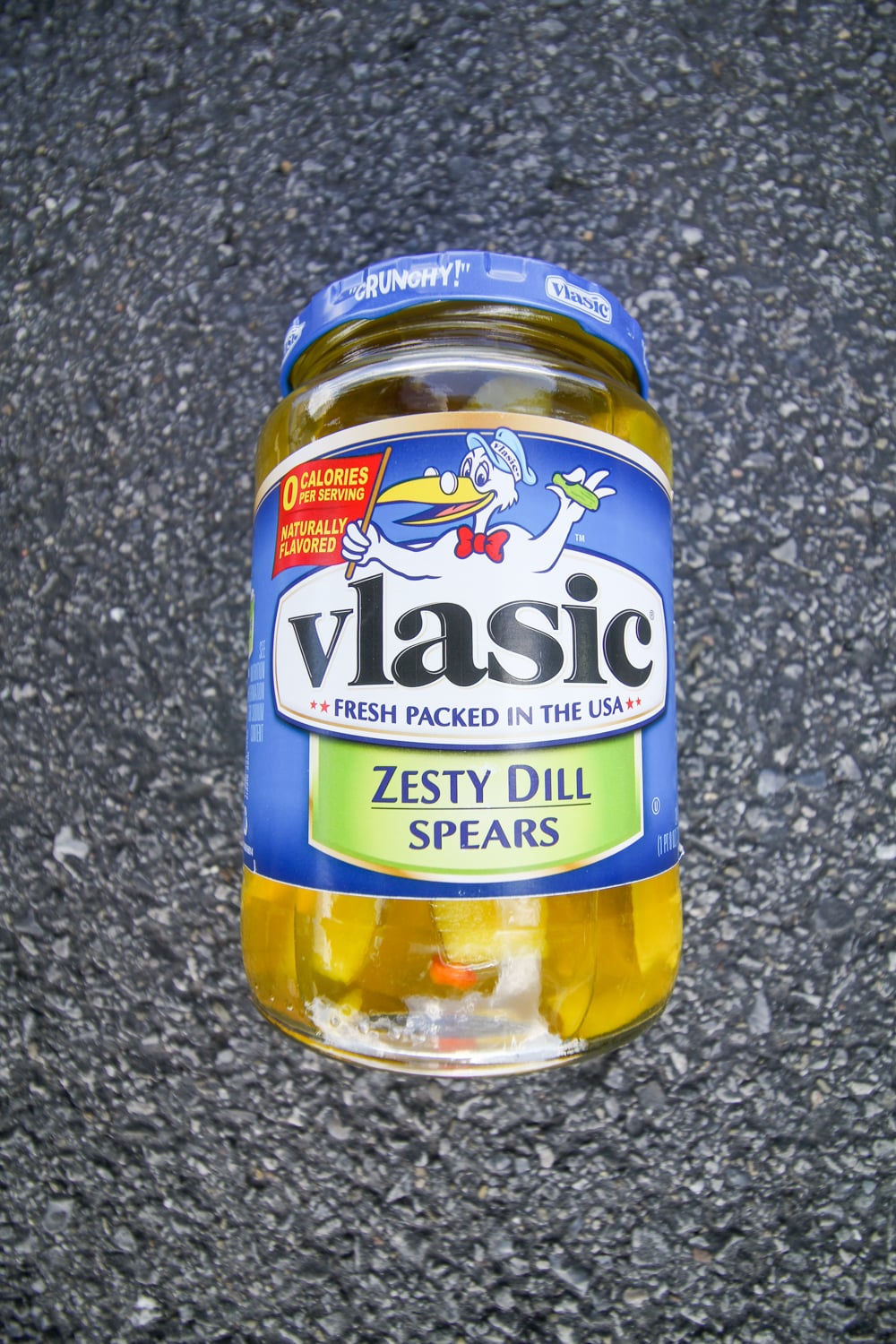 These dill pickle spears are such a delicious & affordable keto snack option.
They're definitely at the top of my list when I'm craving something crunchy and salty. Plus, you can also have it with your keto lunch – this would pair wonderfully with a low carb sandwich or some chicken.
Each dill pickle spear has 1 gram of carbs – though you probably won't find yourself overeating these – and each 24 oz. jar has about 30 pickle spears.
At $2.48 per jar, that's a lot of snacking for not a lot of money!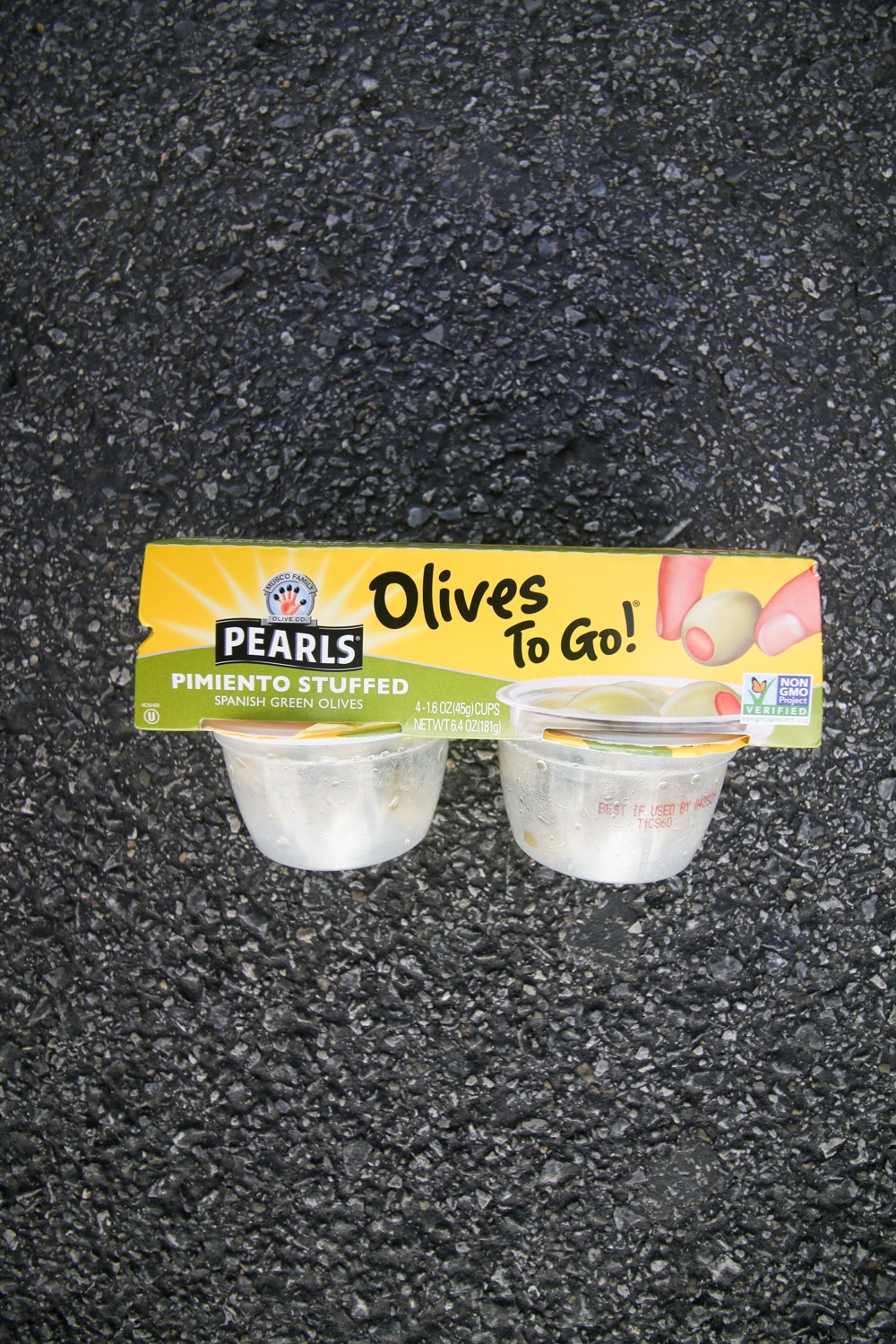 These olives are a super travel friendly and lunchbox friendly option for adding some fat to your day!
I love that they come in pre-portioned cups, it makes them super convenient for bringing to school, work, or on a trip.
Also, they have no carbs and no protein, but each container has over 7 grams of fat.
So, if you need a keto snack to boost your fat intake for the day, try snacking on these olives!
By the way, a pack of four cups comes out to $3.45.
Speaking of olives, I just can't complete this list without talking about these excellent gourmet olives by Gaea.
Each serving is two olives and has less than 1 gram of carbs. This package of olives is a great on the go option, and they're also super flavorful and high quality.
Seriously, these are hands down the best olives I've ever had in my life!
That said, these are honestly on the pricier side at $3.82 for a 4.2oz bag.
But if you're willing to splurge a little, definitely give these a shot, I guarantee you won't regret it.
Crunchy Keto Snack Ideas at Walmart
Now we're moving on to some crunchy keto snack deliciousness.
If you've been following my blog, you know how much I love crispy and crunchy keto recipes!
These incredible low carb cheese crackers and keto mozzarella sticks are some of my favorite crispy keto snack ideas.
Of course, I also have a ton of recommendations for crunchy low carb snacks you can find at Walmart.
If you need to quickly pack a keto snack for school, work, or travel, then there are some definite must-haves for your shopping list!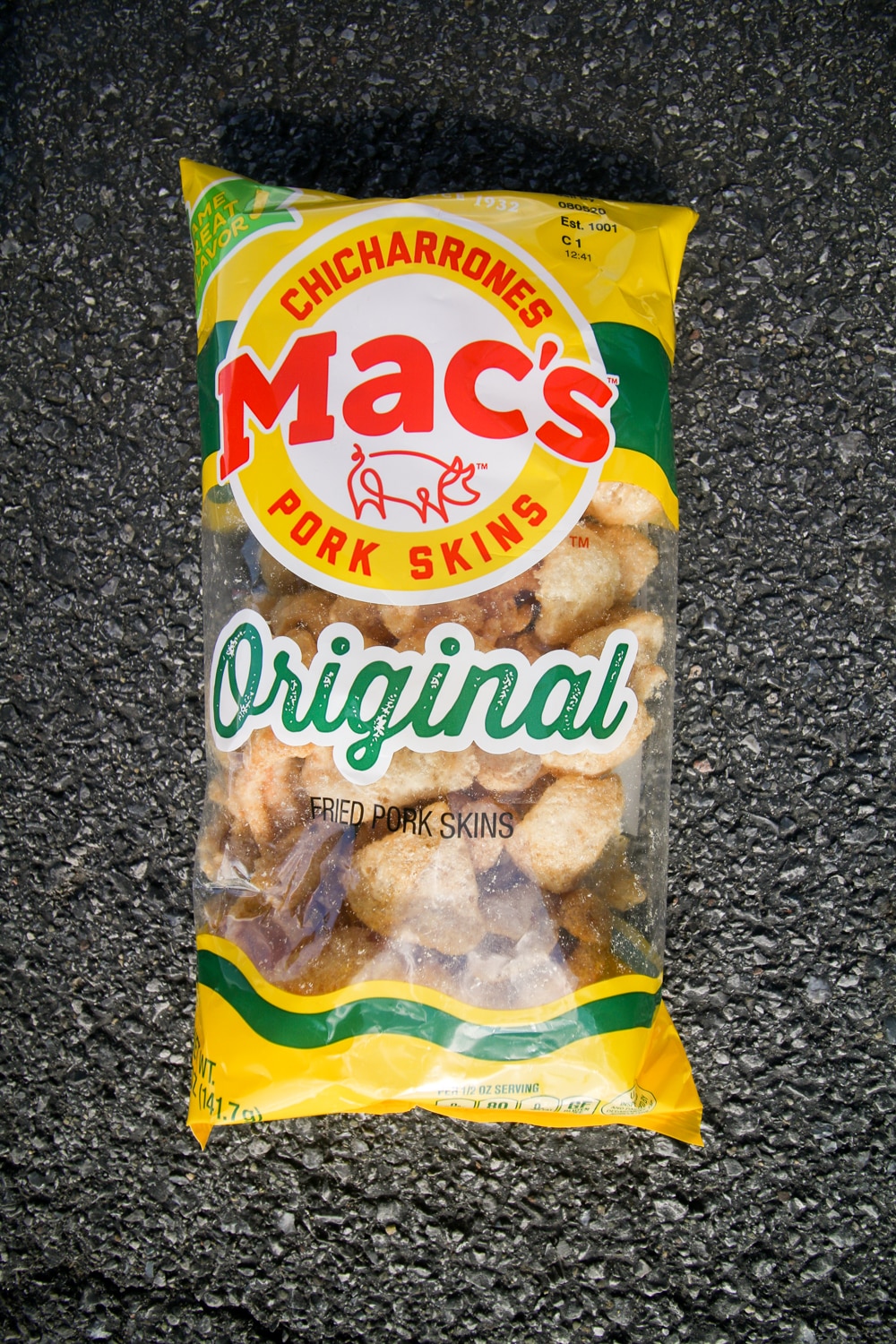 I covered these pork rinds in my last Walmart snack haul, and I'm talking about them again because they're just so darn good!
They're incredibly crunchy and packed with buttery deliciousness. It's a good thing that these have 0g carbs because they're seriously addicting.
A 5 oz. bag costs $3.98.
Oh, and I also highly recommend making my keto mozzarella sticks with these!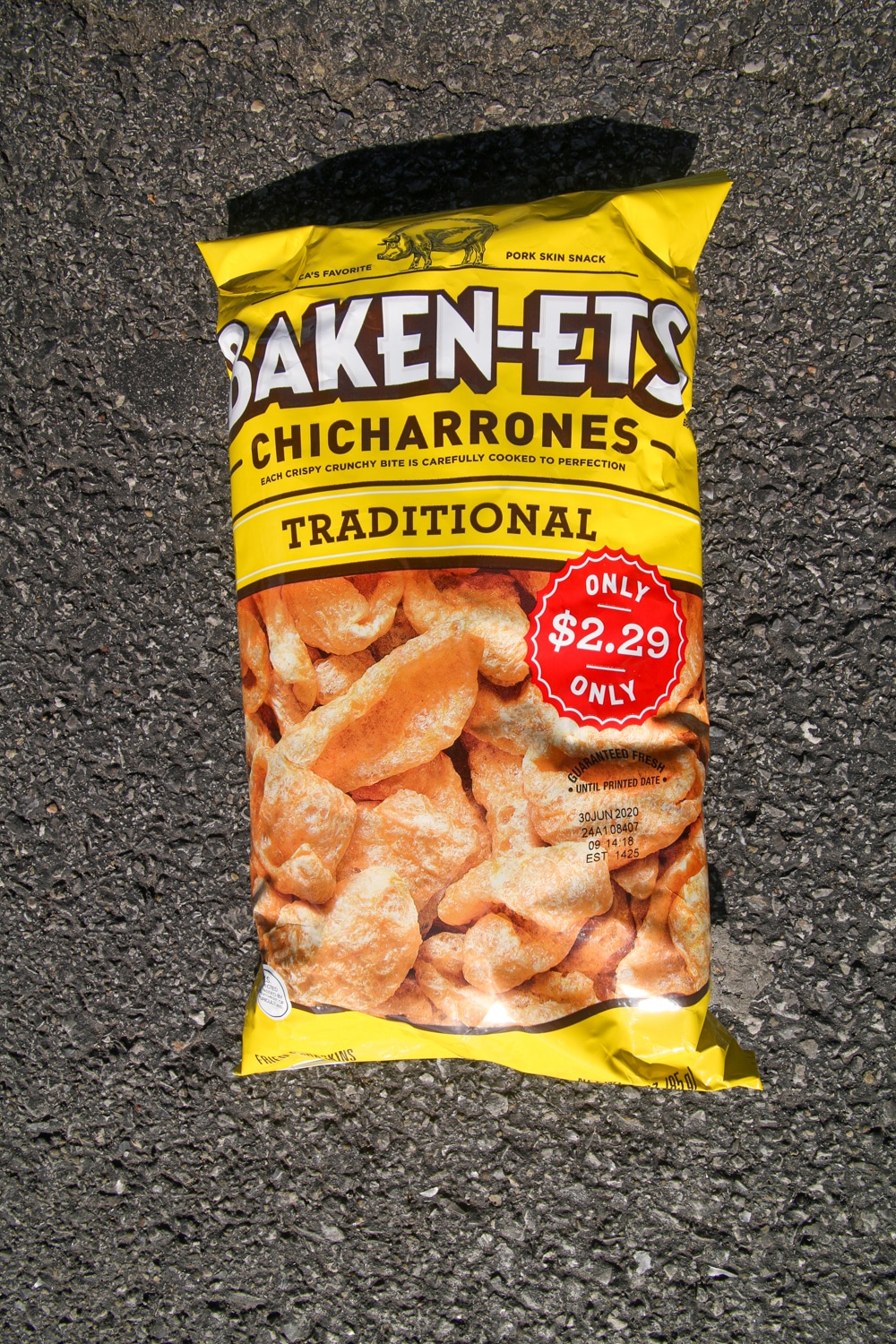 Now, if you can't find Mac's pork rinds, these Baken-ets are another fantastic option.
They're also insanely crunchy and have 0g carbs.
A 3 oz. bag costs $2.29, so it's a little smaller than Mac's – they might be the better choice for school or work.
Either way, you just can't go wrong with pork rinds!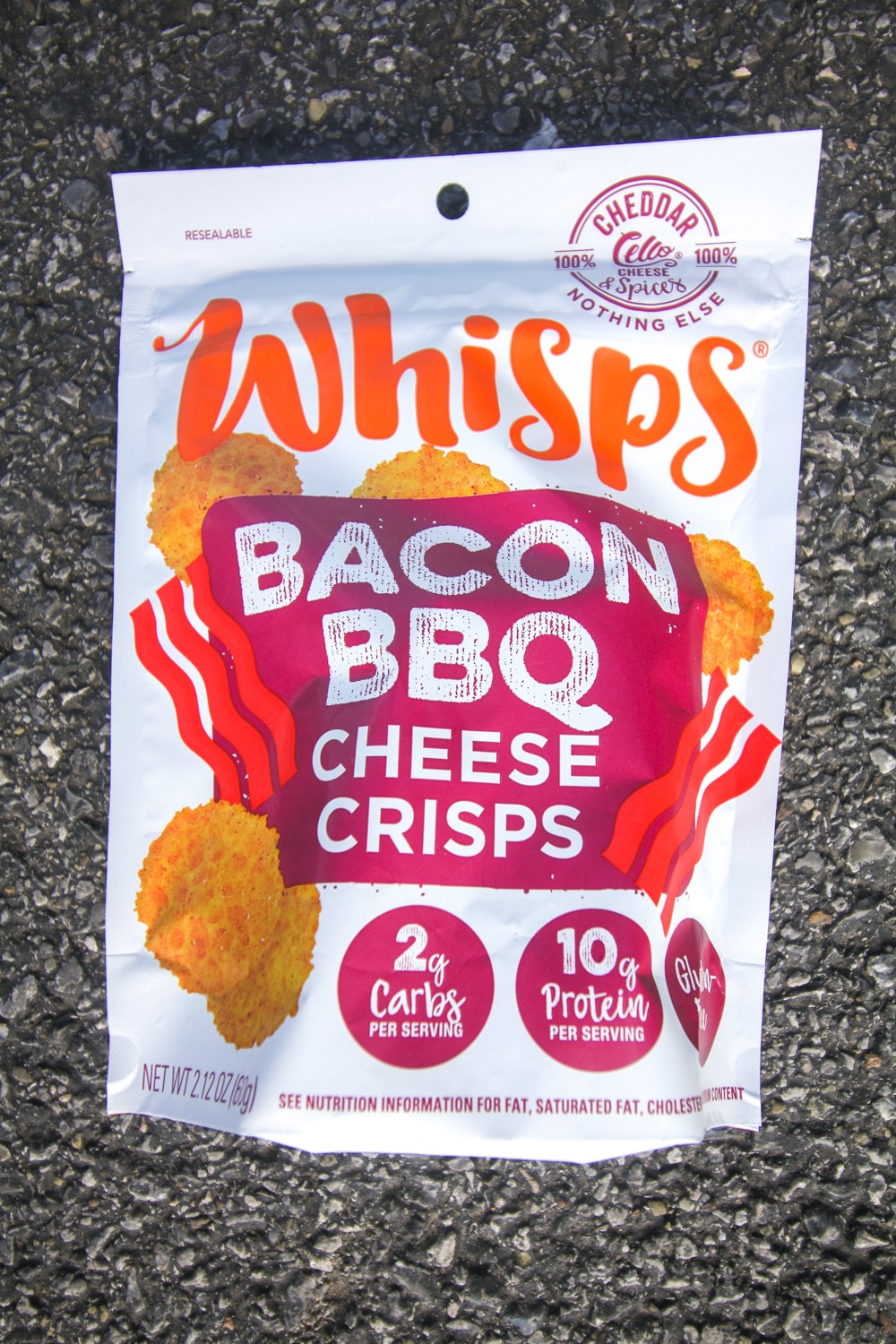 There are a ton of different flavors of these Whisps cheese crisps that can probably satisfy any craving you have – with an added cheesy crunch!
Bacon BBQ is one of the two flavors I picked up during my Walmart haul.
Now, it doesn't taste exactly like bacon or BBQ, but you should still pick it up because it's got a fantastic taste that I recommend trying.
Plus, no matter what flavor you get, there are less than 5 net carbs per bag – this Bacon BBQ one is 2 net carbs per serving.
Though the $3.33 price tag is a little expensive for its size, I think the Whisps crisps are a worthy splurge item to add to your keto shopping list!
So I also tried the Asiago & Pepper Jack flavor of the Whisps cheese crisps, and I have to tell you, these are pretty darn awesome.
It's spot on with the flavors – there's a rich, deep, and bold cheesiness from the asiago complemented by the hint of spiciness you'd expect from pepper jack.
By the way, you'll find these in the prepared food section of Walmart instead of the chips aisle.
Like I've said, these are $3.33 per bag, and THE ENTIRE BAG has less than 5 net carbs.
And they come in a travel-friendly size that you can easily take with you to school, work, or on a trip.
Oh, and a serving of this Asiago & Pepper Jack flavor is just 1 net carb!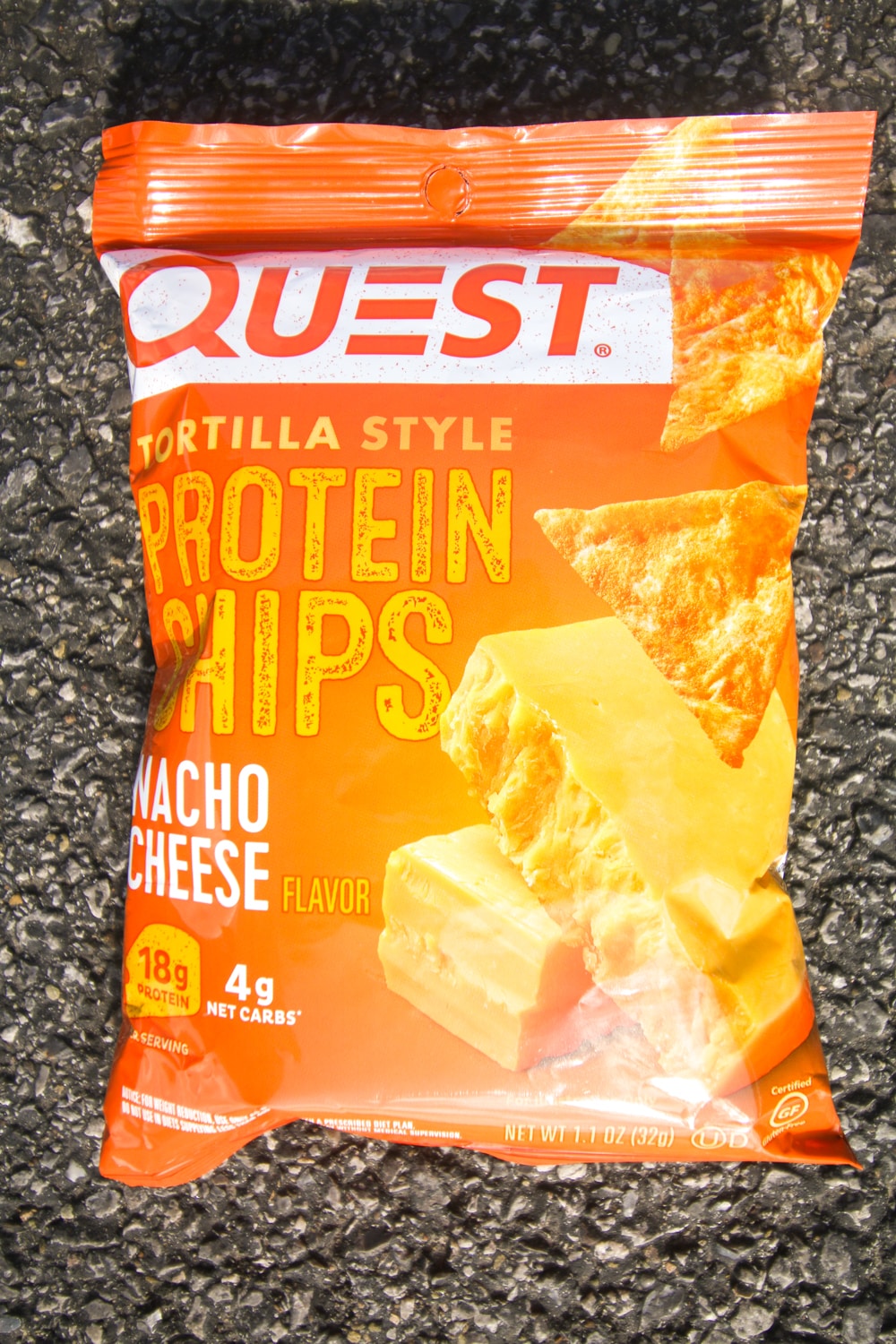 Honestly, these are one of my favorite keto chips.
They're like the perfect Keto Doritos! Regular Doritos are tasty but aren't very keto-friendly, so these Quest chips are a great low carb substitute.
And these tortilla style chips are my go-to snack option for pairing with awesome chip dip recipes like this low carb cheese sauce, keto spinach, and artichoke dip, or keto buffalo chicken dip!
By the way, a 1 oz. bag has 4 net carbs and costs $2.48.
That said, you can buy a club pack of the chips and substantially bring the cost per bag down.
Keto Fish Pouch Snacks at Walmart
Moving on from crunchy low carb snacks, here's a keto snack idea that's a little different: salmon and tuna pouches!
These are great if you love fish or are trying to get some extra amino acids in.
Not to mention, they have a good amount of protein, and every single one of these options has practically 0 carbs!
You can eat them straight from the pouch, and you can also have them with keto bread for a delicious little sandwich.
Also, because they're so small, they fit perfectly in your work/school lunchbox or your travel bag!
Plus, each one only costs around $1-2!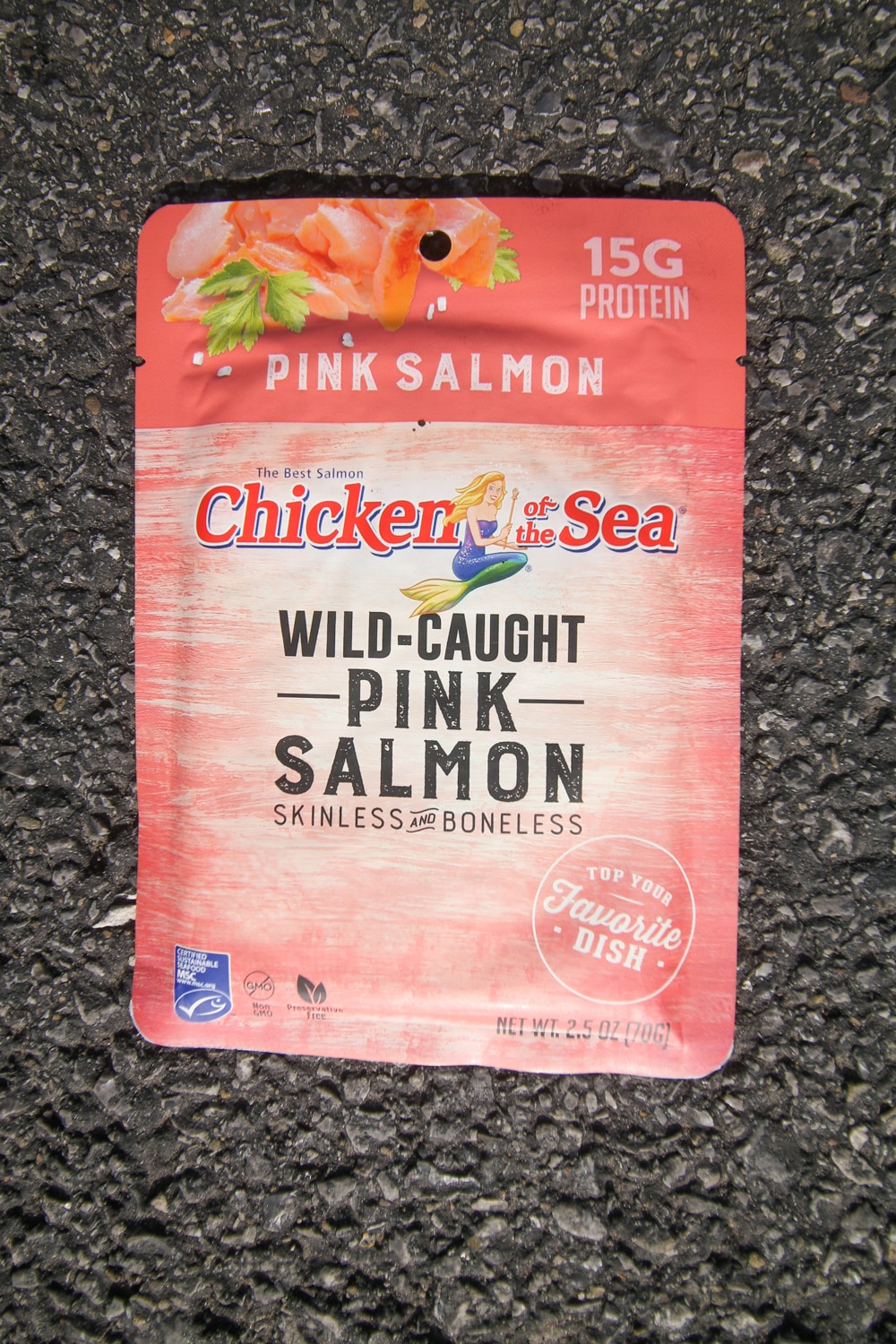 These individual pouches are an effortless way to get your serving of fish without needing to bust out a can opener.
Seriously, if you love canned salmon, I highly recommend adding this to your shopping list!
Also, this salmon pouch has 0 net carbs, and costs around $1.75.
Now, this Bumble Bee tuna pouch comes with a little fork for an even more convenient keto snacking option! All you need to do is tear off the seal, and snack away.
Byt the way, this pouch has 0 net carbs and costs about $1.50.
If tuna packed in extra virgin olive oil is your thing, then these individual EVOO tuna pouches are heaven-sent!
Each pouch costs roughly $2 and has 0 net carbs.
BTW, there's a salmon version too!
Keto Nuts and Seed Snack Ideas At Walmart
So let's get back into crunchy keto snack territory – specifically nuts and seeds.
These low carb snacks are an excellent way to fill up the daily recommended fat intake for your keto diet.
They're a super quick and easy snack that you can pull out of your lunchbox or travel bag.
Some of these options are also pre-portioned, which saves you a little bit of time and effort! Plus, they help keep you from overeating too.
These are another one of my must-have keto shopping list items!
They're super crunchy and also full of flavor. The salt & vinegar variety of these almonds are a favorite of mine – they taste JUST like salt & vinegar potato chips and have the perfect balance of tangy and salty flavors.
Plus, they're low carb and good for you!
A container is just $2.88, and a serving only has 2 net carbs!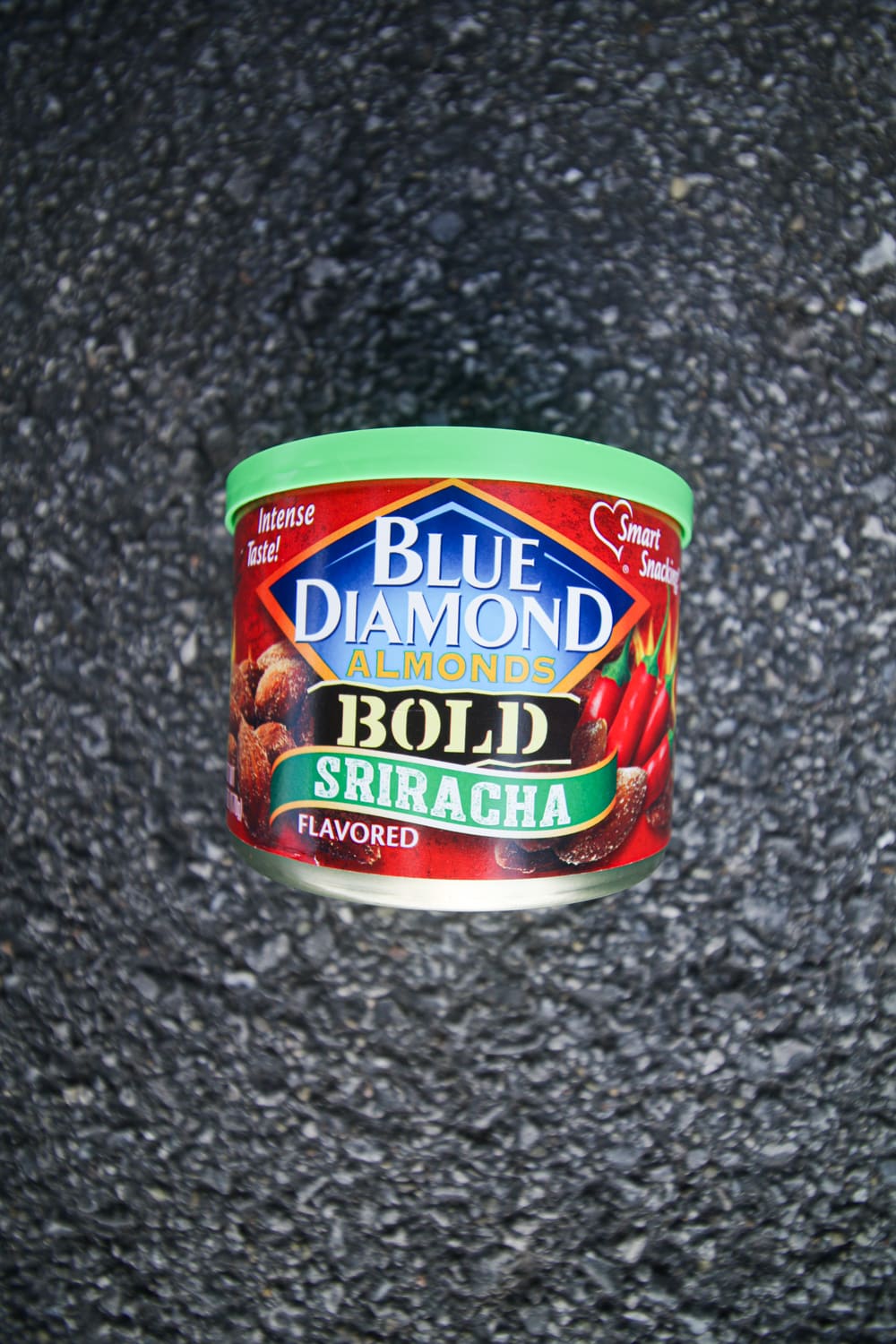 Of course, I also love spicy flavors, and these Sriracha flavored ones are just totally spot on!
And, as I've said, these are a great way to balance out your ratios for the keto diet if you're having a hard time filling up on healthy fat.
Like the salt & vinegar flavor, these are only $2.88 per container and have 2 net carbs per serving.
Oh, and there are also a lot of other flavors that you can try out, so I recommend checking out what other varieties they have – you might find your next favorite!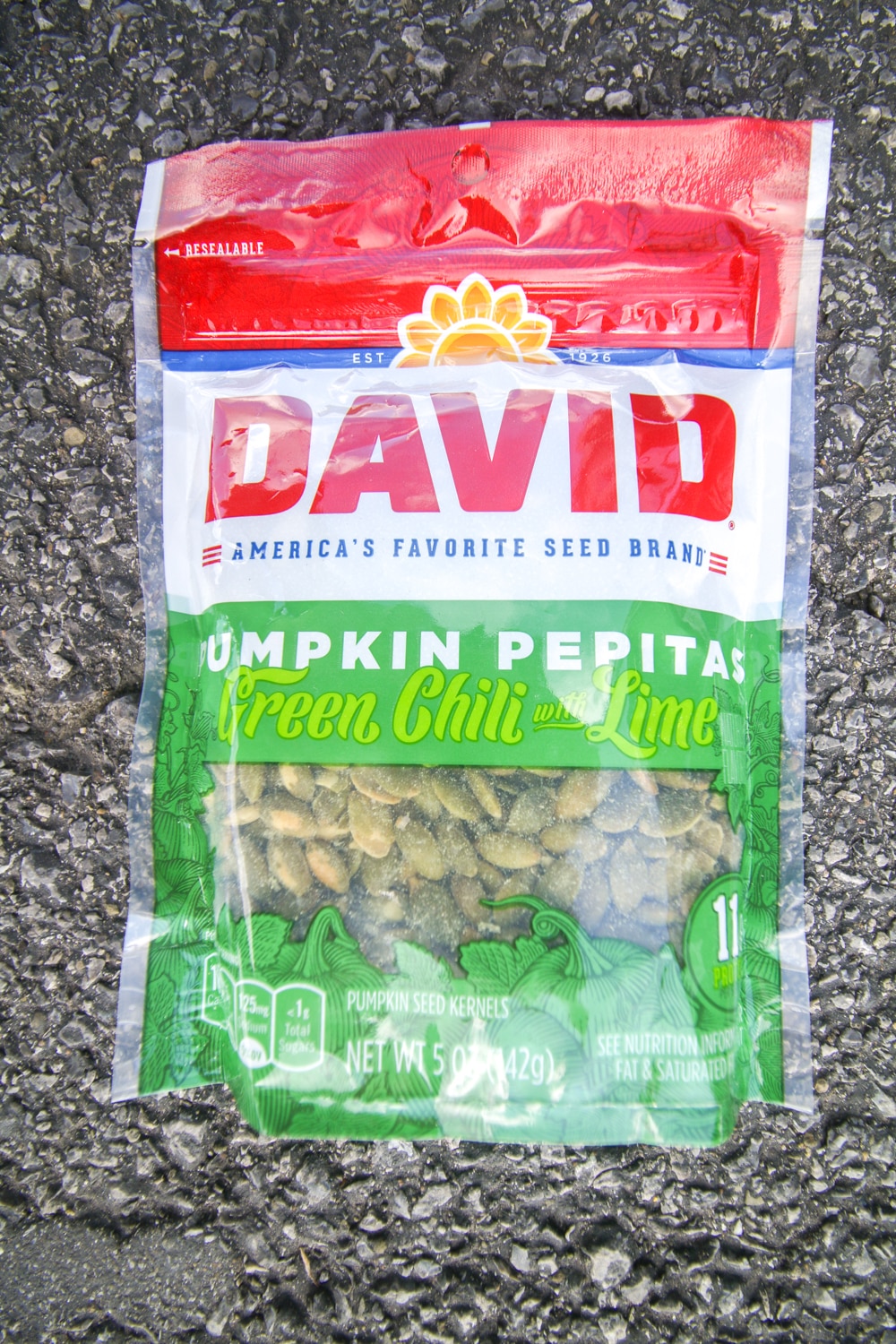 Another fantastic keto snack idea in this category is this pack of deliciously flavored pumpkin seeds!
They have just the right amount of seasoning, a perfect balance of lime and green chile flavors, and the right amount of salt to enhance the taste without overpowering you with saltiness.
So good.
Also, each serving has just 1 net carb.
Now, having said that, it's a little expensive at $3.17 per pack.
Although it is worth mentioning that these are pepitas, which means that they don't need to be shelled.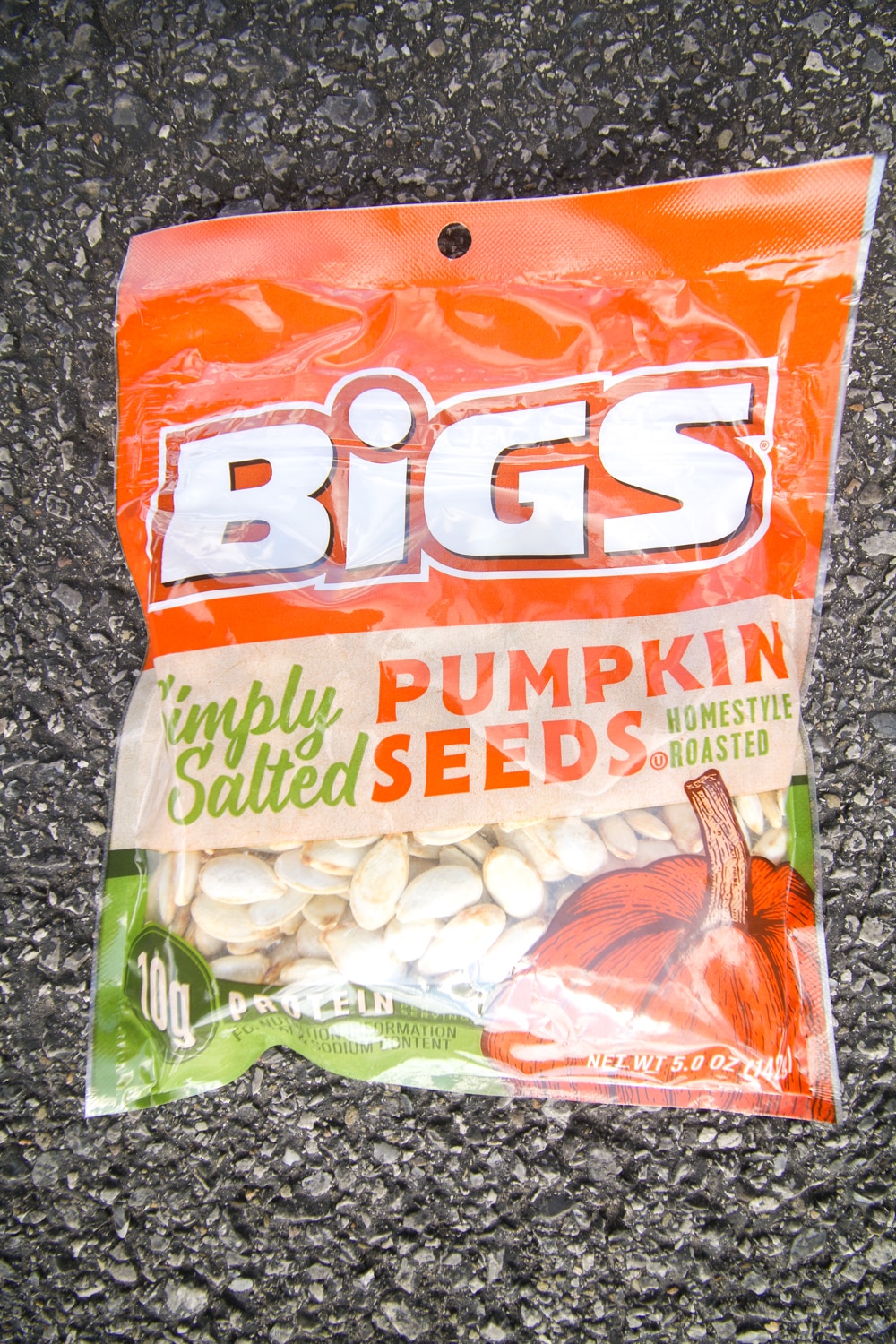 These are another option for low carb pumpkin seeds if you're looking for something a little more subtle in flavor.
And the only ingredients are pumpkin seeds and salt!
Also, a 5 oz. bag costs $2.44.
Now, a serving is about ⅓ cup – that's a lot of pumpkin seeds – and has just 3 net carbs.
Overall, you get a lot of snacking for an excellent price with these pumpkin seeds.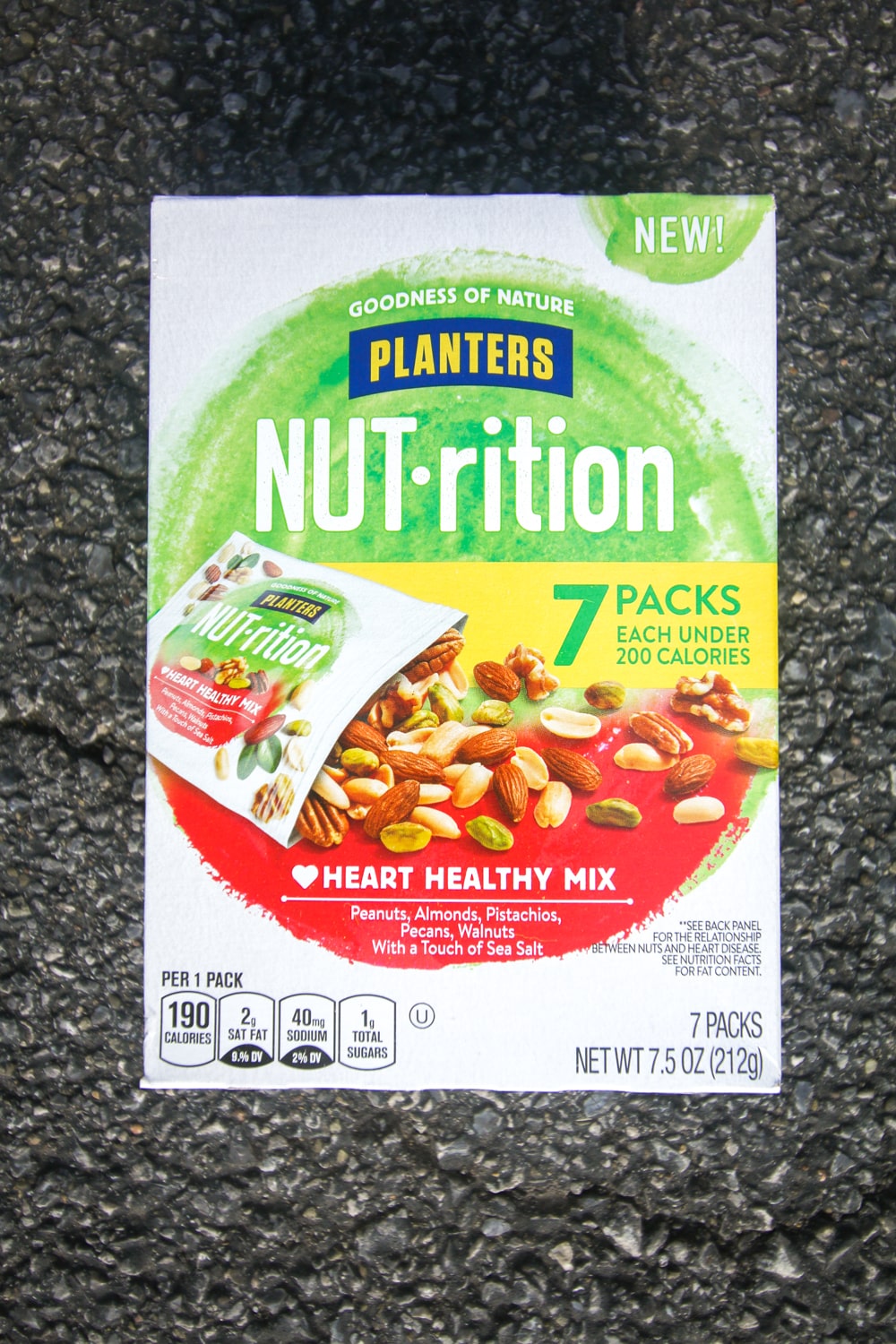 Now, I think these are one of the best keto travel snack options in this list because they come in convenient pre-portioned packs.
I love the fact that they're easy to pack in your lunchbox, and you don't end up overeating – something I'm guilty of doing from time-to-time.
That said, be sure to get this heart-healthy variety because not all of the Planter's Nut-rition packs are low-carb and keto-friendly.
A box of 7 portioned bags (good for one week of prepared snacks!) has 3 net carbs and costs $5.18.
By the way, a jar of mixed nuts might be cheaper than this box, but keep in mind that you'd have to portion them out yourself. Not to mention, you'll need to have much more self-control eating a container of nuts.
You might be able to tell that I dig flavored seeds and nuts as a snack option.
So, I had to pick these Frito Lays sunflower seeds at the checkout aisle when I saw them.
They smell and taste exactly like BBQ potato chips, so I'm a fan!
Now, these seeds are an excellent travel snack.
That said, I think these are also the perfect replacement for popcorn at the movies or while watching Netflix.
By the way, these make one of the best cheap keto snacks too. A bag costs $0.69, and 2 bags cost $1, so you'll want to pick up a few these on your next Walmart run.
Oh, and each bag has a total of 2 net carbs and 160 calories.
Keto Snack Ideas at the Prepared Foods Section of Walmart
I also spotted a couple of really great low carb snack options in the prepared foods section at Walmart that you can just grab and go if you're in a rush.
Plus, you can combine all of these for a makeshift keto lunch straight out of just one Walmart aisle!
How awesome is that!?
24. Great Day Farms Hard Boiled Eggs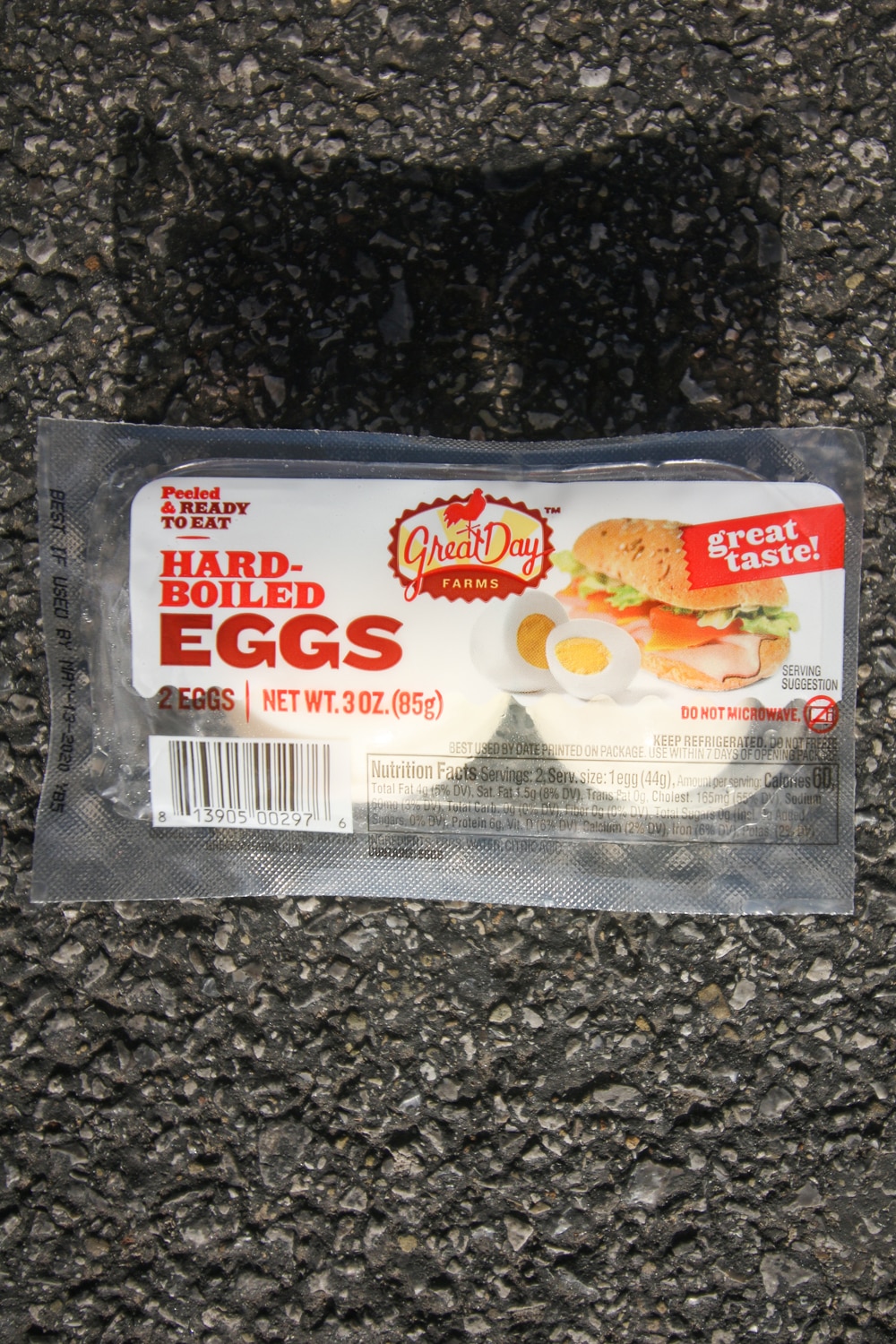 Though this isn't the cheapest keto snack at Walmart, these hard-boiled eggs are a quick and convenient one.
You can find these hard-boiled eggs in the prepared food section of Walmart, and they cost $1.98 for 2 eggs.
As I said, a little pricey – but they do have 0 carbs!
25. Fiorucci Panino Prosciutto Wrapped Mozzarella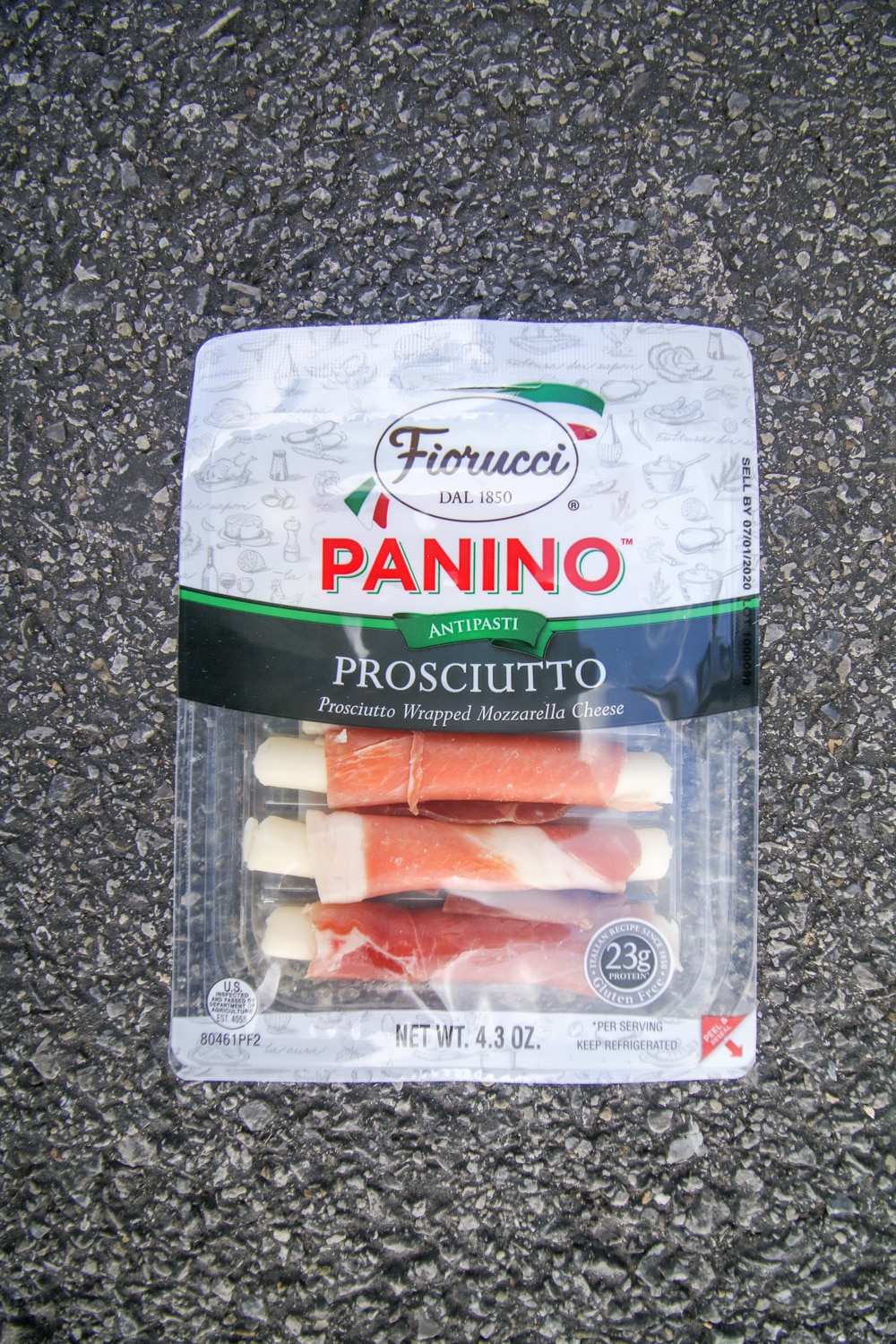 If you love meat and cheese, this is absolutely a keto snack idea you have to check out! The salty prosciutto complements the cheesy mozzarella sticks and makes for a wonderful snack.
And you can even pair these with any of the excellent low carb olive options I talked about earlier for a fancy little charcuterie board experience right in your school or work lunchbox!
By the way, a pack of 6 sticks costs $4.98, and the entire thing has just 2 net carbs.
26. Babybel Cheese Wheels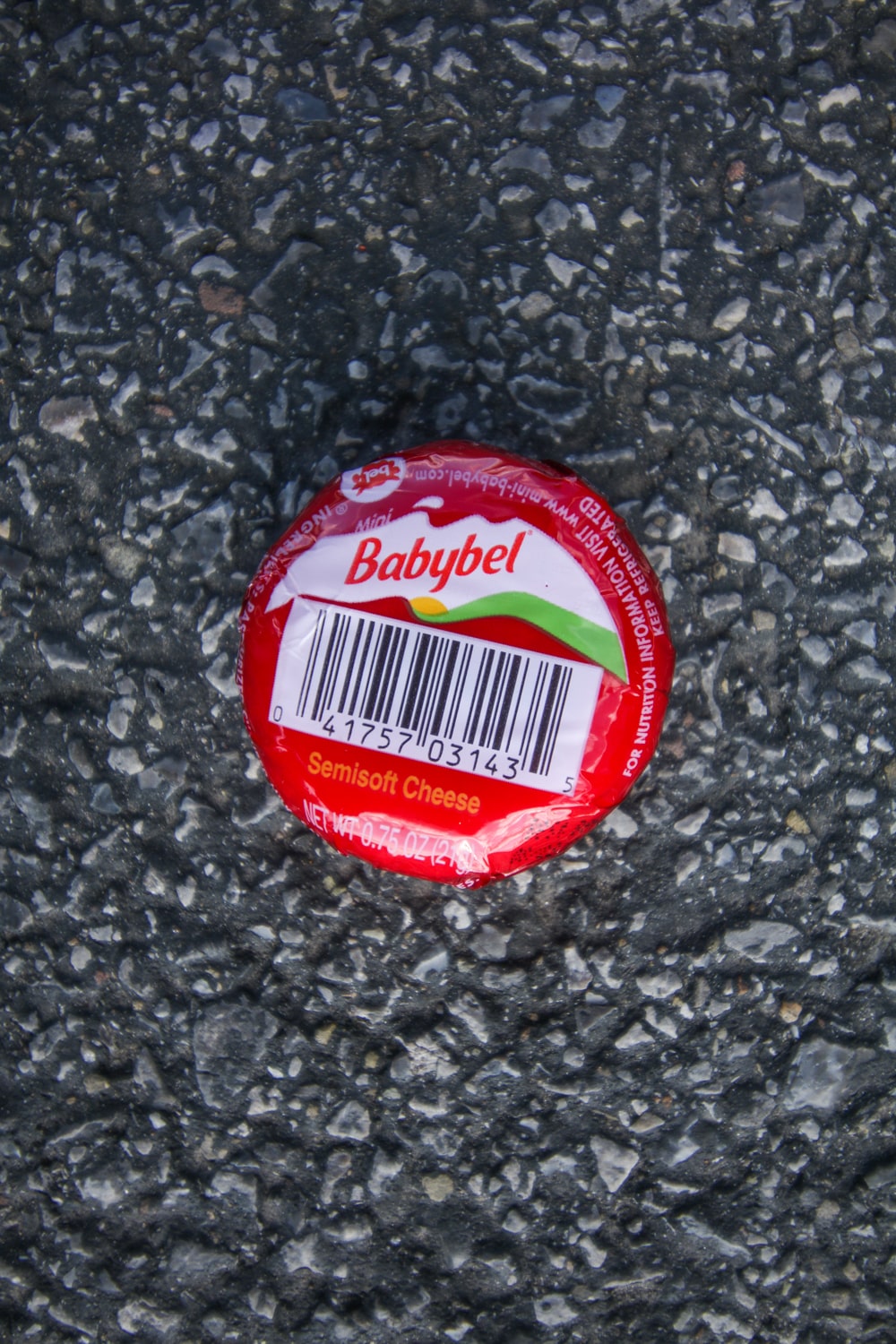 You're probably already super familiar with these little cheese wheels, but did you know that they make a great keto snack option?
They're individually wrapped so you can just toss one into your school or work lunchbox and go.
Each one is $0.50 and has 0 net carbs. So you can grab a couple of these to add to your shopping bag for a quick & cheap keto snack or meal addition!
By the way, in the "cheese section" of Walmart you will find a multi-pack of these for a cheaper price per wheel.
Keto Cheese Snack Ideas at Walmart
Cheese is one of the highlights of being on the keto diet, so we need to talk about it in this Walmart haul!
There are many different kinds of cheeses that you can snack on or even have as a side for your keto meals.
I found these at the cheese section of Walmart, and they're all low carb and, of course, packed with cheesy deliciousness.
27. Sargento Snack Bites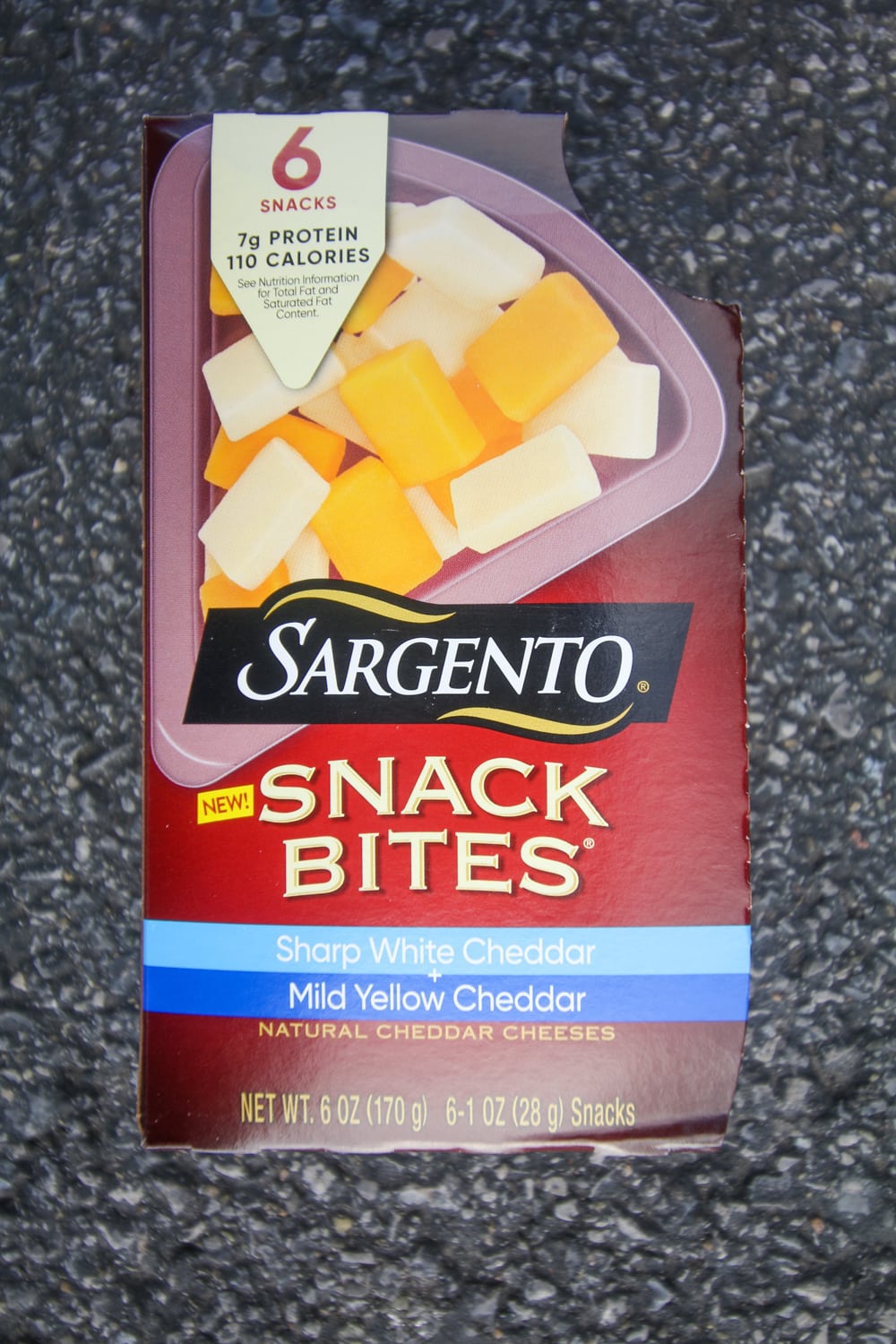 So, these come in six individually packaged sets of cheese bites.
As I've said, I love pre-portioned snacks because they're so easy to take with you to school, work, or along with you while you travel.
Plus, they're a great way to stay on track with your diet because they can keep you from overeating.
That said, a single-serving package of these snack bites has less than 1g net carbs, and the whole set of six costs just $3.48.
28. Great Value Snack Cheese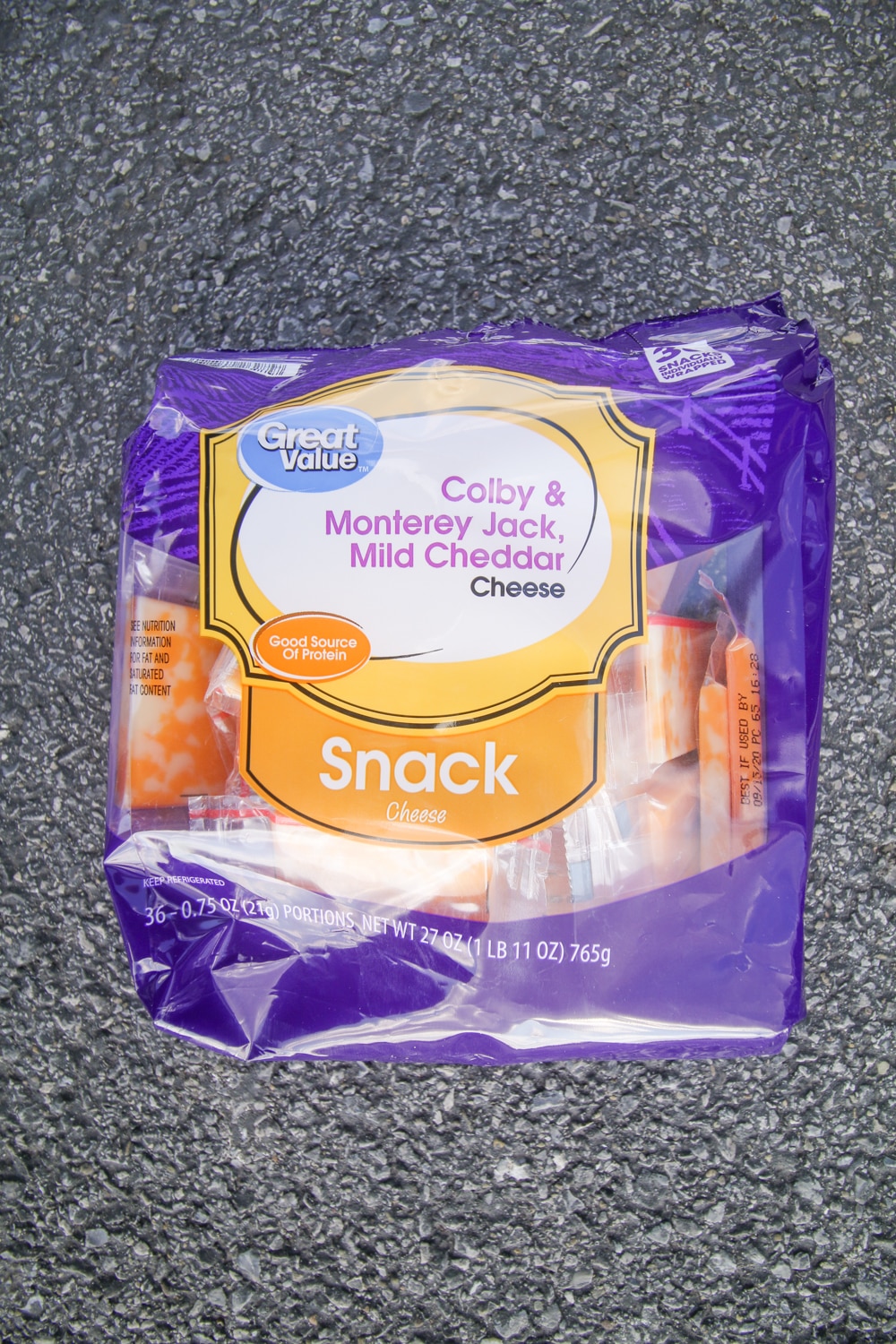 This is a huge bag of snack cheese - it's over a pound and a half of cheese.
I picked up the Colby, Monterey Jack, & Mild Cheddar mix variety, but Walmart has several different flavors in packages like this.
That said, the cheese comes in convenient individually packaged bars that you can easily add to your lunchbox or travel bag.
True to its name - "Great Value" - this over 1.5 lb bag has 30 servings with 0g carbs each and costs just $8.98!
Overall, a pretty great value if you ask me.
29. Sargento White Cheddar Cheese Sticks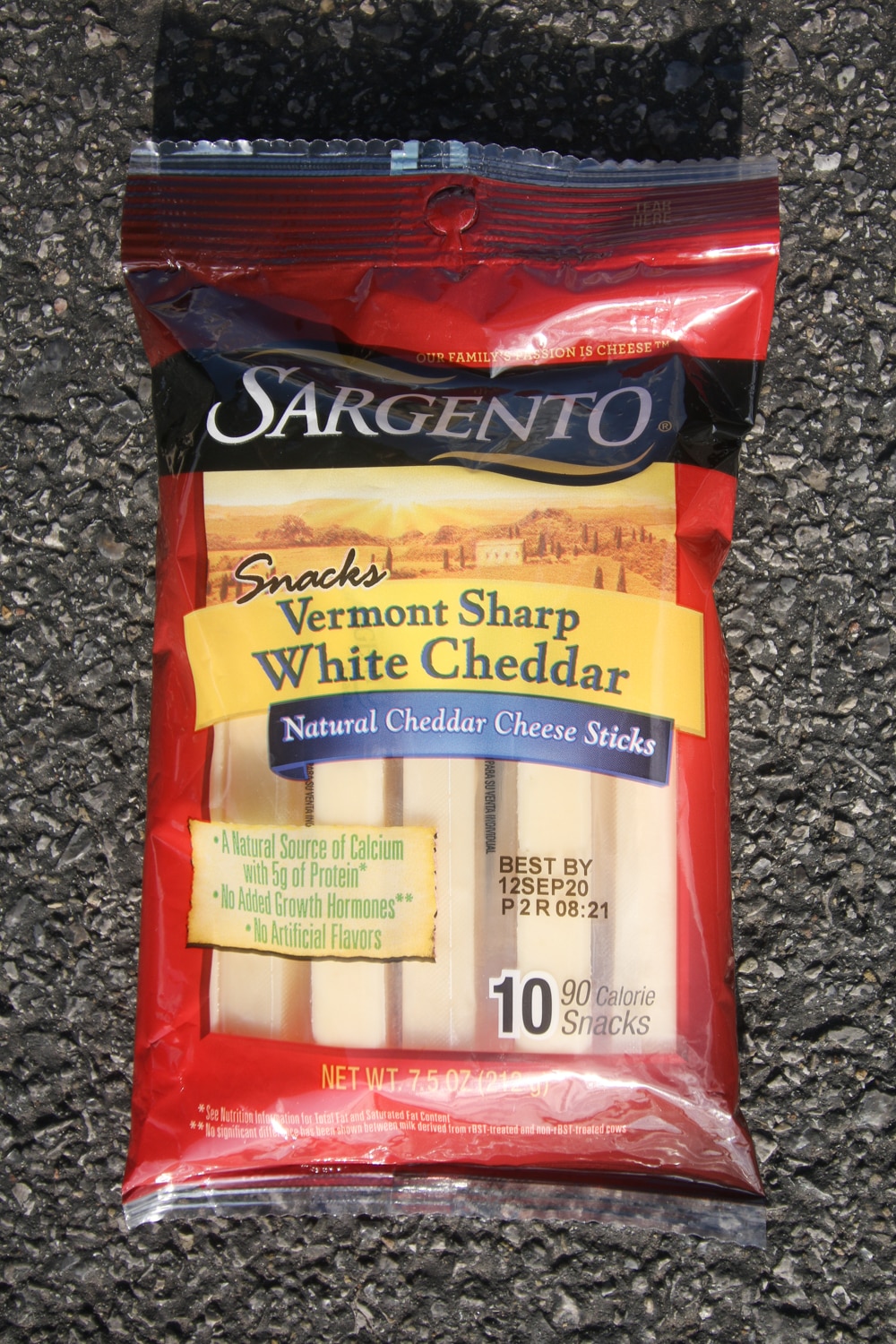 Another low carb snack idea from Sargento are these sticks of Vermont sharp white cheddar.
You can pop a couple of them into your lunchbox for a great snack option. Or, just eat a couple to curb your hunger in between meals!
Also, since these are individually portioned they can be an ideal snack for those of us who struggle with self-control when it comes to snacking.
By the way, each cheddar cheese stick has 0 carbs, and the whole bag of 10 costs $3.94.
Sweet Keto Snack Ideas at Walmart
As you probably know, delicious low carb sweets are pretty hard to find when you're on the keto diet.
So I rounded up some excellent snack options I found at Walmart that can help you satisfy your sugar cravings without the unnecessary carbs and calories!
And by the way, if you love sweets and are on the keto diet, I suggest my keto sweets cookbook for even more low carb sweets ideas (wink, wink).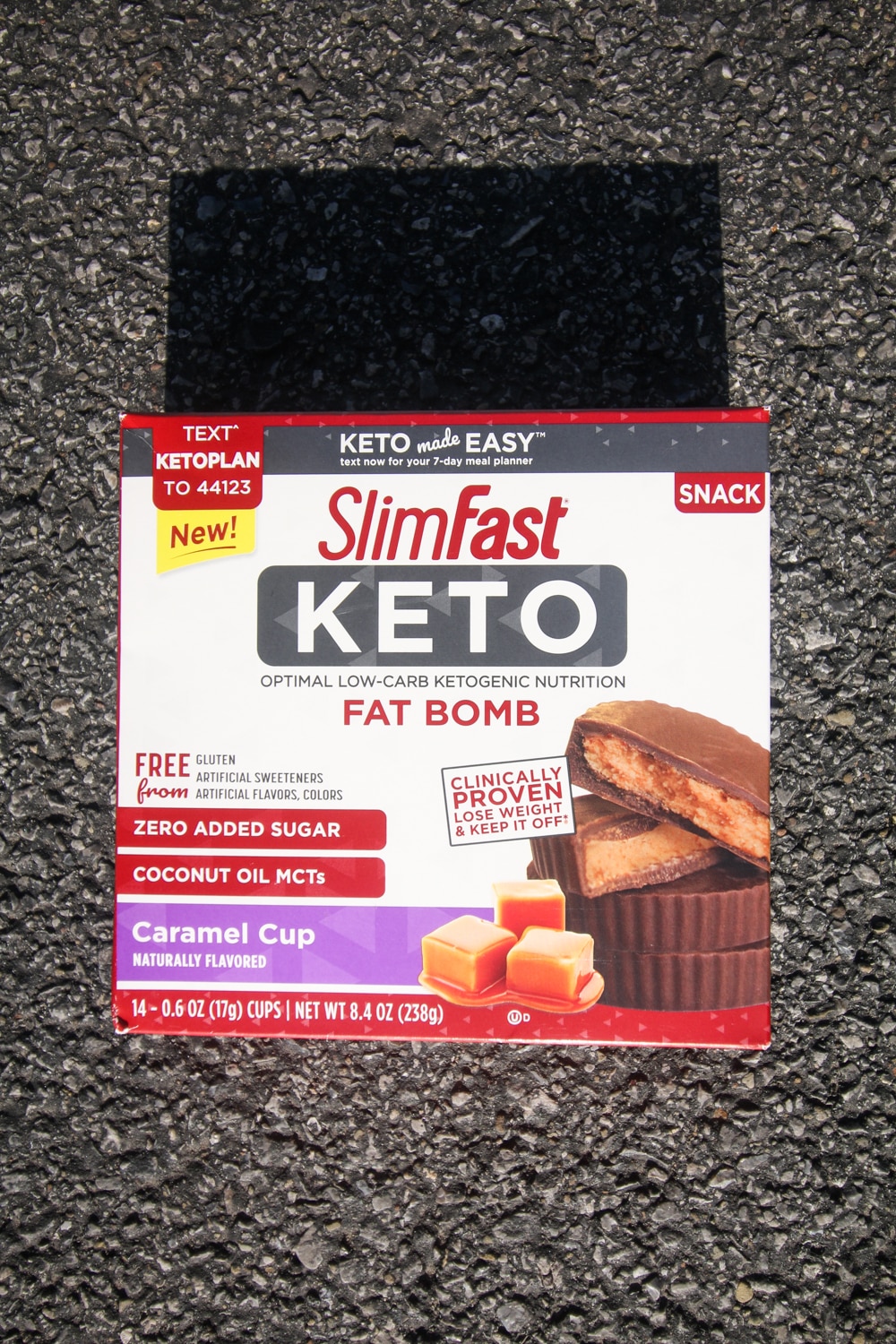 So I found these in the health section of Walmart by the pharmacy.
They're kind of like a keto version of a Reese's peanut butter cup – except without the peanut butter, lol.
I did an unbiased taste test of these and found that the chocolate coating is quite good!
However, in this caramel one, the chocolate overpowers the filling, so you don't get much of the caramel flavor.
It's also quite a bit smaller than your typical Reese's cup, so that's something you may want to take note of.
By the way, these are more on the expensive side – a box of these costs $10.
However, each piece does just have 1 net carb, so it might be an excellent way to satisfy your chocolate candy cravings!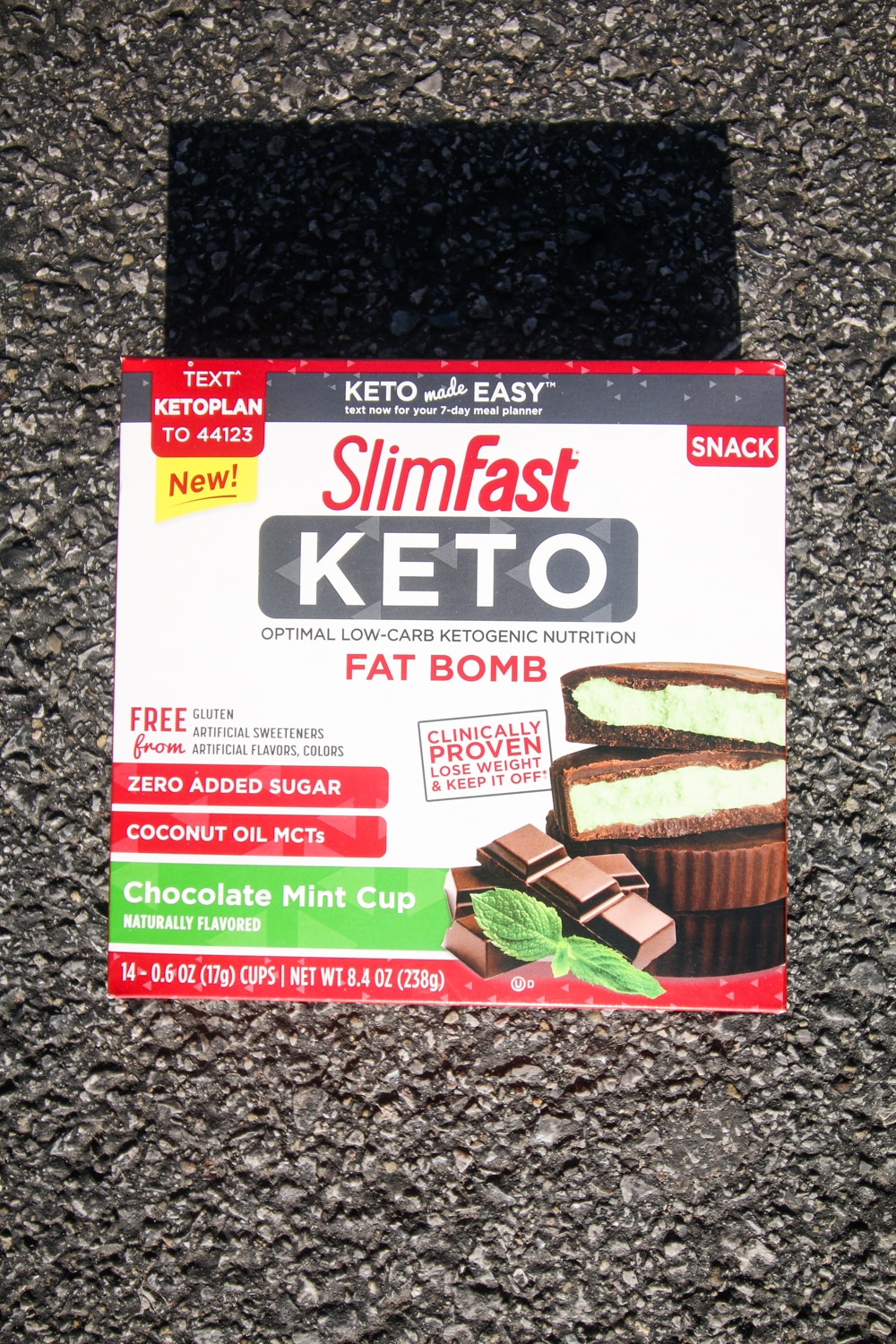 If I had to choose between the two different fat bomb flavors, mint chocolate is the winner, hands down.
Its flavor is well balanced and is spot on mint!
It honestly tastes a lot like an Andes chocolate mint.
Oh, and if you like these, I have a bunch of awesome homemade fat bomb recipes that you can check out!
Also, just like the caramel version these are 1 net carb per piece and come in at $10 for a box.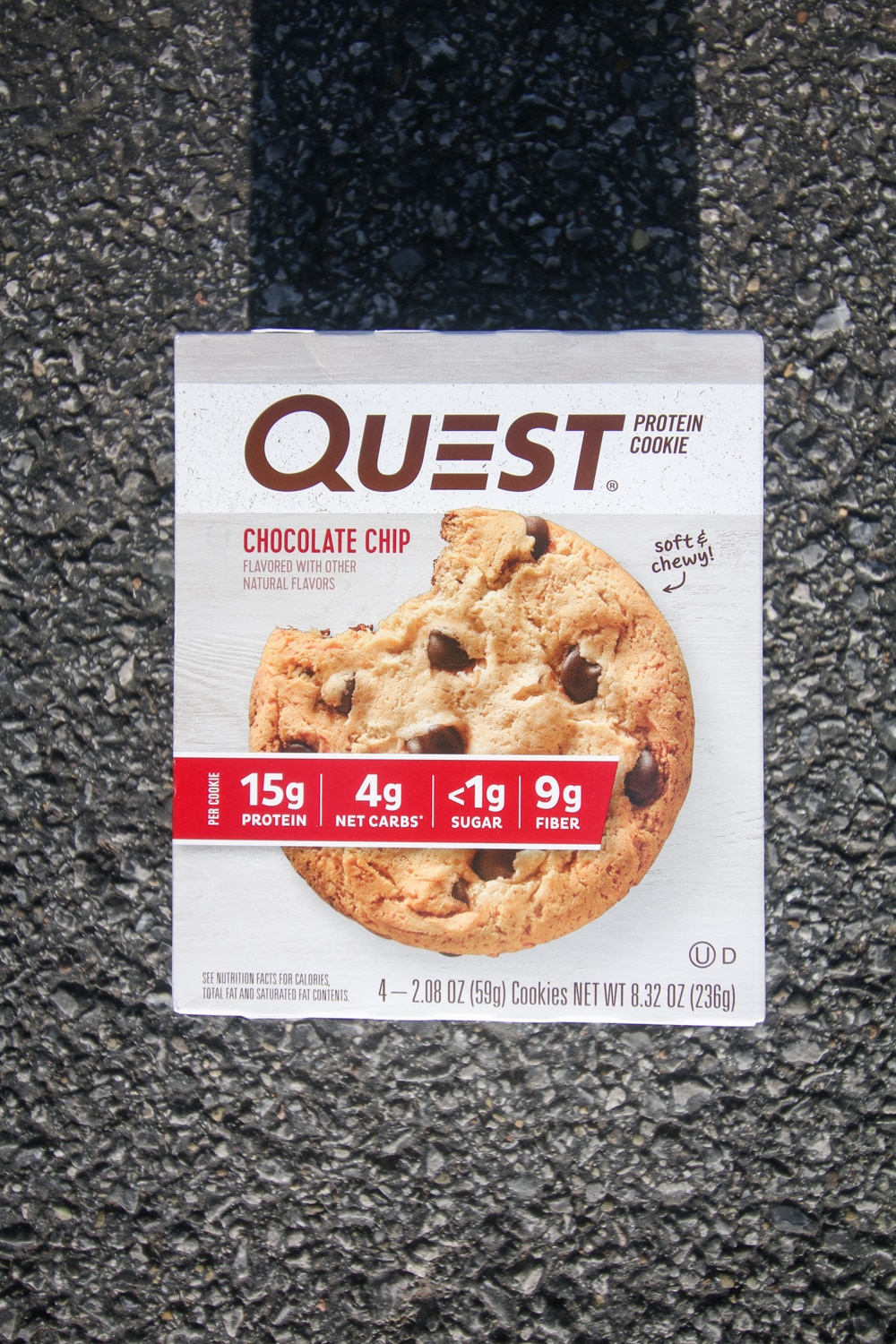 Honestly, is there anything better than chocolate chip cookies?
If you continuously find yourself craving for that classic cookie, you'll probably love these low carb ones from Quest!
Each cookie is just 4 net carbs.
This box of 4 is at the health section of Walmart and goes for $7.47 per box.
So definitely a little pricey but could be worth it if you're craving hard for this kind of sweet snack.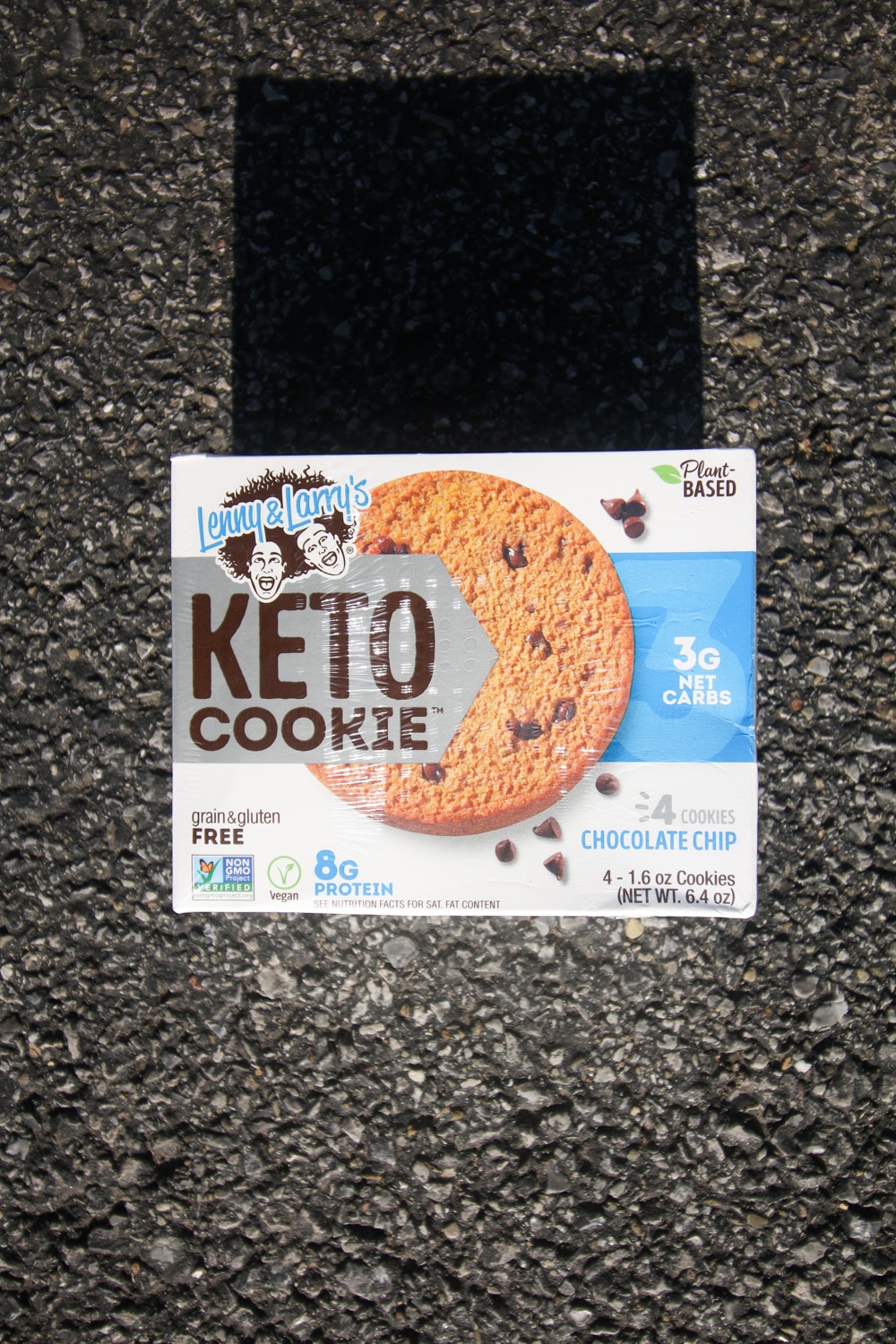 Another keto cookie option located right next to the Quest ones are these keto chocolate chip cookies.
They're similar to the Quest cookies but have fewer net carbs per serving.
Pro-tip: you can calculate the net carbs from any snack or meal by subtracting the amount of fiber and erythritol listed on the nutritional information!
Anyways, this pack of 4 costs $5.97 – a bit cheaper than the Quest cookies – and have just 3g net carbs per cookie.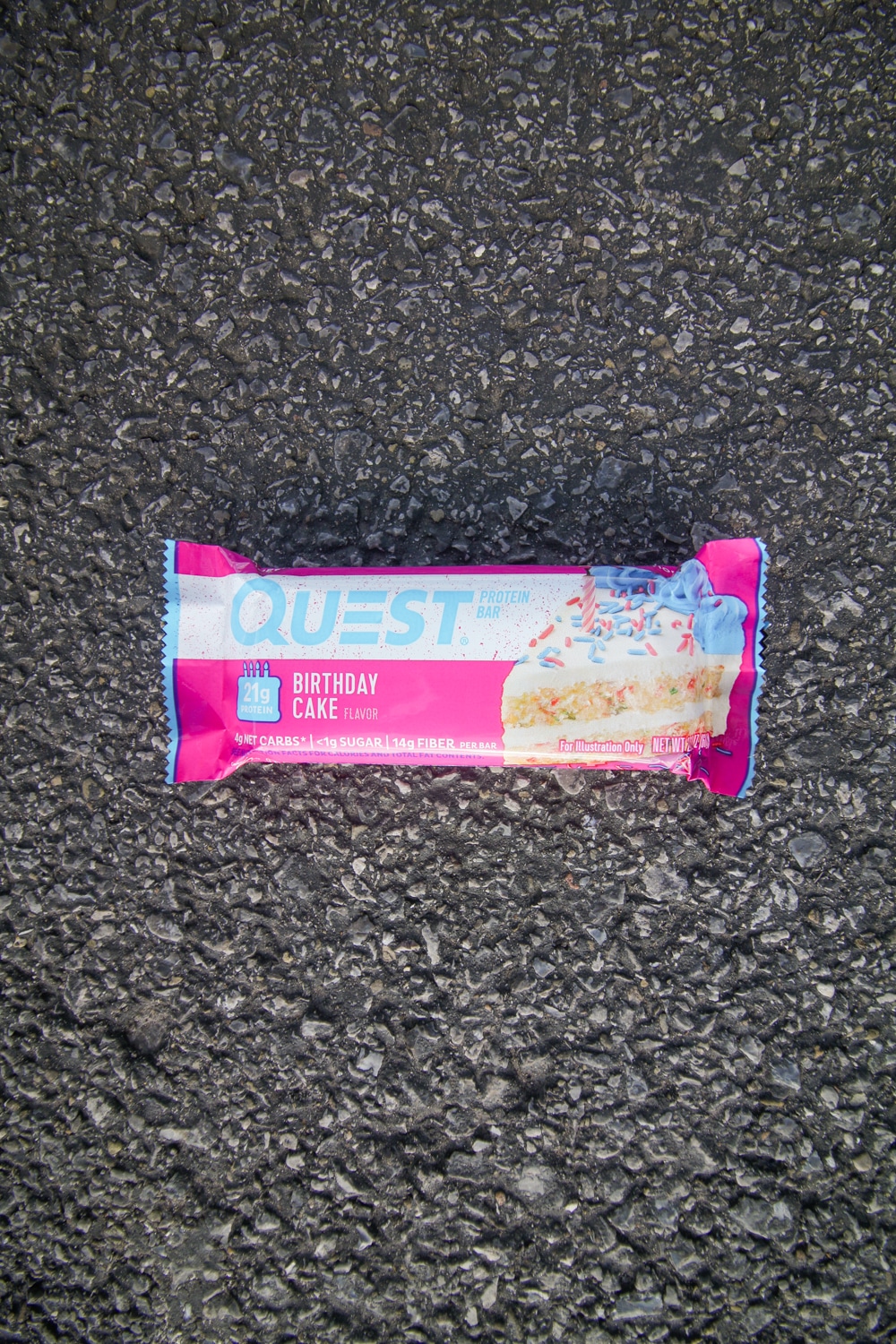 As far as sweet low carb snacks go, this birthday cake protein bar from Quest is one of the best.
It's a definite must-have for my keto shopping list at Walmart!
I've talked about this before in my keto snacks at Target article too, so you may want to check that out for more options! And, for what it's worth, I don't typically go for birthday cake flavored things, but this bar is just that good.
Also, they are an ESSENTIAL travel snack for me. Whenever I travel I always pack a couple of these.
They provide extra protein and – more importantly – more fiber, which can be tough to get when you're on the road.
By the way, each bar is just 4 net carbs and costs $2.29.
Oh, and if you buy a 4-pack of these at Walmart, you can bring the cost down to $2 per bar!
By the way, I recently put together a COMPLETE list of the best protein bars for weight loss. So definitely check that list out for even more low carb protein bar options.
35. Sugar Free Jell-O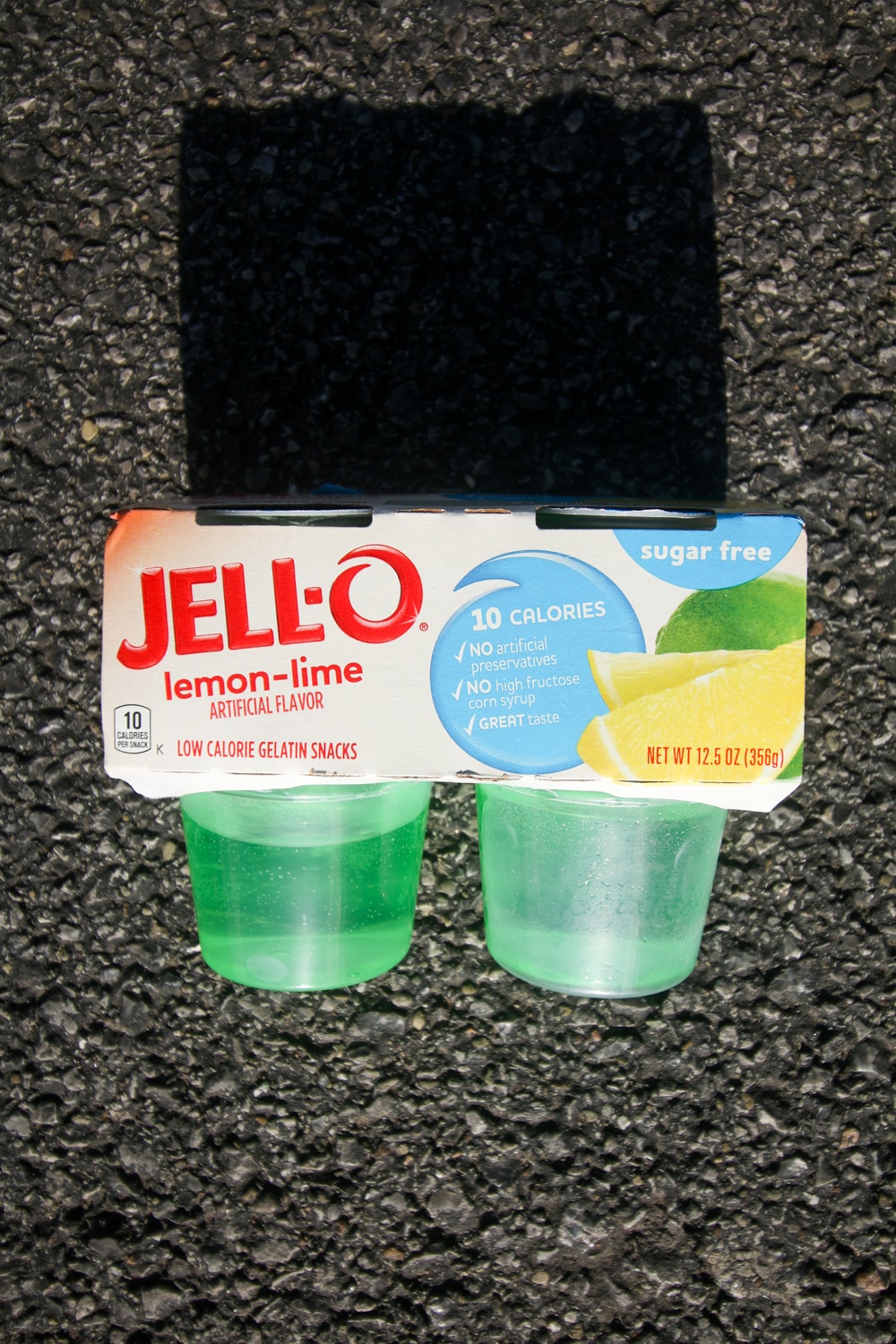 Last but not least is this 4-pack of sugar-free jello cups!
These are pre-portioned, which is excellent.
I highly recommend topping these with a little swirl of sugar-free whipped cream for a tasty keto snack.
These have just 0 net carbs and 10 calories per container!
Plus, the pack of 4 costs only $2.42, making it a great cheap snack option too.
More Keto Snack Ideas
Now if you still can't get enough, I have a few other resources about keto snacks you can check out:
By the way, I initially talked about all these snacks on my Youtube channel. There are tons of recipe tutorials, and some other keto shopping hauls there for you – and some content you won't find on my blog! So definitely give that a look if you're interested.
Also, I recently put together a list of the best store-bought low carb bread options out right now. So give that list a looksy if you like bread!
So that's it for my rundown on all the best keto snacks at Walmart!
I hope you find something that suits your cravings, and low carb snacking needs to keep you on track for your keto diet.
Let me know in the comments if you tried any of these suggestions or if you have any of your own that you want to share!
By the way, if you're trying to lose weight, you might even like this list of the best pre workout for weight loss, this list of the best protein bars for weight loss, or this list of the best home exercise equipment for weight loss. All of them have a ton of useful information to help you on your weight loss journey.