This Keto Flan Recipe is rich, creamy, and perfectly sweetened. And the entire thing has just 2 NET CARBS! Honestly, this keto flan is so good that it might just be one of the best low carb keto dessert recipes you can make.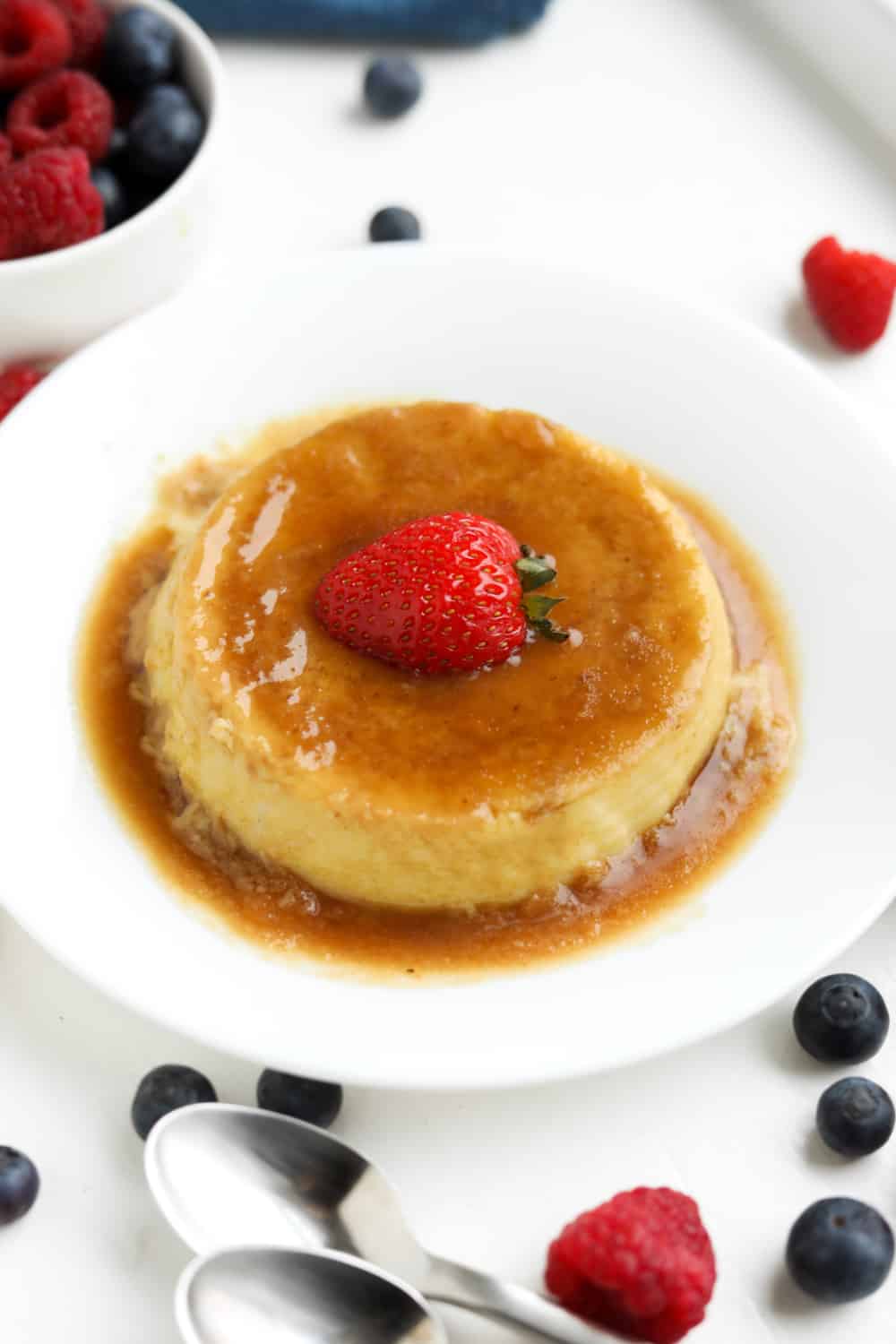 The BEST Keto Flan Recipe
If you don't know, flan is an incredibly creamy caramel dessert that lives happily in the custard family with a delicious layer of clear caramel on the top.
And I say that because some of you may know flan as "caramel custard" "caramel pudding" or even "creme caramel," depending on where you live. Yep, it's pretty much a dessert with a thousand names.
Today, though, we're going to refer to it simply as flan.
And I'm going to show you how to make THE BEST keto flan there is!
Seriously, this keto flan is so incredibly decadent; that it's absolutely to die for.
I mean, this low carb flan tastes extremely similar, if not identical, to a regular flan. And most people can't even tell the difference.
So, not only will you will be able to enjoy a delicious keto dessert, but your guests will too.
Does it get any better than that?
I don't think so!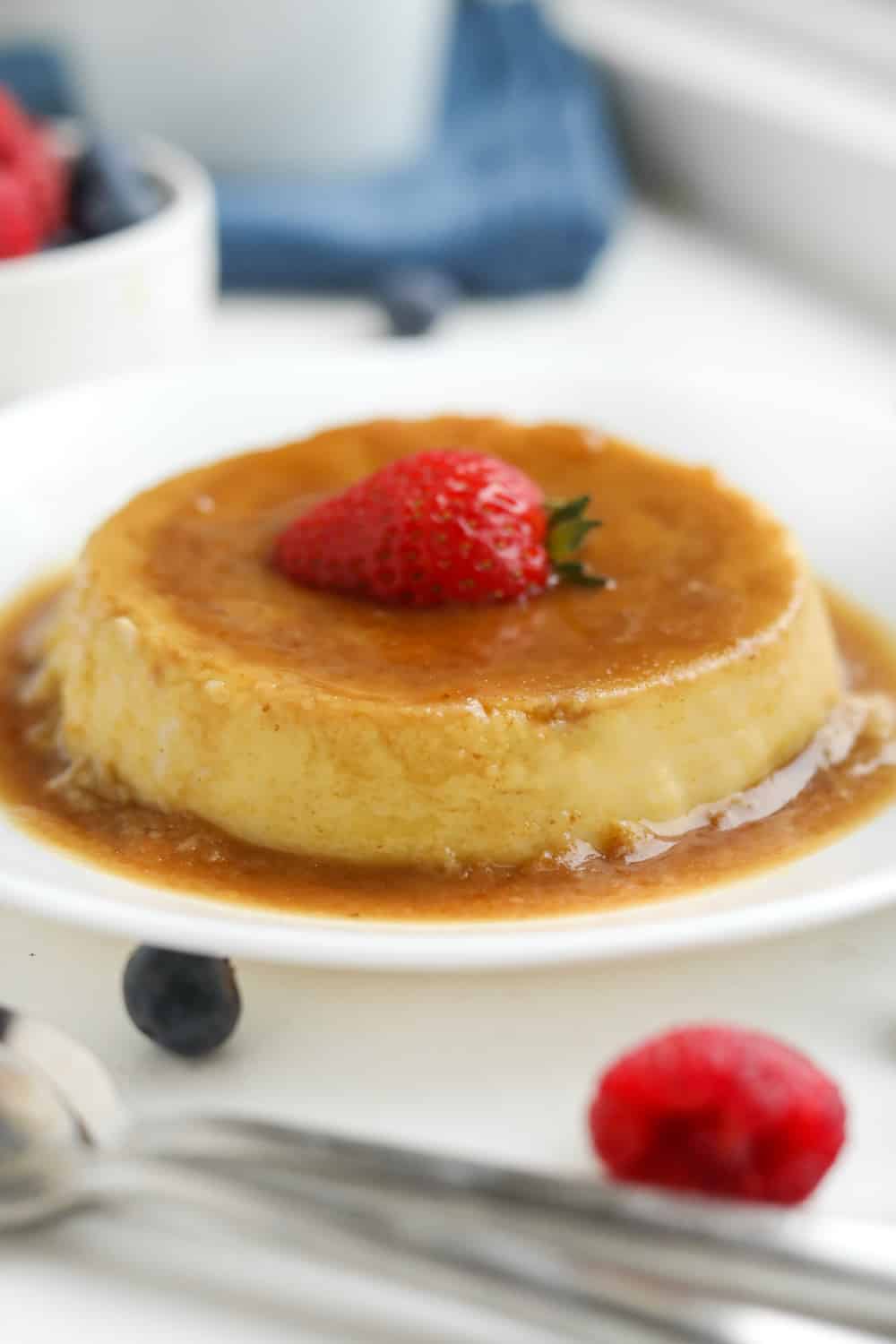 Ingredients You'll Need For Keto Flan Recipe
As you guys know, I love making keto recipes with simple, easy-to-find low carb ingredients. And, honestly, they're my favorite kinds of keto recipes.
Well, today's keto flan recipe is just that. And there's a good chance - a really good chance actually - that you already have everything you need to make this flan in your fridge and pantry already!
Here's what you'll need to make this flan for keto.
Keto Caramel Topping Ingredients:
Keto Custard Ingredients:
Pretty basic stuff, right?!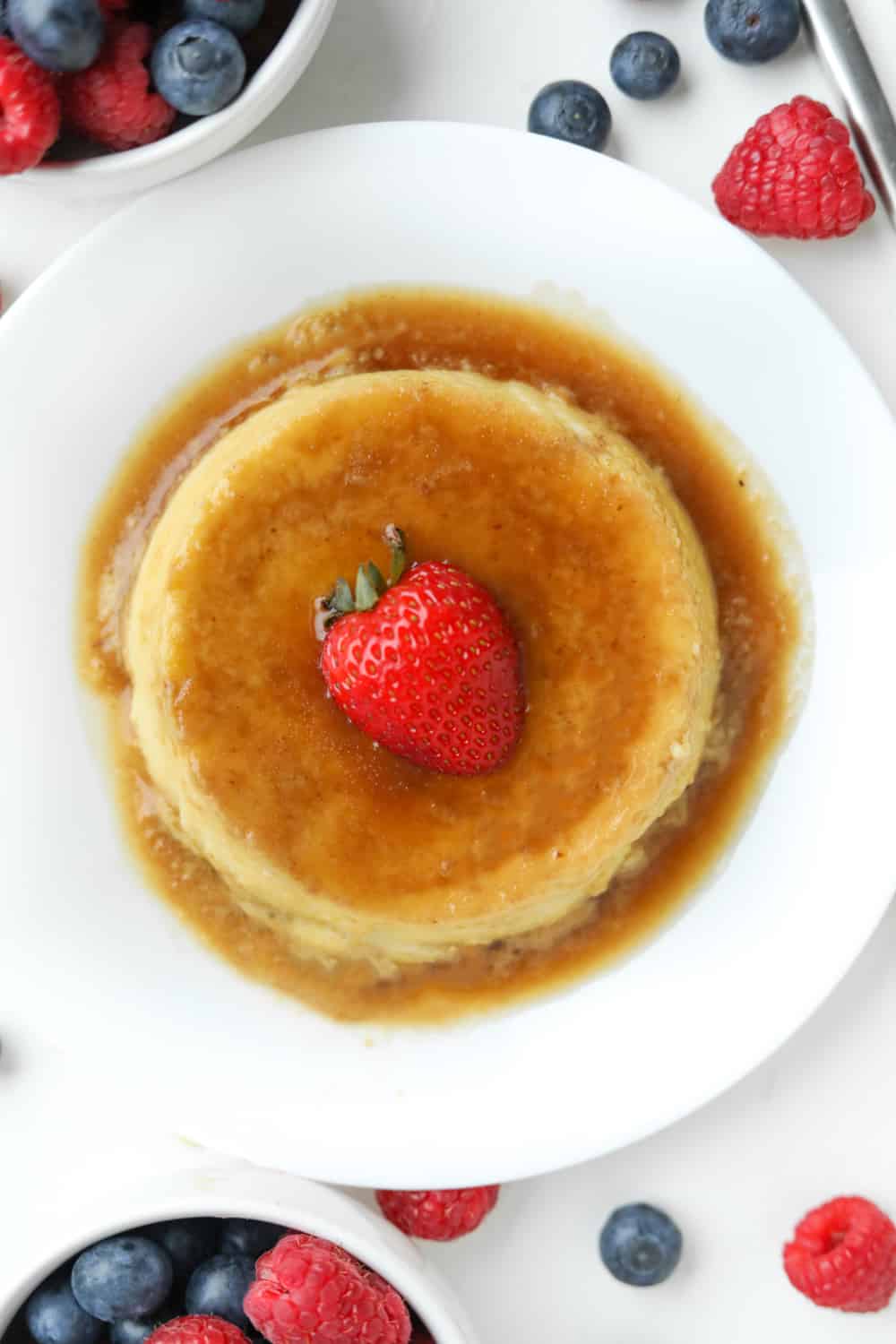 Use The Right Sweetener
So, there are a lot of sugar alternatives out there, but they're not all created equal.
As I mentioned above, I used Granulated Swerve to make my keto flan, and it's what I recommend you use as well.
In fact, I use Swerve in a lot of my keto dessert recipes, like this Chocolate Lava Cake, these Chocolate Chip Cookies, this Cheesecake, and this Keto Oatmeal.
Anyway, Swerve is a zero carb and zero calorie alternative to sugar that has NO IMPACT on blood glucose levels. That means it's a perfect sugar replacement for the keto diet.
Also, Swerve has the ability to caramelize flawlessly - which is important when you're making flan.
That said, if you'd like to substitute it out with something, I recommend using Lakanto's Monk Fruit or Sukrin if you're in Europe.
Both of those sugar substitutes are entirely carb-free and great for the keto diet.
However, if you use Sukrin, you might want to add a little more than I recommend using for the recipe because it is not a sweet as Swerve or Lakanto. So keep that in mind.
Sweeteners Not To Use
Stevia is a common sugar alternative many people use as a substitute for Swerve, Lakanto, or Sukrin in recipes.
Unfortunately, that's a bad idea for a couple of reasons.
Number one, Stevia - in its purest form - is 300 times sweeter than sugar. And that's MUCH SWEETER than the sugar alternatives I recommend using.
Number two, most "stevia" products are MOSTLY SUGAR - usually in the form of maltodextrin or dextrose - mixed with a teeny-tiny bit of stevia. And that's not good for the keto diet since sugar has carbs, and it creates a glucose response that can kick you out of ketosis.
So, I recommend avoiding using stevia altogether.
Are All of These Ingredients Keto-Friendly?
Yes, every single one of these ingredients is keto friendly. The only carbs in this recipe come from the heavy cream you will be using.
Other than that, the other ingredients are entirely carb-free.
How to Make a Keto Flan
Making this keto flan is simple and easy!
It just involves some heating and some mixing.
That said, the very first thing you will need to do to make this keto flan is to preheat your oven.
Preheating your oven to 350° F before you start combining your ingredients gives the oven enough time to heat to the proper temperature. This way, the flan will be able to go straight into the oven once prepared.
Anyway, let's get into the nitty-gritty details on how to make keto flan!
Making The Caramel Sauce For the Flan
You'll start by prepping the caramel sauce. And to do that, you'll add the water and Granulated Swerve to a pot, whisk until combined, and bring to a boil.
Then, once that happens, add the butter, whisk again, and reduce until thick - the sauce should be dark tan as well.
Once the sauce looks as it should, you'll want to pour it evenly between three 8 ounce ramekins and add them to a large casserole dish.
You'll then want to add hot water to the casserole dish to keep your ramekins in a water bath as you make the custard/pudding part of the flan. And you should add enough water so that it comes about half-way up the ramekins.
The water will keep the caramel sauce from hardening & it will also regulate the heat inside the custard to provide even baking. Doing this also ensures the custard is smooth and creamy throughout when it's done baking.
So don't skip this step!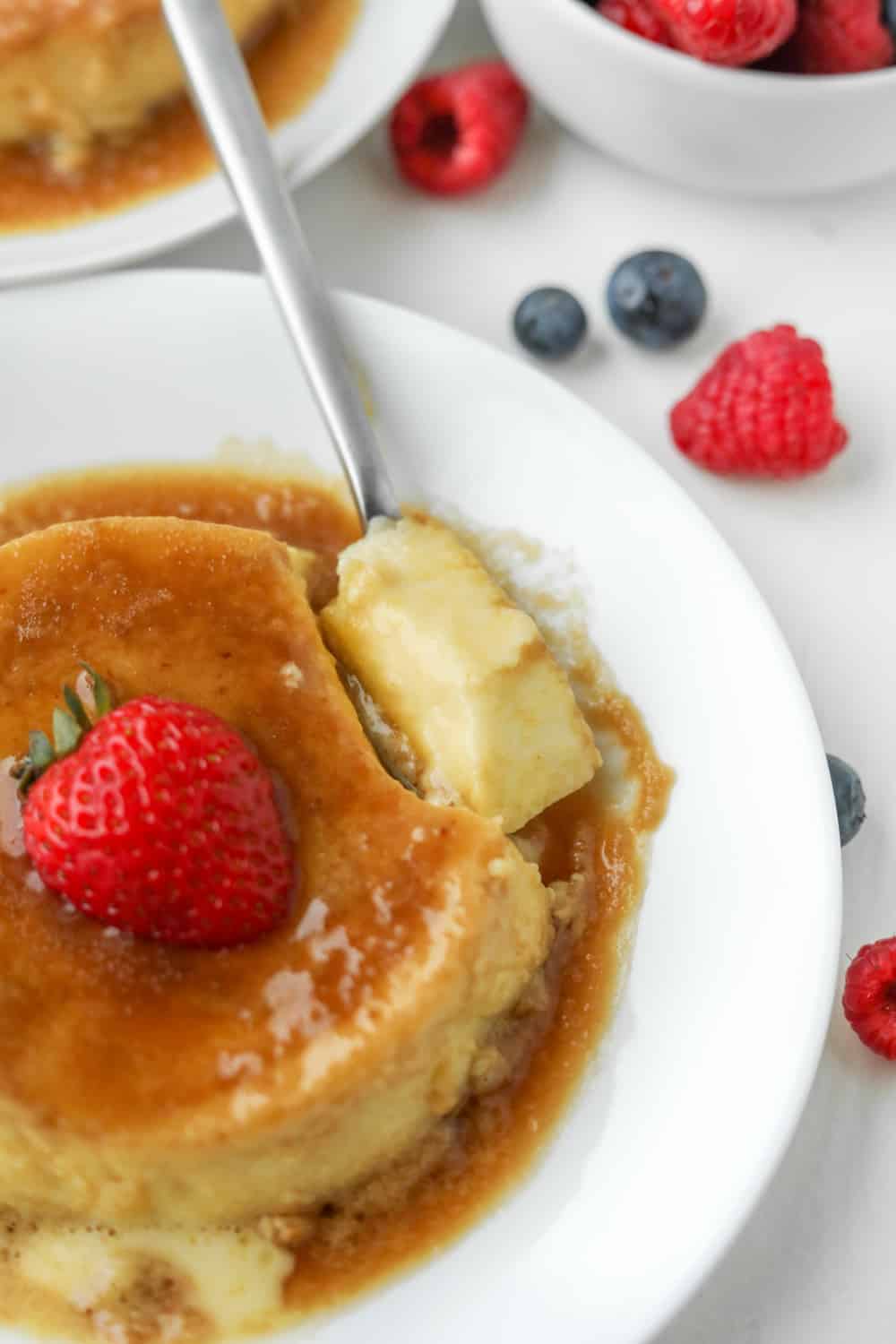 Making The Custard/Pudding For the Flan
Ok, to start, you can grab a medium-sized bowl, and add the heavy cream, Granulated Swerve, and pure vanilla extract to it. Then, once those ingredients have been added, you can whisk them together until everything is combined.
Now, in another small bowl, add and whisk together the eggs and egg yolk.
Slowly pour the egg mixture into the cream mixture, and stir them together until combined and smooth.
Then, when the cream, eggs, sweetener, etc. are well combined, pour the mixture on top of the caramel inside the ramekins.
Baking The Flan
Ok, now that your ramekins are prepped, you can bake them in the casserole dish for 40 to 50 minutes.
Starting at 40 minutes, check on the flan every five minutes if it isn't finished. The flan should be firm but jiggly in the center.
When the flan is baked to the proper texture, remove the casserole dish from the oven and let the flan cool down to room temperature.
Serving Instructions
After the flan has finished cooling, run a knife around the edge of the ramekin to make sure the flan isn't sticking to the sides.
Turn the ramekin upside down on a plate to release the flan. By the way, it's possible that you will have to jiggle the ramekin a little bit to get the flan to pop out.
Finally, serve and enjoy!
It's literally that easy to make a flan for keto.
Pretty great, right?!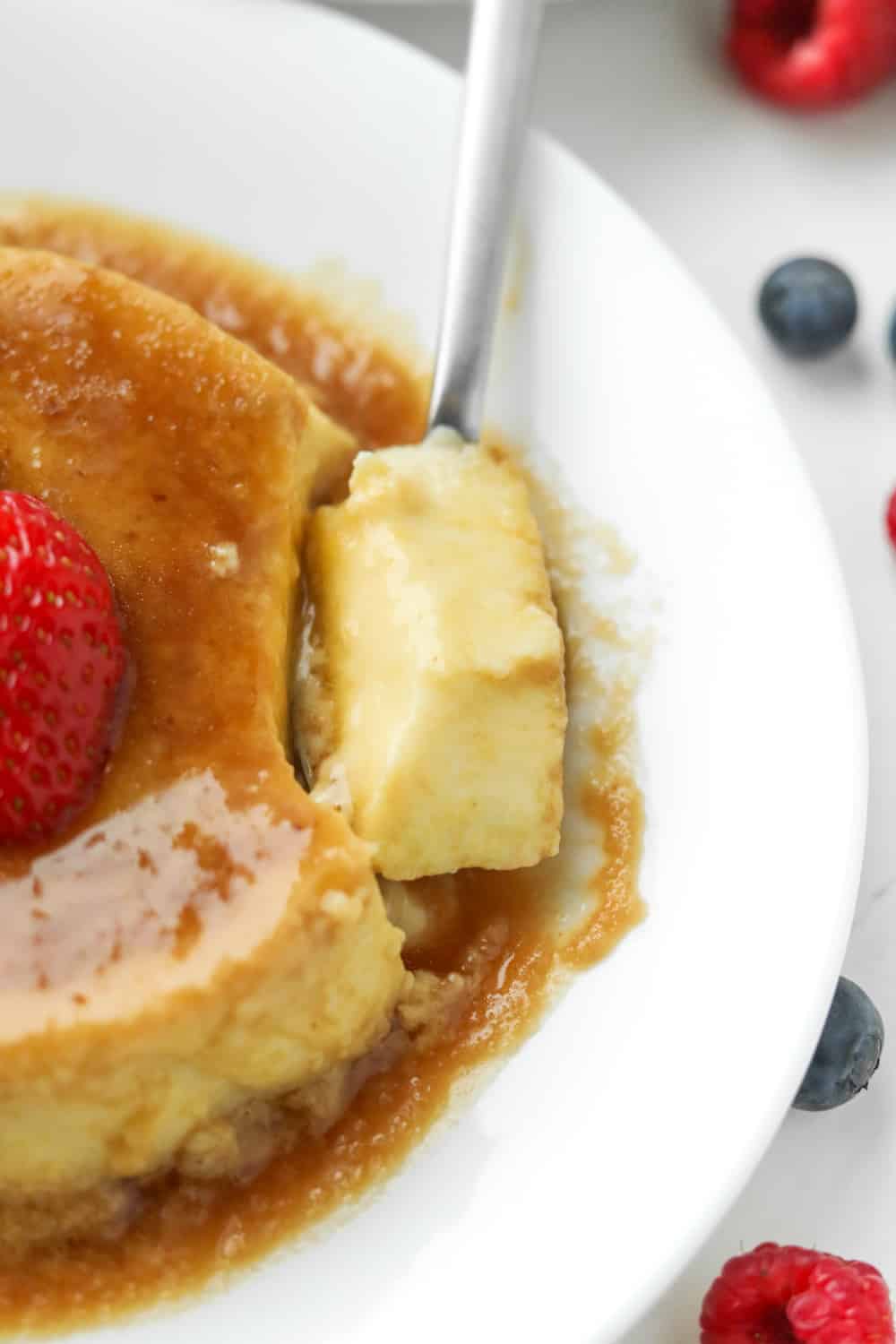 Storing the leftovers
Ok, so you made this keto flan, you loved it, and now you've got some leftover. And I recommend storing those leftovers covered in the fridge.
The flan will stay good for up to 4 days in the refrigerator. But, for best tasting results, eat it within the first two days that you make it.
Having said that, whenever you're ready to reheat the flan, loosely cover it with foil and cook it on a baking sheet until hot - around 10-15 minutes.
Nutritional Info per Serving of Keto Flan
This recipe makes three servings, and each one has:
415 calories

42 grams of fat

2 grams of carbs

0 grams of fiber

2 NET CARBS

6.5 grams of protein
Pretty nice keto macros, right?
I mean, regular flan is made with a bunch of sugar and has a ton of carbs as a result. But as you can see above, this keto flan is extremely low carb, and added sugar-free! So not only is it an excellent flan recipe for keto but it's also a superb flan recipe if you have diabetes as well.
Even if you aren't on a keto diet, but you would like to try a healthier -sugar-free - version of this dessert, give it a try!
You will love it!
Print
Keto Flan Recipe ONLY 2 CARBS
This Keto Flan Recipe is rich, creamy, and perfectly sweetened. And the entire thing has just 2 NET CARBS! Honestly, this keto flan is so good that it might just be one of the best low carb keto dessert recipes you can make.
Author:
Prep Time:

10 Minutes

Cook Time:

40 Minutes

Total Time:

50 minutes

Yield:

3 Servings

Category:

Dessert

Method:

Baking

Cuisine:

Keto & Low Carb
Instructions
Preheat your oven to 350° F. 

In a small pot, add the water and a ¼ cup of the Granulated Swerve.

Bring it to a simmer and then add the butter.

Whisk on-and-off until it becomes dark and tan in color, but nothing further than that because it can burn quickly.

Once the caramel gets to that color, pour it out evenly into the bottom of three ramekins.
Once that's done, place the ramekins in a casserole dish, and fill the dish with warm water until it's about half-way up the ramekins.
Now, in a medium-sized bowl, add and whisk the cream, Swerve, and vanilla until everything has combined.

Then, in a small bowl whisk together the eggs and egg yolk. 

Now, slowly pour/whisk the egg mixture into the cream mixture and stir until completely combined.

Then, evenly pour the cream on top of the caramel-filled ramekins.

Now bake the dish for roughly 40-50 minutes (checking on it every five-or-so minutes at this point) until the flan is firm with a jiggly center. 

Once the flan has cooked to that texture, remove it from the oven, and let it cool to room temperature.

Then, when it cools, run a sharp knife around the edge of the ramekin, and turn it upside down on a plate, and serve. NOTE: You may have to lightly jiggle it until it pops out of the ramekin.
Nutrition
Serving Size:

1 Flan

Calories:

270

Fat:

42

Carbohydrates:

2

Fiber:

0

Protein:

6.5
Keywords: keto flan, keto flan recipe, keto dessert recipes, keto desserts, flan keto, flan for keto, low carb flan, keto custard, keto pudding, keto custard recipe, flan recipe, healthy flan recipe, no sugar flan, flan, how to make keto flan, how to make flan keto