These Keto Snowball Cookies are the perfect holiday cookie! And some of you may know these as Keto Mexican Wedding Cookies, or even Keto Russian Tea Cookies, but I think everyone can agree to call them delicious. That's because they're rich, nutty, and filled with melt-in-your-mouth buttery goodness. Best of all though, each one of the keto cookies has just 1 NET CARB!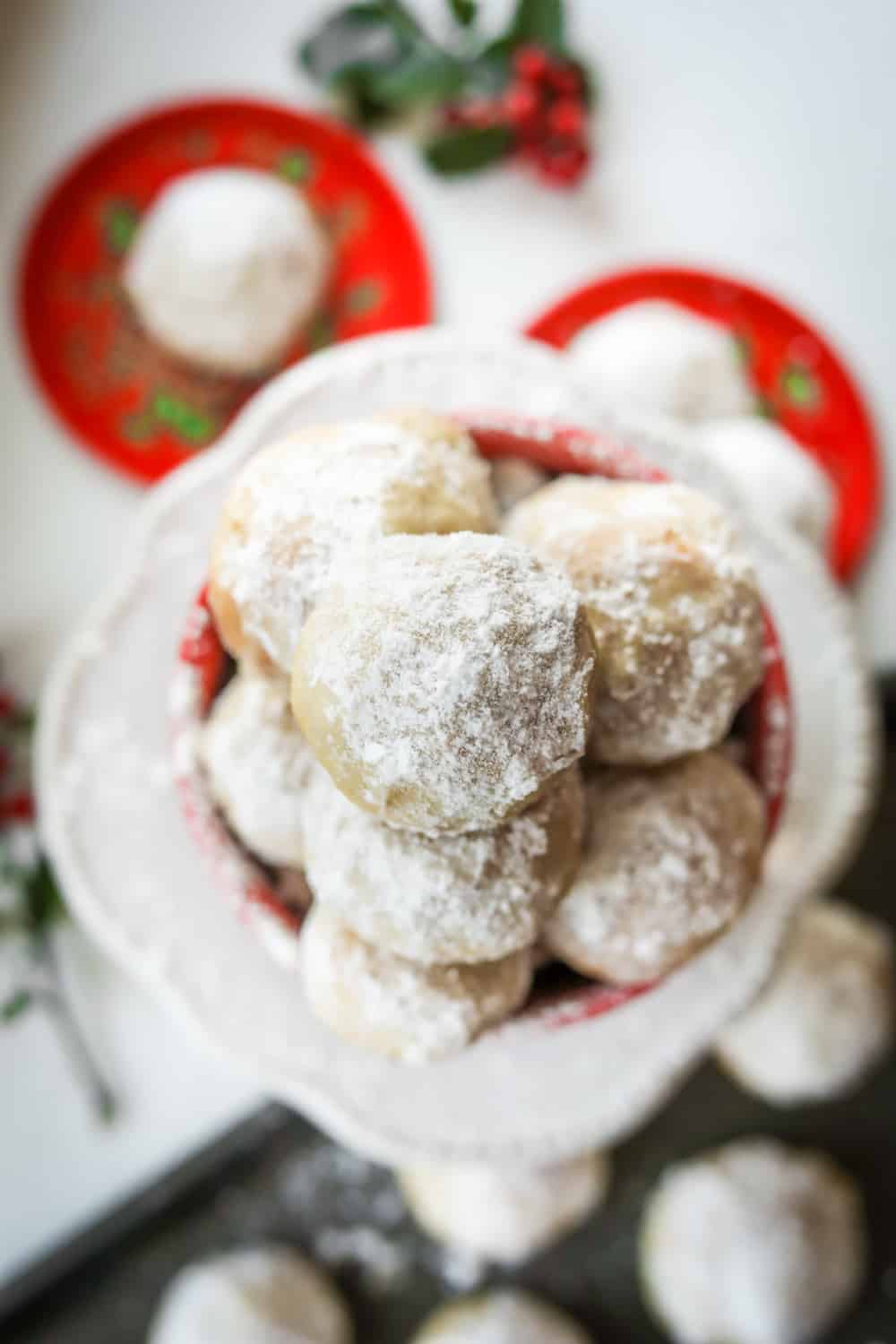 The Best Keto Snowball Cookies
These keto snowball cookies (also known as Russian tea cakes) are the real deal.
Now, sticking to a low carb diet can be challenging during the holiday season.
I mean, there's just so many party's, and so much food.
And usually, the food is about as far from keto as possible. It's truly the season of comfort food...am I right?!
Of course, one of the most popular traditions during this time of year is making cookies.
And I'm not talking about making just 12 cookies, but making like 1200 cookies. Of course, these aren't usually low carb or keto.
But, today, we're going to change that!
Today, I'm going to show you how to make the best keto snowball cookies on planet earth.
Seriously, they're addicting. Like, you can't just eat one of these keto snowball cookies, so it's a good thing they are so low in carbs!
So, be prepared to overindulge, but not feel too bad about it afterward!
Ingredients
The ingredients you need for these keto snowball cookies are really straightforward.
And those ingredients are...
Pure vanilla extract

Almond flour

Coconut flour

Salt

And the walnuts from earlier
Pretty simple, right?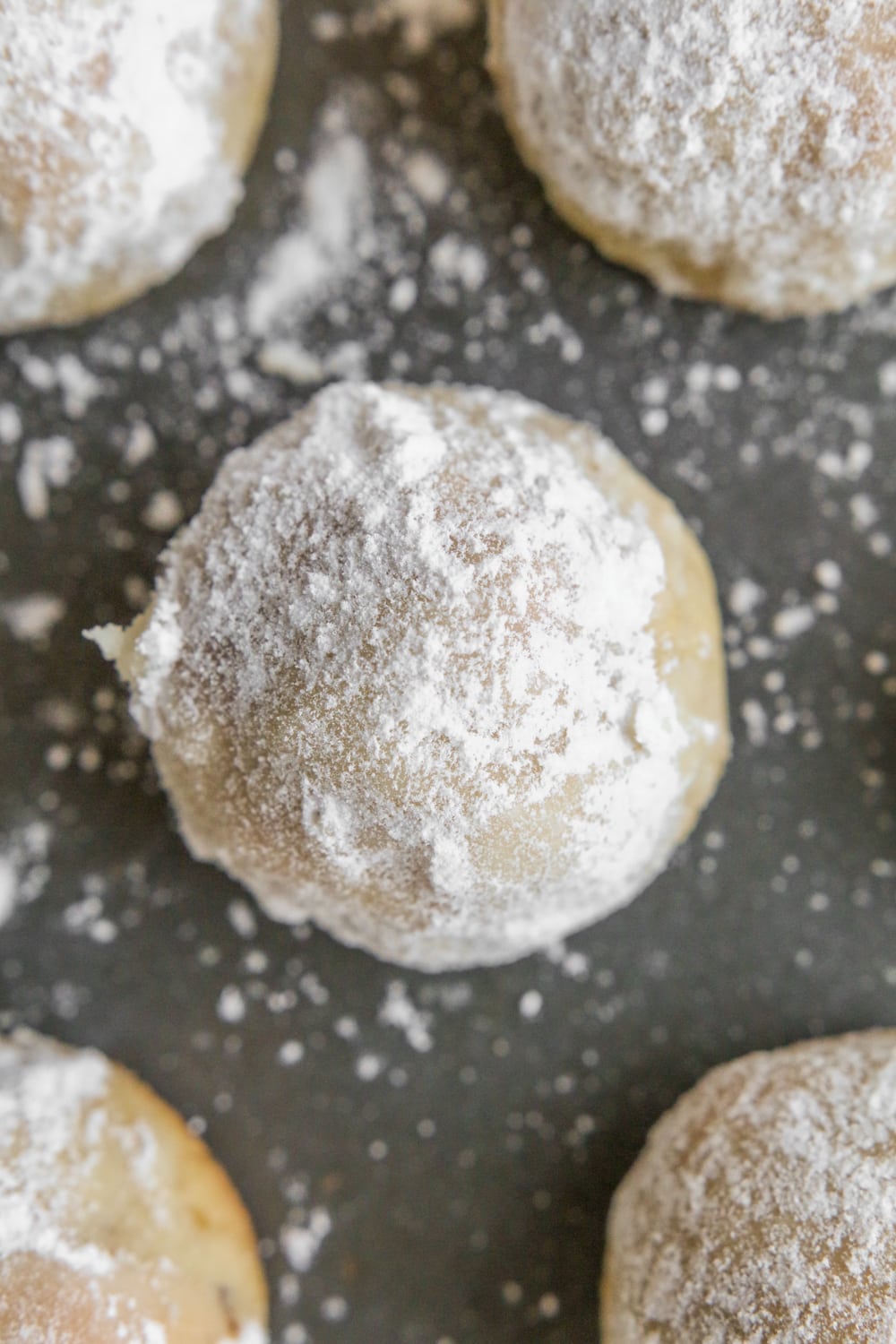 Keto Flours To Use, & NOT To Use
First off, this recipe definitely works BEST with almond flour.
That said, I know a lot of people are allergic to it, or simply don't like to use it.
If you fall into either of those two categories, I have good news. You definitely can substitute the almond flour out of these snowball cookies, but you want to make sure you do it with the right low carb keto flour.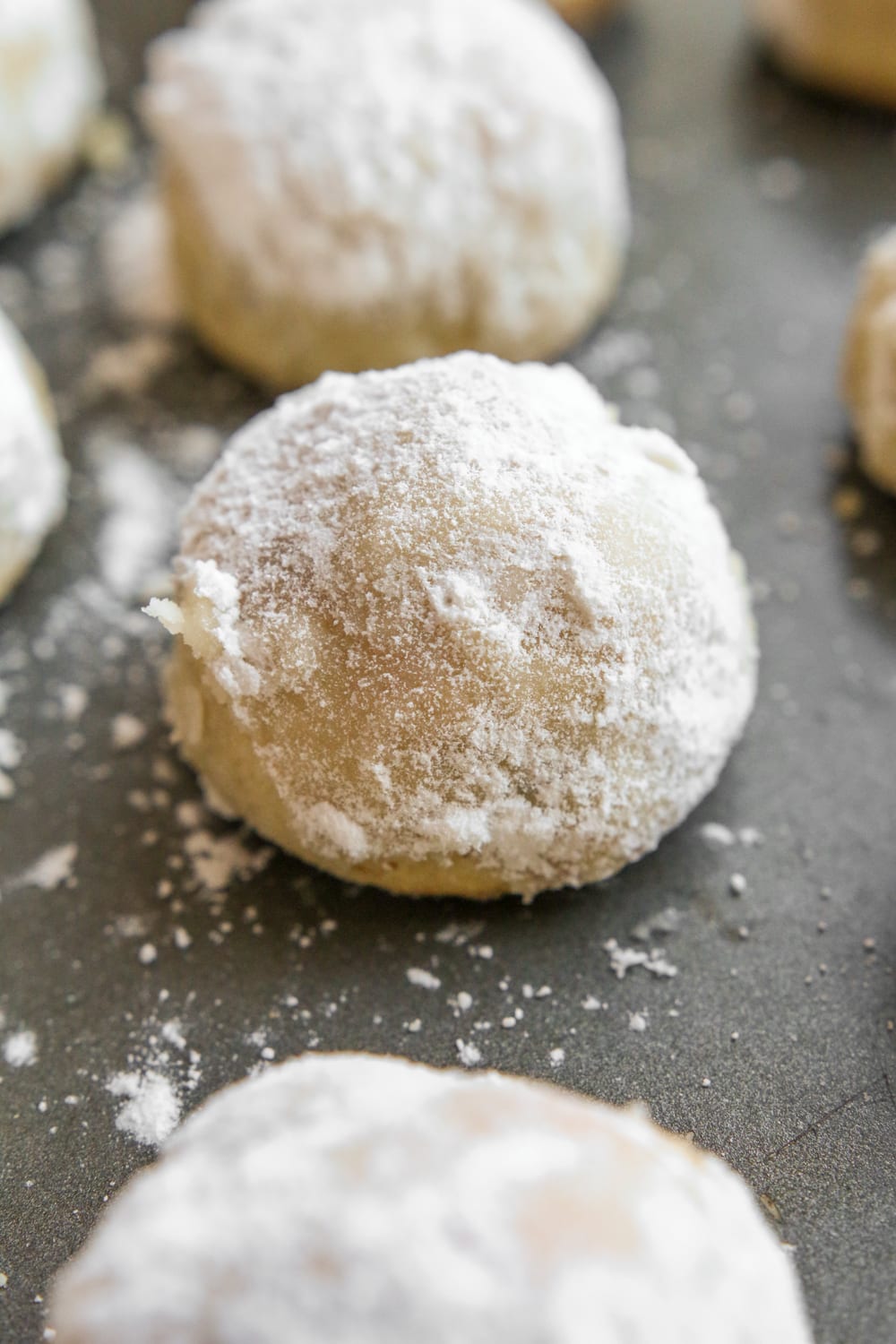 The rookie mistake is substituting almond flour for more coconut flour. Unfortunately, you cannot substitute these on a 1:1 basis as coconut flour is FAR MORE ABSORBENT than almond flour.
So, don't use coconut flour.
Because if you do, you're going to end up with a dry mess.
And probably 0 cookies.
Instead, use either walnut flour or sunflower seed flour. Both of these flours are keto friendly, and can be substituted for almond flour on a 1:1 basis.
The only thing to keep in mind is that walnut flour can have a pungent taste to it, and sunflower seed flour is more neutral tasting.
Keto Friendly Sugar Substitutes
Ok, so to make these keto snowball cookies low carb and keto, you obviously want to skip the sugar.
And my favorite way to replace sugar in this keto Russin tea cakes recipe, and all keto recipes, is by using Swerve.
The reason I like to use Swerve is that it measures cup for cup like sugar.
You can't say the same thing for a lot of other sugar substitutes.
For instance, stevia is 600 times sweeter than sugar - in it's purest form - and as I said Swerve is only as sweet as sugar.
So, clearly, you don't want to substitute them for one another.
That said if you don't want to use Swerve use this monk fruit sweetener from Lakanto. It's as sweet as sugar so you can substitute it on a 1:1 basis.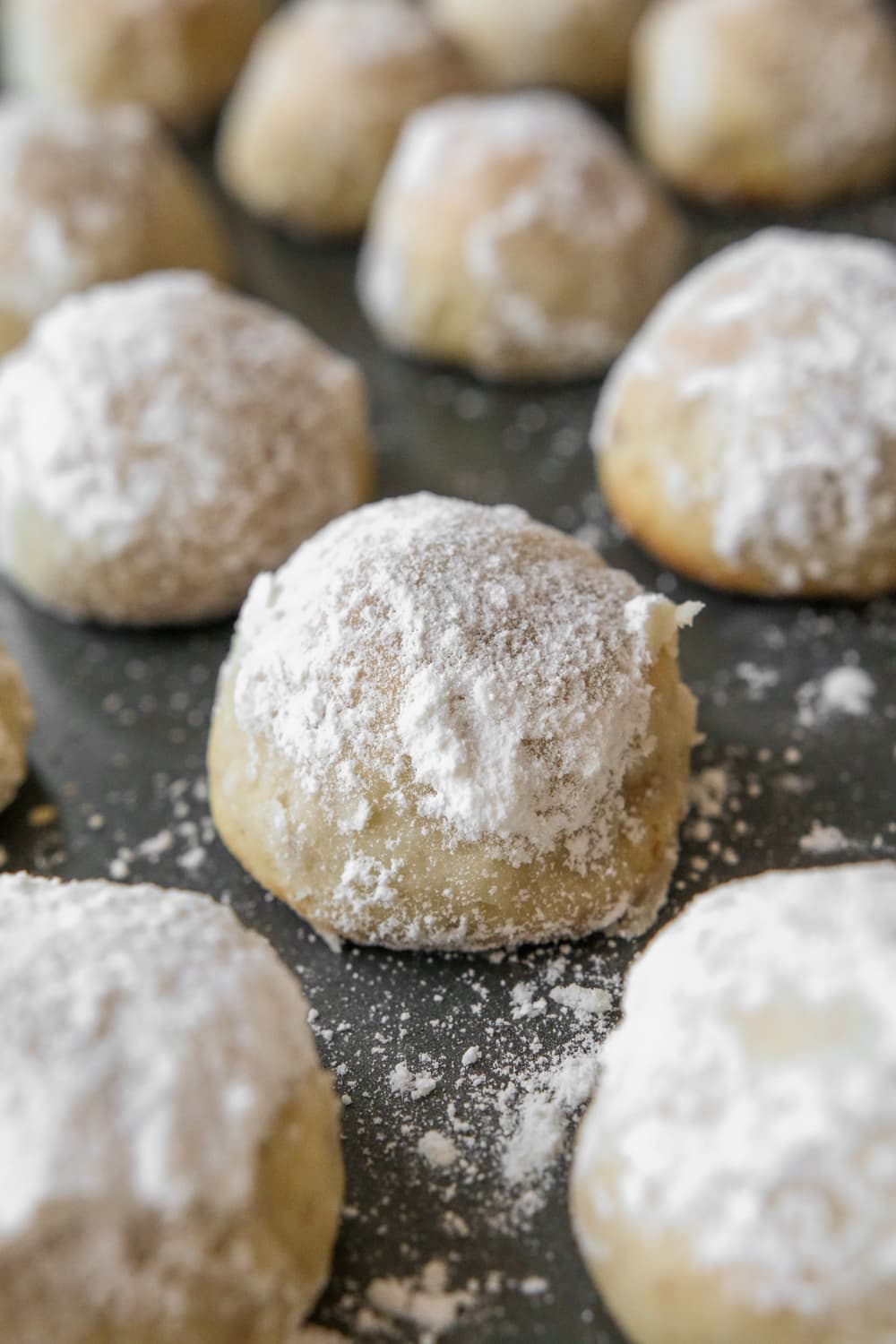 Replacing the Walnuts
A few people have already asked me if it's possible to replace the walnuts with pecans.
And the answer is 100 percent yes!
Just substitute the walnuts for pecans on a 1:1 basis.
Your snowball cookies will turn out just as delicious with pecans.
How To Make Keto Snowball Cookies
Snowball cookies are actually one of the easiest cookies to make.
The hardest part is just waiting for the dough to chill so that the cookies don't spread out as they bake.
Step 1: Prep
So, the first thing you'll want to do is preheat your oven to 325 degrees Fahrenheit.
Now, add either 1 cup of walnuts - or pecans - to a food processor and process until crumbly.
Step 2: Adding and Combining the Ingredients
Next, you'll want to soften a stick of butter in the microwave, and then use a hand mixer to combine some powdered sugar substitute into it. Once things are looking creamy, you can add all of the other ingredients into the bowl.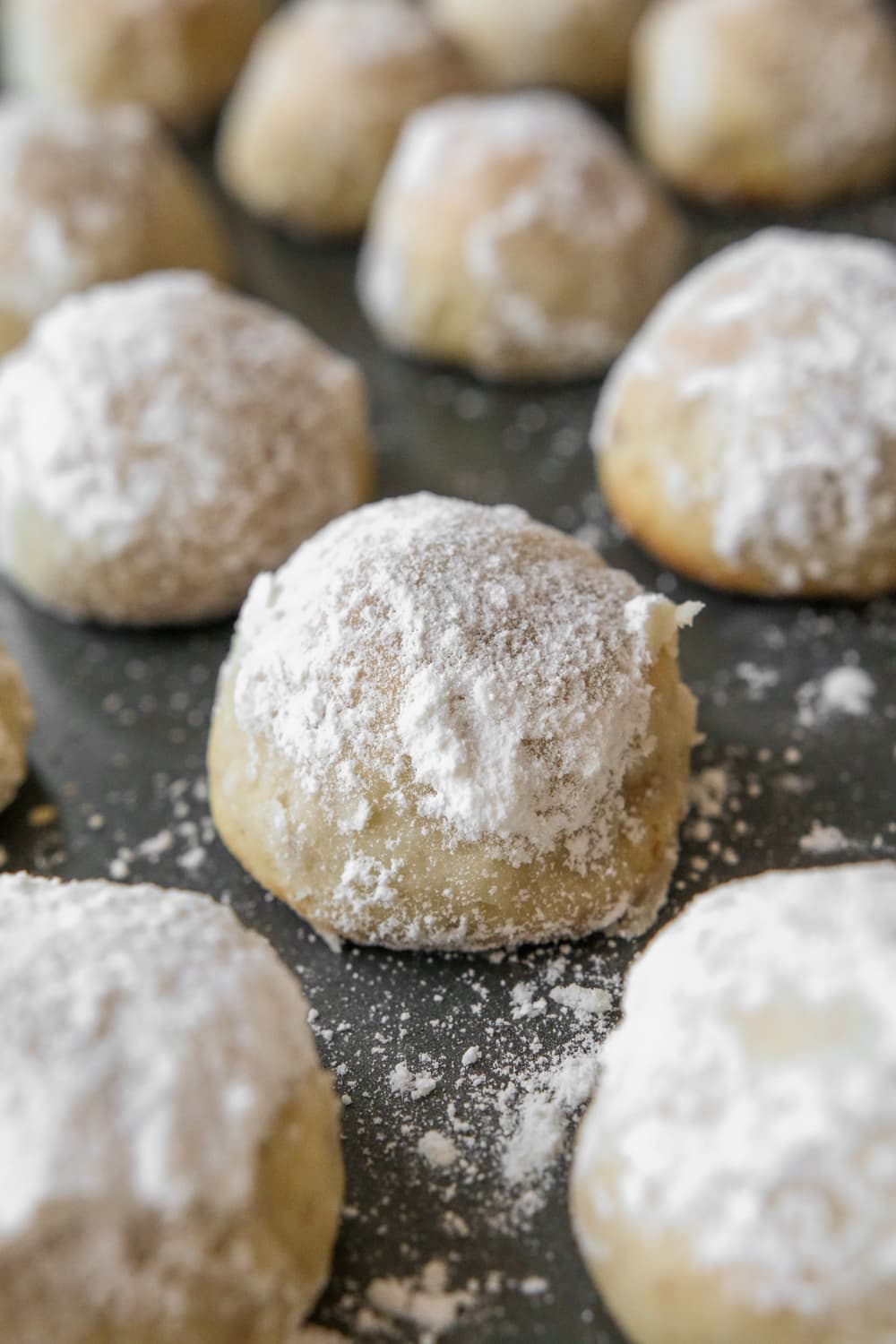 When you've added those, you'll want to use your hand mixer again, and mix everything on medium-low speed until crumbly.
Now, at this point, use your hands to form a ball of dough, and then refrigerate the dough for atleast an hour.
Step 3: Shaping and Cooking The Cookies
So, after that amount of time passes, you can form 20 truffle sized balls of cookie dough and add them to a baking sheet lined with parchment paper.
Once you've got the cookie dough added to the baking sheet, chill it for 15 minutes.
As I mentioned earlier this just ensures that the cookies will not spread while you cook them.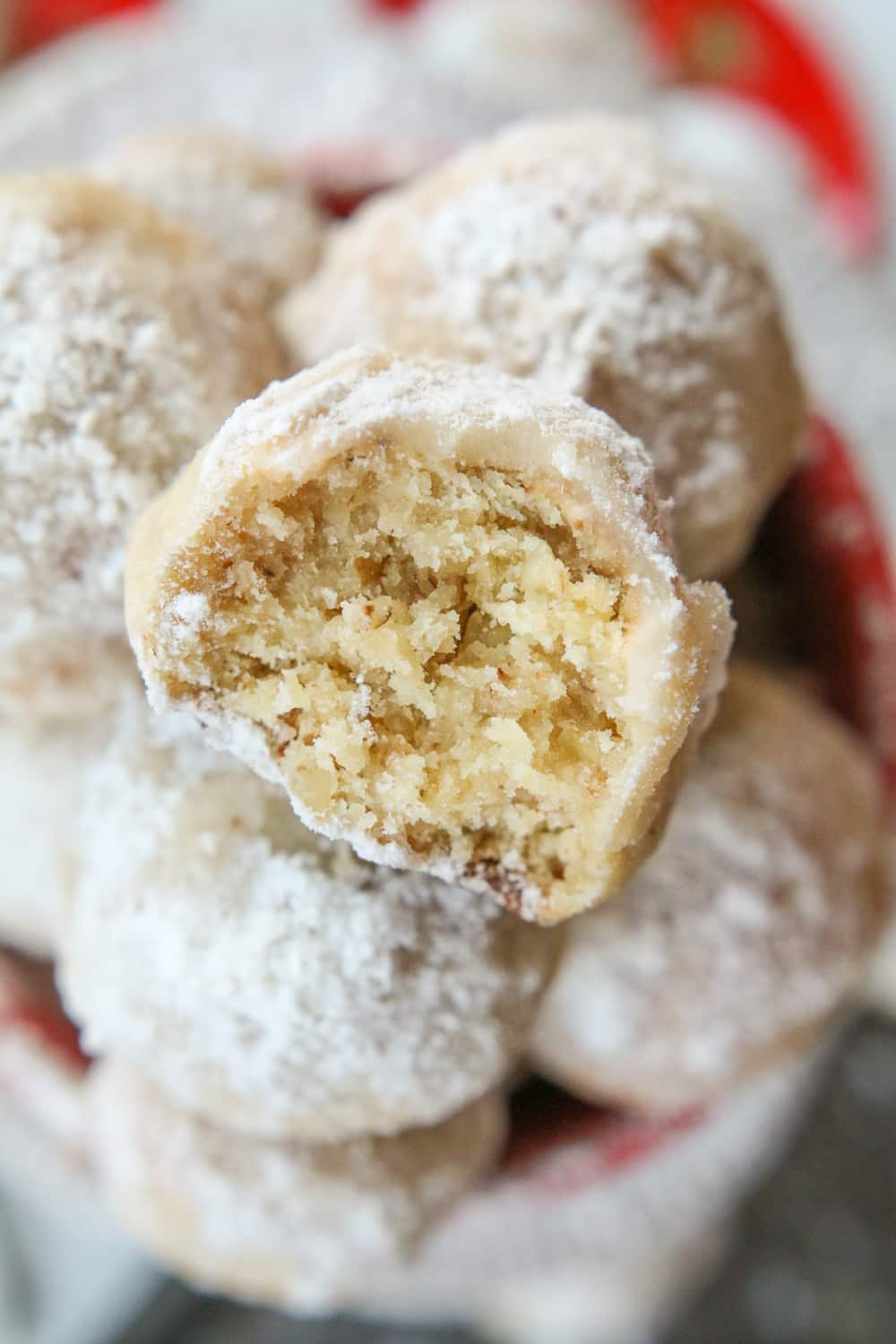 Bake them for 10-12 minutes at 325 degrees Fahrenheit, checking on them occasionally. You want just the tops of the cookies to start turning golden brown.
When the tops just start to look golden, remove the snowball cookies from the oven, and let them cool on the tray. They'll be soft when they first come out of the oven but will set as they cool.
Step 4: Adding The Topping
So, when they're firm but still warm, add them to a bowl filled with Confectioners Swerve and generously coat them in it.
Lastly, transfer the cookies to a wire rack to finish cooling.
Storing These Keto Snowball Cookies
Ok, so you made these keto snowball cookies, you ate 'em, and you loved 'em! But now you've got some sugar free snowball cookies left over.
Well, as far as storing the cookies, you can keep them out at room temperature, or you can keep them in the fridge/freezer.
If you store these Russian tea cakes at room temperature, or in the fridge, they'll stay good for up to a week.
However, if you store them in the freezer than can stay good for up to several months.
So, just keep that in mind if you don't eat all of these keto snowball cookies the day that you make.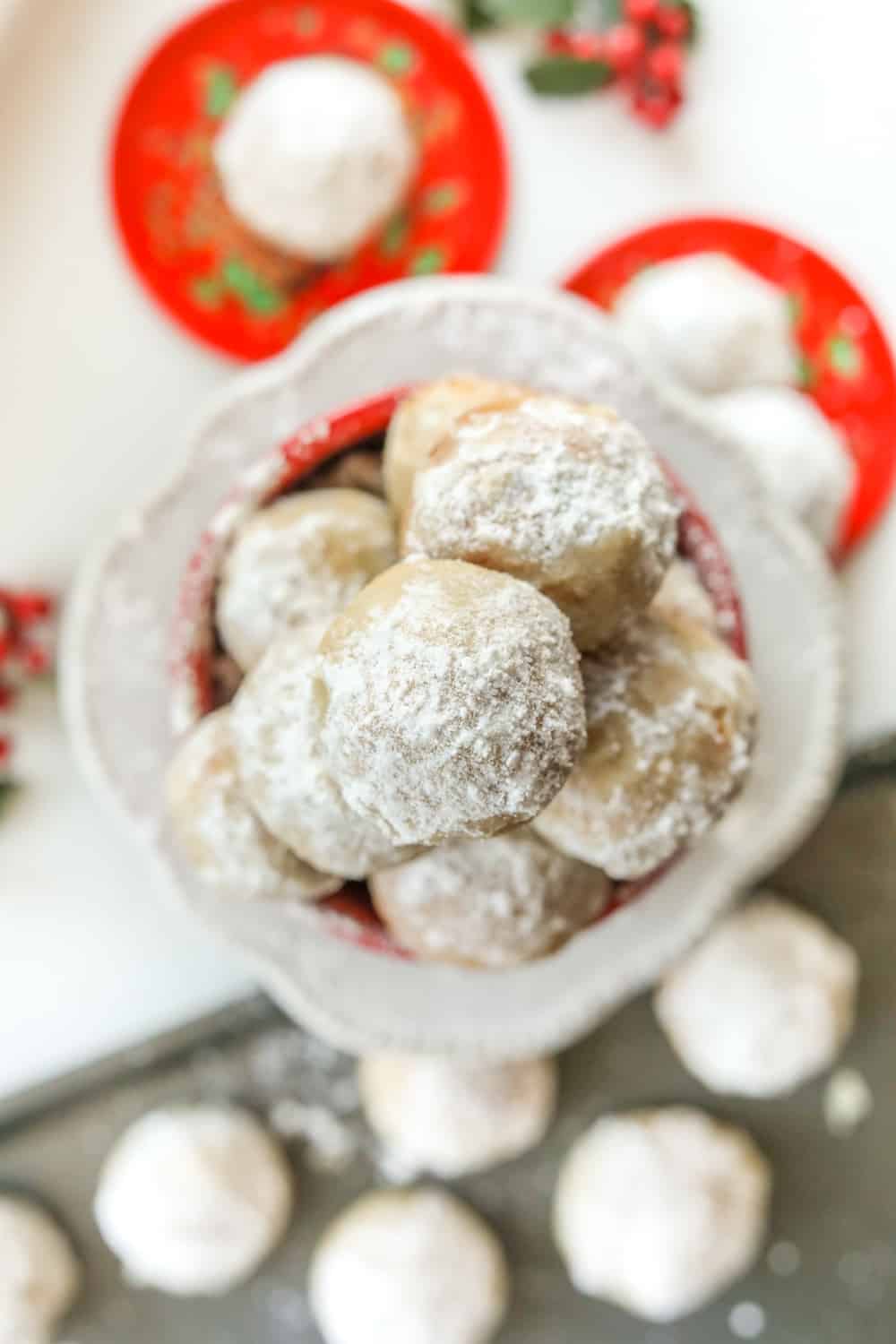 Other Keto Cookies For the Holidays
I've actually done quite a few keto cookie recipes on the blog already. And, most, if not all of them, would make perfect holiday cookies.
So check out these keto recipes:
Print
Keto Snowball Cookies
These Keto Snowball Cookies are the perfect holiday cookie! They're rich, nutty, and filled with melt-in-your-mouth buttery deliciousness. Plus, they're just so easy to make. Best of all, you'd never know these were low carb snowball cookies...they taste just like the real thing.
Author:
Prep Time:

10 minutes

Cook Time:

10 minutes

Total Time:

20 minutes

Yield:

20 Cookies

Category:

Dessert

Cuisine:

Keto
Instructions
Add the walnuts to a food processor and process until ground (don't over process).
Now in a medium sized bowl soften the butter just a bit in the microwave, add the Swerve to it, and beat with a hand mixer until combined and creamy.

Once combined, add the rest of the ingredients into the bowl, and beat until crumbly.

When the ingredients become crumbly use your hands to form a ball of dough, and refrigerate it for atleast an hour (this ensures the cookies don't spread).

Now use your hands to form 20 small truffle sized cookies and add them to 2 baking sheets lined with parchment paper.

Chill the dough again for about 15 minutes.

Cook at 325 Degrees F. for about 10-12 minutes (until they just turn golden brown on top). *NOTE: You'll want to cook them in 2 batches to avoid the cookies burning on the bottom.

Let them cool in the pan...they'll be soft when the come out, but as the cool they'll firm up.

When they're a bit firmer (but still warm) toss them in the Confectioners Swerve topping and let them finish cooking on a wire rack.

Store in a sealed bag/container for several days.
Notes
***The "scale up" function in this recipe card does not scale up the grams properly, so you'll need to do this yourself.
Nutrition
Serving Size:

1 Cookie

Calories:

140

Fat:

12.75

Carbohydrates:

2.75

Fiber:

1.5

Protein:

3
Keywords: keto snowball cookies, low carb snowball cookies, how to make keto snowball cookies, snowball cookies keto, keto cookies, how to make keto cookies, keto mexican wedding cookies, keto russian tea cookies, mexican wedding cookies keto