This handy guide has everything you need to know about ordering low calorie at Chipotle! So, if you're looking to build your Chipotle bowl from the "ground up", or just in the mood to pick a ready-to-go option with the lowest calories possible we've got you covered. In fact, this guide includes all of the tastiest menu options at Chipotle under 350 calories - and there's a lot of options. There's everything from steak bowls, to chicken salads, to barbacoa bowls, and even a vegan and vegetarian bowl as well.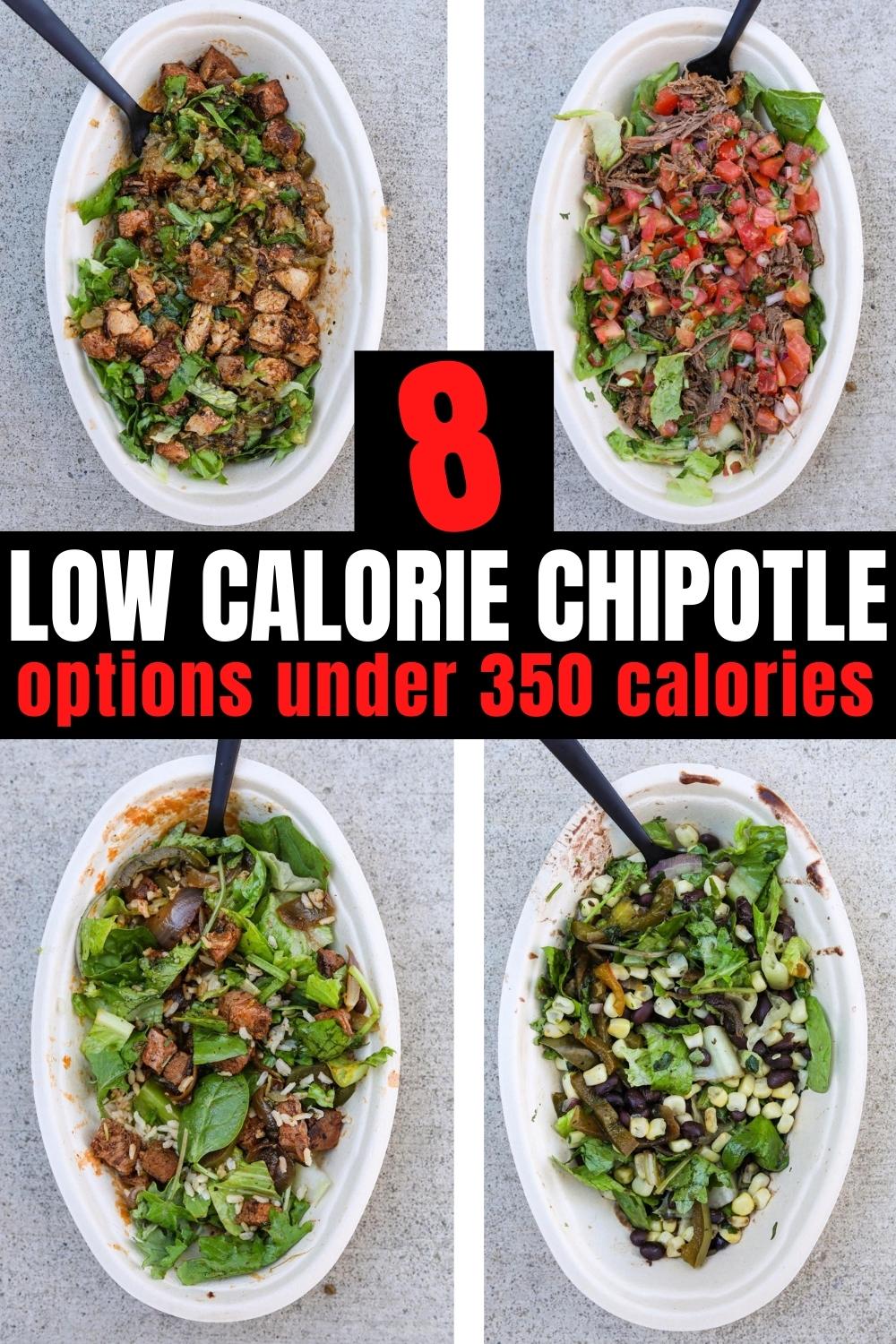 The Best Low Calorie Chipotle List
Chipotle is hands down one of the best places you can go to order a quick, healthy, and delicious meal that's low in calories. That said, it can be hard to figure out exactly what you should order - and what to avoid/limit - at Chipotle if you're following a low calorie diet.
So, that's exactly why I decided to put together this quick guide for ordering low calorie there.
As you'll see, this guide has all of the best low calorie Chipotle bases, proteins, toppings, and salsas that you can choose from. I also even included some menu items you might want to limit - or avoid - on your next trip as well.
My hope is that after reading this post you'll be able to create the best low calorie Chipotle order for your tastes, preferences, and goals. And I wanted to make your decision to do so as easy as possible for you.
Oh, and, of course, I'll also be giving you some order examples down below to give you some ideas - and to save you the trouble of calculating the calories yourself. Everything on the list is filling and tasty, and has less than 350 calories!
Lowest Calorie Options On The Menu
Base Options
Generally, you'll want to stick to salads or bowls since the flour tortillas used for the burritos and tacos have the most calories. You can also order only the lettuce or half a cup of rice to cut down on the total calorie count of your bowl.
Here's the calorie breakdown of the low calorie base options at Chipotle:
Supergreens Lettuce Blend - 15 calories

White or Brown Rice (½ portion) - 65 calories
Topping Options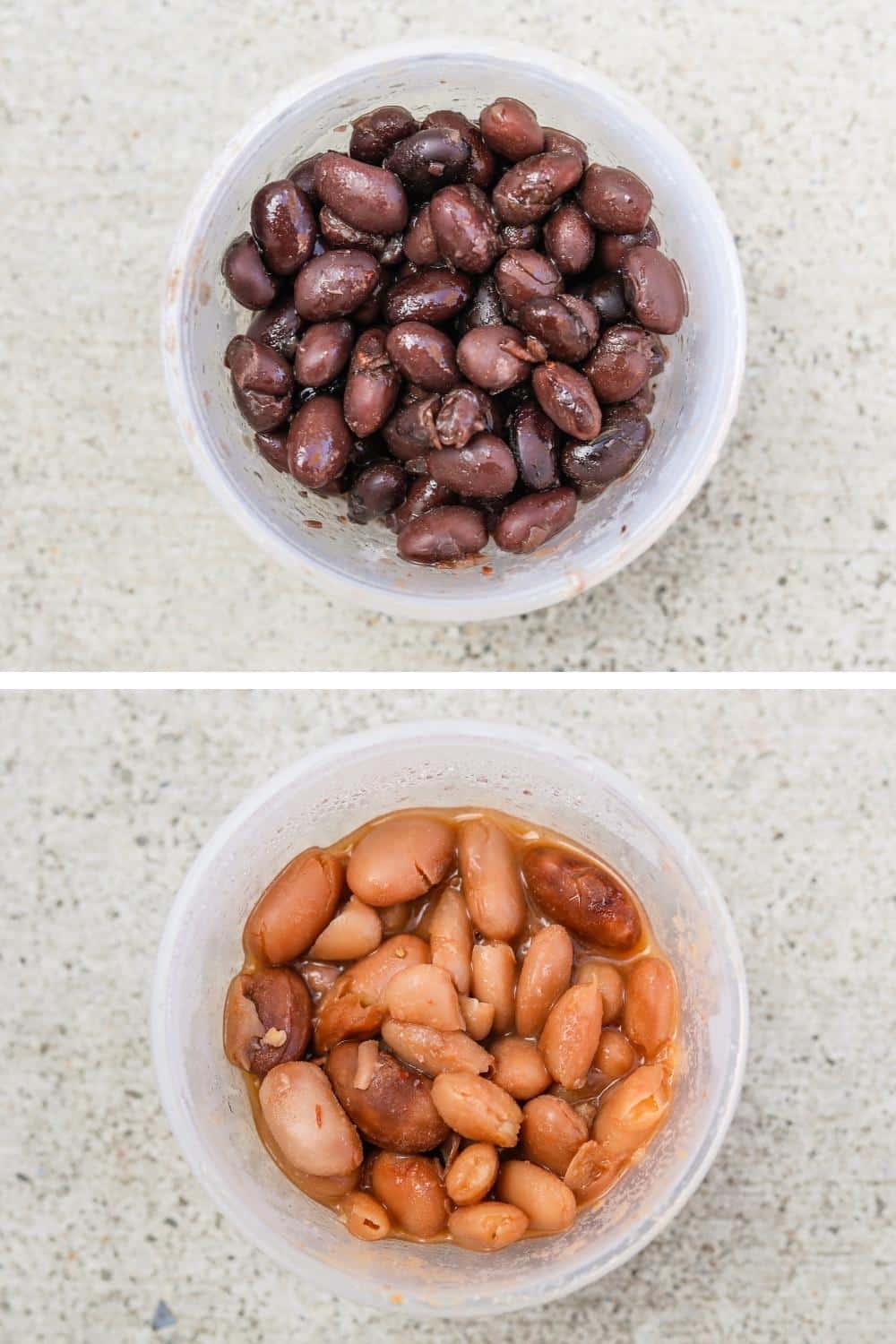 Toppings are a great way to add more flavor, texture, and nutritional benefits to your order. The lettuce blend and fajita veggies have the lowest calorie counts on the menu, so you can add them to practically anything.
With that said, I did include the pinto and black beans as well - mostly as a healthy protein source for the vegan and vegetarian folks. But, as you'll notice down below, I do recommend keeping both of them to "half orders" if you're trying to keep your meal lower in calories
Here's the calorie breakdown of the low calorie topping options at Chipotle:
Supergreens Lettuce - 15 calories

Fajita Vegetables - 20 calories

½ Serving Pinto Beans or Black Beans - 65 calories
Protein Options
The lowest calorie options for protein are steak and sofritas. The sofritas is Chipotle's main plant-based protein made of shredded tofu cooked in spices and chilies.
Here's the calorie breakdown for the protein options:
Steak - 150 calories

Sofritas - 150 calories

Barbacoa - 170 calories

Chicken - 180 calories
Salsa Options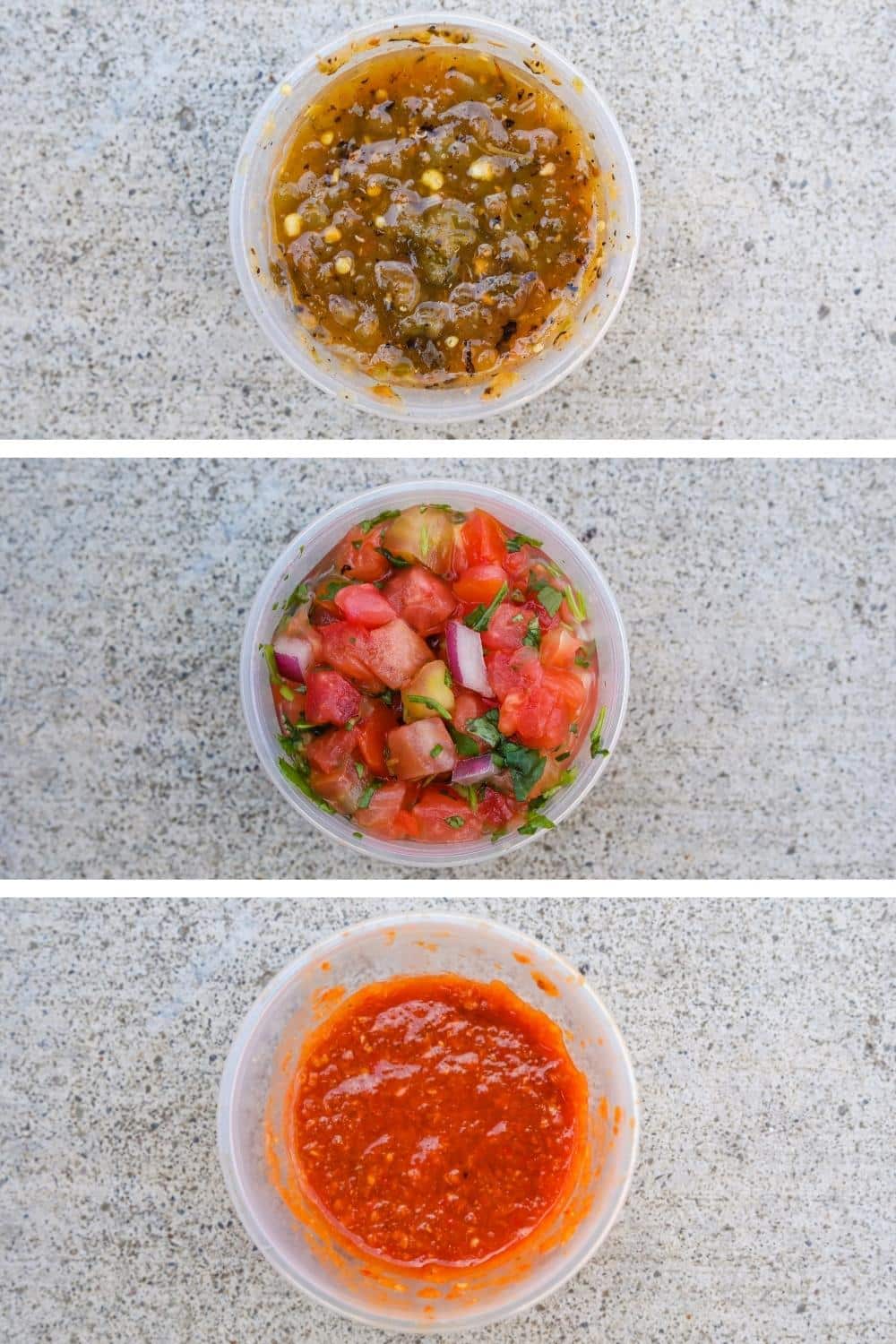 The fresh tomato salsa is the mildest, the red chili salsa is the hottest, and the green salsa and corn salsa sit right in the middle. All can of them can work well in a low calorie chipotle order, but the first three I mentioned a second ago are my top picks to go with. As you'll notice below, the corn salsa has over twice as many calories as the other ones.
Here are the salsa options:
Tomatillo Green Salsa - 15 calories

Fresh Tomato Salsa - 25 calories

Tomatillo Red Chili Salsa - 30 calories

Roasted Corn Salsa - 80 calories
What to Avoid at Chipotle For a Low Calorie Diet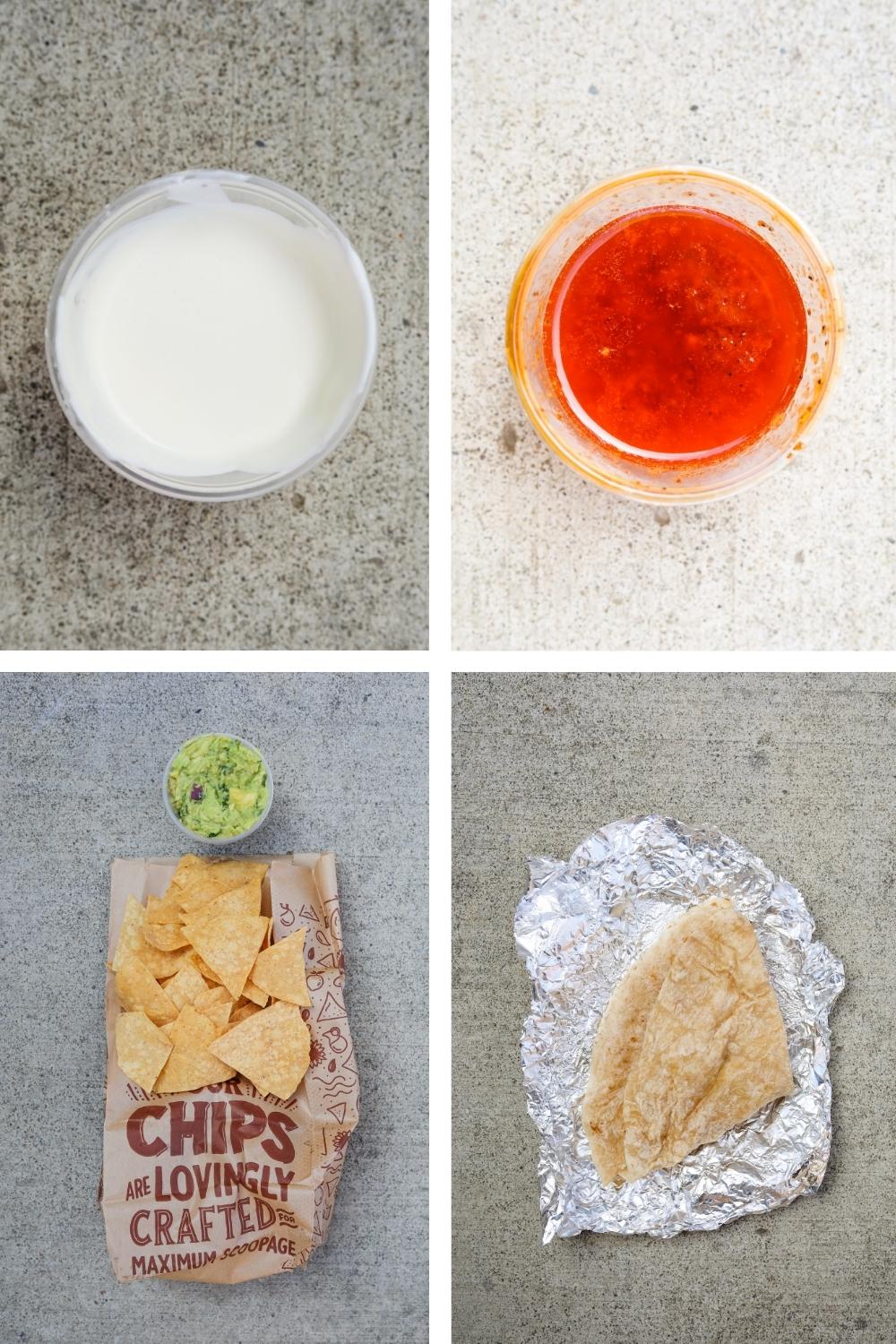 Now, while you can make a low calorie meal out of practically anything from the Chipotle menu, some things will drive the calorie count up faster than others. So, you'll want to be mindful of them.
Here are the Chipotle menu items with the highest calorie counts per serving:
Side of Tortilla Chips - 540 calories

Flour Tortilla - 320 calories

3 pc. Flour Tortillas - 250 calories

Guacamole - 230 calories

Chipotle Honey Vinaigrette - 220 calories

White or Brown Rice (full portion) - 210 calories

Carnitas - 210 calories

Garlic Guajillo Steak - 250 calories

Sour Cream - 110 calories

Queso Blanco - 110 calories

Monterey Jack Cheese - 110 calories
Low Calorie Chipotle Orders
So, now that you're all caught up on the calorie counts on the ingredients, let's dive into some of my go-to low calorie Chipotle orders.
By the way, these meals were calculated using the Chiptole Nutrition Calculator on their website. So, if you want to double-check the calorie count of your order or make some ingredient swaps, their calculator makes that incredibly easy!
Anyway, now let's dive into this list of low calorie Chipotle orders!
1. Barbacoa Bowl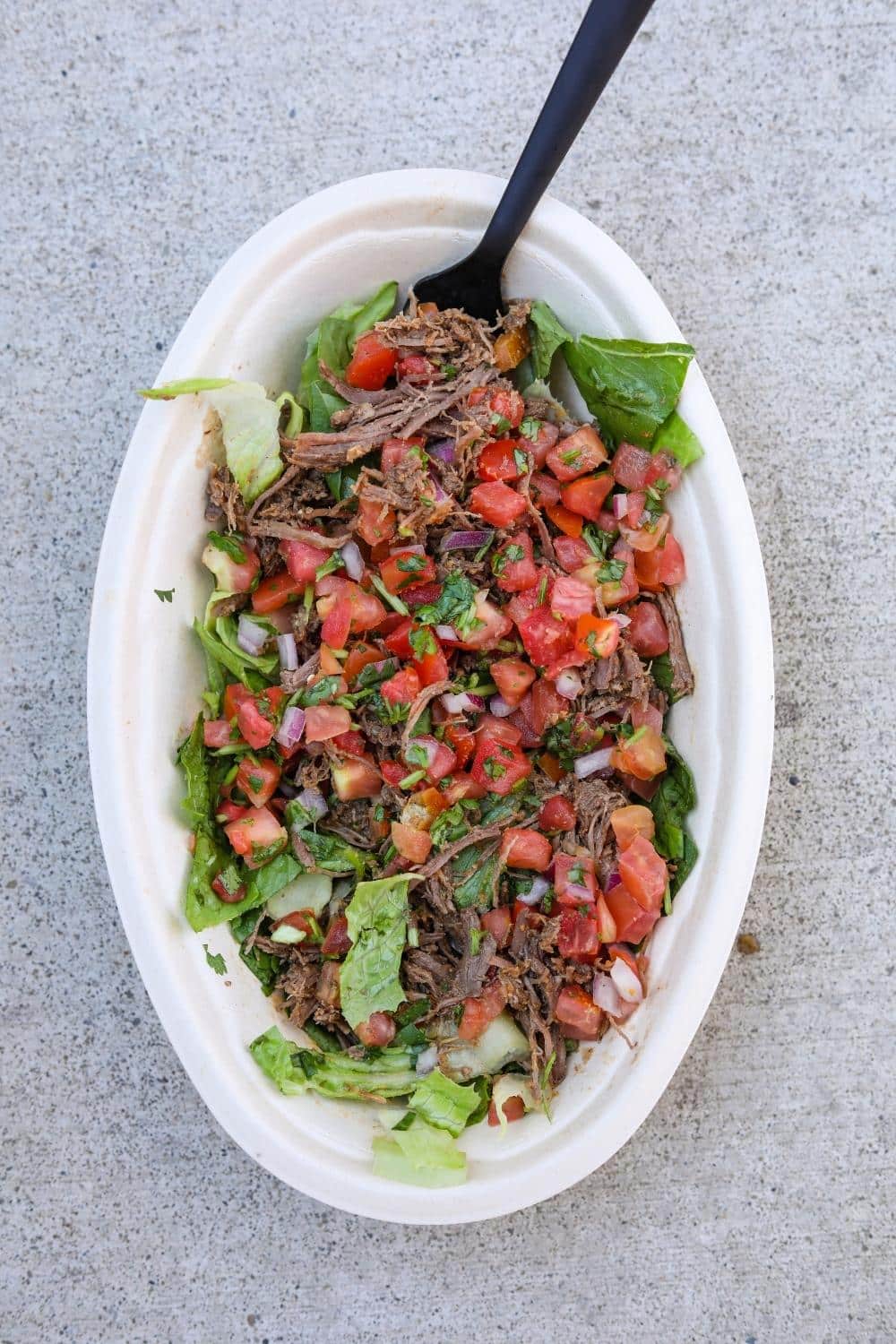 Chipotle's barbacoa is already incredibly juicy and packed with flavor, so it doesn't need a lot of additional ingredients for a satisfying meal.
This barbacoa bowl comes out to just 200 calories in total.
Here's how to order this option:
Barbacoa
Supergreens Lettuce Blend
Fresh Tomato Salsa
2. Chipotle Chicken Salad Bowl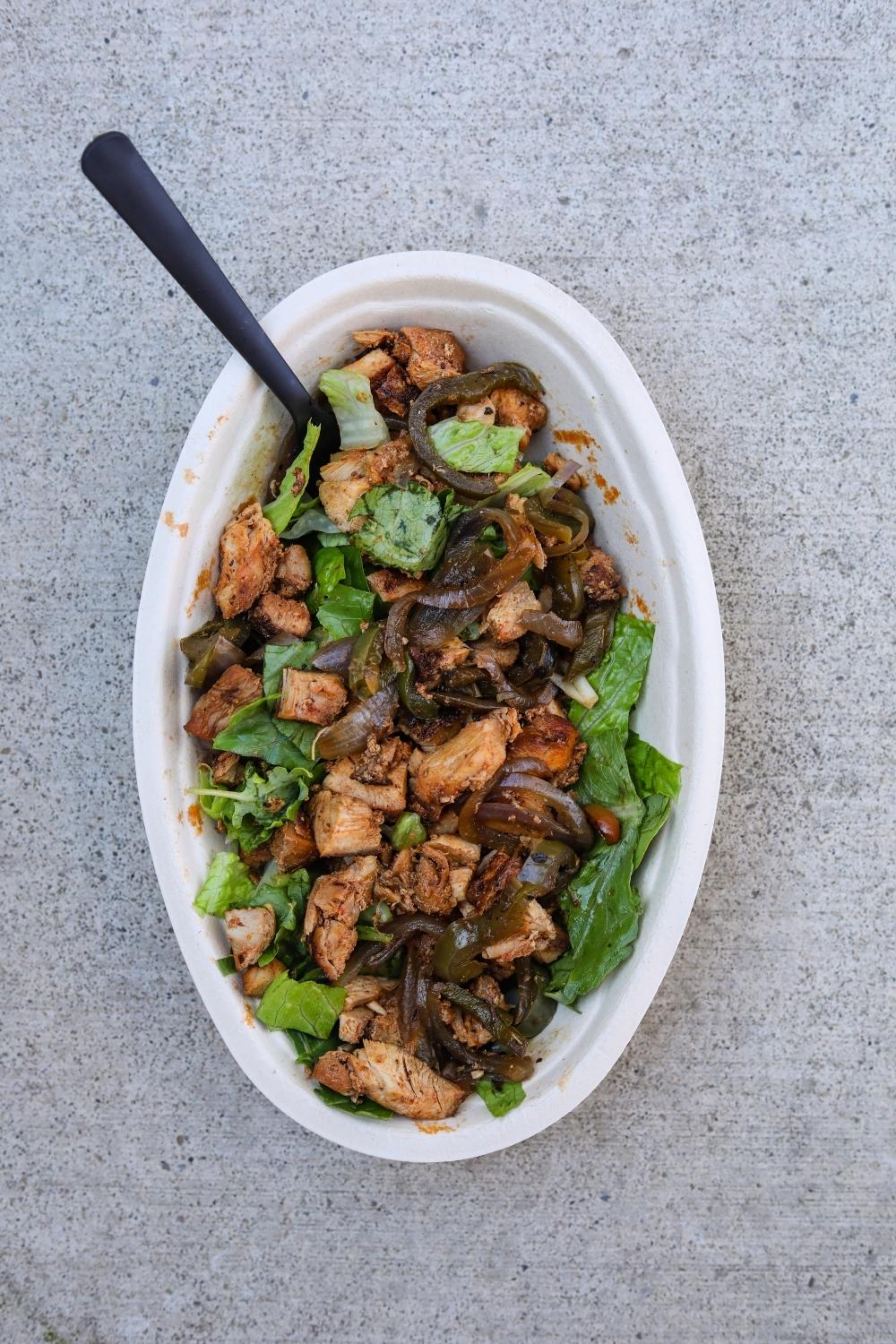 My favorite order at Chipotle is this salad bowl with chicken. It's so delicious and comes out to only 205 calories!
By the way, instead of the Chipotle honey vinaigrette, you can use one of the dressings from my low calorie sauce list!
Here's what to order:
Supergreens Lettuce Blend
Romaine Lettuce
Fajita Veggies
Chicken
3. Whole 30 Salad Bowl with Chicken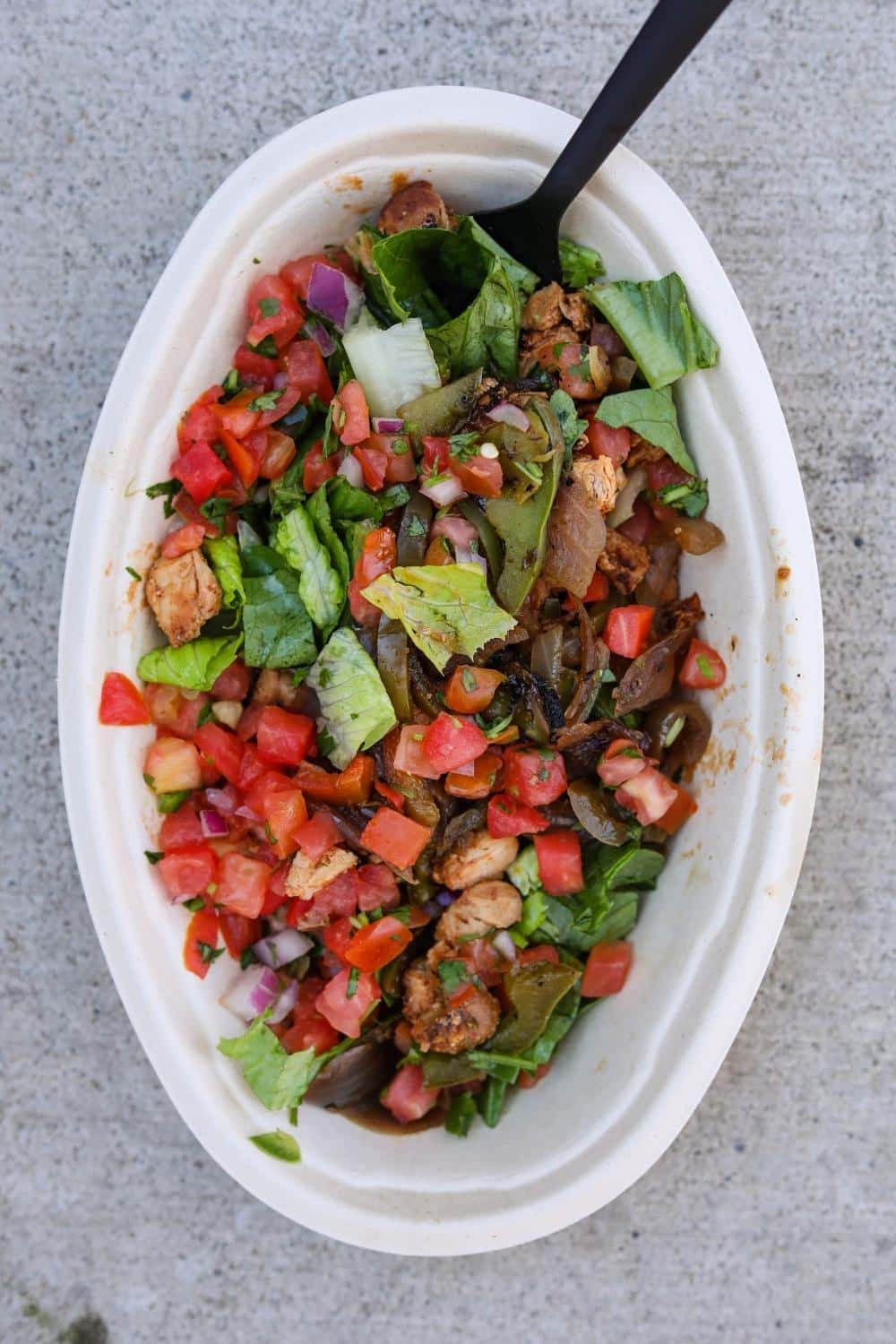 If you order Chipotle's Whole 30 lifestyle bowl as is, it comes out to around 460 calories (that's with chicken).
But, if you order it with no guacamole, it will only have 230 calories!
Here's what's in it:
Supergreens Lettuce Blend
Chicken
Fajita Veggies
Fresh Tomato Salsa
Guacamole (optional)
4. Loaded Vegan Salad Bowl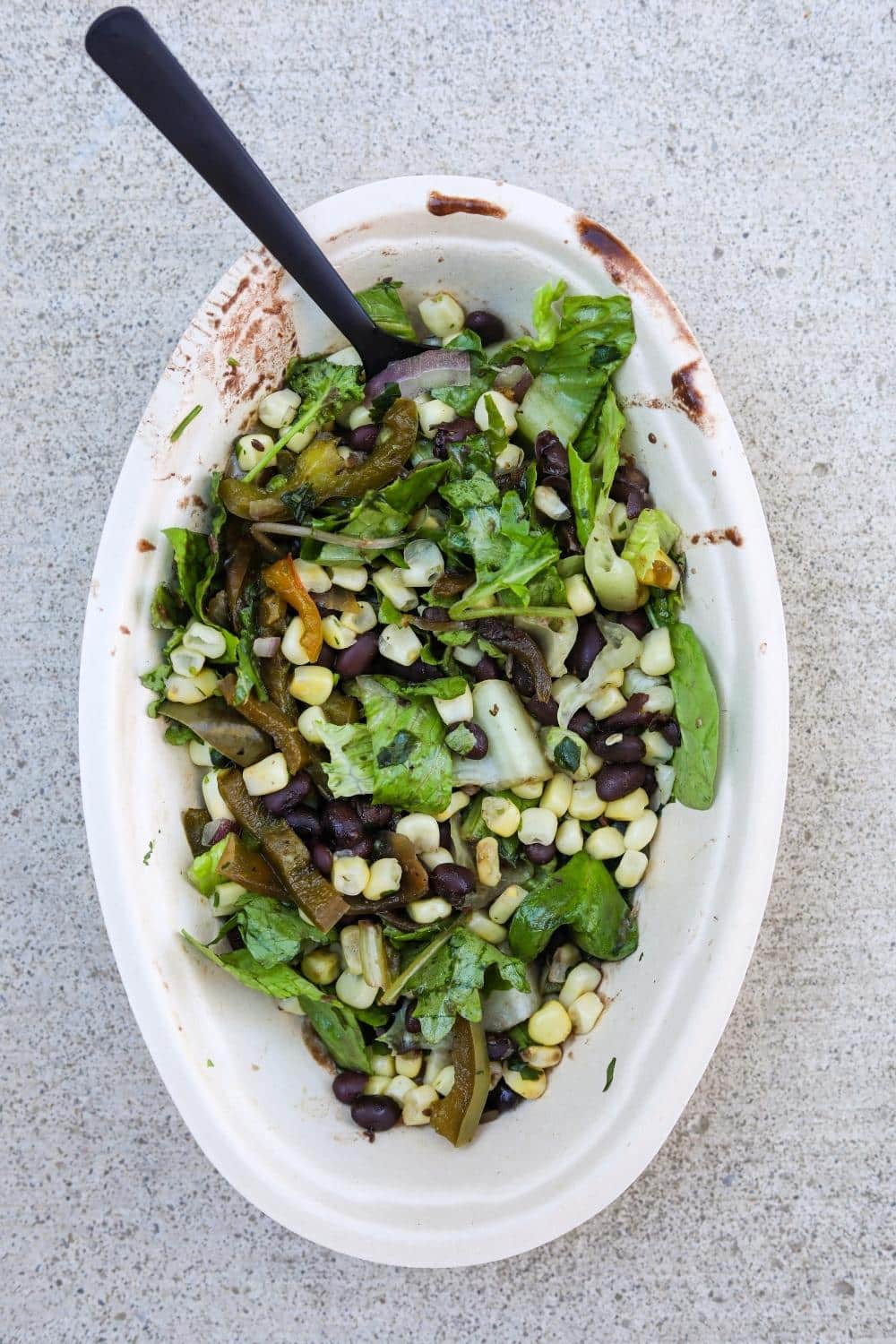 This healthy and filling vegan burrito bowl is packed to the brim with almost all the veggies Chipotle offers.
It'll keep you full and satisfied until dinner and it has just 235 calories!
Here's what to order:
Pinto Beans or Black Beans
Roasted Chili Corn Salsa
Fajita Vegetables
Supergreens Lettuce Blend
5. Paleo Salad Bowl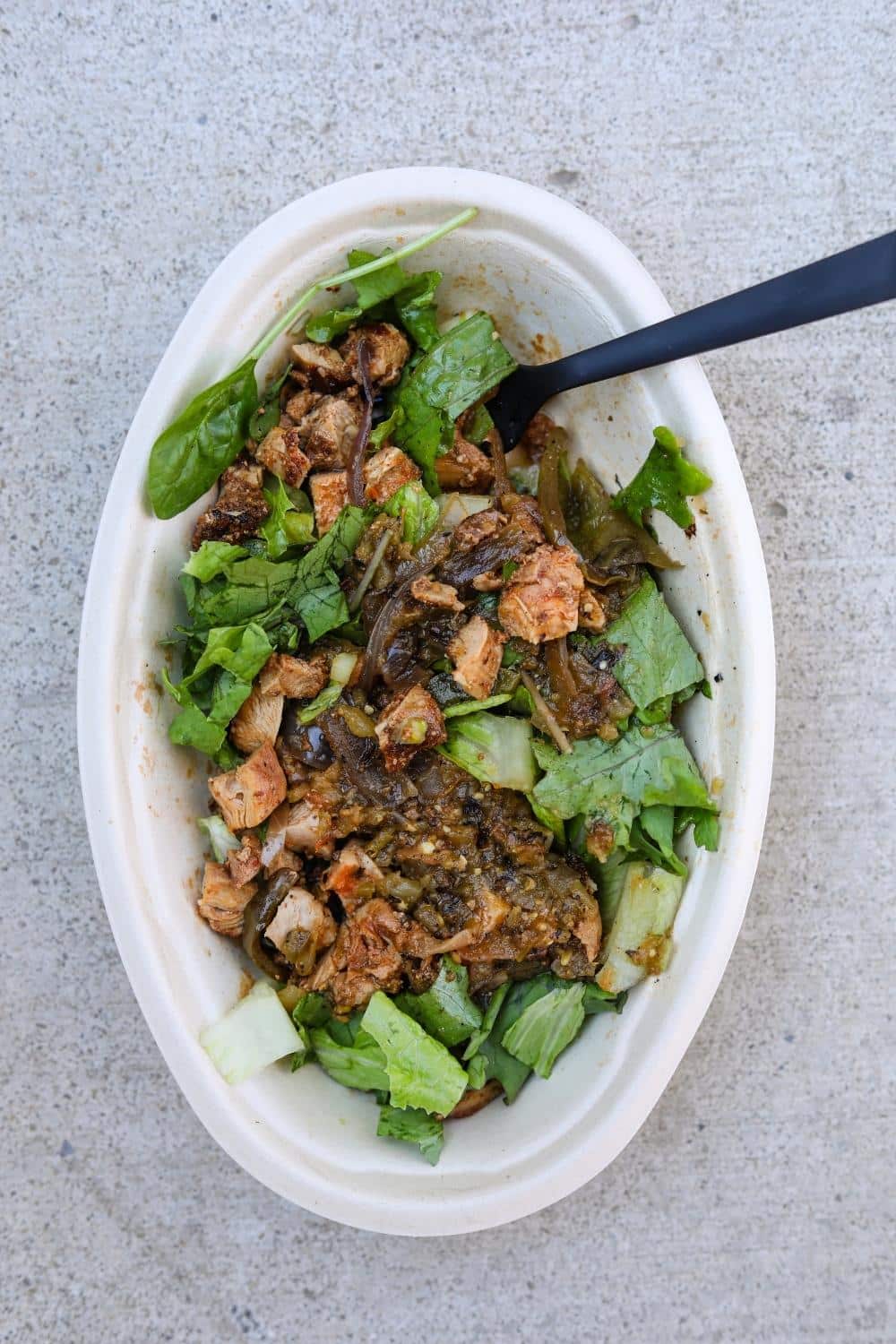 The Paleo Salad bowl is already on the Chipotle menu, so you won't have to order each individual ingredient.
The only adjustment you'll have to make to bring the calories lower is to order it with no guacamole. It originally has 465 calories, but with no guacamole, it comes out to only 235 calories!
Here's what's in it:
Supergreens Lettuce Blend
Chicken
Fajita Vegetables
Tomatillo Green Chili Salsa
Guacamole (optional)
6. Steak Rice Bowl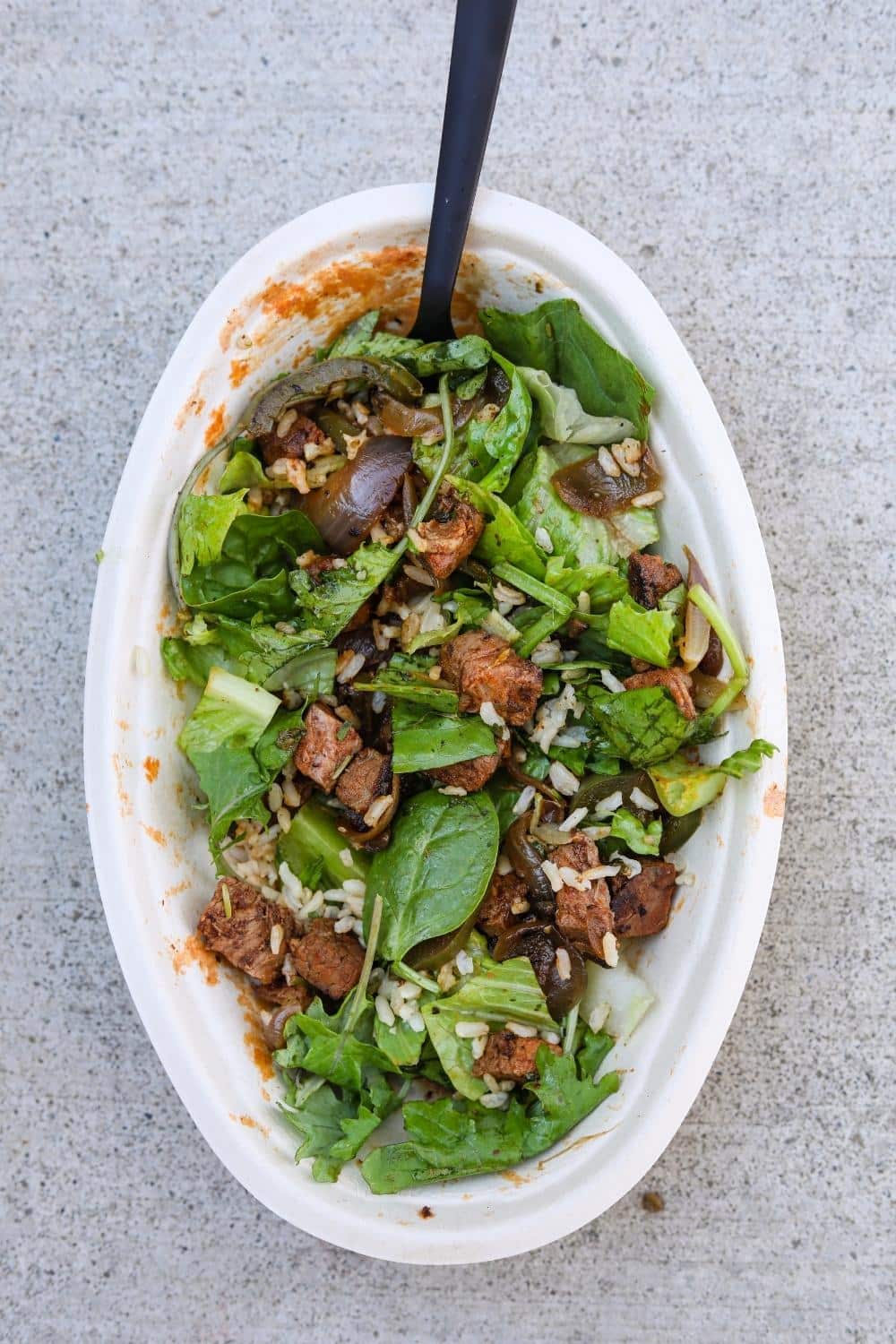 This simple but satisfying combination of steak and rice is a basic yet delicious meal to get. With the full serving of rice, it comes out to 360 calories.
But, to bring the calories down more, you can get half a serving of rice, and it will come out to just 255 calories!
Here's what to order:
½ serving Rice
Steak
Supergreens Lettuce Blend
7. Vegetarian Bowl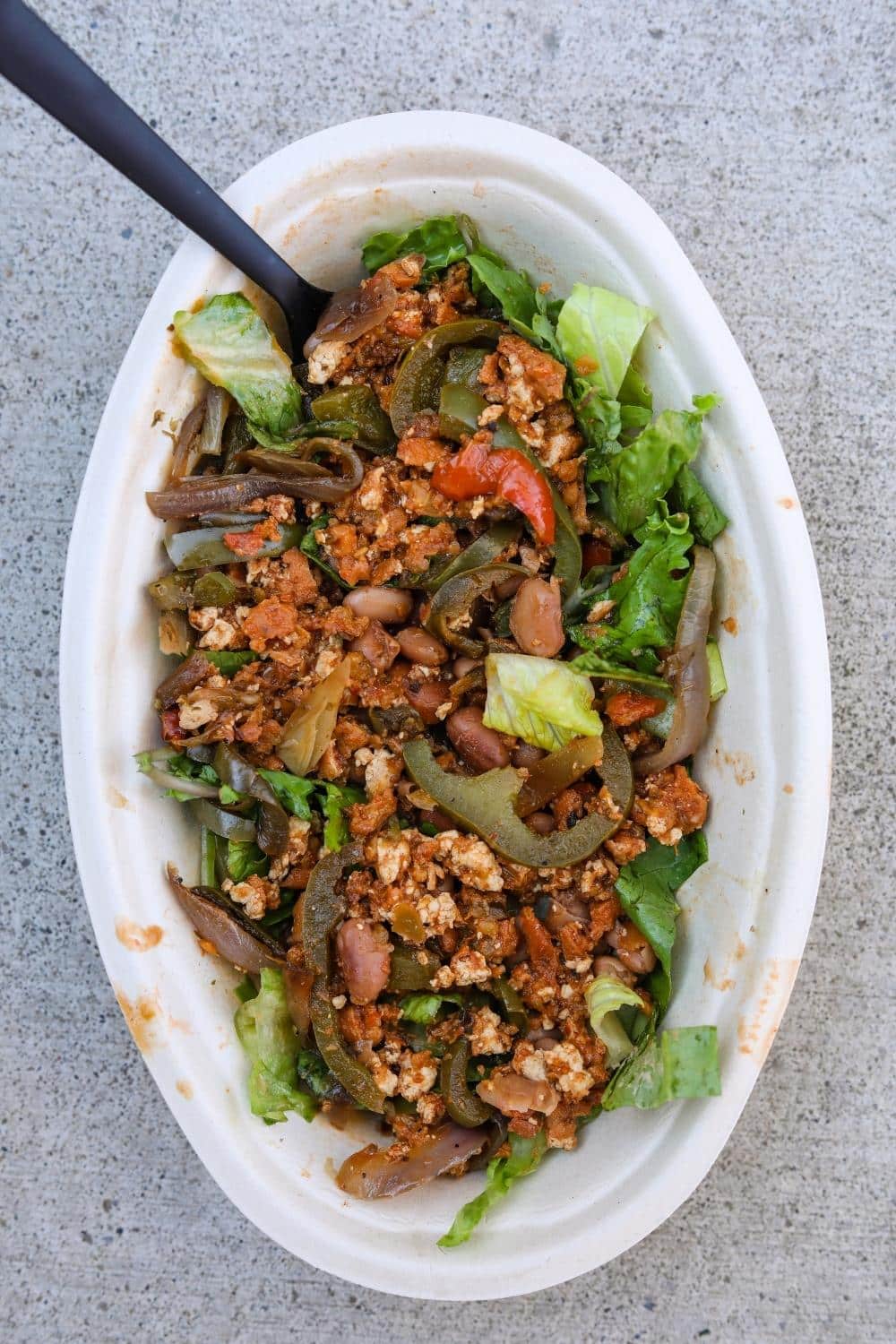 This veggie-forward salad bowl is filled with fresh vegetables, hearty pinto beans, and savory sofritas. It's a good source of plant-based protein, it's packed with fiber, and is a fantastic choice if you're a vegetarian! It's also just one of the healthiest chipotle orders out there.
The whole meal comes out to 305 calories in total. But, to make it lower in calories you can skip the sofritas and it will have just 155 calories. Alternatively, you can skip the beans and this vegetarian bowl will have 175 calories.
Here's how to order this veggie bowl:
Supergreens Lettuce Blend
Sofritas
Pinto Beans
Fajita Vegetables
8. Meat Lovers Bowl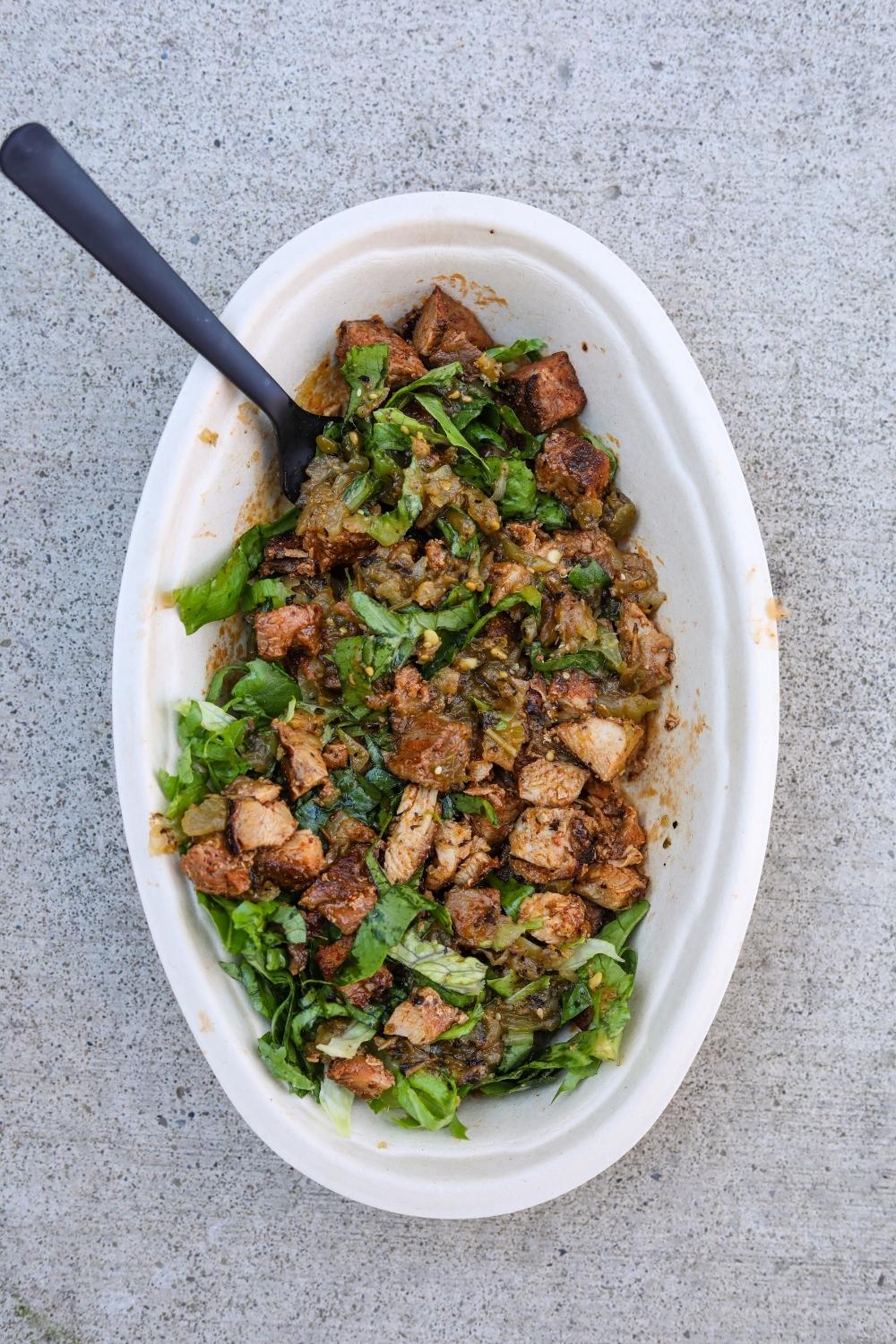 If you want a high protein Chipotle order, this is my go-to bowl. Now, I like to order steak and chicken, but you can get any two types of meat that you want!
The crazy thing is if you order a full serving of steak and chicken with this bowl it'll still come out to just 350 calories - but almost all of the calories are from protein!
Anyway, here's how I order it:
Chicken
Steak
Supergreens Lettuce Blend
Green Tomatillo Chili Salsa
Wrapping It all Up
So, these are just some of the low calorie options you can order on your next Chipotle run.
There's a practically endless variety of low calorie combinations you can come up with yourself - just let this list be your guide!
If you've ordered any of these or have a favorite healthy low calorie option at Chipotle you want to share, don't forget to leave a comment below and tell me all about it. I'm always up for trying a new bowl!
More Low Calorie Lists
If you found this low calorie list helpful - and want to check out some more low calorie lists - I have a ton more on the blog!
Check these out:
Also, if you're looking for some tasty low calorie recipes to make, make sure to visit my Youtube channel. I've got quite a few really, really good ones on it.