There are a ton of great low calorie Chick Fil A menu items to order if you know what to look for. So, let this handy list be your guide! Everything here comes out to less than 400 calories, with options for desserts and even drinks too.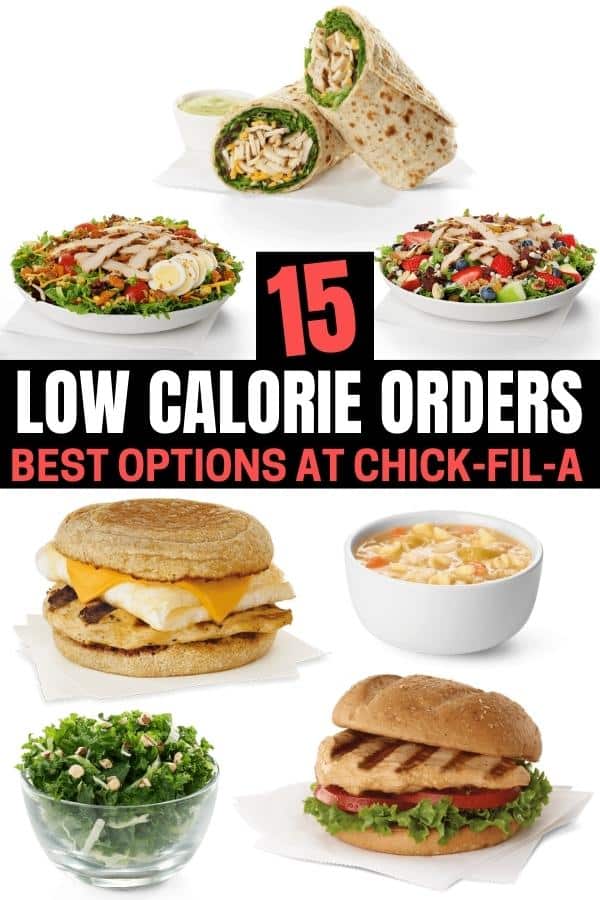 The Best Low Calorie Chick Fil A Orders
When it comes to ordering low calorie at a fast food restaurant like Chick Fil A, you might be imagining super tiny portions or salads with no dressing.
But, I'm here to tell you there's definitely a better way to order low calorie at Chick-Fil-A!
This extensive list has all the regular menu and breakfast menu options at Chick Fil A under 400 calories. I also included the sides, desserts, drinks, and sauces you can add on without exceeding that calorie limit too.
Honestly, you'll be surprised by how much you can actually eat at Chick Fil A while still keeping it healthy!
Tips for Ordering Low Calorie at Chick Fil A
First and foremost, when it comes to ordering low calorie at Chick Fil A, you'll want to avoid the regular nuggets, breaded chicken, and chick-n-strips. All of these have added calories from being fried and breaded. Oh, and just so you know, all of the nutritional information has been verified using the Chick Fil A nutritional calculator.
As you'll see in this list it's much better to opt for grilled filets (spicy or non-spicy) or grilled nuggets instead. They're significantly lower in calories than the fried options and are packed with lean protein.
Also, dressings and sauces can contribute a lot to the total calorie count of an order. So, just by swapping out the regular dressing or sauces with the ones I mention in this list can make a huge difference.
With all that said, let's dive into this guide and go over all of the low calorie options on the Chick-Fil-A menu!
Low Calorie Dressings & Sauces at Chick Fil A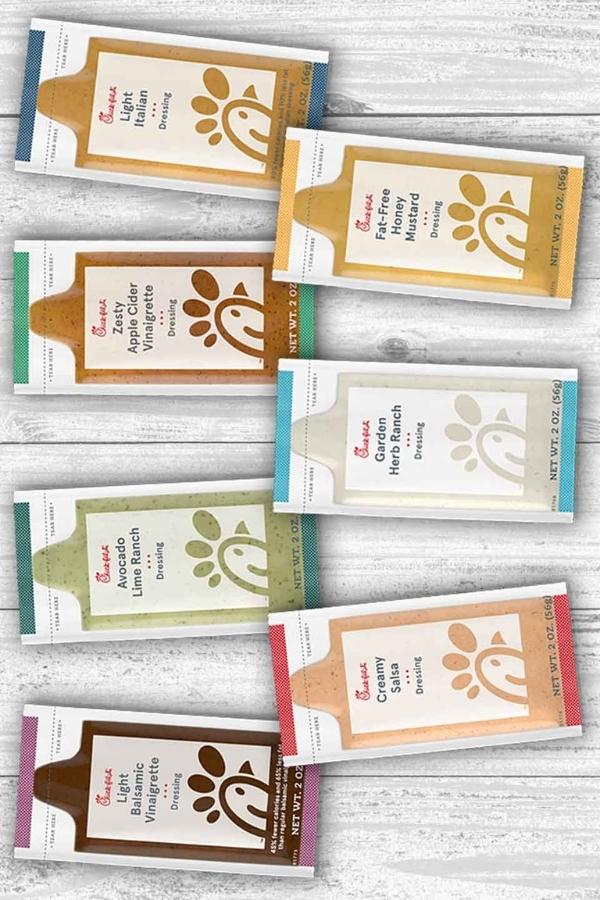 If you're looking for the best low calorie dressings and sauces I put together a quick rundown of them.
Here are the ones I recommend ordering:
Light Italian Dressing - 25 calories
Zesty Buffalo Sauce - 25 calories
Sweet & Spicy Sriracha Sauce - 45 calories
Barbeque Sauce - 45 calories
Honey Mustard Sauce - 50 calories
Honey Roasted BBQ Sauce - 60 calories
Light Balsamic Vinaigrette Dressing - 80 calories
Fat Free Honey Mustard Dressing - 90 calories
As you may have noticed each one of these Chick Fil A dressings and sauces has under 100 calories. So, if you opt for one of these - instead of any of the other ones - you should be able to keep your order as low calorie as possible.
Low Calorie Drinks at Chick Fil A
I also put together a quick rundown of the best low calorie Chick Fil A drinks to order:
Coffee - 0 calories
Fresh Brewed Iced Tea Unsweetened - 0 calories
Sunjoy (½ Unsweetened Iced Tea + ½ Diet Lemonade) - 20 calories, medium
Coffee with Chick Fil A creamer and sugar - 25 calories
Honest Kids Apple Juice - 35 calories
Chick Fil A Diet Lemonade- 50 calories, medium (you can make my Chick Fil A diet lemonade for even fewer calories)
As you can see, these all have 50 calories or less. So, if you're trying to order low calorie at Chick Fil A these are the drinks you'll want to go with.
Low Calorie Chick Fil A Breakfast Menu Items
1. Bacon Egg & Cheese Muffin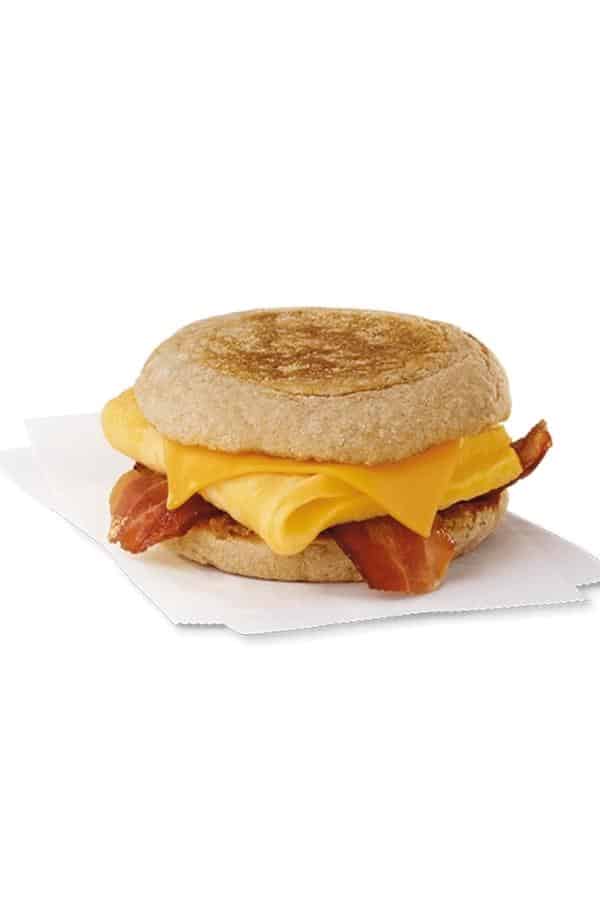 If you like to start your morning with crispy bacon, order the Chick Fil A bacon, egg, and cheese sandwich. It comes out to just 310 calories for the whole thing and you get a fluffy folded egg, American cheese, and smoked applewood bacon sandwiched in a toasty English muffin.
Of course, you can make it even lower in calories by asking for no bacon and getting just the egg and cheese.
All that, plus a plain coffee for 0 calories, and you've got yourself a pretty satisfying low calorie breakfast sandwich meal.
2. Egg White Grill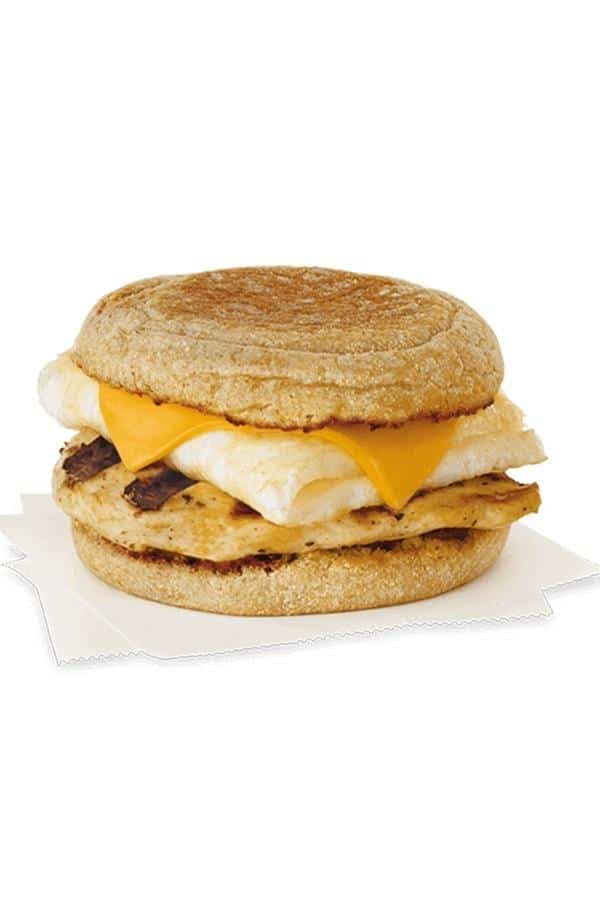 For a protein-packed breakfast option - that's still low in calories - I highly recommend Chick-Fil-A's egg white grill.
It comes with grilled chicken, folded egg whites, and American cheese for a total of 290 calories and 26 grams of protein!
3. Hash Brown Scramble Bowl (No Hash Browns)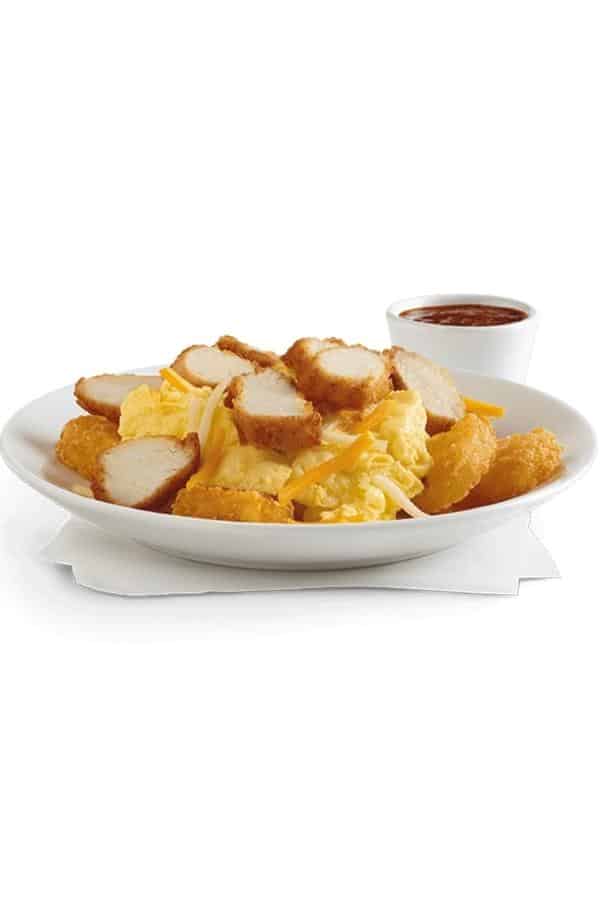 It might seem counterintuitive to order a hash brown scramble without the hash browns. But, hear me out. Even without the fried potatoes, you're left with a hearty breakfast of fluffy scrambled eggs topped with chicken or sausage, montery jack and cheddar cheeses, and Jalapeno salsa.
Order your no-hash browns hash brown scramble bowl with grilled filet for 260 calories, spicy chicken for 310 calories, or either nugget, sausage, or spicy chick-n-strips for 320 calories.
4. Chick n Minis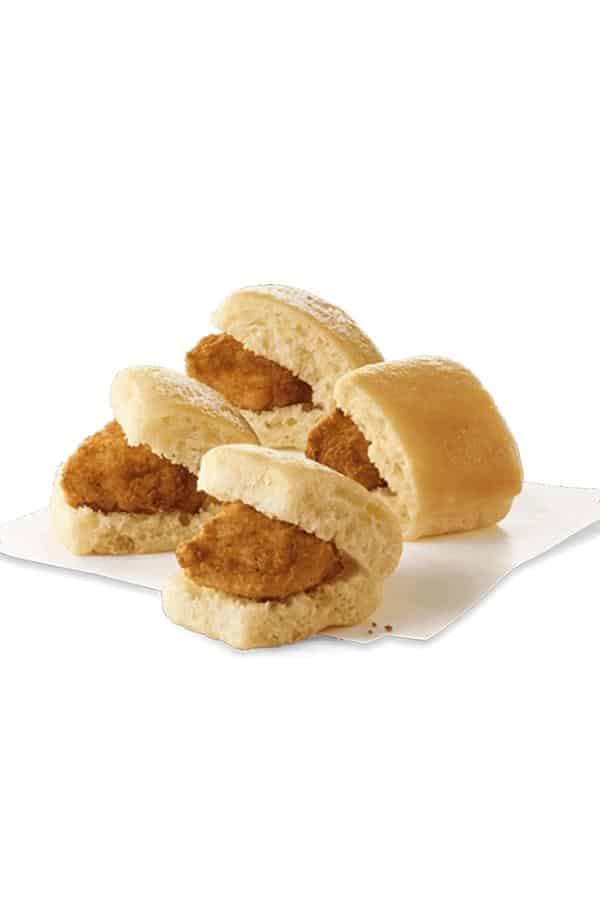 Although these chicken sliders are small, they're surprisingly filling and an excellent option at Chick Fil A if you're really craving their fried chicken sandwich in the morning.
They're made with Chick Fil A nuggets sandwiched in mini yeast rolls brushed with honey butter, and come out to 360 calories for a 4-pack.
If you want to save calories, ask for the grilled nuggets instead of crispy chicken, and you'll save half the calories!
5. Greek Yogurt Parfait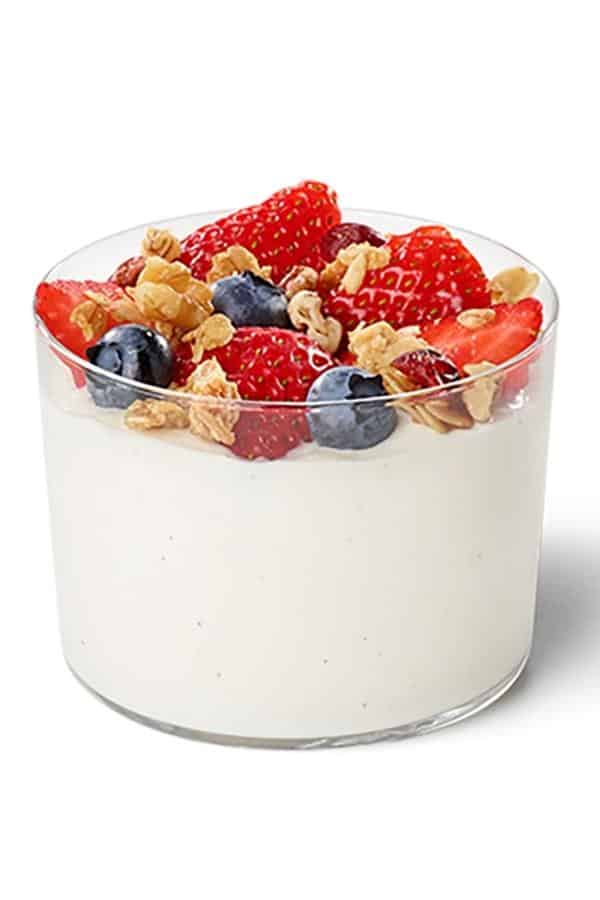 If you're craving something sweet for breakfast, the Greek yogurt parfait is a must-try option on the Chick Fil A menu. The creamy Greek yogurt is flavored with organic vanilla beans and comes with fresh berries.
You can order it with cookie crumbs for 240 calories or with harvest nut granola for 270 calories. Of course, for even less calories just order the yogurt with berries and no toppings.
By the way, this yogurt parfait, along with a couple of the other Chick-Fil-A breakfast options we went over, made it onto my list of the healthiest fast food breakfast options out there. The list has over 20 incredible options from a variety of chains. It's well worth a look if you eat a lot of fast food for breakfast and you're trying to keep things as healthy - and low calorie - as possible.
Low Calorie Chick Fil A Menu Items
6. Grilled Market Salad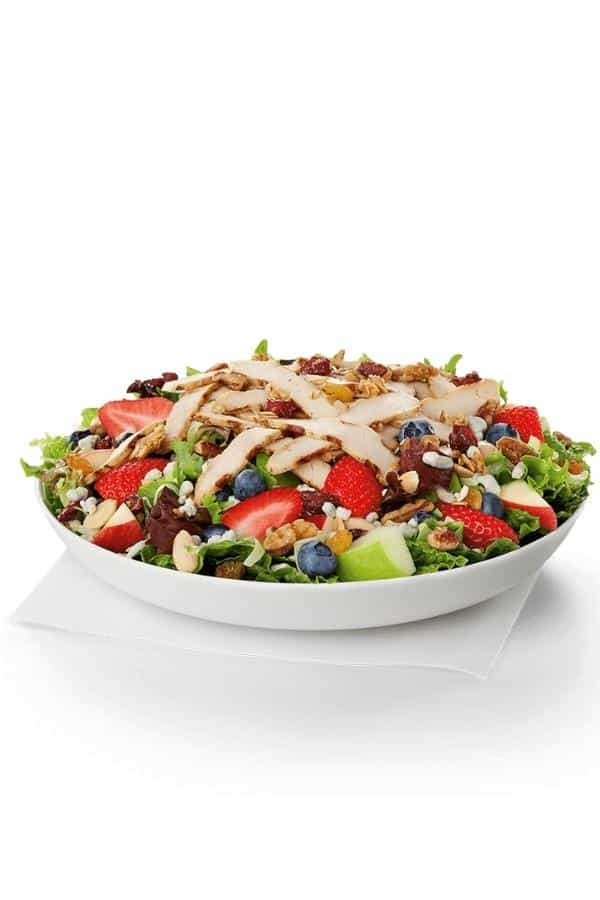 The grilled market salad is packed with fresh fruit, greens, blue cheese crumbles, and grilled chicken breast, making it a healthy and balanced lunch option that'll keep you full until dinner.
If you ask for no apple cider dressing, nuts, or granola and use a low calorie dressing like their light Italian dressing, it will come out to just 205 calories total, even with the meat!
If you don't like meat, you can save an extra 80 calories by getting no grilled chicken.
7. Grilled Chicken Sandwich
Chick Fil A's grilled chicken sandwich is a great alternative to their usual fried chicken sandwich at just 380 calories. It even comes in a multigrain brioche bun, which is healthier than the regular white bun.
You can order a grilled chicken club with no cheese if you want your sandwich with bacon. But you'll want to swap the honey roasted BBQ sauce with zesty buffalo sauce to keep the sandwich at 390 calories.
Or, order it with no sauce at all for 370 calories.
8. Grilled Chicken Cool Wrap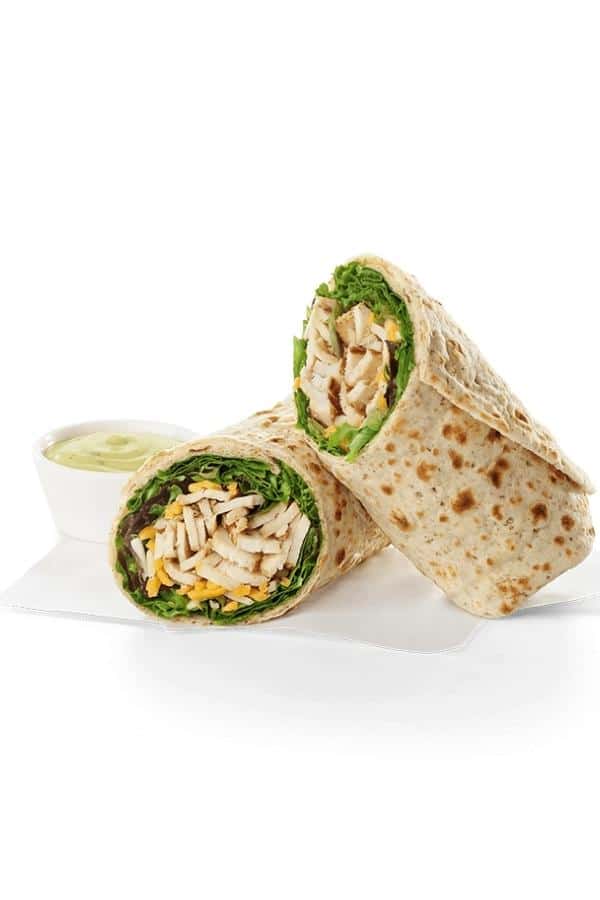 Without the calorie-heavy avocado lime ranch dressing, Chick Fil A's cool wrap is just 350 calories.
It's got grilled chicken, shredded Monterey jack, and cheddar cheese wrapped up in flaxseed flour flatbread.
And there are plenty of sauce options you can add to this grilled chicken cool wrap that'll still keep it under 400 calories - like their light Italian dressing, zesty buffalo sauce, sweet & spicy sriracha, or barbeque sauce.
9. Grilled Chicken Nuggets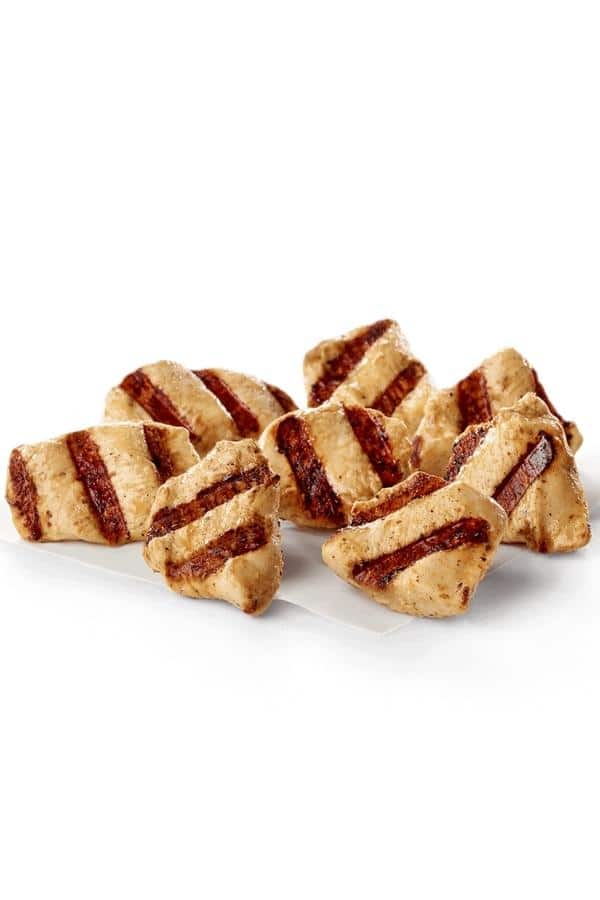 Choosing the grilled chicken nuggets over the fried chicken nuggets makes a huge difference in calories.
An entire 12-pack of grilled nuggets comes out to just 200 calories compared to 380 calories for the regular nuggets.
Since they're so low in calories, you can pair the grilled nuggets with literally any Chick Fil A sauce (not just the low calorie ones) and still be under 350 calories. So it's a pretty fantastic deal if you love their dips!
And if you want an even lower calorie dip option for these grilled chicken bites, you have to give my sugar free BBQ sauce a try.
10. Cobb Salad (with Grilled Filet)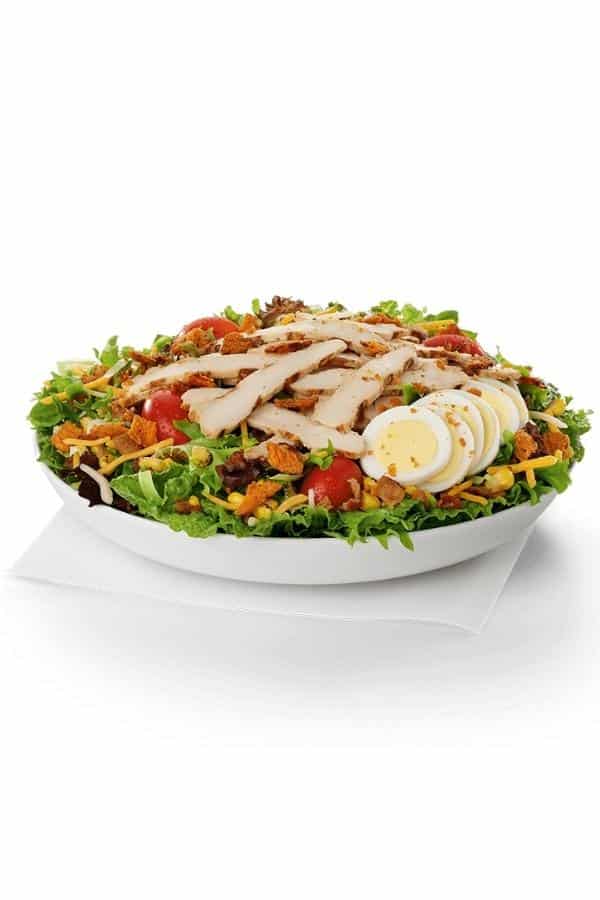 Chick Fil A's cobb salad comes with a calorie-heavy avocado lime ranch dressing that packs a hefty 310 calories per serving and crispy bell peppers at 80 calories. So, if you take those out of the equation and use a different dressing, you can get their cobb salad with a grilled filet for just 310 calories or with no chicken for 210 calories.
11. Chicken Noodle Soup Bowl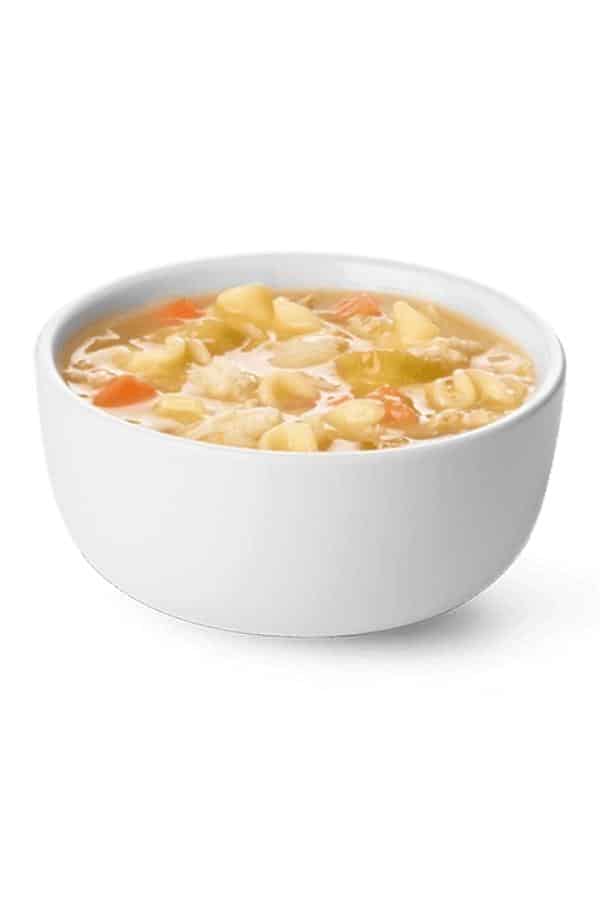 When the chilly weather hits, the chicken noodle soup at Chick Fil A is a pretty solid low calorie choice. A whole bowl of the soup has just 280 calories, including the saltine crackers they come with.
If you want it alongside some salad, order a cup (not a bowl) of chicken noodle soup with no crackers, plus a grilled market salad with light Italian dressing and no chicken. The total calorie count for this super filling meal is just 355 calories!
If you want a lower calorie chicken noodle soup, give my low carb chicken noodle soup a try.
Low Calorie Desserts & Sides at Chick Fil A
12. Icedream Cup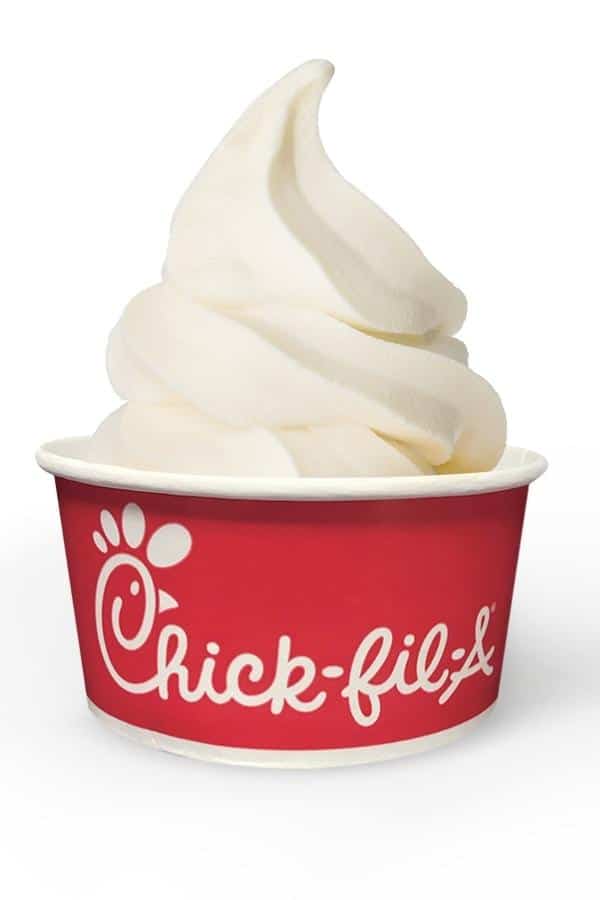 Chick Fil A's vanilla ice cream comes out to just 140 calories if you order it in a cup instead of a cone.
With that said, if you absolutely love eating ice cream in an actual ice cream cone it'll run you just 40 more calories to get it in one.
13. Buddy Fruits Apple Sauce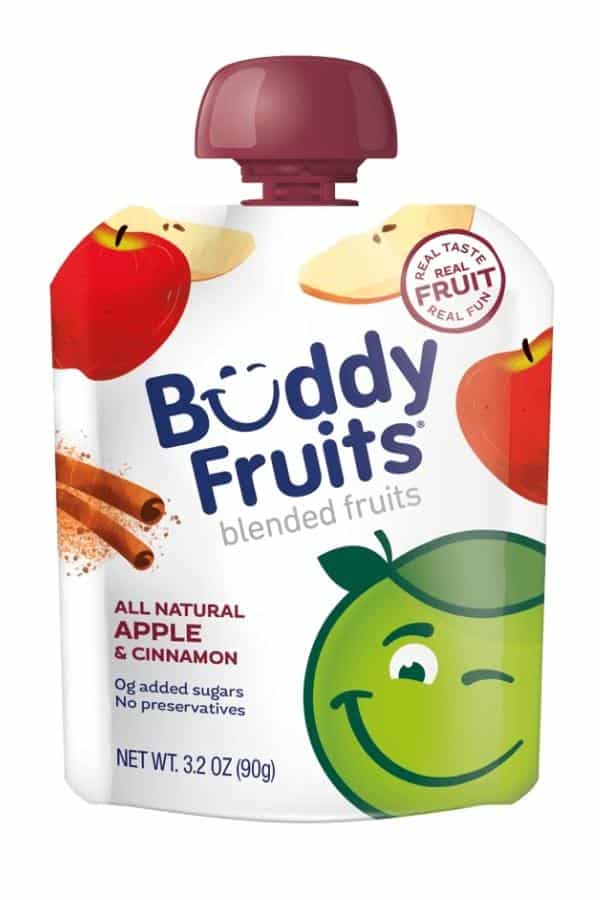 This apple sauce side isn't just for the kids - it makes a great healthy add-on for grown-ups too. The whole pouch is 45 calories, which means you can add it to most of the low calorie meal options on this list and still be below 400 calories.
14. Fruit Cup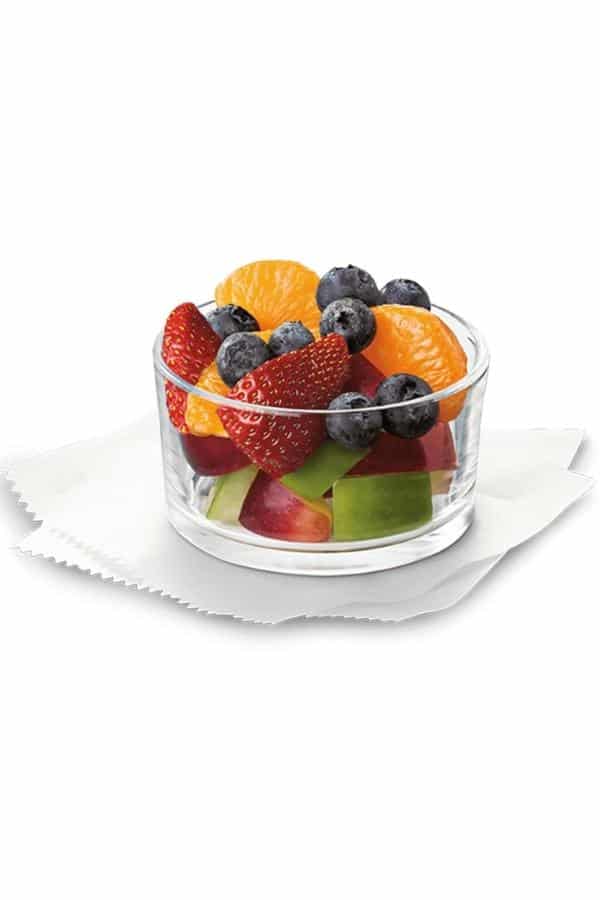 The fruit cup at Chick Fil A is a tasty way to add some healthy sweetness to your meal - alongside some healthy fiber and vitamins. Also, there's no syrupy canned fruit here - it's made with fresh apples, oranges, strawberries, and blueberries.
A medium fruit cup has just 60 calories, and a small fruit cup has 50 calories.
15. Kale Crunch Side Salad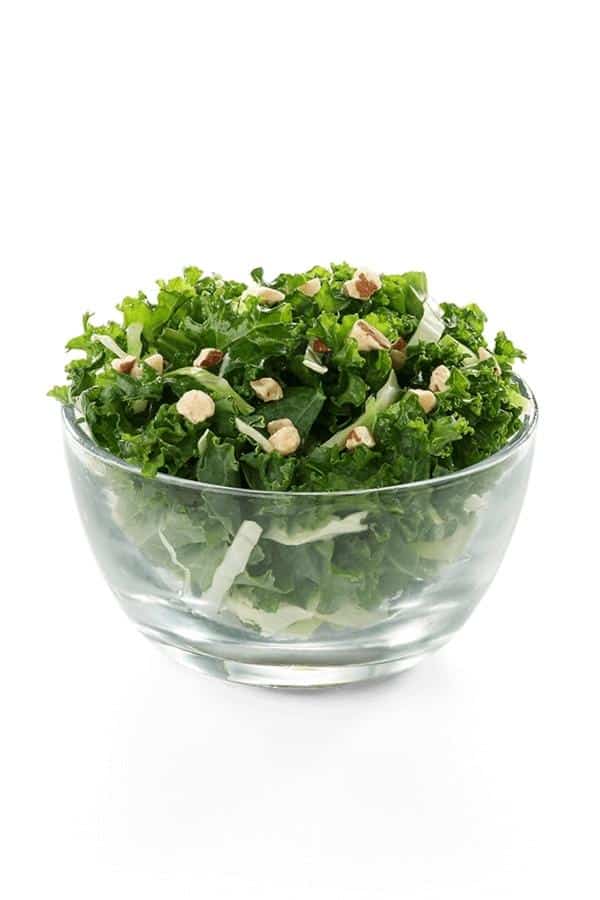 This fresh kale salad with roasted almonds and apple cider-dijon mustard vinaigrette is a better choice than the usual side salad in terms of calorie count.
The whole salad with dressing and toppings only has 120 calories!
Wrapping It All Up
Well, those are all of the best low calorie Chick Fil A menu options.
Ordering healthy Chick-Fil-A meals is now just a short trip away and you probably won't even have to miss out on any of your favorite things!
Anyway, if you've tried anything from this list - or have a favorite low calorie swap you want to mention - feel free to leave a comment below! I'd love to know your thoughts.
Oh, and for more low calorie guides, give one of these a look next: