You don't have to skip ordering at Wendy's the next time you get a craving for it. This guide has all the healthiest low calorie burgers, salads, and other menu items at Wendy's - all under 450 calories!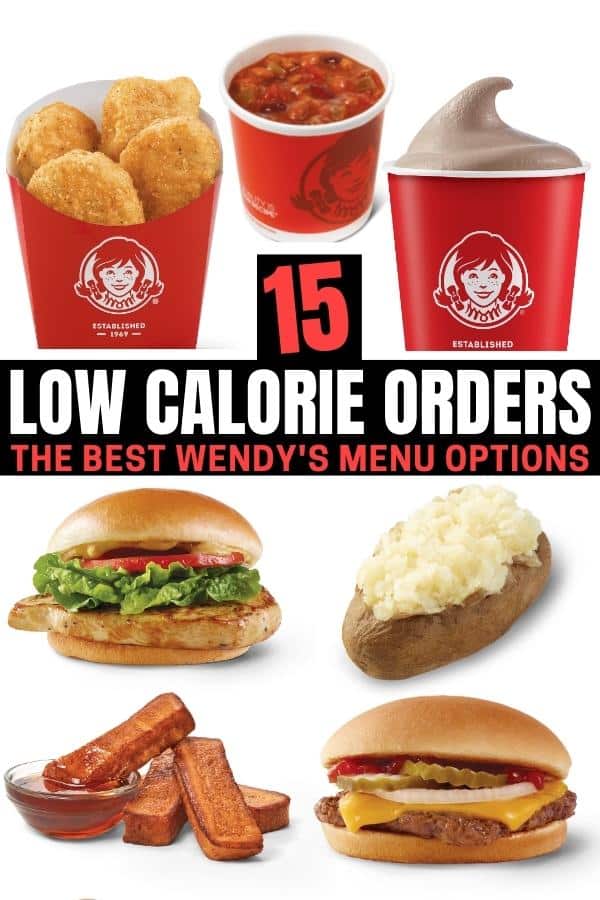 The Best Wendys Healthy Food Options
Wendy's is basically famous for its giant square burgers, so you might not expect there to be anything on the menu that can fit into a healthy low calorie diet. But, that's actually not the case at all, and this list is proof of it.
This list of healthy Wendy's orders has everything from burgers to salads to baked potatoes and more! And, as I mentioned, everything has less than 450 calories.
By the way, all of the calories on this list were calculated using Wendy's nutritional calculator. So if you want a full nutritional breakdown of the items on this list, or want to see the nutritional info on other menu items, give that a look.
Now, let's dive into this low calorie fast food list!
Low Calorie Options at Wendy's
1. Apple Bites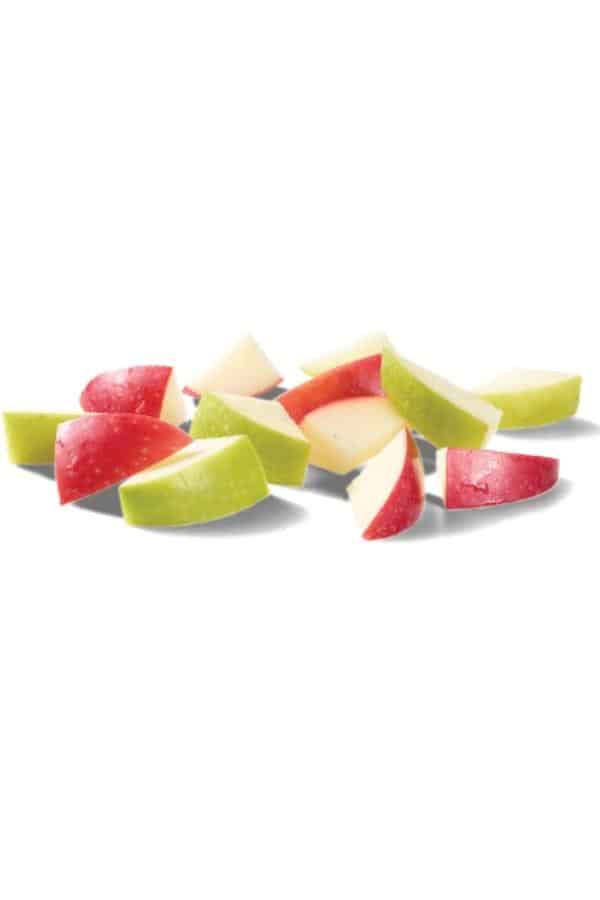 The apple bites from Wendy's come in at 35 calories total. And that makes them the Wendy's menu item with the lowest amount of calories.
I like to order them as a side to my meal or as a sweet after-meal snack. But, if you want to turn the apple bites into a dessert, you can eat them with my sugar free caramel sauce.
2. 4 pc. Chicken Nuggets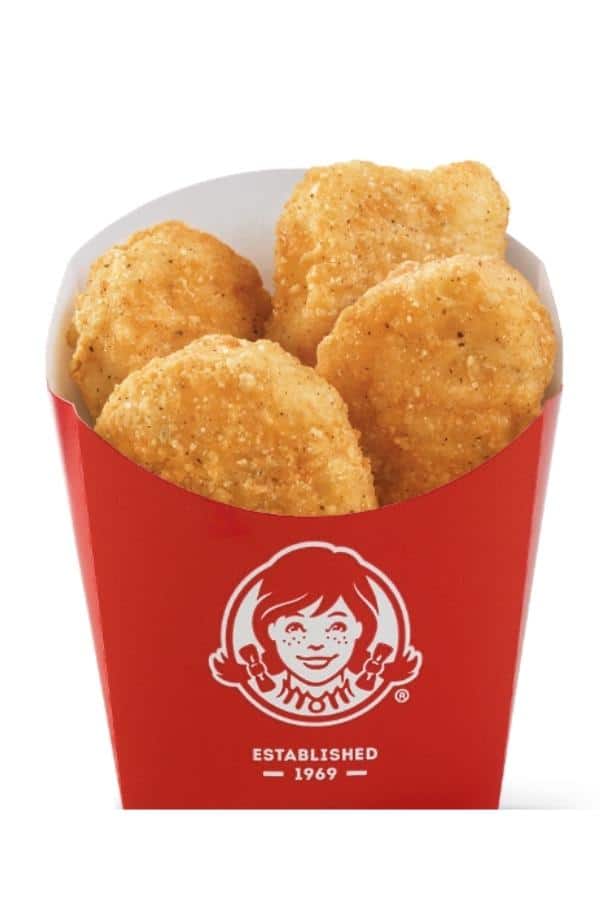 These bite-sized pieces of breaded chicken from Wendy's are just as good on their own as they are with sauce.
You can choose the crispy nuggets for 180 calories or the spicy nuggets for 190. And then, for the sauce, you can make my homemade sugar free bbq sauce.
3. Large Chili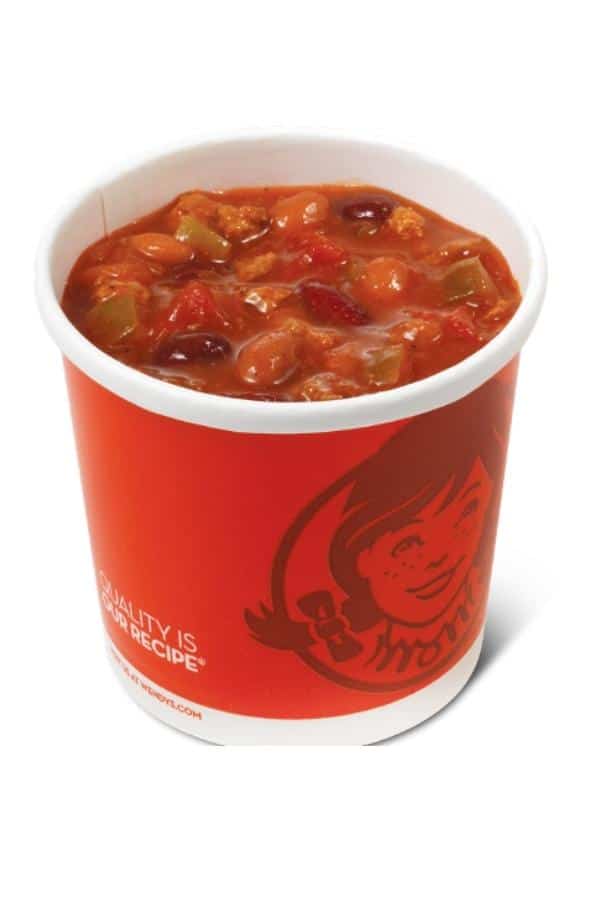 A large bowl of Wendy's chili makes a really satisfying lunch, especially in chilly weather. Each cup is jam packed with hearty veggies, spiced tomato broth, ground beef, and beans. So, it's not only gauranteed to fill you up, but warm you up too.
As far as the calories go on this Wendy's order, a small chili has only 240 calories, while a large chili has 340 calories. Not to shabby, eh?!
4. Grilled Chicken Sandwich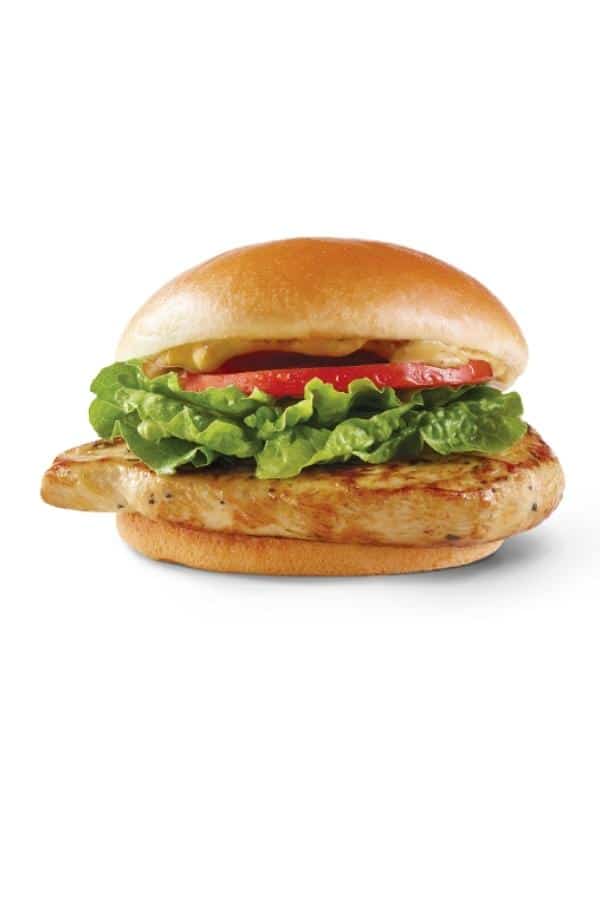 If you haven't tried Wendy's grilled chicken sandwich before, it's definitely well worth a try. Honestly, it's one of my favorite things to order on their menu.
It's made with herb marinated grilled chicken breast topped with lettuce, tomato, and smoky honey mustard in their usual toasted bun.
It's hearty and packed with flavor and comes out to just 250 calories! Just make sure to ask for no smoky honey mustard. You can use a sauce from my low calorie sauces list instead!
5. Jr. Hamburger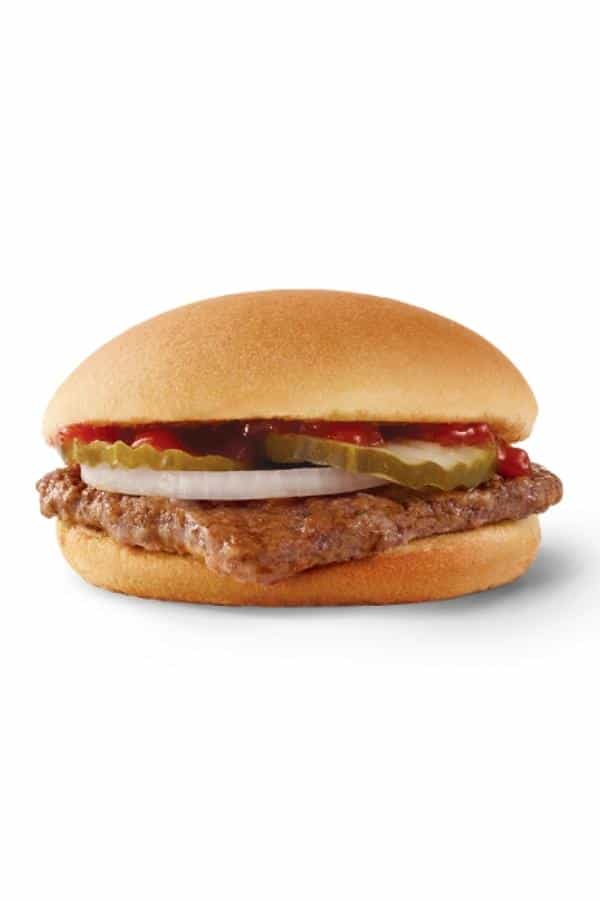 You can get your Wendy's square patty fix for as low as 250 calories if you order their Jr. hamburger.
This classic burger has all the usual fixings - a grilled beef patty with crinkle cut pickles, ketchup, mustard, and onions.
For a deluxe version, you can ask for extra lettuce and tomato. They'll add 50 calories to the meal but make up for it by adding more nutritional value to the burger.
6. Plain Baked Potato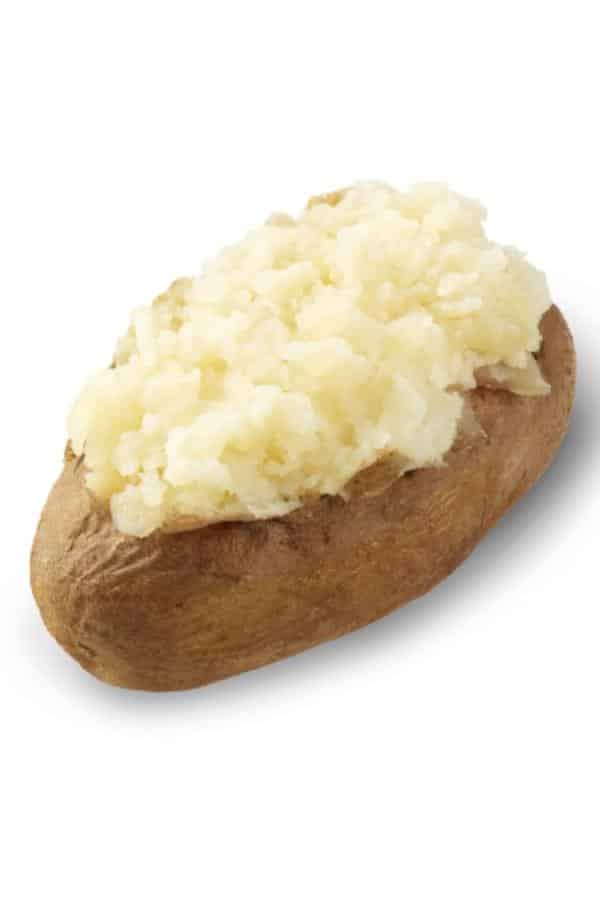 Out of all Wendy's topped baked potato offerings, their plain baked potato is the lowest in calories at 270 calories for the whole thing.
You can add your own toppings at home like some light sour cream or fat free shredded cheese!
7. Jr. Cheeseburger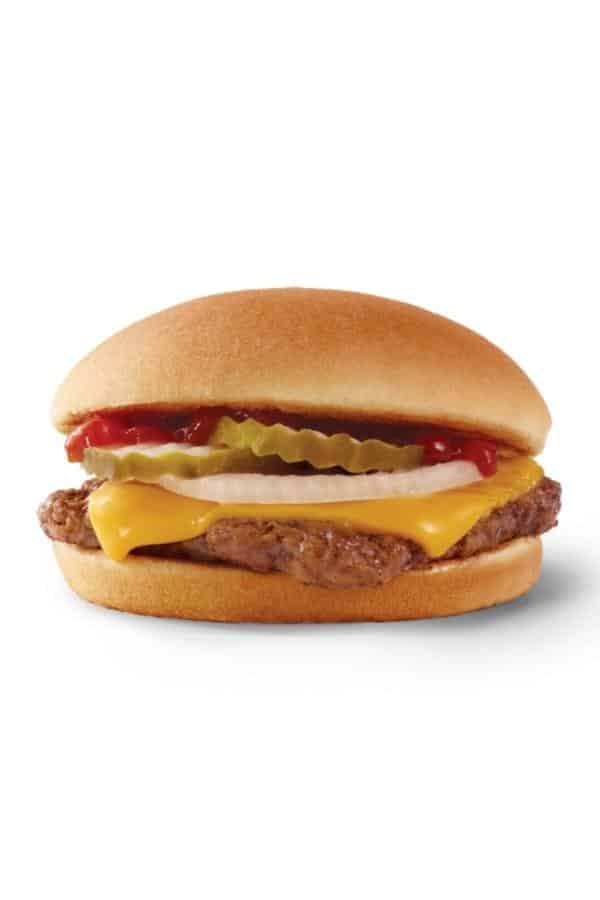 If you're in the mood for a cheeseburger, the Jr. cheeseburger is the best option on the menu.
It's the same thing as the Jr. hamburger above, but with a slice of American cheese. As far as the calorie count goes on it the Wendy's Jr. cheeseburger clocks in at 290 calories.
8. Classic Bacon Egg & Cheese Biscuit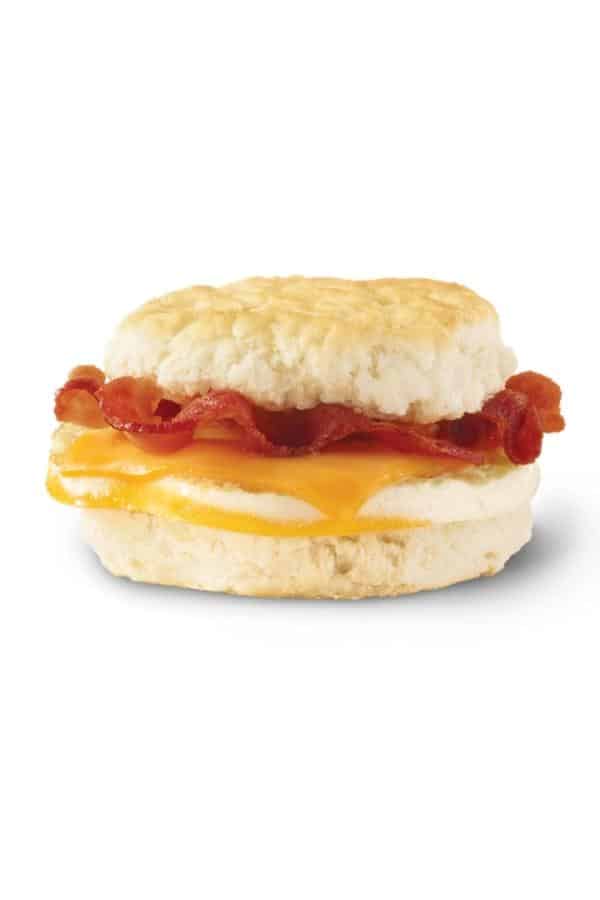 If you're looking for the best low calorie breakfast at Wendy's, look no further. It's made with a sunny side-up egg, applewood smoked bacon, and melty American cheese on a breakfast roll.
Worth noting is that this bacon, egg & cheese sandwich clocks in at just 320 calories. That makes it the lowest calorie breakfast option at the fast food chain. It made my list of the best healthy fast food breakfast options for that reason alone.
By the way, if you're craving their fluffy, tangy buttermilk biscuit, you can order the bacon egg & cheese biscuit at Wendy's and still stay below 450 calories - it has just 420.
Having said all of that, for an even healthier breakfast option just ask for an egg and cheese sandwich and skip the bacon. You can save yourself around 50 calories.
9. Crispy Chicken Sandwich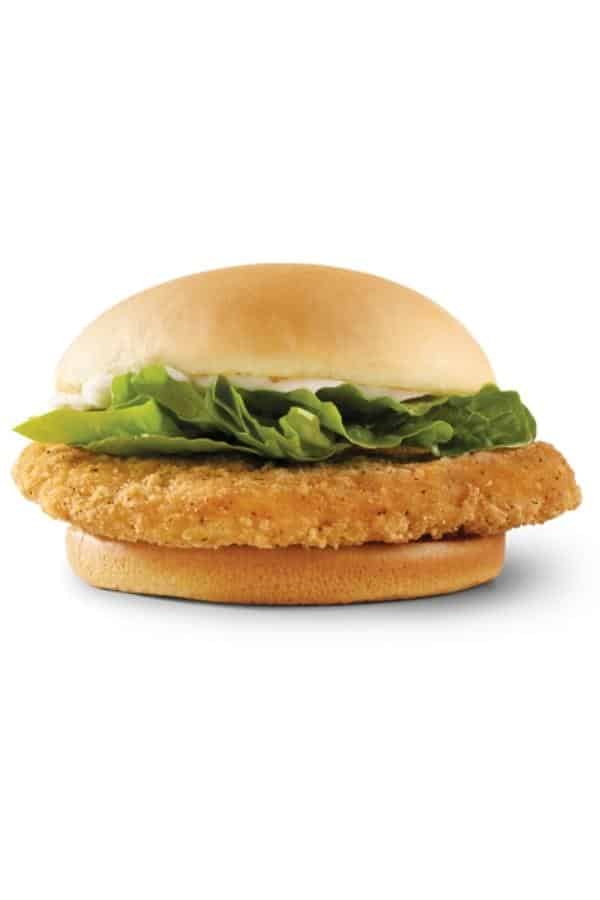 For just 330 calories, you can treat yourself to a crispy, juicy chicken sandwich at Wendy's. It comes with a seasoned fried chicken patty, fresh lettuce, and creamy mayo.
To make the sandwich lower in calories, you can skip the bun and eat the crispy chicken between two pieces of lettuce.
10. 4 pc. Homestyle French Toast Sticks
When you can't resist the craving for something sweet in the morning, you can dive into some warm, and fluffy French toast sticks with a side of syrup. A 4 piece set with the syrup included has 330 calories.
But, for even fewer calories, you can make my sugar free maple syrup to dip the french toast sticks in!
Don't forget to round out the meal with a small cup of cold brew coffee for 15 calories or fresh brewed coffee for 5 calories.
11. Junior Frosty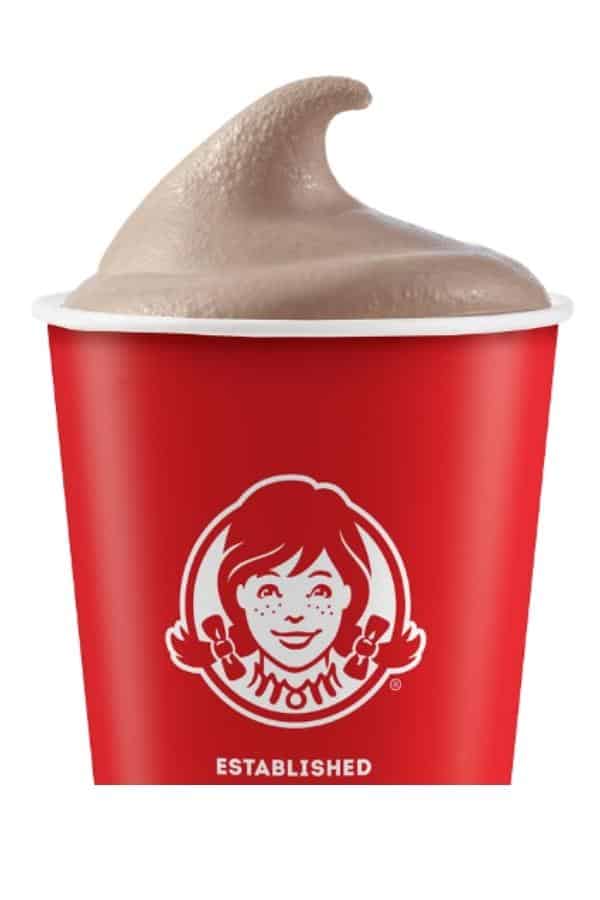 Wendy's frosty was basically made to be eaten with their french fries. Luckily, you don't have to separate the two to keep it low calorie.
A junior vanilla frosty has about 190 calories, while the junior chocolate and strawberry frosties have 200 calories.
Pair any of those frosty options with some junior french fries at 210 calories and you're still below 450 calories.
By the way, if you're trying to stick to a low carb diet, I've got a fantastic low carb Wendy's frosty recipe that's almost as good as the real thing. So, give that a look if you're watching your sugar intake.
12. Double Stack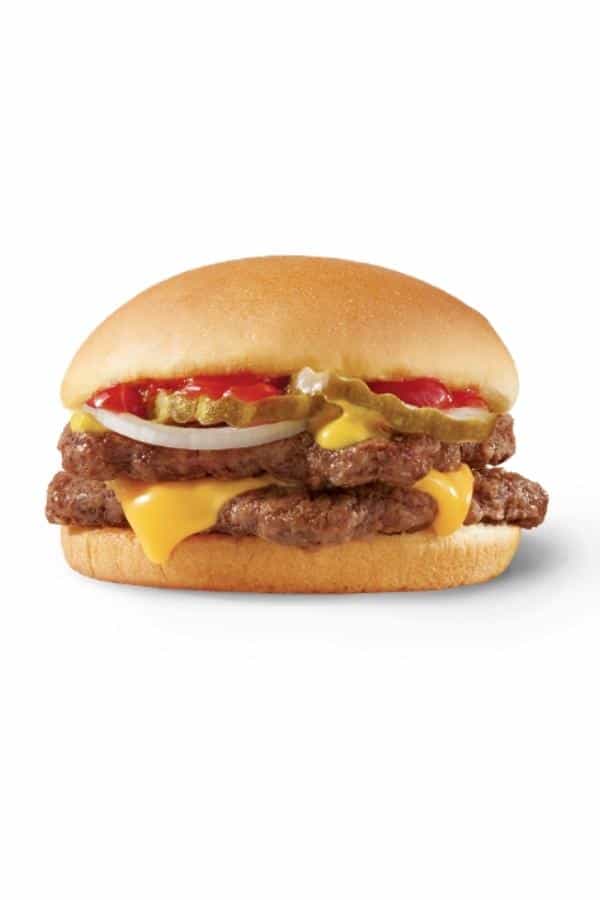 Get an extra boost of protein in at lunch with a Wendy's double stack burger for 410 calories.
This healthy Wendy's order features two patties paired with American cheese, ketchup, mustard, pickles, and onions - and it has a total of 23 grams of protein!
By the way, if the bacon craving hits, you can order a double bacon stack instead. It has 30 additional calories and 3 extra grams of protein!
13. Bacon Egg & Swiss Croissant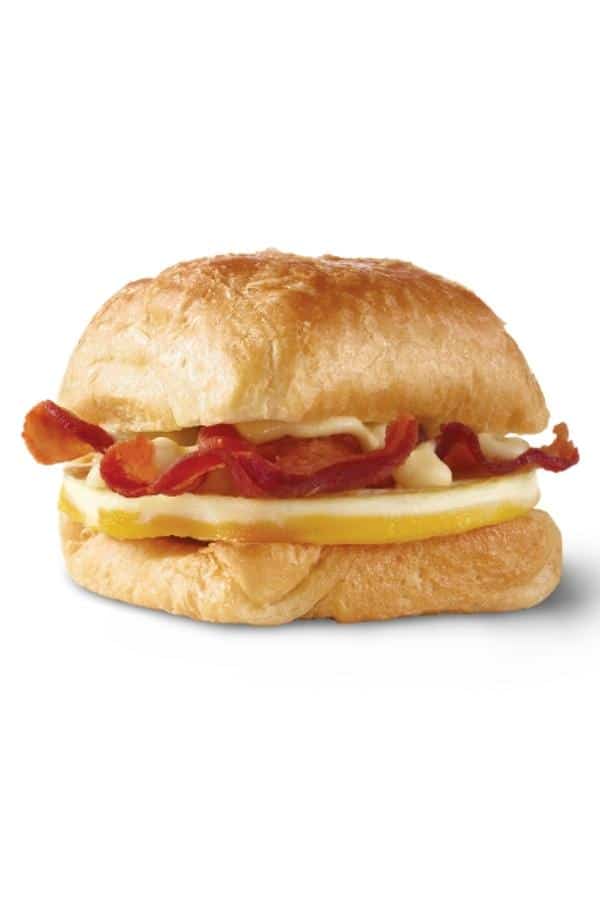 For a fancier take on a classic breakfast sandwich, Wendy's bacon, egg, and swiss croissant is a satisfying way to start the day.
It features a flaky, buttery croissant bun, sunny side up egg, creamy swiss cheese, and applewood smoked bacon for a total of 410 calories. However, if you ask for no bacon on the sandwich you order will end up at only 375 calories.
14. Crispy Chicken BLT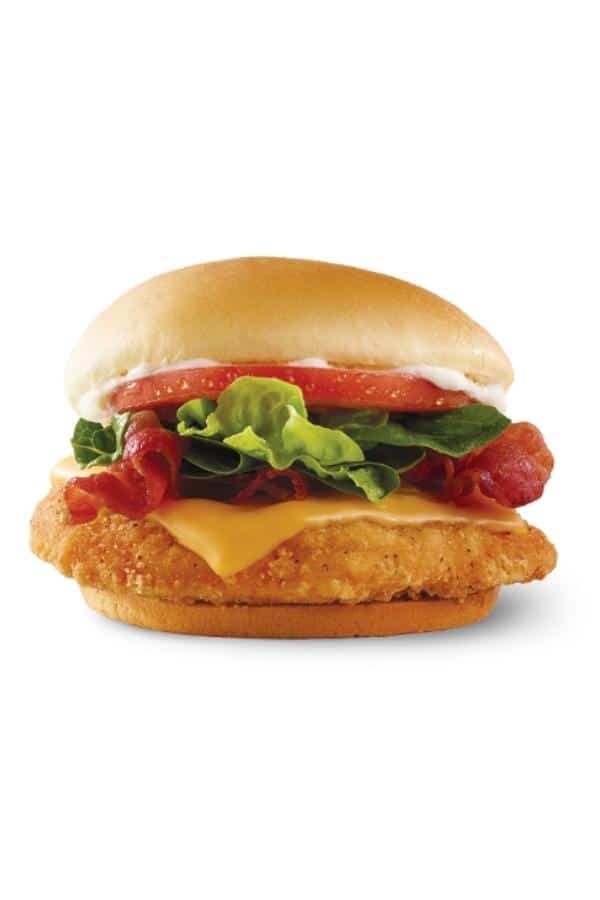 The crispy chicken BLT is an upgrade to Wendy's crispy chicken sandwich.
It has the same crispy breaded chicken, lettuce, and mayo combo but with additional applewood smoked bacon, American cheese, and tomato for an overall more flavorful and filling sandwich at just 420 calories.
To bring the calories even lower, ask for grilled chicken instead of breaded chicken. If you do you'll save yourself almost 100 calories.
15. Parmesan Caesar Salad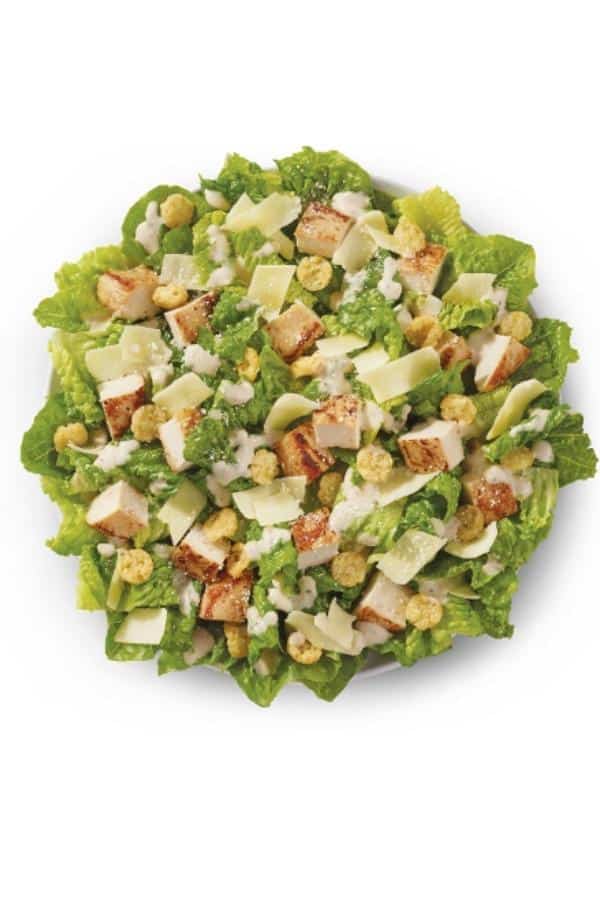 This satisfying salad, packed with romaine lettuce, grilled marinated chicken breast, cheese, and Caesar dressing comes out to 440 calories.
And the dressing actually contributes a whopping 140 calories to that number, so you can bring the whole salad down to just 300 calories by asking for no dressing and using one from my low calorie sauce list I mentioned earlier.
Low Calorie Drinks at Wendy's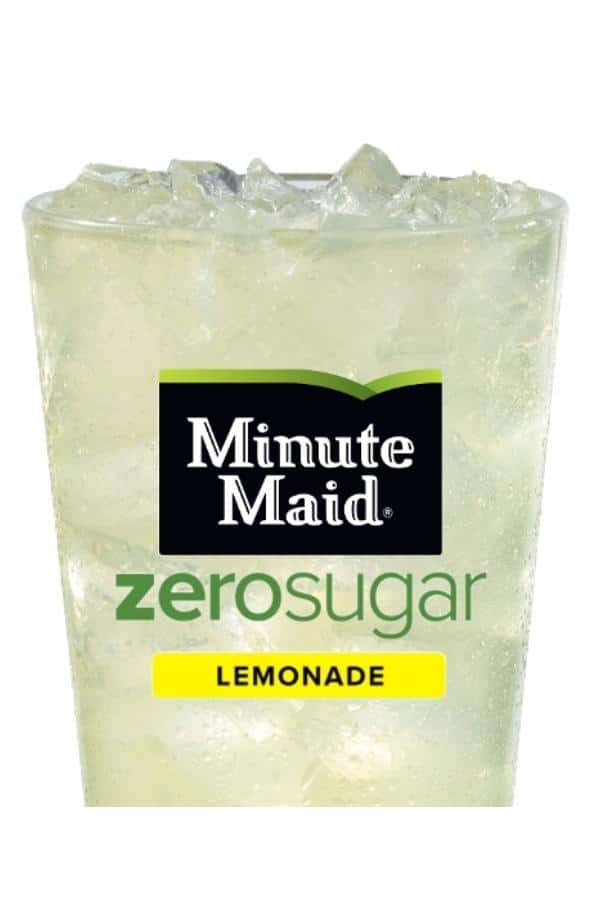 And to go with your meal, here are some of the lowest calorie healthy drinks at Wendy's:
Fresh Brewed Coffee - 5 calories for regular, 0 calories for decaf
Unsweetened Iced Tea - 5-10 calories
Cold Brew Iced Coffee - 15-25 calories
Minute Maid Light Lemonade - 15-30 calories
I've listed the minimum and maximum calorie counts, so you know exactly what you're getting whether you order a small, medium, or large!
Wrapping It Up
Well, those are all of the best healthy low calorie Wendy's orders right now.
As you can see, you can definitely incorporate a ton of different menu items into a healthy diet without going over your daily calorie intake.
Of course, moderation is key. So whenever you have something a little higher in calories for a meal, you can balance it out by having something lower in calories for your next meal.
Anyway, I hope this list has helped you pick some healthier choices from the Wendy's menu. If you try any of these, let me know what you think in the comments below.
Oh, and don't forget to visit my Youtube channel, where I'm always posting new healthy recipes for you to enjoy.
More Low Calorie Lists
If you liked this low calorie fast food list, I have a ton of other low calorie fast food guides I think you'll like too!
Check one of these out next: