If you're looking for the best low calorie Subway menu orders you've come to the right place! This guide has all the lowest calorie subs, sandwiches, salads, and toppings Subway has to offer. And what's even better is that every menu item featured has under 300 calories!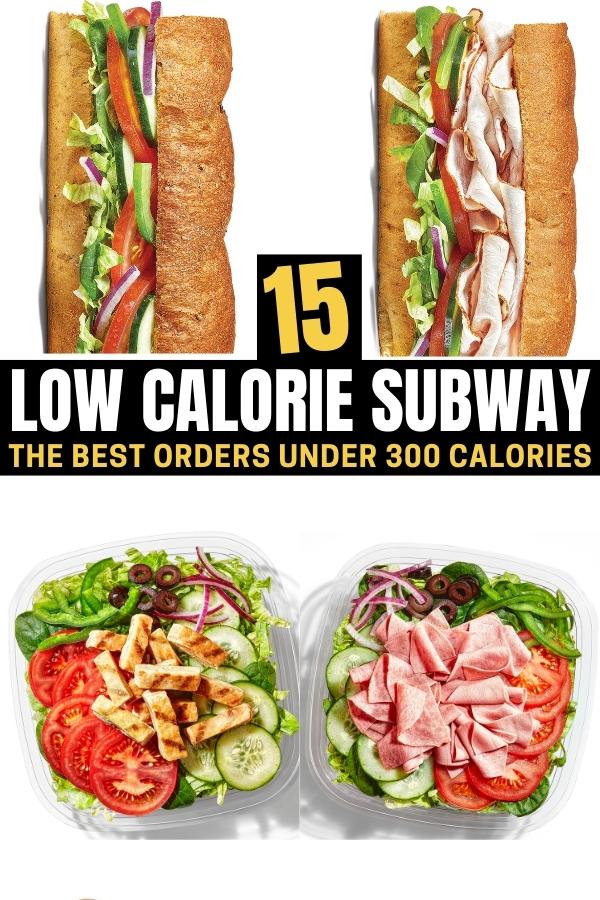 The Best Low Calorie Subway List
Subway is one of the best fast food restaurants to go to for a quick, healthy, and tasty sandwich or salad that's low in calories.
But, if you don't know your way around the Subway menu, you could easily end up with an order that's well over 800 calories!
So, that's why I decided to put together this extensive list of all the healthiest low calorie Subway sandwiches and salads. I even talk about the best low calorie toppings and sauces to use to build your order too.
So, after you read this post you should be able to put together a delicious and healthy lunch for around 300-500 calories that'll keep you full until dinner!
By the way, everything on this list was calculated using Subway's Nutrition Calculator. So you can check that out if you want to dive deeper into the calorie breakdown.
Low Calorie Subway Options
Sauce Options
The sauce you add to your sandwich - or salad - can make or break the final calorie count.
So, here are the lowest calorie sauces and dressings you can get at Subway, and how many calories they'll add to a 6" sub or salad:
Red Wine Vinegar - 0 calories
Buffalo sauce- 10 calories
Yellow Mustard - 20 calories
Honey Mustard - 40 calories
Vinaigrette - 35 calories
Olive Oil - 45 calories
Light Mayonnaise - 50 calorie
Sweet Onion Sauce - 60 calories
The rest of the sauces are over 60 calories per serving, with the worst option being regular mayonnaise - it instantly adds 100 calories to your order.
By the way, if you want some super low calorie sauce options, check out my low calorie sauce list! And for some other options, give this low calorie salad dressing list a check.
Topping Options
Most of the toppings - vegetables - at Subway are super low in calories, so you can add whatever you want to your order with no worries.
The main exception is avocado, which adds 70 calories per scoop.
Anyway, if you're keeping track of the calorie counts, here's a quick guide:
Spinach - 0 calories
Green Pepper - 1 calorie
Pickles (3 slices) - 1 calorie
Cucumber - 2 calories
Jalapeno (3 slices) - 2 calories
Lettuce - 3 calories
Red Onion - 3 calories
Black Olives (3 rings) - 4 calories
Tomato - 6 calories
Bread Options
All the bread options at Subway are in the 190-240 calories range for a 6-inch sandwich, so you can choose basically any of them.
With that said, here are all the Subway bread options according to calorie count:
Sourdough - 190 calories
Italian White - 200 calories
9-Grain Wheat Bread - 210 calories
Multigrain Flatbread - 220 calories
9-Grain Honey Oat - 230 calories
White Flatbread - 230 calories
Italian Herbs & Cheese - 240 calories
The lowest calorie Subway bread is their sourdough loaf, so if you want to make the healthiest subway sandwich, it's a pretty good base to start with.
Low Calorie Salads at Subway
The easiest way to eat fewer calories at Subway is by choosing the salad version of your favorite sandwich.
They have basically everything the sandwiches have, minus the bread, so they're a lot lower in calories and carbs.
In fact, most of the salads at Subway are under 300 calories!
Again, the calorie counts I've listed below don't include dressing. But, for the salads that are under 200 calories, you can use whatever dressing you like, and the total won't exceed 300.
Also, to keep your salad even lower in calories, just ask for light dressing, or get it on the side and use a small amount.
By the way, all of these salads start with a combination of lettuce, spinach, tomatoes, cucumbers, green peppers, and red onions. So I'll only be mentioning what makes each one different.
1. Veggie Delight Salad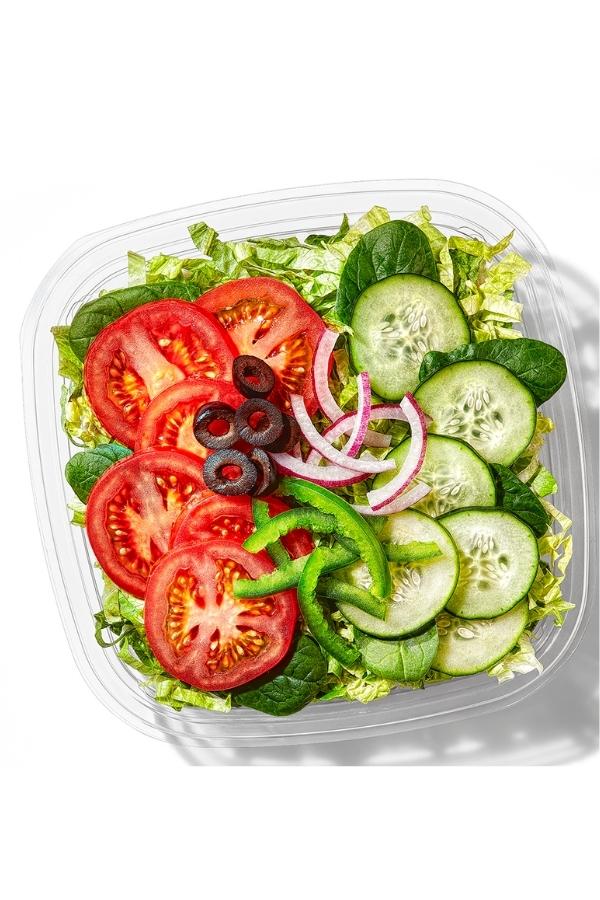 Just like the veggie delight sandwich, the veggie delight salad is super low in calories.
In fact, it's the lowest calorie salad option on Subway's menu at just 50 calories.
Plus, it's versatile enough to pair with any dressing you want.
Also, for what it's worth, this salad made it to the top of the list I put together of the best healthy fast food orders you can get right now! There are over 40 orders on it, and all of them have under 400 calories. So, definitely give that a look if you eat fast food on the reg.
2. Turkey Breast Salad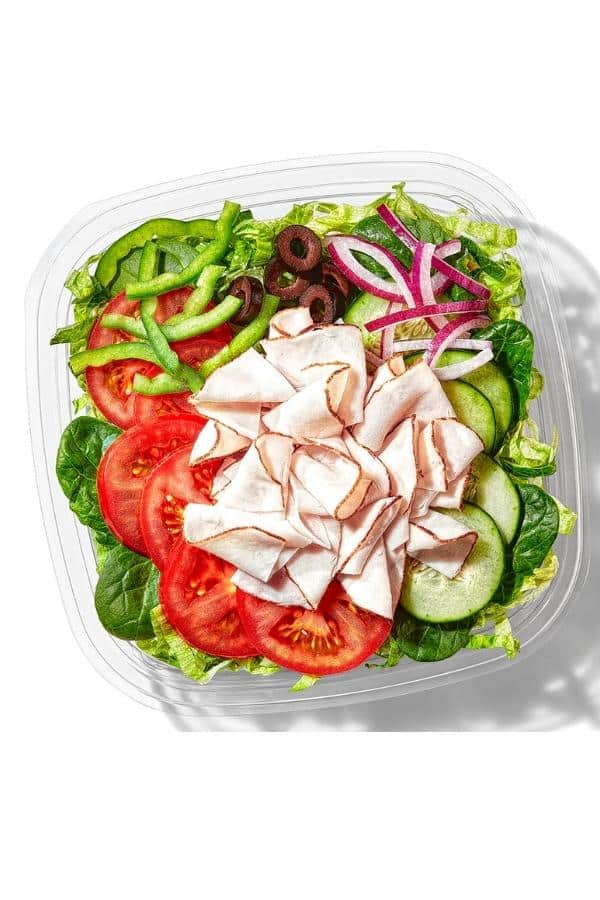 The turkey breast salad is the best choice if you want a low calorie salad with some added protein. It comes out to only 110 calories.
This salad goes with all the dressing options at Subway, so feel free to add whatever you like.
3. Black Forest Ham Salad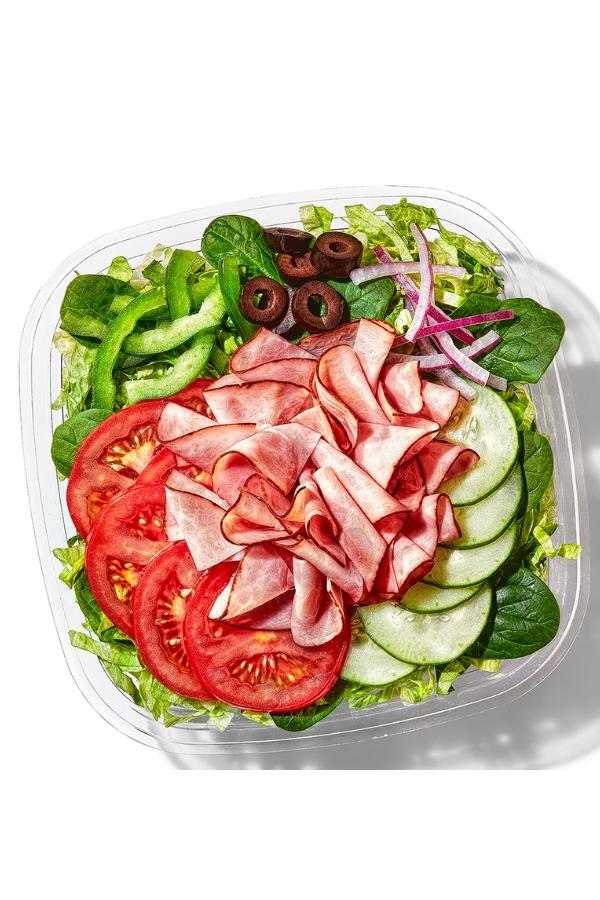 Black forest ham is another low calorie protein that's a great addition to a basic salad.
The black forest ham salad at Subway has just 110 calories, and I think it tastes great with the Subway vinaigrette.
4. Grilled Chicken Salad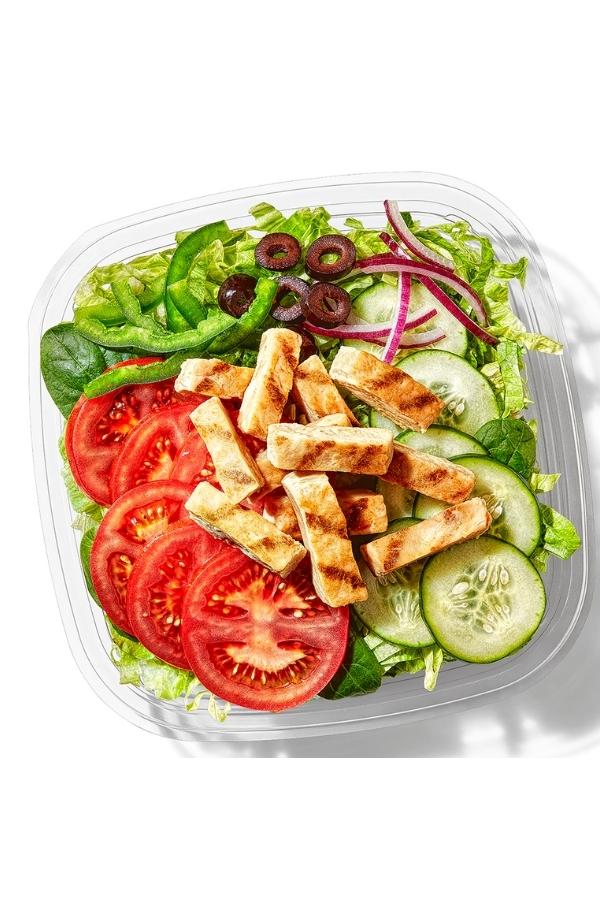 Grilled chicken packs a ton of protein with few calories. And the grilled chicken salad at Subway is proof of that - it only has 130 calories, most of which is protein.
Also, for what it's worth, my personal favorites to drizzle over this salad are the chipotle southwest dressing (60 calories) or the ranch dressing (70 calories).
5. Roast Beef Salad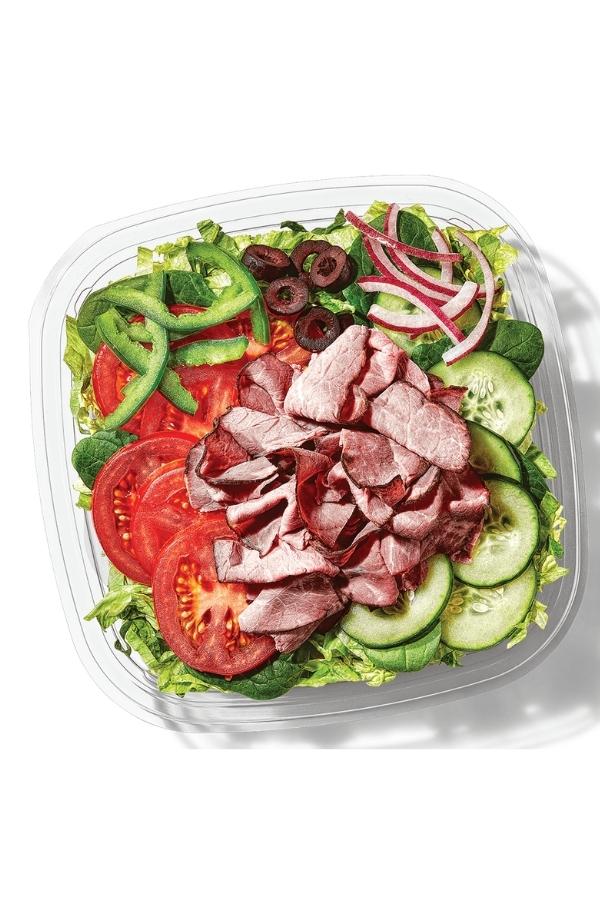 The roast beef salad at Subway is a great pick if you're craving red meat. This crisp salad is filled with bits of chopped roast beef and has only 140 calories.
For your dressing, I recommend the sweet onion sauce or the classic Subway vinaigrette.
6. Subway Club Salad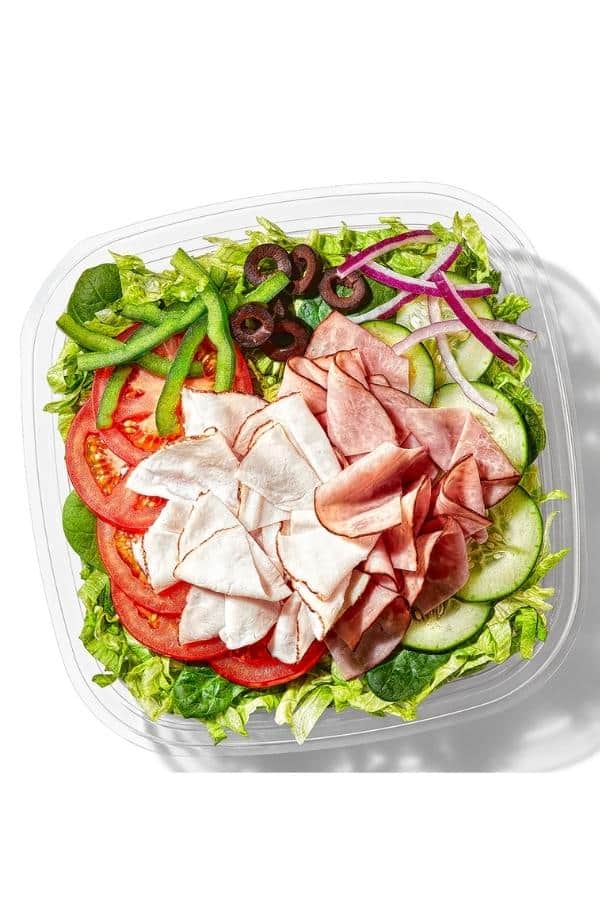 The Subway club salad is a low calorie option with a lot of meat added in. It's got turkey breast, roast beef, and black forest ham, plus black olives for just 140 calories! Not too shabby, eh?!
Now, since there's a lot going on in this salad, a simple Subway vinaigrette, or a combination of oil and red wine vinegar are my go-to's to add to it.
7. Rotisserie-Style Chicken Salad
The rotisserie-style chicken salad at Subway is super popular, and with good reason. It's juicy, flavorful, and according to Subway, is made with antibiotic-free chickens for an even healthier meal.
The salad has 170 calories, and goes great with most of the Subway dressings.
8. Cold Cut Combo Salad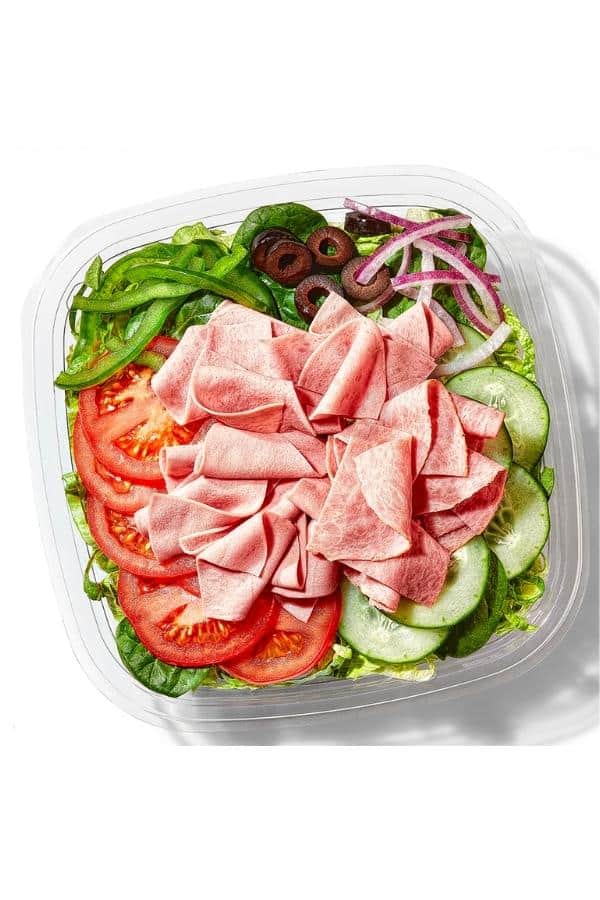 If you love your cold cuts, this salad is for you. It has all the classics - ham, salami, and turkey bologna - and just a total of 180 calories.
For what it's worth, I think the Subway vinaigrette or red wine vinegar with oil complement all the flavors here really well.
9. B.L.T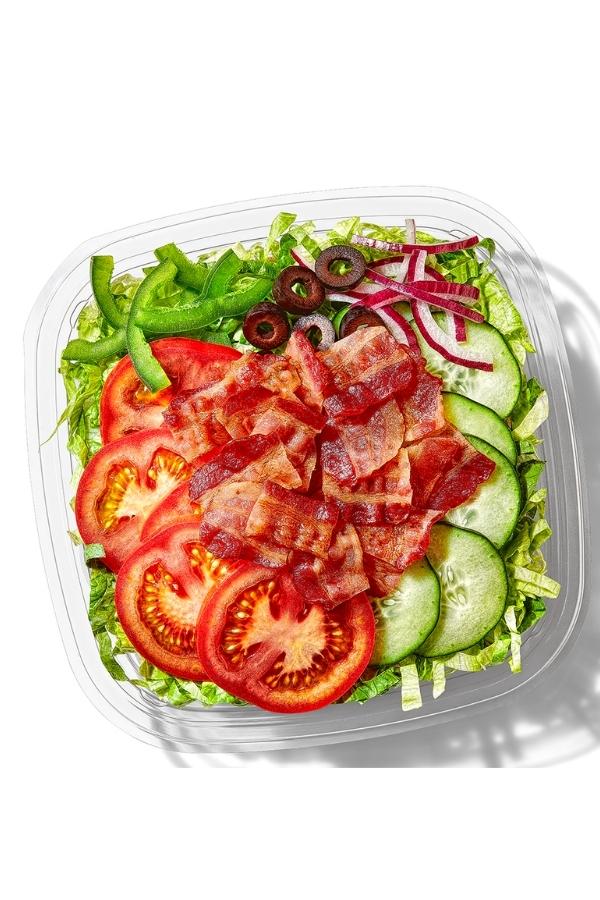 This low calorie Subway salad option takes a classic B.L.T sandwich and deconstructs it. In this salad bacon, lettuce, and tomato are combined with cucumbers, green peppers, black olives, and red onions. The result is a delicious salad that has under 210 calories.
And since it's a B.L.T, some light mayo as the dressing works perfectly.
10. Steak and Cheese Salad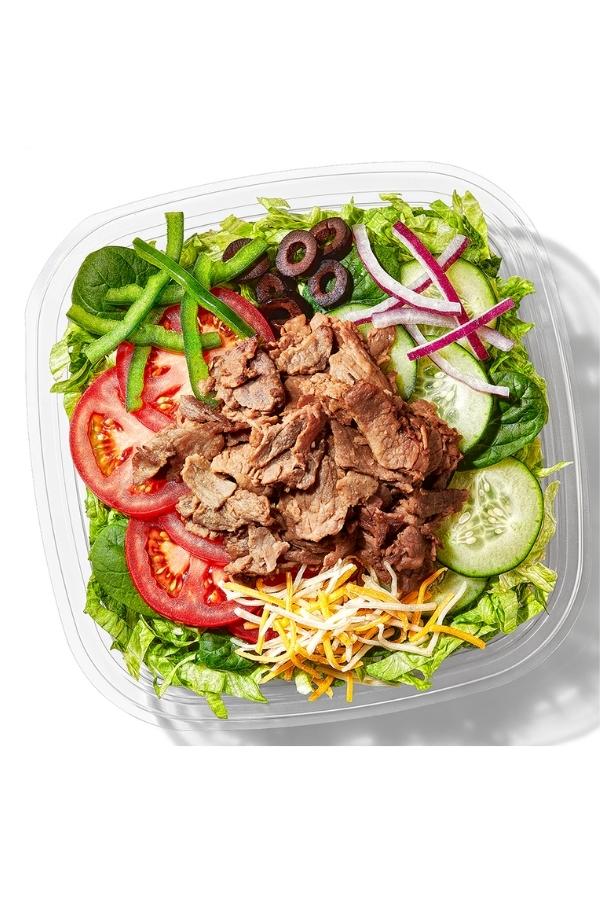 This beefy, cheesy salad comes with American cheese, black olives, and shaved steak. Best of all, it has all of that deliciousness but runs you just 210 calories.
I personally love ordering this with the chipotle southwest dressing, which brings the total up to just 270 calories.
11. Italian B.M.T. Salad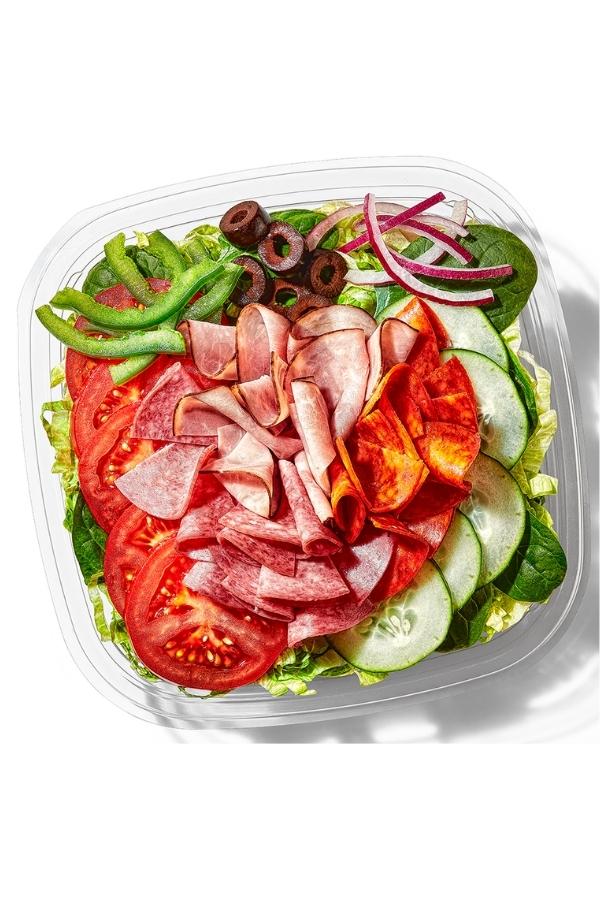 The B.M.T. here stands for biggest, meatiest, and tastiest. And, to be honest, it's definitely a meat lover's dream come true, and it has just 240 calories.
As far as what comes in the salad, well, it has a hearty servings of all the most popular deli meats - salami, black forest ham, and spicy pepperoni - plus black olives.
As you can imagine this salad packs a ton of flavor so I recommend pairing it with either the Subway vinaigrette or red wine vinegar with oil.
12. Sweet Onion Chicken Teriyaki Salad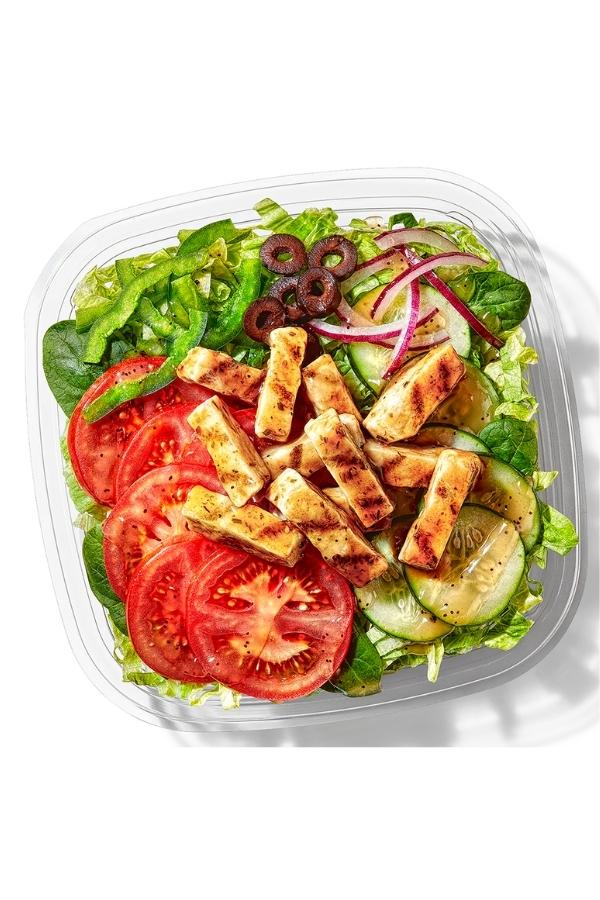 Subway's Sweet Onion Chicken Teriyaki Salad is made with teriyaki glazed chicken and already comes with sweet onion sauce, so you don't have to worry about picking out a dressing.
You get all that deliciousness for only 250 calories!
Low Calorie Subs & Sandwiches at Subway
Now it's time to talk about the best low calorie Subway subs and sandwiches! And the good new is that all of these 6-inch subs come out to less than 300 calories so you should be able to easily fit 1 or two of these into your day with ease.
Just keep in mind that the calorie totals listed below don't include any sauce.
Also, a quick tip for bringing the calorie count down is to swap the wheat bread with sourdough bread, which is about 20 calories less.
13. Veggie Delight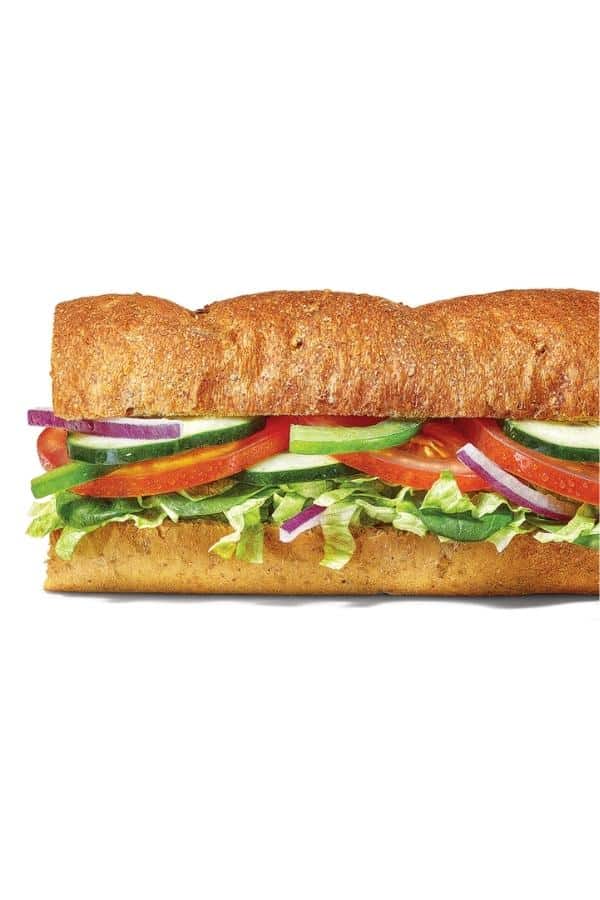 Of course, the lowest calorie sub at Subway is the veggie delight.
This vegetarian sandwich has a combination of lettuce, spinach, tomatoes, cucumbers, green peppers, and red onions. If you order this sub on multigrain bread it'll end up at just 230 calories.
That super low calorie count means you can add some of the more calorie-dense sauces, like chipotle southwest sauce (60 calories) or guacamole (60 calories), and still keep the sandwich under 300 calories.
14. Turkey Breast Sandwich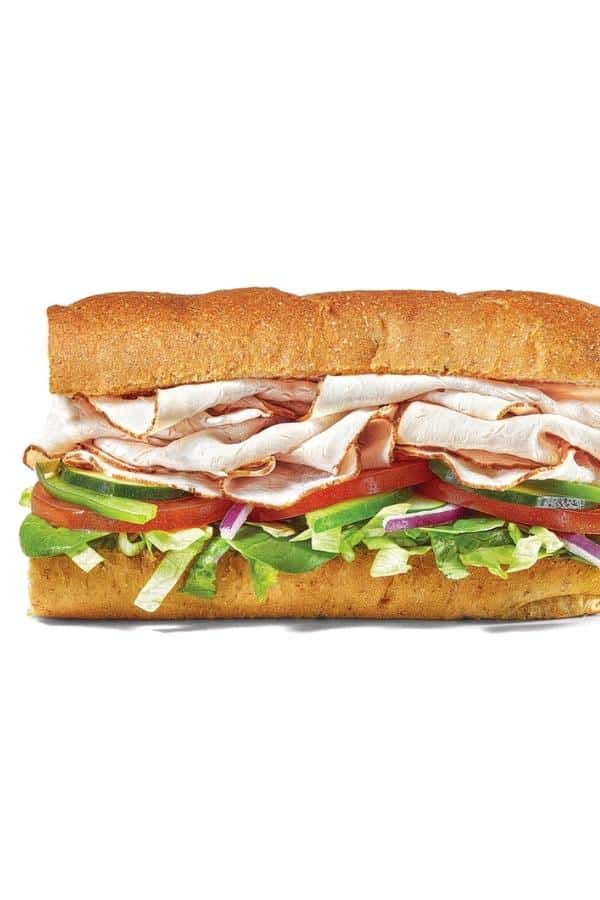 The lowest calorie protein you can get at Subway is the turkey breast. Three slices only come out to around 40 calories.
So, it probably comes as no surprise that the lowest calorie Subway sandwich is their turkey sandwich - it has just 280 calories.
Also, for what it's worth, the Turkey breast sandwich also happens to be one of the most popular Subway sandwiches. So you can't go wrong with this classic lunchbox staple!
15. Black Forest Ham Sandwich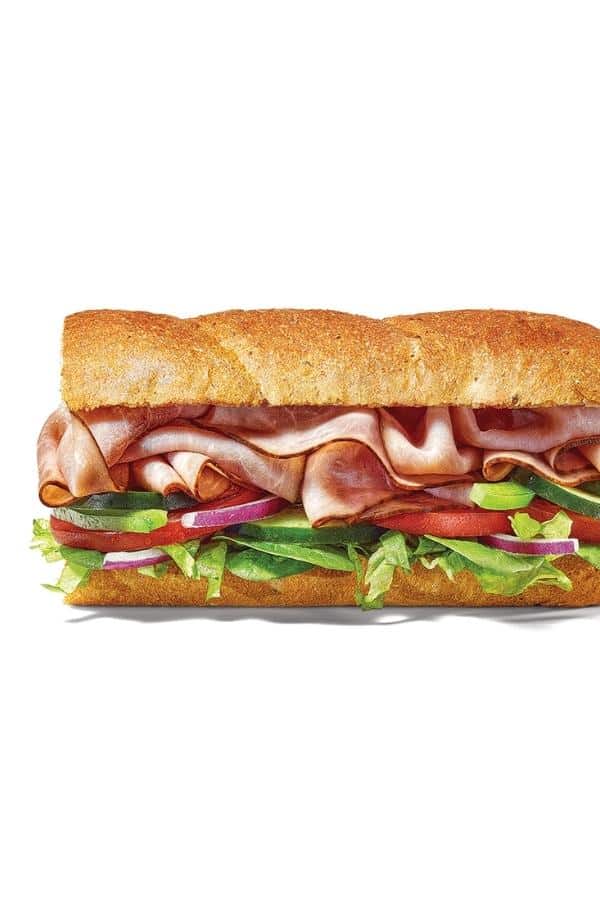 Another great low calorie meat on the Subway menu is the Black Forest Ham sub.
The black forest ham sandwich features three slices of rich and smoky ham with lots of fresh veggies on multigrain wheat bread for a total of just 290 calories.
Wrapping It Up
As you can see, Subway is one of the best places you can go to eat fresh and healthy fast food that's low in calories but high in flavor.
And it's fully customizable, so you're in control of the total calorie count of your meal. It's a win-win!
Anyway, I hope you liked this guide to eating low calorie at Subway. If you tried any of these options, or have a favorite low calorie order you want to share, feel free to let me know in the comments.
More Low Calorie Fast Food Lists
If you're looking for more low calorie fast food options, I have a ton of lists on the blog that you have to check out!
Give all of these a look next: