If you're looking for the best low calorie McDonald's menu items to order for breakfast, lunch, dinner, and even dessert, then you've come to the right place! I've scoured the Mcdonald's menu - and have done some taste testing as well - and compiled their 15 tastiest options under 350 calories. So, if you thought there weren't any low calorie options at this popular fast-food chain, think again. There are actually quite a few really, really good ones.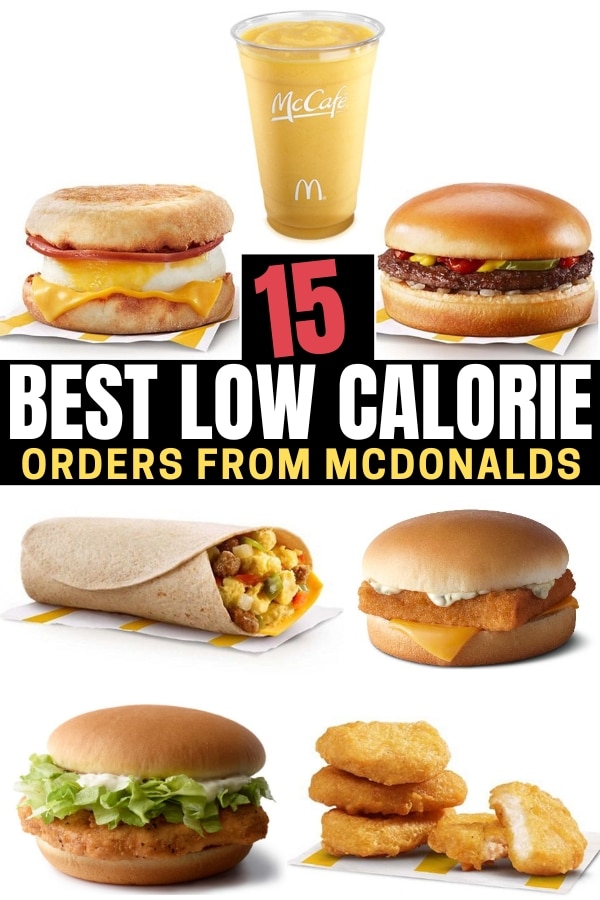 The Best McDonald's Low Calorie Options
When you think about McDonald's - and fast food in general - the words "low calorie" are probably not the first 2 words you think of.
However, you might be surprised to know that there are actually quite a few low calorie menu options at McDonald's. I mean, in this list alone, I've compiled 15 of them, and there are options for every meal of the day - even dessert!
Now, just so you know, I do list the total calories for each item below, but if you want a full nutritional breakdown, you can find all these menu items - along with everything else on the McDonald's menu - on the McDonald's nutrition calculator. It's what I used to make this guide.
Also, just so you know, I've already put together a super comprehensive guide on the best low carb McDonald's orders. That list feature over 19 low carb orders. So, if you're following a low carb diet - like the keto diet - you'll definitely want to give that list a look.
Anyway, with all that said, let's jump into the list!
Low Calorie McDonald's Menu Items
1. Apple Slices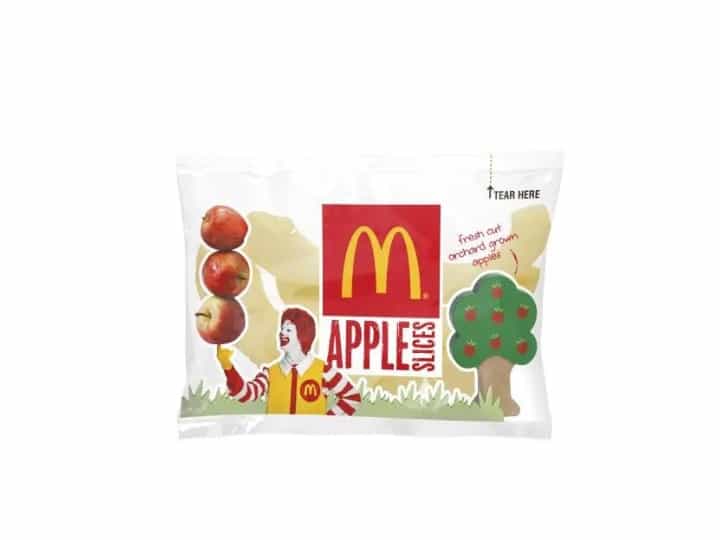 The lowest calorie menu option at McDonald's are the apple slices.
They only have 15 calories, so you can enjoy them as a side with one of the other options on this list or as just a snack.
2. Fruit 'N Yogurt Parfait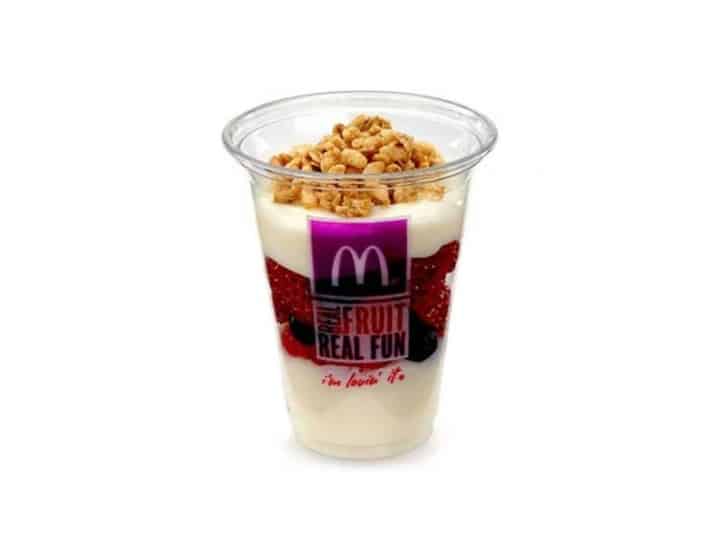 The Fruit 'N Yogurt Parfait at Mcdonald's is an awesome low calorie breakfast - or snack option - that has just 150 calories a serving. It combines low-fat yogurt, strawberries, blueberries, and some crunchy granola, and it's so, so yummy.
3. Strawberry Banana Smoothie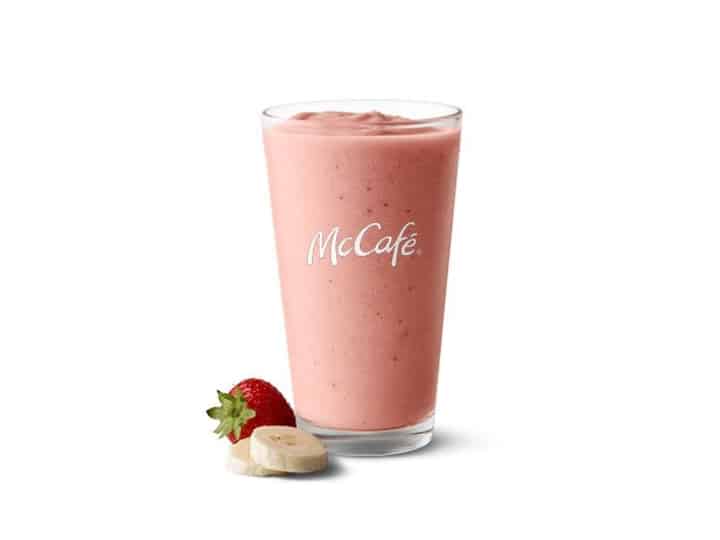 If you're looking for another low calorie Mcdonald's breakfast option, look no further than the strawberry banana smoothie. It's made with strawberries, bananas, and low-fat yogurt, and this tasty smoothie is filling enough for a light meal.
As far as the calories, a small comes out to just 190 calories, a medium has 240 calories, and a large has 330 calories.
This nutritious meal replacement is also a great choice if you're trying to avoid the saturated fat found in some of McDonald's meat-based menu items.
4. Mango Pineapple Smoothie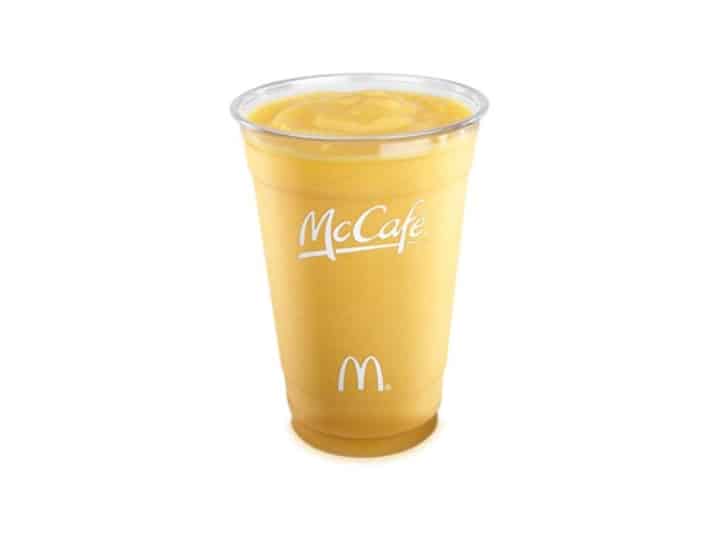 Another tasty low calorie breakfast option at Mcdonald's is the Mango Pineapple Smoothie. It combines mangoes, pineapples, and low-fat yogurt to create a super tasty and refreshing drink that can double as a meal replacement.
As far as the calories, there are 200 calories in a small, 250 calories in a medium, and 340 calories in a large.
5. Vanilla Cone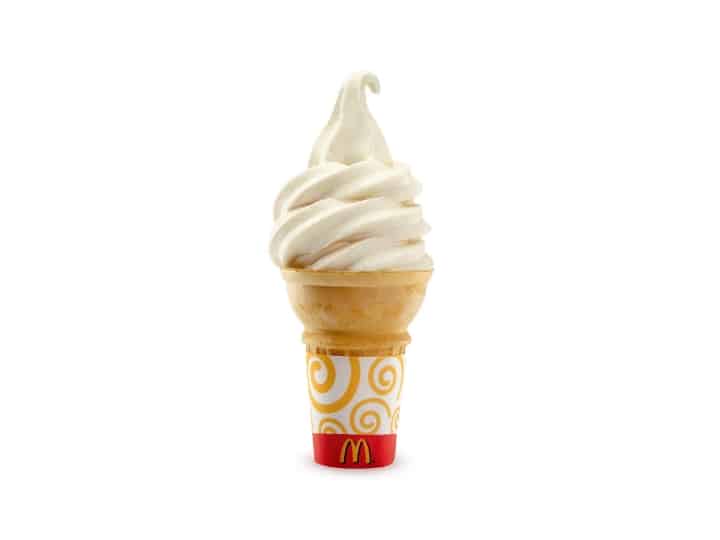 If you're looking for the best low calorie dessert on the Mcdonald's menu, a small vanilla cone is it. At just 200 calories it packs a ton of yumminess.
In fact, it's probably my favorite low calorie fast food dessert option out there. There's just something about the vanilla ice cream at McDonald's that's so, so good. If you know, you know.
6. 4-Piece Chicken Nuggets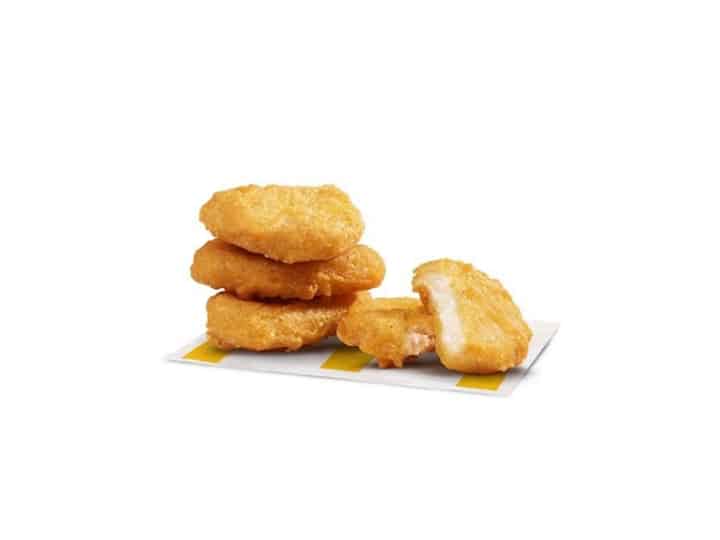 At just 220 calories, a 4-piece box of chicken McNuggets is a delicious low calorie way to satisfy your crispy, breaded chicken cravings.
You can even pair your nuggets with a low-calorie sauce to turn the deliciousness up to another level. The McDonald's Spicy Buffalo Sauce has the lowest calorie count at 30 calories a serving, but the Mcdonald's Tangy Barbecue (45 calories) and McDonald's Sweet & Sour Sauce (50 calories) are good options too.
With that said though, you'll want to avoid pairing your McNuggets with the McDonald's Creamy Ranch, as it packs 110 calories a pop.
By the way, if you're looking for some really tasty low calorie sauces to try sometime - and maybe even pair with your McNuggets - I highly recommend checking out my list of the best low calorie sauces. It has over 20 options!
7. Hamburger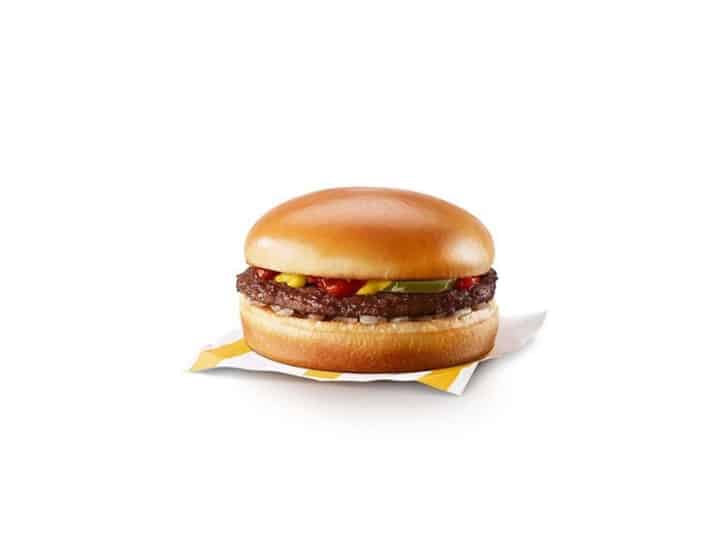 The lowest calorie burger on the McDonald's menu is the McDonald's hamburger. It has just 250 calories, and it features a 100% beef patty, a regular bun, pickles, onions, ketchup, and mustard.
If I'm being totally honest the regular Mcdonald's hamburger isn't my favorite low calorie option, but to each their own.
8. Cheeseburger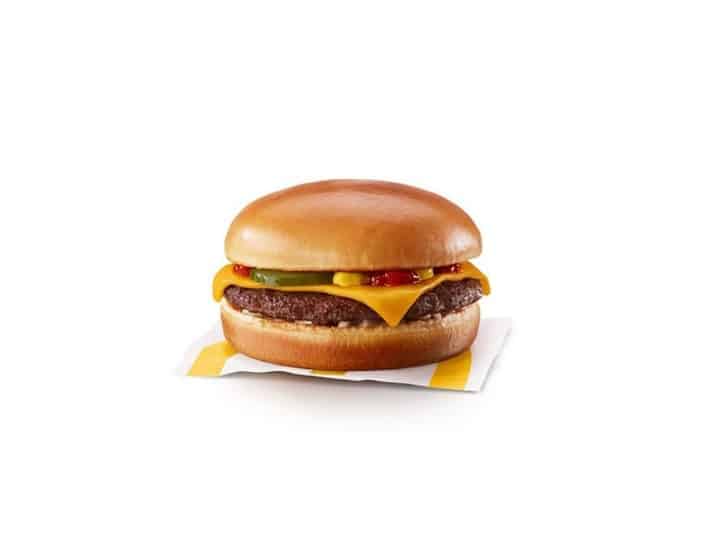 Another low calorie burger on the Mcdonald's menu is the cheeseburger. It has just 300 calories and it feature a 100% beef patty with American cheese, pickles, onions, ketchup, mustard, and a regular bun.
9. Egg McMuffin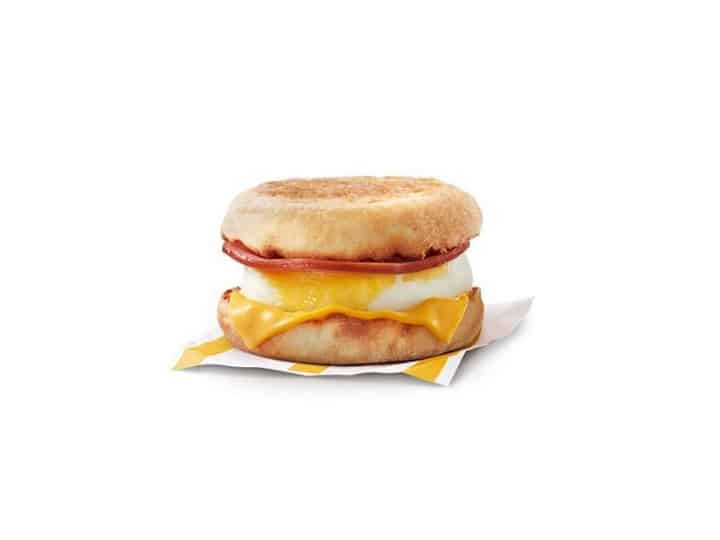 An iconic staple on McDonald's breakfast menu is the classic Egg McMuffin. It has a freshly cooked round egg, a piece of Canadian bacon, and a slice of American cheese all sandwiched in a fluffy English muffin.
Honestly, the Egg McMuffin is absolutely delicious, and it's also the lowest calorie breakfast sandwich on the McDonald's menu.
Speaking of calories, the original Egg McMuffin has just 310 calories. But, you can bring the calories down to just 280 calories by getting the egg white delight option of this popular sandwich. Now, if you want to make it at home and bring down the calories even more, you can have full control of what you use and make this Egg McMuffin recipe.
By the way, this sandwich made it onto my list of the best healthy fast food breakfast options you can order right now. So, if you're looking for more low calorie breakfast options from some other chains def give that a look next!
10. Sausage Burrito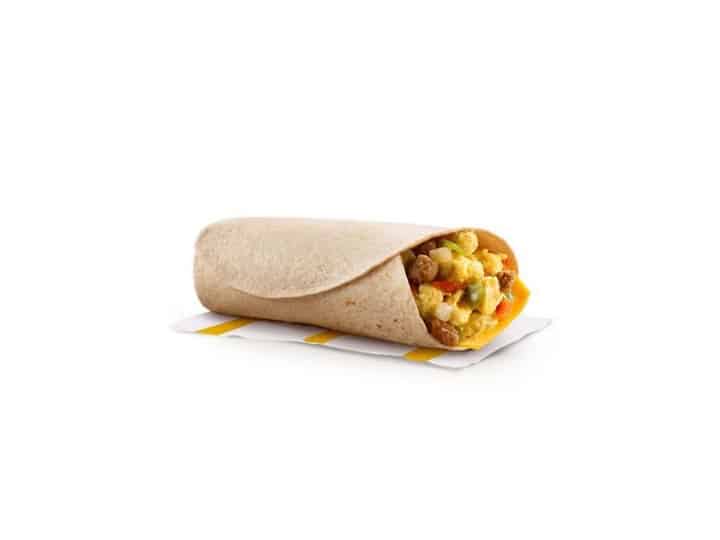 Another great low calorie breakfast order is McDonalds' sausage breakfast burrito. It's like a healthier, lower calorie swap for their popular sausage biscuit.
Ths sausage burrito has fluffy scrambled eggs, meaty sausage, tomatoes, green chilies, onions, and melty American cheese all rolled in a flour tortilla. It makes for a pretty hearty meal, and it only has 310 calories.
By the way, if you love breakfast burritos - and want an even lower calorie option that you can make at home - I definitely recommend giving these 0 carb breakfast burritos a try sometime.
11. Fruit & Maple Oatmeal
Another fantastic low calorie breakfast option on the McDonald's menu is the fruit and maple oatmeal. It's a little more filling than the Fruit 'N Yogurt Parfait, and it has just 320 calories.
This sweet breakfast option features whole-grain rolled oats, brown sugar, a mix of cranberries and raisins, crisp diced apples, and cream.
By the way, if you love oatmeal, you have to check out this chocolate protein oatmeal recipe sometime. It's so darn good, and oh-so chocolatey.
12. McChicken (Without Mayonnaise)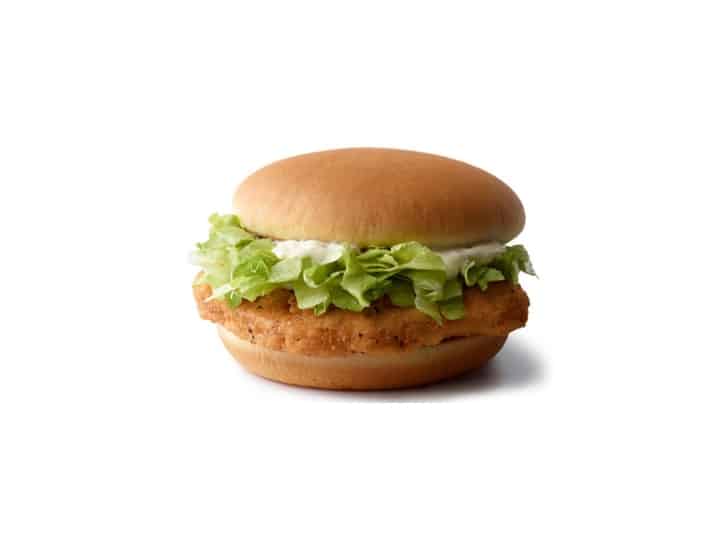 If you're looking for a tasty low calorie sandwich at McDonald's the McChicken sandwich is one of the best options. That is, of course, if you order it without mayo. By ordering the McChicken mayo-free, the sandwich clocks in at just 300 calories.
It's definitely a yummy option, especially if you're craving chicken.
13. Filet O Fish (Without Tartar Sauce)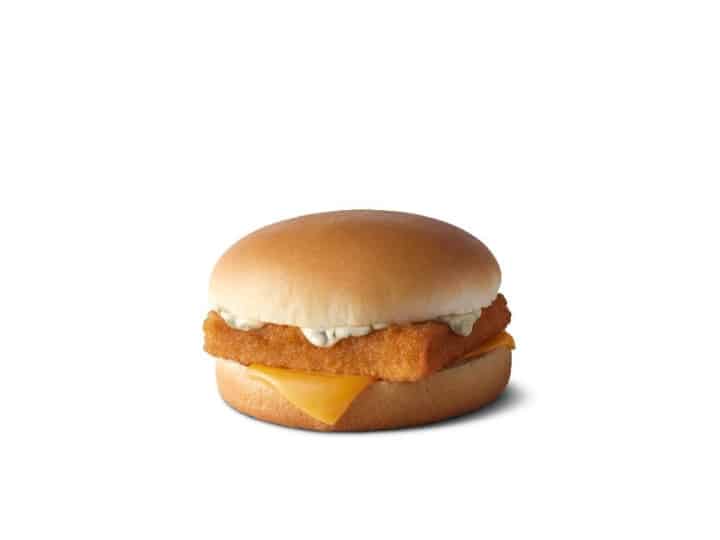 Another yummy low calorie McDonald's sandwich option is the Filet-O-Fish ordered sans tarter sauce. Ordered this way, the sandwich has just 300 calories. Pretty great, right?
Honestly, I think the Filet-O-Fish is one of McDonald's most underrated sandwiches. It features a crispy fried fish fillet made of flaky white pollock, a regular bun, and a slice of melty American cheese to make a crave-worthy sandwich. What's not to love about that?!
Again, if you're trying to keep the calories as low as possible, make sure you order it with no tartar sauce. It'll add an extra 90 calories if you do.
14. Sausage McMuffin (No Cheese)
As I'm sure you've noticed by now, McDonald's has quite a few really tasty low calorie breakfast menu items. I mean, almost half of this list fits that description. Well, you can add the Sausage McMuffin to that list as well.
This tasty sausage biscuit comes out to just 350 calories - of course, when you order it without cheese. Honestly though, there's plenty of flavor from the pork sausage and richness from the buttered biscuit, it'll still taste super yummy without it.
15. McDouble Hamburger (No Cheese)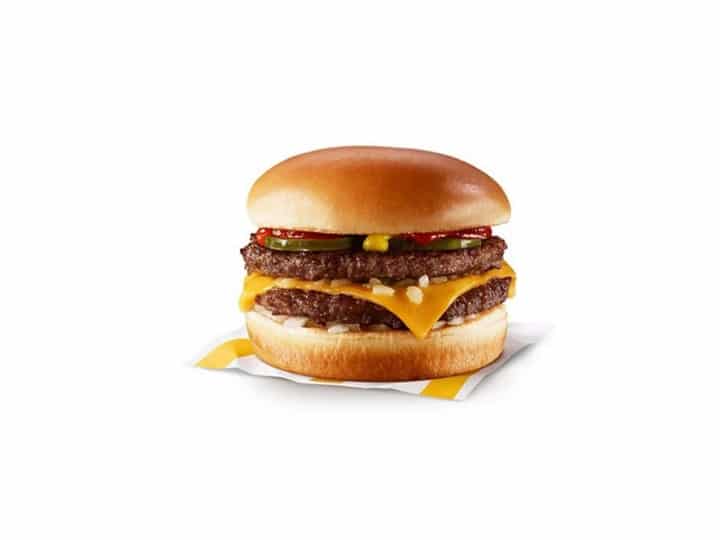 Rounding out this low calorie Mcdonald's list is the McDouble! When you order a McDouble without cheese, this multi-patty burger has just 350 calories.
So, a no-cheese McDouble is a great option to go with if you want something filling for dinner with a lot of protein and not a ton of calories.
Low Calorie Drinks at McDonald's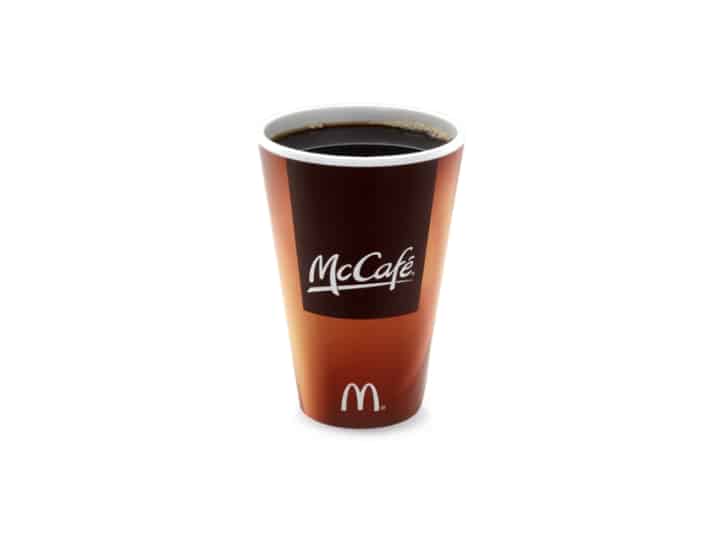 McDonald's also has several low calorie drinks on the menu.
So, if you want to round out your meal with a low calorie drink, here are the best ones to go with:
Bottled water - 0 calories
Unsweetened Iced Tea - 0 calories
Americano Coffee - 0 calories
Premium Roast Coffee - 0 calories
Diet Coke - 0 calories
Hot Tea - 10 calories
Honest Kids Organic Juice - 35 calories
That's a pretty decent number of options, eh?
Wrapping It Up
Well, there you have it, those are the best low calorie McDonald's menu options right now!
I hope this guide gives you some ideas for things to order the next time you visit Mickey D's.
As always, if you try any of these options, let me know what you think in the comments below. And, of course, if you have a go-to low calorie order that I missed, let me know about it down there too!
More Low Calorie Fast Food Guides
If you love fast food but you're trying to keep your calories in check, you're in luck! I have a ton of other low calorie fast food guides you can checkout as well.
Here are some reader favorites:
I also recently put together a full rundown of the top 40+ healthiest fast food orders you can order under 400 calories. It features healthy low calorie options from practically every fast food chain out there - most orders have under 250 calories. So, if you eat fast food on the reg, definitely give that a look.
Lastly, for some really tasty low calorie recipes be sure to visit my Instagram, TikTok, and Youtube channel! I post new ones on them weekly.