This sticky, sweet, and savory burnt ends recipe is addictive. Prepped in minutes and made in the oven, it's an easy yet show-stopping recipe that'll impress your family and friends!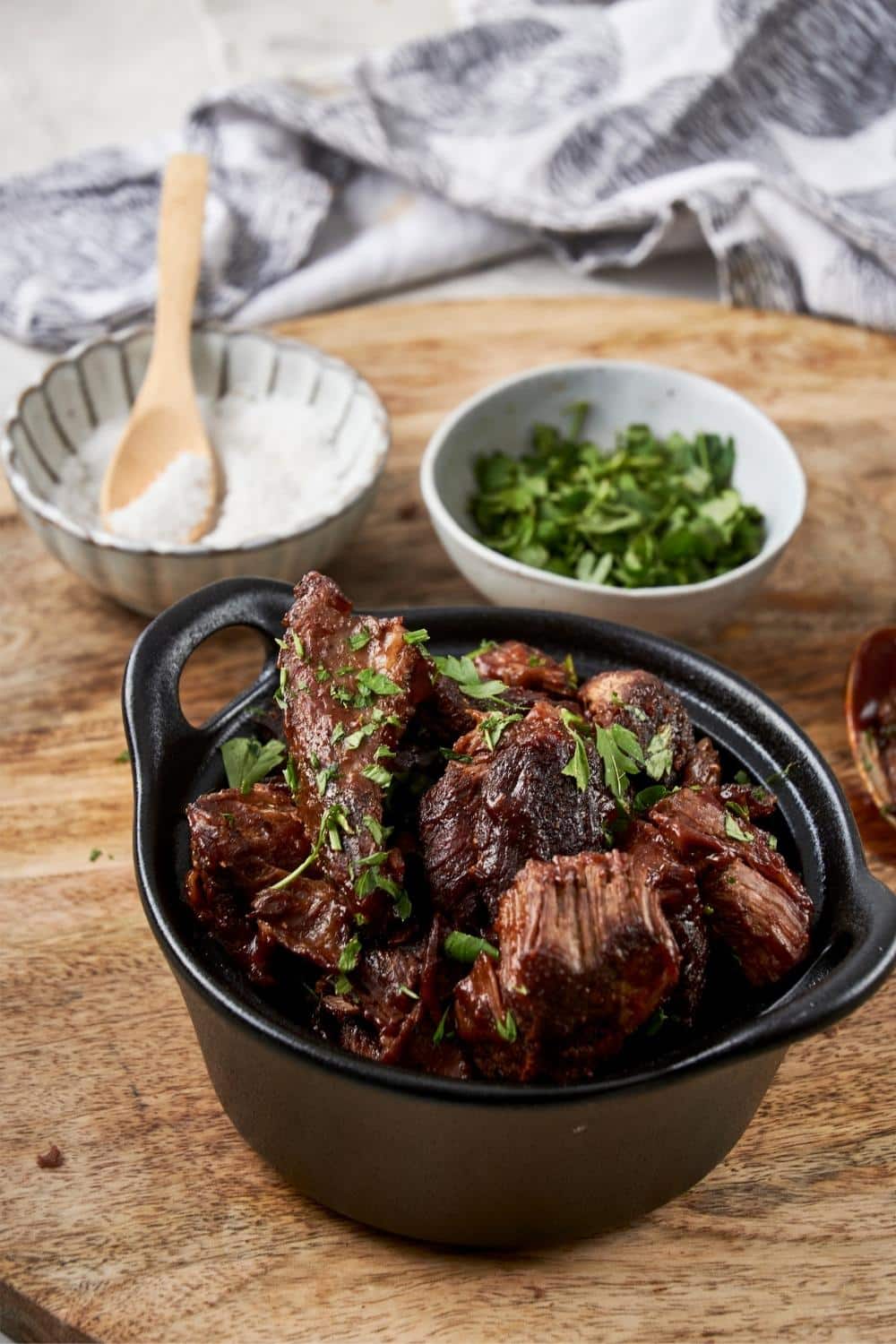 My Take On Burnt Ends
I'm not exaggerating when I tell you these oven-baked burnt ends are truly to die for. Bite-sized chunks of beef are cooked in a spiced brown sugar dry rub and then coated in a savory and tangy BBQ sauce glaze. The final result is crispy, smoky, sweet, and melt-in-your-mouth delicious beef. It's basically meat candy, and what could be better than that??
Now, burnt ends are typically made with smoked brisket point, but my version of this cookout crowd-pleaser is made with chuck roast for a more budget-friendly option that's just as delicious. It's also called poor man's burnt ends, but in my opinion, these definitely taste indulgent!
Instead of using a grill or smoker, this recipe uses the oven, so you can make 'em year-round. And believe me, once you've had a bite, you'll be craving them all the time! Not to mention getting requests from family and friends to make them on a regular basis.
Luckily, they're also incredibly easy to make. This burnt ends recipe only takes a few minutes to prepare, and the rest is just letting it get crispy and sticky in the oven! I like using that extra time to put together a quick side dish like this refreshing coleslaw or sauteed broccoli.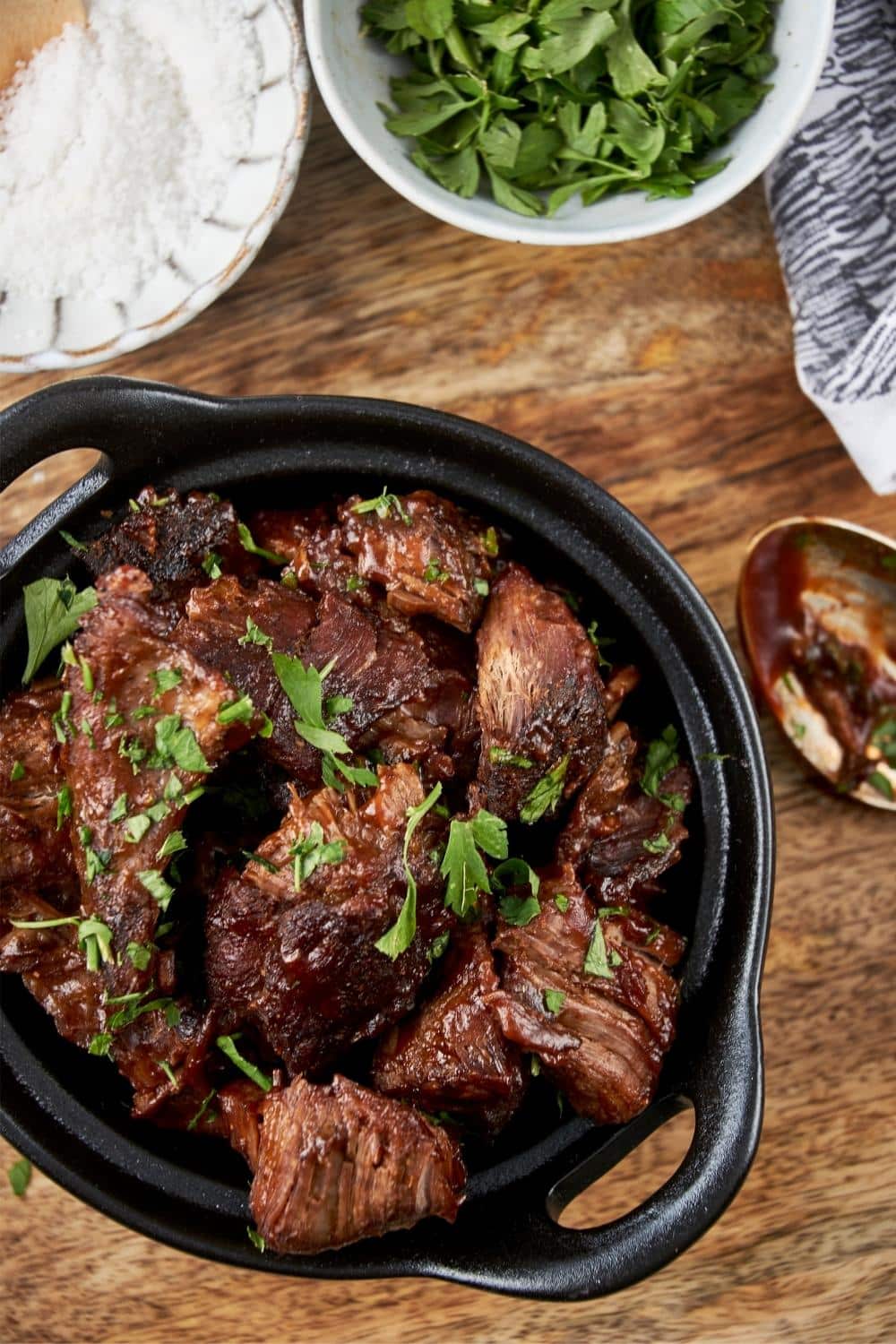 Why You'll Love This Recipe
Mostly hands-off. Besides seasoning and slicing the meat, there's really not a lot you have to do for this recipe, despite it tasting like it took hours of work to make!
Always a hit. Everyone who tries these burnt ends falls in love at first bite. In fact, you might want to make a few extra servings because they're always the first to disappear at any gathering!
Versatile. There's also plenty of room to customize the dry rub and barbecue sauce combination to suit your tastes.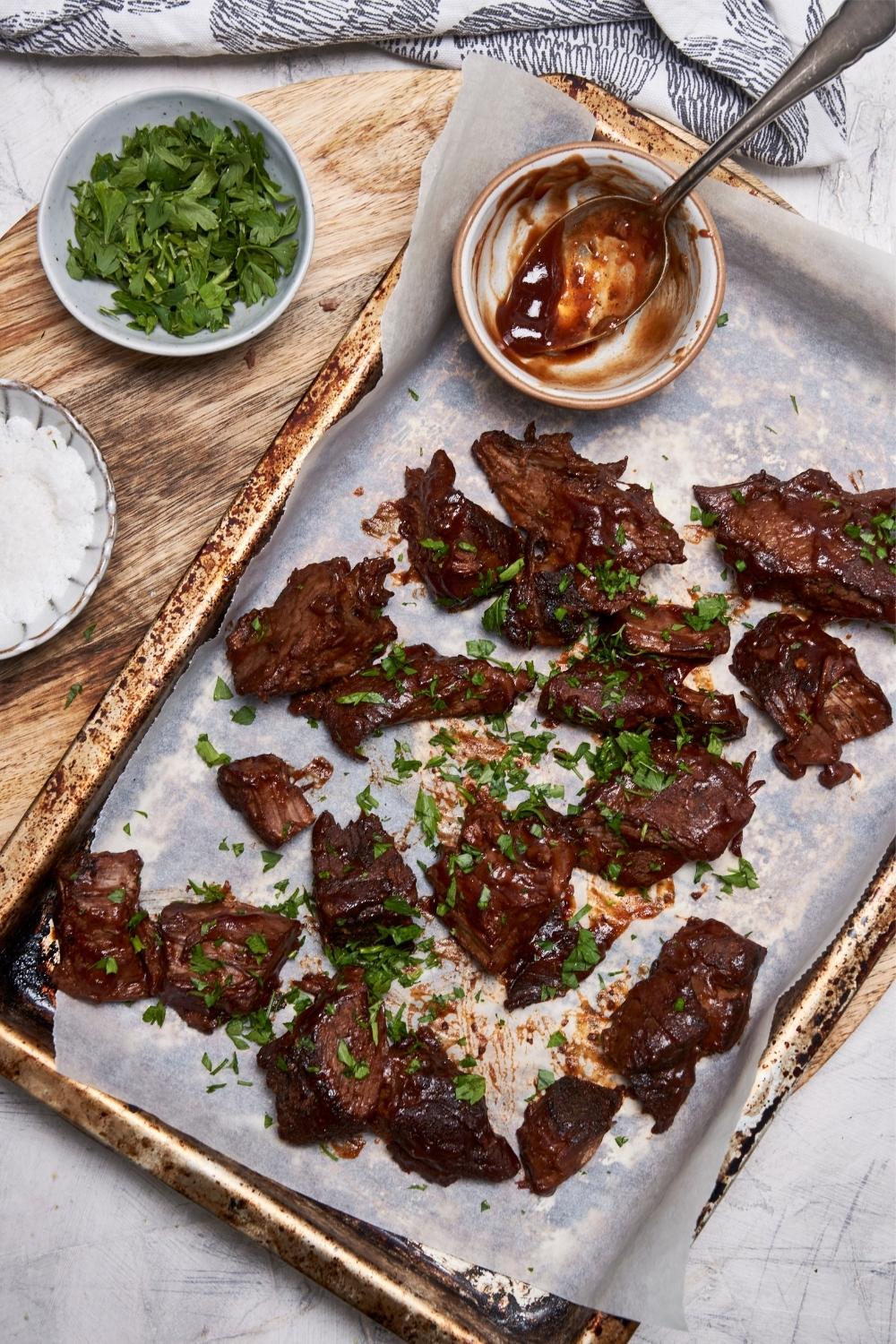 Ingredients
Chuck roast

- brings the same rich, meaty flavor. Choose a cut with more fat marbling for the juiciest and most flavorful results. You can also use brisket point if you want for a traditional recipe.

Salt and pepper

- to highlight all those delicious flavors.

Brown sugar

- forms a caramelized, crispy, and sweet surface that locks in all those meat juices. Brown sugar is better than white sugar for dry rubs as it doesn't burn as quickly and has a rich molasses undertone that takes the flavor to the next level.

Paprika

- adds a layer of smokiness and a deeper color.

Barbecue sauce

- use your favorite one!

Chili powder

- brings a fiery kick that balances out the sweetness of the dry rub and barbecue sauce. Adjust the amount for more or less heat.

Garlic powder

- for a touch of umami savoriness.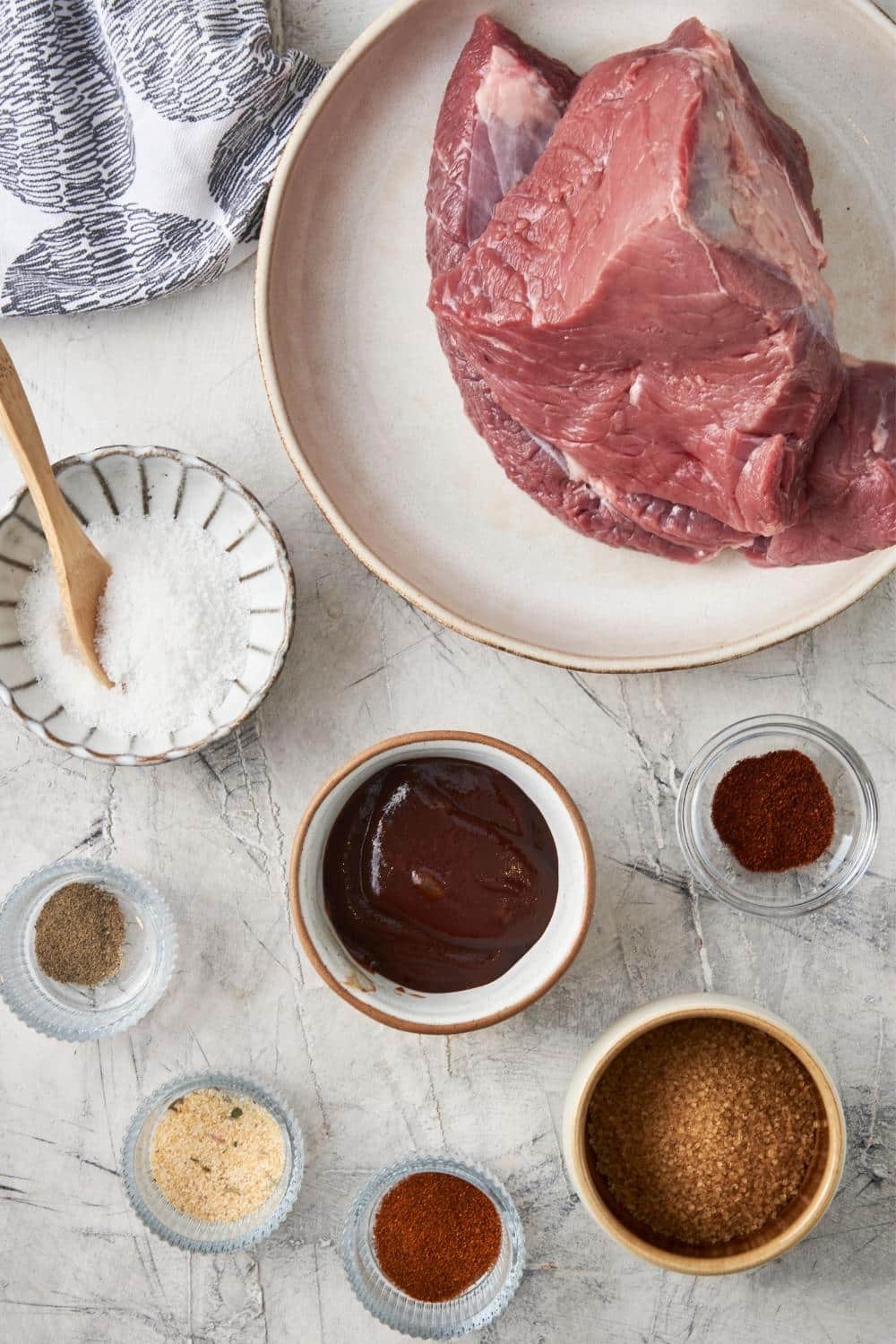 How To Make Burnt Ends
1. Season the beef: Preheat your oven to 340°F (170ºC) and combine the brown sugar, paprika, garlic powder, chili powder, black pepper, and salt for the dry rub in a small bowl. Rinse the chuck roast and pat it completely dry with paper towels to get rid of any excess moisture. Place it in a baking dish and coat it evenly with the prepared dry rub.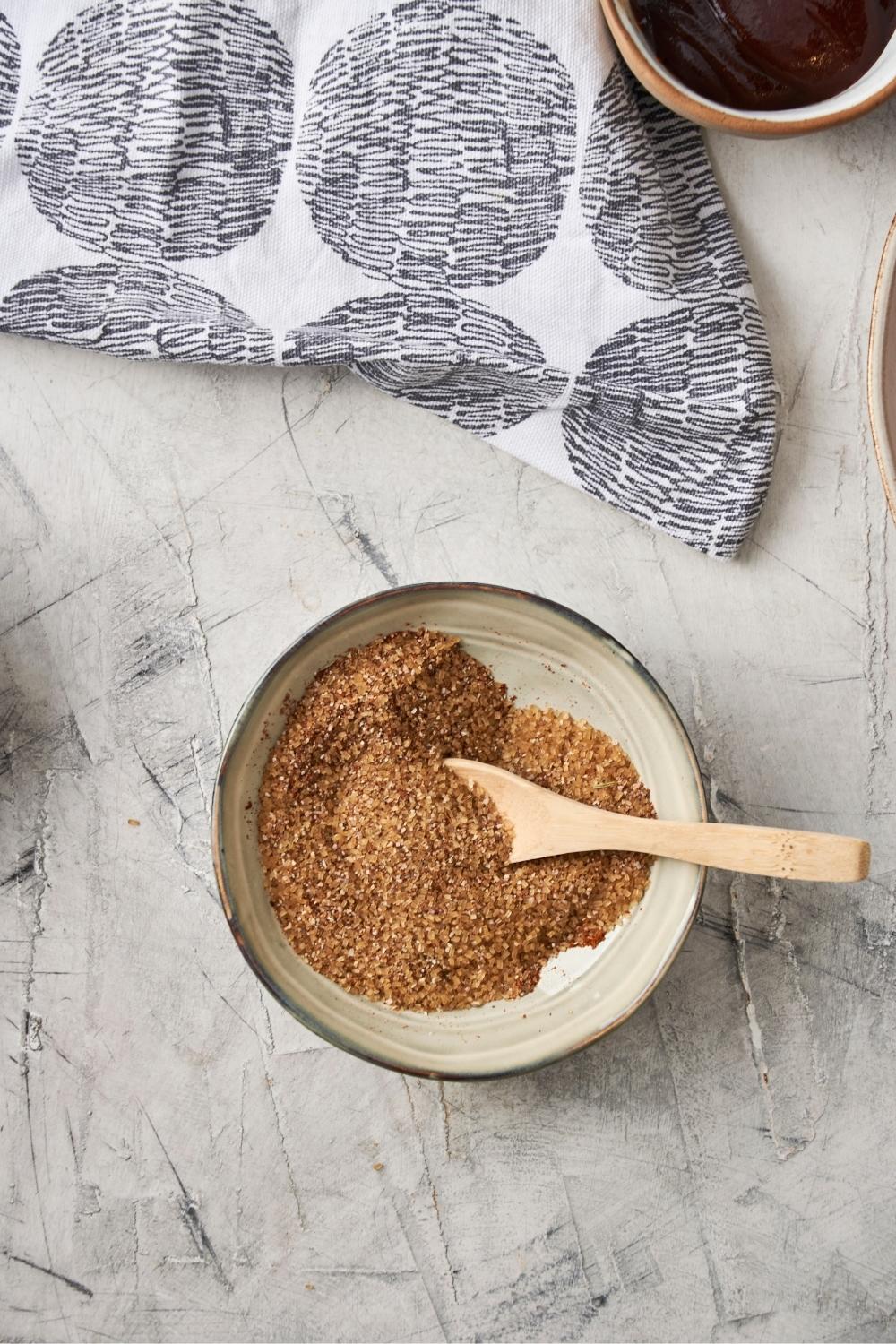 2. Bake: Cover the seasoned meat with aluminum foil and crimp the foil along the sides of the baking dish to keep it sealed. Bake it in the oven for 2 hours.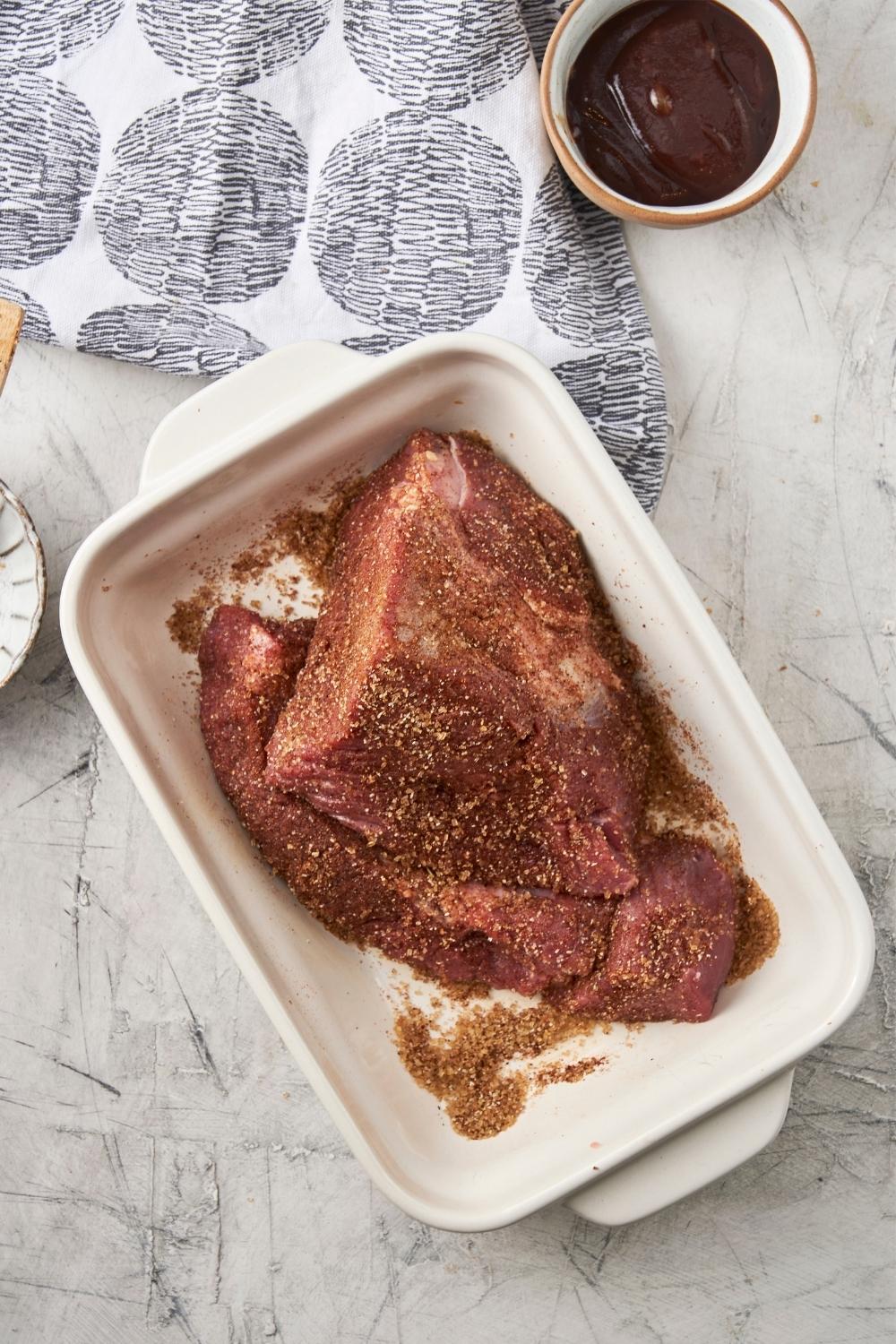 3. Coat with BBQ sauce: Once the time is up, take the meat out of the oven and transfer it to a cutting board. Slice the cooked beef into 1-inch chunks and toss them in a deep bowl with the BBQ sauce until each piece is thoroughly coated.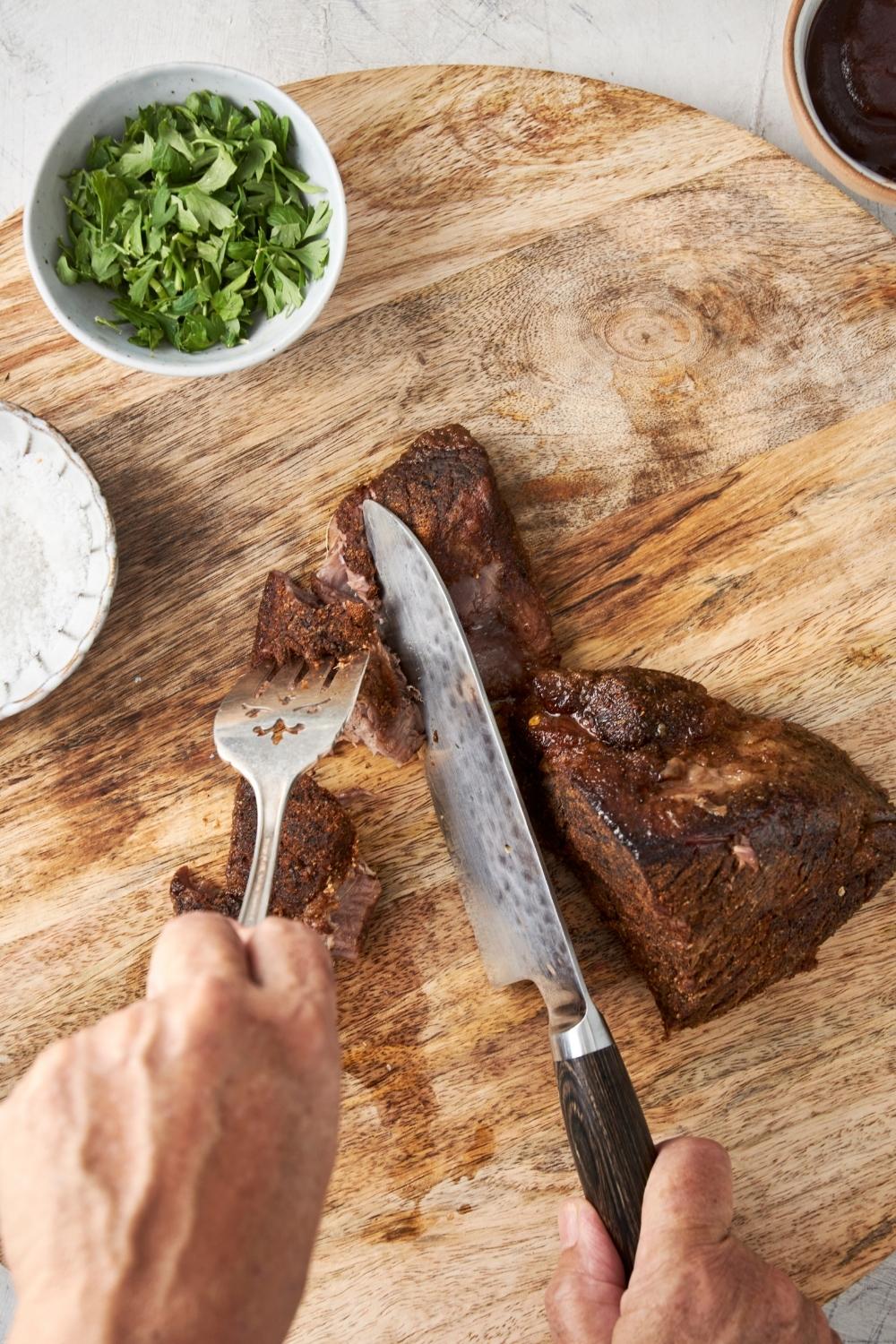 4. Roast and serve: Bring the oven heat up to 350°F (180ºC) and prepare a baking sheet lined with parchment paper. Arrange the glazed beef chunks on the sheet in an even layer and roast them for 15-20 minutes or until the sauce is deeply browned and caramelized. Let it cool for a few minutes, then serve with your choice of sides and enjoy!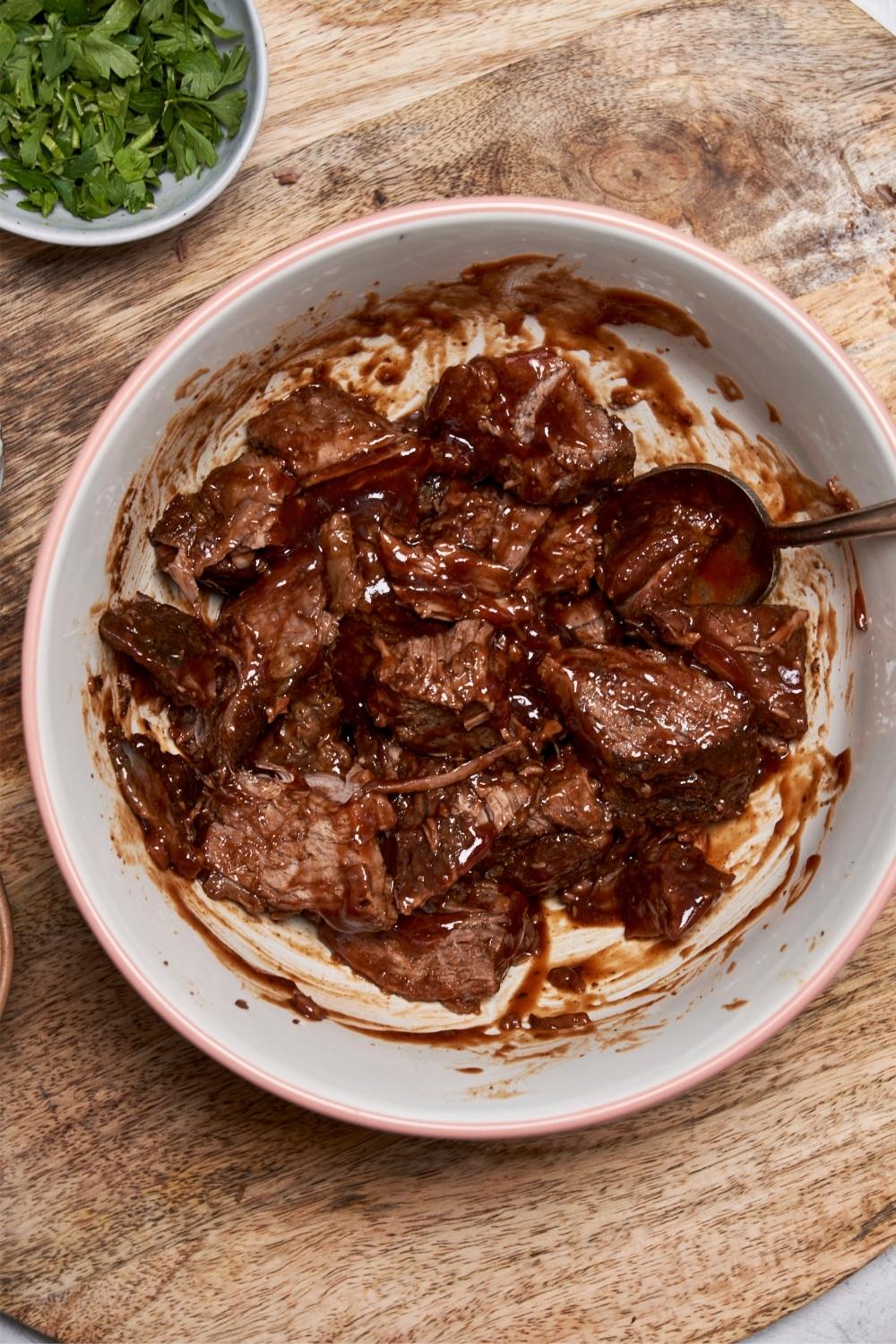 What Can I Serve With This Recipe?
These burnt ends taste amazing with mac and cheese, cornbread, broccoli cauliflower salad, sauteed potatoes, or cauliflower mashed potatoes. Honestly, they go well with basically any side and make the perfect addition to a cookout or holiday spread.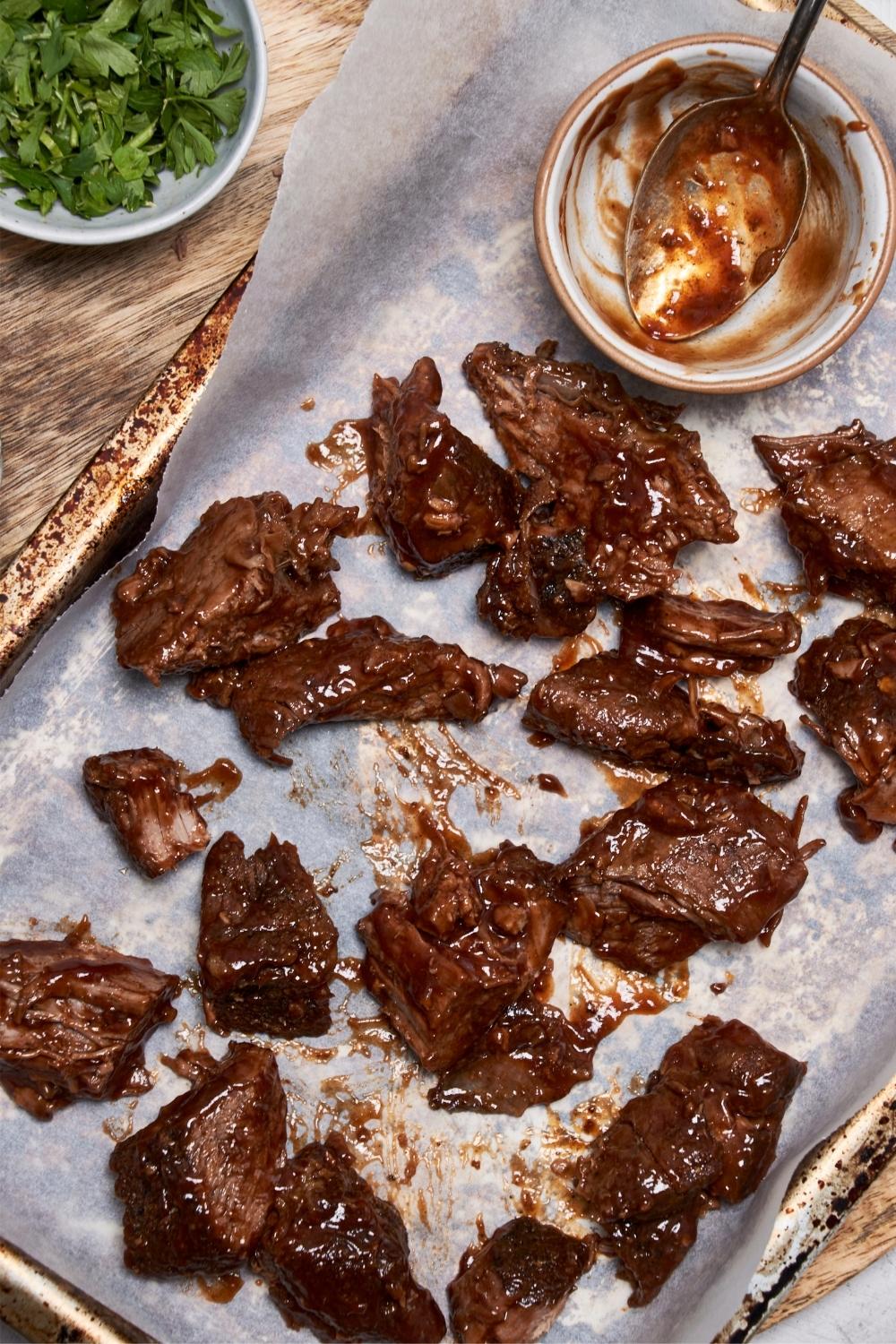 My Pro Tips To Make the Best Recipe
Make sure to completely dry the meat with paper towels for the best results.

Bring the meat to room temperature before baking so it cooks evenly and is perfectly tender after 2 hours.

Always slice or pull off the silverskin on the meat before cooking, as it doesn't cook down or soften.

For a lower-sugar option, make this recipe with my homemade keto BBQ sauce recipe and brown Swerve for the dry rub.
How I Recommend Storing and Reheating Leftovers
In the fridge: Transfer any leftovers to an airtight container and store them in the fridge for 3-4 days.
In the freezer: Let the meal cool completely and store it in a freezer-safe airtight container or ziplock bag with the extra air squeezed out. They'll stay good frozen for up to 3 months.
Reheating: I like to put the leftover burnt ends back in a baking dish and warm them in the oven at 275°F for about 20 minutes.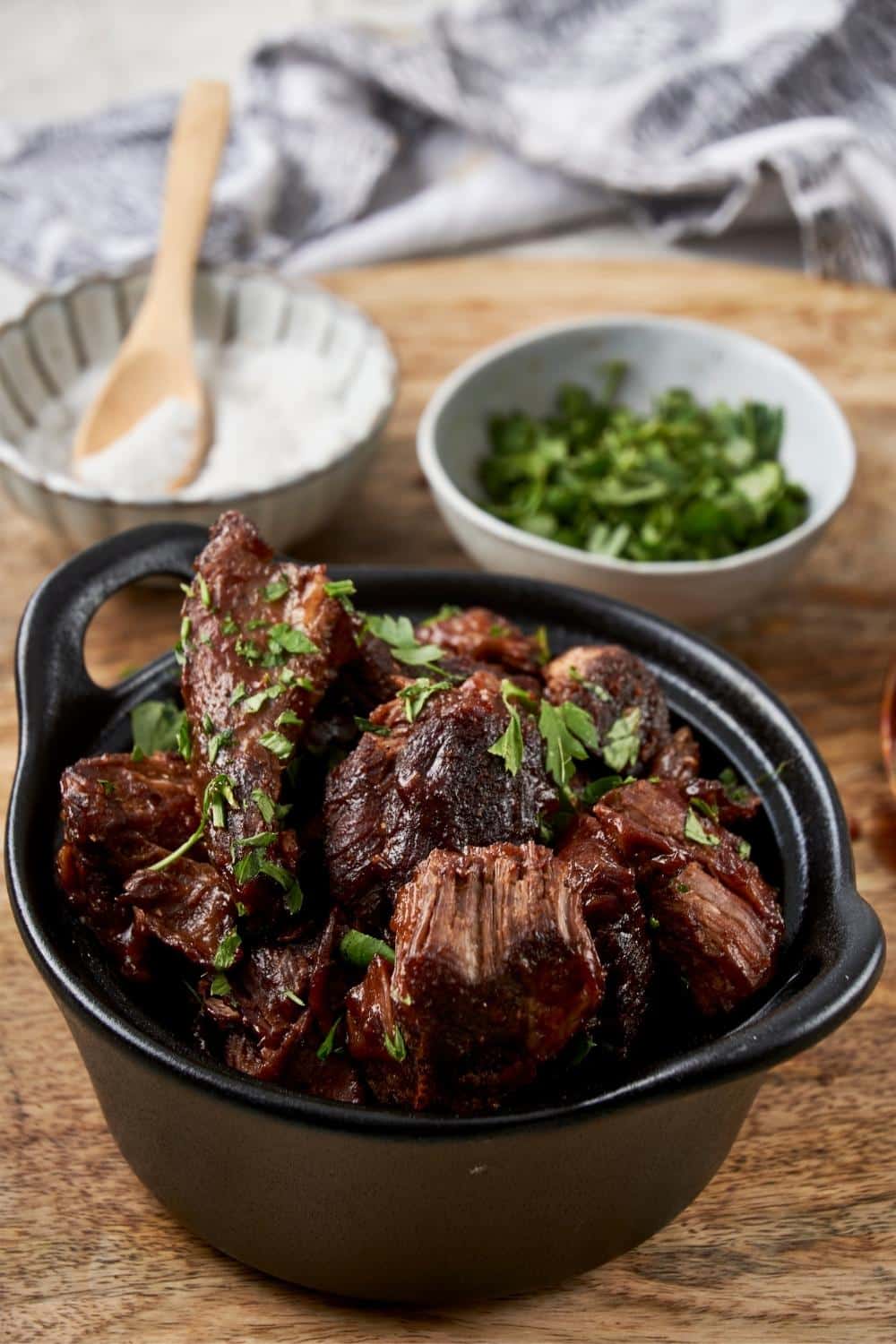 More Recipes To Try Next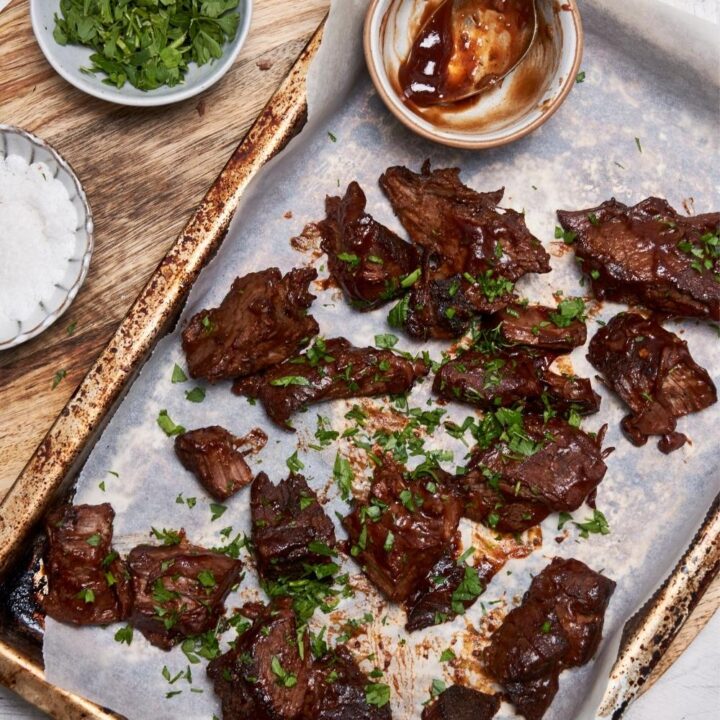 Burnt Ends
Cook Time:
2 hours
15 minutes
Total Time:
2 hours
30 minutes
This sticky, sweet, and savory burnt ends recipe is addictive. Prepped in minutes and made in the oven, it's an easy yet show-stopping recipe that'll impress your family and friends!
Ingredients
2 lbs. of chuck roast
1 teaspoon of salt
½ teaspoon of pepper
3 tablespoon of brown sugar
1 teaspoon of paprika
⅓ cup of barbecue sauce
½ teaspoon of chili powder
1 teaspoon of garlic powder
Instructions
Preheat the oven to 340°F (170ºC).

Rinse the beef, and using paper towels, pat the beef dry on the outside as this helps get rid of excess moisture.

Place the beef in a baking dish.

Combine all the spices, brown sugar, and salt in a bowl. Coat the beef in the mixture.

Using foil, cover the baking dish and put it in the oven for 2 hours.

Remove the foil and transfer the beef from the baking dish to a cutting board after 2 hours.

Slice the beef into 1-inch pieces and then transfer it to a deep bowl.

Add the BBQ sauce and mix everything thoroughly. You need to make sure that each piece is coated.

After that, you can now transfer the burnt ends to a baking dish again and increase the temperature to 350°F (180ºC). Bake

for an extra 15 to 20 minutes until it gets sticky and browned.
Nutrition Information:
Serving Size:

¼ lb.
Amount Per Serving:
Calories:

276
Total Fat:

9.5g
Saturated Fat:

3.4g
Trans Fat:

0g
Unsaturated Fat:

0g
Cholesterol:

115mg
Sodium:

485mg
Carbohydrates:

7.7g
Fiber:

0.3g
Sugar:

6.1g
Protein:

37.6g