This green smoothie is my favorite weight loss hack. It's a simple, healthy recipe that's packed with nutrients to power you through your day! Not to mention it's perfectly thick with a delicious, refreshing flavor.
My Take On A Weight Loss Green Smoothie
Green smoothies are an easy and delicious way to pack in your daily dose of fruits and veggies, along with other nutritional benefits. Plus, they can also contribute to helping you to lose weight too!
This green smoothie recipe is filled with fiber and nutrient-dense ingredients, so it'll keep you full for hours! I typically drink one of these for breakfast and am so satisfied I can go until dinner without eating another meal.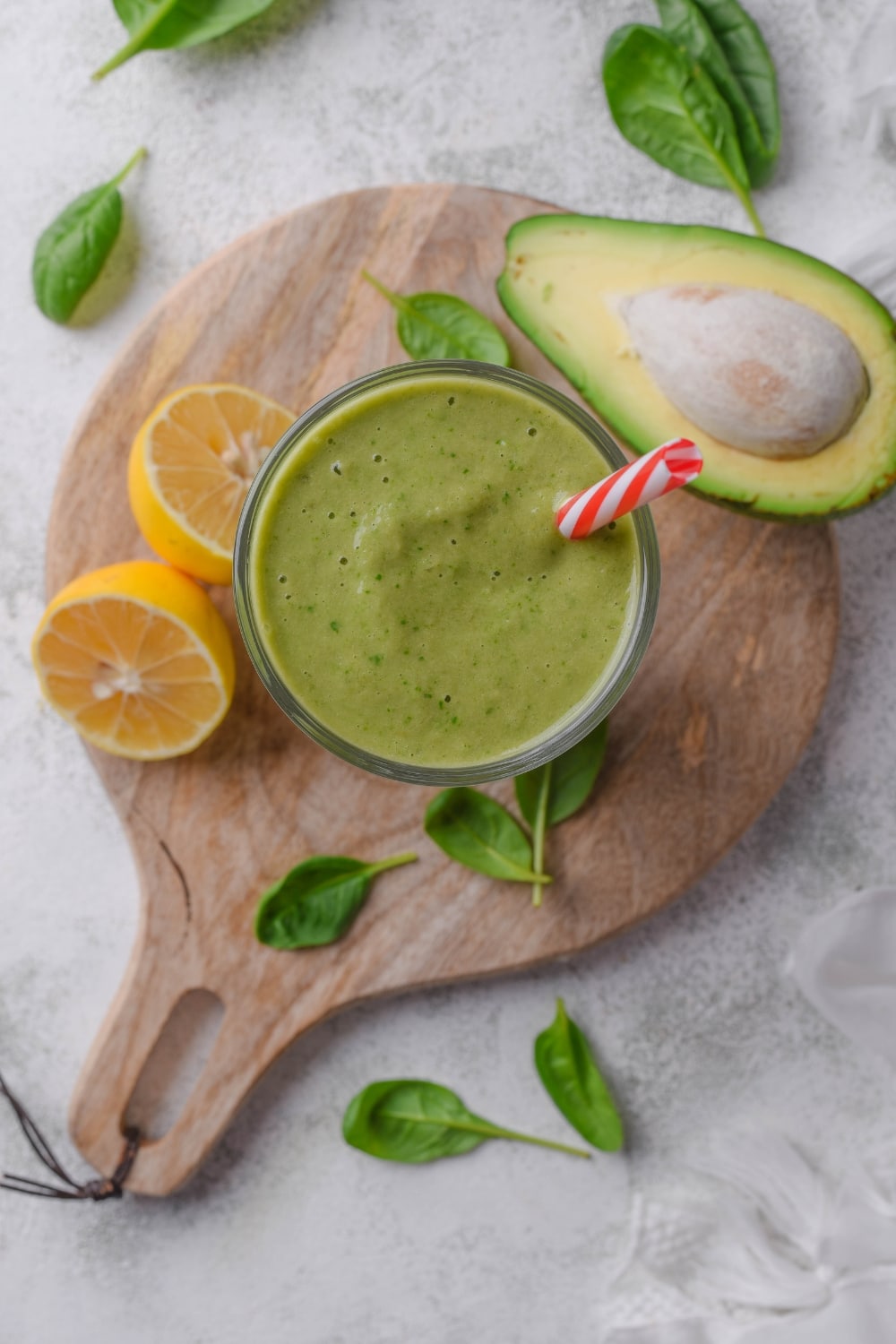 Why You'll Love This Recipe
It's ready in minutes. Since I've had another kid, it's been really hard for me to make breakfast, so this has been a life-saver. It takes just a few minutes to make, and I can whip it up on my way out the door. If you can relate to having a crazy busy morning with kids, you're going to love this recipe!
It's easy to customize. You can tweak this recipe to suit your preferences or even save you a trip to the store. Use different milk, switch up the fruits, or add ingredients like protein powder or chia seeds for extra protein. The options are endless!
It's super healthy. Made with no added sugar and loaded with fiber, vitamins, minerals, and healthy fats, this smoothie is filled with everything you need to stay healthy and lose weight.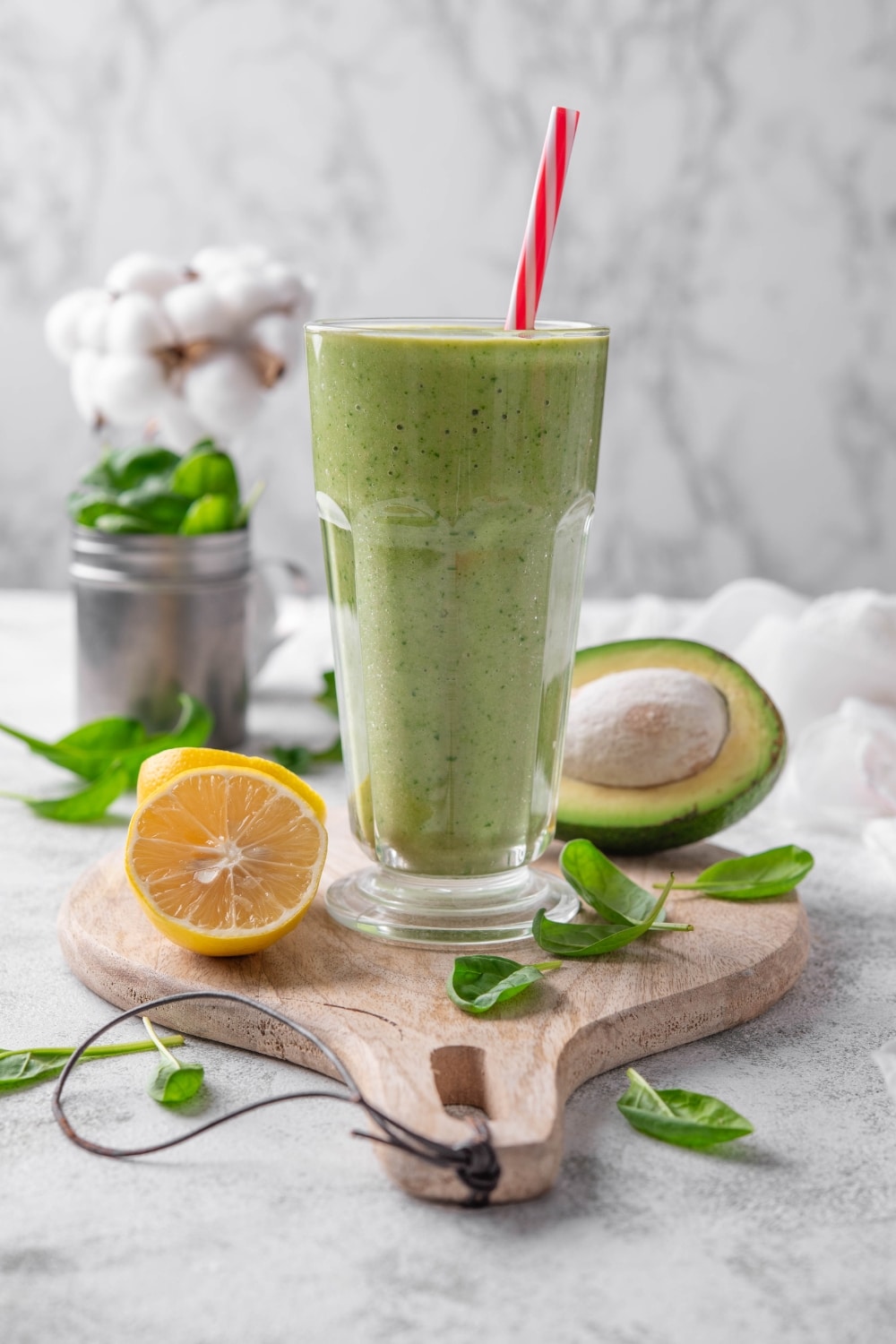 Ingredients You'll Need
Almond milk- I prefer unsweetened vanilla almond milk, but coconut milk or soy milk could also work. Just make sure to use a low-calorie milk.
Banana- use a frozen banana for a thick, creamy texture.
Avocado- to add some healthy fats.
Granny Smith apple- for subtle tartness and extra fiber. This can also be swapped for a sweeter apple like Honey Crisp if you prefer.
Baby spinach- a high-volume veggie that increases the satiety of this smoothie.
Lemon juice- to brighten up the flavors.
Vanilla extract- for the best flavor.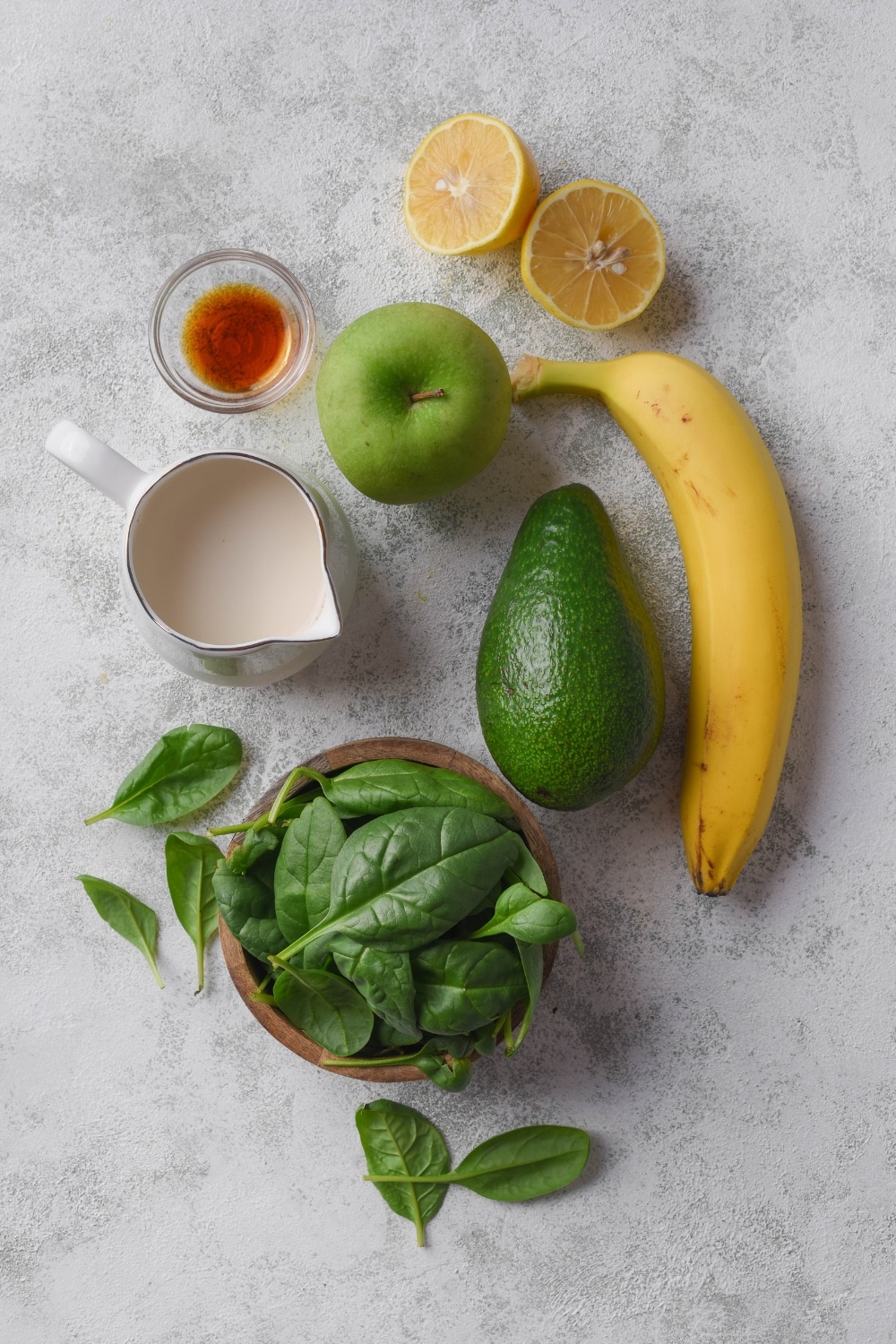 How To Make a Green Smoothie
1. Combine. Add the almond milk to a large blender, followed by the banana, avocado, apple, spinach, lemon juice, and vanilla extract.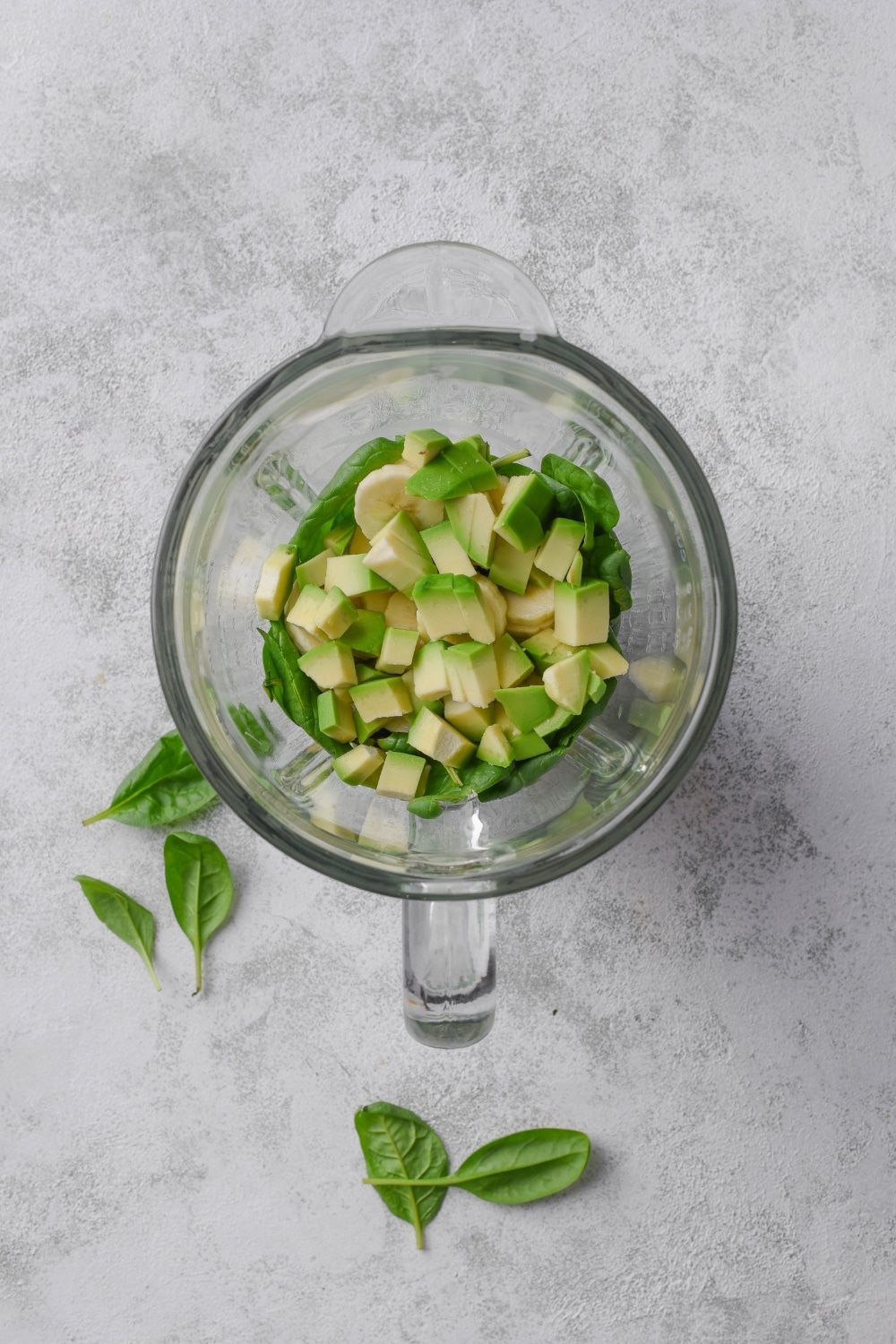 2. Blend. Blend on high speed until all of the ingredients are combined and smooth. If necessary, add extra milk and continue blending until it reaches your desired consistency.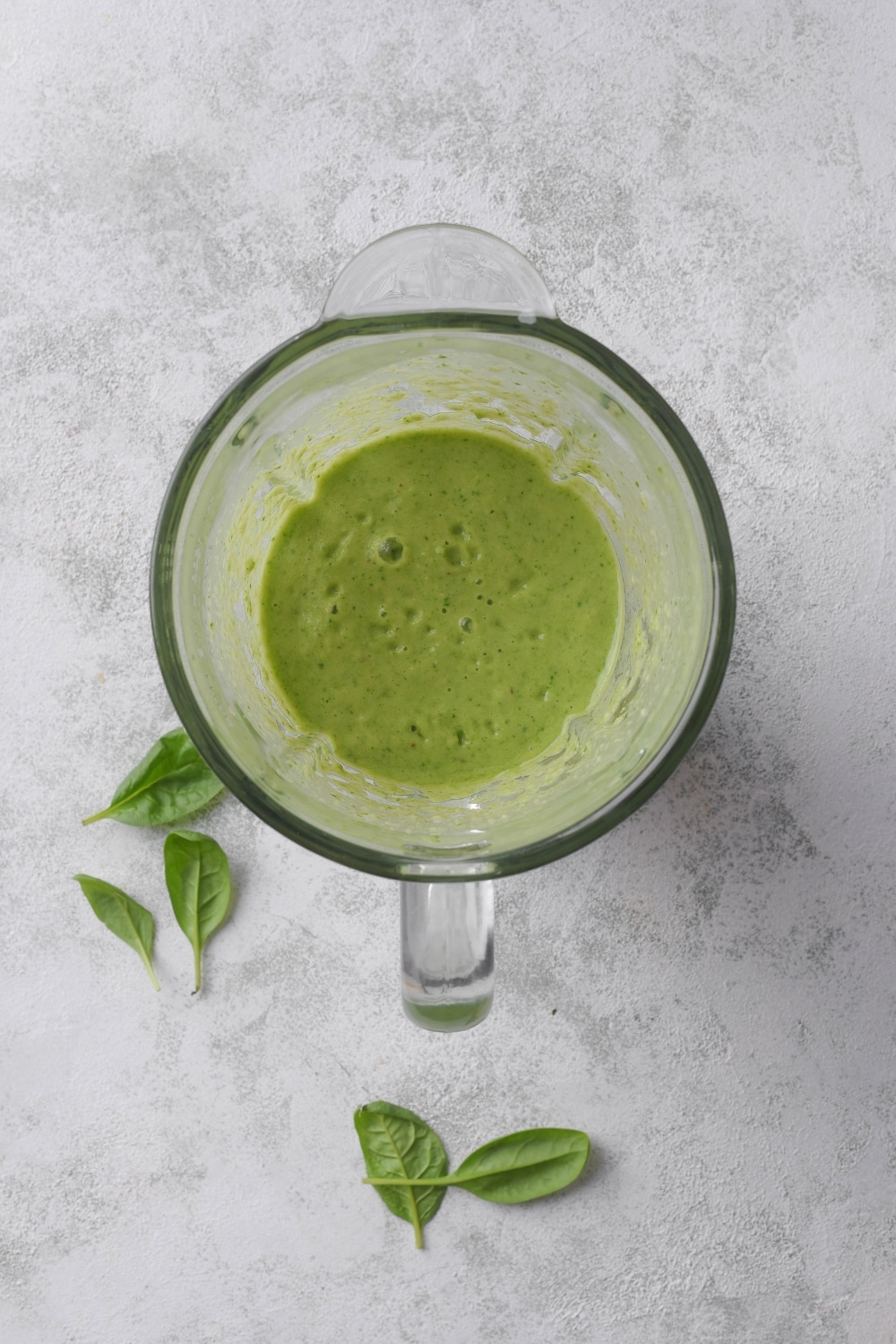 3. Serve. Drink the smoothie immediately as is or over crushed ice, and enjoy!
Variations To Try
Add hemp seeds or chia seeds for extra fiber and protein.

Boost the protein content with a scoop of vanilla or chocolate protein powder. You'll want to pick one of these low calorie protein powders.

Substitute the avocado for cucumber for a lower-calorie version of this recipe.

Substitute the apple for another fruit like

frozen strawberries, blueberries, mango, or pineapple for a different flavor.
How To Store This Smoothie
In the fridge: Green smoothies are definitely best enjoyed fresh. That said, you can store any leftover smoothie in the fridge in an airtight container or glass jar for up to 1 day.
In the freezer: I love making a triple batch of this recipe and freezing it in ice cube trays. Once the cubes are frozen, you can transfer them to a freezer-safe bag and freeze them for up to 6 months. When you're ready to enjoy your smoothie again, just add the ice cubes to a blender along with a splash 0f milk and blend everything until smooth.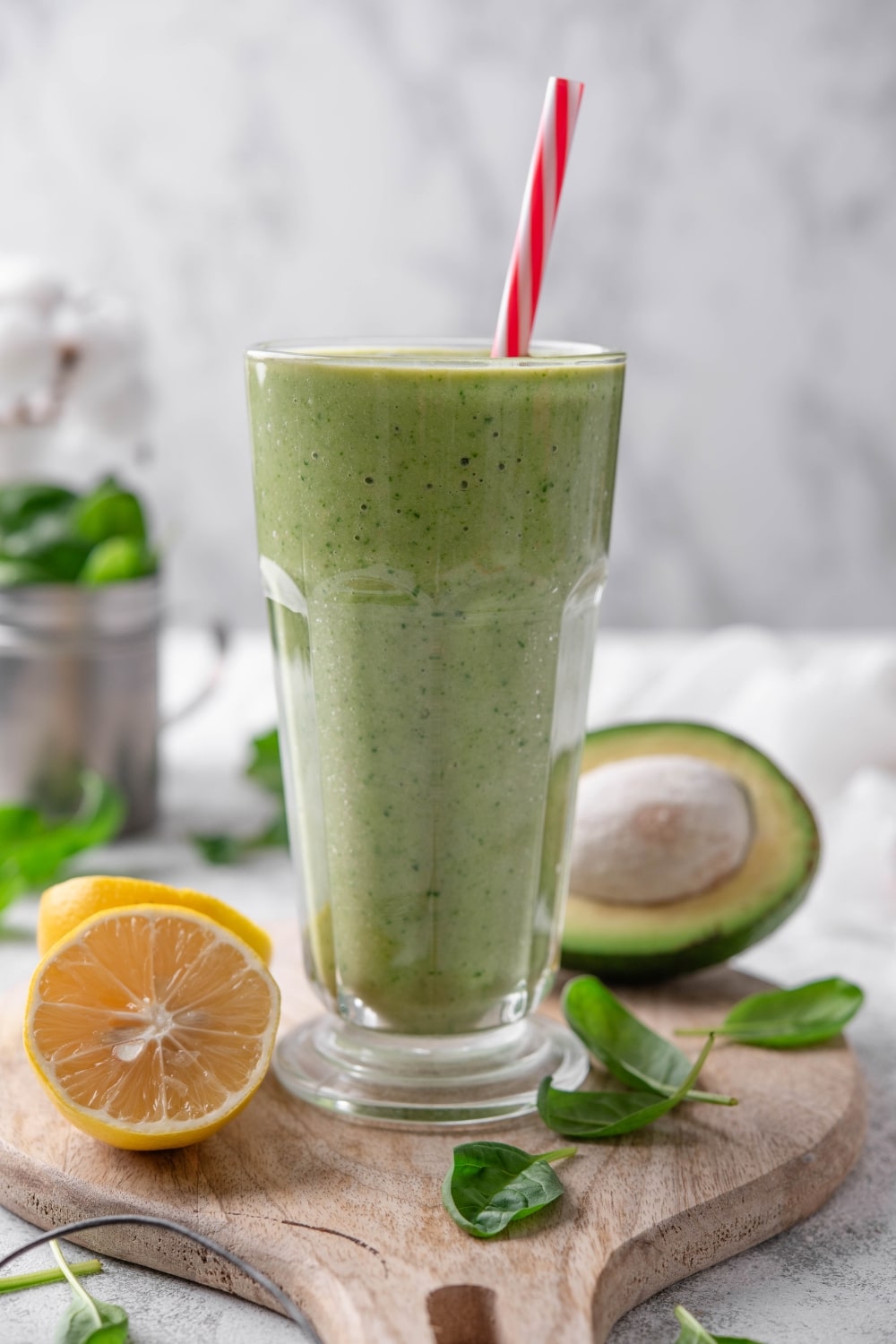 Frequently Asked Questions
Do green smoothies help you with losing weight?
While just drinking green smoothies won't magically make you lose weight, it can definitely help contribute to your weight loss journey. Since the smoothie made in this recipe is so filling but low in calories, it's a great breakfast that will provide your body with a ton of nutrients and keep you satisfied for hours.
When should I drink green smoothies for weight loss?
While there is no best time, I like to drink one in the morning, about an hour or two after I wake up. It typically keeps me full until late afternoon, and if I drink it in the morning, I'm way less likely to overeat throughout the day.
Can I replace a meal with a green smoothie?
Yes, they make a perfect meal replacement! The one in this recipe has a good balance of healthy fats and carbs, but I suggest adding a scoop of protein powder for the perfect balance of macronutrients. The added protein will make it even more filling, too, without adding too many calories.
More Healthy Recipes To Make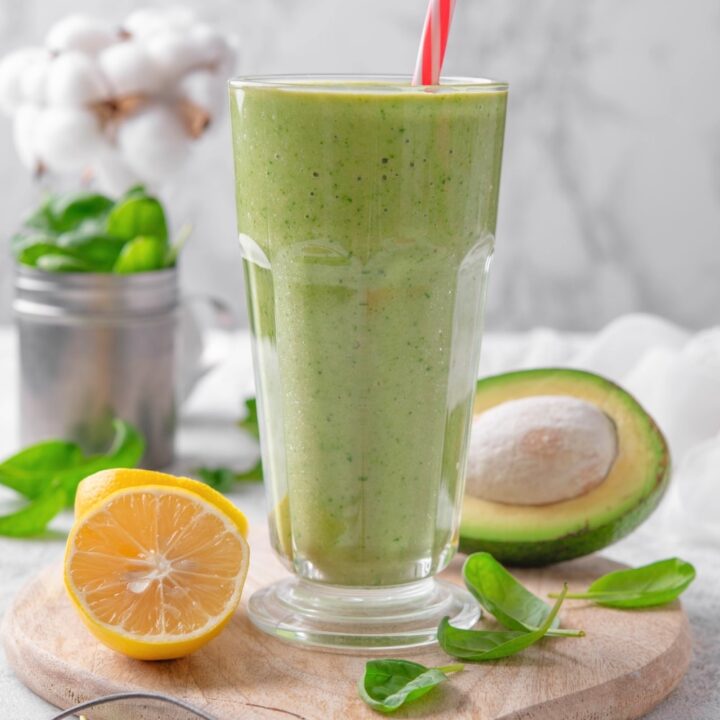 Green Smoothie For Weight Loss
This green smoothie is my favorite weight loss hack. It's a simple, healthy recipe that's packed with nutrients to power you through your day! Not to mention it's perfectly thick with a delicious, refreshing flavor.
Ingredients
1 cup unsweetened almond milk
1 banana, sliced 
½ avocado, pitted, chopped
1 Granny Smith apple, peeled, cored, chopped
1 cup baby spinach
½ lemon, juiced 
½ teaspoon vanilla extract
Instructions
Add the milk to a food blender, followed by the rest of the ingredients as listed.

Blend on high speed until smooth.

Drink immediately, as prepared, or over crushed ice.
Notes
Use a frozen banana and frozen avocado for a thicker, creamier smoothie.
Nutrition Information:
Serving Size:

1 smoothie
Amount Per Serving:
Calories:

326
Total Fat:

14g
Saturated Fat:

2g
Trans Fat:

0g
Unsaturated Fat:

8g
Cholesterol:

0mg
Sodium:

206mg
Carbohydrates:

53g
Fiber:

14g
Sugar:

30g
Protein:

4g