This weight loss shake is insanely thick, chocolatey, and literally tastes like an Oreo milkshake. I lost over 20 pounds - in 12 weeks - drinking this shake, and the best part about it is that it will keep stay full and satisfied for hours! You seriously won't find a better weight loss drink than this.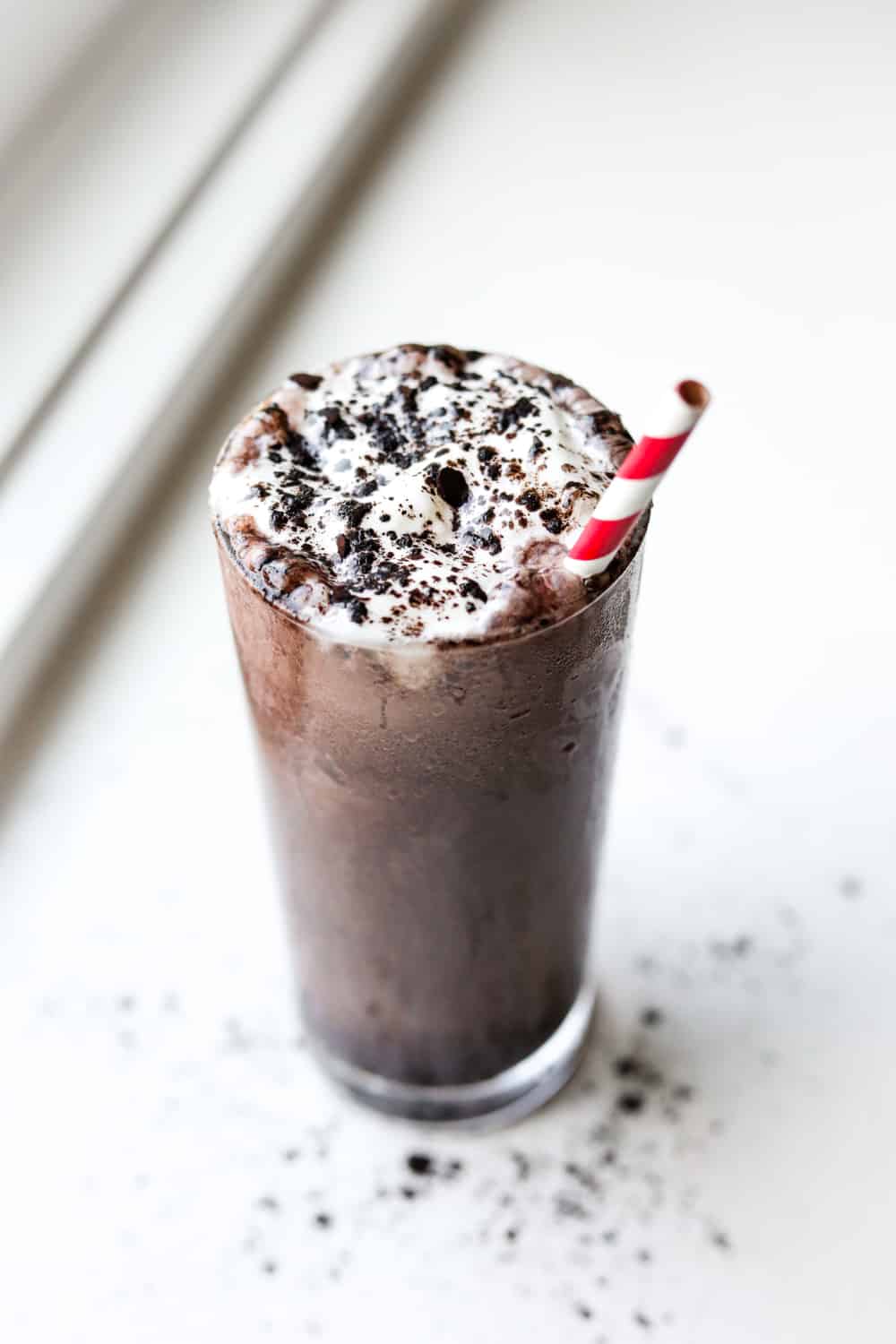 THE BEST WEIGHT LOSS SHAKE
This weight loss shake - or protein shake or weight loss smoothie, whatever you want to call it - has been one of my keys to consistently losing weight.
Honestly, I don't think I would have been able to lose weight so effortlessly and enjoyably if it wasn't for this drink.
And, as I mentioned just a second ago, I lost almost 25 pounds in just 12 weeks drinking this smoothie recipe.
This shake is filled with chocolatey goodness, tastes just like an oreo, and is as thick as a shake can get - I'm talking thiccc with three c's.
Honestly, you'll be so full and satisfied after you drink this deliciousness that you won't get hungry or need to eat for hours! And this is why I think it is one of the best smoothies for weight loss.
This weight loss shake can easily take the place of one of your typical meals, and it makes for an incredible on-the-go breakfast, lunch, or even dinner - honestly it fills the void of 2 meals for me, usually breakfast AND lunch.
Also, this protein shake has 35g of protein, so it can double as a post-workout protein shake!
INGREDIENTS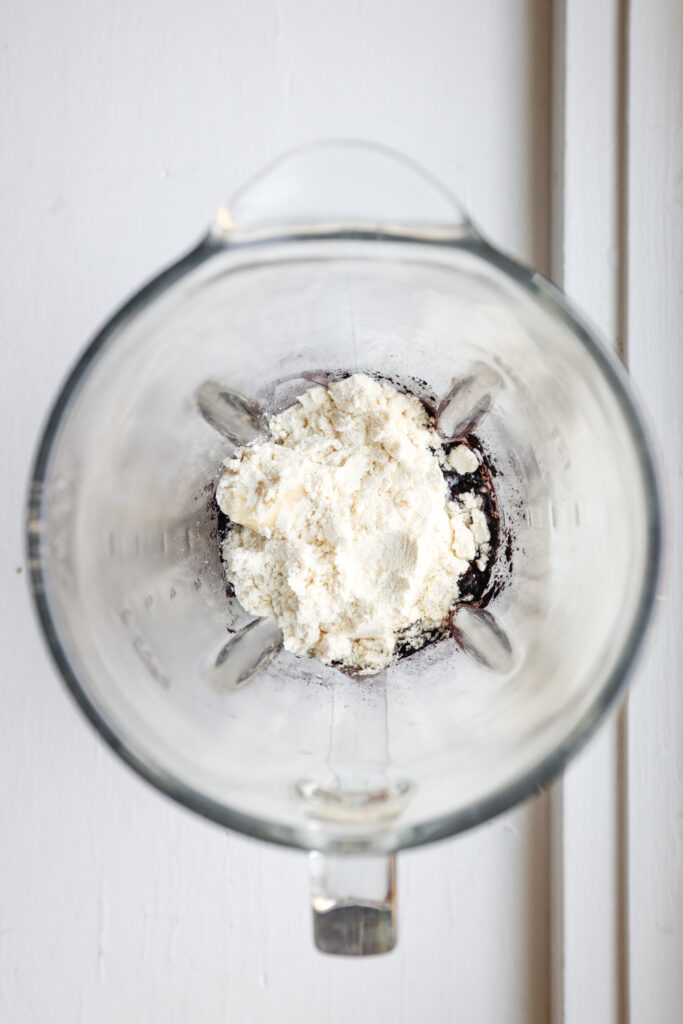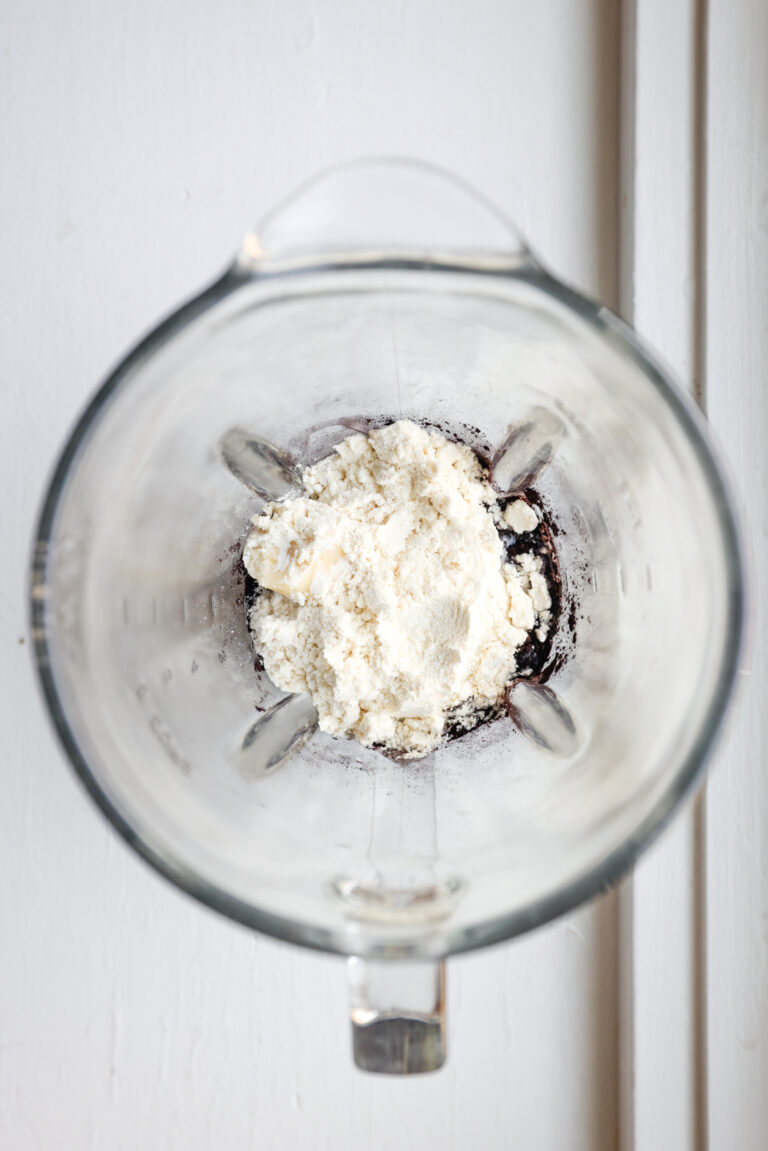 Another thing I love about this shake is you only need a couple of ingredients.
And once you stock up on them, you'll be able to make it for weeks before you have to buy more!
Here is everything you'll need:
1 Cup milk of choice
1 small/medium banana
3 Tbsps sugar free chocolate syrup
3 Tbsps black cocoa powder
1 Scoop PE science vanilla protein powder
2-3 Cups of ice depending if using frozen bananas
By the way, if you end up picking up that protein powder you can make my 150 calorie flour free, sugar free chocolate mug cake, this protein pudding, or even these protein balls with it too! And, honestly, sometimes I even use it to make these protein waffles as well.
So, you've got a couple of other ways to use it other than just making this shake.
If you want to make it without a banana, instead use:
¼ Packet sugar free vanilla pudding mix
Cows milk
3 Cups ice
So, as you can see, you have the option to make this weight loss shake without a banana.
And if you do this, you'll want to use cow's milk to make it for the best results - otherwise the pudding won't activate and make the shake thick and creamy. I like to use fairlife - it has half the carbs and sugar than regular milk, and it has double the protein!
By the way, another low carb shake option I have on the blog is this keto frosty recipe. While it doesn't taste like an oreo, it is still quite delicious!
HOW TO MAKE A PROTEIN SHAKE FOR WEIGHT LOSS
Now, making this weight loss shake could not be any easier, and it takes just minutes.
And even if you've never made a shake or smoothie before, it will turn out tasting incredible!
Oh, and this recipe makes a 50 oz. shake, so if you don't think you can drink that much, just cut the recipe in half, or even in a ¼.
So, gather your ingredients, get out your blender, and let's get shakin!
STEP 1: MAKING THE SHAKE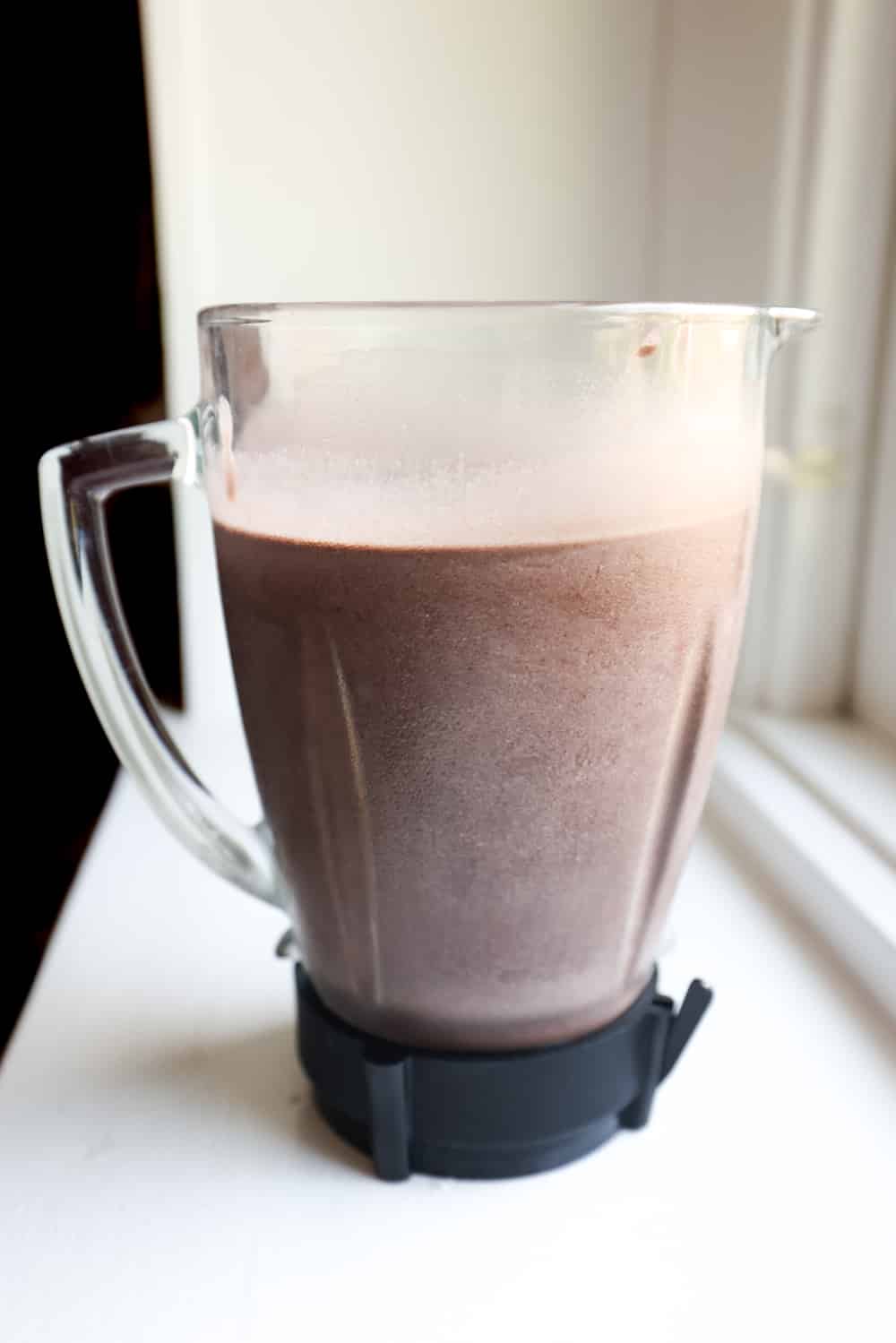 The first thing you will do is add the milk of your choice to the blender. And my go-to is some unsweetened vanilla almond milk since it's low in calories and carbs.
Next, add in either a frozen or unfrozen banana. I typically like to use a frozen one because you can use less ice, making the shake creamier and even more flavorful.
By the way, if you want to skip the banana, you can add in the sugar free vanilla pudding mix at this time.
Now that the milk and banana or pudding are in the blender, you can add in the sugar free chocolate syrup to enhance the flavor.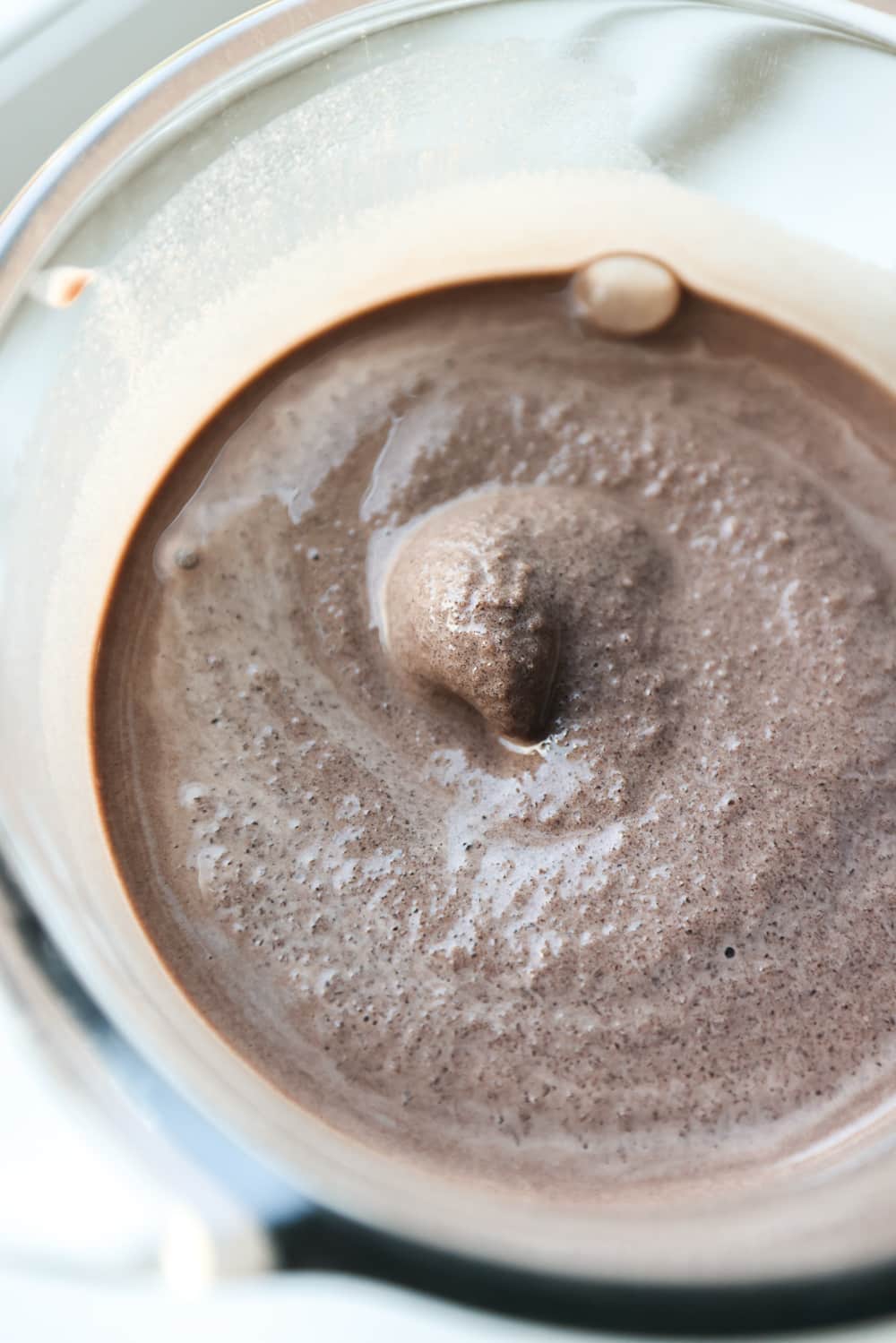 Oh, and I have to mention, do not use this syrup on ice cream! For whatever reason, it tastes terrible on ice cream but delicious in this shake.
Anyway, next add in the secret ingredient that makes this protein shake taste like an Oreo cookie - the black cocoa powder. Now, you can use regular cocoa powder - it just won't taste like an Oreo.
After that, add the protein powder to the blender. I liked to use the vanilla flavor by PE Science - it gives the shake a slight hint of cream flavor, just like an Oreo! And it also is a whey and casein blend, so it is a slower digesting protein, keeping you a little fuller than just whey protein.
Finally, add in about 2-3 cups of ice, depending on if you used a frozen banana.
STEP 2: FINISHING THE SHAKE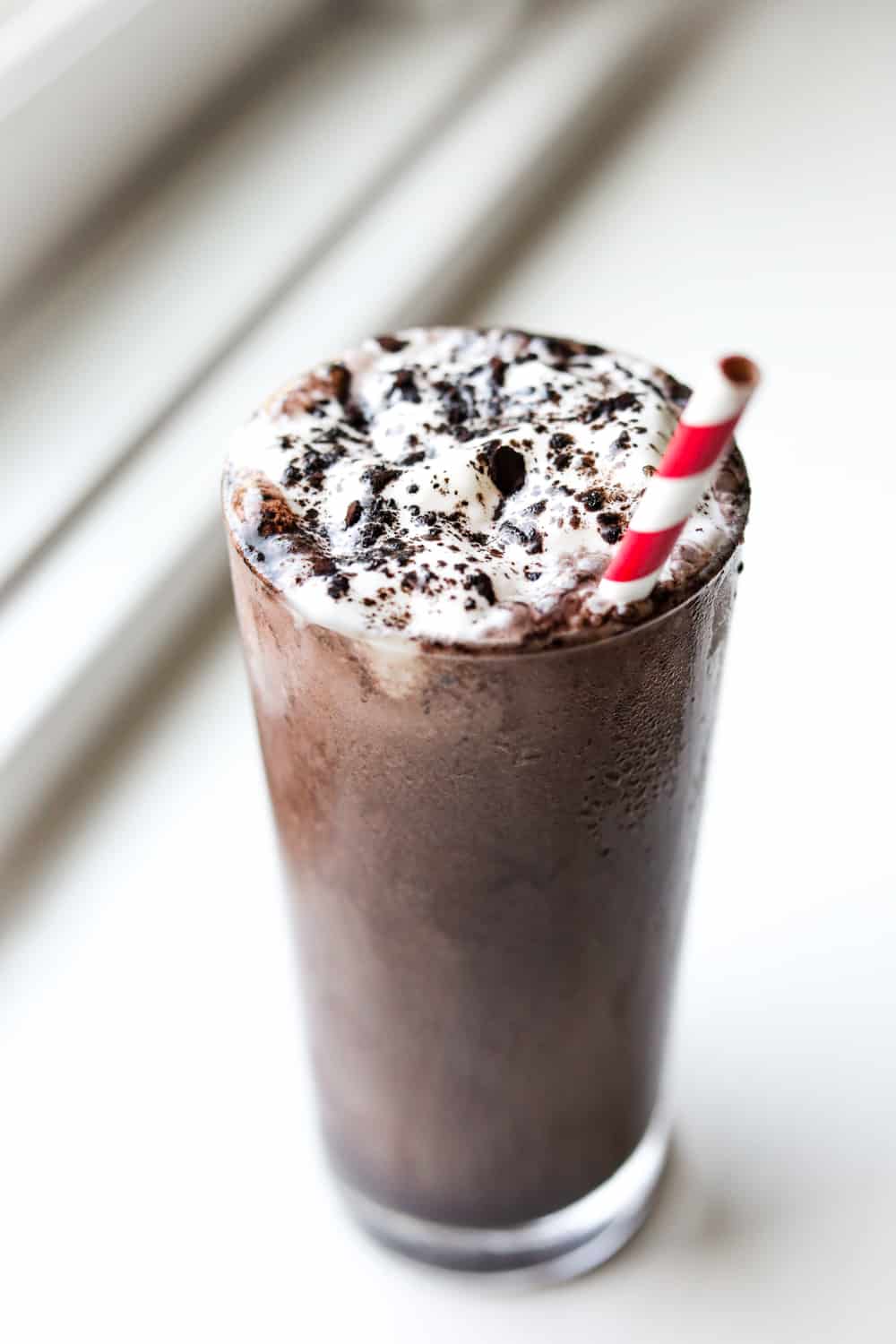 Now you can blend everything up until it combines into a super thick smoothie of chocolatey Oreo deliciousness.
Then to finish it off, pour it into a big glass and top it off with some whipped cream and a little of the black cocoa powder on top.
WRAPPING IT ALL UP
There you have it my friends, the most delicious weight loss drink you'll ever make! This is shake is super rich, thiccc, filling, and oh so satisfying.
If you need a new go-to meal replacement that is super quick to make and will fill you up for hours, say hello to your new best friend.
I hope you find this weight loss shake as delicious and helpful to lose weight with as I have.
If you try it, leave a comment below and let me know what you think!
Oh, and by the way, I recently did a low carb version of this shake. Honestly, it might be the best keto protein shake recipe you can make.
So, check that out if you're trying to avoid carbs/sugar.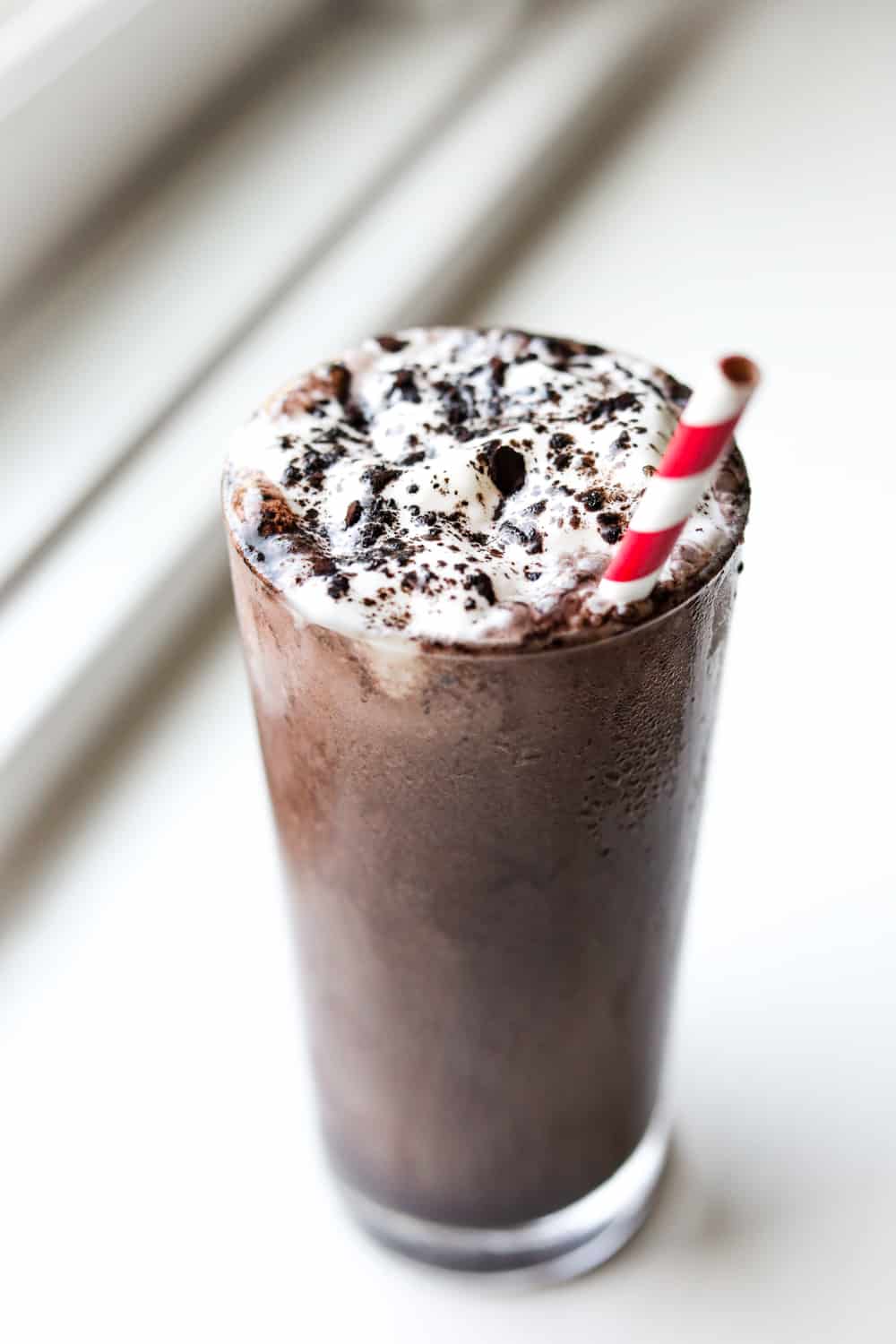 LOW CALORIE RECIPES
Looking for more delicious healthy recipes that are ideal for a low calorie diet?
If you are, you have to give these a try:
By the way, if you liked this recipe you might also like this list of the best fruits for weight loss, this one on the best pre workout for weight loss, and this one on the best protein bars for weight loss.
Weight Loss Protein Shake That Tastes Like An Oreo
This weight loss shake is insanely thick, chocolatey, and literally tastes like an Oreo milkshake. I lost over 20 pounds drinking this shake and it will keep you full and satisfied for hours! You won't find a better weight loss drink than this.
Author:
Prep Time:

3 minutes

Cook Time:

0 minutes

Total Time:

3 minutes

Yield:

50oz.

Category:

Smoothie

Method:

Blender

Cuisine:

Protein
Instructions
Add all of the ingredients to a blender.

Blend until everything combines into a thick shake.

Pour it into a large glass and top it off with some whipped cream and black cocoa.

Enjoy!
Notes
The scale up function does not change all the gram measurements.
Nutrition
Serving Size:

13oz

Calories:

95

Fat:

1.5

Carbohydrates:

10

Fiber:

3

Protein:

9
Keywords: weight loss shake, weight loss smoothie, weight loss drink, smoothies for weight, weight loss shake recipes, weight loss shake recipes with protein powder, weight loss drink recipe, protein shake diet, protein shake for breakfast, protein shake for weight loss, protein shake for breakfast weight loss, oreo protein shake recipe, oreo protein shake,