This list has the healthiest tortilla chips to dip in your salsa and guac or just to snack on. All of the options have under 160 calories per serving, and they're made with all-natural ingredients. I constantly eat these healthy tortilla chips, and I think you'll love them too!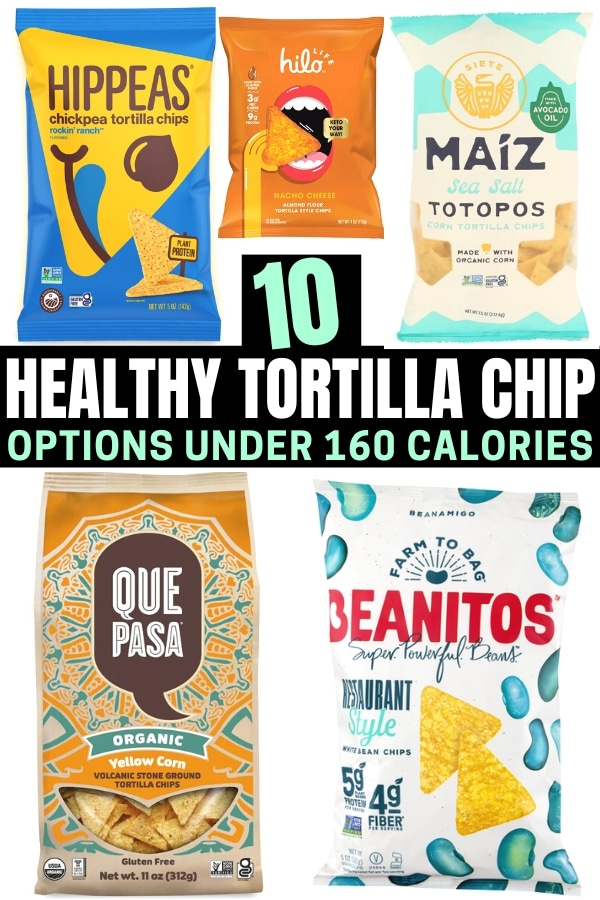 The Best Healthy Tortilla Chips
If you're like me and love snacking on something crunchy, these healthier chips will satisfy all your cravings.
I'm constantly on the hunt for a healthy snack, and since I can never resist chips, I tried a ton at the grocery store and came up with a healthier option for all of your favorite chips! From restaurant-style chips to bold Doritos-style options and everything in between, you're sure to find more than a couple of great options to stock up on.
So, if that sounds good to you, let's not waste another second and dive right into the list!
Healthiest Tortilla Chips to Buy
1. Tostitos Baked Scoops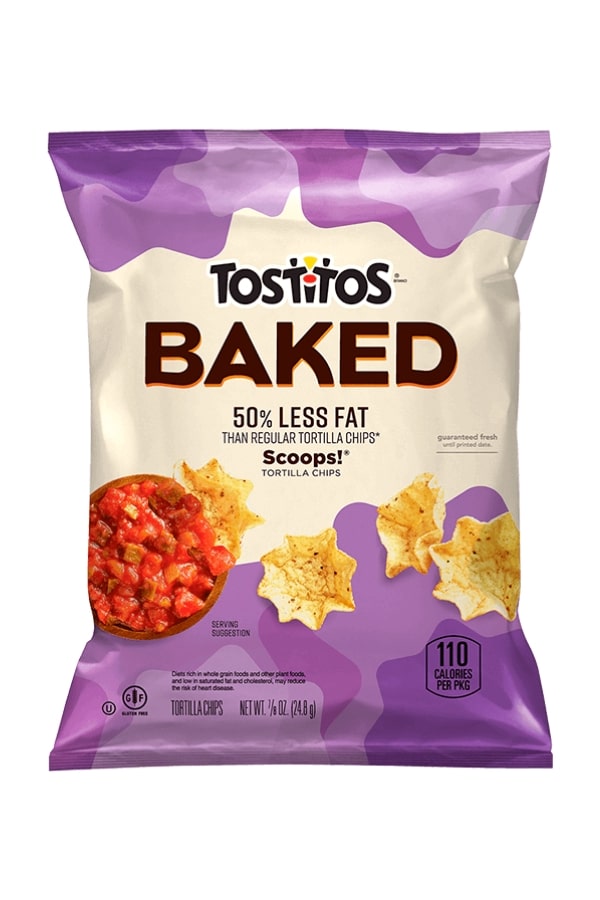 Nutritional Info for 1 package:
110 Calories
2.5g Fat
19g Carbs
0g Sugar
1g Fiber
2g Protein
These baked tortilla chips are an amazing snack or appetizer. They're made to be the perfect size and shape for getting as much salsa, dip, or keto cheese sauce onto your tortilla chip as possible. Plus, since these tortilla chips are baked, they have about half the amount of fat as regular chips while having a perfectly crispy, thin texture and rich whole-grain corn flavor.
2. 365 by Whole Foods Organic Blue Corn Tortilla Chips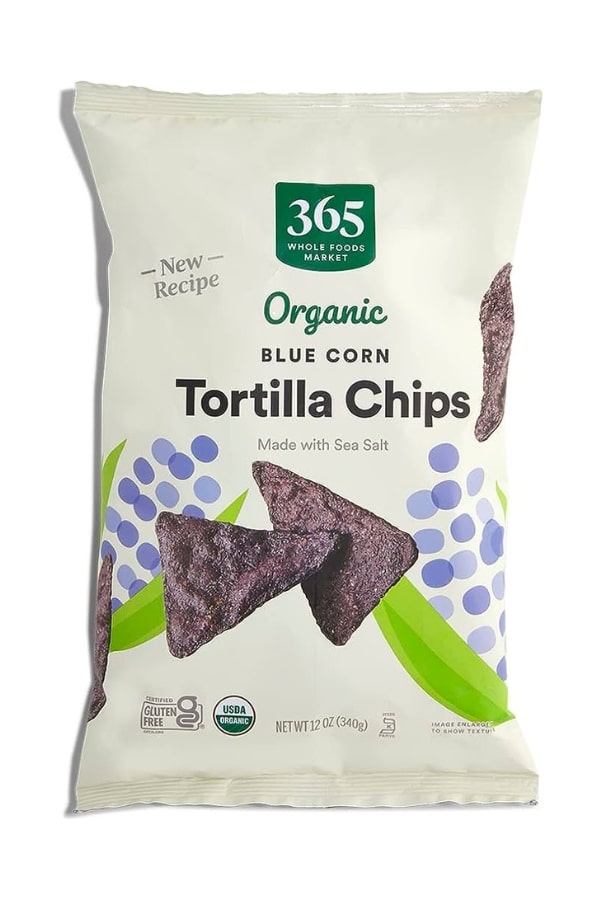 Nutritional Info for 1 oz (28g/about 12 chips):
130 Calories
7g Fat
15g Carbs
0g Sugar
0g Fiber
2g Protein
If you love the heartiness and satisfying crunch of homemade tortilla chips, these blue corn tortillas are just the snack you're looking for. They're packed with flavor from organic stone-ground blue corn and have a thicker texture that brings a fantastic crunch and won't break under the weight of your favorite dips!
For more variations of these delicious organic chips, 365 also makes restaurant-style and thin & crispy tortilla chips that are well worth checking out.
3. Beanitos White Bean Tortilla Chips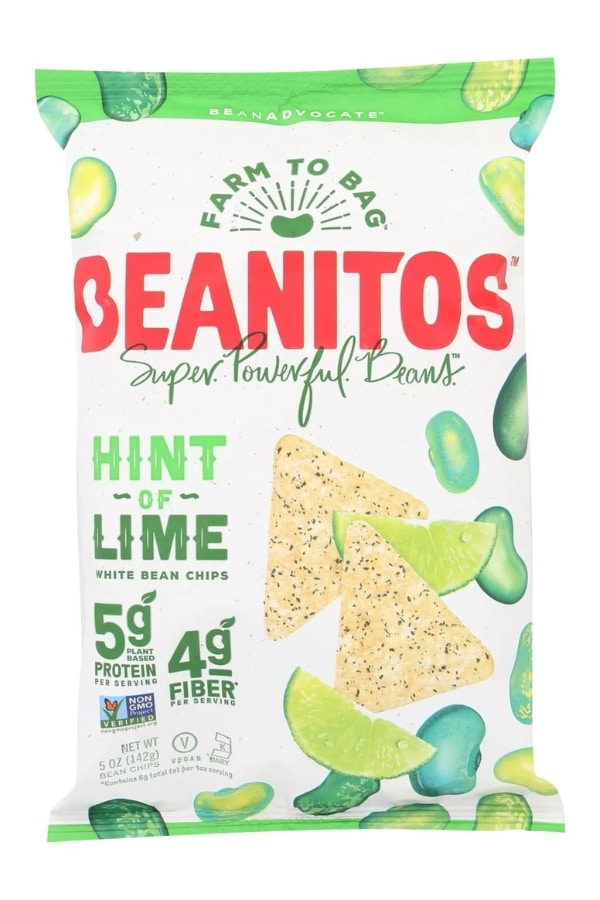 Nutritional Info for 1 oz (28g/about 11 chips):
130 Calories
7g Fat
15g Carbs
1g Sugar
4g Fiber
4g Protein
A healthy twist on the traditional corn tortilla chips, these gluten-free tortilla chips are made with white beans for more protein and fiber per chip with the same texture and crunch. The classic sea salt flavor also comes in black bean and pinto bean varieties, and you can get flavored versions of the white bean tortilla chips, including nacho, hint of lime, and sweet chili & sour cream.
4. Siete Grain-Free Tortilla Chips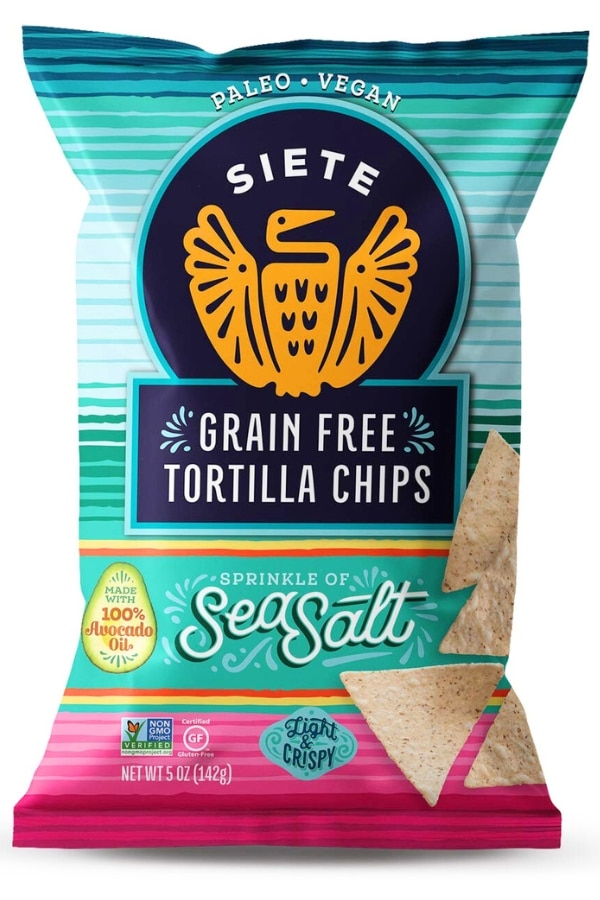 Nutritional Info for 1 oz (28g/about 15 chips):
130 Calories
7g Fat
19g Carbs
1g Sugar
3g Fiber
1g Protein
These grain-free tortilla chips are a gluten-friendly alternative to your favorite tortilla chips. They're made with a combination of cassava flour and coconut flour and have a light texture and shatteringly crispy crunch that'll keep you coming back for more. Another thing to love about these tortilla chips is that they're cooked in avocado oil, a heart-healthy paleo-friendly oil that's low in saturated fat and packed with health benefits.
In addition to the sea salt and unsalted option, these also come in flavors like guacamole, jalapeno lime, fuego, ranch, and dairy-free nacho. Also, check out their grain-free dip chips, which are made to be the perfect shape for scooping up your guacamole or queso.
5. Hippeas Chickpea Tortilla Chips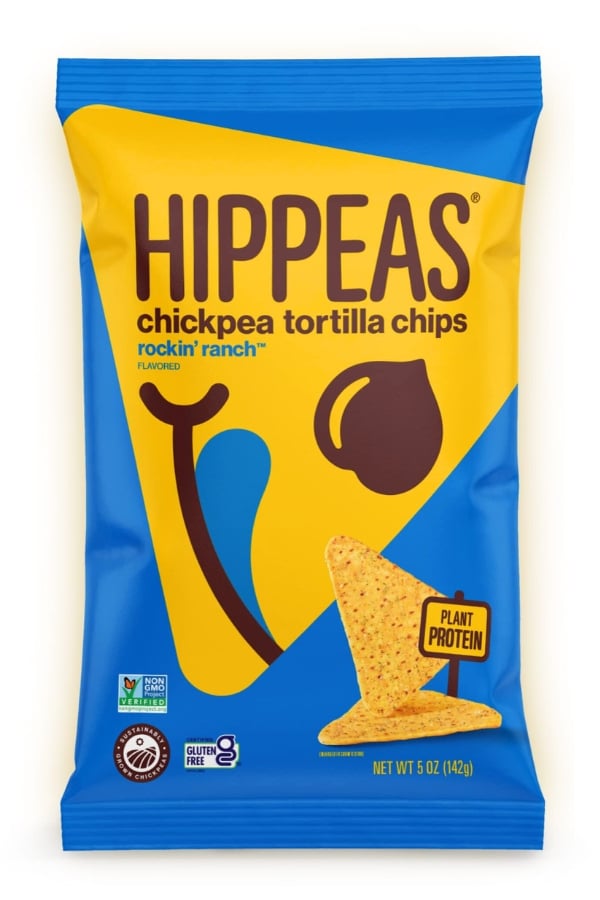 Nutritional Info for about 9 chips (28g):
140 Calories
7g Fat
17g Carbs
1g Sugar
3g Fiber
3g Protein
You'd never believe these Hippeas tortilla chips are made with chickpeas from tasting them. These tortilla chips have an excellent hearty crunch and are packed with so much flavor in every bite, making them a superior snacking option.
Don't miss out on their rockin' ranch and nacho vibes flavors, which pack all the finger-licking goodness of your favorite junk food potato chips minus the junky ingredients. You can also get them in straight-up sea salt or sea salt & lime juice if you like to keep it classic. The rockin' ranch is my favorite flavor, and I think they taste like cool ranch Doritos.
6. Siete Maiz Totopos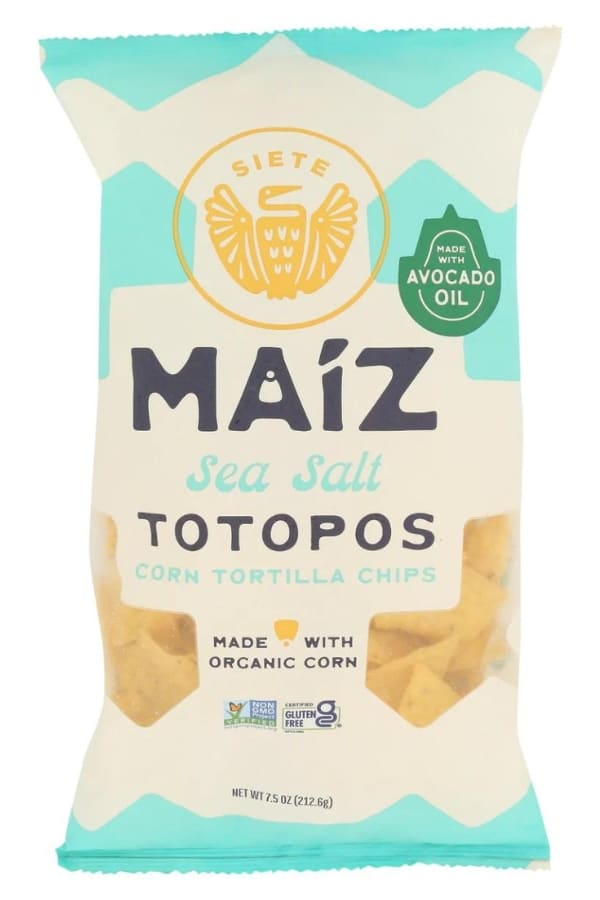 Nutritional Info for 1 oz (30g/about 10 chips):
140 Calories
7g Fat
17g Carbs
0g Sugar
0g Fiber
2g Protein
Another fantastic tortilla chip option from Siete, these corn-based maiz totopos are similar to homemade baked tortilla chips when it comes to flavor and crunch factor. What really sets these apart from other chips is that they're made with nixtamalized corn, a traditional Mesoamerican practice that results in a more pronounced and delicious corn flavor and better absorption of the natural vitamins in the corn. Just like Siete's grain-free option, these tortillas are also made with healthy avocado oil instead of vegetable oil.
Their classic sea salt or lime versions are made with a blend of white & yellow corn, and they're also available as blue corn tortillas.
7. Perfection Snacks Mini Tortilla Chips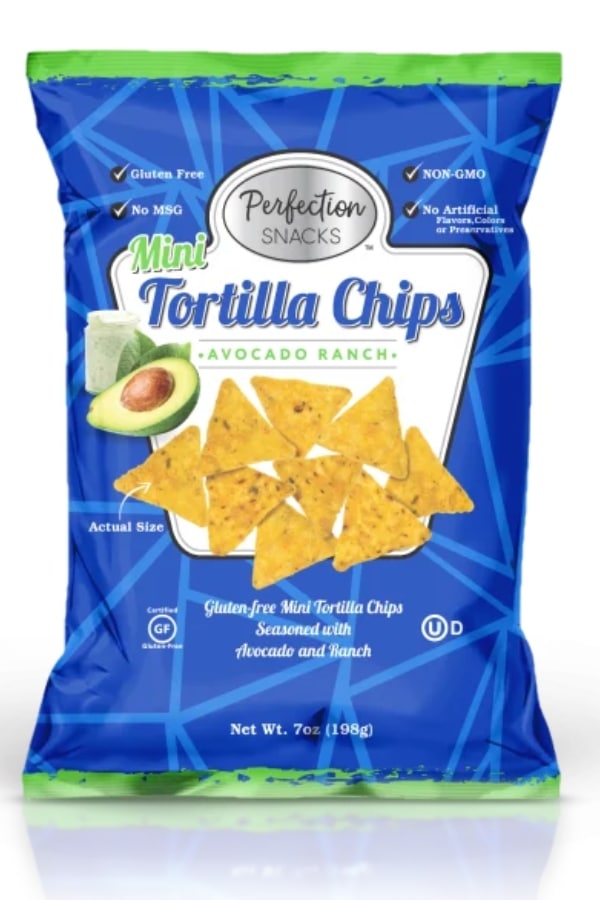 Nutritional Info for 1 oz (28g/about 9 chips):
140 Calories
7g Fat
19g Carbs
2g Sugar
1g Fiber
2g Protein
If you like your chips with a lot of seasoning, these bite-sized corn chips are just the snack for you. These mini tortilla chips are packed with flavor from all-natural seasoning and come in avocado ranch, nacho cheddar, and sour cream options, as well as spicy guacamole corn chips and restaurant-style yellow corn and white corn versions.
8. Que Pasa Organic Tortilla Chips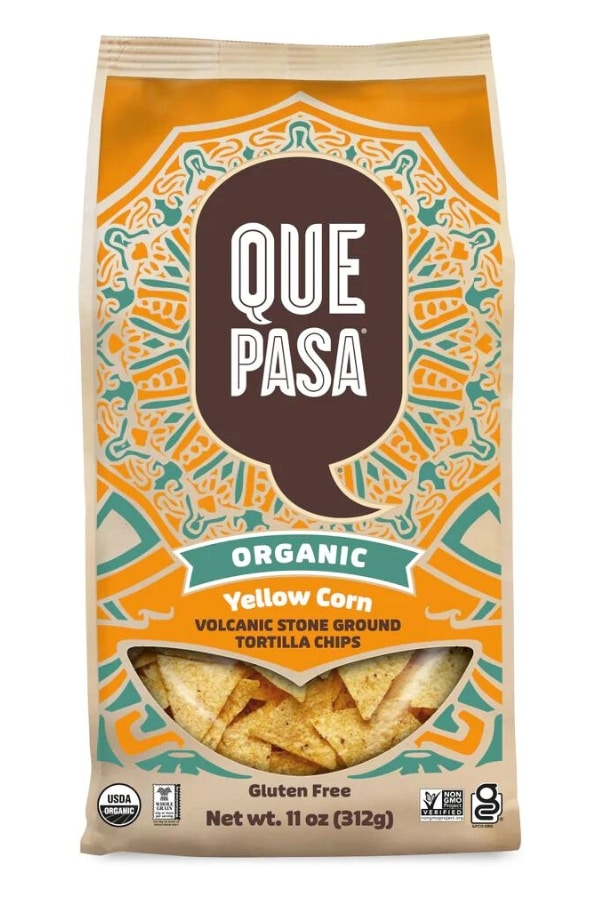 Nutritional Info for 12 chips (28g):
140 Calories
7g Fat
18g Carbs
0g Sugar
2g Fiber
2g Protein
When you think of tortilla chips, these Que Pasa tortilla chips are probably the first image that comes to mind. These delicious corn chips are the definition of classic tortilla chips, with a slightly sweet ground corn flavor, crispy crunch, and a light yet sturdy texture that can hold up to any salsa or dip. Pretty much everything a true tortilla chip should be!
On top of all that, these Que Pasa chips are also lower sodium, gluten-free, and made with whole grains, making them the superior choice compared to other options on the grocery store shelves.
9. Hilo Life Almond Flour Tortilla Style Chips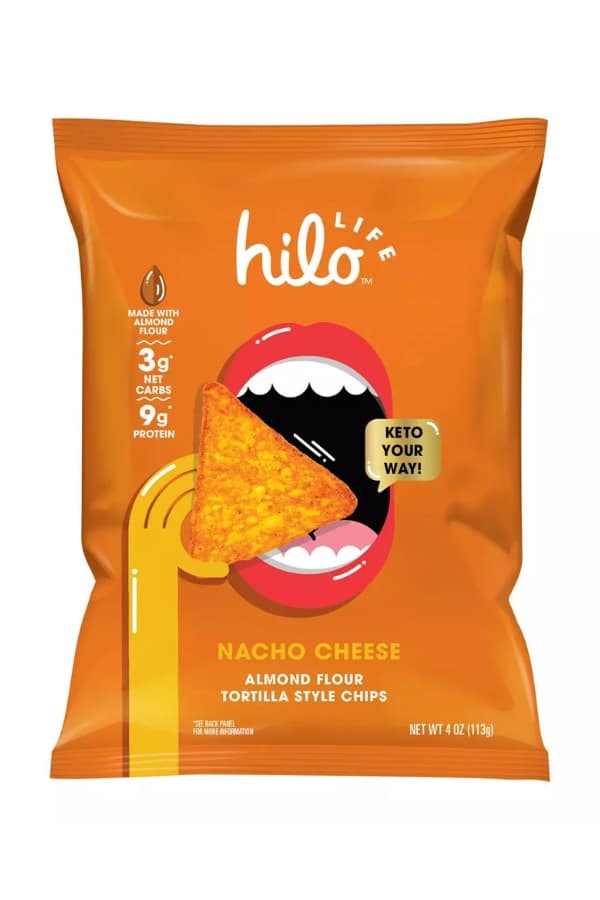 Nutritional Info for 1 oz (28g):
150 Calories
10g Fat
5g Carbs
1g Sugar
2g Fiber
9g Protein
These flavor-packed almond flour tortilla chips give you all the satisfaction of tearing into a bag of savory, crunchy chips and getting your fingers coated in seasoning dust - minus the unwanted artificial flavors and preservatives.
They're a fantastic source of protein, too, with 9 grams of protein per serving - more than three times what you could get from traditional chips! I always snack on these chips since they're a great way to get some more protein in.
These almond flour chips come in all the best flavor options, including nacho cheese, ranch, spicy salsa, and ultimate taco, so there's something here for everyone. Plus, they're the perfect serving size for packing in your lunch box or desk drawer for a quick, crunchy treat any time of day.
10. Pulp Pantry Pulp Chips
Nutritional Info for 1 oz (28g):
160 Calories
11g Fat
15g Carbs
0g Sugar
4g Fiber
2g Protein
These pulp chips are a uniquely healthy and sustainable snacking option you can feel good about stocking in your pantry. They're made with upcycled kale and celery pulp leftover from cold-pressed veggie juices. And if that doesn't sound delicious to you, all it takes is one bite to be convinced!
These veggie tortilla chips are wonderfully crunchy, hearty, and flavorful without being greasy, and are also a great source of natural fiber with fewer starches and carbs than regular chips. You can try them in sea salt, salt & vinegar, jalapeno lime, and spicy BBQ for chili powder lovers.
More Healthy Lists