Thick, creamy, and savory – this recipe has everything you could want in a cheese sauce and more! Plus, this keto cheese sauce takes almost no time to make, is extremely easy to put together, and yields one of the most delicious cheesy keto dips you'll ever try! The best part? It only requires 4 ingredients, and each serving has less than 1 NET CARB!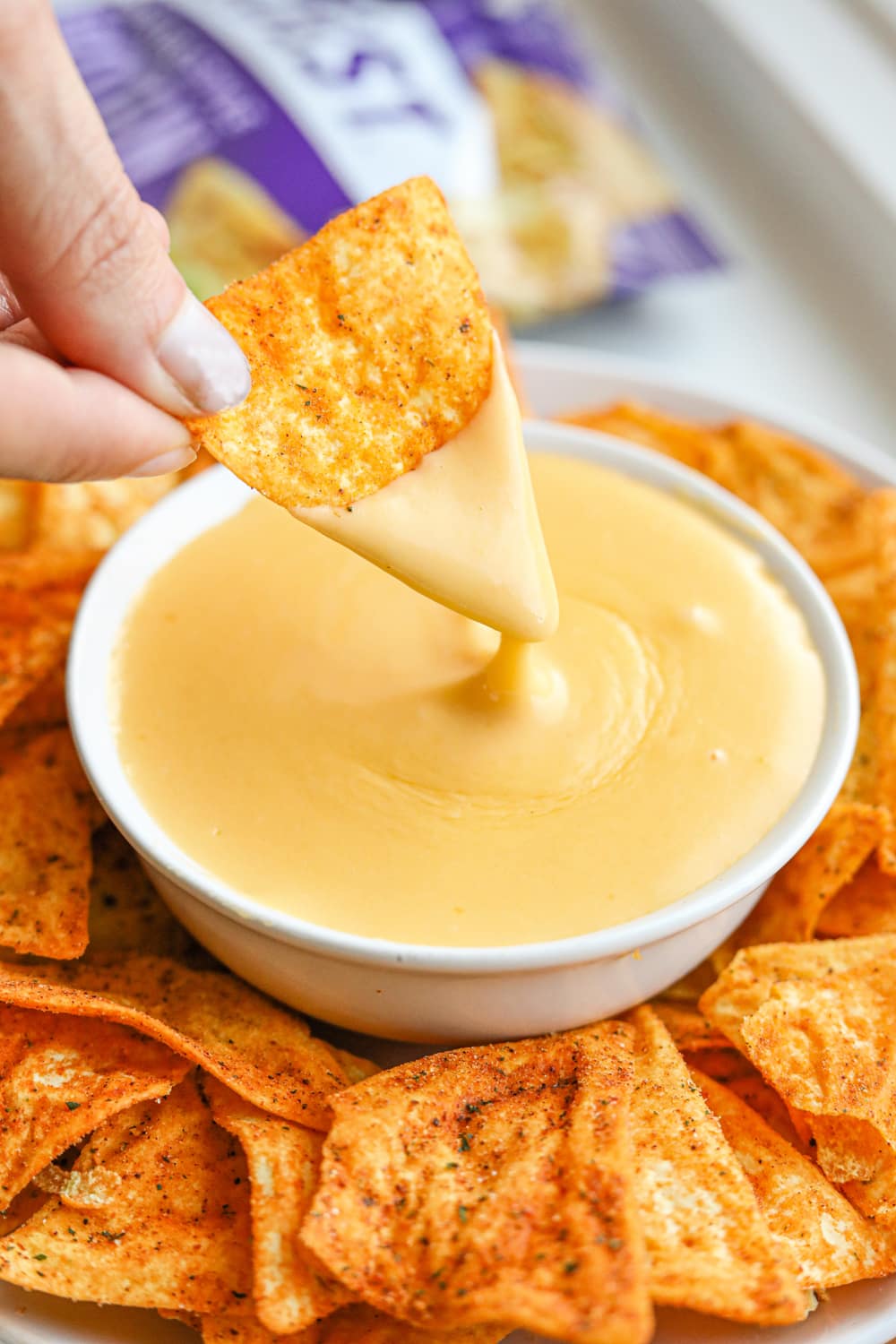 The Best Keto Cheese Sauce
Honestly, one of the best things about the keto diet is all the cheese you get to eat!
I have a ton of keto recipes featuring cheese in all sorts of different flavor combinations like my recent keto mozzarella sticks recipe, this super easy low carb broccoli cheese soup, and this delicious and savory keto cheeseburger casserole.
Whether you're looking for toasted melty cheese, stretchy ooey-gooey cheese, or super creamy cheese, you can find a recipe for it here!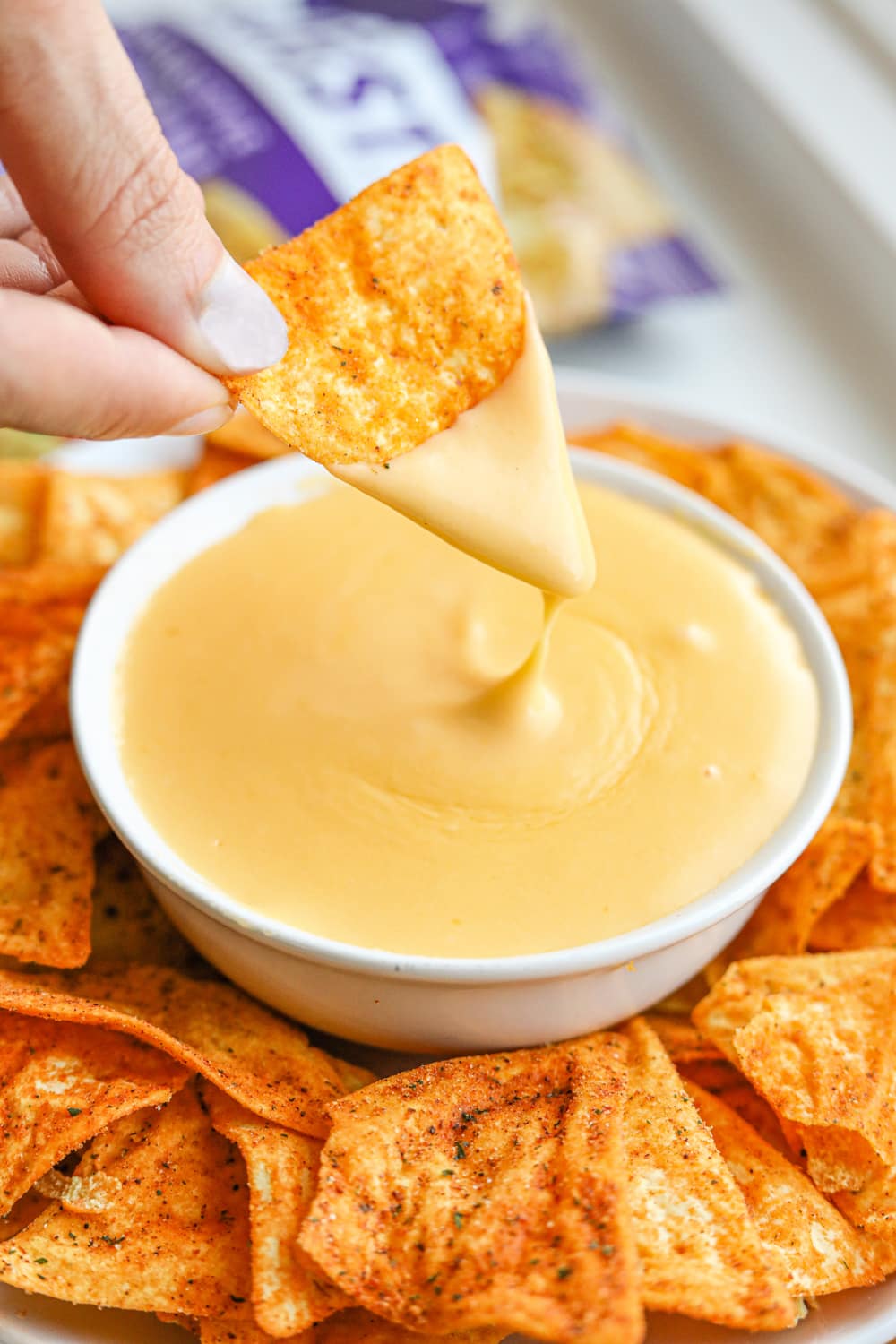 Anyways, today we're going to dive into a luscious homemade keto cheese sauce.
It's thick & creamy and is the BEST low carb cheesy sauce for your favorite veggies or even low carb chips.
Honestly, I love it as a dip for some fresh broccoli. And my wife loves it too.
The crisp crunchiness of the broccoli, plus the creamy savoriness of the cheese sauce is majorly addicting.
It's also insanely easy to make – you're looking at just 5 minutes worth of work! Practically no time at all.
And did I mention that every serving has only .25g net carbs?
Trust me when I say this, you'll want to pour this stuff on EVERYTHING.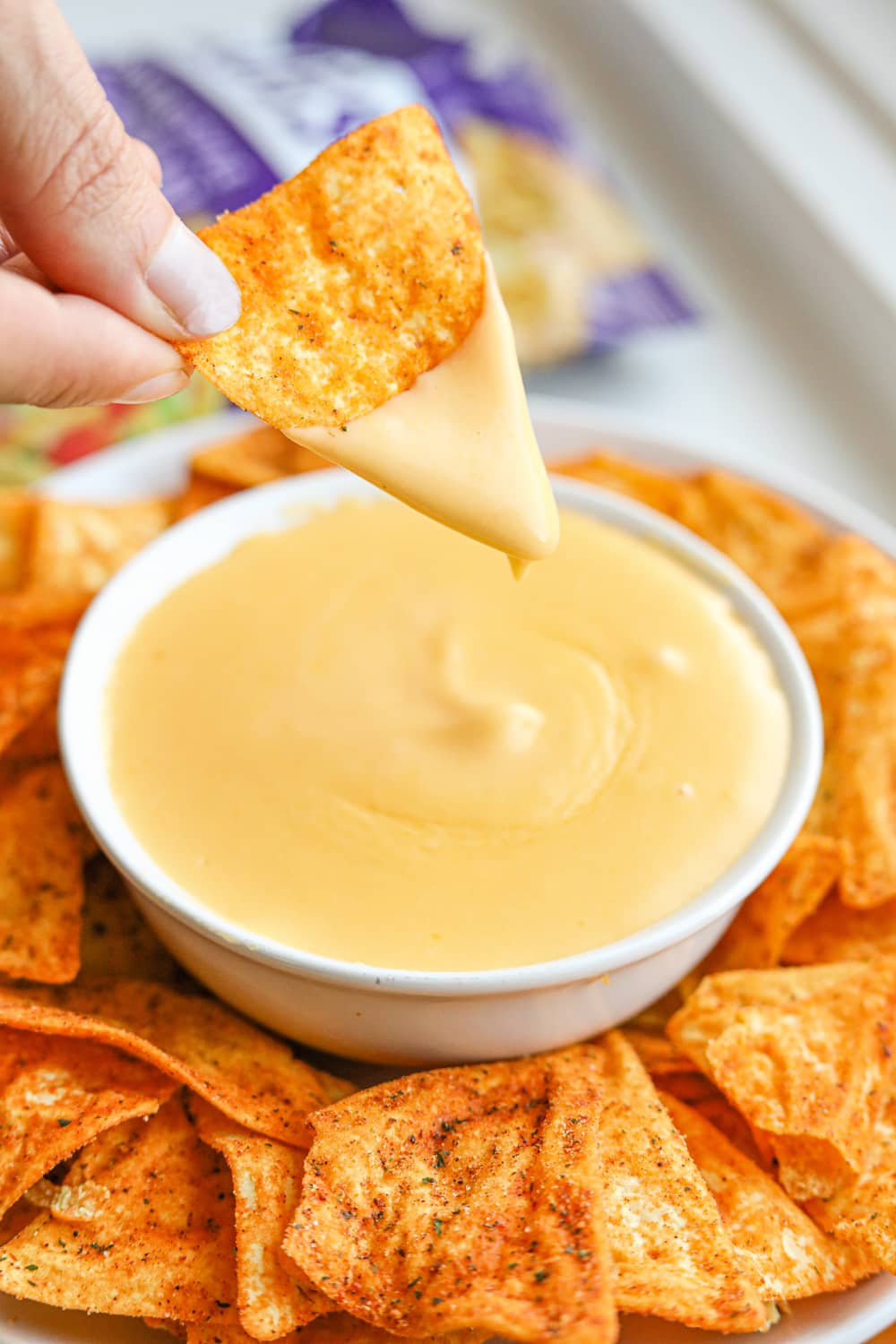 Ingredients for Keto Cheese Sauce
Besides being super easy and quick to put together, this keto cheddar cheese sauce only needs 4 ingredients! And you can probably find most of them in your kitchen already.
So, here's what we'll be using:
2 Tbsps Butter

¼ Cup Heavy Cream

¼ Cup Unsweetened Almond Milk

1 ½ Cups Cheddar Cheese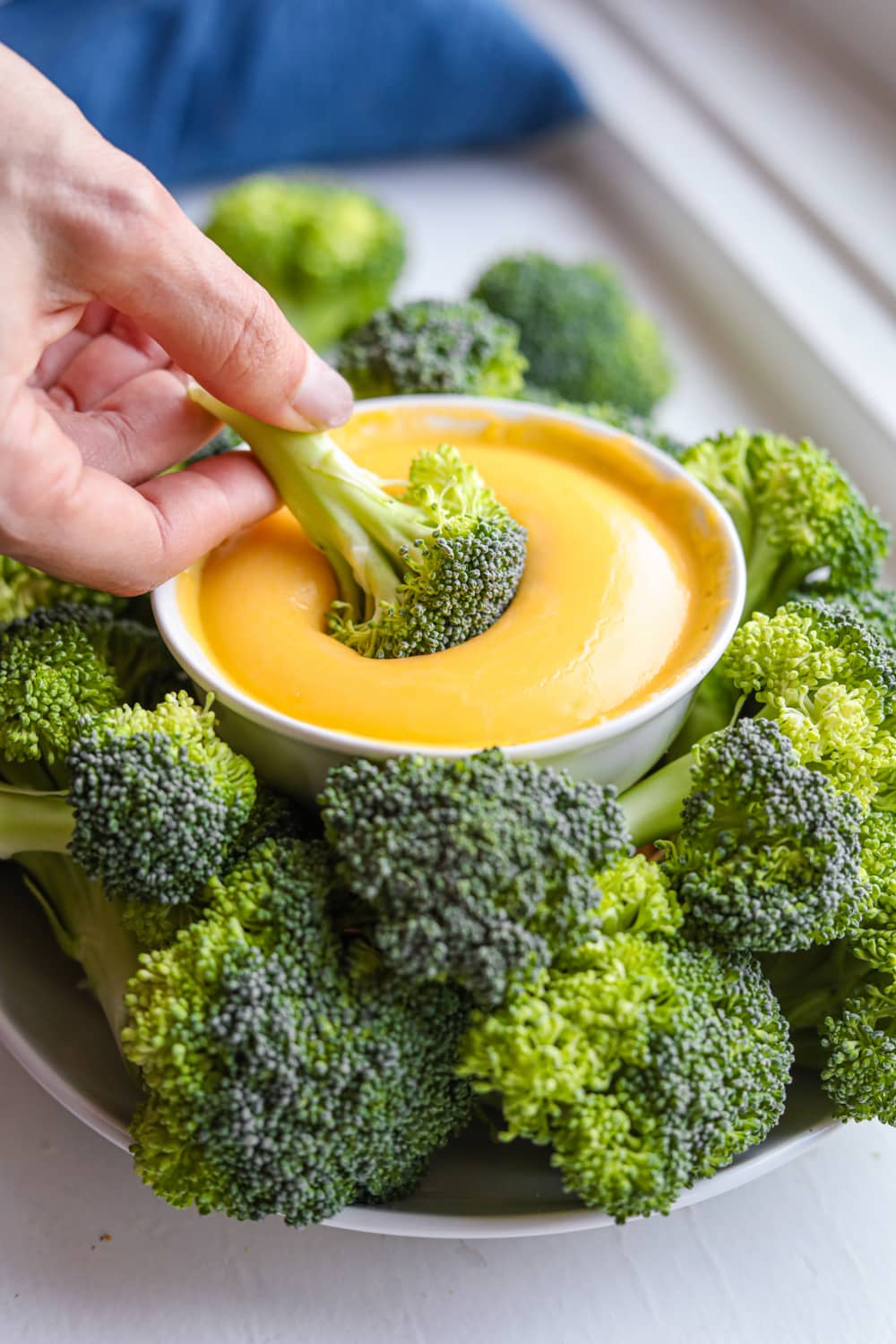 As you can see, we're definitely going hard on the creamy and cheesy ingredients. That's the secret behind that fantastic texture and flavor you'll be getting from this keto cheese sauce that is also gluten free.
Pro tip: You'll want to make sure you shred the cheddar yourself. It's a little bit of extra work but will save you some carbs. Store-bought shredded cheese usually has a coating of starch to prevent them from sticking together, and that adds some unwanted carbs to the cheese.
Also, make sure you use UNSWEETENED almond milk for the cheese sauce. Some varieties are sweetened and have sugar - and unwanted carbs - added to them, which you'll want to avoid if you're doing keto.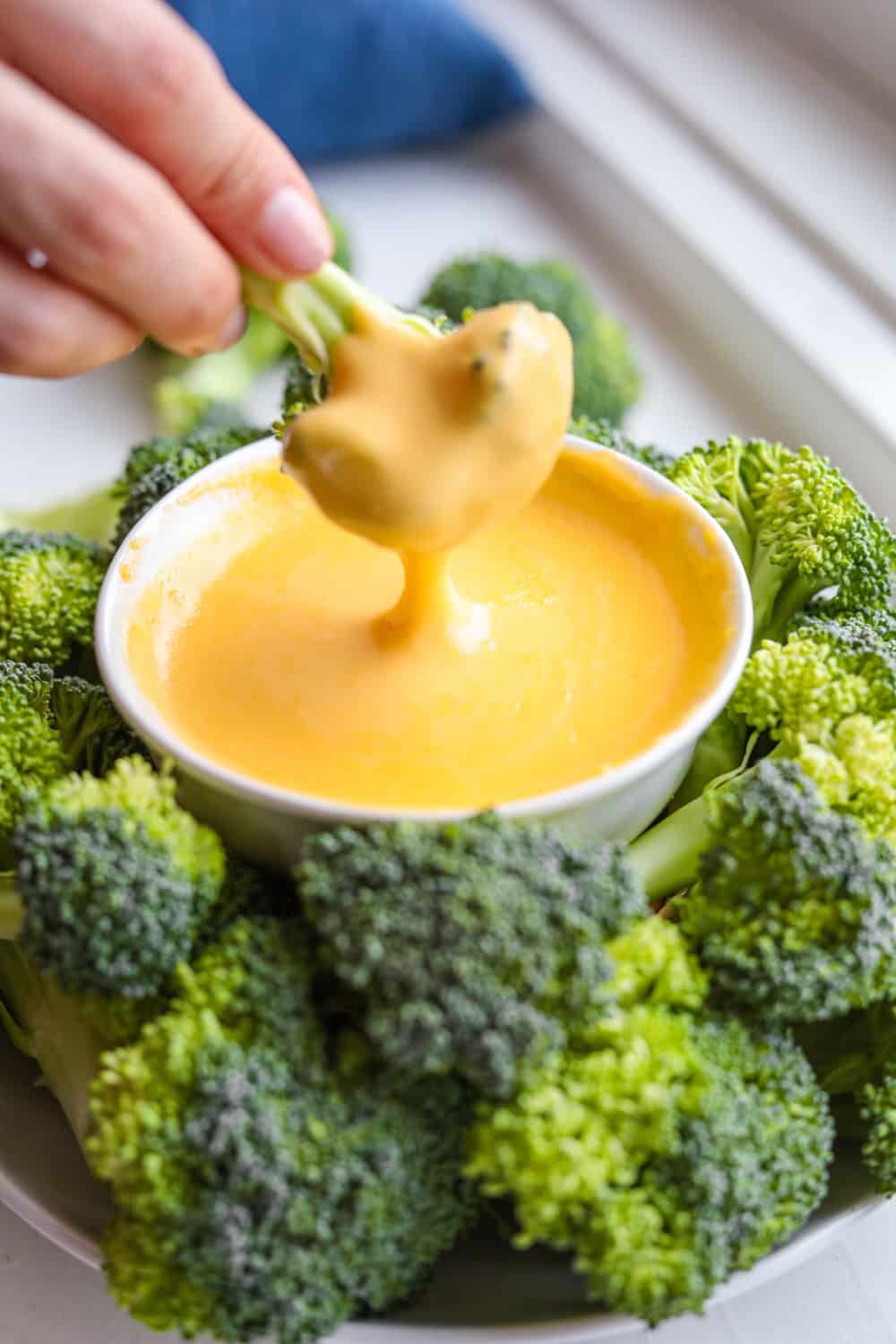 How to Make Keto Cheese Sauce
Now that we've talked about the ingredients, let's talk about how to actually make this keto cheddar cheese sauce.
First, you'll want to prepare your ingredients – mainly shredding the cheddar and measuring everything out.
Then, place all of the ingredients in a small pot on the stove and set it to low heat.
Once you've done that, make sure to continually stir the sauce until the ingredients are well incorporated. And it should only take about 5 minutes for that to happen.
Now, when the cheese sauce thickens up and combines, you'll want to remove it from the heat and serve it immediately.
That's literally it. Talk about an easy keto cheese sauce!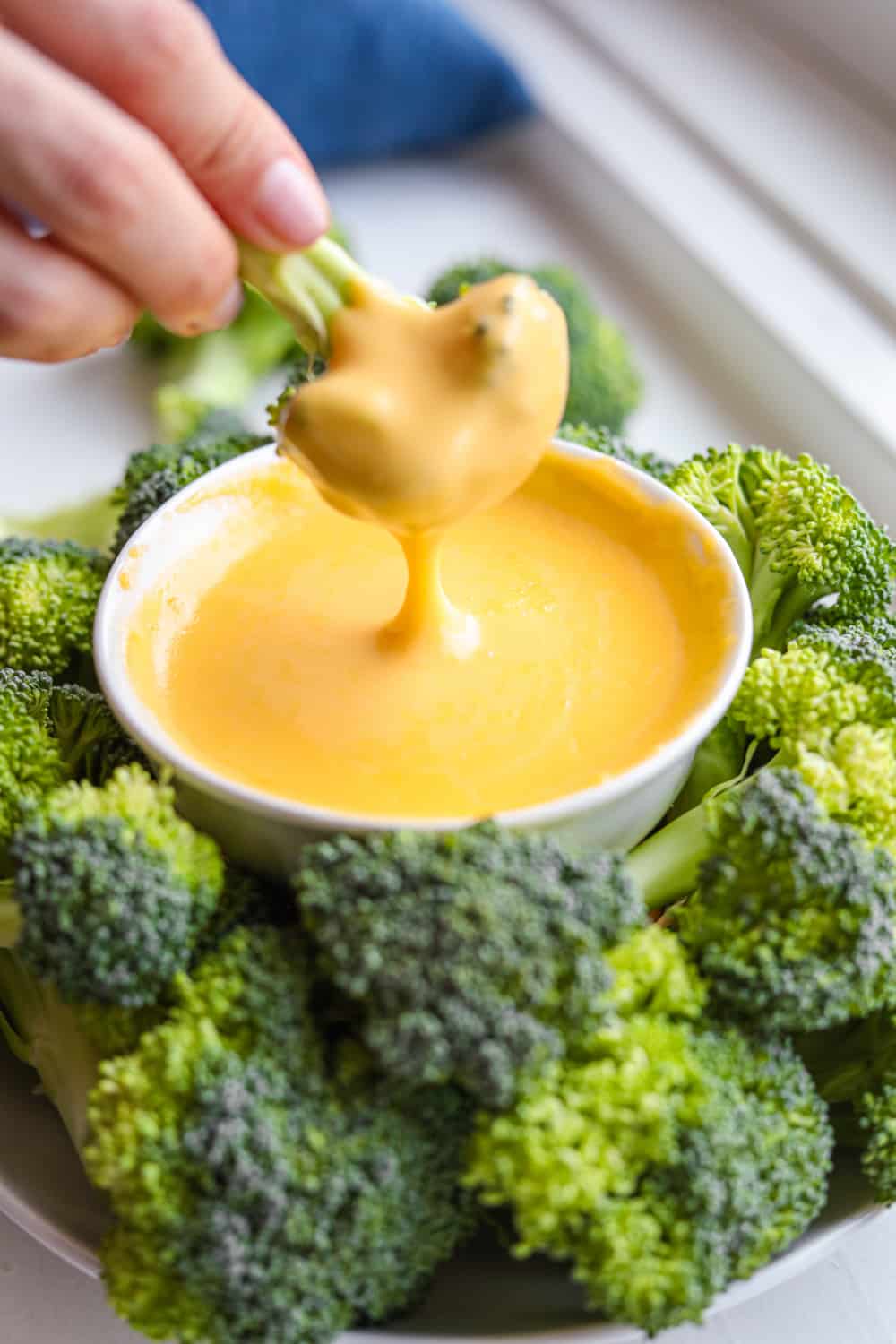 Honestly, this recipe is almost too easy for how good it is.
Just a few minutes of prep and cooking, and you've got yourself a deliciously thick keto cheddar cheese sauce with only .25g of net carbs per serving.
And Clean up is obviously going to be a breeze too.
Can this recipe get any better?!
Oh, by the way, you can keep the leftovers in your fridge for up to 5 days. Just add about 1 tablespoon of heavy cream when you reheat it – this will preserve the texture and creamy flavor.
And, always remember this rule, the best keto cheese sauce is hot cheese sauce!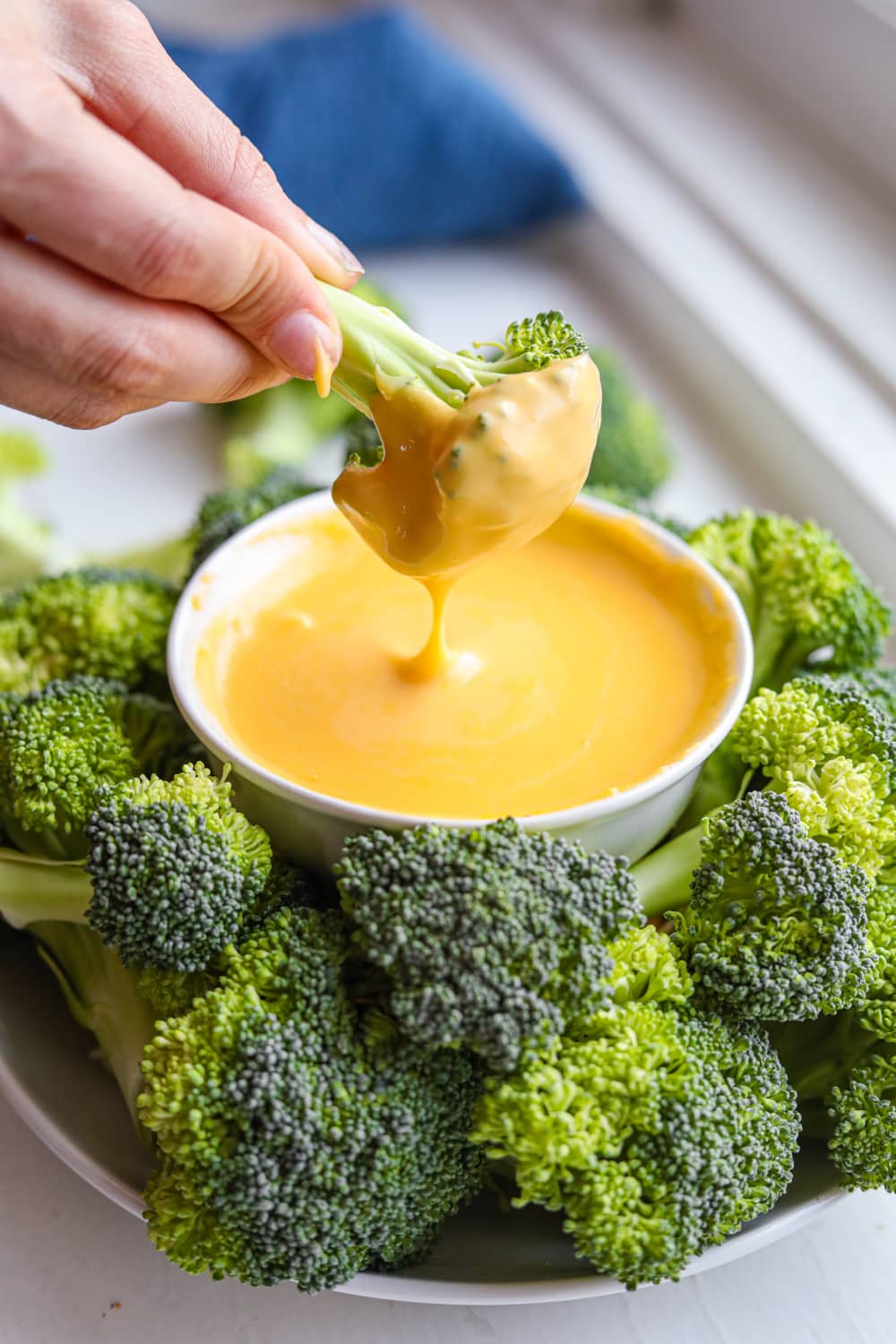 What to Pair with This Keto Cheese Sauce
As I mentioned earlier, you could keep this gluten free and low carb cheese sauce in the fridge for up to 5 days. And that means you should definitely try it a bunch of different ways.
I highly recommend trying this keto cheese sauce with your other favorite veggies – cauliflower, celery, bell pepper, and asparagus are all fantastic options.
And, of course, this cheese sauce goes excellent with broccoli as well. It's like a match made in heaven. Totally reminiscent of a good broccoli cheese soup.
If you're not in the mood for raw or steamed veggies, these Low carb chips are a super great snacking option to pair with the sauce too.
Personally, I love dipping the Taco Flavored Quest Protein Chips, but any flavor works just as well. Seriously, is there anything better than Crunchy chips and creamy cheese dip?!
I think not my friends! But whatever you pair with it, you'll find that this really is the best cheese sauce.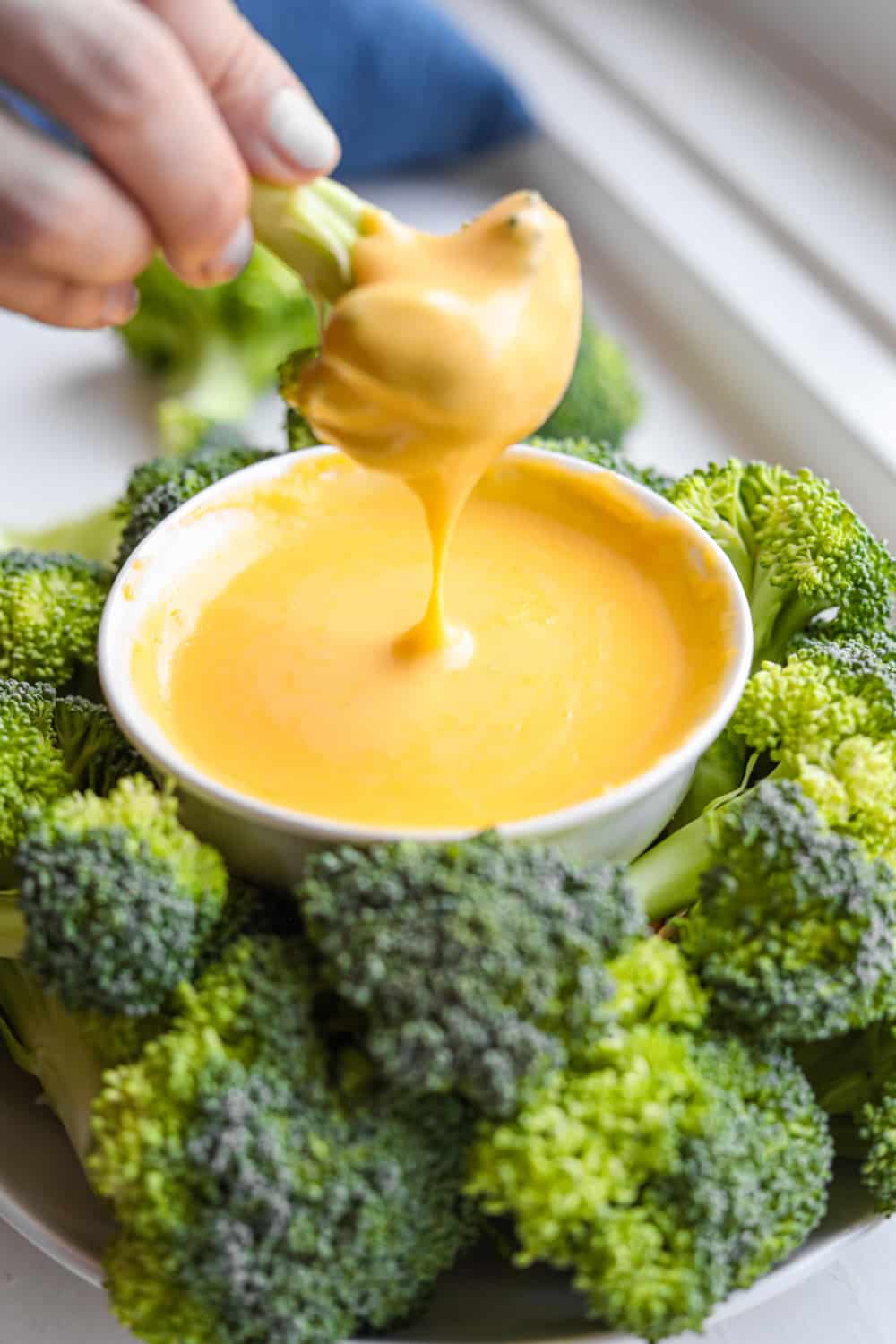 And, of course, you can't talk about homemade cheese sauce without talking about nachos!
I have a recipe for low carb tortillas that you can totally bake into crispy nacho chips.
Top with keto cheese sauce, maybe throw some sliced jalapeno on there, and boom – you've got yourself a party.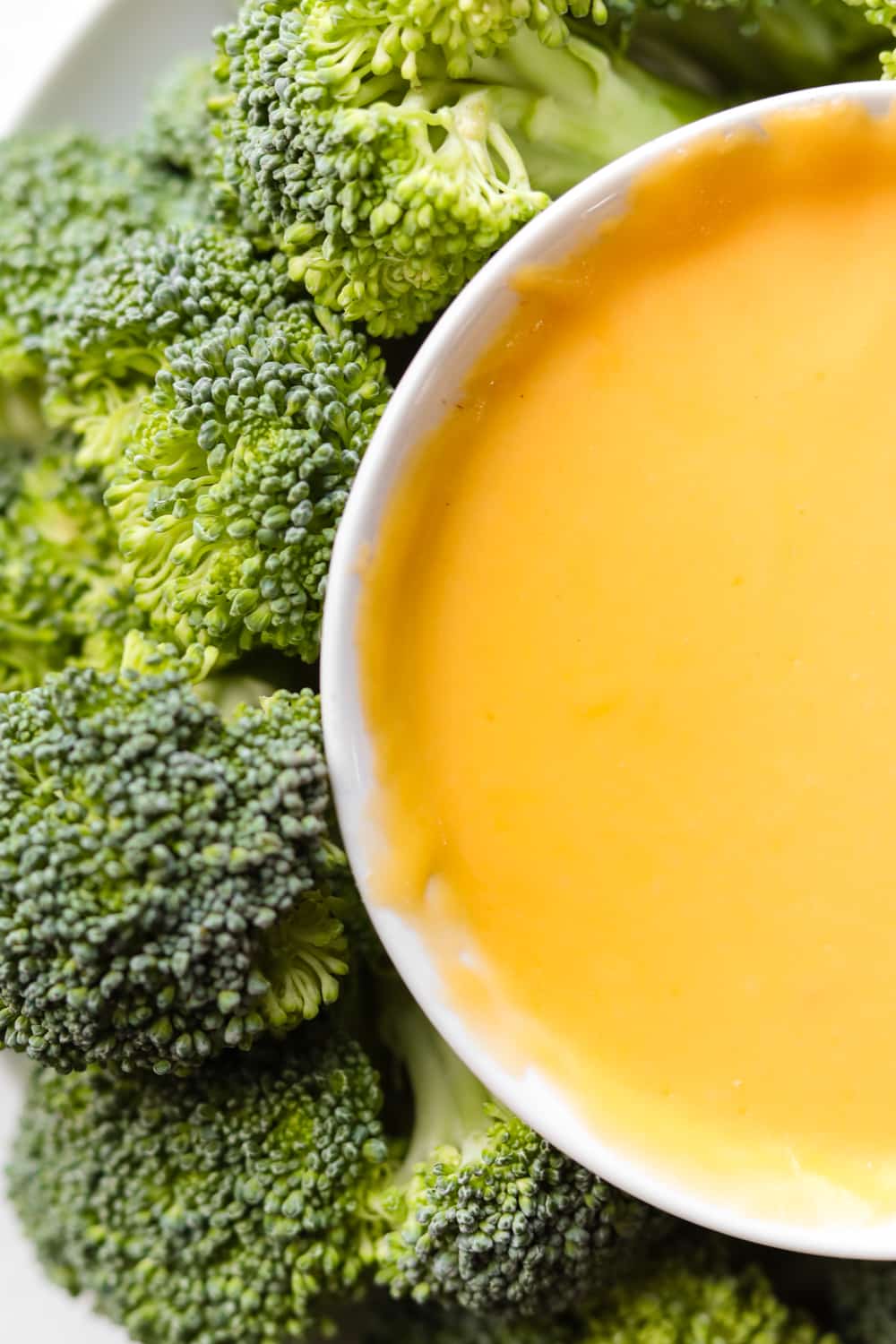 More Keto Dips To Try
Okay, so you read this keto cheese sauce recipe, you made it, you loved it, and now you want to make something else.
Luckily, I have tons more low carb keto dip ideas for you to try!
Something similar to this, but with a little more pizzaz is my keto pizza dip (See what I did there?).
Instead of melting the cheese in a pot, for this recipe, you broil everything together until the cheese gets super melty & stretchy, and the flavors of the pizza sauce and pepperoni melt into that ooey-gooey cheese…You NEED to try it.
Another recipe, just like this one, is my low carb buffalo chicken wing dip. It also uses cheddar cheese but with the addition of blue cheese, cream cheese, and hot sauce. It's basically like a spicy triple cheese dip. You'll definitely want to get on that ASAP as well.
Finally, if you're in the mood for something creamy but not necessarily cheesy, you'll want to try this savory keto spinach and artichoke dip. Just like the cheese sauce, this is one of my favorite recipes to pair with Quest Protein Chips.
Creamy and crunchy just work SO well together.
And that's it!
Feel free to check out the rest of my blog or my Youtube channel for more majorly delicious low carb recipes to accompany you on your keto journey.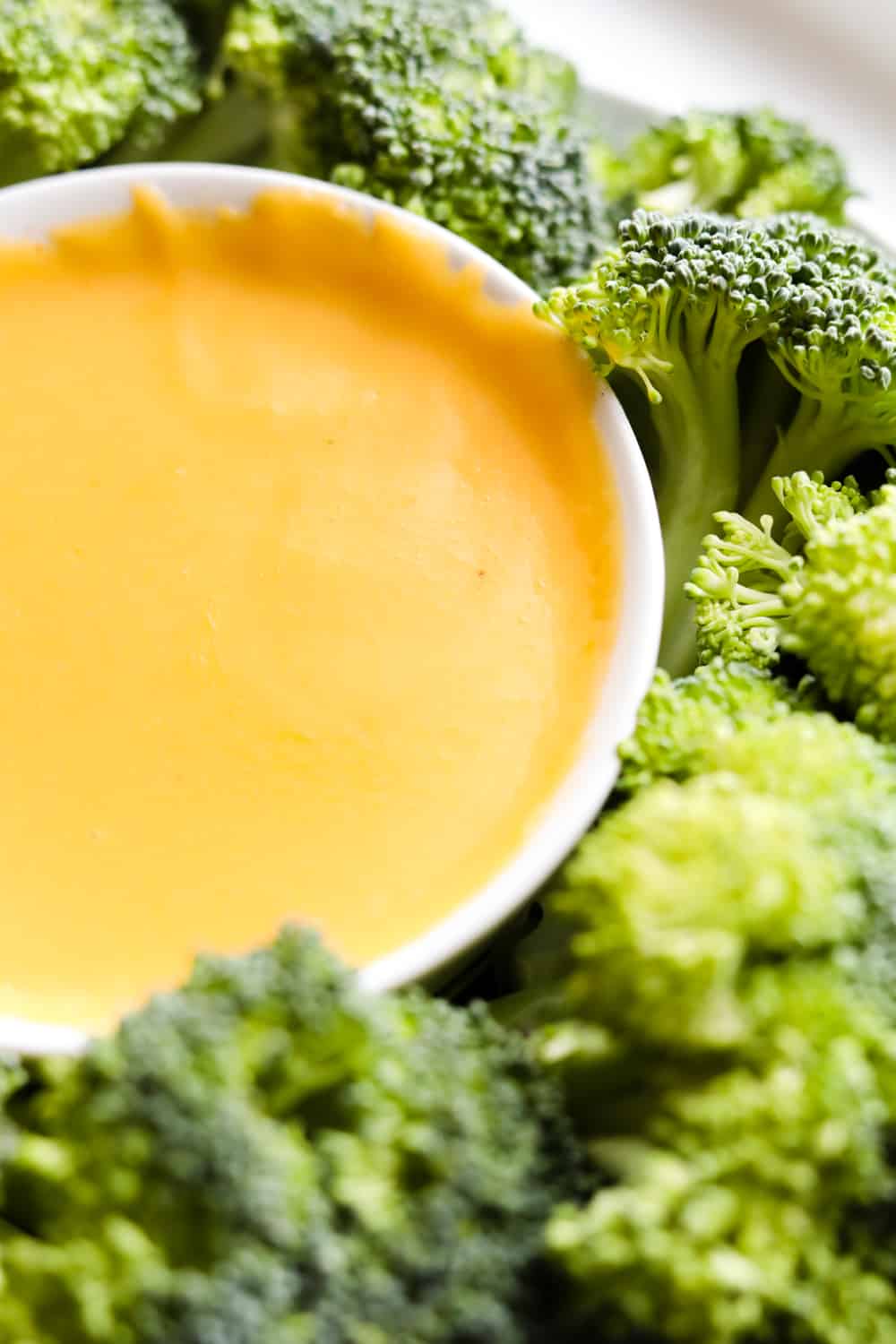 Print
Keto Cheese Sauce | The Best, EASY To Make, Low Carb Cheese Sauce Recipe
Keto cheese sauce doesn't have to be difficult to make. Actually making cheese sauce keto is not only easy to do, it's quick too. It only takes 5 MINUTES to make, and it's incredibly rich, creamy and cheesy. In fact, it's so good, you'd never know it's a low carb keto cheese sauce. And it's awesome on everything - broccoli, low carb chips, pork skins, you name it, this cheese sauce makes it taste better. Plus, each serving has almost 0 NET CARBS!
Author:
Prep Time:

1

Cook Time:

4

Total Time:

5 minutes

Yield:

9 Servings

Category:

Side Dish

Method:

Stove-top

Cuisine:

Keto Low Carb
Instructions
Add all of the ingredients to a small pot, and heat over low heat on the stove.

Stir often to work the ingredients into one another.

Once all of the ingredients combine into one another remove from the heat, and serve immediately.

Store leftovers in a tupperware container in the fridge for up to 5 days.

Note: shred the cheddar yourself to save carbs. Store bought shredded cheddar usually has starch added to it, which adds carbs to the cheese.
Notes
If reheating, add about 1 tablespoon of heavy cream before heating it back up.
Nutrition
Serving Size:

2 Tbsps (around 30g)

Calories:

120

Fat:

11

Carbohydrates:

.25

Fiber:

0

Protein:

5
Keywords: keto cheese sauce, cheese sauce keto, low carb cheese sauce, cheese sauce low carb, keto cheese sauce recipe, low carb cheese sauce recipe, how to make cheese sauce keto, cheese sauce recipe, cheese sauce,