This keto mug cake is so rich, decadent, and full of chocolatey goodness. And since this is a flourless keto mug cake, you don't need any almond flour or coconut flour to make it! Along with that, it is ridiculously easy to make - it takes just 1 minute to make this keto mug cake in the microwave.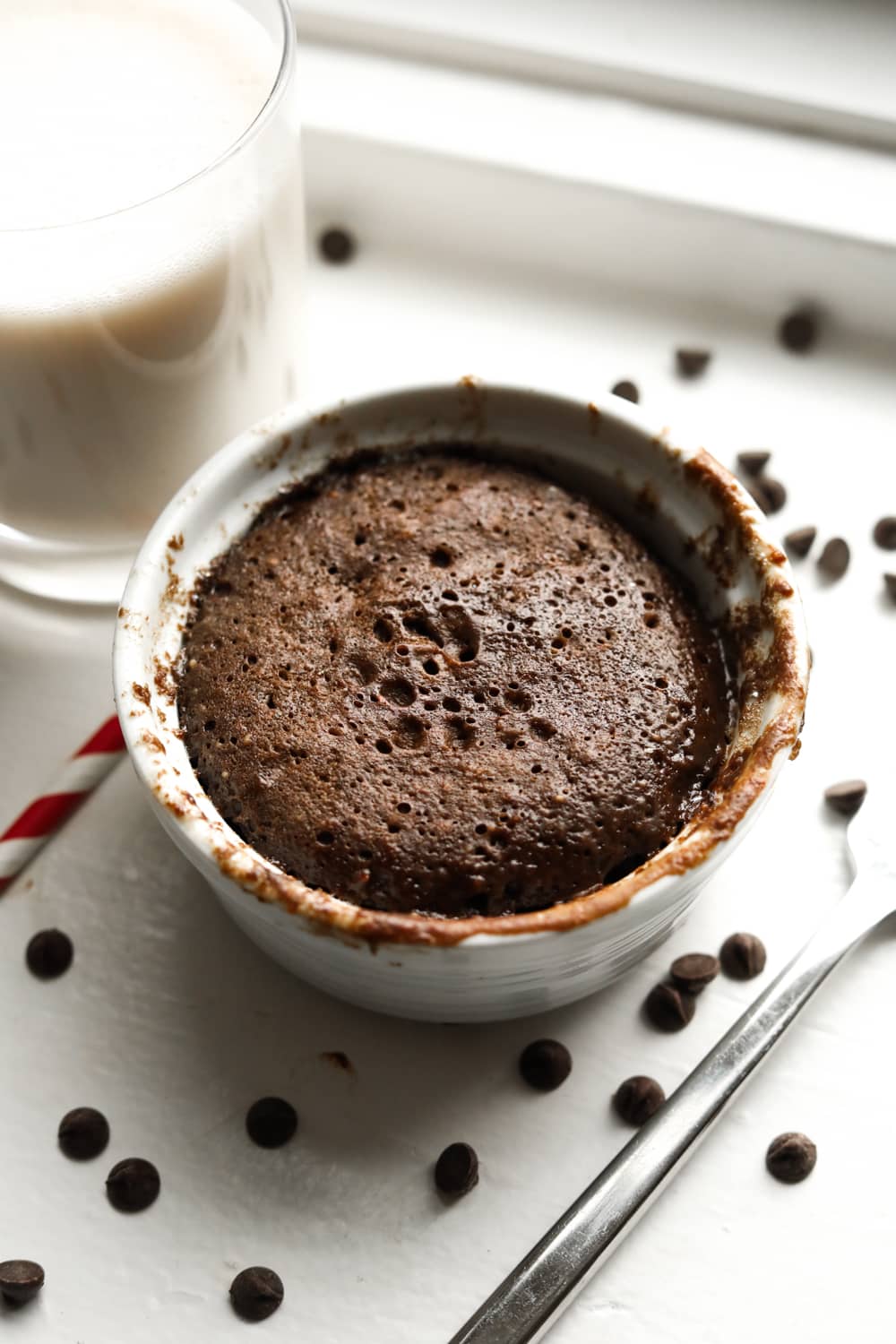 The Best Keto Flourless Chocolate Mug Cake
When you're craving something rich, sweet, and chocolatey nothing beats this keto mug cake.
Honestly, this has to be my all-time favorite keto mug cake - it can be made in a flash, only requires a few ingredients found in every kitchen, and it is just oh-so cakey.
And since this is a single-serve mug cake, portion control is built right into the recipe, and you can enjoy the entire thing for only 4 NET CARBS!
Now, something I think puts this above other mug cake recipes is that you can use a nut butter of your choice instead of flour - it just gives it an unmatched flavor and consistency.
Plus, you have the option of making this mug cake quickly in the microwave, or you can bake it in the oven. No matter which way you choose, this mug cake turns out super soft, cakey, and moist.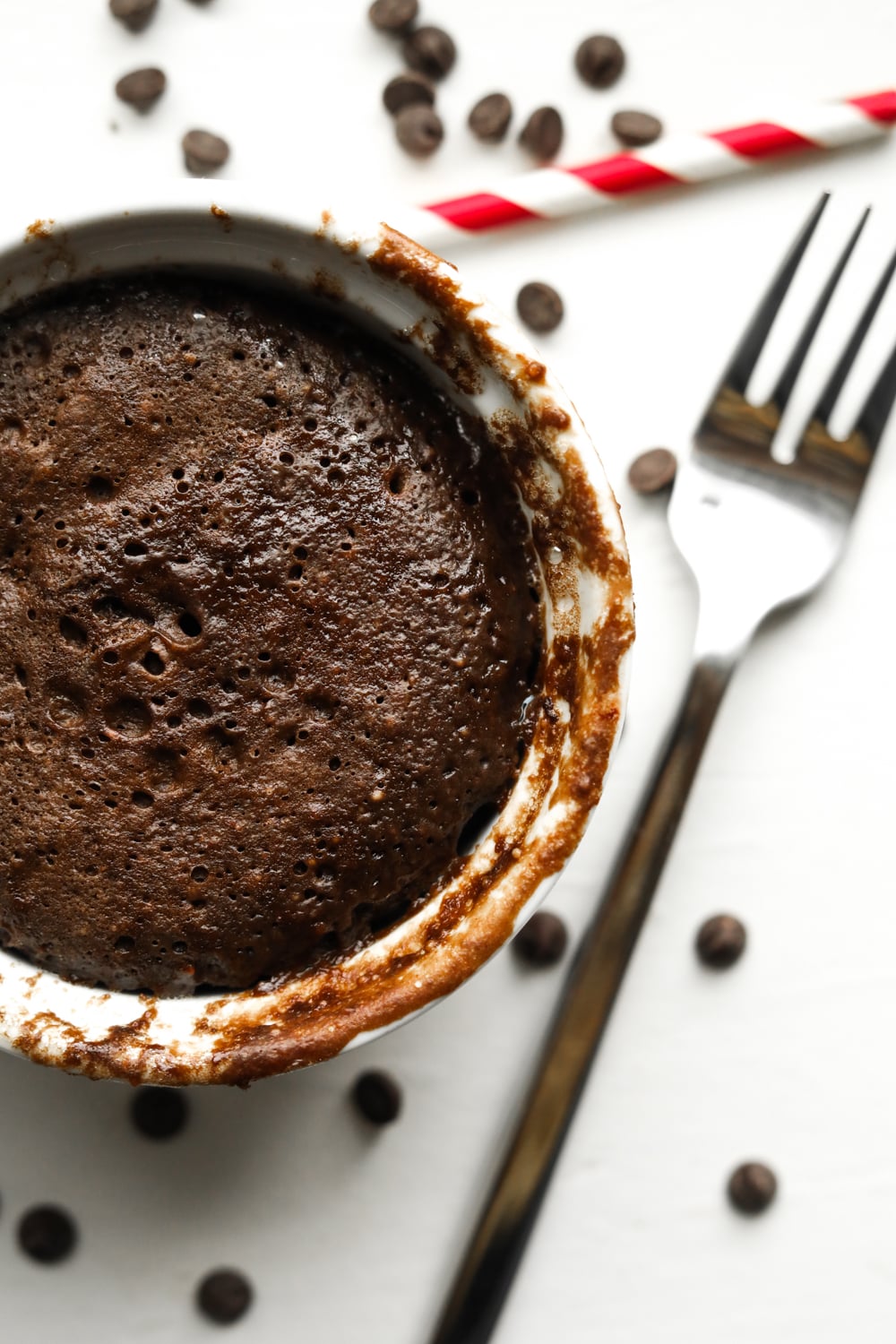 INGREDIENTS FOR THIS KETO MUG CAKE
So, as I've mentioned, this mug cake recipe doesn't use any flour. And the ingredients that you'll need are some of the most common keto baking ingredients.
Check them out:
1 Large Egg
3 Tbsps. Nut Butter Of Choice
1 Tbsps. Unsweetened Almond Milk
Just less than 3 Tbsps Confectioners Swerve
¾ Tbsp. Unsweetened Cocoa Powder
¼ Teaspoon Baking Powder
Pinch of salt
I always have these ingredients on hand, so this mug cake comes in clutch when I crave a chocolate dessert and want it ASAP.
And, honestly, I use a lot of these same ingredients to make this keto fudge, this low carb chocolate lava cake, and these keto candy bars. So, if you don't have some of them on hand, I highly recommend picking them up.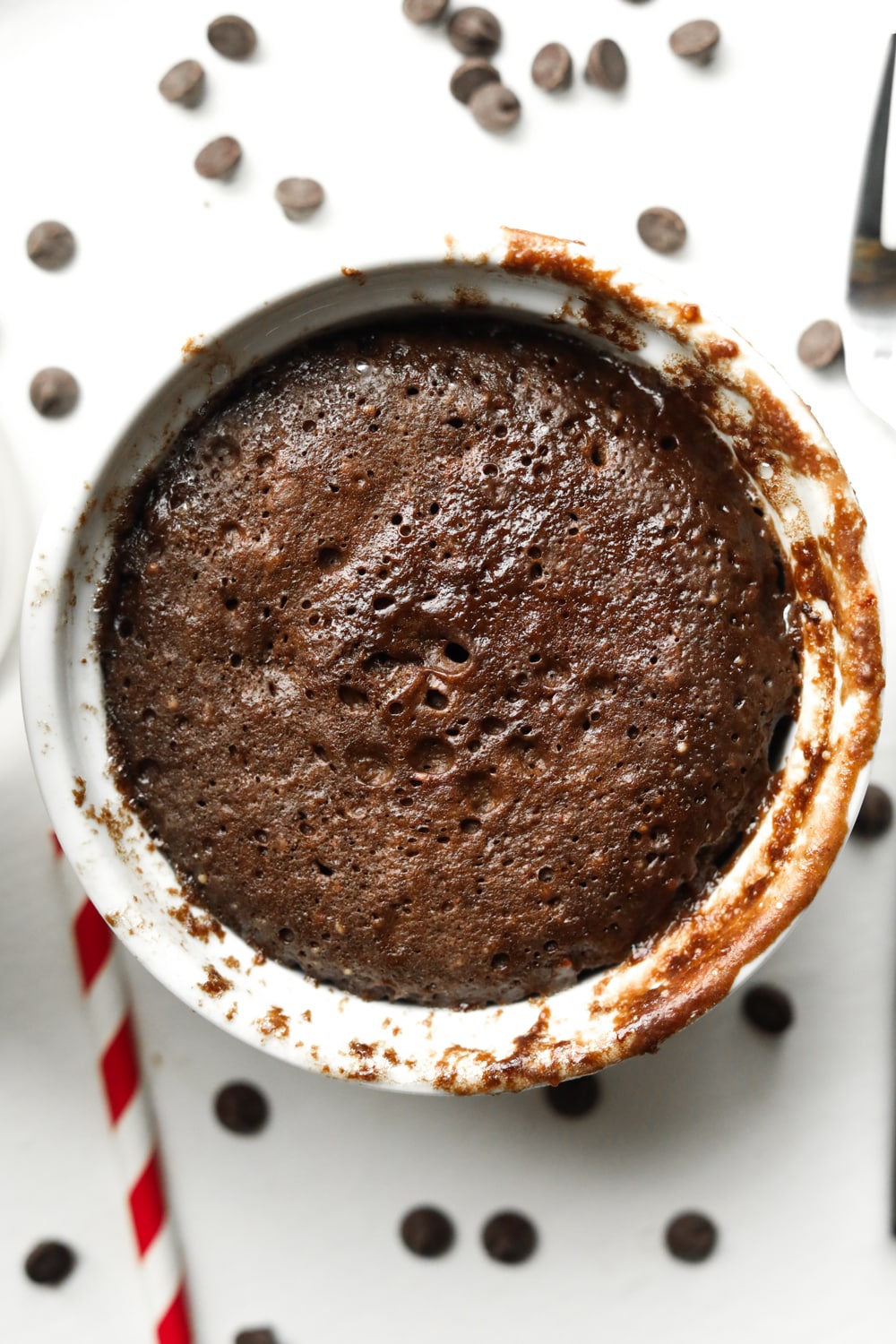 Nut Butter Options
Now, you may have noticed that you can use any nut butter that you want in this mug cake. Just make sure you use one with no sugars added to it to keep the carbs as low as possible.
Oh, and if you use peanut butter, you'll make a Reese's mug cake! Were you already thinking that, or did I just blow your mind? It's definitely one of my favorite ways to make this cake!
Sweeteners
Along with being flourless, this is, of course, a sugar-free mug cake.
And to sweeten it up without adding any sugar, you can either use Confectioners Swerve or Lakanto's Powdered Monkfruit Sweetener.
Both of these have 0 calories, 0 sugars, and are just as sweet as sugar!
HOW TO MAKE THIS KETO MUG CAKE
As you know by now, I love how easy this mug cake is to make.
There are just a few simple steps, and you'll have a rich and decadent treat in no time.
STEP 1: COMBINING THE INGREDIENTS
The first thing that you will do is add all of your ingredients to a measuring cup.
Then mix your ingredients with a rubber spatula until they are well combined and a thick, chocolate batter forms.
And I know the batter looks so enticing to eat, but try to fight the urge for a few more minutes.
Anyways, next, coat an 8 oz. ramekin with baking spray and pour in your batter.
By the way, you can definitely add the ingredients to the mug you plan on cooking your cake in from the start, but I think the cake turns out better if you use two separate mugs for the process - one for mixing, and one for baking.
STEP 2: COOKING YOUR KETO MUG CAKE
Now, once the batter is in the ramekin, you'll want to cook it in the microwave for around 45 seconds. Having said that, that's the cook-time for a standard 1100 Watt microwave.
Just keep in mind that the microwave time will vary depending on the Wattage of your microwave.
Also, it's best to undercook your mug cake slightly, as it will continue to cook a bit once you take it out.
And if you want to cook this mug cake in the oven, bake it at 350°F (177°C) for around 10 minutes. You can test if it is done by sticking a toothpick in the center of the cake and seeing if it comes out clean.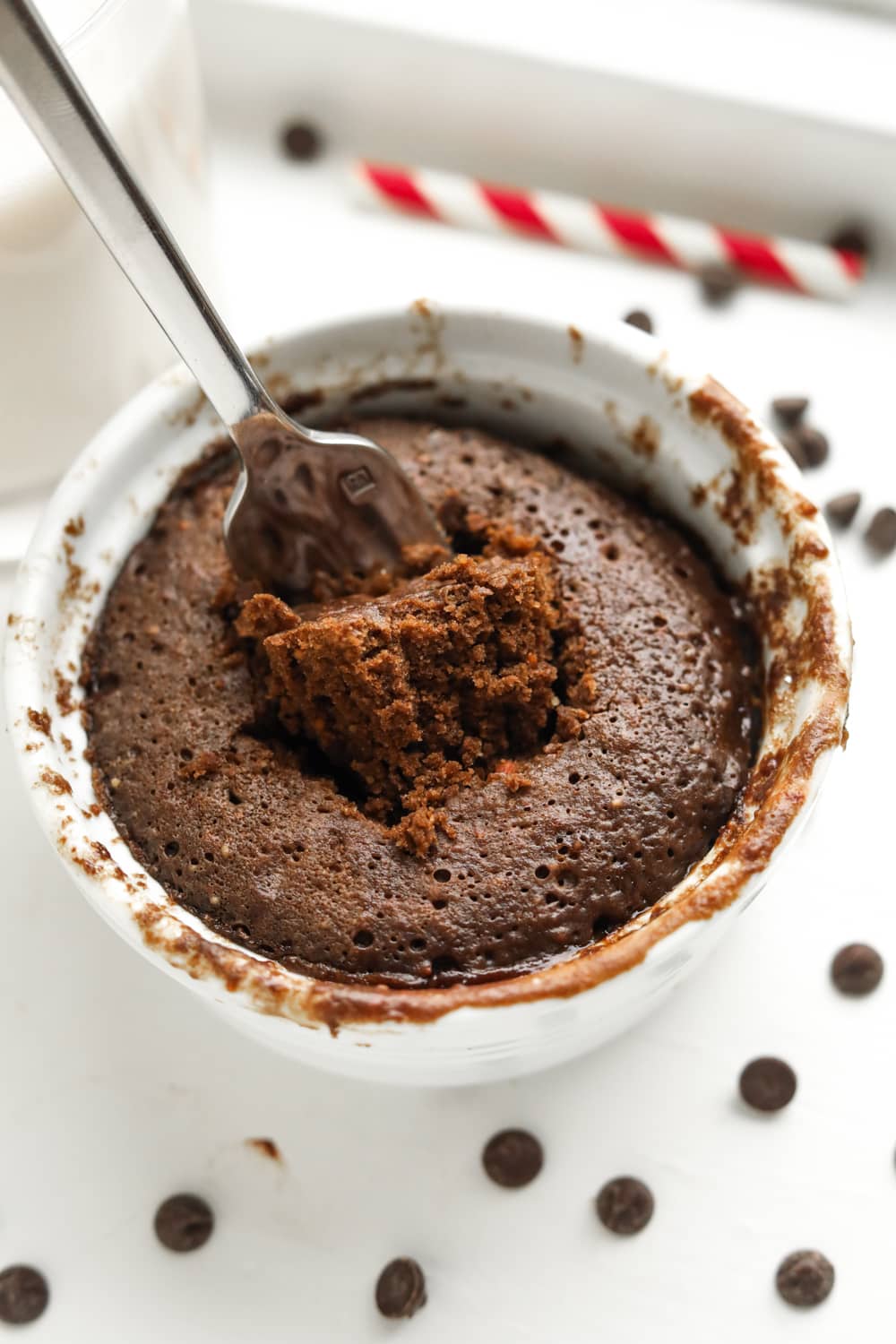 NUTRITIONAL INFORMATION
This chocolate keto dessert has only 4 NET CARBS for the entire mug cake!
As far as the rest of the macros, the whole mug cake has:
351 Calories

29g Fat

11g Carbs

7g Fiber

4g NET CARBS

18g Protein
Since there is no flour and we replaced it with nut butter, this mug cake is higher in protein. So it will be even more satiating than a typical keto mug cake!
And this mug cake is so decadently delicious that you'll be more than satisfied after you finish it.
Well, I hope you enjoy this keto mug cake recipe as much as I do. Make sure to leave a comment if you make it - I'd love to know what you think.
MORE KETO MUG CAKE RECIPES
By the way, if you want some other tasty mug cake recipes, I have a few more on the blog.
So if you liked this one, you have to try these:
Print
Keto Mug Cake Recipe | No Almond Flour or Coconut Flour Needed
This keto mug cake is so rich, decadent, and full of chocolatey goodness. And since this is a flourless keto mug cake, you don't need any almond flour or coconut flour to make it! Along with that, it is ridiculously easy to make and takes just 1 minute.
Author:
Prep Time:

2 minutes

Cook Time:

1 minute

Total Time:

3 minutes

Yield:

1 serving

Category:

Dessert

Method:

Microwave

Cuisine:

Keto Low Carb
Instructions
Add all the ingredients to a small measuring cup, and mix until combined.

Coat an 8 oz ramekin with baking spray, and pour the cake batter into the mug.

Microwave for around 45 seconds - with a microwave of 1100Watts - or bake at 350°F (177°C) for around 10 minutes. You can check its doneness when a toothpick comes out clean from the center of the cake.
Notes
The scale up function does not change the gram measurements.
Nutrition
Serving Size:

1 serving

Calories:

351

Fat:

29

Carbohydrates:

11

Fiber:

7

Protein:

18
Keywords: keto mug cake, keto mug cake recipe, keto mug cake no flour, keto mug cake chocolate, flourless keto mug cake, gluten free keto chocolate mug cake, keto mug cake flourless, flourless mug cake recipe, keto mug cake with almond butter, keto mug cake without almond flour, keto mug cake without coconut flour, keto chocolate mug cake, keto chocolate mug cake no flour, keto chocolate mug cake cocoa powder, chocolate keto mug cake recipe, chocolate keto mug cake recipe no flour, low carb mug cake, low carb mug cake recipes, low carb mug cake no flour