These festive keto gingerbread cookies are just as fun to eat as they are to make! They're perfectly spiced, gluten-free, and decorated with a sugar-free icing. Not to mention each cookie has less than 2 NET CARBS! With all that said, these low carb gingerbread cookies are sure to be one of the best keto cookies you make for the holidays!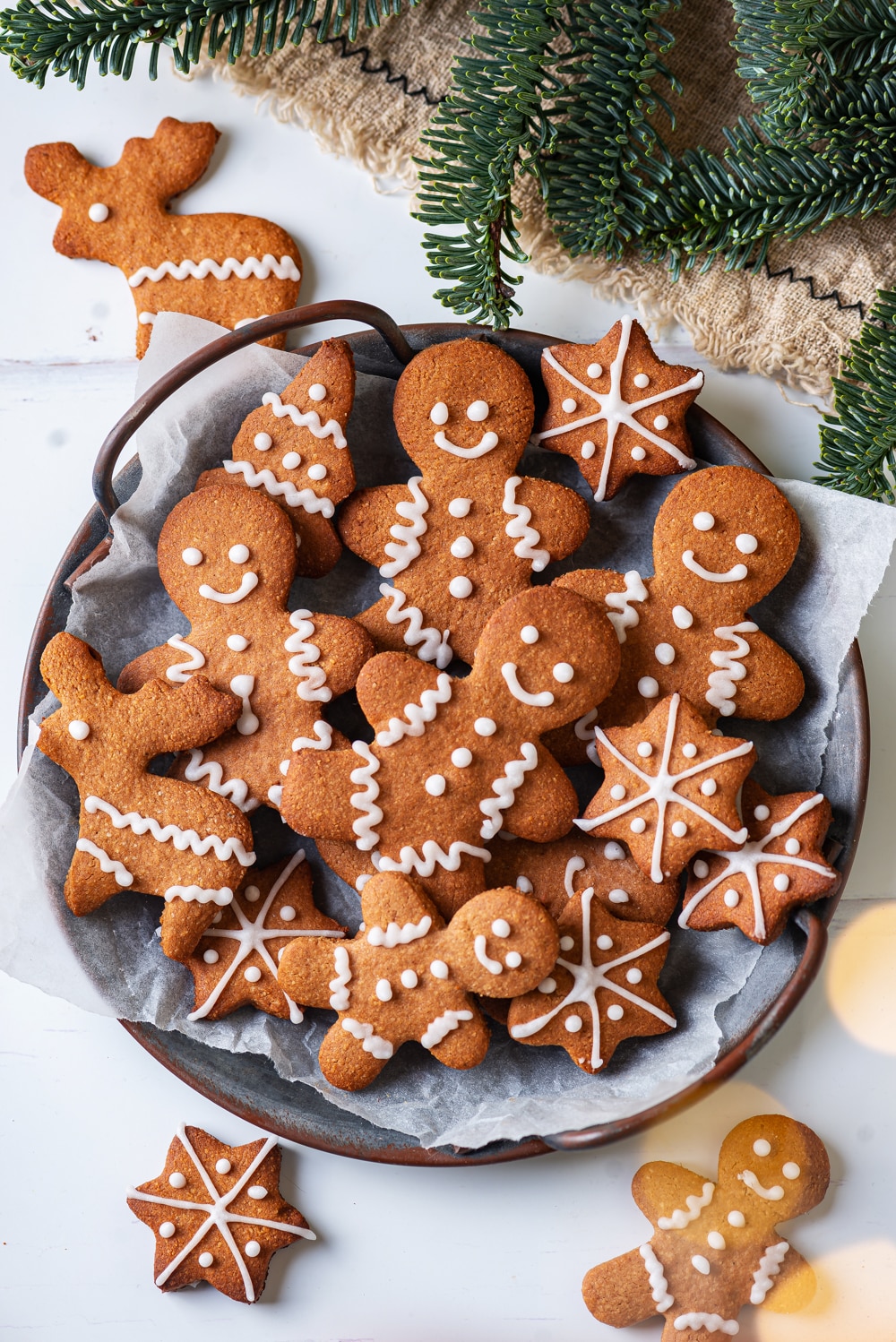 THE BEST KETO GINGERBREAD COOKIES
The holiday season is in full swing, which means wrapping presents, putting up decorations, and baking Christmas cookies.
And if you aren't feeling super festive just yet, let me tell you, these nostalgic keto gingerbread cookies will be sure to put you in the holiday spirit.
They're soft and chewy on the inside with slightly crispy edges. And a sweet sugar-free icing decoratively tops each cookie, balancing out the classic gingerbread spice.
And let's face it, they're just so darn fun to make!
Plus, they're completely gluten-free and sugar-free.
And, did I mention that each adorable gingerbread man comes out to just 1.75g NET CARBS?!
Honestly, they're so close to a "real" gingerbread cookie it's hard to believe they contain such little carbs.
But don't just take my word for it, bring these to your next holiday party or get-together and watch them disappear from the plate. That said, if you really want to be the cookie MVP of the holidays, make these keto snowball cookies and keto butter cookies too!
And, of course, if you're more of a traditional cookie person, you could always make my favorite keto chocolate chip cookies. Gah, they're the best!
Now, if you are tight on time, but still want some gingerbread deliciousness, there's a fantastic keto gingerbread cookie bites recipe up on my YouTube channel. And it happens to be a no-bake recipe. So, it is perfect if you want something quick and easy but still super tasty.
Anyways, let's get into this keto gingerbread cookies recipe!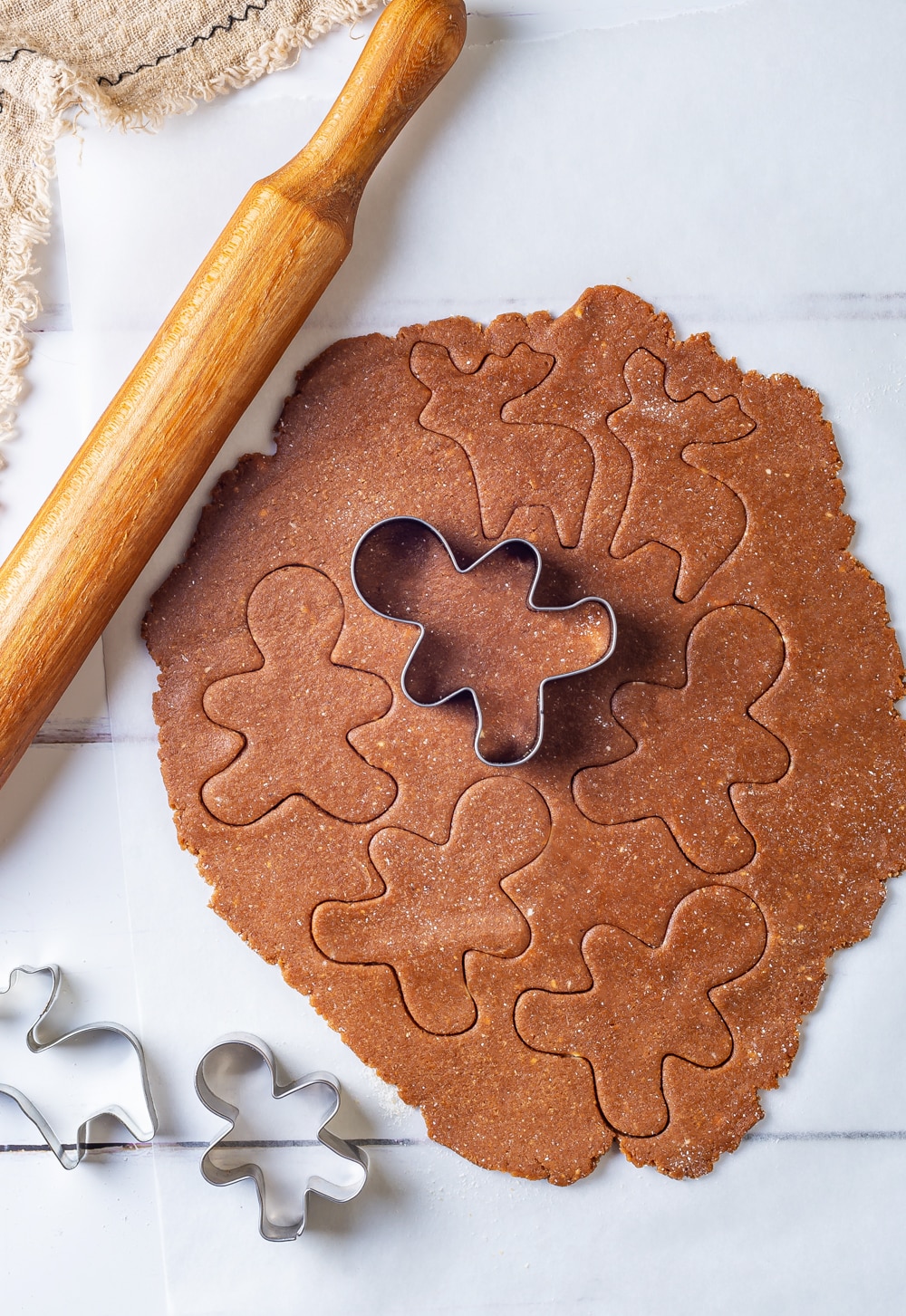 INGREDIENTS
This keto gingerbread cookie recipe is basically the classic recipe, with a few tweaks to bring down the carbs without sacrificing the flavor!
Here is what you'll need for the best keto gingerbread cookies recipe:
⅓ Cup unsalted butter
1 Egg
2 Heaping cups almond flour
¾ Cup Brown Swerve
1 Tablespoon ground cinnamon
1 Tablespoon ground ginger
¼ Teaspoon ground cloves
⅛ Teaspoon ground nutmeg
¼ Teaspoon salt
½ Teaspoon baking powder
1 Teaspoon cocoa
And for the keto icing:
Just less than ½ a cup Confectioners Swerve
Around 2 tablespoons heavy cream
As you can see, just some staple ingredients in keto recipes and a few spices is all you need to make some gingerbread cookie deliciousness.
Of course, it's not an ingredient, but to give the gingerbread cookies their shape, you'll need a gingerbread cutter. And there are many different gingerbread shapes and sizes to choose from to bring your cookies to life, so have fun with them! Especially if you're making these cookies with kids.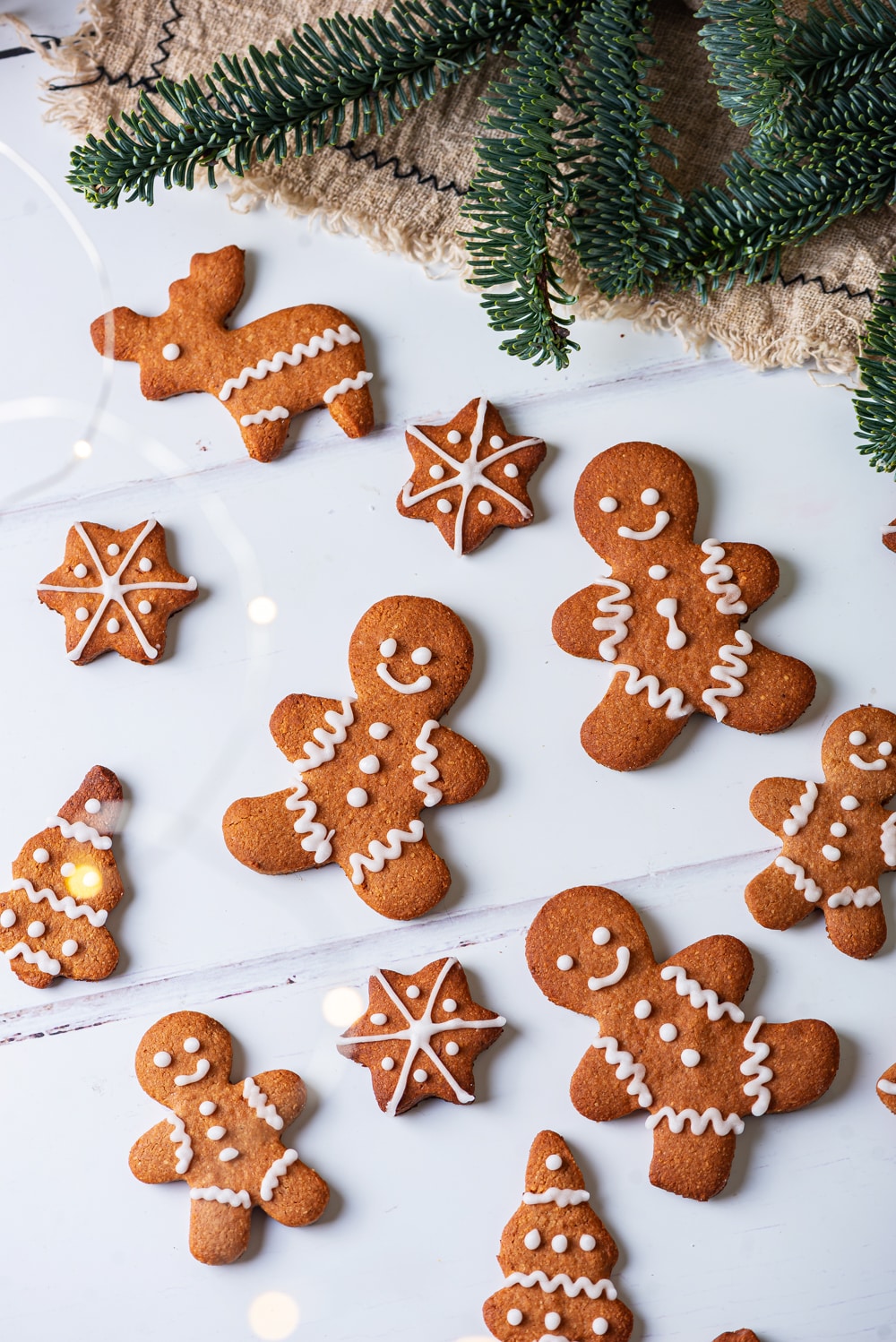 KETO-FRIENDLY FLOURS TO USE & AVOID
As I mentioned earlier, these keto gingerbread cookies are entirely gluten-free.
We'll be using a classic keto flour substitute – almond flour.
Almond flour is low in carbs and gluten-free, making it a great flour alternative for making healthier desserts and baked goods.
Almond flour also works great in these other gluten free recipes like these super easy low carb pancakes, keto tortillas, and this 2-minute keto pizza!
That being said, some other excellent keto flours to use are walnut flour and sunflower seed flour. You can use them as an almond flour substitute at a 1:1 ratio for almost any low carb recipe, and they'll work just as well.
Now, as I've said a few times before, a keto flour you do not want to use in this case is coconut flour.
Coconut flour is highly absorbent, and almond is not. If you use coconut flour in place of almond flour, it will turn your recipe - AKA these keto gingerbread cookies - into a dry and crumbly mess.
And no one wants a dry or crumbly recipe, do they?!
I don't think so.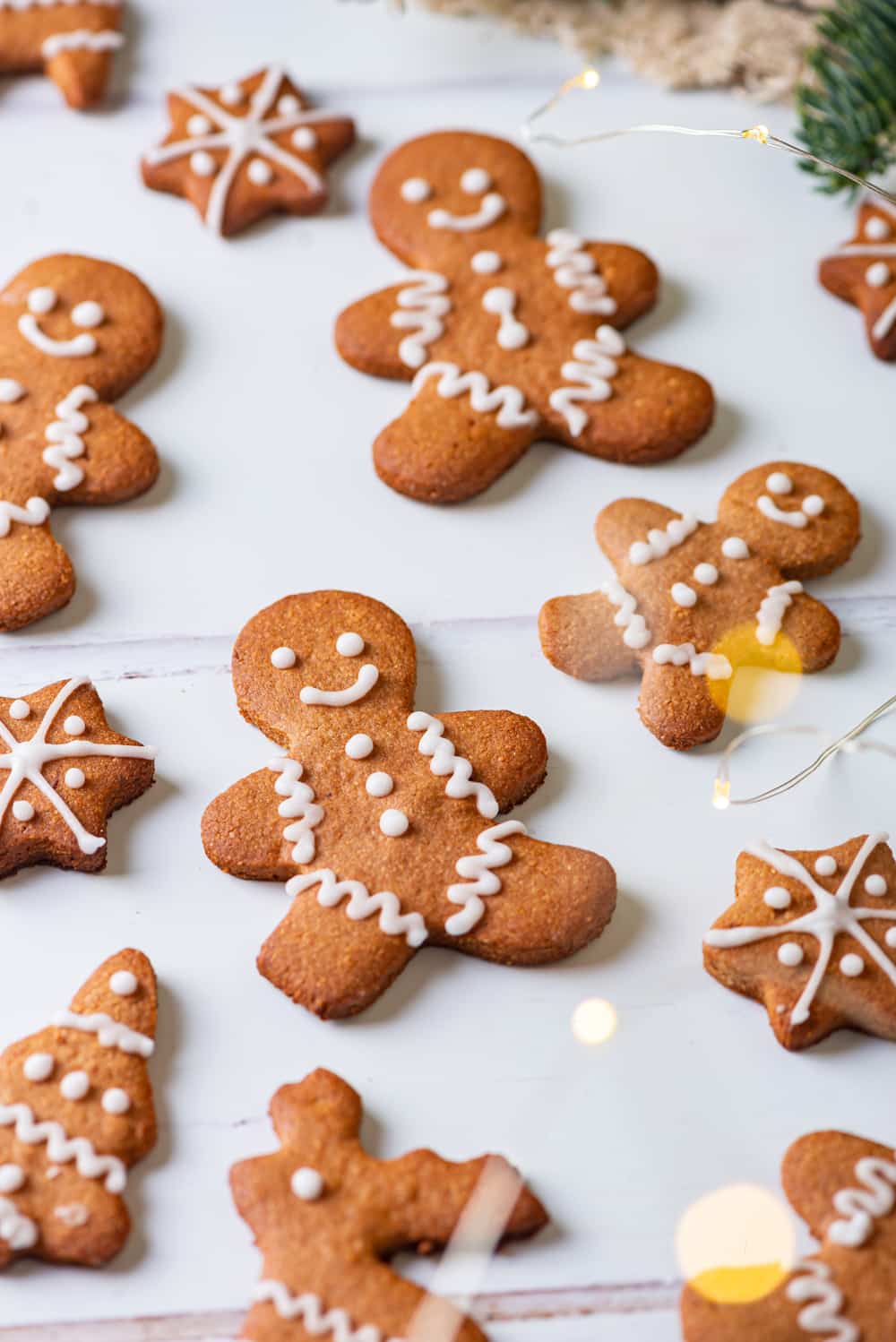 KETO-FRIENDLY SWEETENERS
Now, to give our gingerbread cookies their sweet flavor, we'll be using two kinds of Swerve – Brown Swerve and Confectioners Swerve.
If you're new to my blog and have never heard of Swerve before, it's basically a sugar-free sweetener that measures and tastes the same as real sugar, minus the carbs.
I'm talking 0 NET CARBS total. How great is that?!
Another great keto sweetener is Lakanto Monk Fruit Sweetener. Lakanto is as sweet as sugar-just like Swerve-so you can substitute it on a 1:1 basis with Swerve.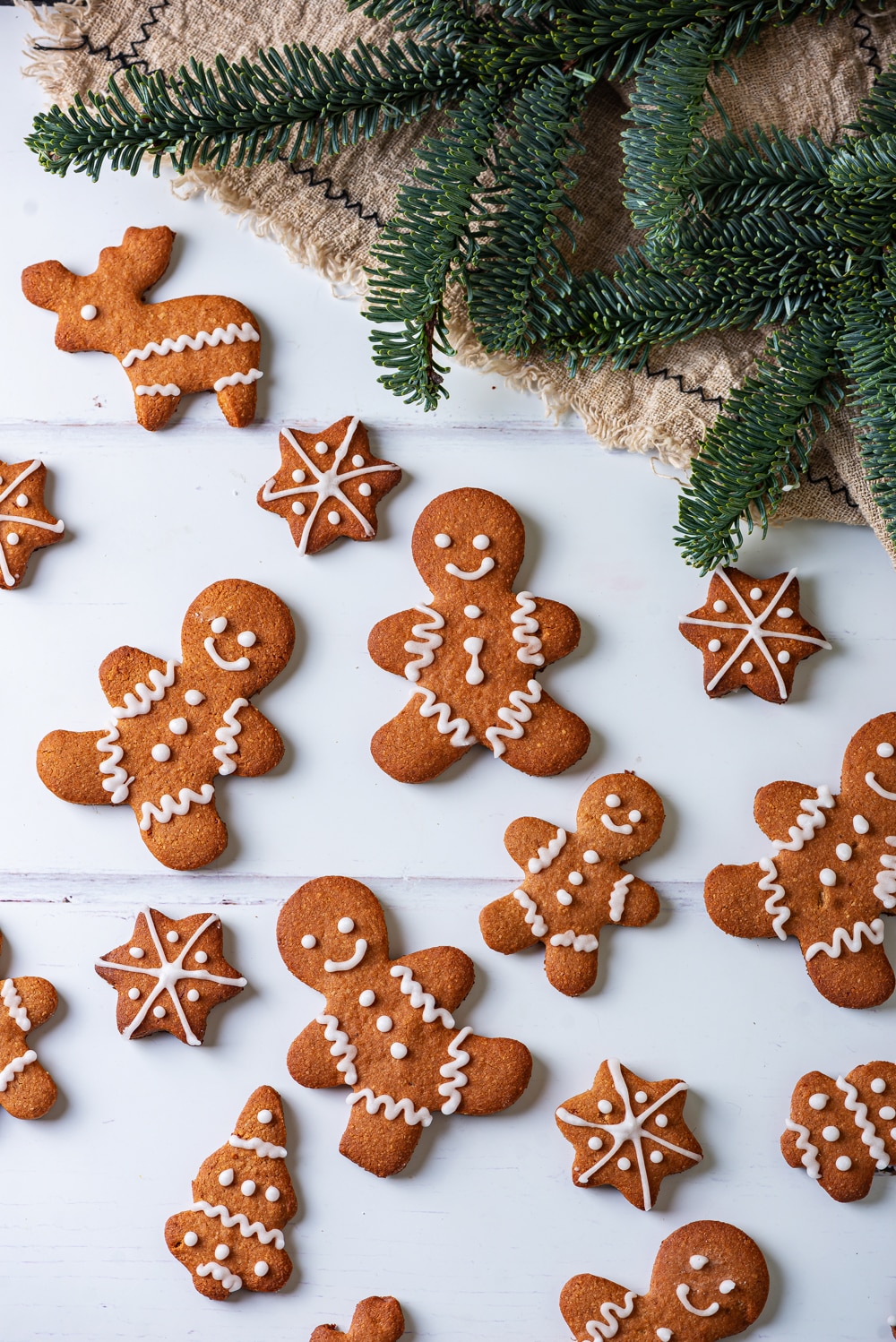 Avoid Using These Sweeteners
As far as sweeteners that you'll want to avoid, some sugar substitutes - Stevia for example -are way sweeter than sugar.
Despite being marketed as sugar-free, a lot of Stevia products are made mostly with maltodextrin & dextrose - which are both sugar and not keto-friendly.
Also, pure Stevia is 300 times sweeter than regular sugar. So, if you use it in it's rawest form your cookies will end up way too sweet.
I also recommend avoiding maltitol and xylitol.
These sweeteners are often used in "sugar-free" products, but they actually contain half the carbs as regular sugar - meaning they can cause your glucose levels to rise, kicking you out of ketosis.
Anyway, just keep that in mind.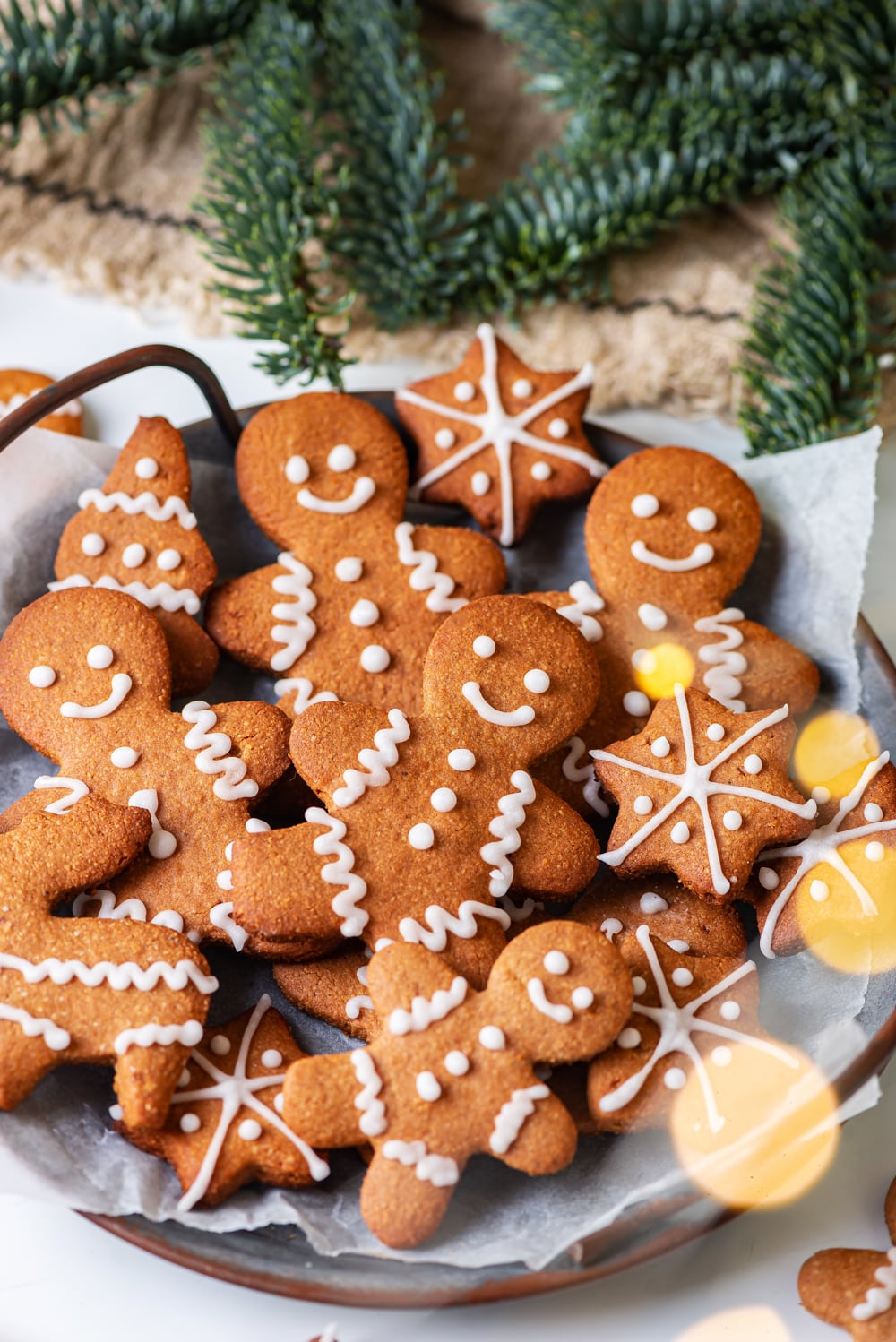 HOW TO MAKE KETO GINGERBREAD COOKIES
Gingerbread cookies have a stigma of being one of the harder holiday cookies to make, but you'll find that these sugar free gingerbread cookeis are super easy!
The entire recipe can be condensed into 3 easy steps and finished in under 2 hours!
So, let's get the holiday cheer rolling and dive into the steps.
STEP 1: MAKING THE COOKIE DOUGH
To start, whisk all the dry ingredients (except for the Brown Swerve) together in a bowl.
Use a stand mixer or hand mixer to cream together the butter, Brown Swerve, and egg in a separate bowl.
Add the dry ingredients and mix until everything is well-combined.
Then use your hands to turn the cookie dough into a large ball and refrigerate it for at least 1 hour.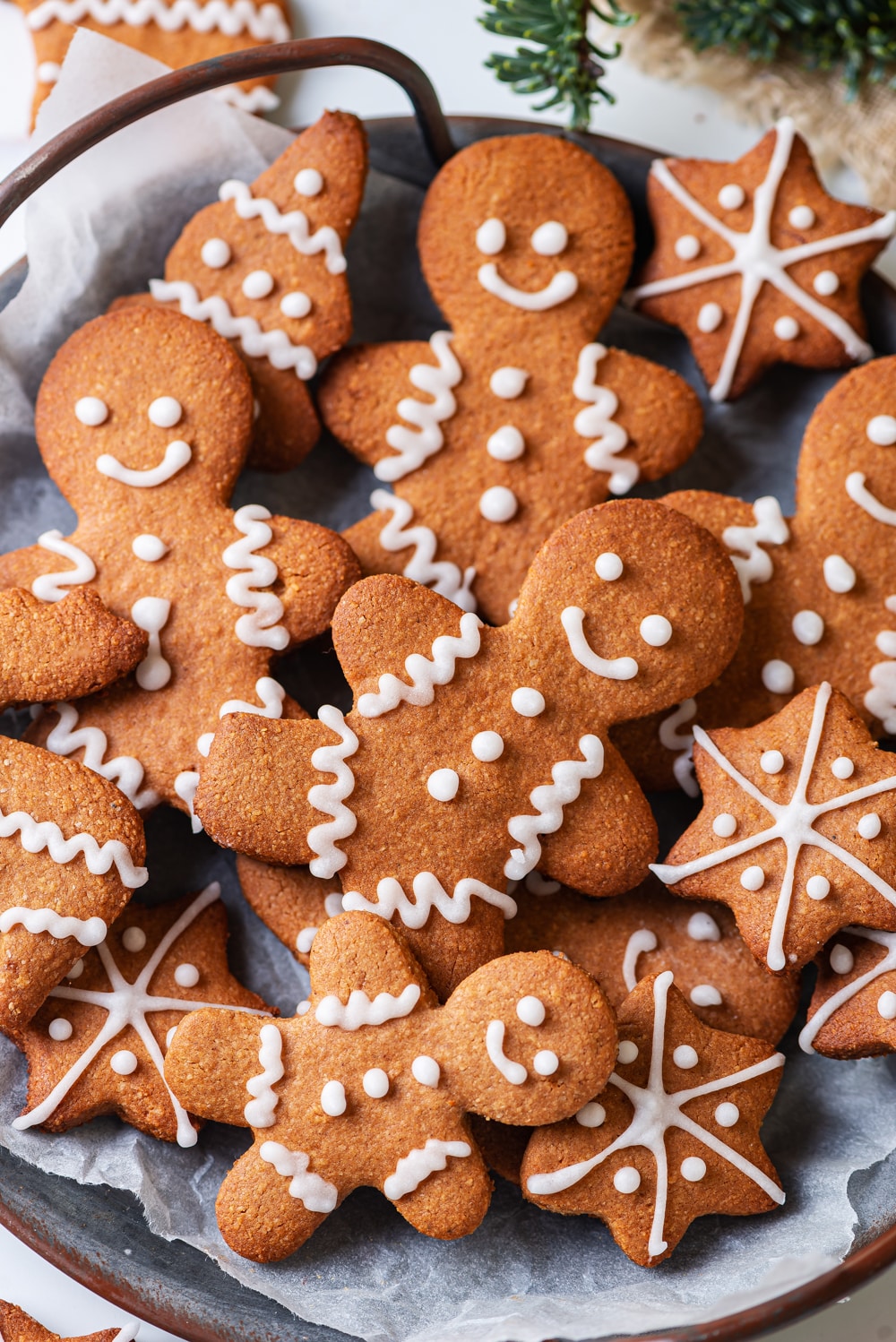 STEP 2: CUTTING AND BAKING THE COOKIES
Once your dough is chilled, preheat the oven to 350°F (176°C).
Next, place the dough between two large sheets of parchment paper, and use a rolling pin to roll it into a ½ inch or ¼ inch thick sheet - depending on how thick you want your final cookies to be.
And, by the way, if you chill the flattened dough in the refrigerator for about 15 minutes it will make it easier to cut them out, so keep that in mind.
Now that the dough is prepped, you can use your gingerbread cookie cutter to cut your dough with a cookie cutter, and arrange them on your lined baking sheets. And, of course, any dough that's left over, you can re-roll out, and make more cookies with!
Then, after the sugar free gingerbread cookies are cut out, it's as easy as adding them to two large baking sheets lined with parchment paper, and baking them for 8-10 minutes.
STEP 3: MAKING AND PIPING THE ICING
So, when the cookies are done, let them cool on the baking sheet for at least 10 minutes. Then, move them to a wire rack to cool completely and start on the icing.
To make the keto royal icing, add your Confectioners Swerve to a small bowl. Then, mix in the heavy cream 1 tablespoon at a time until the icing reaches a thick and creamy consistency.
Now, if you want to make clean gingerbread designs - and, I'm assuming most of you will - you'll want to put the icing into a piping bag.
That said, if you don't have a piping bag you can make easily make one. To do that, just pour your keto royal icing into the corner of a ziplock bag. Then, twist the bag in half to squeeze all the icing into that side of the bad. Finally, cut a tiny piece off of the tip of the corner where the icing is, and voila.
Now you're all set to pipe your icing onto the cooled gingerbread cookies! And make sure the cookies are cooled, or the icing will melt.
And that's pretty much it.
All you have to do is let the icing dry, and you are in some serious keto gingerbread cookie business!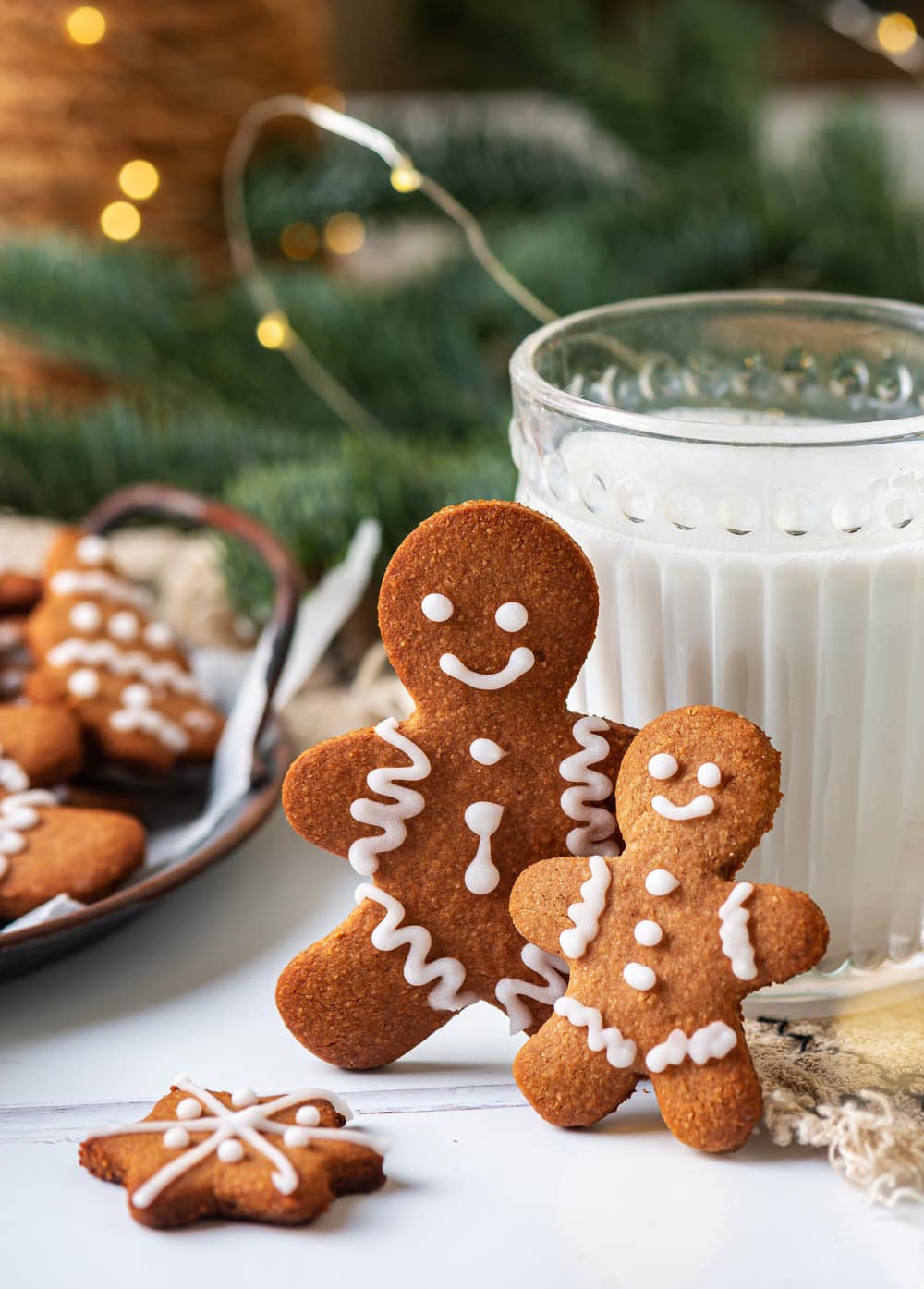 How To Store KETO GINGERBREAD COOKIES
This recipe for sugar free gingerbread cookies makes about 12 cookies, so there's plenty to satisfy your cookie cravings throughout the week or to share with your friends and family!
If you're planning to gift them, you can keep the cookies in an airtight container at room temperature for up to 1 week.
And if you want to make a large batch and save them for a while, you can store them in a freezer bag or airtight container in the freezer for about 6 months.
However, I always think fresh is best when it comes to these cookies!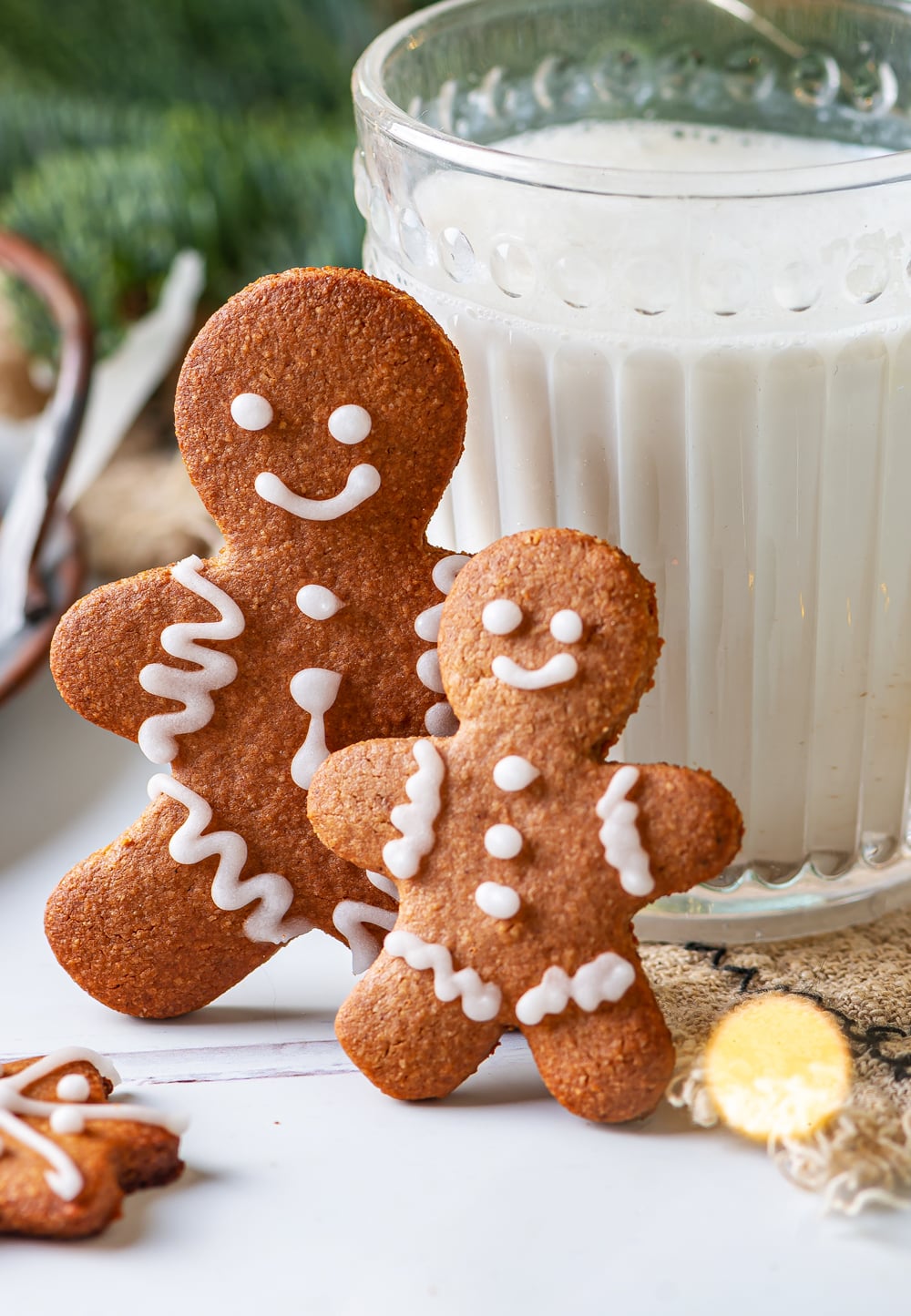 Wrapping It UP
There you have it, keto gingerbread cookies just in time for the holidays!
Although gingerbread dough is typically used to make gingerbread men, you can also use various holiday cut-out shapes. There are so many fun shapes like snowflakes, snowmen, and candy canes that you could use to make these cookies.
So, whether you bake these sugar free gingerbread cookies for yourself or with family and friends, have fun decorating them and putting your unique design on each cookie.
And that classic gingerbread taste will fool everyone into thinking these are real gingerbread cookies, they're just so good!
Anyway, I hope these keto gingerbread cookies bring you joy this holiday season!
And, as always, if you make them, be sure to let me know what you think in the comments below!
Print
KETO GINGERBREAD COOKIES | THE BEST LOW-CARB AND GLUTEN-FREE HOLIDAY COOKIE RECIPE
These festive keto gingerbread cookies are just as fun to eat as they are to make! They're perfectly spiced, gluten-free, and decorated with a sugar-free icing. Not to mention each cookie has less than 2 NET CARBS. These low carb gingerbread cookies are one of the best keto cookies to make for the holidays! 
Author:
Prep Time:

10 minutes

Cook Time:

10 minutes

Total Time:

20 minutes

Yield:

12 cookies

Category:

Cookies

Method:

Oven

Cuisine:

Keto Low carb
⅓ Cup (75g) Unsalted Butter
1 Egg
2 Heaping Cups (240g) Almond Flour
¾ Cup (150g) Brown Swerve
1 Tbsp. Ground Cinnamon
1 Tbsp. Ground Ginger
¼ Tsp. Ground Cloves
⅛ Tsp. Ground Nutmeg
¼ Tsp. Salt
½ Tsp. Baking Powder
1 Tsp (4g) Unsweetened Cocoa powder - for color
*Optional: 1 tablespoon (14g) of Molasses - to give the cookies more of an "authentic" taste. Adding this will only add 1g carbs per cookie.
ICING:
Just Less Than ½ A Cup (65g) Confectioners Swerve
Around 2 Tbsps (30g) Heavy Cream
*NOTE: The glaze may seem thin at first, but if you let it set for a minute or two it should be the perfect consistency. However, if the glaze is too thin, add a bit more Swerve. And if it's too thick add a little bit more heavy cream.
Instructions
In a large mixing bowl, whisk together dry ingredients.

In a separate bowl using a stand mixer or a hand mixer, cream together the butter with Brown Swerve and the egg. 

Add the dry ingredients and mix until thoroughly combined.

Form the dough into a ball and refrigerate for at least 60 minutes. 

Heat oven to 350° F (176°C).

Roll the dough between two large sheets of parchment paper into a ½ inch or ¼ inch thick sheet. You can refrigerate rolled out dough for 15 min to make it more stable.

Line two large baking sheets with parchment paper and set aside.

Using a cookie cutter, cut into shapes and transfer to a lined baking sheet. 

Bake for 8 to 10 minutes

Allow cookies to cool on the baking sheet for at least 10 minutes, then transfer to a wire rack to cool completely. 

Once the cookies have cooled completely, add the Confectioners Swerve to a small bowl, and then add the heavy cream 1 tablespoon at a time until a thick creamy "sauce" consistency forms.
Then, add the glaze to a piping bag or one corner of a ziplock bag.

If using a ziplock bag, twist the bag in half to produce pressure inside it, then cut off a tiny piece of the corner where the icing is.

Pipe the icing onto the cookies to decorate and let it dry.
Notes
The scale up function only scales up the cups and not gram measurements. If using grams, you must scale them up yourself.
Nutrition
Serving Size:

1 cookie

Calories:

185

Fat:

17

Carbohydrates:

3.75

Fiber:

2

Protein:

5
Keywords: Keto gingerbread cookies, keto cookies, low carb gingerbread cookies, sugar free cookies, recipe for keto gingerbread cookies, gluten free cookies, gluten free gingerbread cookies, how to make keto gingerbread cookies, keto gingerbread cookies recipe, gingerbread cookies keto, keto gingerbread, cookies keto, holiday cookies, keto holiday cookies, christmas cookies, keto christmas cookies, christmas cookies keto, low carb christmas cookies