This Instant Pot Chicken Stew Recipe is the perfect dinner idea for when you want something hearty and delicious, and you want it quick! And the best part about this recipe is that it's reasonably healthy since it's a low carb keto take on a chicken stew.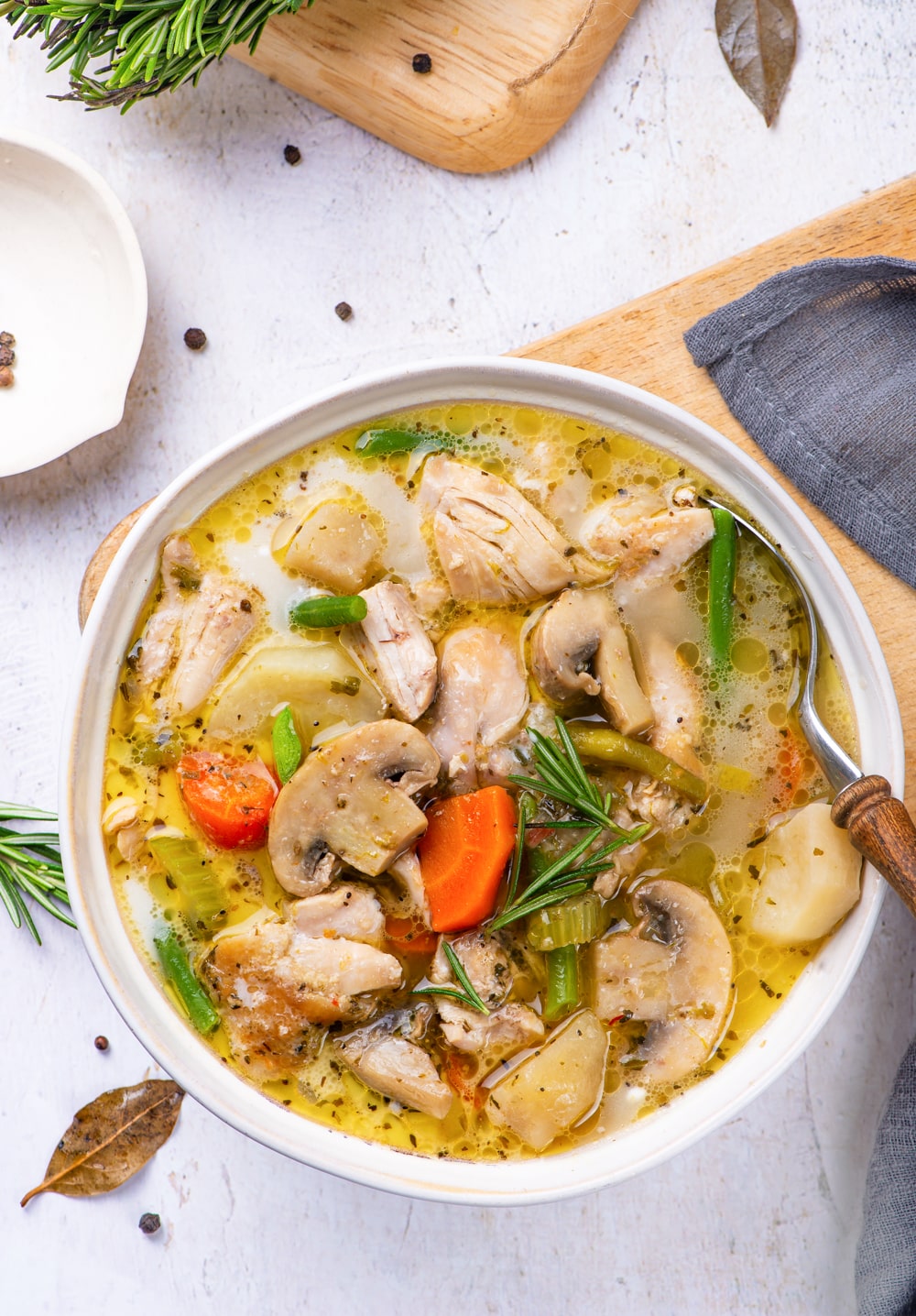 The BEST Instant Pot Chicken Stew
With all the different ways to cook chicken, you may be looking for delicious recipes that offer low carb options.
Chicken stew is typically on the higher end in terms of carbs. Potatoes are often used in stew recipes, so most of us just write them off completely if we're watching our carb intake.
But, don't fret! I have an excellent keto-friendly recipe to make a healthy chicken stew that you'll love!
This Instant Pot chicken stew recipe has more tasty vegetables in place of potatoes and other ingredients that are high in carbs. And it's a fantastic stew that tastes just as good if not better than its higher-carb counterparts.
Now, this recipe makes quite a bit of stew, so it's is an excellent option for a family dinner or long-term storage and multiple packed lunches.
Basically, if you make this pressure cooker chicken stew recipe, you've got a big chunk of your weekly meal prep finished.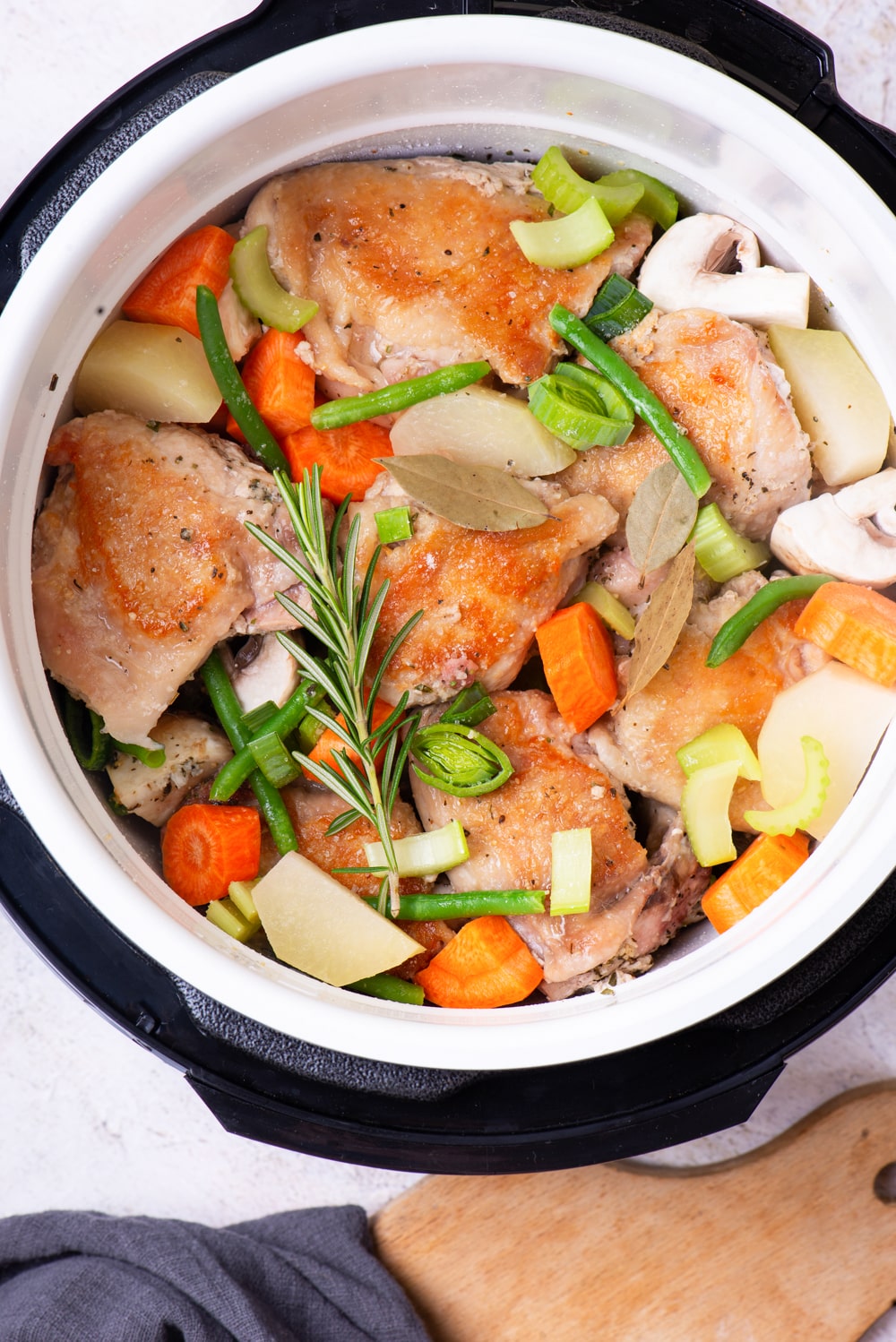 Ingredients
Ok, so as I mentioned, we're doing a low carb keto Instant Pot Chicken Stew. And the main difference between this version and a "normal" one is the absence of potatoes.
To keep the carbs as low as possible in our stew, we'll want to use a root vegetable called kohlrabi instead of potatoes.
Kohlrabi has the same texture as a potato when it's boiled, and it tastes pretty darn close to a potato too.
However, it is way lower in carbs and calories, so it's perfect for those following the keto diet.
Anyways, here is the full rundown of what you'll need to make Instant Pot Chicken Stew:
Chicken thighs, or breasts
Olive oil
Yellow onion
Kohlrabi
Carrot
Celery
Mushrooms
Green beans
Garlic
Hot sauce
Liquid aminos
Chicken broth or Bone Broth
Heavy cream
Xanthan gum
Bay leaves
A few sprigs of rosemary
Salt and pepper as needed for the perfect taste
As you can see, it's a pretty standard list of ingredients as far as stew goes!
That said, if you'd like to make a classic chicken stew in your Instant Pot, just substitute an equal amount of potatoes for the kohlrabi.
But if you like kohlrabi, you'll definitely want to check out this roasted kohlrabi recipe!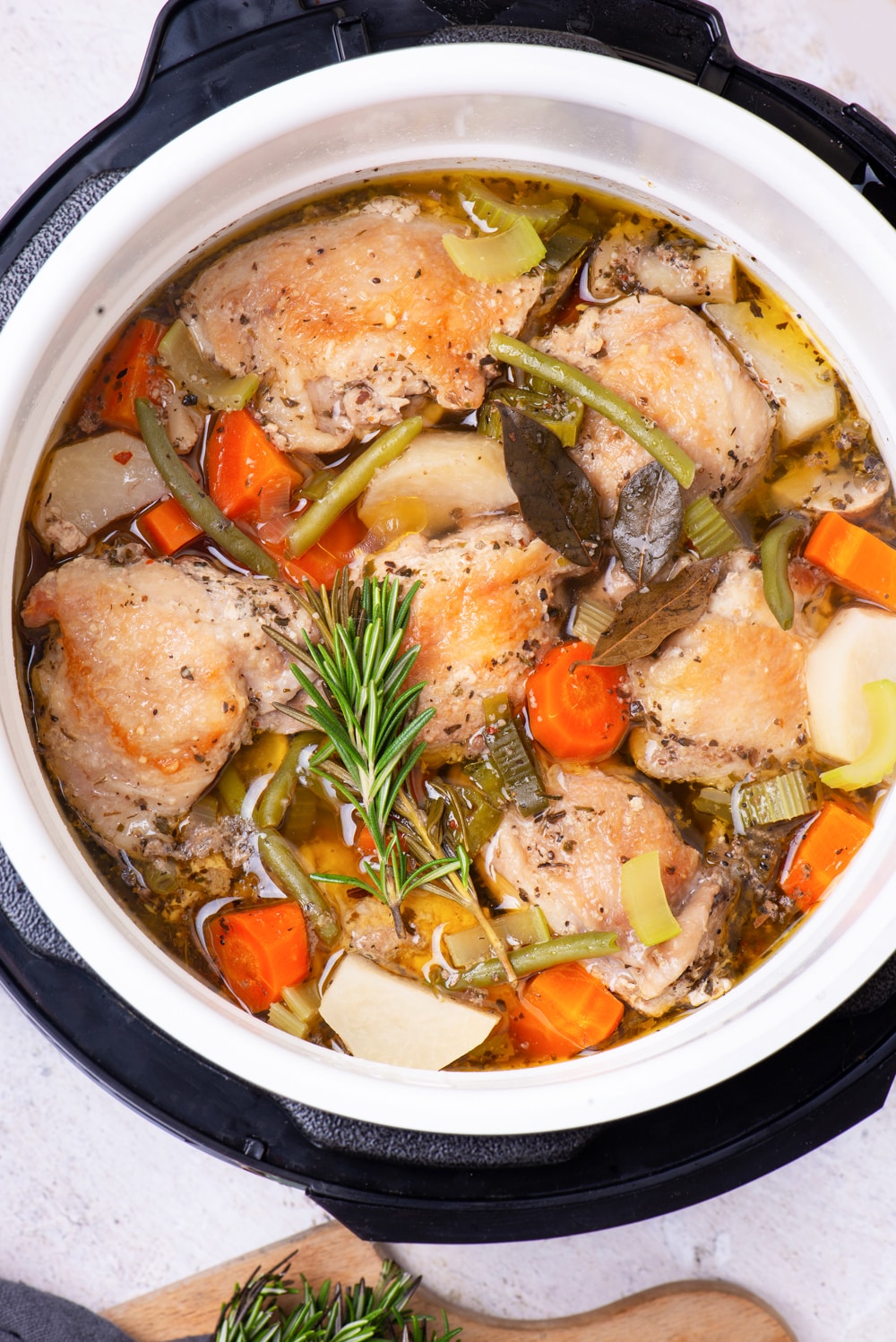 How to make Instant Pot Chicken Stew
As you've probably gathered from above, the most important thing you need to make this hearty chicken stew is an Instant Pot.
Now, I'm sure you know, the Instant Pot comes in various sizes. But, no matter what size you have at home, the recipe will fit fine.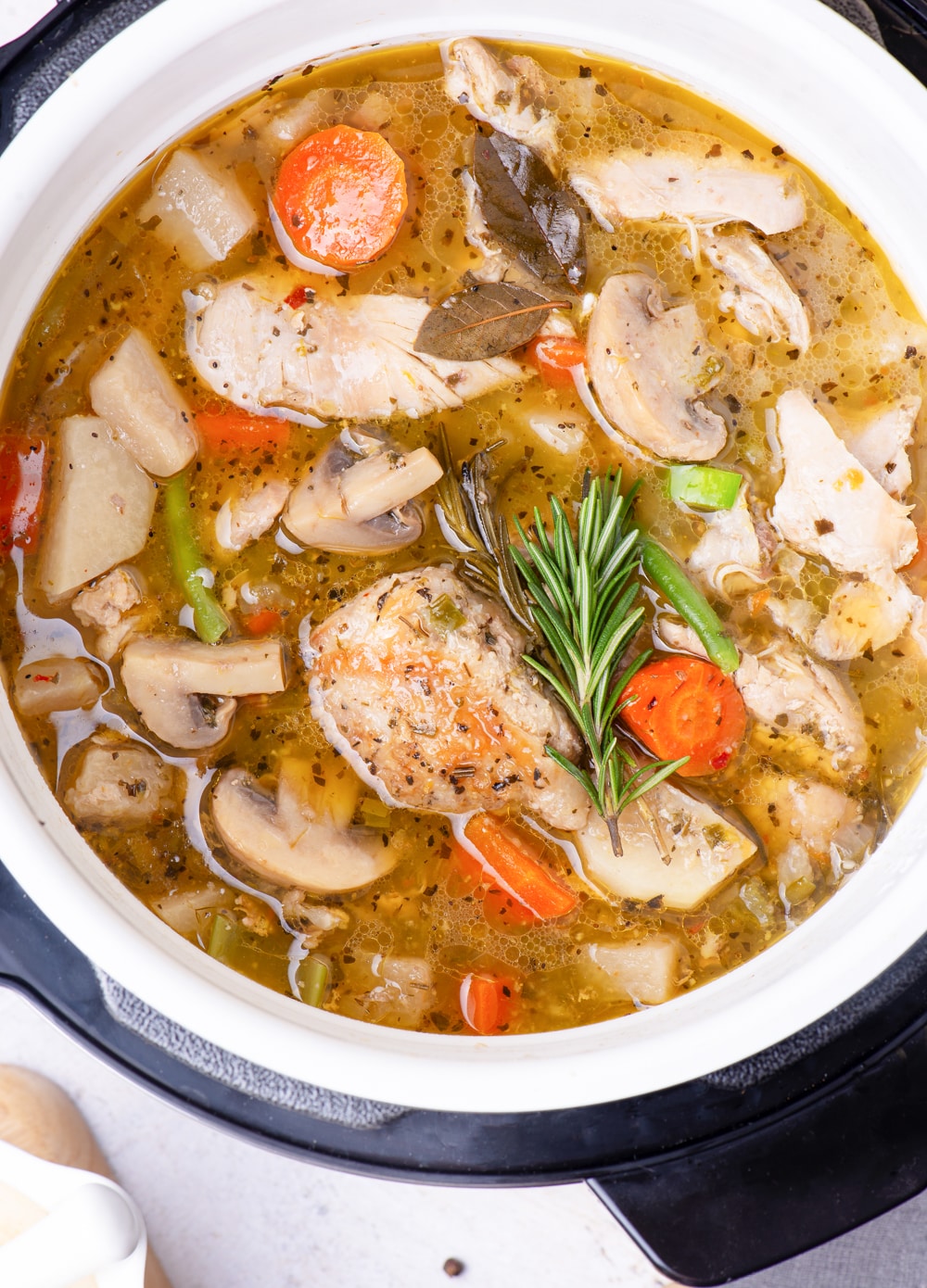 Step 1: Preparing the Chicken
To start this recipe off, add the olive oil to the bottom of the Instant Pot.
Doing this will provide an excellent base to saute the boneless skinless chicken.
Next, you'll want to set the Instant Pot to Saute mode, and put the chicken thighs skin side down in the olive oil.
And that's the beauty of using an Instant Pot for this recipe.
Instead of regular pots and pans - not only is the Instant Pot faster - you just set it to whatever mode you need, and it's ready to go.
Now, saute the chicken breast for 5 minutes or until it has nicely browned.
Next, sprinkle a bit of salt and pepper on the chicken to season it for some added flavor, and remove it from the Instant Pot.
Finally, set the chicken breast aside on a nearby plate as you'll be using it again shortly.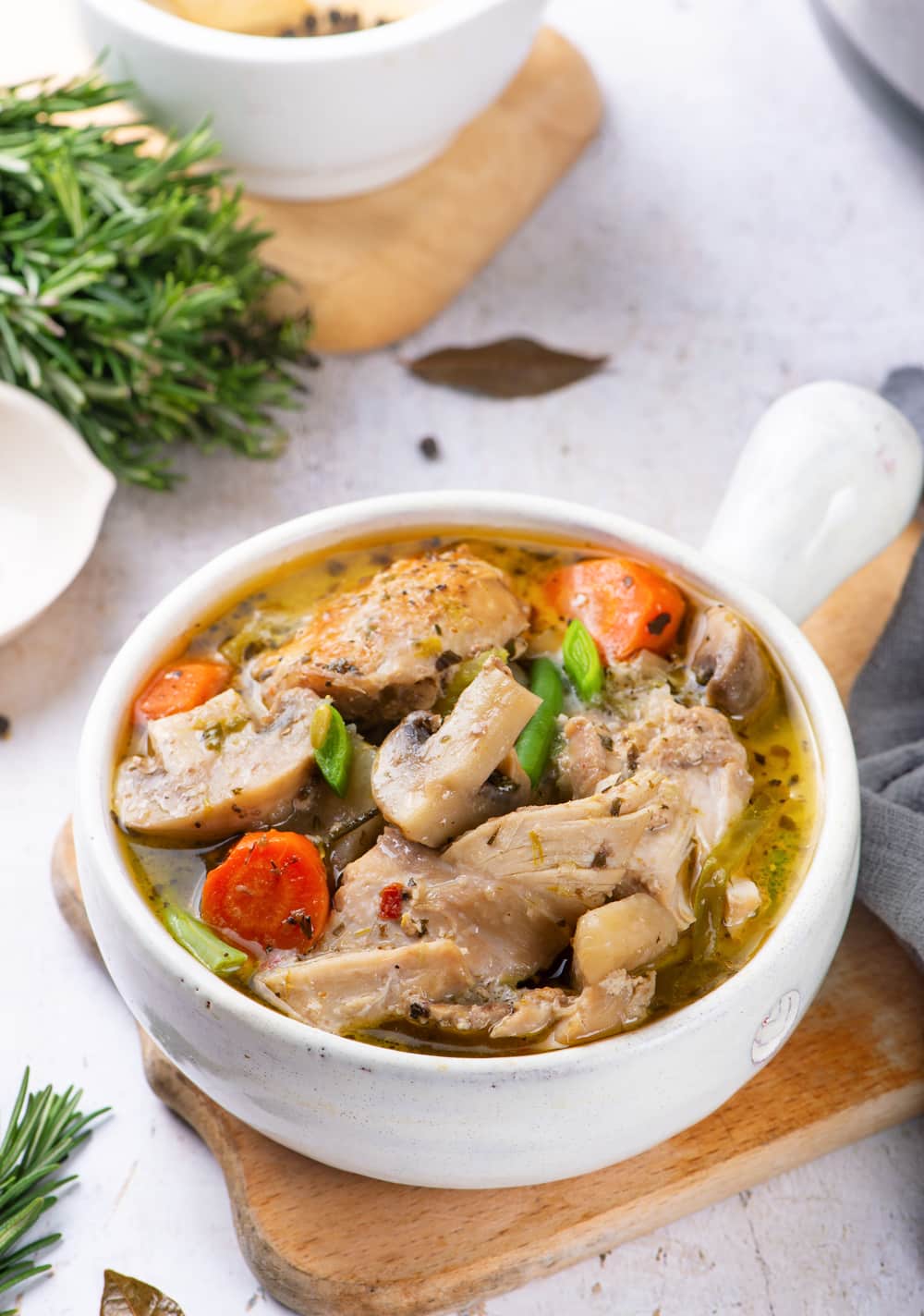 Step 2: Preparing the vegetables
The next step is putting all the vegetables in the Instant Pot.
This includes the chopped onions, cubed kohlrabi, carrot pieces, celery chunks, button mushrooms, green beans, and minced garlic.
Mix all the veggies up to ensure there isn't just a clump of garlic in one location or a bunch of celery in another.
Now you'll want to carefully pour the chicken broth into the pot, covering the vegetables as you do it.
Add in the hot sauce and liquid aminos next.
Again, mix everything up to ensure even flavoring and cooking throughout.
Next, grab the chicken thighs from the nearby plate and add them back into the mixture on top of the vegetables.
Lastly, put the sprigs of rosemary and bay leaves on into the Instant Pot to complete the seasoning.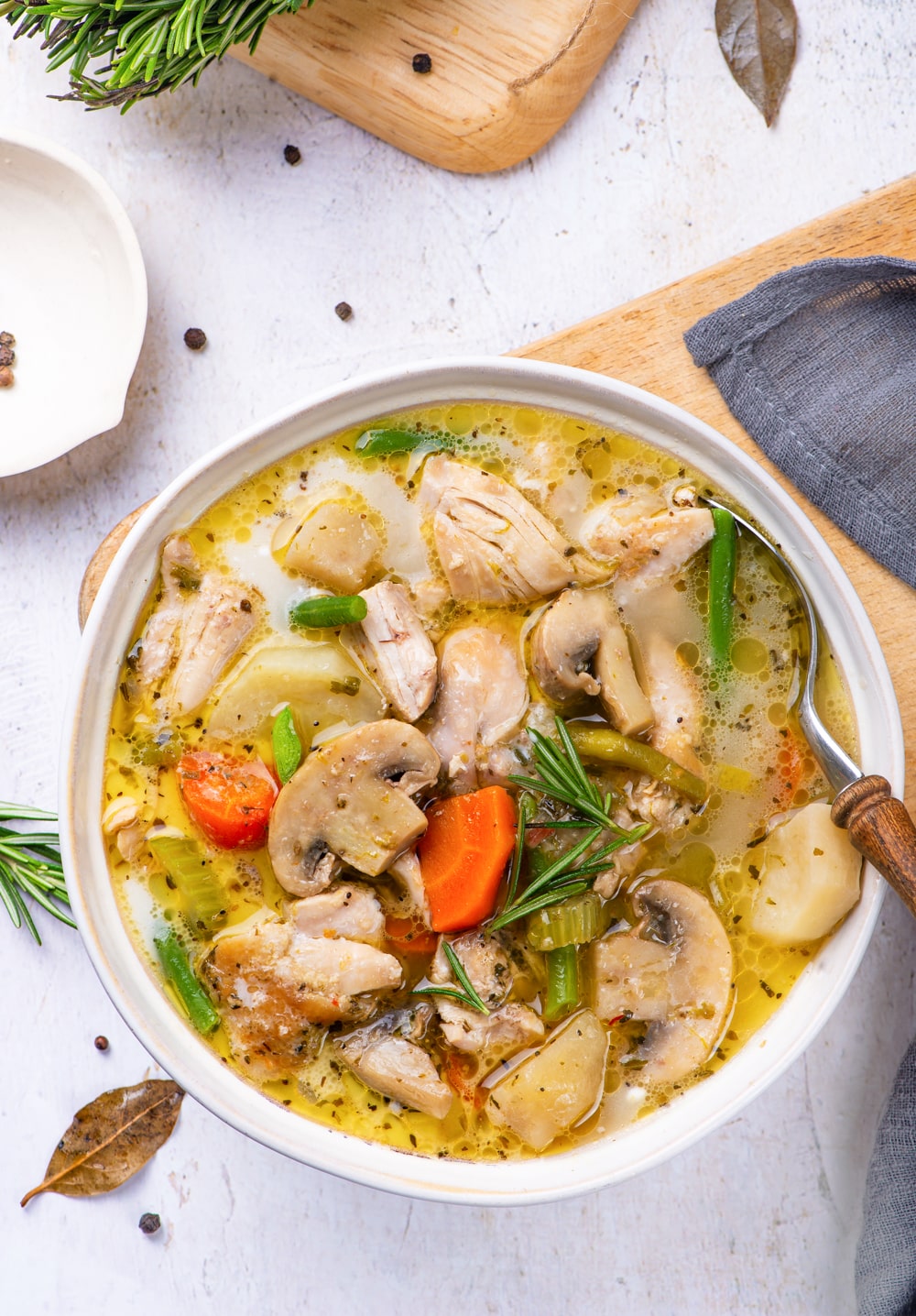 Step 3: Cooking Instructions
At this point, you can close and latch the lid of the Instant Pot and set it on "High Pressure".
Allow the ingredients to cook in the pressure cooker for 15 minutes like this. Then, turn off the pressurization and allow the Instant Pot to ventilate and release pressure for 10 minutes naturally - do not just quickly vent the cooker.
Once it has vented and the pressure is released, open the lid and add the heavy cream.
Slowly mix the cream into the mixture and stir until it is an even coloring and consistency.
When the cream's mixed in, give the stew a taste and adjust the seasonings to your tastes.
Once the stew is tastes how you want it, you're finished!
Tip! If the stew is a bit runnier than you were hoping for and you prefer a thicker stew, add the xanthan gum in and saute the entire mixture for another 5-10 minutes.
Adding the xanthan gum will thicken it right up and make the perfect chicken stew!
That's it; it's that easy!
In less than 45 minutes total, including all preparation and cooking, you have a delicious chicken stew!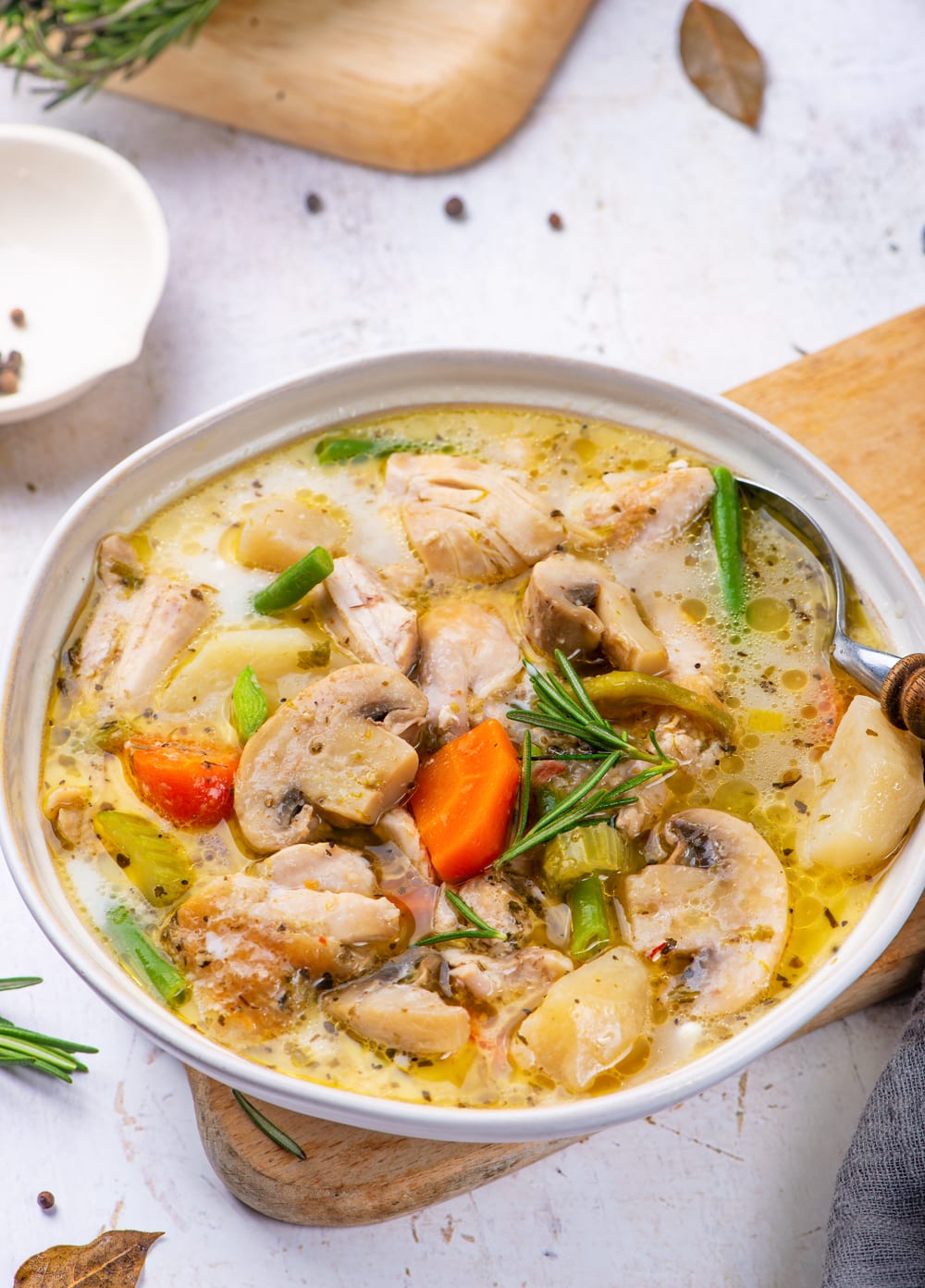 How to store Chicken stew
The best part is you can make a batch of this pressure cooker chicken stew and store it in various ways to enjoy it again later.
Honestly, it might even taste better the next day.
I recommend storing the leftovers in the refrigerator and packing them for lunch over the next day/s. Or, of course, just having it again for dinner some night.
That said, you can store this Instant Pot chicken stew in the fridge for about 3-4 days in an airtight container. And if you want to keep it for longer, you can store it in the freezer for about 4-6 months in a freezer bag or airtight container.
If you are serving this for family dinner or taking it to a party, it might be best to make a fresh batch since it's so easy.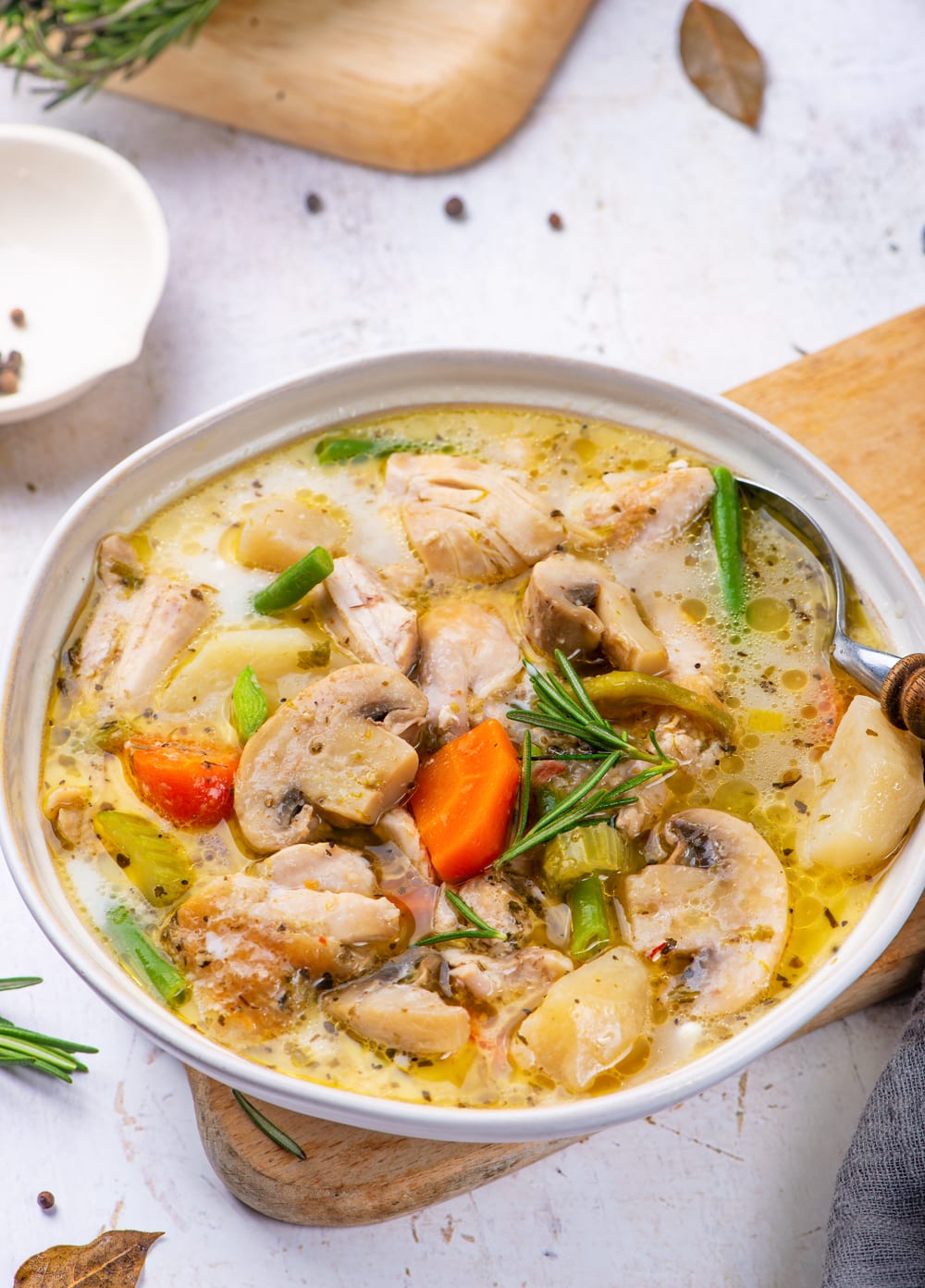 Wrapping It Up
That is how to make Instant Pot chicken stew! This hearty, healthy, and delicious meal is one you'll want to make all fall and winter long.
It's filled with so many delicious elements, and everyone is sure to love it. No one will even be able to tell that it's a low carb and healthy recipe! This seriously is one of the best Instant Pot chicken recipes you can make, so I hope you enjoy it!
If you gave this recipe a try, leave a comment below and let me know your thoughts!
Other Instant Pot Recipes To Try
This Instant Pot Chicken Stew is just one of several Instant Pot recipes I've got on the blog.
So, if you'd like to check out some more Instant Pot recipes, I'll list them below!
Print
Instant Pot Chicken Stew | Healthy, Low Carb, Keto Friendly
This Instant Pot Chicken Stew Recipe is the perfect dinner idea for when you want something hearty and delicious, and you want it quick! And the best part about this recipe is that it's reasonably healthy since it's a low carb keto take on a chicken stew.
Author:
Prep Time:

10 Min.

Cook Time:

15 Min

Total Time:

25 minutes

Yield:

6 Cups

Category:

Dinner

Method:

Instant Pot

Cuisine:

Healthy Low Carb Keto
2 Pounds (907g) chicken thighs or breasts
1 Tablespoon (15g) olive oil
1 Yellow onion (100g), chopped
2 Bulbs of kohlrabi (225g), cubed
1 Carrot (60g), cut into ½" pieces
2 Ribs of celery (90g), chopped into chunks
1 ⅓ Cups (225g) button mushrooms
¼ Cup (40g) green beans
3 Cloves of garlic (9g), minced
Salt and pepper as needed for the perfect taste
1-2 Bay leaves
A Few sprigs of rosemary
2 Tablespoons (30g) hot sauce
2 Tablespoons (30g) liquid aminos
2 Cups (475mL) chicken broth, or bone broth
⅓ Cup (80mL) heavy cream
**OPTIONAL**
1 Teaspoon (around 2g) xanthan gum
Instructions
Add 1 tablespoon olive oil to the Instant Pot and select Saute mode.

Saute chicken skin side down for 5 minutes until nicely browned.

Then season it with salt and pepper and remove to the plate.

Add all veggies into the pot.

Pour chicken broth on top, add

hot sauce and liquid aminos.

Place chicken pieces back on top of the veggies.

Add rosemary and bay leaves.

Cook on High pressure for 15 minutes.

Allow the pressure to release naturally for 10 minutes.

After opening the lid stir in

heavy cream.

Adjust seasoning to taste.

If you want to thicken the stew add xanthan gum and saute for another 5 -10 minutes.
Notes
The "scale recipe" button will not scale the grams, you'll have to do this manually.
Nutrition
Serving Size:

1 Cup

Calories:

323

Fat:

21

Carbohydrates:

8

Fiber:

2

Protein:

28.5
Keywords: Instant pot chicken stew, chicken stew instant pot, chicken stew, chicken stew recipe, instant pot chicken stew recipe, chicken stew instant pot recipe, keto chicken stew, chicken stew keto, low carb chicken stew, chicken stew low carb