This Instant Pot Shrimp is an easy and delicious dinner that takes just 10 minutes to make! And the shrimp come out just as tasty, if not better, than any other shrimp boil recipe!
THE BEST INSTANT POT SHRIMP
If you've been looking for how to cook shrimp in the Instant, you've come to the right place!
This Instant Pot shrimp is so juicy and has a delicious lemon garlic butter flavor. And the best part is it's perfectly cooked in just about 10 minutes, depending on the size of the shrimp you use.
Plus, there are no complicated steps - thanks to the pressure cooker doing all the work - and all of the time is basically passive cooking time. You seriously don't have to do a thing besides adding everything to the Instant Pot!
And while the shrimp are cooking, you can make these Cheddar Bay Biscuits to go along with them. They pair really well with this lemon garlic butter shrimp.
Or you can make anything else you want to eat with this Instant Pot recipe - I'll go over some more of my favorite recipes to pair with it later on.
INGREDIENTS
Now, this Instant Pot shrimp recipe packs a ton of flavor with just a couple of simple ingredients that you might already have.
Here's everything you'll need to make this garlic butter shrimp:
1lb. Frozen uncooked shrimp, peeled and deveined (I used frozen extra-large shrimp)
1 ½ Cups Fish Stock (or water)
2 Cloves of Garlic, minced
2 Tbsp. Butter
1 Lemon, Juiced
Salt and Pepper to taste
You can use any size shrimp you want for this recipe and keep everything else the same. The only thing you'll have to adjust is how long you cook the shrimp.
And, of course, I used frozen uncooked shrimp, but you can use fresh shrimp as well. If you use fresh shrimp you'll just skip the pressure cooking.
By the way, if you love shrimp, and you're trying to keep your carb intake to a minimum, another really tasty recipe to try out next is this keto shrimp scampi recipe.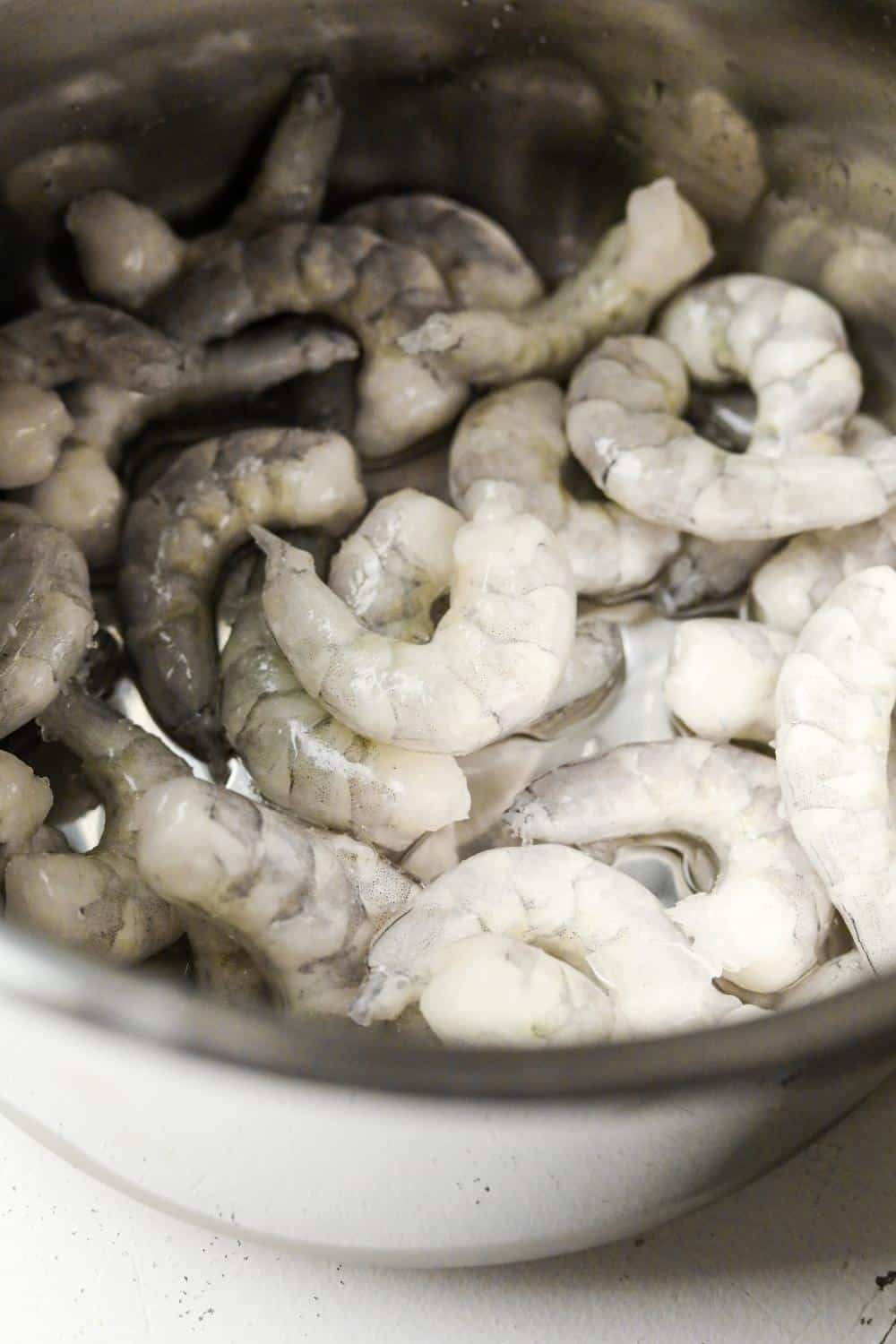 HOW TO COOK SHRIMP IN THE INSTANT POT
If you thought you couldn't have a fresh and delicious meal in under 10 minutes, this Instant Pot shrimp boil will blow your mind.
In just a few minutes - and one, or two, super easy steps - you'll have some delicious shrimp to eat!
So, let's now waste any more time, and get cooking!
STEP 1: PREP
First, take out all of the ingredients and plug in your Instant Pot. Then, if you have whole garlic cloves, mince them so they're ready to go.
Next, put the shrimp and fish stock - or water - in the pressure cooker and seal it.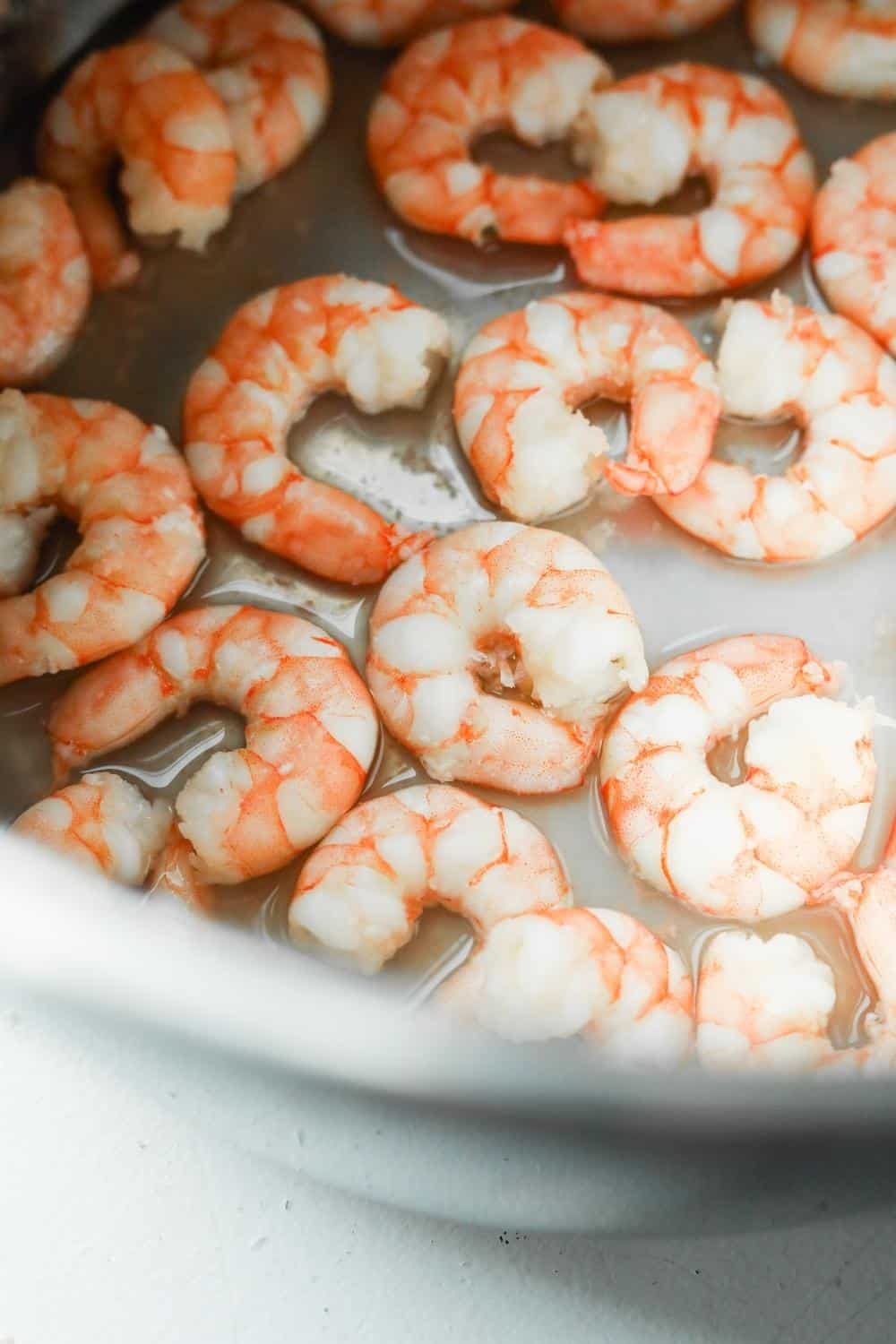 STEP 2: COOKING THE SHRIMP
Now, the cooking time will vary based on the size of the shrimp that you are using.
If you have frozen extra-large or jumbo shrimp, set the Instant Pot time to zero, and cook at low pressure until the shrimp completely turn pink or reach an internal temperature of 120°F (50°C).
However, if you are using smaller to large size frozen shrimp - or even fresh shrimp - it's best to cook the shrimp in saute mode. This will ensure that you don't overcook the shrimp.
Also, if you're going to use this kind of shrimp, I still recommend cooking the shrimp in the fish stock/water while it's set to sauté mode. And again, cook it until all of the shrimp turn pink, or reach an internal temp of 120°F (50°C).
Then once the shrimp cooks, remove it from the pan - along with any stock/water that may be left in it - add the garlic and butter to the Instant Pot and set it to sauté.
Now, let the garlic cook until it becomes aromatic, and then add the shrimp back into the pot.
Squeeze in half the juice of a lemon, sprinkle in some salt and pepper, and cook for around 5 minutes. And make sure to work the shrimp around the pot as it cooks.
STEP 3: SERVING
Once the raw shrimp are cooked, serve them with any of your favorite sides!
And if you're looking for ideas of recipes to go with the shrimp, check out the section below.
WHAT TO SERVE WITH SHRIMP
This Instant Pot garlic shrimp is delicious on its own, but it's even better when paired with the right dish.
Here are my favorite recipes to make with this shrimp:
For even more ideas check out my Youtube channel. There are PLENTY of ideas to pair with this recipe on there.
HOW TO STORE SHRIMP
Ok, so this Instant Pot shrimp boil will make about 2 half-pound servings of shrimp. And if you want more, just add another half or pound of shrimp! And. if you have a bunch leftover, not to worry, the shrimp stores well and is just as delicious days after making it.
You can store any leftover shrimp you have in a shallow airtight container in the refrigerator for about 3-4 days. Just make sure that the shrimp has cooled to room temperature, and don't leave it sitting out for more than an hour or two after cooking.
Then you can have the shrimp for lunch or dinner the next few days! That way, whenever you're ready to eat it all you have to do is take it out of the fridge and enjoy it.
HOW TO REHEAT SHRIMP
If you want to reheat the leftover shrimp, my favorite way is to saute it in a pan.
To do this, add some oil to a pan and put it on medium-high heat. Then, add the shrimp to the pan in a single layer, and saute on both sides for a minute or so until you have tender shrimp again.
WRAPPING IT ALL UP
So, that is how to make shrimp in the Instant Pot! It is an incredibly quick, effortless, and healthy recipe to make any time. Plus, since it is so versatile, you'll never run out of things to eat it with!
Well, I hope you enjoy this Instant Pot shrimp as much as I do.
If you make it, leave a comment below and let me know what you think about the recipe!
Oh, and if you like seafood, you have to give this baked snapper a try next!
INSTANT POT RECIPES
If you liked how quick and easy making this recipe in the Instant Pot was, I have a bunch of delicious Instant Pot recipes on the blog that you have to try!
Check all of these out:
Oh, and as always, you can find more yummy recipes on my YouTube channel as well!
Print
Instant Pot Shrimp | The Best Way To Cook Frozen Shrimp
This Instant Pot Shrimp is an easy and delicious dinner that takes just 5 minutes to make! And the shrimp come out just as tasty, if not better, than any other shrimp boil recipe!
Author:
Prep Time:

0 minutes

Cook Time:

5-10 minutes

Total Time:

37 minute

Yield:

1 Lb. of Shrimp

Category:

Dinner

Method:

Instant Pot

Cuisine:

Keto Low carb
1 lb. (450g) of Frozen Shrimp, peeled and deveined (I used frozen extra-large shrimp)
¼ cup (480mL) Fish Stock
2 Cloves (8g) of Garlic, minced
2 Tbsp. (28g) Salted Butter
¼ cup Fish Stock
½ a Lemon, Juiced
Salt and Pepper to taste
Instructions
Place shrimp and fish stock in the Instant Pot.

For extra-large or colossal-sized frozen shrimp, set the time to zero and cook at low pressure until pressure cooking stops, and the shrimp turn completely pink in color. ***Note: If you're using s

maller than extra-large frozen shrimp (tiny-large) cook in saute mode with the fish stock. Again, cook until the shrimp turn pink or reach 120°F (50°C).

Once the shrimp are cooked remove them - and the fish stock/water - from the pot and add in the butter and minced garlic.

Cook until the garlic becomes fragrant, and then add the shrimp back into the pot along with the lemon juice.

Work the shrimp around the pot as it cooks for around 5 minutes.

Serve and enjoy.
Notes
The scale up function does not change the gram measurements.
Nutrition
Serving Size:

¼ Lb. of Shrimp

Calories:

186

Fat:

13

Carbohydrates:

1

Fiber:

0

Protein:

16
Keywords: instant pot shrimp, instant pot shrimp recipes, shrimp boil recipe, frozen shrimp instant pot keto, lemon garlic shrimp, keto shrimp recipes, instant pot keto shrimp, instant pot shrimp boil, frozen shrimp instant pot time, how to cook frozen shrimp, instant pot shrimp recipes healthy, instant pot shrimp recipes frozen, instant pot cooking shrimp, how long do you cook shrimp in an instant pot, frozen shrimp instant pot, frozen shrimp instant recipes, pot how to cook shrimp in instant pot,