Tangy, smoky, with just a hint of sweetness and heat, this Instant Pot BBQ chicken is the ultimate one-pot keto chicken recipe! This BBQ shredded chicken is so easy to make and comes together in just 20 minutes. Plus, each serving has only three net carbs!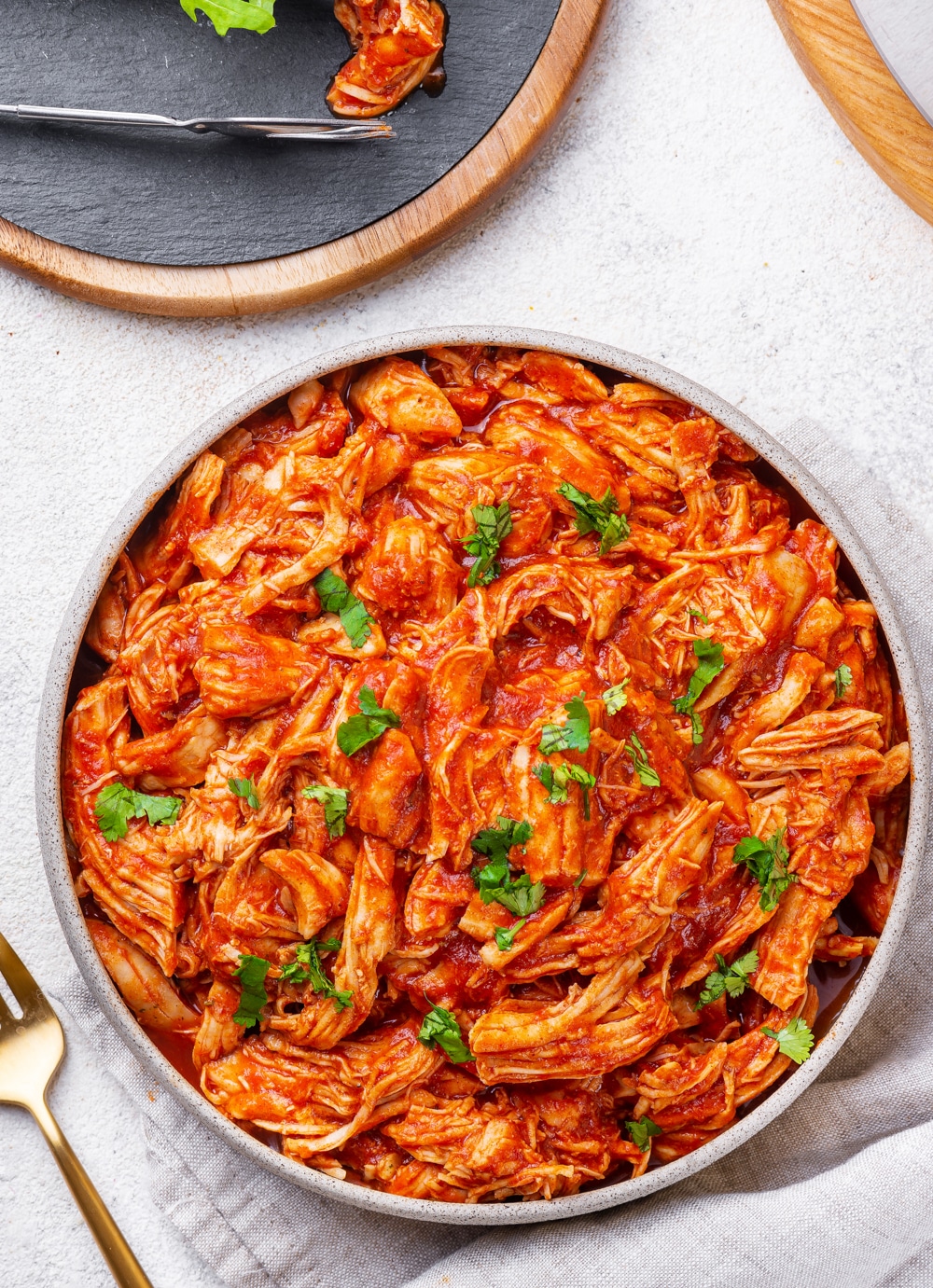 The Best Instant Pot BBQ Chicken
So we all crave the bold smoky flavors of BBQ from time to time, especially now that the season is getting warmer.
I love this keto BBQ shredded chicken recipe because of how easy it is to put together! It's honestly a lot like my addictive Breaded BBQ chicken thighs recipe but with a little less effort and clean-up involved.
By the way, if you love this recipe, you should definitely check that one out too. It's a great change-up from recipes with chicken breast.
Anyway, you can use this Instant Pot chicken recipe and some super quick keto bread to make a healthy low carb pulled BBQ chicken sandwiches.
It also goes perfect with a side of my keto coleslaw or even this keto cornbread for a healthy summer feast; you can have any time of the year!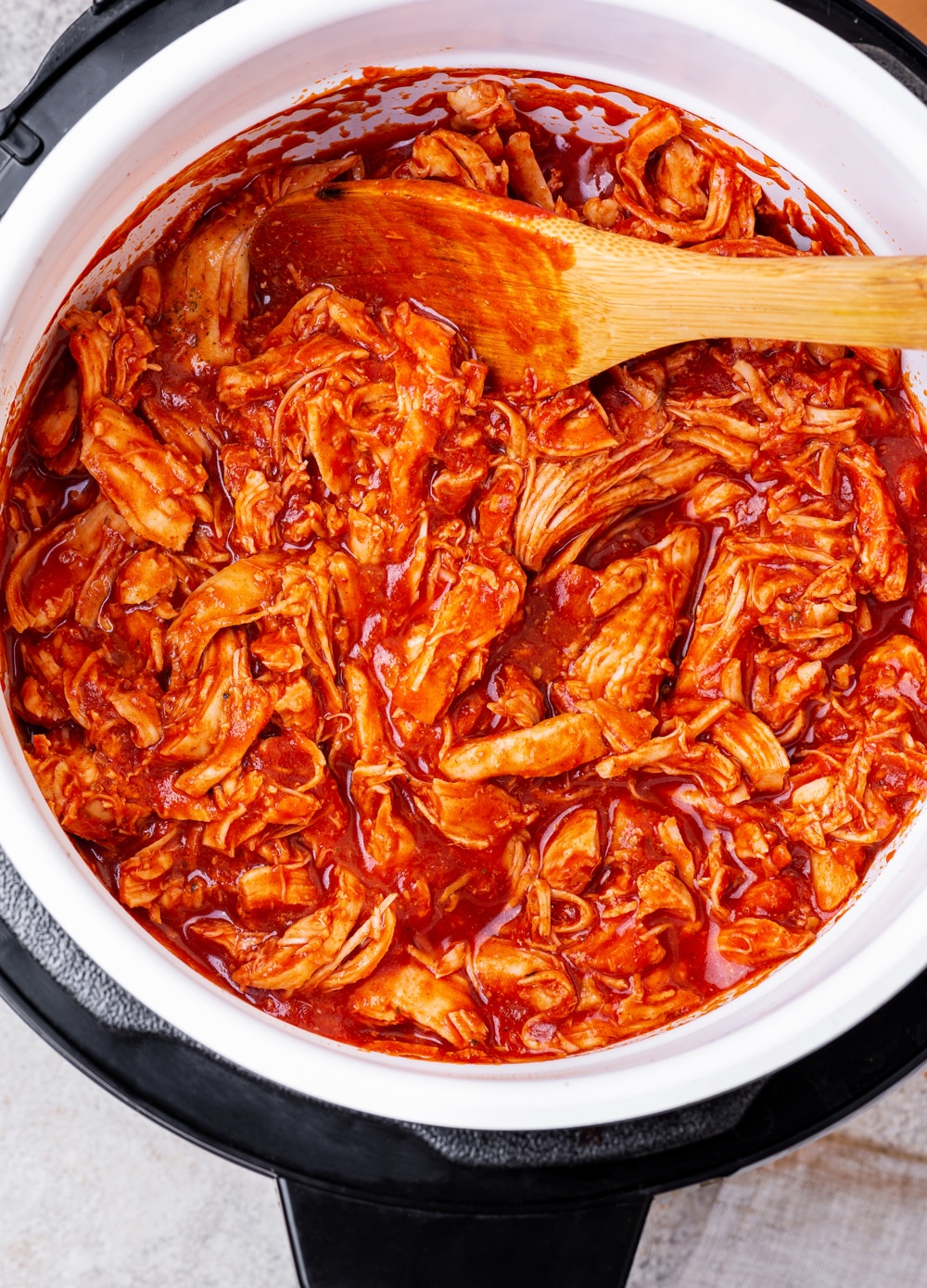 The Best BBQ Sauce To Use On This Shredded Chicken
The best BBQ sauce for this recipe is really up to your personal preference.
That said, most of the recipes on the blog are low carb keto recipes.
So, if you're looking for the best low carb keto store-bought BBQ sauce, I recommend going with this one by G Hughes.
However, it's quite easy to make your own low carb BBQ Sauce. And that's what I like to do.
The one I like to make has no sugar added to it, yet it's still sweet and tangy with a hint of heat to it. And since it has 0 carbs, you can use even more BBQ sauce on the chicken breast.
Now, if you're thinking about using my homemade barbecue sauce for this Instant Pot BBQ chicken recipe, you'll want to make it ahead of time. You can store it in a sealable jar or airtight container in the fridge for up to 2 weeks, so you can whip up this pressure cooker BBQ chicken whenever you want!
Making the BBQ sauce beforehand is going to give all the flavors in the sauce time to blend perfectly together.
Plus, you can even make a bigger batch and save some of it for another recipe or as a delicious low carb condiment. This would be incredible in a keto sandwich.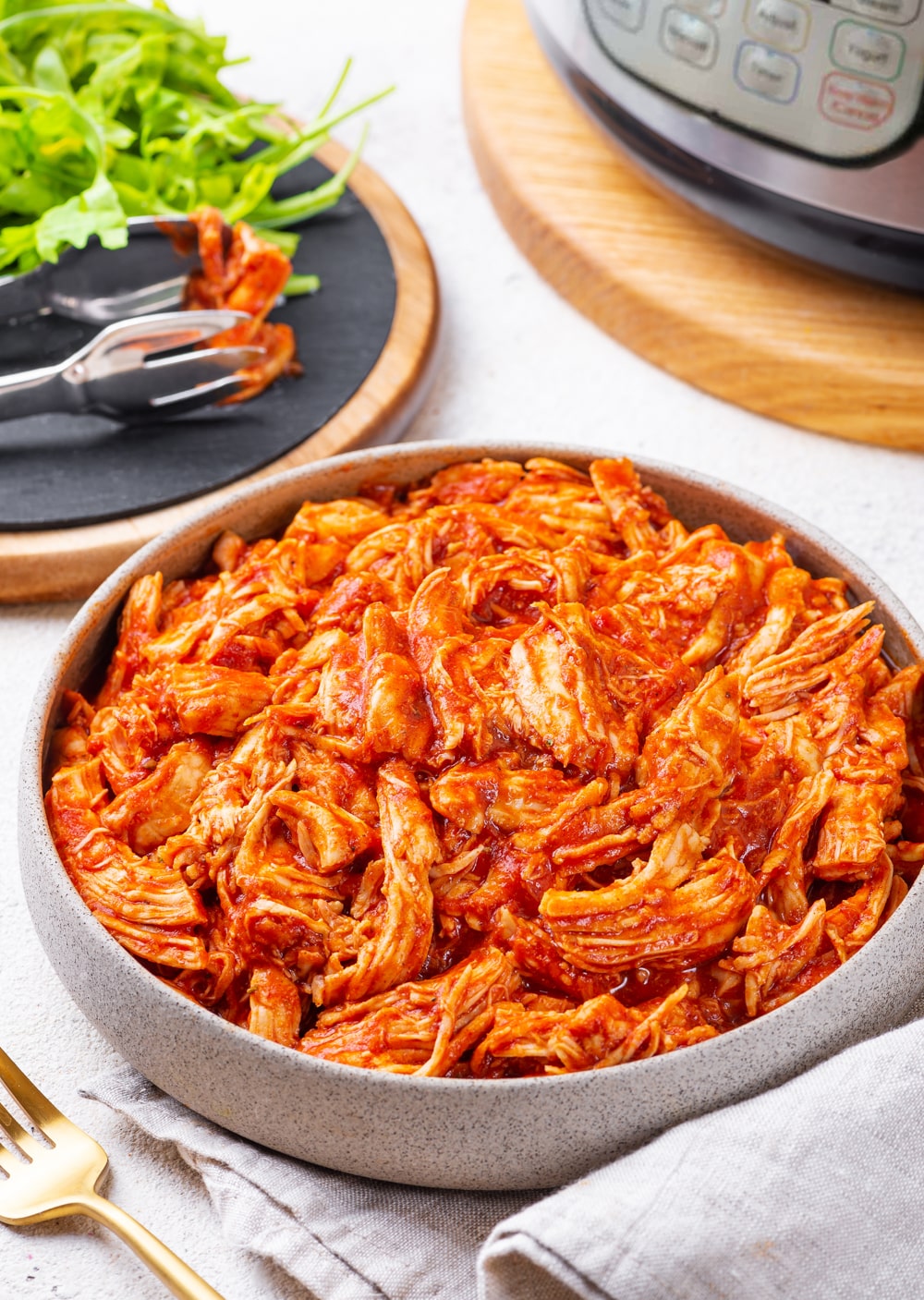 Homemade BBQ Sauce Ingredients
Here's what you need for your keto BBQ sauce:
As I alluded to earlier, this BBQ sauce has absolutely everything you could want. It's tangy, sweet, smoky, savory, and bold with just the right amount of heat.
The secret to keeping this recipe keto while maintaining all those rich BBQ flavors is the sugar free ketchup, and the brown swerve.
You can use other sweeteners - as long as it's a brown sugar substitute - but I love brown swerve for its rich, intense flavor that really takes this BBQ sauce up a notch.
Now, to make the sauce, all you have to do is combine all the low carb BBQ sauce ingredients in a pot and bring to a boil. Then, simmer until it thickens up.
That's it!
And, again, you can make a bigger batch and save some for later.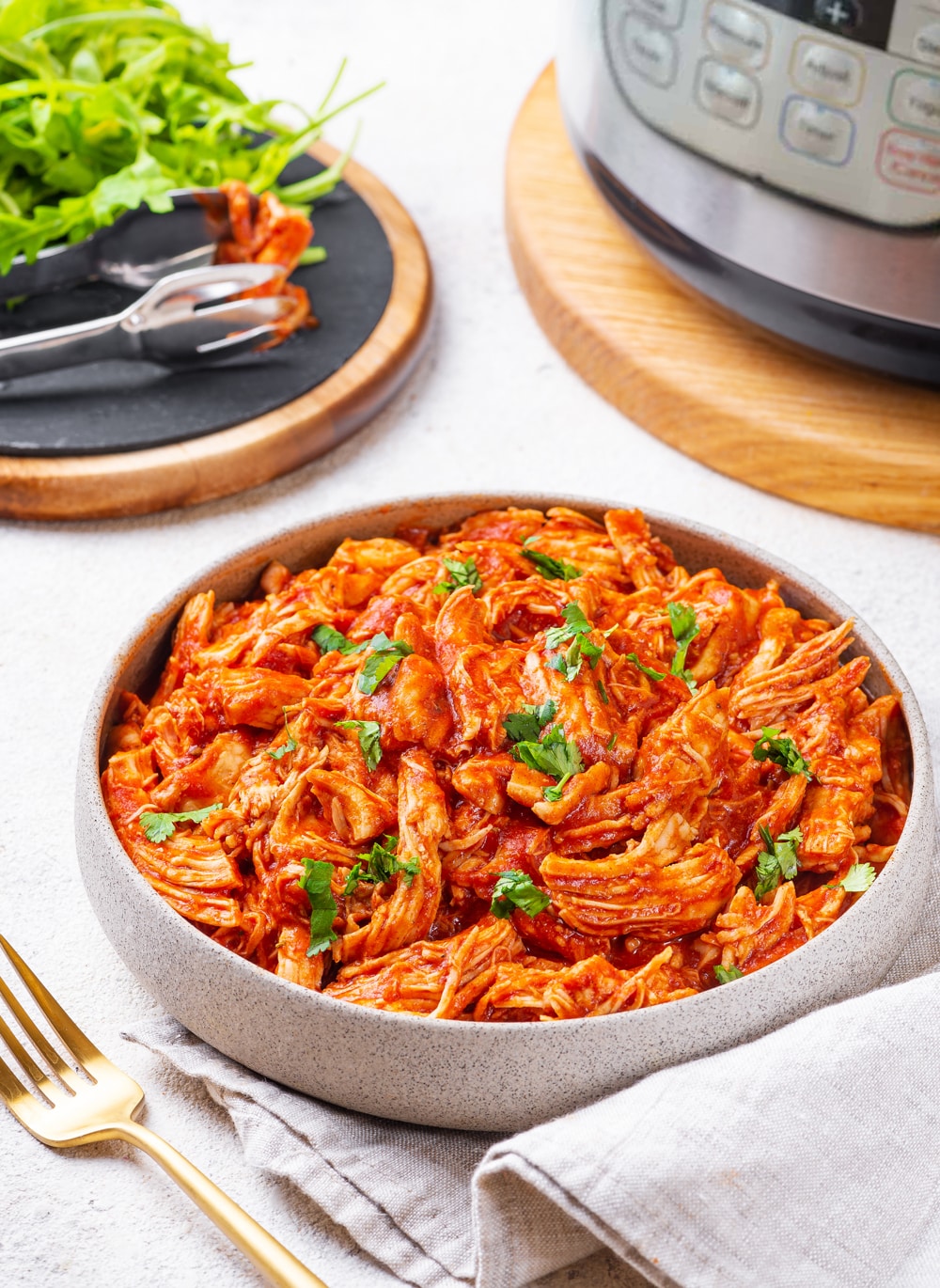 How to Make Instant Pot BBQ Chicken
Now that you've made your barbecue sauce, the rest is pretty simple.
If you've seen my Instant Pot low carb shredded chicken and Instant Pot keto buffalo chicken, you're probably familiar with the process already.
And if you haven't seen them yet – why not?! I highly recommend trying them because they're just as easy, quick, and delicious as this recipe.
Anyways, you'll want to place 2 pounds of chicken breasts – or thighs – in a single layer in your Instant Pot and season them with salt & pepper. By the way, you can use frozen chicken as well! So, if you'd like to use the frozen stuff, just look in the "notes" section of the recipe card below for instructions on how to do that.

Anyways, once you've added the chicken to the Instant Pot, the next thing you'll want to do is add in ⅓ cup of chicken broth, followed by 1 cup of the barbecue sauce we made earlier.
And make sure not to stir.
You don't want to get too much barbecue sauce on the bottom of the Instant Pot because it might burn.
Set the Instant Pot to high pressure and cook for 12 minutes. When that's done, use the natural pressure release for 5 minutes.
Oh, and while you're at it, I highly recommend making a quick keto bread while you wait for the chicken to cook. This 5-minute keto yeast bread and 2-minute low carb keto bread are both amazing options, in my opinion.
Once the chicken is done cooking, use two forks – or a hand mixer or stand mixer – to shred the chicken.
Once you've got the chicken shredded exactly how you want it, mix it back into the sauce and add in the rest of the BBQ sauce before serving.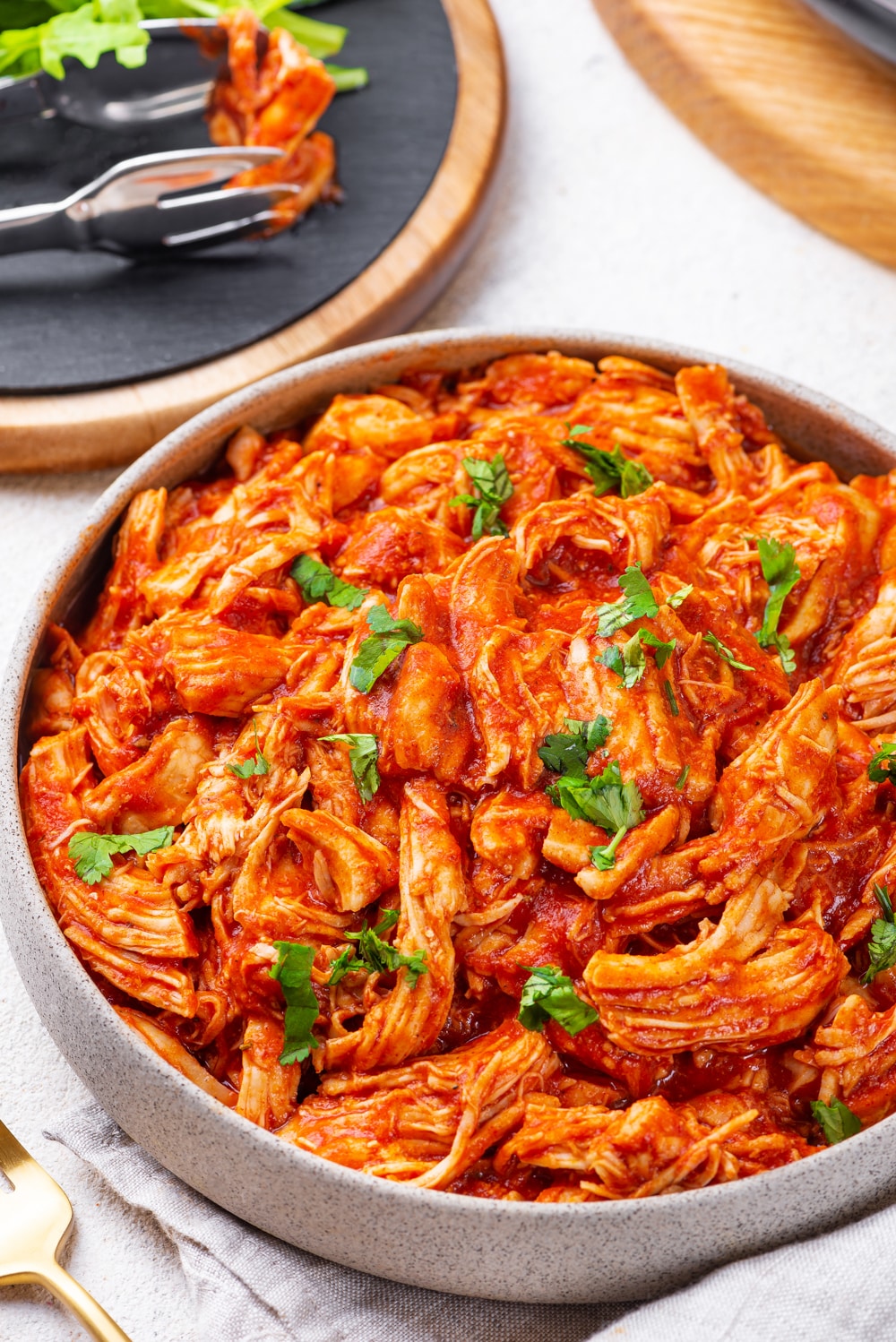 BBQ Chicken on the Stovetop or Crockpot
I know not everyone has an Instant Pot, so I've made this recipe totally accessible for stovetop and Crockpot cooks too!
For a Crockpot or slow cooker, a little under 4 hours on low or 2 hours on high should do the trick.
And for the stovetop, 30 minutes in a large pot with a lid should yield the same result.
Oh, and if you have a stovetop pressure cooker, the cook time and process should be the same as for the Instant Pot.
Different Ways to Use Instant Pot BBQ Chicken
So I know it can sometimes be a challenge to maintain lots of variety in the keto diet.
In fact, sometimes I find myself eating the same thing over and over again – usually hard-boiled eggs, ground turkey, avocado, and hot sauce.
Well, one of the best things about this Instant Pot BBQ Chicken Recipe is how insanely versatile it is.
For meal prep or dinner, you can pair it with some cauliflower rice for more volume without any additional carbs. And I highly recommend throwing in some grilled veggies too. Anything tastes great in the barbecue sauce.
Of course, this makes a wonderful and healthy BBQ pulled chicken sandwiches that you might want to enjoy with a side of keto coleslaw.
Oh, and a side helping of buttery southern keto cornbread would also make a fantastic pairing.
Wrapping It All Up
Well, that is how to make Instant Pot barbecue chicken. This is one of the quickest and easiest boneless chicken breasts recipes that you can make!
Whether you're looking for a healthy recipe, low carb recipe, or just a new chicken recipe, this one is perfect.
If you gave it a try, leave a comment below and let me know what you think! And for more recipes, check out my Youtube channel and Instagram page.
More Instant Pot Recipes
If you want to give some more Instant Pot recipes a try, I have a ton on the blog that you have to try next!
Here are some of my most popular Instant Pot recipes:
Print
Instant Pot BBQ Chicken Recipe | Great With Chicken Breasts, Thighs, or Even Frozen Chicken
This Instant Pot BBQ chicken is the ultimate one-pot chicken recipe! It's tangy, smoky, and has just a hint of sweet heat to it. Whether you're making this as a healthy low carb keto dinner option for the family, or just for meal prep it's sure to be a hit! Plus, this BBQ shredded chicken is so easy to make too...it takes just 20 minutes to put it together.
Author:
Prep Time:

5 Minutes

Cook Time:

12 Minutes

Total Time:

17 Minutes

Yield:

5

Category:

Dinner

Method:

Instant Pot

Cuisine:

Keto Low Carb
Instructions
Make the BBQ sauce ahead of time. Bring the ingredients to a boil in a small pot and simmer until it thickens up.

Place chicken breasts into the

Instant Pot

, season with salt and pepper.
Add the

chicken broth

, and 1 cup of the BBQ sauce. Don't stir.

Cook for 12 minutes on high pressure, then let the pressure naturally release for 5 minutes.

Use two forks to shred the chicken, and mix into the sauce.

Add the rest of the BBQ, and serve.
Notes
Make sure chicken is placed FLAT in the Instant Pot.
If cooking frozen chicken breasts you'll need to add 3-5 minutes of cook-time depending on the size of your breasts. If they are below 2.5" thick opt for 3 minutes, and if they're above, 5 minutes.
Other Cooking Options:
For the Crockpot or other slow cookers, sauté the sauce in another pot if you don't have a sauté option. Then, you can cook the chicken for 4 hours on low or 2 hours on high.
For the stovetop, use a large pot with a lid. The cooking time will be about 45 minutes.
Oh, and if you have a stovetop pressure cooker, you can follow this recipe exactly as stated.
Nutrition
Serving Size:

Around ½ a Cup

Calories:

215

Fat:

2

Carbohydrates:

3

Fiber:

0

Protein:

42
Keywords: Instant Pot BBQ Chicken, BBQ Chicken Instant Pot, How to make instant pot bbq chicken, keto bbq chicken, instant pot chicken recipes, instant pot shredded bbq chicken, low carb instant pot bbq chicken