This Instant Pot Crack Chicken recipe is creamy and cheesy and filled with bacon bits and chicken. It's a low carb keto dinner recipe the whole family will love! And, it's just so easy to make too!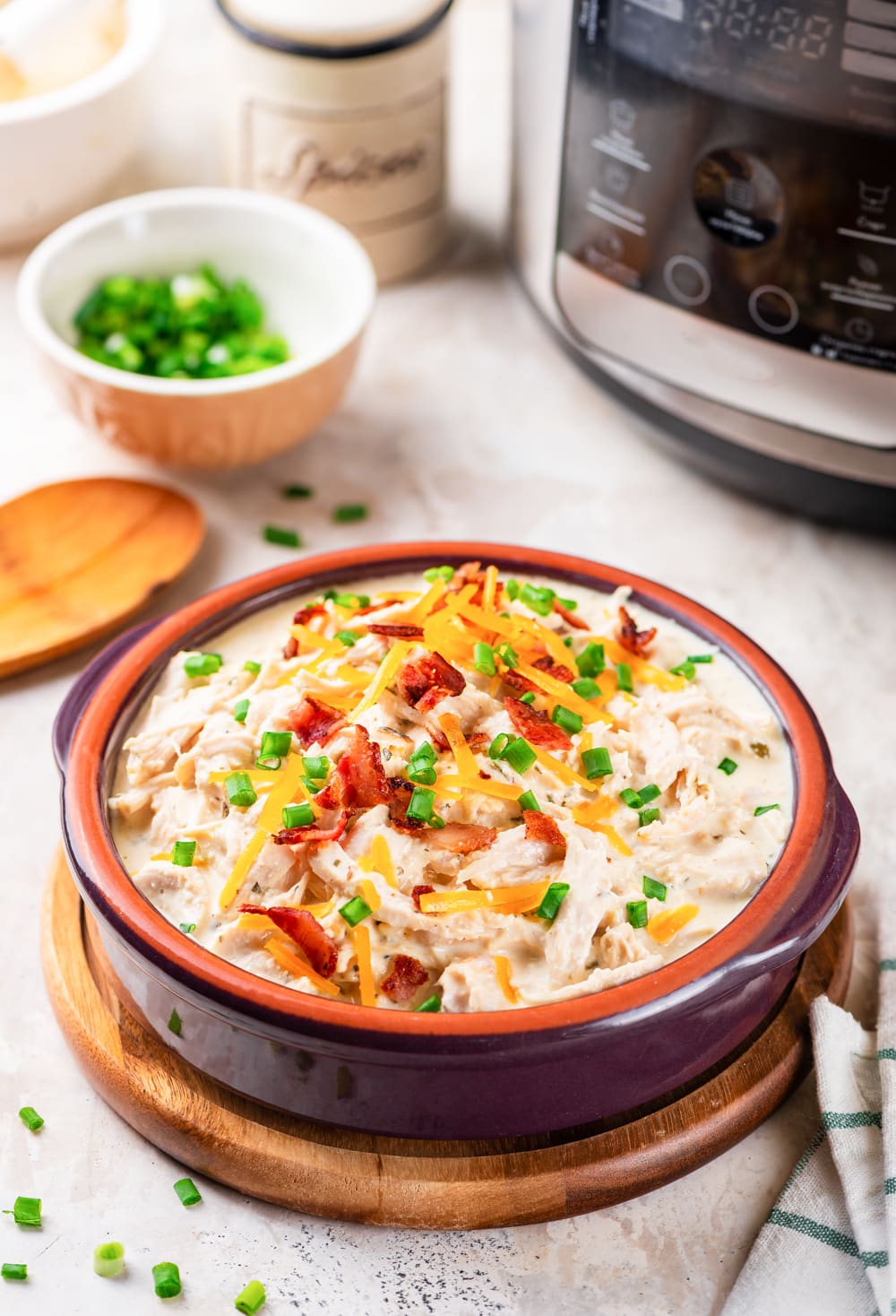 The Best Instant Pot Crack Chicken
First off, this Instant Pot crack chicken recipe is one of my favorite low carb chicken recipes.
It has all of the excellent flavors and bites that regular Instant Pot crack chicken is known for, but not all the carbs! And the best part is you'd never guess how low carb this Instant Pot recipe actually is.
Plus, making this low carb version of Instant Pot crack chicken is easy-peasy.
All you'll need to do is make a quick homemade ranch seasoning for it, and then substitute out some of the heavier carb components with keto friendly ones.
That's all you need to make this crack chicken Intsant Pot style.
Who said you can't enjoy tasty food while on the keto diet?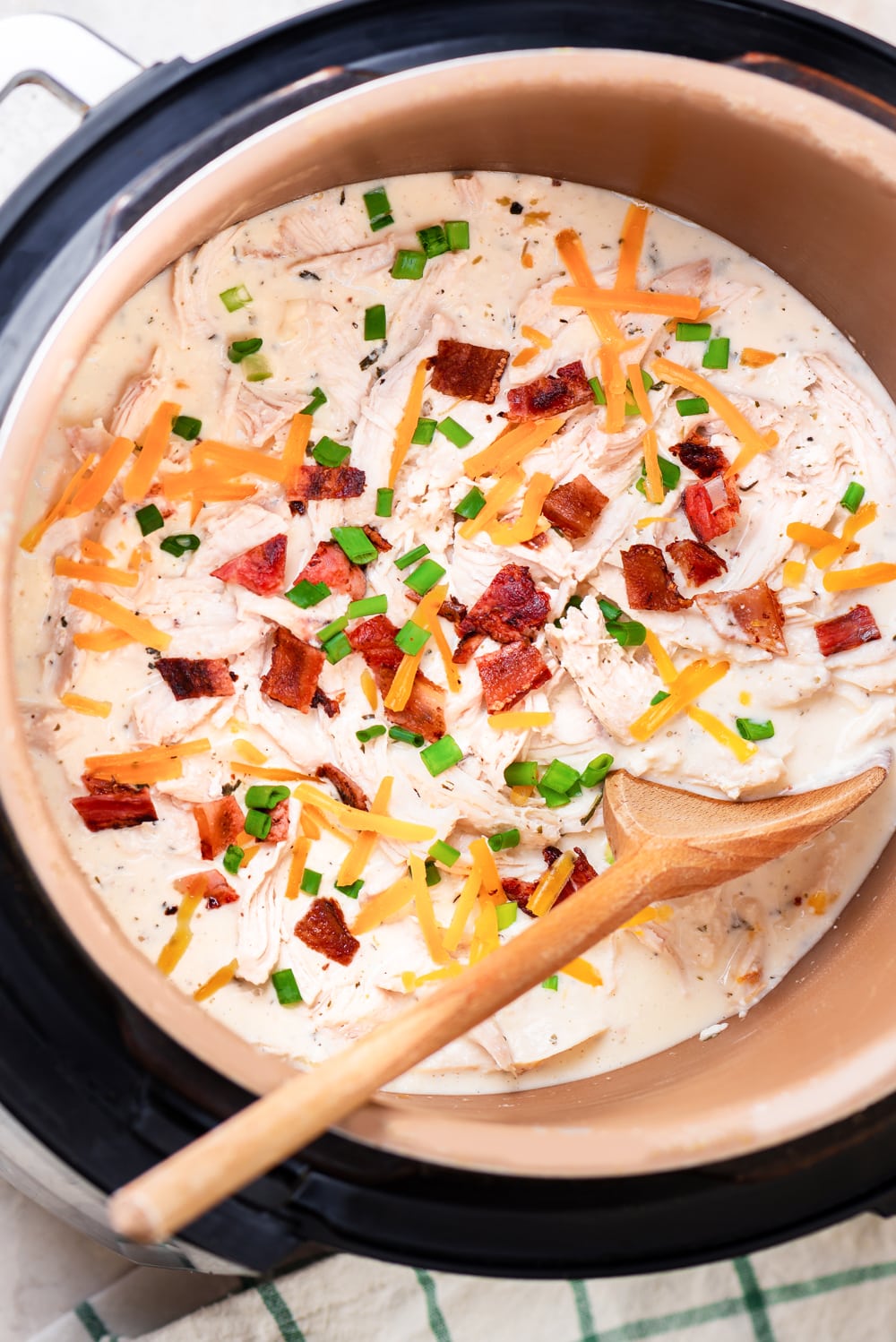 Ingredients
As you guys know, I love recipes with short ingredient lists. And well, this Instant Pot crack chicken recipe is just that!
All we'll need to make this Instant Pot crack chicken is:
Thick cut bacon, diced

Boneless skinless chicken breasts

Cream cheese

Chicken broth, or bone broth

Homemade keto ranch seasoning mix, or storebought

Shredded cheddar cheese

Green onions
And for the homemade ranch seasoning:
Granulated Swerve - or Granulated Monk Fruit
Parsley
Dill
Onion powder
Garlic powder
Salt & Pepper
You probably have all of those ingredients in your pantry & spice cabinet already, so making this homemade keto ranch seasoning should be a breeze!
Diving Into The Ingredients
Now, I have 2 pro-tips to save ya'll some carbs in your crack chicken. First, consider shredding your own cheddar cheese.
Store-bought cheddar cheese typically has "fillers" added to it, which increases the carb count on the cheese.
So, if you shred it yourself, you'll save yourself those carbs.
Secondly, we have to talk about the Ranch Seasoning. Store-bought Ranch Seasoning has sugar in it - and thus carbs - so to keep the carbs as low as possible make my homemade keto ranch seasoning instead.
And, it's incredibly easy to make.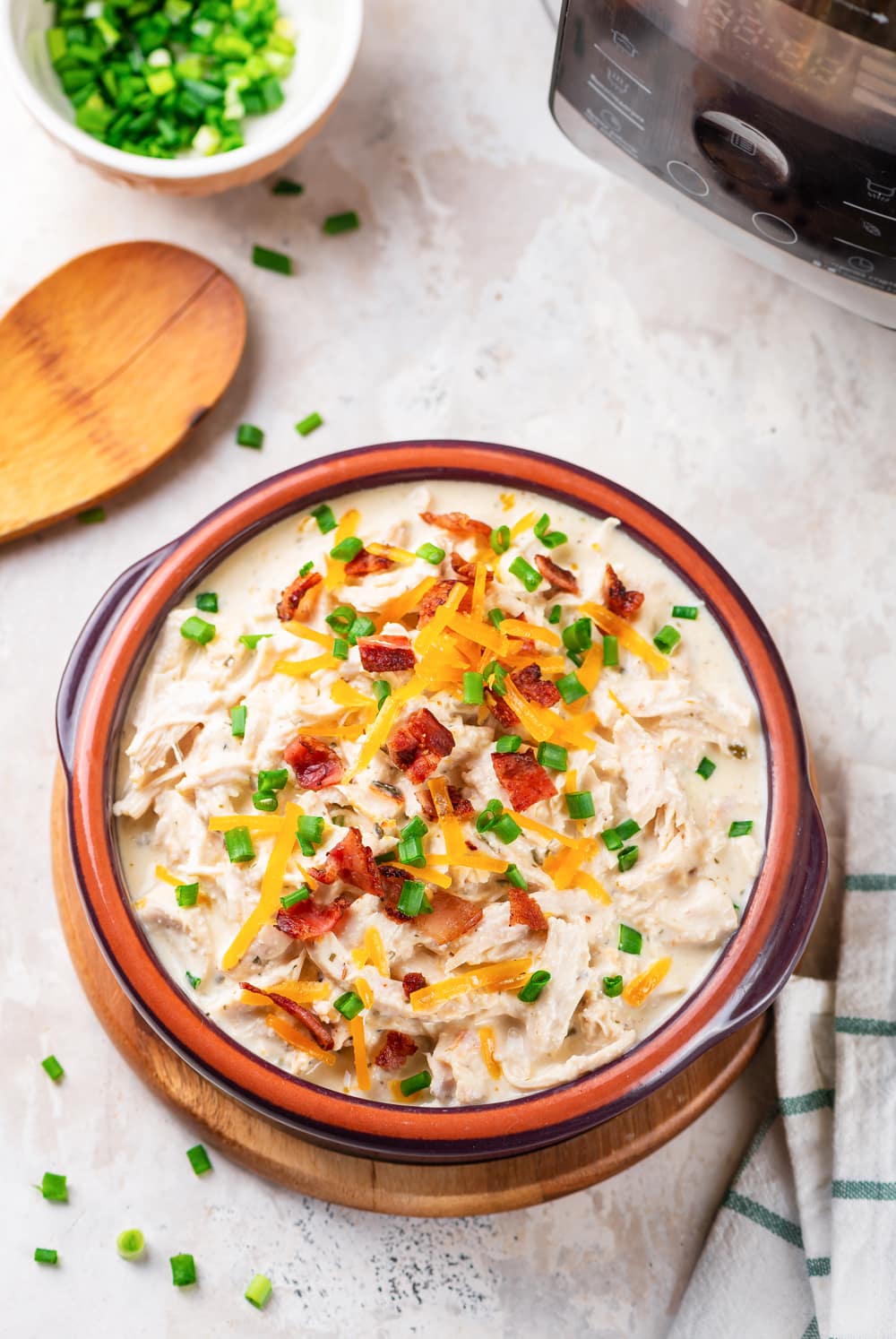 How to Make Instant Pot Crack Chicken
The best thing about this keto crack chicken recipe is how easy it is to throw together.
You can easily make it over the course of an afternoon or morning and have it ready for that evening for yourself or an entire family.
Plus, the flavor profile is robust enough that it works practically all year round.
Let's dive into the details of this crack chicken Instant Pot recipe!
Step 1: Prep Work
To begin, cook the bacon by placing it in your Instant Pot and set it to the sauté mode.
You should only need to cook it for a minute or two until it becomes crisp.
Now, remove the bacon once it starts to crisp-up, and set it aside for the garnish later.
Next, place the chicken breasts evenly through the pot; you want to make sure that there's no lumpy part that is too insulated from the heat, as the chicken needs to cook thoroughly for safety. Then, place the cream cheese on top of the chicken and sprinkle the ranch seasoning on top.
Speaking of ranch seasoning, you can make this by combining the ranch seasoning ingredients described above, either the night before or right before making the rest of the meal. It's all just mixing the elements, so it should only take 5 minutes to make and/or store.
After you add the chicken, cream cheese and ranch seasoning to the Instant Pot, add the chicken broth and close the lid of your Instant Pot.
Step 2: Cooking The Crack Chicken
Select the "Pressure Cook" function, then set a timer on your phone or otherwise for 15 minutes.
Once the 15 minutes are up, open the lid in a single motion to quick-release the pressure.
The smells you'll get as you open up the pot are sure to be excellent!
At this point, don't worry if the cream cheese hasn't been completely incorporated into the sauce.
We'll be stirring everything together more thoroughly in a short bit.
Your next step is to remove the chicken breasts and shred them into chunks using two forks.
You can use a knife as well, but the chicken should be tender enough at this point that forks can do the job.
After the chicken has been thoroughly shredded, return them to the pot and switch the Instant Pot back to sauté mode as you used with the bacon.
Take a big spoon or another mixing instrument and mix the ingredients together thoroughly until the sauce is smooth and creamy.
Feel free to taste it at this point here and there, both to give yourself a preview of the rest of the meal and to make sure that the crack chicken is at the correct consistency.
Once the crack chicken is perfect, you can serve it by garnishing it with the green onions, crumbled bacon, and the shredded cheddar cheese you prepared beforehand.
Slow Cooker Crockpot Crack Chicken
If you'd rather use a slow cooker crockpot for this chicken recipe instead of an Instant Pot, you can easily do so!
To start, place the chicken, cream cheese, and ranch seasonings into the slow cooker and mix everything with the chicken broth. After you thoroughly mix the above ingredients, set the crockpot to cook on low between six and seven hours, or set the temperature to high and cook for three or four hours.
Cooking the crack chicken in the slow cooker allows you to prepare the meal either before dinner or in the morning before you go to work. Doing it in the latter fashion will enable you to enjoy the smell of crack chicken as you walk in the door after coming home, and there's nothing better.
Then, after cooking the recipe in your crockpot, remove the chicken from the pot and shred it with the forks as described earlier.
Next, you'll want to return the chicken to the slow cooker and mix in the other ingredients, including the bacon, onions and cheddar cheese.
Also, it's worth mentioning that you'll want to start cooking the bacon before you start shredding the chicken. As it will finish cooking right about the time that you finish shredding the chicken.
Oh, and remember to mix your crack chicken thoroughly in the crockpot just like you would with the Instant Pot to make sure it's the appropriate consistency.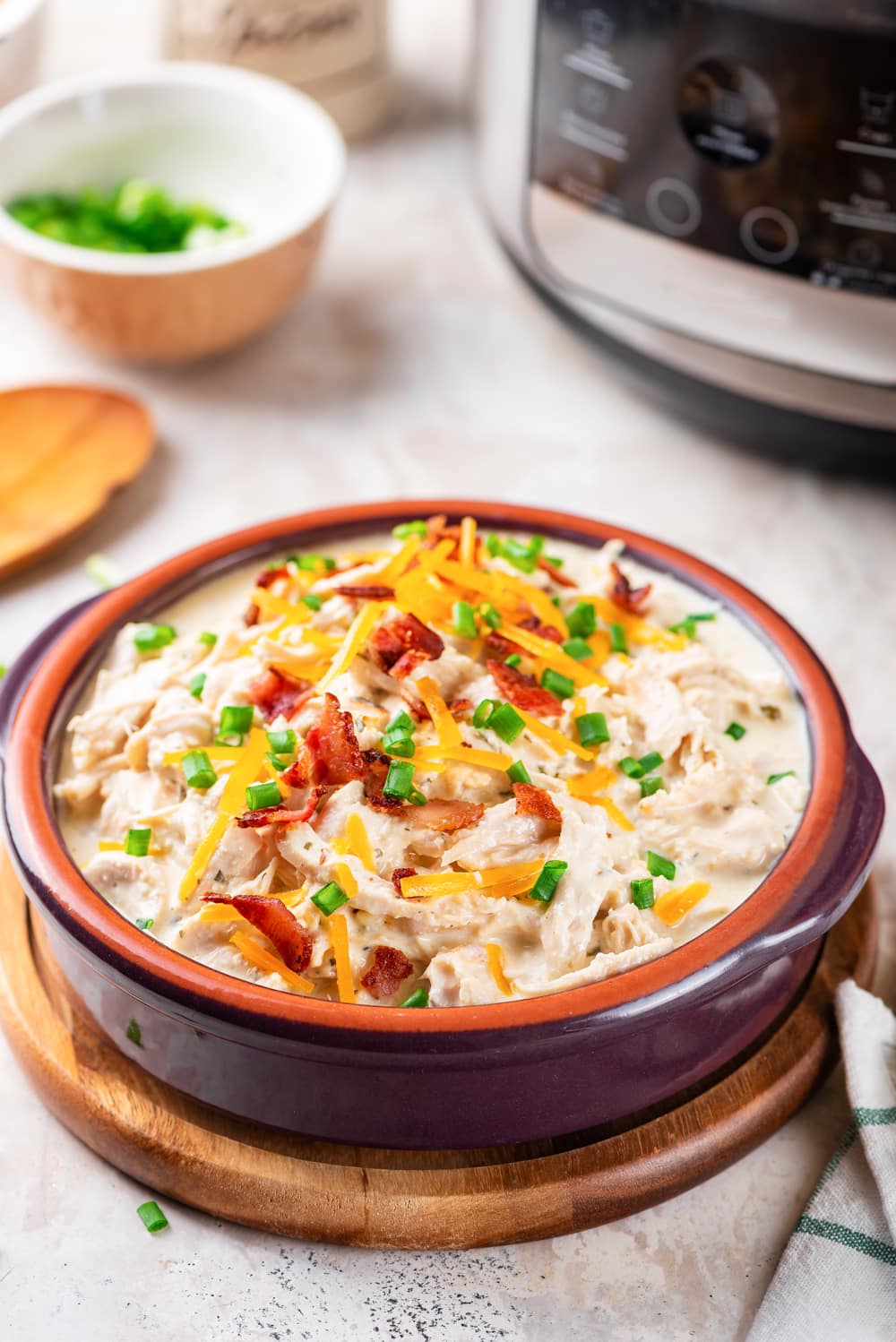 How To Store Crack Chicken
Now, this recipe for crack chicken will make about 6 servings - plenty for a big family dinner or to have as meal prep for the week!
And if you want more, to make sure that you have leftovers, you can simply double or triple the recipe.
Then if you have leftovers, you can store the Instant Pot crack chicken in an airtight container in the fridge for about 4 days.
Wrapping It Up
That's how to make Instant Pot crack chicken! This chicken breast recipe is an excellent choice if you want to follow the keto diet and avoid too many carbs while still giving yourself some mealtime variety.
I seriously can't get enough of this - it's truly addicting!
So I hope you like this Instant Pot crack chicken casserole as much as I do. If you make it, leave a comment below and let me know your thoughts. And for more recipes, check out my YouTube, TikTok, and Instagram.
More Instant Pot Recipes
If you liked this Instant Pot crack chicken, I have a few more Instant Pot recipes that I think you'll like just as much!
Give one of these easy recipes a try next:
Print
Instant Pot Crack Chicken Recipe | Slow Cooker Crockpot Option too
A healthy, low carb, keto Crack Chicken Recipe the whole family will enjoy for dinner! It's creamy, it's cheesy, and it's just so darn easy to make. Plus, you can make it in your instant pot, or your slow cooker crockpot, and up with incredibly delicious results. And each serving has just 4.5 NET CARBS too!
Author:
Prep Time:

15 minutes

Cook Time:

15 Minutes

Total Time:

30 minutes

Yield:

6 Servings

Category:

Dinner

Method:

Instant Pot

Cuisine:

Keto Low Carb
4 Slices of thick-cut bacon, diced
1.5 Lbs (680g) boneless skinless chicken breasts
8 Oz. (226g) full fat cream cheese
1 Cup (240mL) of chicken broth, or bone broth
3 Tbsps (45g) of ranch seasoning mix - homemade, or store bought
½ Cup (56g) shredded cheddar cheese
Two green onions diced
Homemade Ranch Seasoning:
1 tablespoon

(14g) of granulated swerve

½ tablespoon

parsley

½ teaspoon

dill

1 teaspoon

onion powder

1 teaspoon

garlic powder

1 teaspoon

salt

¼ teaspoon

pepper
Instructions
Instant Pot:
Cook bacon on Sauté mode for a minute or two until crisp.
Remove from the Instant Pot and reserve for garnish later.
Place an even layer of chicken in the pot, add cream cheese on top and sprinkle Ranch Seasoning.
Add chicken broth.
Close the lid and select Pressure Cook function, cooking for 15 minutes.
Then quick-release the pressure.
Cream cheese won't be completely incorporated to the sauce at this point, it's normal, we will stir it later.
Remove chicken breasts and shred into chunks with two forks.
Return chicken to the pot, switch Instant Pot to Sauté mode and mix thoroughly until you have a smooth creamy sauce.
To serve garnish chicken mixture with green onions, crumbled bacon, and shredded cheddar cheese.
Store up to several days in an airtight container in the fridge
Crockpot:
Place chicken, cream cheese, ranch seasonings, and broth in the slow cooker.
Cook on low for 6-7 hours, or high for 3-4 hours.
Start cooking the bacon right before removing and shredding the chicken from the pot.
Once the chicken is shredded at it back to the pot, along with the cheese, and bacon.
Mix until combined.
Garnish with green onions and serve hot.
HOMEMADE RANCH SEASONING:
Add all of the ingredients to a small dish, mix until combined, and store in an air-tight sealed container, or use immediately.
Nutrition
Serving Size:

1 Cup

Calories:

350

Fat:

20

Carbohydrates:

6

Fiber:

1.5

Protein:

40
Keywords: Instant Pot Crack Chicken, Crack chicken instant pot, keto crack chicken, keto dinner recipes, low carb dinner recipes, easy keto dinner recipes, crack chicken, crack chicken recipe